This arugula apple salad is hearty enough to serve as a main dish or a side! Topped with a roasted shallot & garlic vinaigrette, pancetta, wild rice, and goat cheese, this arugula salad is exciting in every bite!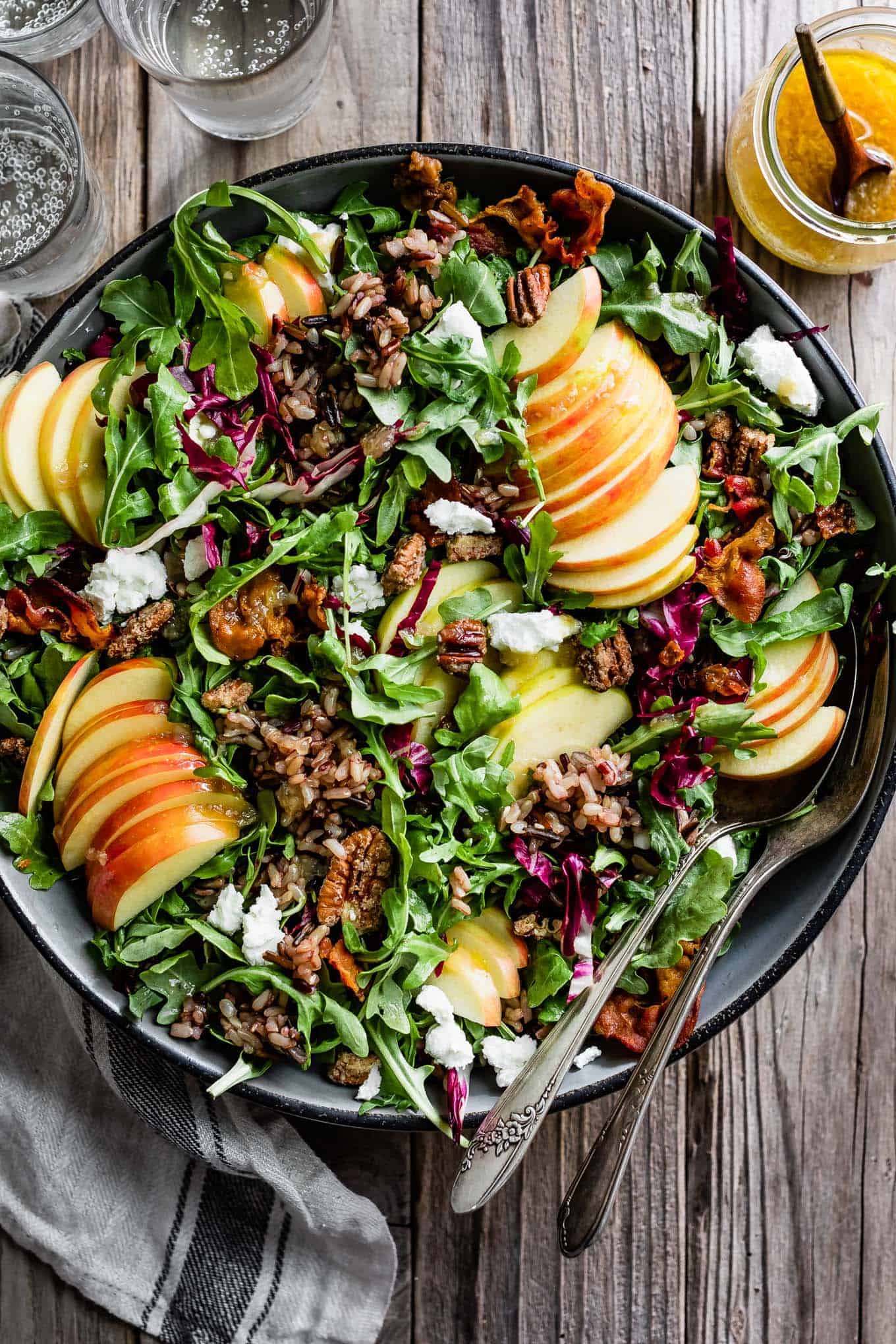 This post is sponsored by Safeway, a year-long partner of Snixy Kitchen
Last week, I piled up a plate of this arugula apple salad and walked it right down the hall to our contractor.
As inconvenient as it is for our house to be a construction site during the holidays, there are two parts I really love. The first is pretending I have coworkers. Sure, they're working on something entirely different, but they're just down the hall from me and occasionally (often) I force them to chat with me. I'll miss that the most (I'll pretend the feeling is mutual). And second, there are people in my house in the middle of the day to eat my food the minute I'm done testing or shooting it. Like this salad! No more soggy salad leftovers!
You want to know how good this salad is? This morning, my contractor told me he visited my blog over the weekend to make this salad, only to find I hadn't posted the recipe yet. It's THAT GOOD, y'all. I fed a plate to my contractor, he went home and looked for the recipe! And now he's probably reading this (It's here!)
Relatedly, on his very first day on our job, my contractor told me his last client served him a snack so tasty he asked for the recipe. Guess what it was? My asiago seed and cheese crisps recipe! (Which, now that I'm thinking of it, would be awesome crumbled up on top of this salad...)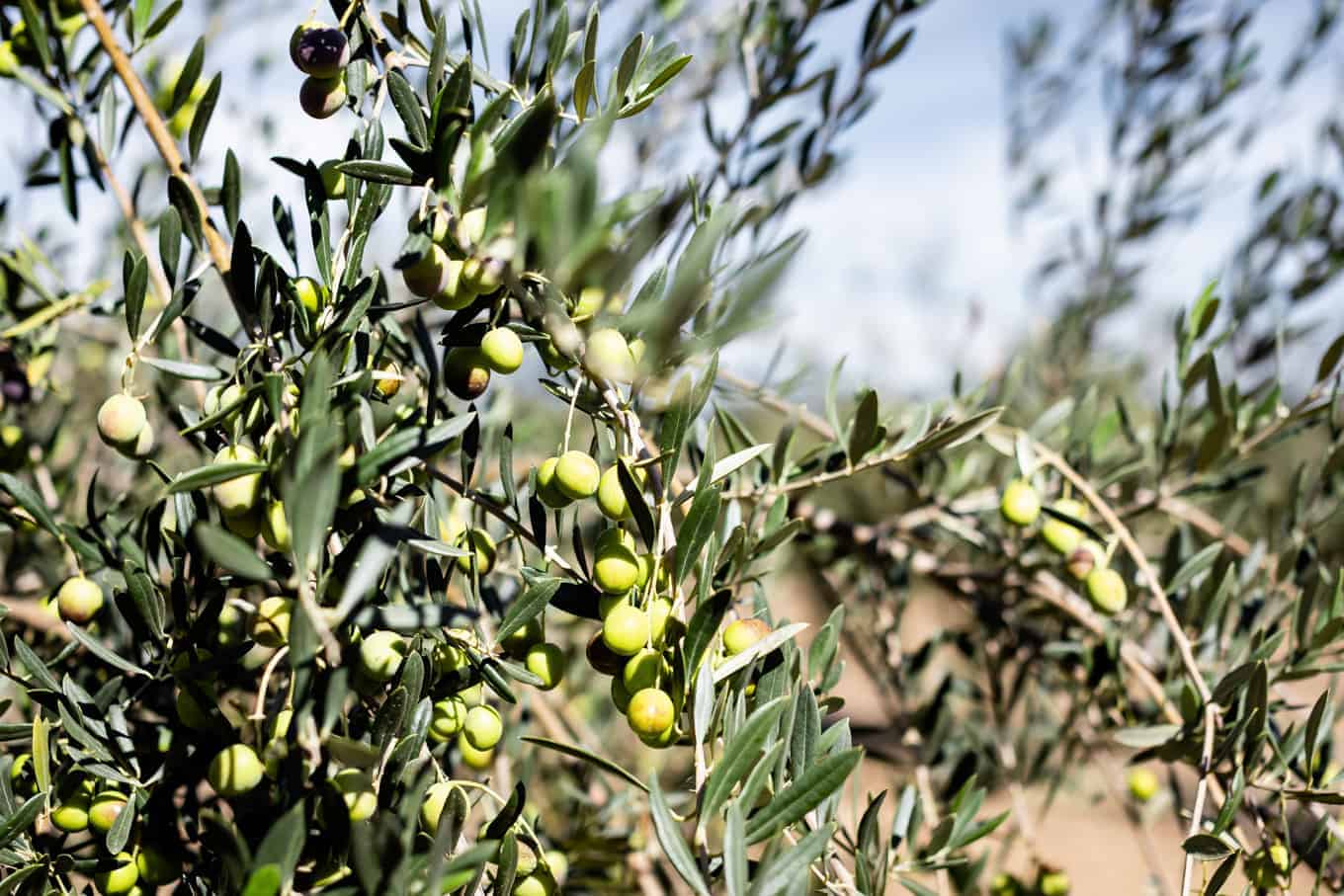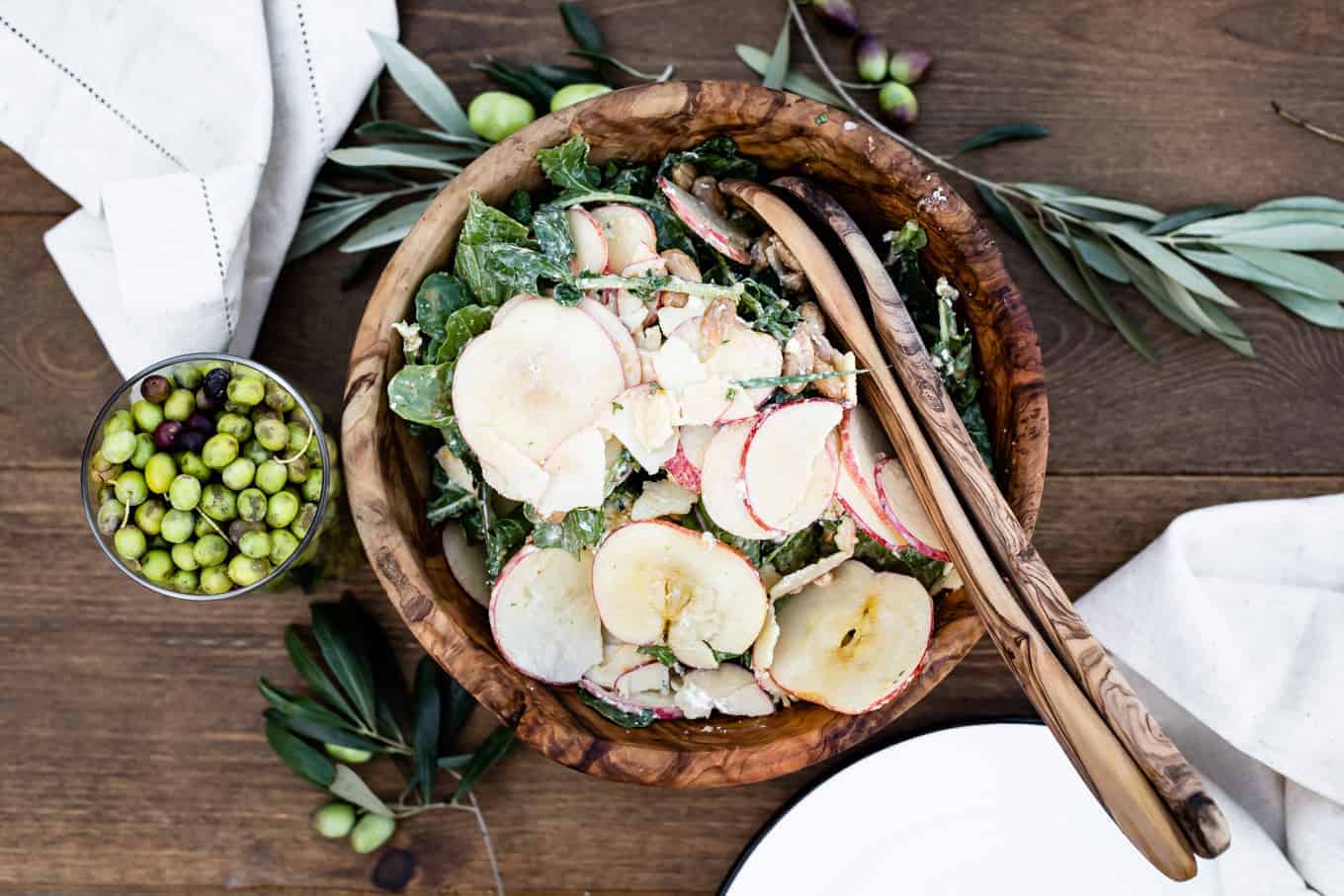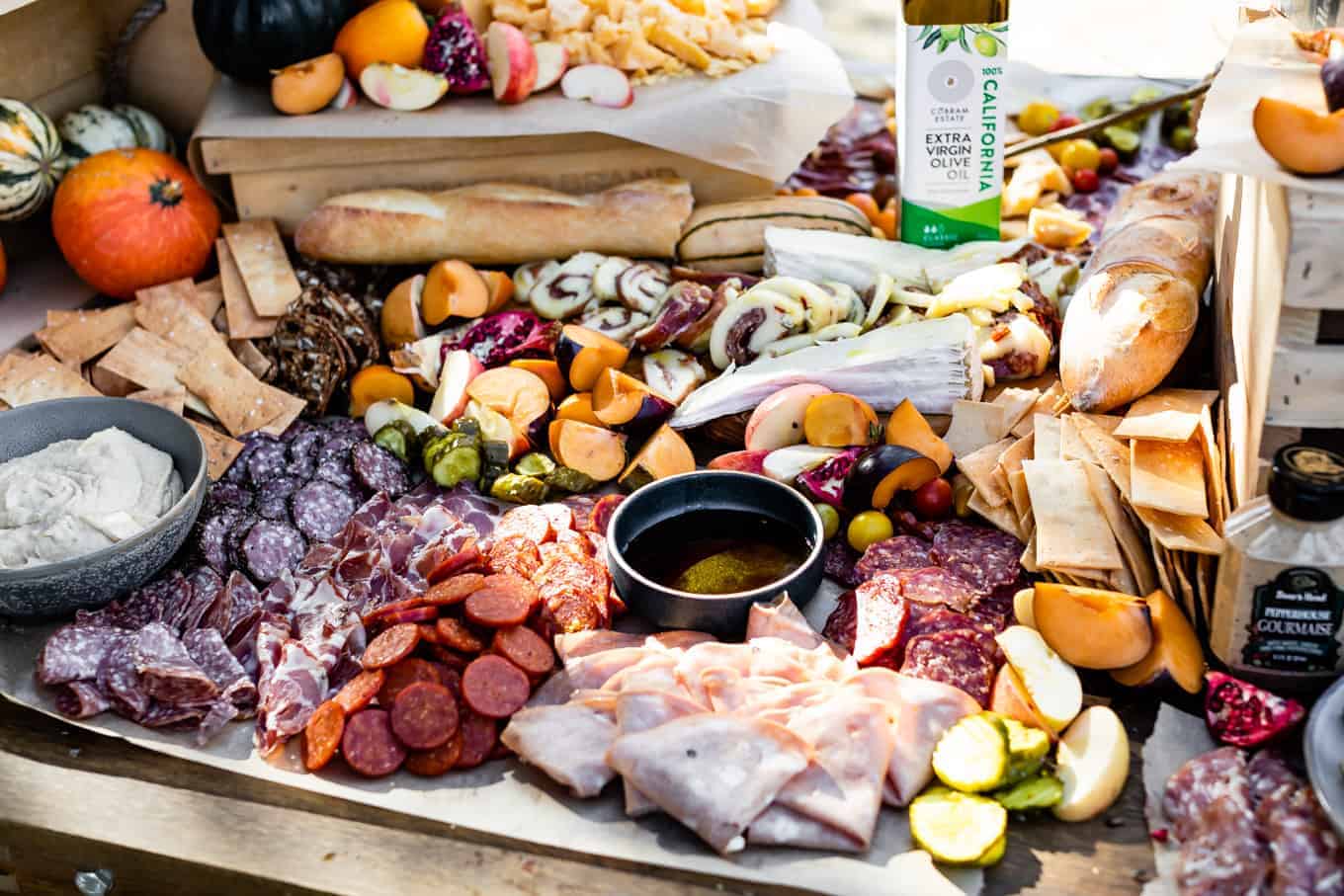 The Best Arugula Salad
As part of my year-long blogger tour partnership with Safeway, we toured Cobram Estate at the peak of olive harvest last month to watch the olives go from tree to oil (in less than 6 hours!). We enjoyed a feast featuring Boar's Head meats and cheeses and Dasani's canned sparkling water, before heading to the olive groves for DIY flower crowns, an epic charcuterie board, and mocktails.
Our lunch salad course was a shaved apple and arugula salad that reminded me how much I love the pairing of peppery arugula with sweet honeycrisp apples. So I made this apple arugula salad. It's a showstopper salad - bound to be the talk of your fall table.
You can find all the recipes inspired by these Safeway tours here.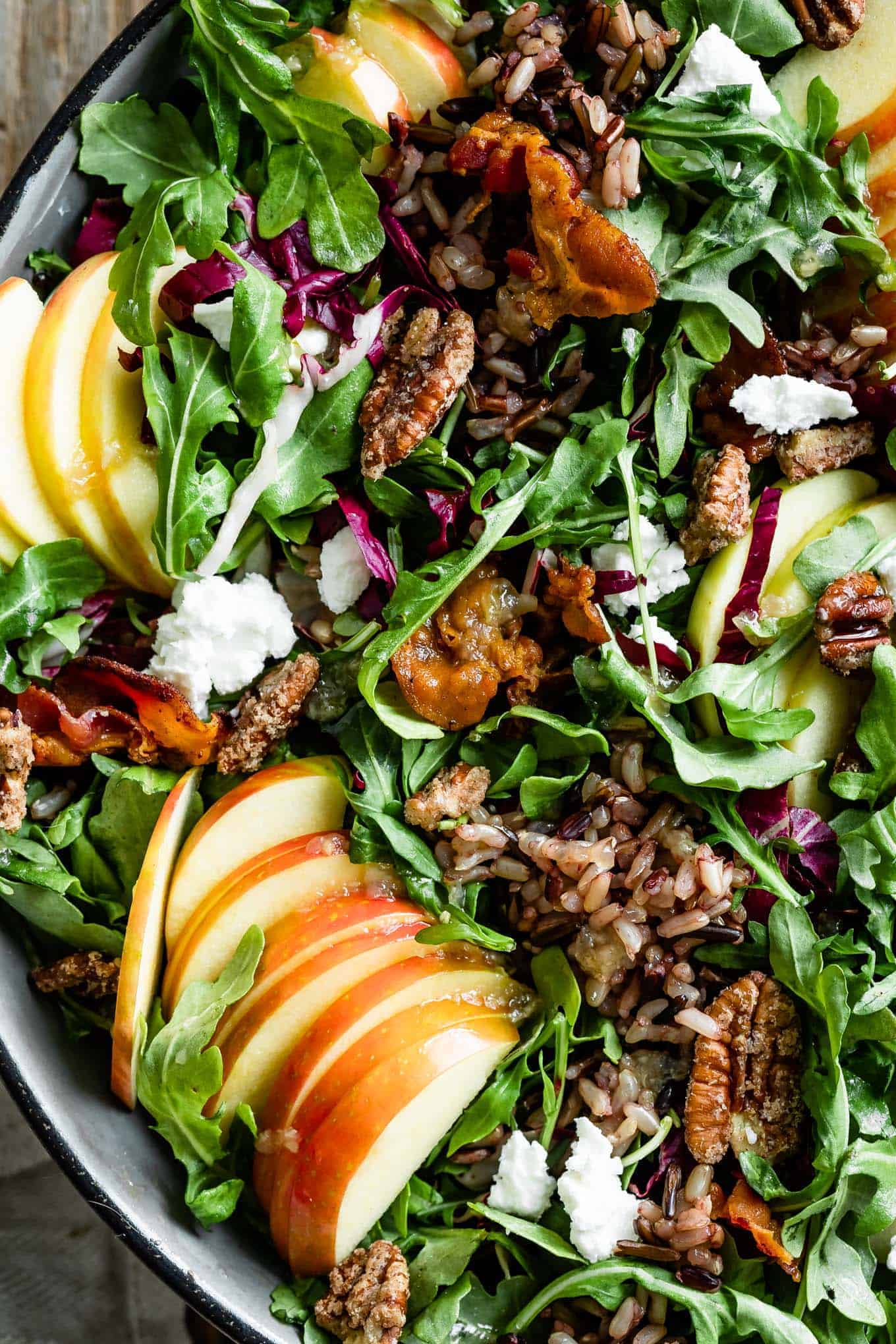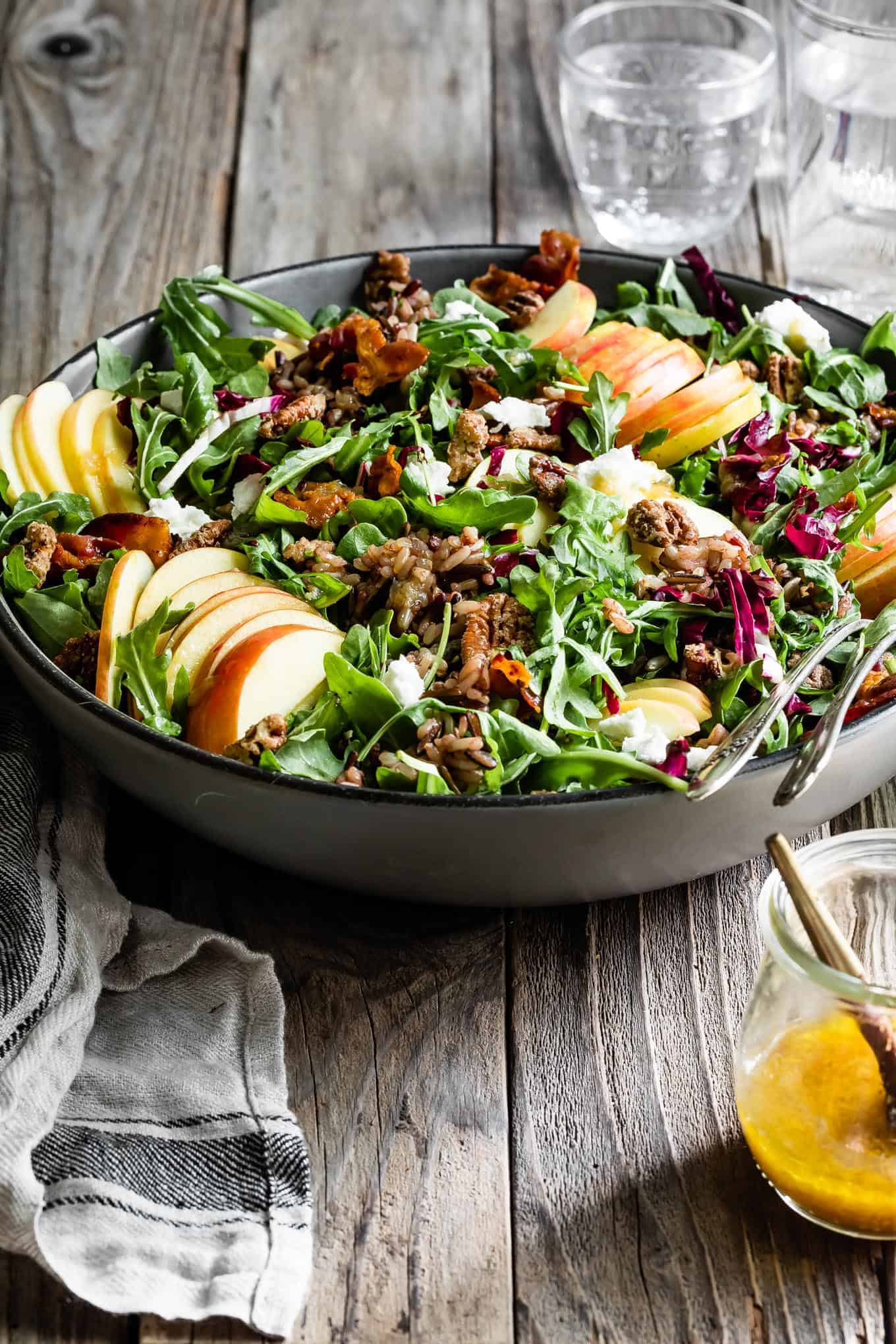 What to put on an arugula and apple salad
Let's deconstruct this arugula salad:
Arugula adds an herby peppery base.
Radiccio is here for crunch and color, but it also adds a slightly spicy note that balances the creamy goat cheese and sweet apples.
Wild rice makes the salad hearty an adds texture. Sub in short grain brown rice, cooked millet, quinoa, or buckwheat!
Apples add a punch of sweet. I look for crisp sweet apples like honeycrisp to pair with arugula.
Pancetta for salty smokiness (because everything's better with bacon, amiright?) I like thinly sliced Boar's Head pancetta because it almost crumbles into bacon bits as you make your way through the salad. All of Boar's Heads meats are gluten-free! Replace the pancetta with coconut bacon to make the salad vegetarian.
Goat cheese adds creamy tartness. Goat cheese is apple's best friend.
Spiced candied pecans are roasted, nutty, crunchy, and all at once sweet and spicy!
Roasted garlic and shallot vinaigrette is rich and deep in flavor and marries all the ingredients with savory and sweet notes.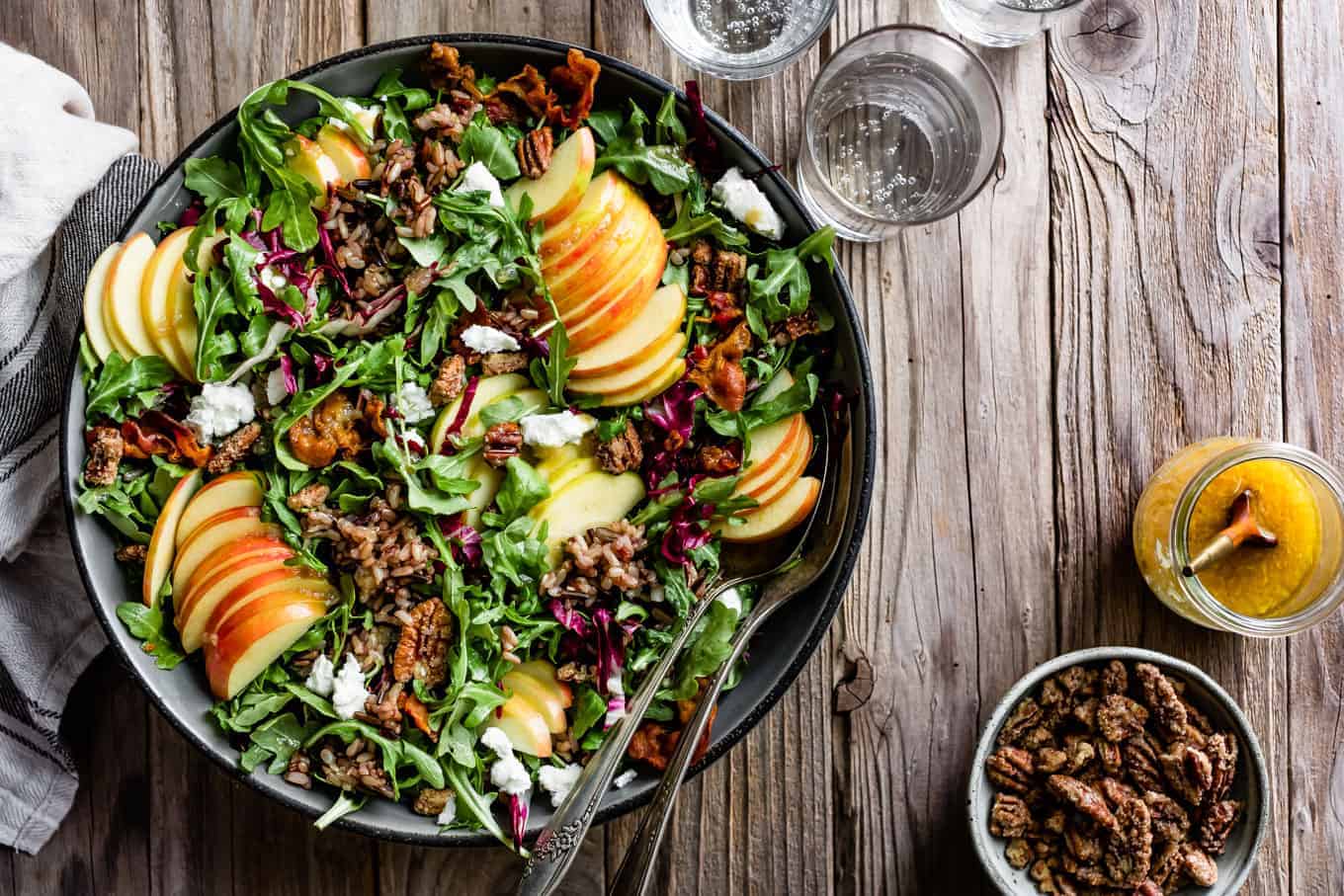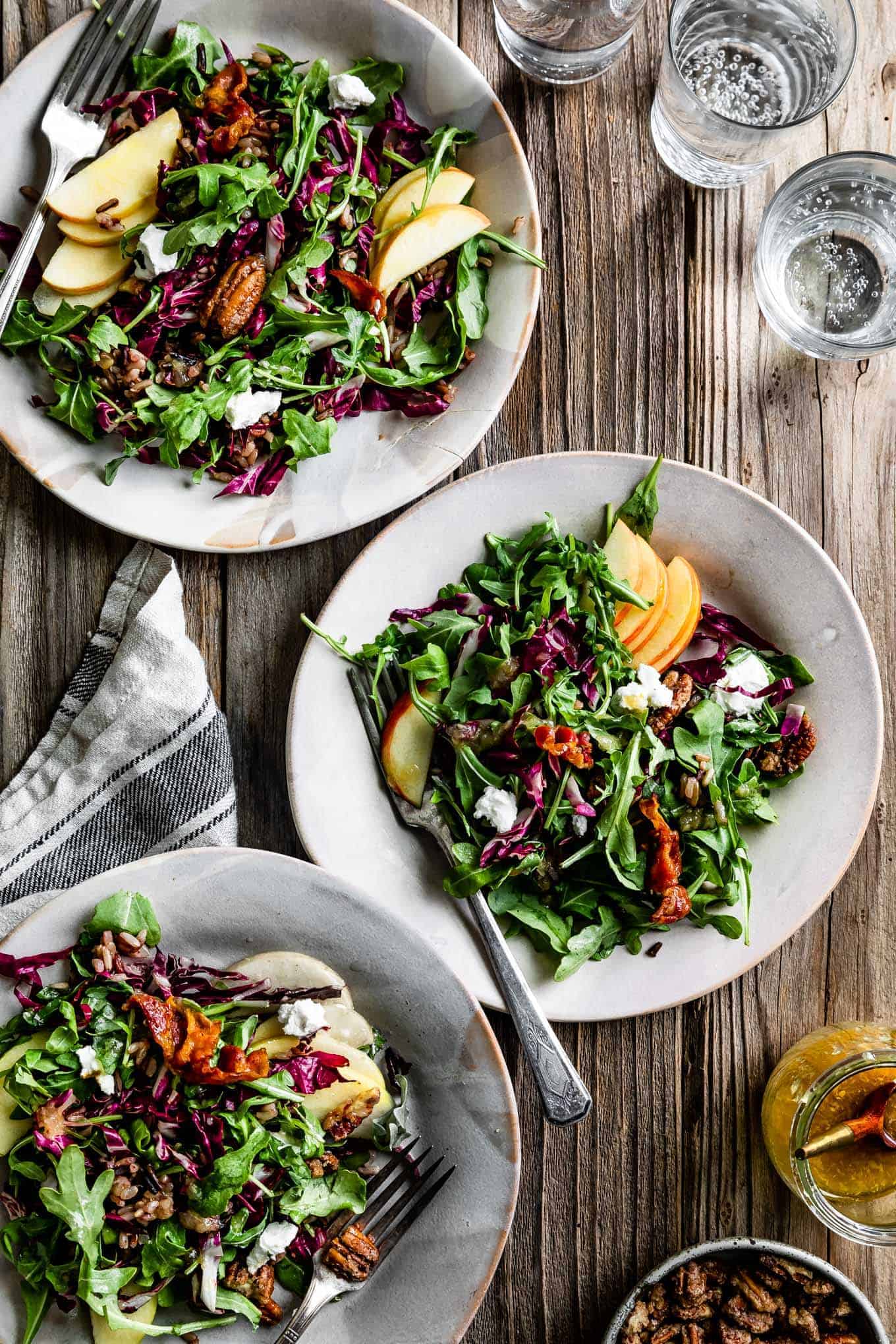 How to Make Roasted Shallot & Garlic Vinaigrette
Raw shallot and garlic often find their way into salad dressing for the spicy pungent kick. When roasted, garlic and shallots take on aromatic subtly sweet notes that when whisked with high quality olive oil, maple syrup, and apple cider vinegar, makes an irresistible dressing you'll want to have on hand at all time.
While you're at it, I recommend making a double or triple batch and storing it in the fridge for quick salads!
Best Olive Oil for Vinaigrette
A flavorful vinaigrette lives and dies with the quality of the olive oil. Be sure to pick a quality extra virgin olive oil for dressings and cooking. Cobram Estate's California Select olive oil is robust and pungent with a low acidity level (bonus: it's loaded with antioxidants!). In general, the more bitter or pungent an olive oil, the more antioxidants it contains, so bring on the flavorful olive oils!
When choosing an olive oil, look for a harvest date in the current year. Olive oil has a short shelf live and is best used up within a year or two!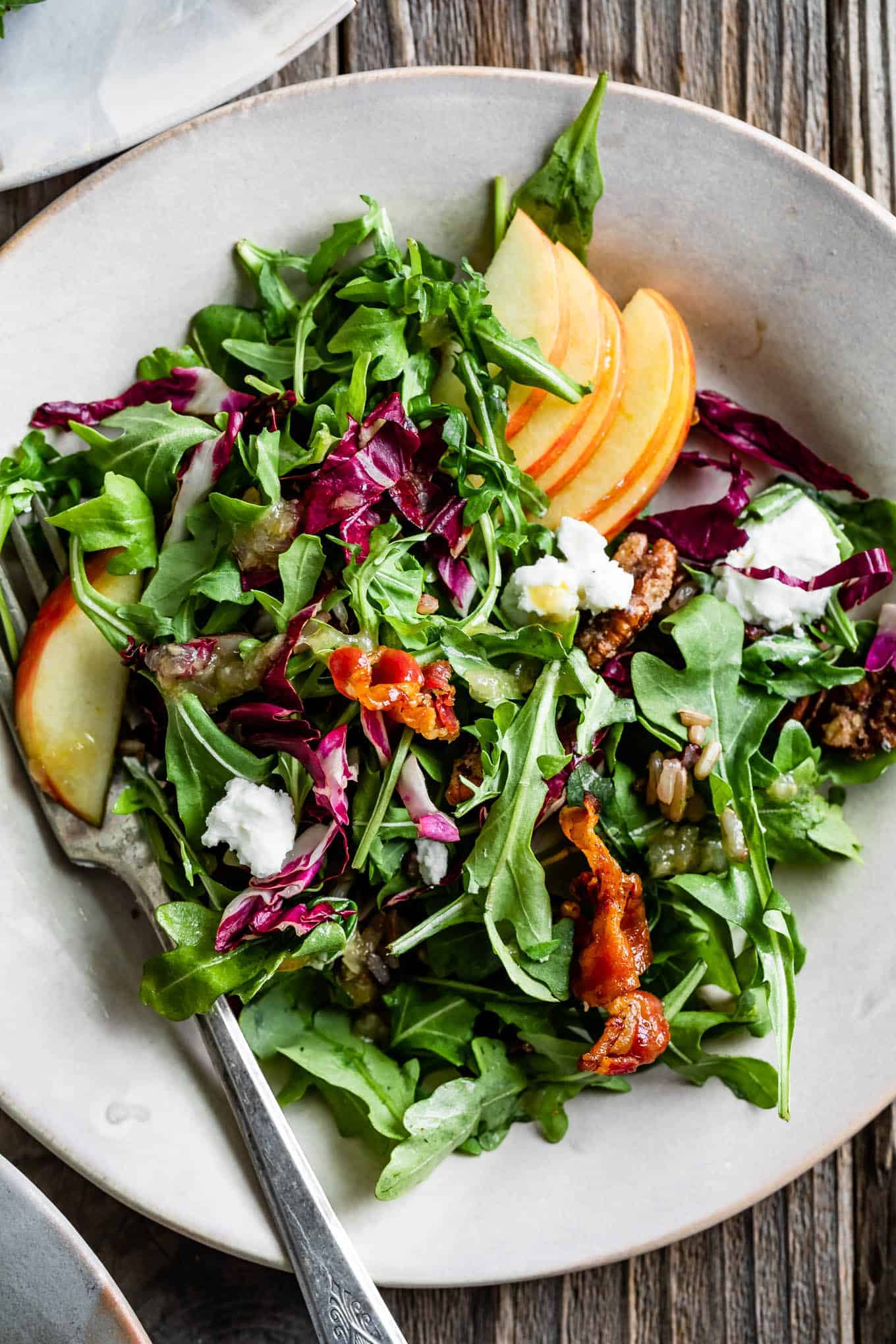 Gluten-Free Thanksgiving Recipes
Fall salads should be hearty and comforting. Between the wild rice, spiced pecans, and crisp pancetta, this salad hits all the marks.
While most people have at least 2-3 holiday side dishes they look forward to every year, salad tends to be the wild card, at least in my family. It's the perfect dish to mix things up year after year. And this arugula apple salad is exactly the salad I want alongside my Thanksgiving or Christmas classic sides.
Here's a list of a few of my favorite gluten-free recipes perfect for your holiday table!
Breakfast:
Appetizers:
Stuffing:
Sides:
Salads:
Dessert:
Drinks
To get extra fancy, set out a Dasani flavored sparkling water mocktail bar!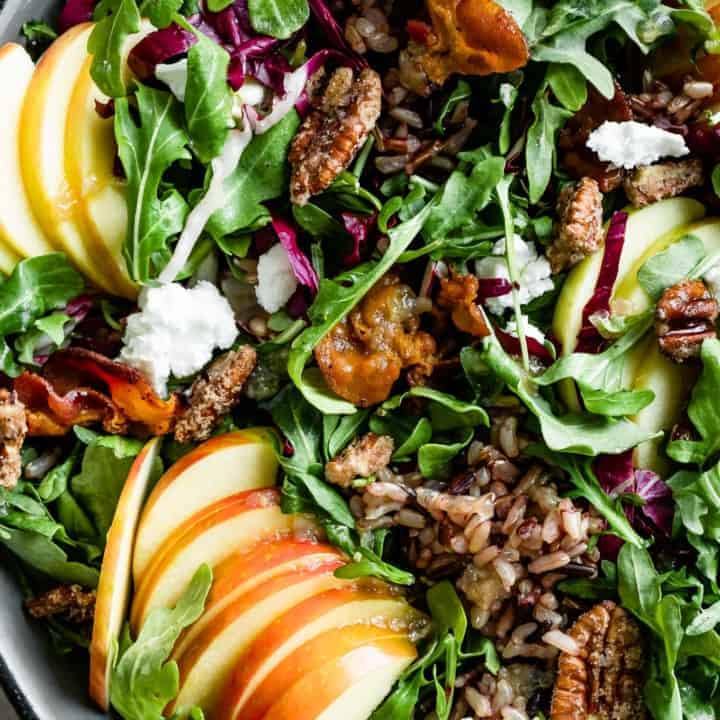 Arugula Apple Salad with Roasted Garlic Vinaigrette
This arugula apple salad is hearty enough to serve as a main dish or a side! Topped with a roasted shallot & garlic vinaigrette, pancetta, wild rice, and goat cheese, this arugula salad is exciting in every bite!
Ingredients
Roasted garlic and shallot vinaigrette (recipe below)
1 cup spiced pecans (recipe below)
8oz baby arugula (about 5 cups)
1 small head radicchio, thinly sliced or torn into small pieces
1½ cups cooked wild rice, cooled
2 honeycrisp apples, cut off the core and thinly sliced
4oz thinly sliced pancetta, cooked until crisp and broken into 1-inch pieces
5oz goat cheese, crumbled
Spiced Pecans
1 cup coarsely chopped toasted pecans
1 tablespoon maple syrup
1 tablespoon sugar
1 teaspoon unsalted butter
¼ teaspoon cinnamon
⅛ teaspoon nutmeg
⅛ teaspoon cloves
⅛ teaspoon cayenne
Roasted garlic and shallot vinaigrette
4 large cloves garlic, peeled
1 large shallot, halved
2 tablespoons extra virgin olive oil
1 tablespoon maple syrup
1 tablespoon apple cider vinegar
2 teaspoons fresh lemon juice
¼ teaspoon kosher salt
Instructions
Prepare all your ingredients: Cook wild rice, crisp pancetta, slice radiccio, and crumble goat cheese.
Meanwhile, prepare the vinaigrette. Preheat oven to 400°F. Wrap the garlic cloves and shallot in a foil pouch and roast for 30-35 minutes until shallot and garlic are super soft when pierced with a fork. Remove from foil and finely mince garlic and shallot. You should have about 1½ teaspoons mashed roasted garlic and 1 tablespoon mashed roasted shallot. Add them to a small mixing bowl with remaining dressing ingredients and whisk until smooth and combined. Set aside.
While the garlic roasts, make the spiced pecans. Melt the butter, sugar, and maple syrup in a small skillet over medium heat. Add the nuts and spices, tossing to combine. Cook for 2 more minutes to cook the sugars, then transfer to a parchment paper lined baking sheet to cool completely. Once cool, break the pieces apart with your hands.
Toss the arugula and radicchio with wild rice and half of the vinaigrette. Top with apples, crumbled goat cheese, spiced pecans, and pancetta. Just before serving, drizzle with remaining vinaigrette.