These cheese crostini with rosemary cranberry fig jam make wintry and festive easy appetizer for your holiday spread. Gluten-free baguette topped with melted Grand Cru, a homemade quick jam, and toasted walnuts. Plus a video on how to make it!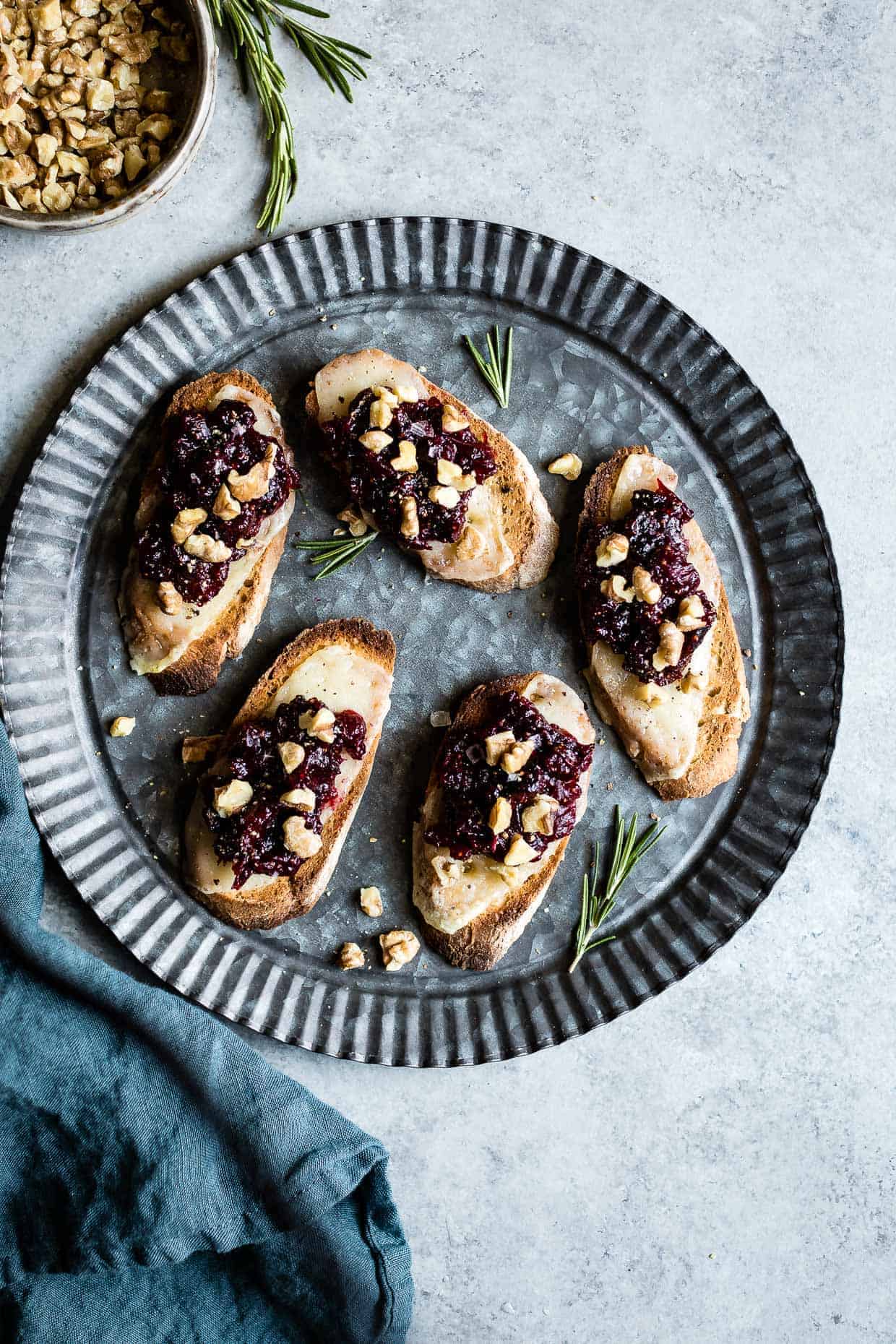 Have you been to any holiday parties yet this year? Hosted one of your own? Like me, do you also feel like there's something going on every day from now until the new year? My mom texted me what I wanted to make for Christmas dinner and I panicked because that's still two weeks away. I told her to take last year's menu and add these cheese crostini with rosemary cranberry fig jam. I recommend you do the same. And get extra Grand Cru cheese for snacking while you wrap presents.
These cheese crostini with cranberry fig jam are the second in a holiday video series in collaboration with Roth Cheese. First, we had cheesy pumpkin taquitos - a vegetarian main or side dish for your holiday spread. Now we've got your easy cheesy holiday appetizer covered too. Scroll to the bottom for the recipe and video! Both of these recipes use Roth's Grand Cru, which I just found out is 50% off at Whole Foods this week as part of their 12 days of cheese sale so you better get there quickly. Stock up.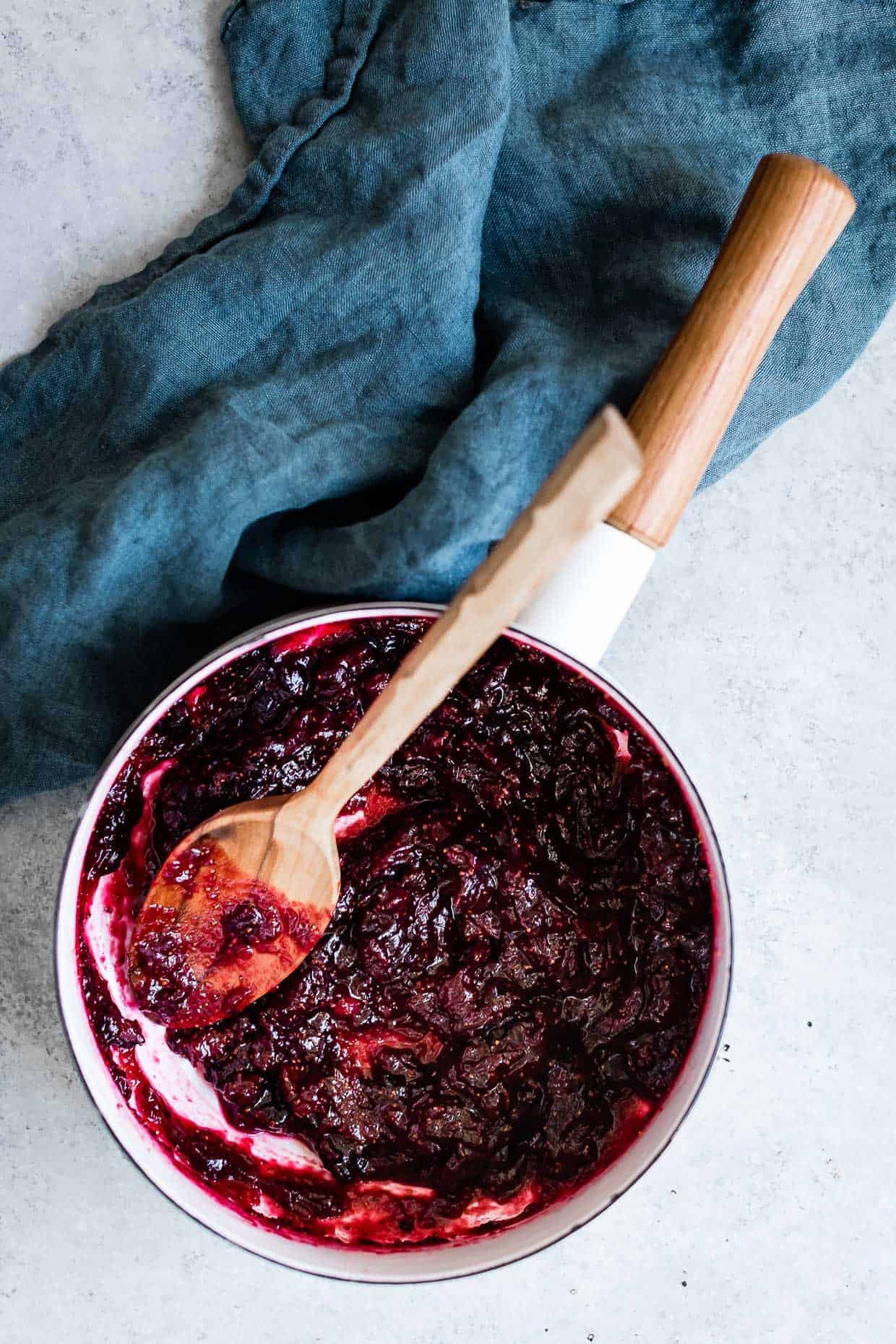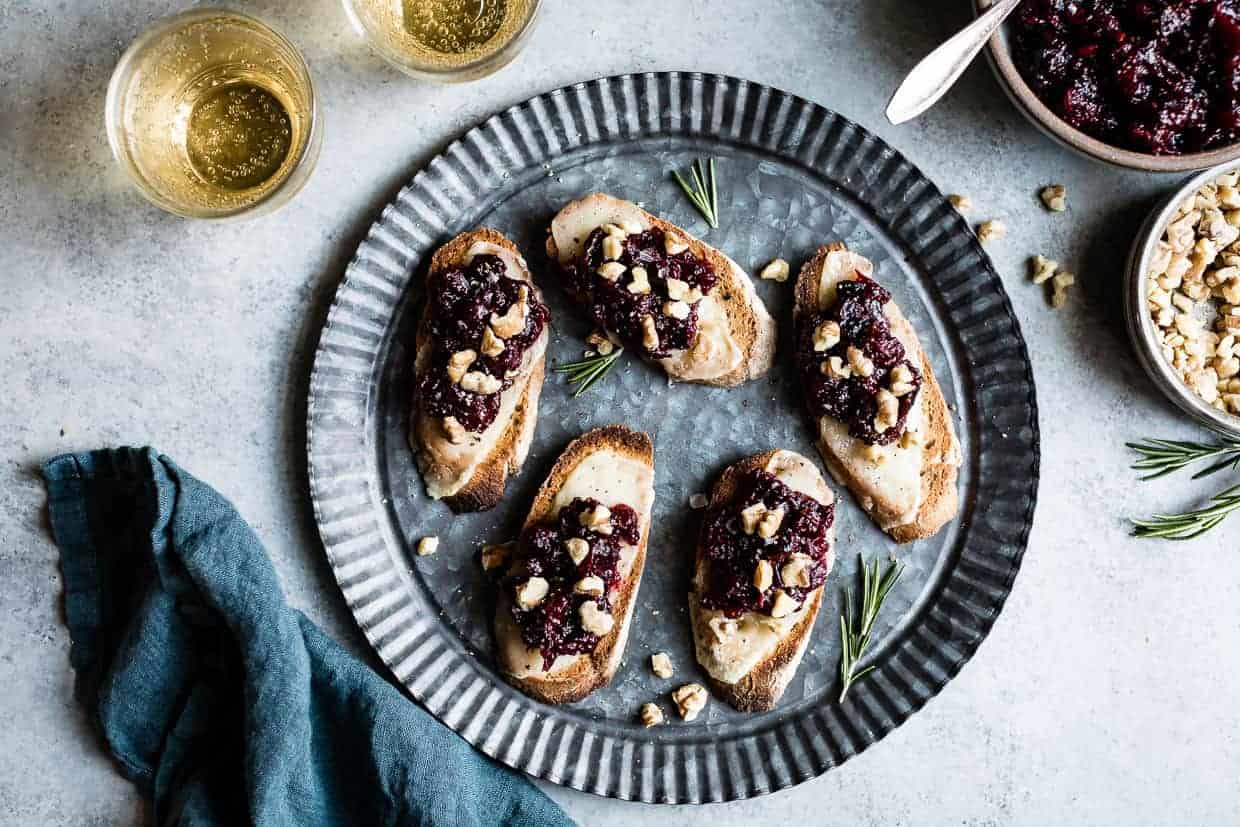 I love the festivities of the holiday season, but it seems to fly by a lot quicker as an adult. In the past week, we've pulled out the decorations, put up a Christmas tree, made multiple batches of my mom's homemade toffee, delivered crumble bars and cheesecake platters to the neighbors, and set our Spotify queue to all holiday tunes all the time. Lucas also took our next door neighbor's strand of icicle lights as a challenge and lit up our house. Okay, okay, it's only four strands, but it looks pretty festive, though arguably not as festive as those holiday projector lights that make your house feel like it's hosting a Christmas Disco. Have you seen those?
What ever happened to just good old fashioned bulb lights that were just a little risky if they overheated? FYI: They've got safe LED versions now.
I know because our toddler pointed them out at Home Depot, "I want that one." She wouldn't let go of the box until she'd brought them all the way home (she's got daddy wrapped around her finger). I imagine she'll keep them up until she's a teenager when she'll add beaded bedroom door curtains and inflatable furniture.
And I'll have all the photos of her sobbing on Santa's lap hung in the hallway. (We're two for two now...even though she talked about sitting on Santa's lap ALL WEEK).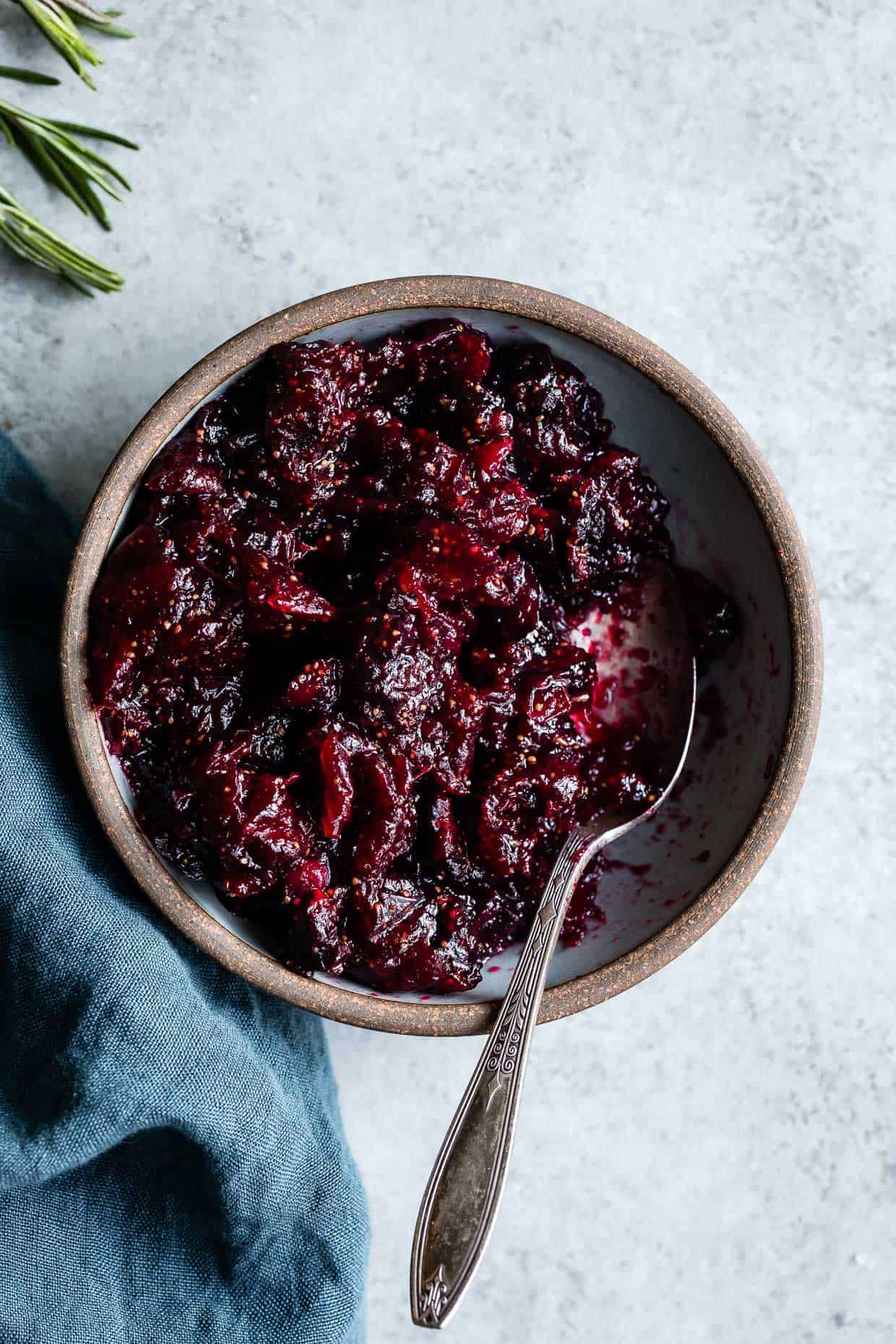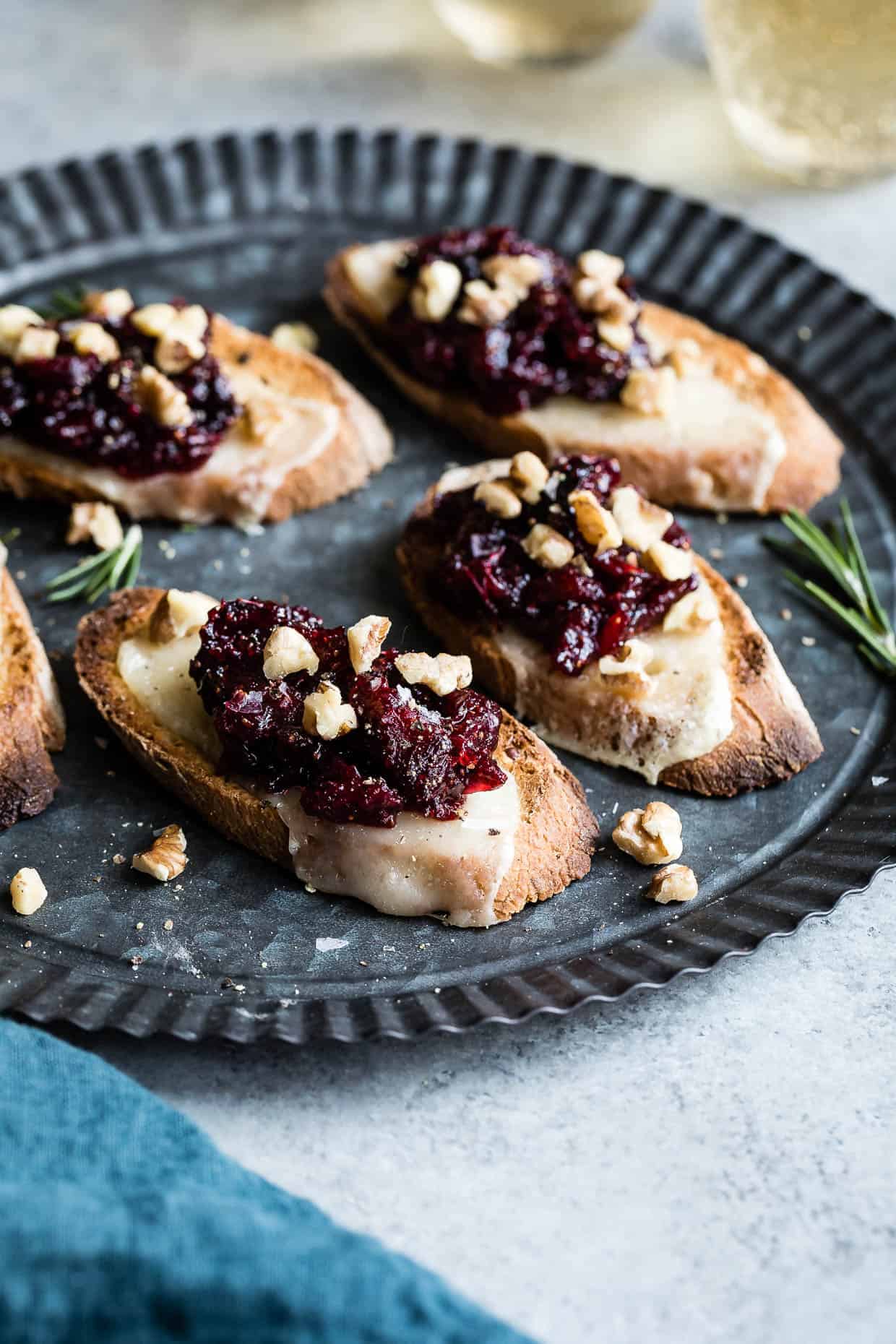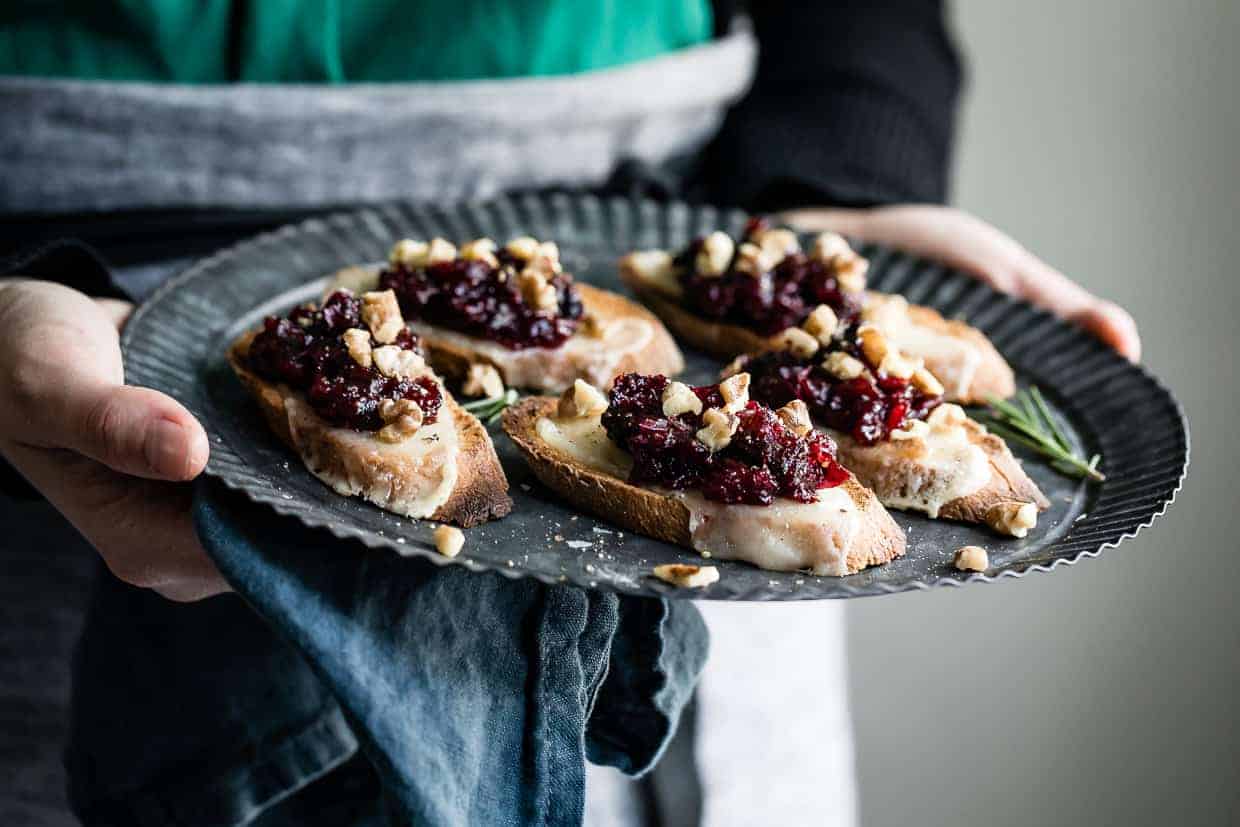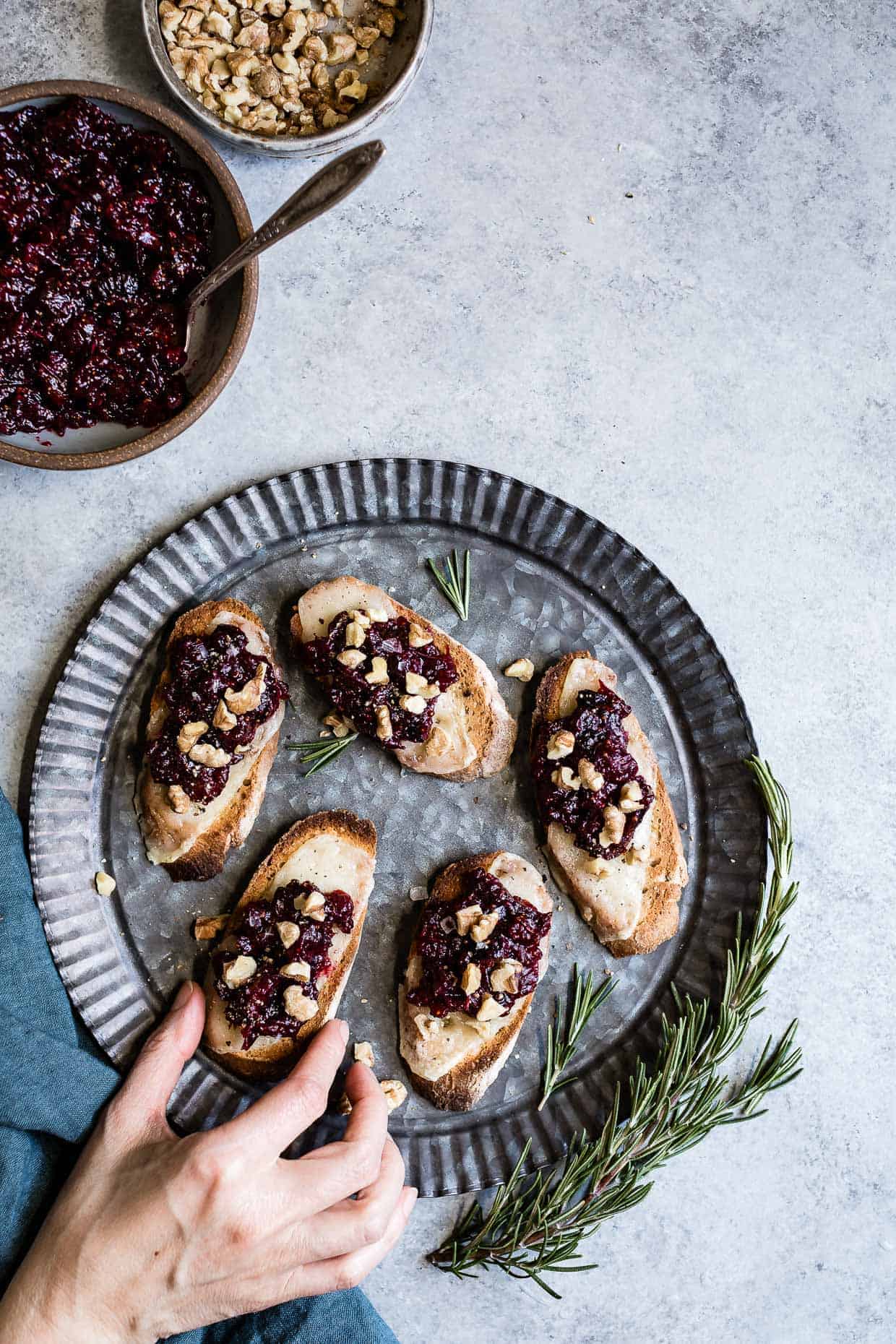 Gluten-free tip: I made my crostini gluten-free with baguettes that I ordered from Arise Bakery - if you want to make yours gluten-free, this really is the best bread for the job.
Now for the video that shows just how easy these crostini come together! Special thanks to the help of my videographer partner, Alanna.
Disclosure: Special thanks to Roth Cheese for sponsoring this post! And thanks to you for supporting the companies that keep Snixy Kitchen cooking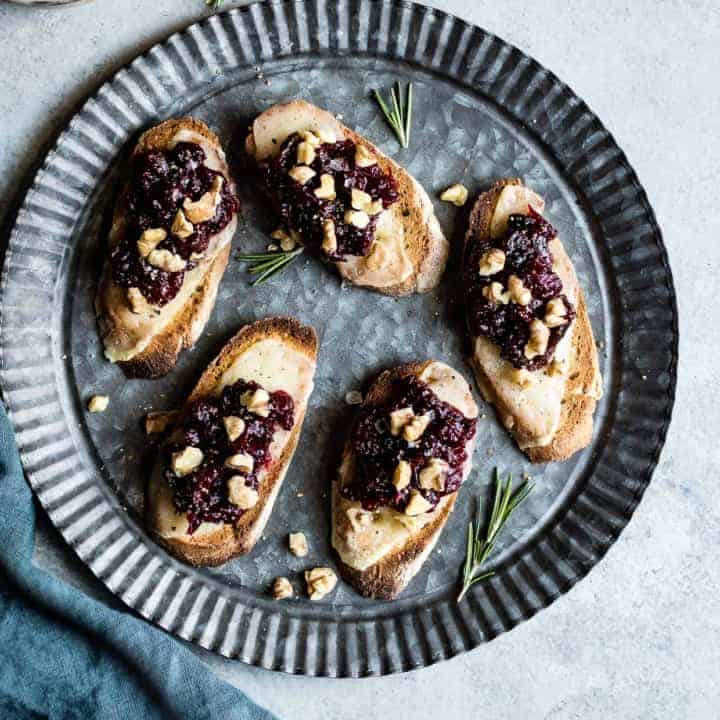 Cheese Crostini with Cranberry Fig Jam
Yield:
About 2 dozen crostini
Ingredients
Cranberry Fig Jam
1½ cups fresh or frozen cranberries
½ cup dried figs, chopped
½ cup water
¼ cup + 2 tablespoons cane sugar
2 tablespoons honey
2 tablespoons freshly squeeze lemon juice
½ teaspoon minced fresh rosemary
⅛ teaspoon freshly cracked pepper
Crostini
1-2 tablespoons olive oil, for brushing
⅓ cup toasted walnuts, coarsely chopped
Instructions
Preheat oven or toaster oven to 400°F.
Add all of the cranberry fig jam ingredients to a medium pot and bring to a simmer over medium heat, stirring occasionally. Reduce heat to a simmer and cook for 10-15 minutes, breaking down the cranberries against the side of the pot with the back of a wooden spoon, until thickened. Set aside.
Brush baguette slices with olive oil and place on a baking sheet. Toast in the oven on the upper rack for 5-6 minutes per side, until it just turns golden brown and crispy on the edges.
Preheat the oven to broil.
Place a slice of cheese on each baguette and place baking sheet back in the oven on the middle rack several inches from the broiler for 1-3 minutes, just until the cheese melts and begins to bubble.
Transfer cheesy baguettes to serving platter, top each with a spoonful of cranberry fig jam and a sprinkling of toasted walnuts. Serve warm or room temperature.
Notes
The cranberry jam will keep up to a week in the fridge and reheats well if you make it in advance.