This chicken sheet pan dinner recipe is an easy way to get dinner on the table without much fuss. Lemon parmesan roasted cauliflower and crispy chicken breast tastes great on its own or served over buttered pasta!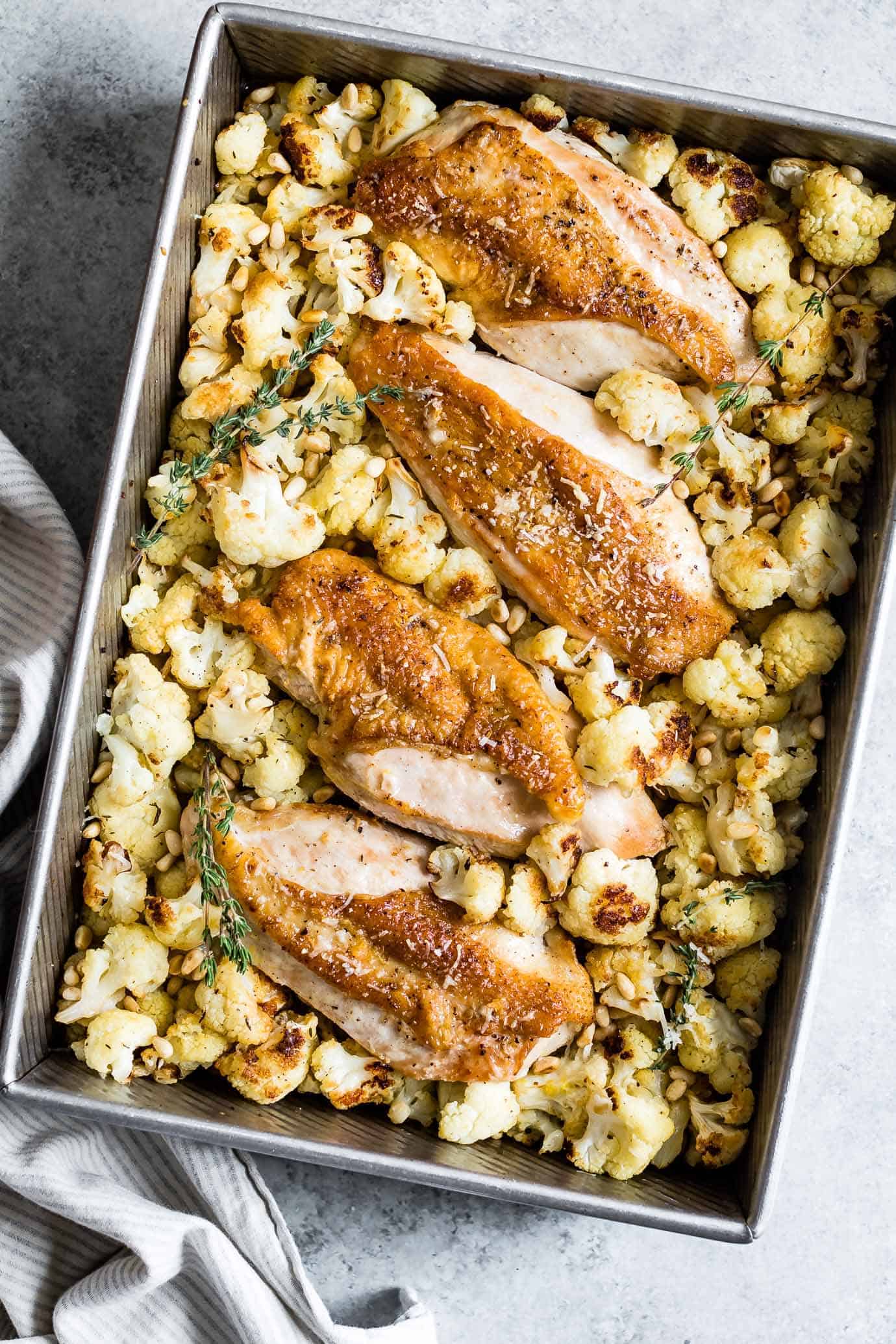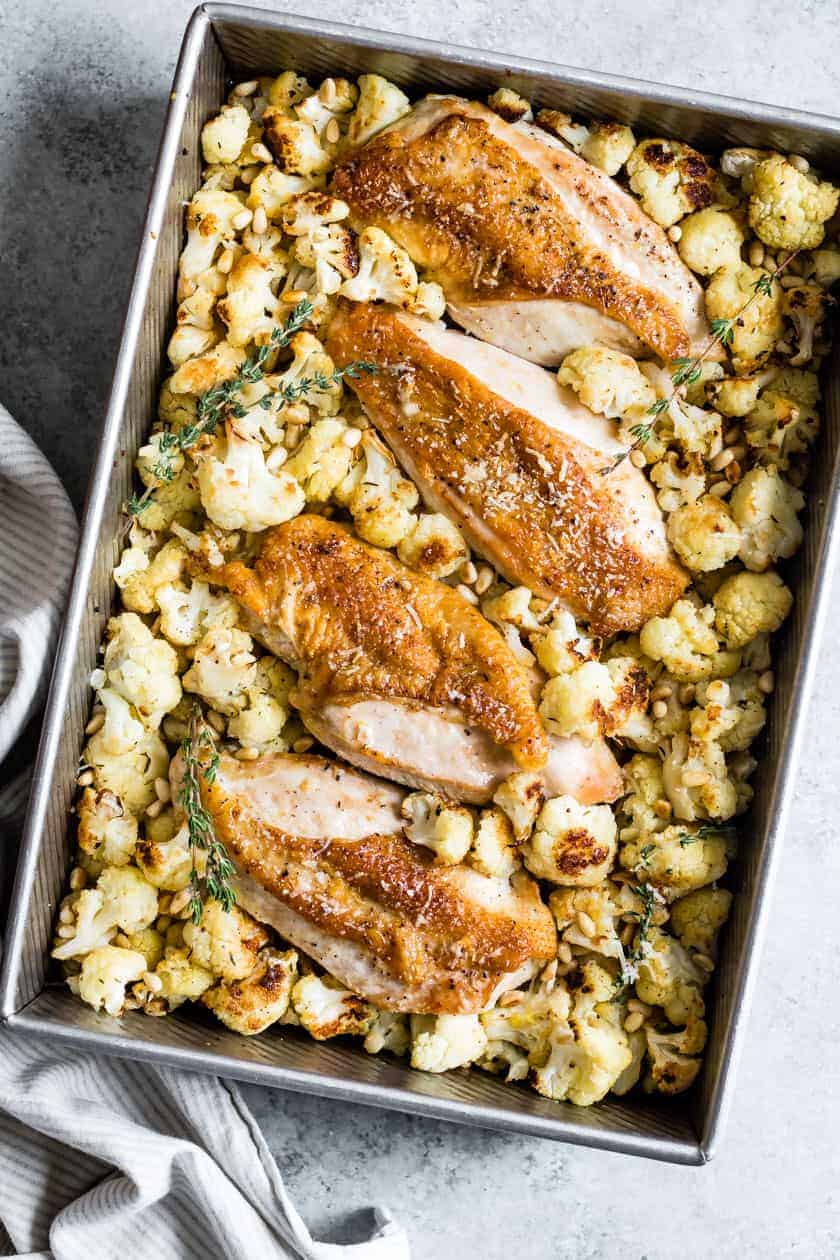 A few weeks ago, before the flames and smoke overtook California, I got to enjoy its beauty and fresh air in abundance. With baby Ira in tow, I joined Safeway on a tour of Earthbound Farm's organic vegetable fields, culminating at their farm stand in Carmel-by-the-sea. We watched baby purple lettuces cut down row by row and treaded among the broccoli stalks in the bright golden sun. We plucked our own herbs, harvested rainbow carrots, and ate raspberries right off the vine. Then we used our treasures to toss together the most bountiful harvest salads. This is California. Northern California. In all its generous glory.
Over this past year and into next, I'm partnering with Safeway on a Farm to Fork blogger tour to learn about and show off some of their specialty Northern California-based vendors. I first made white wine braised artichokes followed by flourless chocolate chunk almond butter cookie bars. Now, inspired by our lunch at the farm stand featuring Earthbound Farm produce, La Tourangelle oils, and Foster Farms chicken, I'm serving up this lemon parmesan roasted cauliflower and chicken sheet pan dinner. You can get this quick and cozy dinner on the table in 1-2-3.


This sheet pan chicken and cauliflower is the epitome of California cuisine. Nestle crispy chicken on a bed of nutty oil-kissed roasted cauliflower, fresh herbs, bright lemon, and parmesan cheese. This dish all at once fresh, simple, and comforting. As I serve this up, I feel so thankful to California for its local high-quality organic produce and varied artisan-crafted offerings. For the soil, sunlight, and culture of care that fosters this food.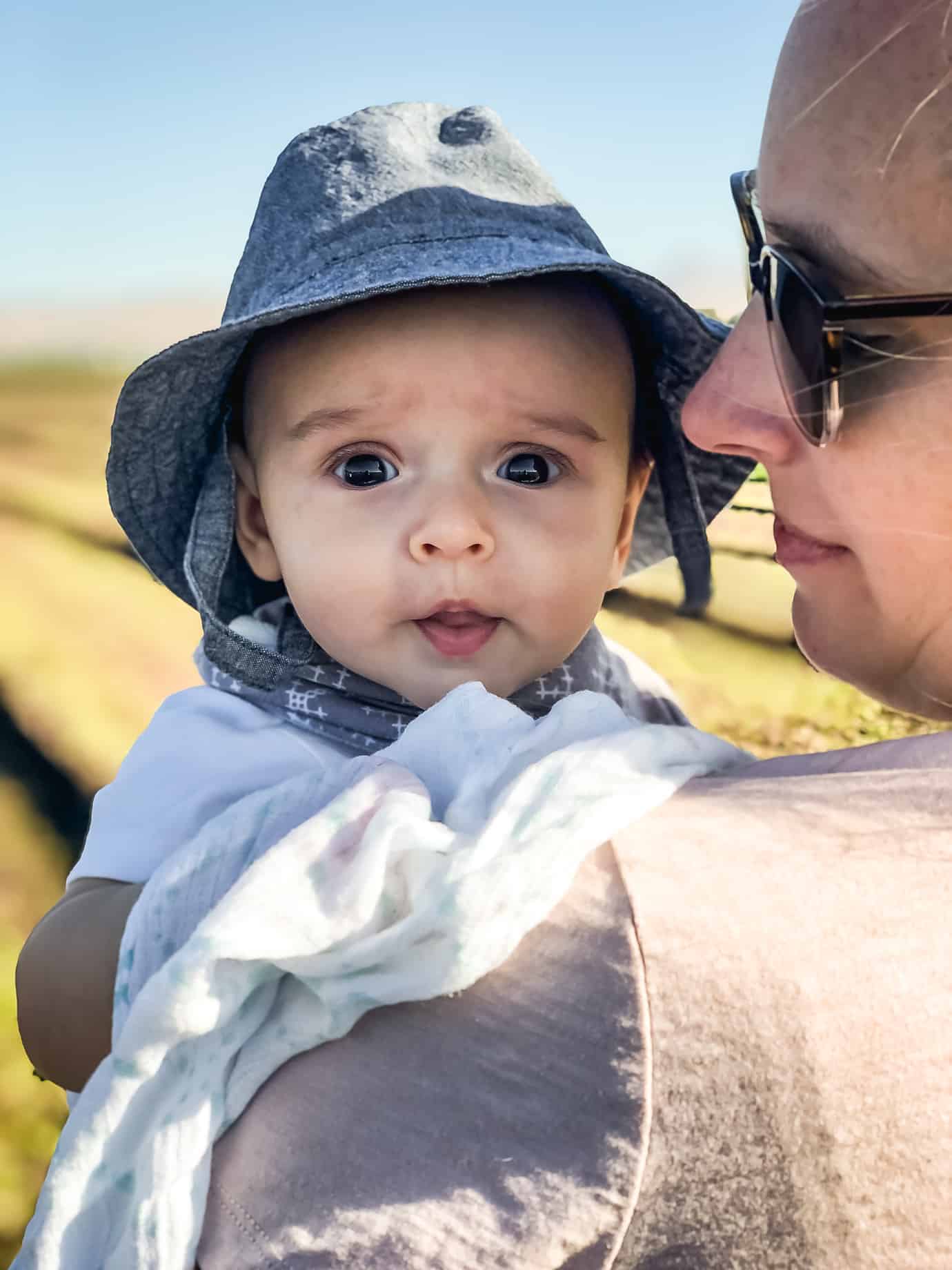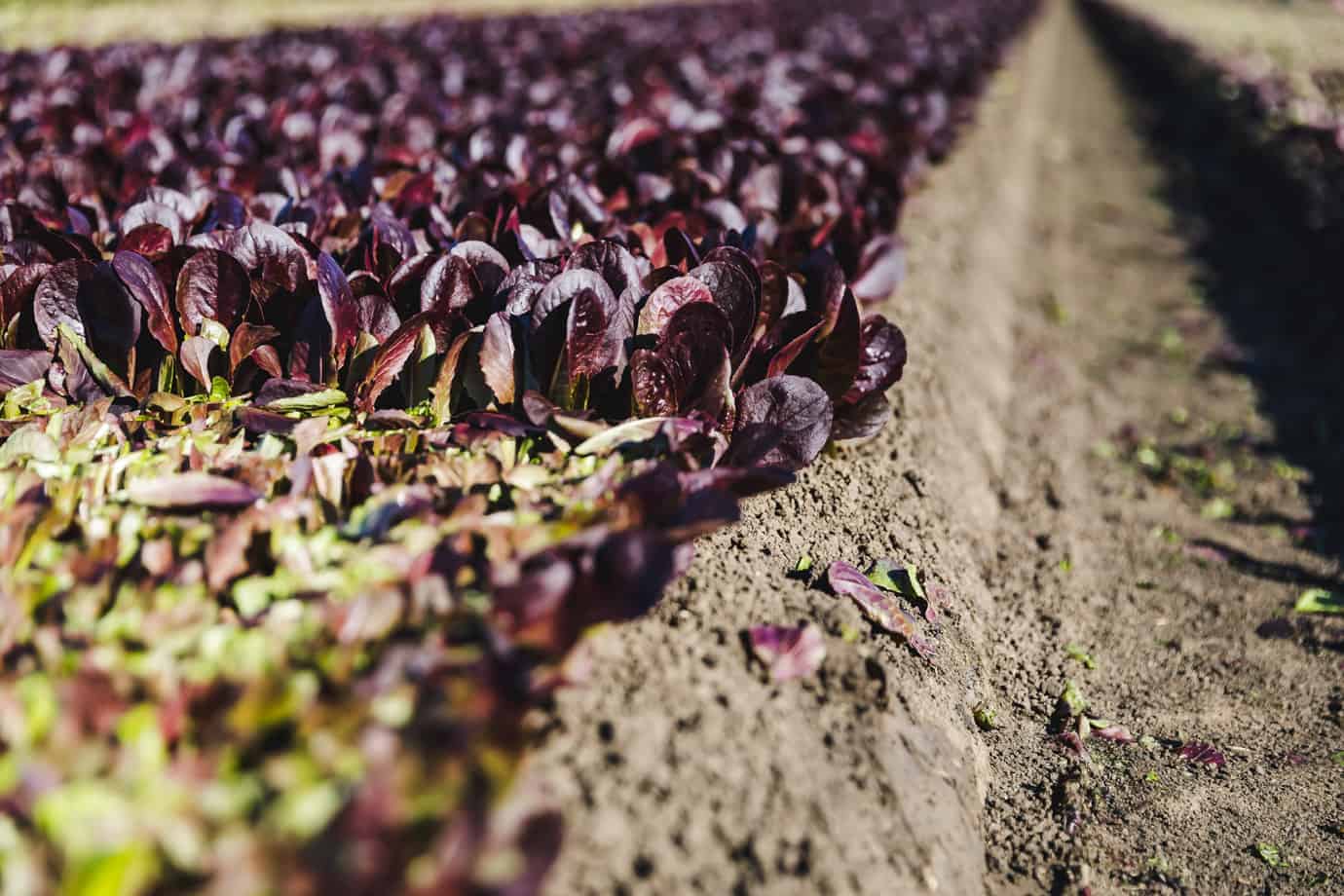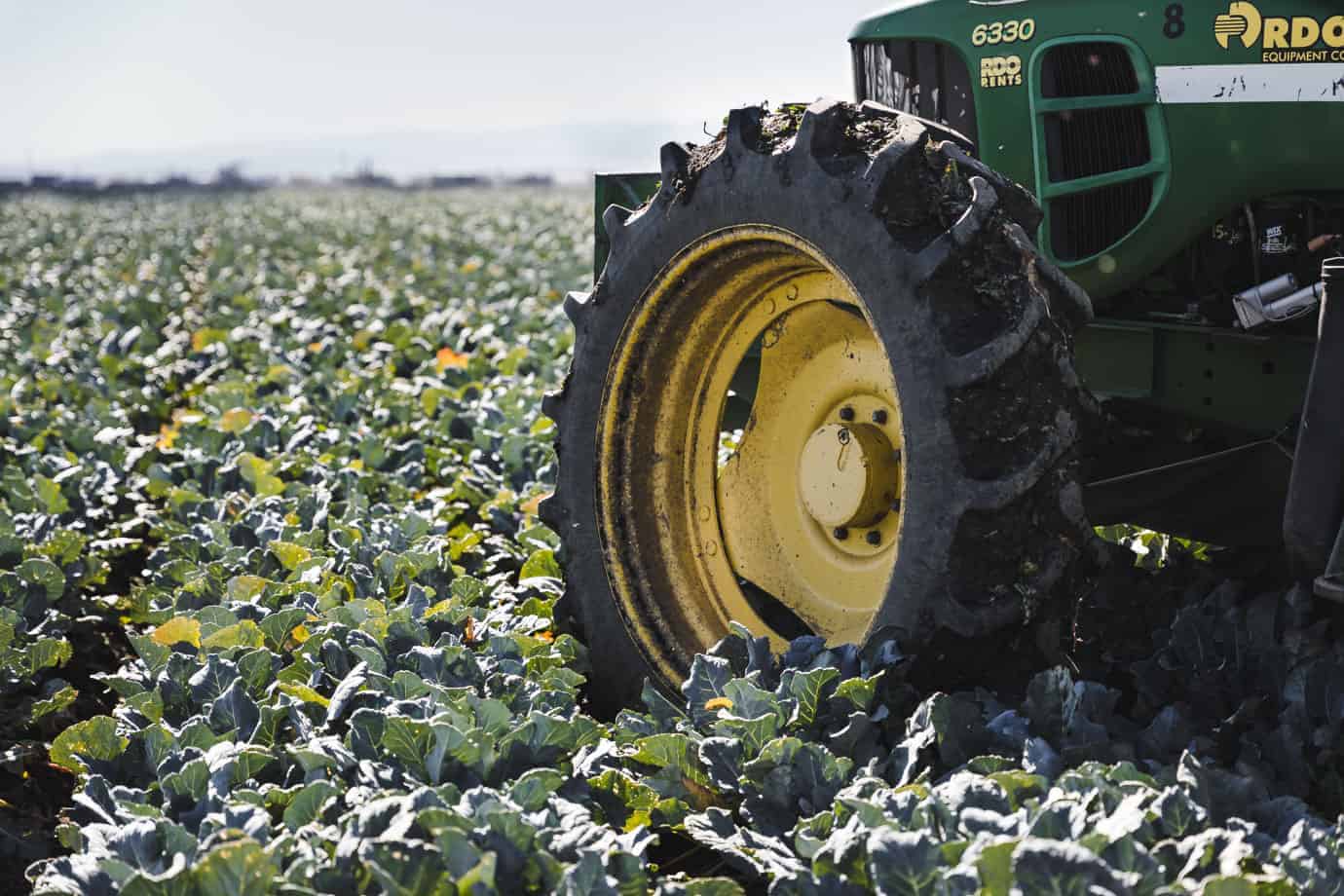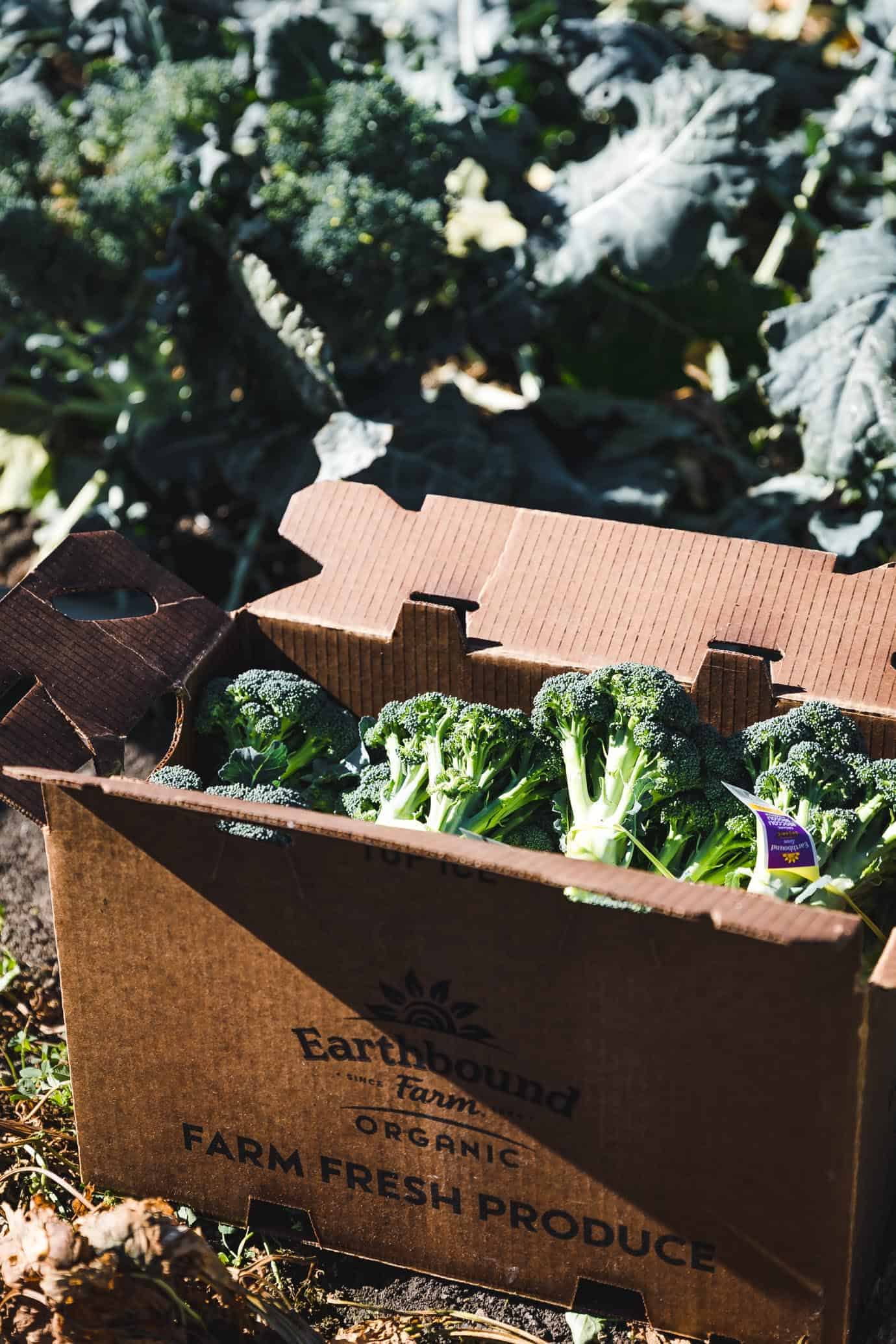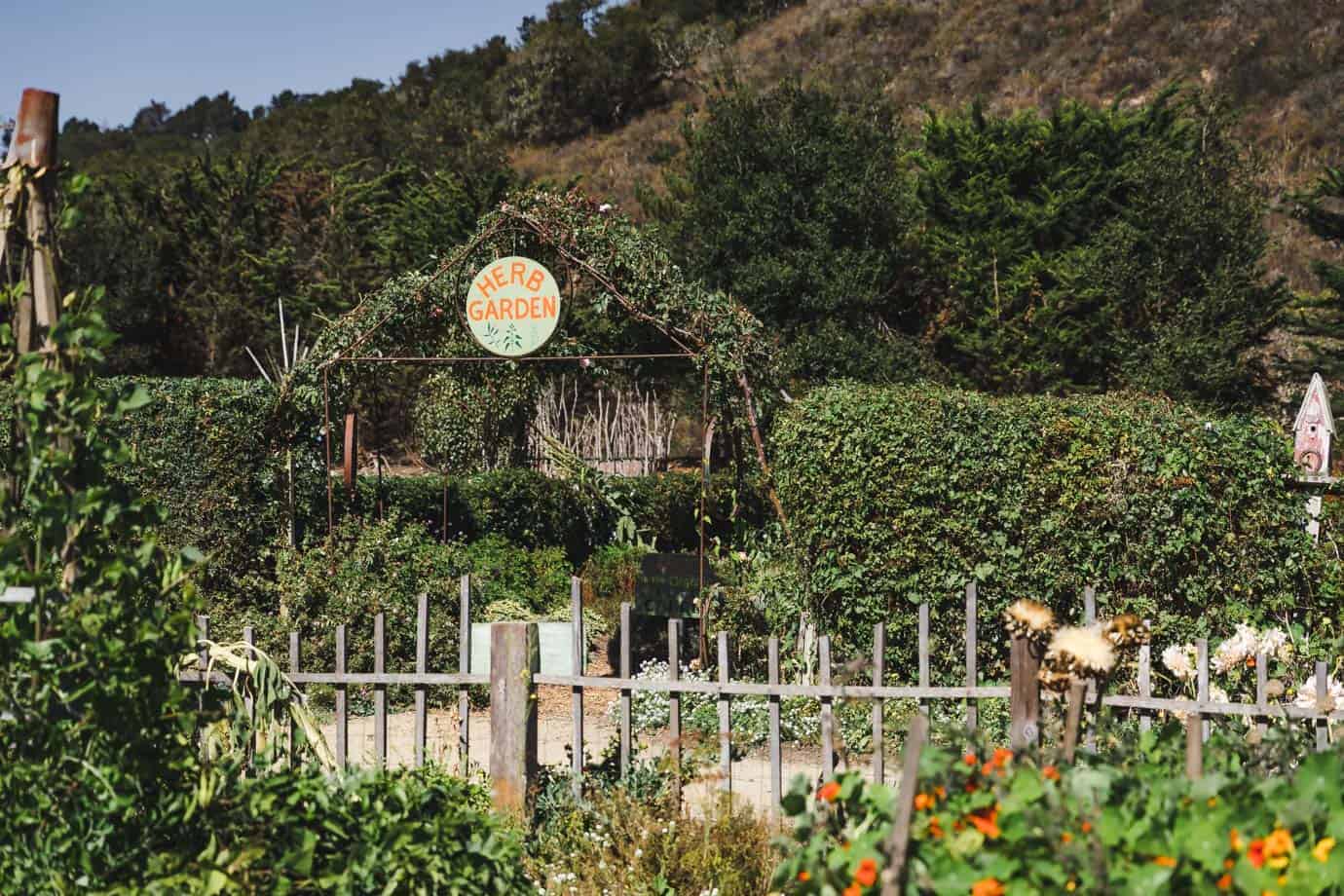 California Fires
This week, though, with a somber cloud of black smoke dusting across California, it stings to recall that sunny sea-kissed land that drew people here in the first place. My heart is heavy for all those who lost their lives to the fires and to the fire evacuee victims - my family and my friends - who lost their homes and everything inside in an instant. I'm mourning for my relatives who lost their home, my hometown, and all of California. Before smoke, before the most devastating wildfires in state history blazed up and down Northern & Southern California, before my hometown community of Chico and the beautiful surrounding Paradise foothills were abruptly ripped apart leaving behind rubble, smoke, and deep painful scars, California gleamed bright, offering up majestic forests alongside its bountiful harvest.
That's California. And it's going to take so much love, compassion, generosity, and lots and lots of hard work to rebuild our golden state. If you're looking for ways to contribute, direct donations to fire victims are a great place to start. Search "California Fires" on Go Fund Me, and you'll find hundreds of families that need help rebuilding, including my aunt, uncle, and cousins who were among thousands who lost their home. No donation is too small, whether it's a dollar or providing dinner for a family.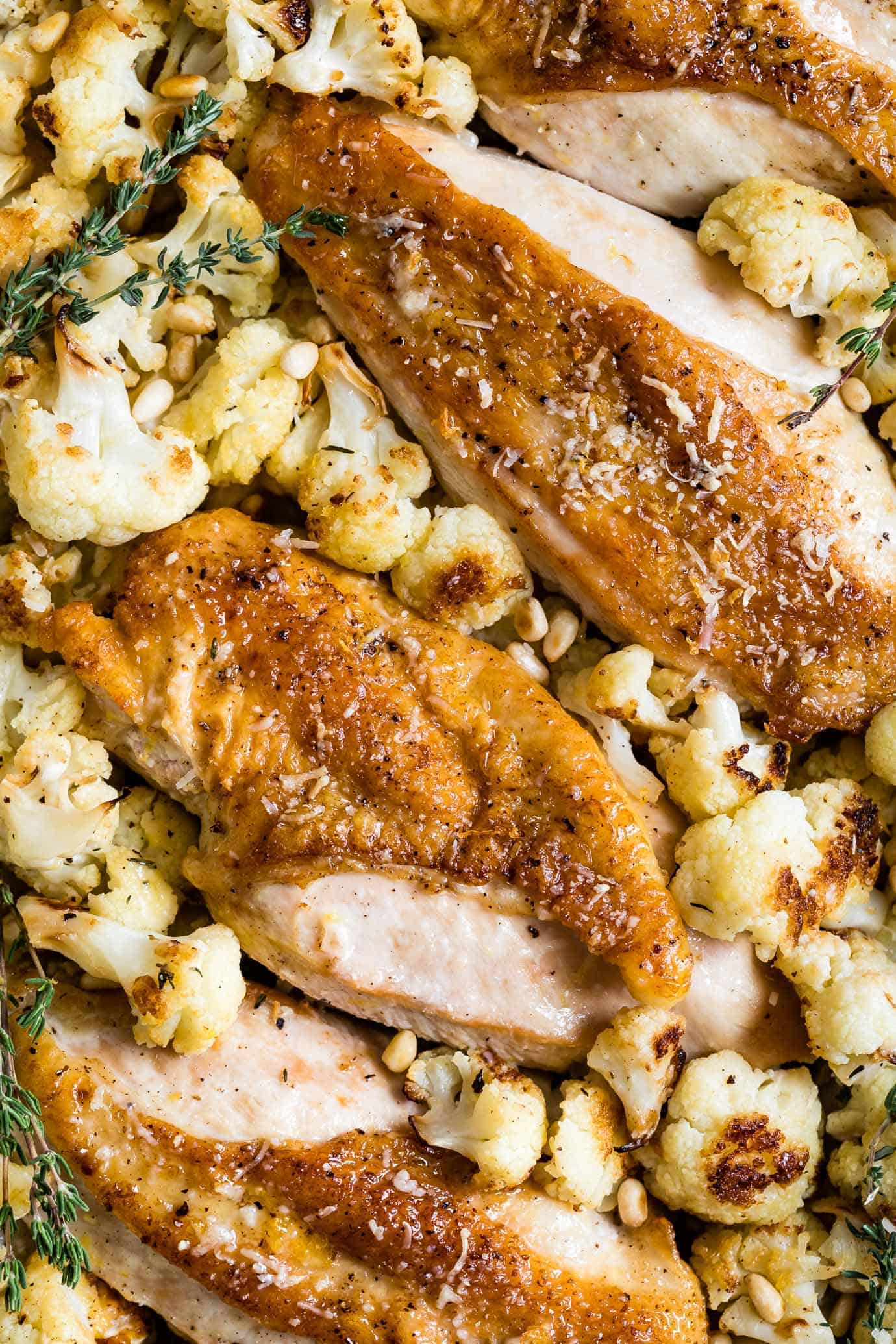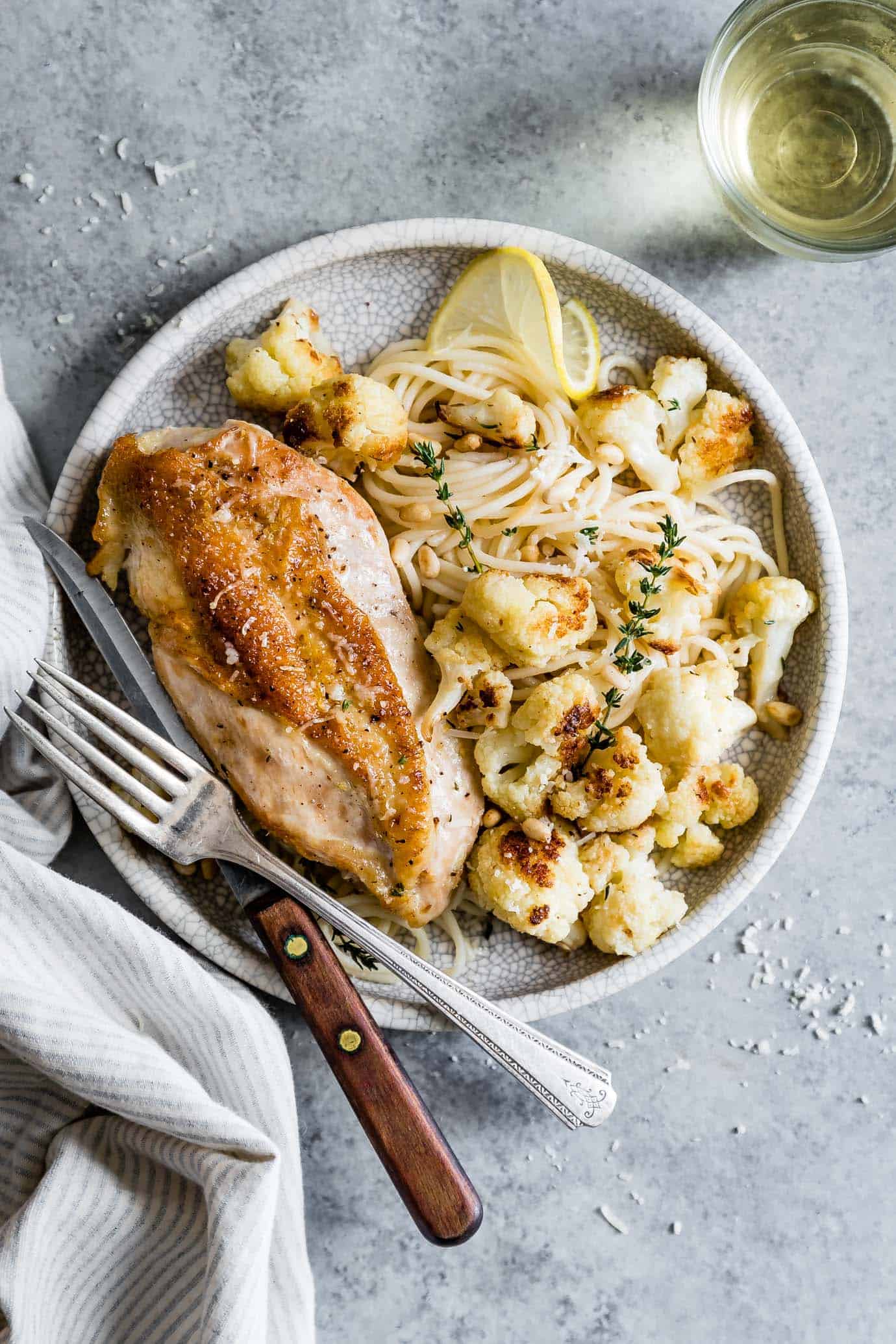 Tips for Chicken Cauliflower Sheet Pan Dinner
Sheet pan dinners are the great solution when you want to bring a meal to someone - whether they are grieving, just had a new baby, or are recovering from a disaster. It's quick to make, serves many, and has the protein and vegetable in one. Eat it as is or serve it up over buttered pasta!
Cauliflower takes longer to roast than some other vegetables. To compensate for this, give the veggies a head start! Nestle in the chicken only after the cauliflower has had a chance to get some color.
What kind of pan to use for a sheet pan dinner?
Short answer: any pan will do! Pick a pan that fits the ingredients you want to roast. Here I've used a metal 9x13 baking pan. I liked how the cauliflower looked all cozied up around the chicken. My cauliflower still fit in a single layer before adding the chicken, which is key for browning. If you want more of your cauliflower to get the dark roasted color, spread your ingredients out on a larger 10x15 or 13x18 half sheet pan.
Keep in mind that if you use a darker roasting pan, your veggies will brown quicker. Try moving your baking pan up a rack and adjusting the baking time accordingly.
Skin-on or skinless chicken breast
I'm a big proponent of skin-on chicken breast. The crispy golden brown skin not only adds flavor, but it also serves to keep the chicken moist and to cook the chicken more evenly.
If you aren't a fan of skin-on chicken breast, you can certainly use boneless skinless chicken breast. Make sure you season the breast well with salt and pepper. Skip the pan frying step and nestle the chicken into the cauliflower 4-5 minutes earlier. To infuse even more flavor, try placing thin lemon slices on top of the chicken.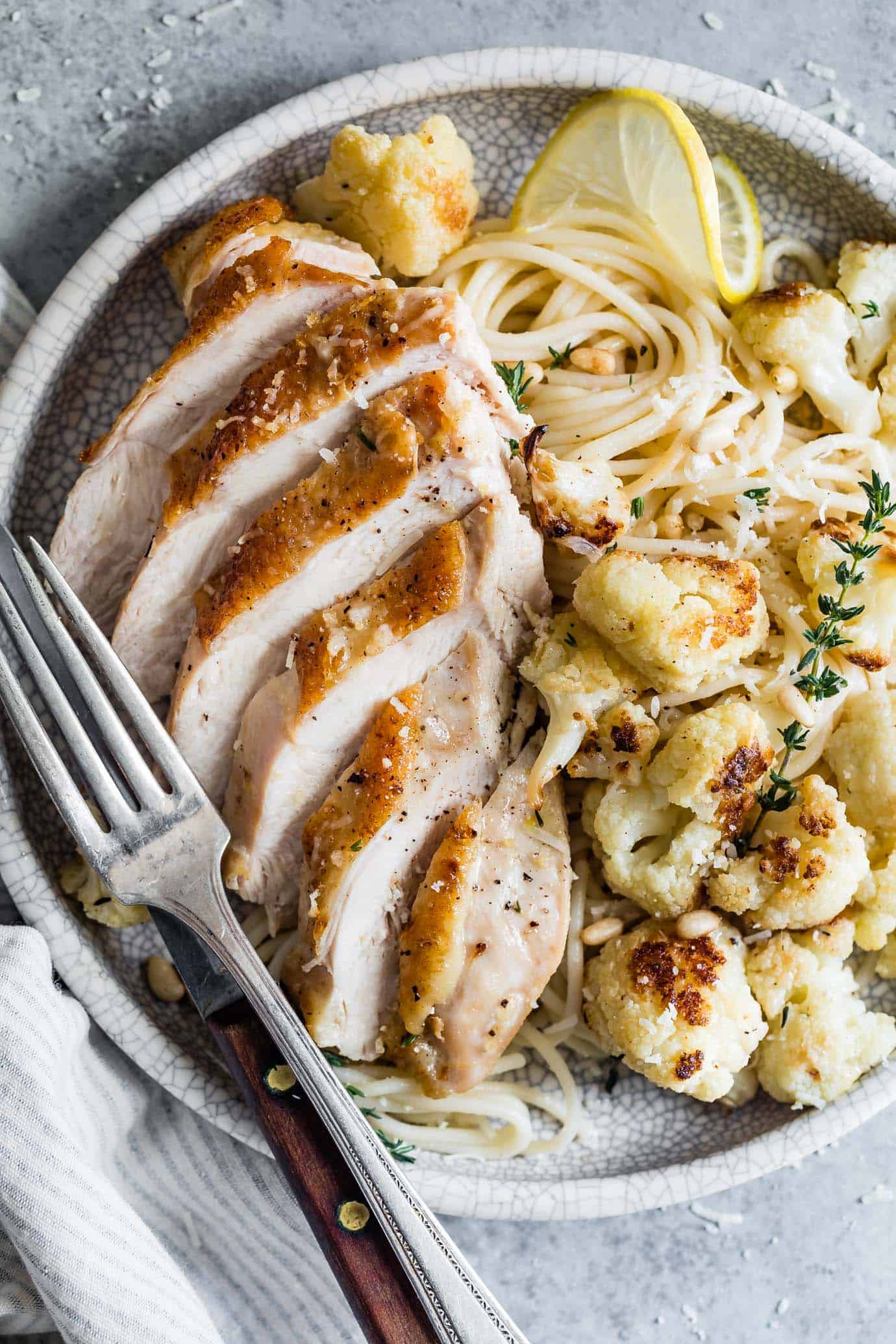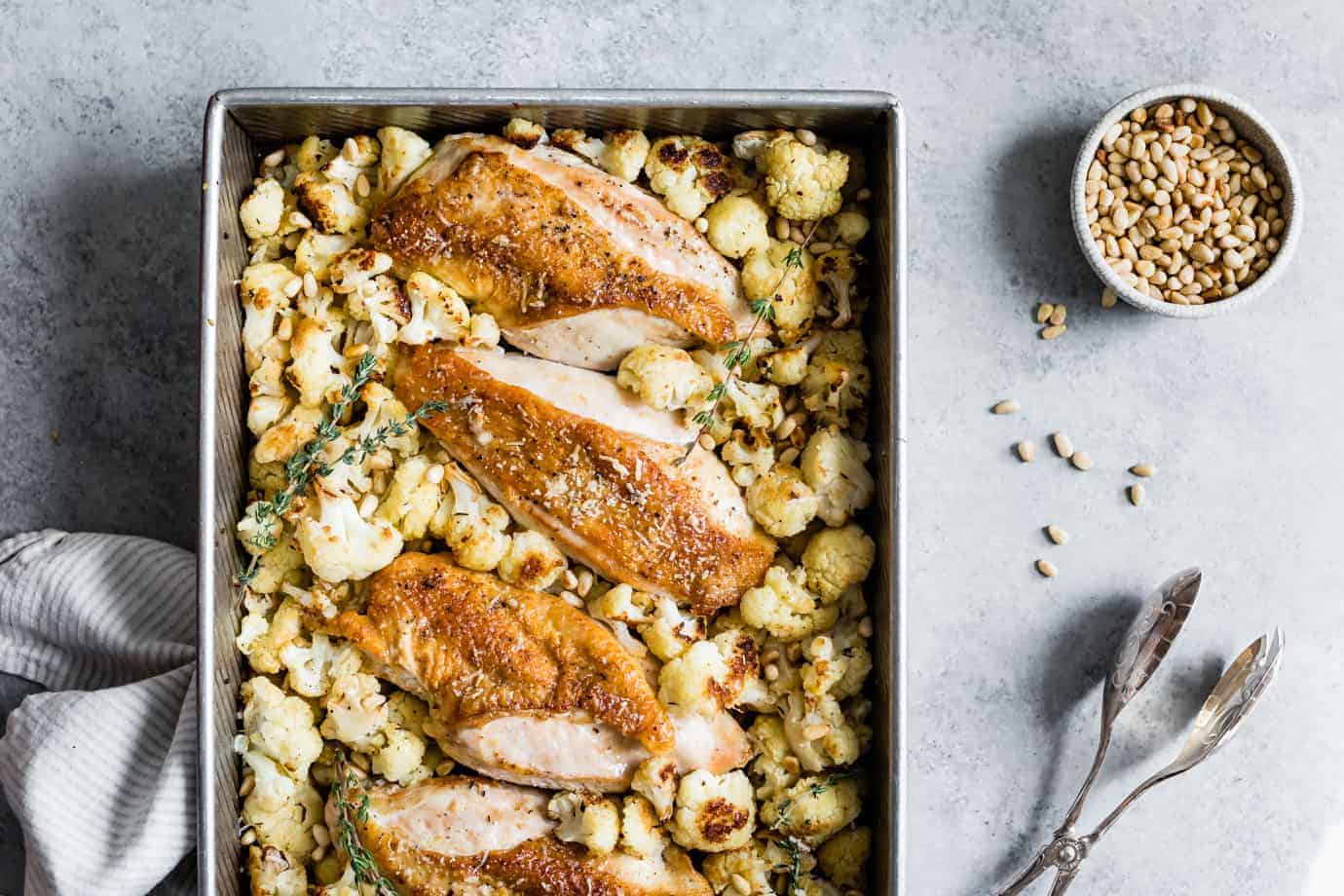 Feeding people is one of the primary ways I tell them I love them. This parmesan roasted cauliflower and chicken sheet pan dinner is great for weeknights as a family, feeding company, or bringing a warm meal over to someone who needs it.
Get all the ingredients delivered to your doorstop using the Safeway home delivery offer at the bottom of this post.
Disclosure: Special thanks to Safewayfor providing the ingredients for this recipe and sponsoring this post! And thanks to you for supporting the companies that keep Snixy Kitchen cooking!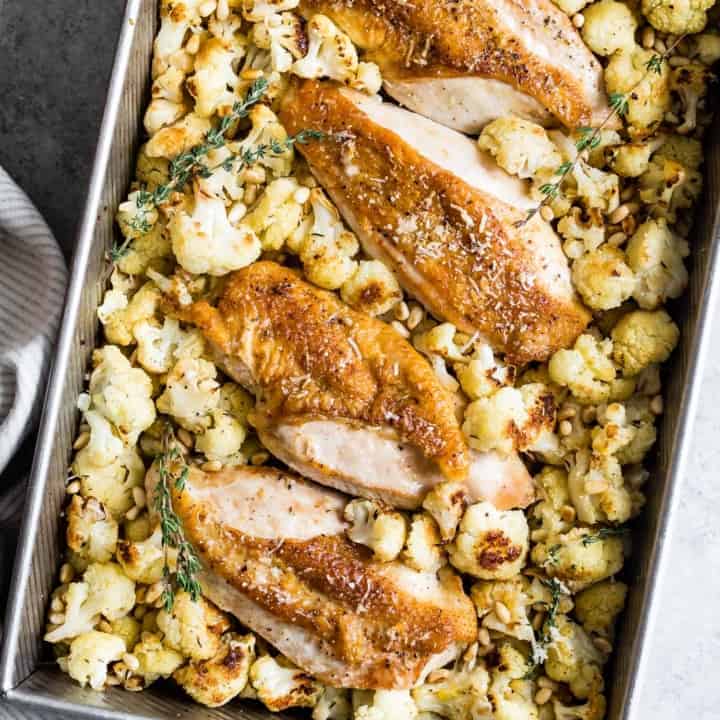 Parmesan Roasted Cauliflower and Chicken Sheet Pan Dinner
This chicken sheet pan dinner recipe is an easy way to get dinner on the table without much fuss. Lemon parmesan roasted cauliflower and crispy chicken breast tastes great on its own or served over buttered pasta!
Ingredients
2 small heads cauliflower, cut into 1-inch florets
¼ cup + 2 teaspoons avocado oil or extra virgin olive oil, divided
4 boneless skin-on chicken breasts
4 sprigs fresh thyme
½ cup freshly grated parmesan cheese, plus more for serving
1 tablespoon unsalted butter
Zest from 1 lemon
3 tablespoons toasted pine-nuts
1 tablespoon lemon juice
Kosher salt & pepper
For serving, optional:
12 ounces gluten-free (or regular) pasta such as spaghetti or fettuccine
½ tablespoon unsalted butter
½ tablespoon extra virgin olive oil
1 tablespoon lemon juice
2 tablespoon freshly grated parmesan cheese
Instructions
Preheat oven to 425°F.
On a large 10x15 or 12x18 sheet pan or large 9x12 baking pan, toss the cauliflower with ¼ cup avocado oil and ½ teaspoon salt, and ¼ teaspoon freshly ground pepper. Spread the cauliflower out into an even layer, add the fresh thyme sprigs, and roast for 25 minutes on the bottom rack, tossing every 10 minutes to help the cauliflower evenly brown.
Meanwhile, if serving with pasta, bring a large pot of water to boil.
While the cauliflower roasts, heat a large skillet over medium heat (I use a cast-iron skillet). Rub the skins of the chicken with the 2 teaspoons avocado oil and sprinkle with a few pinches each of salt and pepper. Place the chicken skin-side down on the hot pan and cook until the skin is golden brown and crispy, 5-7 minutes. Transfer to a plate, skin-side up until the cauliflower is ready.
Pull the cauliflower out of the oven and toss with parmesan, butter, and lemon zest. Nestle the chicken into the cauliflower so it rests on the bottom of the pan with cauliflower all around. Return the pan to the oven and roast for 20-25 minutes longer until the chicken registers 165°F.
If serving with pasta, cook the pasta according to the instructions, then toss with butter, olive oil, lemon juice, and parmesan. Set aside for serving.
When the chicken is done, toss the cauliflower with lemon juice and sprinkle with pine nuts. Serve the chicken and cauliflower over pasta.
Thanks for reading Snixy Kitchen! To stay up on what's coming out of my kitchen, follow me on Facebook, Instagram, Twitter, Bloglovin', or Pinterest, or subscribe via e-mail to get new recipes right to your inbox.
Safeway Home Delivery Instacart:
Use promo code SAVE20 to get $20 Off + free delivery on your first online order when you spend $75 or more* at delivery.safeway.com
Disclaimer: *Limited time offer: $20 Off + Free Delivery Offer: Minimum $75 purchase required. Enter Promo Code: SAVE20 at online checkout. Order by 12/31/18. OFFER VALID ONLY FOR 1ST TIME ONLINE GROCERY ORDERS. LIMIT 1 PER HOUSEHOLD. SERVICE FEE MAY APPLY. May not be combined with any other free or reduced delivery fee or service fee offer, discount or promotion. Service by safeway.com available only in select areas and may be provided by another Albertsons Companies store banner, which is subject to that banner's availability, pricing and promotions. Instacart may independently provide shopping services. OFFER ONLY VALID FOR 1ST TIME INSTACART USERS. Enter your zip code online to find if service from safeway.com and/or Instacart is available in your location. Service by Instacart subject to Instacart service fees, terms and conditions, and account registration. Same day delivery subject to availability. All delivery orders require a minimum purchase, unless otherwise noted. Minimum purchases calculated based on subtotal of all qualifying items in cart at checkout. Qualifying items exclude fluid dairy, alcohol and tobacco products. Prices for products you order for delivery generally are higher than the prices for such products in Safeway physical stores and may vary depending on fulfillment method chosen. Online promotions, discounts and offers may differ from those in Safeway physical stores. We reserve the right to modify or cancel this offer and/or to correct typographical, pictorial and other ad or pricing errors. Find additional terms at Safeway and Instacart.