With just a few ingredients, these quick and easy flourless chocolate chunk almond butter cookie bars are soft and chewy with crunchy dry roasted almonds studded throughout!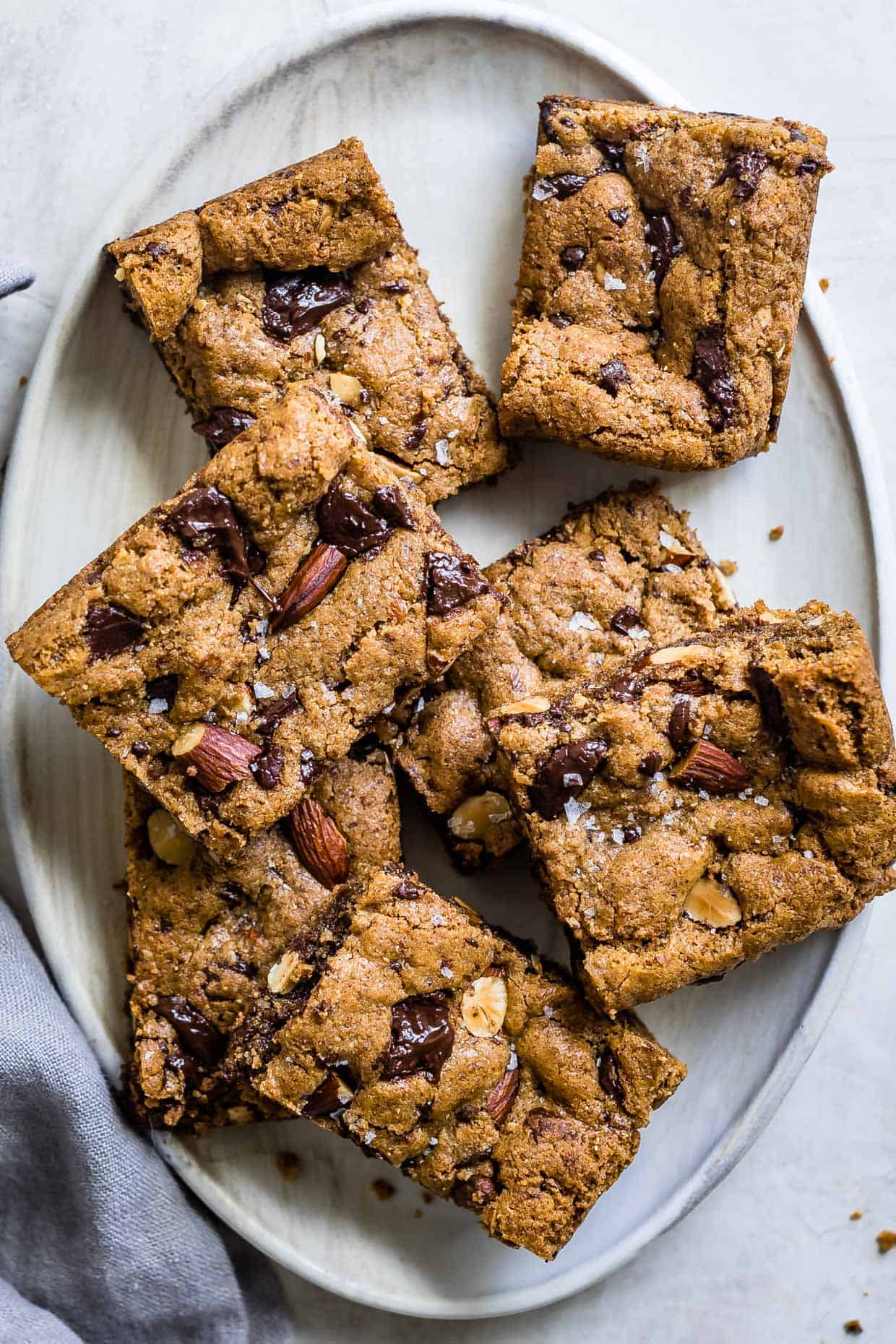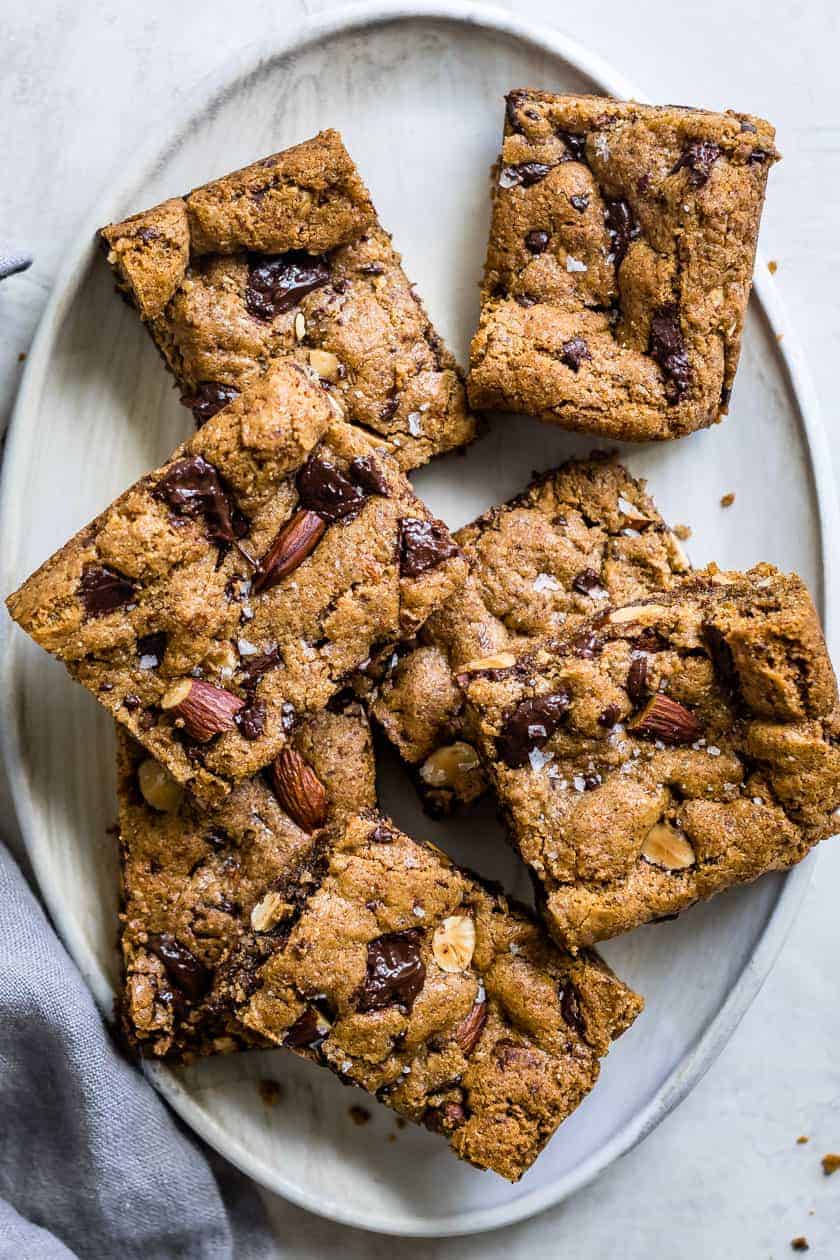 I expected this post to have a very different tone. I expected to have a brand new snuggly, cookie-dough smelling baby in my arms while I told you all about my favorite midnight treat. (Hint: it's these flourless chocolate chunk almond butter cookie bars.) But despite my best efforts to woo baby boy out of my belly and into the world this week, he's made it very clear that he's in charge. To be fair, he's got one more day before his due date, but I'm very ready.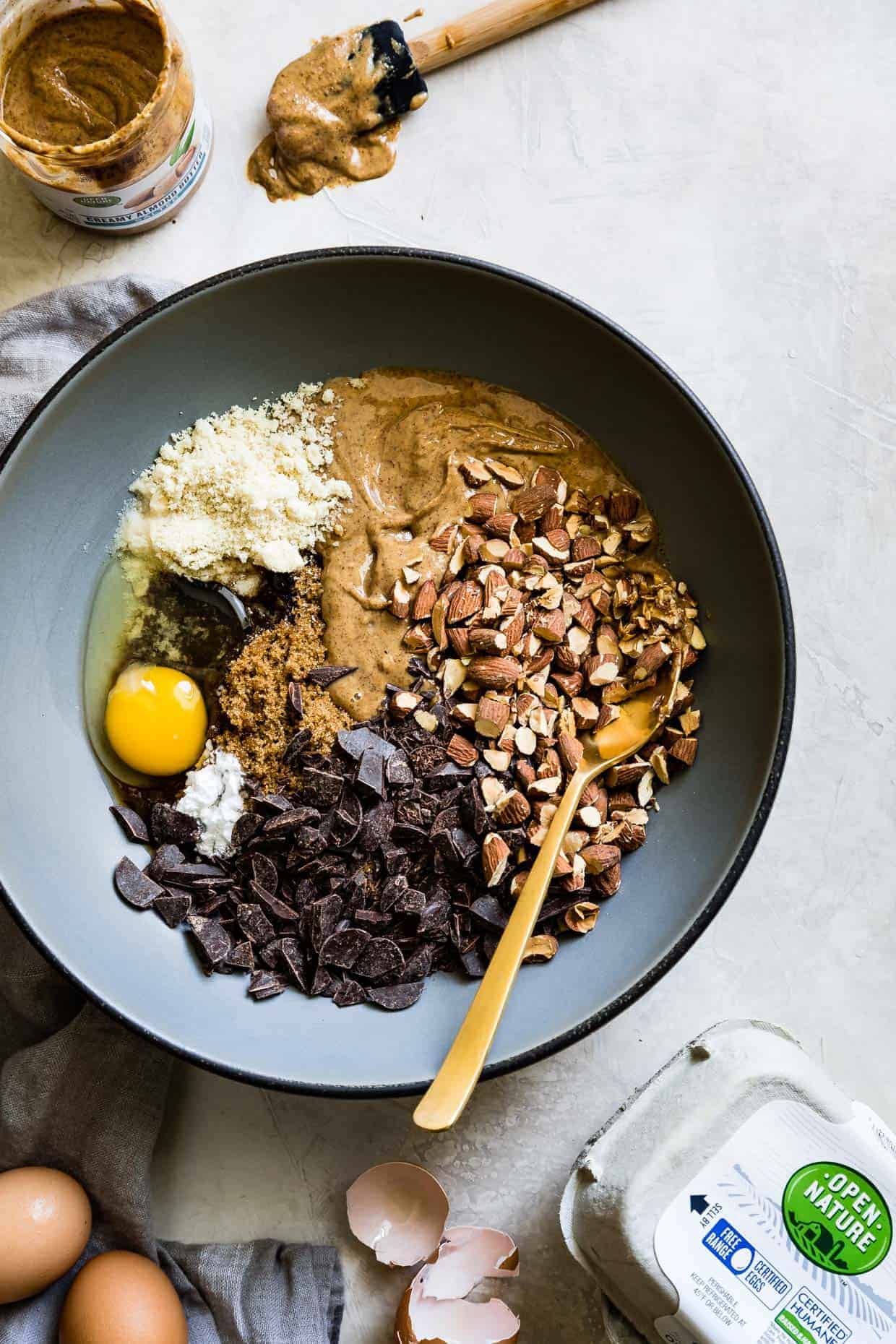 The good news is, I've got alllllll the time in the world today to tell you about these almond butter cookie bars. Over the next year, I'm partnering with Safeway for a blogger tour to feature some of the products they carry that you might not know about.
For our last collaboration, I shared these wine braised artichokes with cashew mandarin tarragon aioli after visiting an artichoke farm. This time around, they invited a group of us to Safeway's Culinary Kitchens and Technical Center to learn about, cook with, and taste their Open Nature products. Open Nature is their line of products made with natural ingredients and nothing artificial - available only in their stores. For our hands-on cooking session, I made these beachy scallop and coconut summer rolls with a coconut almond butter dip. Then guzzled the dip when the rolls were gone.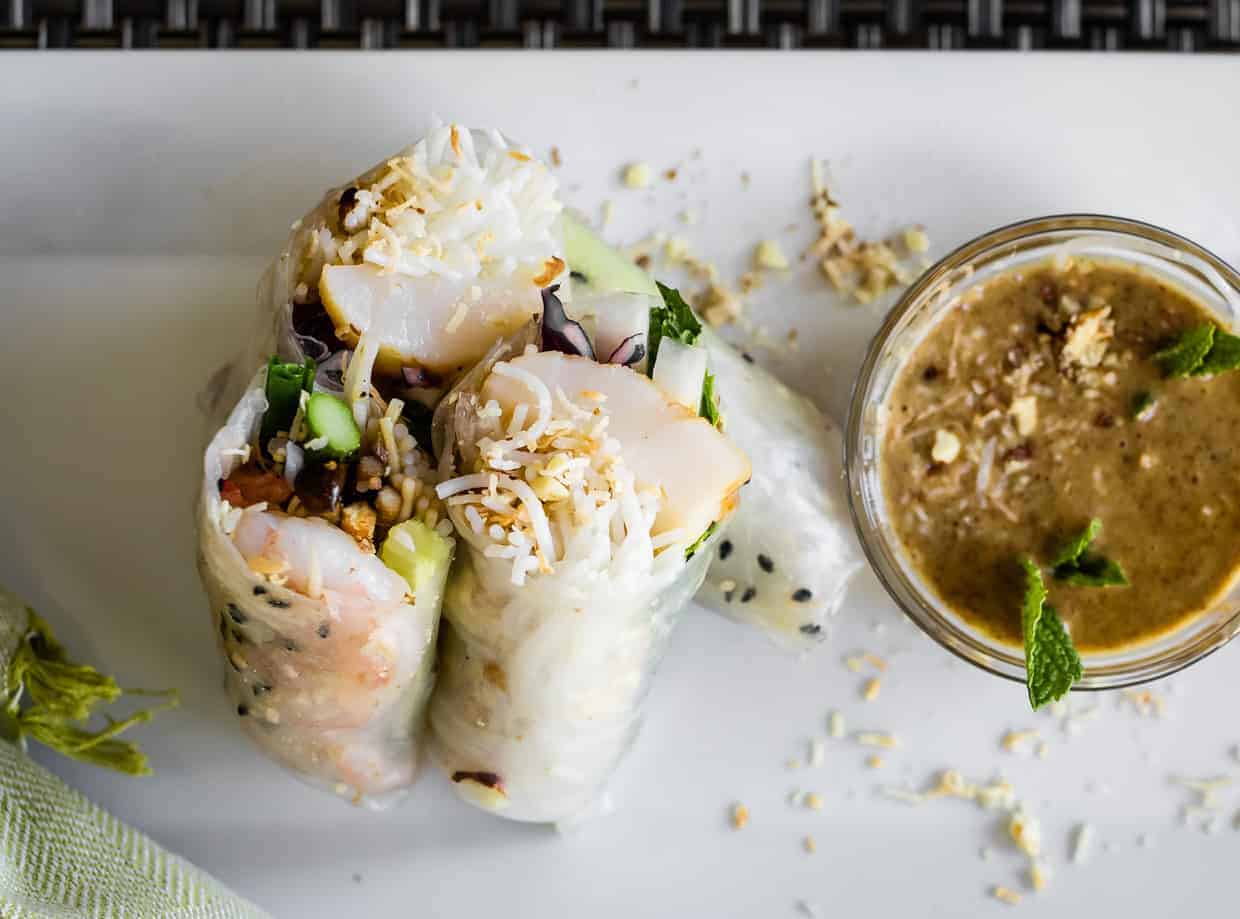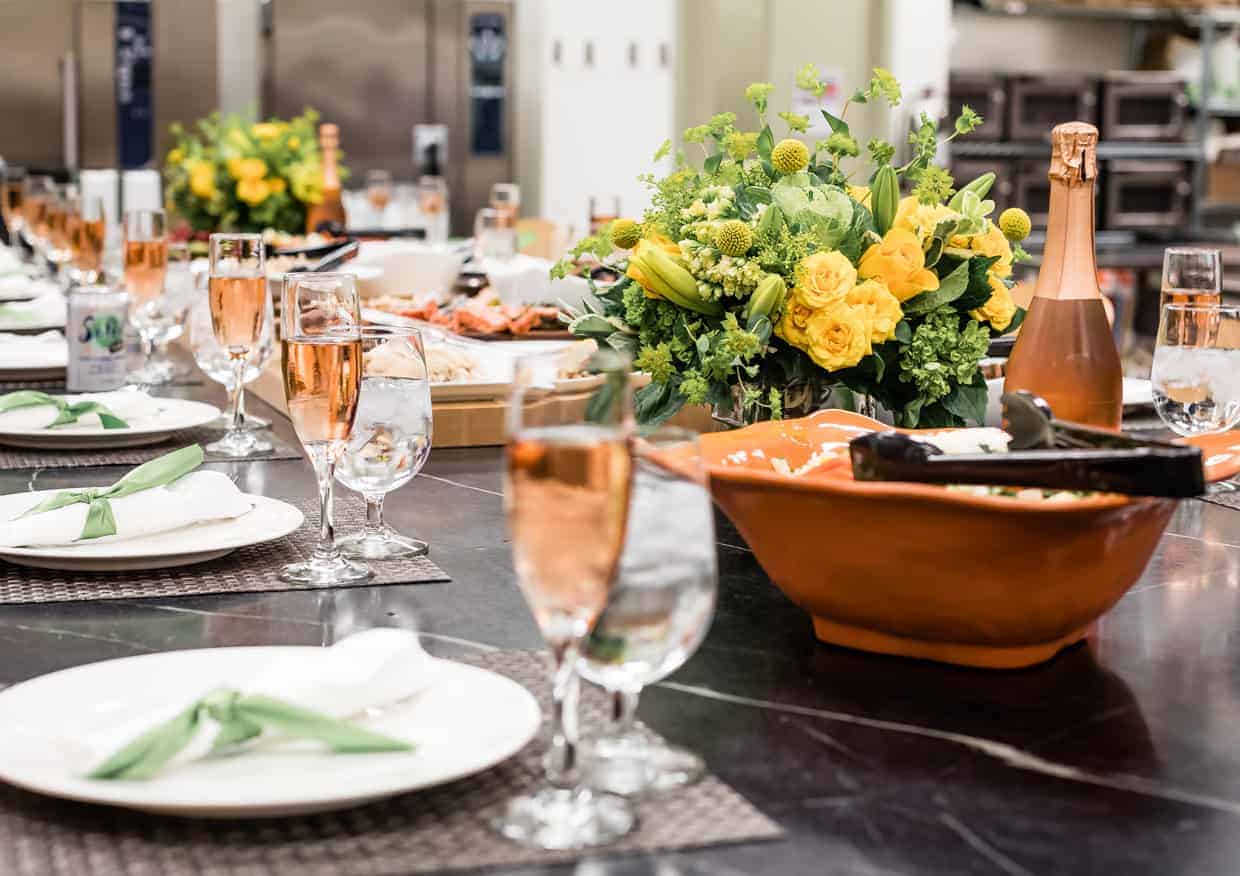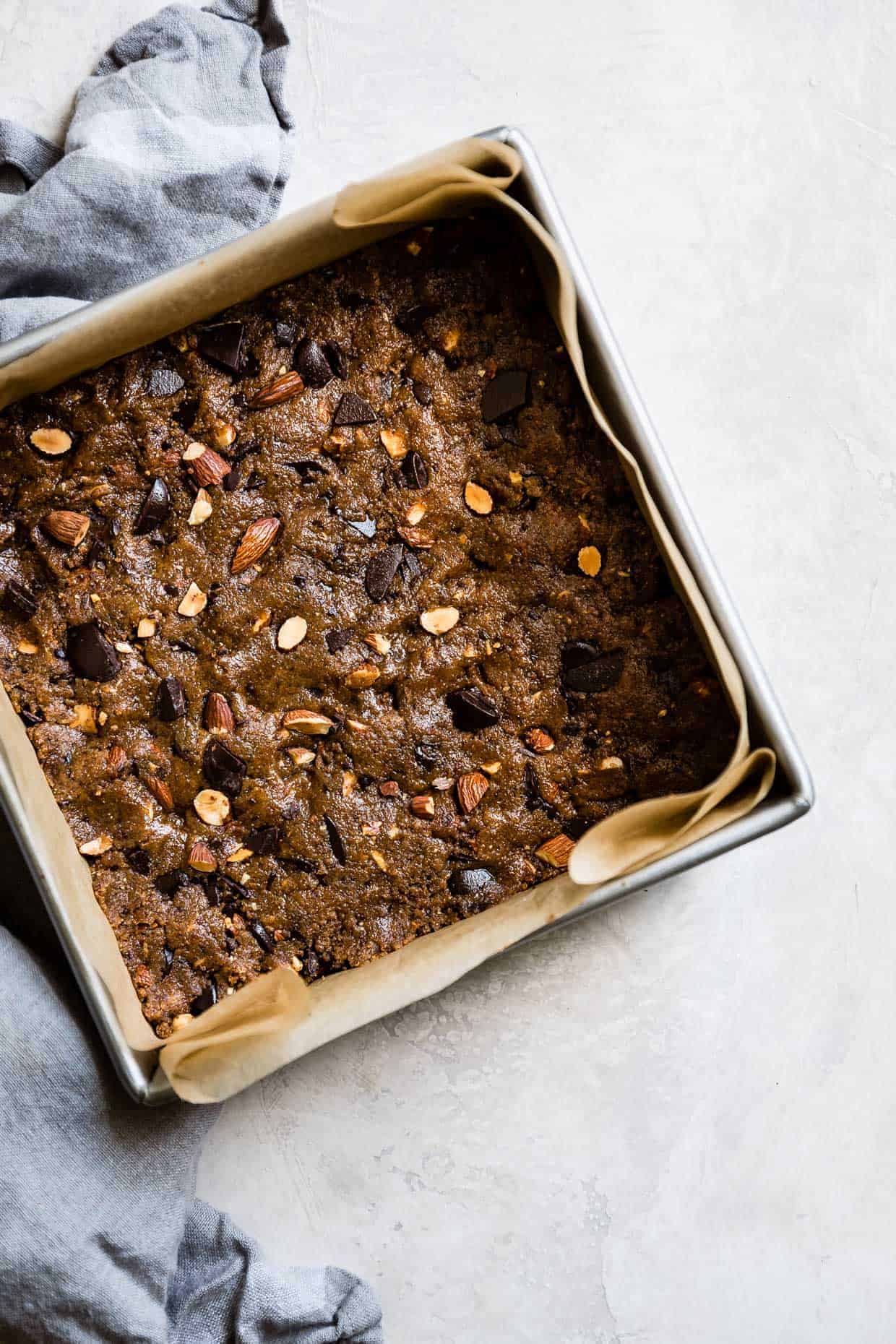 These almond butter cookie bars feature the same Open Nature almond butter in addition to their eggs - both of which provide consumers with a high-quality more nutritious product at a lower price point. I could eat and have eaten this almond butter straight out of the jar with a spoon, but I recommend turning it into these flourless chocolate chunk almond butter cookie bars. They're so easy, you can make them in the middle of the night while 40 weeks pregnant (not that I would know).
With just a few ingredients, these bake up as the most buttery blondie-style bars ever with roasted nutty layers and plenty of gooey melted chocolate. They're soft and chewy with crunchy dry roasted almonds studded throughout. We may have made and polished off three pans in one week.
On request, I e-mailed the recipe to my friend last week. She reported back that her husband turned his nose up at the idea of gluten-free bars. But then he ate one. And another. And another. They, too, polished off a whole pan. Don't let that flourless part turn you off - that just makes them extra chewy. Relatedly: I add two tablespoons of almond meal/flour to the batter. Does this make them not flourless? Up to interpretation. I think the almond meal makes them just a little easier to pick up, but my girlfriend left it out and, well, they were obviously still delicious.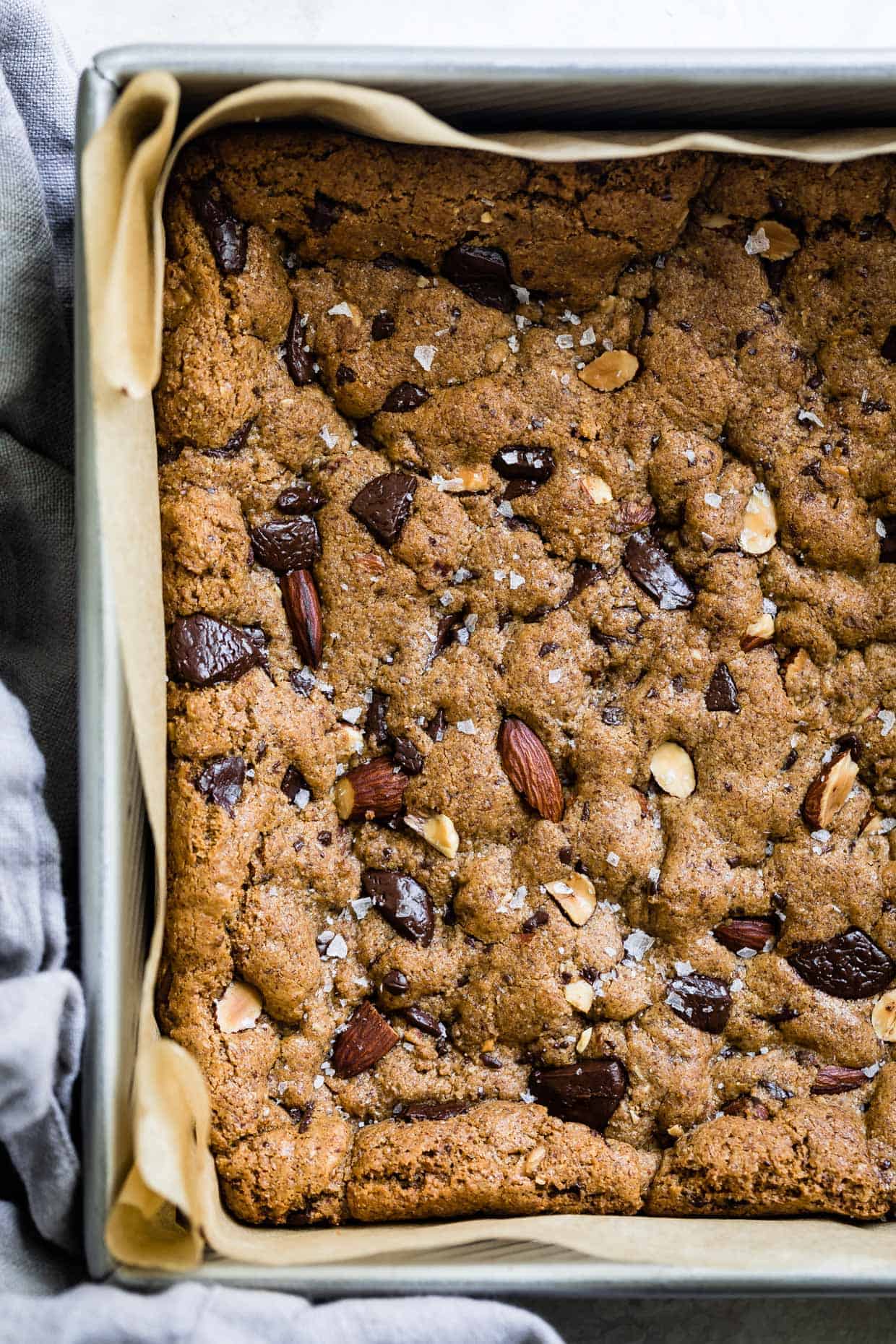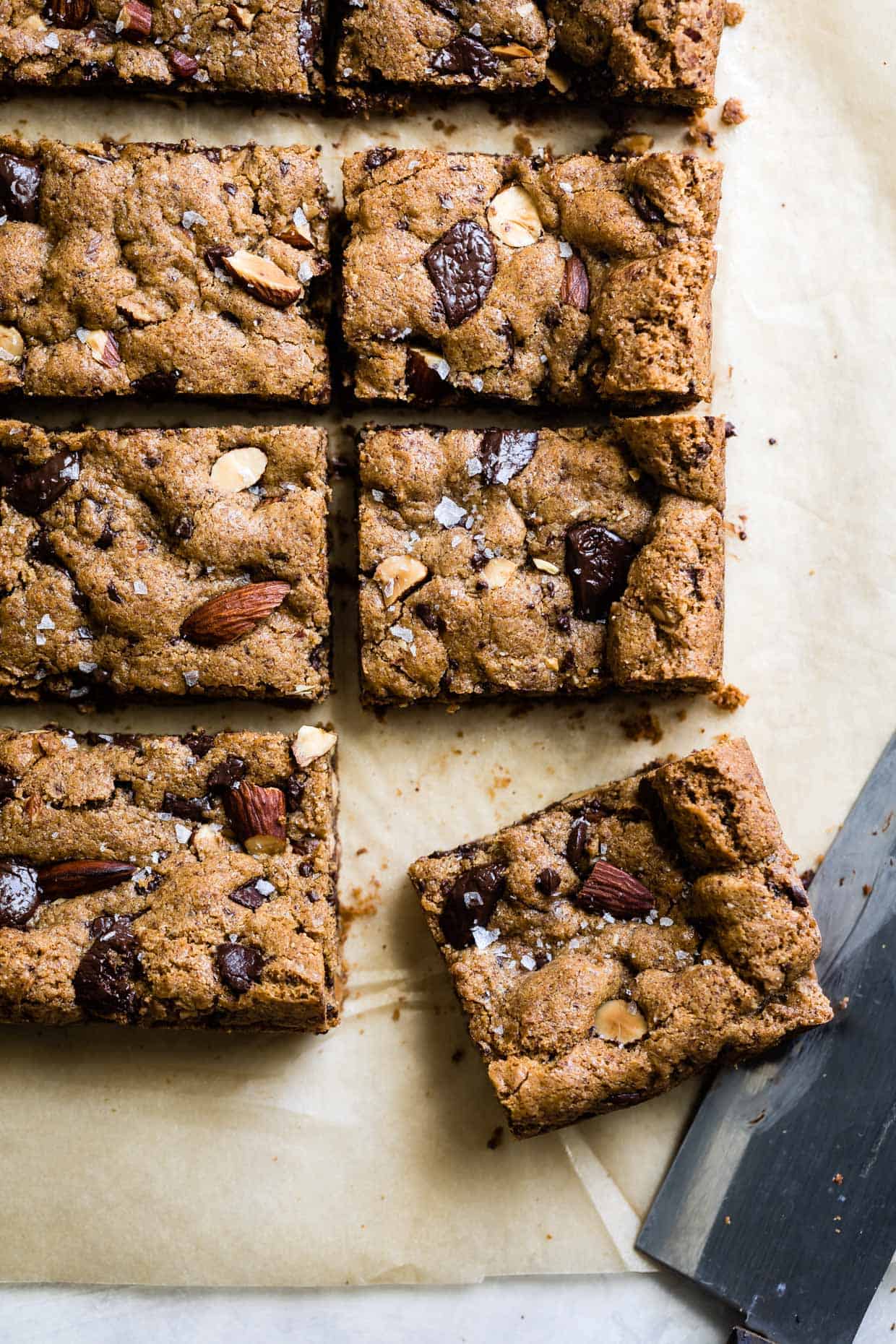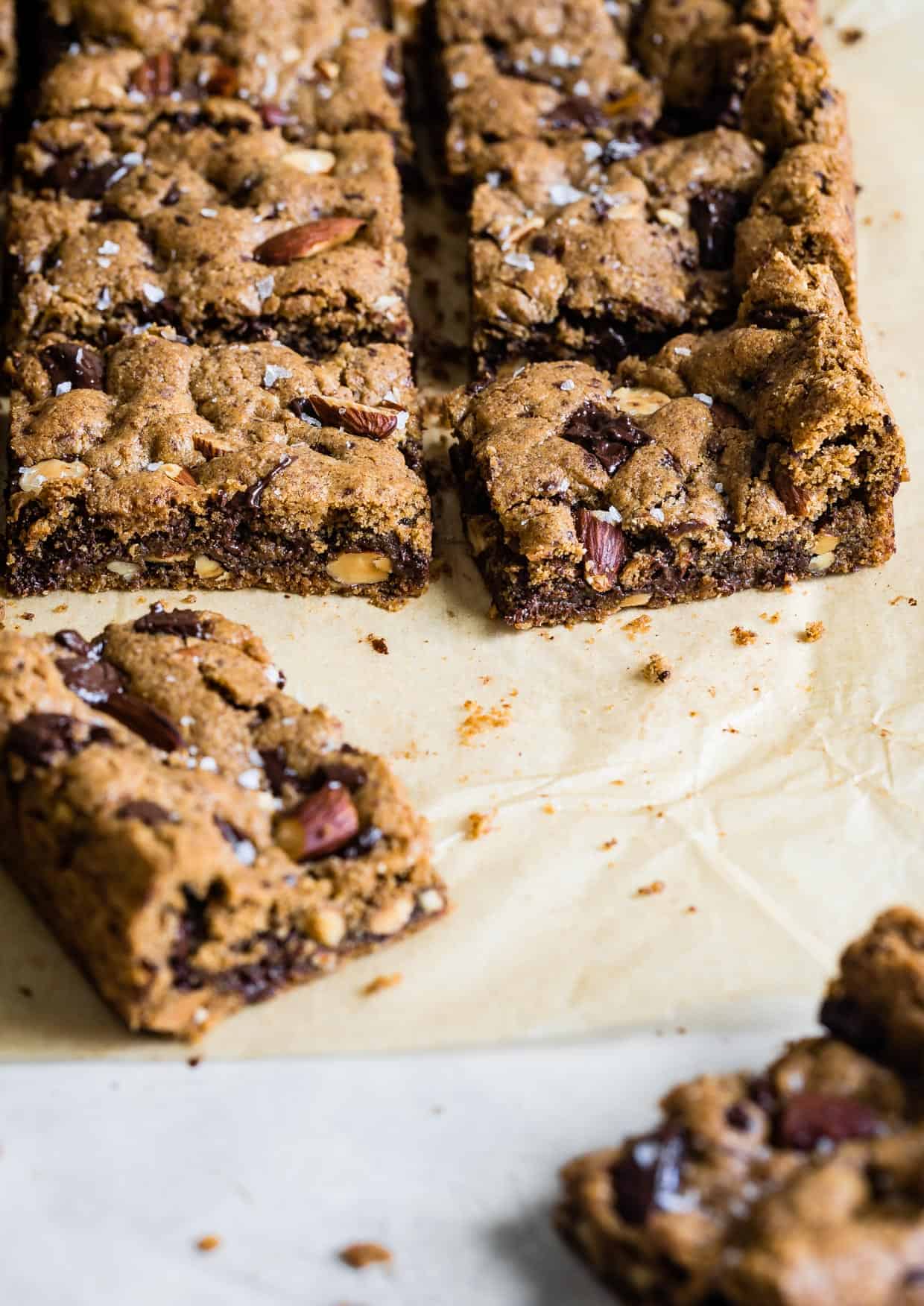 Yesterday my mom guilted me into taking an hour and a half long walk to try to get this labor show on the road. On the way, she bought a peanut butter cookie at the market. A gluten-filled peanut butter cookie I couldn't touch. And by the end of the walk, I felt so intensely jealous I couldn't stop thinking about these cookie bars. But I was so tired and my feet so sore that I was definitely not baking. No way. Not a chance.
When we got home, we popped by our next-door neighbor's house to find them setting up their family tent in the backyard, prepping for a night of "practice" camping with their toddler. Jeremy joked, "we'll just be out here all night, so feel free to drop off baked goods whenever." I laughed, "I'm definitely not baking tonight." In fact, I was sure I'd be laboring instead.
Three hours later I texted him, "I have fresh from the oven almond butter cookie bars - are you awake still?" These bars, you guys, they're delicious enough to get me off the couch at 40 weeks pregnant to put a pan in the oven. Fortunately they take approximately 5 minutes of active time, which is as much as my feet can handle in the kitchen right now.
When I met my neighbor at the back fence with a plate of almond butter cookie bars, he told me his wife had accidentally fallen asleep with the toddler. I assured him I wouldn't tell her these bars ever existed if he wanted to hog them for himself. (Sorry Kate! You snooze, you lose!)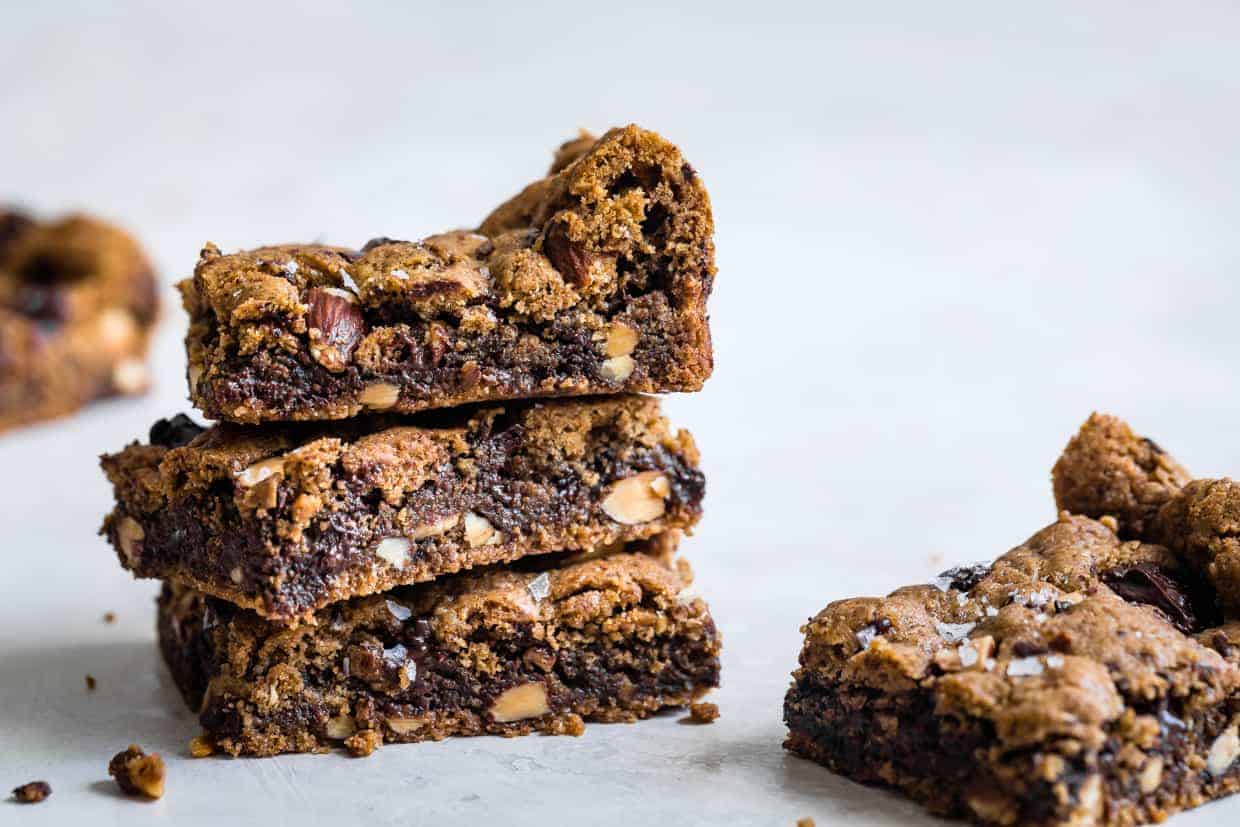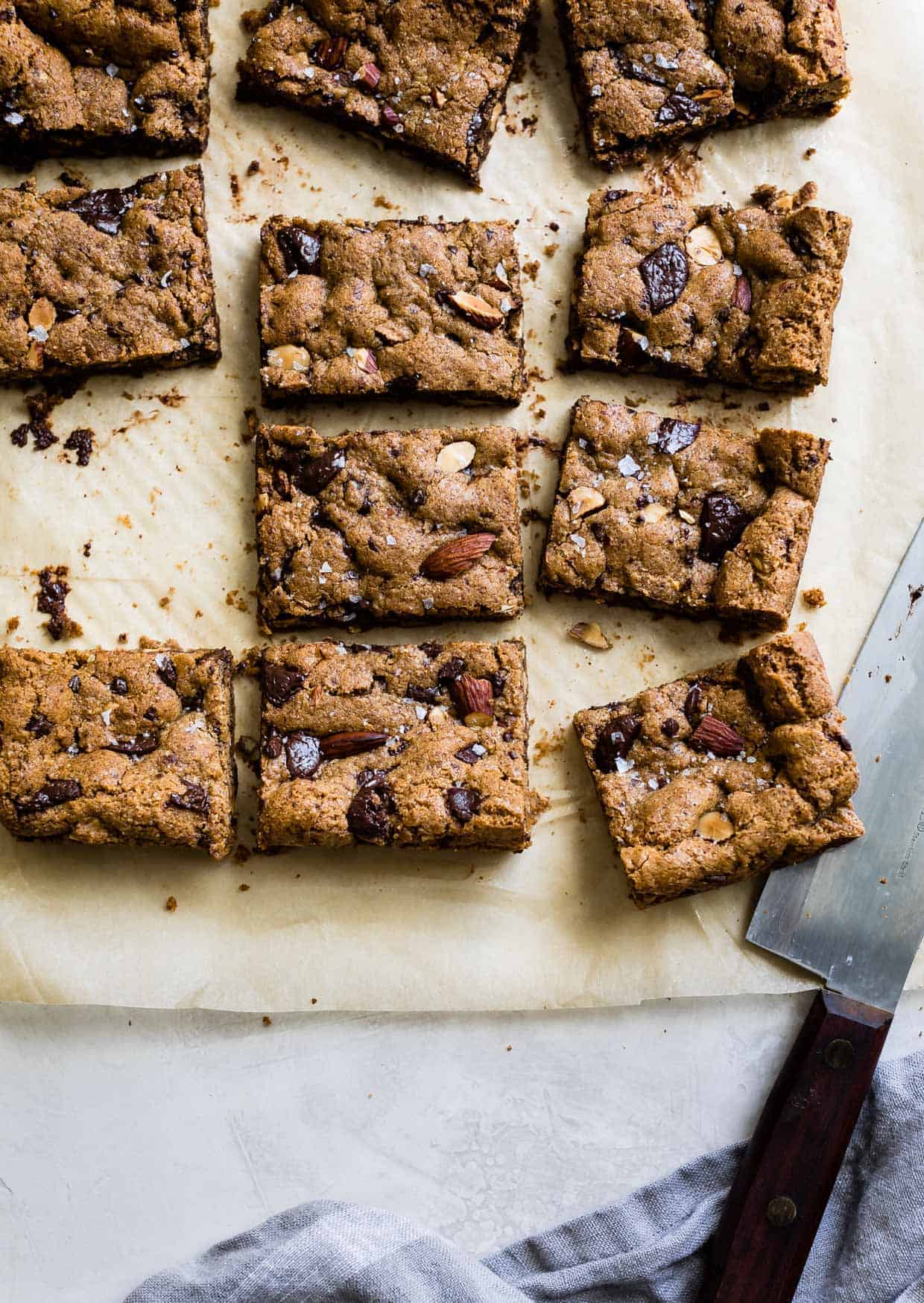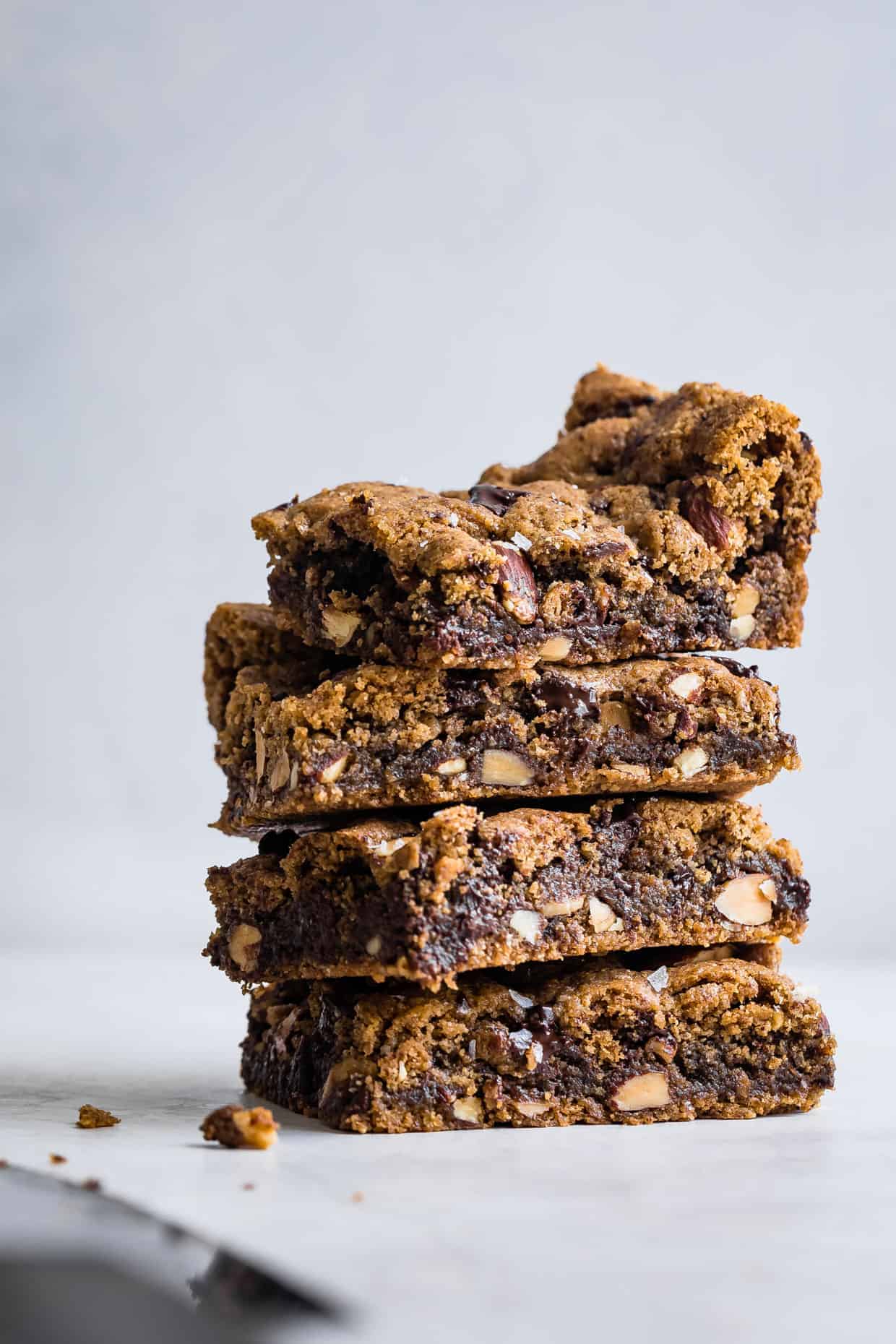 Here's to polishing off the last two bars tonight just in time for baby boy's arrival!
While we wait, here's a peek at a couple of our maternity photos from a few weeks back - taken by Carla from CharlieSue Photography.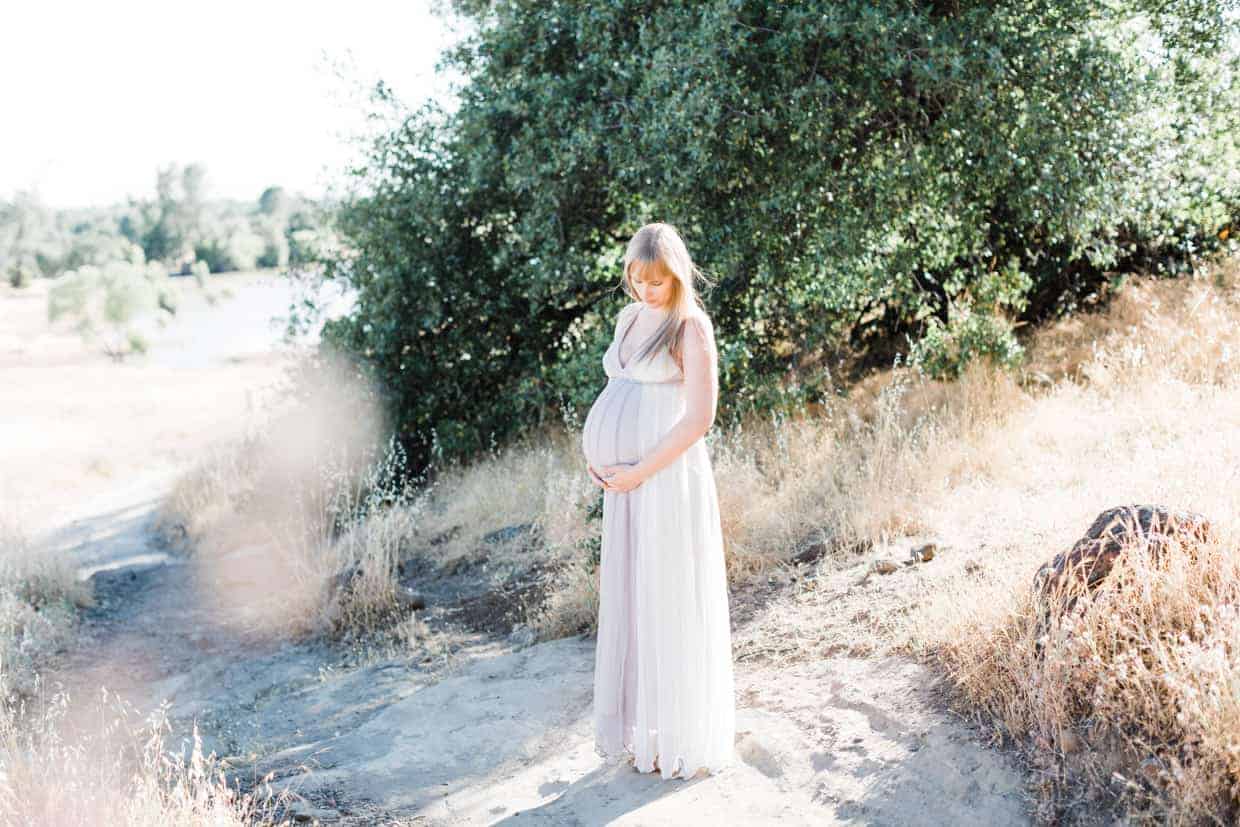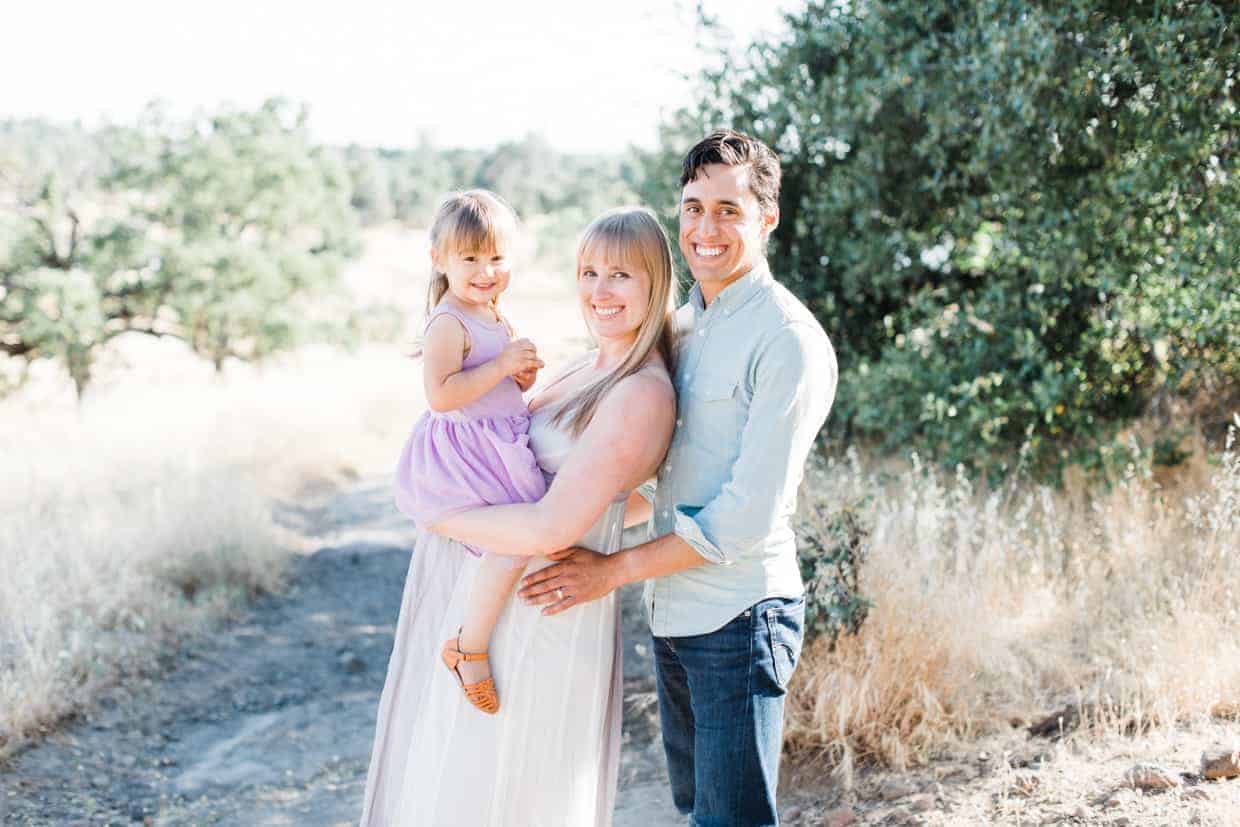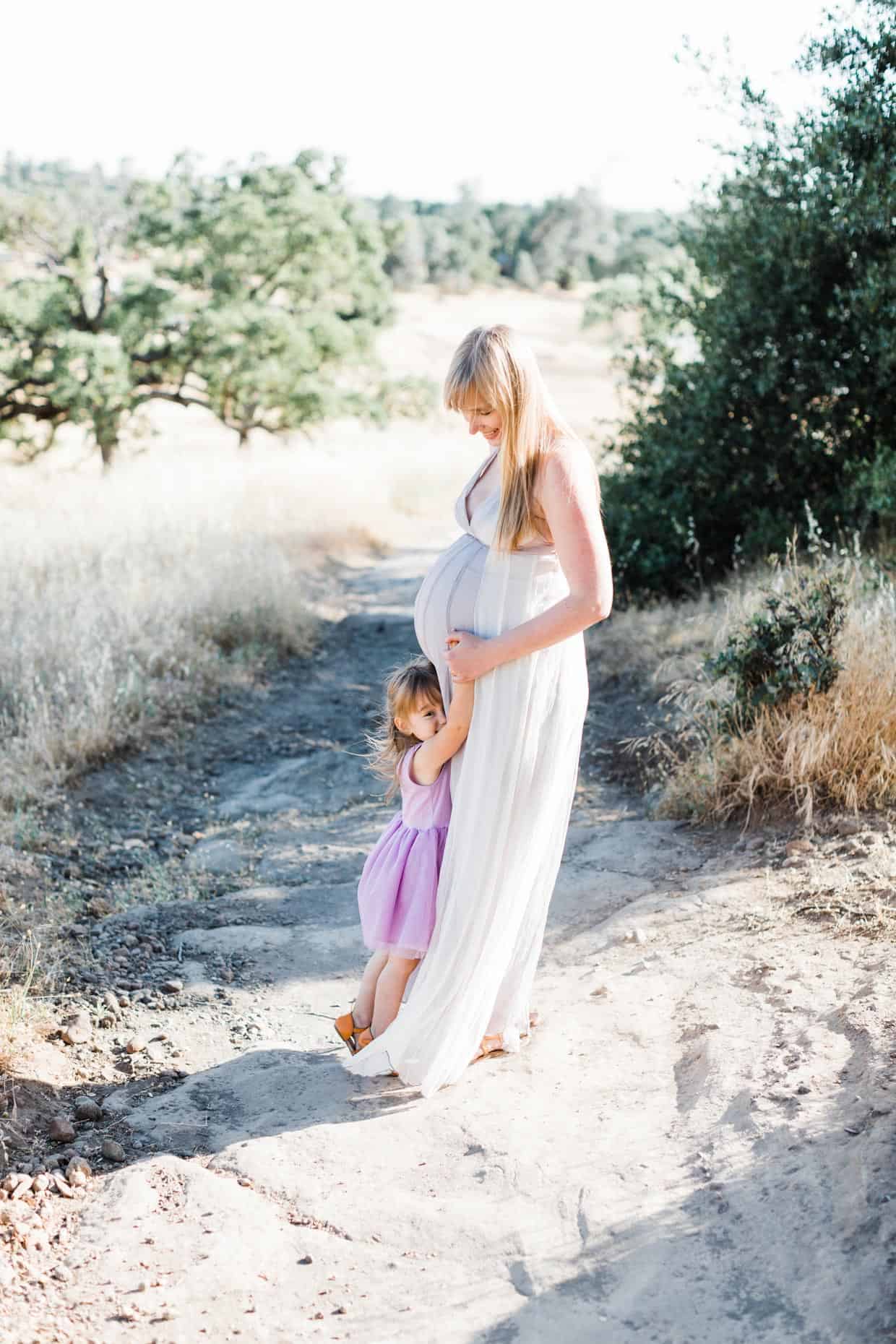 Disclosure: Special thanks to Safeway for providing the ingredients for this recipe and sponsoring this post! And thanks to you for supporting the companies that keep Snixy Kitchen cooking!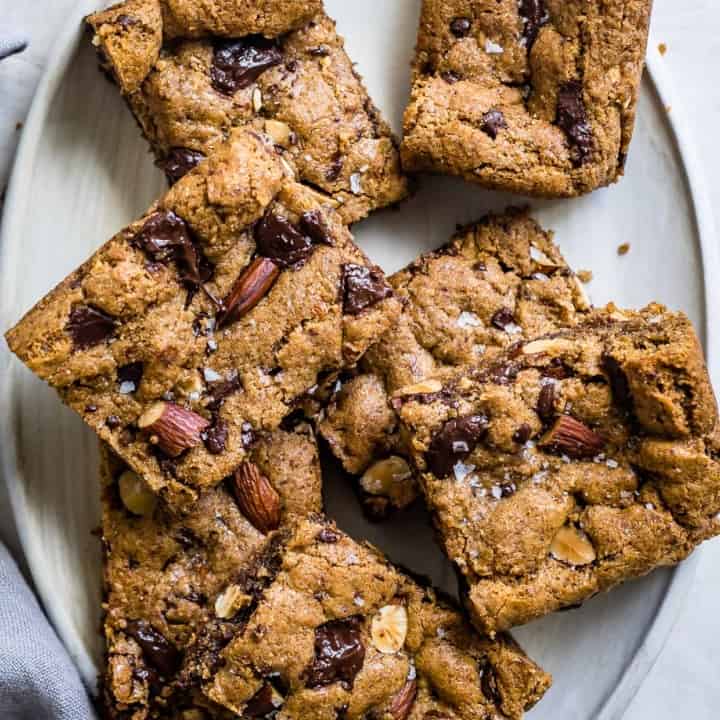 Flourless Chocolate Chunk Almond Butter Cookie Bars
Yield:
12 bars - one 8x8 pan
With just a few ingredients, these quick and easy flourless chocolate chunk almond butter cookie bars are soft and chewy with crunchy dry roasted almonds studded throughout!
Ingredients
1 cup salted almond butter (I recommend Safeway's Open Nature almond butter)
1 cup (162g) dark brown sugar
1 large egg
1 teaspoon baking soda
¼ teaspoon kosher salt
1 teaspoon vanilla extract
4 ounces (¾ cup) chopped bittersweet chocolate
½ cup chopped dry roasted almonds
Flaky salt, for topping
Instructions
Preheat oven to 350°F. Line an 8x8 baking pan with parchment paper.
Mix all the ingredients together in the bowl of a stand mixer or in a medium bowl with a hand mixer.
Dump the dough into the baking pan and press down evenly. Bake for 22-25 minutes, until set and a toothpick comes out clean (I vote for slightly under-baking because then they'll be gooey and chewy!)
While they're still warm, top them with a few pinches of flaky salt. Let cool for 15 minutes before pulling out of the pan and slicing into 12 bars. Note: the cooling is necessary or the bars will fall apart!
Notes
*A friend tested the recipe without the almond flour and they turned out delicious for her. So if you can't get your hands on it, then feel free to leave it out!
Peanut option: I made a version replacing the almond butter and dry roasted almonds with peanut butter and roasted peanuts and it is also DELICIOUS.