This gluten-free pizza crust recipe is brown and crispy on the outside with the classic chewy pizza texture inside. Made from a few-ingredient cheesy tapioca flour dough inspired by Brazilian cheese bread, this gluten-free pizza dough recipe is fast and easy for pizza night at home!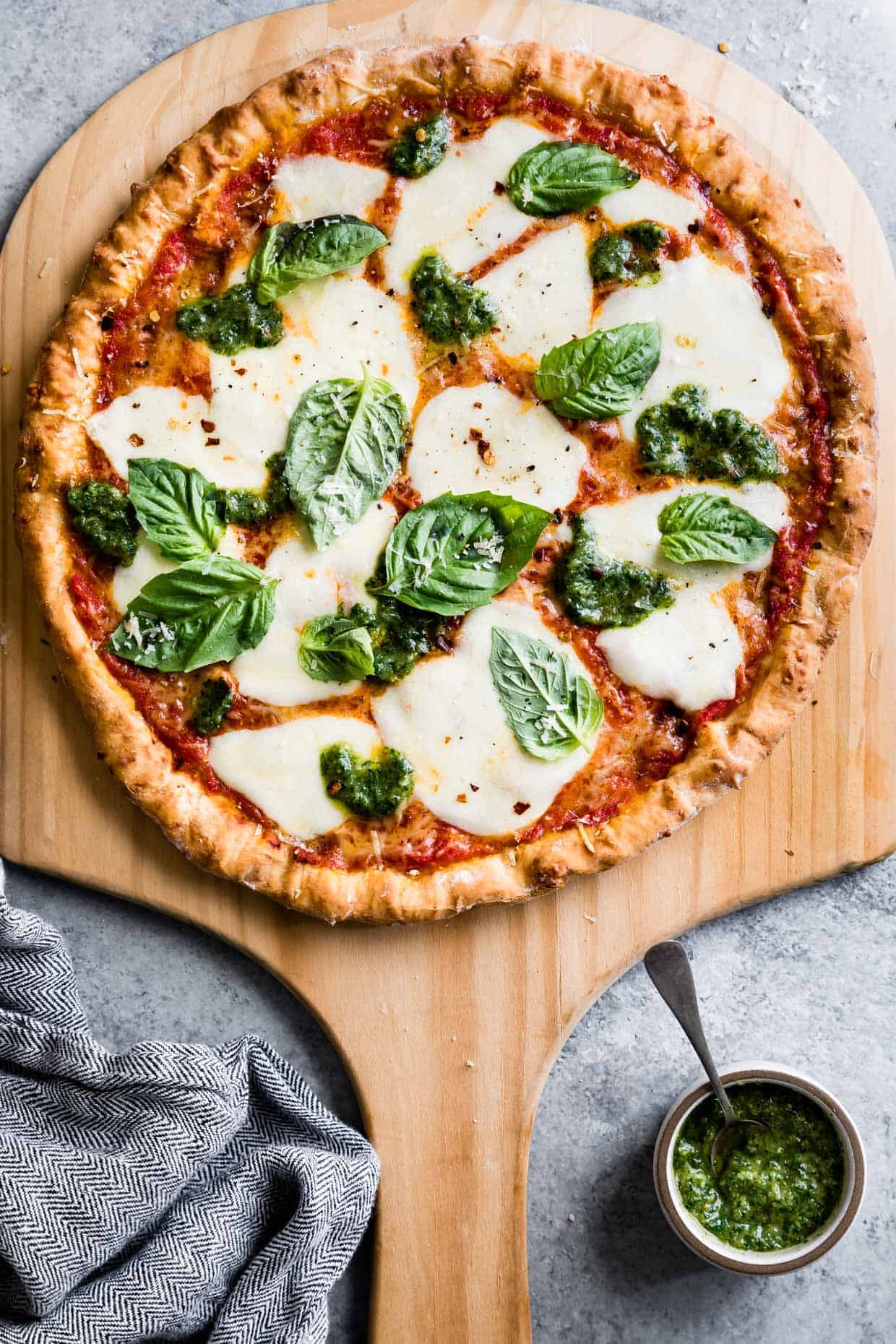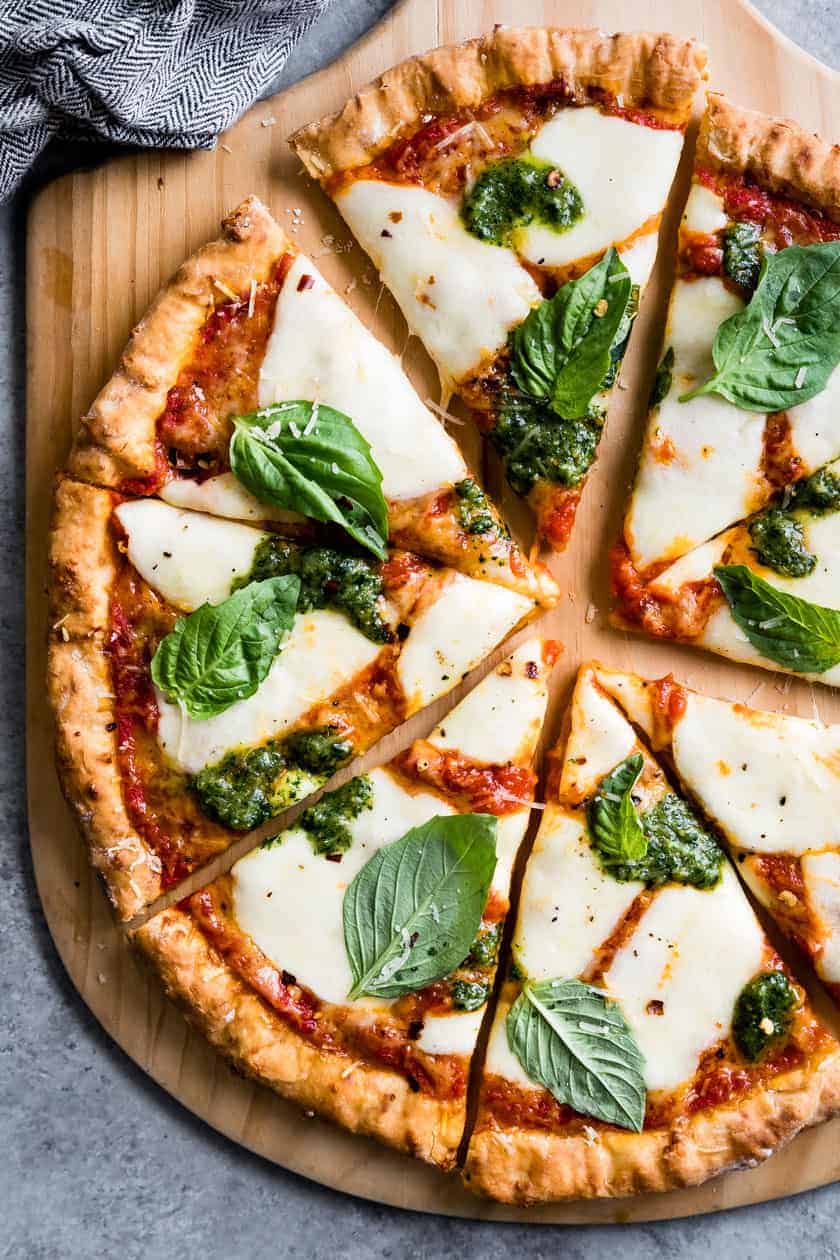 Our two-year-old is on the extreme end of stubborn and persistent. Even still, we've managed to guide a toddler with a very limited diet into becoming one who eats vegetables for dinner every night and only has a few foods she actively hates (looking at you, avocado). We were on top of our parenting game...until I almost ruined pizza for her last week.
I served a chickpea socca flatbread covered with cheese and veggies for dinner one night and called it pizza. It's all about optics with toddlers; she'll eat blistered green beans if I call them "bean fries" and offer ketchup. She took one bite of that chickpea (not-pizza) pizza and spit it right out with tears about how she doesn't like pizza anymore.
Oops.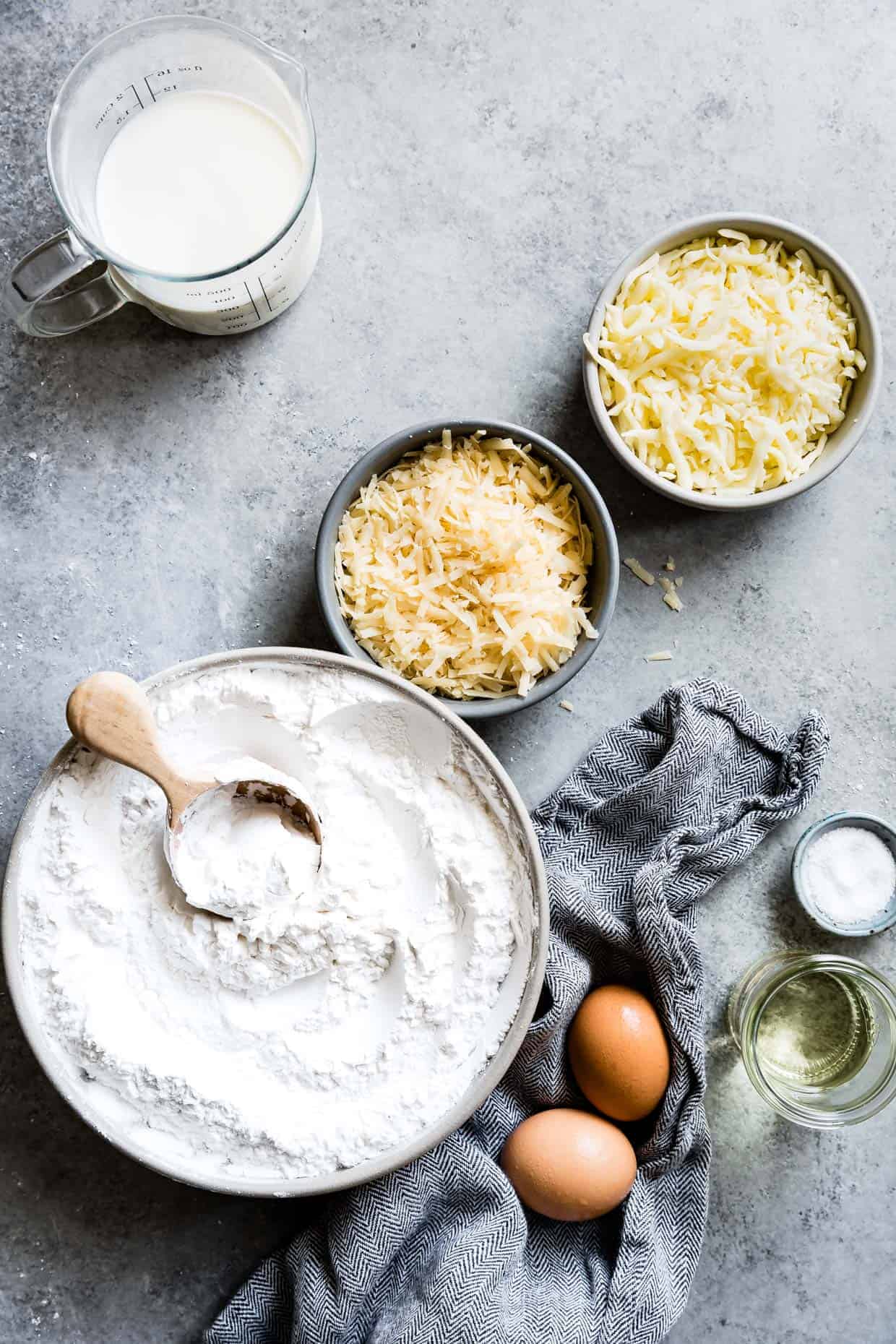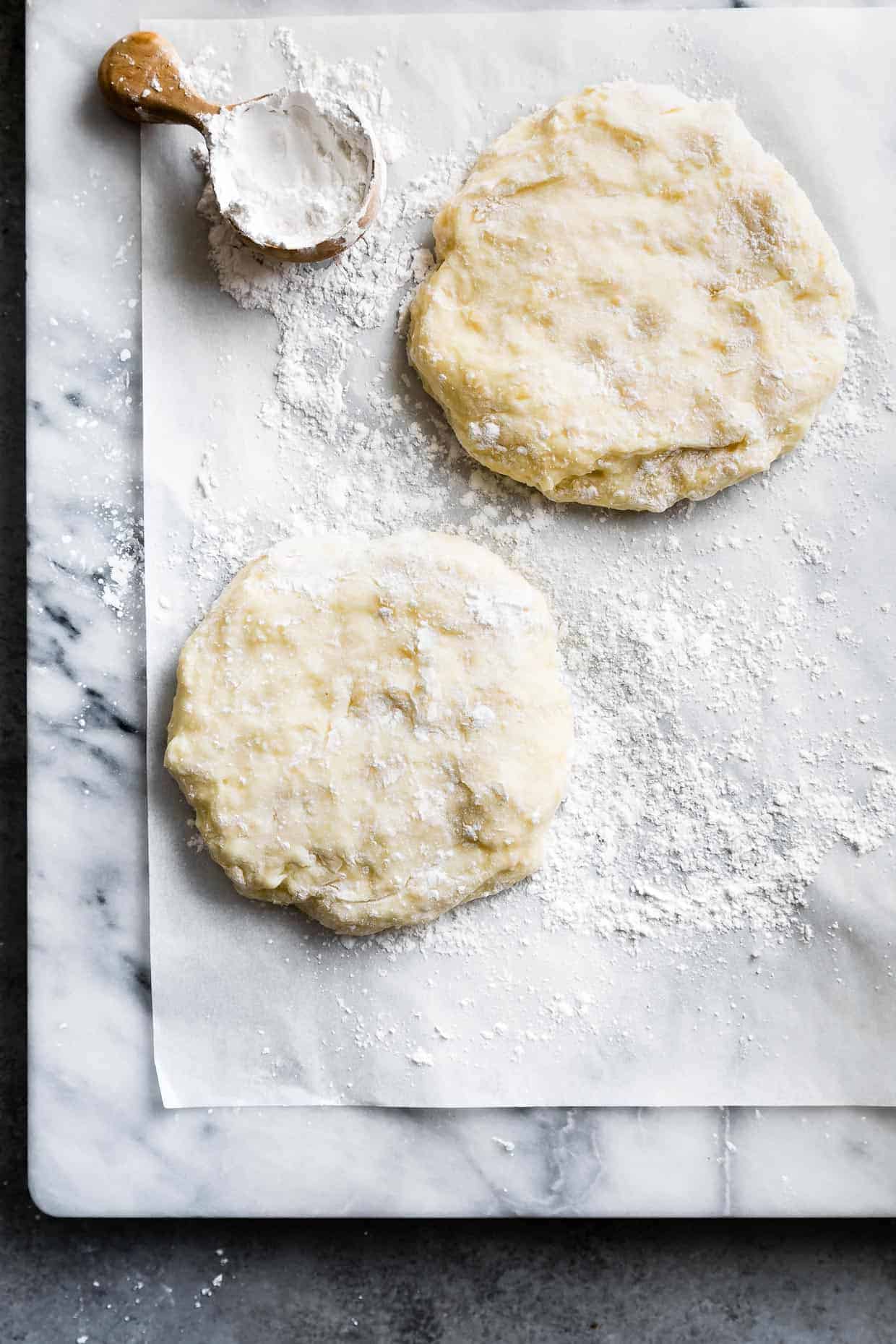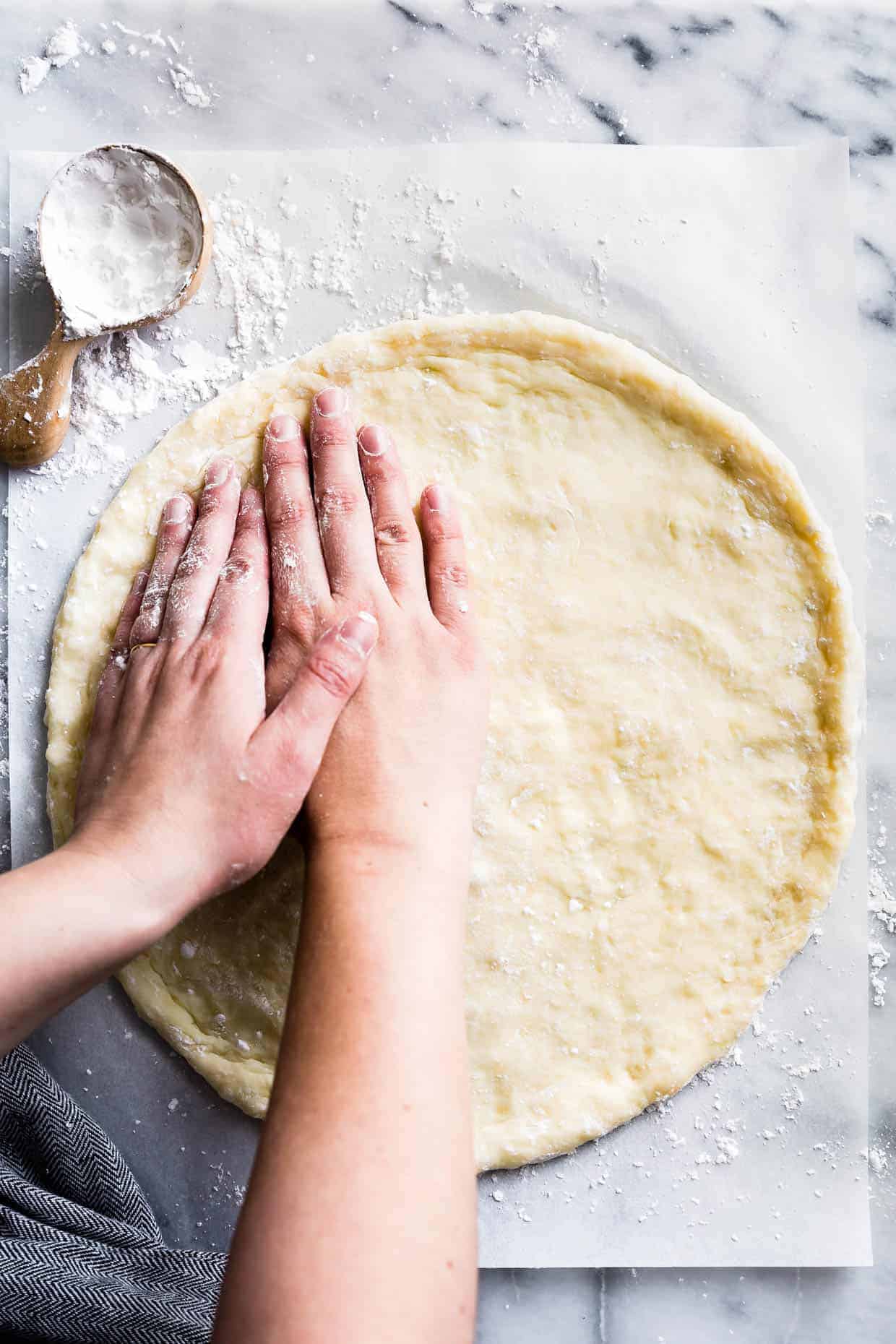 The Best Gluten-Free Pizza Crust Recipe
So then a few days later when I told her we were having pizza for dinner in the most excited voice I could muster, she threw a tantrum about how she doesn't LIKE pizza. She finally clarified that she doesn't like "the other pizza" (aka the chickpea pizza she's apparently still traumatized from). So I taught her the word socca and we all happily ate this cheesy gluten-free pizza crust with our favorite toppings for dinner.
When she requested pizza again last night, she added with sass, "but not socca. I don't like socca." She's only 2.5 years old, but pizza now has stipulations.
To be fair, I've added stipulations to my pizza habits since I perfected this gluten-free pizza crust. Specifically that it must be made with this gluten-free pizza dough. When Lucas tried to convince me to go out for pizza last night, I countered with homemade pizza, which in my opinion tastes better.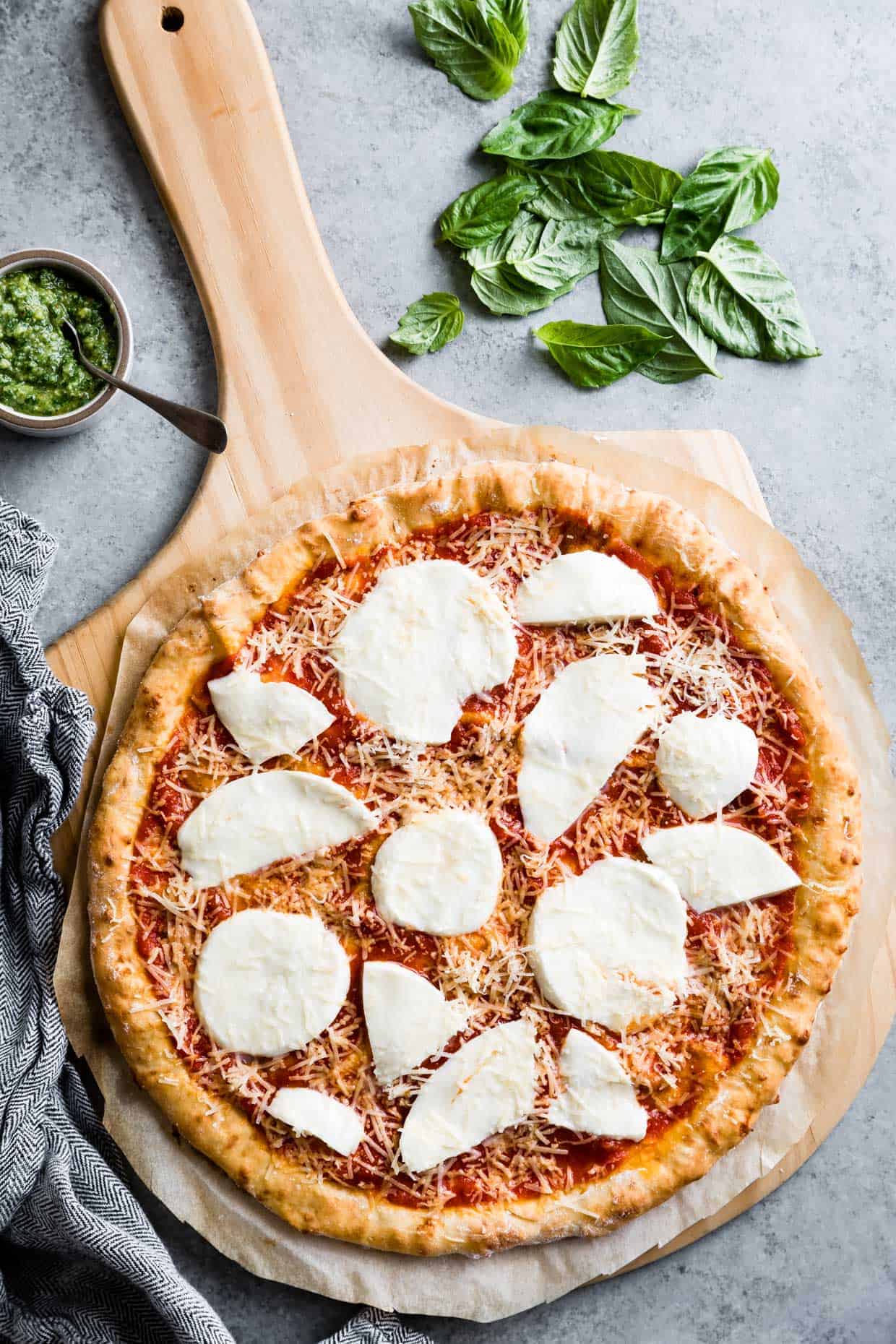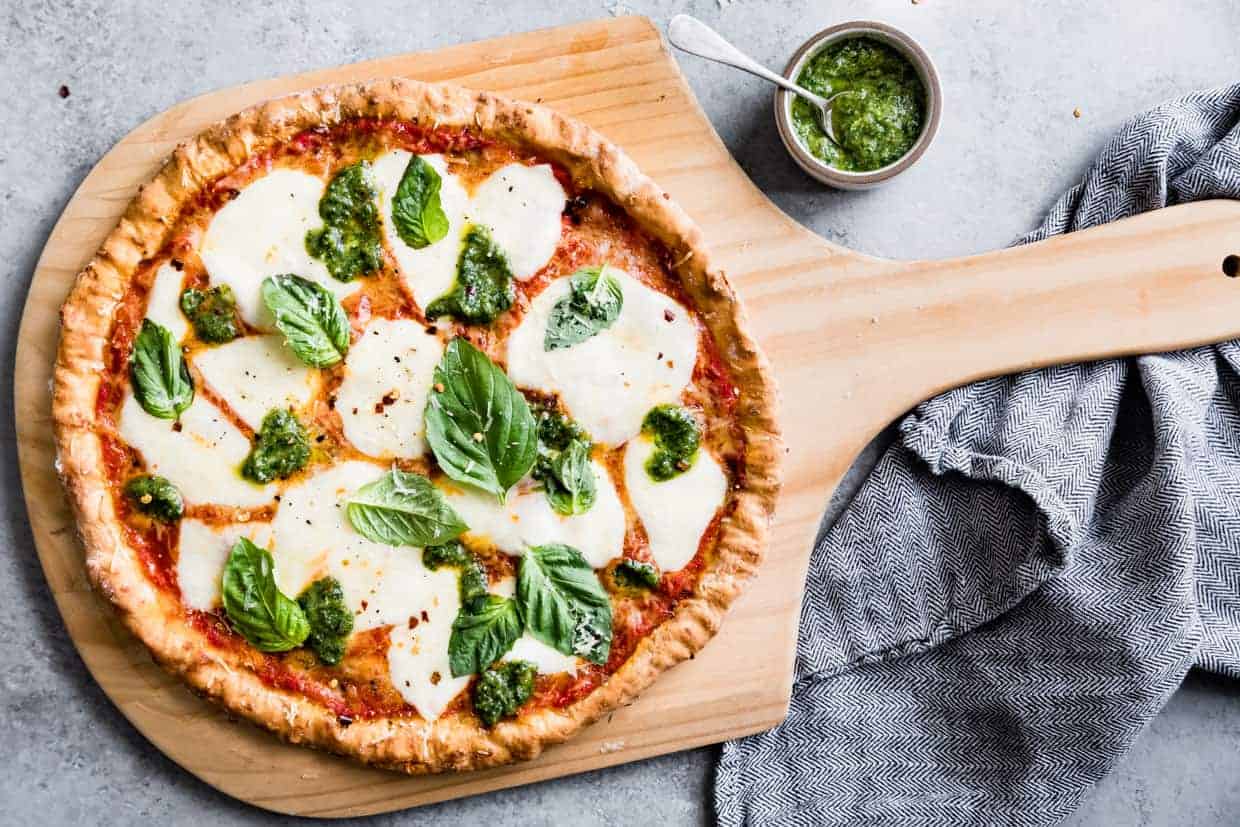 How to Make Gluten-Free Pizza Dough
The inspiration for this recipe comes from pão de queijo or Brazilian cheese bread. I've made a take on Brazilian cheese bread with seeds and cheddar and I'd been dreaming about turning that recipe into cheesy bread sticks with marinara, but my first trial came out less than stellar. More on that to come!
A few months later, those dreams extended to include cheesy gluten-free pizza crust after a life-changing crust at a Boston pizzeria. While the restaurant did not confirm it, their gluten-free pizza crust tasted remarkably similar to Brazilian cheese bread and from there I immediately went back to testing.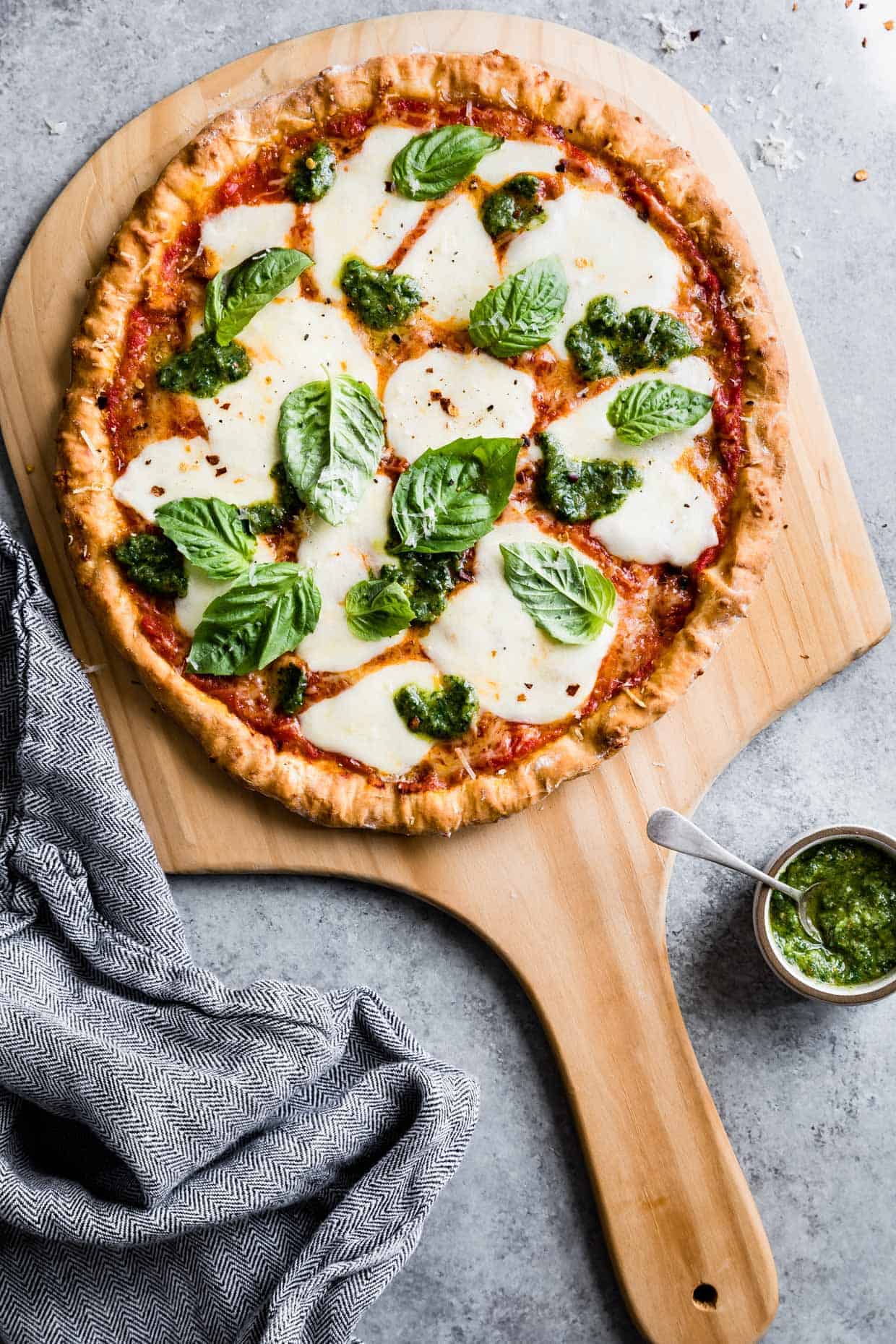 Why you'll love this gluten-free pizza crust recipe
Brazilian cheese bread has all the characteristics that make it perfectly suited for pizza crust. It bakes up with a crispy exterior that browns up with a chewy, cheesy, bready interior that stretches and pulls like traditional yeasted pizza crust.
While there are definitely vast and varied opinions on what makes a great pizza, there are a few things most of us can agree on, right? Namely, cheese. That's what gives this crust its wow factor - it's loaded with cheese.
The second pizza crust non-negotiable for me is that the bottom must be crispy. This is where I find that many gluten-free pizza crusts are lacking. Or if they are crispy, they aren't also chewy inside. Not this crust though! The cheese-y gluten-free pizza dough browns and crisps on the bottom while still having the classic pizza crust chew.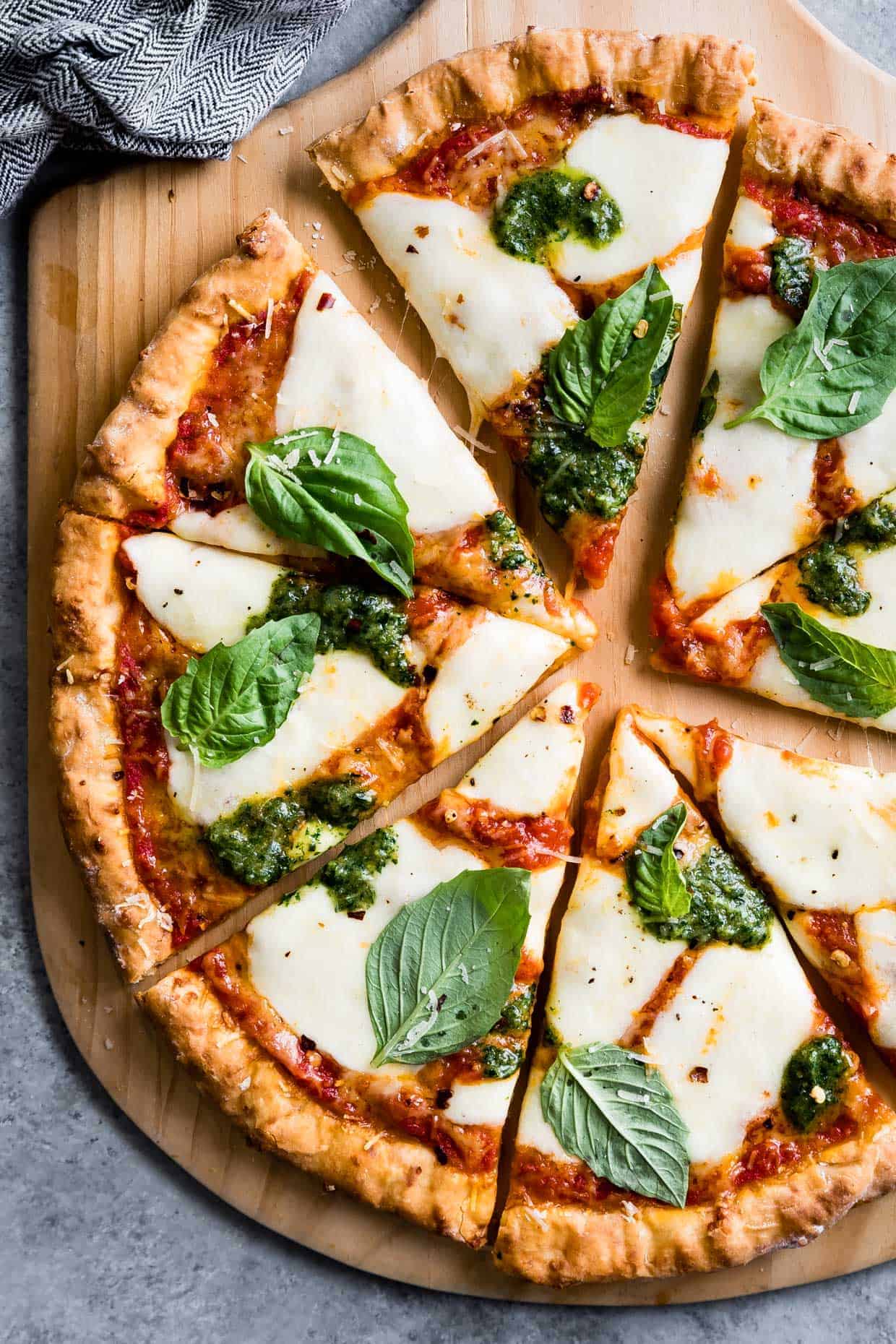 Gluten-Free Pizza Dough Without Xanthan Gum
Possibly the best part? This pizza crust doesn't require much fuss - even less fuss than a yeasted traditional pizza crust. In the bowl of a stand mixer, add tapioca flour to hot milk and oil. Then mix in eggs followed by cheese. Press it out and bake. That's it. This is now my favorite go-to gluten-free pizza recipe for weeknight dinners. No gums needed!
Honestly, the most annoying part of this recipe is that the dough is so darn sticky. No problem - to combat that, just coat your hands in plenty of tapioca starch/flour before handling the crust. Once coated in a thin layer of tapioca flour, the dough acts like a traditional yeasted pizza dough with stretch and pull.
Gluten-Free Pizza Recipes
If you're looking for a more classic gluten-free pizza dough recipe, I've got you covered with this recipe!
Need topping inspiration? Here are a few of my favorites that you can make on top of this gluten-free pizza dough recipe.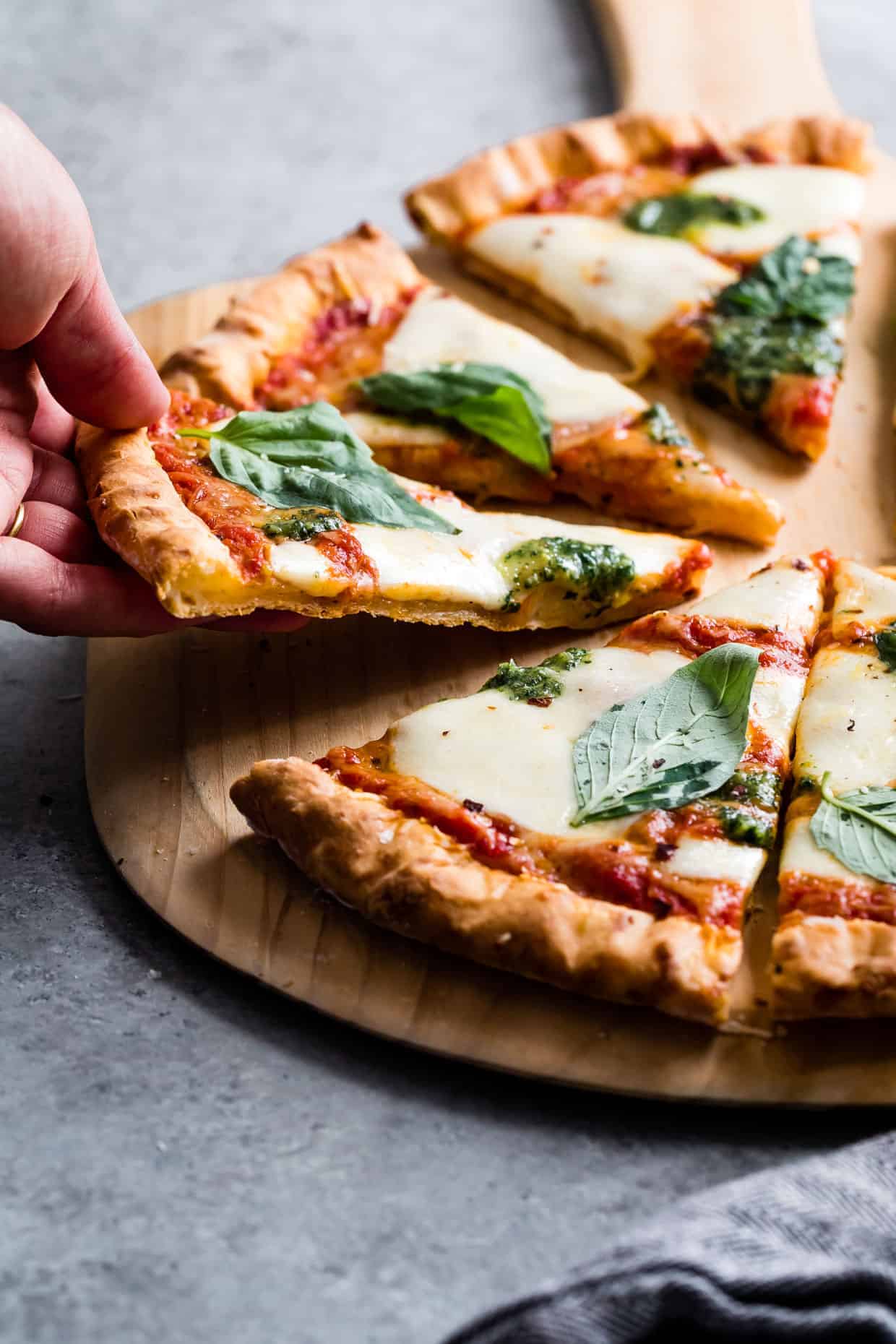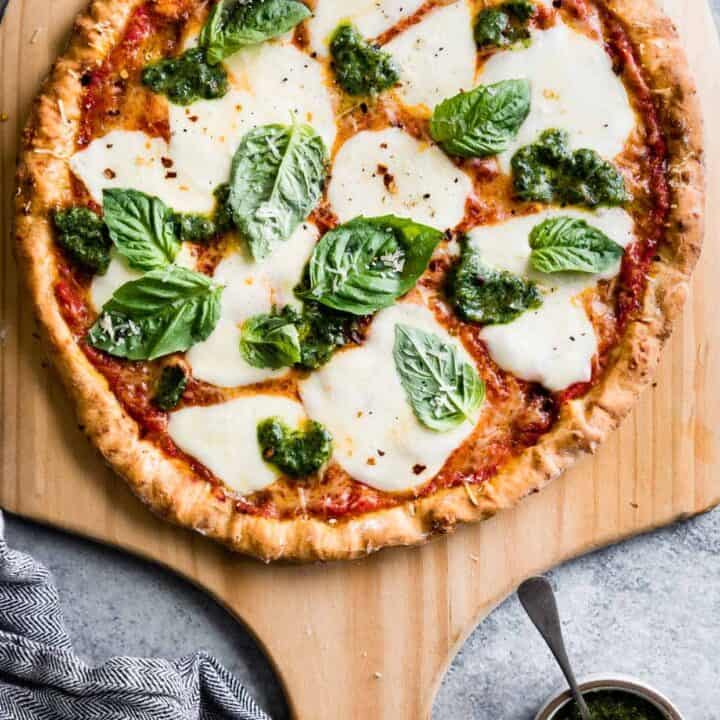 Gluten-Free Pizza Crust
Yield:
2 12-inch pizza crusts
This gluten-free pizza crust recipe is brown and crispy on the outside with the classic chewy pizza texture inside. Made from a few-ingredient cheesy tapioca flour dough inspired by Brazilian cheese bread, this gluten-free pizza dough recipe is fast and easy for pizza night at home! Update January 2021: I've removed the volume measurements for the flour and added more details on how to cook the milk and incorporate the eggs to help folks have success! Find full behind-the-scenes videos of each step here!
Ingredients
Gluten-Free Pizza Crust
1¼ cups whole milk
¼ cup + 2 tablespoons vegetable oil (such as sunflower or canola oil)
1 teaspoon kosher salt
2 large eggs, room temperature
4oz (1 cup packed) shredded low moisture mozzarella
2.7oz (¾ cup packed) shredded parmesan cheese
Pizza toppings, optional:
½ cup pizza sauce
6oz fresh mozzarella, sliced
1oz finely grated parmesan cheese
¼ cup pesto
Basil and red pepper flakes, for garnish
Other toppings of your choice!
Instructions
Preheat oven to 500°F with a pizza stone, 12-inch cast-iron skillet, or thick large baking sheet on the bottom rack.
In a small saucepan, bring the milk, oil, and 1 teaspoon of salt to boil over medium heat, stirring occasionally. Just when the milk begins to boil by puffing up with large bubbles, remove pan from heat. Updated note: don't undercook the milk because it needs to be hot enough to cook the tapioca. It should be a rapid boil, but keep an eye on it because as soon as it begins to rapidly boils, it will puff up quickly and threaten to overflow the pot.
Stirring constantly with a silicone spatula, slowly add the tapioca flour to the pan. Continue stirring to combine as much as possible (the mixture will be very sticky and the flour probably won't incorporate completely yet).
Use the spatula to transfer the sticky dough to the bowl of a stand mixer fitted with a paddle attachment or a food processor with the basic blade, using the spatula to get as much out of the pan as possible. Beat on medium speed until the dough is smooth and not hot and is cool enough to touch, about 5 minutes. Your dough may seem very thick at this point and stick to the beater in a lump. If using the food processor, making sure the dough is cool enough to touch before mixing is essential, as it's easy for the food processor to overheat.
One at a time, lightly whisk one of the eggs in a small bowl. With mixer on low speed, add the egg into the dough and beat until combined. This might take several minutes and might at first look like it won't incorporate into the thick dough with the egg sloshing around, but keep at it for several minutes and it will incorporate (it took me 5 minutes per egg). As the egg incorporates, slowly increase the speed on the mixer, keeping an eye on it that it doesn't slosh around too much and threaten to fly out. Mix until it's completely smooth. If the dough is stuck to the beaters in a thick clump, use the spatula to remove it and then repeat with the remaining egg.
With the mixer on low, slowly add cheese and beat on medium speed until fully incorporated, using the spatula to remove the dough from the beater once, if needed. If needed, knead the dough with tapioca flour-covered hands until fully incorporated. (Note: If you skip or minimize the cheese, your dough will be way too sticky/wet to press into a crust.)
Divide the dough into equal halves, covering your hands and the dough lightly in tapioca flour to keep it from sticking to your hands and the surface. The dough will be more sticky than traditional pizza dough, but dusting it with tapioca flour will do the trick.
Lay a piece of parchment paper down and dust it lightly with tapioca flour. Dusting the dough with more tapioca flour as you go, press half of the dough into a 12-inch round on the parchment paper, creating a thicker crust around the outside. Prick holes in the bottom of the crust with a fork. Repeat with the second half on a second sheet of parchment paper.
One at a time, place one pizza dough round on the baking stone or baking sheet on the bottom rack of the oven and bake for 10-13 minutes *(See note).
Cover with toppings of your choice.
Bake for 7-10 more minutes.
Notes
Tapioca Flour: This recipe has only been tested using Bob's Red Mill tapioca flour. I do not recommend using a different brand because some are less finely ground than others and will incorporate moisture differently - your results will vary if you use a different brand. As of January 2021, I've removed the cup measurement because I recommend only measuring the tapioca flour by weight to ensure you have the right amount so your dough is not too wet.
*Your crust will need 20 minutes total of baking time. The par-bake and final bake time will depend on your toppings. For example, if you're using fresh mozzarella as a topping, par-bake the crust for longer, but then bake the crust for only 7 minutes once you add the toppings because the cheese just needs to melt. If you're using other toppings like mushrooms or pepperoni, par-bake for just 10 minutes, then bake for 10 minutes longer once you add the toppings.