Last updated on August 16th, 2020
This gluten-free pizza crust recipe is thin and crisp, with beautiful soft air bubbles and a thick bready edge that bakes up a soft and chewy. Make it in your oven or a pizza oven and top with your favorite toppings!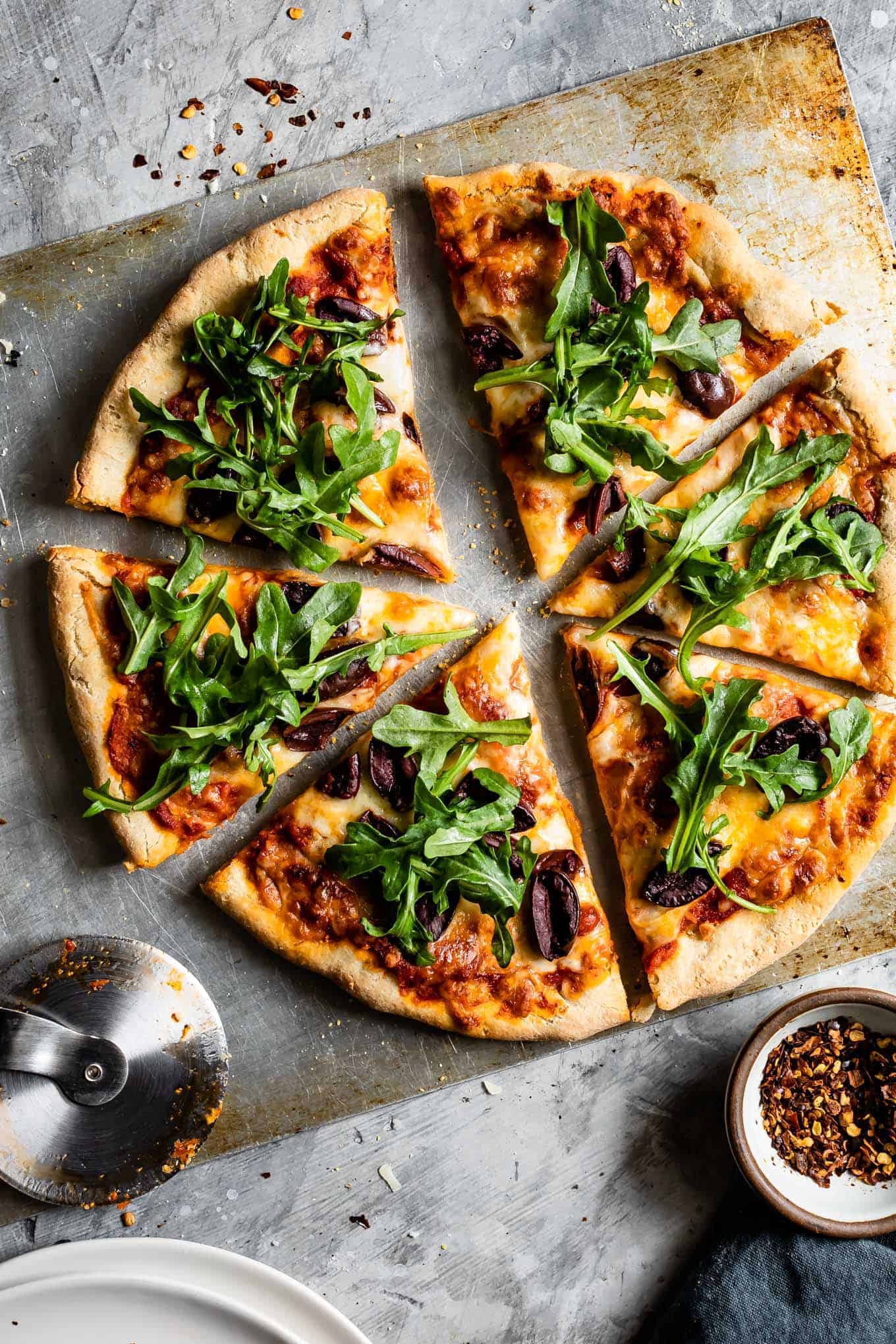 This post is sponsored by Bob's Red Mill, a long-term partner of Snixy Kitchen
Like brownies and chocolate chip cookies, I realize that pizza crust preference is one of those foods where people have strong divisive opinions on texture. Some like it thin and crispy with a chewy crust (that's us), others want it thin and foldable like New York Style pizza, and, on the opposite end, others want it thicker, soft, and chewy, almost bready. You're entitled to love it just the way you want it, but if you're in that former camp like me, have I got a pizza crust for you…
This gluten-free pizza recipe is the second recipe in a year-long partnership with Bob's Red Mill. Here's a list of all the recipes I've made in partnership with Bob's Red Mill over the years!
Gluten-Free Pizza Crust Recipe
Ever since we got a tabletop wood-burning pizza oven, we've been experimenting to create our perfect gluten-free pizza crust recipe. Notice I said "our perfect." This pizza crust recipe is thin and crispy, but not too thin, with beautiful bubbles and a crisp but super chewy crust. It's the gluten-free pizza crust I've been dreaming of for years. Having reached what we deem the perfect crust, it's become a weekly pizza night staple in our house.
A few readers saw my gluten-free pizza dough on IG stories and offered to test the recipe. Many have told me it has become a weekly staple in their houses as well.
The two pictures above show the crust baked on a pizza stone in a conventional oven.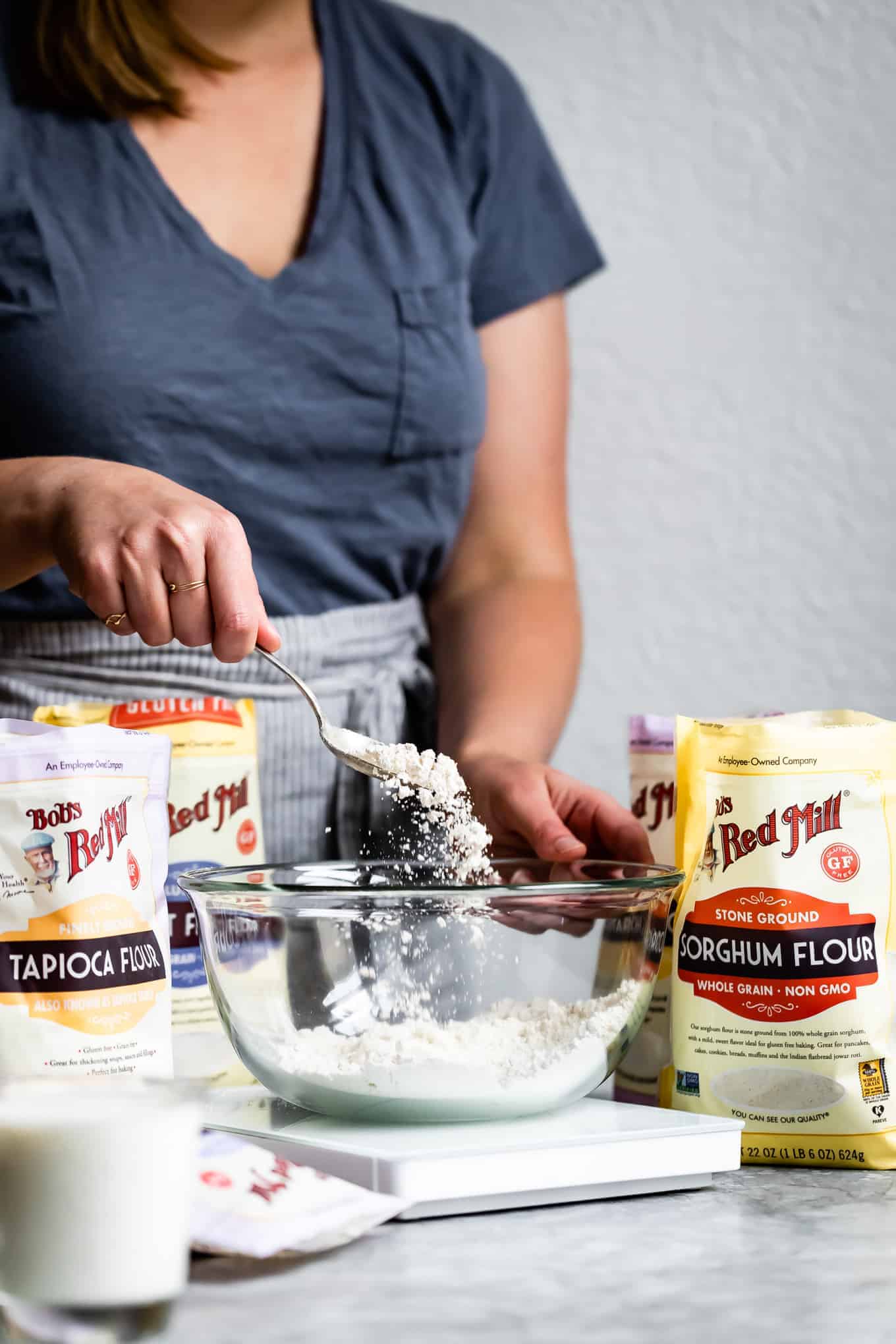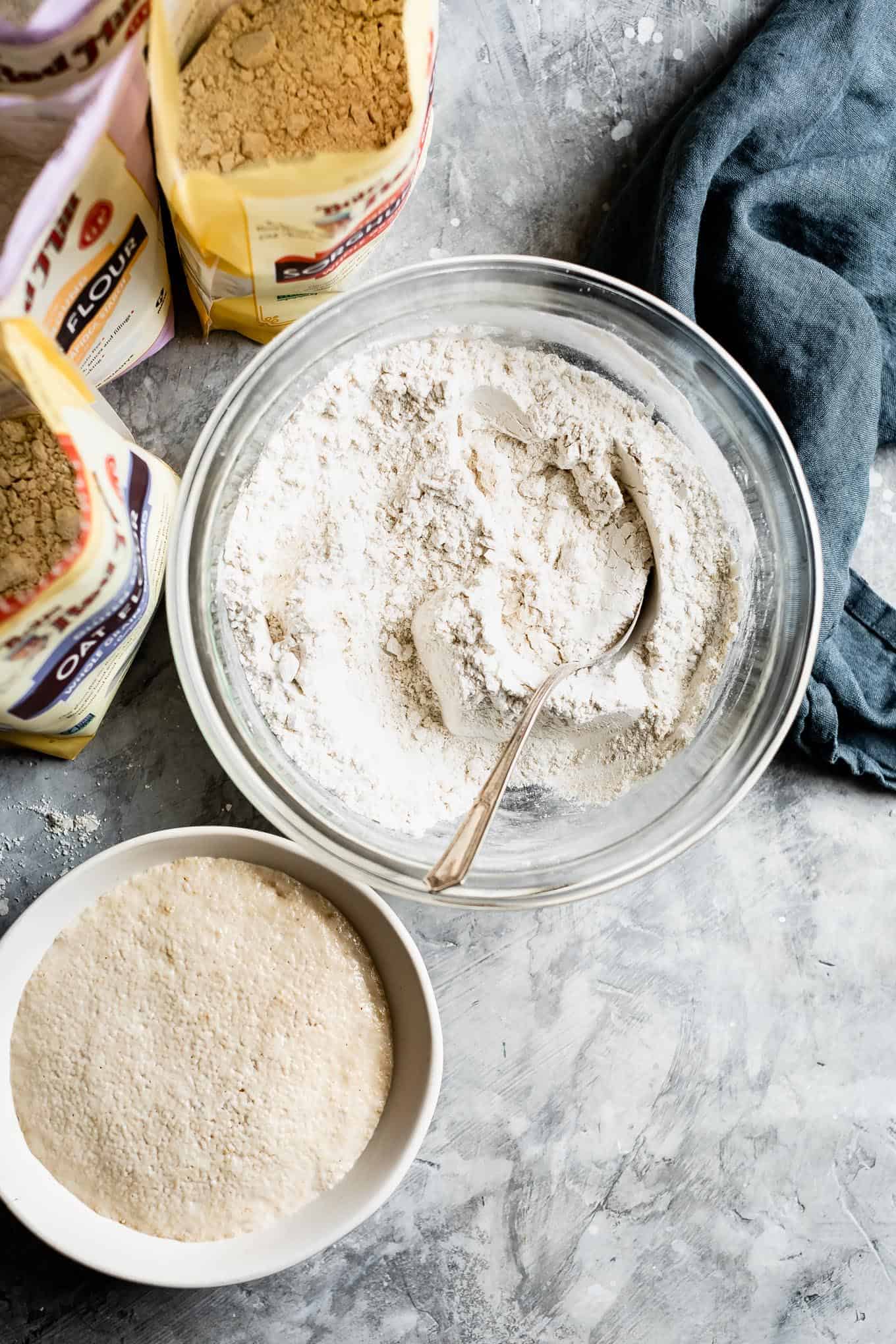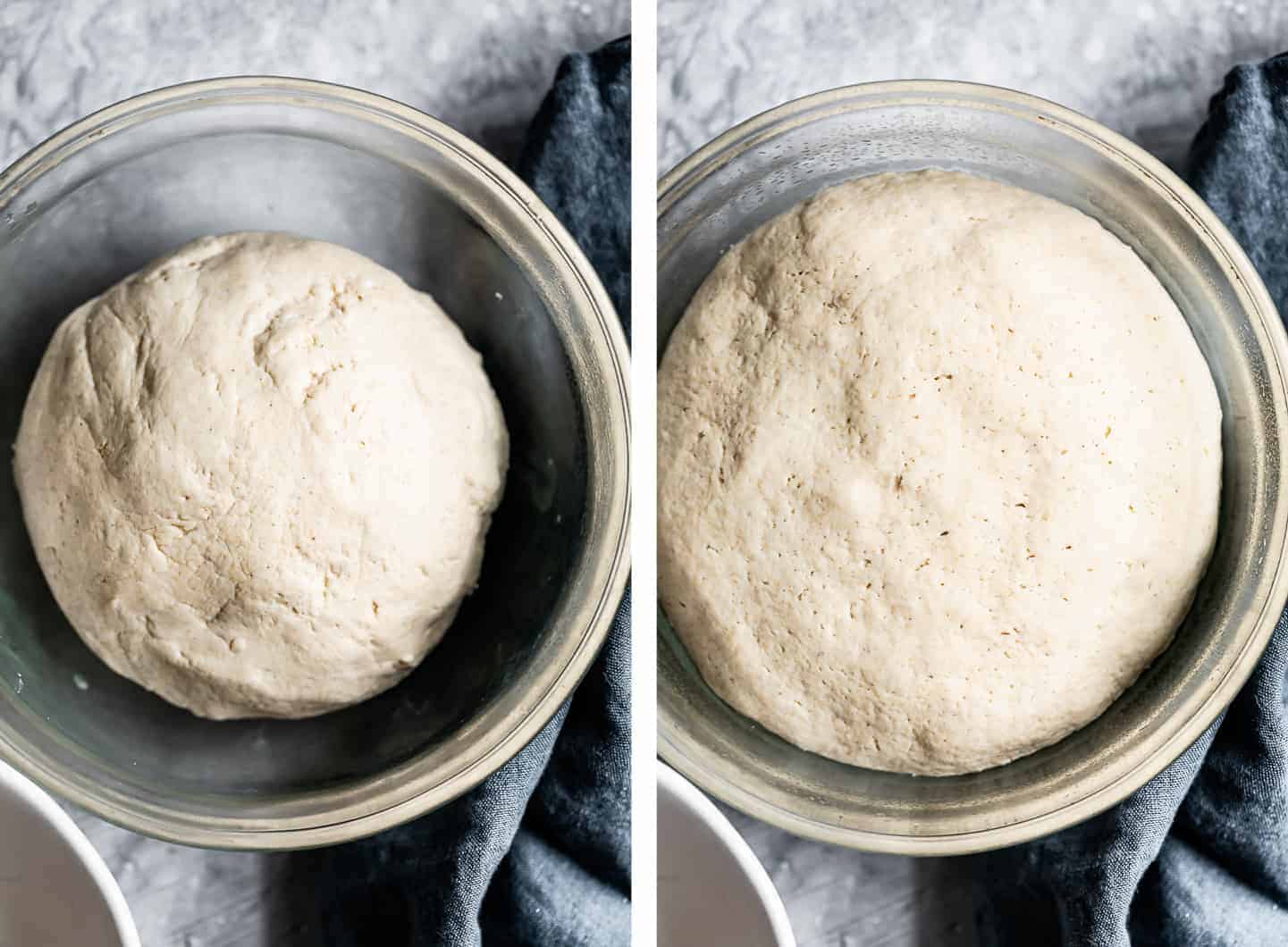 What is gluten-free pizza made of?
Gluten-free pizza is made using a combination of gluten-free flours, with milk and apple cider vinegar added in to help with the structure of the yeast development. My gluten-free pizza recipe starts with the same flour blend I made into gluten-free soft pretzels: Bob's Red Mill gluten-free oat flour, sorghum flour, tapioca starch, and corn starch. The texture of the inside of the pretzels is doughy and chewy, just how I wanted my gluten-free pizza crust, which made it perfectly suited for the adaptation.
When I made the soft pretzels, I broke down each flour and what it brings to the dough, as well as why I used milk in gluten-free dough. To read more in detail head over to that gluten-free soft pretzel post. Here's a brief summary:
Oat flour gives the crust it's soft moist texture and wholesome whole grain notes.
Sorghum flour, like oat flour, is wholesome and whole grain, but with slightly sweet notes it adds flavor depth. I use sorghum flour in my gluten-free sourdough starter and bread because of what it adds.
Tapioca starch gives the dough a chewy texture and structure.
Corn starch helps the outside of the crust crisp up and brown like a classic pizza crust.
The more and more I bake gluten-free the more I learn that having a consistent brand of flour makes a huge difference. For example, I've found some brands of tapioca starch are less finely ground, which makes a less chewy and more gritty texture and will negatively impact the moisture absorption. For each of these flours, I use only Bob's Red Mill brand, which is finely ground and consistent in quality. Using Bob's Red Mill flours will provide the best texture of gluten-free pizza crust!
Gluten-Free Yeast Dough
To encourage and trap the most air bubbles from the yeast in gluten-free pizza dough, I use milk and add apple cider vinegar (a trick I also use in my gluten-free cinnamon rolls).
Milk: I use milk in place of water. As I described in more detail in the soft pretzels post, the proteins in milk (caseins) help provide structure to the dough by mimicking gluten. If you want the crust to be vegan or dairy-free, subbing in water will work, the outer crust just won't be quite as fluffy.
Apple cider vinegar: The apple cider vinegar in the dough will help to strengthen it and slightly increases the acidity. This allows the yeast to grow easier, causing your pizza dough to rise a bit better.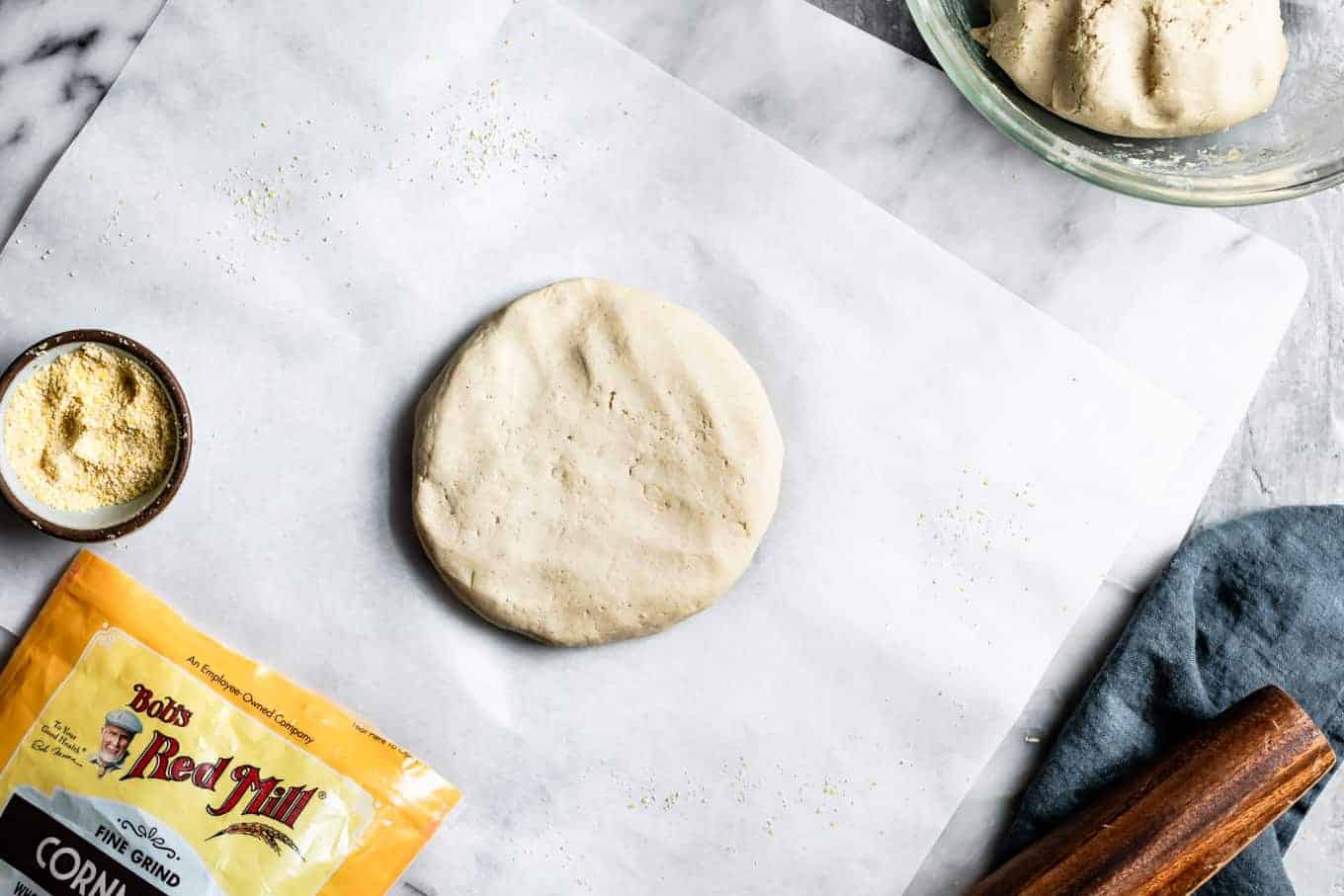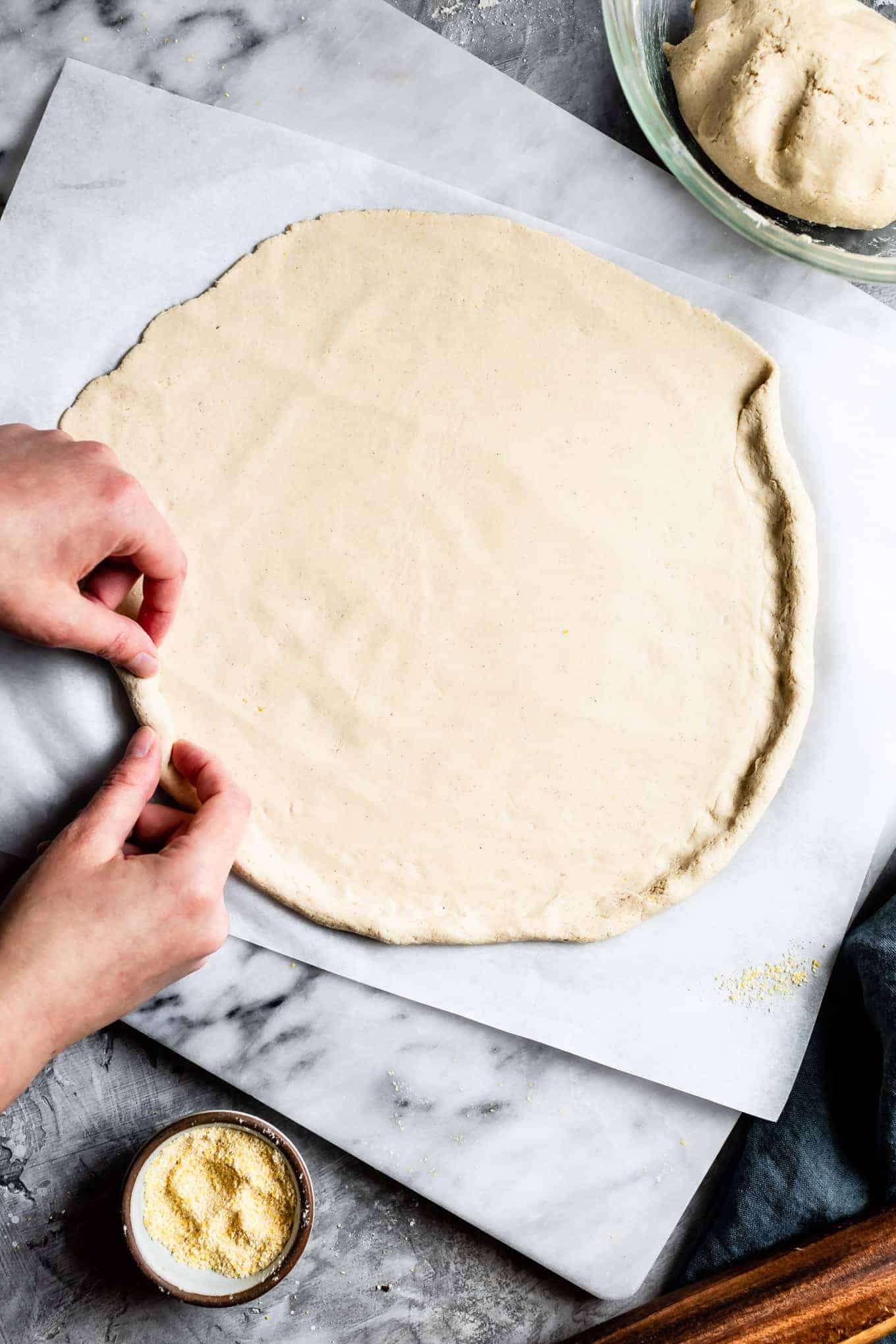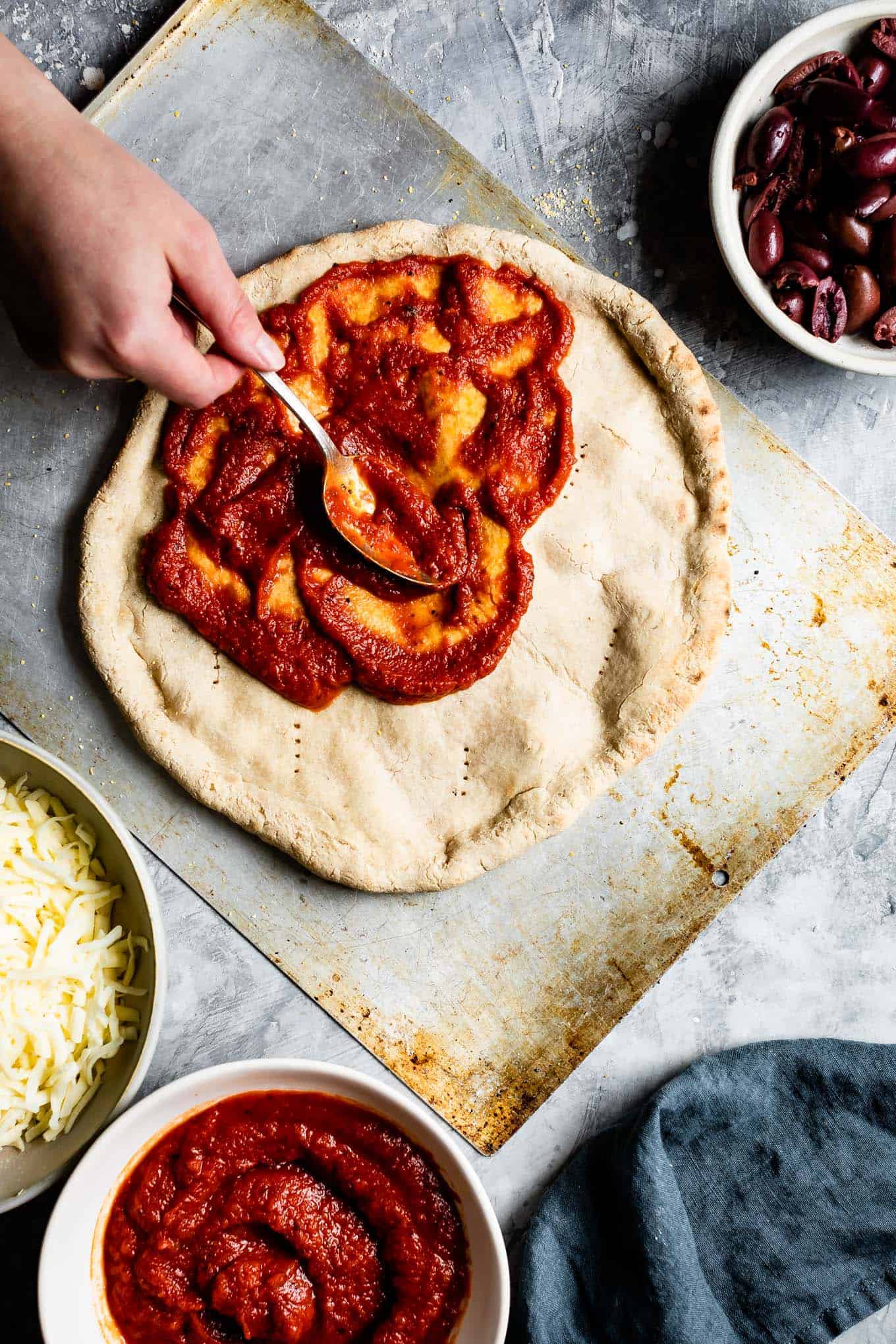 This crust and all the following pictures show the crust baked in a wood-burning tabletop pizza oven.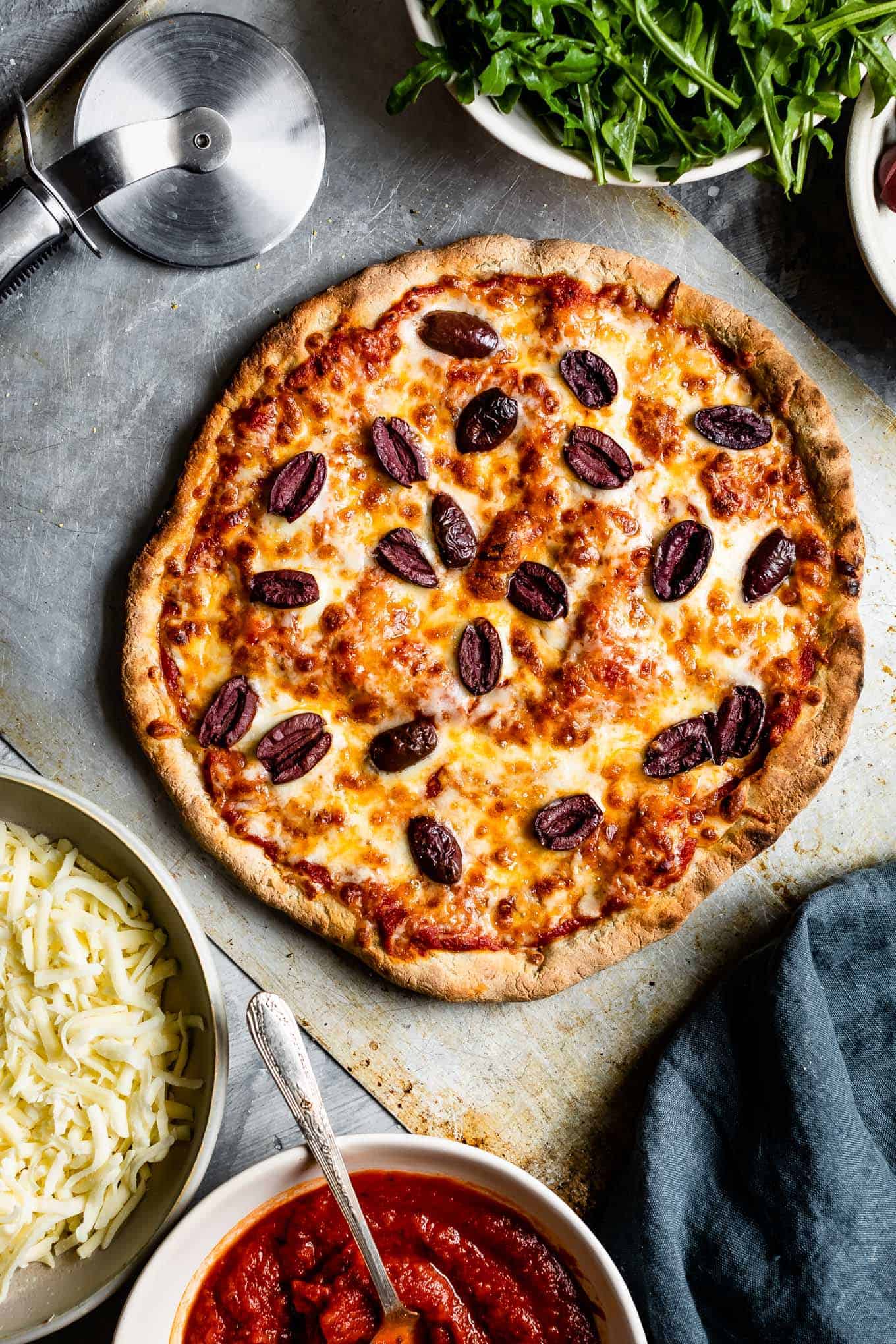 Gluten-Free Pizza Dough
If you've made homemade pizza dough before, you'll find that the texture of this gluten-free pizza dough is a bit different. You want it to be soft and pliable, but not too sticky. When you first pull it out of the mixing bowl, it might feel sticky, but as you work it into a ball, it should become less sticky and hold together as a smooth ball. When you poke the dough, it should feel a bit softer than fresh playdough or unchilled sugar cookie dough. If you notice your dough is too firm, knead in a tablespoon of milk to soften it up.
Just like traditional pizza dough, cover and let the dough rise for an hour until it doubles in size. When you roll out the crust, I find it's easiest to use a rolling pin. When it's large enough, roll in the outer 1/2-inch to create a thicker crusted edge.
Pizza Oven or Conventional Oven?
I first developed this recipe using my wood-burning tabletop pizza oven, but I've now made it just as many times in the conventional oven. It works great in either!
In a wood-burning pizza oven, the gluten-free pizza crust turns out more browned on top with slightly larger air bubbles. The wood also helps flavor the crust. I've written the instructions for a conventional oven because that's probably what most people have. To use a pizza oven, reduce the baking time according to the manufacturer's instructions.
In a conventional oven, I recommend using a pizza stone for the best results, but if you don't have a pizza stone, you can use a large cast-iron skillet or dark baking sheet. Your crust may be a bit less crispy using the baking sheet. Whatever you use, have it in the oven while preheating.
Can you freeze gluten-free pizza crust?
You can absolutely freeze gluten-free pizza crust dough! I recommend letting it rise and rolling it out then freezing on a baking sheet before transferring it to a freezer bag or wrapping it well in plastic wrap for longer storage. When you're ready to bake it, you can par-bake it straight from the freezer, adding 3 minutes to the bake time.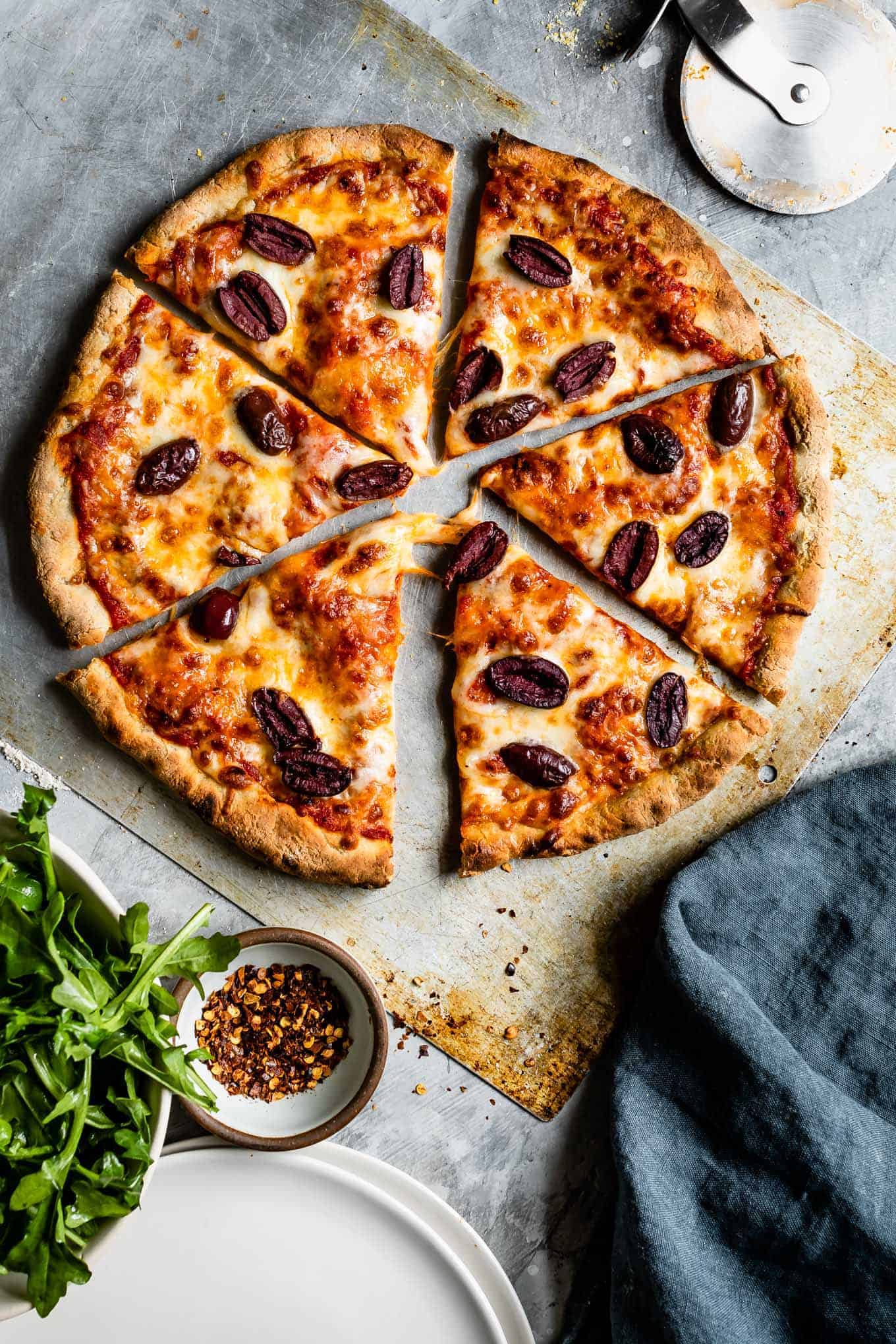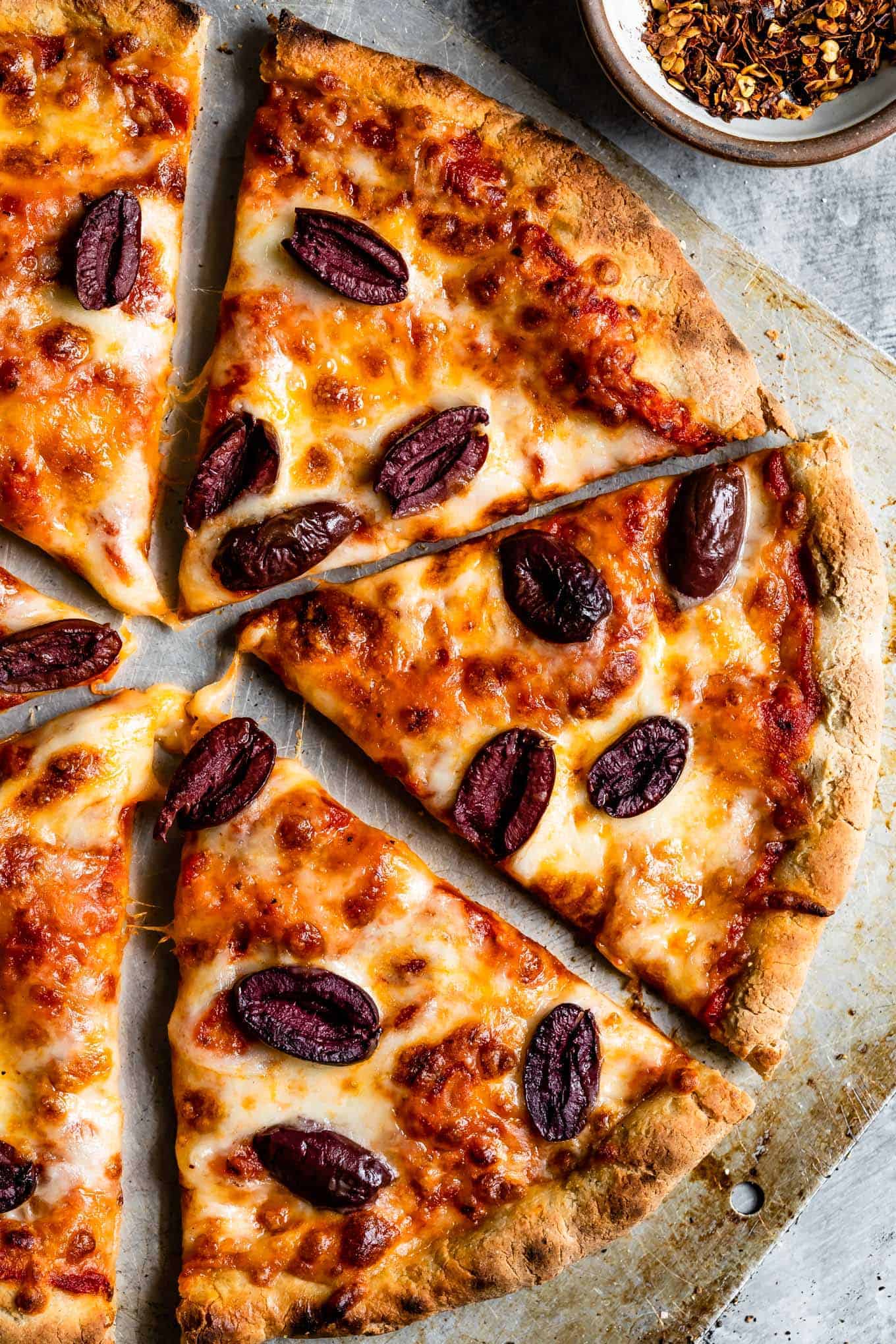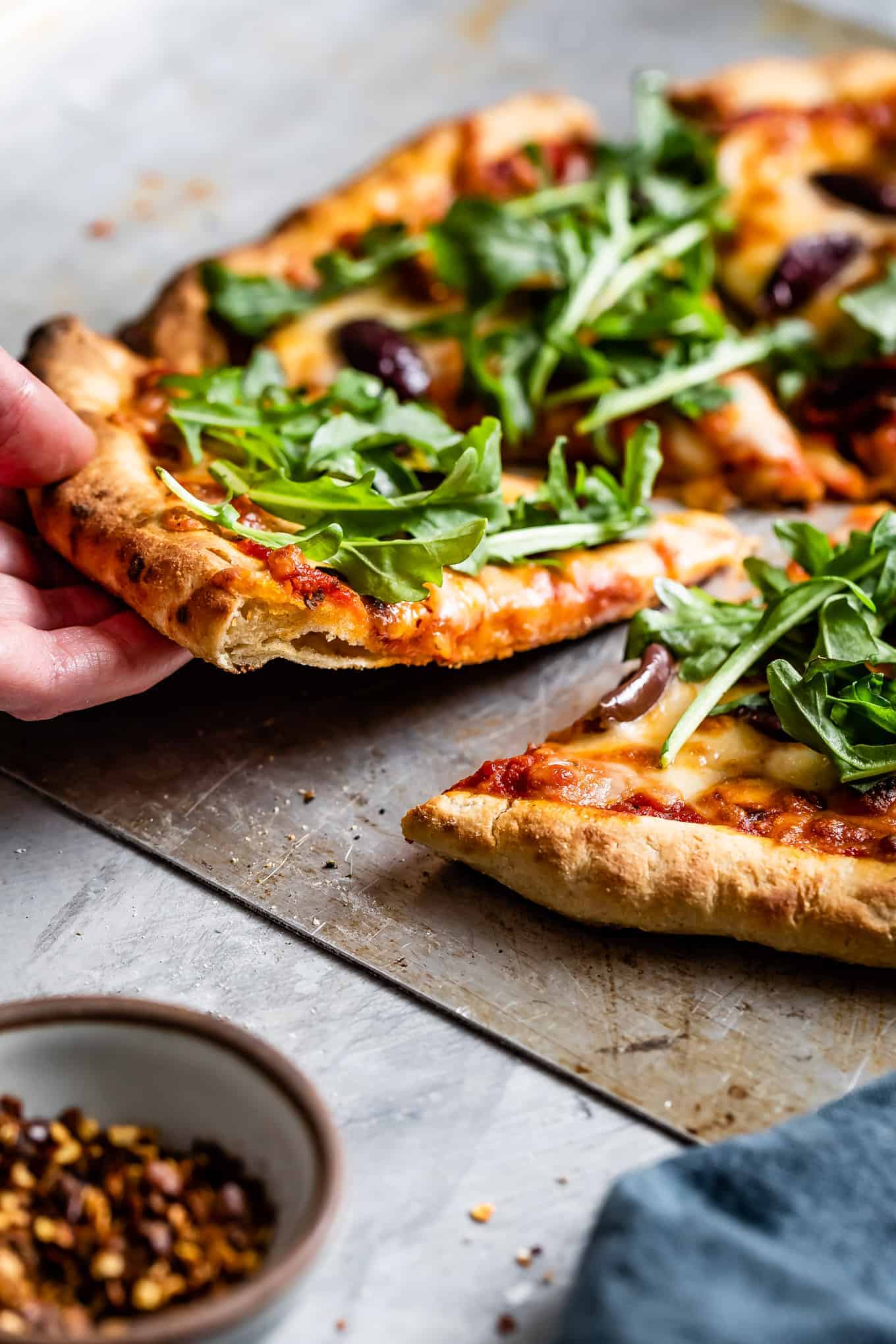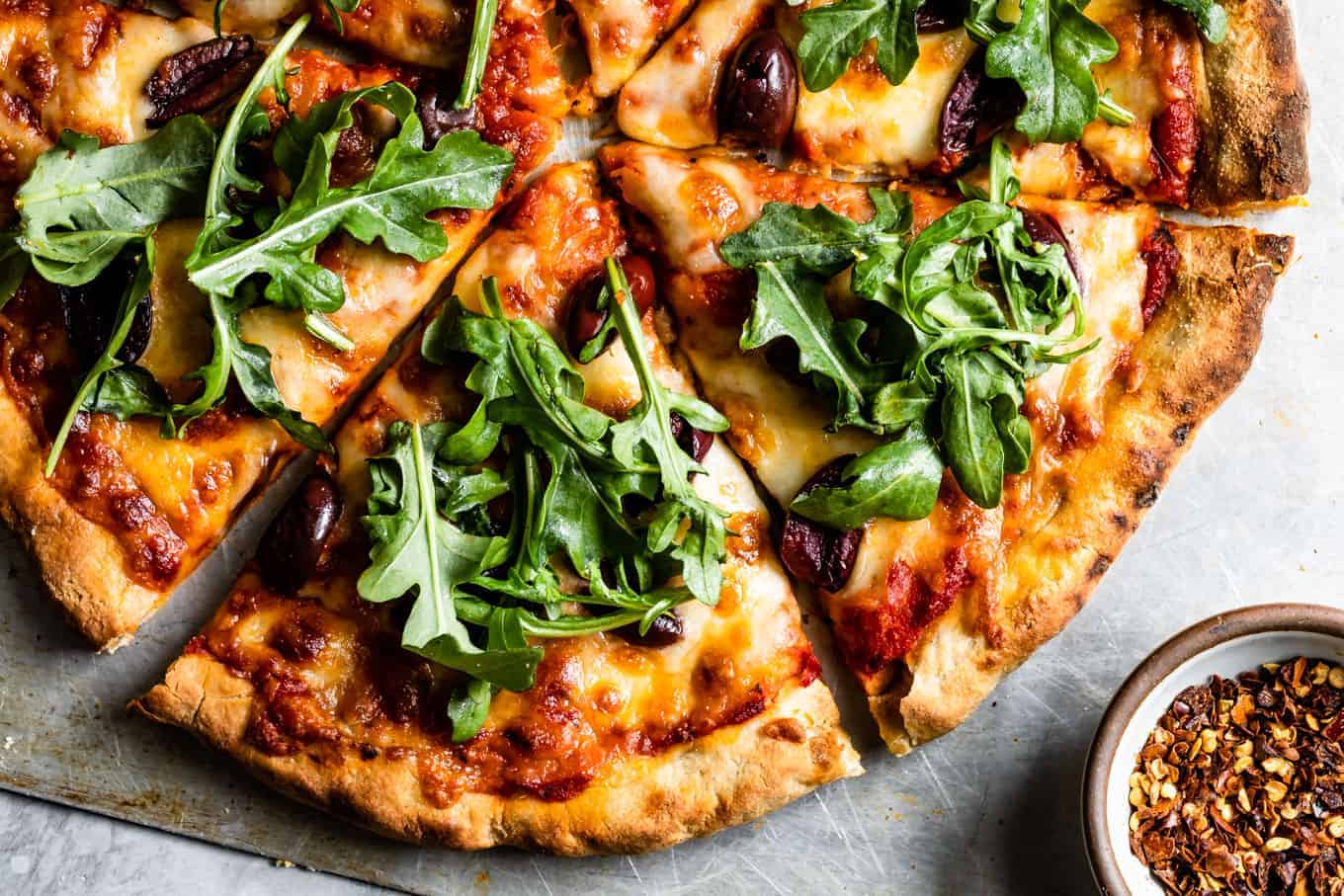 Best Gluten-Free Pizza Crust
Pizza could easily be considered a major food group in our house. I have another cheesy gluten-free pizza crust on my site, which is based on the method of making Brazilian cheese bread. While amazing, it's not a classic-style pizza crust, which is what I've been after of late.
Having ordered every gluten-free pizza I come across, I still would prefer to make and eat this crust at home. It's the closest thing I've ever eaten to a traditional gluten pizza crust in texture and flavor.
The crisp bottom puffs up, creating soft air pockets throughout. The thick edge bakes up bready and doughy with a soft chewy center and a thin crisp crunchy exterior. We love the outer crust so much that when our kids leave it behind, Lucas and I fight over who gets to eat it.
I've simultaneously been developing a sourdough gluten-free pizza crust which is equally amazing with a slightly different flavor profile. Stay tuned for that recipe just as soon as I can shoot it!
Pizza Topping Inspiration
Roasted Potato Pizza with Shaved Brussels Sprout Slaw
Fresh Mozzarella, Pesto, Basil Pizza
Crispy Scallion & Asparagus Pizza from Naturally Ella
Kale Pesto Pizza from Mash & Spread
Breakfast Pizza from Spoon Fork Bacon
Peach Burrata Tomato Pizza from Vegetarian Ventures
Chicken Pesto Pizza from Kitchen Confidante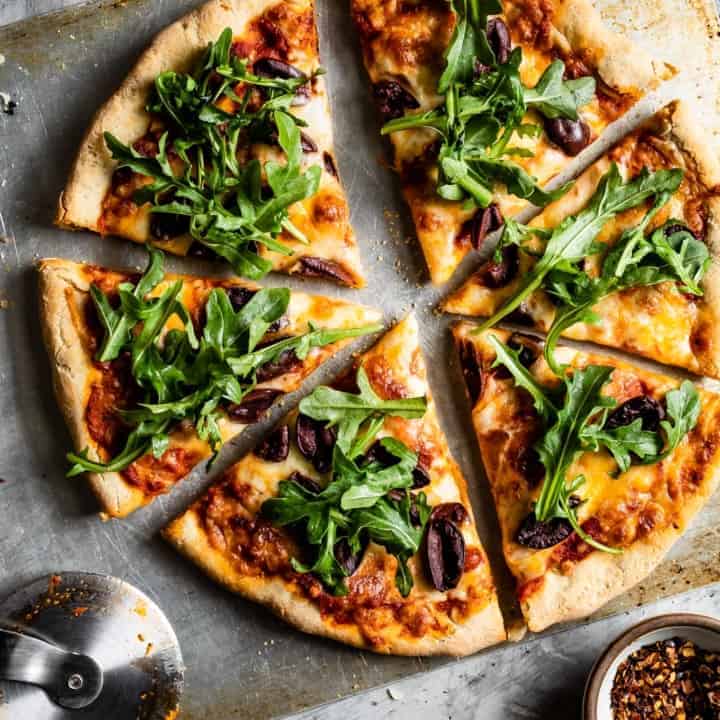 Gluten-Free Pizza
Total Time:
1 hour
30 minutes
This gluten-free pizza crust recipe is thin and crisp, with beautiful soft air bubbles and a thick bready edge that bakes up a soft and chewy. Make it in your oven or a pizza oven and top with your favorite toppings!
Ingredients
1 cup + 2 tablespoon warm whole milk (between 105-110ºF) (see note for dairy-free version)
1 teaspoon honey
½ teaspoon kosher salt
1 tablespoon extra virgin olive oil
1 tablespoon apple cider vinegar
Instructions
Warm the milk in a small pot to between 105-115°F (if you go over, just let it cool until the temperature is in that range so you don't kill the yeast). Transfer to a wide medium bowl and mix in honey. Slowly sprinkle the yeast over the warm milk and use a spoon to mix completely. Let sit for 10 minutes while the yeast activates and foams. If your yeast hasn't gotten foamy by 10 minutes, your yeast may not be fresh, so try again with a new package.
Meanwhile, combine tapioca starch, oat flour, sorghum flour, corn starch, xanthan gum, and salt in the bowl of a stand mixer with the dough hook attachment or a large mixing bowl. When the yeast/milk mixture is ready, add it to the flour along with the olive oil and vinegar and mix on low to combine. Increase speed to medium and knead for 4-5 minutes until the dough is super smooth and pulls away from the edges a bit. (If using a mixing bowl, mix with a wooden spoon until it's thick, then knead with your hands until it forms a smooth ball).
Shape it into a ball and transfer the dough to a lightly oiled bowl (If it's a bit sticky, that's okay!). Cover with plastic and set in a warm place for an hour, until doubled in size (I use the proof setting on my oven).
Preheat oven to 500°F (or preheat a pizza oven) with a pizza stone on the bottom rack. If you don't have a pizza stone, you can use a large cast-iron skillet or dark baking sheet. With a baking sheet, bake it on the parchment paper and keep in mind, your crust may be a bit less crispy on the bottom. Whatever you use, have it in the oven while preheating.
Divide the dough in two and shape each half into a disk. On a sheet of parchment paper, roll each crust into a 13-inch round using a rolling pin. Fold the outer ½-inch edge over and crimp/seal the roll onto the bottom to create a crust edge (see pictures). Prick the bottom a few times with a fork to avoid large air pockets. Repeat with second crust.
Dust a flat cookie sheet with cornmeal and carefully remove the pizza crust from the parchment paper and transfer it onto cornmeal-coated sheet. With confidence, slide one pizza crust onto the hot pizza stone or into the pizza oven. Par-bake for 6-8 minutes, until firm, but not yet browned (adjust timing if using a pizza oven, according to the manufacturer's instructions. For example, I only par-bake mine for 1 minute, rotating halfway through, in my Uuni pizza oven).
Remove the pizza from the oven and add sauce and toppings. While adding the toppings, par-bake the second crust.
Bake the topped pizza for another 12-15 minutes until the crust is crispy on the bottom with golden edges and cheese is melted (again, adjusting timing if using a pizza oven).
Notes
Milk: You can substitute the milk for water, but the results will be a bit less fluffy.
Xanthan gum: You can substitute the xanthan gum with either:
2½ tablespoons ground chia seeds, but results will be a bit less chewy/fluffy and more crispy like flatbread. To do this, add an additional tablespoon of milk.
12g (about 2.5 tablespoons) psyllium husk flakes. To do this, add an additional 3 tablespoons of milk.