This naturally gluten-free chickpea socca flatbread is topped with melty mozzarella, roasted garlic and fennel, and buttery olives, then drizzled with a fresh mint parsley oil.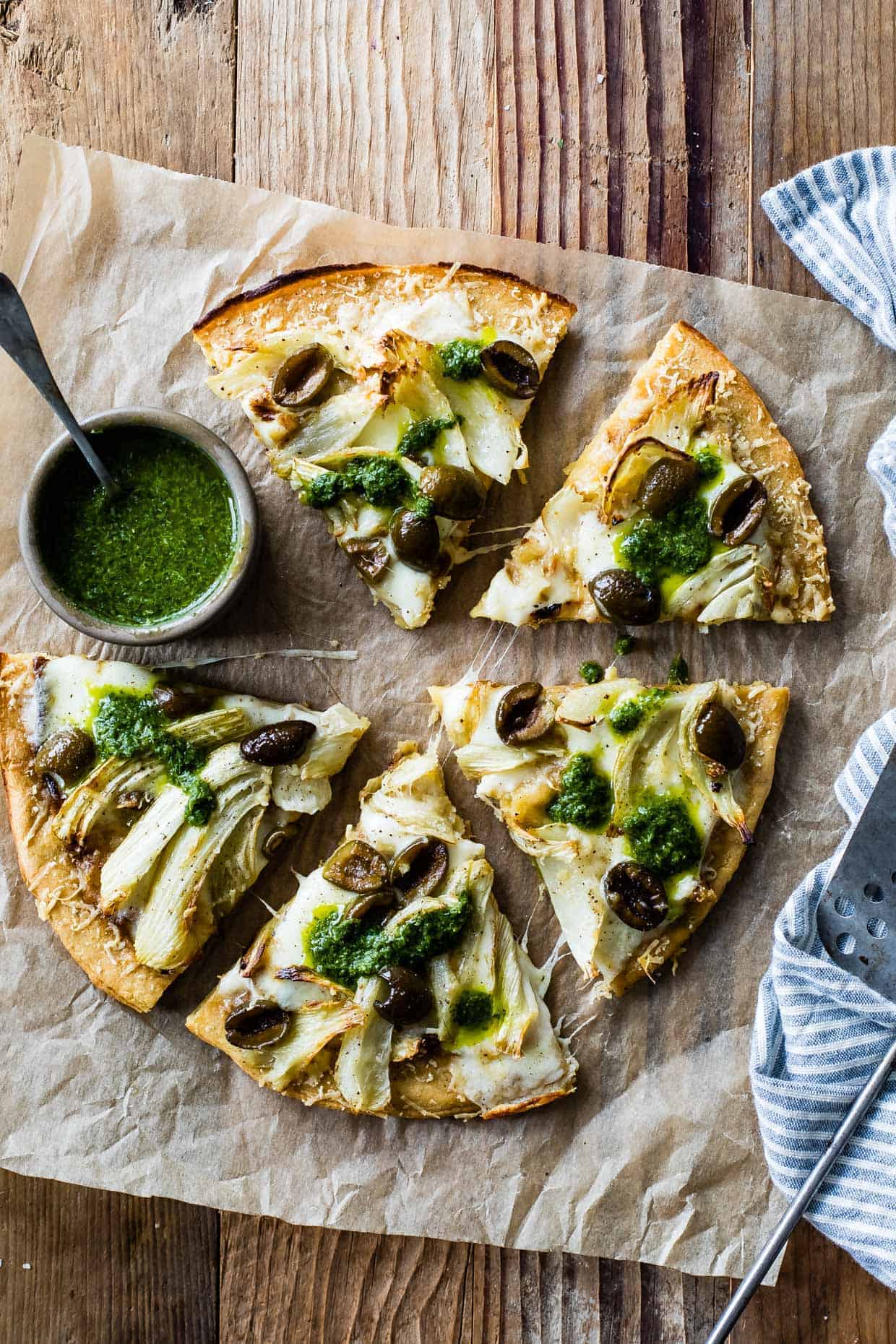 This post is sponsored by California Olive Committee. Although I was compensated to write this post, all opinions are my own.
We're in the thick of a toddler hunger strike right now. It's not that she's picky and doesn't like foods. She won't even try most foods – "nah," she says as she drops it on the floor. Tips for not raising a picky eater are welcome. Her current list of approved foods includes: cheese (the clear favorite), blueberries, dried figs, pine nuts, smoked salmon, and olives.
Maybe I'm ripping my hair out to get her to eat most days, but I'm also counting my blessings that she didn't inherit my dad's aversion to olives. This is huge. It was a major point of contention whenever I'd choose olives as my only pizza topping growing up. If this socca flatbread with olives and mint parsley had been on the menu, I'd get to eat it all.
Real talk: how can anyone not want to be on team olives when they make such great fingertip jewelry?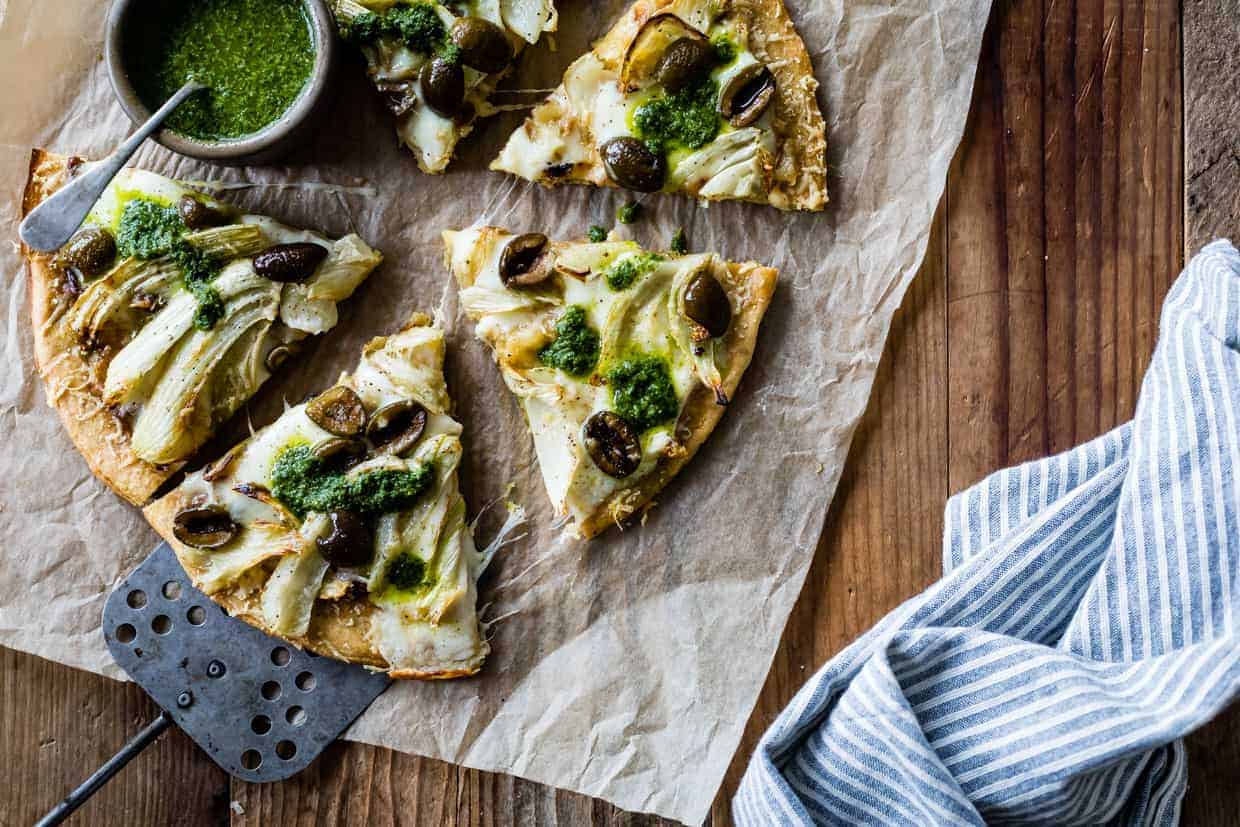 So when the California Olive Committee invited me to the Culinary Institute of America (CIA) in St. Helena last month to learn more about olives from some of the canners and growers, I obviously didn't hesitate.
Before unleashing us on the kitchen, Elise from Simply Recipes and Chef Paul Irving of the CIA demoed different olive preparations that altered the flavor they add to dishes. Smoked olives. Candied olives. Dehydrated olives. <-- I'd like those dehydrated olives bagged and delivered to my doorstep for weekly snacking, please.
With free reign of the CIA kitchen pantry (and someone else doing our dishes!!), I teamed up with Lisa from Healthy Nibbles and Bits, Carrian from Oh Sweet Basil, and Julia from The Roasted Root for some olive-centric seasonal cooking. On the left: Roasted asparagus with kumquat olive salsa. On the right: Brown butter shallot pasta with roasted carrots, fresh peas, bacon breadcrumbs, and dehydrated olives.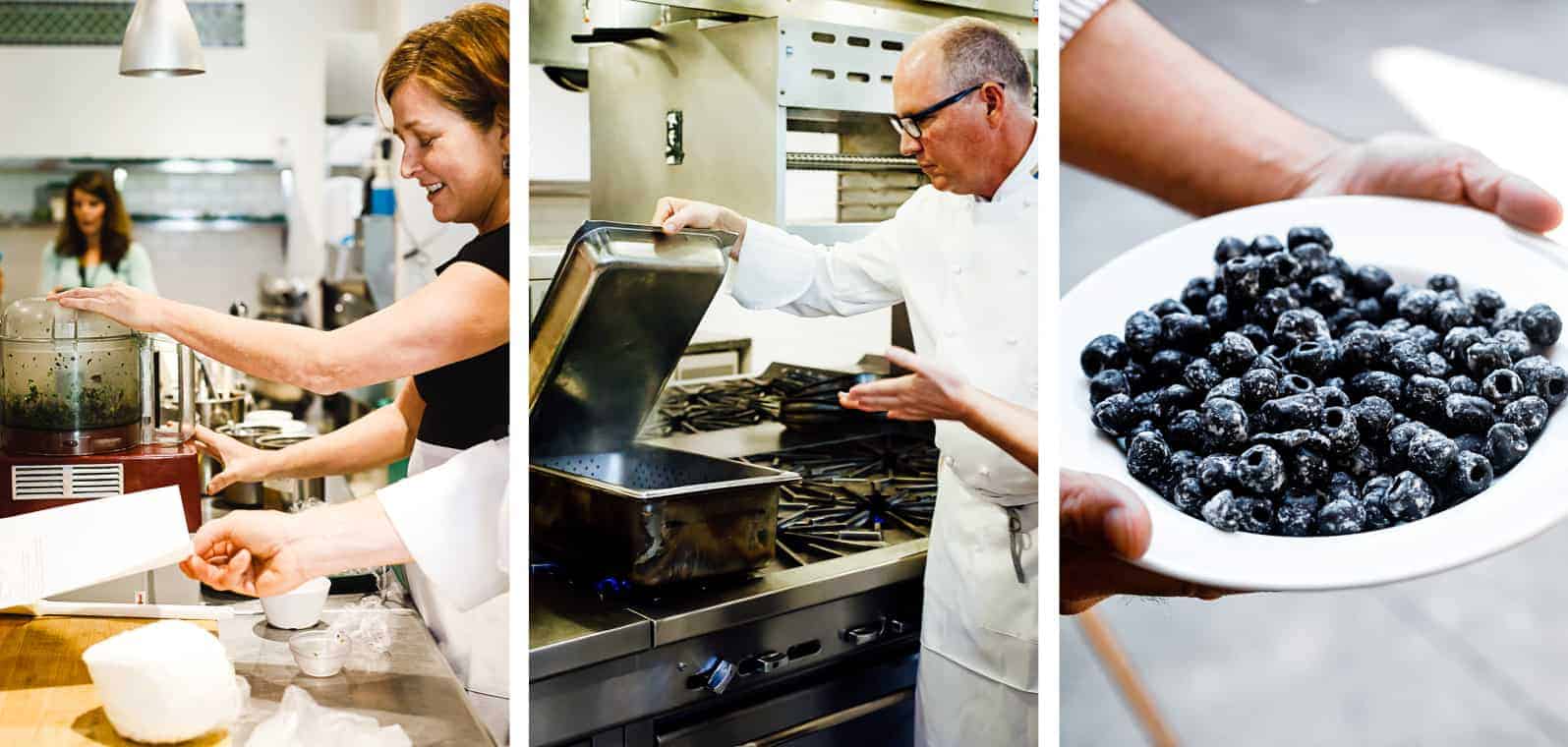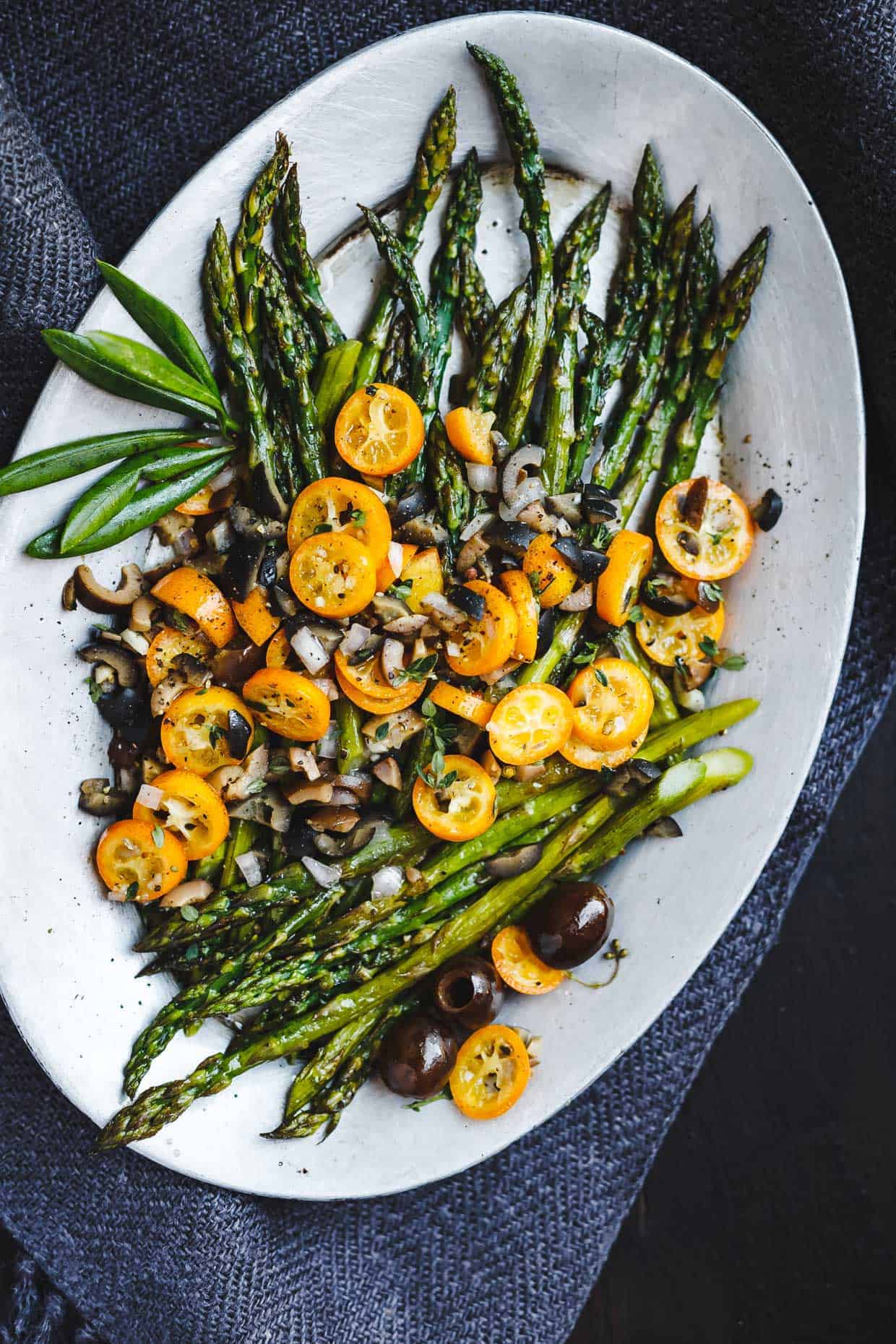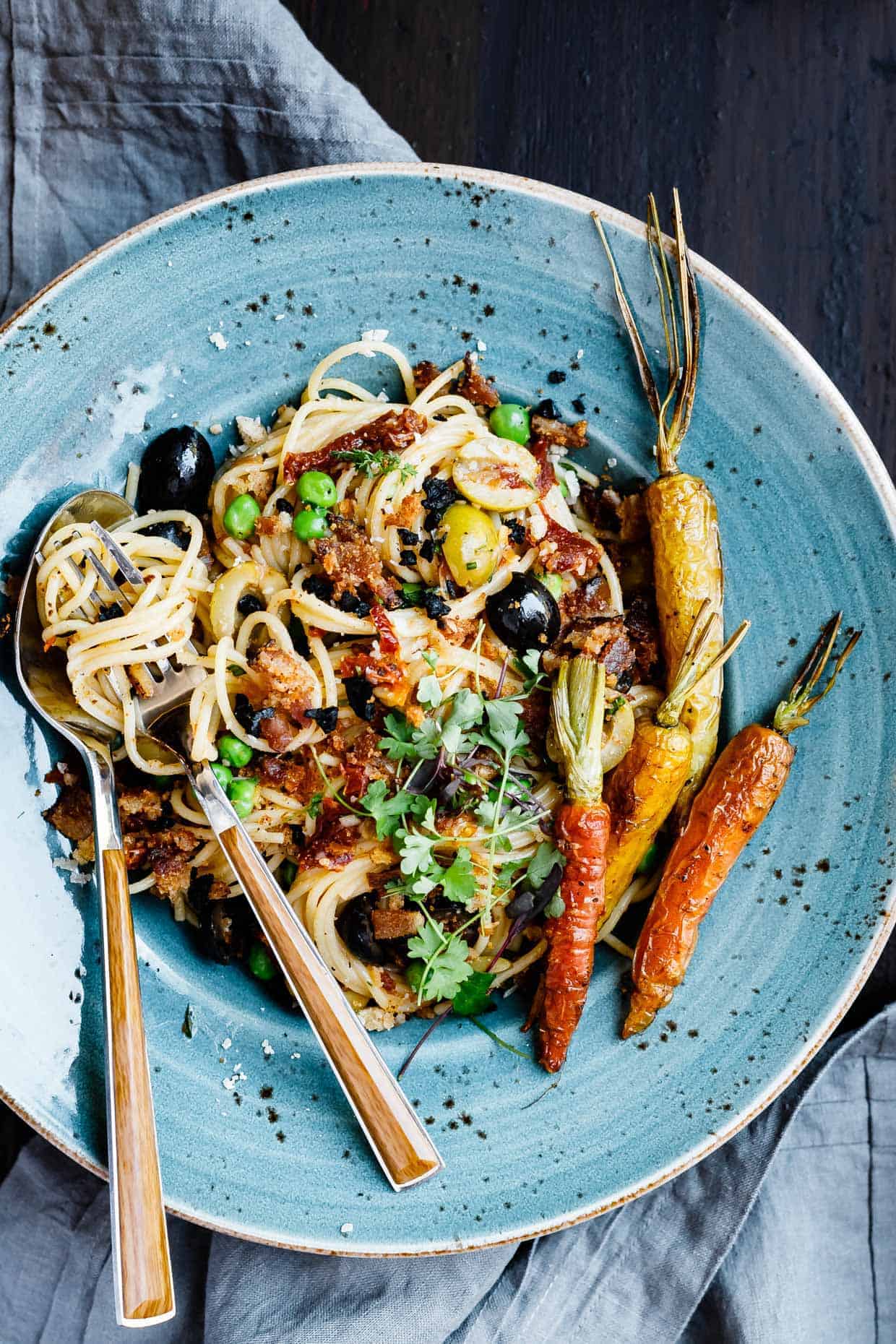 While cooking with (and eating) olives is definitely a bonus, the real highlight was getting to fill in the gaps of some of my childhood adventures. I have a vivid, but episodic memory of visiting a historic home in Oroville, CA to learn about the history of olives as a kid. I now know this as Freda Ehmann's home – the birthplace of the modern canned olive and the beginnings of California Ripe Olives. Freda lived in Oakland when she became a widow in the late 1800s, with only an olive orchard in the inland valley to her name. With the help of an agriculture professor at UC Berkeley, Freda came up with the recipe for canned ripe olives that we know of today and grew it into a flourishing industry.
With a woman at the start of it all, California now produces more than 95% of olives in the US, most of which are grown on multigenerational family farms in the inland valley. Nestled in the middle of all these farms, my great grandpa had one row of olive trees that he'd cure in his garage. One row that solidified my love of olives.
And olives on pizza.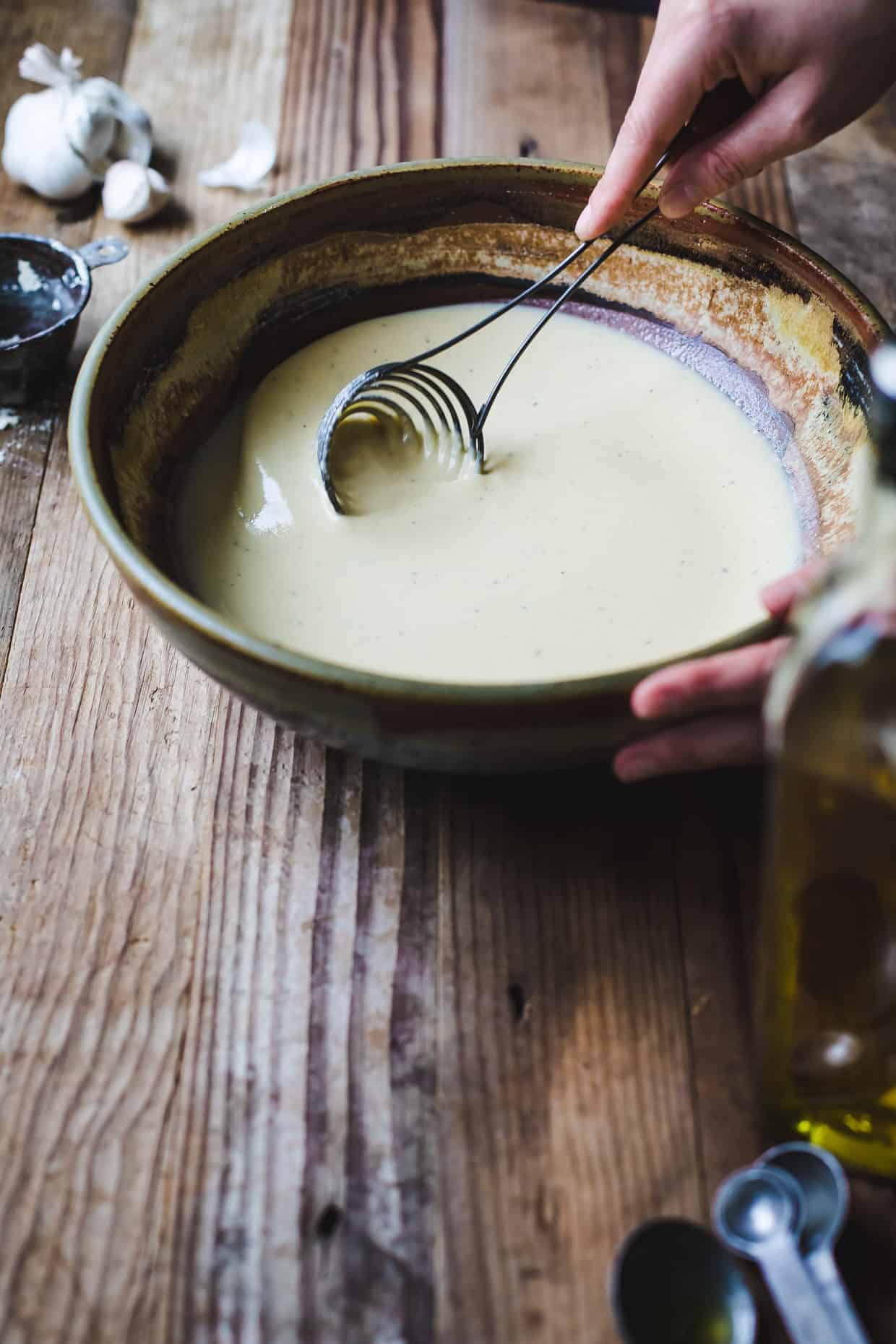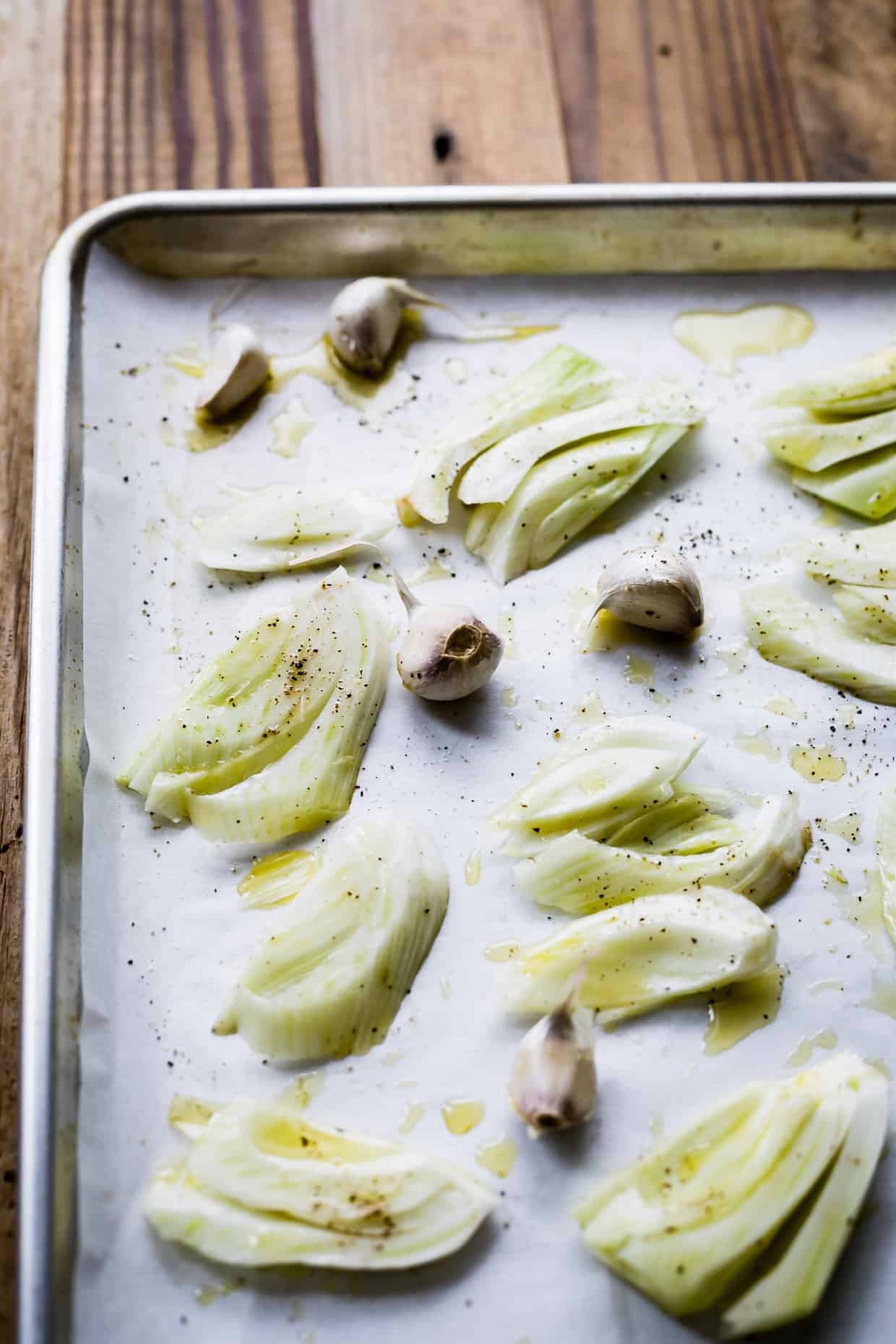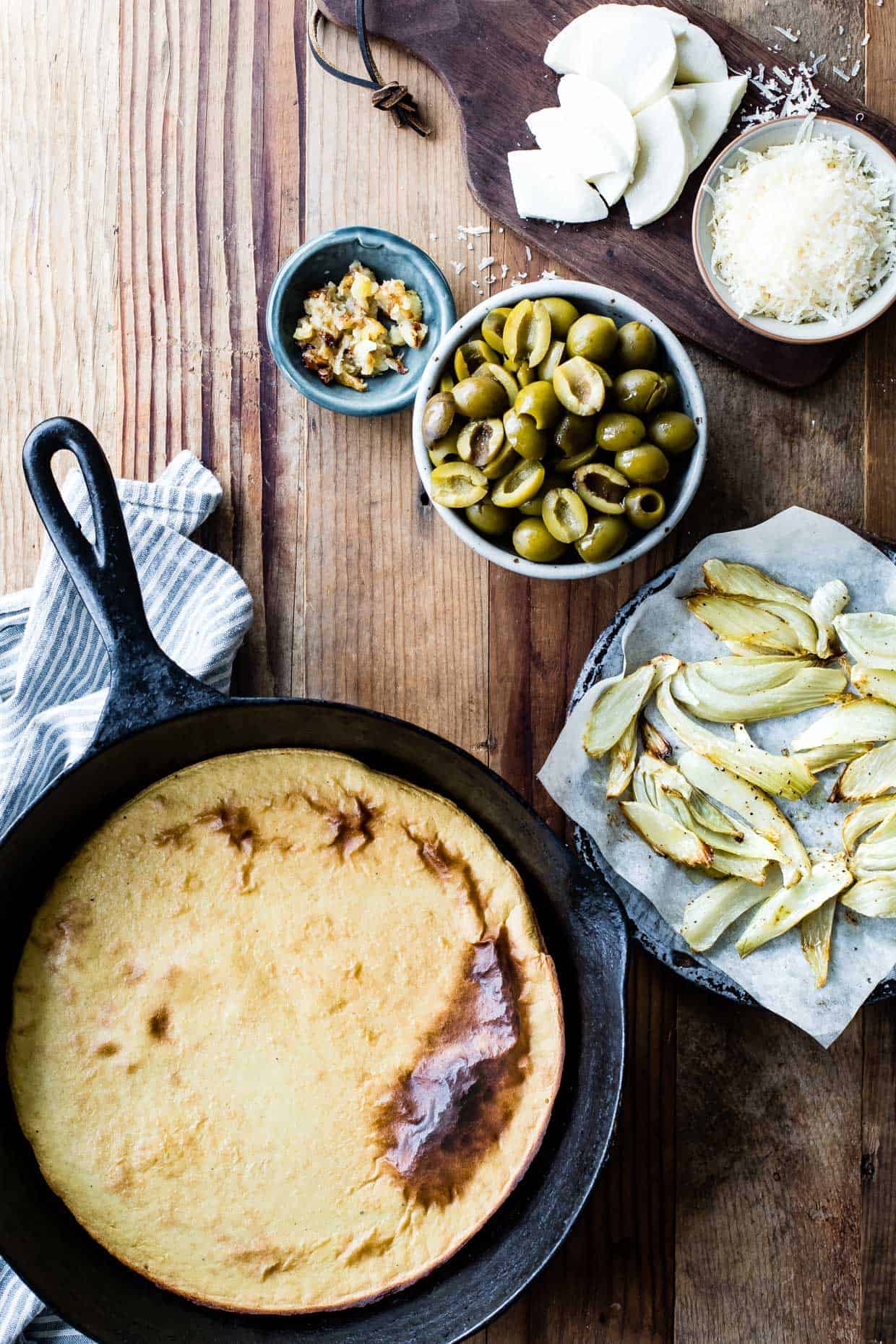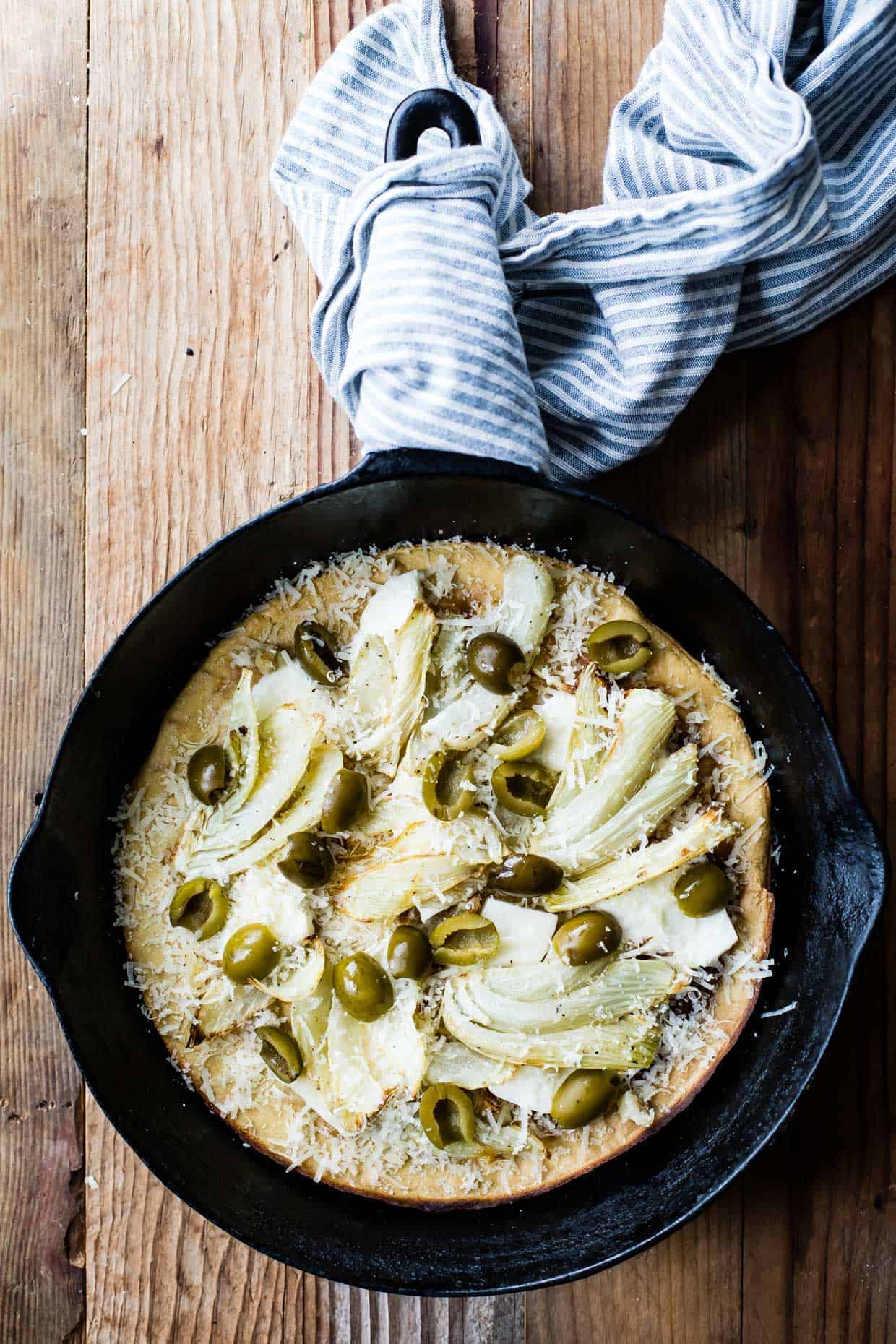 This socca flatbread is basically a fancy pizza. The base is a French chickpea flour crepe or pancake made up of chickpea flour, water, olive oil, and any seasoning or mixed ins. While traditionally baked in a wood-fire oven, here I've baked it under the broiler in a HOT cast iron skillet so it's thick and pillowy enough to hold toppings, with extra crispy edges. I've piled it with layers of parmesan, fresh mozzarella, California ripe green olives, and roasted garlic and fennel.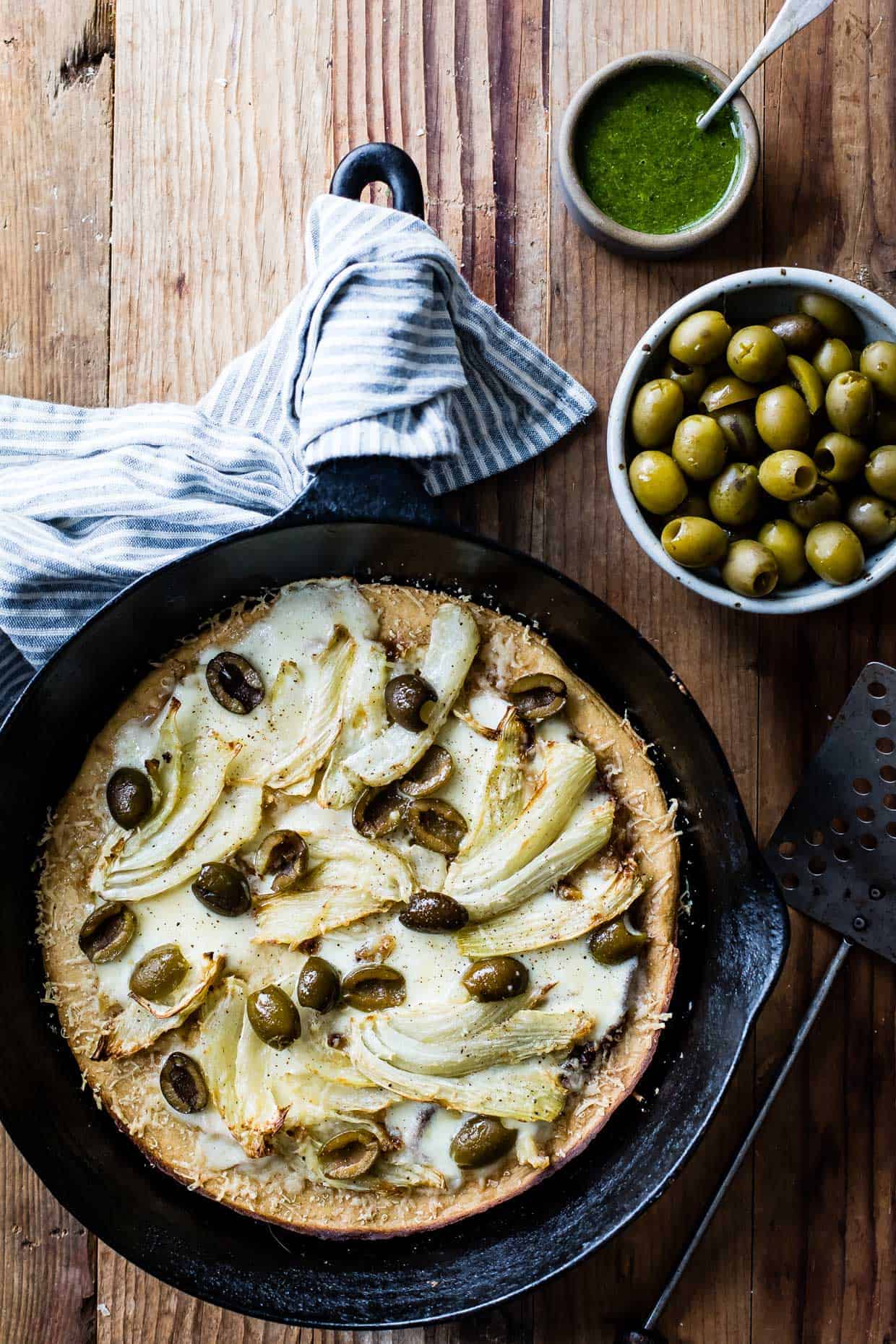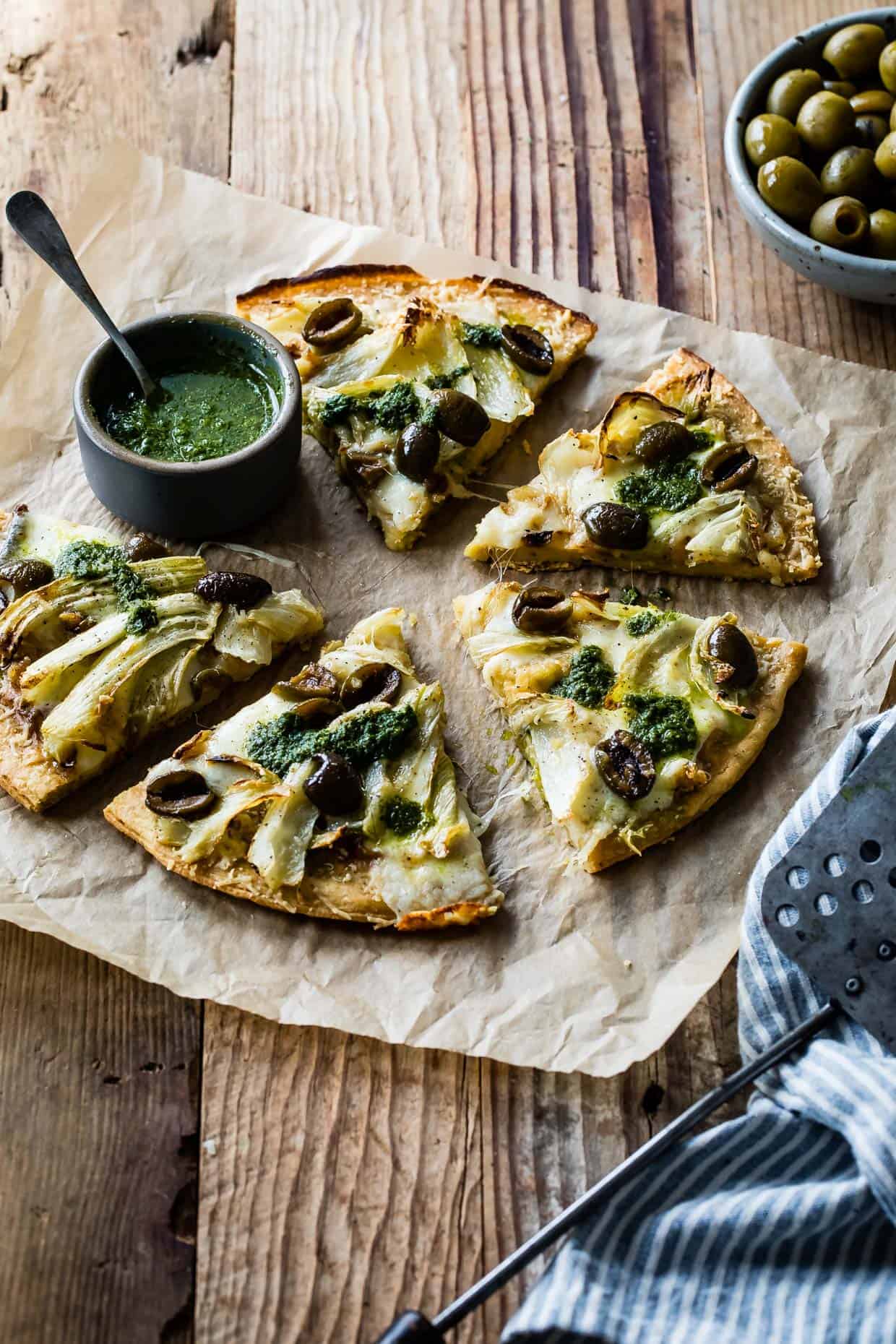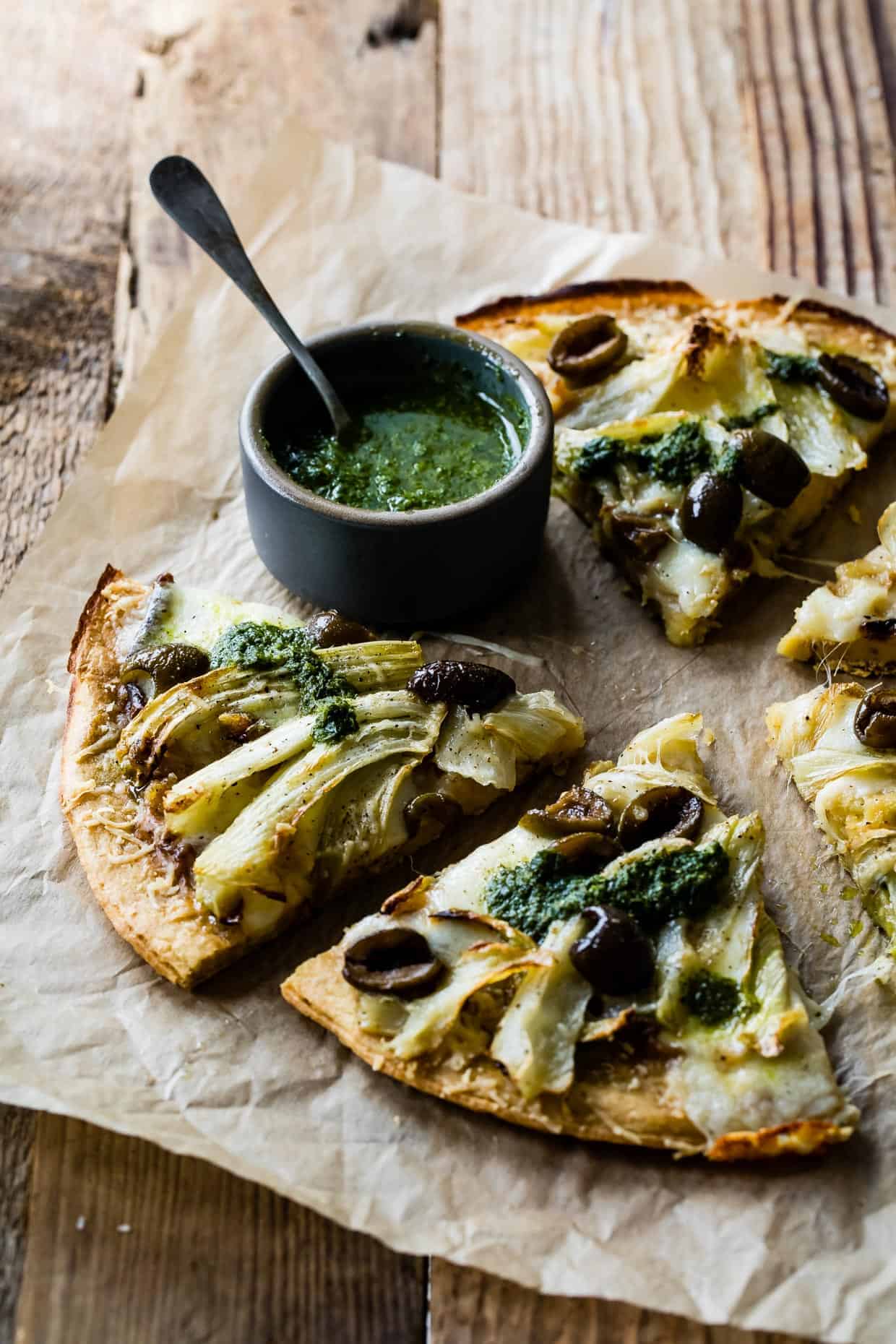 The star of the socca flatbread - the California ripe green olives – adds mild buttery umami notes that infuse flavor when chopped into the crust and round out the sweet caramelized flavor of the roasted garlic and fennel on top. Drizzled with a mint parsley oil to punch up the freshness, I'd order this on any menu (and I'd invite my dad so I could eat the whole thing myself!).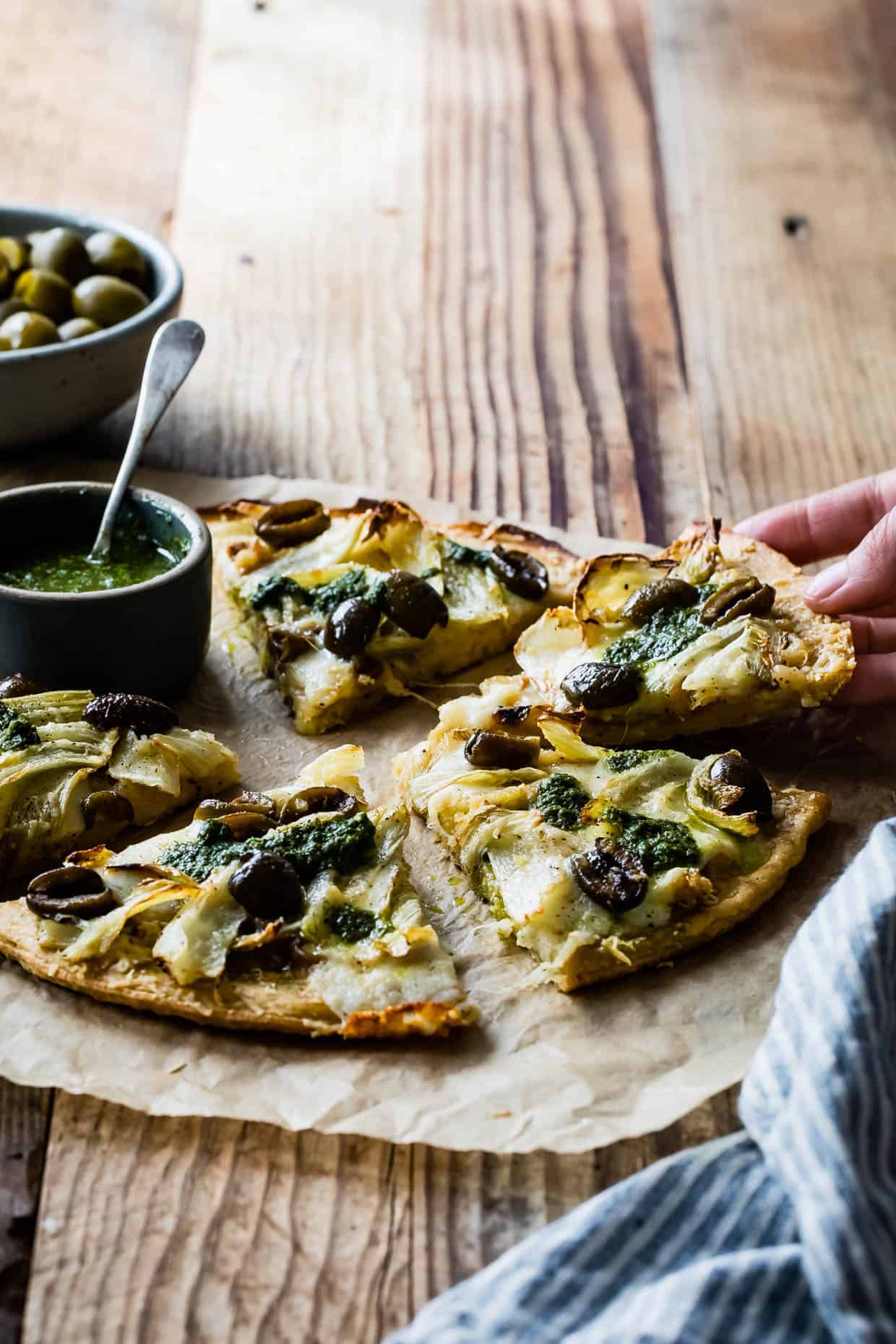 Follow the California Olive Committee on Facebook to learn about the farmers and get more recipe inspiration! Thanks once again for supporting the brands that keep Snixy Kitchen cooking!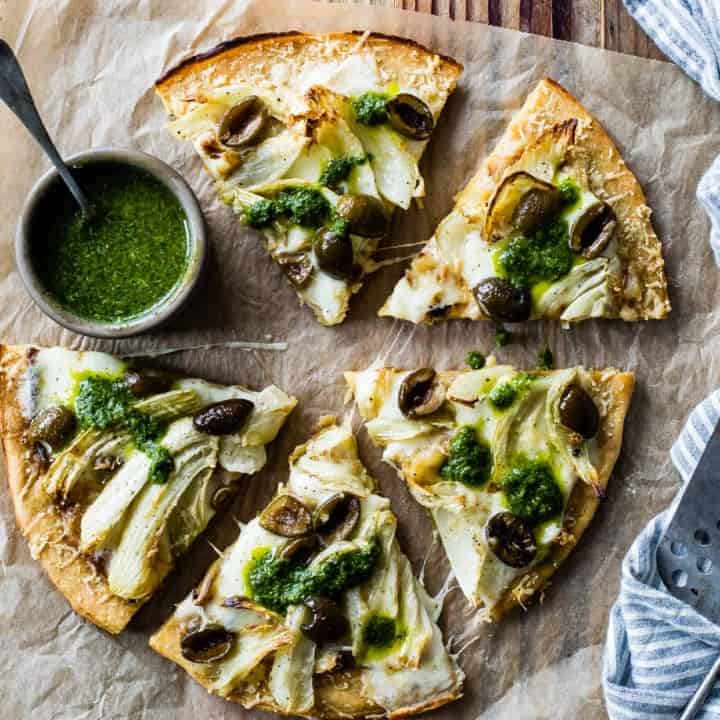 Roasted Fennel & Garlic Socca Flatbread with Olives and Mint Parsley Oil
Yield:
2 main servings or 4 side servings
Ingredients
Socca Flatbread:
1 cup chickpea flour
½ teaspoon kosher salt
½ teaspoon pepper
1½ tablespoons olive oil
1 cup water
¼ cup chopped California ripe green olives
1 large clove garlic, grated with microplane
Toppings:
1 medium fennel bulb, halved
5 cloves garlic, skin still on
2 tablespoons olive oil
¼ teaspoon each salt and pepper
1.5 ounces freshly grated parmesan cheese
3 ounces fresh or dry mozzarella, sliced into rounds and cut into thirds
¼ cup California ripe green olives, halved
Optional: 1 tablespoon toasted pine nuts
Mint Parsley Oil:
¼ cup packed parsley leaves
¼ cup packed mint leaves
¼ cup olive oil
1 tablespoon lemon juice
¼ teaspoon kosher salt
⅛ teaspoon pepper
Instructions
Preheat the oven to 425°F and line a baking sheet with parchment paper.
In a medium bowl, whisk together the chickpea flour, salt, and pepper. Slowly pour in the water, whisking constantly to avoid lumps. Whisk in olive oil, and fold in the green olives. Let sit for 30 minutes to an hour to thicken up a bit.
Meanwhile roast fennel and garlic. Spread the fennel slices and garlic on a parchment-lined baking sheet and drizzle/brush with olive oil and sprinkle with salt & pepper. Roast for 20-30 minutes, flipping the fennel halfway through, until it softens and begins to turn golden brown on the edges. Remove from heat. Peel and mince the garlic.
Meanwhile, make mint parsley oil. Add all of the ingredients to a blender or food processor and pulse until smooth. Transfer to a jar and set aside.
When the socca is finished resting, turn oven to broil (or 500°F if your broiler is a separate drawer) with a rack bout 10-12 inches from the heat.
Place a 10-inch cast iron skillet in the oven to preheat for 10 minutes.
Coat bottom the skillet in 1 teaspoon olive oil.
Pour socca batter into the skillet and bake for 5-8 minutes, until it begins to turn golden brown in some places. Remove from heat.
Reduce heat to 425°F.
Top socca with parmesan and mozzarella cheese, roasted fennel, minced roasted garlic, chopped garlic, and olives, and bake for 10 more minutes, until the cheese melts.
Serve socca warm, with mint parsley oil drizzled over top and, if using, toasted pine nuts.
Thanks for reading Snixy Kitchen! To stay up on what's coming out of my kitchen,  follow me on Facebook, Instagram, Twitter, Bloglovin', or Pinterest, or subscribe via e-mail to get new recipes right to your inbox.