Super easy homemade gluten-free soft pretzels that taste like the real deal! Incredibly soft inside with a chewy outside and the classic pretzel flavor. Dip in homemade cheese dip, mustard, or brush with melted butter. Either way, you won't be able to eat just one.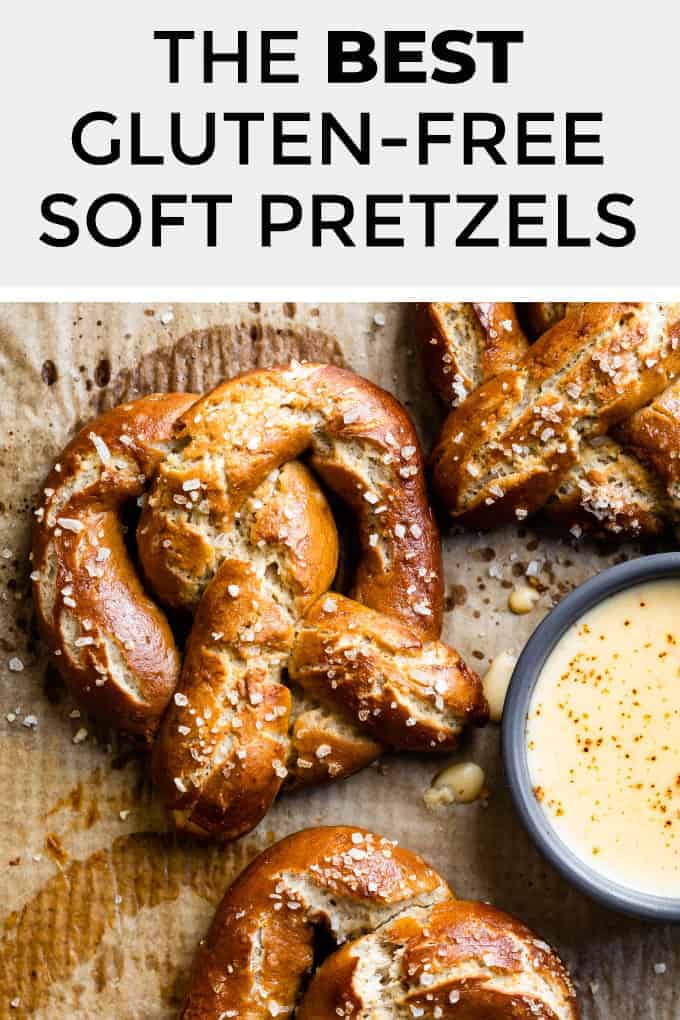 This post is sponsored by Bob's Red Mill, a year-long partner of Snixy Kitchen
What's the modern day equivalent of meeting your friends at the mall? When my kids hit middle school, will they just get together with friends to go window shopping on their computers next to each other? Maybe they won't even see their friends in real life and just send links back and forth. That'd be a shame though because they'll miss out on filling up bags of assorted candy and splitting cheap buttery soft pretzels with cheese dip.
(Sidenote: Lucas and I tried this as a date night while visiting my parents a few months back. It doesn't hold up. My hometown mall is like a 90's graveyard, except the only candy is in a vending machine).
I know I'm not the only one here whose generation was defined by that experience (and maybe a trip to a dim-lit counterculture clothing store). I know because when you search "soft pretzels" online, you get a bunch of hits that describe the recipe "as good as mall pretzels."
These gluten-free soft pretzels are not "as good as mall pretzels." Nope - they're WAY BETTER than mall pretzels. They emerge fresh from the oven with a soft fluffy inside surrounded by a salted chewy shell. Unless you made them yourself, you'd never believe they're gluten-free.

The BEST Gluten-Free Soft Pretzels
These doughy pretzels are the sixth recipe in a year-long partnership with Bob's Red Mill. So far this year, I've made gluten-free pop tarts with strawberry jam, gluten-free matcha crepe cake, gluten-free almond flour pasta, gluten-free blueberry cobbler, and gluten-free breakfast oatmeal jam bars. Now, I'm sharing a recipe for the BEST gluten-free soft pretzels.
Having lived two years in Philly (pre-gluten-free), I have eaten my fair share soft pretzels - beyond the popular mall pretzels of my youth. My friends and I would drive an hour out of our way on weekends to a revered pretzel factory just for the perfect soft pretzel. These gluten-free soft pretzels hold their own against the very best!




What flours to use for gluten-free soft pretzels?
For a gluten-free bread dough that can be baked up as pretzels, I use a combination of Bob's Red Mill gluten-free oat flour, sorghum flour, tapioca starch, and corn starch.
Oat flour add wholesome whole grain notes and soft moist texture. Together with sorghum flavor, the oat flour drives the flavor of the dough. These two flours also add significant protein and fiber, making this gluten-free bread dough similar in nutrition to a traditional bread dough.
Sorghum flour is a soft flour with slightly sweet notes that give the dough depth of flavor. Ever since I picked up a bag of Bob's Red Mill sorghum flour for my gluten-free breakfast oatmeal jam bars, I've been experimenting with adding it to different recipes, each time even more pleased with the result.
Tapioca starch is added for a chewy texture and structure. Many recipes, such as Brazilian cheese bread, call for just tapioca starch. Alone it creates a chewy structure that holds up well as a bread. It's essential for the classic pretzel chew.
Corn starch is crucial for creating the crisp browned shell classic to the outside of a pretzel.
For all of these flours, I only use Bob's Red Mill brand flours, which I find are consistent in quality and the most finely ground to produce the best texture.
Why use milk in this gluten-free pretzel recipe?
This gluten-free pretzel dough uses milk in place of water in traditional pretzel dough recipes. The proteins in milk (caseins) can mimic gluten and help provide structure to the dough. From my experience testing gluten-free bread doughs with water versus milk, the milk aids in trapping the the air, creating a better crumb texture of the baked dough.
Some people who are gluten-intolerant have to avoid milk because of the similarities between caseins and gluten so if you're one of those people, you can certainly make this recipe without milk! If you use water, try adding ½ tablespoon apple cider vinegar to the dough, which can also help trap the air bubbles!
Why do you dip pretzels in baking soda?
Before baking soft pretzels, most recipes call for dunking the pretzels in a bath of boiling water and baking soda. This baking soda bath does three essential things. Most importantly, it gives pretzels a recognizable flavor, one that is distinctly different than any other shaped bread. This bath also contributes to the brown shiny crust that develops in the oven after the dunk! That crust is also what gives pretzels their classic chewy texture!





What to serve with this gluten-free soft pretzel recipe?
There are so many things to serve with soft pretzels, but my personal favorite is a homemade cheese dip. Here I've used this 5-minute cheese sauce recipe, replacing the flour with sweet rice flour.
Here are a few other pretzel dip ideas:
German mustard
Brush the pretzels with melted butter fresh out of the oven
Pizza sauce
Chocolate sauce (woah!)
Nutella
More Sorghum Flour Recipes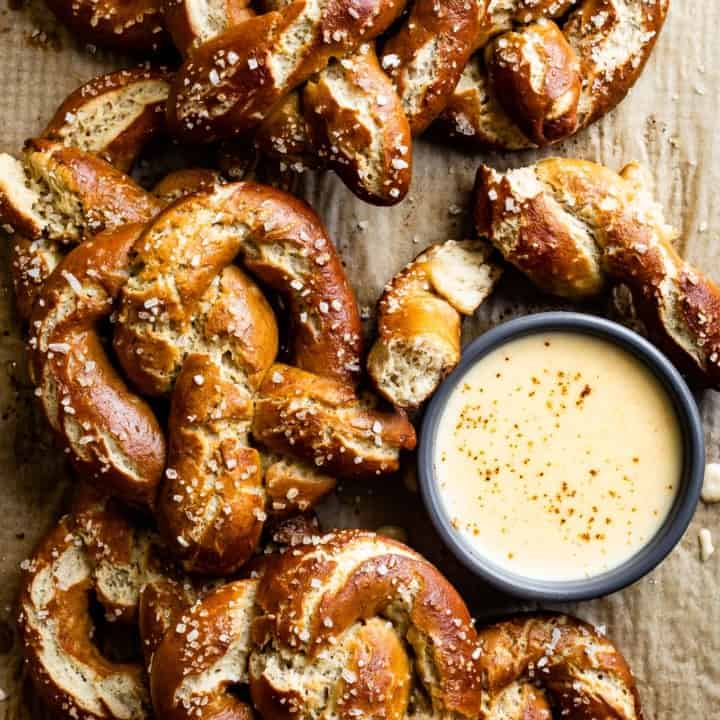 The BEST Gluten-Free Soft Pretzels
Total Time:
1 hour
50 minutes
Super easy homemade gluten-free soft pretzels that taste like the real deal! Incredibly soft inside with a chewy outside and the classic pretzel flavor. Dip in homemade cheese dip, mustard, or brush with melted butter. Either way, you won't be able to eat just one.
Ingredients
1½ cups whole milk
3 tablespoons light (or dark) brown sugar
2 teaspoons kosher salt
¼ cup unsalted butter, melted
8 cups water
⅓ cup baking soda
1 egg whisked with 1 tablespoon water, for brushing
Pretzel salt or coarse sea salt
Instructions
Warm the milk in a small pot to between 105-115°F (if you go over, just let it cool until the temperature is in that range so you don't kill the yeast). Transfer to a wide medium bowl and mix in brown sugar. Slowly sprinkle the yeast over the warm milk and use a spoon to mix completely. Let set for 10 minutes while the yeast activates and foams. If your yeast hasn't gotten foamy by 10 minutes, you may have bad yeast and you should try again with a new packet.
Meanwhile, combine oat flour, tapioca starch, sorghum flour, corn starch, salt, and xanthan gum in the bowl of a stand mixer with the dough hook attachment or a large mixing bowl. When the yeast mixture is ready, add it to the bowl with the flour along with the melted butter and mix on low to combine. If using a mixing bowl, mix with a wooden spoon until it's thick, then knead with your hands. Increase speed to medium and knead for 4-5 minutes until the dough is super smooth and pulls away from the edges a bit.
With tapioca-flour dusted hands, transfer the dough to a lightly oiled bowl, shaping it into a ball (It will be sticky and that's okay! Here's an Instagram Story behind-the-scenes video to show the texture and entire cooking process). Cover with plastic and set in a warm place for 50-60 minutes, until doubled in size (I use the proof setting on my oven).
Preheat oven to 450°F, line two baking sheets with parchment paper or a silpat mat, and liberally brush the parchment paper with vegetable oiI. If using the proof setting in your oven, be sure to remove the dough before preheating! Bring 8 cups of water to boil with baking soda. Prepare the egg wash and pastry brush.
Lightly wipe your rolling surface (cutting board, marble slab, counter top) with oil then turn out the dough and cut it into 8 equal wedges. One at a time, roll a dough wedge into a long 16-18-inch rope. Carefully, make a U-shape with the rope, then cross the ends over each other twice and fold them down, pressing the ends into the bottom to make the pretzel knot (see pictures above). This gluten-free dough is pliable, but more delicate than traditional gluten dough, so make sure to be gentle with the dough while folding so it doesn't break. Carefully transfer the pretzel to the prepared baking sheet. Repeat with all 8 pretzels.
One at a time, use a spatula to gently lower the pretzels into the boiling baking soda bath for 25-30 seconds (any longer and the pretzels may develop a metallic taste). Gently lift the pretzel out of the water with the spatula, giving it a little tap to get rid of excess water, and return it to the baking sheet. Repeat with all 8 pretzels.
Brush each pretzel with egg wash on top, sides, and grooves. Sprinkle with coarse salt. Bake for 15-17 minutes until dark golden brown. Let cool for 5 minutes before serving. Serve with cheese dip, mustard, or brush with melted butter.