Healthy breakfast oatmeal jam bars filled with homemade berry chia jam or your favorite store-bought jam. Sweetened with only a hint of coconut sugar and maple syrup. These cozy berry crumble bars are made with whole grain oat flour, mildly sweet sorghum flour, and rolled oats!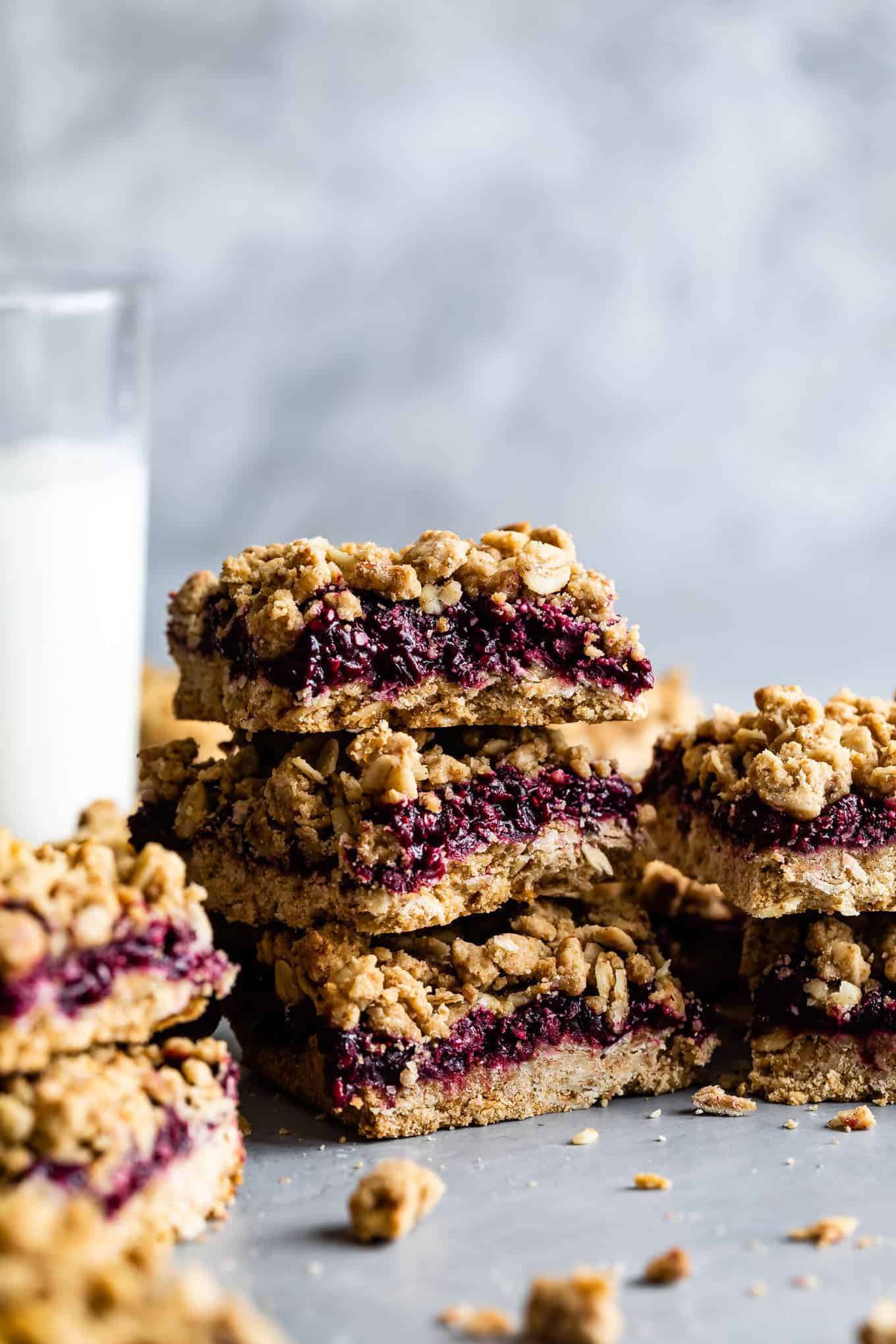 This post is sponsored by Bob's Red Mill, a year-long partner of Snixy Kitchen
Zoella starts preschool next week and she can barely contain her excitement. Once a day for a couple of weeks this summer, she asked me to measure how tall she was on the wall. A week into this routine, she inquired, "Am I big enough yet?"
Me: "For what?"
Zo: "To go to my big girl school."
She'd been checking. Every single day for two weeks. She can't wait to grow up.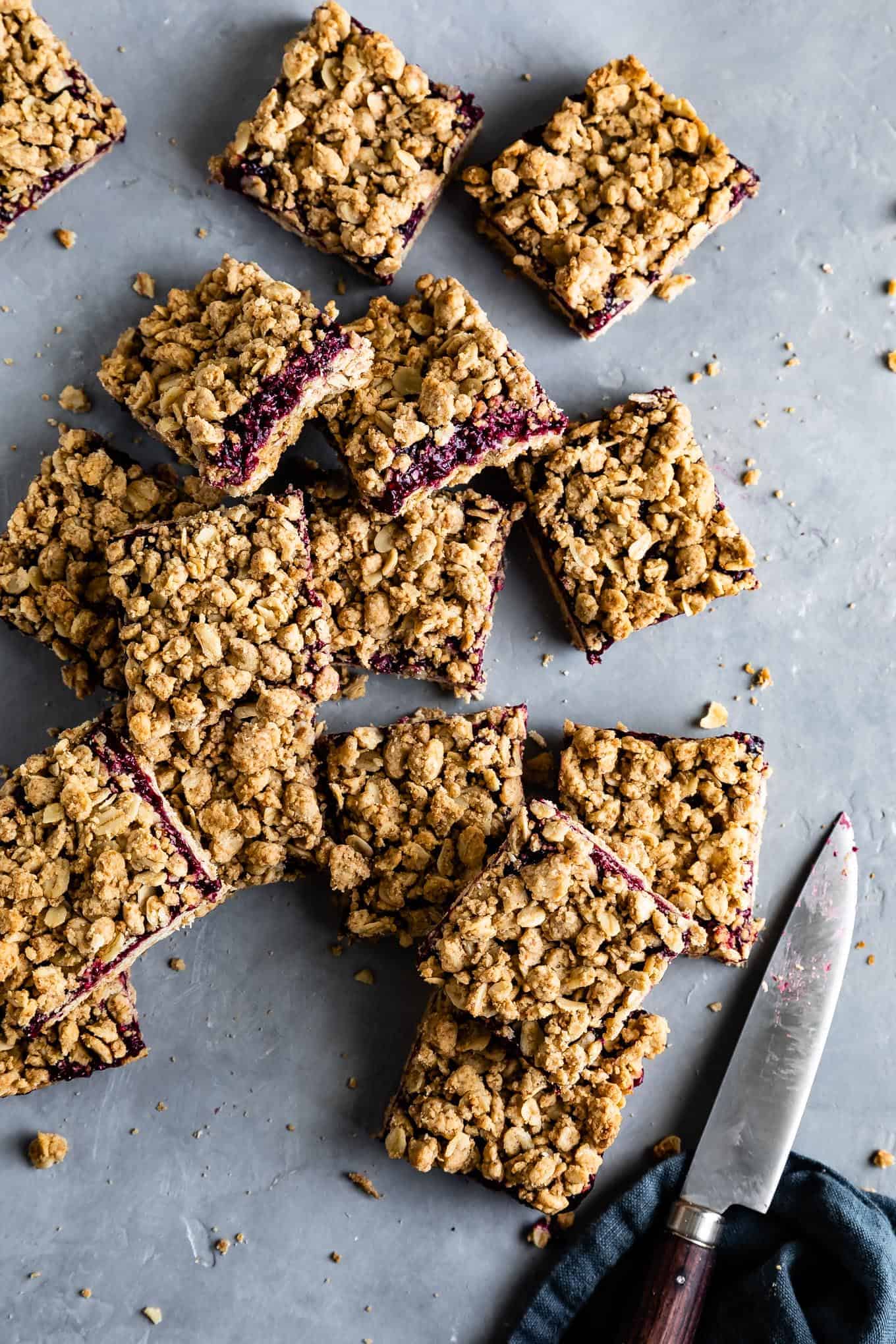 Healthy Breakfast Oat Bars
Over the past two weeks Zoella's also naturally transitioned from waking up early to sleeping in (I'VE BEEN WAITING FOR THIS DAY!). The problem is, her preschool has a hard start time earlier than she ever goes to daycare. Yesterday. Lucas tried to wake her by abruptly opening the black out curtains and pulling off the covers, with a full volume "time to get up!" Guess how that went? She was grumpy and late, that's how.
She's fully taken after me in the morning: we need slow gentle wake-ups, preferably with our morning drink ready (steamed milk for her, matcha for me). Best not talk to either of us for at least 20 minutes. But let's be real: I have two kids under 4, that's not how mornings go. Usually there's lots of rushing and short tempers (for both of us).
So I'm on a mission to make wake-ups as smooth as possible, and my plan starts with these gluten-free breakfast oatmeal jam bars with homemade berry chia jam. She perked right up when woken with, "do you want a fruit cookie bar for breakfast?" Mom: 1, Grumpy Morning Monster: 0.
These gluten-free breakfast oatmeal jam bars are the fifth recipe in a year-long partnership with Bob's Red Mill. So far this year, I've made gluten-free pop tarts with strawberry jam, gluten-free matcha crepe cake, gluten-free almond flour pasta, and gluten-free blueberry cobbler. Now I'm making these healthy breakfast oatmeal jam bars with homemade berry chia jam to mark the beginning of back to school season!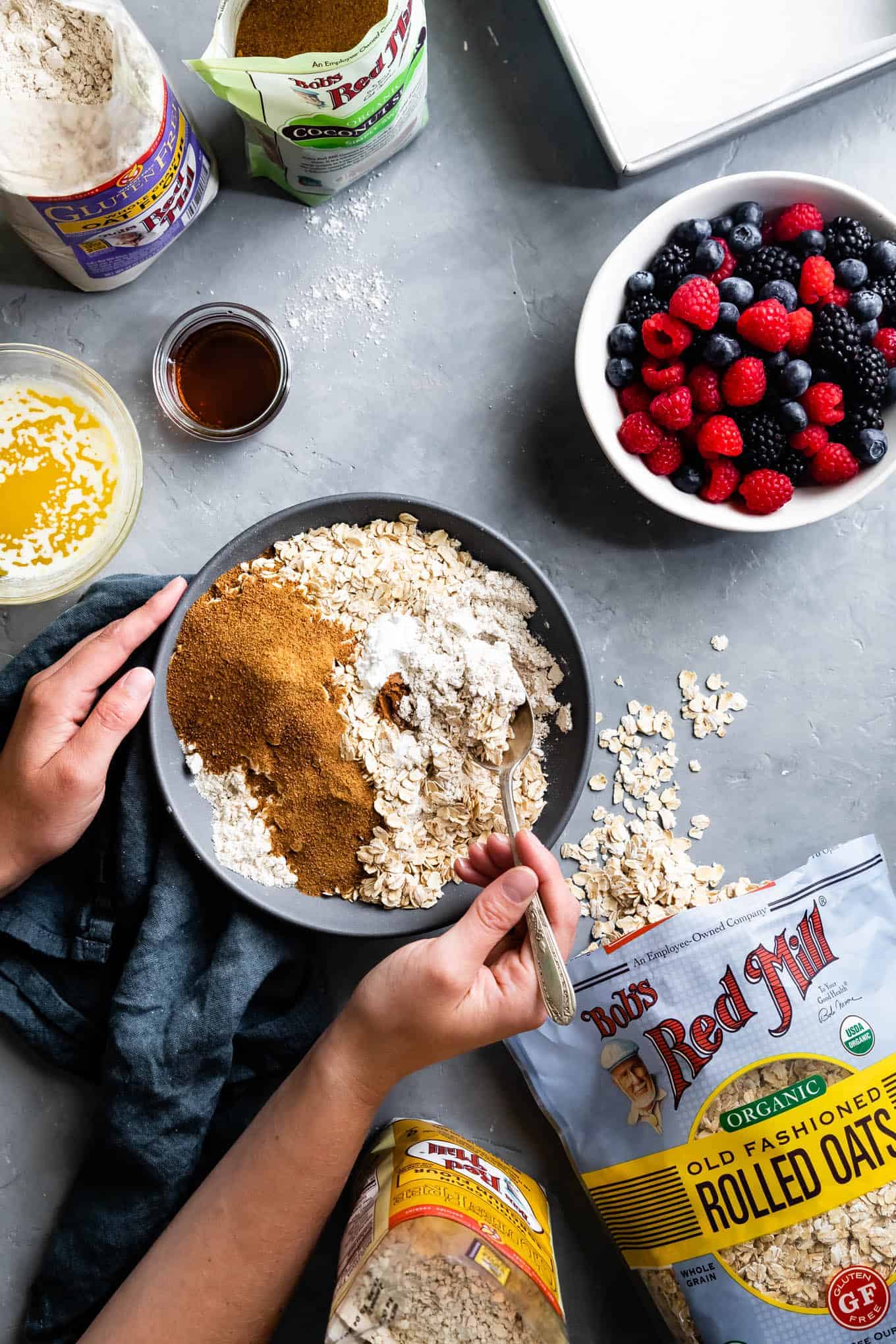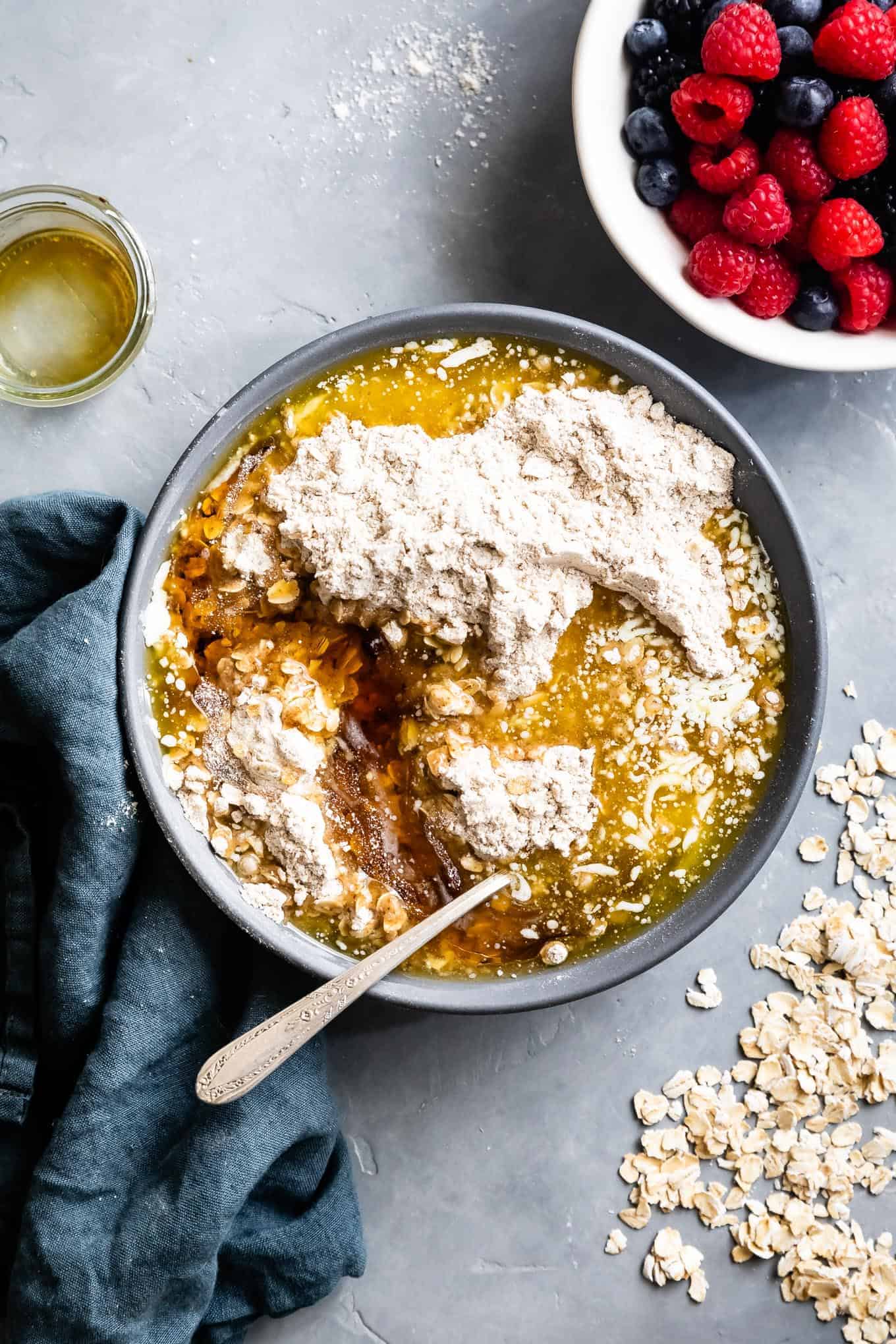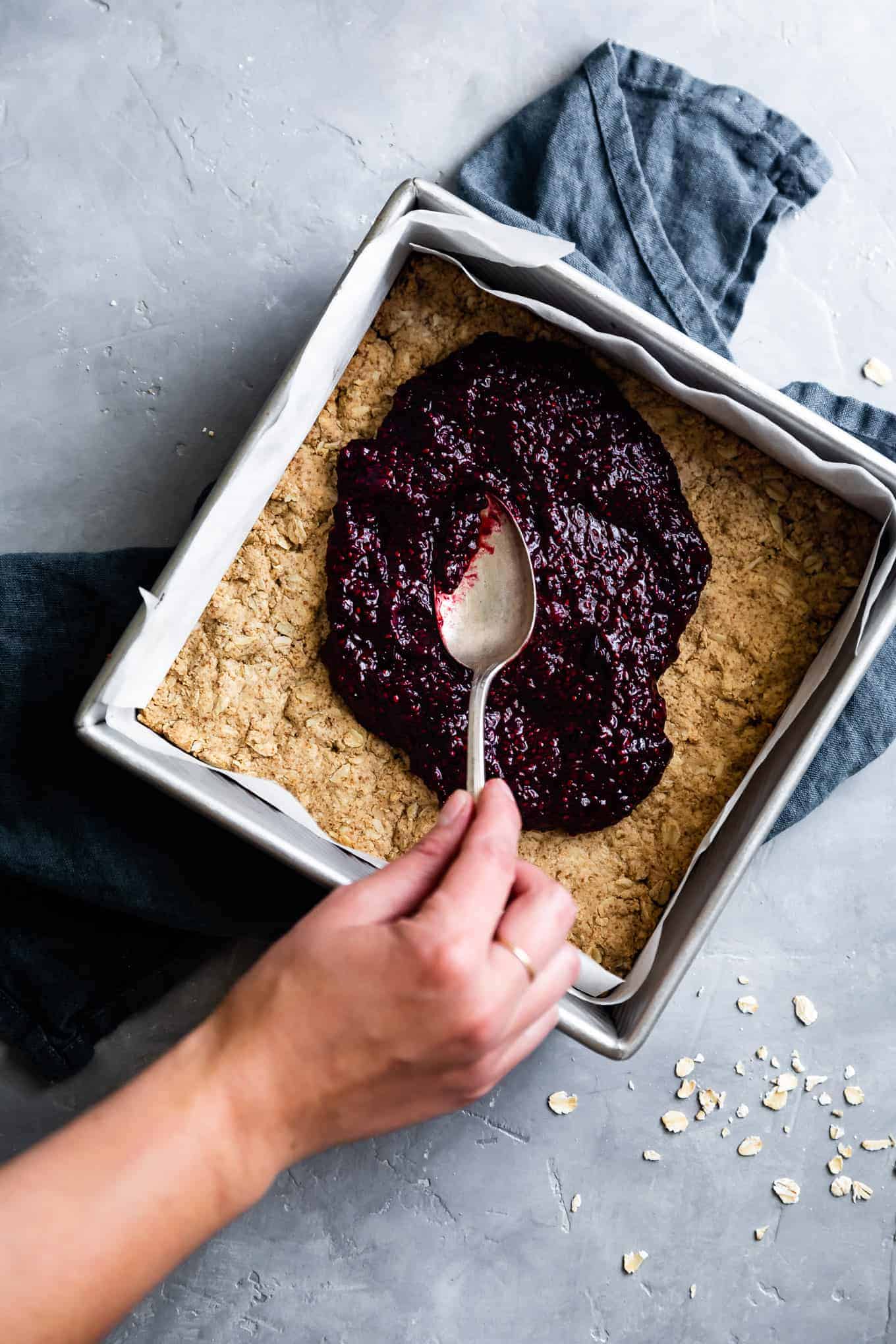 Gluten-Free Breakfast Bars
As tempting as it is to fold chopped nuts into the crumble, I've made these healthy berry crumble bars nut-free so I can send them as a treat in Zoella's lunchbox. Her new preschool is nut-free, so I've been working on developing some healthy hearty breakfast and snack recipes.
The base and crumble for these gluten-free breakfast bars uses a combination of Bob's Red Mill gluten-free oat flour, sorghum flour, and gluten-free rolled oats. As a pair, oat and sorghum give the bars a lightly sweetened wholesome cookie flavor with a bit of depth.
Sorghum is a new-to-me flour in gluten-free baking, recommended to me by my friend Amanda who uses it often in gluten-free baking. She describes it as slightly sweet with a fine texture that's a little bit cakey. I've now gone through three bags, working it into various recipes over the past two weeks.
Sorghum flour pairs beautifully with breakfast treats, offering warmth and cozy sweetness to your baked goods. Use interchangeably with millet flour or to sub it in for ⅓ of your oat flour in a favorite recipe.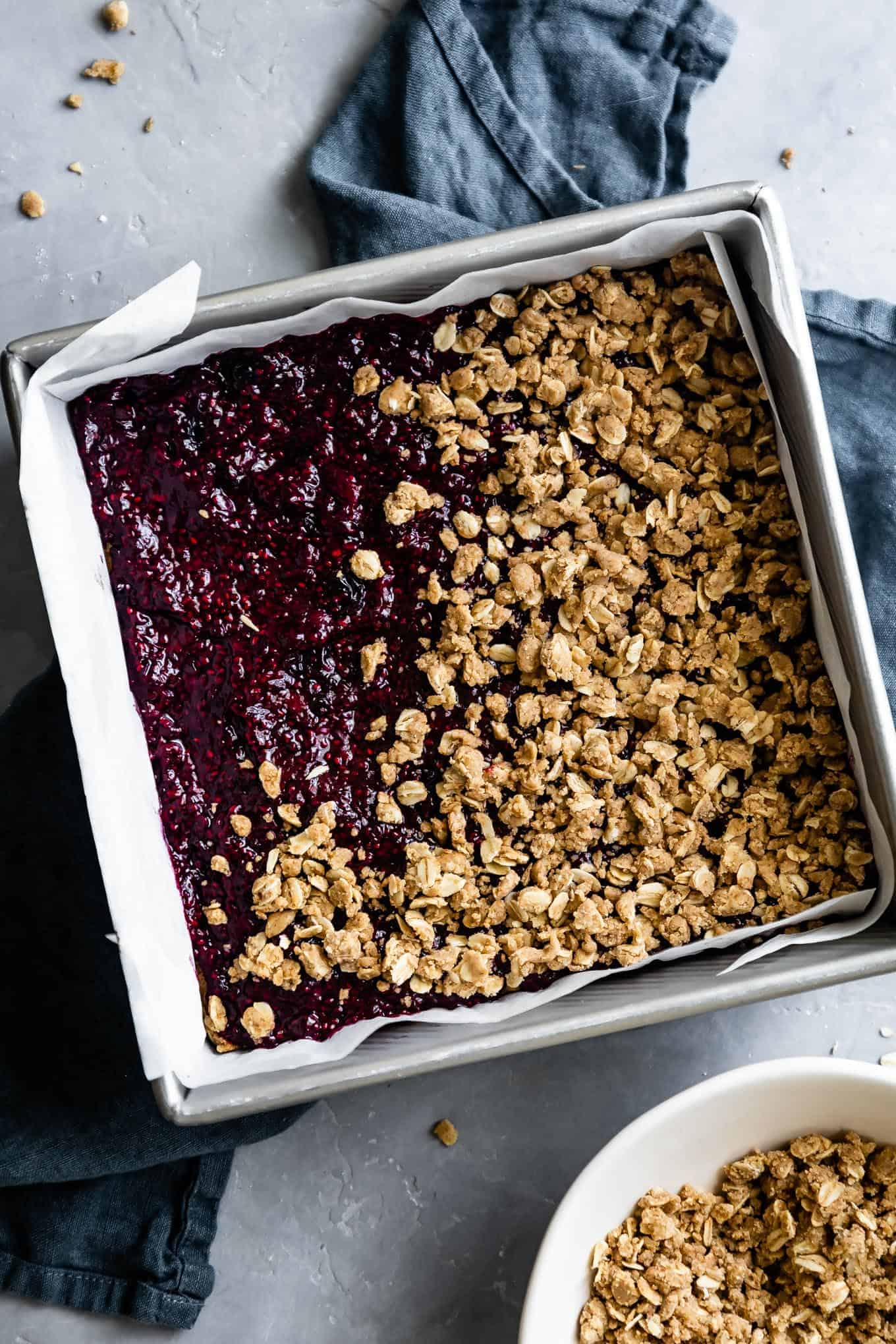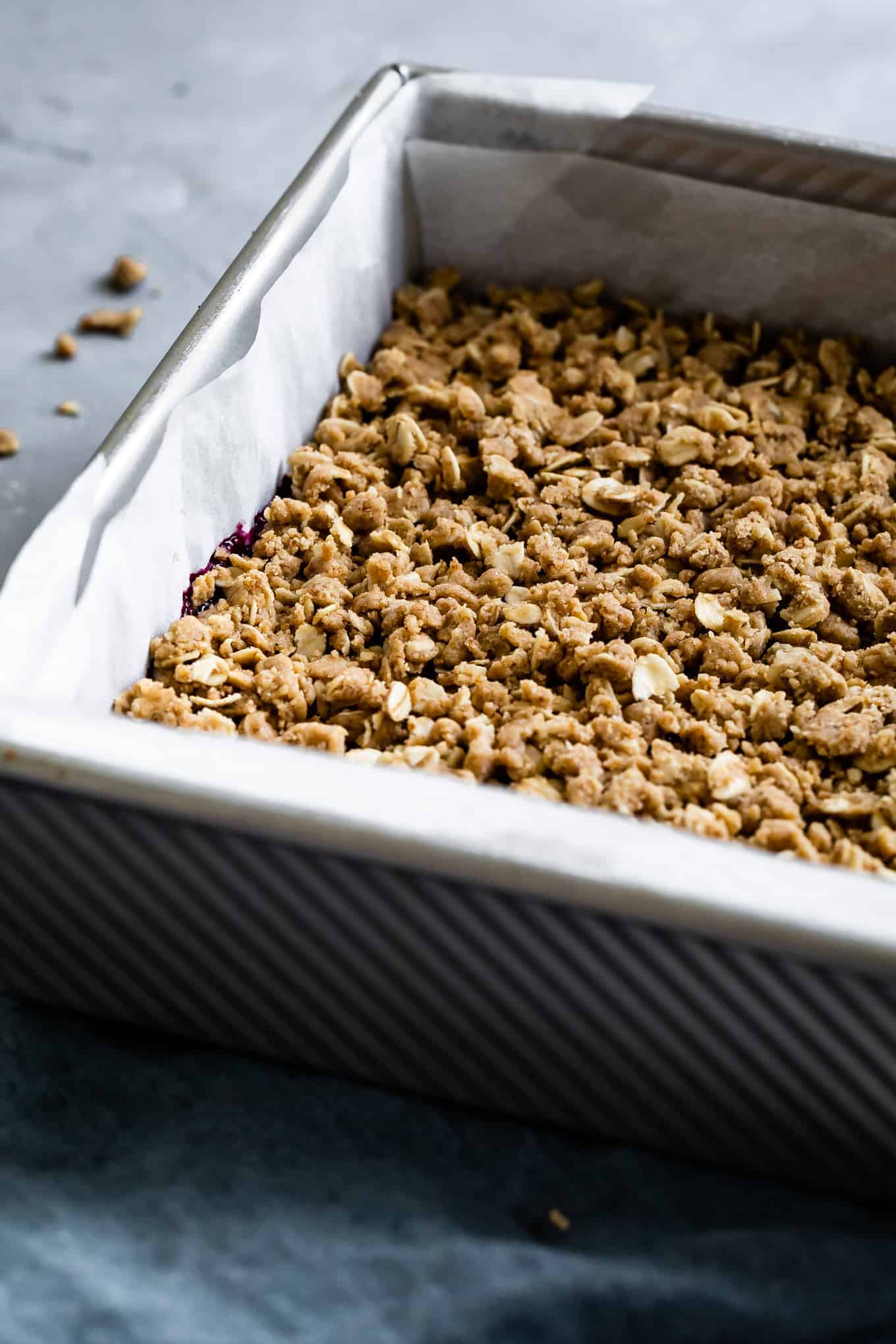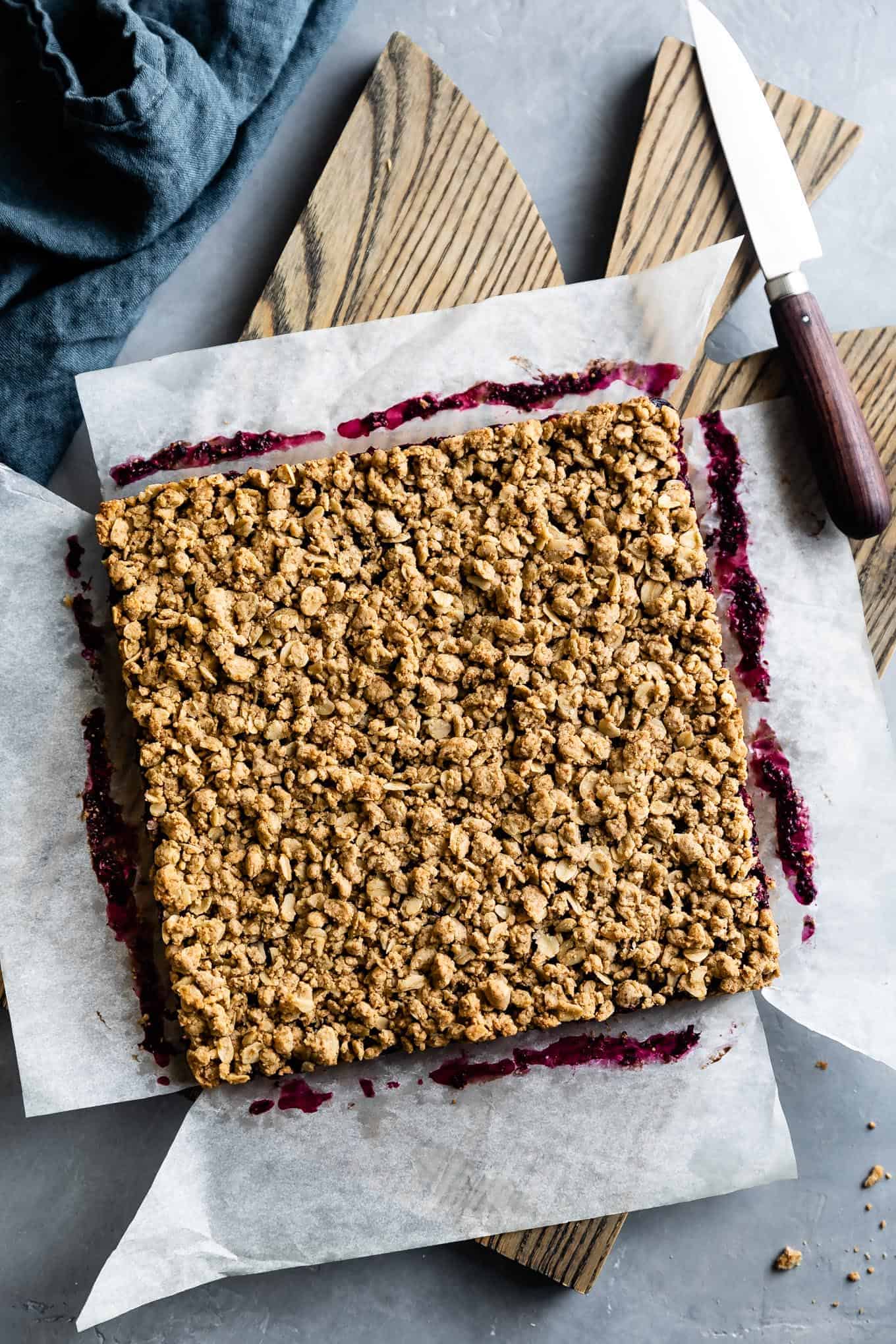 Healthy Berry Crumble Bars
Without any refined sugar, I feel good about serving these healthy berry crumble bars to my kids for breakfast. I've only lightly sweetened the bars with a combination of coconut sugar and maple syrup. The natural sugars in the berries and subtle sweetness of sorghum and oat flour drive the flavor.
For these bars, I used a homemade berry chia jam, but I also tested them with store-bought jam. If you're opting for store-bought jam, keep the bars on the healthy side by looking for a jam without added refined sugar.
How to Make Chia Jam
Homemade berry chia jam is so easy and healthy to make. Cook berries - fresh or frozen - with a splash of maple syrup until they thicken and break down. Then add chia seeds and a splash of lemon juice. The jam will thicken up as it cools, but you can spread it onto these bars warm off the stove. Here I've used a combination of raspberries, blackberries, and blueberries, but the method will work with just a single favorite berry type.
If you don't love the slightly crunchy texture of chia seeds, you can also opt to grind up the chia seeds in a coffee grinder before adding them to the berry compote.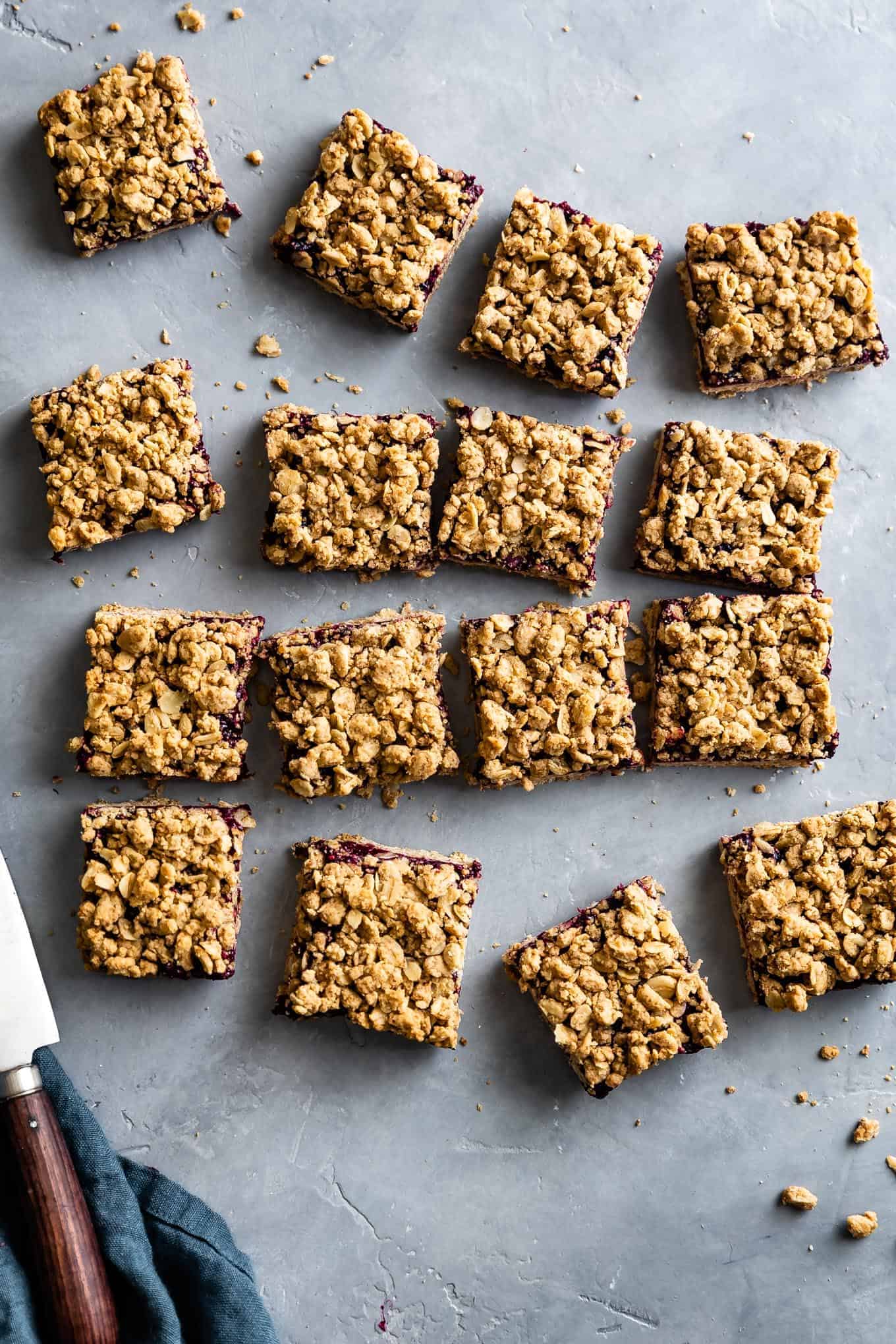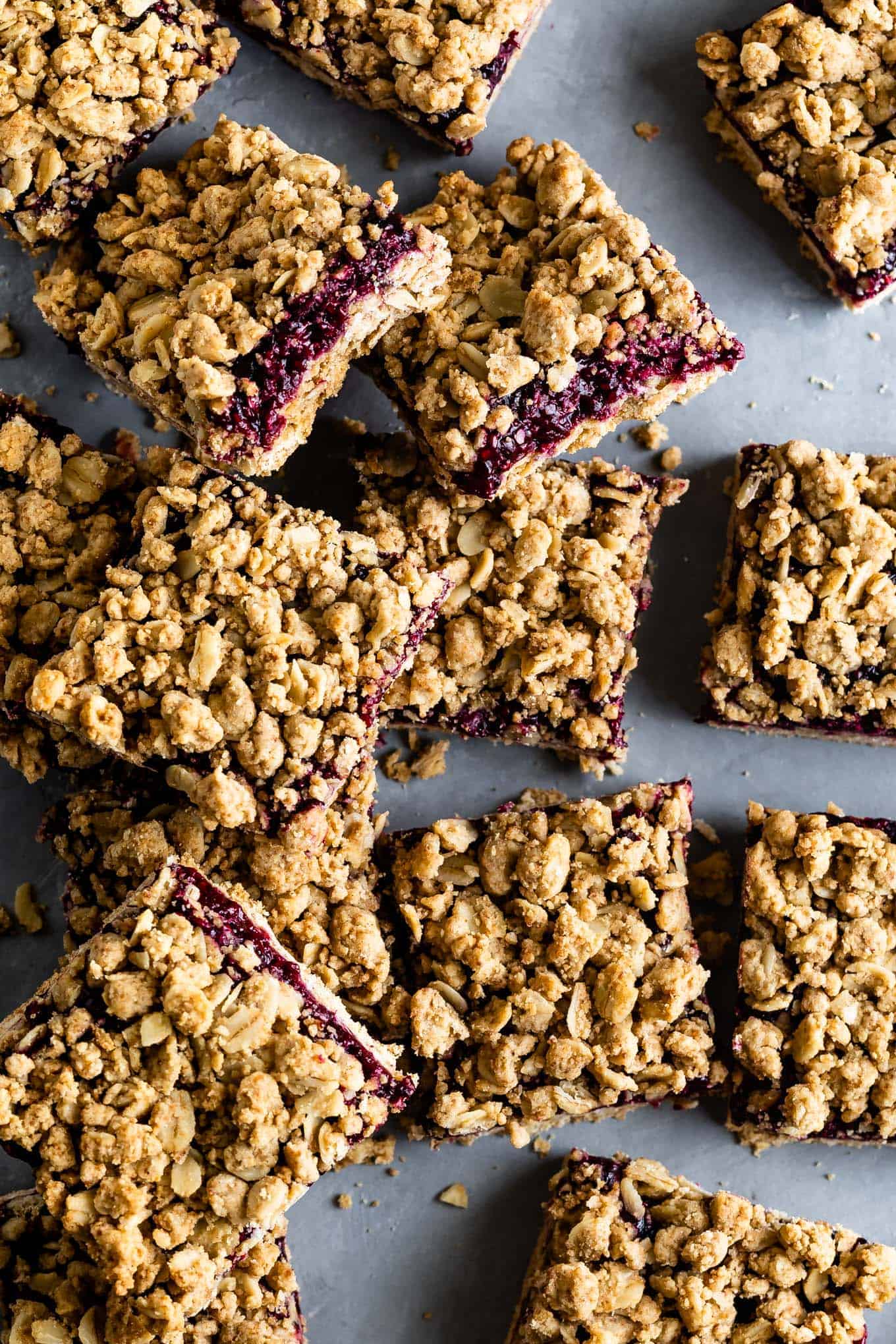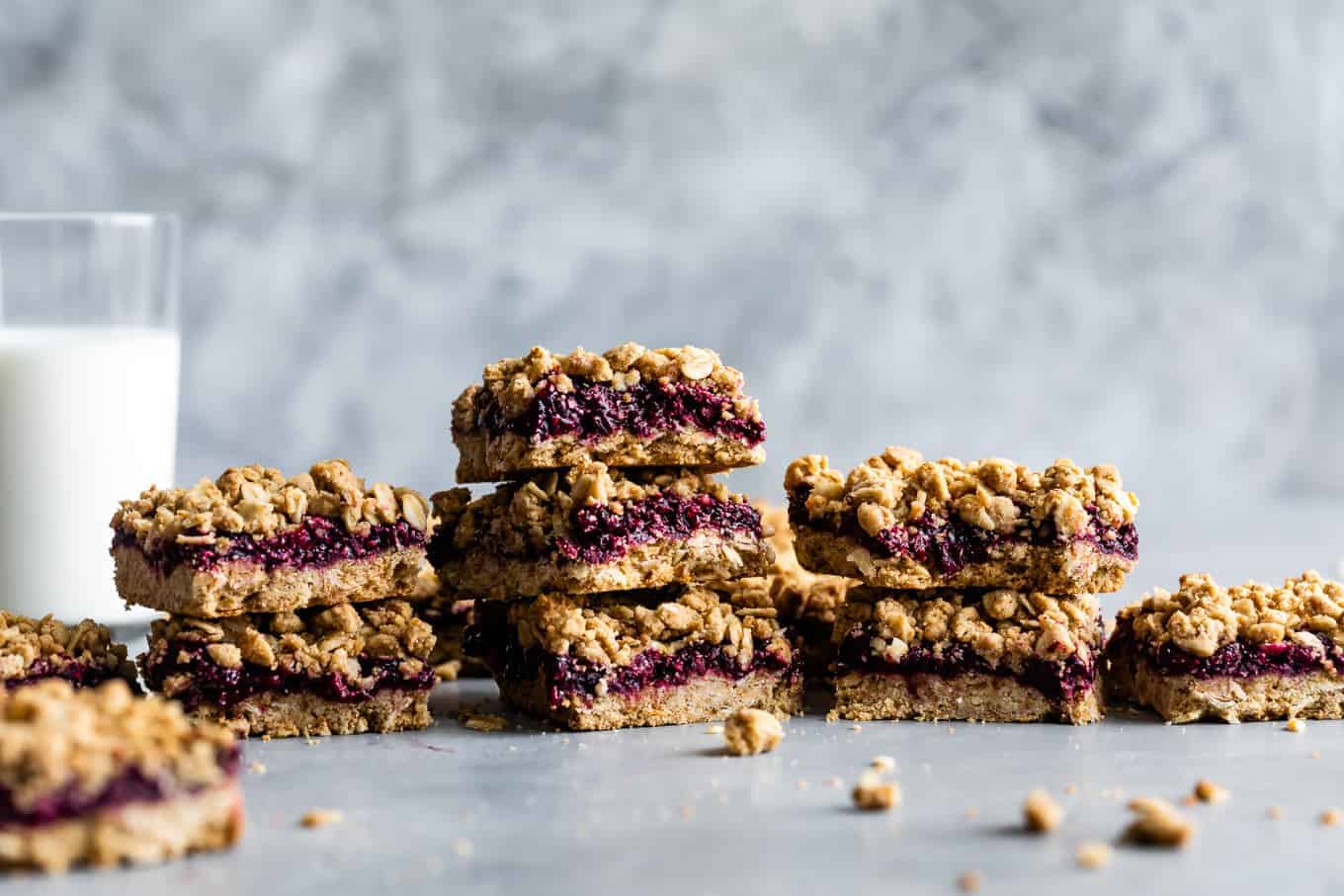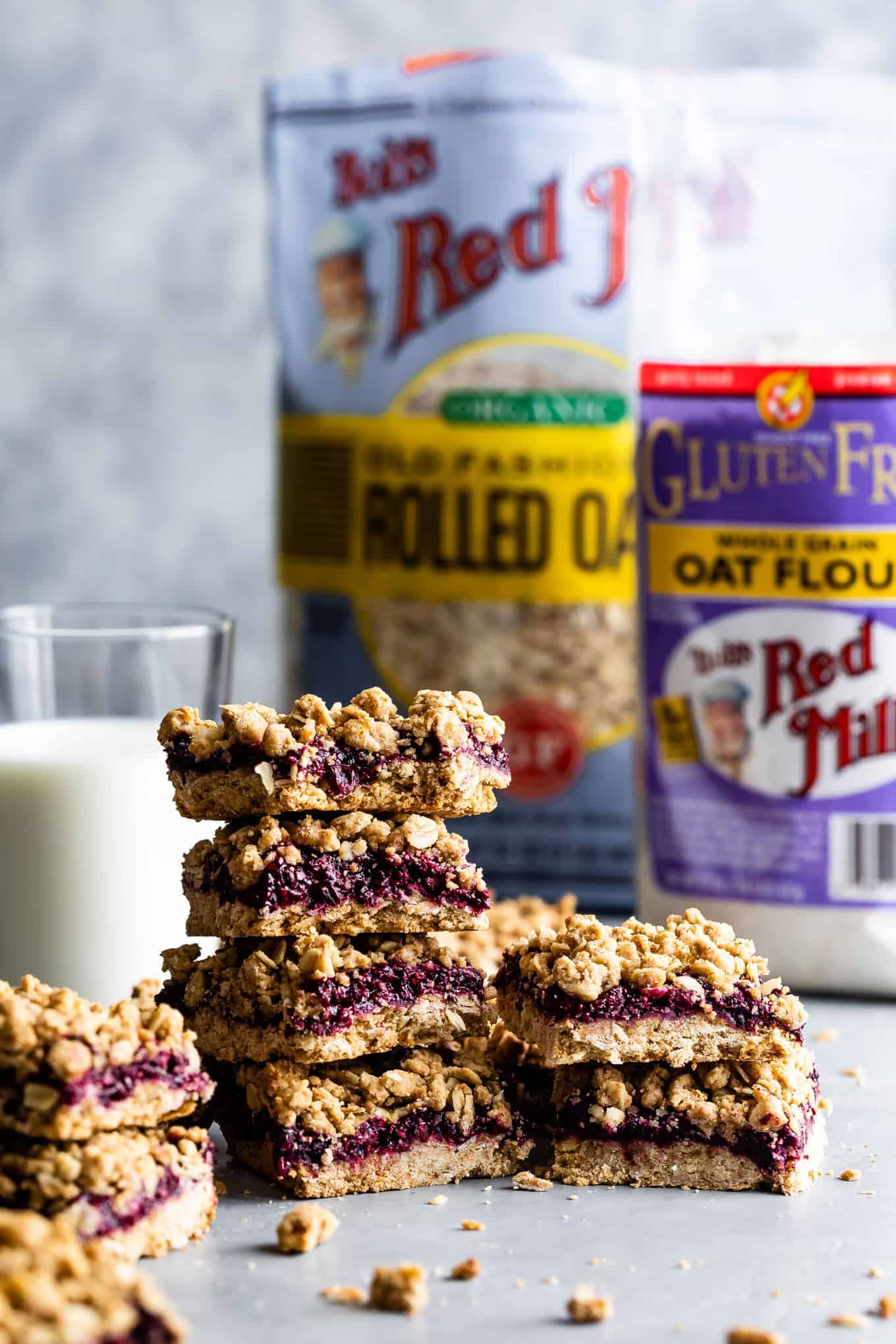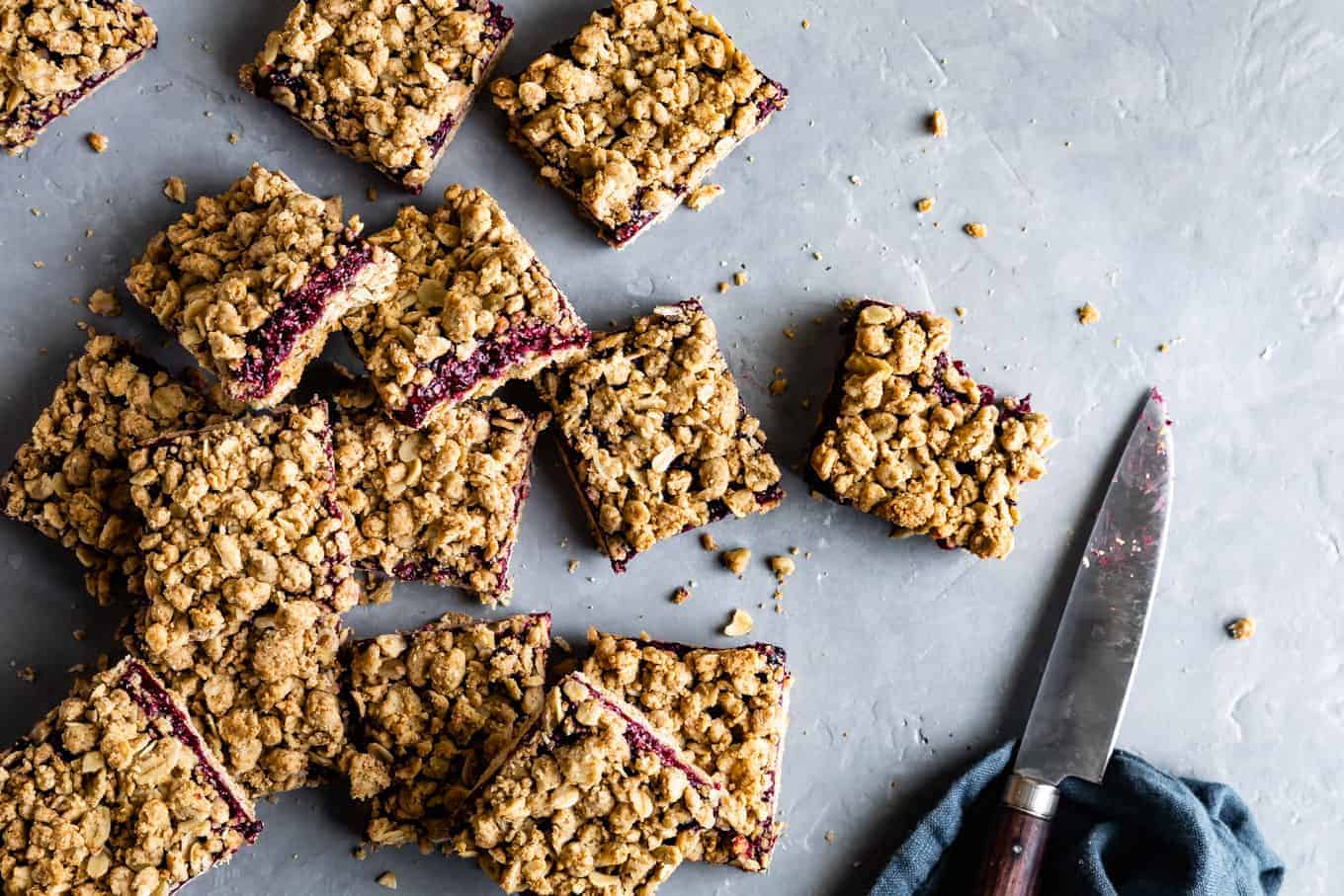 Oatmeal Jam Bars
With the combination of oat and sorghum flour, these oatmeal jam bars are soft and crumbly, while the berry jam adds a subtle chewiness. When warmed up, the jammy berries add more softness and chew to the crumble. Served cold, the crumble firms up like snappy shortbread.
However you prefer to eat them, these breakfast oatmeal jam bars are the perfect way to perk up your morning.
More Gluten-Free Breakfast Recipes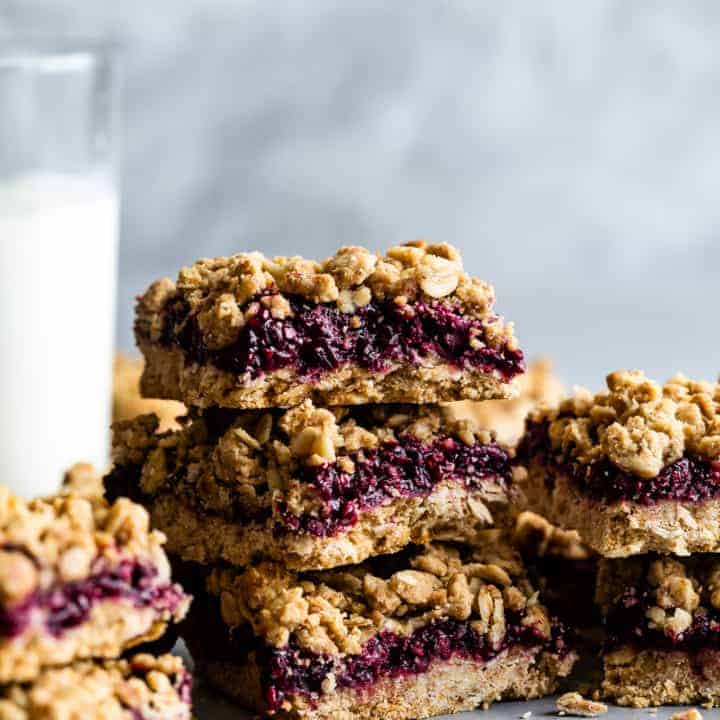 Gluten-Free Breakfast Oatmeal Jam Bars
Yield:
1 8x8 pan, 12-16 bars
Healthy breakfast oatmeal jam bars filled with homemade berry chia jam or your favorite store-bought jam. Sweetened with only a hint of coconut sugar and maple syrup. These cozy berry crumble bars are made with whole grain oat flour, mildly sweet sorghum flour, and rolled oats!
Ingredients
Oat Crumble
1¾ teaspoon baking power
½ teaspoon kosher salt
¼ teaspoon cinnamon
8 tablespoons melted butter
3 tablespoons maple syrup
½ teaspoon vanilla extract
1 cup berry chia jam or store-bought jam
Berry Chia Jam
2 cups mixed berries, fresh or frozen (I used a combination of raspberry, blackberry, and blueberry, but feel free to use a single berry if you prefer!)
1 tablespoon maple syrup
2 tablespoons chia seeds
1 tablespoon lemon juice
Instructions
Preheat oven to 375°F and line an 8x8 metal baking pan with parchment paper.
In a medium bowl, whisk together oat flour, sorghum flour, oats, coconut sugar, baking powder, salt, and cinnamon.
Pour melted butter, maple syrup, and vanilla over the top and mix it together with a rubber spatula until evenly moistened and the shaggy dough sticks together when pinched. Dump ⅔ of the crumble into the prepared baking pan and press down flat and even. Reserve remaining crumble for topping
Bake crust for 13-15 minutes until it begins to turn golden brown.
Meanwhile, prepare the chia jam. Combine the berries and maple syrup in a small saucepan over medium-high heat. Cook, stirring occasionally, until it begins to bubble. Reduce heat to medium low, and cook, breaking up the berries on the side of the pan with your wooden spoon as you stir. Cook for an additional 10-12 minutes until it's thickened quite a bit.
Add chia seeds and lemon juice and cook for 1 more minute. Remove from heat and let cool slightly.
When the crust base is ready, remove it from the oven and let it cool for 10 minutes while you finish the jam.
Pour the warm jam over the par-baked crust and spread it into an even layer.
Sprinkle remaining crumble in an even layer over the top of the jam, crumbling it into small pieces as you go.
Bake for an additional 20 minutes, until topping turns golden brown.
Let cool in the pan for at least 30 minutes before using the parchment paper to slice and serve (speed up this cooling by popping it in the fridge on a wire rack!). Store in an airtight container in the fridge for up to a week and serve cold, room temperature, or warm them in the microwave.
Nutrition Information:
Yield:

16
Serving Size:

1
Amount Per Serving:
Calories:

177
Total Fat:

8g
Saturated Fat:

5g
Trans Fat:

0g
Unsaturated Fat:

3g
Cholesterol:

15mg
Sodium:

103mg
Carbohydrates:

18g
Fiber:

3g
Sugar:

9g
Protein:

2g
This nutritional information has been automatically calculated, and as such, may be incomplete or inaccurate. Please reference the specific ingredients you use for the most accurate nutritional information.