Last updated on August 29th, 2020
Creamy and smooth gluten-free dairy-free pumpkin pie with a crumbly hazelnut pastry tart crust. Top it with whipped coconut cream and toasted hazelnuts. This is the best pumpkin pie, hands down!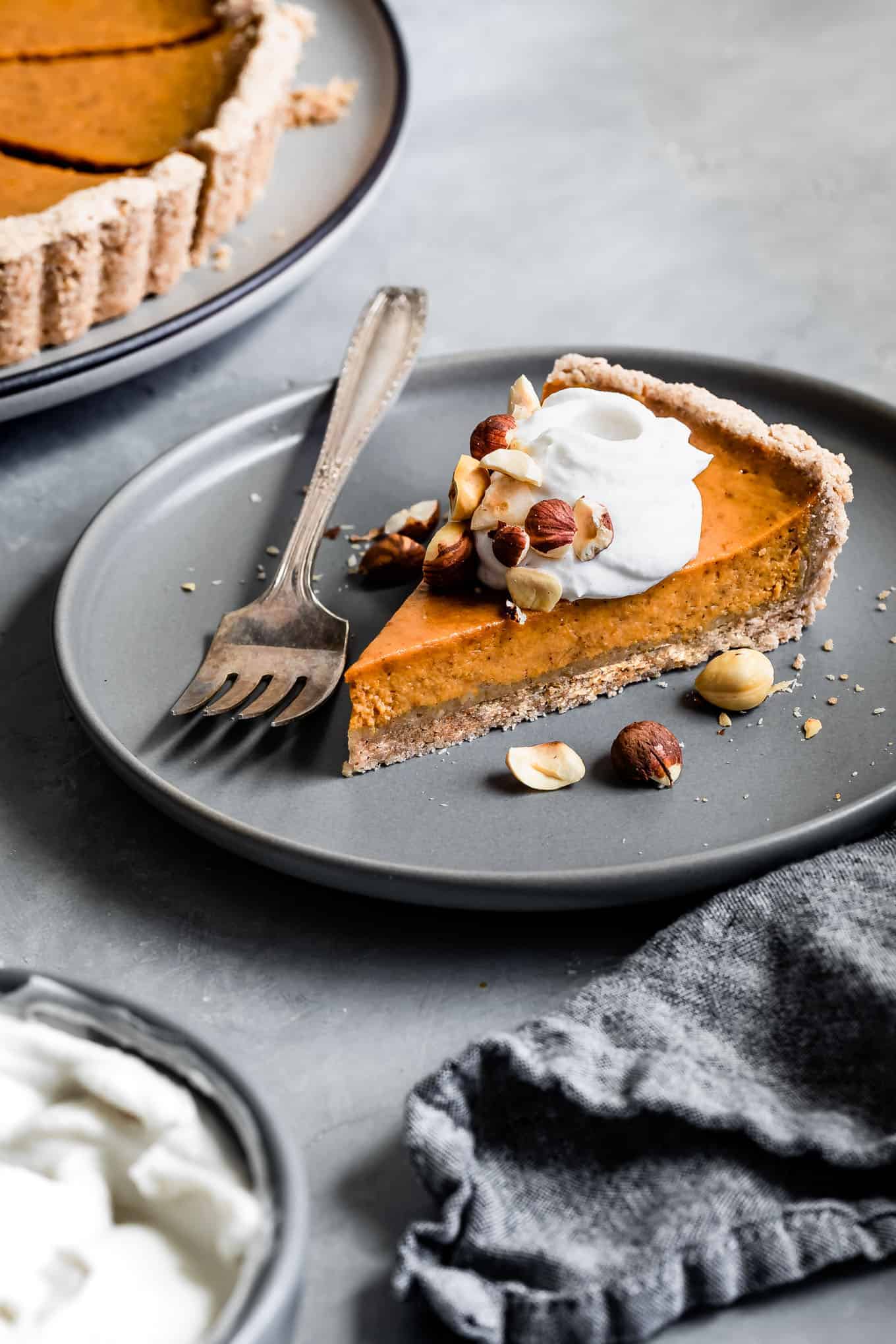 We're the kind of family with a Thanksgiving menu tradition. I have a running digital document five years in the making called "Thanksgiving Menu" with each recipe, their list of ingredients, and a shopping list organized by store layout. It's a living document though, open to slight modifications as I tweak and develop new recipes that deserve a spot on the menu. That's how this gluten-free diary-free pumpkin pie became a family favorite.
Gluten-Free Thanksgiving Dessert
When it comes to Thanksgiving desserts, I got those dialed in. They've been set for years. There's always pumpkin cheesecake mousse pie, sorghum molasses pecan pie, and vanilla bean pear persimmon pie. Each family member requests a different favorite, so I make them all and my dad finishes up the leftovers for a week after the big day.
With the smoke from the Paradise Camp Fire keeping us away from family last year, we hosted our first (last minute) friendsgiving feast. To accommodate all our guest's dietary restrictions, I adapted the menu, developing this gluten-free dairy-free pumpkin pie recipe. The pumpkin pie tart recipe was such a huge hit that I've been saving ALL YEAR for just this very moment: YOUR last minute Thanksgiving dessert!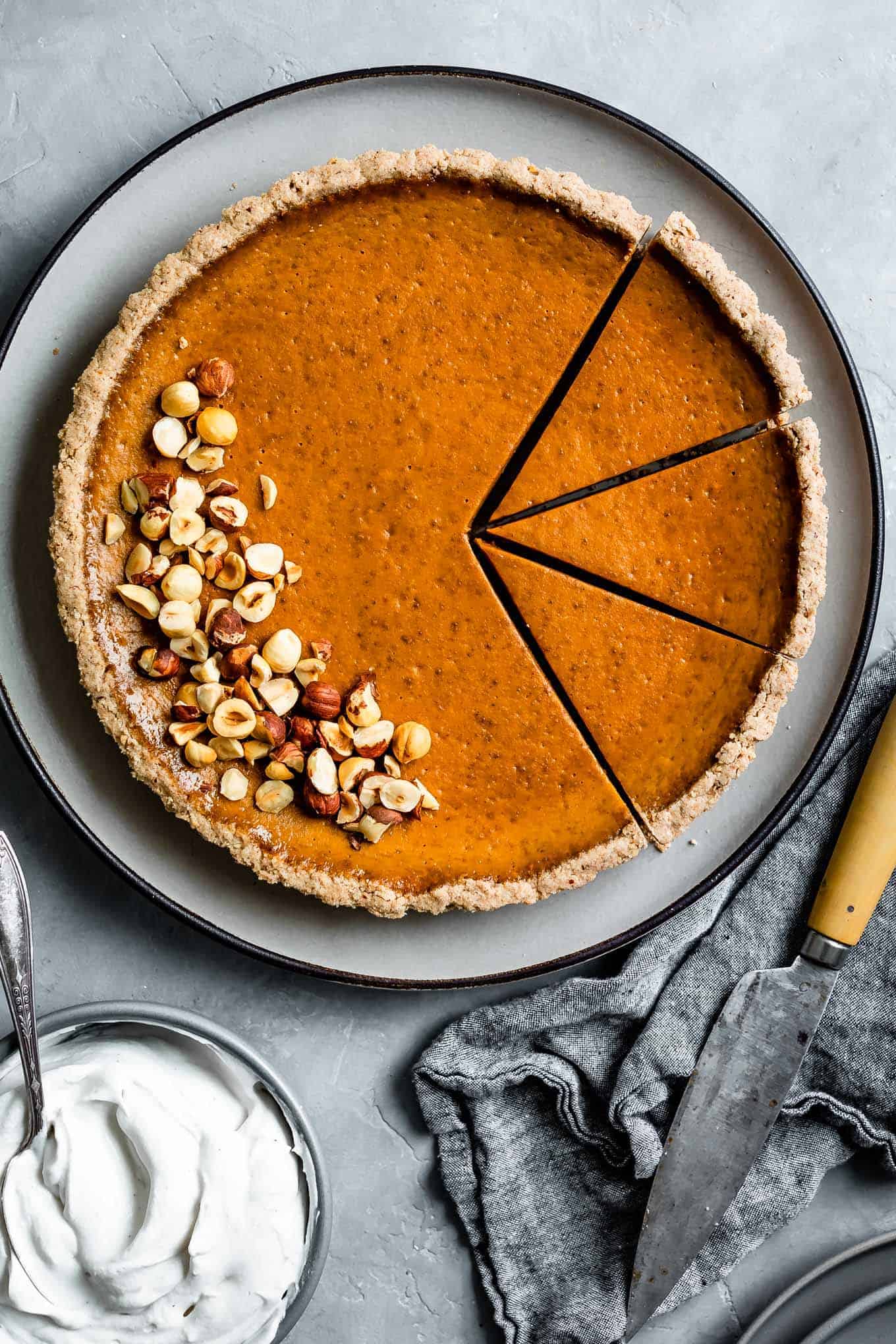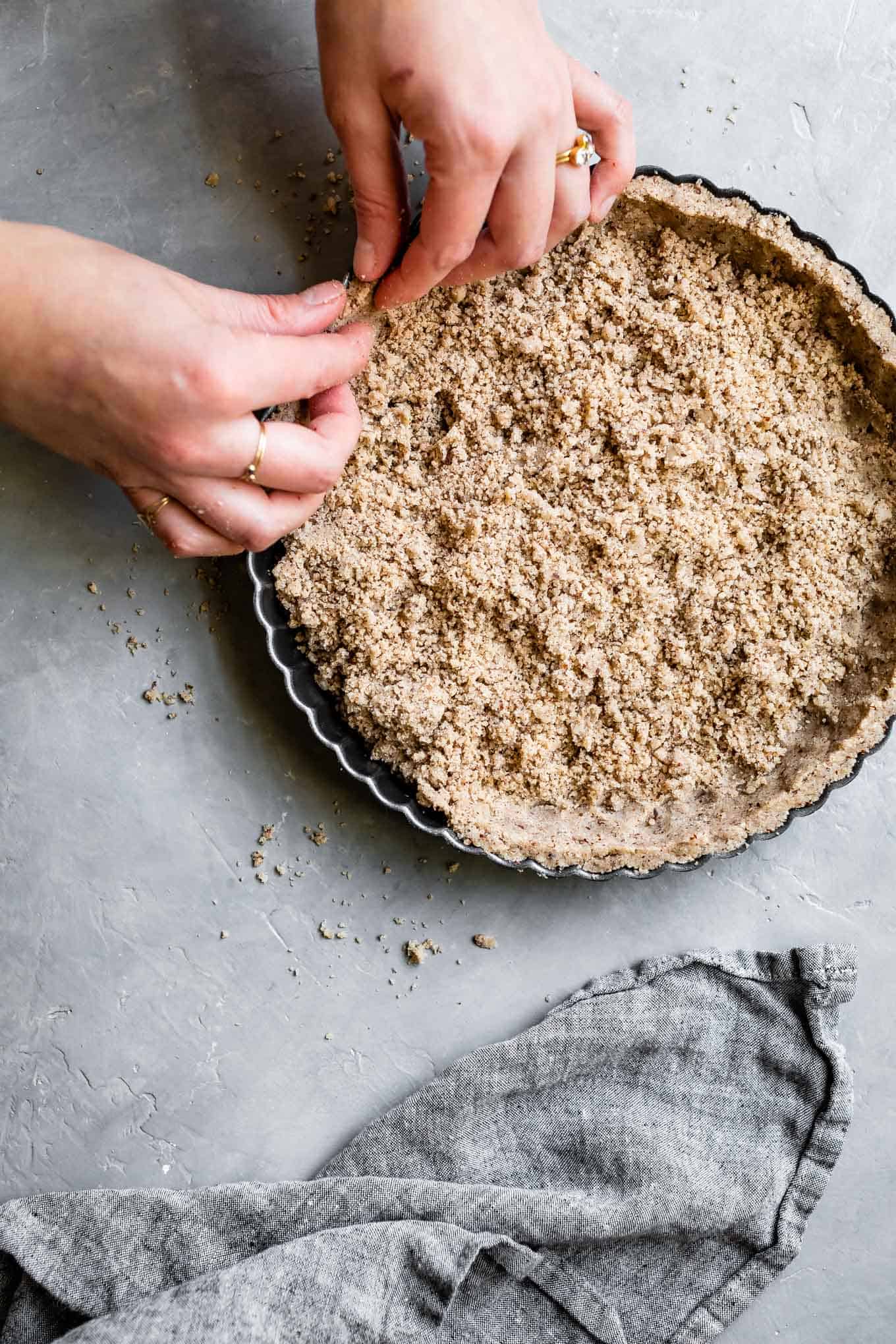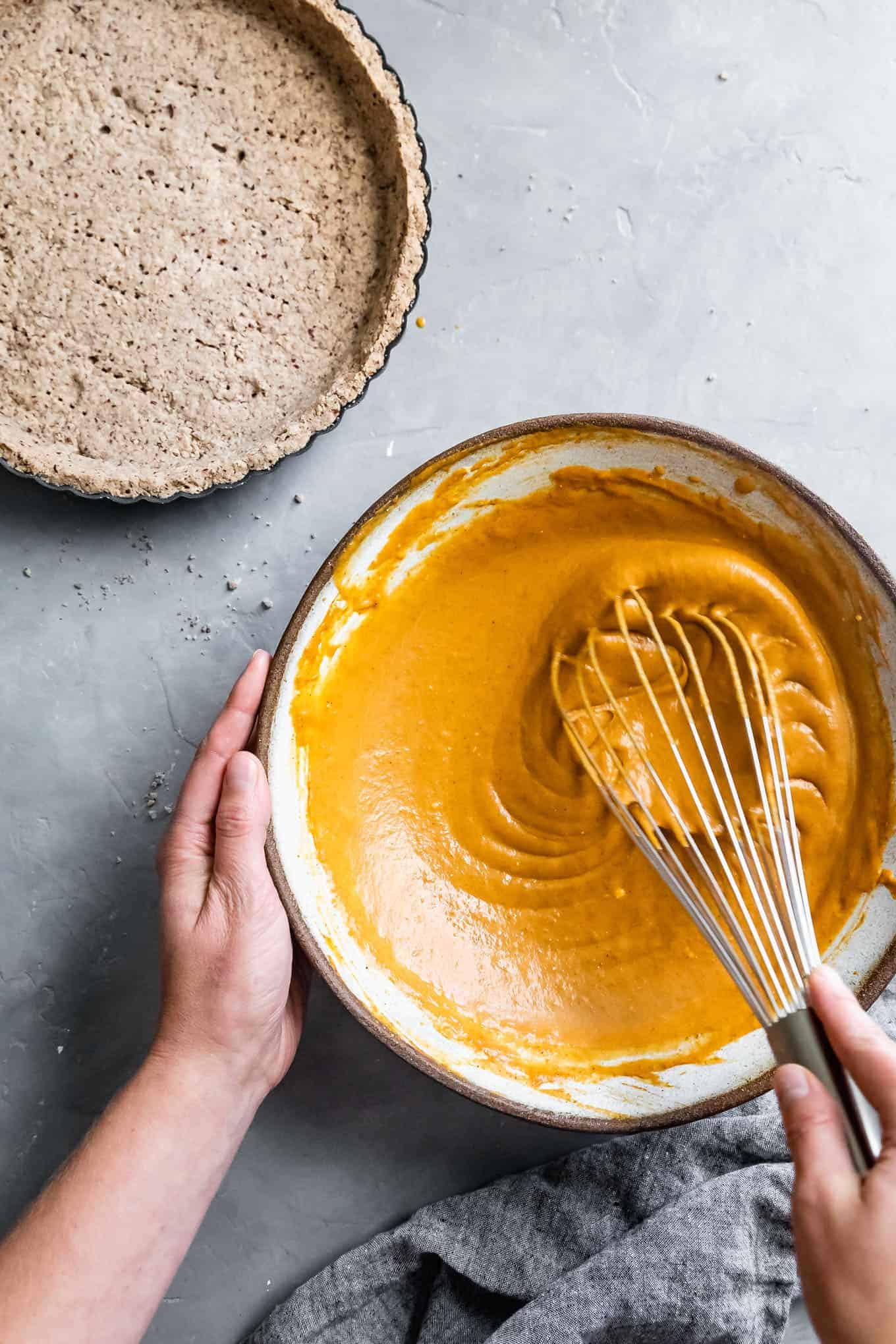 Gluten-Free and Dairy-Free Pumpkin Pie
Traditional pumpkin pie filling uses evaporated milk, heavy cream, or half-and-half in the custard. To make a dairy-free filling, simply replace with an alternative milk. Adapted from Joy Food Sunshine's beautiful dairy free pumpkin pie, this filling uses canned coconut milk in place of dairy, with coconut oil in place of butter in the crust.
And for all you coconut skeptics, it miraculously tastes nothing like coconut. It's hard to believe a pie so luscious and creamy has no dairy!
Gluten-Free Pumpkin Tart Recipe
Lucas called this "the best pumpkin pie I've ever eaten with the perfect ratio of crust to filling!" And that's because technically it's a pumpkin tart. Besides shape of the pan, the major difference between a pie and a tart is the type of crust. Where a pie has a flaky crust, a tart is usually made with pastry dough that bakes up like a crumbly cookie.
With a crumbly tart crust, I welcome the higher ratio of crust to filling to balance the textures.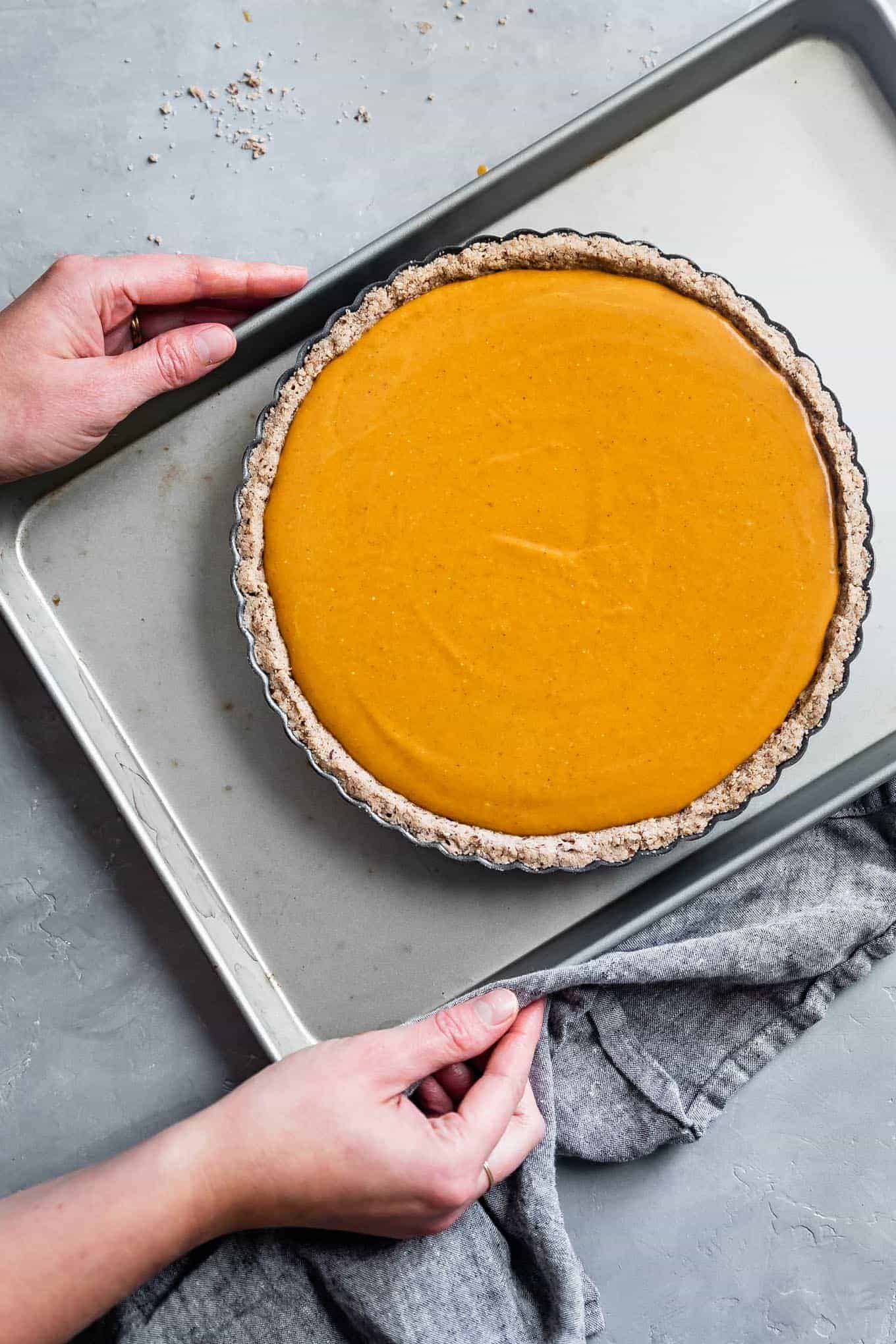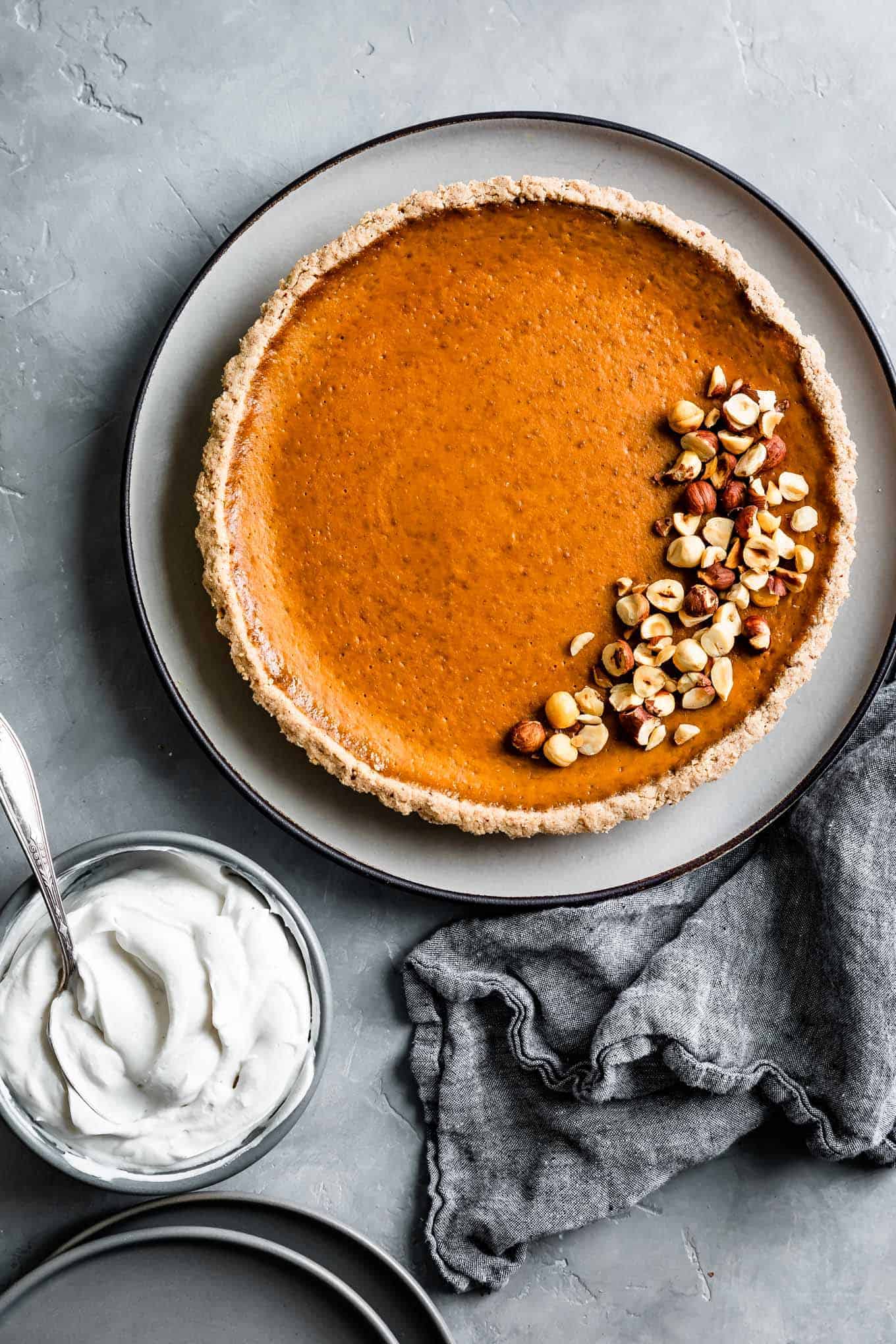 How to make an Oat-Free Gluten-Free Tart Crust
Typically for a gluten-free tart crust, I use oat flour, but building on my obsession with the sweet warmth of sorghum flour, I've replaced oat flour for sorghum flour in this recipe. Here I've added cinnamon, and the result of these changes tastes like a spiced holiday shortbread cookie that's entirely oat-free and gluten-free.
To make the crust vegan, I've used firm coconut oil in place of butter. You can use either refined or unrefined coconut oil – your choice! I recommend refined coconut oil for this recipe, which has a mild neutral flavor and won't overpower the pumpkin.
When I first made this pie last year, our guest couldn't have milk or cream, but butter was fine, and I used my hazelnut adaptation of Alanna's tart crust from her book Alternative Baker. If you can handle butter, that crust is a great choice too!
Dairy-Free Pumpkin Pie Recipe
This gluten-free and dairy-free pumpkin pie is a pie for everyone. The texture is smooth and creamy with flavors that taste like fall. Topped with a dollop of whipped coconut cream, it will become a holiday staple your friends and family request year after year.
Just like it has for me.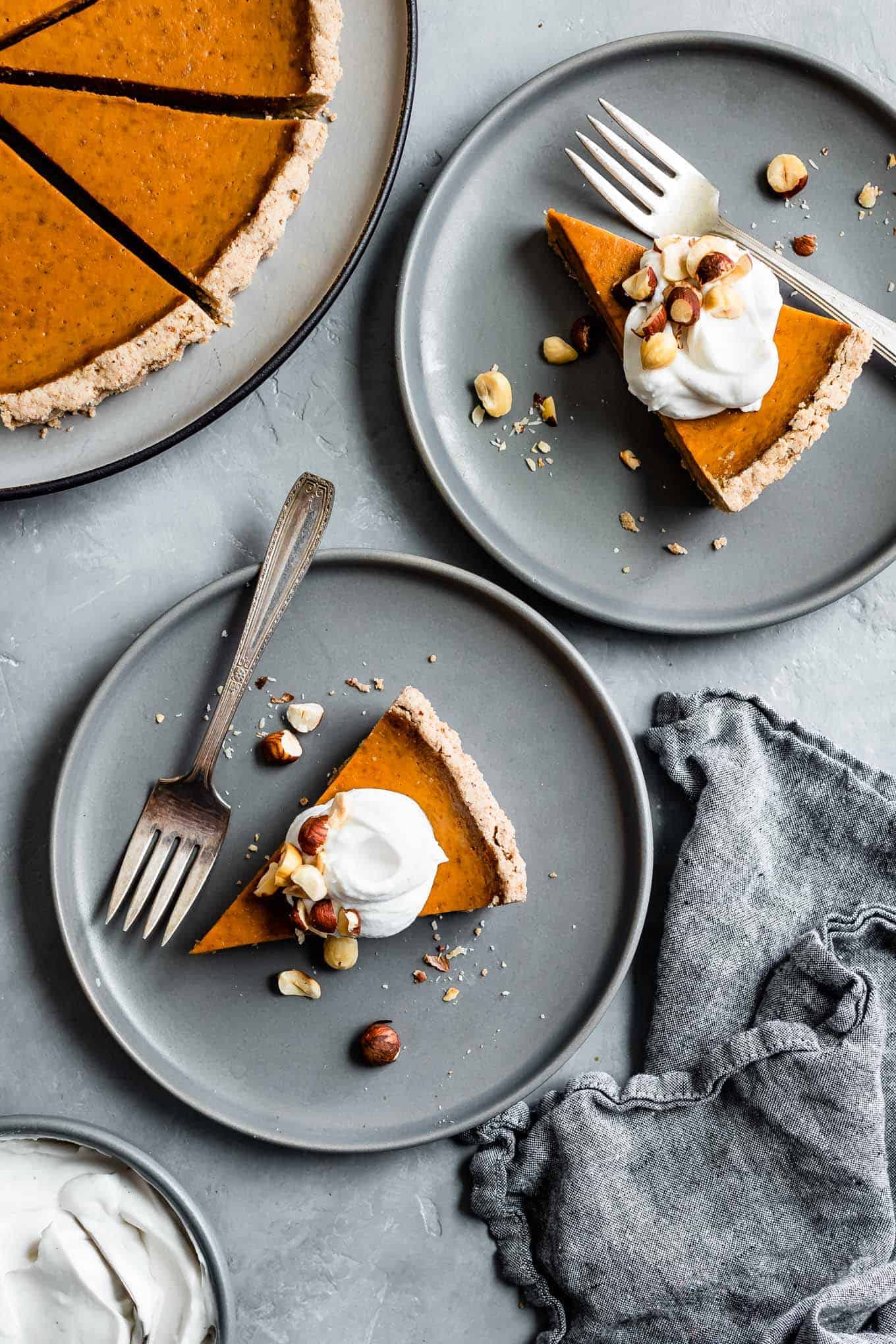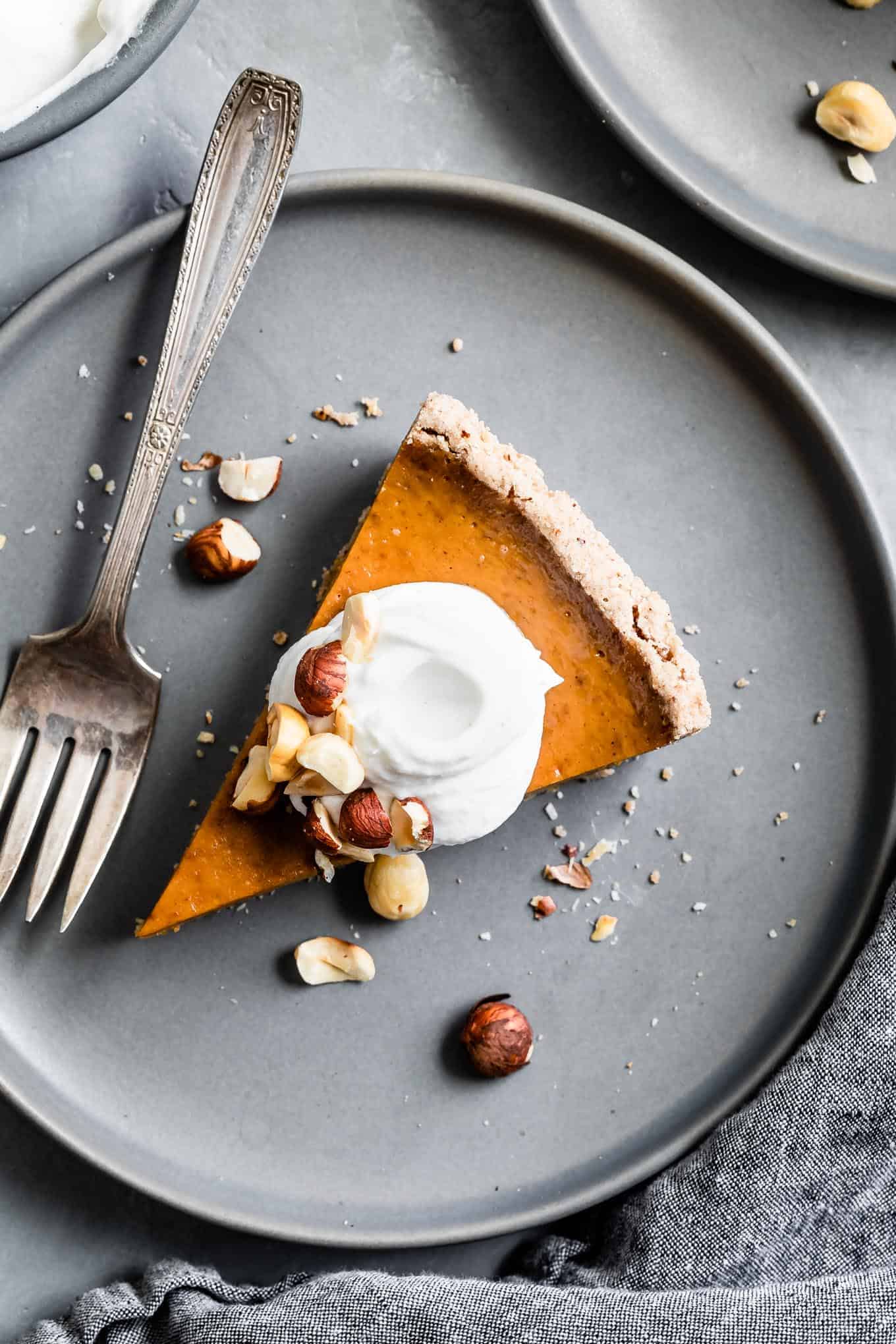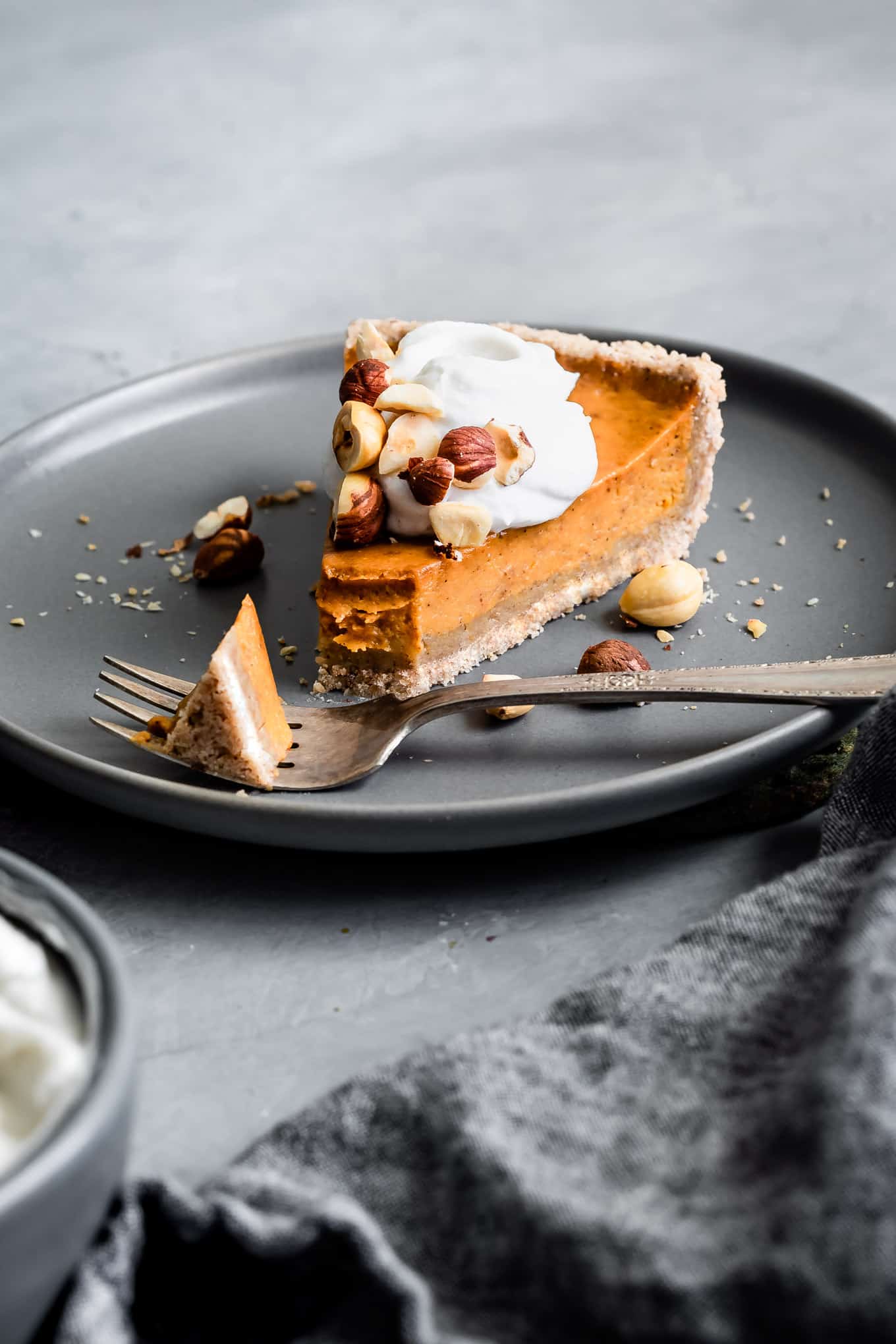 Gluten-Free Dairy-Free Thanksgiving Recipes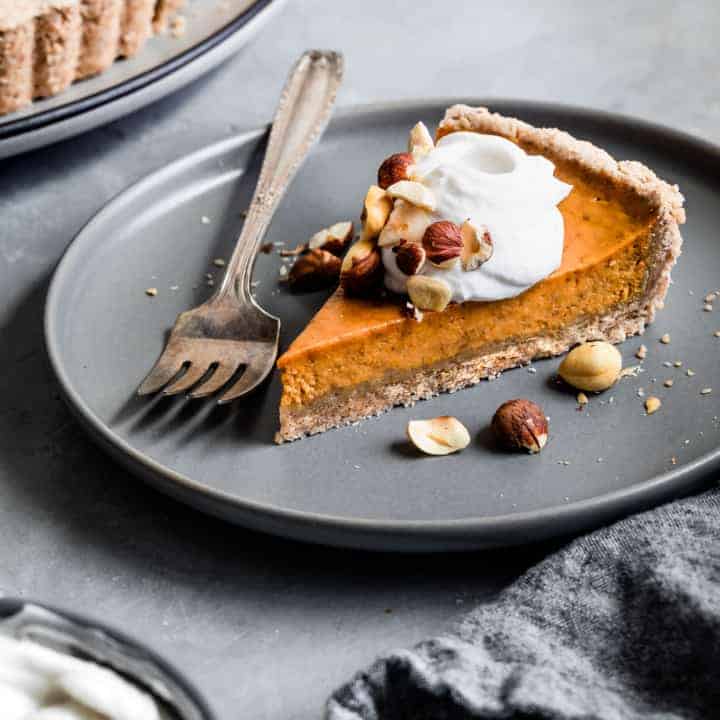 Gluten-Free Dairy-Free Pumpkin Pie
Yield:
1 9-inch pumpkin tart
Cook Time:
1 hour
5 minutes
Total Time:
1 hour
20 minutes
Creamy and smooth gluten-free dairy-free pumpkin pie with a crumbly hazelnut pastry tart crust. Top it with whipped coconut cream and toasted hazelnuts. This is the best pumpkin pie, hands down!
Ingredients
Gluten-Free Dairy-Free Tart Crust
Dairy-Free Pumpkin Pie Filling
½ cup (112g) light brown sugar
½ teaspoon ground cinnamon
¼ teaspoon ground ginger
¼ teaspoon ground nutmeg
1/8 teaspoon ground allspice
1/8 teaspoon ground cloves
¼ teaspoon kosher salt
2 large eggs
1-1/3 cups canned pumpkin puree (see note)
1 cup full fat coconut milk (see note)
¾ teaspoon pure vanilla extract
Whipped coconut cream
1 13.66 ounce can coconut cream (see note), chilled upright in the fridge overnight for at least 24 hours
¼ cup powdered sugar, sifted
½ teaspoon vanilla extract
Instructions
Use a pastry brush or paper towel to rub a tablespoon of coconut oil (that is soft like mayonnaise but not melted) into a thick layer on all over the bottom and crevices of a tart pan with a removable bottom. Place tart pan in the freezer while you prepare the crust.
In the bowl of a stand mixer fitted with the paddle attachment, mix together the hazelnut flour, sorghum flour, sweet rice flour, tapioca starch, sugar, cinnamon, and salt.
Add the remaining 7 tablespoons coconut oil and vanilla extract and beat on medium speed until well mixed - 3-4 minutes. Slowly drizzle in the ice water, starting with just 1½ tablespoons. Mix until the dough begins to clump together, 2-3 minutes, adding more water as needed.
Dump the crumbs into the chilled tart pan. Press the dough evenly into the pan, starting with the sides and then moving to the bottom. Your crust should be between ⅛ and ¼-inch thick with the top edges squared off. Prick the bottom all over with a fork, place on a baking sheet, and chill in the freezer or fridge until firm, 15-30 minutes.
Meanwhile preheat the oven to 350°F. When the tart shell is firm, bake on the middle rack for 15-18 minutes, until the crust begins to look cooked and not moist, but not yet browning.
Remove from the oven and while the crust is still hot, use a cup bottom or the back of a spoon to gently press down on the sides and bottom to help hold it together as it cools. Let cool for at least 20 minutes before adding the filling.
Meanwhile, in a large mixing bowl, mix the brown sugar with the spices. Add the eggs, pumpkin, coconut milk, and vanilla and whisk well to combine. Pour the filling through a fine mesh sieve to get rid of any clumps of coconut milk remaining.
With the tart shell on the baking pan on the oven rack, carefully pour the filling into the par-baked pan. Gently push the tart back into the oven and bake for 45-50 minutes until the center is set when the pan is gently jiggled
Remove from oven and let cool completely on a wire rack for at least an hour. Gently release the tart from the pan and chill for at least 2 hours.
Just before serving, prepared the whipped coconut cream. Without tilting, open the can and spoon just the thick cream off the top into the bowl of a stand mixer fitted with the whisk attachment (or into a mixing bowl to whip with a hand mixer).
Whip on medium speed for 1 minute. Add the powdered sugar and vanilla and continue whisking on high speed until soft peaks form. Chill until ready to use.
Serve tart cold with whipped coconut cream.
Notes
Coconut Oil: The coconut oil for this recipe should be solid but room temperature. If your house is particularly warm, chill the coconut oil until JUST solid but not too hard. For this recipe, you can use refined or unrefined coconut oil, and the main difference will be in the flavor of the crust. Refined coconut oil has a mild neutral flavor that is not as noticeable when baked.
I recommend using non-organic canned pumpkin as organic canned pumpkin tends to be more watery and I have not tested to see how that interacts with the recipe.
For coconut milk and cream, I recommend Native Forest, Thai Kitchens, or 365 brands. I do NOT recommend Trader Joe's coconut milk or cream as it's oily and separates into a very weird texture in recipes. If you cannot find coconut cream to whip, you can use two cans of full-fat coconut milk and skim off just the top layer, leaving the liquid behind.