This is the best gluten-free pumpkin bread - loaded with pumpkin flavor and warm fall spices. The loaf is moist & tender and comes together in 10 minutes with no mixer required. Make this your go-to fall treat!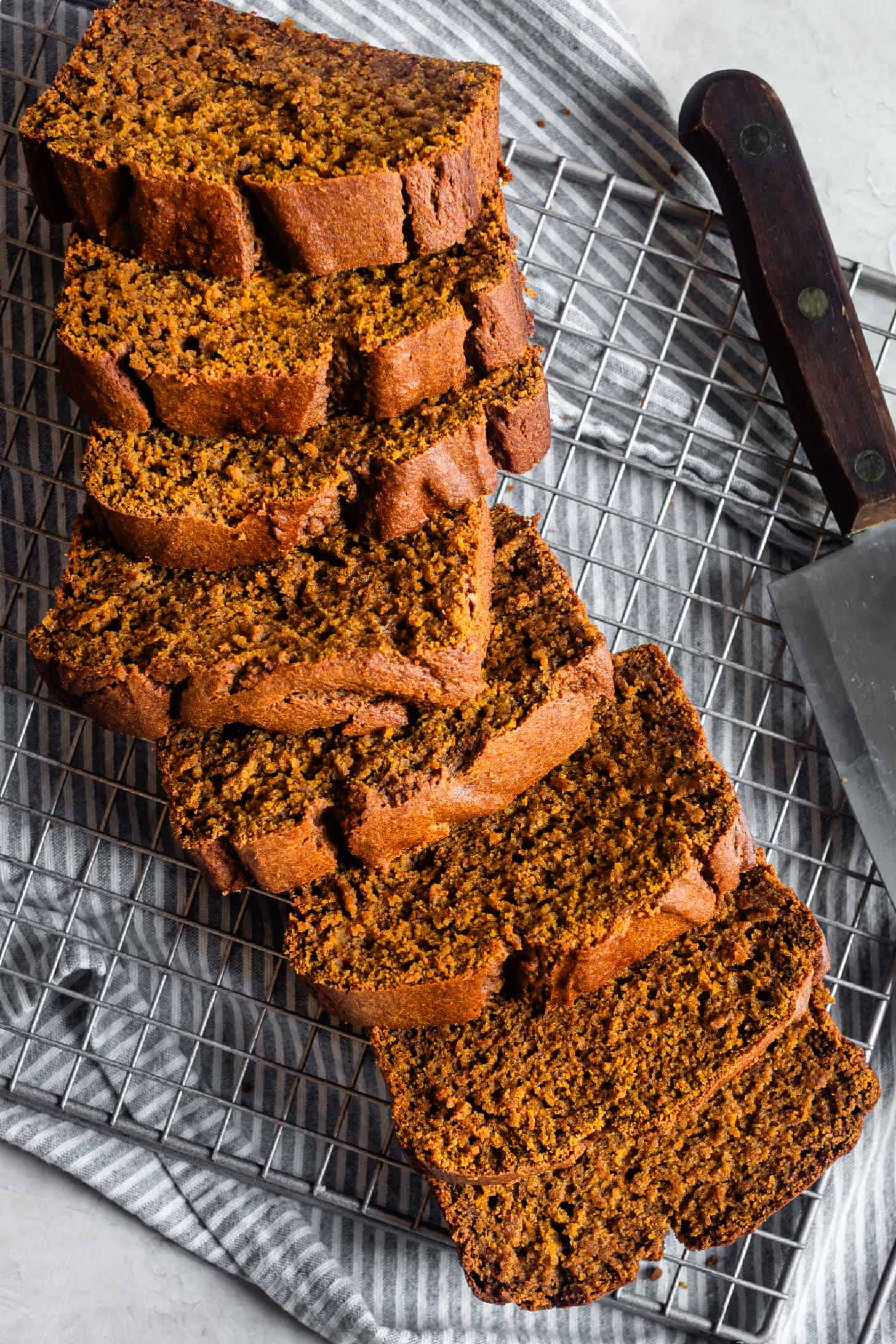 I'm a firm believer that the first step to welcoming in fall is to fill your home with the aroma of warm spiced pumpkin. And for that, I've got you covered with this super quick gluten-free pumpkin bread. Think of this pumpkin loaf as your annual autumn ritual.
This loaf cake has a super moist and tender crumb with tons of pumpkin flavor and fall spices. And if you can bear the wait, the flavors deepen and the texture gets even more soft and chewy on the second day.
Quick Gluten-Free Pumpkin Bread
This gluten-free pumpkin bread comes together super quickly with minimal clean-up. One bowl for sifting the dry ingredients and one big bowl for mixing it all together - no need for a mixer. If you measure it all with a scale, you don't even need measuring cups.
This gluten-free pumpkin loaf recipe is also foolproof. Due to lots of pumpkin puree, the loaf is incredibly moist and not prone to over-baking.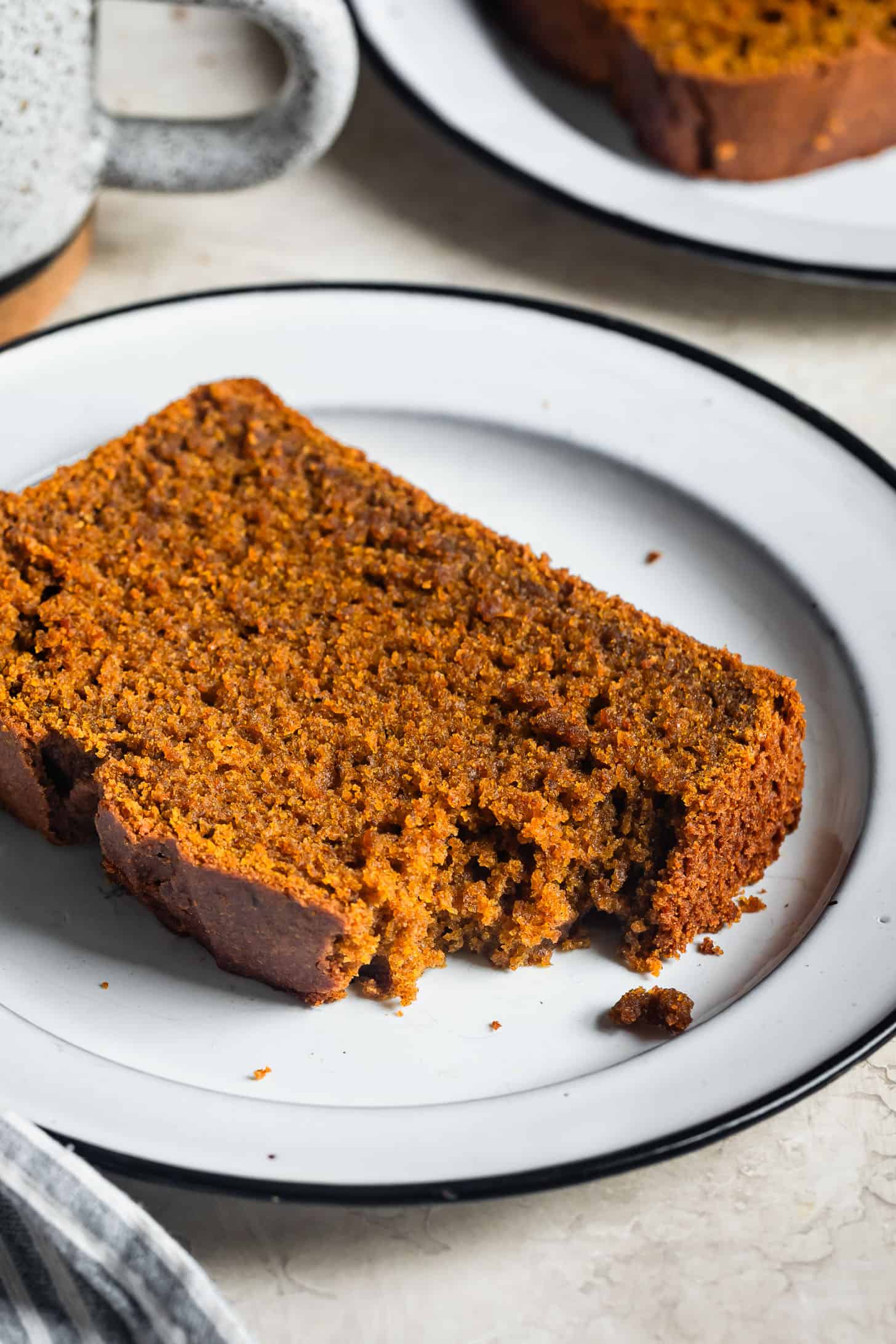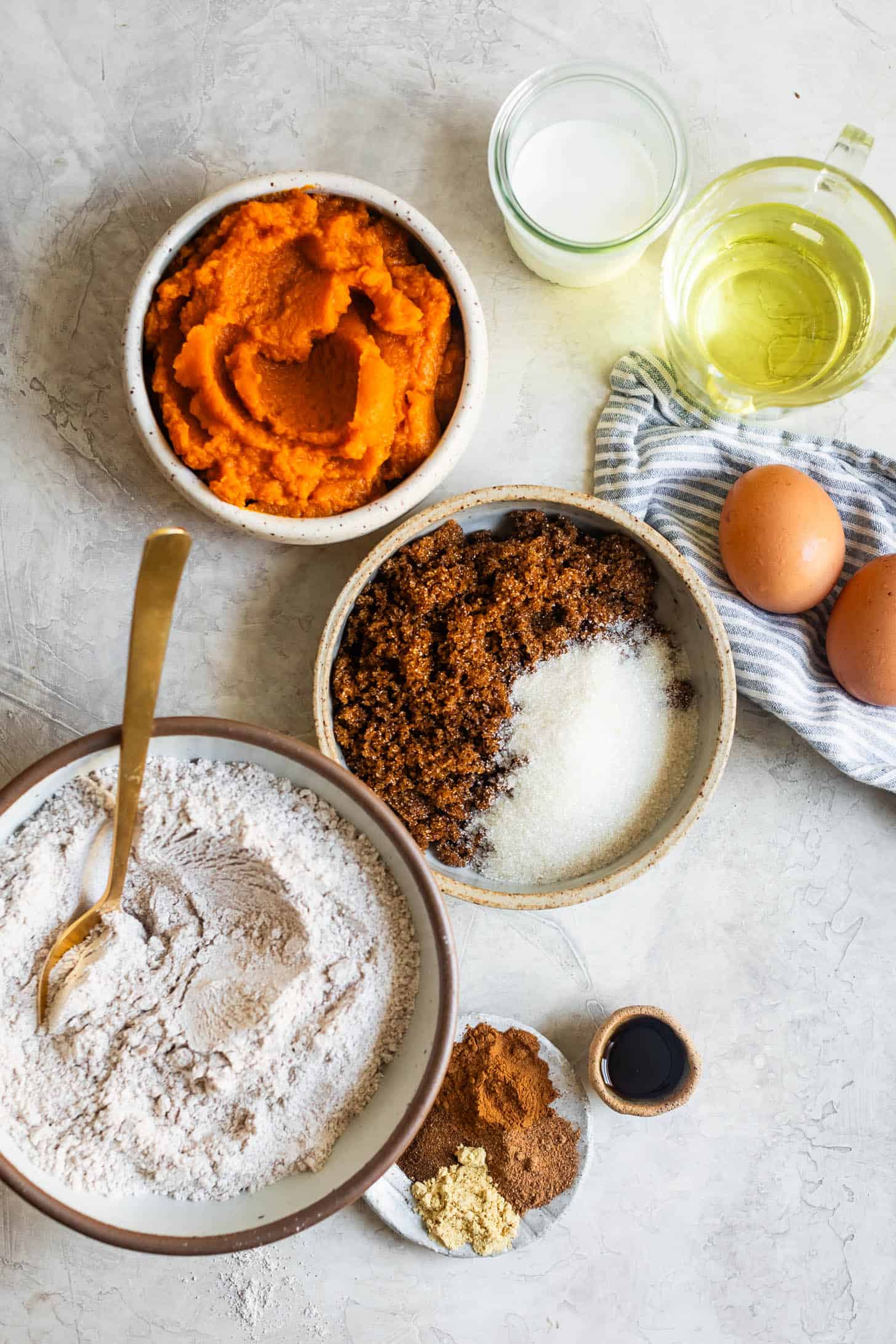 Ingredients for gluten-free pumpkin bread
Here are all the ingredients you'll need to make this gluten-free pumpkin bread:
Teff flour: Bob's Red Mill Brand
Gluten-free oat flour: Bob's Red Mill Brand
Sweet rice flour or mochiko: Koda Farms or Bob's Red Mill Brand
Tapioca starch/flour
Baking powder and baking soda
Ground spices: kosher salt, cinnamon, ginger, nutmeg, and cloves
Vegetable oil (such as canola, safflower, or sunflower)
Dark brown sugar: I recommend organic, as it has a higher molasses content
Granulated sugar
Large eggs
Pumpkin puree: not pumpkin pie filling
Pure vanilla extract
Milk: whole milk or non-dairy milk
Optional: favorite add-ins such as toasted nuts or chocolate chips
Using Homemade Flour Blend for Gluten-Free Cakes
For gluten-free cake, I prefer to use a homemade blend of flours specific to the cake I'm making - this allows me to pair flours for flavor and texture, while using whole grain flours.
For this gluten-free pumpkin bread, I use a blend of teff flour, oat flour, sweet rice flour, and tapioca flour. If you're apprehensive about buying four different flours, I understand. Here are four fall-forward recipes you can make using oat, teff, and sweet rice flour and about a billion more that use oat, tapioca, and sweet rice flour. With these four flours, you can make countless cakes and cookies this season! Additionally, each of these flours freeze well for up to 6 months.
Below I describe each flour and also recommend a few substitutions if you can't find that particular flour. A note about substitutions: I have not tested this particular cake with most of these substitutions (unless noted), so your results and baking time may vary slightly. These are, however, my recommendations based on lots of experience with gluten-free cake baking and I'm confident they'll work.
Flour Substitutions For Gluten-Free Pumpkin Loaf
Teff Flour: Teff flour is such a warm flavorful flour that's the perfect pairing for fall pumpkin. It bakes up soft and fluffy with rich toffee notes that accentuate the dark brown sugar.
Gluten-Free Oat Flour: Oat flour adds the lightness and structure for the fluffy crumb. It keeps the cake sponge super moist, but not dense.
Substitution: If you don't have oat flour, you can make your own by grinding gluten-free rolled oats in a blender or food processor until fine, then sifting out any larger pieces. While I have not tested it, my next best recommendation would be to use Bob's Red Mill 1-to-1 flour by weight, or subbing out the oat flour by weight with a combination of sorghum flour and a tad more tapioca flour.
Sweet Rice Flour: Sweet rice flour is necessary for the chewy texture of this cake. Sweet rice flour is distinctively different than white rice or brown rice flour. Rather it is the same flour used to make mochi, and as such, its stickiness helps to bind the cake together, creating chewiness like a classic cake recipe. It's gluten-free baking's secret weapon.
Substitution: I do not recommend substituting the sweet rice flour in this recipe. While I haven't tested it, you could *try* subbing the sweet rice flour for additional tapioca flour, but your results will vary and I can't promise it will turn out as delicious!
Tapioca Flour: Tapioca flour adds just a little more softness and loft to the crumb. My test loaf without tapioca flour wasn't quite as tall and beautiful, but still very delicious.
Substitution: If you need to sub it out, I would recommend arrowroot starch, potato starch, or using equal parts more oat flour and sweet rice flour, by weight.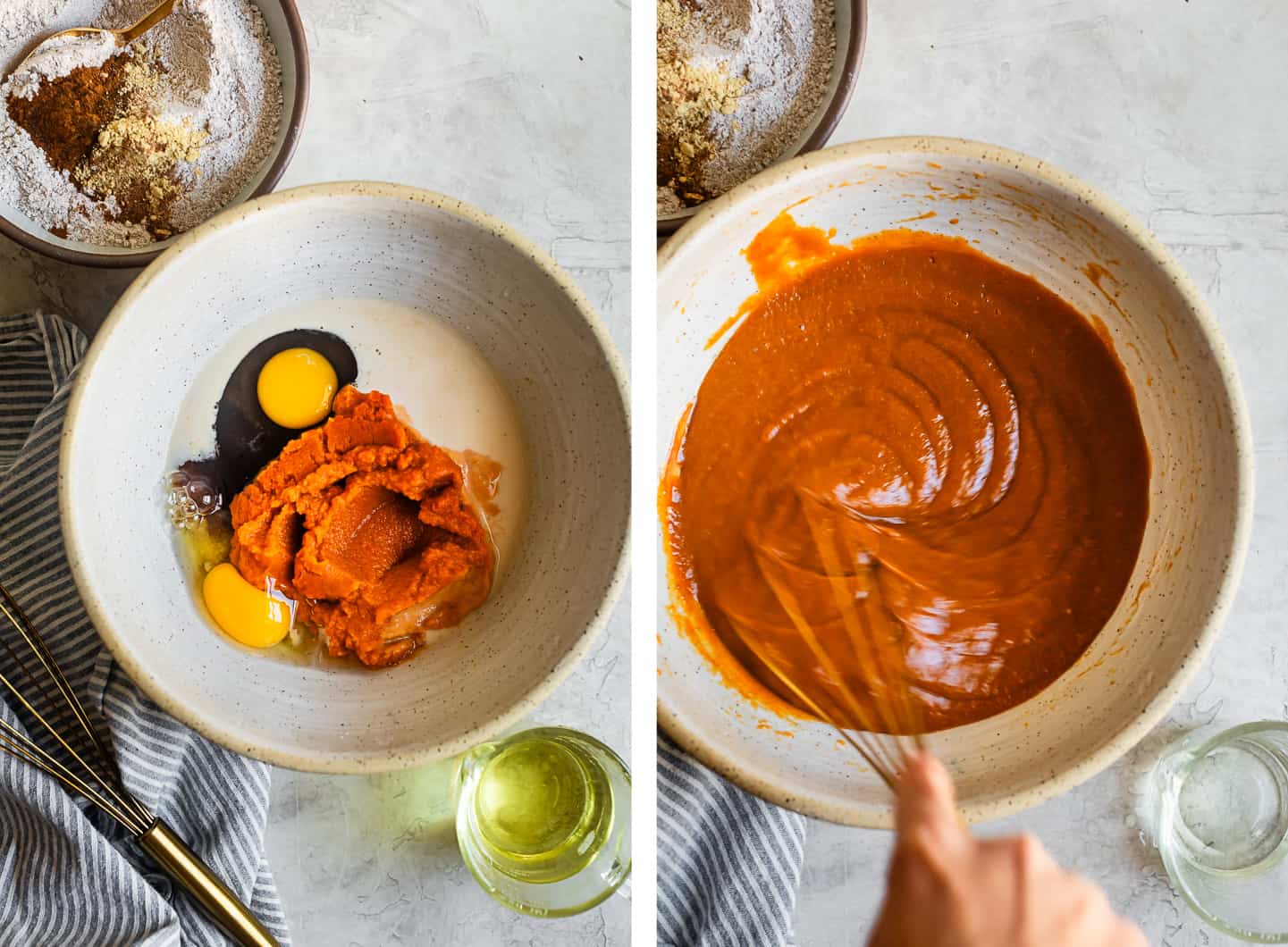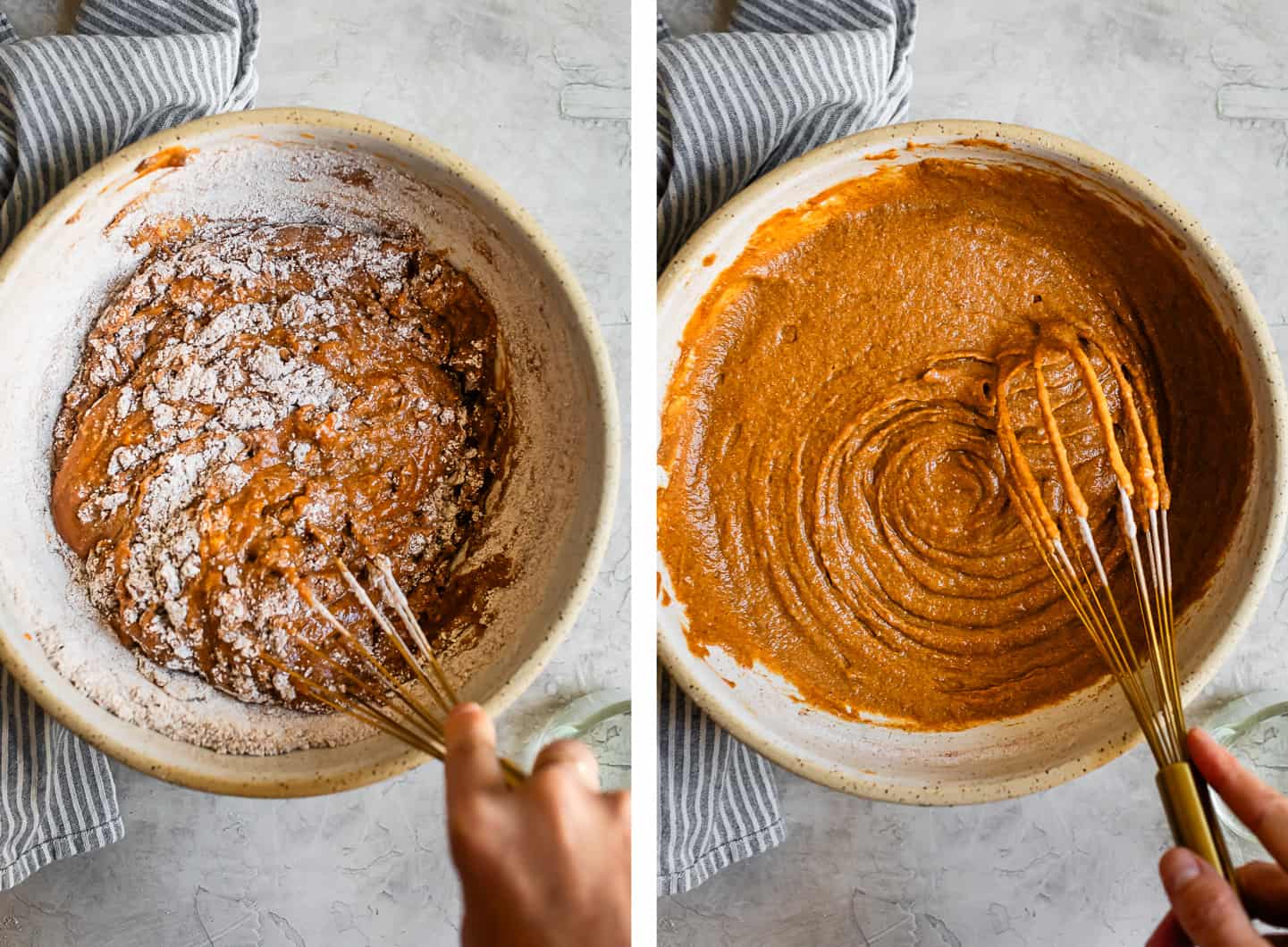 How to make gluten-free pumpkin bread
Getting this gluten-free pumpkin bread in the oven takes less than 10 minutes. Five if you're quick.
Sift together the dry ingredients.
Whisk together all the wet ingredients.
Whisk the dry ingredients into the wet until completely smooth.

Pour it into the prepared pan and bake!
What kind of pan for pumpkin bread
This recipe makes a tall domed pumpkin bread, so be sure to use either a 9x5 or 9.25 x 4.25 loaf pan (measured by the inside of the top opening).
I recommend using metal loaf pans and steering clear of glass loaf pans for this gluten-free pumpkin loaf. Because this cake bakes for an hour, the more insulating glass pan is more likely to create a much crisper and darker crust that isn't as tender. Your cake may also end up drier as a result.
And what I learned in all my loaf pan testing: Every single one of my neighbors has a couple of metal loaf pans of varying sizes. If a glass pan is all you've got, hopefully, you've also got neighbors like mine who will lend you a pan in exchange for a couple of slices of pumpkin bread
If you do opt for a glass loaf pan, decrease the temperature by 25°F and bake for about 10 minutes longer. If you notice the top starting to get too dark with the longer bake time, cover it lightly with foil.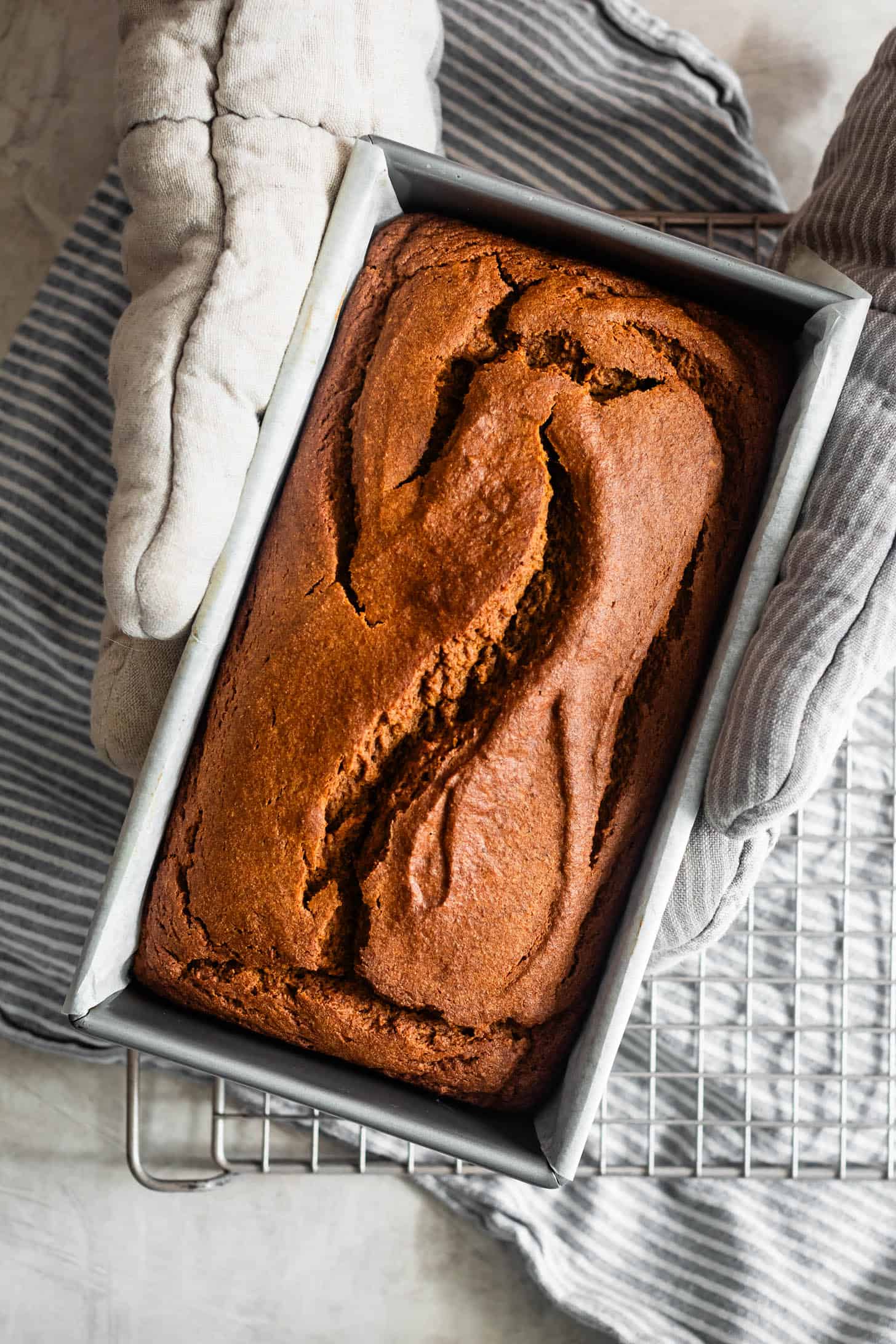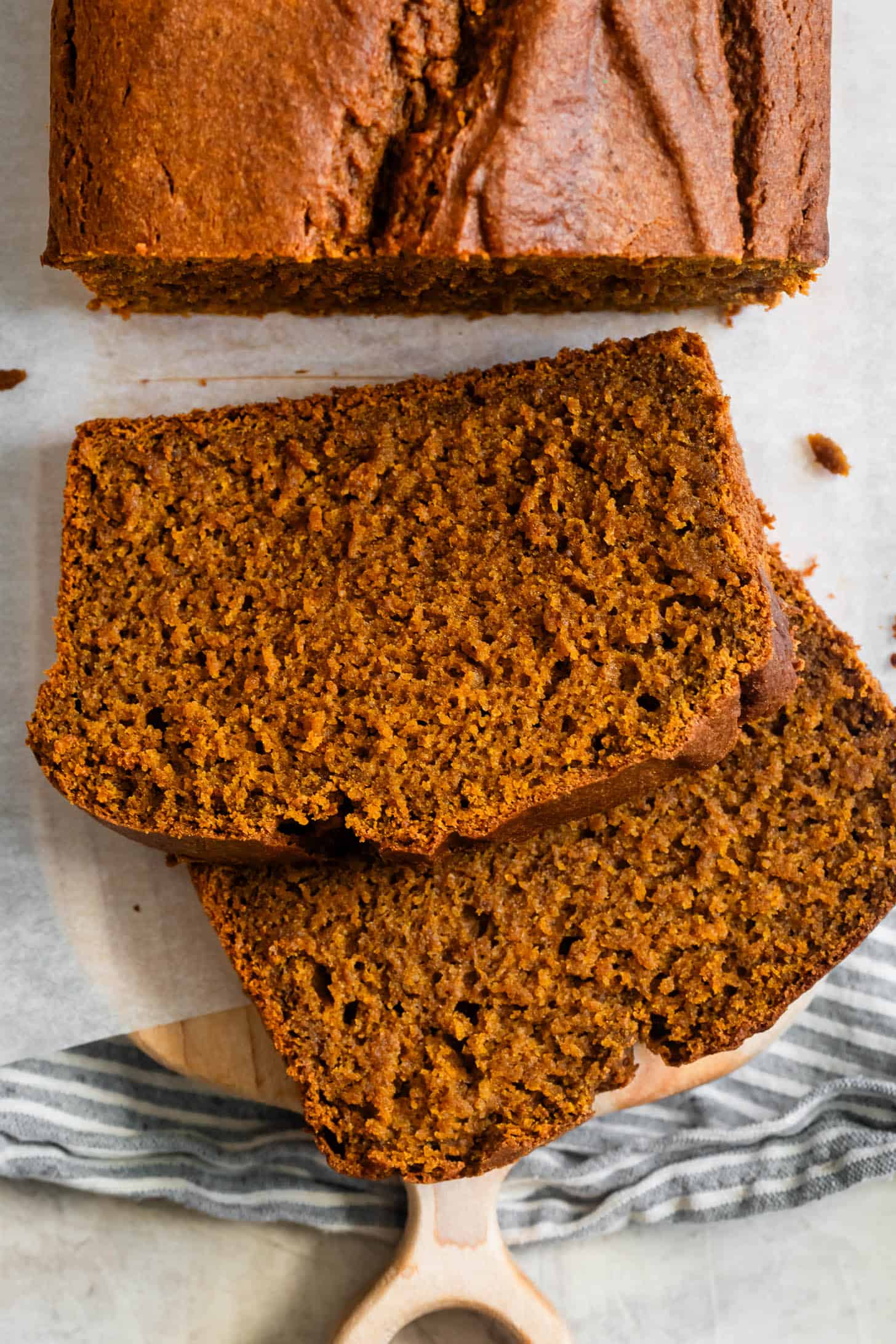 How to tell when gluten-free pumpkin bread is done
The great thing about pumpkin bread is that with so much moisture from the pumpkin, it's difficult to overbake this loaf. The first clue to look for when testing for doneness is whether the cake springs back when very gently touching the center of the dome. To double-check that it's fully baked, insert a toothpick into the very center and it should come out clean or with just a few crumbs.
Why did my pumpkin bread sink?
This loaf is pretty domed so not prone to sinking, but if yours did sink, there are two big culprits. The two most common reasons a loaf cake sinks in the middle are that it is underbaked or there is not enough flour. Be sure to measure the flours by weight and use the same brands listed here - all Bob's Red Mill or Koda Farms. Other brands may have different grinds and will soak up moisture more or less, leading to differing results.
Be sure to also check your oven temperature and use the visual cues above to ensure you bake it all the way through!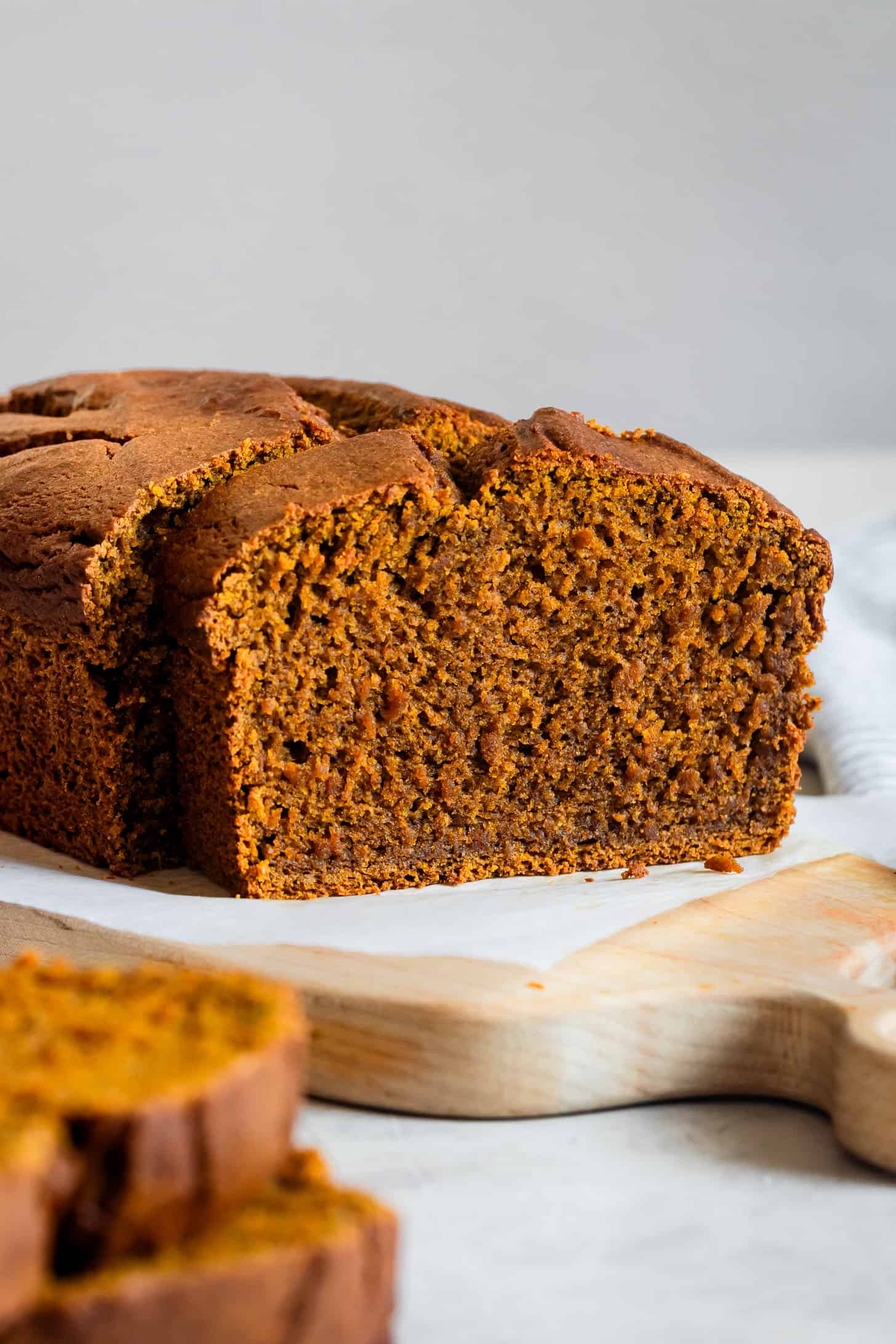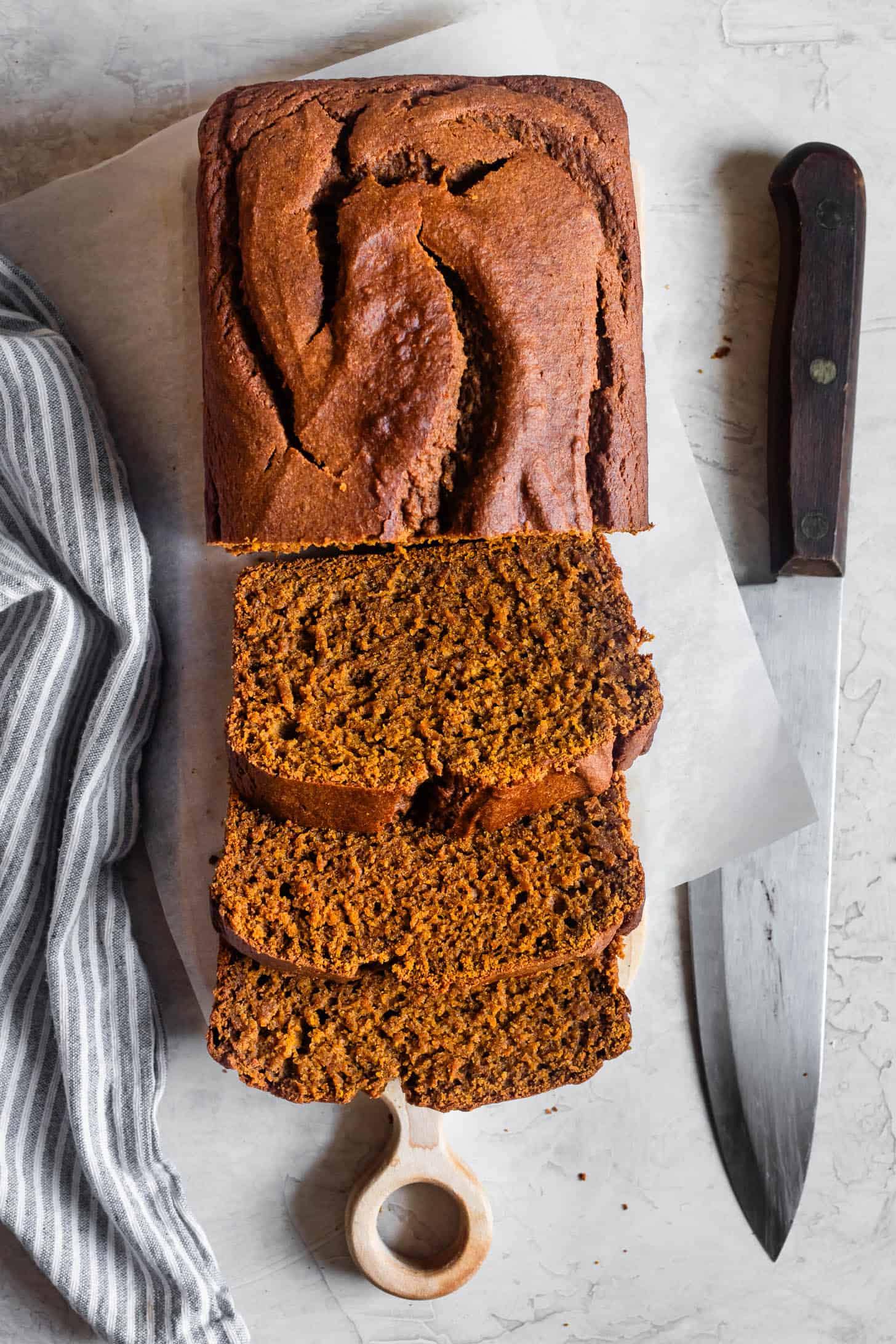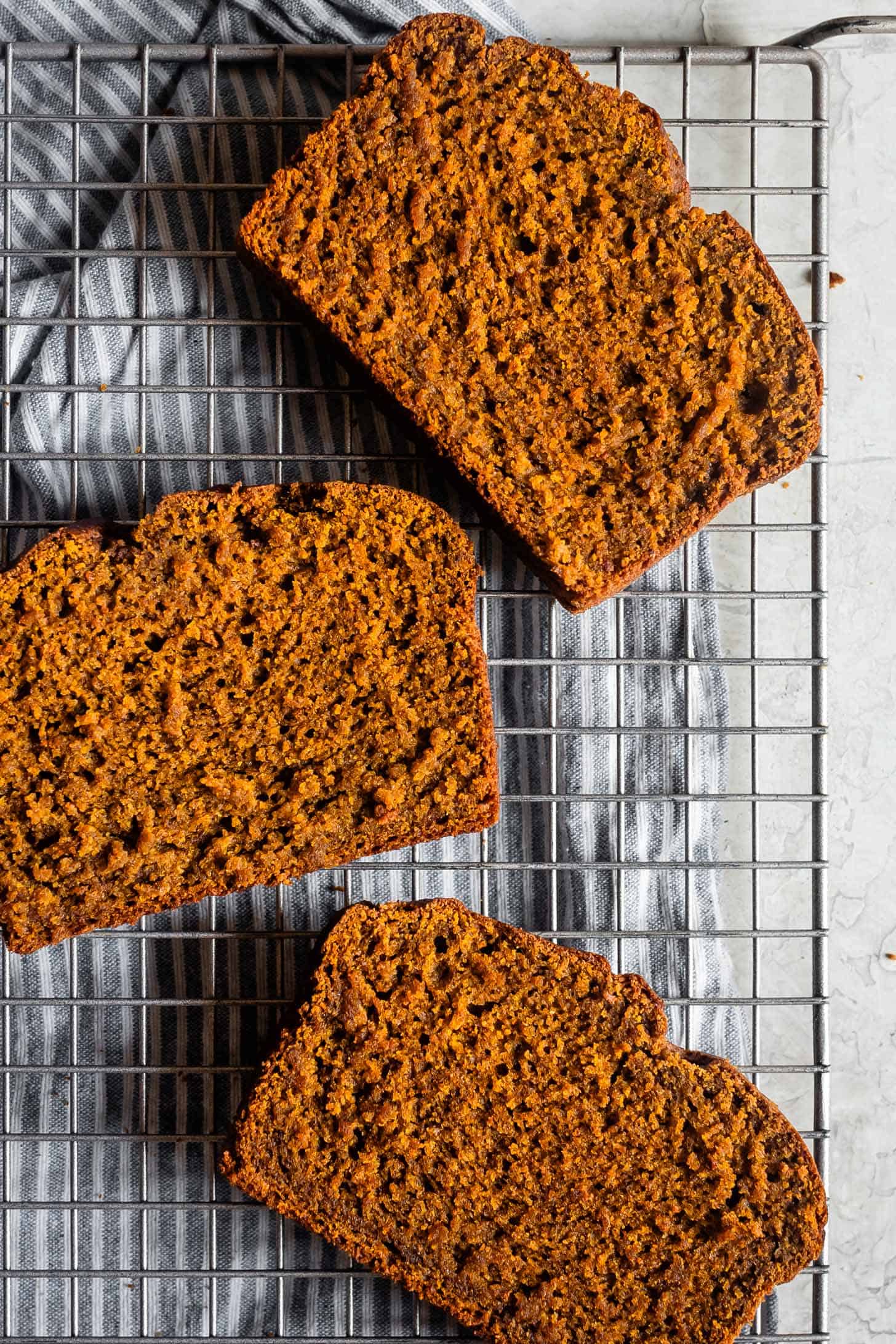 Gluten-free Dairy Free Pumpkin Bread
To make this recipe dairy-free, substitute the milk for plant milk. That's it! The result will be just as delicious.
Optional Pumpkin Bread Add-Ins
Customize this banana bread recipe with your favorite add-ins!
Chocolate chips: Fold up to ⅔ cup semisweet or bittersweet chocolate chips into the batter.
Toasted nuts: Fold up to ⅔ cup toasted nuts (such as walnuts, pecans, or hazelnuts) into the batter or sprinkle them on top. If sprinkling on top, be sure to keep an eye on the loaf as it bakes. If you notice the nuts getting too dark, cover the loaf lightly with foil partway through baking.
Frost or ice it: Top the cooled loaf with either frosting (such as cream cheese frosting, eggnog frosting, or salted caramel frosting) or icing (swap out the lemon in this drizzle with orange juice).
Streusel: Sprinkle the loaf with streusel topping before baking.
How to store gluten-free pumpkin bread
Let the gluten-free pumpkin bread cool completely before storing. Store it sliced or unsliced in an airtight container at room temperature for up to 3 days or in the fridge for up to a week. You can also freeze the pumpkin bread either whole or sliced. Let come to room temperature before serving.
If you can't eat it all at once or just want to make it ahead, you can freeze pumpkin bread for up to 3 months just like you can cake. Either freeze the whole loaf or an unsliced chunk of it in an airtight bag or container. Alternatively, you can wrap up individual slices in plastic wrap foil and freeze them in an airtight container or freezer bag. Defrost the loaf or slices on the counter before enjoying.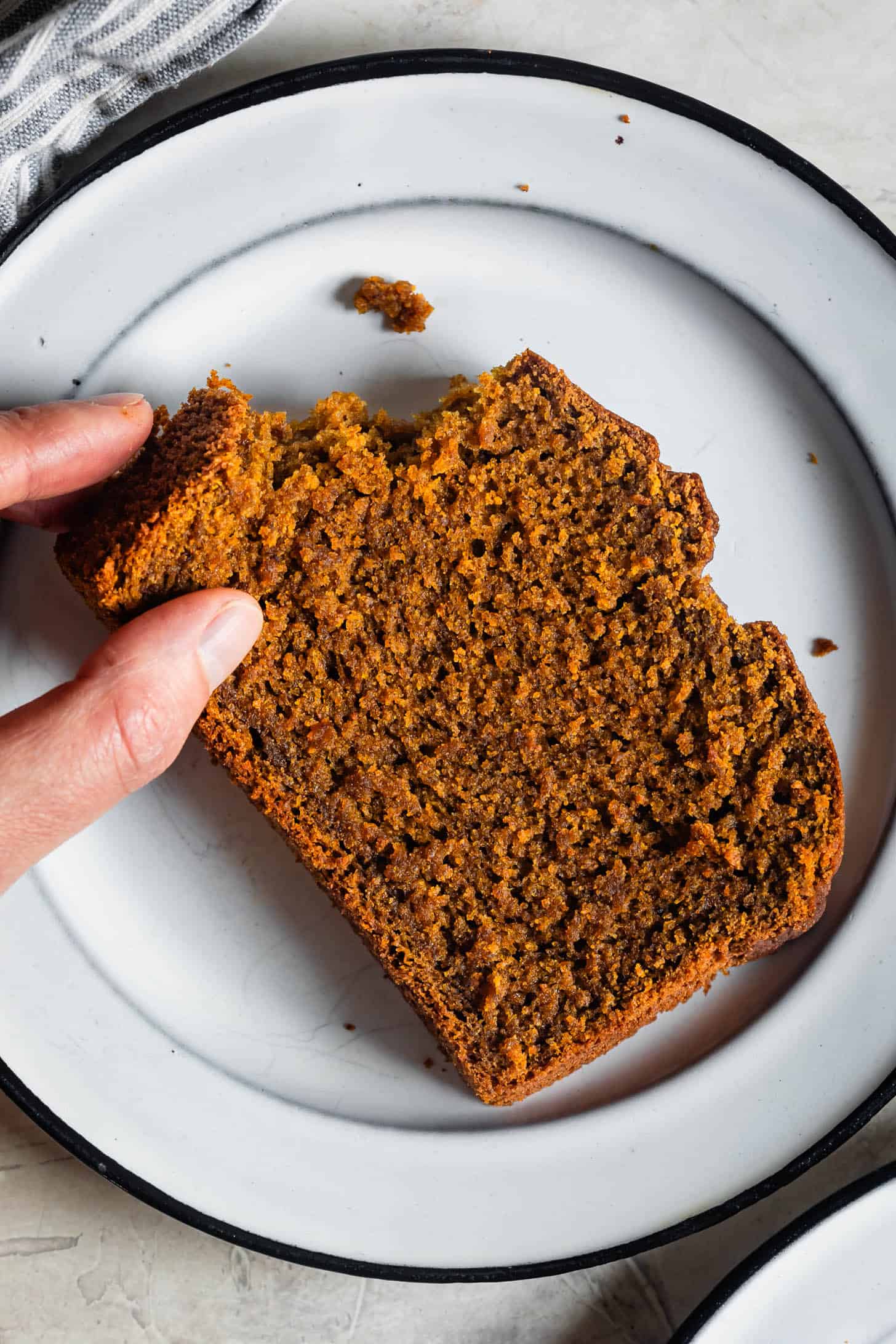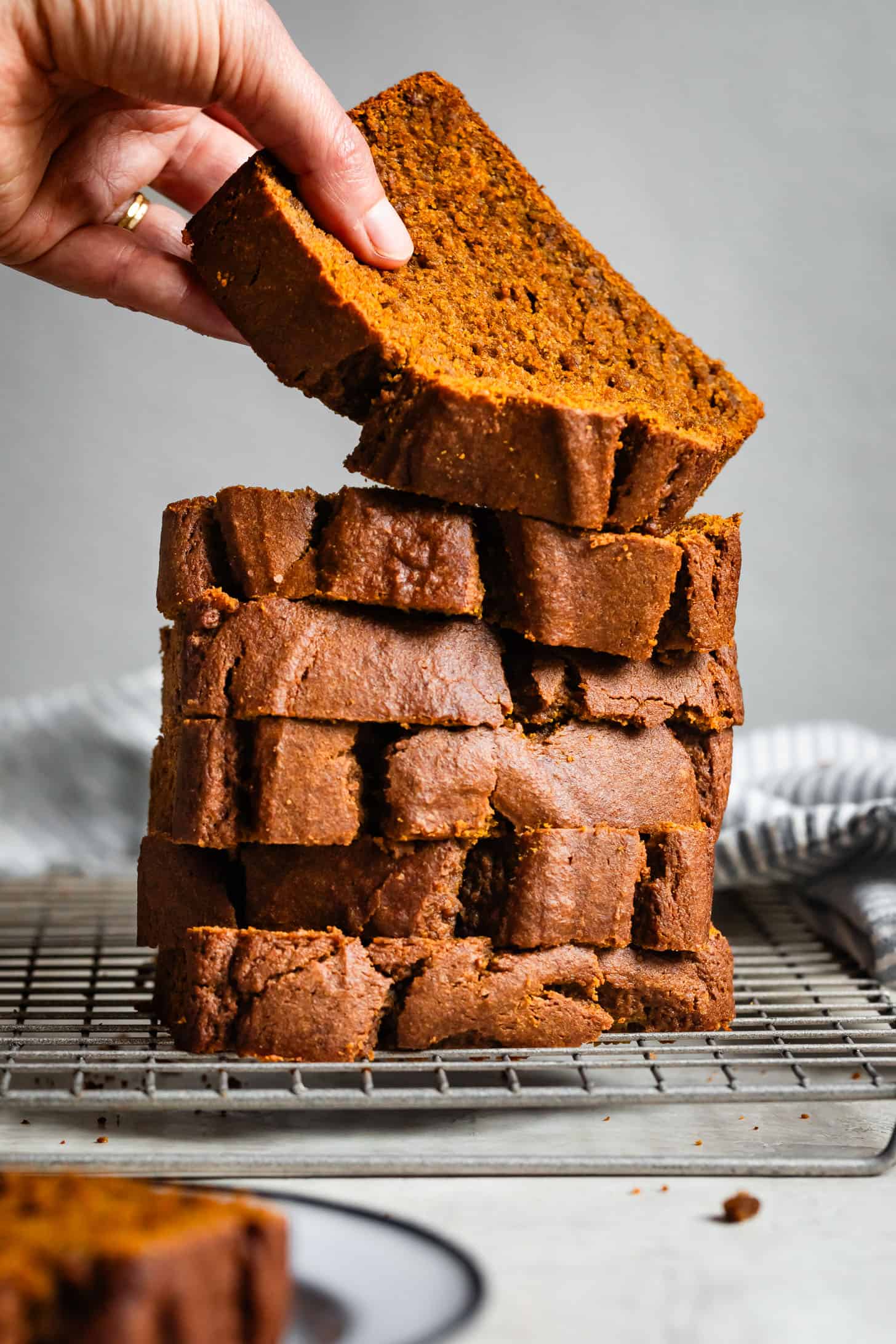 More Gluten-Free Pumpkin Recipes
Here are a few of my time-tested pumpkin recipes that I make on repeat.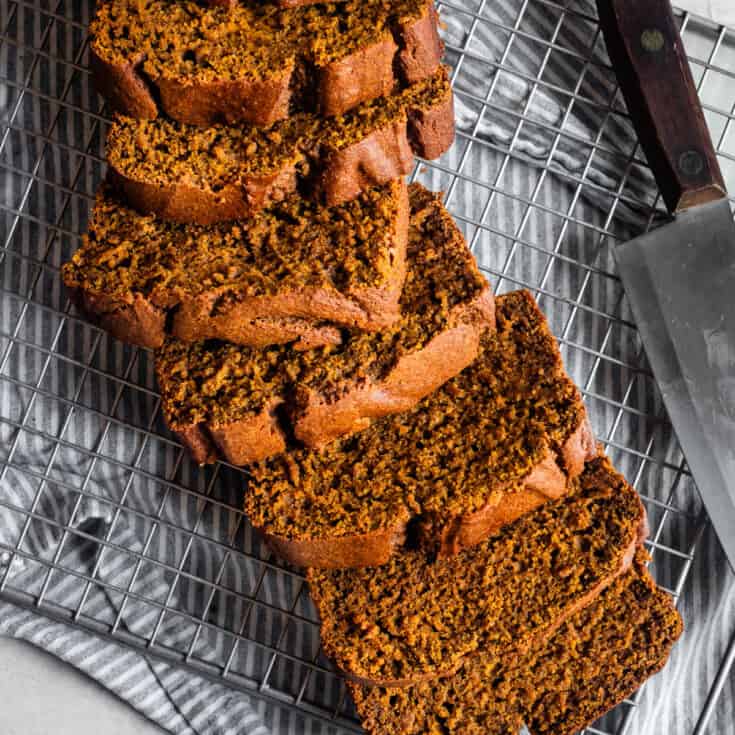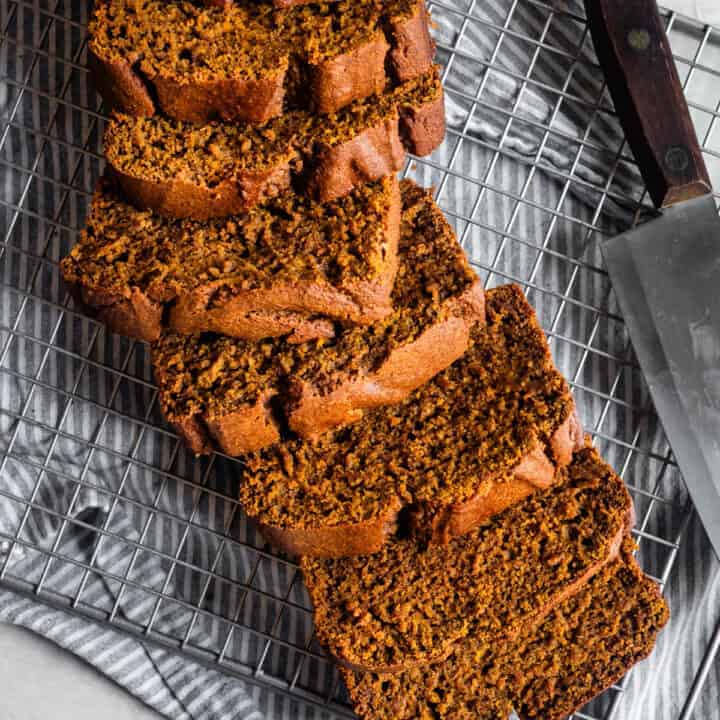 Gluten-Free Pumpkin Bread
Yield:
1 9x5 loaf, 10 servings
Total Time:
1 hour
10 minutes
This is the best gluten-free pumpkin bread - loaded with pumpkin flavor and warm fall spices. The loaf is moist & tender and comes together in 10 minutes with no mixer required. Make this your go-to fall treat! 
Instructions
Grease a 9x5 loaf pan and line it with a sling of parchment paper. Preheat the oven to 350°F.
In a medium bowl, sift together teff flour, oat flour, sweet rice flour, tapioca flour, baking powder, baking soda, salt, cinnamon, ginger, nutmeg, and cloves. Set aside.
In a large bowl, whisk together vegetable oil, dark brown sugar, granulated sugar, eggs, pumpkin puree, vanilla extract, and whole milk until smooth.
Add the dry ingredients and whisk until combined and no lumps remain. Optional: Fold in chocolate chips or any other mix-ins if desired.
Pour the batter into the prepared baking pan and bake on the middle rack for 60-65 minutes, until the center springs back when gently touched and a toothpick comes out of the center clean or with a few moist crumbs. Let cool for at least an hour before slicing.
Slice and serve warm or at room temperature. Let cool completely before storing. Store extra slices in an airtight container on the counter for up to 3 days, in the fridge for up to a week, or freeze it for up to 3 months. Let come to room temperature before serving.