This gluten-free cinnamon rolls recipe is packed with pumpkin and fall spices. They're moist and fluffy with a generous slather of cream cheese glaze on top! Start a holiday morning tradition with these easy gluten-free cinnamon rolls that only require a single rise!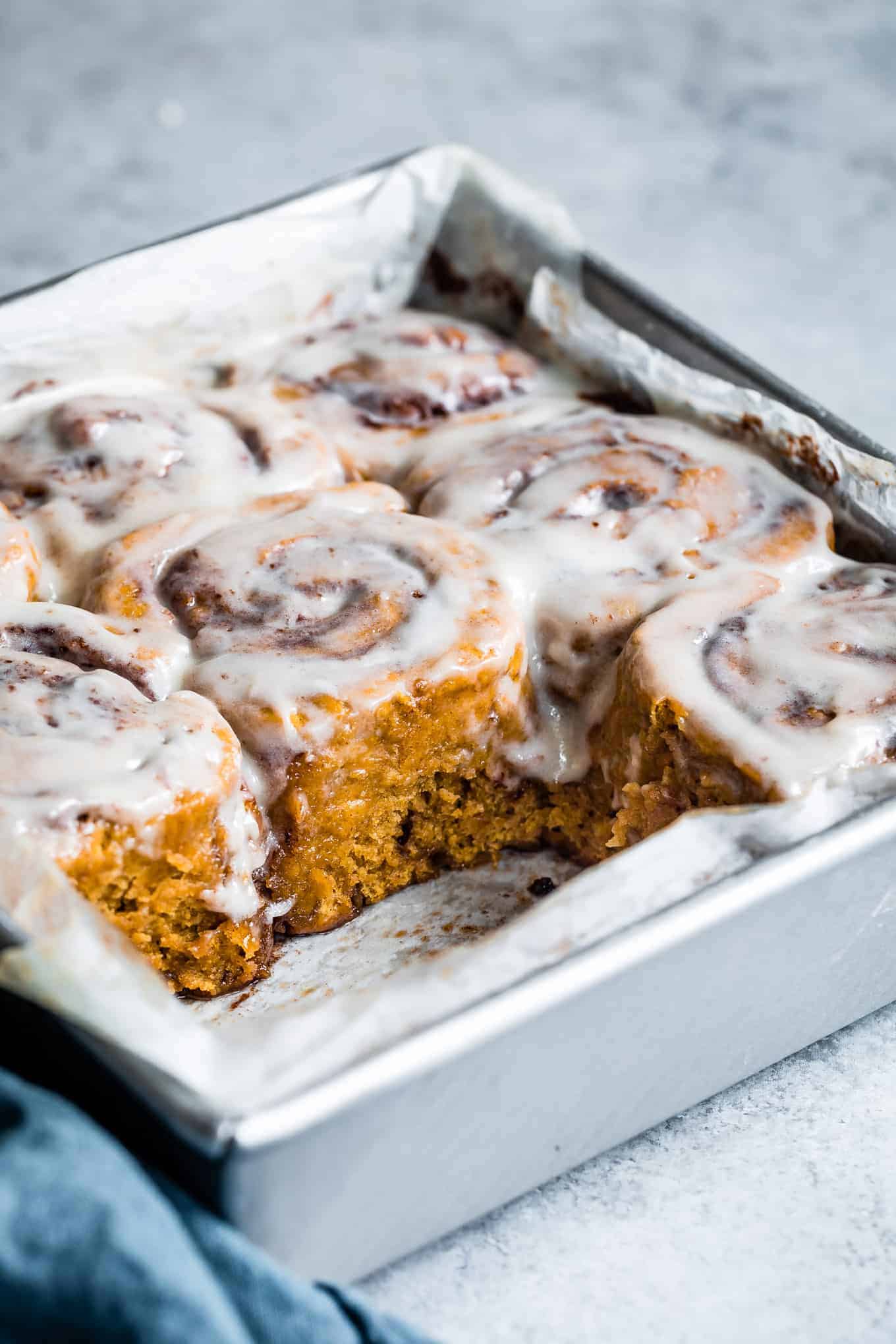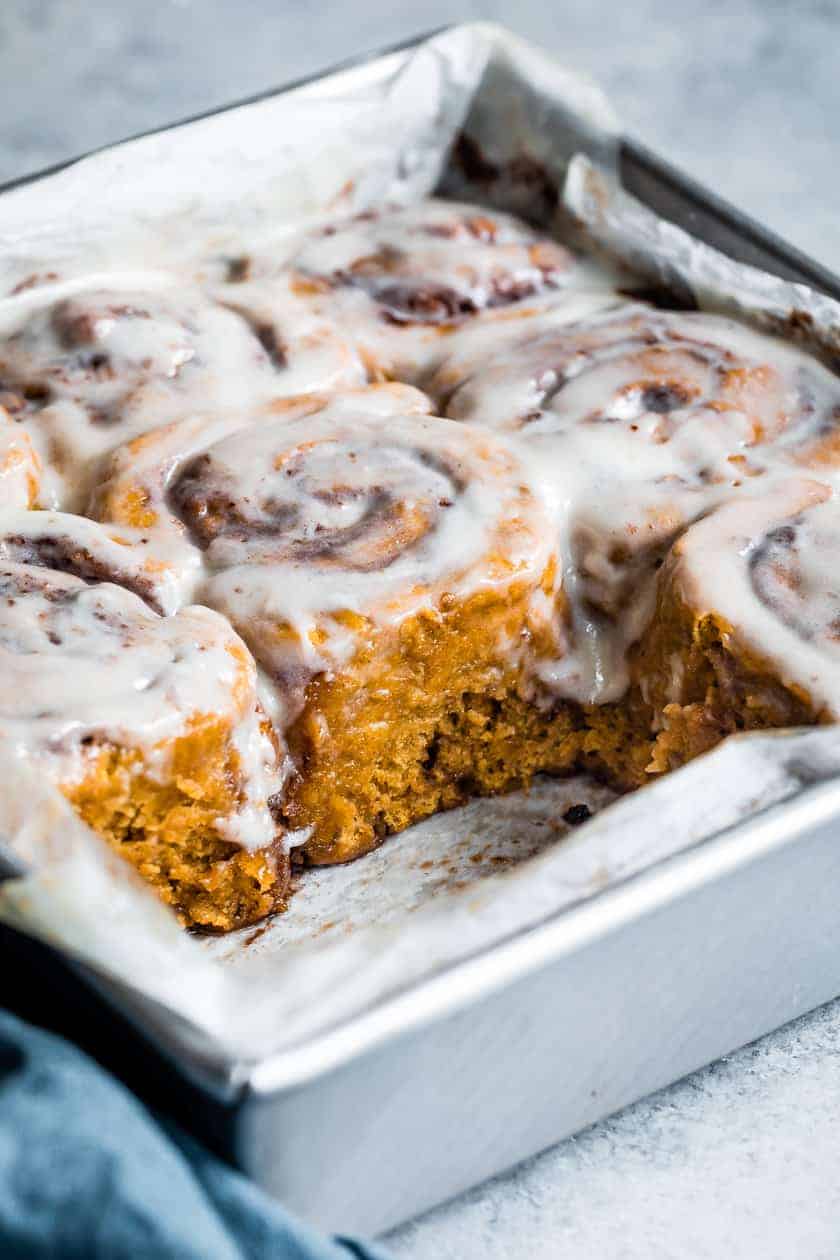 I've made these gluten-free pumpkin cinnamon rolls five times in three days. For three days, Fall's signature scent wafted through our house. Neighbors rotated through my kitchen with plates until I ran out of neighbors to offload fresh-from-the-oven gluten-free cinnamon rolls on.
And I undoubtedly ate way too many cinnamon rolls myself in the span of three days. All in the name of "perfecting the recipe." I regret nothing, except not having a bag of potato chips on standby after batch five.
This morning I swore I wasn't going to eat another pumpkin cinnamon roll. But then I had to taste one to make sure they were still delicious as leftovers with a little reheat (they are) before I wrapped them up for Zo's daycare teacher.
I'm sure you can see where this is going. One forkful and I caved and ate the whole roll.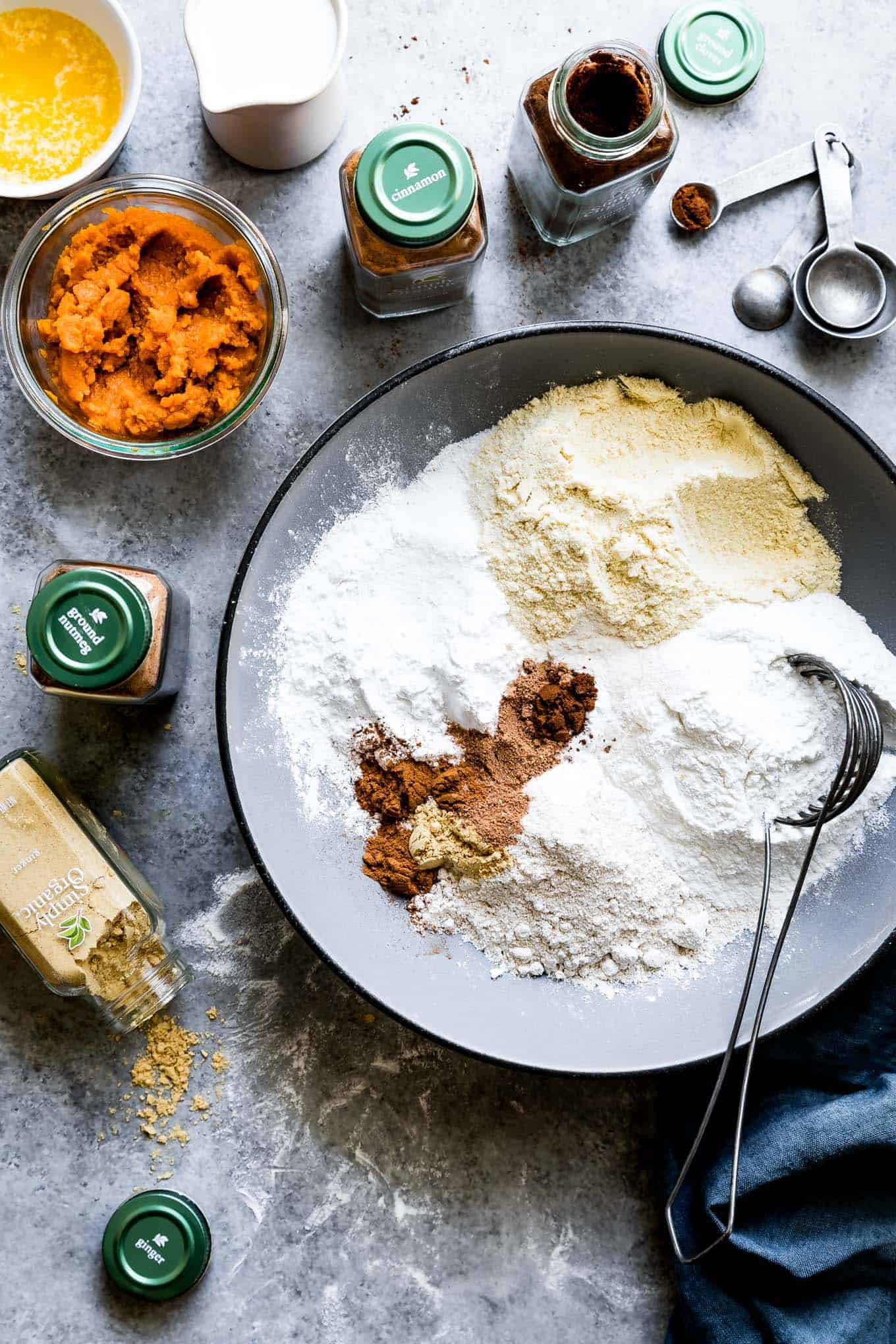 Five batches later and these, my friends, are finally perfect. They're exactly the kind of cinnamon roll I've been craving - super soft, fluffy, and moist and loaded with gooey sugar and spice layers and a healthy drizzle of icing. The crisp outside slowly softens as the glaze seeps its way into the rolls.
Made in partnership with Simply Organic and The Feed Feed, these pumpkin gluten-free cinnamon rolls are the first in a four-part series about the joy of cooking with organic herbs, spices, and extracts. Today, I'm using the nostalgic spices of fall: cinnamon, nutmeg, ginger, and cloves.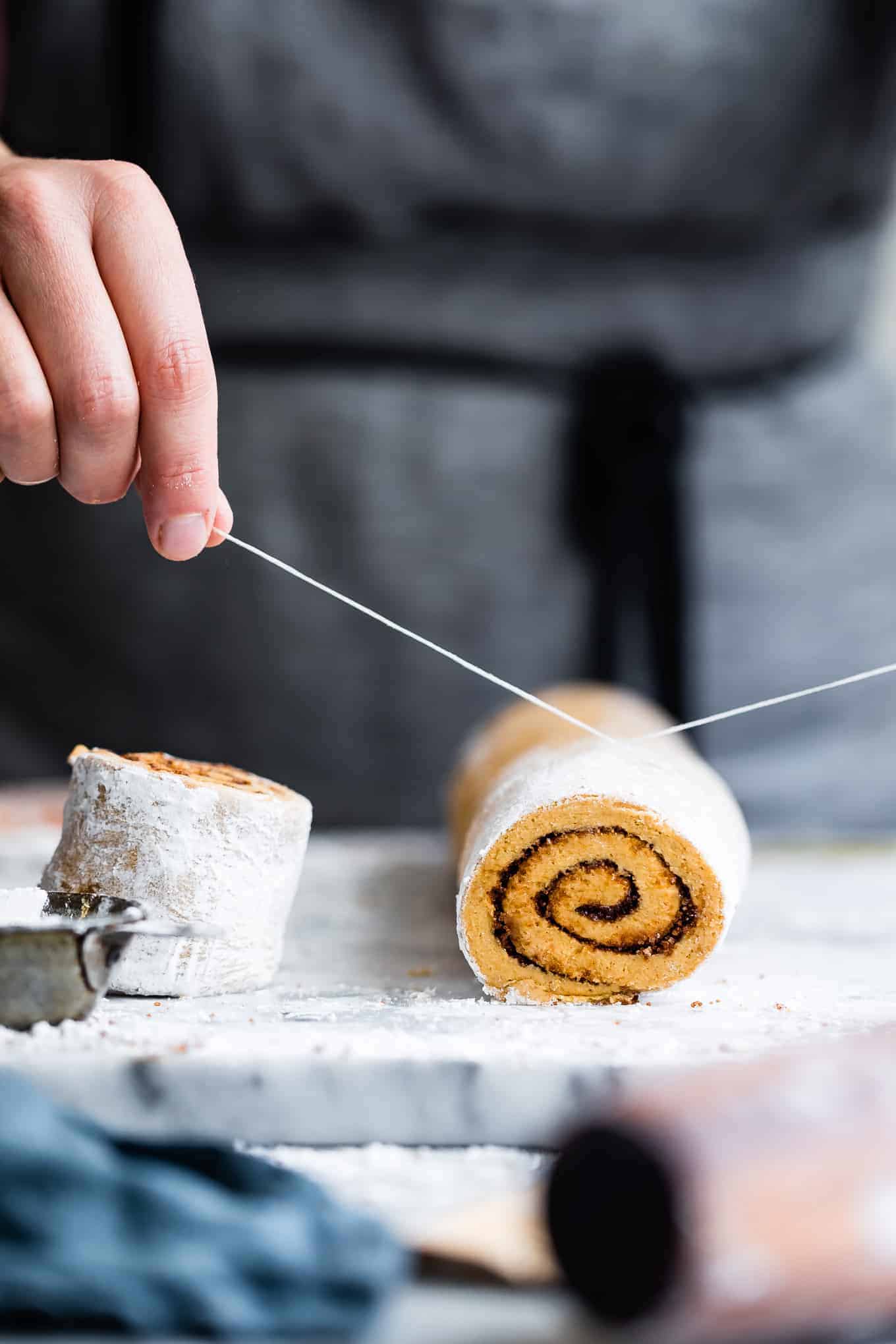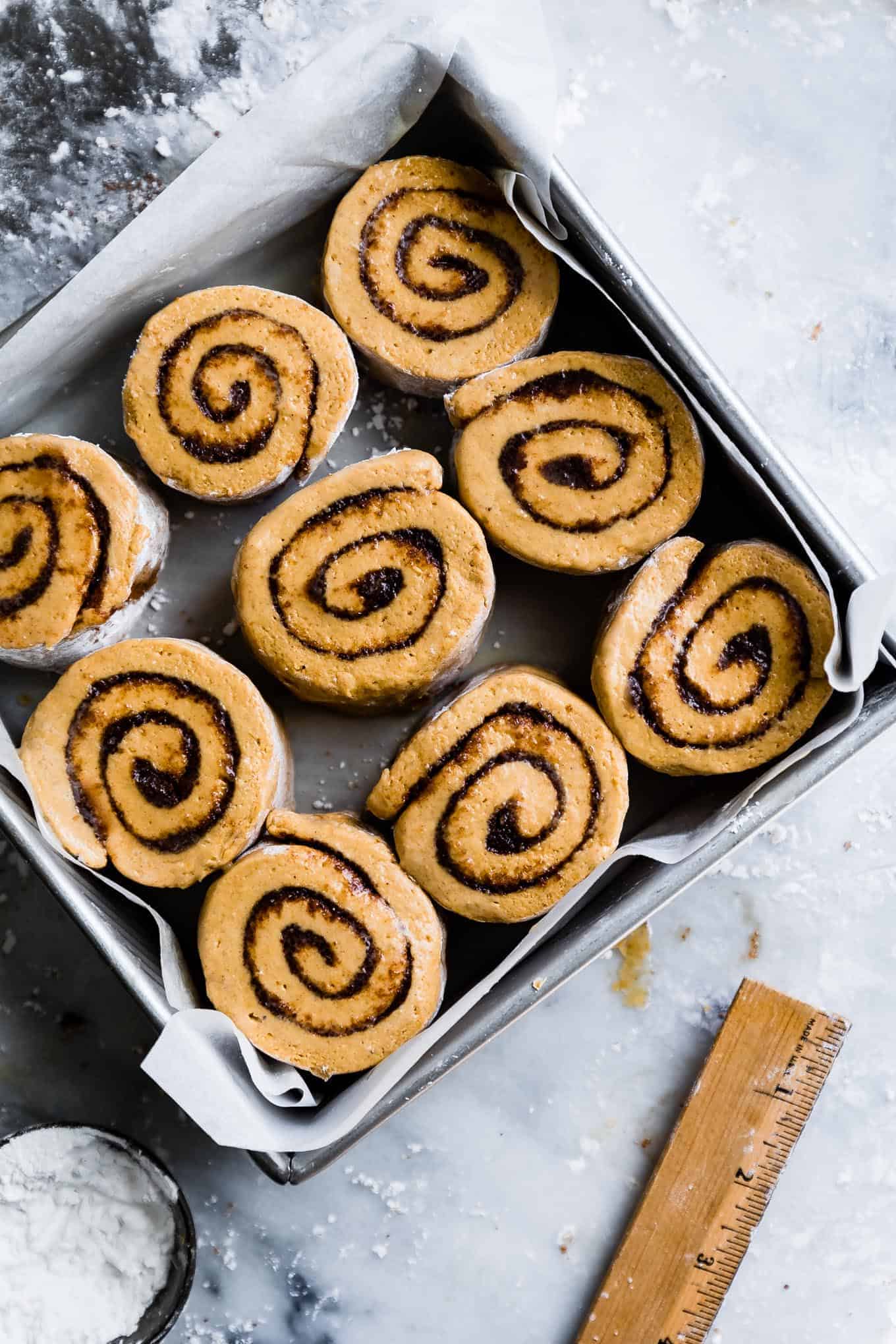 Homemade pumpkin spice
Pumpkin desserts are all the rage. Come Fall, the world can't seem to get enough. When it comes down to it, though, it's really pumpkin spice that's got the addicting nostalgic draw. The familiar smell that evokes that comforting feeling of fall baking, that warm and cozy flavor - we can thank the spice profile we pair with pumpkin for that.
For these pumpkin cinnamon rolls, I made my own pumpkin spice blend using the same four pantry staple spices that make up Simply Organic's signature blend.
As long as you've got cinnamon, nutmeg, ginger, and cloves on hand, you're one can of pumpkin away from a nostalgic pumpkin spice dessert. My homemade pumpkin spice blend uses 1½ teaspoons ground cinnamon, 1 teaspoon each ground nutmeg and ginger, and ¼ teaspoon ground cloves. All four of these Simply Organic spices are staples in my pantry, and I use them so frequently that I know I'm using the freshest most fragrant spices.
You can certainly grab up a jar of pumpkin spice to replace the individual spices in this recipe if that's more your jam - Simply Organic makes theirs with cinnamon, nutmeg, ginger, and cloves. It's so good you'll probably start adding it to your latte.
Either way, when Fall's aromatic spices are involved, you can't go wrong.
Single-rise easy gluten-free cinnamon rolls
The first few iterations of this recipe followed the standard cinnamon roll method: Dough - rise 1.5 hours - make cinnamon rolls - rise 1.5 hours - bake. And they were delicious, but lacked that softness found in regular gluten cinnamon rolls. They were very moist (too moist maybe) and dense, lacking the air bubbles you find in regular buns. Tasty, but needed work.
So I added a few things that should help trap in those air bubbles:
Apple Cider Vinegar: a splash of apple cider vinegar to help activate the yeast and add structure
Baking Powder: to help them rise just a little more
An egg white: to suck out a bit of the moisture added by the pumpkin.
Single Rise: The double rise of regular dough creates a finer gluten structure, so you don't end up with large air bubbles. Except we aren't using gluten here! And we want more air bubbles.
The batch with just one rise? The best gluten-free cinnamon buns. Make your dough, roll it out into cinnamon rolls, let it rise in the pan, bake. With this method, you're 1.5 hours closer to soft pillows of spiced pumpkin cinnamon rolls. And that's 1.5 more hours of sleep you'll get in the morning.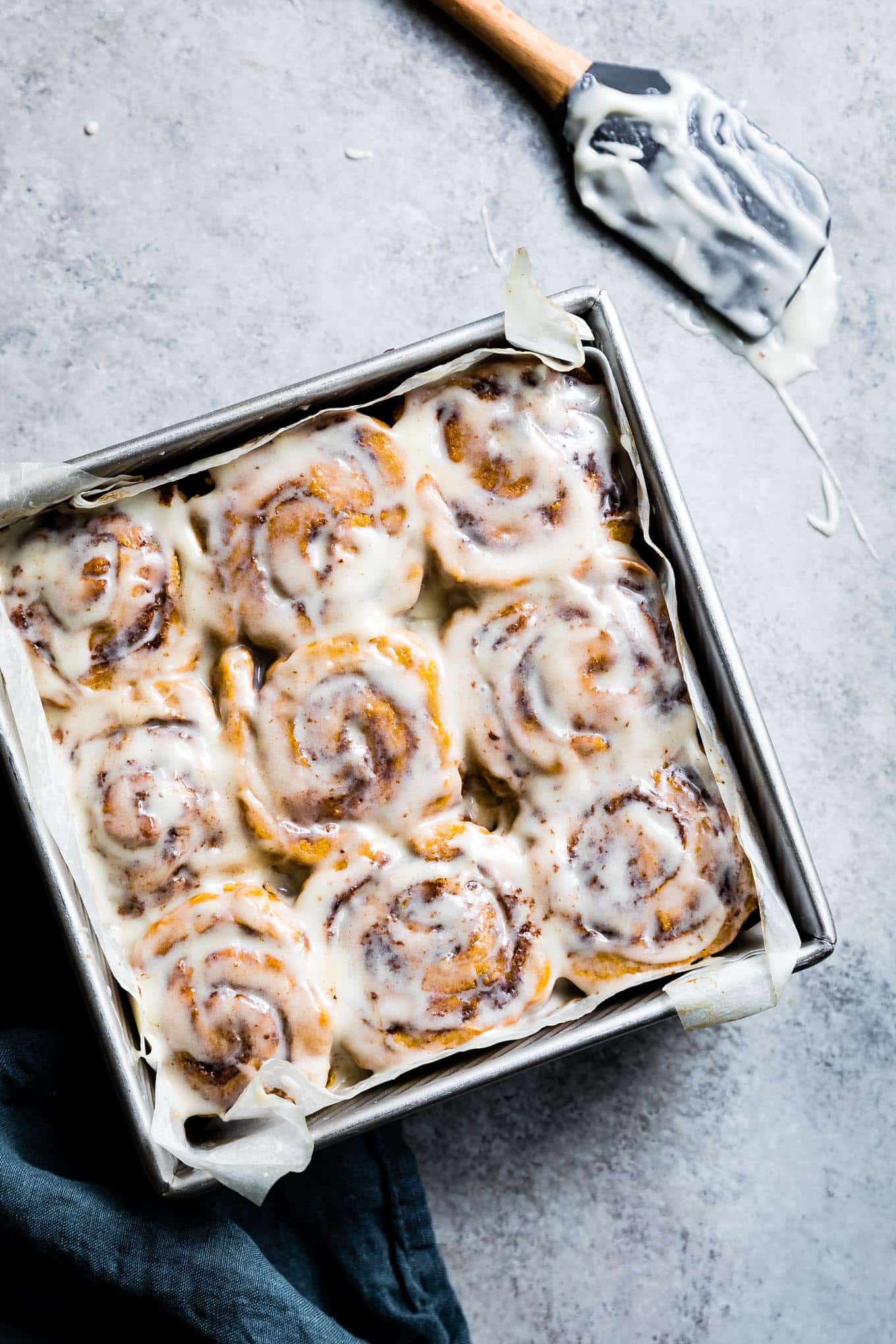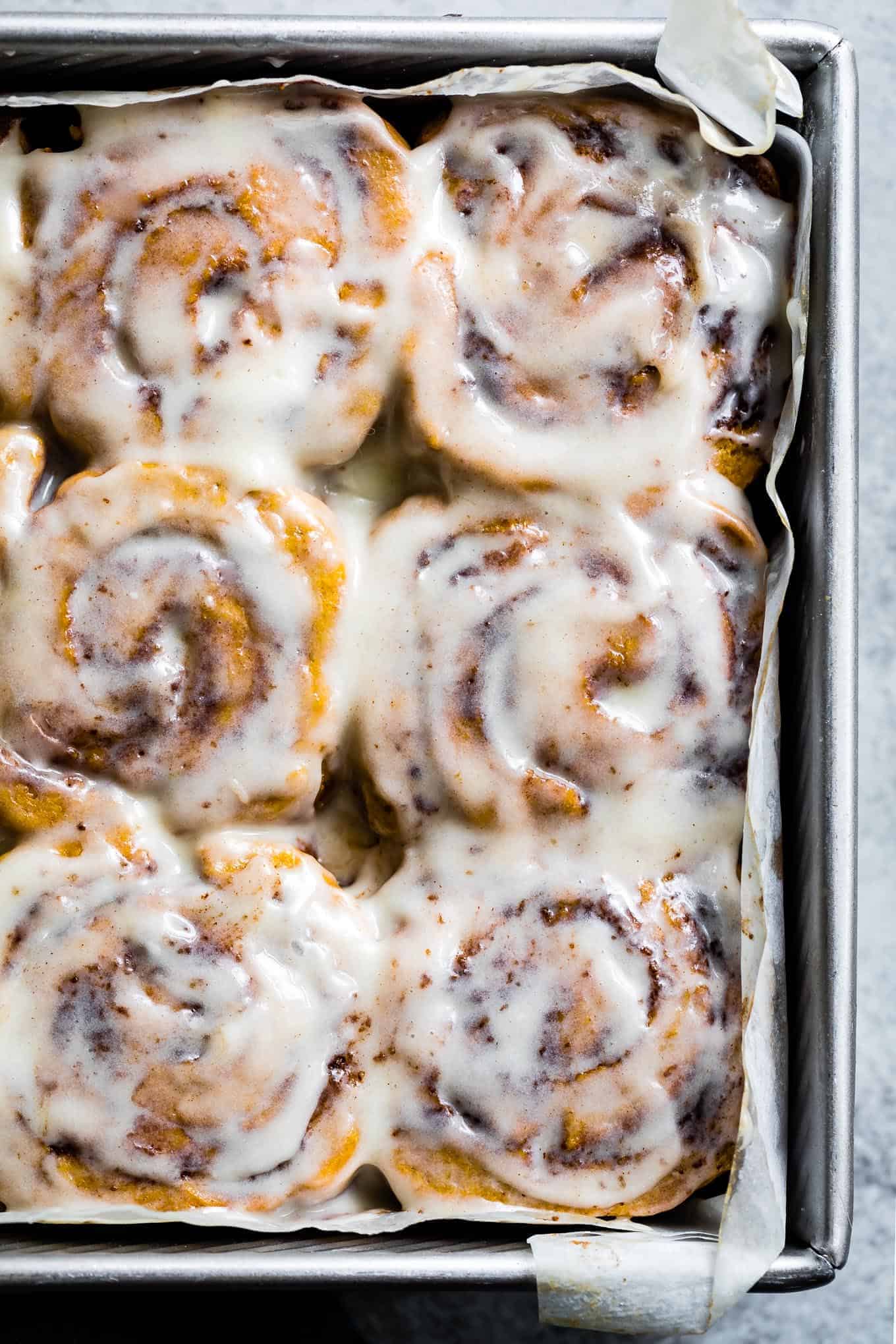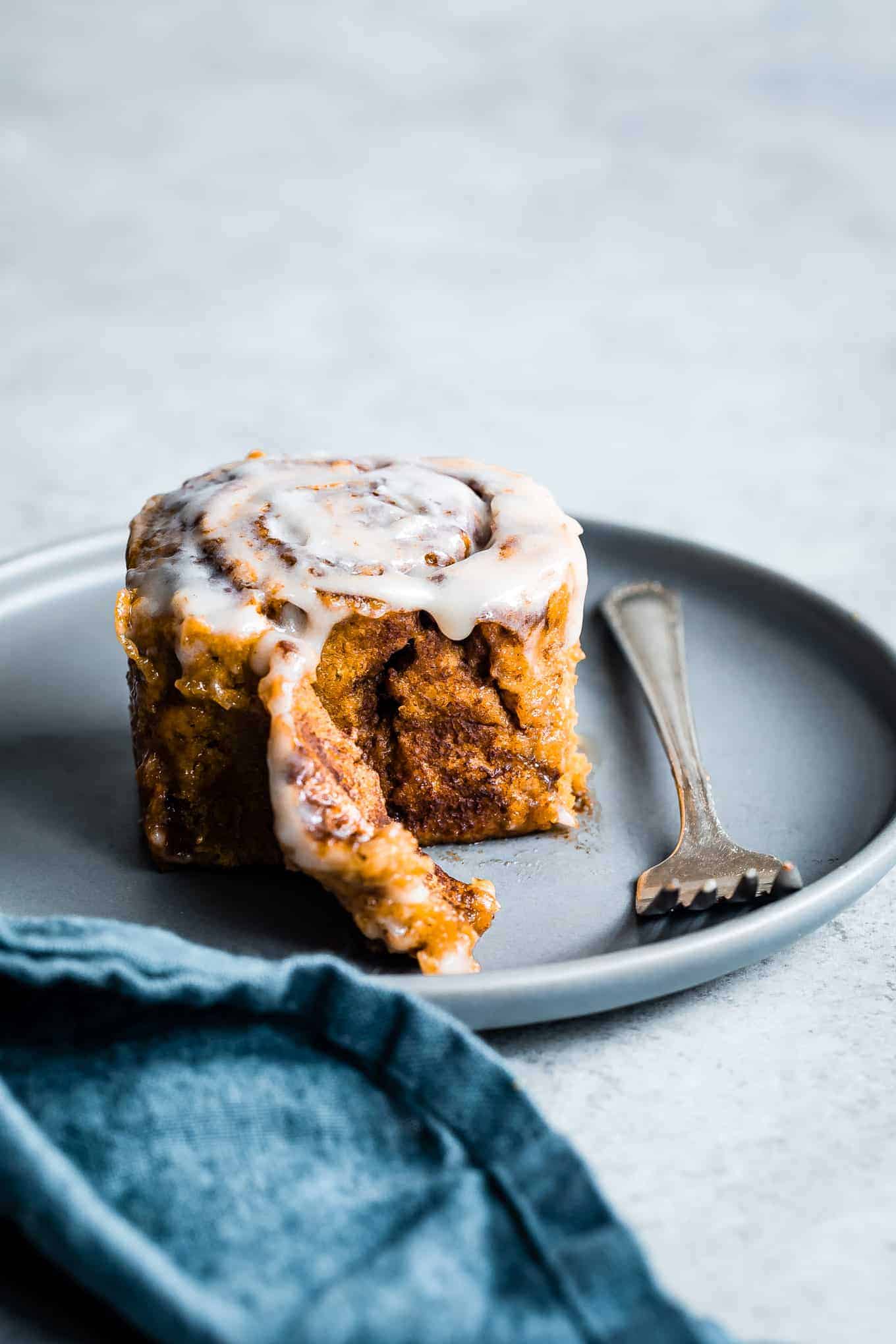 The different types of cinnamon rolls
With all my neighbors tasting and weighing in on the batches, it's come to my attention that there are many different types of cinnamon rolls and people have strong opinions about which kind is right.
Soft and fluffy: There's the dough that bakes up almost like donuts - soft and airy. They're light and fluffy inside and stretch a bit when pulled apart.
Denser and more moist with crisp edges and soft centers: Then there are cinnamon rolls that are a little denser in structure, they're moist with slightly crispy edges and the center softens as you peel away the layers, revealing the ultimate soft cinnamon-spiced center.
These pumpkin gluten-free cinnamon rolls are most like the latter, with one caveat. While the very edges of these rolls are crisp, the inside immediately reveals a soft moist structure that's as if we took the best part of regular cinnamon rolls - the center- and made that the whole roll.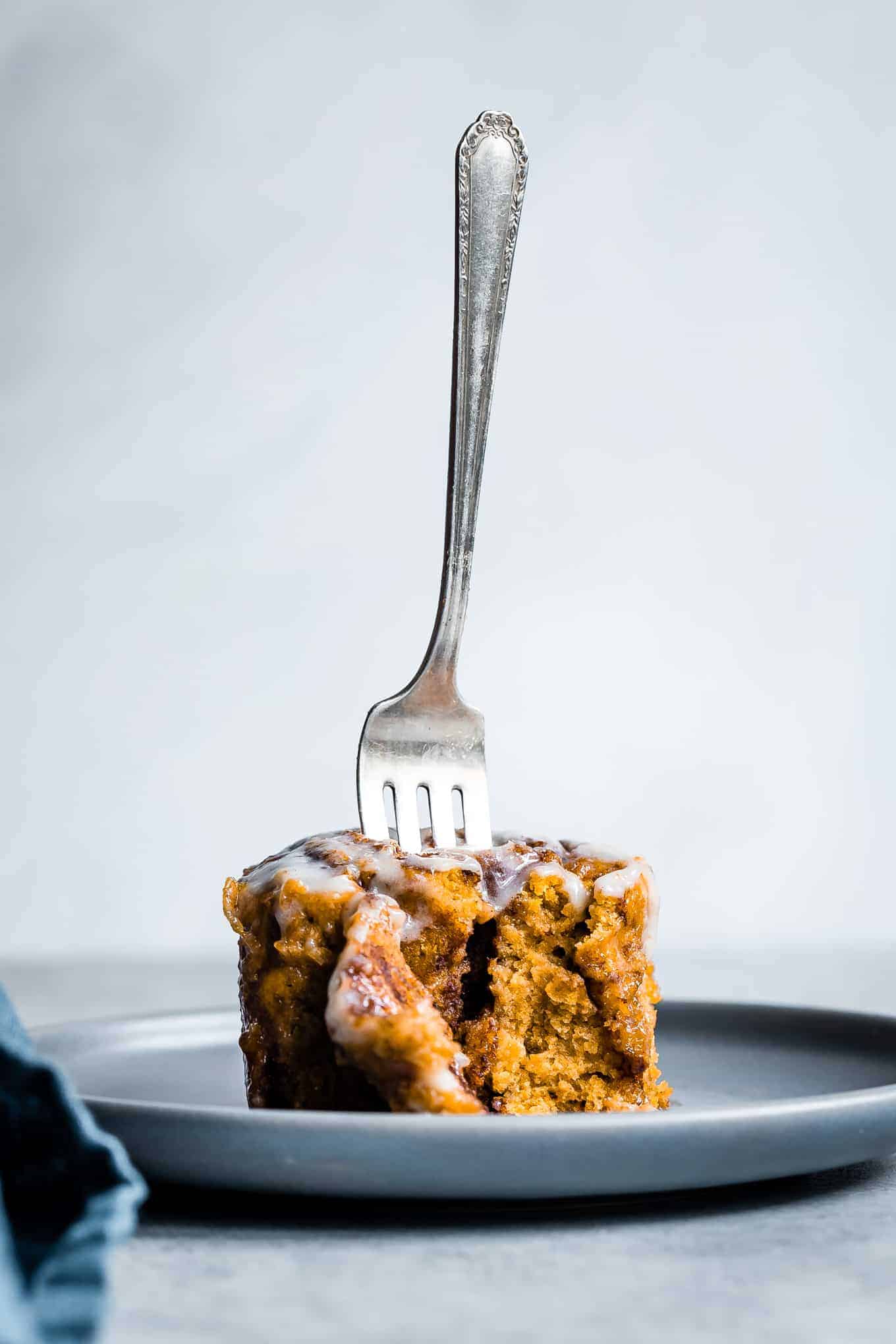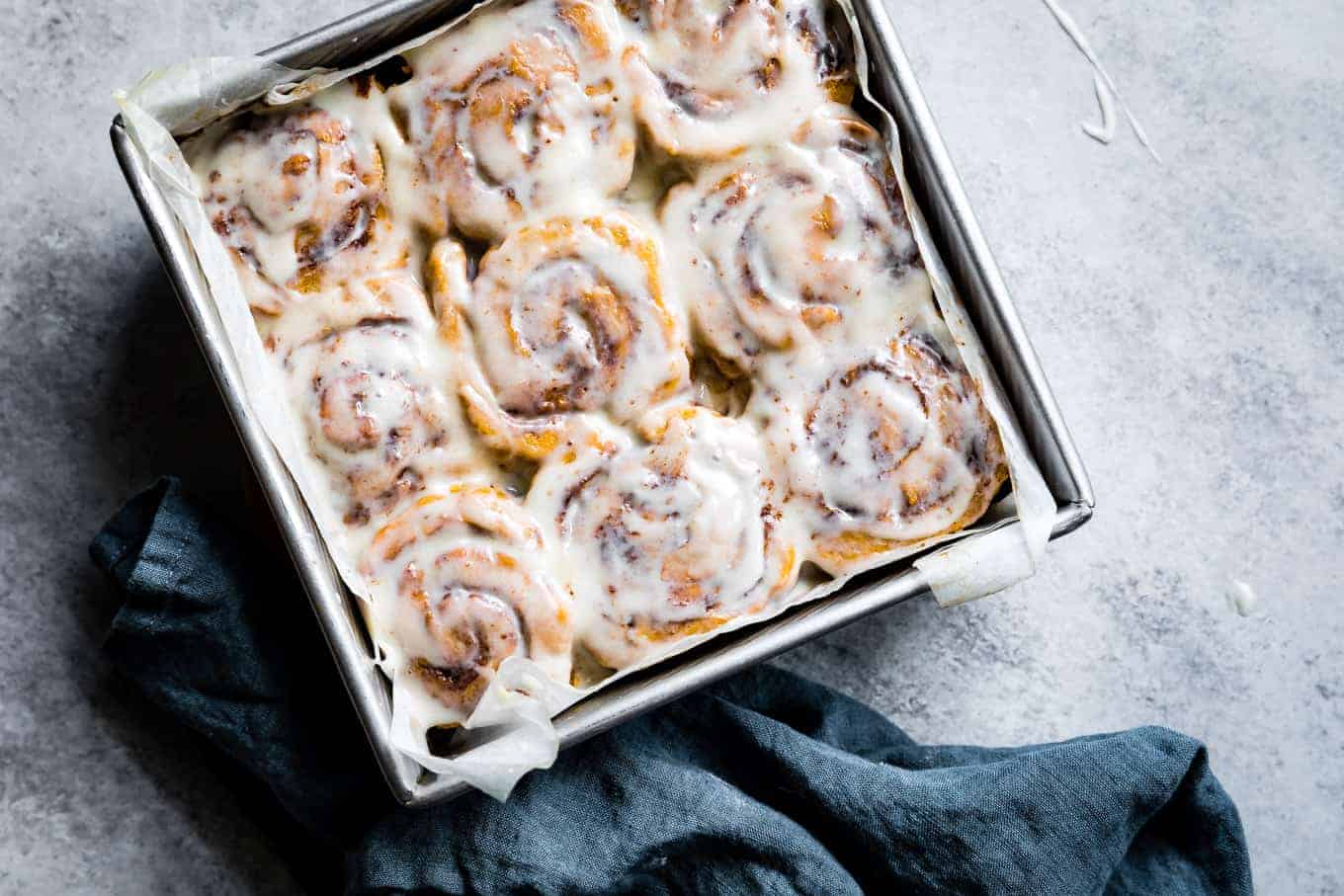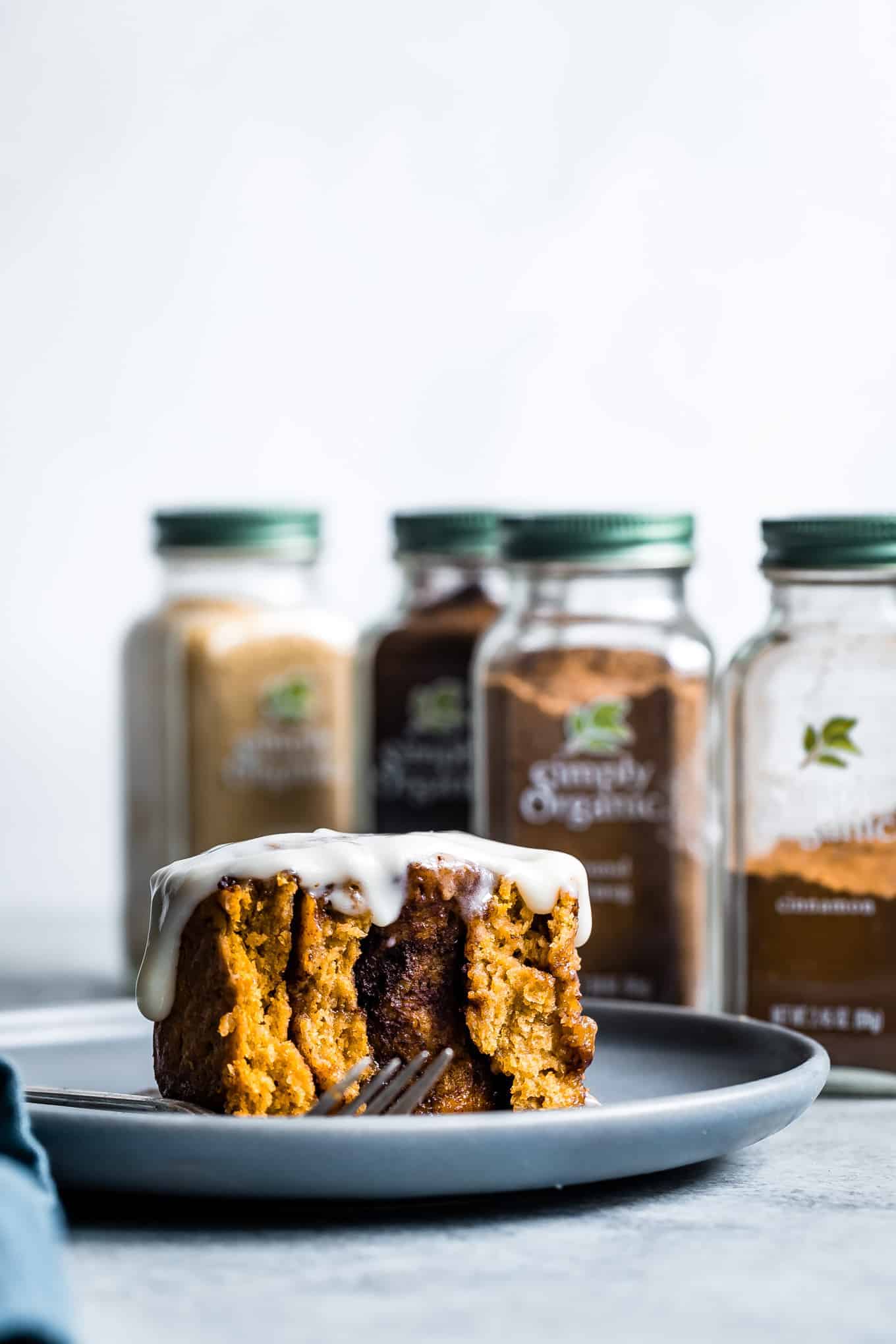 Cook for Joy with Pumpkin Cinnamon Rolls
The final test batch came out of the oven just before dinnertime. I ate the first one with my fingers standing over the stovetop, then raced in to give Lucas a bite. Zoella, 2.5 years old, looked up from the story they were reading and asked for one too.
We're pretty strict with her when it comes to desserts and dessert before dinner is unheard of in our house. And still, I couldn't resist giving her a small bite to see the pure joy on her face as she conclusively decided she likes cinnamon rolls. She left the book behind to follow me to the kitchen for another bite, "can I have another bite, please, mama?" She's got me wrapped around her little finger.
When Zoella told my mom she loves cinnamon rolls, my mom fondly recalled how her mom used to make cinnamon rolls every Christmas morning. My memory of my grandma is that she did not cook, yet she got up SUPER EARLY every Christmas morning to make cinnamon rolls for her daughters.
There's a reason so many others have a similar cinnamon roll family tradition. The pure simple joy that a batch of fresh-from-the-oven cinnamon rolls evoke is worth its weight in gold. Just as long as you slather it in plenty of cream cheese icing, or as my French Canadian friend Alex referred to it when he forgot the word for icing, "extra cake gravy."
And now, just like my grandma, these pumpkin gluten-free cinnamon rolls will be my holiday morning legacy.
Plain Gluten-Free Cinnamon Rolls
You can also get my recipe for more classic gluten-free cinnamon rolls if pumpkin isn't what you're looking for!
Disclosure: Special thanks to Simply Organic and The Feed Feed for providing the ingredients for this recipe and sponsoring this post! And thanks to you for supporting the companies that keep Snixy Kitchen cooking!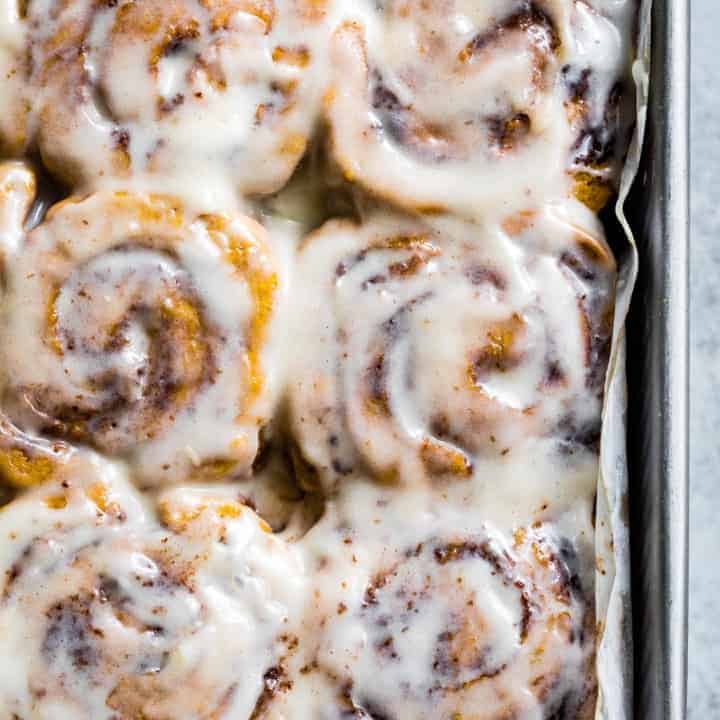 Pumpkin Gluten-Free Cinnamon Rolls
Additional Time:
1 hour
30 minutes
Total Time:
2 hours
45 minutes
This soft and chewy gluten-free cinnamon rolls recipe is loaded with pumpkin and fall spices. Topped with a gooey cream cheese glaze, these cinnamon buns are perfect for your holiday breakfast!
Ingredients
Gluten-free Pumpkin Cinnamon Rolls
½ cup whole milk
3 tablespoons + 1 teaspoon cane sugar, divided
2¼ teaspoons active dry yeast (1 ¼-ounce package - not instant)
1 teaspoon baking powder
¾ teaspoon kosher salt
¾ cup + 3 tablespoons pumpkin puree*
4½ tablespoons unsalted butter, melted and cooled
3 tablespoons light brown sugar
1 tablespoon apple cider vinegar
1 large egg
1 large egg white
Cinnamon Nutmeg Sugar Filling
5 tablespoons unsalted butter, melted cooled and divided
½ cup packed dark or light brown sugar
2 tablespoons granulated sugar
Cream Cheese Glaze
3oz cream cheese, room temperature
1½ cups powdered sugar, sifted
1-1½ tablespoons whole milk
Instructions
First prepare an 8x8 pan by lining it with parchment paper and buttering the paper with ½ tablespoon of the filling butter (Alternatively, skip the parchment paper and butter the pan directly - it's just more messy, but works great!).
Prepare the cinnamon nutmeg sugar filling. Combine the filling light brown sugar, cane sugar, cinnamon, and nutmeg in a small bowl. Set aside
Warm the milk in a small pot to between 105-115°F (if you go over, just let it cool until the temperature is in that range). Transfer to a wide bowl and mix in 1 teaspoon sugar. Slowly sprinkle the yeast over the warm milk and use a spoon to mix completely. Let set aside for 10 minutes while the yeast activates and foams. If your yeast hasn't gotten foamy by 10 minutes, you may have bad yeast and you should try again with a new packet.
In a medium bowl, whisk together the tapioca starch, oat flour, millet flour, sweet rice flour, xanthan gum, baking powder, salt, cinnamon, nutmeg, ginger, and cloves. Set aside.
In the bowl of a stand mixer fitted with the paddle attachment, or a large mixing bowl with a hand mixer, combine the pumpkin puree, butter, remaining 3 tablespoons sugar, light brown sugar, and apple cider vinegar and mix until smooth. Add the egg and egg white and mix until completely incorporated. Add the yeast mixture and mix until completely incorporated.
With the mixer on low, slowly add the dry ingredients to the wet ingredients and mix until completely incorporated. Change to the dough hook and knead the dough on low for 1 minute. Let it rest for 1 minute. Knead again for one minute. Repeat 2x. The dough will be sticky (more so than gluten yeast dough), but if you pinch a tablespoon of dough off an set it on the surface, it should hold its shape. If it doesn't*, add 2-4 more tablespoons of tapioca starch until it's a little less soft and holds its shape.
Using a tapioca starch covered hands or spoon, scrape the dough out onto a surface floured well with tapioca starch and sprinkle it well with tapioca starch on top too. Roll your dough out to an 11x16 rectangle.
Brush the dough with 4 tablespoons of the filling butter, reserving ½ tablespoon for brushing on top. Sprinkle the cinnamon nutmeg sugar filling over the surface.
Starting with the long edge, tightly roll up the dough into a spiral. I used a bench scraper to help me roll it to make sure it doesn't stick to the surface. If you need to add more tapioca starch on the spiral as you roll, that's fine! It will just make your filling a little gooier, which, in my opinion is good.
Tap in the sides so they're flat and use a ruler to divide your log into 9 equal pieces (about 1.75 inches long). Cut into spirals using one of two methods: 1. Use unflavored dental floss or 2. A serrated knife with very gentle back and forth movements and no downward pressure. Place your cut rolls face up in the prepared pan. Brush tops with remaining butter. Cover the pan with plastic wrap and let rise in a warm draft-free place for 1.5 hours until it has doubled in size and the cinnamon rolls are kissing each other. I let mine rise in the "proof" setting of my oven. Note: Your rolls WILL appear cracked on the top. This is normal and okay because it affects the taste none and you're definitely going to cover that up with icing.
Preheat the oven to 350°F. Bake the rolls for 40-45 minutes, until they're firm to the touch (and if you have an oven thermometer, the bottom third of the rolls reads at least 205°F.).
While the rolls bake, prepare the glaze. Mix the cream cheese and powdered sugar in the bowl of a stand mixer until combined. Add milk and mix until you get your desired consistency. I make mine halfway between thick frosting and drizzle-able icing.
When the rolls come out of the oven, cover them in icing and serve warm! Cinnamon rolls are best served warm fresh out of the oven and will become more dense the longer you wait. If you don't eat them right away, you can reheat leftover buns in the oven for 5-10 minutes at 375°F or for 45 seconds in the microwave.
Notes
*Organic pumpkin purée is typically more wet (and less orange) than non-organic pumpkin purée for some reason. I've noticed that some organic pumpkin purées are incredibly wet and runny which will make these rolls more difficult to roll out. If you use organic pumpkin purée, you will likely need to add the additional tapioca starch noted in step 6. My other recommendation is to start by pressing your pumpkin purée through a cheese cloth before measuring it to get a thicker less wet purée which will make rolling out the rolls much easier!