These classic gluten-free cinnamon rolls are tender and gooey with a crisp shell. Make them the night before and pop them in the oven when you wake up for warm freshly baked cinnamon rolls with cream cheese icing.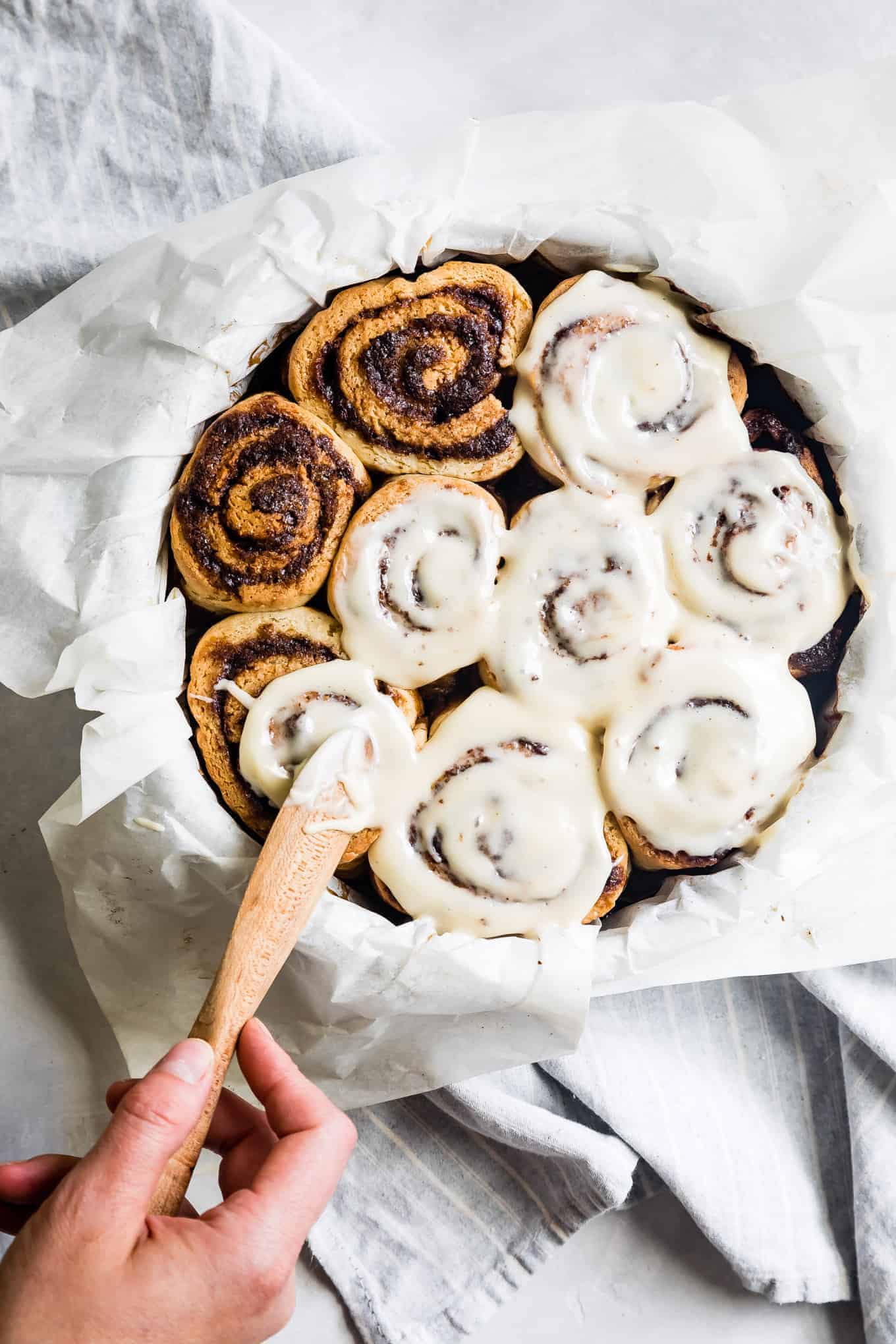 This morning on the way to school, I told Zoella, "You know how much I love you? I love you to the moon and back!" In her most annoyed tone ever, she quipped back, "I already know that because you tell me all the time! Stop telling me - I just know that mom!"
She's three. Going on Sixteen.
If I'm not allowed to tell my daughter how much I love her anymore, I'll profess my love into this pan of gluten-free cinnamon rolls instead. It doesn't talk back and rewards me generously.
Best Gluten-Free Cinnamon Rolls
Since I posted my pumpkin gluten-free cinnamon rolls last year, I've received dozens of requests for a classic gluten-free cinnamon rolls recipe. They're finally here!
These gluten-free cinnamon rolls are tender and fluffy with a warm gooey center. A crisp shell softens as the cream cheese icing nestles among the layers. Everything you love about classic cinnamon rolls, but with nutritious flavorful gluten-free flours.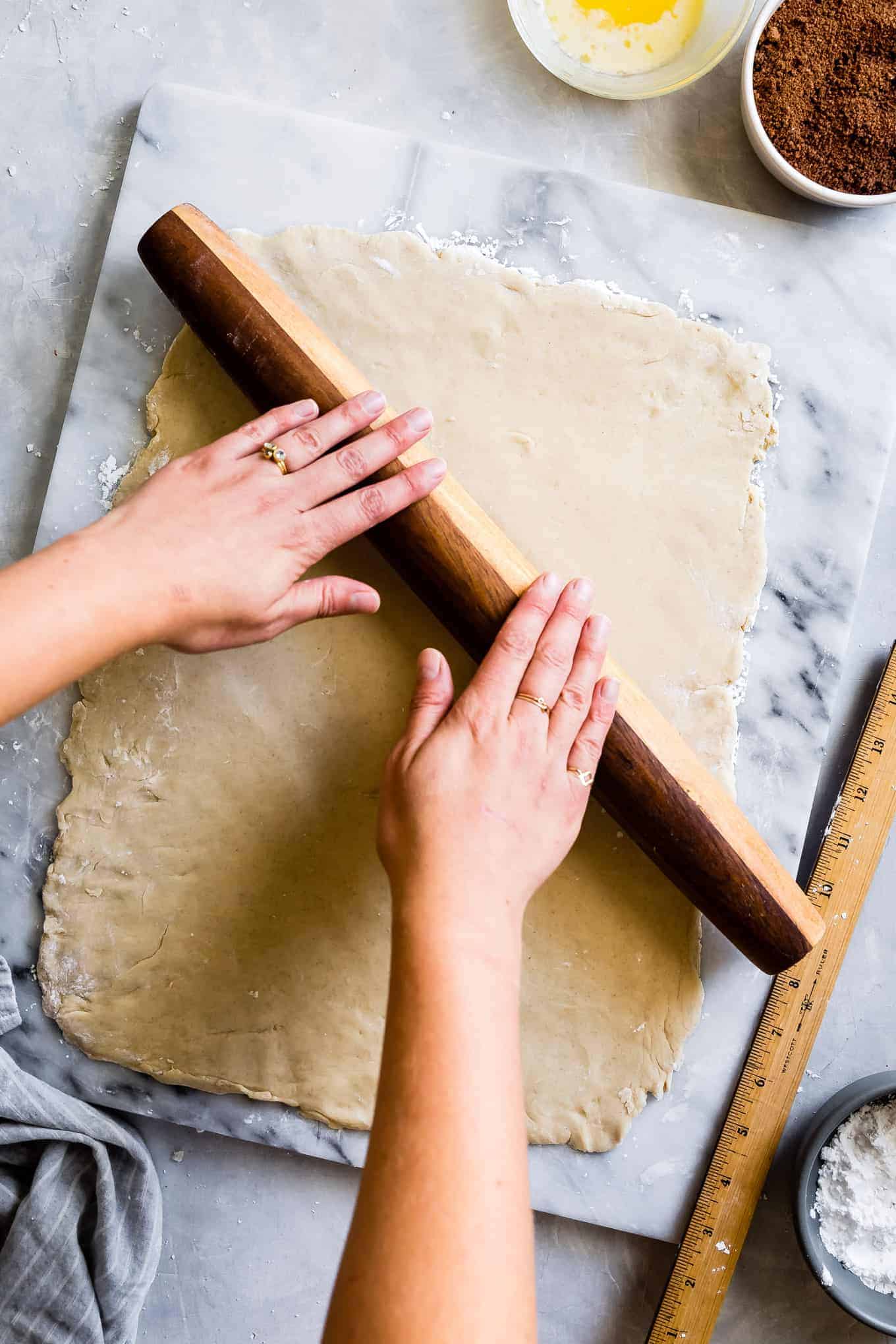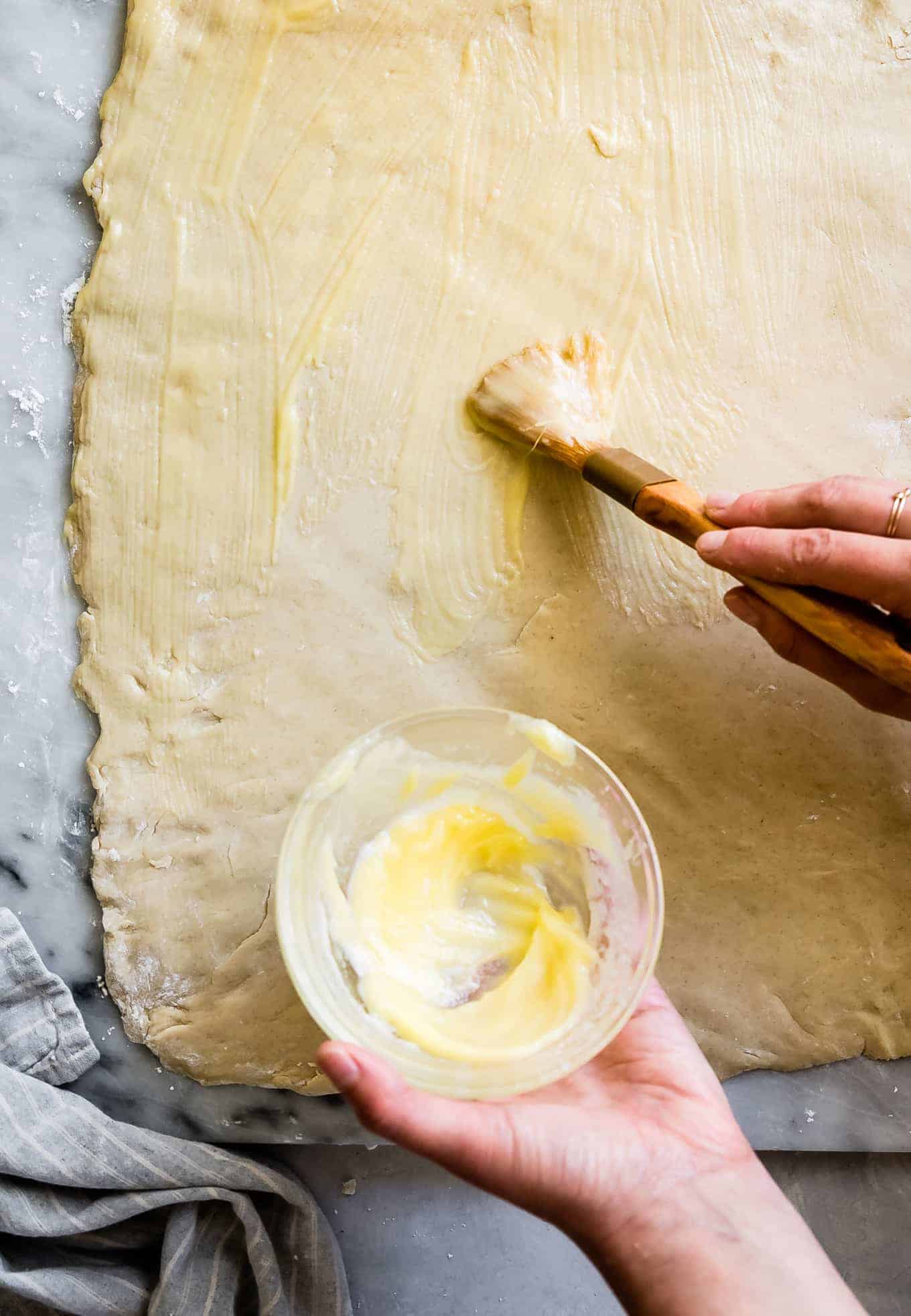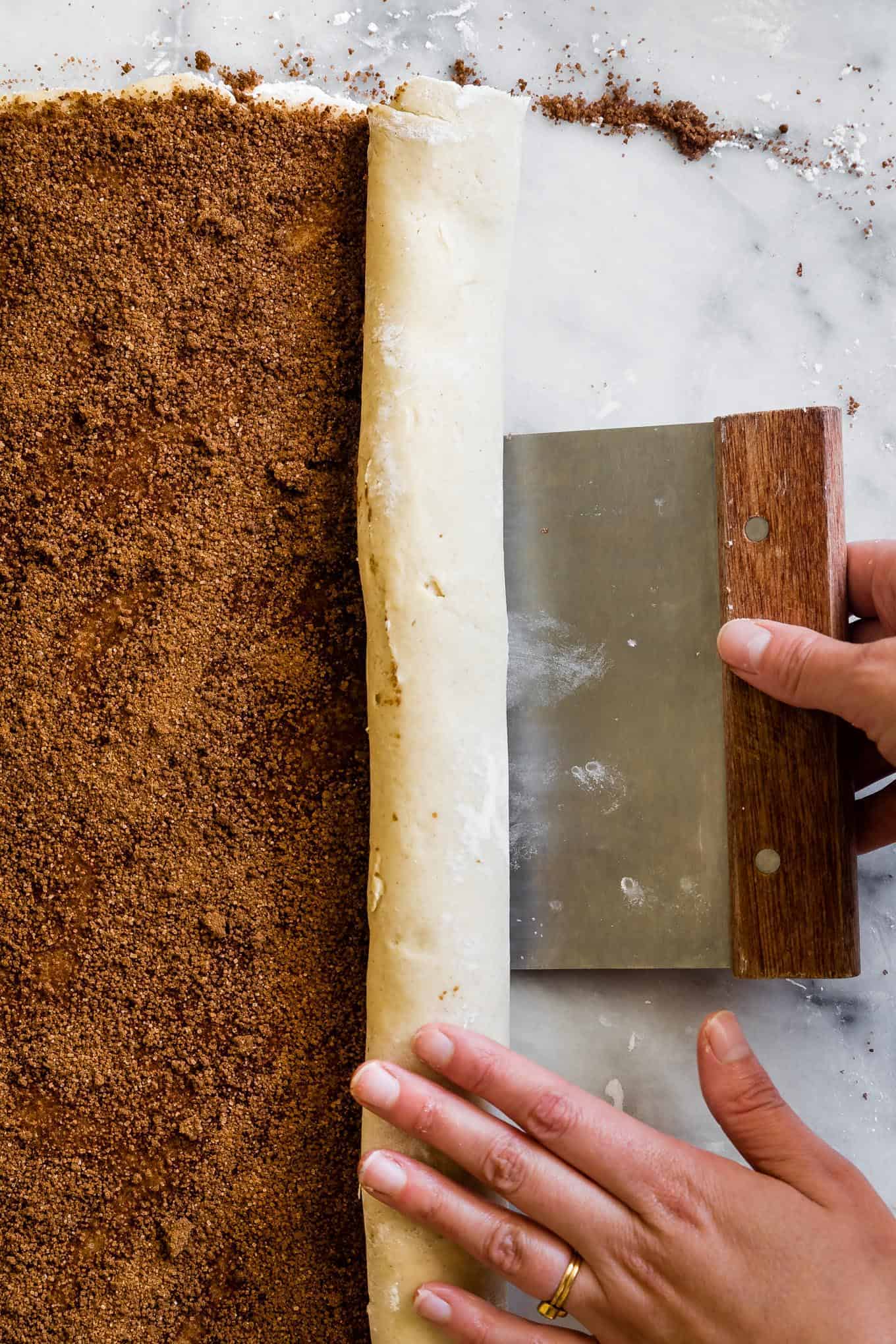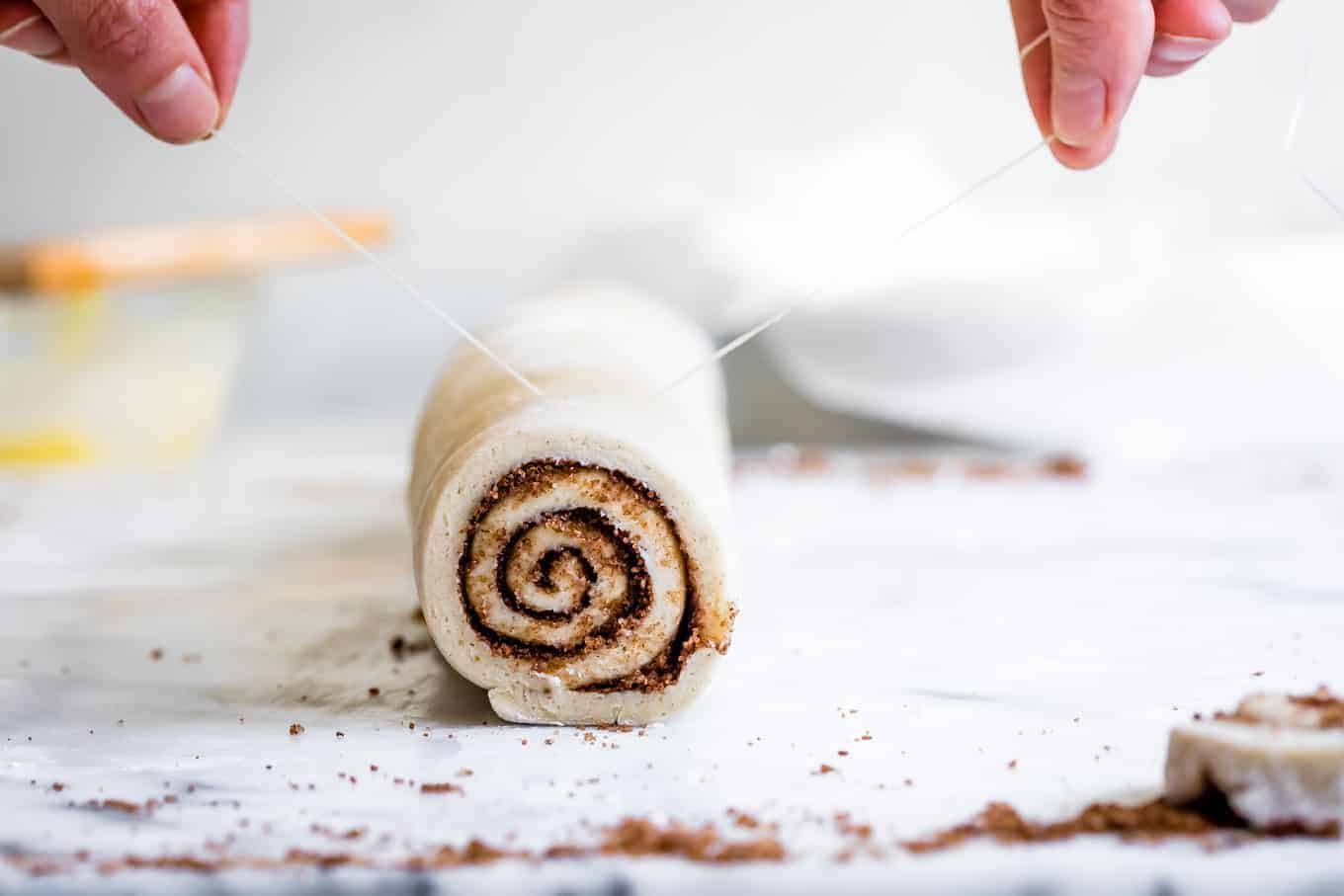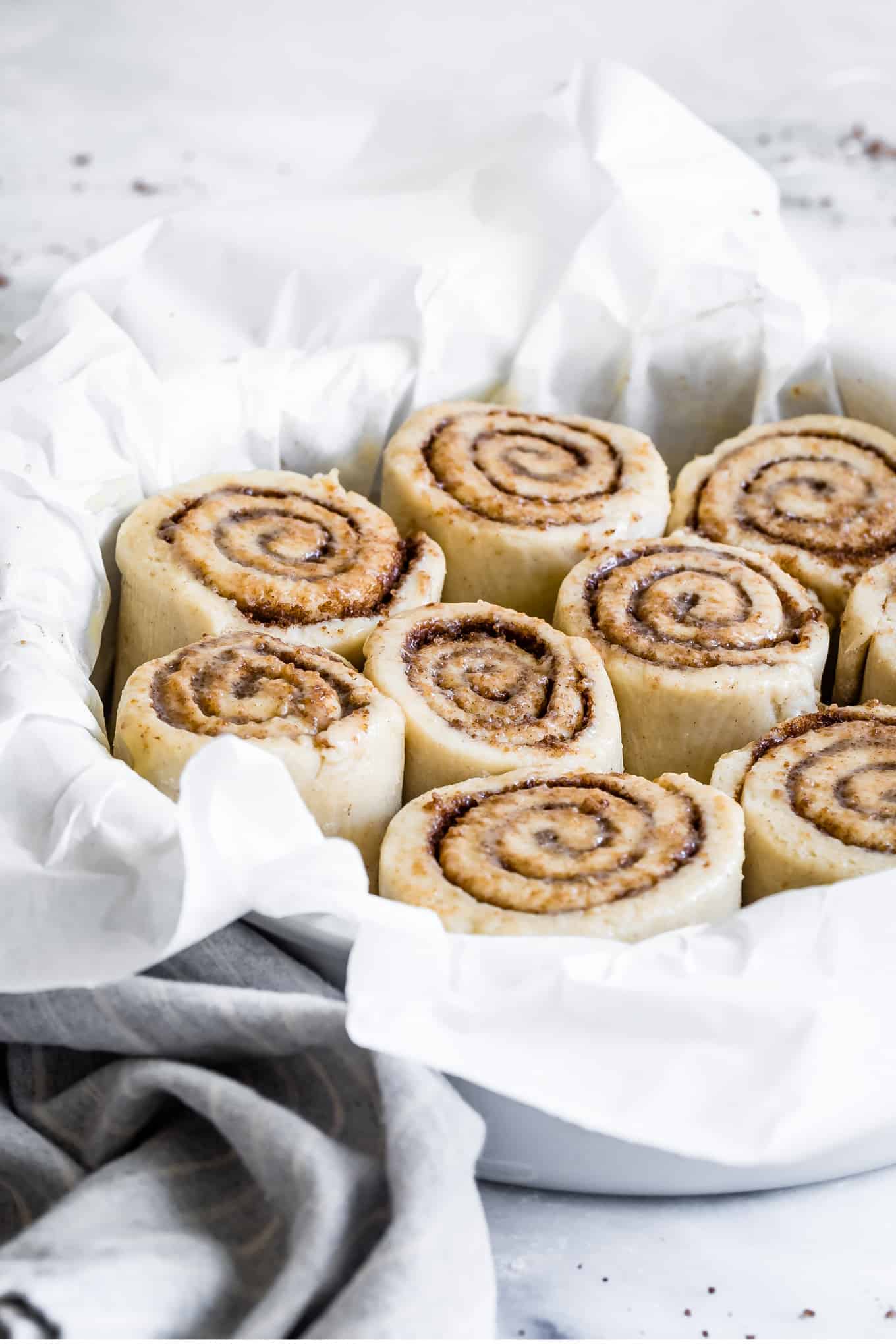 Gluten-Free Flour Blend for Cinnamon Rolls
For their flavor and structure, these cinnamon rolls use a combination of sorghum flour, sweet rice flour, tapioca starch, and oat flour.
Together, sorghum flour and oat flour offer warmth and cozy sweetness to baked goods and the delicate tender crumb.
Tapioca starch and sweet rice flour bind the flours into a flexible dough and produce a cinnamon roll that is all at once soft and chewy.
Can I use gluten-free all-purpose flour for gluten-free cinnamon roll dough?
I don't recommend using all-purpose gluten-free flour for this recipe. Not all pre-made gluten-free flour blends are the same. One might work for a recipe, but using a different brand/blend will produce entirely different results.
I've found the best results when I use a different blend of flours depending on what I'm baking. What makes the best gluten-free cinnamon rolls recipe is different than what works great for chewy crisp cookies. While an all-purpose blend may work great for one recipe, it won't work great for all recipes.
Many pre-made gluten-free flour blends rely heavily on starches and gums without as many nutritional or flavorful flours. When you select gluten-free flours for the specific recipe you're making, you can optimize for that recipe for texture, flavor, and nutrition.
Gluten-free cinnamon roll dough is very particular. This recipe took many tries and tests and tweaks to get a recipe that was fluffy and chewy and it was specifically designed with the flours in the recipe.
Gluten-Free Baking with Yeast: Does Gluten-Free Flour Rise?
While traditional yeast dough requires a dual rise to create the smaller gluten structure, gluten-free dough works best with just one rise. If you punch down a gluten-free dough and let it rise again, you'll end up with a baked good that's dense without much crumb or structure. Traditional bread dough reacts with yeast to create large air bubbles, but gluten-free dough needs few modifications to encourage and trap more air bubbles.
Single rise
The first modification, as mentioned, is to let the dough rise just once. Roll it into cinnamon rolls right away then let it rise right in the pan before baking. Bonus: you're that much closer to freshly baked cinnamon rolls!
Milk
Use milk as the liquid. Cinnamon roll dough work well as a gluten-free dough because traditional cinnamon rolls already use milk in the dough. Just as in my gluten-free soft pretzel recipe, the proteins in milk (caseins) mimic gluten, providing structure to the dough. Milk can help trap the air, creating a soft tender crumb.
Apple cider vinegar
A small amount of apple cider vinegar in the dough every so slightly increases the acidity and strengthens the dough. In these conditions, the yeast will grow better and your dough will rise easier! Don't worry, you won't taste it!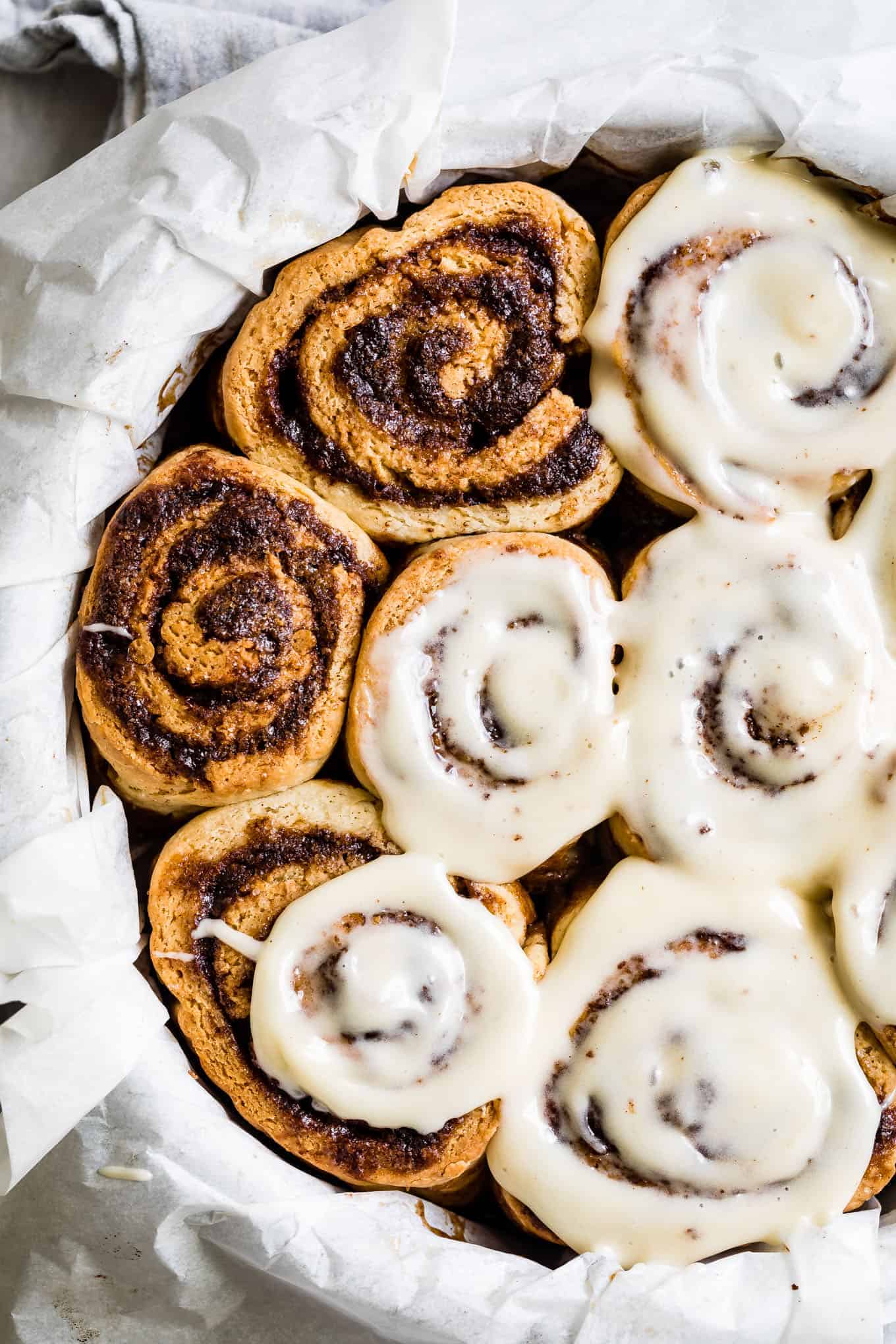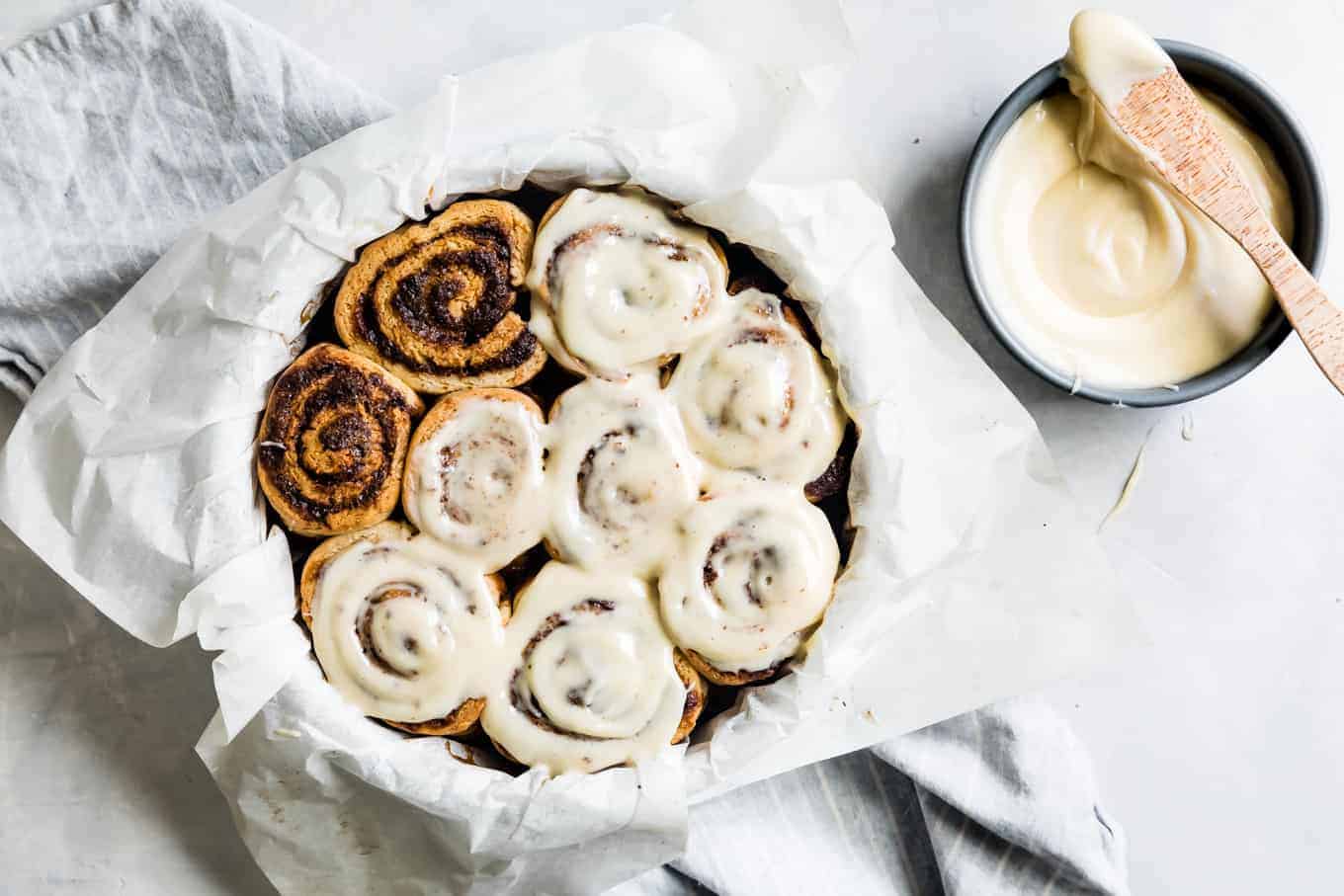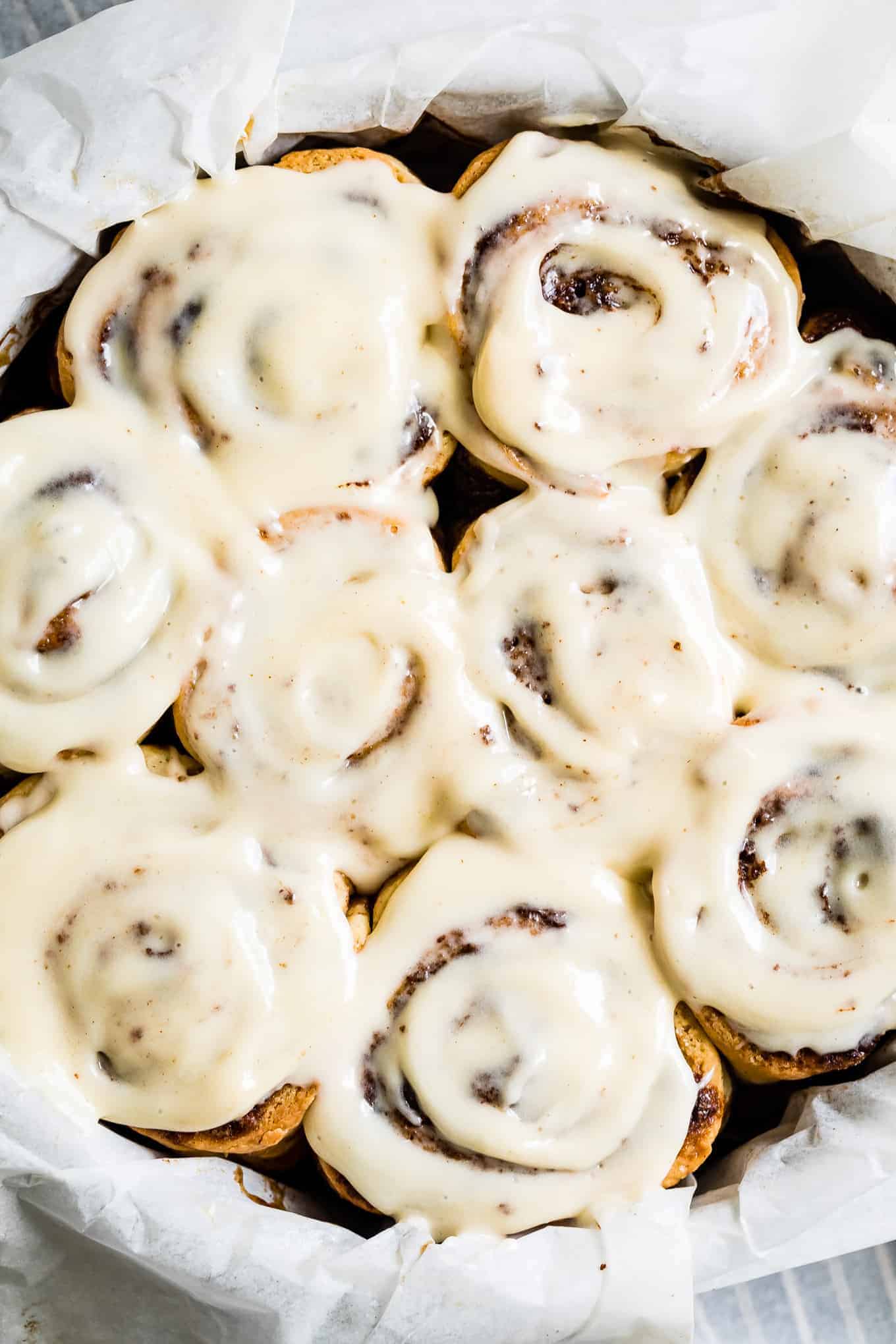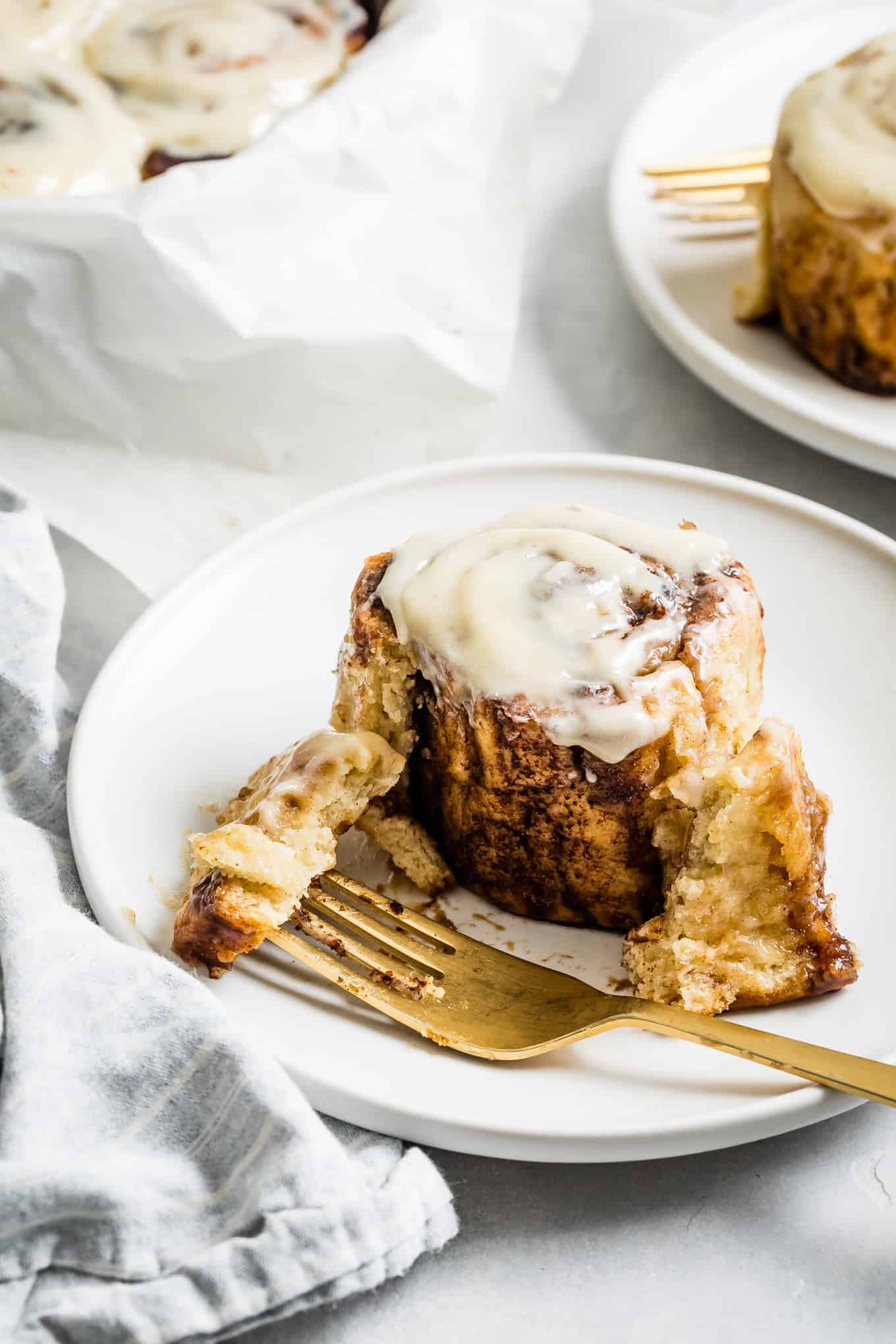 Easy Gluten-Free Cinnamon Rolls
With just one rise, these cinnamon rolls are super easy to make! Activate the yeast in warm milk. Mix the dry ingredients, then the wet ingredients. Knead the dry into the wet then roll out and top with butter, cinnamon, and sugar. Roll it up and cut them into rolls. Rise, bake, eat.
While you certainly can make these the night before, they come together so quickly you don't have to plan ahead. You can wake up Sunday morning and still have freshly baked cinnamon rolls on the table by brunch!
Make-Ahead Gluten-Free Cinnamon Rolls
If you want these gluten-free cinnamon first thing in the morning, without having to assemble, rest, and bake, you can make them the night before!
Put them in the fridge to rise overnight in lieu of the 1.5-hour rise. Remove them from the fridge and allow them to sit on the counter for 30 minutes, then bake as usual.
Warm gooey gluten-free cinnamon rolls straight from the oven!
How to Store Leftover Gluten-Free Cinnamon Buns
Cinnamon rolls, especially gluten-free cinnamon rolls, are best eaten warm fresh from the oven. If you plan to have leftovers, keep them in an airtight container in the fridge. Reheat for 5-10 minutes at 375°F or for 45 seconds in the microwave.
As they sit, the moisture from the filling can make the dough just a little more dense than fresh out of the oven. Don't worry though, if you can't finish them all in one sitting, reheated gluten-free cinnamon rolls are still delicious!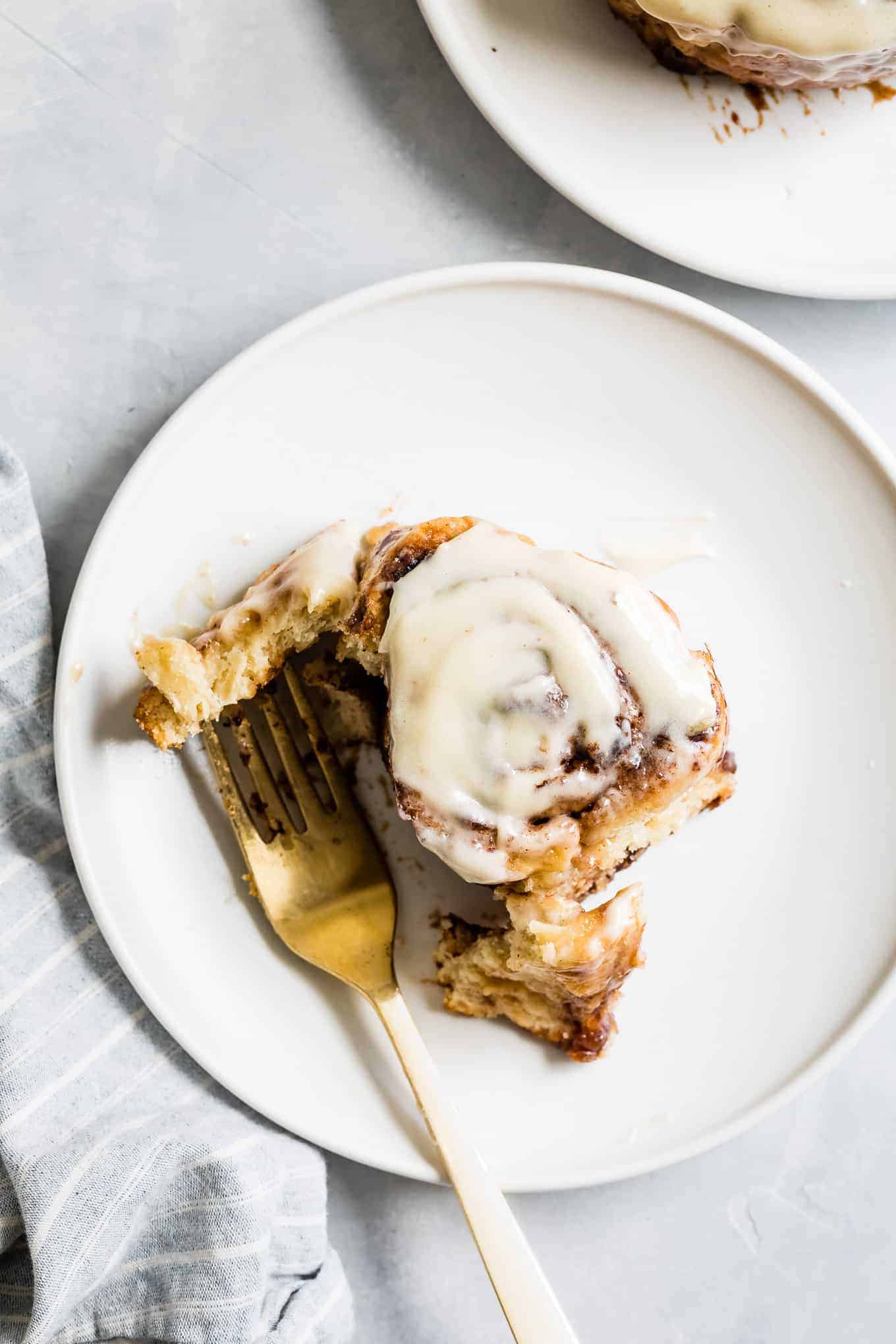 More Gluten-Free Brunch Recipes
Gluten-Free Breakfast Oatmeal Jam Bars
Instant Pot Gingerbread Oatmeal and Buckwheat Porridge
Roasted Butternut Squash and Cardamom Granola Yogurt Bowls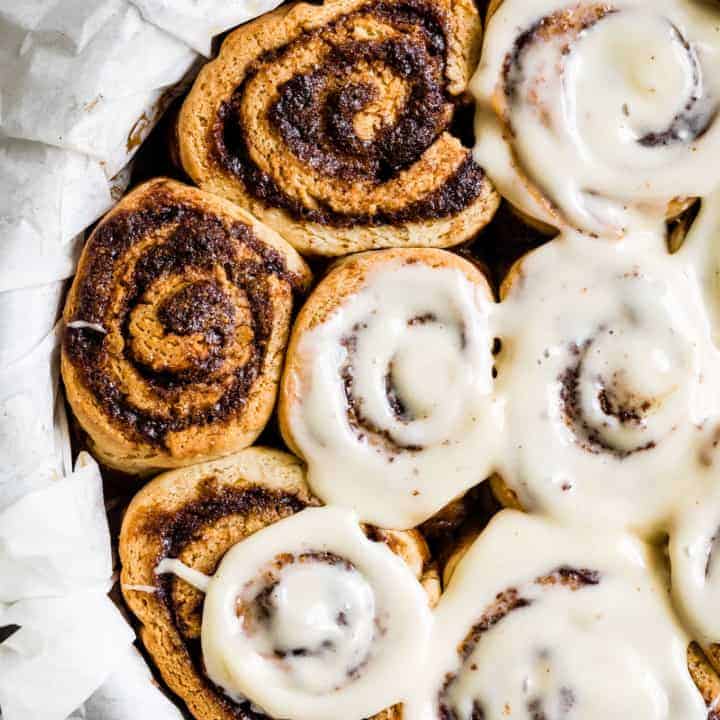 Gooey Gluten-Free Cinnamon Rolls
Rest Time:
1 hour
30 minutes
Total Time:
2 hours
45 minutes
These classic gluten-free cinnamon rolls are tender and gooey with a crisp shell. Make them the night before and pop them in the oven when you wake up for warm freshly baked cinnamon rolls with cream cheese icing.
Ingredients
Gluten-Free Cinnamon Rolls
Cinnamon Filling
5 tablespoons unsalted butter, melted, cooled, and divided
½ cup packed dark or light brown sugar
2 tablespoons cane sugar
2 tablespoons ground cinnamon
Cream Cheese Glaze
4 oz cream cheese, softened
2 tablespoons unsalted butter, softened
1¼ cup powdered sugar
Pinch salt
1-2 tablespoons whole milk or cream, as needed
1 teaspoon vanilla extract
Instructions
First prepare a 8-inch baking pan or an 8x8 pan by lining it with parchment paper and buttering the paper with ½ tablespoon of the cinnamon sugar filling butter (Alternatively, skip the parchment paper and butter the pan directly - it's just more messy, but works great!).
Prepare the cinnamon sugar mixture. Combine the filling light brown sugar, cane sugar, and cinnamon, in a small bowl. Set aside
Warm the milk in a small pot to between 105-115°F (if you go over, let it cool until the temperature is within that range). Transfer to a wide mixing bowl and mix in 1 teaspoon sugar. Slowly sprinkle the yeast over the warm milk and use a spoon to mix completely. Let set aside for 10 minutes while the yeast activates and foams. If your yeast hasn't foamed up after 10 minutes, you may have bad yeast and you should try again with a new packet.
In a medium bowl, whisk together the tapioca starch, oat flour, sorghum flour, sweet rice flour, xanthan gum, baking powder, and salt. Set aside.
In the bowl of a stand mixer fitted with the paddle attachment, or a large mixing bowl with a hand mixer, combine 4½ tablespoons melted butter, remaining ¼ cup + 3 tablespoons sugar, and apple cider vinegar and mix until smooth. Add the egg and mix until completely incorporated. Add the milk yeast mixture and mix until completely incorporated.
With the mixer on low, slowly add the dry ingredients to the wet ingredients and mix until completely incorporated. Change to the dough hook and knead the dough on low for 1 minute. Let it rest for 1 minute. Knead again for one minute. Repeat 2x. The dough will be very sticky (more so than gluten yeast dough), but if you pinch a tablespoon of dough off an set it on the surface, it should hold its shape. If it doesn't, add 2-4 more tablespoons of tapioca starch until it's a little less soft and holds its shape.
Sprinkle your surface with tapioca starch. Using a tapioca starch covered hands or spoon, scrape the dough out onto the surface and sprinkle it well with tapioca starch on top too. Roll your dough out to an 11x16 rectangle.
Brush the dough with 4 tablespoons of the filling butter, reserving ½ tablespoon for brushing on top. Sprinkle the cinnamon sugar filling over the surface.
Starting with the long edge, tightly roll up the dough into a spiral. I use a bench scraper to help me roll it to make sure it doesn't stick to the surface. If you need to add more tapioca starch on the spiral as you roll, that's fine! It will just make your filling a little gooier, which, in my opinion is good.
Tap in the edges so they're flat or cut the edges off and use a ruler to divide your log into 9 equal pieces (about 1.75 inches long). Cut into spirals using one of two methods: 1. Use uncoated dental floss or 2. A serrated knife with very gentle back and forth movements and no downward pressure. Place your cut rolls face up in the prepared pan. Brush tops with remaining butter. Cover the pan with plastic wrap and let rise in a warm draft-free place for 1.5 hours until it has doubled in size and the cinnamon rolls are kissing each other. I let mine rise in the "proof" setting of my oven. If making ahead, you can also put them in the fridge to rise overnight in lieu of the 1.5-hour rise. Note: Your rolls WILL appear cracked on the top. This is normal and okay because it affects the taste none and you're definitely going to cover that up with icing.
If you chilled your cinnamon rolls overnight, remove them from the fridge and allow them to sit on the counter for 30 minutes. Preheat the oven to 350°F. Bake the rolls for 40-45 minutes, until they're firm to the touch (and if you have a meat thermometer, the bottom third of the rolls reads at least 205°F.).
While the rolls bake, prepare the glaze. Mix the cream cheese and butter in the bowl of a stand mixer until smooth. Add the powdered sugar and salt and mix until combined. Add 1 tablespoon milk and the vanilla extract. Add more milk as desired until you get your desired consistency. I make mine halfway between thick frosting and drizzle-able icing.
When the rolls come out of the oven, cover them in icing and serve warm! Cinnamon rolls are best served warm fresh out of the oven and will become more dense the longer you wait. If you don't eat them right away, you can reheat leftover buns in the oven for 5-10 minutes at 375°F or for 45 seconds in the microwave.
Nutrition Information:
Yield:

9
Serving Size:

1
Amount Per Serving:
Calories:

447
Total Fat:

22g
Saturated Fat:

13g
Trans Fat:

0g
Unsaturated Fat:

7g
Cholesterol:

77mg
Sodium:

306mg
Carbohydrates:

60g
Fiber:

2g
Sugar:

39g
Protein:

5g