This holiday-ready gingerbread oatmeal and buckwheat porridge is perfect for the fall and winter months. Make a batch quickly in the Instant Pot and eat it all week topped with pears and pecans for a hearty festive breakfast!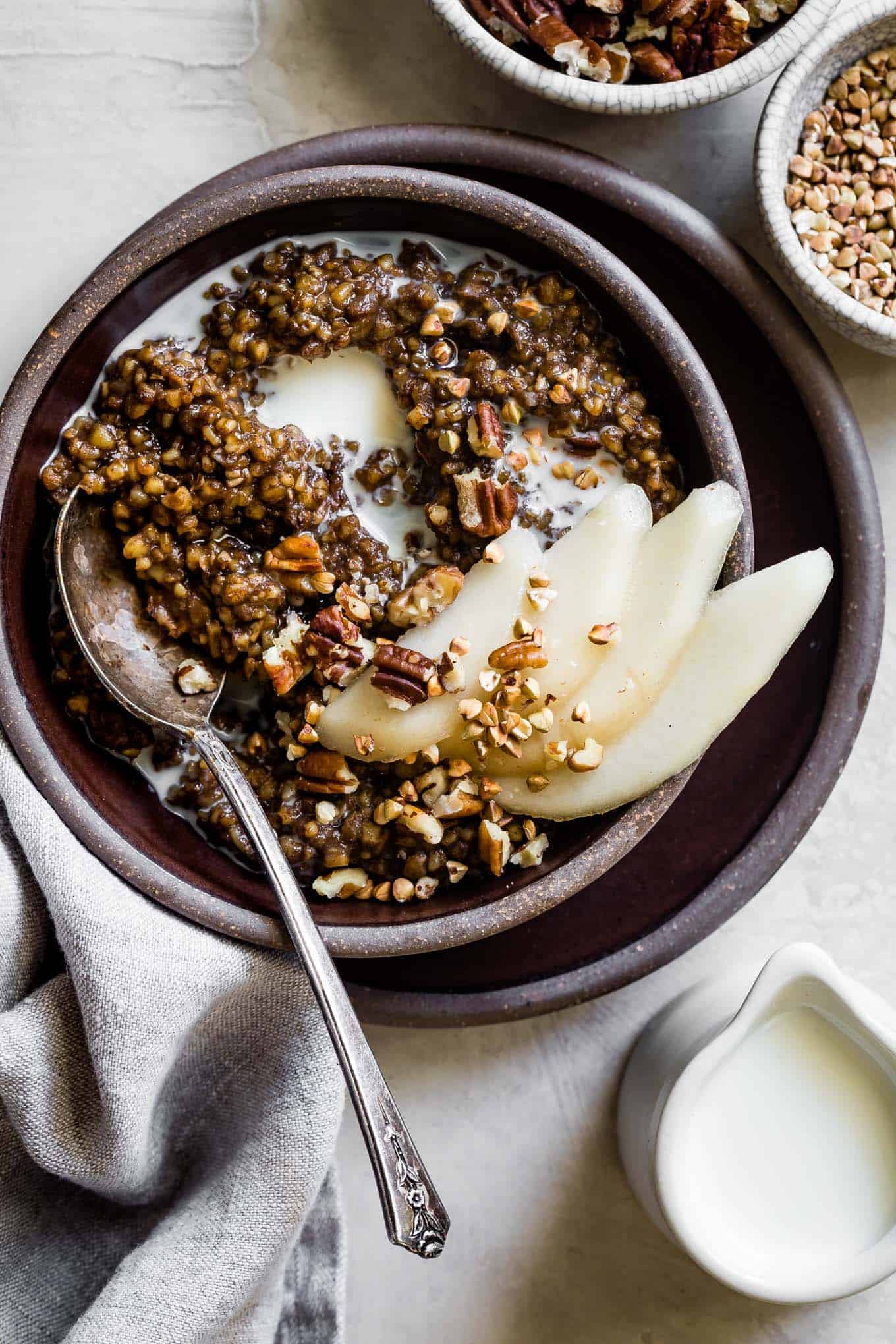 I offered my 2.5 year old a bite of this gingerbread oatmeal and buckwheat porridge the other day. She ate a large spoonful, confirmed with a "mmm" that she liked it, but refused a second bite. When I asked her why, she replied, "I want to save this for school. Pack it in my lunch, okay mama?" This is the greatest compliment from Zoella.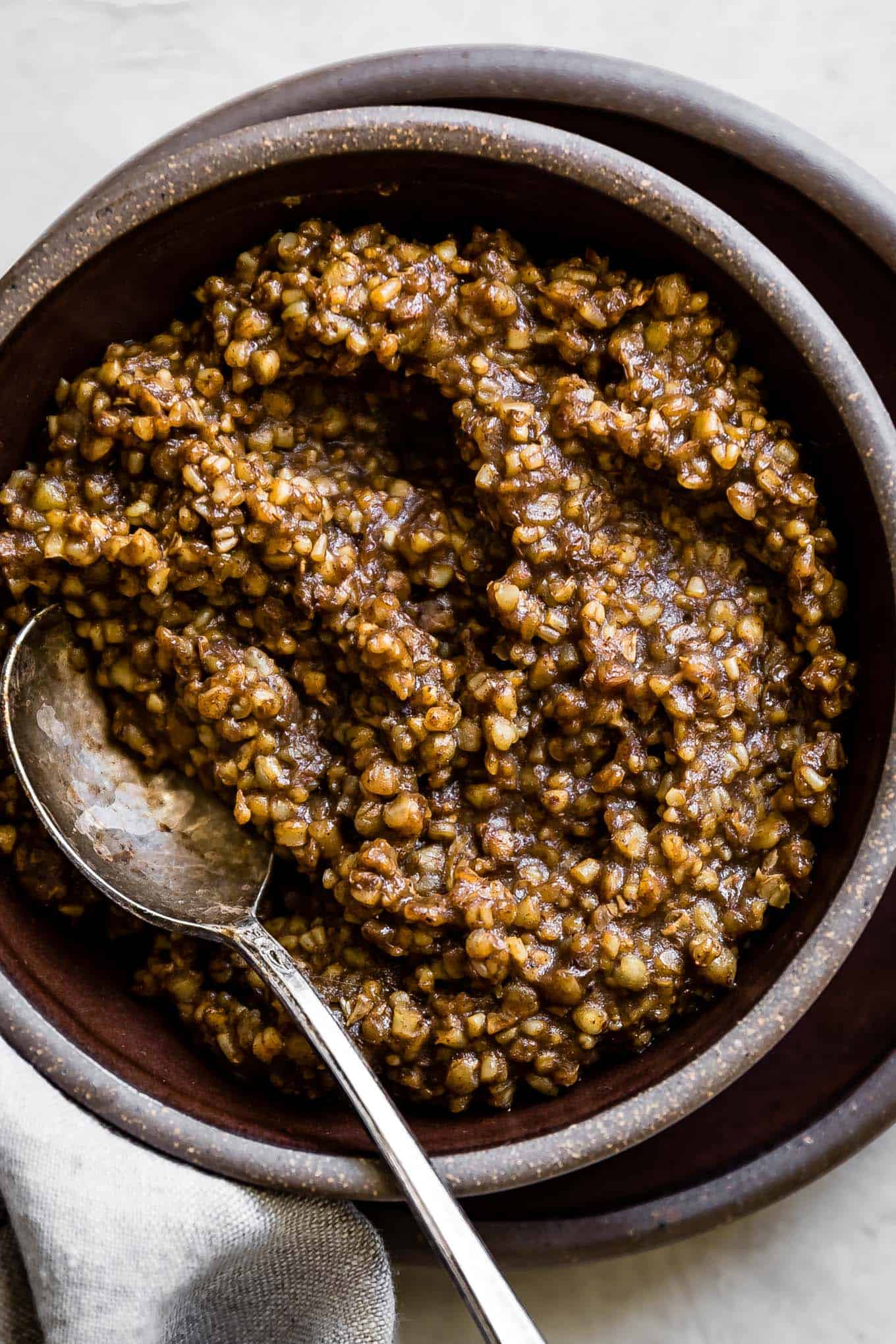 The past couple of months, this has become her latest reaction when she eats something she finds super delicious. Basically any treat - muffins, cookies, cake. She'll take a bite, pause, then ask me to save it for her lunch at school the next day so she can show all her friends. Even if it's Thursday and she's not going to school again until Monday. One time she saved a single 1-inch letter M cookie - her dessert for the night - for her lunchbox at daycare. I was so touched by her self-control, I offered to give her a different letter cookie in her lunch if she still wanted this one for dessert. She refused and insisted this cookie go in her lunch. I obliged.
Then at school? SHE SAVED IT AGAIN - ALL DAY. It wasn't because she didn't want it or forgot about it, either. She absolutely remembered and asked for it for dessert that next night. Her daycare teacher told me she thought for sure Zo had eaten it because she showed it to all her friends! The letter M spent some time on a plate in front of her, got out of the house for a few hours of lunchtime show and tell, then was finally back at home on her plate again. This kid could teach me a few things about the art of delayed gratification.
When it comes to porridge though, you snooze you lose, kid. I'm definitely eating it all up before you head back to school next week. Topped with a drizzle of cream and sliced pears, this warm bowl of gingerbread spiced steel-cut oats and buckwheat porridge is the coziest breakfast for a chilly morning. If you've got an Instant Pot, you can toss everything together with one hand while you hold a baby with the other, and have a nourishing hearty breakfast bowl ready when you get out of the shower!
If you don't have an Instant Pot, make up a big batch on Sunday and you're just a couple of minutes away from hearty weekday breakfast too.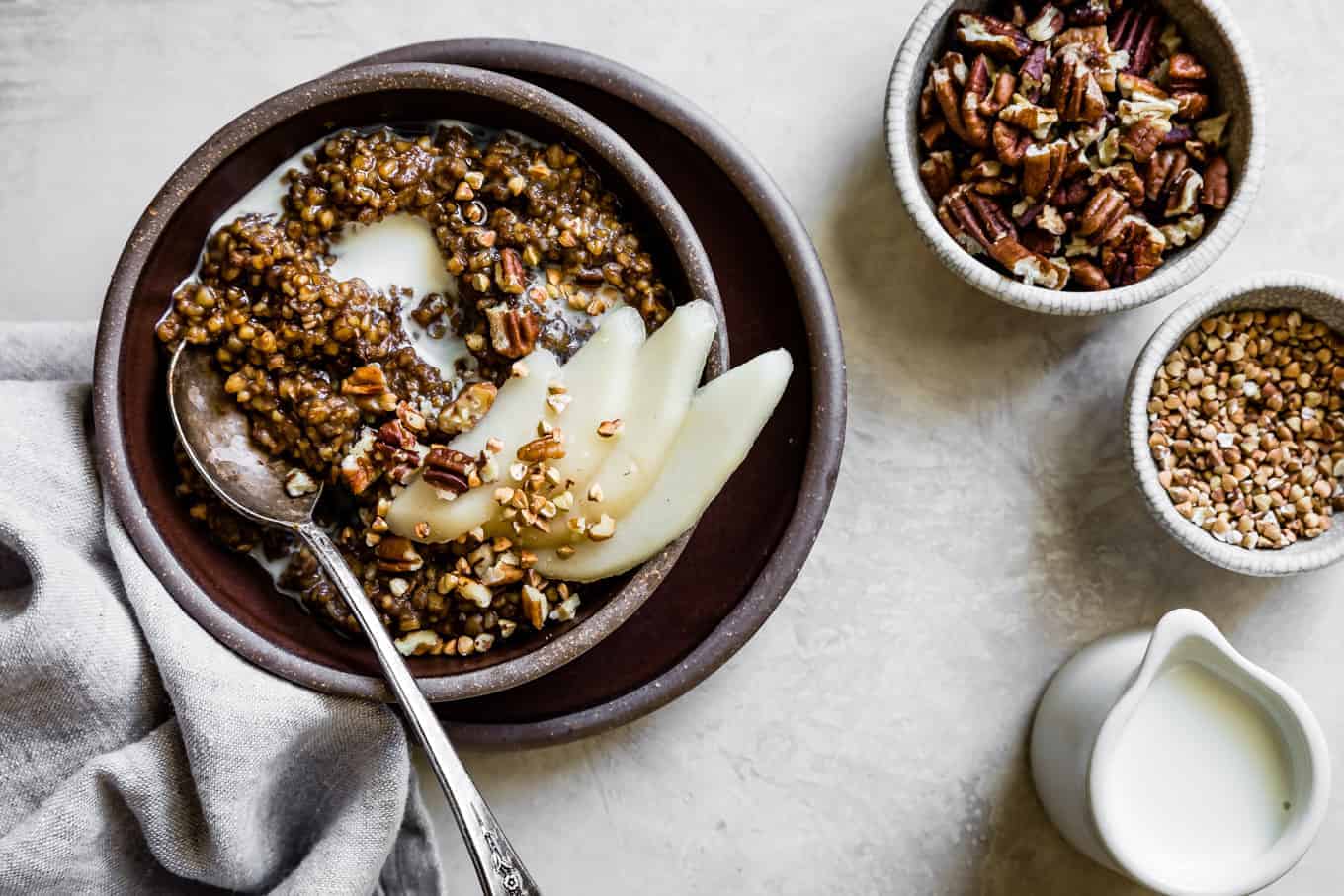 Homemade gingerbread spice flavors
Gingerbread is a mix of sweet and spicy. To infuse this porridge with the gingerbread spice profile, I've cooked it with cinnamon, ginger, and cloves. Adding homemade gingerbread spice alone is not enough to give this porridge the classic gingerbread flavor though. That's where molasses and dark brown sugar come in to enhance and bring life to those spices.
Because the toasted buckwheat has such a strong earthy flavor profile, I would not recommend reducing the sugar in this porridge as the sweetener here as it's key for balancing the gingerbread spices.
What is buckwheat and is buckwheat gluten-free?
Buckwheat is a whole "grain" that is technically a hulled seed of a plant. It cooks up much like rice with a mild earthy flavor and toasting them makes that flavor more complex and assertive. Used to make soba noodles, it also cooks up as a hearty whole grain that's perfect for filling up at breakfast. Its nutty grassy profile pairs well with spices like cinnamon and it enhances the molasses notes in the gingerbread flavor profile in this holiday porridge.
Despite the confusion in its name, buckwheat is completely unrelated to wheat. On the contrary, buckwheat are a gluten-free whole "grain" / seed. So put on your warm sweater and cozy socks and eat buckwheat porridge to your heart's content!
How to make Instant Pot steel cut oatmeal and buckwheat
You can certainly make this porridge in a pot on the stove, just like my multigrain porridge recipe. If you opt to go that route, it takes a little longer. If you're like me and morning's are rushed, you'll probably want to make your stove top porridge the night before to reheat for breakfast.
Alternatively, you can make it completely hands-free rather quickly in the Instant Pot while you take a shower. I caved and finally got myself an Instant Pot on Prime Day a couple of months ago. Until then, I held off, skeptical that I'd actually use it. We rarely used out stovetop pressure cooker, I thought. I was wrong. I use the Instant Pot ALL THE TIME. It's been a life saver for hands-free dinners, a quick pot of rice, and fast nourishing breakfasts like this gingerbread Instant Pot steel cut oatmeal and buckwheat porridge. I've joined the cult of devout Instant Pot followers.
To make instant pot steel cut oats and buckwheat porridge, mix 1 part grains to 2.5-3 parts water. Add more or less water depending on how thick you like your porridge. You can always add more water after it cooks to thin it out to your desired consistency! Cook on HIGH PRESSURE for 6 minutes, let it natural release for 10 minutes, then instant release any remaining pressure. Boom - cozy winter gingerbread porridge lickety-split!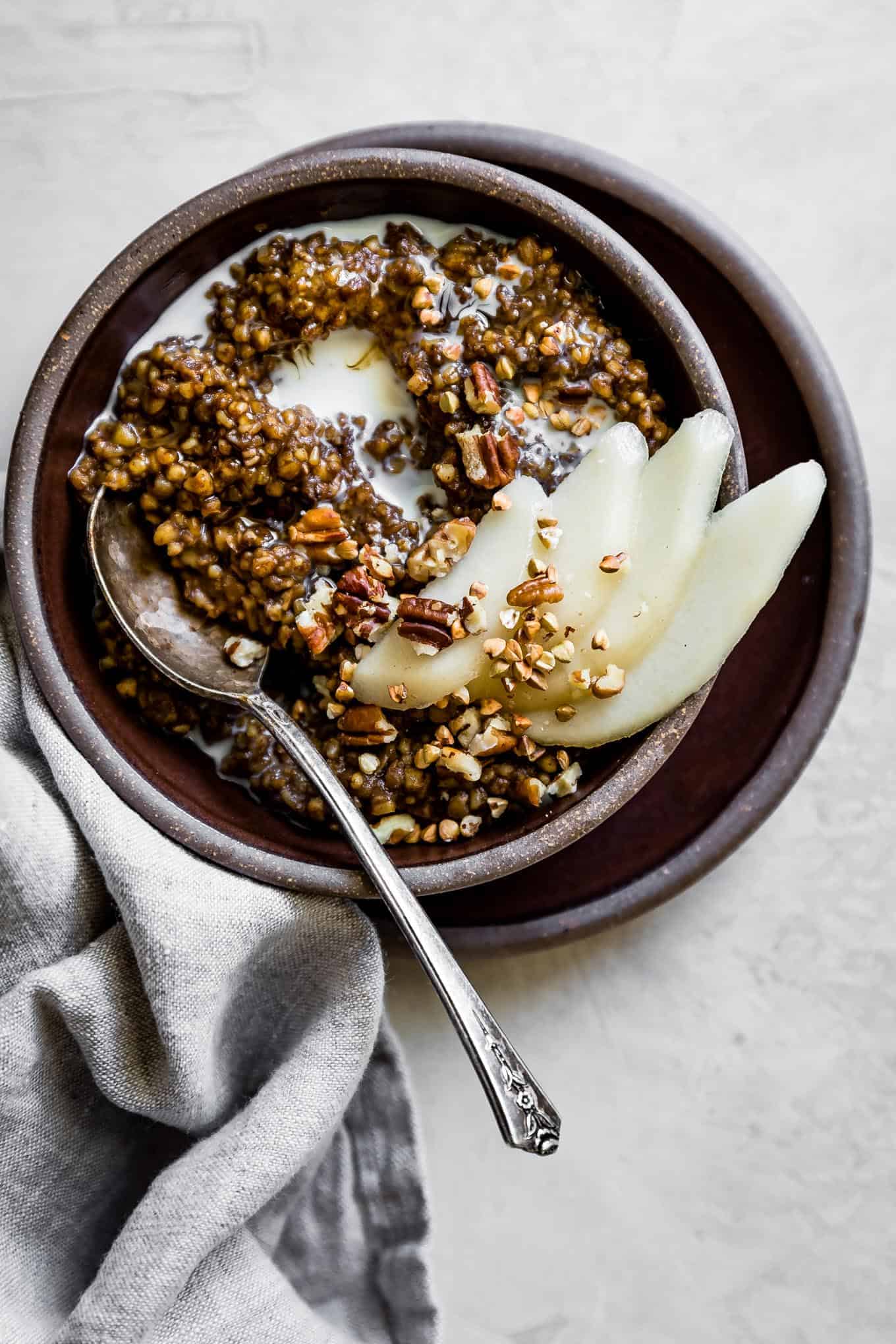 Instant Pot Gingerbread Oatmeal & Buckwheat Porridge
Additional Time:
10 minutes
This holiday ready gingerbread oatmeal and buckwheat porridge is perfect for the fall and winter months. Make a batch quickly in the Instant Pot and eat it all week topped with pears and pecans for a hearty festive breakfast!
Ingredients
3½ cups water or non-dairy milk or a combination (If making on the stovetop, dairy milk works)
3 tablespoons dark brown sugar
1 tablespoon dark molasses
1 teaspoon vanilla extract
1 teaspoon ground cinnamon
¾ teaspoon ground ginger
⅛ teaspoon ground cloves
¼ teaspoon salt
For Serving
Heavy cream, milk, or non-dairy milk
Sliced pear, such as bartlett
Toasted pecans
Toasted buckwheat groats
Instructions
If making in an Instant Pot, add all of the ingredients to the instant pot and stir to combine. Place the lid on the pot and make sure the pressure release valve is in the sealing position. Press the pressure cooker button, make sure it is on high, and set the timer for 6 minutes. When the timer is up, let the pressure cooker naturally release for 10 minutes. When the timer is up, release any additional pressure by carefully moving the pressure release valve into the venting position.
If you don't have an Instant Pot, you can make the porridge on the stovetop. Bring the water or liquid to boil over medium high heat. Add all of the ingredients and stir well to combine. Reduce heat to a low simmer. Simmer, stirring occasionally, until most of the water has been absorbed to desired consistency and grains are cooked through, about 30 minutes. If your grains haven't cooked to your liking after the water has mostly been absorbed, add another 2 tablespoons of water at a time, until cooked through.
Serve warm with a splash of cream, sliced pears, toasted pecans, and buckwheat groats.
Store any leftovers in an airtight container in the refrigerator for up to a week. Add a few tablespoons of water to loosen it up while reheating.