Packed with six different grains, this multigrain porridge is so flavorful it requires very little seasoning. Make a big batch and serve it two ways, savory or sweet. It pairs with savory toppings like miso roasted salmon and bok choy for a comforting dinner or sweet toppings like warm spiced pears and hazelnuts for a hearty breakfast.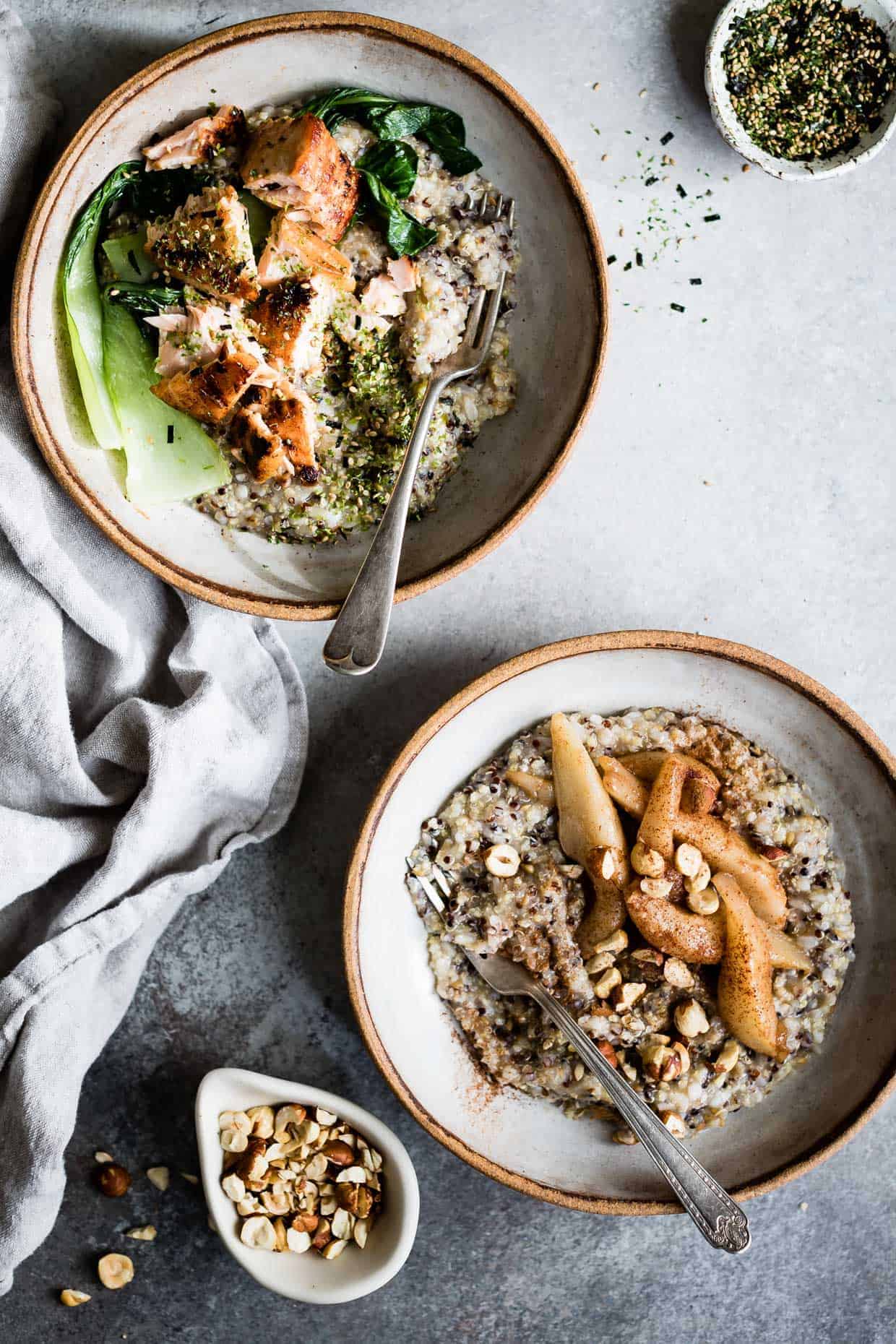 One thing they (the world...) really doesn't emphasize enough when you start to have kids is just how sick your winters will become. In the past month, someone in our house has been sick at all times. It seems like just when the toddler is finally getting over her cold, she comes home from daycare with another ailment. She's been to the doctor so frequently this winter that she's started asking to go back just because she wants stickers. Never underestimate the power a sticker has on an (almost) 2 year old.
When your kid is sick (and probably also you, but moms don't actually get to be sick), planning and cooking nourishing meals becomes a struggle. That's where flexible make-ahead, big batch dishes like this multigrain porridge really come in handy. Here I'm sharing both a savory porridge and a sweet porridge option because this porridge is versatile as breakfast, lunch, or dinner all with a single batch.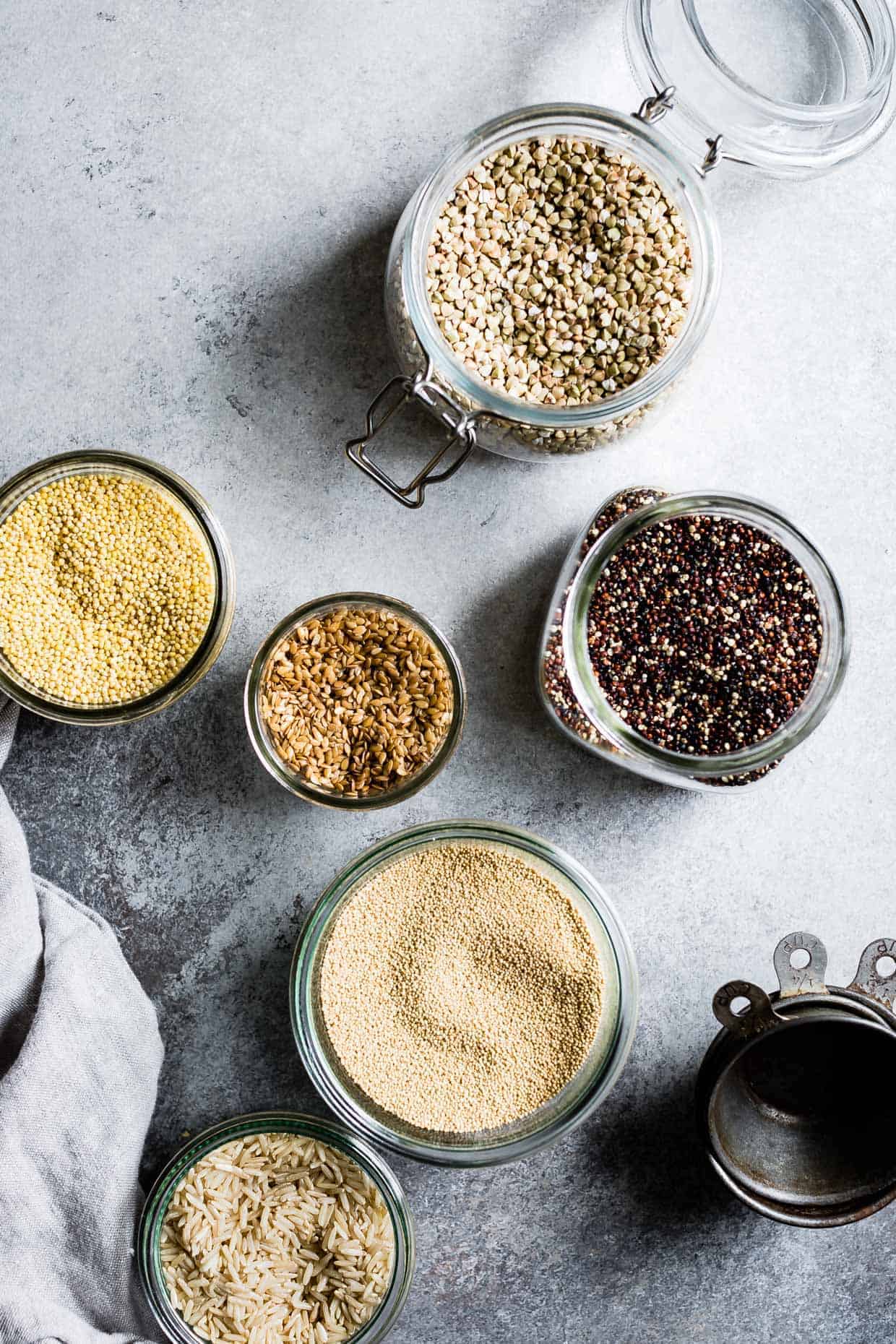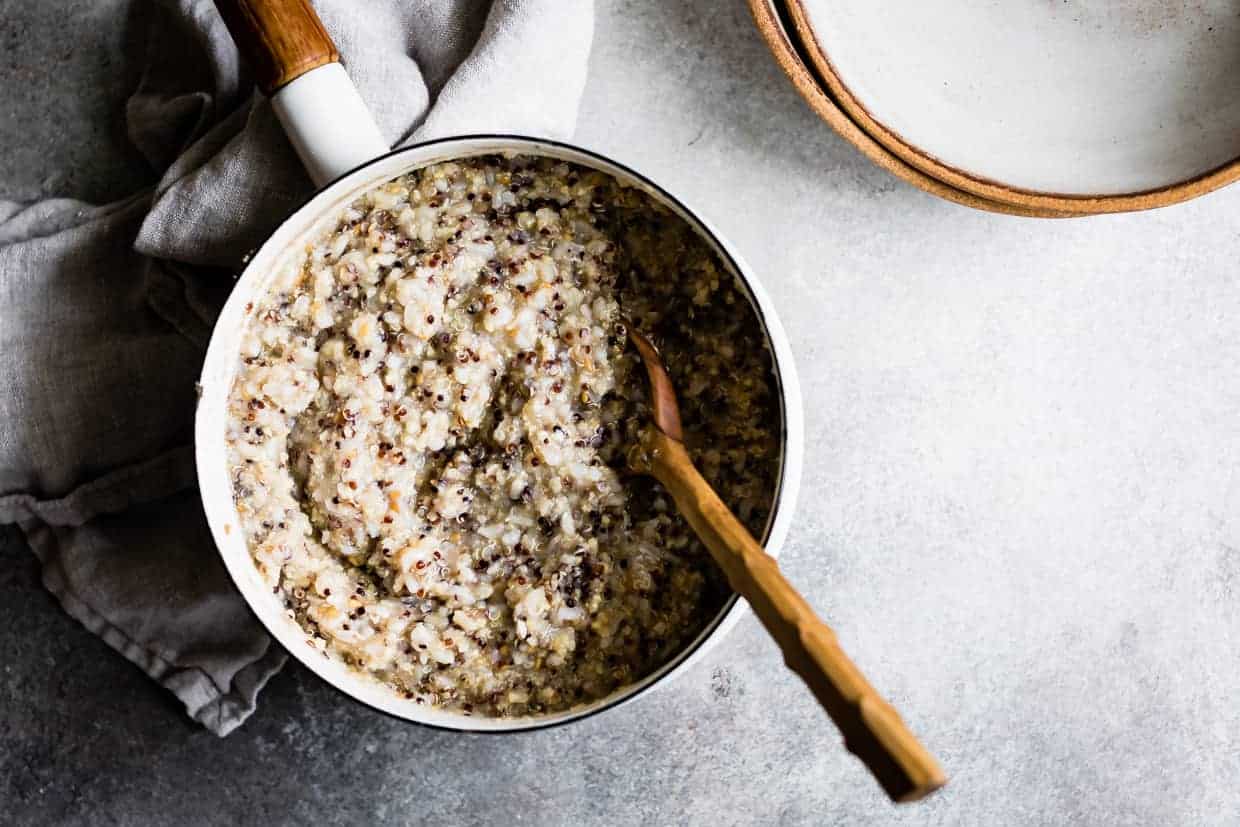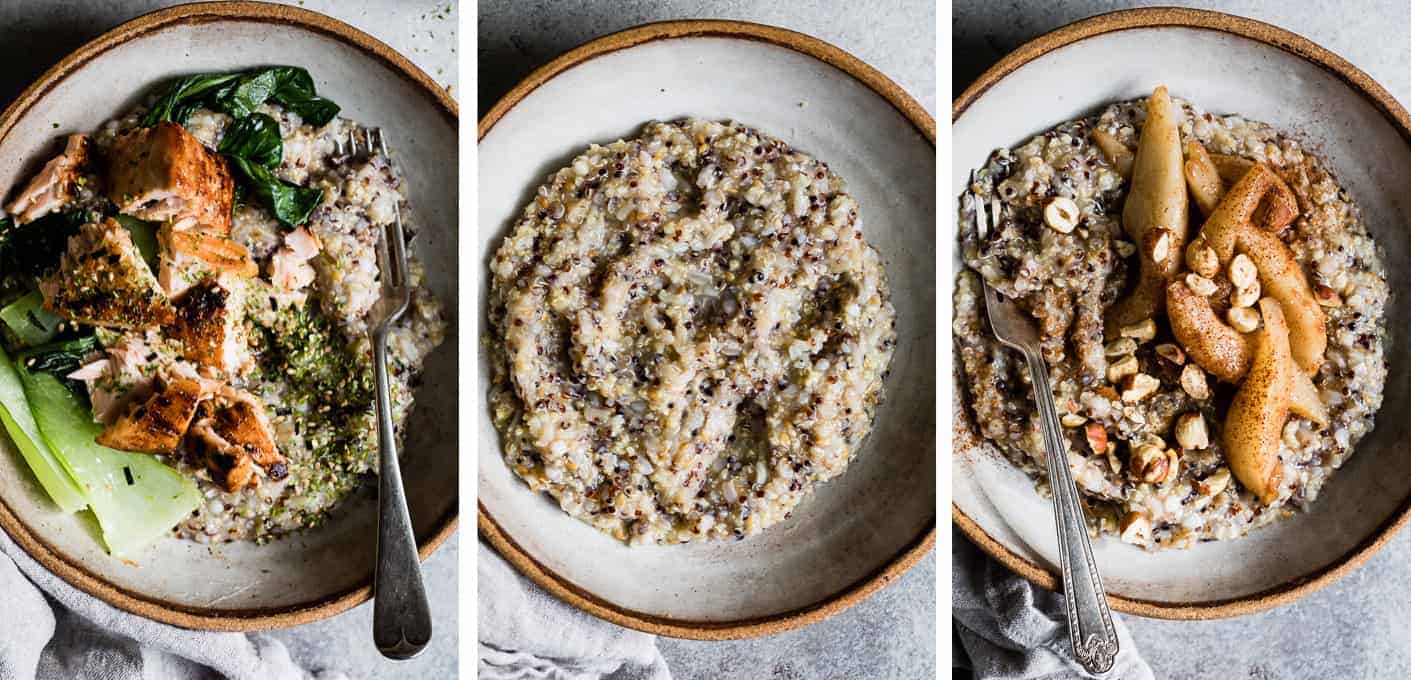 The inspiration for this multigrain porridge comes from a simple bowl topped with a soft-boiled egg and some sesame oil I ordered at Bartavelle, a small cafe not far from here. I drew on that comforting bowl and added my own spin with different grains and toppings. Though, I will say, a jammy egg with some flaky salt does wonders too.
My version here has buckwheat, brown rice, quinoa, millet, amaranth, and flax seeds all stewed up into a protein and fiber packed bowl that, with nothing more than a little salt, has so much flavor that it demands very little else to make it an exciting meal. I've been making a big double batch on Sundays and serving it throughout the week as various meals. We'll eat it with spiced pears and hazelnuts as a sweet porridge for breakfast. We'll top it with a soft-boiled egg and togarashi for a quick lunch. And we'll serve it with miso salmon, bok choy, and furikake for a fancied-up dinner that still takes very little time.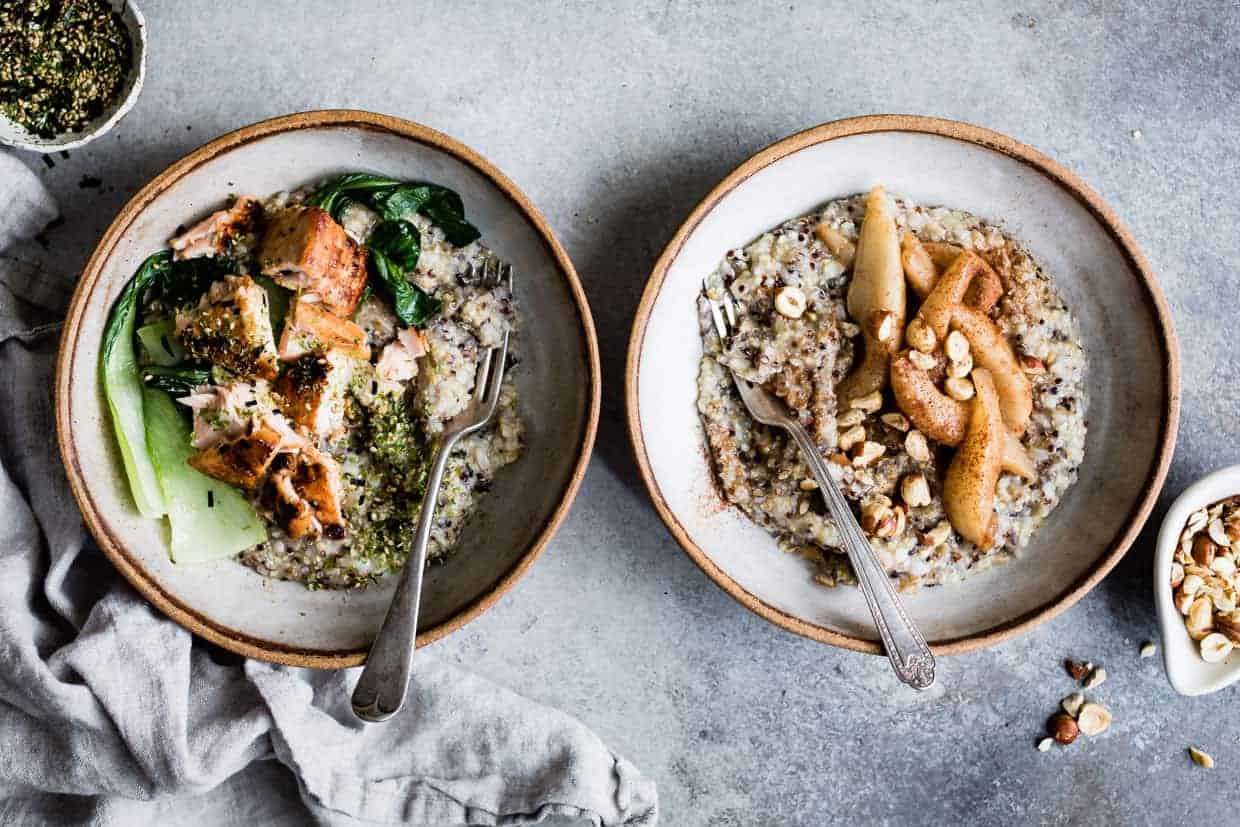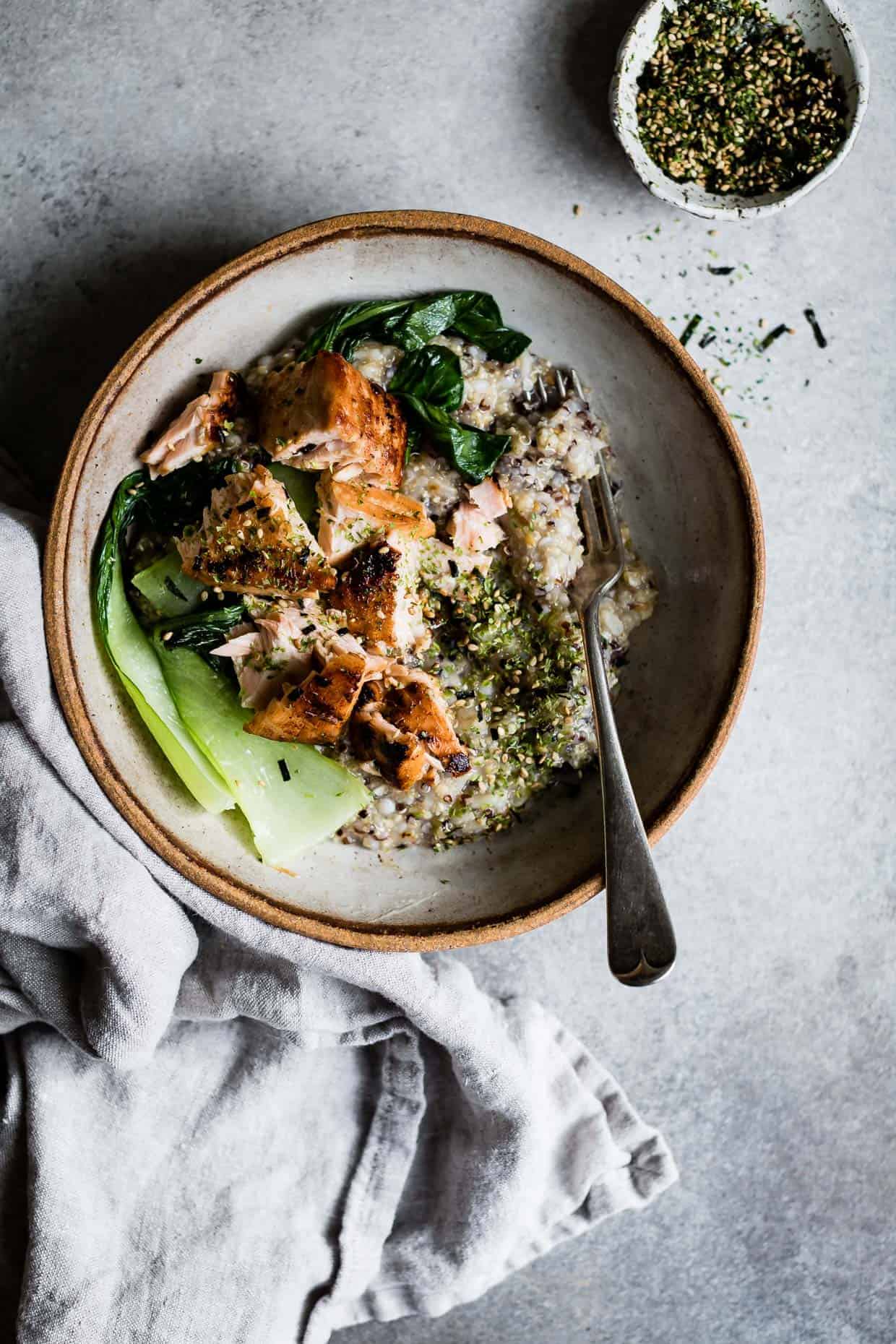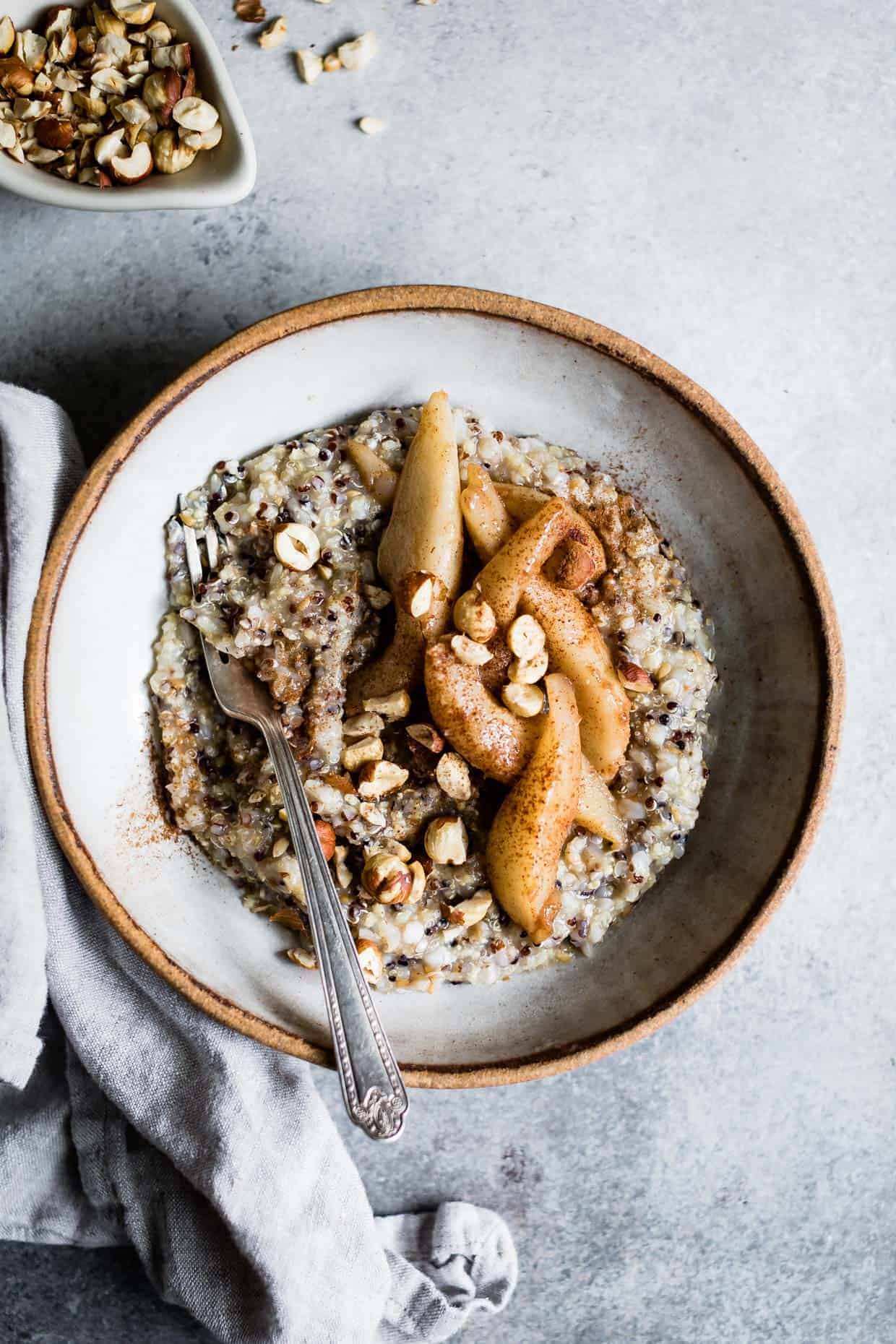 Plus, it's toddler-approved, which has become more and more of a struggle these days.
These are just two of the favorite topping options in our house, but I'd love to hear your ideas for what you'd serve on top of this multigrain porridge.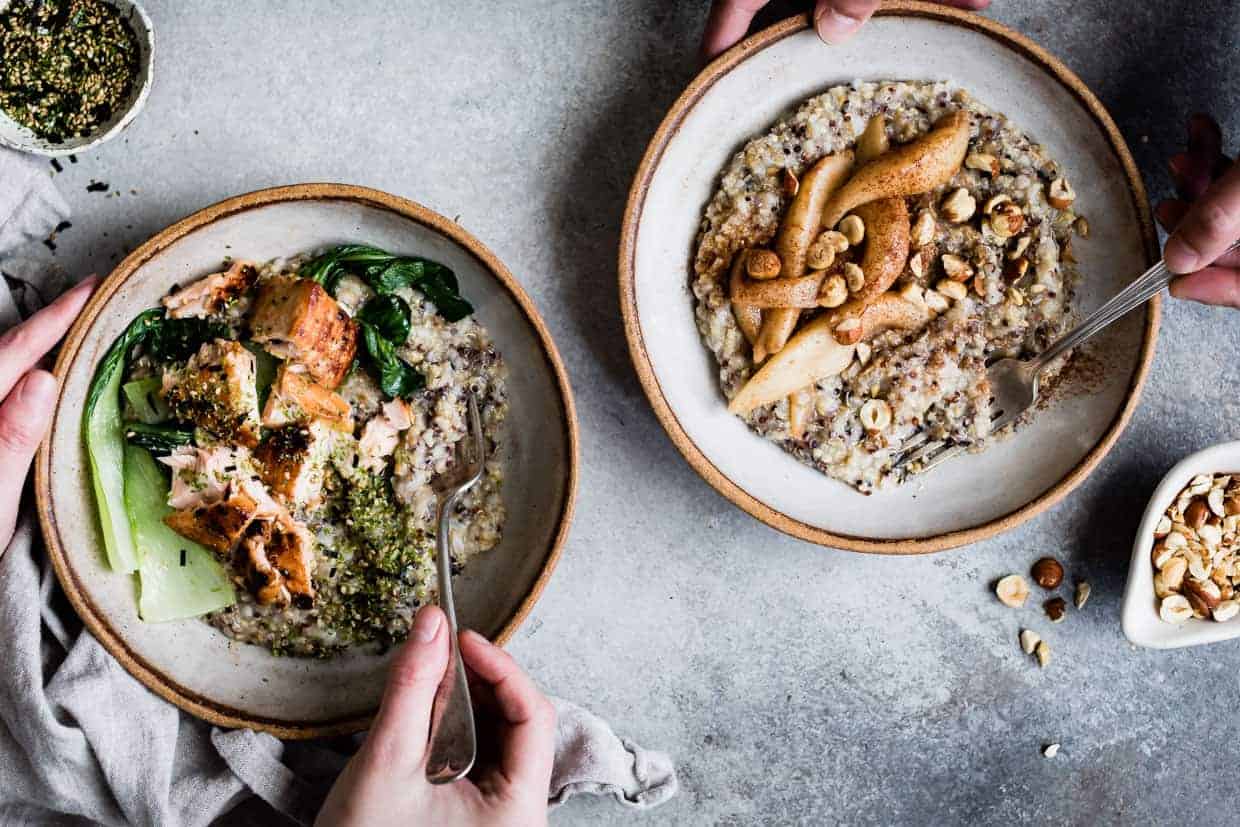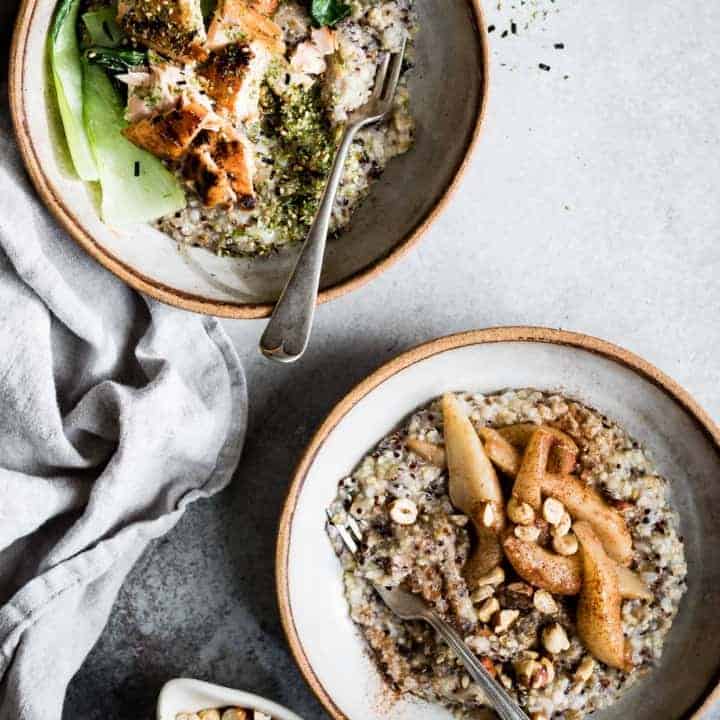 Multigrain Porridge, Two Ways: Savory Porridge & Sweet Porridge
Yield:
4-6 servings, depending on size
Ingredients
Multigrain Porridge
5 cups water, plus more as needed
1 teaspoon kosher salt
⅓ cup brown rice
⅓ cup multigrain or red quinoa
1 tablespoon flax seeds
Savory Porridge Miso Salmon with Bok Choy
2 4-to-6-ounce 1-1½-inch thick salmon fillets, skin on
2 tablespoons white miso
2 tablespoons mirin
2 tablespoons tamari (or soy sauce if you don't need it gluten-free), plus more for bok choy
¼ teaspoon sesame oil
2 tablespoons olive oil, divided
2 tablespoons water
4-6 bok choy, ends trimmed and discarded
1 tablespoon furikake
Sweet Porridge with Pears and Hazelnuts
2-3 ripe but firm pears, such as bosc or barlett, peeled, cored, and sliced into eighths
2 teaspoons light brown sugar
¾ teaspoon ground cinnamon
⅛ teaspoon ground nutmeg
⅛ teaspoon kosher salt
½ tablespoon butter
3 tablespoon toasted hazelnuts, coarsely chopped
Instructions
Multigrain Porridge
In a large heavy-bottomed pot, bring 5 cups water plus 1 teaspoon salt to boil.
In a fine mesh sieve, rinse all the grains well. Once the water is boiling, add the grains and reduce heat to a low simmer.
Simmer, stirring occasionally, until most of the water has been absorbed to desired consistency and grains are cooked through, about 30 minutes. If your grains haven't cooked to your liking after the water has mostly been absorbed, add another ½ cup of water at a time, until cooked through. I like my porridge about the thickness of fresh oatmeal without the grains getting too mushy. Find what tastes best to you!
Divide between bowls and serve. Store any leftovers in an airtight container in the fridge for up to a week. Reheat on the stove, adding a bit of water to loosen it up.
Savory Porridge Miso Salmon with Bok Choy
Preheat oven to 350°F.
Place the salmon fillets, skin-side down in small roasting pan or dish.
In a small bowl, whisk together the miso, mirin, tamari, and sesame oil. Brush and pour this mixture over the salmon and let sit for 10-15 minutes to marinate.
Meanwhile, in a medium cast-iron skillet, heat 1 tablespoon olive oil over medium heat. Add the bok choy and cook, stirring, until it begins to wilt, 1-2 minutes. Add 2 tablespoons of water and cover for 1-2 minutes. Remove lid and continue cooking, stirring, until softened, 1-3 more minutes.. Transfer to a bowl and let sit, covered while you prepare the salmon.
In the same cast-iron skillet, heat another tablespoon of olive oil over medium heat. Brush most of the marinade off of the salmon and place the salmon skin-side up. Cook, undisturbed, for 2½ minutes. Use a spatula to carefully flip the salmon skin-side down. Cook, undisturbed, for 1½ minutes. Cover the pan with a lid or piece of foil and transfer to the oven to cook for 10 minutes, or until cooked through.
Break the salmon up into pieces with a fork. Serve over porridge with bok choy and a sprinkle of furikake.
Sweet Porridge with Pears and Hazelnuts
Toss the pears with brown sugar, cinnamon, nutmeg, and salt.
Melt the butter in a medium skillet over medium-low heat. Add the spiced pears and cook, stirring, until pears soften, 3-5 minutes.
Serve over porridge with a sprinkle of chopped toasted hazelnuts.