Last updated on April 8th, 2019
The perfect light and fluffy gluten-free vanilla cupcakes. Top them with your favorite frosting for a birthday party or mix things up with goat cheese frosting and brûléed figs for something special! Either way, this is a go-to recipe for gluten-free vanilla cupcakes!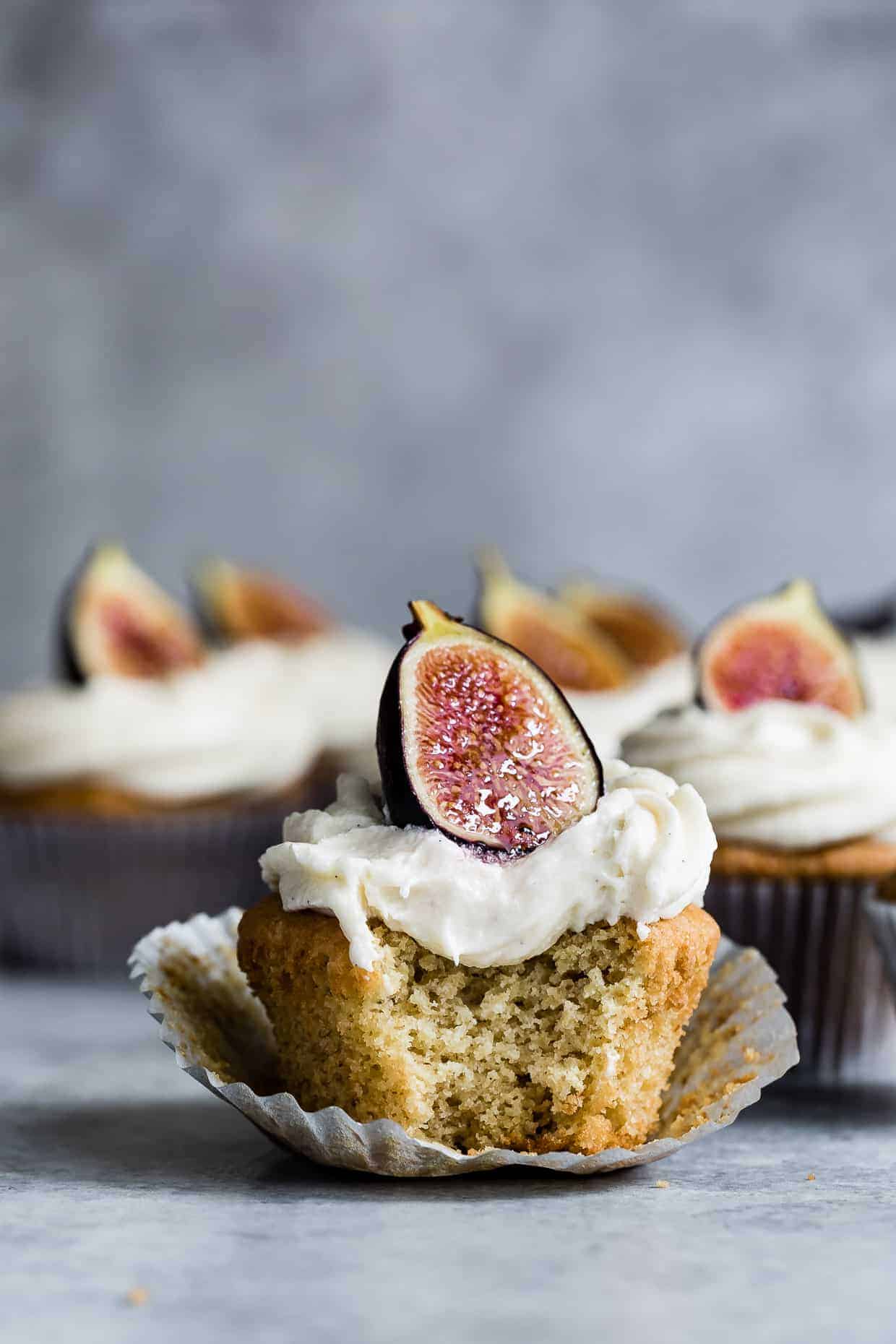 My neighbor brought over homemade gluten-free vanilla cupcakes a few months back, then texted me to ask for a baking date to come up with a better recipe. She was tasked with making a gluten-free, refined sugar-free, and dairy free vanilla cupcake for some friends at her daughter's birthday party.
Using my gluten-free chocolate chip cupcake from three years ago as a starting point, we made several dozen cupcakes in our quest. We ended up with a cupcake that was pretty great, especially considering all its limitations. But because I can't leave well enough alone, after the party, I threw the dairy and sugar back in and kept testing.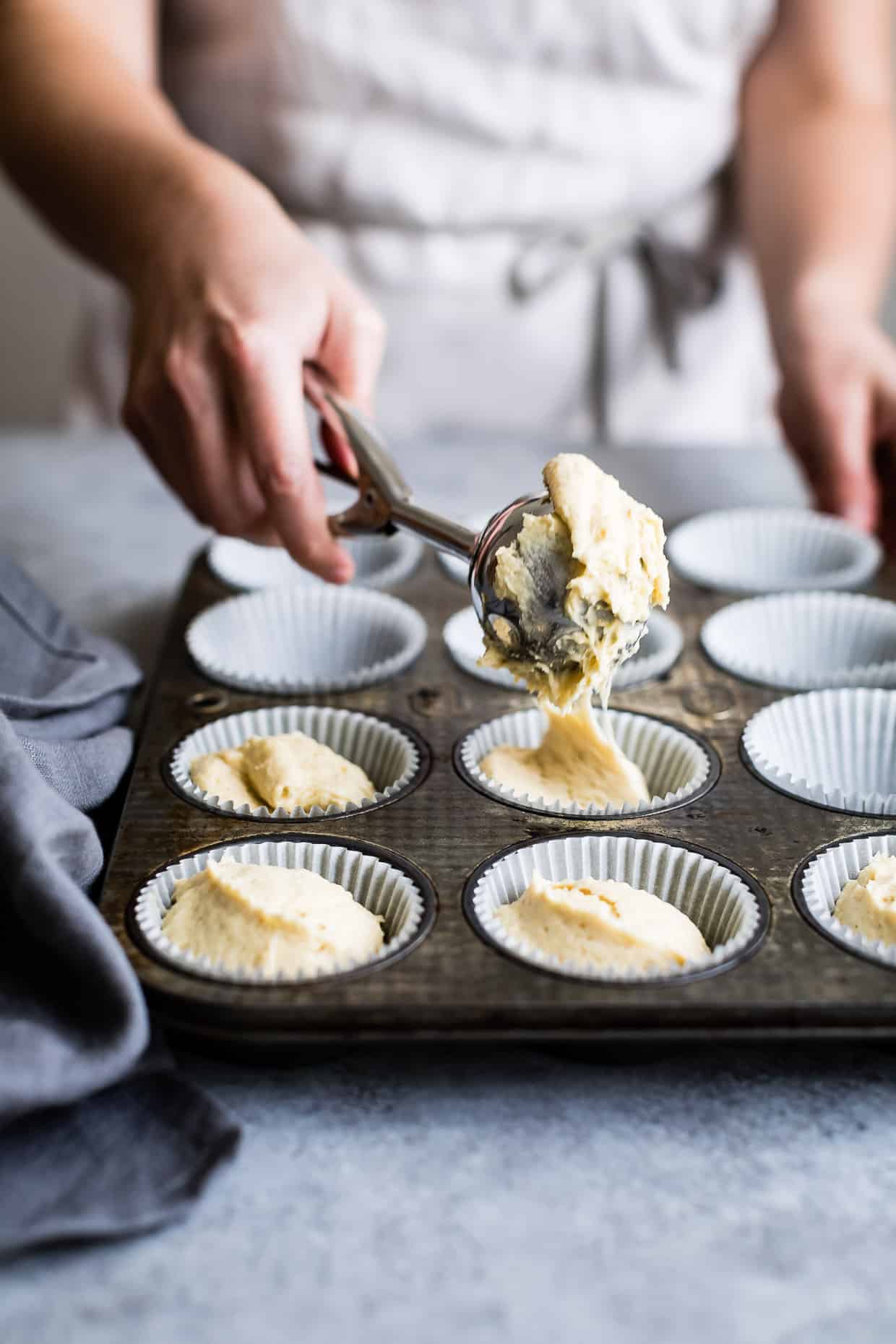 My goal: perfect basic gluten-free vanilla cupcakes – the counterpart to my perfect gluten-free chocolate cupcake recipe.
If you're skeptical of this claim, I hear you – it's a pretty bold statement. It's possible "perfect cupcake" is subjective, but for me, these are the gluten-free vanilla cupcakes I'll keep turning to over and over again. While still buttery, it's light and fluffy, a quality usually reservered for chocolate cupcakes that turn to oil for their fat. It has a tender crumb that is neither dry nor gummy and each bite bursts of vanilla. It's perfection.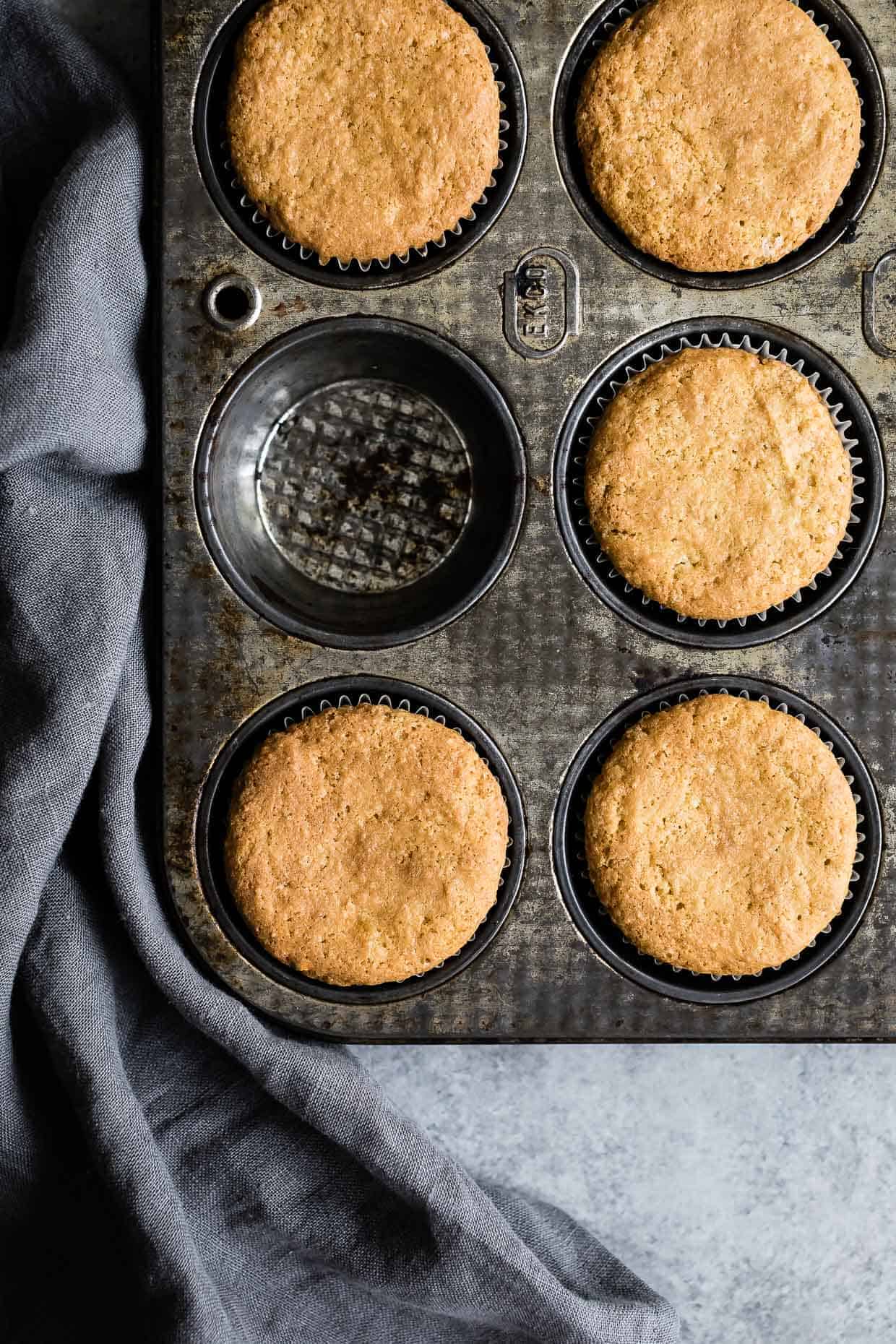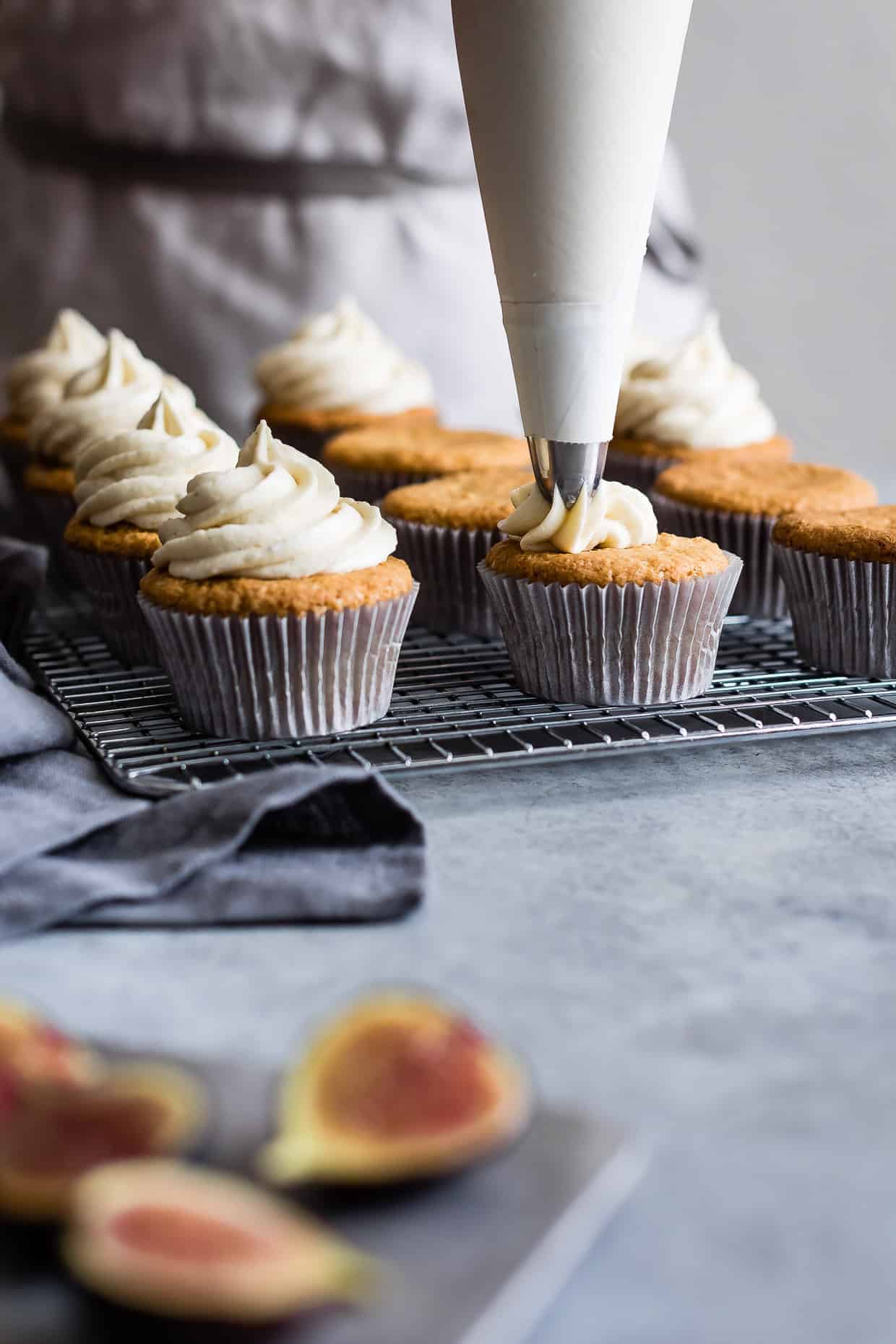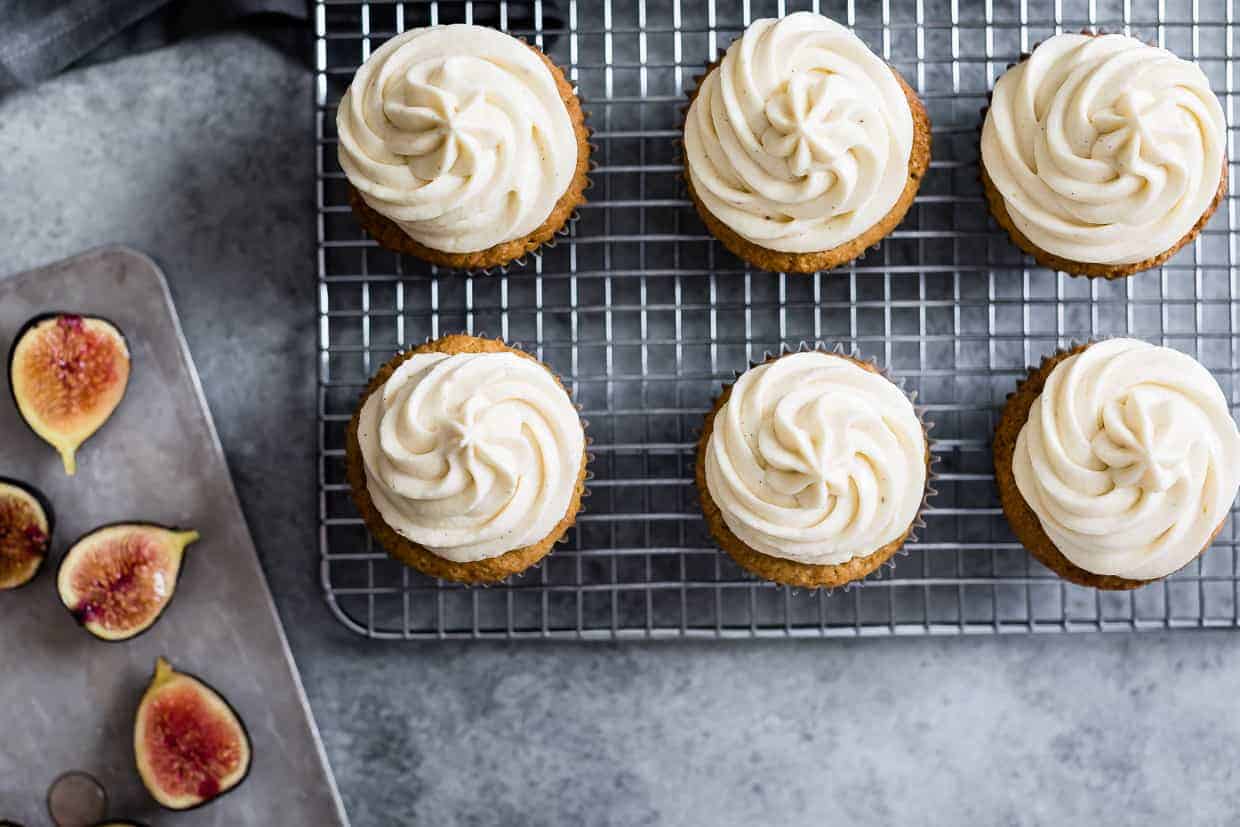 For a basic party cupcake, top it with your favorite frosting (I use this one without honey as the base for all my cream cheese frosting). Here I've swapped out half the cream cheese for goat cheese to create a slightly more tangy earthy frosting that pairs perfectly with the brûléed fig garnish.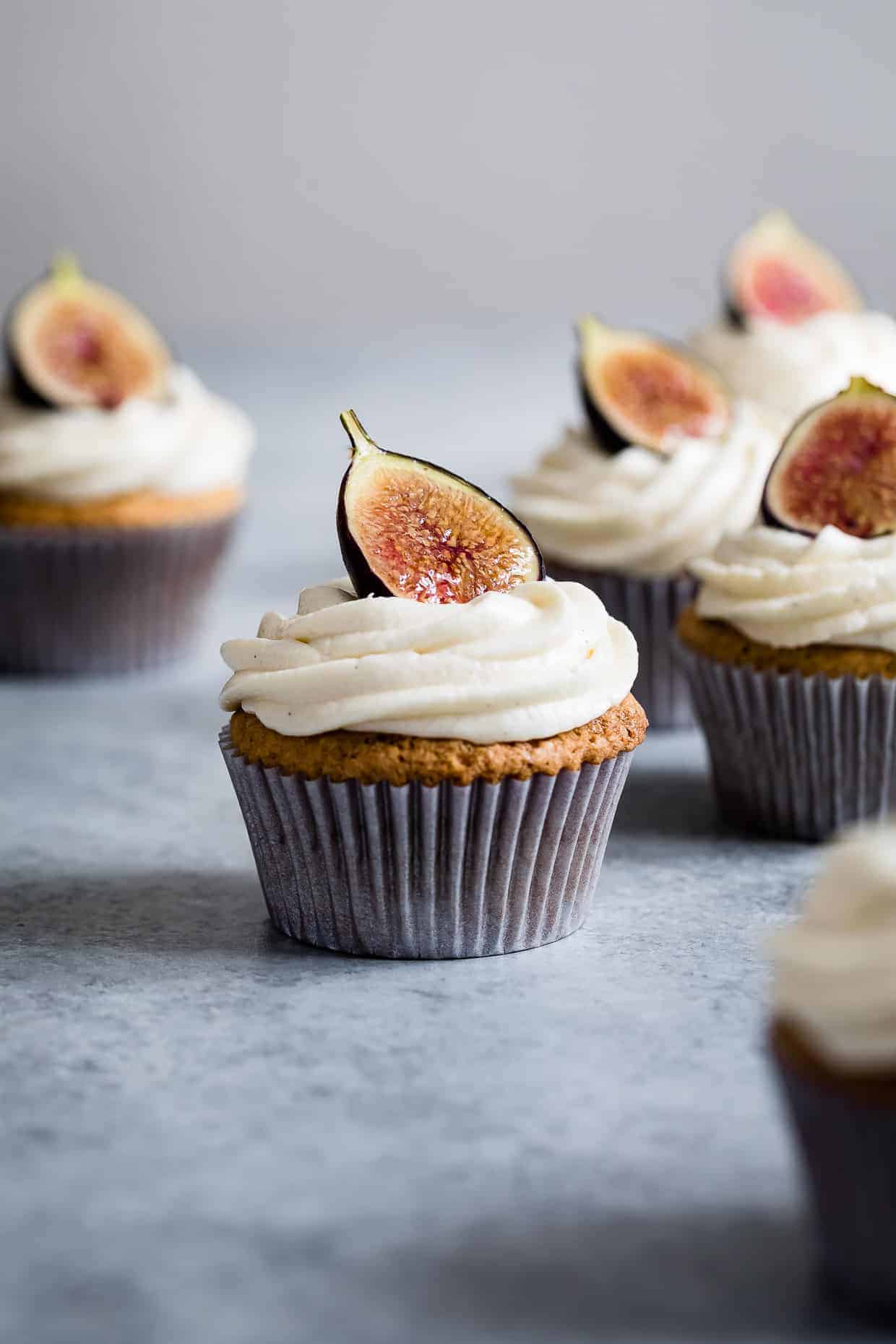 This cupcake flavor is a nod to two trips I took this past month: first to the land of figs with Valley Fig and then to the land of goat cheese with Vermont Creamery. (Note: this post is not sponsored or affiliated with either brand. I'm just showing a little love for the places that inspired this recipe).
In Lodi, we were served a multi-course dinner featuring figs in every dish. The plate garnish on our dessert course gave me the idea for these brûléed figs cupcake toppers. Fresh figs, with their showy magenta centers, make excellent cake garnish. Fun fact about dried California Figs: did you know that California Figs are dried on the tree and then harvested once they fall? Mind blown.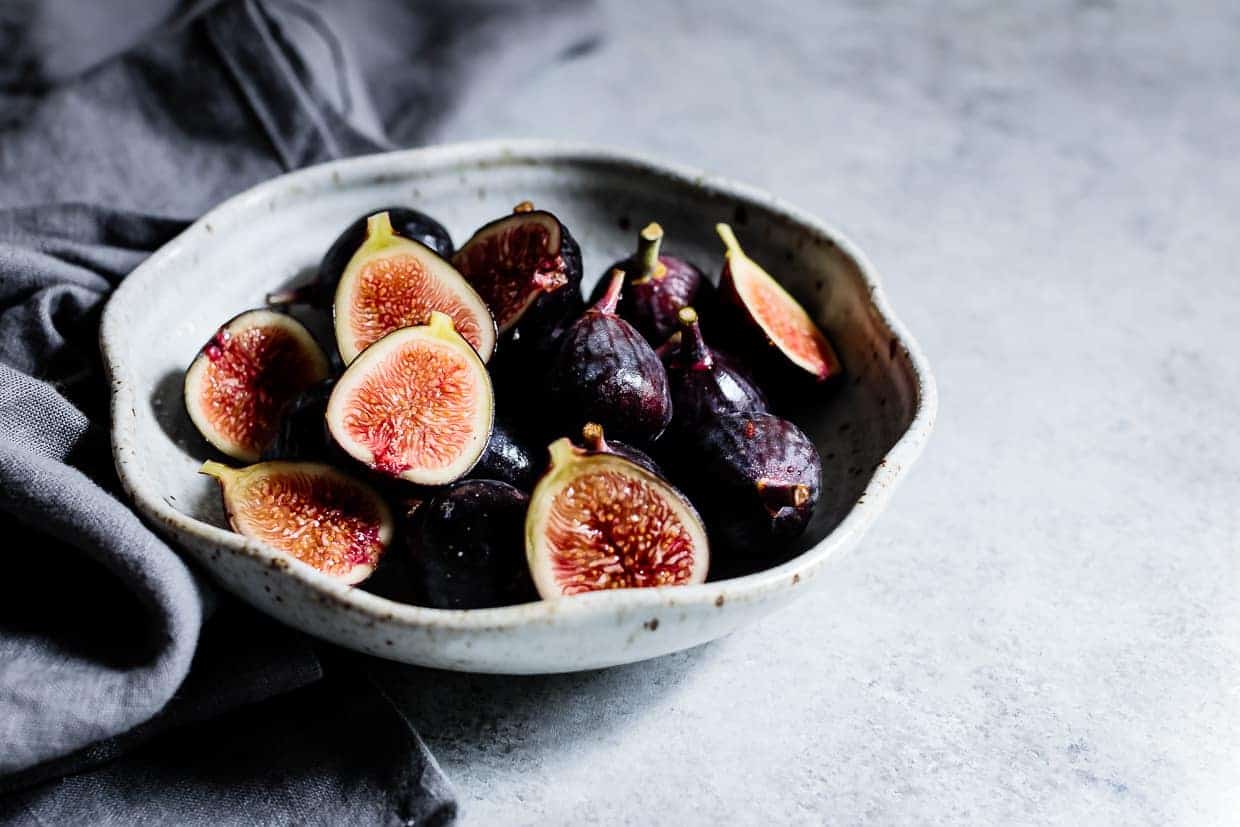 On the other side of the country in Vermont, I played with baby goats.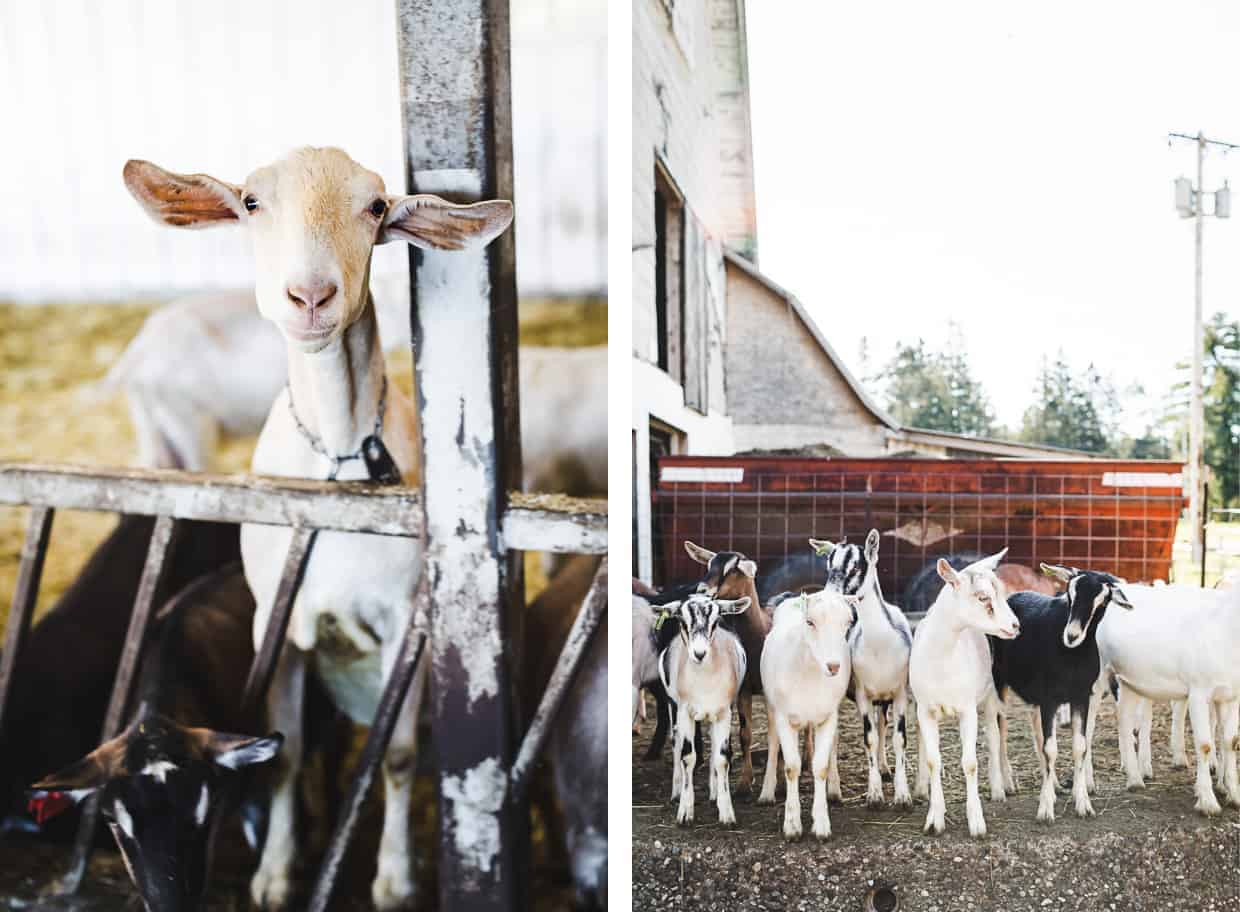 Okay okay, I also ate a whole lot of cheese, especially fresh goat cheese. Fun fact about goat cheese: did you know that most, if not all, of the major goat cheese creameries were founded by women? When Lily asked the founder's son why he thought this was, he replied "because everything great starts with a woman."
Truth.
Including these cupcakes, I might add.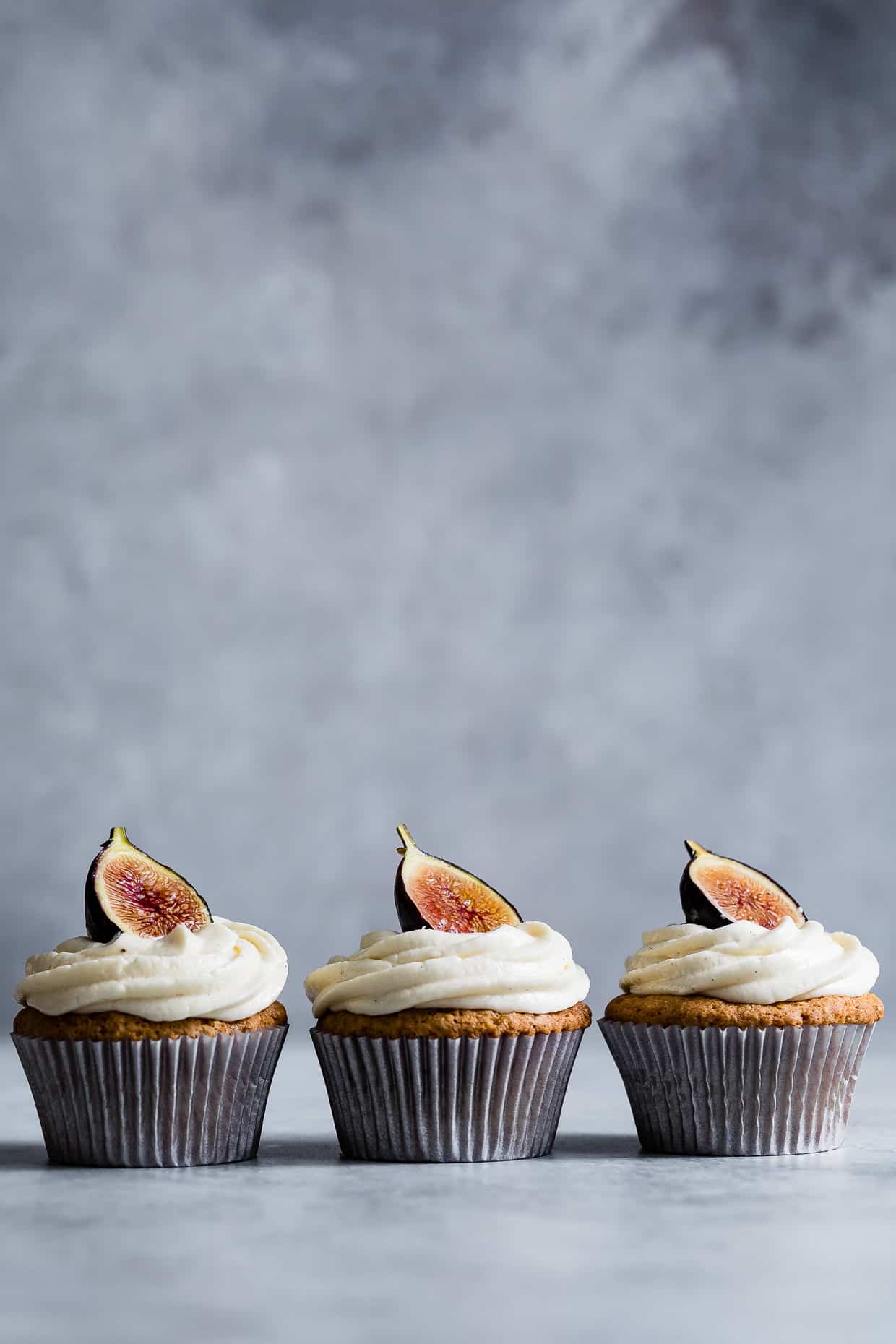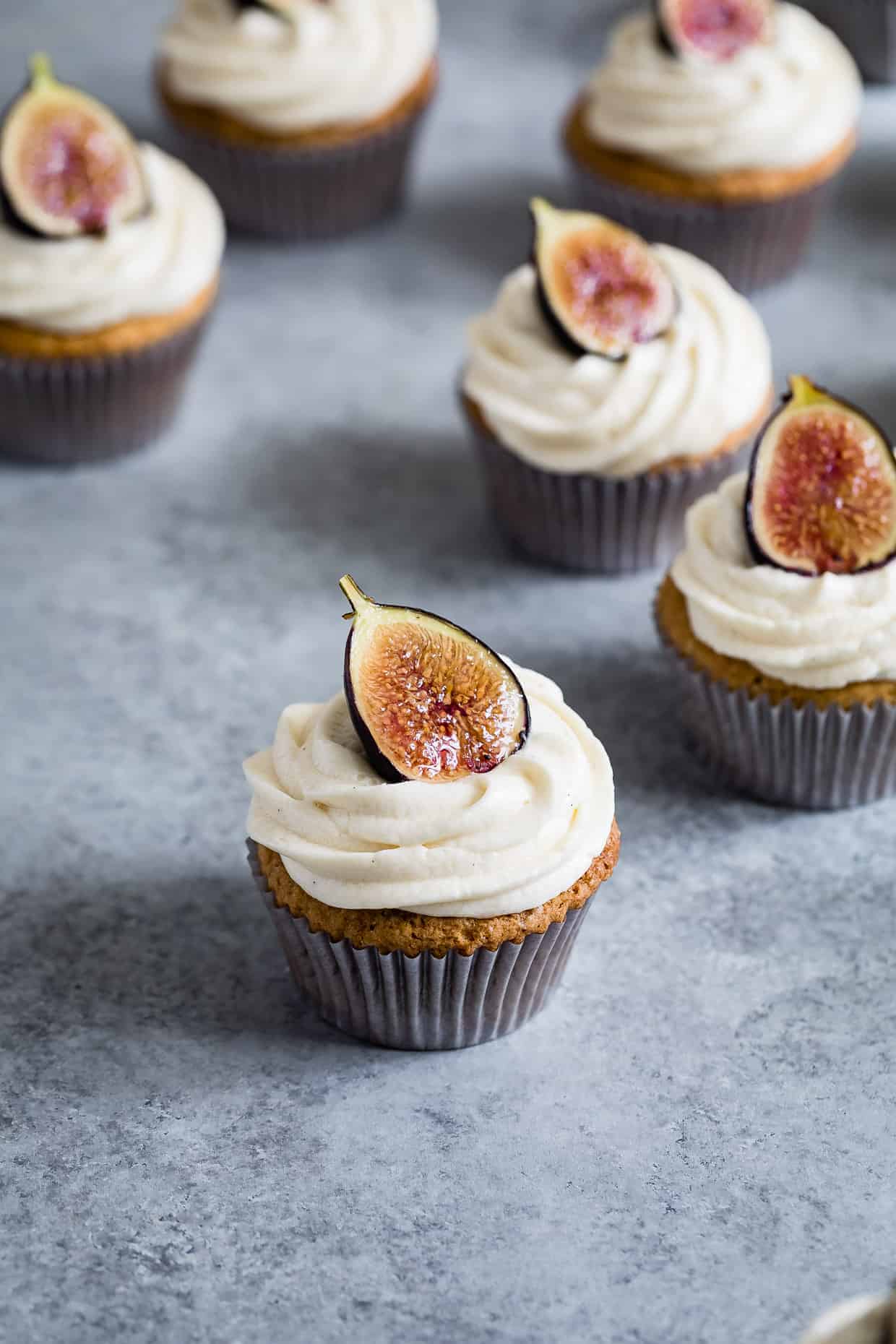 In other big news, I'm giving away a pink KitchenAid Stand Mixer over on my Instagram starting today through 10/31 as part of KitchenAid's 10,000 cupcakes program to raise money to fight breast cancer. Find out how to enter over on my post!
Thanks for reading Snixy Kitchen! To stay up on what's coming out of my kitchen, follow me on Facebook, Instagram, Twitter, Bloglovin', or Pinterest, or subscribe via e-mail to get new recipes right to your inbox.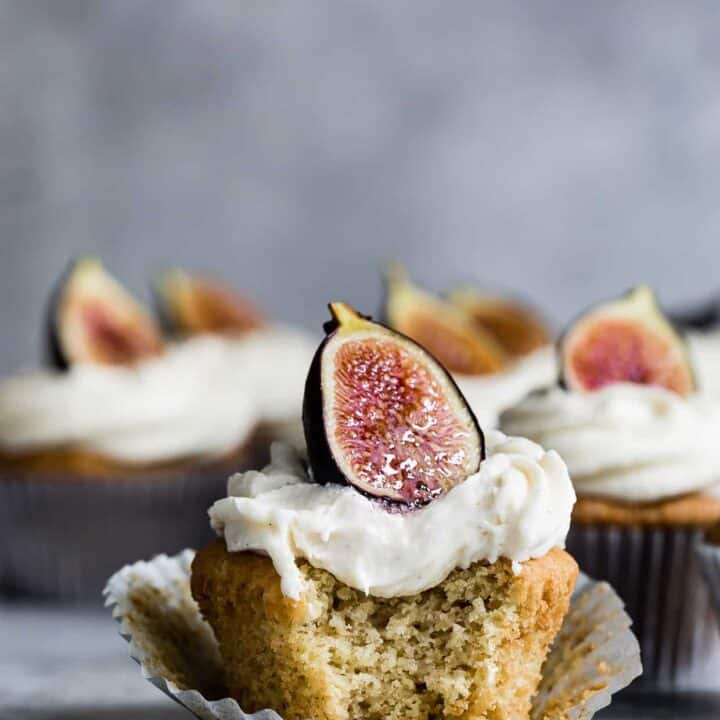 Gluten-Free Vanilla Cupcakes with Goat Cheese Frosting & Brûléed Figs
Ingredients
Gluten-free Vanilla Cupcakes
½ cup (81g) sweet rice flour or glutinous rice flour (such as Mochiko - different from "white rice flour" or "brown rice flour")
½ cup + 1 tablespoon (68g) gluten-free oat flour
½ cup + 2 tablespoons (97g) millet flour
½ teaspoon xanthan gum*
½ teaspoon baking soda
1½ teaspoons baking powder
½ teaspoon salt
½ cup unsalted butter, softened to room temperature
¾ cup cane sugar
2 teaspoons pure vanilla extract (I use Rodelle)
2 large eggs, room temperature
½ cup whole milk
Goat Cheese Frosting
4 ounces soft goat cheese, room temperature
4 ounces cream cheese, room temperature
1/2 cup unsalted butter, room temperature
1½ cups powdered sugar, sifted
½ teaspoon vanilla extract
Pinch of salt
Brûléed Figs**
7 ripe, but firm figs, halved
3 tablespoons cane sugar
Instructions
Gluten-Free Vanilla Cupcakes
Preheat the oven to 350°F.
In a medium bowl, sift together the sweet rice flour, oat flour, millet flour, xanthan gum, baking soda, baking powder and salt. Set aside.
In the bowl of a stand mixer, cream together the butter and sugar over medium speed until light and fluffy, about 3 minutes.
With the mixer on low-speed, add the eggs one at a time, mixing after each one.
Add the vanilla extract, mixing until just combined.
Keeping the speed on low, slowly add the dry ingredients in two batches, adding the milk in between, mixing until just combined.
Divide the batter among 14 lined cupcake cups, until about 1/2 to 2/3 full.
Bake for about 22-26 minutes, or until the tops bounce back a little when tapped and a toothpick inserted in the center comes out clean or with just a few moist crumbs.
While the cupcakes bake, prepare the frosting.
Transfer the cupcakes to a wire rack to cool.
Meanwhile prepare the frosting.
Goat Cheese Frosting
In the bowl of a stand mixer fitted with the paddle attachment, cream the butter over medium speed for 1-2 minutes
Add the goat cheese and cream cheese and beat until thoroughly combined
In thirds, add the powdered sugar, mixing on slow speed until combined.
Add the vanilla and salt, and beat on medium speed until smooth.
Transfer to a pastry bag fitted with your favorite tip.
Once the cupcakes are cool, pipe the frosting on top. Just before serving, prepare the figs.
Brûléed Figs
Place the sugar on a small plate.
Press each fig into the sugar to coat well. Let them sit for a minute then press them again.
Using a kitchen torch with enough distance to keep from burning the figs, brûlée the sugar until it begins to caramelize.
Let cool until it firms up and top each cupcake with a brûléed fig.
Notes
*You can leave out the xanthan gum if needed, but the result is a slightly gummier more dense cupcake.
**Wait to prepare the figs until ready to serve as the longer they sit, the moisture from the figs will soften the crispy brûlée shell