The perfect gluten-free chocolate cupcakes with a light moist crumb and rich chocolate notes. Decorated with pink strawberry rose buttercream roses for Valentine's Day!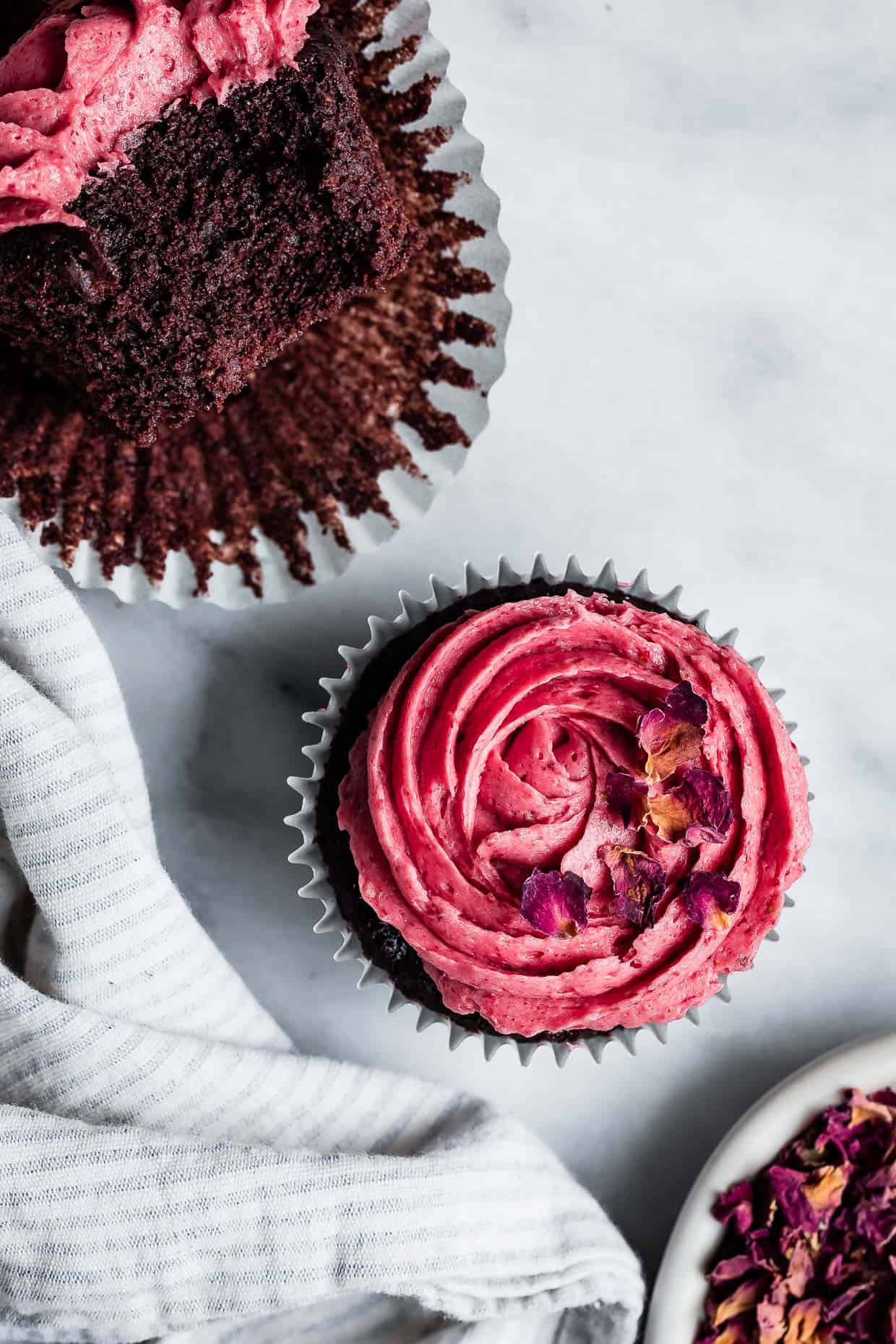 While these pink rose-covered chocolate cupcakes really truly are the perfect Valentine's Day (or Galentine's Day!) treat, I'm also dedicating them to Zoella for her second birthday. These are birthday party-worthy cupcakes. They are hands-down my go-to party dessert with a frosting to fit the occasion. I've been making these gluten-free chocolate cupcakes for years - dozens upon dozens of them for almost every celebration. They made their party debut with a few more flours at my 30th birthday dessert potluck three years ago with a matcha cream cheese frosting (to feed my obsession). My husband has declared these his favorite cupcakes ever, gluten-free or otherwise, and though I'm certainly biased, I agree.
Last year I baked a version of this cake as a chocolate layer cake with ombre hibiscus frosting for Valentine's day, with the cupcake option written in the recipe. That doesn't do the recipe full justice though because most of the time I bake them as cupcakes. This year, I've created these gluten-free chocolate cupcakes with strawberry rose buttercream just in time for Valentine's Day, but also for every other party you're planning throughout the year.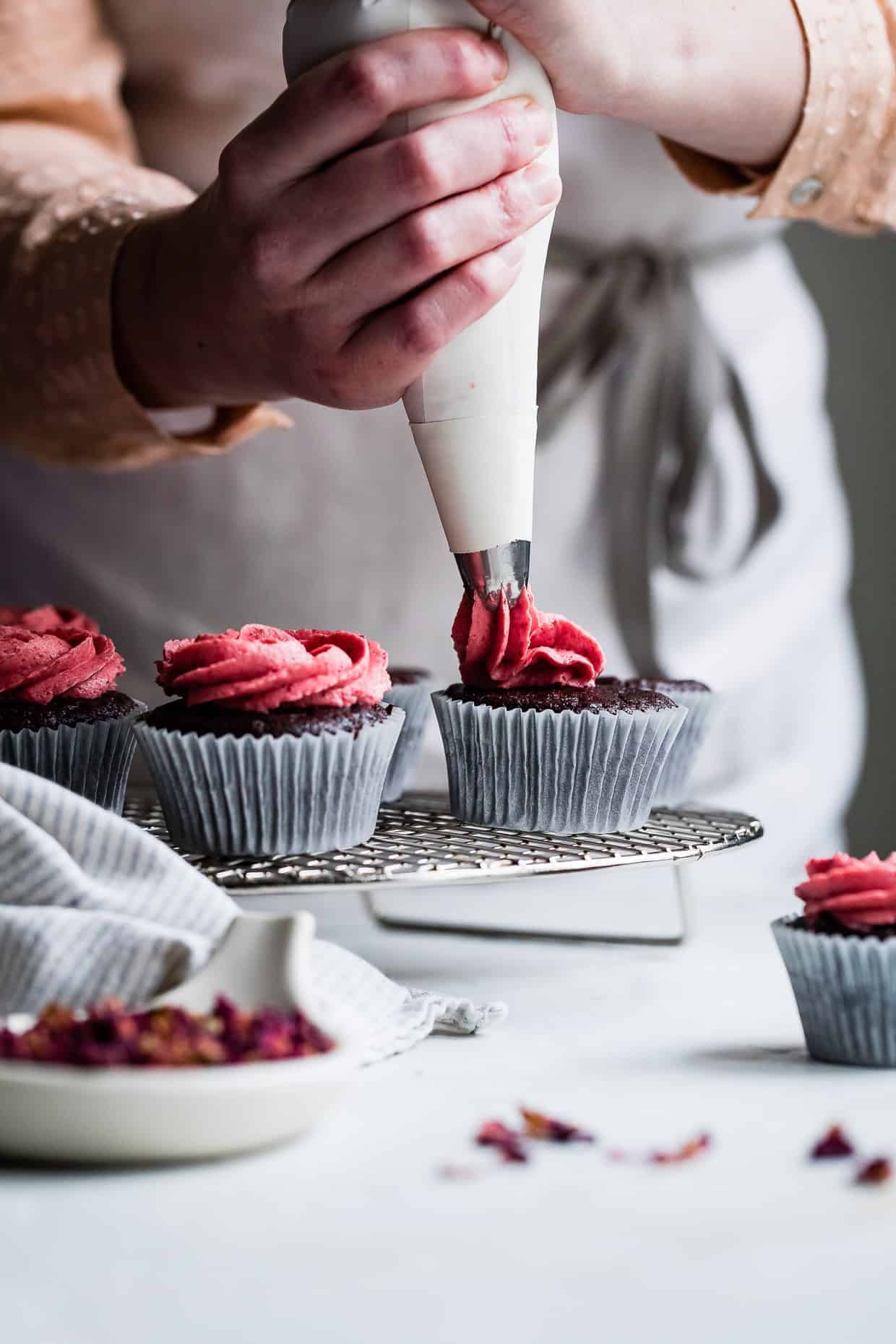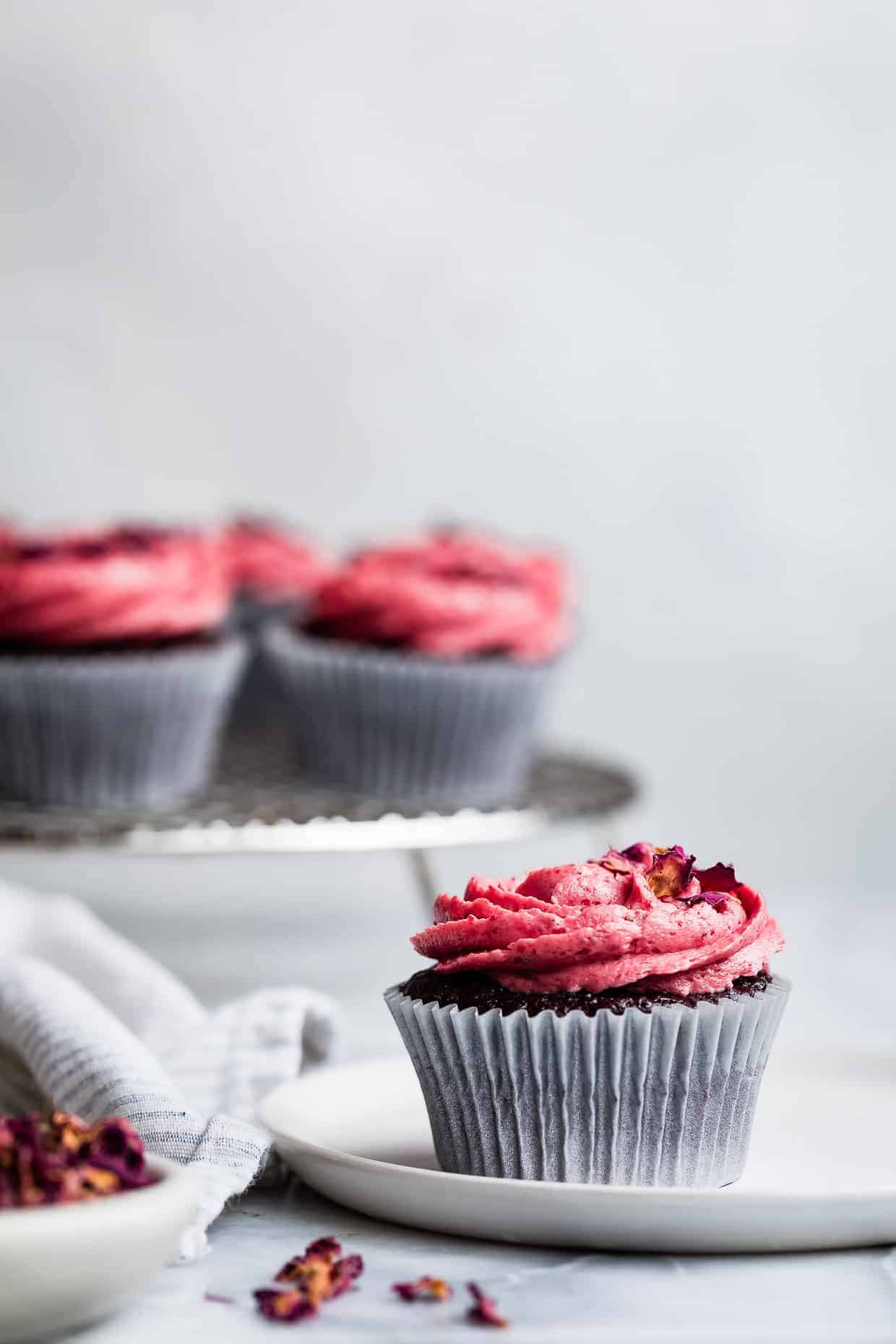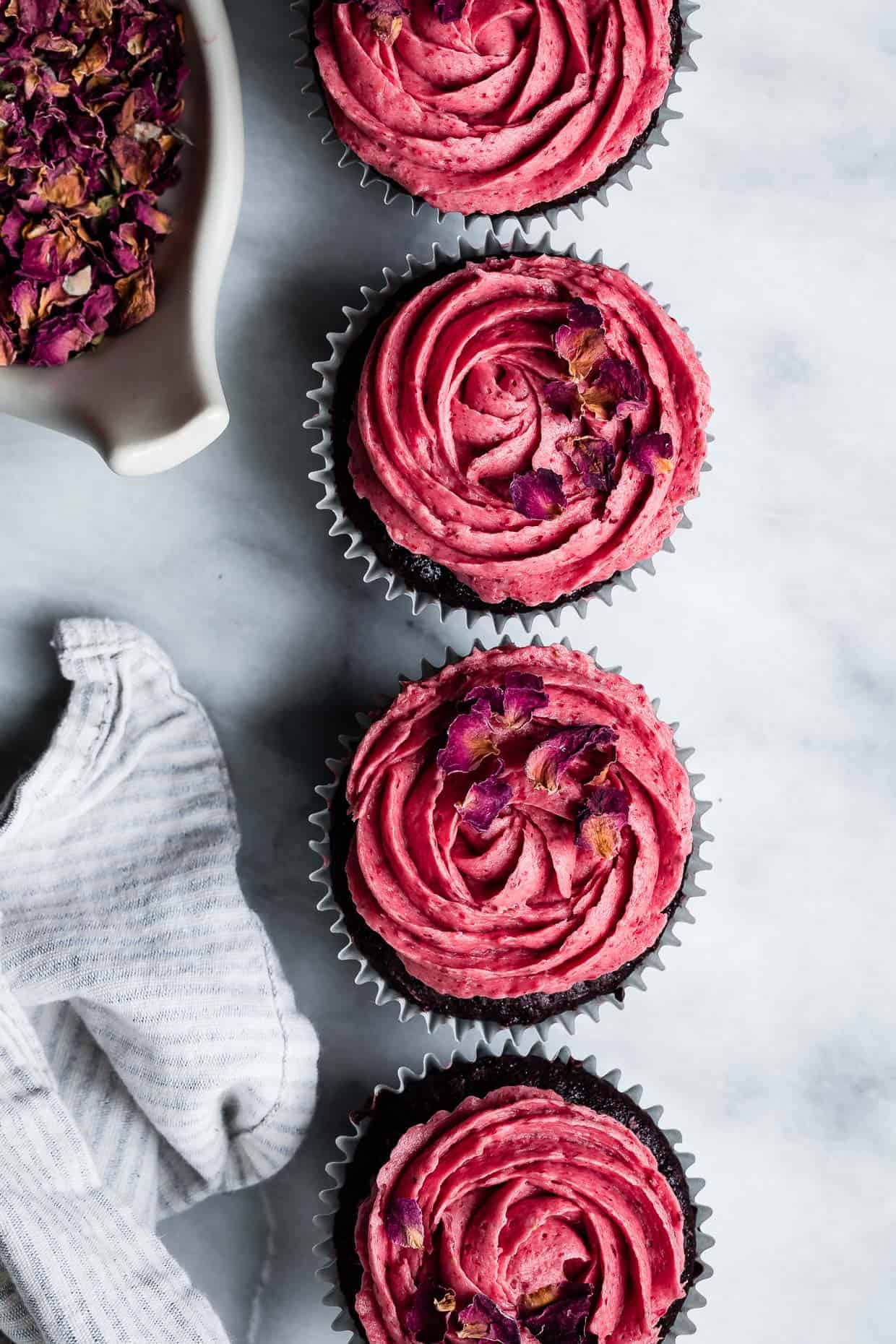 We've got a birthday celebration coming up this weekend (almost two weeks delayed). I'm not sure how my tiny #cheesebabygirl grew up to two already, though I imagine I'll feel that way every birthday for the rest of time. For her first birthday, I made a special refined sugar-free gluten-free banana date smash cake, but this birthday, we finally let her indulge in a tiny bit of honest-to-goodness sugar (which we paid for at bedtime). For the week leading up to it, we promised we'd get ice cream on her birthday. It's all she talked about. When asked how old she'd be on her birthday, she'd first respond, "ICE CREAM!"
With her new curiosities, language skills, and funny blurt-outs, I can already tell that the year of two, will come with a combination of the very sweetest memories ever and also the very worst of times. Which is exactly how she seems to be experiencing it too - either extremely happy or face-down in a tantrum on the floor because her play dough came out of the container smushed the wrong way.
Fortunately she's also cute. Ever since we started family dinner, we've drilled into her that you say "thank you" to mama or daddy for making dinner. Now the first thing she says when she sits at the table is, "daddy, what do you say to mama?" She might cry at the drop of a hat (literally), but at least her manners are on point.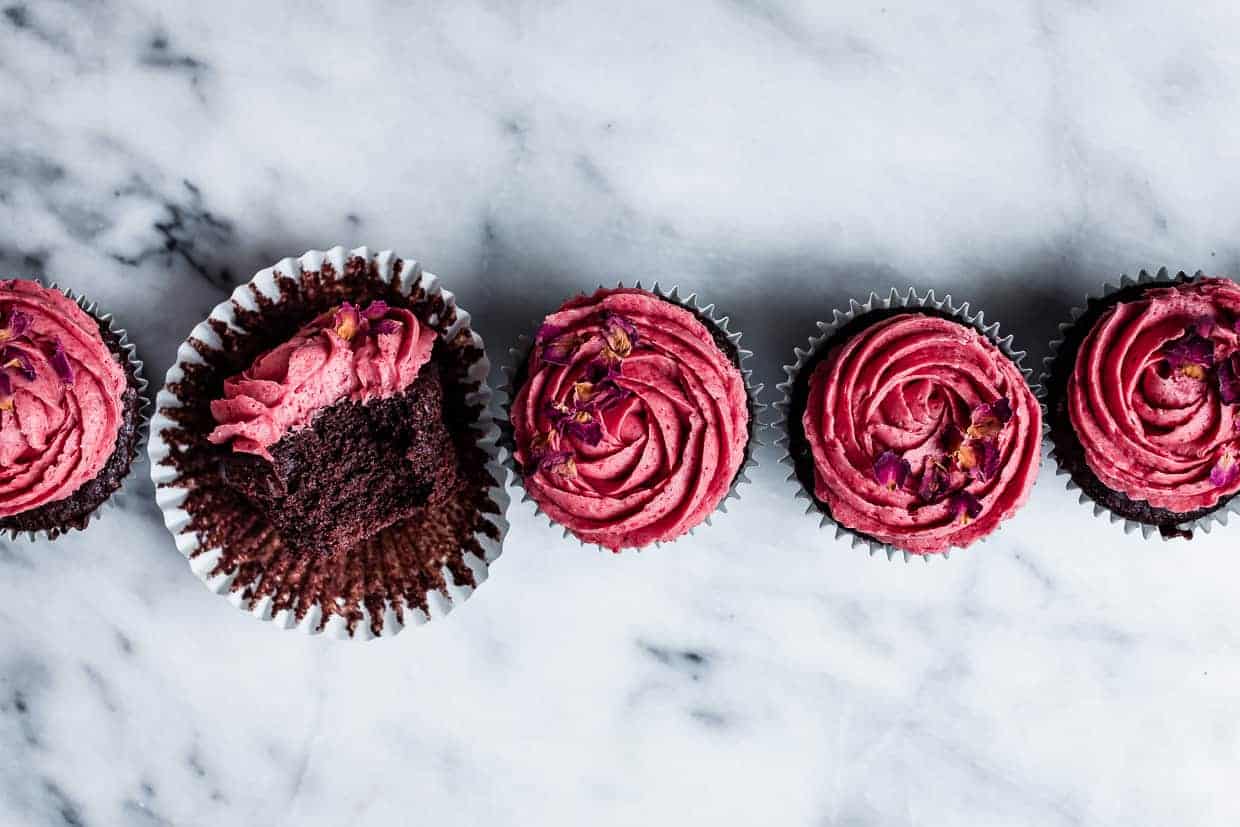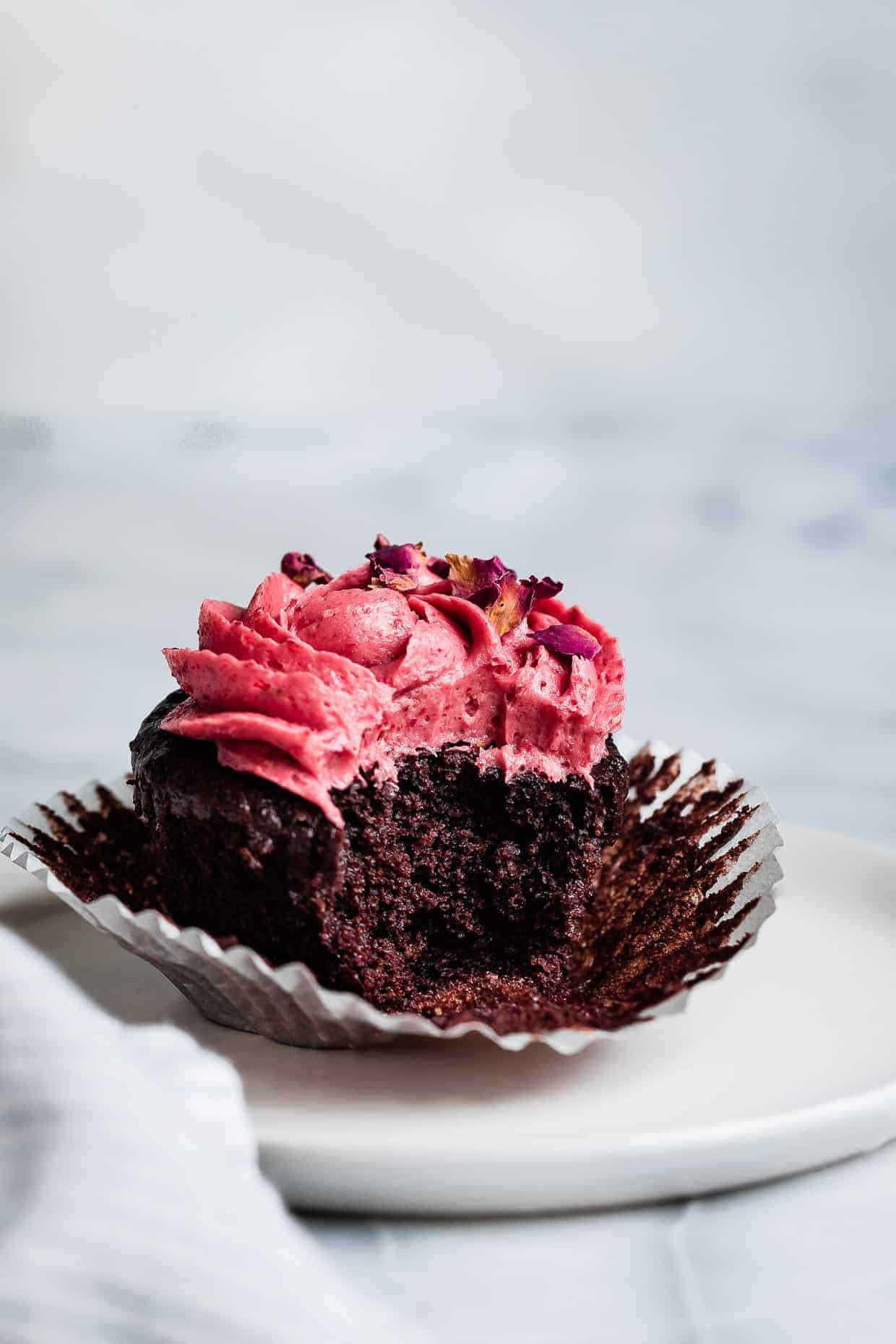 I haven't decided what cake I'll make for her party this weekend, but most signs point to these gluten-free chocolate cupcakes. The cake has rich chocolate notes and a moist crumb that's light and fluffy. Bonus points for being a foolproof recipe everyone will love! Hope you have a deliciously sweet Valentine's/Galentine's Day!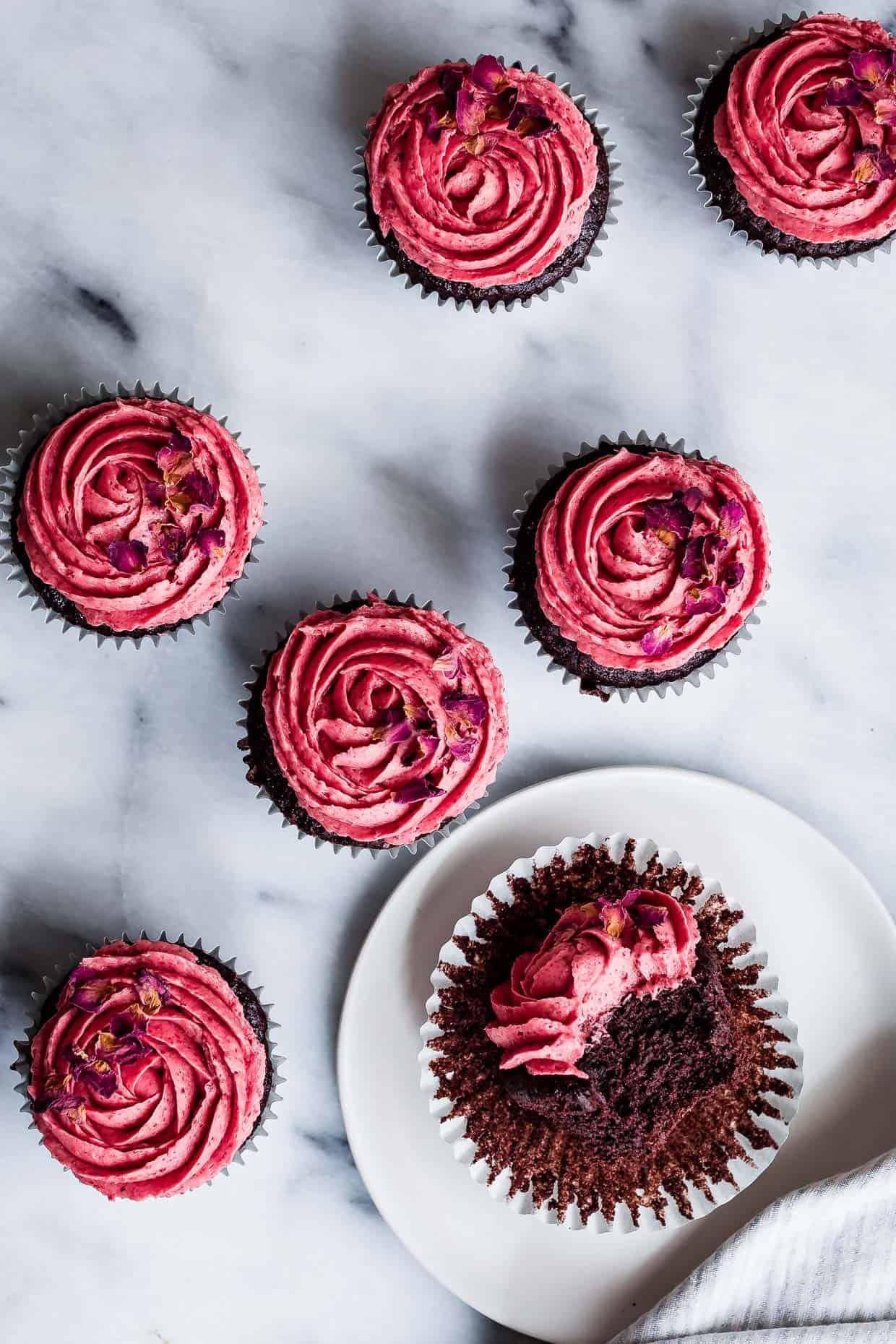 Thanks for reading Snixy Kitchen! To stay up on what's coming out of my kitchen, follow me on Facebook, Instagram, Twitter, Bloglovin', or Pinterest, or subscribe via e-mail to get new recipes right to your inbox.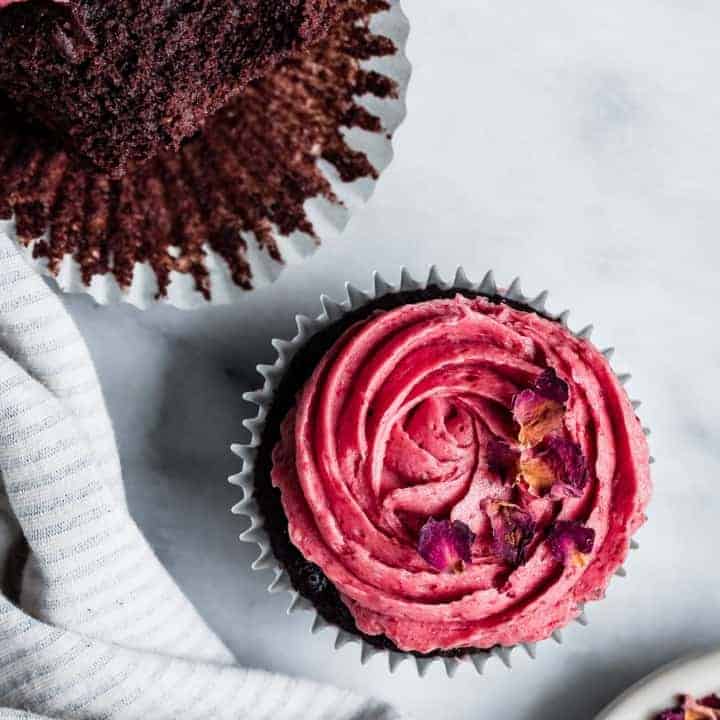 Gluten-free Chocolate Cupcakes with Strawberry Rose Buttercream
Ingredients
Gluten-Free Chocolate Cupcakes
Strawberry Rose Buttercream
8 tablespoons (1 stick) unsalted butter, room temperature
2½ cups (327g) powdered sugar, sifted
¾ cup (63g or 2.2oz) ground freeze dried strawberries, sifted (I get two 1.2 ounce bags and grind them in my food processor before measuring)
½ teaspoon vanilla extract
¾ teaspoon rose water
3-5 tablespoons heavy cream
Optional: dried edible rose petals, for decoration
Instructions
Gluten-free Chocolate Cake
Preheat the oven to 350°F. Line a standard muffin tin with 12 liners.
Combine the milk and vinegar in a small cup and let sit while you measure the flour, at least 5 minutes.
Whisk the sweet rice flour, oat flour, millet flour, cocoa powder, sugar, baking powder, baking soda, and salt together in a medium bowl.
In a separate bowl, whisk the milk and vinegar mixture with the egg, oil, vanilla extract, and chocolate extract together until combined. Pour this mixture into the dry ingredients and stir lightly to combine.
Pour the hot water into the dry ingredients and mix until completely smooth, scraping up the sides and bottom to completely incorporate.
Divide the batter evenly among the prepared cupcake liners, filling them just over halfway, or with just less than ¼ cup of batter using an ice cream scoop.
Bake for about 20-24 minutes, or until a toothpick inserted in the center of one comes out clean or with just a few moist crumbs and the center bounces back when poked. In my experience, it's best to err on the side of an extra minute or two to be sure. This cake is very moist so it won't over bake very easily!
Let cool completely before frosting.
Meanwhile prepare the frosting.
Strawberry Hibiscus Frosting
In the bowl of a stand mixer fitted with the paddle attachment, cream the butter over medium speed.
With the mixer on low, slowly add the powdered sugar, ground freeze-dried strawberries, vanilla extract, and rose water. Beat until combined.
Add the heavy cream, 1 tablespoon at a time to loosen until soft enough to pipe, but still sturdy.
Fill a piping bag fitted with a ½-inch closed star pastry tip (I use Ateco 846) with the frosting. Pipe your roses onto your cupcakes, starting in the center and tapering off on the final time around. Decorate with dried rose petals, if desired.
Notes
*I use homemade oat flour by grinding gluten-free rolled oats in my blender or food processor until fine.
**I divide my batter equally amount 12 standard cupcake liners, filling them just above half full, which bakes up 12 perfectly-sized cupcakes that just reach the brim of the liner. One friend said she filled them higher and had just a little muffin top, but got only about 8 cupcakes.
While trying to recreate her results, I discovered that there is a small difference in cupcakes baked with store-bought gluten-free oat flour versus those baked with home-ground gluten-free oat flour, where the store-bought oat flour cupcakes rose just ever so slightly less, but still made a bangin' cupcake. If you're using store-bought oat flour, I recommend making 11 cupcakes.