These light and fluffy gluten-free lemon cupcakes topped with lemon cream cheese frosting burst with lemon flavor. This easy recipe has a moist crumb and will be the highlight of any party!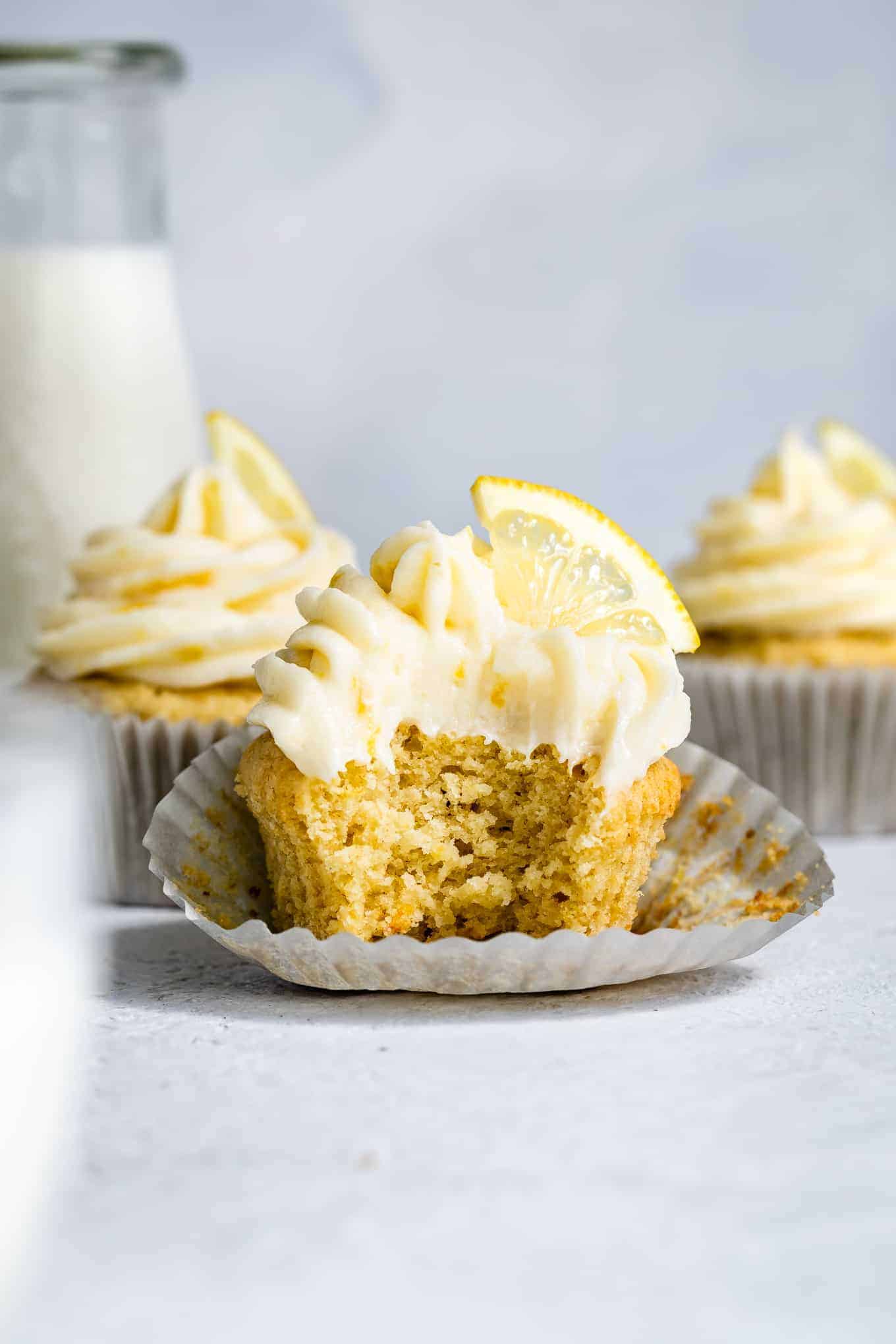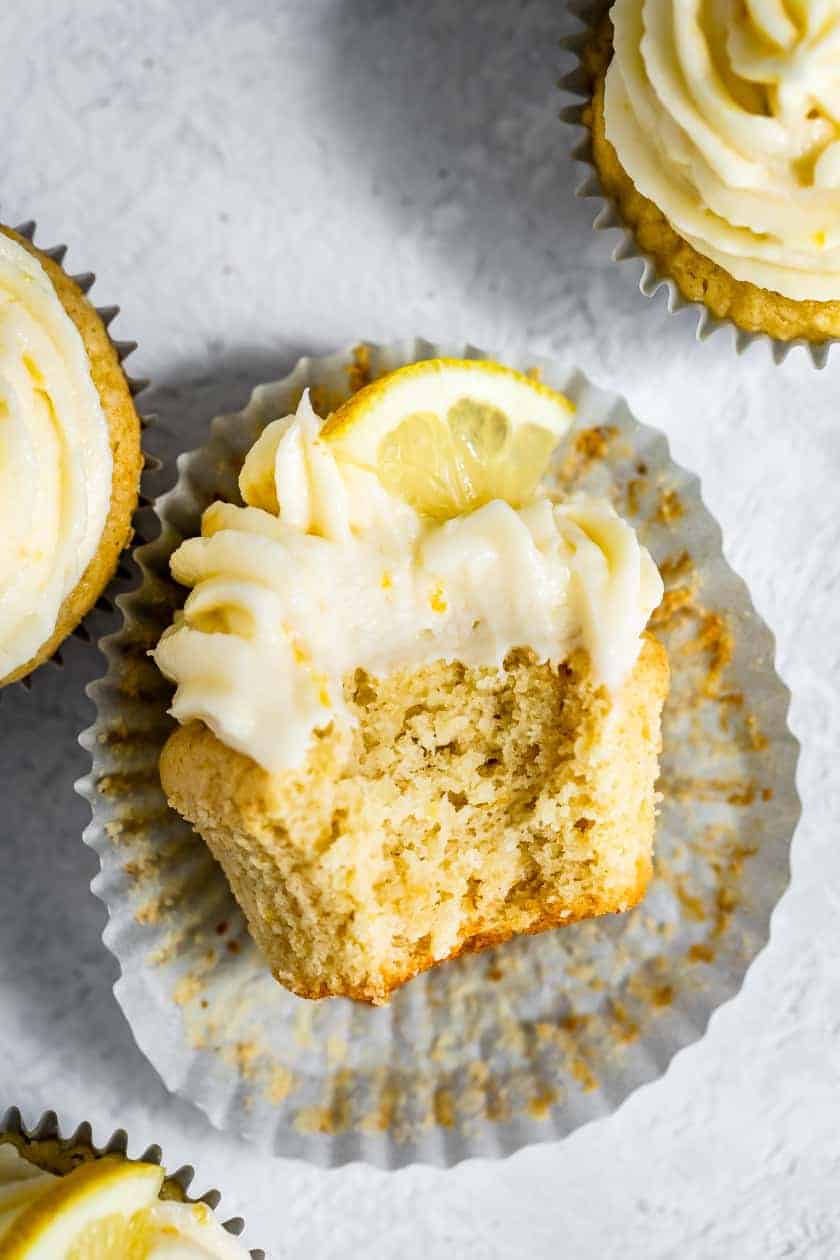 These aren't just any gluten-free lemon cupcakes. They're the lemon cupcakes we served at our wedding. The same lemon cake recipe we used to make our mini cut cake (you know, the one we tried to eat out of the freezer on our first anniversary). These cupcakes are special.
Back when we got married - almost six years ago - I'd just started experimenting with cutting gluten out of my diet. I dramatically swore off gluten about a month and a half before the wedding. But what about the cake?!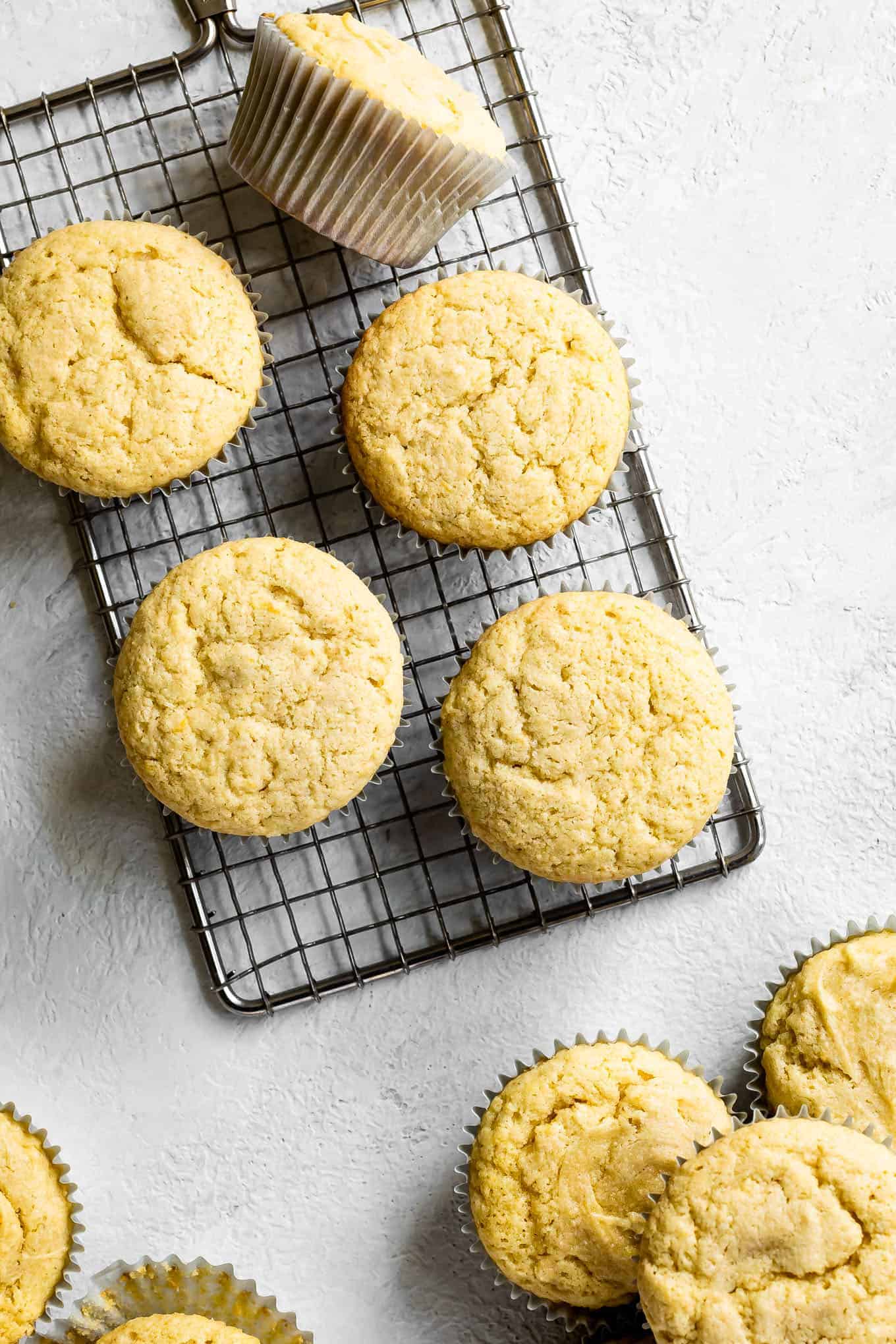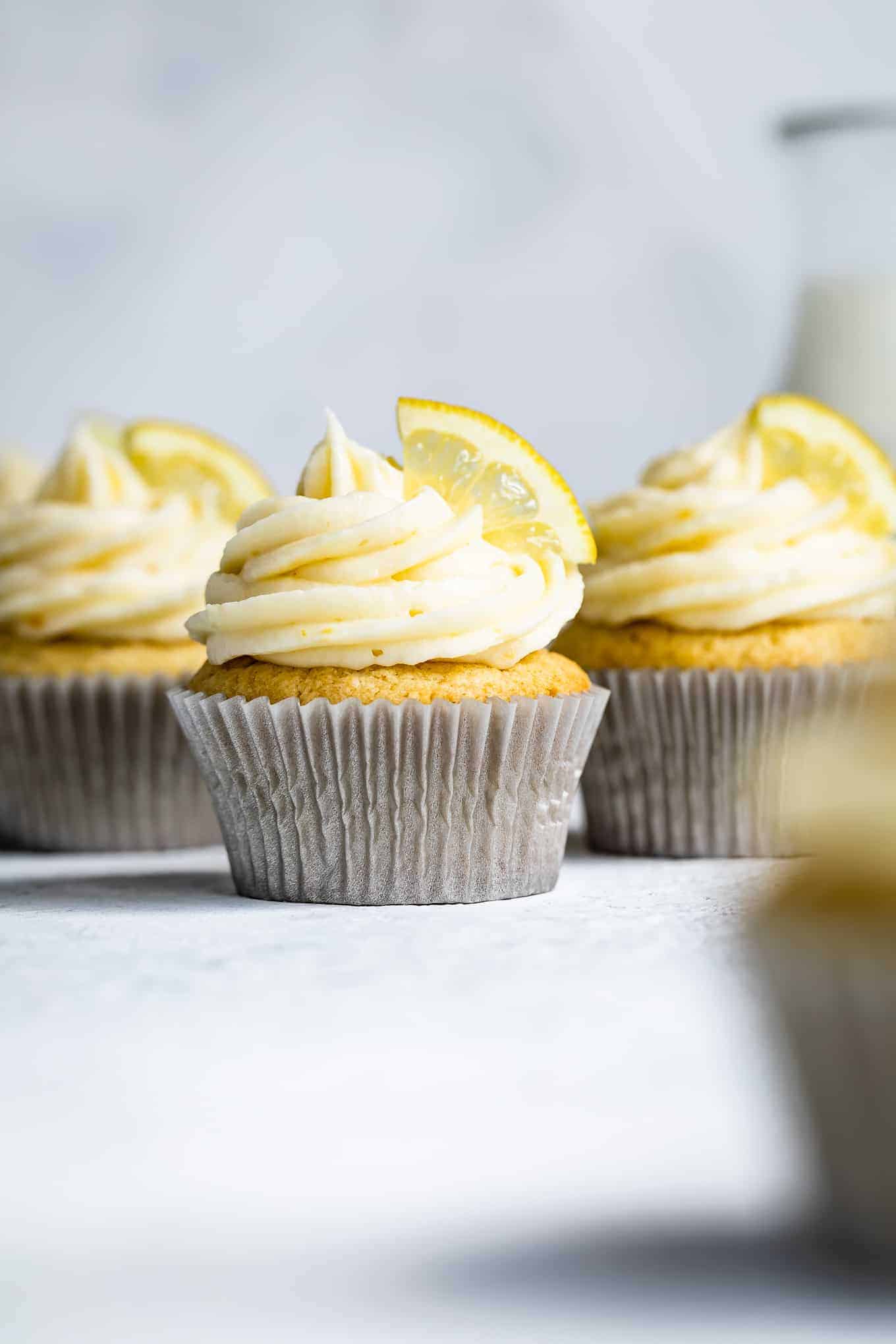 My friend who'd just finished pastry school had agreed to make the cupcakes for our wedding. After spending a day several months before the wedding recipe testing cupcakes in her kitchen, we landed on the perfect lemon cupcake recipe. I think she also made pumpkin spice and red velvet cupcakes for the big day, but they clearly didn't leave an imprint like the lemon cupcake. Just because I'd broken up with gluten, I wasn't about to skip out on those lemon cupcakes. So she made the lemon cupcakes with a bag of all-purpose gluten-free flour.
Now that I'm six years into baking gluten-free (with lots of tips and tricks shared by my friend Alanna), I can finally do these cupcakes more justice as a true made-from-scratch gluten-free lemon cupcake.
Also, I just re-read that diatribe against gluten and I'm still baking my way through the 1000 cupcake liners I ordered for our wedding...six years later. And not for lack of trying - I bake a lot of gluten-free cupcakes.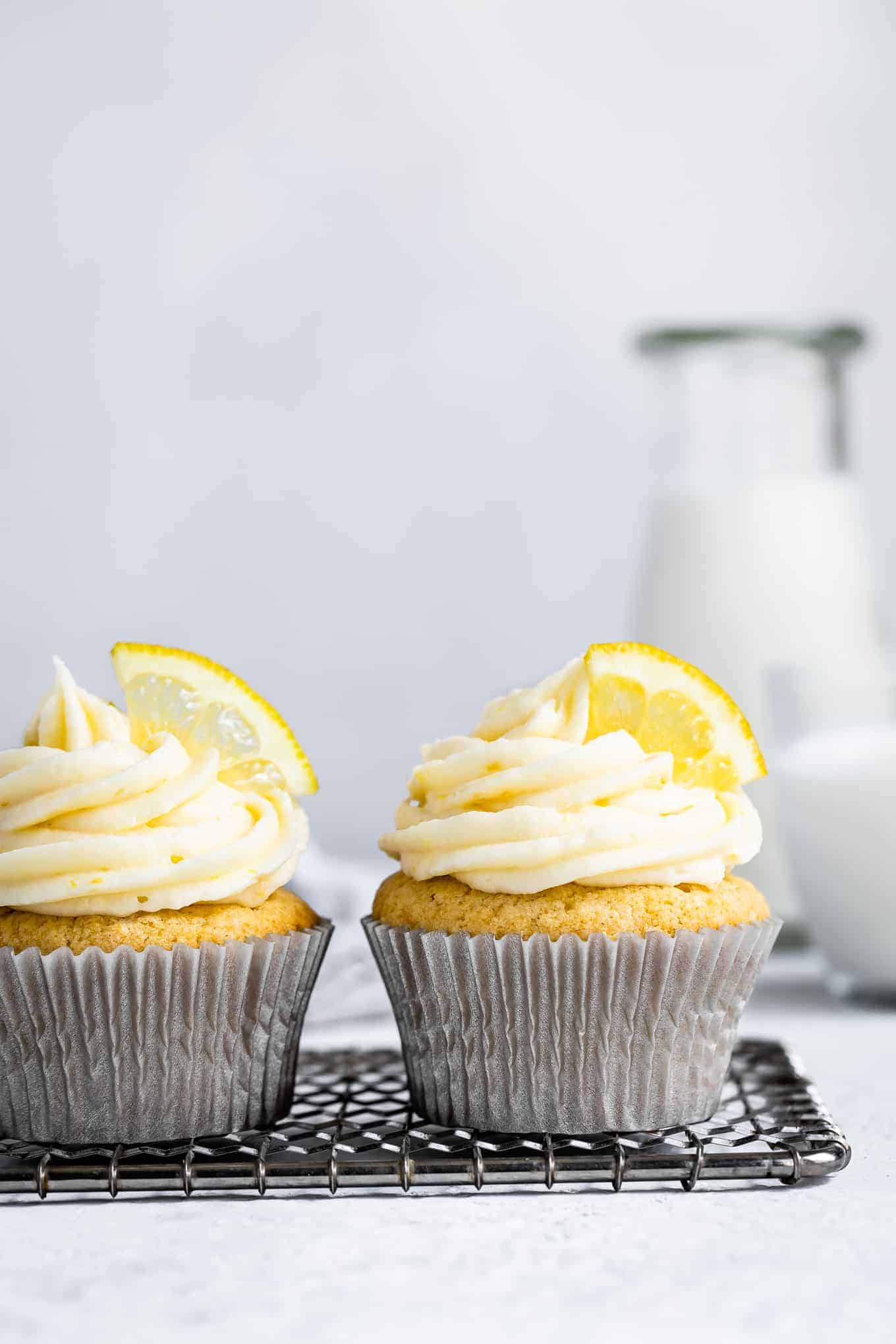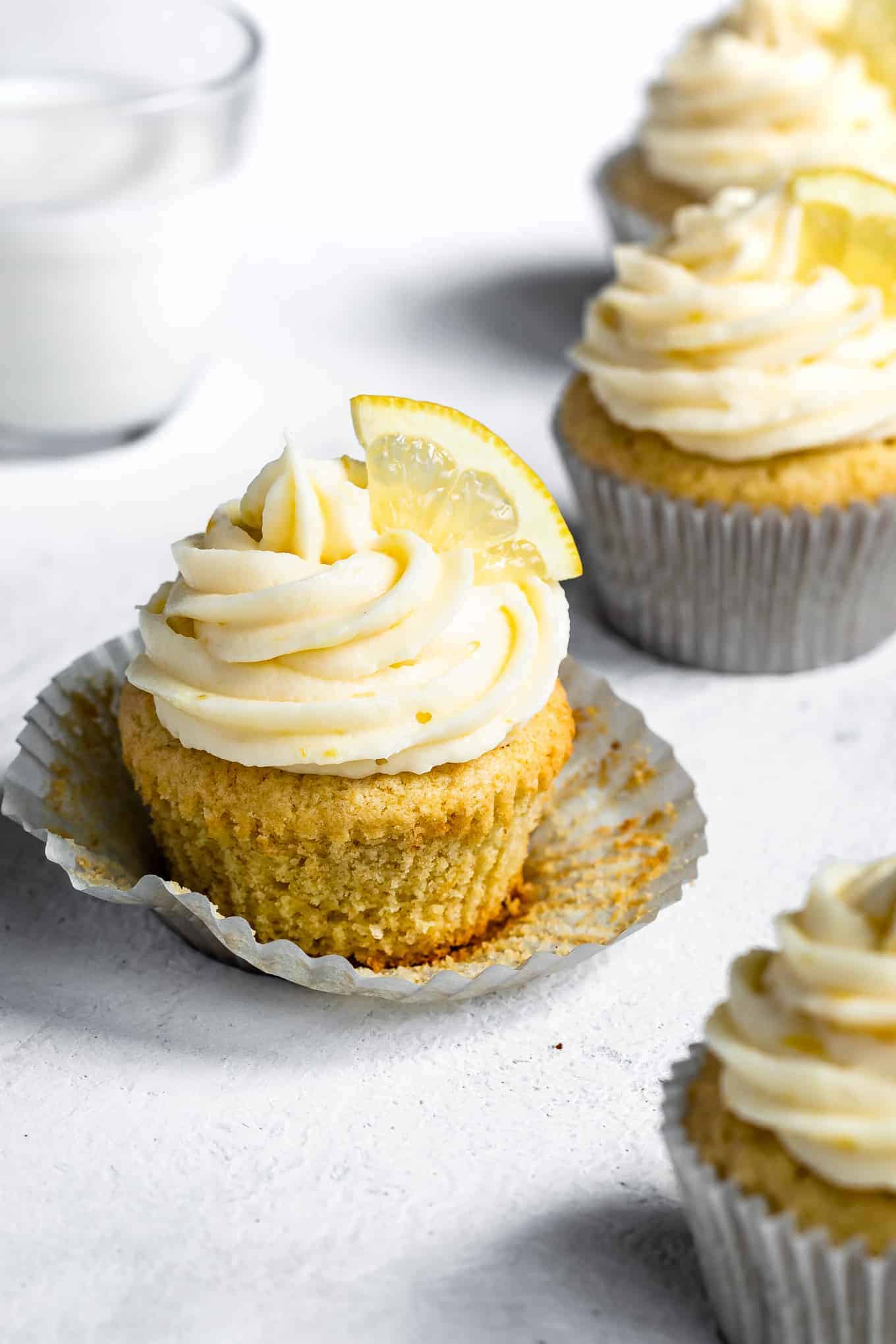 How to make gluten-free lemon cake
This gluten-free lemon cake recipe starts with a vanilla cake base. Reduce the vanilla and add lemon zest and lemon juice.
To make the cake gluten-free, I use a trio of gluten-free flours: oat, millet, and sweet rice. These flours blend together to behave much like an all-purpose flour in baked goods like cake. While you get a bit of warm whole grain notes, their flavors are subtle, which allows the lemon to shine.
If you're hesitant to buy three bags of gluten-free flour, check out my recipe page to filter recipes by flour to use up every last ounce.
Do I need xanthan gum for Gluten-Free Cake?
No. And yes. Ha - you like that?
NO, you don't need xanthan gum in gluten-free cake. If your flour blend uses a high ratio of sweet rice flour, it acts much like xanthan, giving the cake the sticking power that lends to a beautifully chewy crumb. So if you can't or choose not to eat xanthan gum, you can rest assured that leaving it out of any cake recipe on my site won't ruin your cake!
But YES, you may want xanthan gum in your gluten-free cake. This gluten-free cake recipe calls for xanthan gum as optional. Cupcakes with xanthan gum will be a little fluffier and less dense, and will have a springy chew more like regular cupcakes. I prefer that.
If you're just starting out with gluten-free baking, the hefty price tag on xanthan gum is enough to steer folks away from using their own flour blends that require it. That being said, I keep it in my fridge and a bag lasts me almost 2 years, so if you plan on getting more serious about gluten-free baking, a little goes a long way.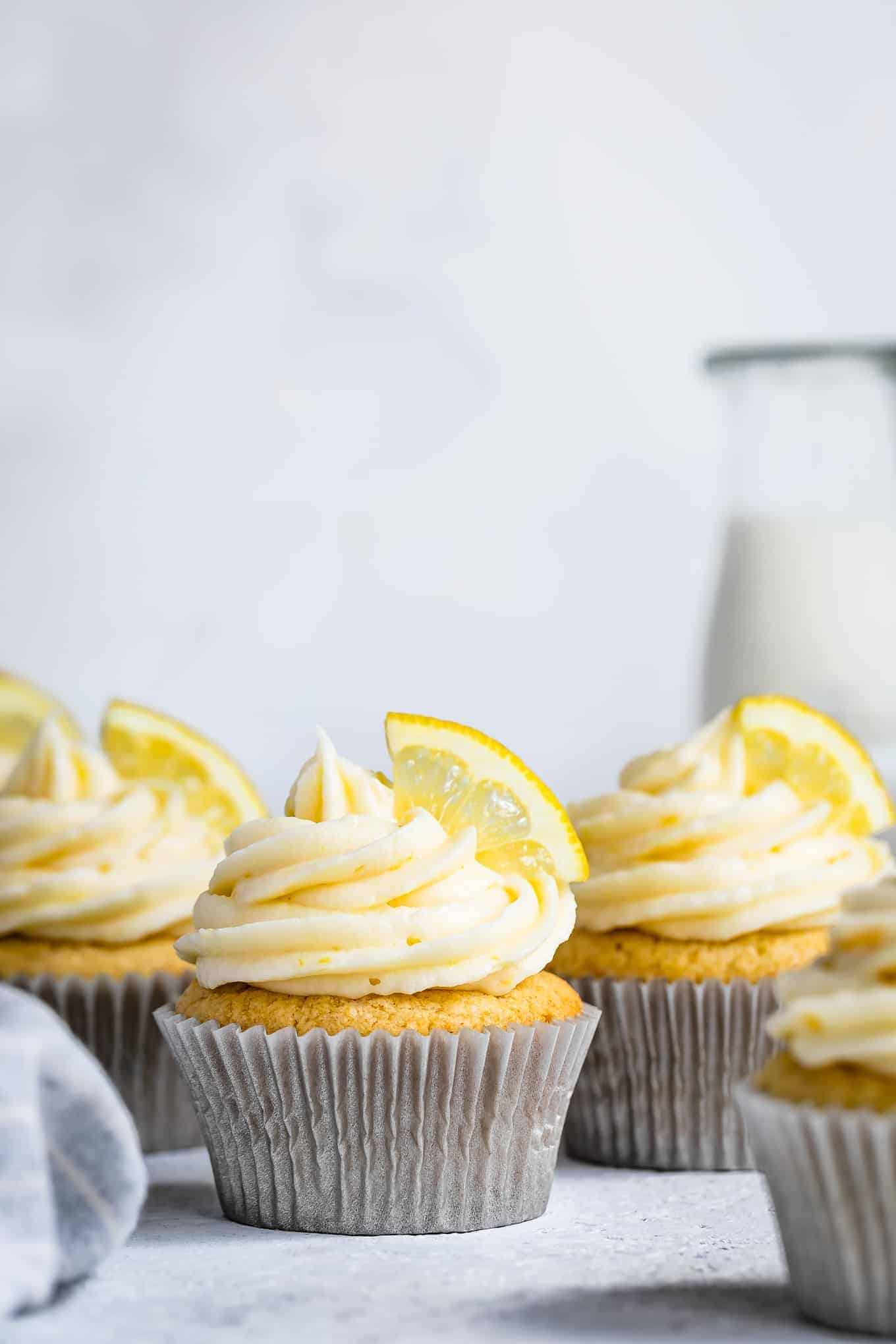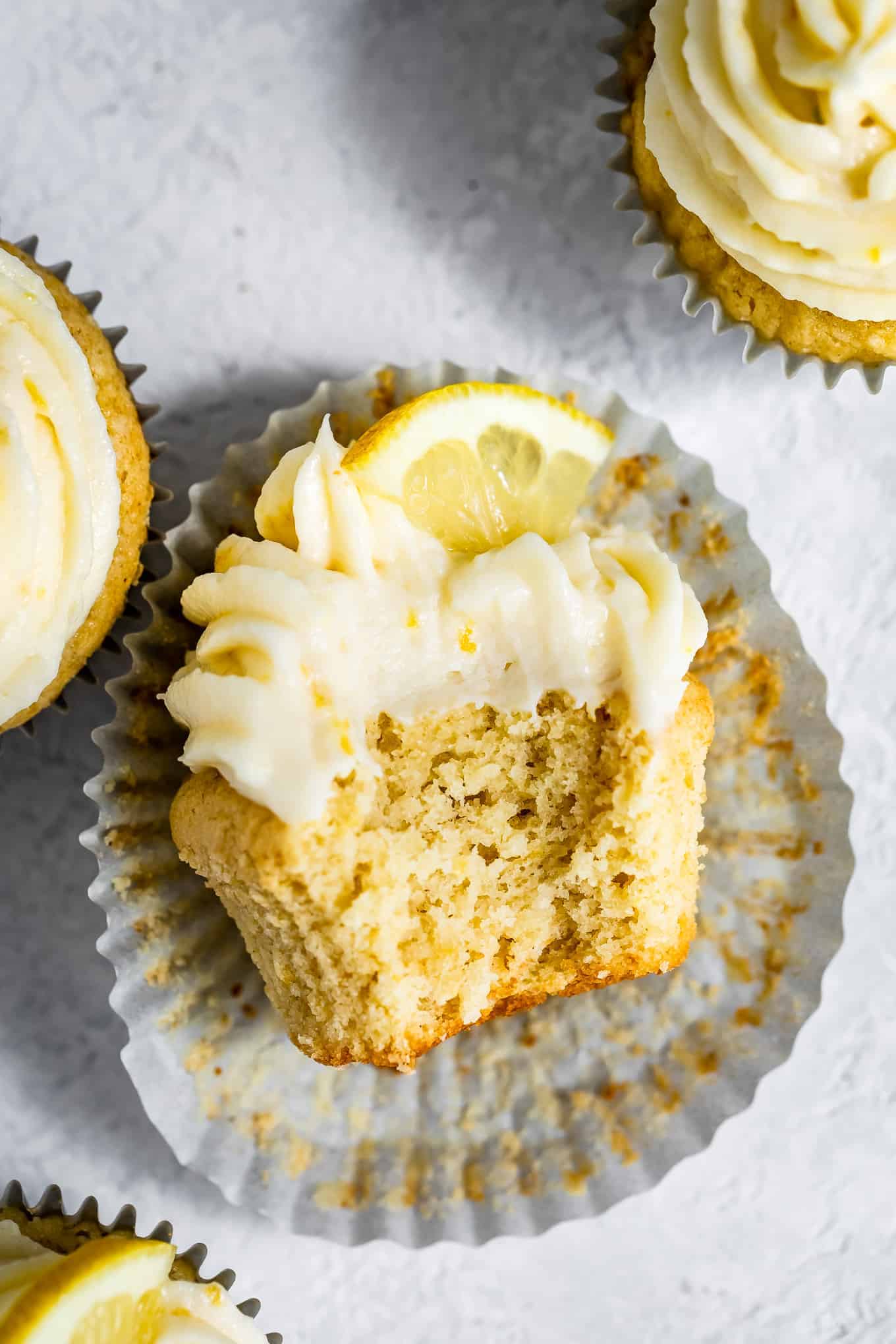 How to convert cupcakes into a gluten-free lemon cake?
If you want to make these gluten-free lemon cupcakes as a lemon cake instead, use this conversion:
12 cupcakes = one 8-inch cake
24 cupcakes = three 6-inch cakes
24 cupcakes = one 9x13 cake
You'll need to adjust the baking time for the cakes. Your cake is done when a finger lightly tapped in the center springs back and doesn't leave an imprint. A toothpick inserted into the center should come out clean or with a few crumbs. I usually only set a timer to remind me I have cake in the oven, but bake based on the visual cues.
Here's how I'd set my timer for the above cakes: The 8-inch cake will take about 33-37 minutes, the 6-inch cakes will be thinner, so start checking for doneness around 25 minutes, and the 9x13 cake will take 40-50 minutes.
Lemon Cupcakes with Cream Cheese Frosting: How to make lemon frosting for cupcakes
The tanginess of lemon cream cheese frosting is the perfect complement for a sweet and tart lemon cupcake.
Adding lemon juice to the frosting can make it soft and hard to pipe. Instead, infuse lemon into the cream cheese frosting by adding plenty of lemon zest.
Here's the closed star pastry tip I use for my cupcakes. To get bakery-style frosting, start piping in the center of the cupcake working outwards, then doubling up when you get to the edge and coming back to the center.
Got a bunch of lemons? Bake a batch of gluten-free lemon cookies too!
More Gluten-Free Cupcake Recipes
Here are a few of my favorite gluten-free cake recipes. Get all my gluten-free cake recipes in my recipe index.
Gluten-Free Chocolate Cupcakes
Earl Grey Gluten-Free Bundt Cake
Gluten-Free Vanilla Raspberry Sheet Cake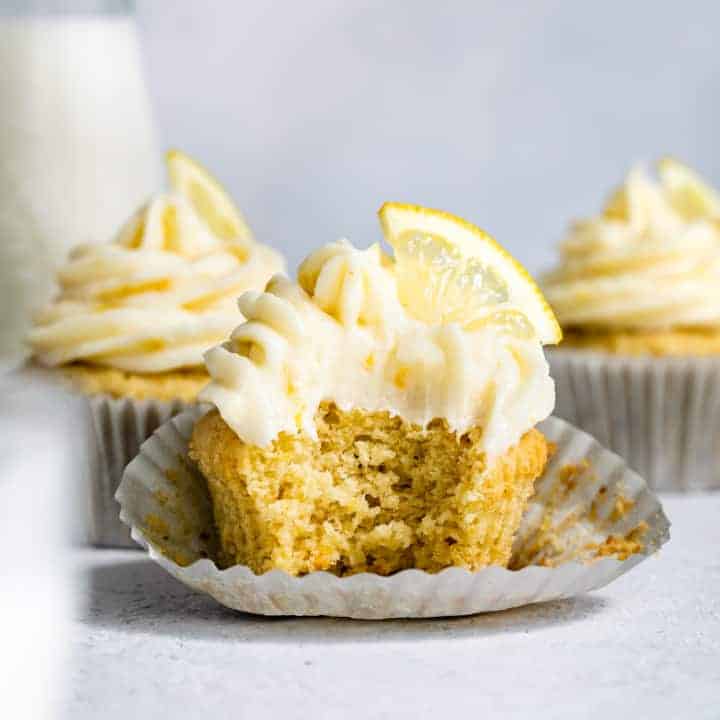 Gluten-Free Lemon Cupcakes with Lemon Cream Cheese Frosting
Additional Time:
10 minutes
These light and fluffy gluten-free lemon cupcakes topped with lemon cream cheese frosting burst with lemon flavor. This easy recipe has a moist crumb and will be the highlight of any party!
Ingredients
Gluten-Free Lemon Cupcakes
Lemon Cream Cheese Frosting
8oz cream cheese, room temperature
½ cup (4oz) unsalted butter, slightly softened
1½ cups (173g) powdered sugar, sifted
1½ tablespoons lemon zest (from about 3 lemons)
½ teaspoon pure vanilla extract
Pinch of kosher salt
Instructions
Gluten-Free Lemon Cupcakes
Preheat the oven to 350°F.
In a medium bowl, sift together the sweet rice flour, oat flour, millet flour, xanthan gum (if using), baking powder and salt. Set aside.
In the bowl of a stand mixer, cream together the butter and sugar over medium speed until light and fluffy, about 3 minutes.
With the mixer on low-speed, add the eggs one at a time, mixing after each one.
Add the lemon juice, lemon zest, and vanilla extract, mixing until just combined.
Keeping the speed on low, slowly add the dry ingredients in two batches, adding the milk in between, mixing until just combined.
Divide the batter among 12 lined cupcake cups, until about ½ to ⅔ full.
Bake for about 22-26 minutes, or until the tops bounce back a little when tapped and a toothpick inserted in the center comes out clean or with just a few moist crumbs.
Transfer the cupcakes to a wire rack to cool completely before frosting
Prepare the frosting.
Lemon Cream Cheese Frosting
In the bowl of a stand mixer fitted with the paddle attachment, cream the butter over medium speed.
Add the cream cheese and beat until completely smooth.
Slowly add the powdered sugar, in thirds, mixing on low speed until combined.
Add the lemon zest, vanilla and salt, and beat on medium speed until smooth.
Pipe or spread onto cooled cupcakes. For the pattern above, use a large closed-star pastry tip.
Notes
*I use homemade oat flour by grinding gluten-free rolled oats in my blender or food processor until fine.There is a small difference in cupcakes baked with store-bought gluten-free oat flour versus those baked with home-ground gluten-free oat flour, where the store-bought oat flour cupcakes rose just ever so slightly less, but still made a delicious cupcake.
**You can leave out the xanthan gum if needed, but the result is a slightly gummier more dense cupcake.
***You can use either milk or buttermilk and they'll both produce a delicious cupcake. I use whole milk usually because I always have it on hand, but if you happen to have some leftover buttermilk on hand, sub that in to enhance the tangy notes.