This ultra-moist gluten-free vanilla cake recipe has a light and tender buttery crumb. With a classic American buttercream, this cake tastes like a soft sugar cookie. Bake it up can as a layer cake or a sheet cake for the perfect gluten-free birthday cake for your party!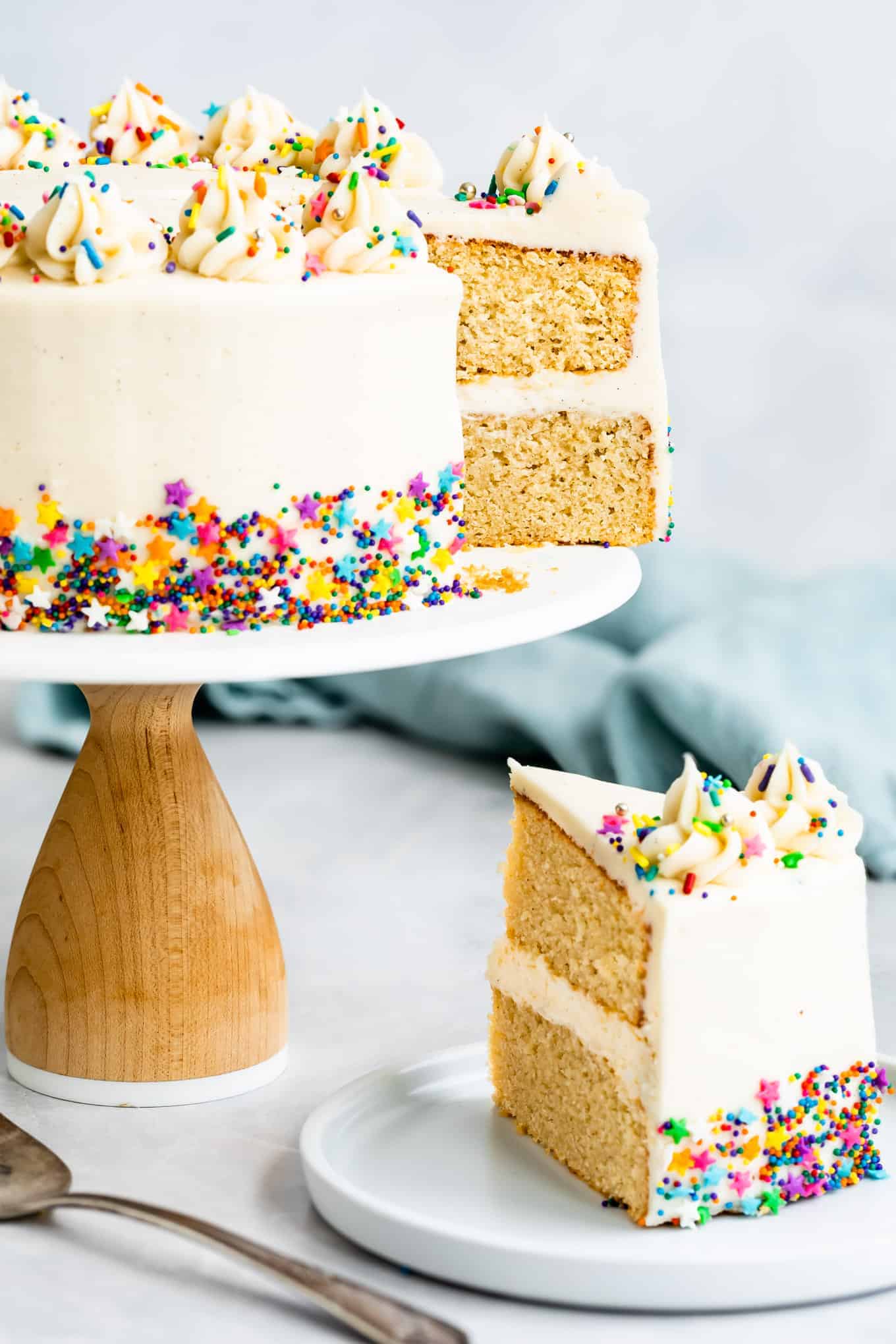 As a gluten-free baker, I'm calculated in my kitchen. I plan and research and take extensive notes. I'm precise and scientific. And yet, somehow, when I let go of all that, magic still happens. Like this gluten-free vanilla cake recipe.
It's sheer perfection and was simply the result of channeling my inner childhood baking whimsy. Here's to doing more of that!
Easy Gluten-Free Vanilla Cake Recipe
This perfect gluten-free vanilla cake recipe was the happiest of accidents. I needed a base sheet cake for a client shoot, so I decided to throw caution to the wind and experiment with something entirely new. I roughly drew inspiration from Sally's Baking Addiction's Vanilla Sheet Cake, trying a gluten-free spin (with more modifications based on my mood because I can never leave well enough alone).
If the inside didn't bake up great, so what?! I didn't need it to! In fact, I've already got a gluten-free vanilla cupcake recipe I love.
What Does Gluten-Free Birthday Cake Recipe Taste Like?
The result was so much better than I expected. This gluten-free yellow cake recipe tastes like a super moist sugar cookie topped with buttercream and sprinkles. I made it again. And again. I couldn't stop.
I've now tested and refined this cake 14 times in various forms as a layer cake, a sheet cake, and cupcakes. This cake now rivals my gluten-free chocolate cake recipe.
Now I've got two back-pocket perfect gluten-free cake recipes, which means I've also got crucial decisions to make for all future birthday celebrations. Or, you know, maybe I'll just make both. No one ever complained about too much cake, right?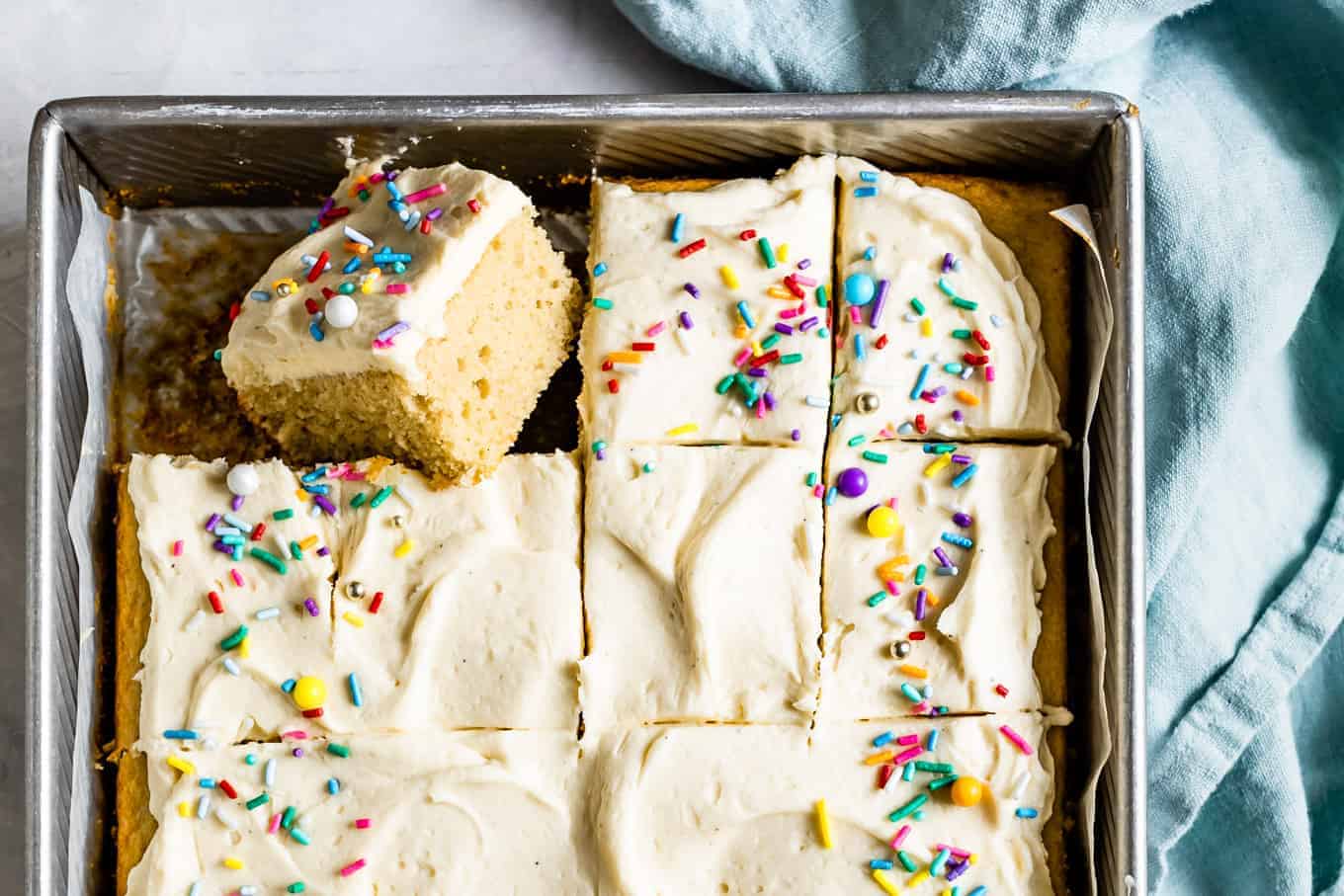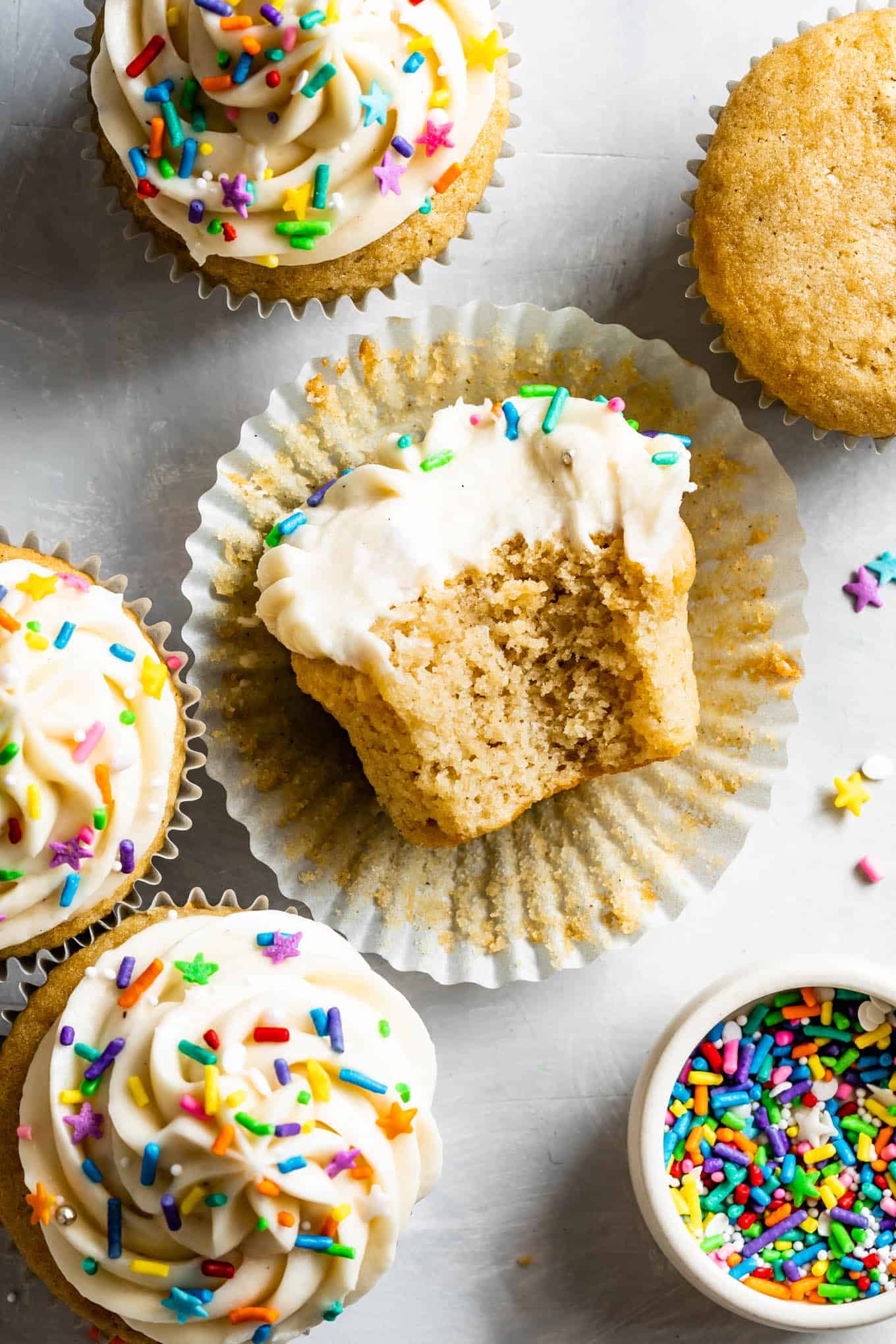 Can I use an all-purpose blend for gluten-free cake flour?
Rather than using an all-purpose gluten-free baking flour, I prefer to make my own blend of gluten-free cake flour. There are a few reasons for this.
The first is that not all pre-made gluten-free flour blends are the same. One might work for a recipe, but using a different brand/blend will produce entirely different results.
Additionally, I've found the best results when I use a different blend of flours depending on what I'm baking. What works for a fluffy cake recipe is different than what works great for chewy crisp cookies. While an all-purpose blend may work great for one recipe, it won't work great for all recipes.
Finally, most pre-made gluten-free flour blends rely heavily on starches and gums without as many nutritional or flavorful flours. When you select gluten-free flours for the specific recipe you're making, you can optimize for that recipe both in terms of texture, but also flavor and nutrition.
That being said, I have tested an early iteration of this cake with Bob's Red Mill 1-to-1 all-purpose gluten-free flour blend and it was delicious. If that's the route you'd like to go, I recommend substituting all of the flours by weight.
Best Gluten-Free Flour for Cakes
For this cake, I use the following flours for my blend and recommend a few substitutions if you can't find that particular flour. A note about substitutions: I have not tested this particular cake with any of these substitutions, so your results and baking time may vary. These are just my recommendations based on my experience with gluten-free cake baking.
Sorghum Flour
Sorghum a wholesome whole grain flour. With slightly sweet notes, sorghum flour adds flavor depth. Sorghum also helps creates a very moist crumb. I exclusively use Bob's Red Mill sorghum flour.
Sweet Rice Flour
Also called mochiko or glutinous rice flour, sweet rice flour is distinctively different than white rice or brown rice flour. Sweet rice flour is the same flour used to make mochi, and as such, its stickiness helps to bind the cake together, creating chewiness like a classic cake recipe. I prefer Koda Farms Mochiko for cake, but have also tested it Bob's Red Mill Sweet Rice Flour.
Tapioca Flour/Starch
I've added tapioca flour here for both chewiness and to help mimic the fluffiness of a classic cake. I exclusively use Bob's Red Mill tapioca flour (and, in fact, I find others to be too gritty)
Millet Flour
Millet flour is a neutral flour here to balance the others out so the cake isn't too moist or gummy. I exclusively use Bob's Red Mill millet flour.




How to Make Gluten-Free Cake
Here are my biggest tips for making a light, moist, fluffy gluten-free cake.
Use high-quality ingredients
From gluten-free flours to vanilla extract, it's important to choose ingredients that will give you the best results and flavor. In the recipe below, I've linked to the specific brands of flours and extracts I recommend.
Room temperature ingredients
The reason most baking recipes call for room temperature ingredients is that room temperature ingredients blend together better, creating an emulsion that's key for trapping air into your batter. Here are some tips to quickly bring ingredients to room temperature. Room temperature should be around 65-70°F, and I use a thermometer to quickly check the temperature of my ingredients.
Eggs. Place your cold eggs in a cup or bowl of very warm (not hot) tap water for 5-10 minutes.
Butter. Slice the butter into cubes to bring it to room temperature quickly. Or, alternatively, keep the stick whole and microwave it for 5-8 seconds, flip the stick, and repeat.
Milk. Microwave milk for 5-8 seconds at a time, stirring after each time, until it is room temperature.
Sour cream. Sour cream will curdle when heated, so I use one of two methods to bring it to room temperature quickly. For the first method, I spread it out on a plate in a thin later for 20 minutes. If I don't have that much time, I spread it inside a bowl into a thin layer and microwave it for 5-7 seconds, stirring, and re-spreading. Repeat until room temperature.
Use a scale
The way you scoop and measure a flour can drastically change the weight of a cup of flour. This is exacerbated with gluten-free baking, in which you measure out multiple types of flour. Moreso, different brands have different coarseness of the grind, which also affects how much a cup of flour weighs. Use a scale to make sure you've got accurate measurements.
I actually recommend using a scale for even the milk and sour cream because it's so much faster and you can be more precise!
Line your cake pans
Greasing your cake pans with oil or butter and lining them with either a round or a sling of parchment paper will ensure your cake easily releases from the pan without getting stuck.
Rap cakes on the counter
Before baking, pick your pans up about 1-2 inches and rap them on the counter to help release any large air bubbles.
How do I make my gluten-free cake more moist?
Adding more fat to gluten-free cakes will make the crumb more moist. There's a delicate balance between adding more fat and losing the light fluffy quality of the cake.
In this cake, I found that adding more sour cream and less butter produced a cake with a beautifully light and fluffy crumb that's still incredibly moist.y
Does Gluten-Free Cake Need Xanthan Gum?
Yes. In this cake, the xanthan gum is not optional. While there are some recipes where xanthan gum is not required but will help with a lighter fluffier crumb (like my gluten-free chocolate cupcakes and gluten-free vanilla cupcakes), this gluten-free vanilla cake does. I tested this cake twice without xanthan gum and both times the cake failed. The batter was gritty and too runny and the cake baked up flat and dense.
If you're just starting out with gluten-free baking, I understand that the hefty price tag on xanthan gum might steer folks away from using their own homemade flour blends that call for it.
If you're in that camp, just know it lasts for a long time! I keep it in my fridge and a bag lasts me almost 2 years, so if you plan on getting more serious about gluten-free baking, a little goes a long way. Each recipe typically only calls for ½-1 teaspoon.



Can you Freeze Gluten-Free Birthday Cake?
You can make gluten-free vanilla cake layers in advance and, once cool, wrap them well in plastic wrap before freezing them. If you're just freezing the cake for a couple of days, plastic wrap is fine, but if you plan to freeze it for longer, stick the cake in a gallon freezer bag to prevent freezer burn.
When you're ready to frost the cake, pull it out of the freezer and frost it frozen. This will actually make frosting it so much easier and will help you get that super smooth frosting look!
Let the frosted cake sit at room temperature to completely defrost for 1.5-2 hours before slicing and serving.
Storing Leftover Gluten-Free Butter Cake
Store any cake leftovers in an air-tight container at room temperature for up to 2 days.
Because this is a butter cake, it's best served at room temperature. It's also more prone to drying out when it sits uncovered or when stored in the fridge.
How to Cut Perfect Cake Slices
With layer cakes, it's easy to make a mess when slicing through the layers. With soft frosting, the top layer can push frosting in every which way.
To make perfect clean slices, store the cake in the fridge for just 15-20 minutes before serving. This will firm up the frosting without chilling the cake. Slice the cake right out of the fridge, wiping the knife after each cut.


Can I bake this as a gluten-free sheet cake?
Yes! In fact, I first developed this cake as a gluten-free vanilla sheet cake in a 9x13 baking pan. I've tested it just as many times as a sheet cake and, depending on the occasion, sometimes I prefer the simplicity of a sheet cake. No crumb coat and smoothing the sides - just swirls and sprinkles.
You'll need much less frosting for a sheet cake since you won't be layering. In fact, you can frost it right there in the pan if you like!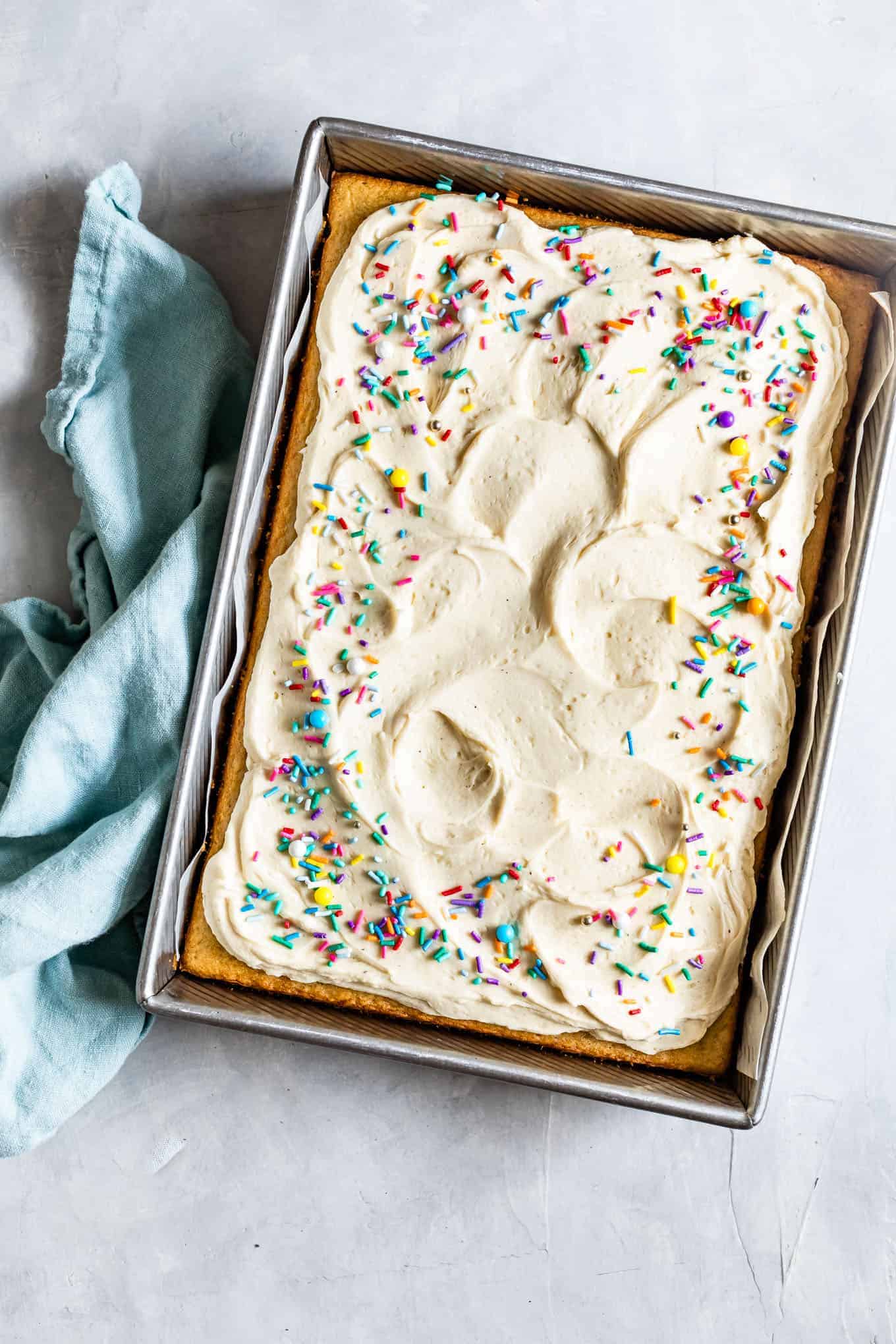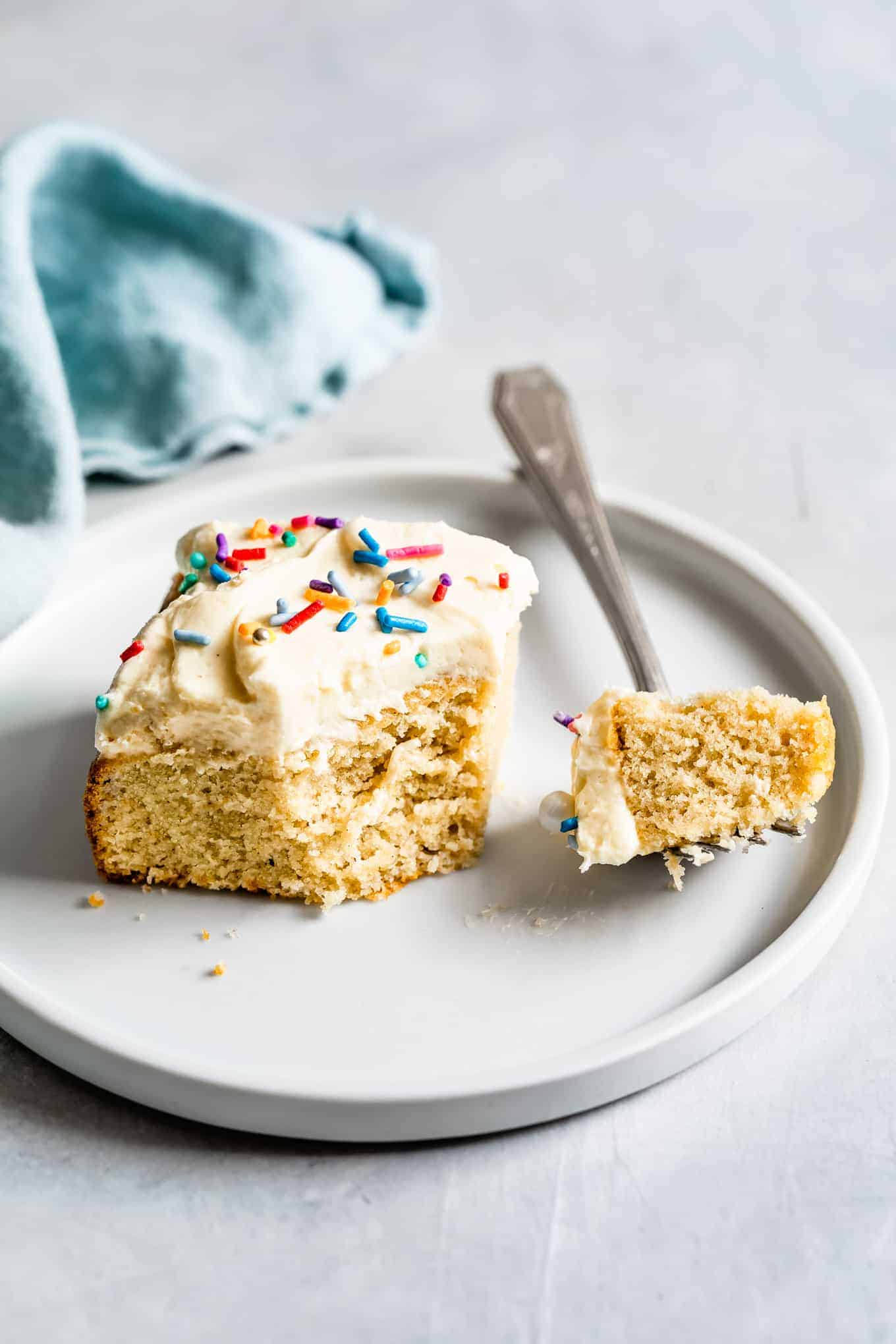 Can I bake this as gluten-free cupcakes?
You can absolutely bake this cake as gluten-free cupcakes. The full recipe will make 22 cupcakes.
You'll need slightly less frosting for cupcakes than for the full layer cake and they bake up just a bit quicker too.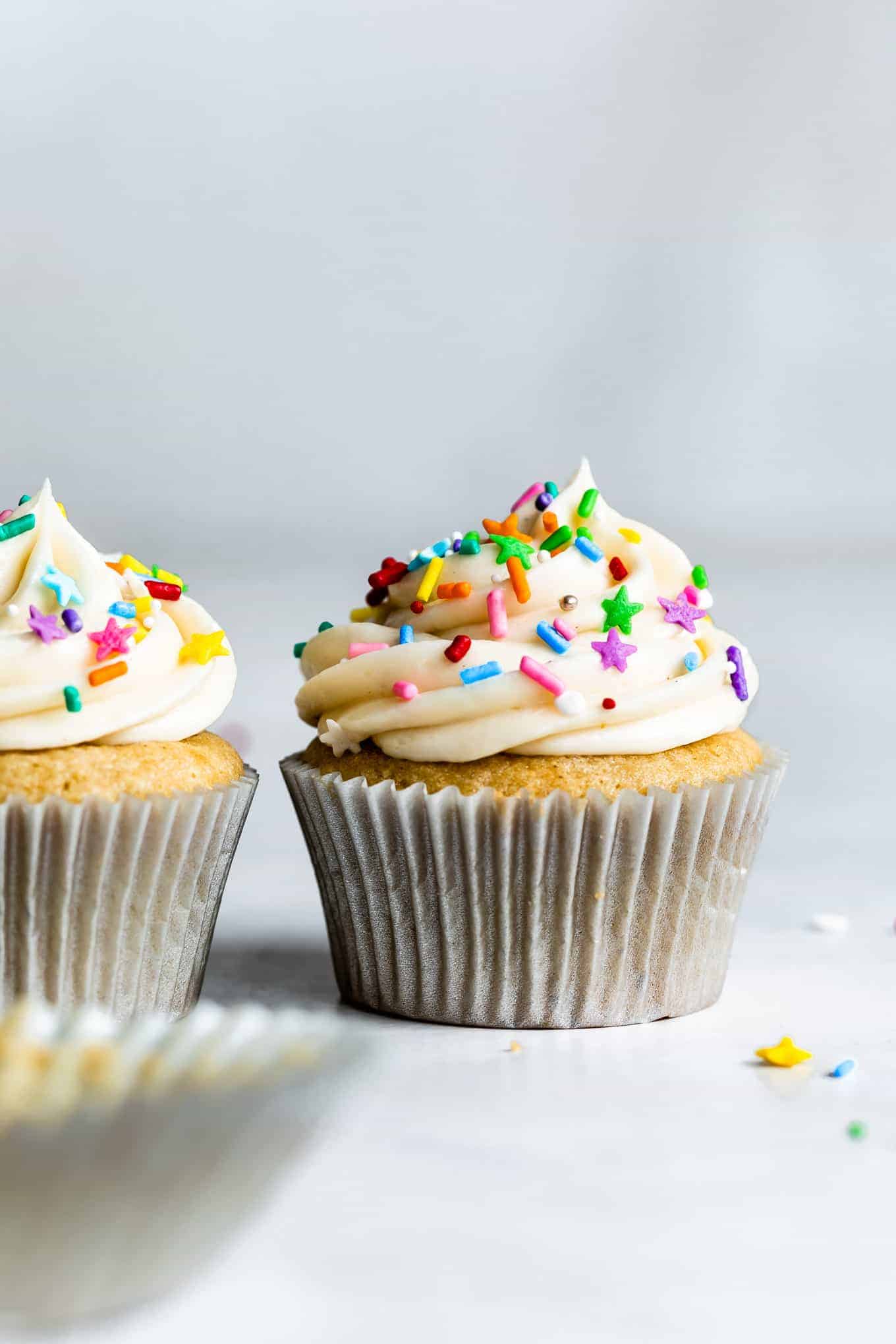 Gluten-free cake recipes from scratch
Cake is probably my favorite thing to bake. Here are some of my favorite recipes!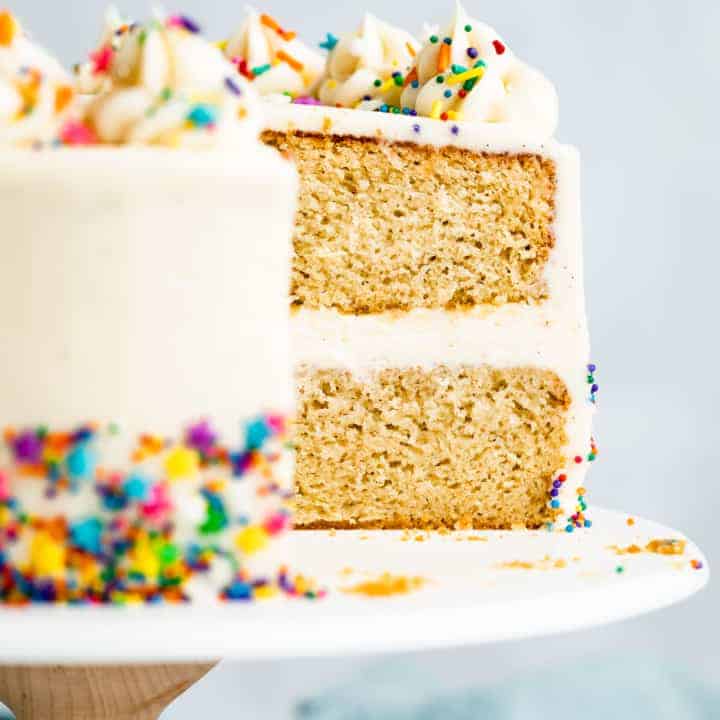 Gluten-Free Vanilla Cake
Yield:
1 8-inch layer cake, 12-14 slices, 1 9x13 sheet cake, or 22 cupcakes
Additional Time:
10 minutes
Total Time:
1 hour
13 minutes
Super moist gluten-free vanilla cake recipe that can be made as a layer cake, sheet cake, or cupcakes for the perfect gluten-free birthday cake for your party! With a light and tender buttery crumb and a classic American buttercream, this cake tastes like a soft sugar cookie.
Ingredients
Gluten-Free Vanilla Cake
Vanilla buttercream for layer cake
Vanilla Buttercream for sheet cake
Vanilla Buttercream for cupcakes
Instructions
Preheat the oven to 350°F. Line the bottom of two 8-inch cake pans or the bottom and sides of a 9x13 baking pan with parchment paper. Alternatively, fill two muffin tins with 22 cupcake liners.
In a medium bowl, sift together the sorghum flour, sweet rice flour, tapioca starch, millet flour, xanthan gum, baking powder, baking soda and salt. Set aside.
In the bowl of a stand mixer fitted with the paddle attachment or a bowl with a hand mixer, cream together the butter and sugar over medium speed until light and fluffy, about 3 minutes.
With the mixer on low speed, add the eggs one at a time, mixing and scraping down the sides after each one.
Add the vanilla and almond extracts, mixing until just combined.
Keeping the speed on low, slowly add the dry ingredients in three batches, adding the sour cream and milk in between, mixing until just combined.
Pour the batter into the prepared baking pan(s) and use an offset spatula to spread it into an even layer. Pick each cake pan up 1-2 inches and drop it on the counter a few times to release any large air bubbles. For cupcakes, fill the cupcake liners ⅔ full. I recommend using a ¼-cup ice cream scoop for even cupcakes.
Bake for 28-34 minutes until the cake springs back when gently pressed in the middle and a toothpick comes out dry or with a few moist crumbs. This cake will seem light and airy in texture when gently pressed, so take care not to overbake it. For cupcakes, bake for 25-28 minutes.
Remove from oven. Let cool in the pan for 10 minutes, then overturn the cake onto a wire rack to cool completely. To do this, I place a large wire rack or sheet pan over the baking pan and, holding it together, carefully flip the cake to release. Peel off the parchment paper, then place a wire rack over the top, and carefully flip right side up. If you make a 9x13 cake, you can also opt to frost it right there in the pan.
Once cool, make the buttercream. In the bowl of a stand mixer fitted with the paddle attachment, cream the butter over medium speed. With the mixer on low, slowly add the powdered sugar to the butter, in 4 batches, beating until incorporated. Add the vanilla extract and salt and mix until smooth. Add the milk or cream, starting with just 2 tablespoons and adding additional milk or cream as needed, until frosting is smooth and spreadable. Fold in a few drops of gel food coloring, if desired.
Frost the cake. For a layer cake, spread 1 cup of frosting over the first layer. Place the second cake layer upside down and spread a very thin layer of frosting on the top and side. This is the crumb coat to keep the crumbs off your final pretty frosting layer. Chill the cake for 15 minutes. Spread remaining frosting all over the cake, smoothing it using an offset spatula. If desired, pipe frosting swirls on the top edge using a ½-inch closed star tip. Top with sprinkles.
For a sheet cake, swirl the buttercream over the top of the cake (I recommend using the back of a soup spoon) and top with sprinkles, if desired. For cupcakes, pipe or spread frosting on the cupcakes using a ½-inch closed star piping tip or offset spatula. Top with sprinkles.
Slice and serve (see note)
Notes
Flour substitutions: See the above post for a list of recommended flour substitutions.
Slicing: this is a butter cake so it's best served at room temperature. For pretty slices, chill the cake for just 15-20 minutes before slicing, to firm up the frosting for easy slicing. Store leftover cake in an airtight container at room temperature.