The BEST gluten-free chocolate cake recipe, bar none. With a thick swirl of chocolate buttercream and festive sprinkles, this is the perfect gluten-free chocolate birthday cake. Bake it as a sheet cake, layer cake, or cupcakes!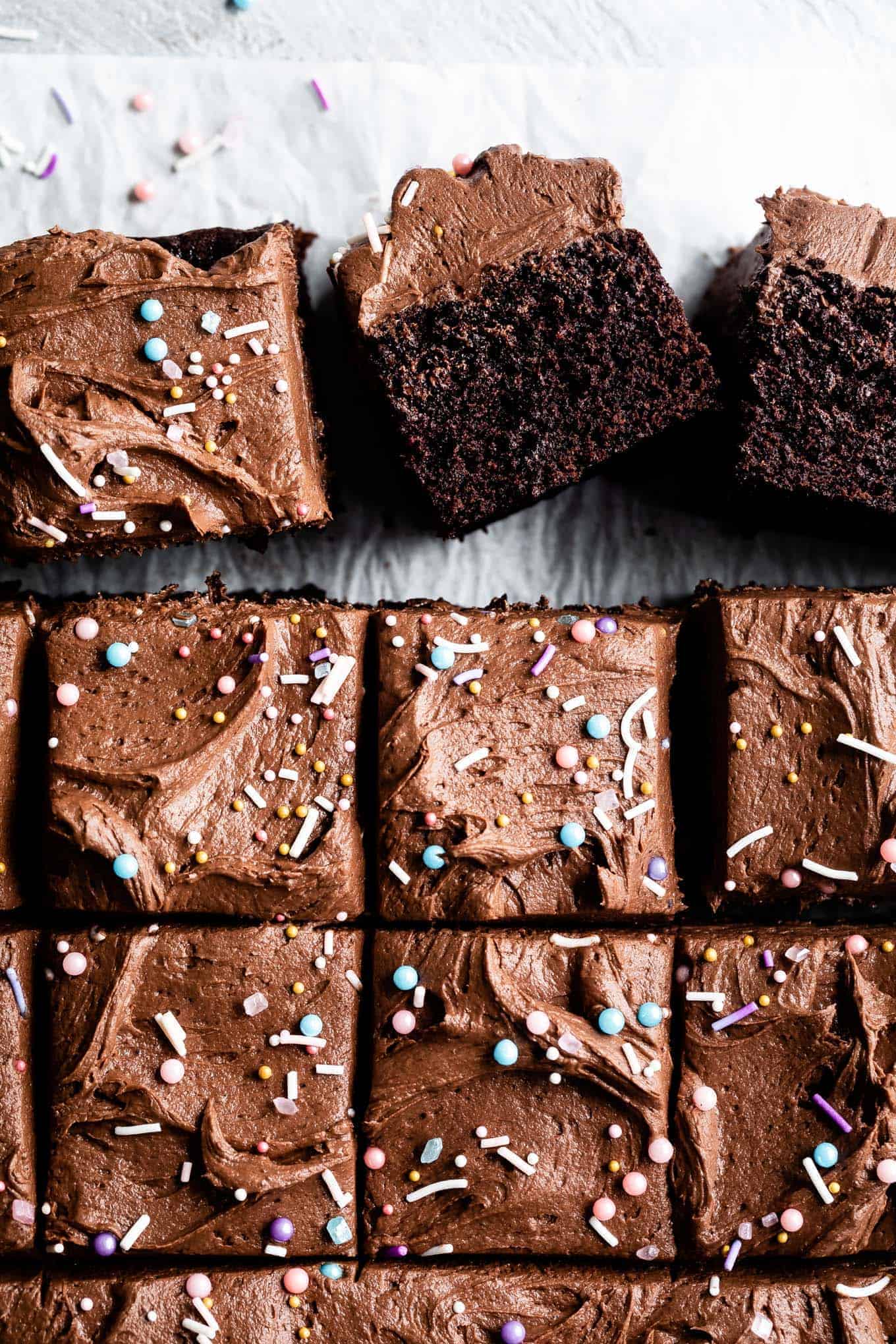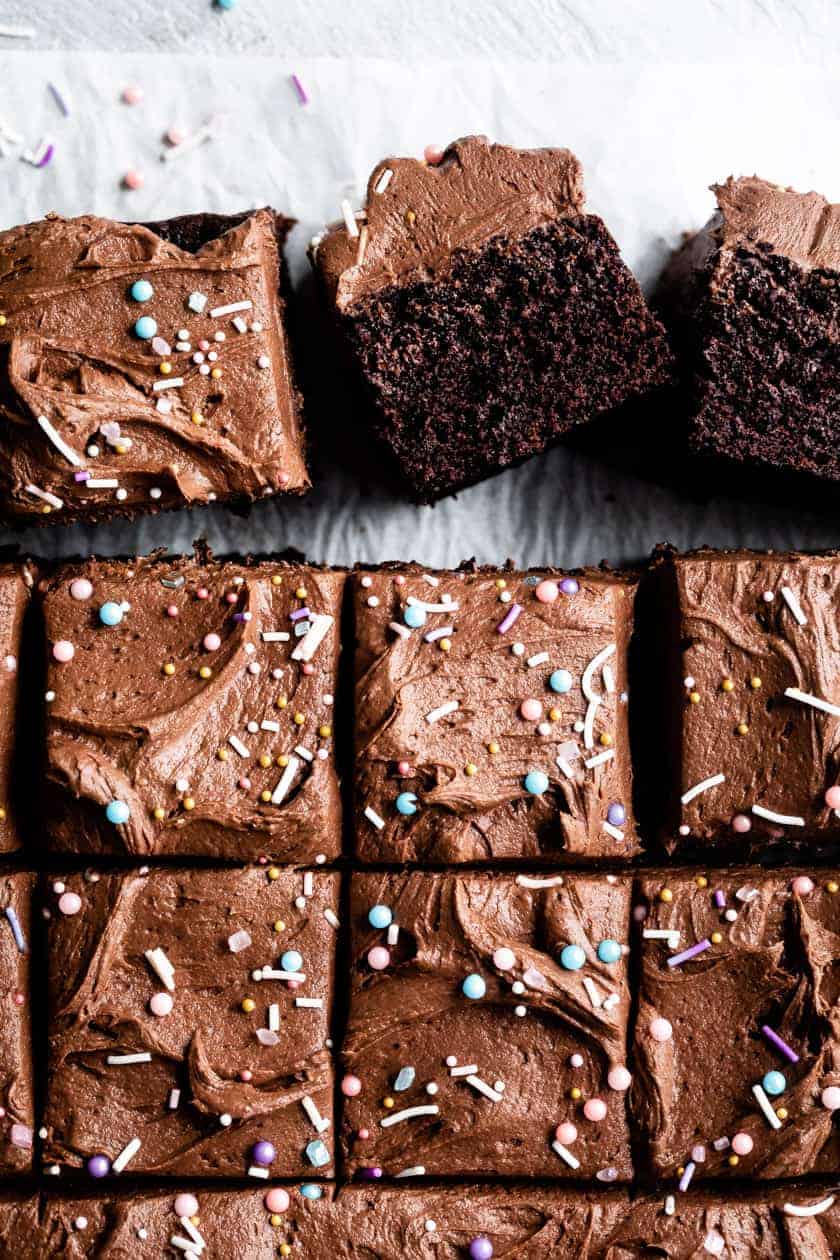 We're very mindful about letting Zoella (age 3) eat chocolate. We held off as long as we could and when I first gave her a taste, I thought she'd find it too bitter like I did as a kid, but that's not the case. I even offered her a tiny piece of 90% extremely dark chocolate, but even that didn't deter her. Now, she's a chocolate bloodhound. If ever I sneak a bite of chocolate, she knows.
Her: *sniff sniff* "I smell something."
Me: "I just ate some _____(insert blatant lie)."
Her: "I smell chocolate."
(Damn it). Now I know why my friend Emily texts me from the pantry floor where she hides from her kid to eat candy bars.
For her third birthday, she requested a "chocolate and vanilla cake with rainbow frosting" every day for a month. That's exactly what I made as a four-layer cake, but when all 42 guests confirmed yes for her birthday party, I panicked and also made this gluten-free chocolate sheet cake at the 11th hour.
I started with my favorite gluten-free chocolate layer cake recipe as a base. Except I hadn't tested it as a sheet cake, so it came out too thin with not enough batter for the size of the pan. I panicked again and made another sheet pan of cake, stacking them together with a generous layer of chocolate buttercream between. I now had enough cake to feed an army.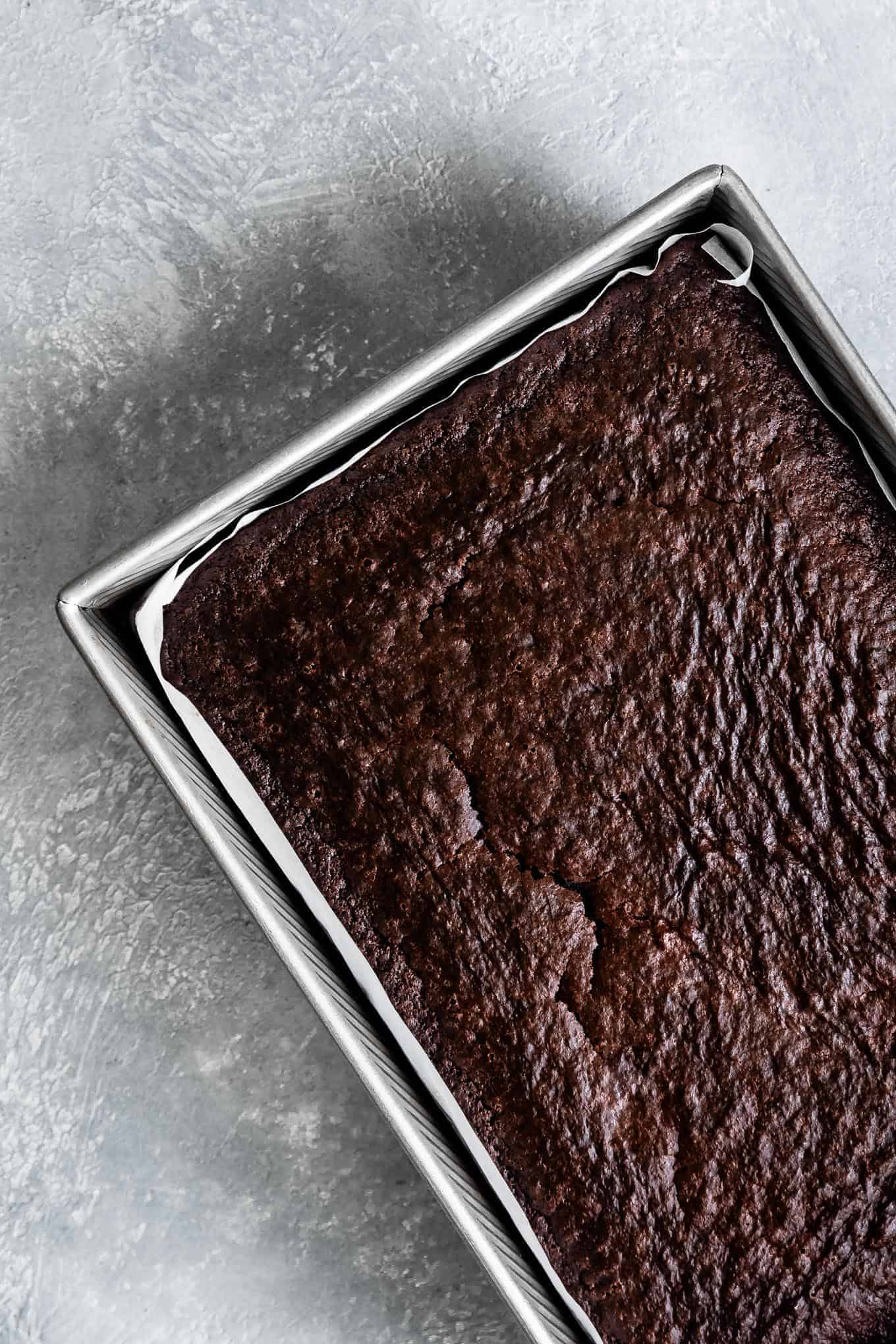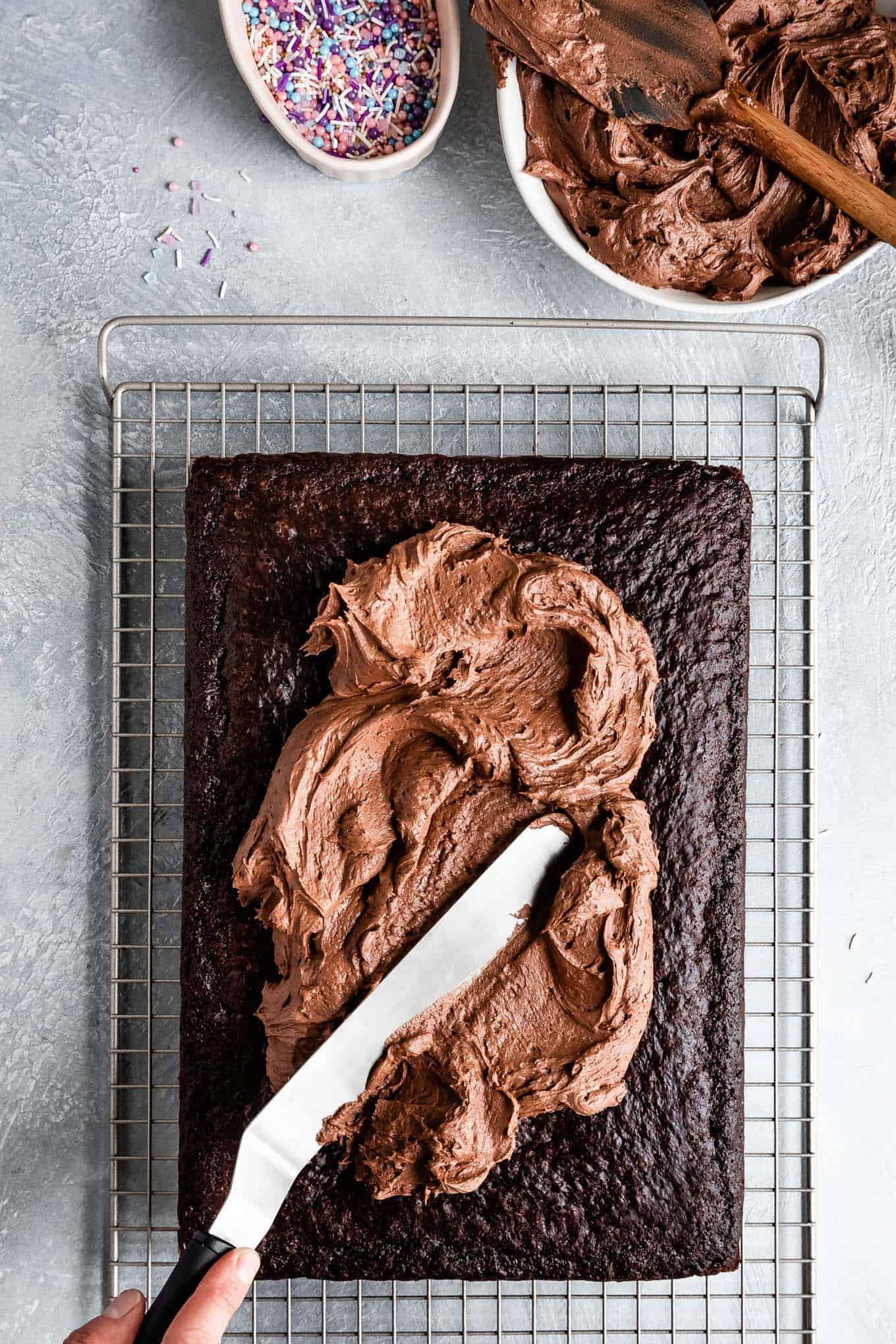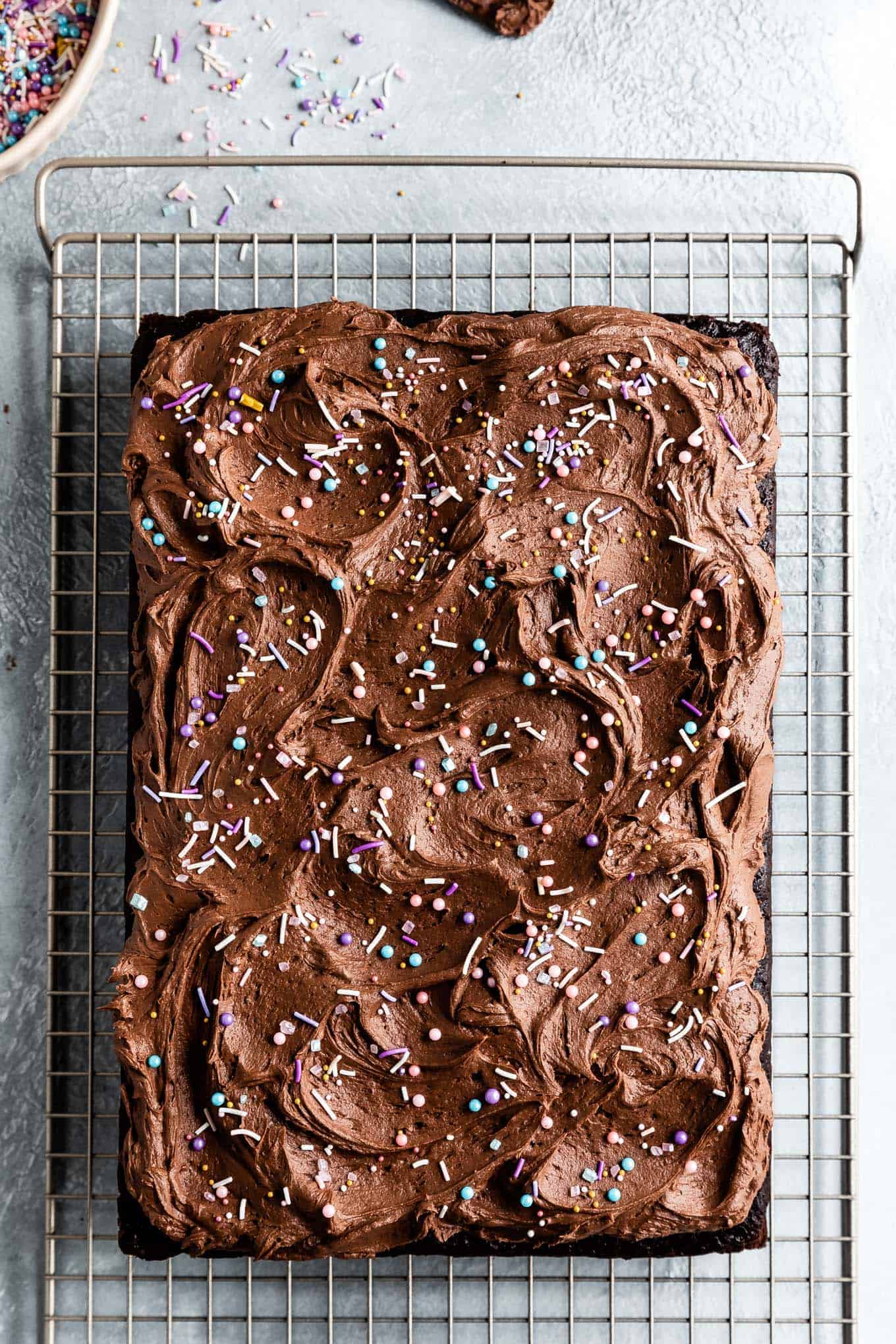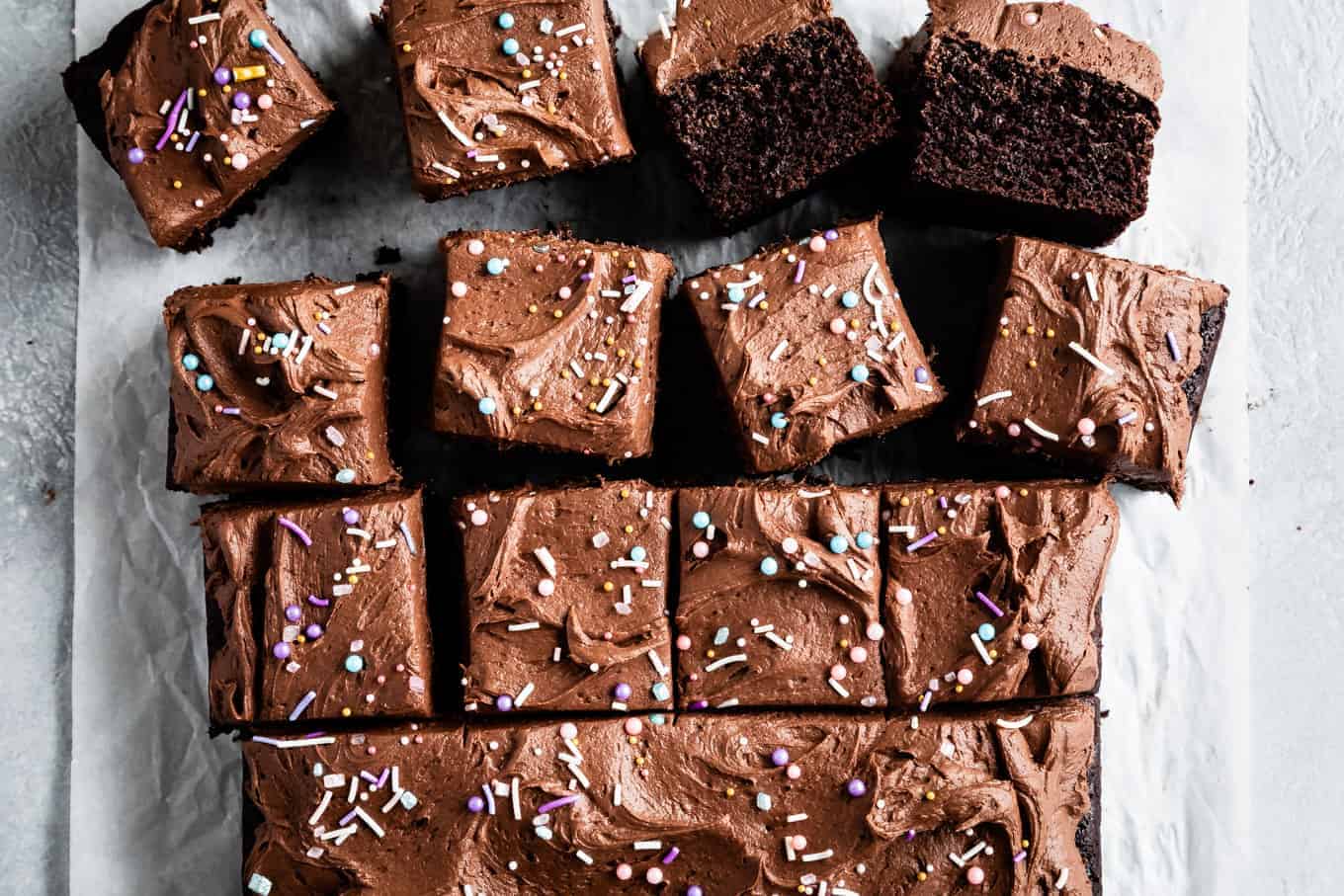 The best gluten-free chocolate cake
This gluten-free chocolate cake is so good that even with 2-3 servings per guest (including toddlers and newborns) almost all of it was gone by evening and we polished off the rest for breakfast.
With a thick swirl of chocolate buttercream and plenty of festive sprinkles, this version is the perfect gluten-free chocolate birthday cake. No fussing with layers, crumb coats, or piping frosting. Just dump it in the pan, bake it, cool, then slather it in frosting.
Don't forget to lick the spatula.
This cake is the best gluten-free chocolate cake recipe, bar none. I'd go so far as to call it the best chocolate cake ever as well. I've made it over 200 times, for every occasion: birthdays, baby showers, Valentines' Day, Father's day, dinner parties, I-just-need-cake days (you celebrate that too?). And every time, people ask for the recipe and no one suspects it's gluten-free.
If you're new to baking gluten-free and want a foolproof recipe that will blow people away, start with this cake, in any form.
Gluten-free buttercream frosting
I've topped this cake with a creamy chocolate buttercream frosting that accentuates the classic chocolate cake flavor. A bit of milk or heavy cream keeps the frosting soft and smooth - perfect for spatula swirls.
I always add a bit of chocolate extract to my chocolate desserts to boost the flavor, but if you don't have any, just sub in more vanilla extract.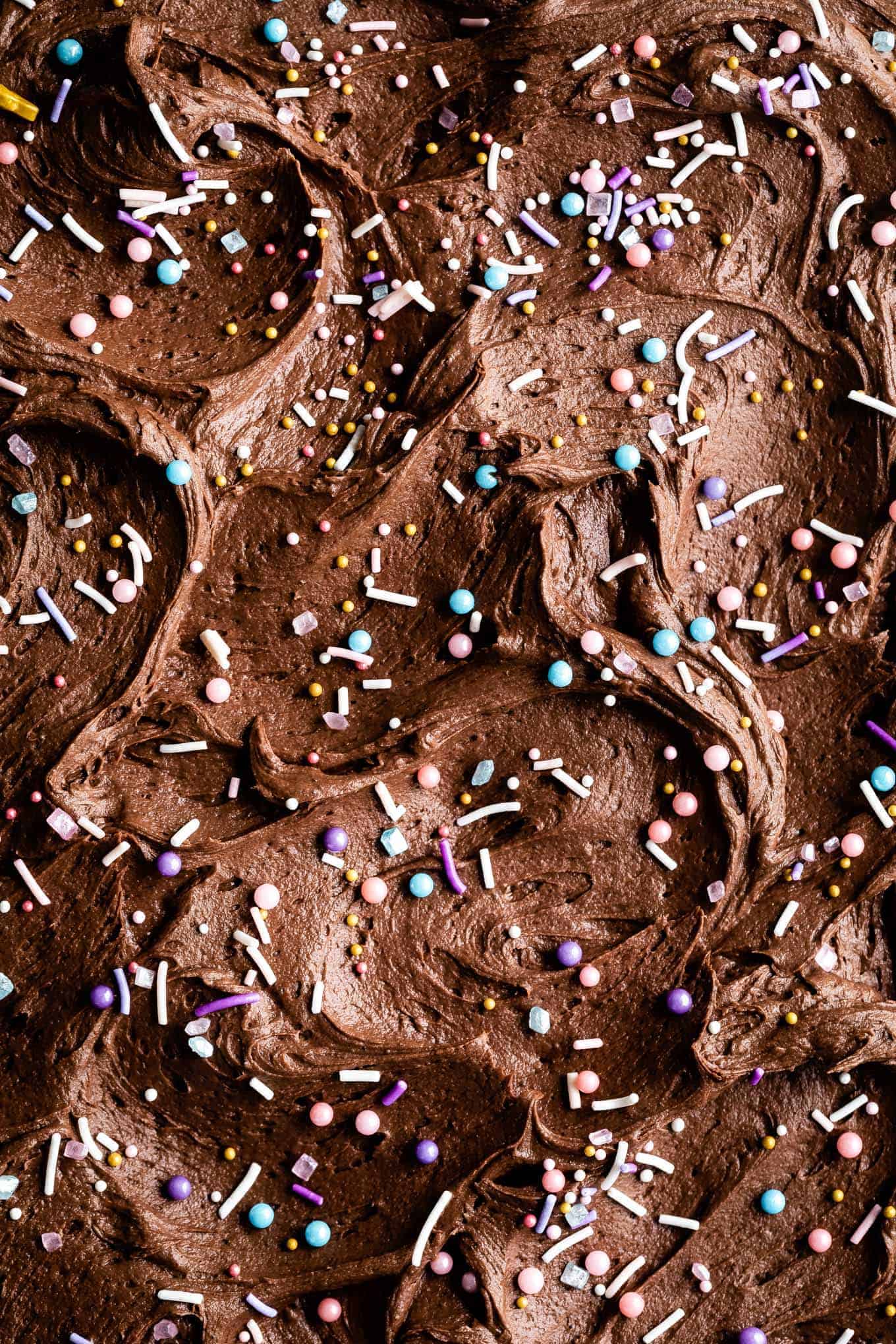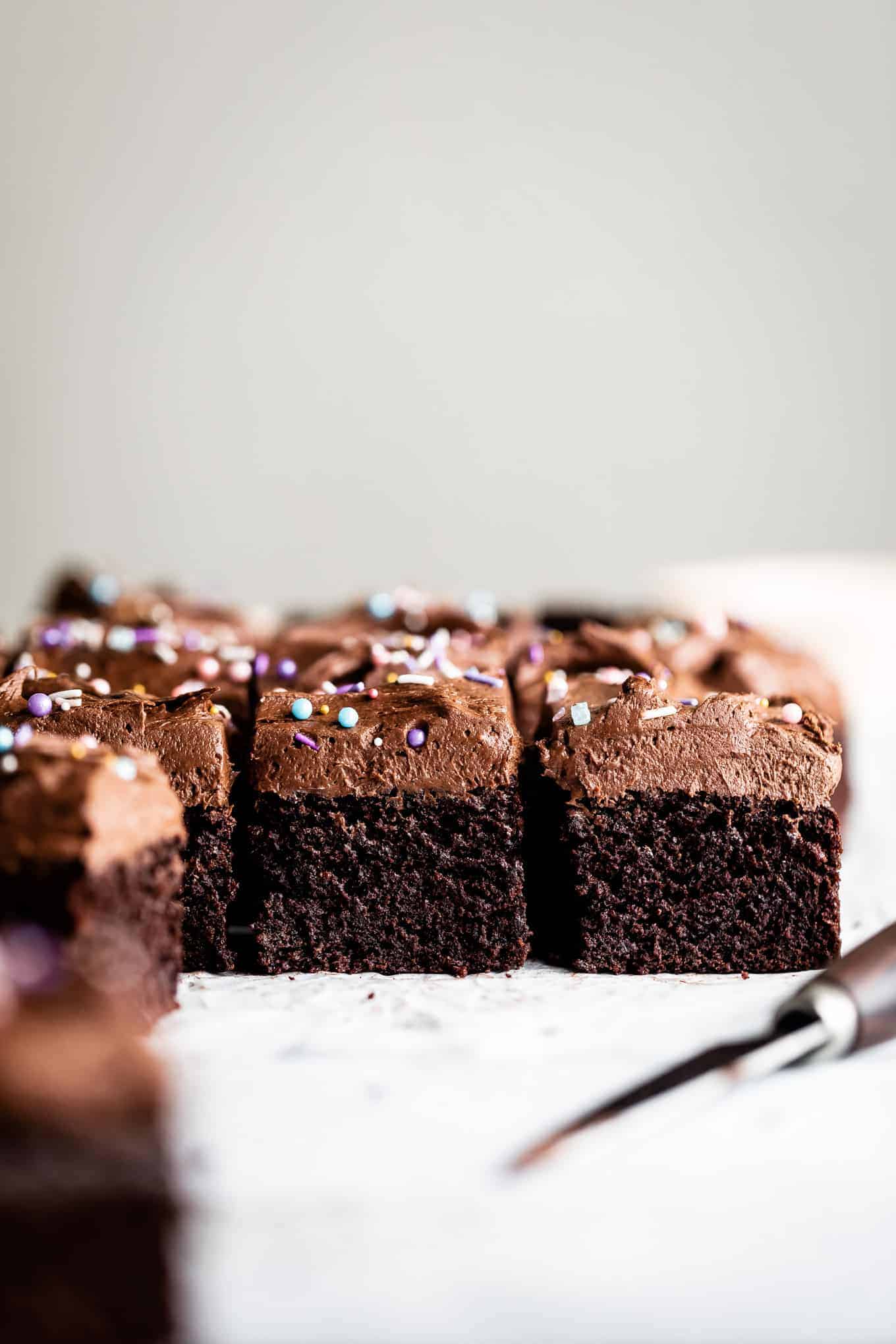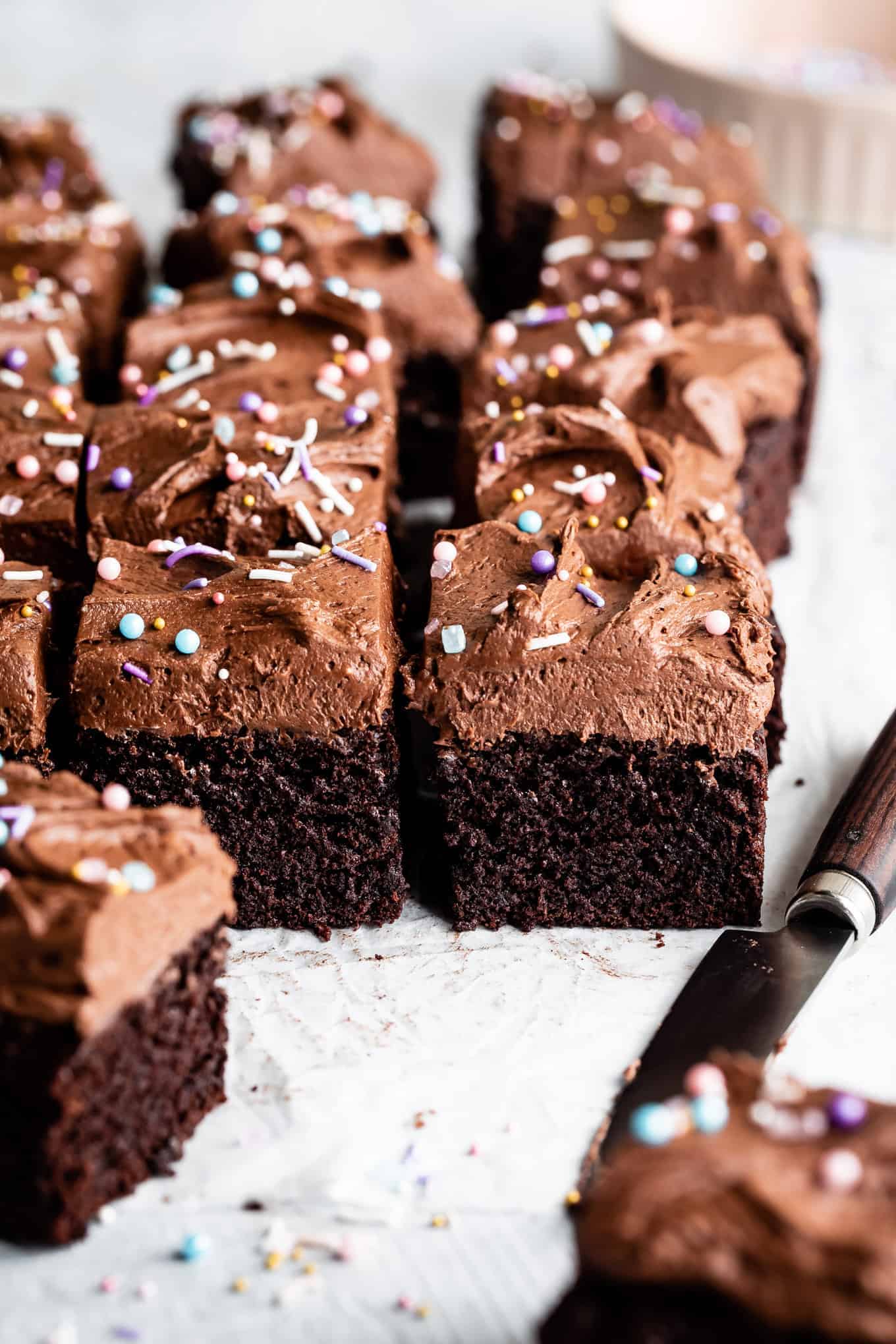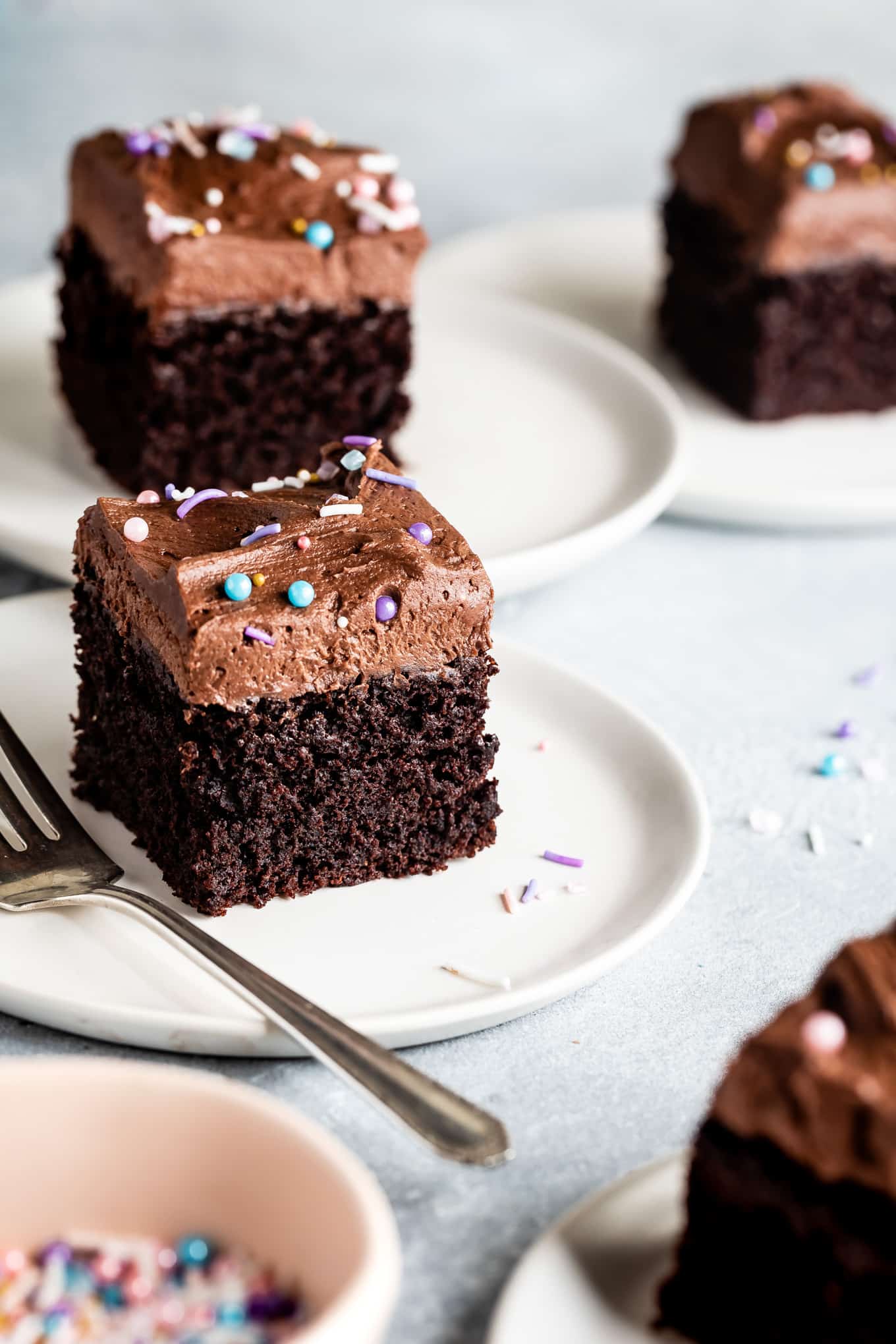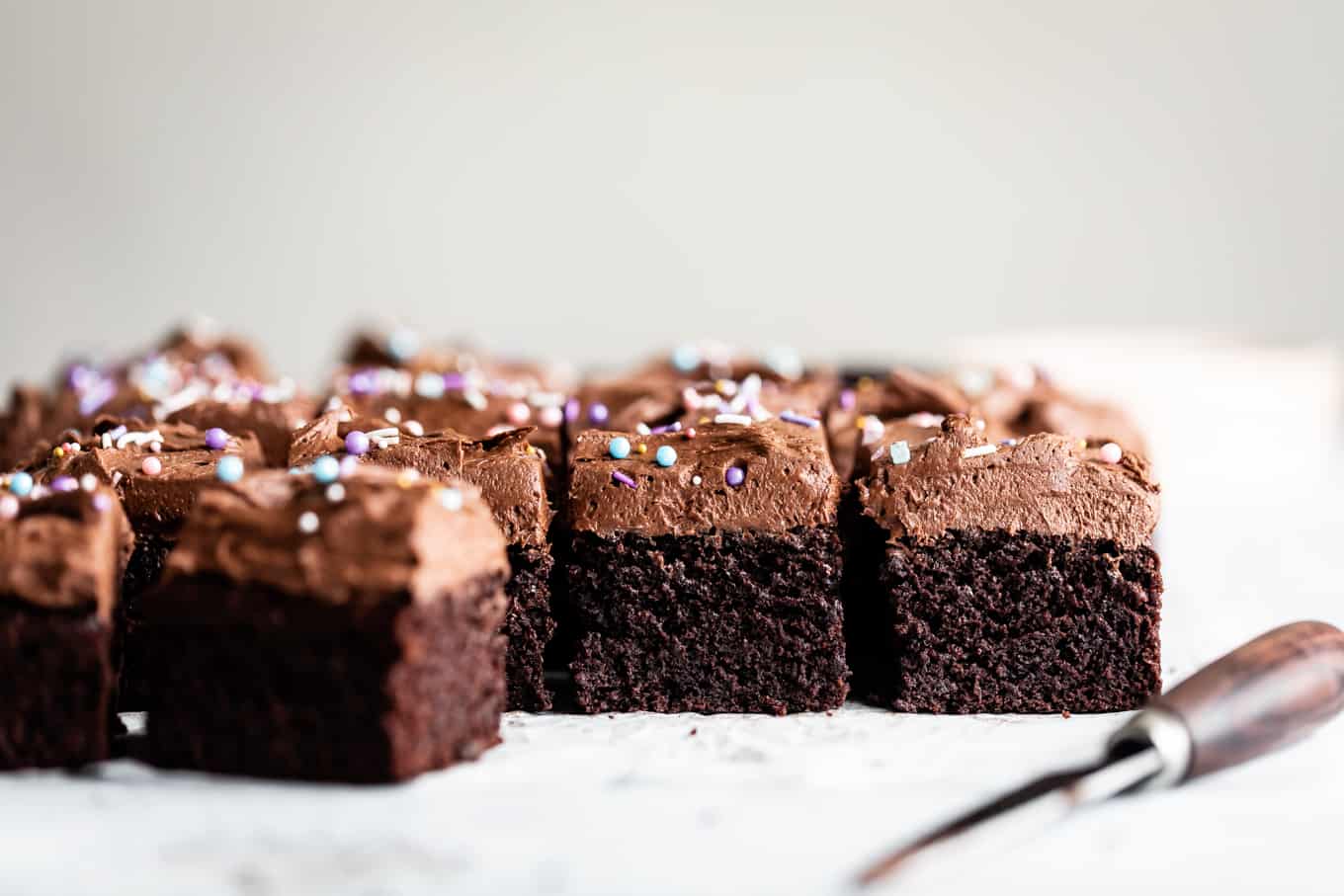 How to make moist gluten-free chocolate cake
The great thing about this chocolate cake is that it doesn't dry out quickly. With oil as the fat, this cake is light and fluffy with a moist chewy crumb. Even in the oven, it's incredibly forgiving. When testing it with a toothpick, err on the side of just a little bit longer. To this day, have never accidentally over-baked it.
It'll last for several days sealed in an airtight container - even with the frosting. Or, if you're planning ahead, you can store the cake right in the sheet pan with a layer of plastic wrap or bee's wrap overnight and frost the cake just in time for your party.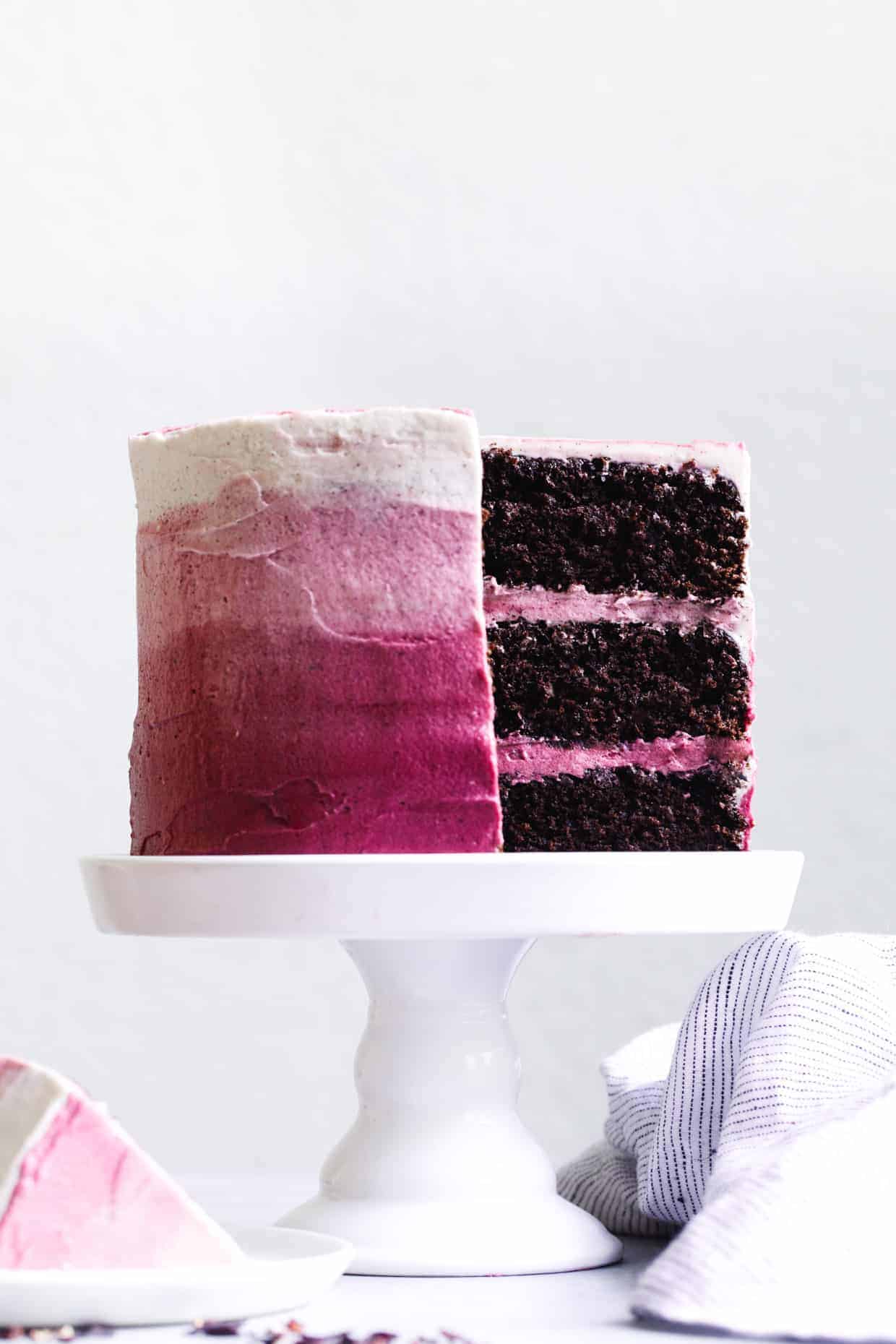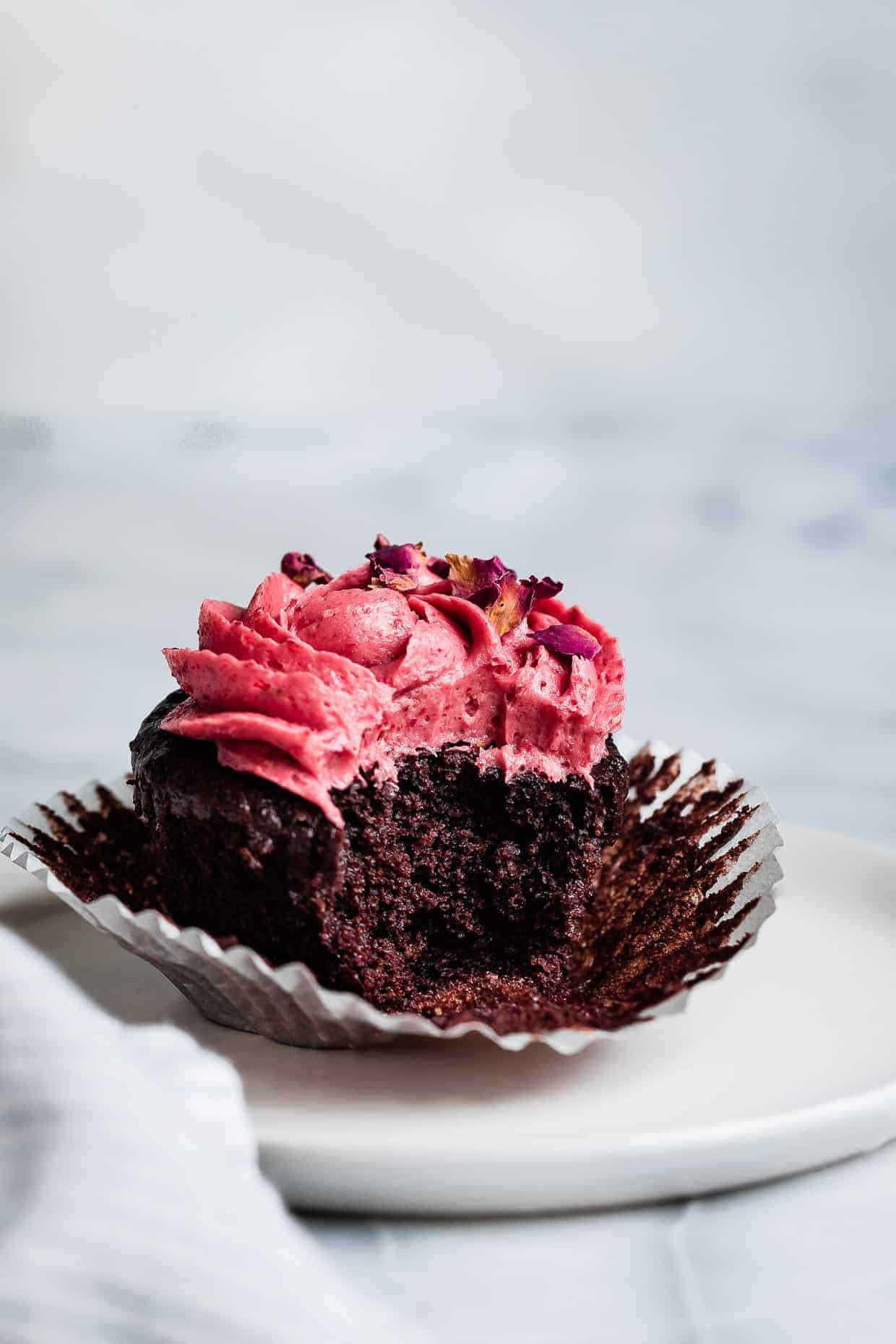 Convert the recipe Gluten-Free Chocolate Layer Cake or Gluten-Free Chocolate Cupcakes?
I've shared the base of this cake before as a gluten-free chocolate layer cake and gluten-free chocolate cupcakes, adapted now as a sheet cake.
To save you the trouble, here's how you'd convert this gluten-free chocolate sheet cake into a layer cake or cupcakes. The same exact batter quantity below makes:
1 9x13 cake - bake for 45-55 minutes
3 8-inch layer cakes - bake for 33-37 minutes
36 cupcakes - bake for 18-22 minutes
Whatever form you prefer, this will become your go-to chocolate cake recipe!
To adjust the recipe to make different quantities, scale all the ingredients to 1, 2, or 3 eggs. I've got a post with each scaled version below to save you the trouble. Here's what scaling the recipe down gets you:
1 egg version = 12 cupcakes OR one 8-inch round
2 eggs version = 24 cupcakes OR two 8-inch rounds OR three 6-inch rounds
More Gluten-Free Cake Recipes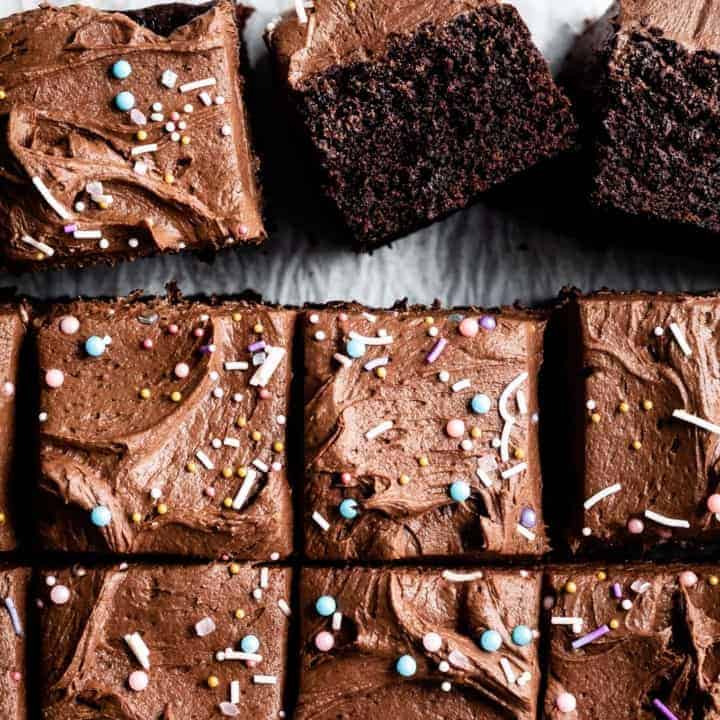 Gluten-Free Chocolate Sheet Cake with Chocolate Buttercream
Yield:
1 9x13 sheet cake, 24 servings
Total Time:
1 hour
10 minutes
The BEST gluten-free chocolate cake recipe, bar none. With a thick swirl of chocolate buttercream and festive sprinkles, this is the perfect gluten-free chocolate birthday cake. Bake as cupcakes or a layer cake!
Ingredients
Gluten-Free Chocolate Sheet Cake
Chocolate Buttercream
1½ cups (12oz) unsalted butter, just about room temperature (60-70 degrees)
4½ cups (563g) powdered sugar
½ teaspoon kosher salt
2½ teaspoons vanilla extract
3-4 tablespoons whole milk or heavy cream
Optional: Festive sprinkles
Instructions
Preheat the oven to 350°F. Prepare a 9x13 cake pan by lightly oiling it, and lining it with parchment paper. See notes for converting to cupcakes or a layer cake.
If not using buttermilk, combine the milk and vinegar in a small cup and let sit while you measure the flour, at least 5 minutes.
In a large bowl, sift together the sweet rice flour, oat flour, millet flour, cocoa powder, sugar, baking powder, baking soda, and salt.
In the measuring cup, whisk the milk and vinegar mixture with the egg, oil, vanilla extract, and chocolate extract until smooth. Pour this mixture into the dry ingredients and stir lightly. Pour the hot water into the dry ingredients and mix until completely smooth, scraping up the sides and bottom to completely incorporate.
Pour the batter into the prepared cake pan and bake for about 45-55 minutes, or until a toothpick inserted in the center comes out clean or with just a few moist crumbs and the center bounces back when poked. In my experience, it's best to err on the side of an extra minute or two to be sure - this cake is very moist and won't over-bake very easily.
Let cool in the pan for 10 minutes, then overturn the cake onto a wire rack to cool completely. To do this, I place a large sheet pan over the baking pan and, holding it together, carefully flip the cake to release. Peel off the parchment paper, then place a wire rack over the top, and carefully flip right side up.
While the cake cools completely, prepare the frosting. In the bowl of a stand mixer fitted with the paddle attachment, cream the butter over medium speed.
Sift together the powdered sugar, cocoa powder, and salt. Slowly add this to the butter, in 4 batches, beating until incorporated. Add the vanilla and chocolate extracts and mix until smooth. Add the milk or cream, starting with just 2 tablespoons and adding additional milk or cream as needed, until frosting is smooth and spreadable. It should be somewhat glossy, but still hold swirls.
When the cake has cooled, swirl the buttercream over the top of the cake (I recommend using the back of a soup spoon) and top with colorful sprinkles, if desired. Slice into 24 pieces and devour.
Notes
The same exact batter quantity in this recipe makes:
1 9x13 cake - bake for 45-55 minutes
3 8-inch layer cakes - bake for 33-37 minutes
36 cupcakes - bake for 18-22 minutes
To adjust the recipe to make different quantities, scale all the ingredients to 1, 2, or 3 eggs. I've got a post with each scaled version below to save you the trouble. Here's what scaling the recipe down gets you: