This super quick light and creamy everything bagel goat cheese dip is the perfect party appetizer. Make your own everything bagel seasoning and top the dip with capers, dill, and shaved carrot "lox" to make it a showpiece!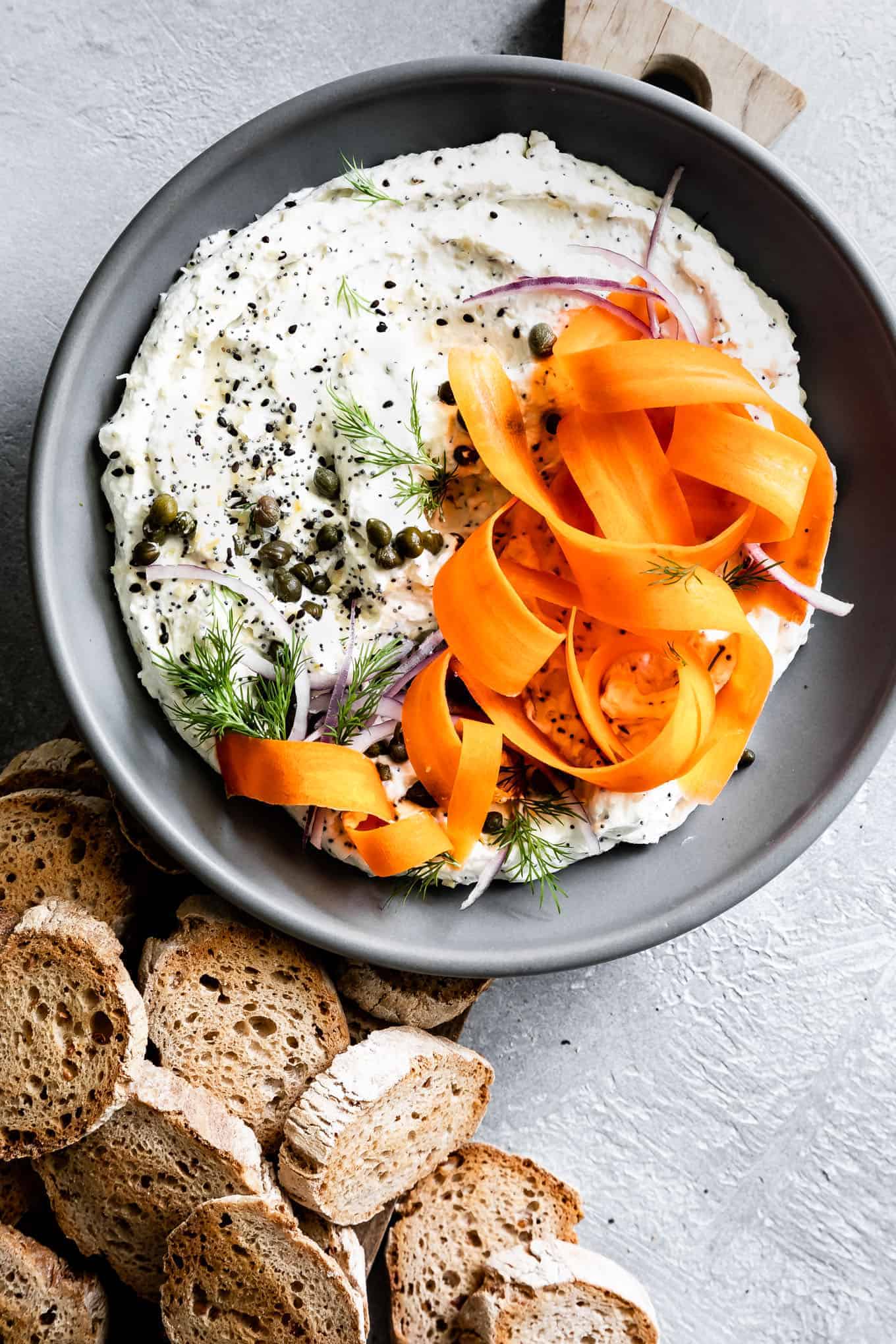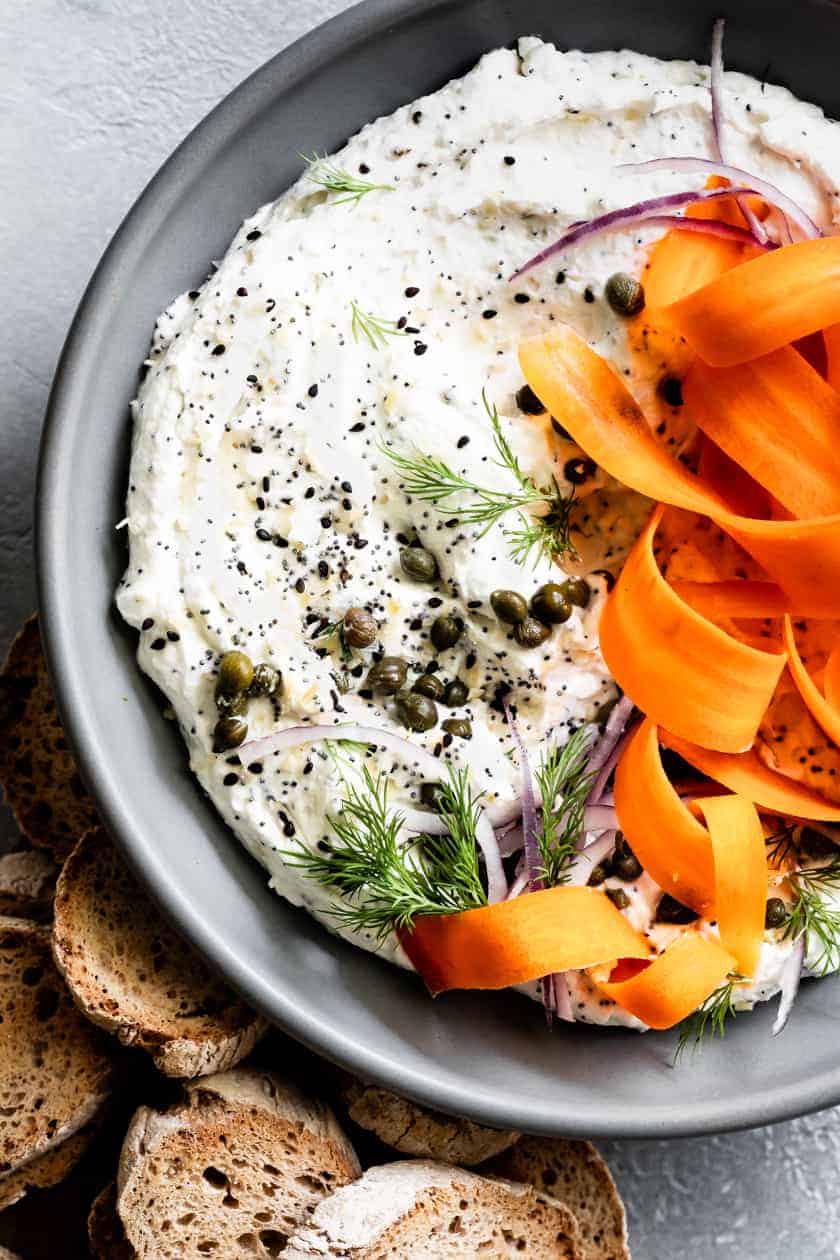 Some of the best recipes come when you take away structure and free yourself up to just create joyfully. This everything bagel seasoning whipped goat cheese is a variation on a spur-of-the-moment dip I made for Zoella's 3rd birthday party. It was the wildcard no-recipe dish I threw together without measuring anything, tossing in seasonings willy-nilly. And it was the first to disappear on the lunch spread.
Made in partnership with Simply Organic and The Feed Feed, this everything bagel seasoning whipped goat cheese dip is the third in a four-part series about the joy of cooking with organic herbs, spices, and extracts. So far, I've made gluten-free pumpkin cinnamon rolls and gluten-free cardamom cranberry coffee cake, and now I've made this savory everything but the bagel dip!

Cook for Joy with Whipped Goat Cheese Dip
For Zoella's birthday party, we invited all her friends (and their parents). Her guest list was basically the same as the year before, but in years past, many people couldn't come. Not this year. This year, we had 42 people with thirteen(!!) 2-4 year olds confirmed for her indoor rainy day February birthday party. Due to her regular 2pm nap schedule, the party was at 11am, which meant we were also serving lunch.
When the topic of her birthday food came up in the weeks before with my mom tribe (see also: Christina and Emily), they lovingly urged me to save my sanity and order in. Here's the (very abridged) exchange with both of their texts lumped into one.
THEM: Are you bringing food in for her birthday or making it all yourself? Please say you're taking the easy way out!
ME: You know I'm making it.
THEM: I know. And I think you should re-think it...you are torturing yourself...For real. Stop...A sleep deprived woman should not cater a birthday party....Omg buy 3 tubs of hummus and scrape it into a big bowl. PLEASE.
I love them for worrying about me, but still, I ignored them and charged ahead with a rainbow-themed menu. Of all the things I could feel stressed about, making all the food for her party could have definitely topped the list. Except it didn't. I'm made for this.
The menu:
Ombre citrus salad,
Baked goat cheese penne (with roasted cauliflower mixed in - a faved recipe I created with Alanna for Pearls Olives),
Pale pink blood orange water, and
A rainbow sliced veggie platter with a variation of this everything bagel seasoning whipped goat cheese
For dessert: a rainbow frosted chocolate and vanilla layer cake and a double layer chocolate sheet cake
My mom brought chips and salsa, and a batch of my homemade turkey meatballs
I kid you not, there were no leftovers save for half the 5 gallon bucket of chips my mom brought and a few slices of cake. Even if I was totally exhausted afterward, my personal tank was 100% full. Sharing a homemade lunch spread of all my original recipes for a roomful of close friends and family brings me so much joy.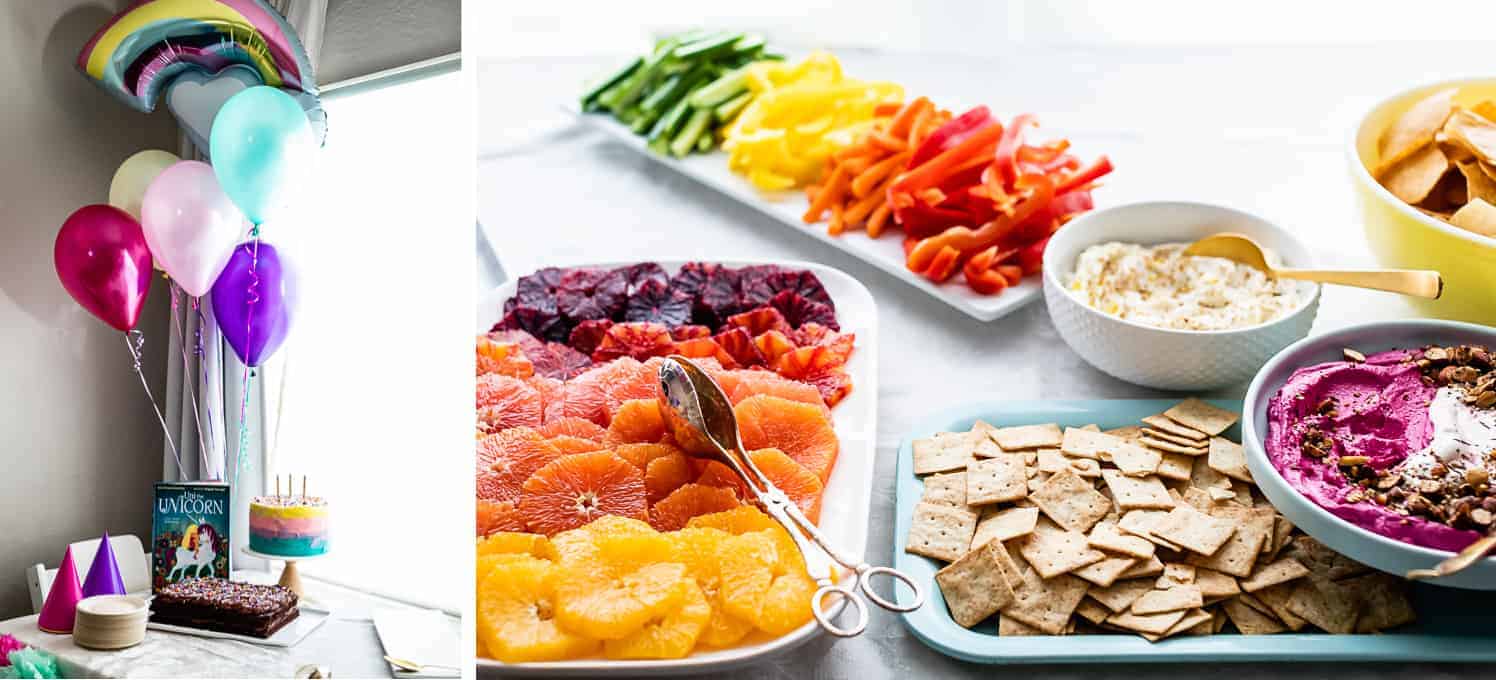 How to make Whipped Goat Cheese Dip
With a silky light and creamy texture, whipped goat cheese feels fancy, but in reality, takes less than 10 minutes to make using either a stand mixer or a hand mixer. Beat the goat cheese, then, with the mixer running, slowly beat in a little bit of cream. Add the rest of the cream and whip until firm peaks. Fold in your seasonings and garnish.
I love goat cheese and for Zo's birthday, I wanted to turn it into something a little more than a cheese plate. Actually, I wanted the goat cheese to represent the clouds at the end of my rainbow vegetable platter. A firm cheese ball just wasn't going to cut it.
I'd intended to make Erin's whipped goat cheese dip with walnuts and caramelized shallots. She served it at her housewarming party and instead of socializing, I protected the dip (with my belly). But when the day came, I had too little time and none of the right ingredients. So I improvised, drawing inspiration from the flavors of Vermont Creamery's everything goat cheese log, but using plain chevre goat cheese, some heavy cream, and my own homemade everything bagel blend from the Simply Organic seasonings in my pantry.
The dip is light and fluffy - imagine pillows or clouds of goat cheese - with a mild tangy goat cheese flavor that lets the everything bagel seasoning shine through. I've topped the dip with all the bagel fixings - capers, sliced red onions, fresh dill, and shaved carrot "lox" - to make it look festive for entertaining. Serve with fresh veggies (more carrots!), toasted bagel slices, or, in my case, toasted sliced gluten-free baguette.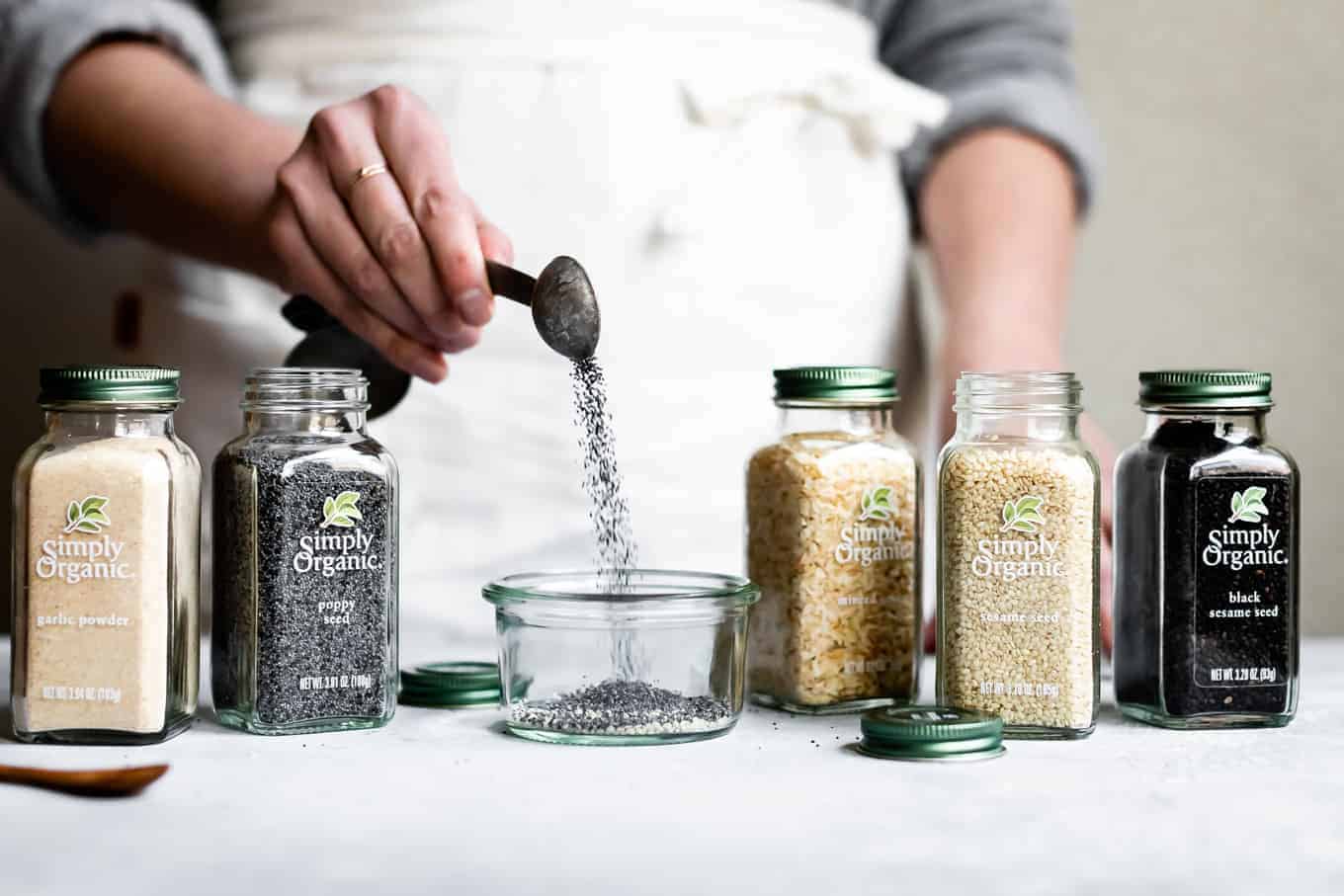 How to make everything bagel seasoning at home
Everything but the bagel seasoning is having a moment - what makes those bagels so darn good?
Now that I've figured out how to recreate the seasoning by just mixing the Simply Organic spices and seasonings in my pantry, I keep it on hand for all the things. Put it on avocado toast, soft-boiled eggs, mac and cheese, and this whipped goat cheese dip. I've jumped on the everything bagel seasoning train with a one way ticket.
For the whipped goat cheese dip, I've scaled this blend down to just what you need for the recipe, but I recommend making a big batch. Here's the large batch blend to keep yourself stocked for avocado toast emergencies:
Blend it and store it in an airtight container! For my blend, I use Simply Organic's garlic powder because it's so rich and fragrant. It's also more concentrated than granulated or dried minced garlic because it's more finely ground, so you need just a little bit of it.
If you make a big batch of this everything bagel seasoning blend, make sure to give your jar a good shake to mix in any smaller spice particles that may have settled to the bottom before sprinkling.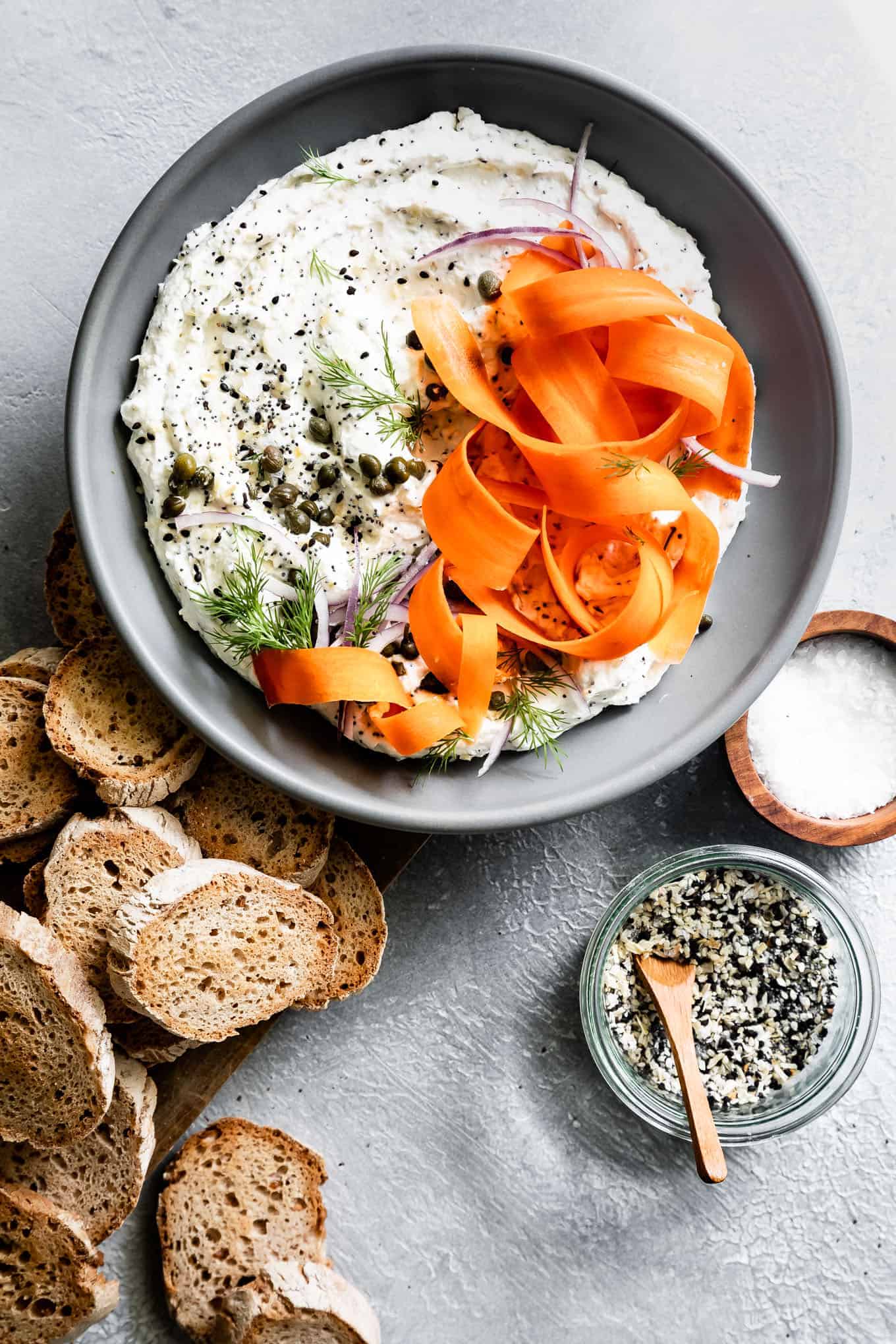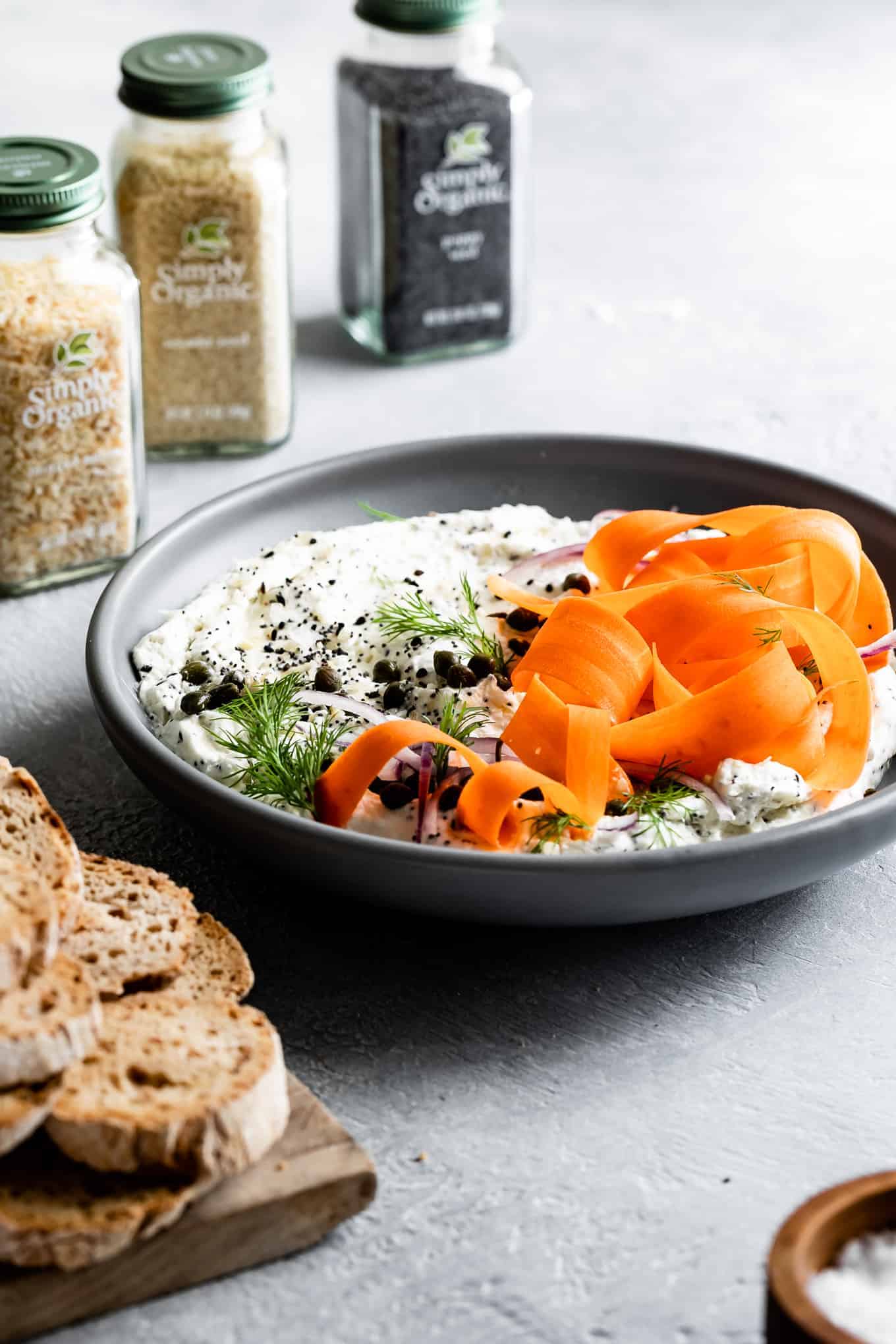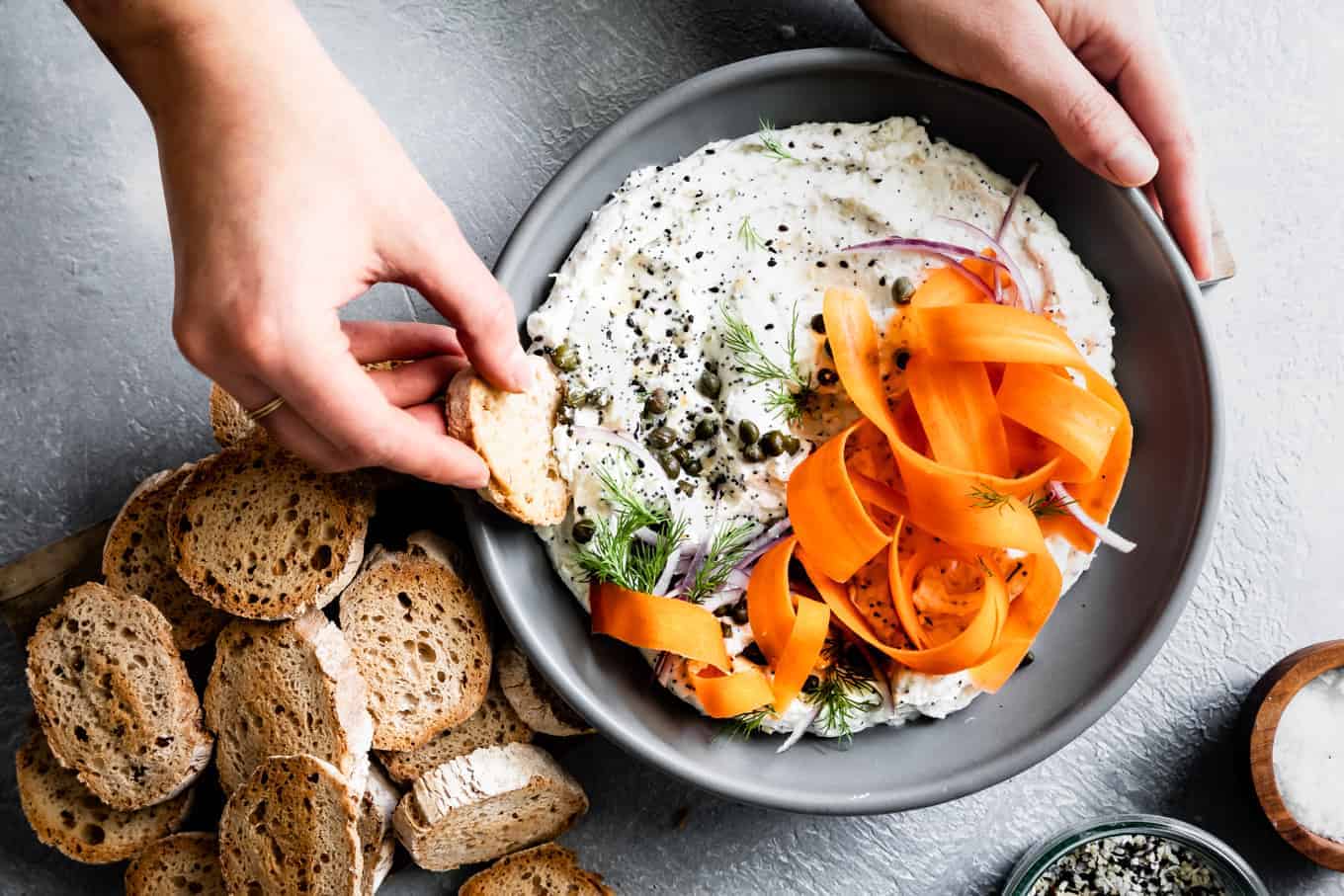 What can I substitute for goat cheese?
So what if you don't like goat cheese? Blasphemy! Just teasing - my dad actually can't stand goat cheese (he also hates olives, so I'm not even sure I'm his daughter). I tested a version of this dip with French feta cheese and it's also delicious! French feta is creamier and a little more neutral like goat cheese than greek feta.
For the feta version, I recommend using a food processor to make your dip smooth. Combine 6 ounces French feta, 3 ounces cream cheese in a food processor and blend until smooth. Add ¼ cup heavy cream and pulse until light, fluffy, and smooth. Fold in everything bagel seasoning and garnish.
Because feta tends to have more moisture, you need less cream. This means the feta version a little more pungent on the cheese flavor, so you may find you want more everything bagel seasoning.
What to dip in Whipped Goat Cheese
Toast up slices of my homemade gluten-free bagels to rip in this whipped goat cheese or slather it right onto the bagel halves!
Disclosure: Special thanks to Simply Organic and The Feed Feed for providing the ingredients for this recipe and sponsoring this post! And thanks to you for supporting the companies that keep Snixy Kitchen cooking!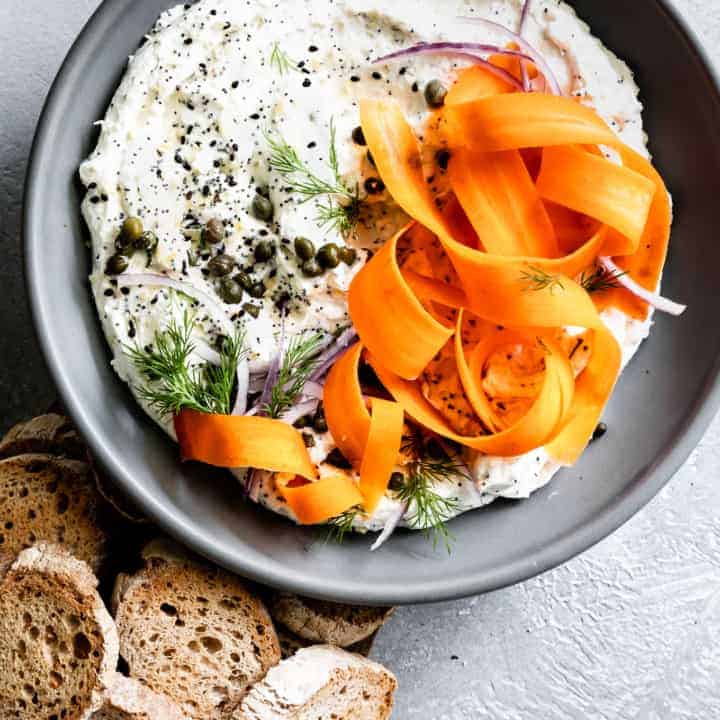 Everything Bagel Seasoning Whipped Goat Cheese
This super quick light and creamy everything bagel seasoning whipped goat cheese is the perfect party appetizer. Make your own everything bagel seasoning and top the dip with capers, dill, and shaved carrot "lox" to make it a showpiece!
Ingredients
Everything Bagel Seasoning
½ teaspoon flakey sea salt
Whipped Goat Cheese Dip
4 ounces goat cheese
1¼ cups heavy whipping cream
2 teaspoons homemade everything bagel seasoning (above)
Optional: ½ clove roasted garlic, smashed into paste (*see note)
Optional, for garnish:
1 medium carrot, peeled and shaved into ribbons with a vegetable peeler
¼ thinly sliced red onion
1 tablespoon capers
A few sprigs of fresh dill
Instructions
Mix all of the ingredients for the everything bagel seasoning blend in a small bowl. You're going to fold some of it into the whipped goat cheese dip and reserve the rest for garnish.
Crumble the goat cheese into the bowl of a stand mixer fitted with the whisk attachment or a medium mixing bowl with a hand mixer. Whisk the goat cheese to break it up, scraping down the sides, for about 1 minute. Add three tablespoons of the heavy cream, one tablespoon at a time, mixing between each until smooth. Add the remaining heavy cream and mix until firm peaks (Note: When you turn the whisk upside down, the peak should hold, but the tips should still be soft and fold over onto itself - you want the dip to be soft and fluffy, but have enough structure to hold its form in a bowl).
Add 2 teaspoons of the seasoning and fold to combine. Taste the dip and adjust adding more seasoning if you prefer. Swirl the dip into a serving bowl and garnish with shaved carrot, sliced red onion, capers, fresh dill, and a sprinkling of everything bagel seasoning.
Notes
*Roasted garlic option: If you're making this for kids and adults, I'd leave out the roasted garlic. If you're making it for adults, the roasted garlic bumps of the garlic notes and adds a little spicy sweetness. That being said, only add it if you're really a fan of garlic.