A gluten-free products list of the best gluten-free pantry staples. With everything from the best gluten-free bread to the best gluten-free pasta, this guide is here to help you navigate filling your gluten-free pantry so you can eat deliciously without missing out!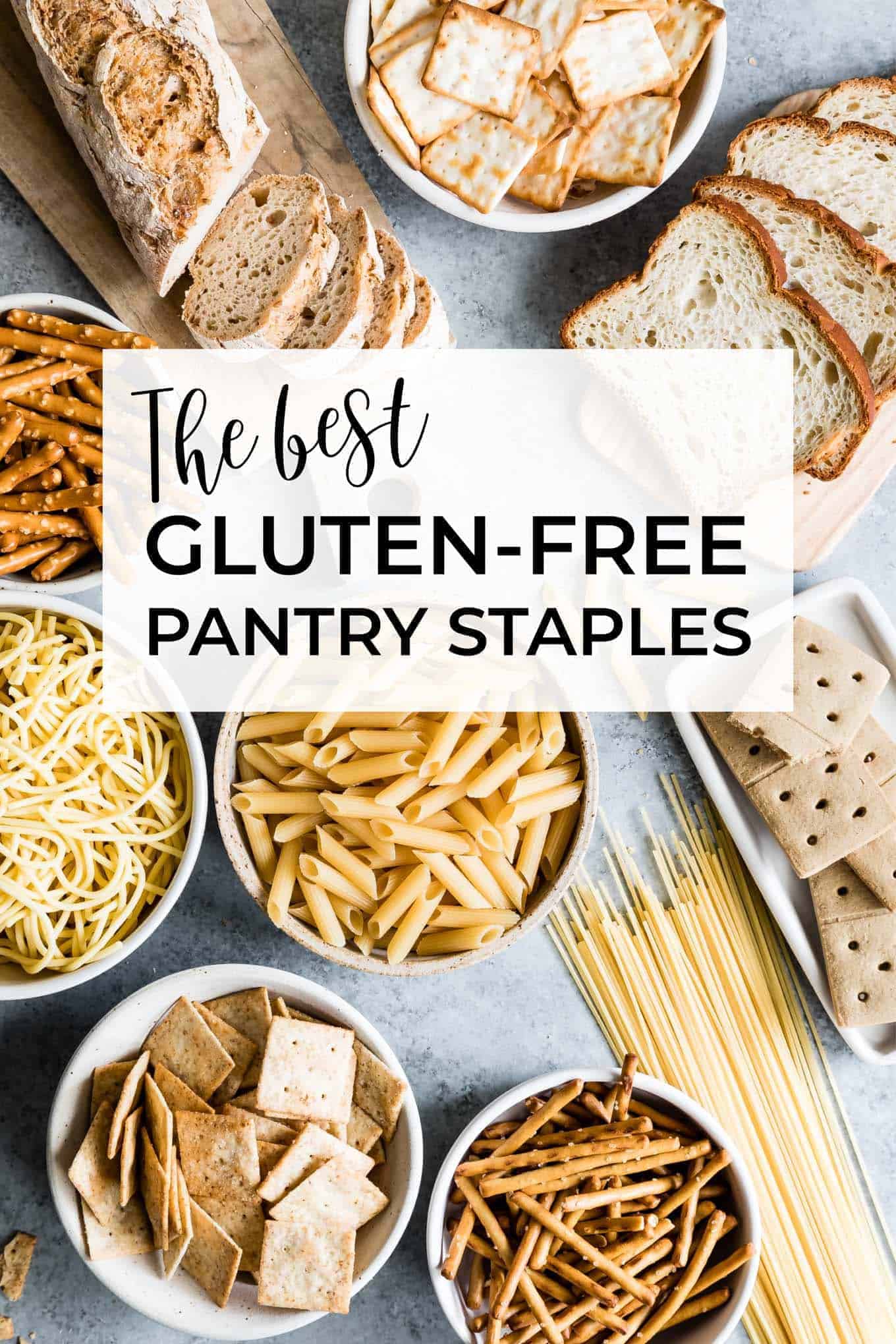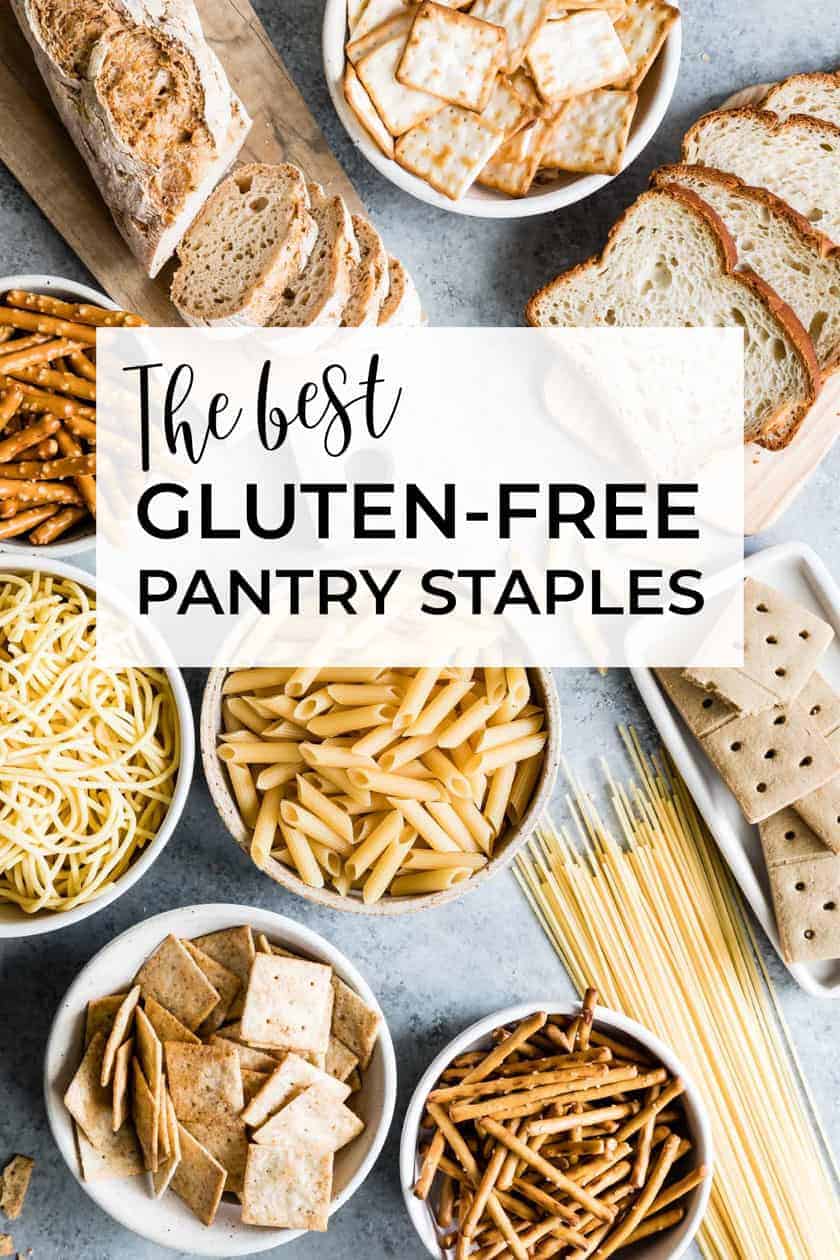 When I first eliminated gluten-from my diet, I felt like I was missing out on all the things I loved most: bread, cookies, pasta, crackers. I felt defeated. I felt hungry. And I turned to gluten-free alternatives for the main pantry staples I missed the most. Over the last 6 years, I've purchased and tasted as many gluten-free pantry staples on the market as I've found. Many of them were flops that tasted nothing like what I wanted...or even much like food. Many had weird additives, lengthy lists of ingredients, and funky aftertastes.
This gluten-free products list represents the top contenders, the products I've purchased again and again. Here is my gluten-free guide to the best pantry staples. This post is not affiliated with any of these brands and is completely unsponsored. First, let me explain two caveats to this list.
From scratch versus store-bought pantry staples
For many gluten-free alternatives, I prefer to make my own from scratch - my own cakes, cookies, pie dough, and pastas. You'll notice I don't include these on my list, with the exception of pasta, which I'll explain in a minute. Instead, this list includes the pantry staples that will allow you to make quick flavorful meals, snacks, cheese plates, and desserts, without feeling like you're missing out. There is an enormous gluten-free products market right now and there's no reason you shouldn't be able to enjoy bread, pasta, crackers, bagels, etc. made with alternative whole grain flours.
While you can certainly make your own pasta - and I have and do sometimes - there are occasions where you just want to make a quick pasta bake. That's what this list is here to help you with.
What are gluten-free pantry staples
This gluten-free products list only includes items that I consider "neutral" in flavor. There are definitely other gluten-free breads, cookies, pasta, crackers on the market that are worth trying, some of which I regularly buy. For this pantry staples list, I've tried to narrow the list to the most neutral items. The ones that taste the most like their gluten-filled counterparts. These items will let you cook a killer grilled cheese, serve up a saucy pasta dish, or build a cheese plate without overpowering the flavors.
I'll also update this list as I try more gluten-free products if I think there's a new contender that you need to know about.
With that, here is my list of the best gluten-free pantry staples.
The best gluten-free bread
Gluten-free sourdough boule and baguettes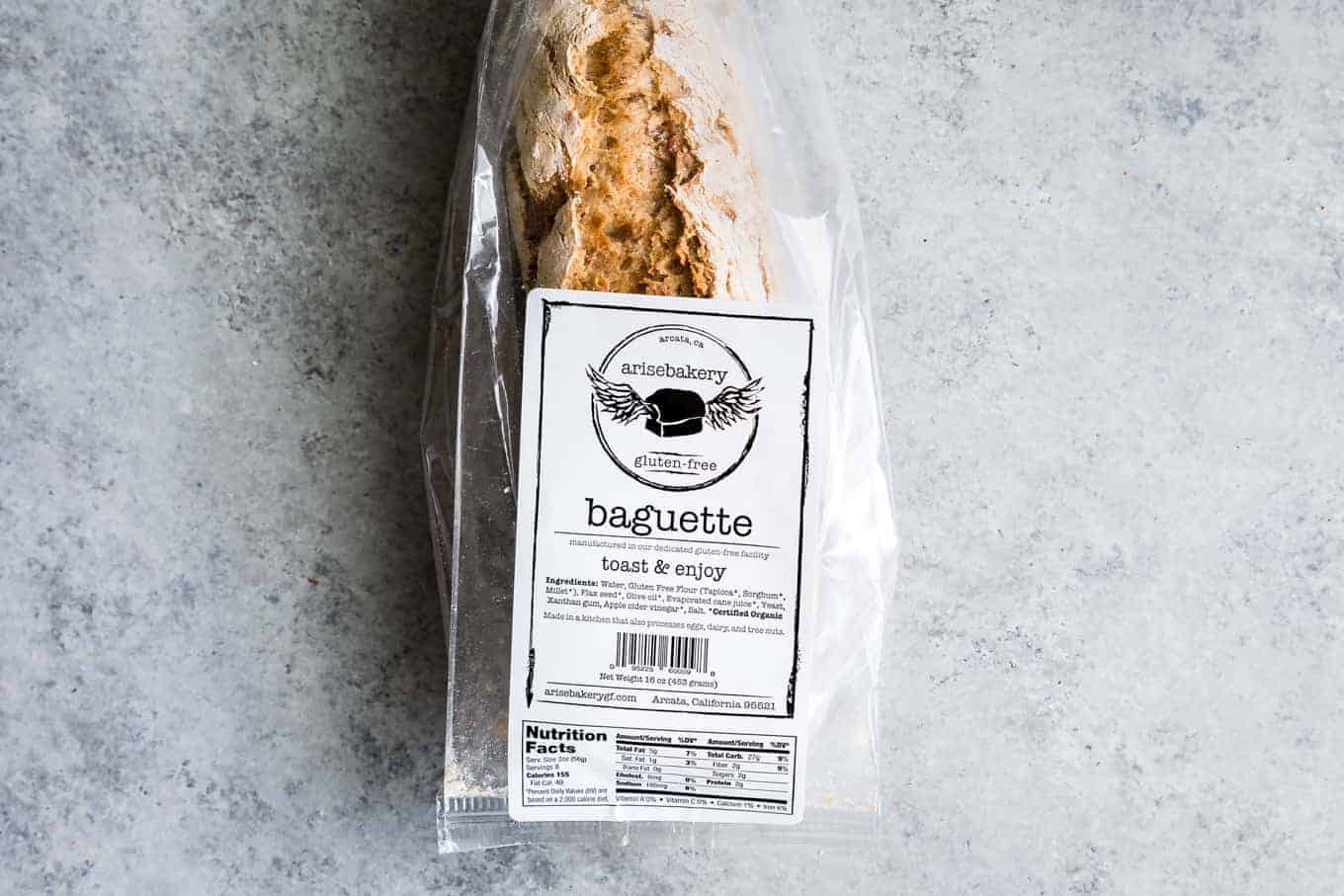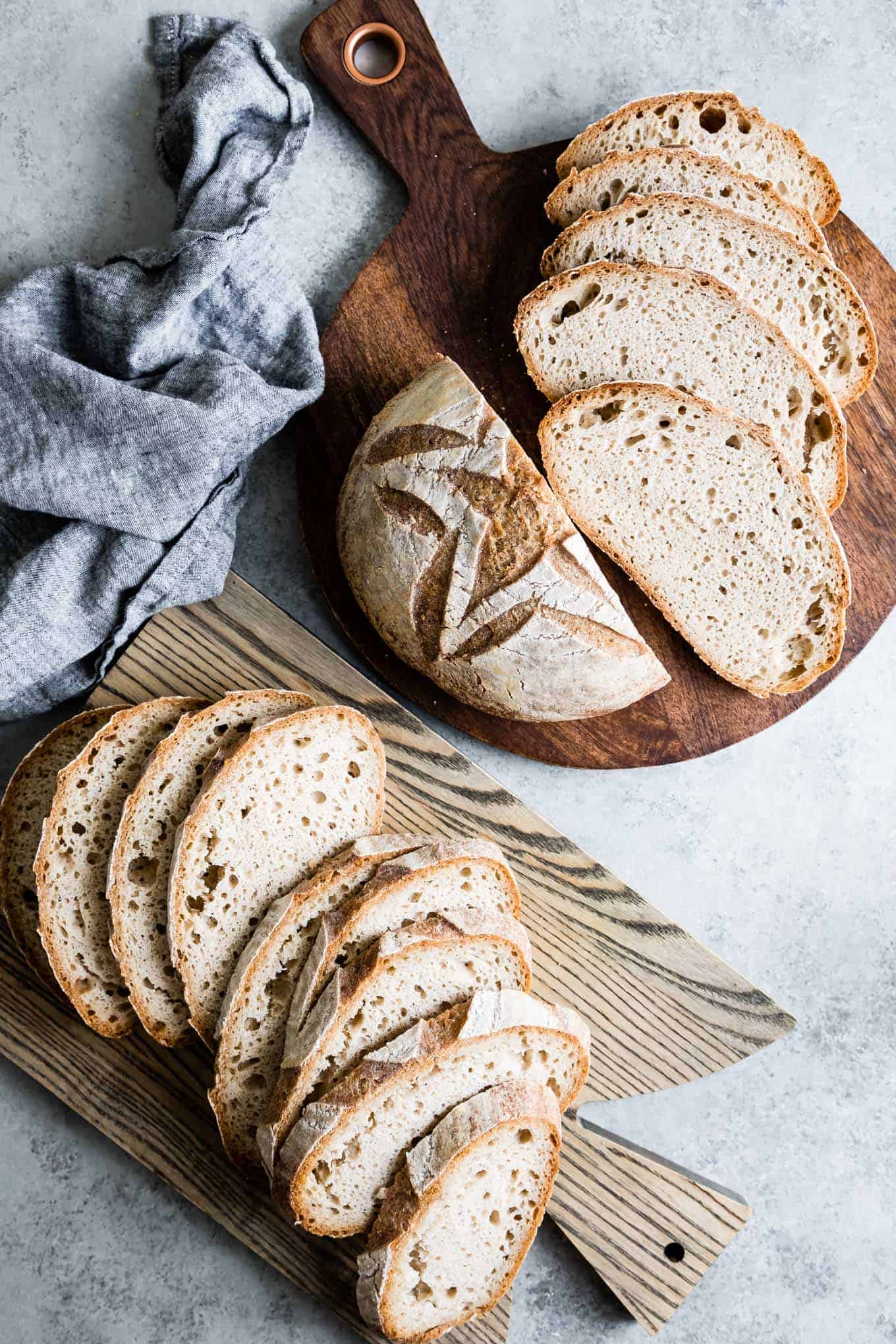 Arise Bakery sourdough boules and baguettes. This bread is life-changing. I first tried a slice of the sourdough boule at our food styling workshop two years ago. Reah, the baker behind this magical gluten-free bread, showed up with a few loaves and someone sliced it up to add to our cheese platter. I grabbed a slice and one bite in, I thought I'd eaten a slice of gluten-filled sourdough. I nearly spit it out because I thought it was too good to be true.
I've since ordered boules online regularly to use for crusty sandwiches, grilled cheese, toast, you-name-it. I buy in bulk, then slice up the boules and keep just what I'm going to eat that week sealed in the fridge, while the rest goes in the freezer. Then I toast what I need straight from the freezer. Unless you get it fresh from the bakery in a day or two, I find it's best lightly toasted before eating.
Here are three of my favorite recipes using Arise sourdough: Pancetta Spring Green Grilled Cheese, Avocado Green Goddess Sandwiches, and Loaded Smoked Gouda Garlic Bread.
Where to buy: Baked in Arcata up in Northern California, Arise Bakery loaves and baguettes are available at select Northern California Whole Foods or specialty markets in the freezer section. If you don't live in Northern California, you can buy the bread online with flat-rate shipping. The prices are reasonable for gluten-free bread, so if you're ordering multiples, the shipping is absolutely worth it (heck, the bread is so good, the shipping is always worth it). Pro-tip: they also make flavored boules - sometimes with dried fruit or herbs - if you're interested in one of those, just send them an e-mail after you order!
Other notable sourdough bread brands
Bread SRSLY sourdough loaf and sandwich rolls. These sandwich rolls are my favorite sandwich rolls. I'll update with a picture soon (they're temporarily backordered but should be back by the end of February). I toast them up and use them as both sandwich rolls and burger buns. The sourdough loaf is also very good. It's ever-so-slightly under-baked and requires a good toasting. My only complaint is the small size of the slices in the sourdough loaf, but I just noticed they've created a sourdough pullman which is in a new larger size. I'll update once I try it! You can find it in the refrigerated section at specialty markets up and down the West Coast and even in Texas - check out their store locator or order it online - their online shop restocks on Wednesdays.
Young Kobras sourdough boules. These boules are very good. The crumb is a bit more moist than the Arise Bakery boules, making it absolutely necessary to toast and for a bit longer. Once toasted, it's very delicious and makes a really good sandwich! If you live in SF, you can find it at many specialty shops. For everyone else, you can order it online!
Everyday sliced gluten-free sandwich bread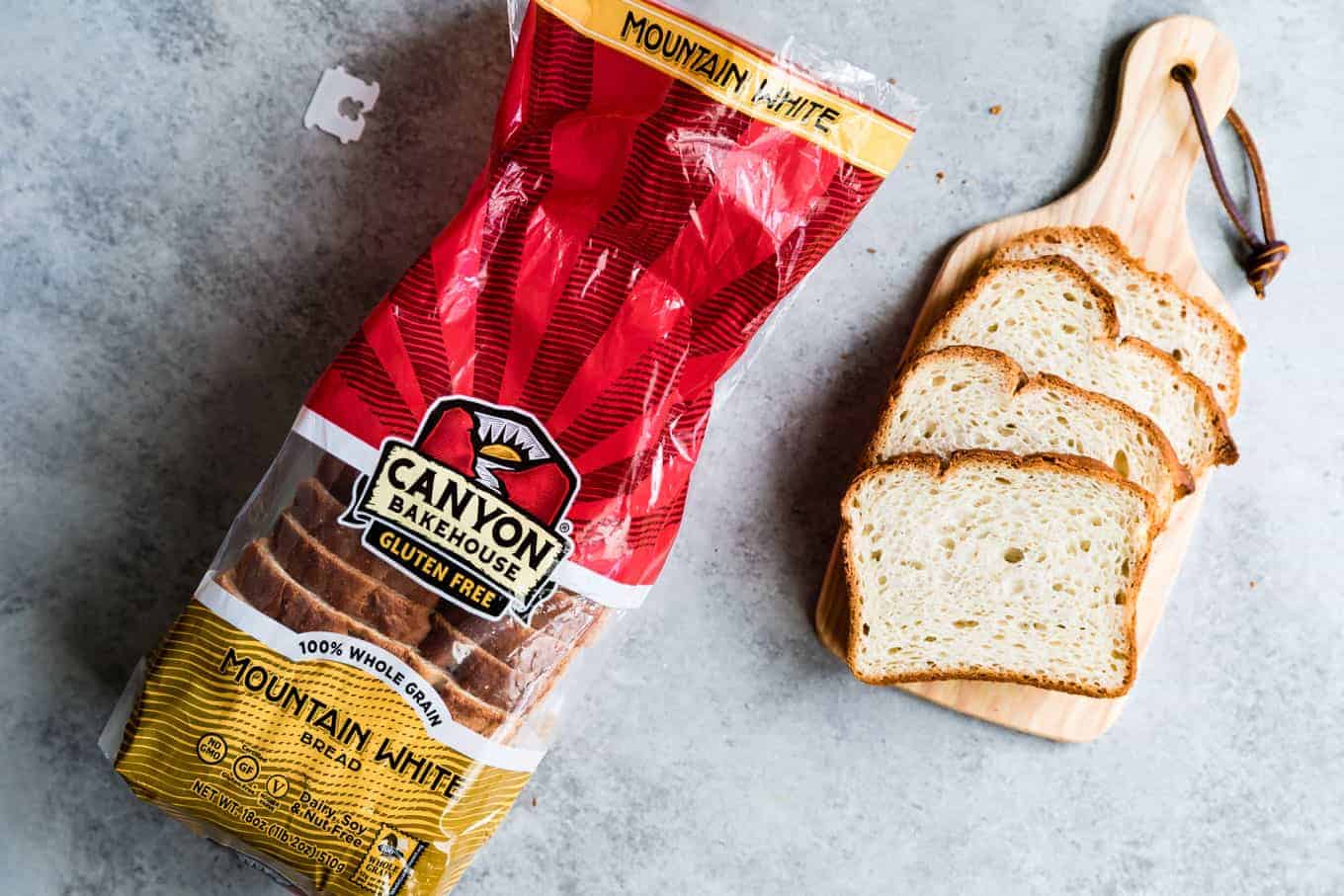 Canyon Bakehouse mountain white sliced bread. Think about the perfect soft bread for a peanut butter and jelly sandwich. This is that bread. I've tried nearly every gluten-free sliced bread on the market and this one stands out. Unlike many brands of gluten-free sliced bread, this loaf is soft, chewy, and moist. It doesn't crumble nor taste dry. I've tried other bakes of their bread including the 7-grain and I like them all, but this mountain white sliced bread is what we keep on hand at all times for quick toddler PB&Js or grilled cheese. I also use this bread in my annual thanksgiving stuffing recipe. I store it in the refrigerator to prolong the shelf-life and save all the ends to toast and grind up for breadcrumbs, which I then store in the freezer.
Where to buy: I buy this Canyon Bakehouse at my local Whole Foods. This sliced white bread is widely distributed across the country at Whole Foods, Target, Sprouts, etc. Check their store locator to find a grocery chain near you that carries it.
Other notable sliced sandwich bread
La Brea Bakery gluten-free artisan sliced sandwich bread. This sliced bread is also chewy and moist just like sliced bread should be. It's also widely distributed and available at most Safeways - check their store locator.
The best gluten-free bagels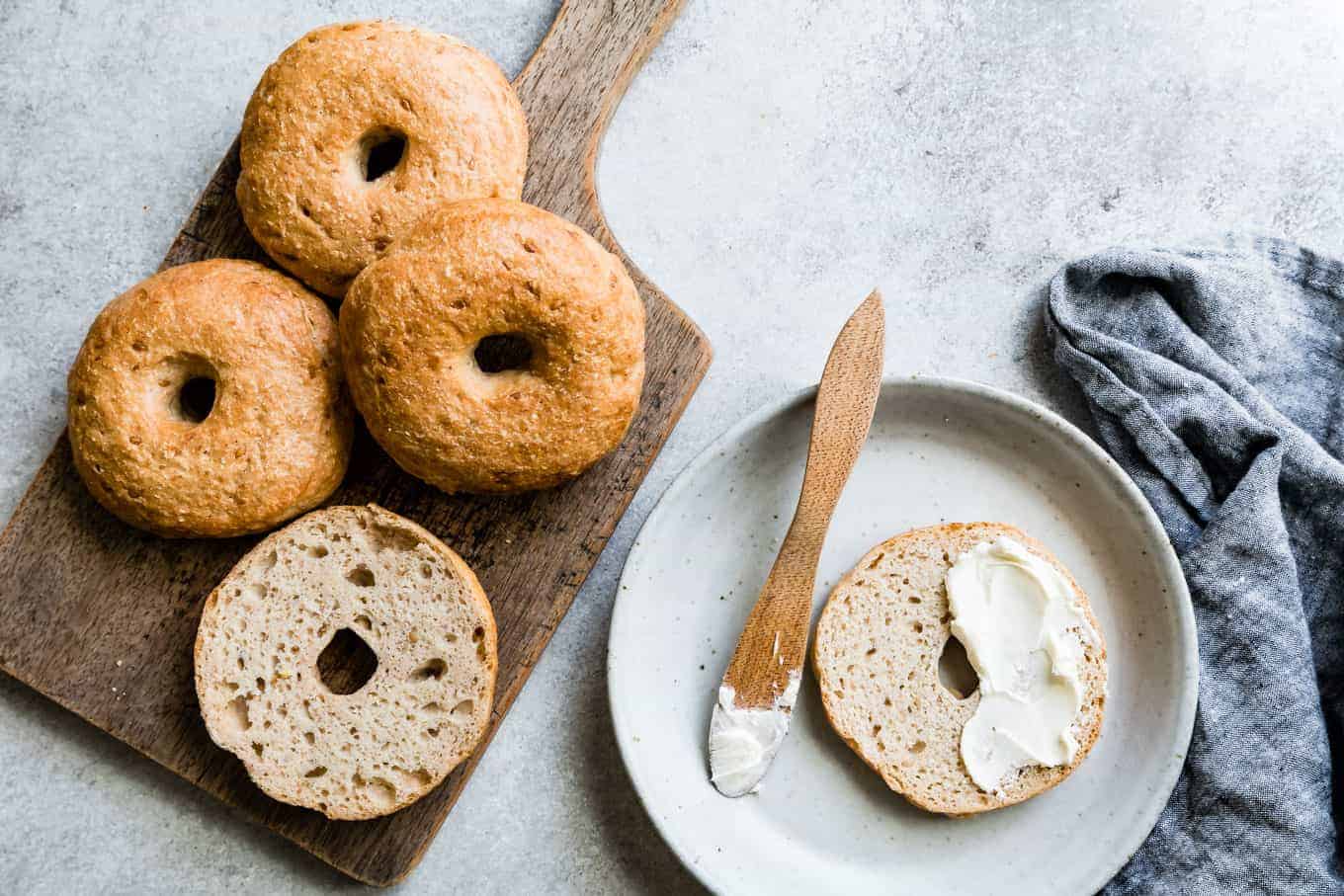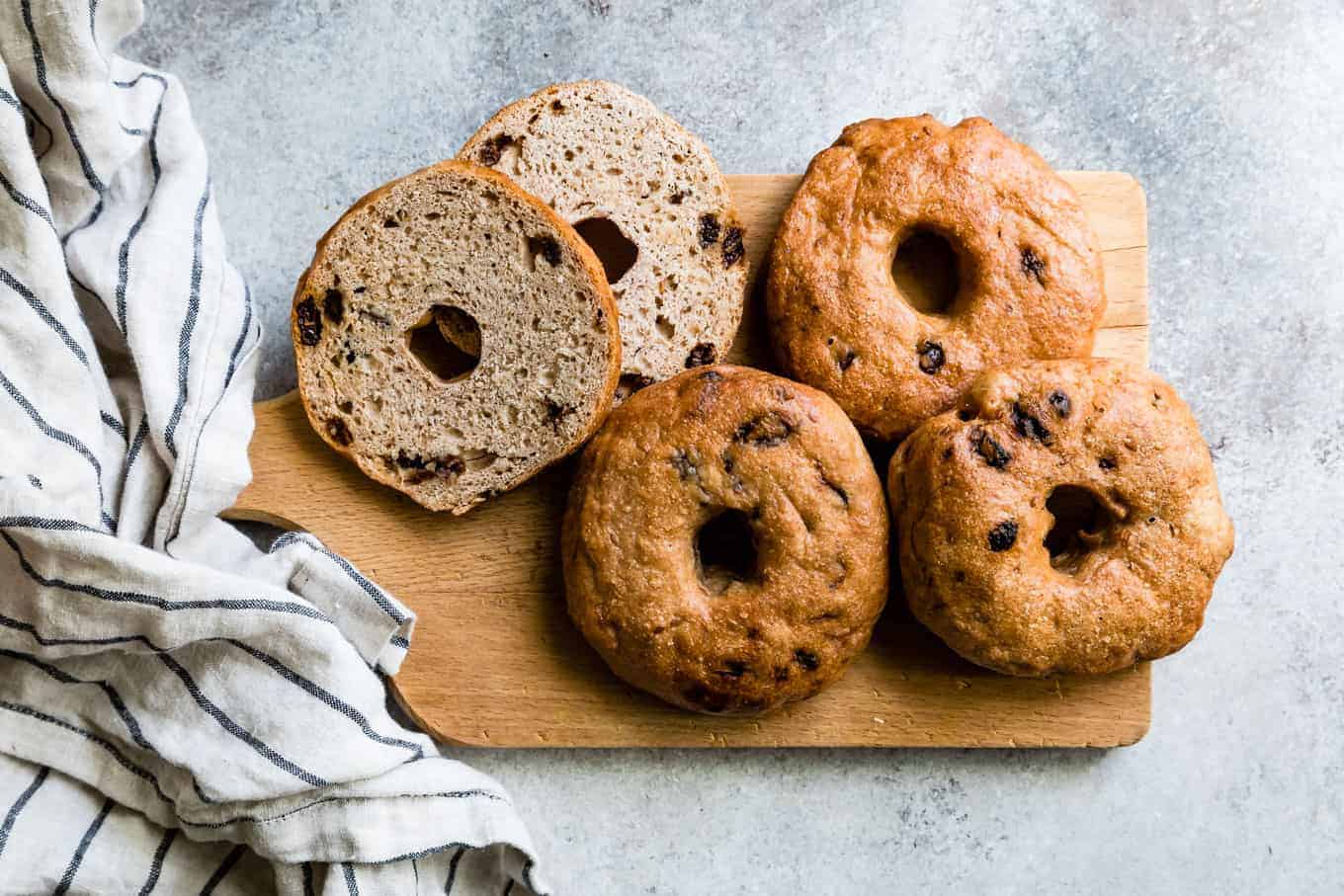 Arise Bakery bagels. I've never been a big bagel eater and especially so after going gluten-free. That is, until I met these bagels. I'll be the first to admit I was skeptical of the cinnamon raisin bagels, but they quickly won me over and I could eat one every day for breakfast if I could. I buy them in bulk with the sourdough boules, slice them in half, and store them in the freezer. They're great toasted straight from the freezer with a little butter, ghee, or a slather of cream cheese.
The best gluten-free pasta
Dry gluten-free pasta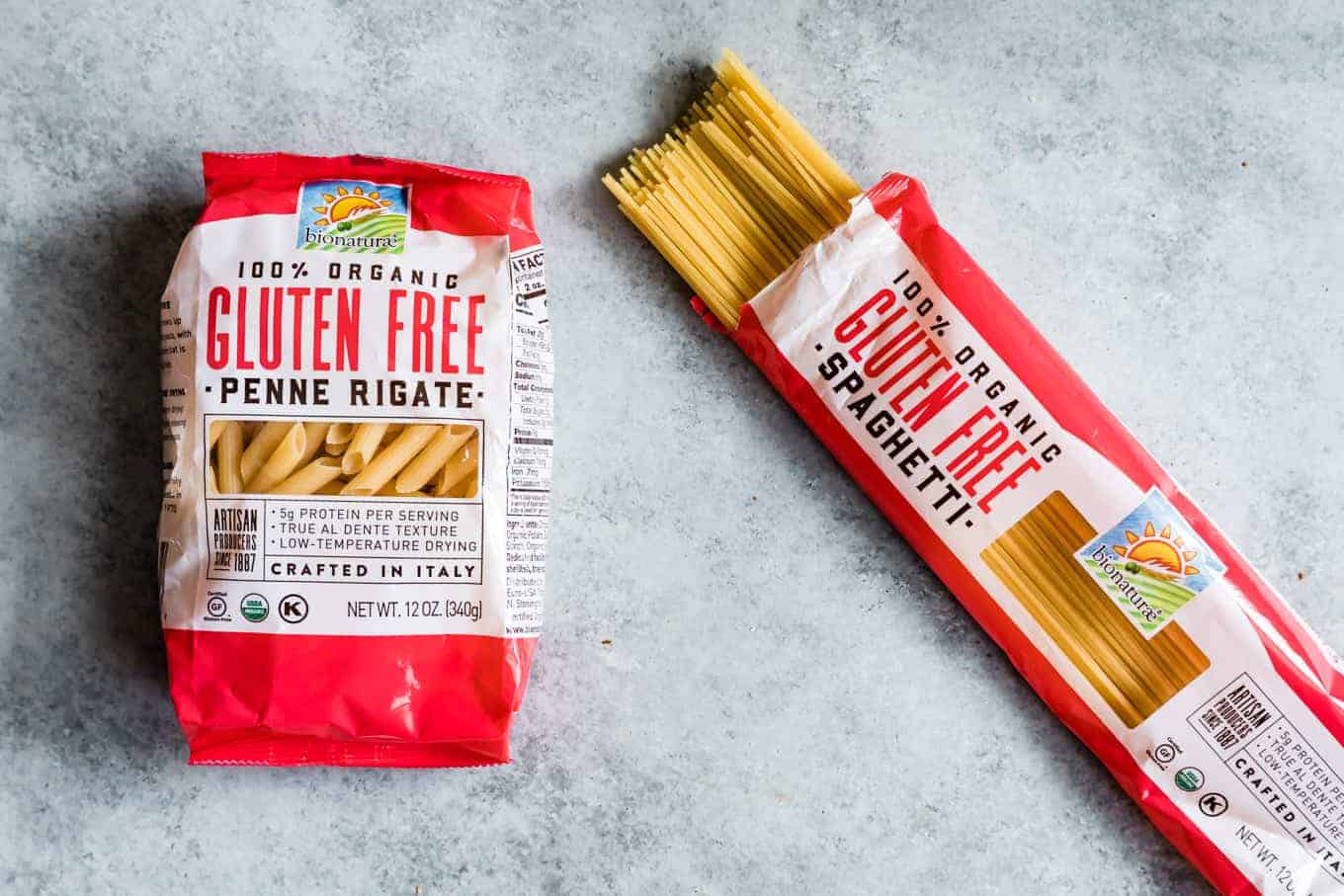 Bionaturae organic gluten-free pasta. For a sturdy everyday pasta that's mild in flavor, while perfectly soaking up sauce, Bionaturae is your pasta workhorse. Whenever I come across a new brand of gluten-free pasta, I buy it. I'm pasta-obsessed and have tried more than I could possibly count. Some of them fall apart quickly, others are gummy and/or slimy, others have too strong of a flavor, and for some, the sauce slides right off. Not this pasta though. If ever I'm making a pan of mac and cheese or a pasta bake, I go for a bag of Bionaturae pasta. We always have a bag in our pantry.
From penne to fusilli to elbows to rigatoni, this pasta holds up well when stored as leftovers. My one caveat is that the spaghetti is best eaten the same day. After a day in the fridge, the noodles will start to break a bit, which is still deliciously edible, but doesn't allow for slurping. If we're making a big pot of sauce and want leftovers, I only cook up the amount of spaghetti I need for each night.
Here's my favorite baked rigatoni recipe using bionaturae gluten-free pasta and Alanna's creamy cardoon mac and cheese.
Where to buy: I buy Bionaturae at Whole Foods and locally at Berkeley Bowl, but it's also widely distributed at many major grocery stores - check their store locator. Additionally, it's available on Amazon (and Prime Now in some areas).
Other notable dry gluten-free pasta
Tinkyada organic gluten-free brown rice pasta. I buy this pasta brand at my local natural market and also at Whole Foods. I like using their fettuccine and spaghetti because they are sturdy and hold up even as leftovers. Their lasagna noodles are my favorite gluten-free lasagna noodles when I'm not making them homemade. They don't seem to have a store locator, but if you can't find it locally, it's available on Amazon and a suitable, nearly identical substitute is sold at Trader Joes.
Fresh gluten-free pasta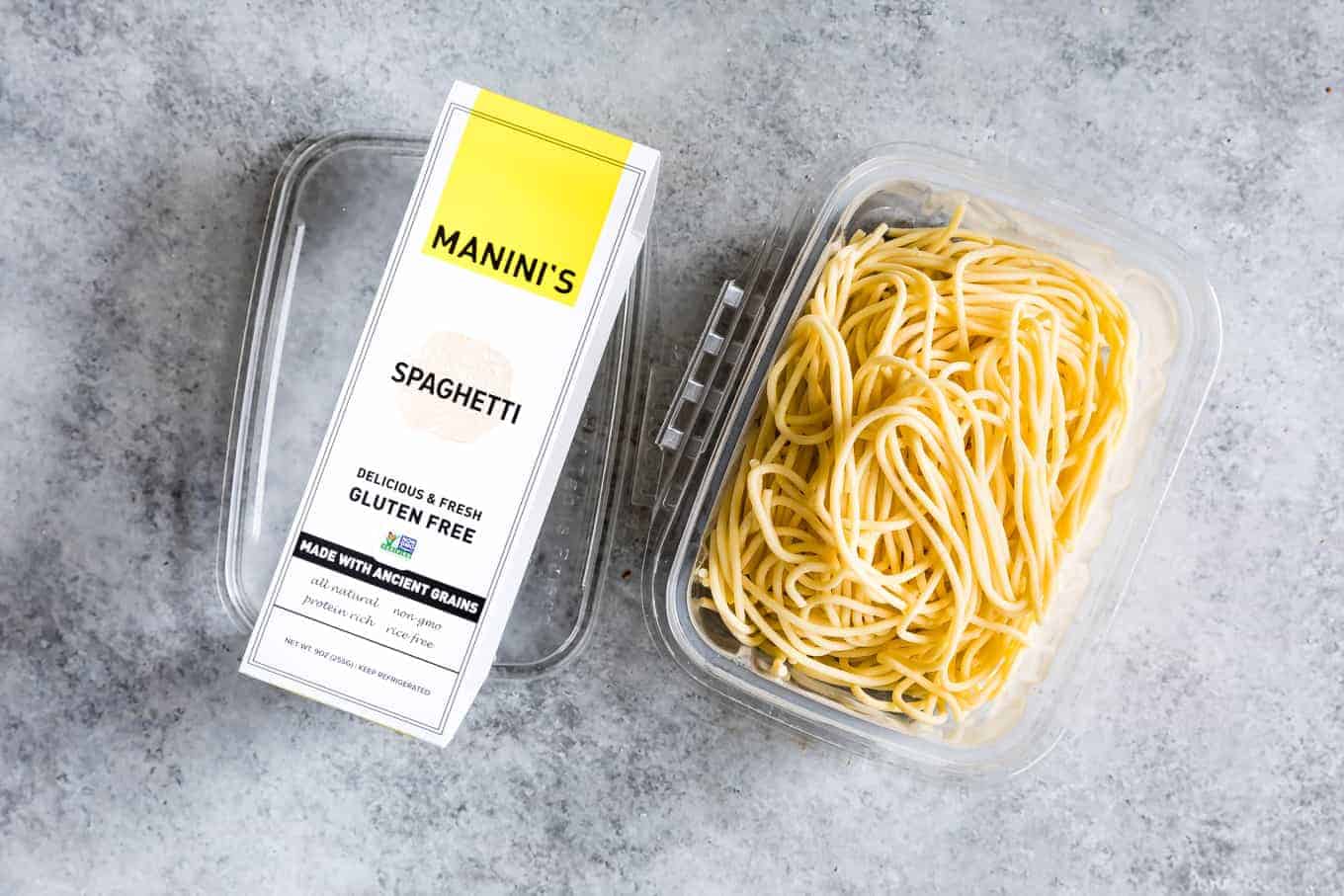 Manini's gluten-free fresh pasta. When you want the soft smooth texture of fresh pasta, this is where to turn. They make a range from spaghetti, linguini, fettuccine, and even cheese ravioli. I find it in the refrigerator near the cheese area in my local Whole Foods. It's available at specialty groceries and Whole Foods across the country.
Other notable fresh gluten-free pasta
Cappellos gluten-free grain-free pasta. This pasta is also a great texture and super delicious. It's available in the freezer section at most Whole Foods. My only complaint is that it's quite a bit more expensive than other fresh or dry pasta brands, so it's not what I choose regularly.
The best gluten-free crackers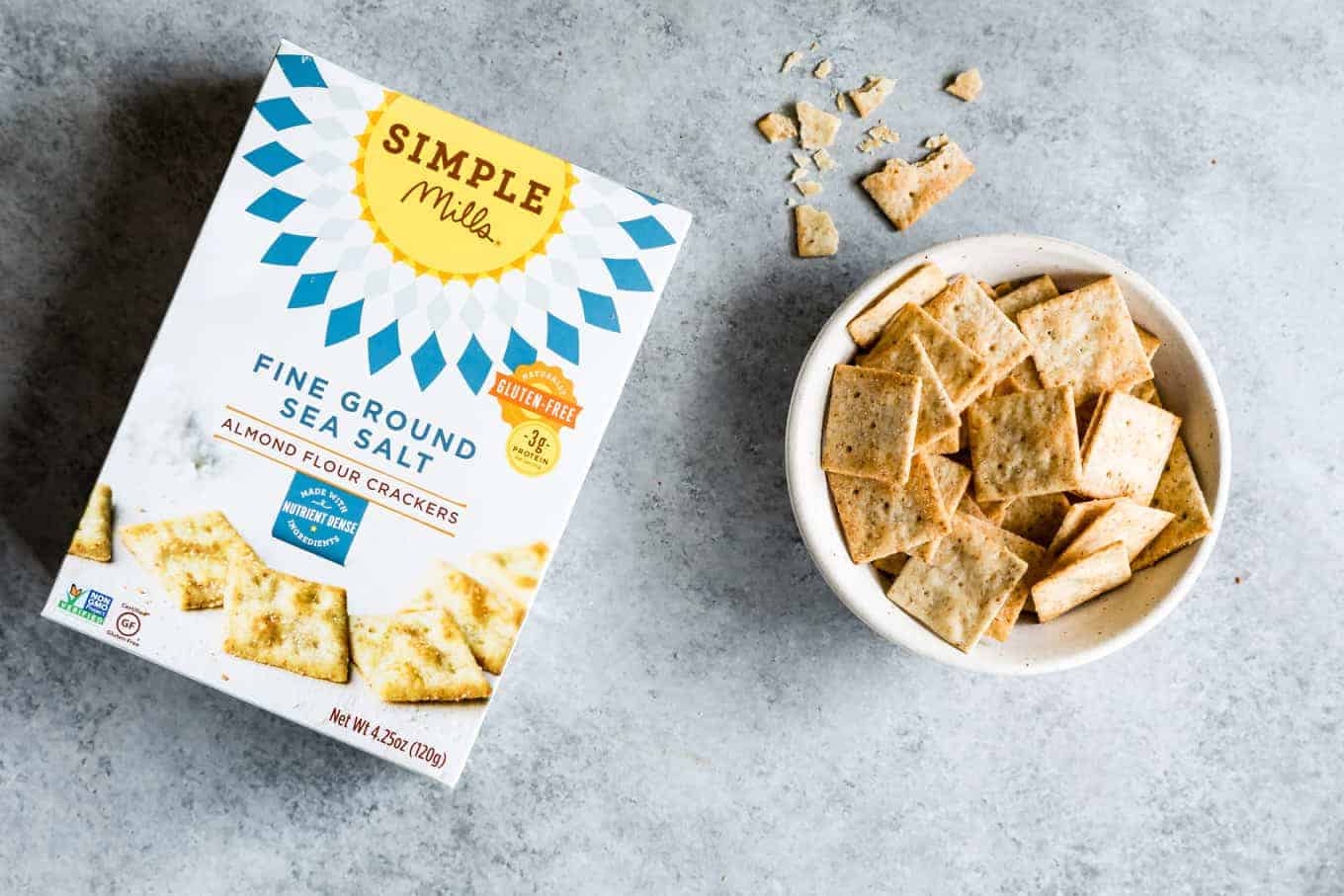 Simple Mills fine ground sea salt crackers. There are so so so many gluten-free crackers on the market. Just like with pasta, I try them all no matter where I am when I find a new brand I've not tried before. The two I've listed here are the two I go for if I'm looking for a basic cracker for a cheese plate, for dipping, or snacking. These almond flour crackers are a very recent discovery and are my new favorite. They're crunchy and flavorful - almost like a wheat thin - but neutral enough to be perfect for topping with cheese! They also don't have weird after taste that makes you tire of eating them like many gluten-free crackers.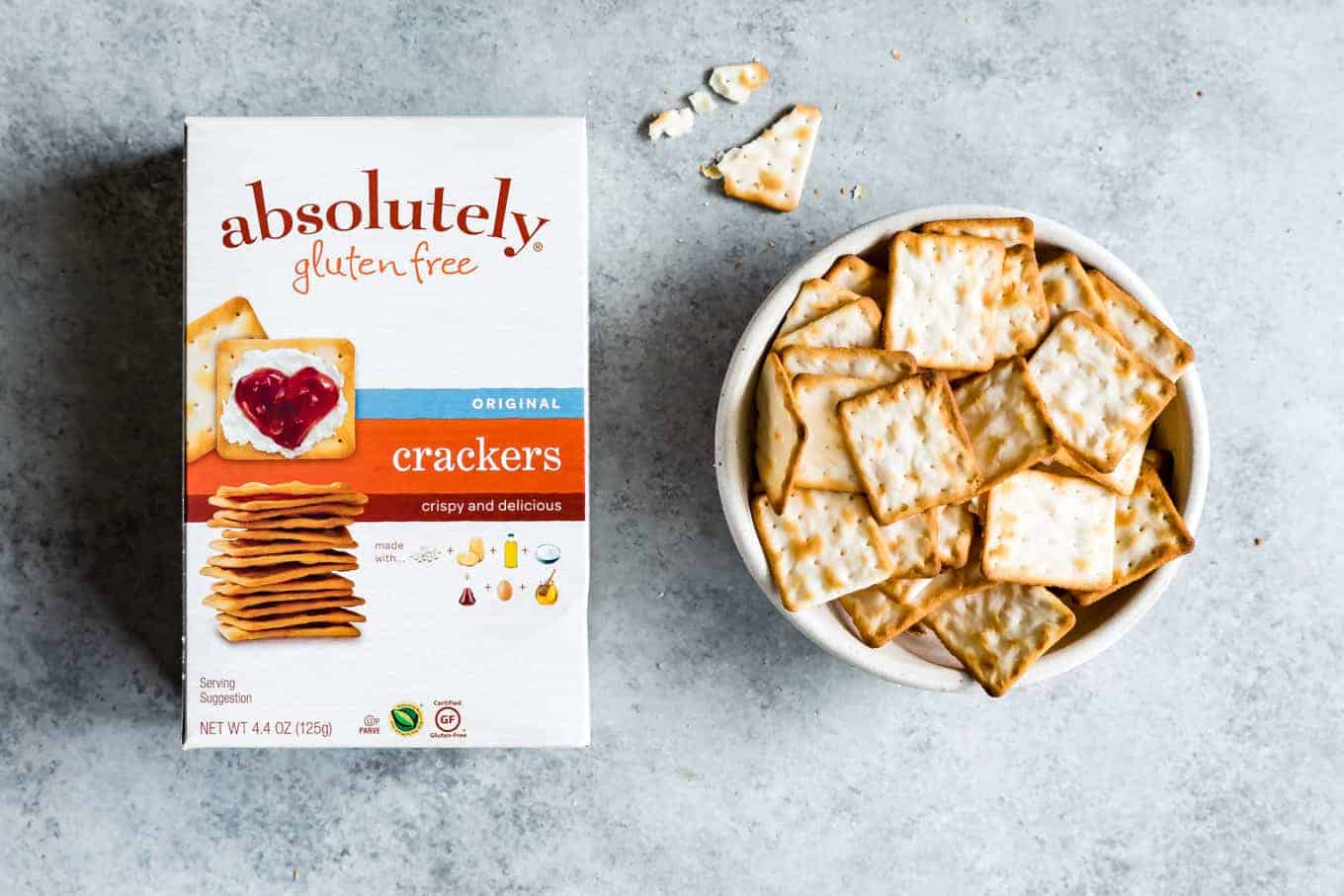 Absolutely Gluten-Free original crackers or flatbreads. These absolutely gluten-free crackers and flatbreads are essentially a gluten-free table water cracker, which is exactly what you need for a cheese plate. My only complaint is that they tend to go stale very quickly, so only open a bag if you can commit to eating it or store any leftovers in a sealed airtight bag.
The best gluten-free pretzels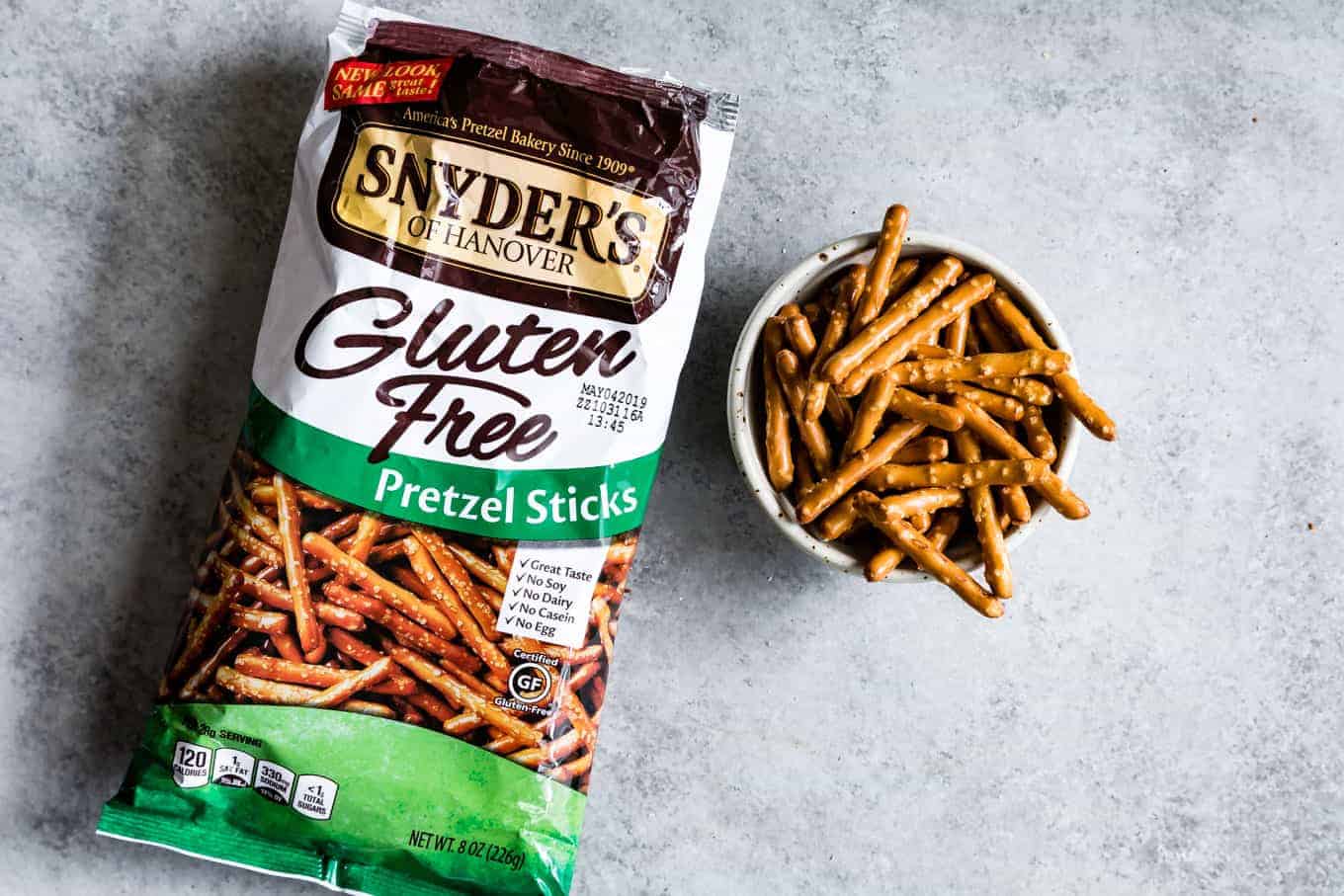 Snyder's of Hanover gluten-free pretzels. These pretzels come as both sticks and mini pretzel shapes. In a blind taste-test, you would not be able to tell these pretzels apart from their gluten-filled counterparts. They're the perfect gluten-free pretzel - great for snacking, making into my mother-in-law's white chocolate salties over the holidays, or using as a cheesecake crust (omgggg). These pretzels are widely available at most major grocery stores and even Target.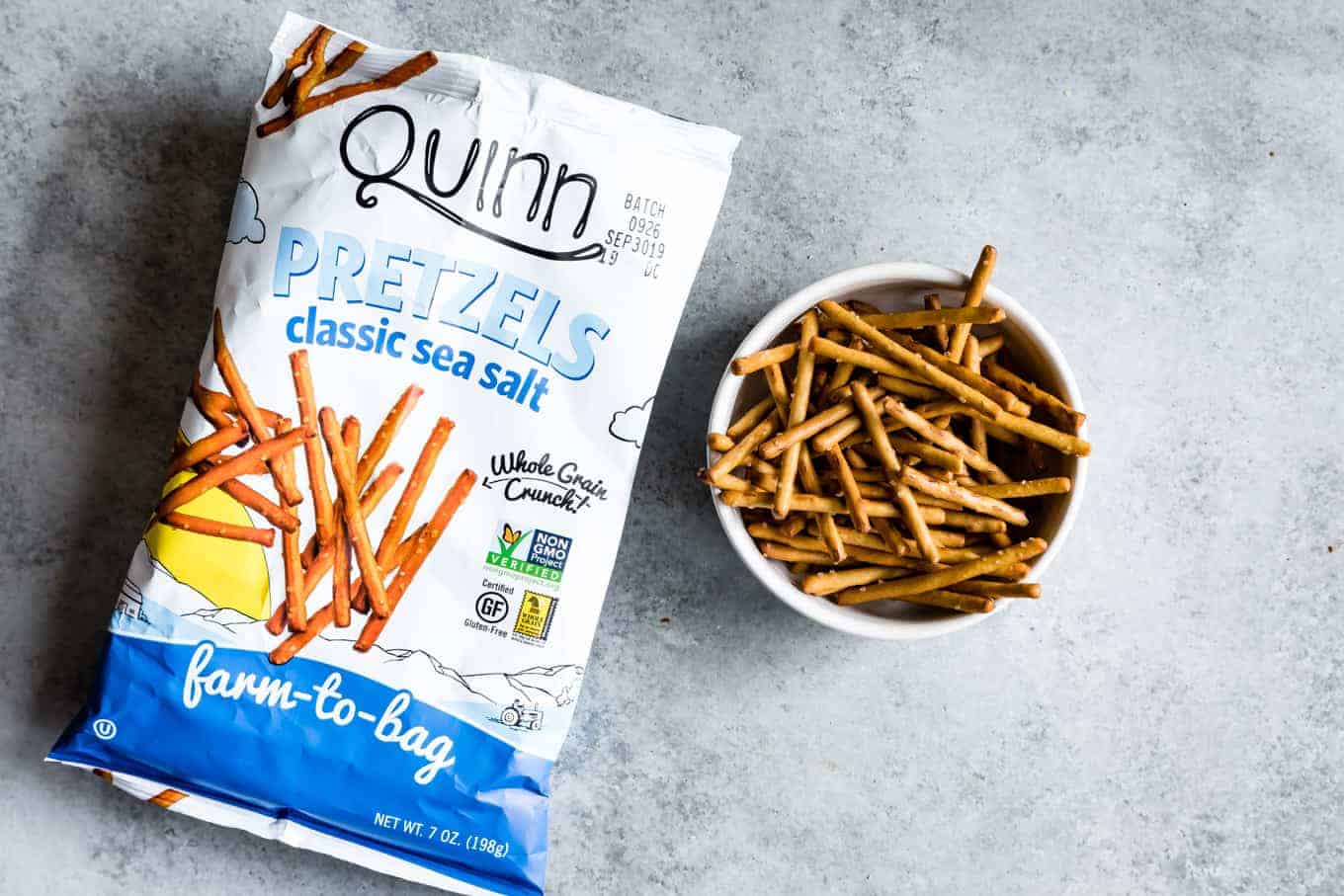 Quinn snacks gluten-free pretzels. These pretzels are the one wildcard on the list. They're excellent - crunchy, salty, and super flavorful. Yet, they're still quite different in flavor from the classic pretzel sticks you grew up eating. That being said, I keep these on hand for all my snacking needs.
Coming soon: The best gluten-free cookies for crusts
Questions or your favorite gluten-free pantry staples?
I hope this brief list is helpful in navigating filling your gluten-free pantry. I most certainly left things off this list - things I haven't yet discovered or tried! If you have any questions about specific products that you're curious about that aren't on this list, leave them in the comments. If I've tried them, I'll be sure to describe my experience with them.
I'd also love to hear from you what brands top your list of favorite gluten-free pantry staples. Is there another life-changing sourdough loaf I'm missing? Crackers I should be eating with my brie? Tell me!