Loaded smoked gouda garlic bread topped with artichoke hearts, kalamata olives, and sopressata salami makes a quick and easy appetizer for summer entertaining. Imagine buttery garlic bread with smokey cheese and meat layered on top – the only way to make garlic bread even more addicting!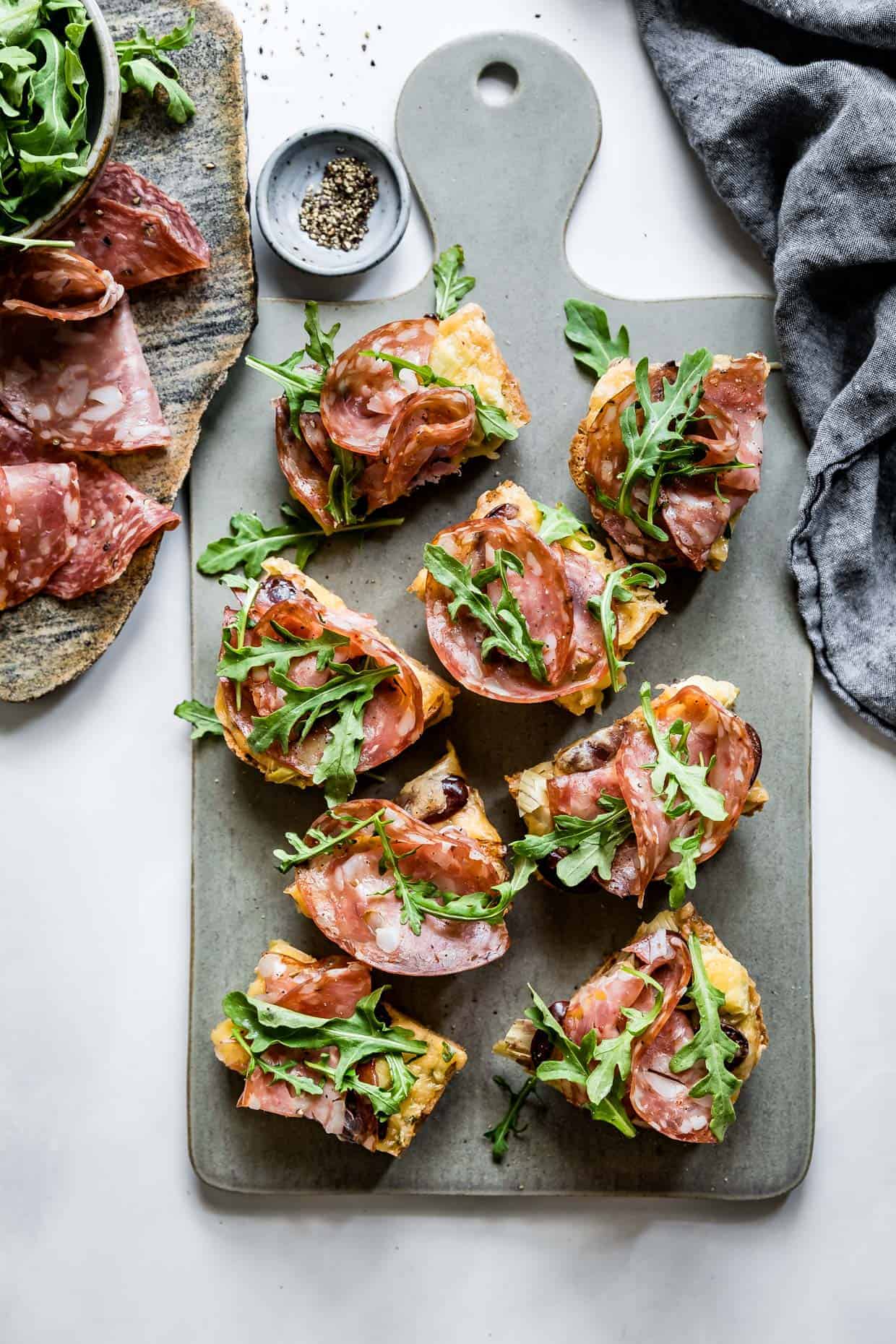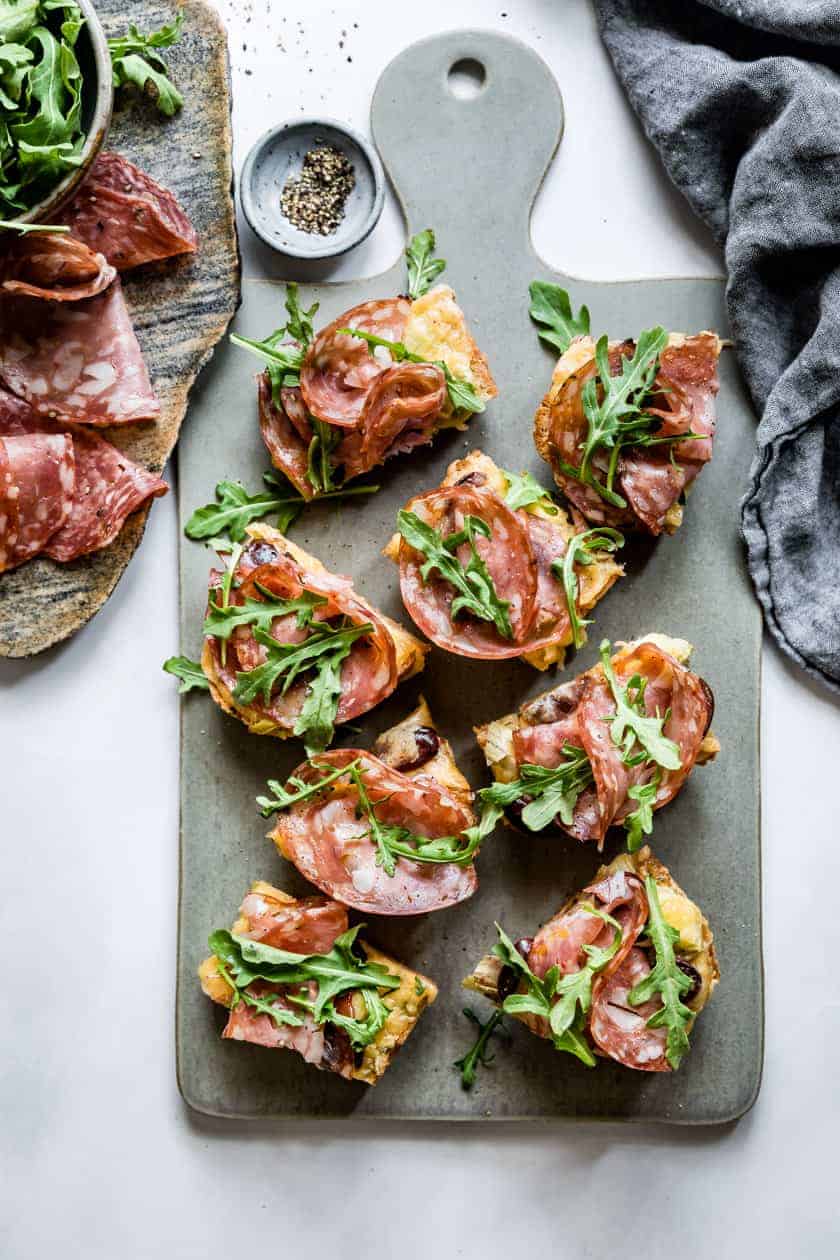 With Father's Day on the horizon, I've been thinking up the perfect menu for Lucas. The quickest way to my husband's heart is through food…namely, cheese. Which is fortunate for me because I've partnered with Roth Cheese to create a cheesy recipe for Father's Day and/or summer entertaining. This loaded smoked gouda garlic bread is on call for both!
It definitely fits the bill as far as Lucas's top food likes go. He'll make garlic bread as a midnight snack sometimes, so I've loaded it up to make it even more addicting. Is there cheese? Check. Smoky notes? Check. Cured meat? Check. Artichokes? Check. I may have embellished with the arugula for some extra festivity. Though you know what? He does love salad greens without dressing (this is totally his thing), so maybe it's part of the checklist after all.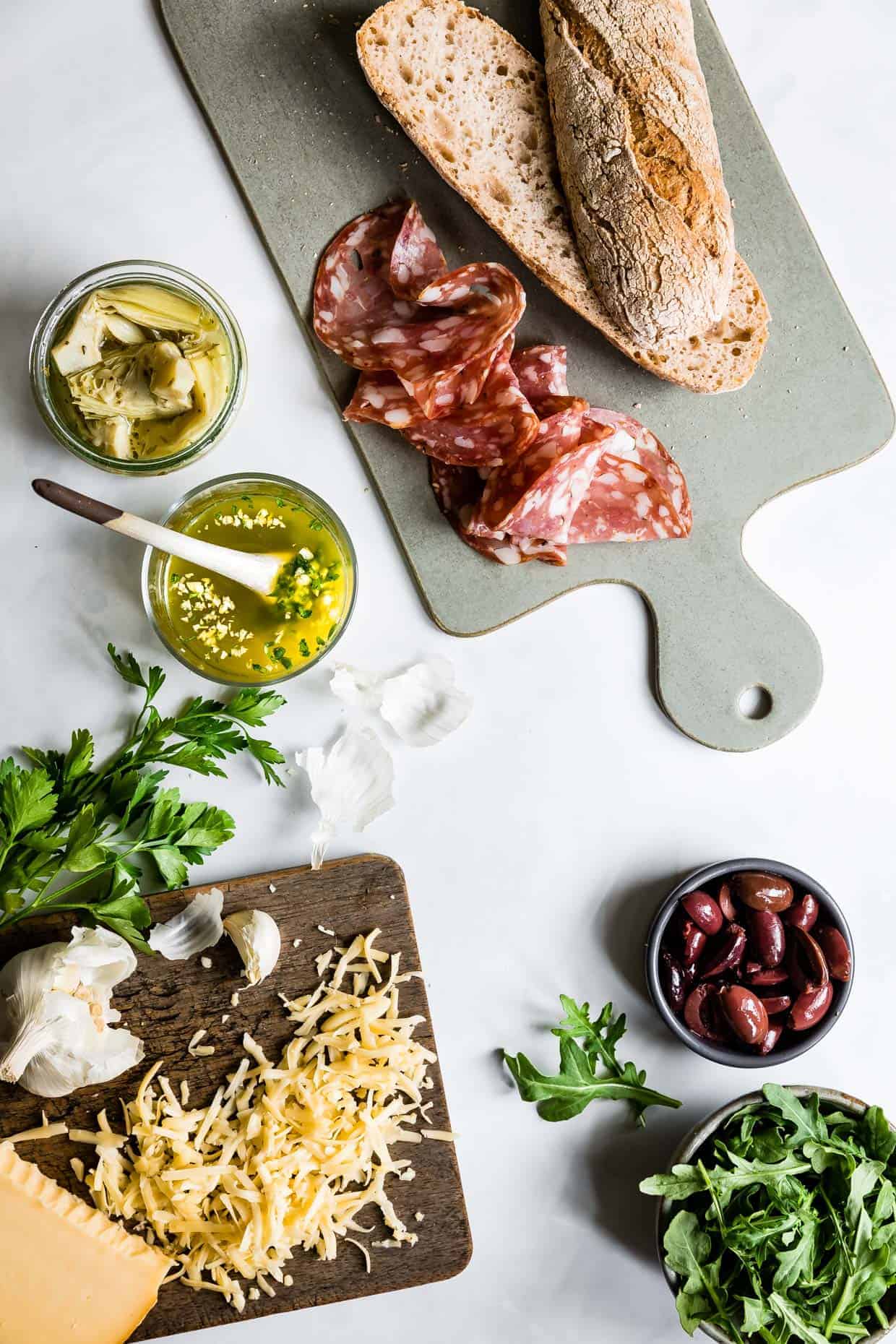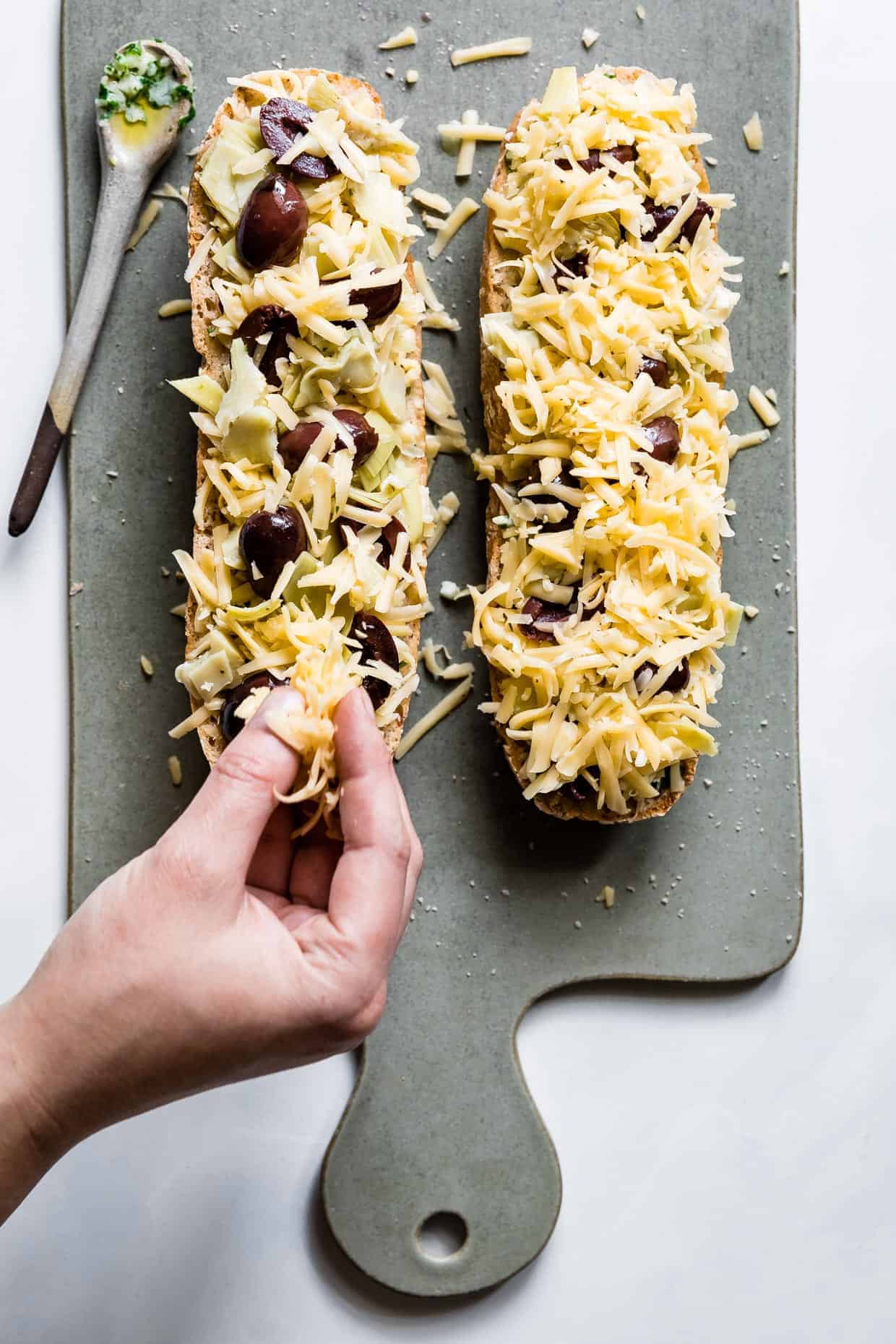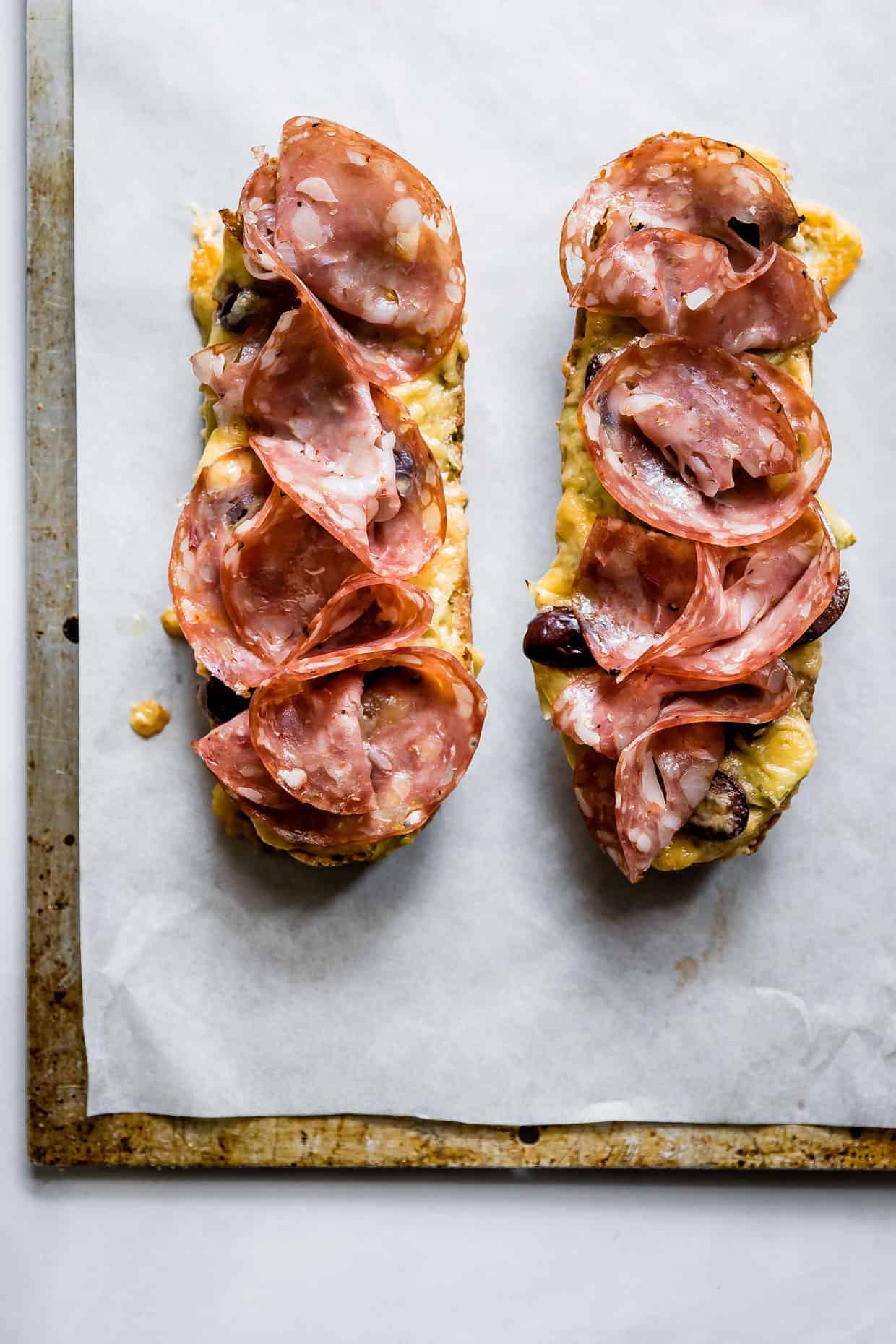 As a father, Lucas has made sure to instill his love of cheese in our daughter (not a very difficult task with a kid known as #cheesebabygirl in utero). Ever since Zo could ride in the shopping cart at the grocery store, Lucas would bee line to the cheese corner to keep her occupied with a taste of sample cheese while I collected produce. Fast-forward. Now that she's a very vocal toddler, if we tell her we're going to Whole Foods, she'll respond with, "I want sample cheese!" and then sing that the entire drive to the store and walk to the cheese corner. She's even been known to woo the cheesemongers into giving her a FULL CUP of sample Roth grand cru or gouda whenever the sample cheese of the day is out or unpasteurized. This kid has no fear of asking for what she wants – especially when there's cheese involved.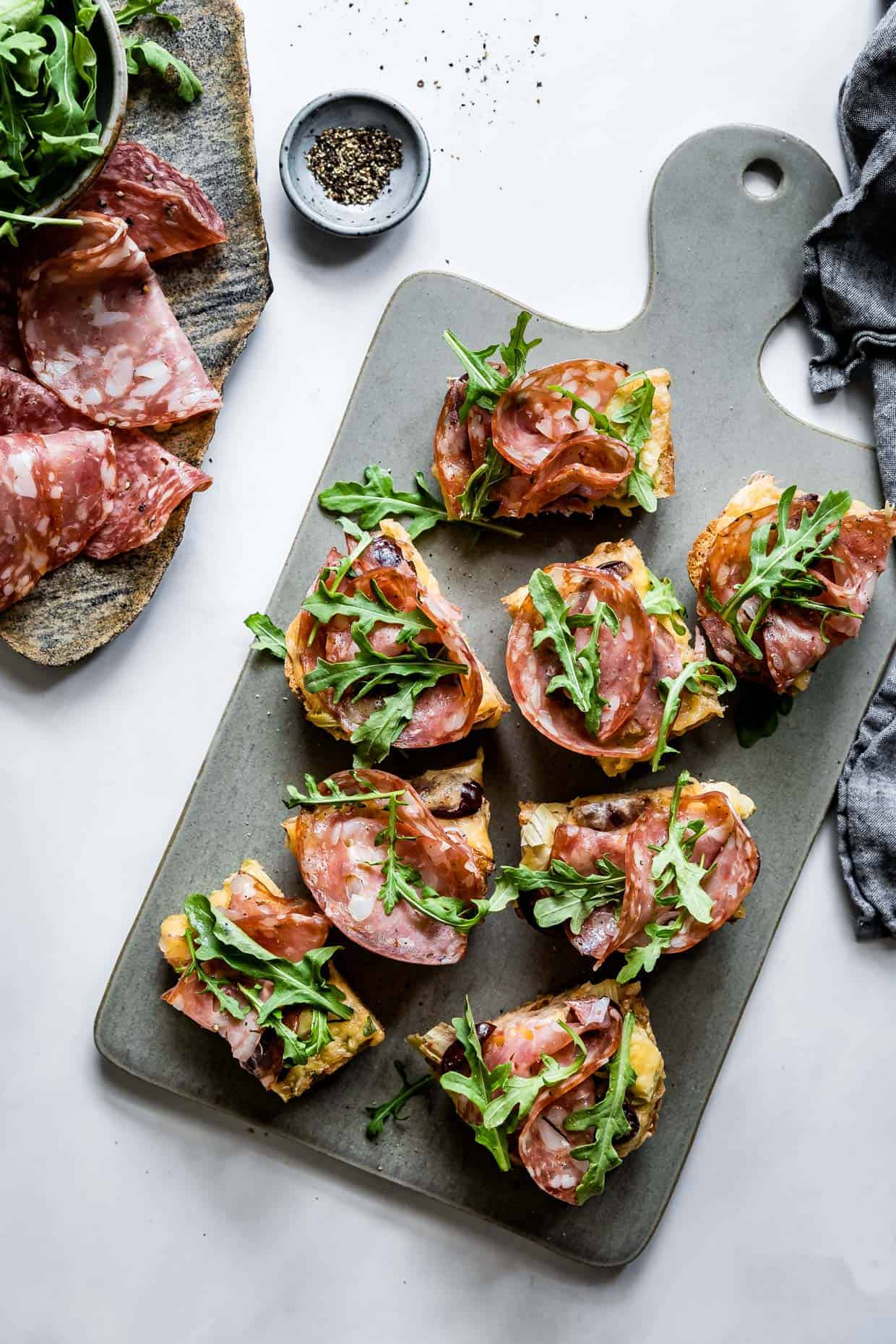 Garlic bread is pretty awesome on its own, but when you add cheese – especially one like Roth's smoked gouda – its hard to resist eating an entire loaf for dinner (not that I would know…). We could call this "pizza bread" (which is what we've trained our toddler to call cheese and olives melted on a slice of toast), but it's so much more than that with the base layer of garlic bread underneath. The Roth van gogh natural smoked gouda brings deep smokiness to the bread, which pairs with the similar notes in the sopressata salami. A few fresh flavors from olives, artichoke hearts, and arugula balance it out.
You can absolutely add the sopressata salami before you bake it and it'll bake up a little like pepperoni or ham does as a pizza topping. This is how I ate it because I'm pregnant and am technically not supposed to eat cold cured meats – I was content and none-the-wiser. In his taste test, though, Lucas preferred having the uncooked salami on top. And since it's for him, his vote wins.
Whatever you do, don't skimp on the cheese.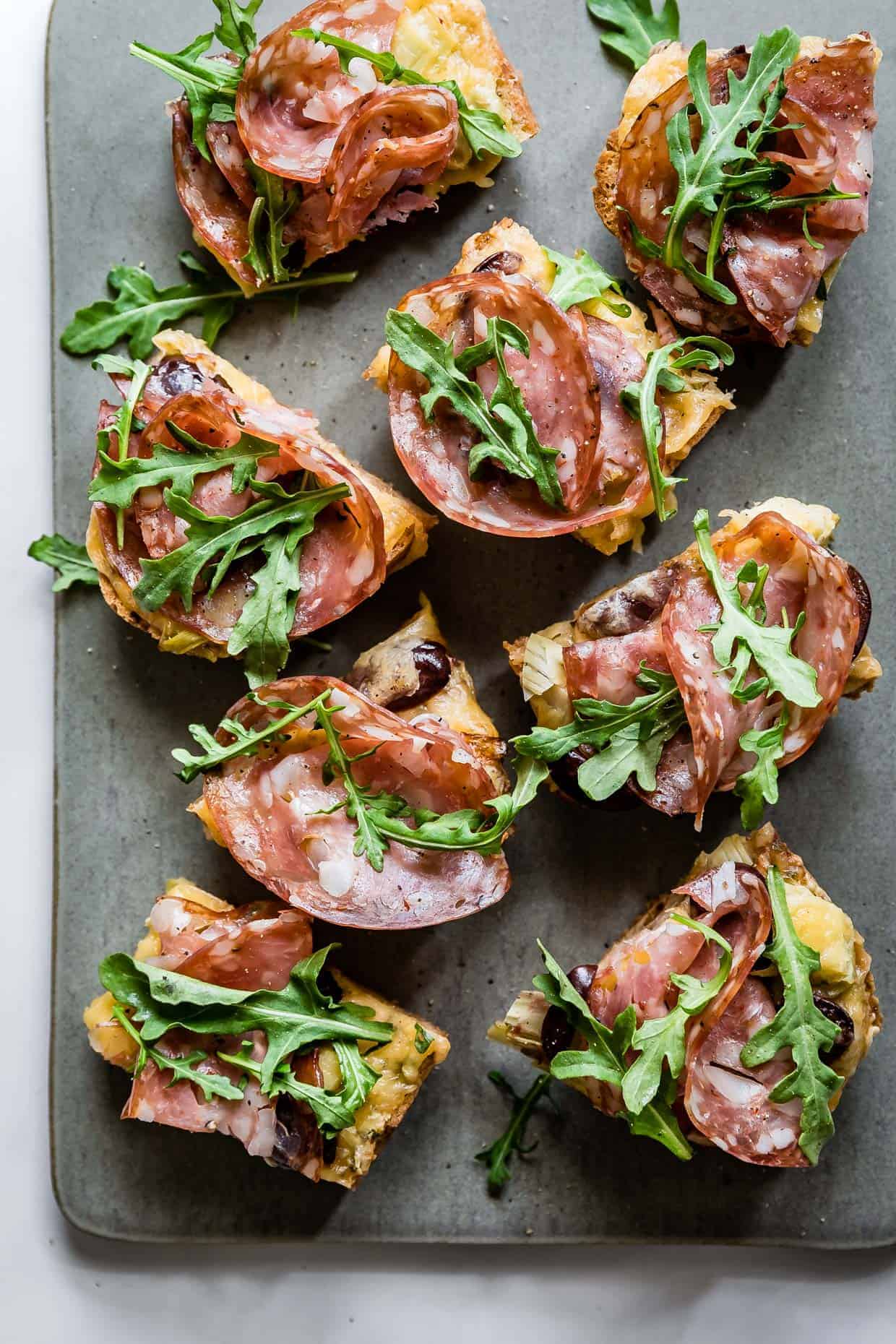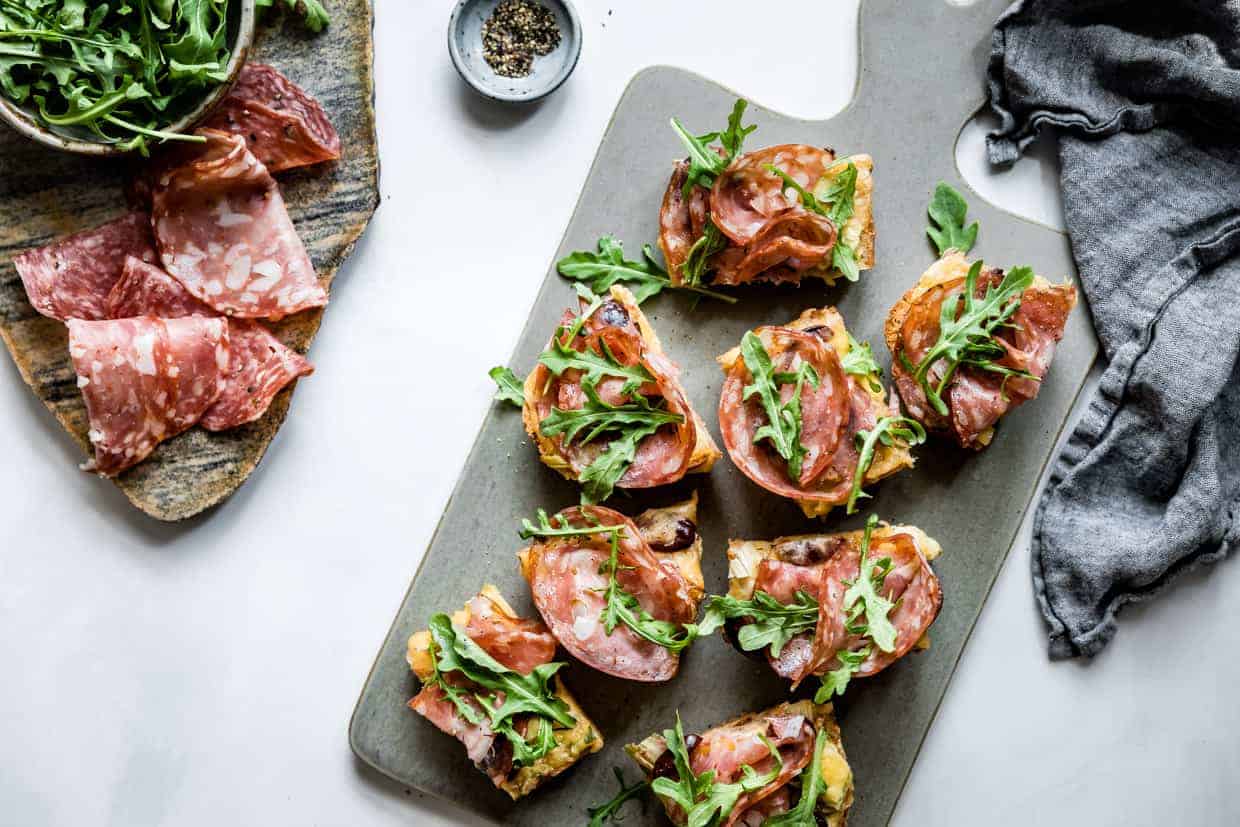 Disclosure: Special thanks to Roth Cheese for sponsoring this post! And thanks to you for supporting the companies that keep Snixy Kitchen cooking!

Loaded Smoked Gouda Garlic Bread
Yields:
8 appetizer bites of garlic bread
Ingredients
8oz baguette or sourdough french bread, sliced in half lengthwise (I use Arise gluten-free baguette which is on the small side. If your baguette is larger, you may need more toppings)
¼ cup unsalted butter, melted
2 garlic cloves, minced
2 teaspoons minced parsley
4.5oz Roth Van Gogh Natural Smoked Gouda, shredded
¼ cup kalamata olives, halved
⅓ cup chopped artichoke hearts (canned or marinated are both great!)
8 thin slices sopressata salami (or other favorite thinly sliced cured meat)
½ cup arugula
Freshly ground pepper, to taste
Instructions
Preheat oven to 400°F and place baguette halves face up on a baking sheet (use parchment paper for easy clean-up!).
In a small bowl, mix the butter, garlic and parsley. Spoon this mixture evenly over the faces of the bread.
Sprinkle half of the shredded gouda on top of the faces of the bread, reserving half of the cheese for topping later.
Divide the olives and artichoke hearts over the faces of the bread and sprinkle the remaining half of the cheese on top.
Bake for 20-23 minutes, until the cheese is melted and bubbling.
While the cheese is still hot, place the thinly sliced salami on top with a few wavy folds, pressing the edges into the cheese.
Top with arugula and a few cracks of freshly ground pepper.
Slice and serve warm.
Thanks for reading Snixy Kitchen! To stay up on what's coming out of my kitchen, follow me on Facebook, Instagram, Twitter, Bloglovin', or Pinterest, or subscribe via e-mail to get new recipes right to your inbox.