Load fresh spring flavors into your grilled cheese with this pancetta & spring green grilled cheese. Layers of creamy dill havarti melted between herbed pea spread, crispy pancetta, and asparagus are all grilled between sourdough slices with plenty of butter to crisp up the outside! Get ready to celebrate National Grilled Cheese Day!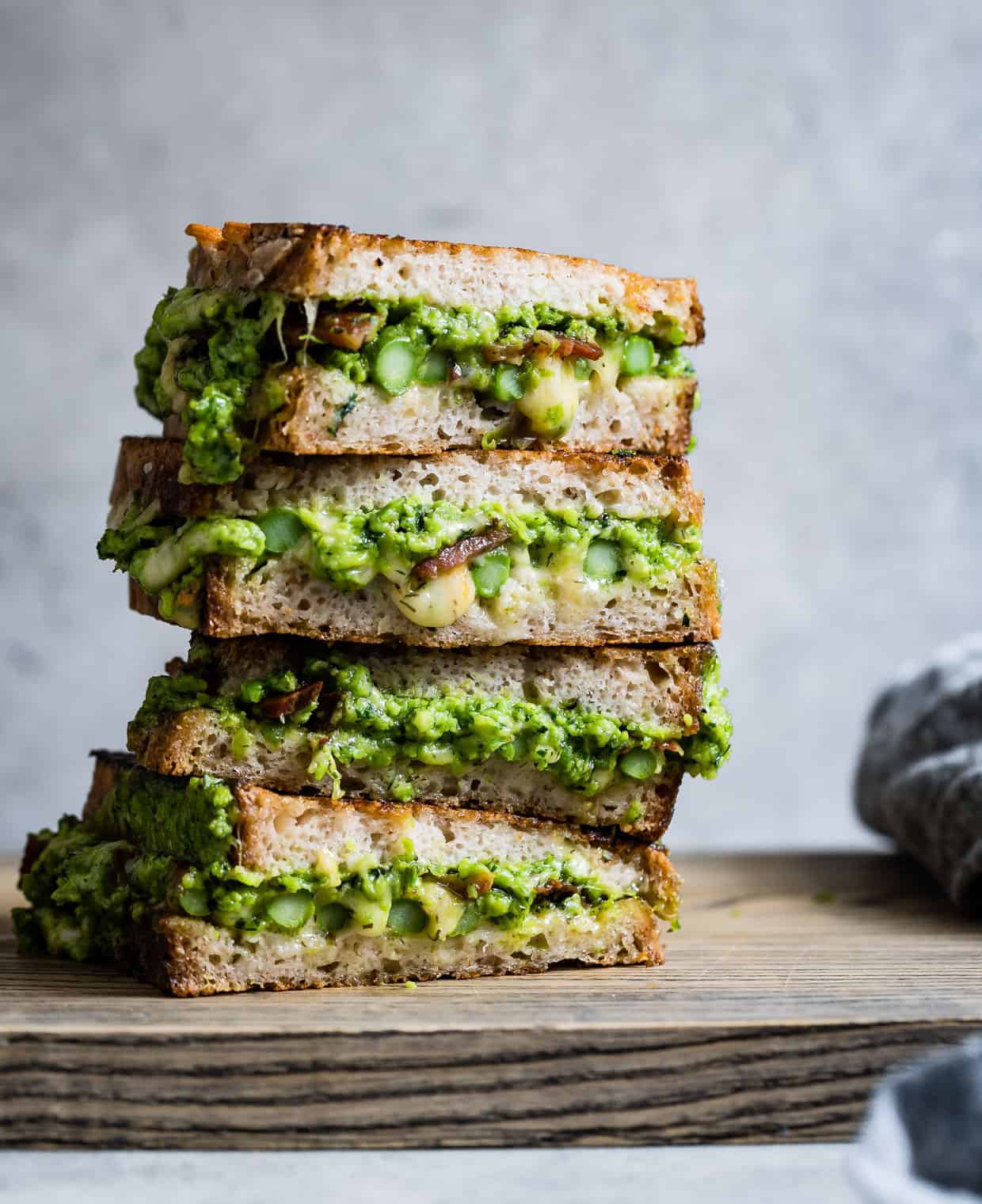 A rain storm swept through the Bay Area last week followed by some true spring sunshiny weather this past weekend. I actually enjoy these rain-to-sunshine shifts if for no other reason than it helps my yard grow no thanks to me and makes pulling weeds 100x easier (Also at least it's not snowing in April - Hi, East Coast!). The start of 70+ degree days with a little moisture on the ground really gives me all the spring feels and has me craving the bright flavors of fresh herbs.
I'm also pregnant with a #cheesebabyboy that wants cheese all day every day. That's where Roth's Dill Havarti comes in as my spring cheese crush for snacking and melting - it's super creamy with the subtle hint of dill adding bright notes. In collaboration with Roth Cheese, I'm celebrating National Grilled Cheese day by building these pancetta & spring green grilled cheese sandwiches with creamy melty dill havarti melted between layers of herbed pea spread, pancetta, and asparagus.
Special thanks my video partner, Alanna, for helping me make this video and style photos of the sandwiches!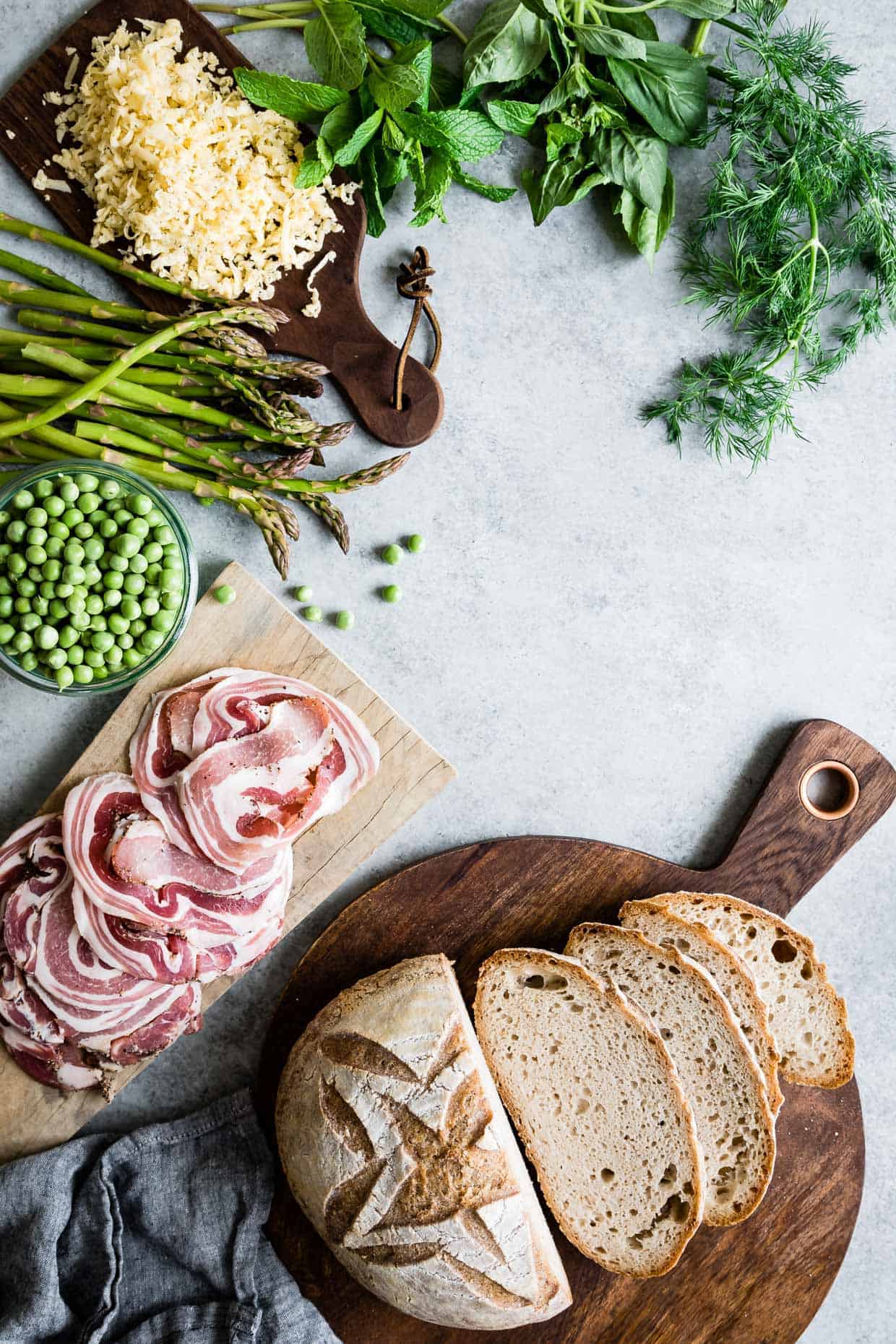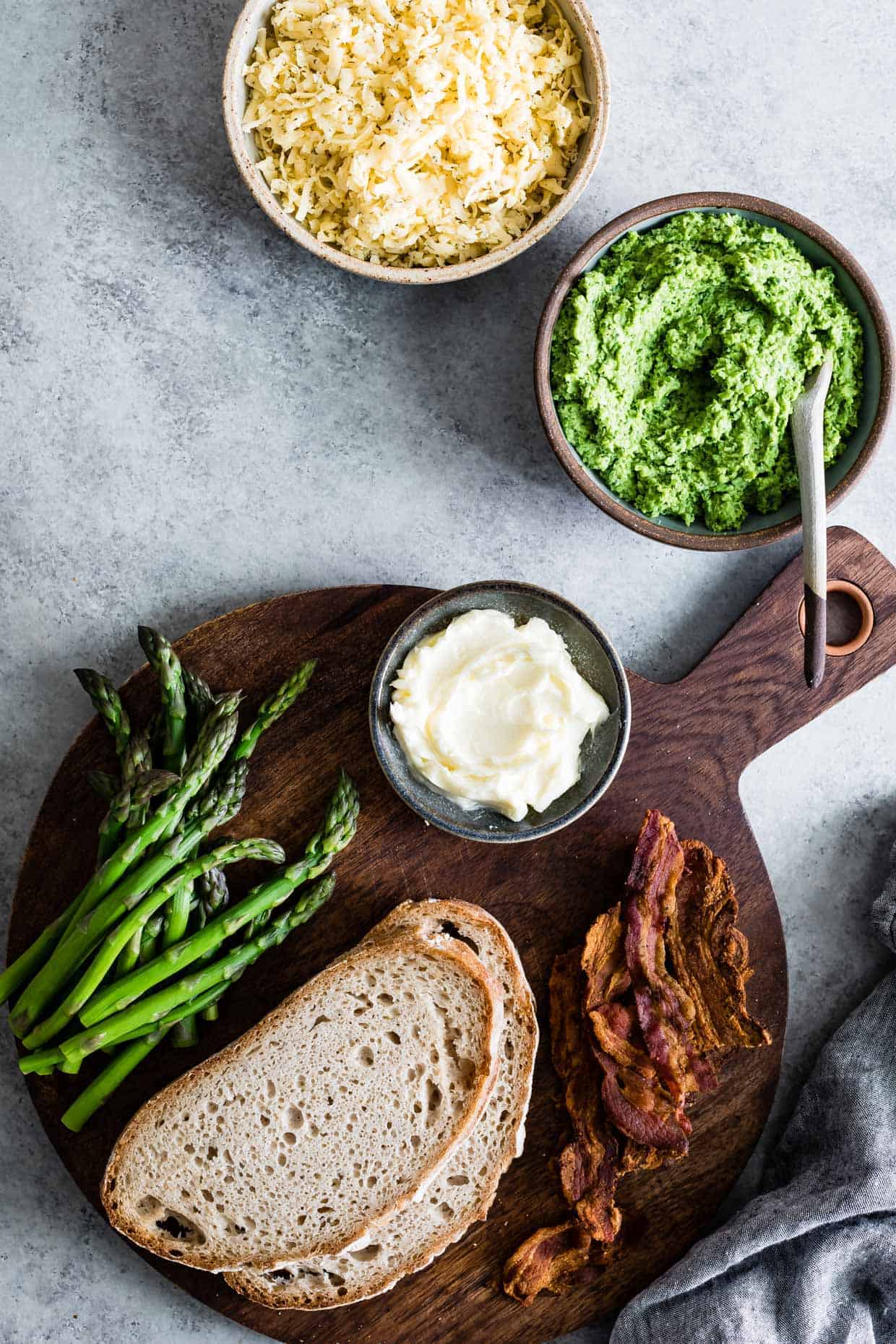 These spring green grilled cheese sandwiches are the perfect way to celebrate the shift to spring weather and produce and that's just what we did in our house. Zoella spent at least an hour this past Friday singing "Rain rain go away come again another day, little Zoella wants to play." Then by the weekend, she was putting on shorts to help daddy mow the lawn while I grilled up these cheesy sandwiches. You've got the video so you know what I was doing, but you need the full toddler-in-spring picture too.
She wore last summer's jean shorts, a long-sleeved shirt (because it's her only purple one), and her purple rain boots while stomping around the yard for a few minutes before insisting that daddy carry her on his shoulders while he mowed the lawn. Never has a two year old been so pleased with life. Probably there were birds chirping all around too. Also, yes, her cat stuffed animal is wearing a cloth diaper...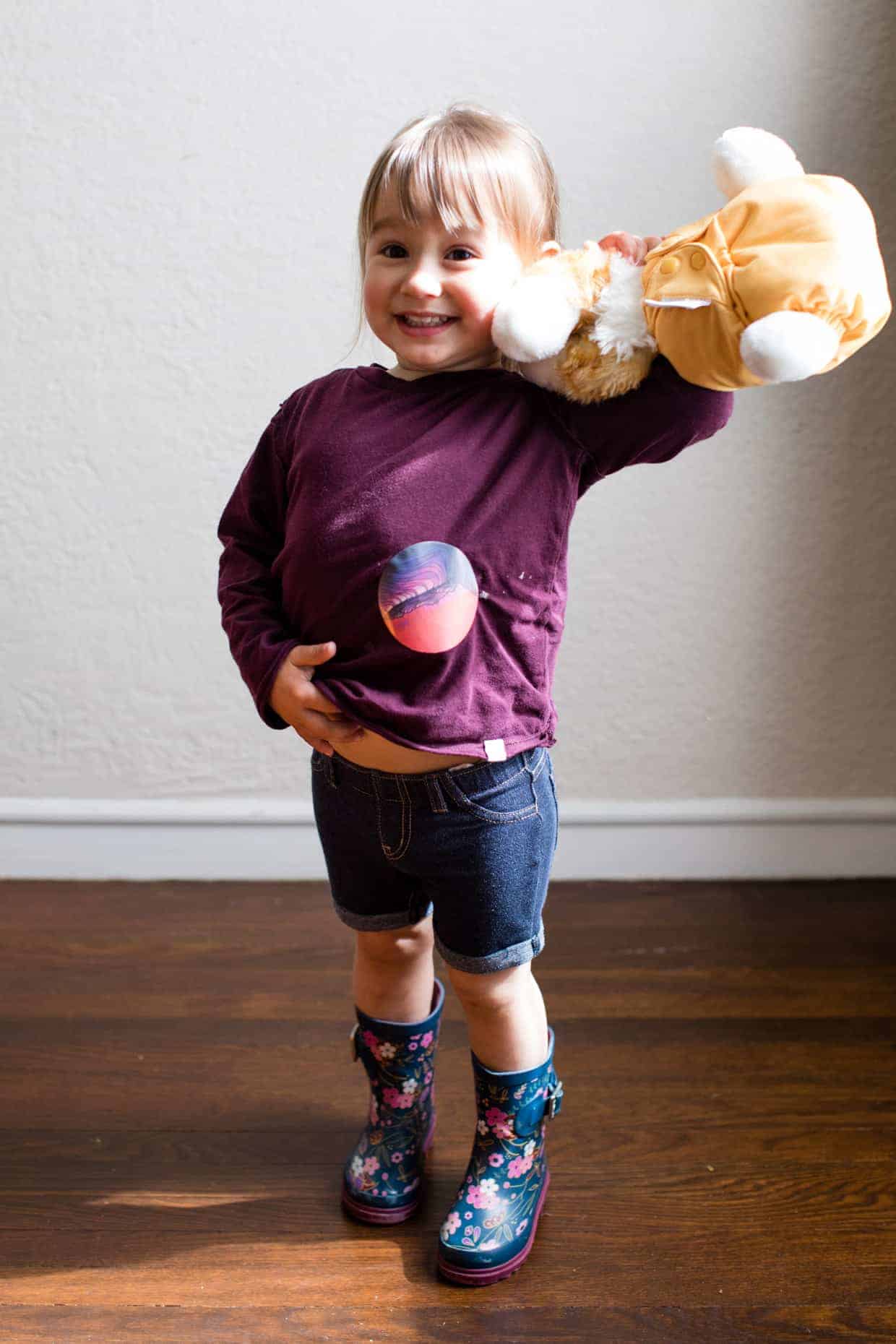 On the topic of yard work, the aged concrete landing strip in our backyard is about to get removed (thanks to my mom for coordinating!), making room for some gardening space! With the bunches and bunches and bunches of herbs I've got in my fridge this time of year, I've decided an herb garden is where I'll start cultivating the green thumb I'm supposed to have inherited from my mom. Then I can pick only what I need as I need it.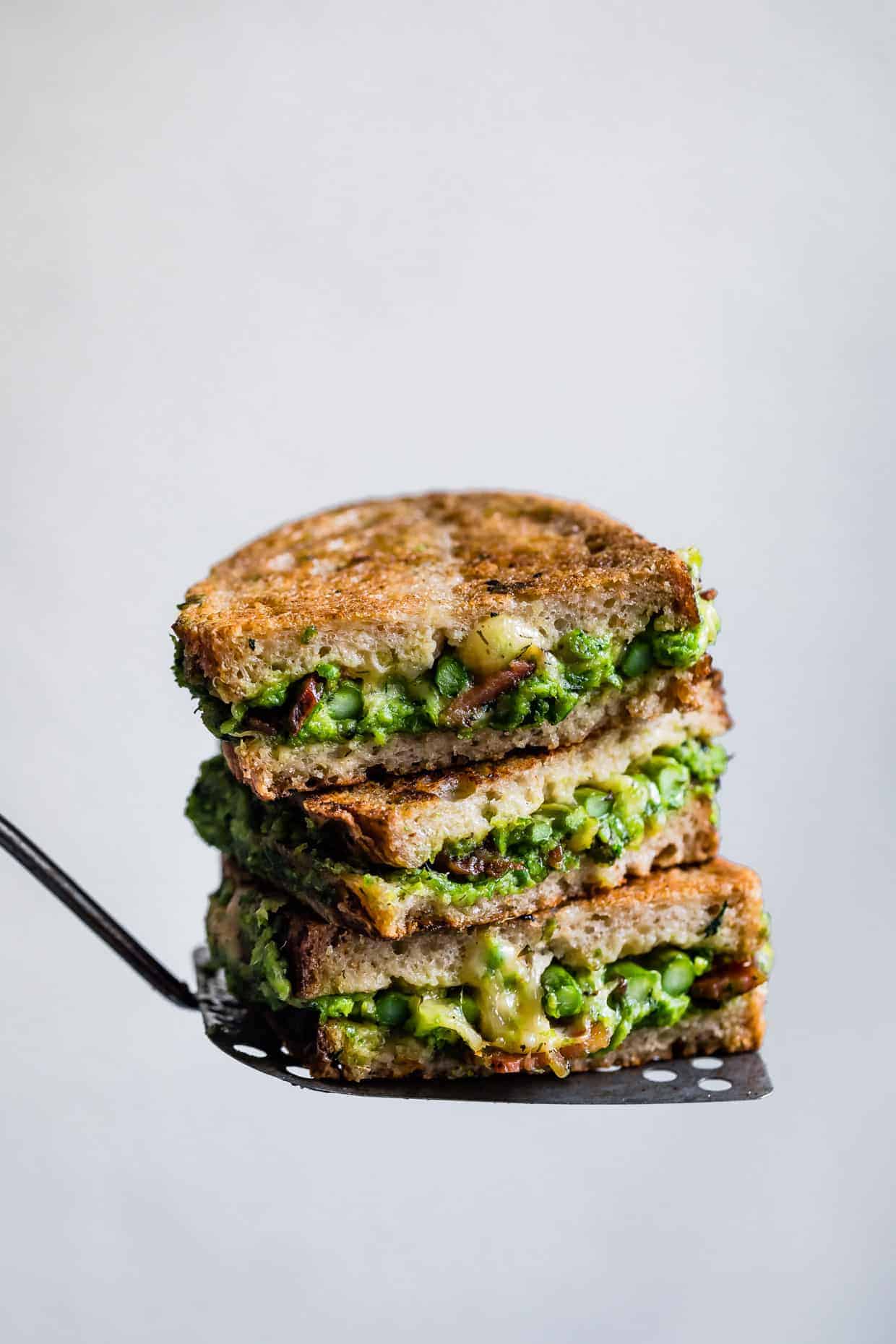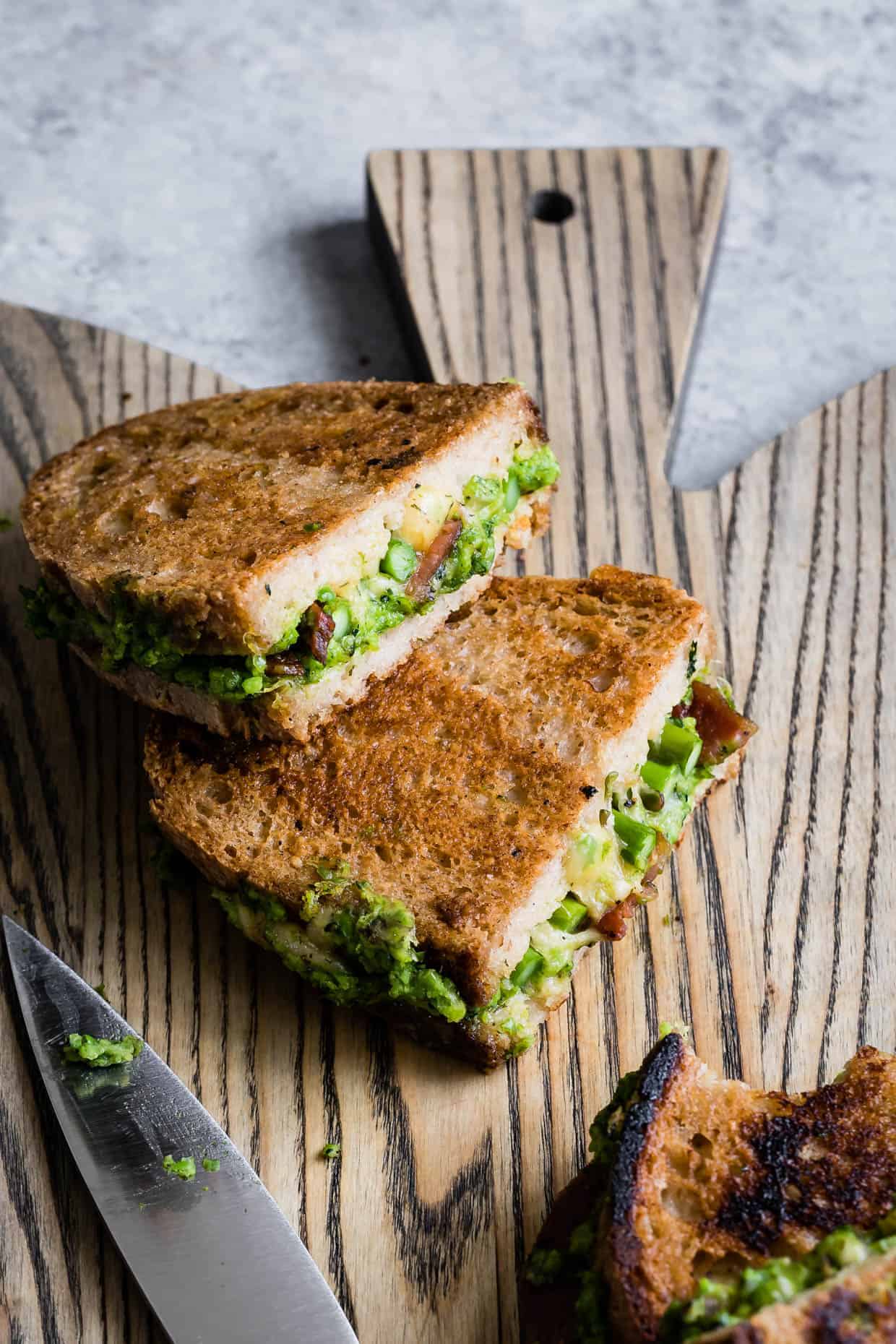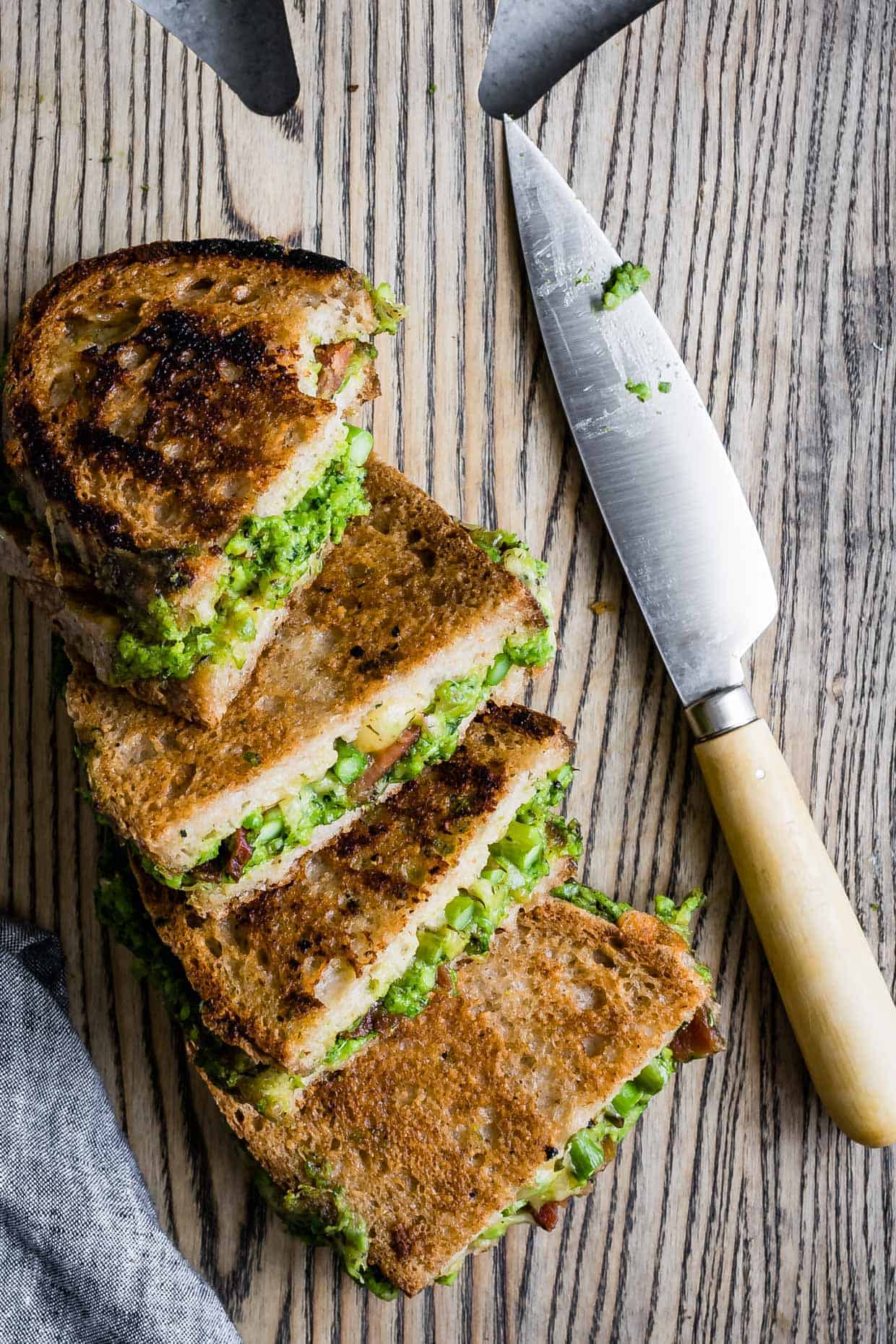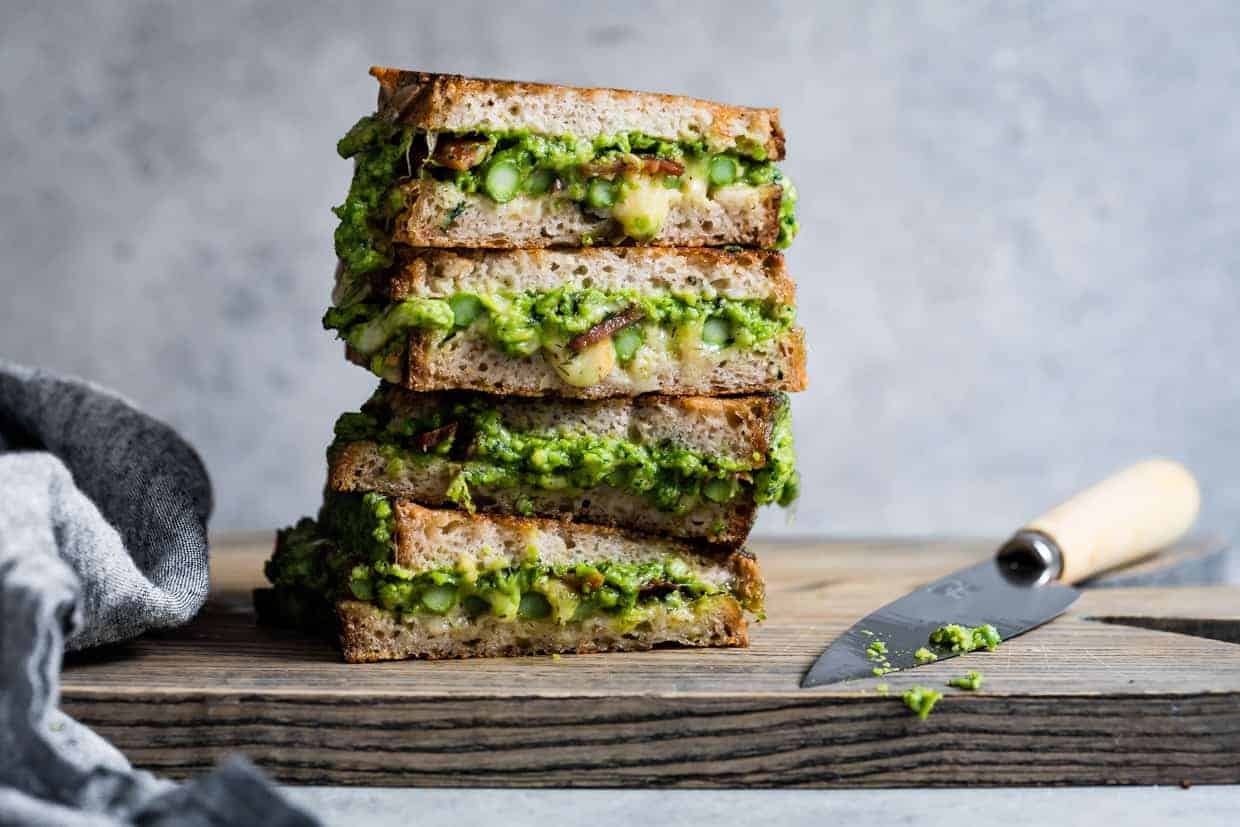 Relatedly: does anyone else have major complaints about how herbs come in huge bunches that are hard to use up? This spring green grilled cheese will help with that by packing in tons of fresh herbs to use up what you've got on hand. I used mint, basil, and dill, but by all means, throw in tarragon, chives, or even parsley if you've got some threatening to go bad in your produce drawer. If you've got extra herbs, you can even double the pea spread and use it on cold sandwiches with dill havarti, shaved cucumber, and zucchini for a super quick lunch!
I start my grilled cheese with a good sourdough bread - in my case I use my favorite Arise Bakery's gluten-free sourdough. These loaded grilled cheese sandwiches have crisp buttered sourdough slices with bright spring veggies and herbs, a super creamy herbed cheese, and crispy salty pancetta. There's not a whole lot of toddler-approved and pregnancy-aversion-approved cooked vegetables happening in our house these days, but pairing spring pea spread and asparagus with multiple layers of melted havarti will get us both to happily eat our veggies for dinner.
I just can't make them with Zoella around or her super sneaky tiny hands will make off will all my shredded cheese!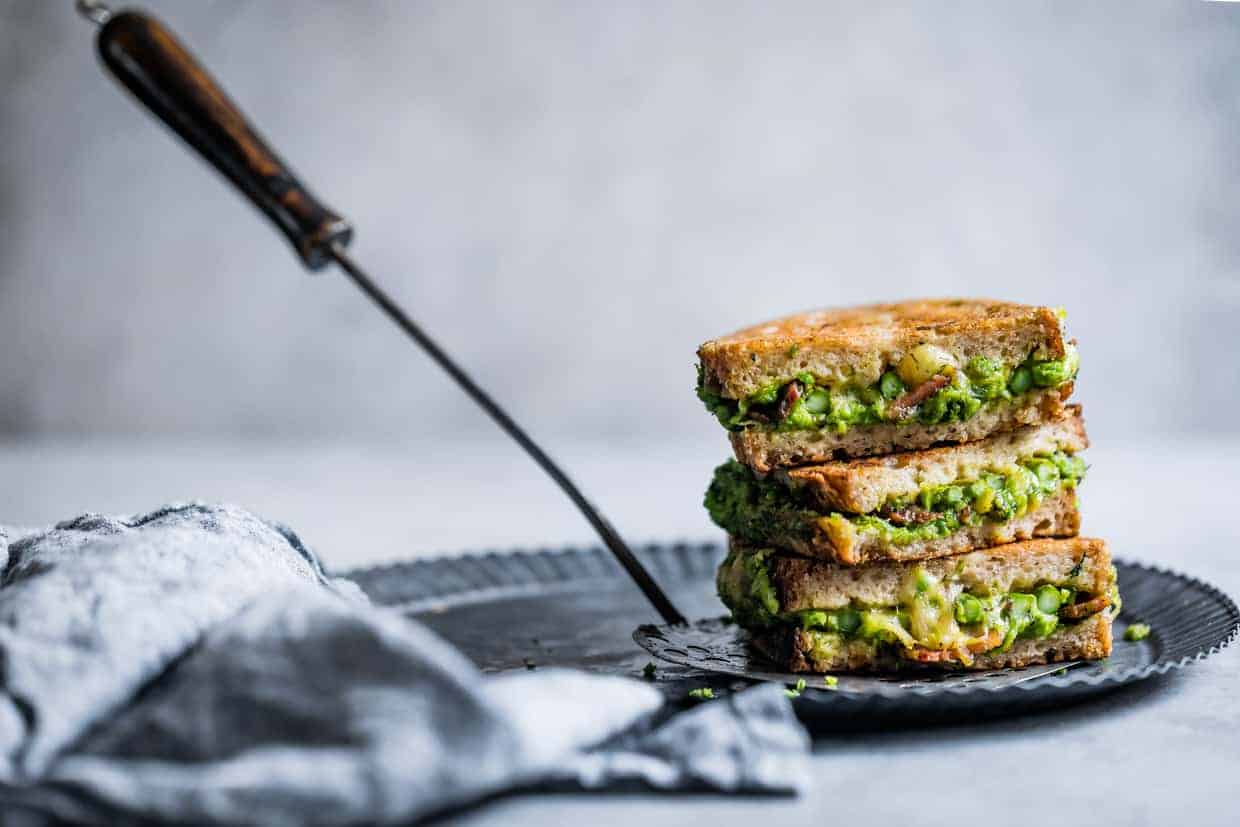 Disclosure: Special thanks to Roth Cheese for sponsoring this post! And thanks to you for supporting the companies that keep Snixy Kitchen cooking.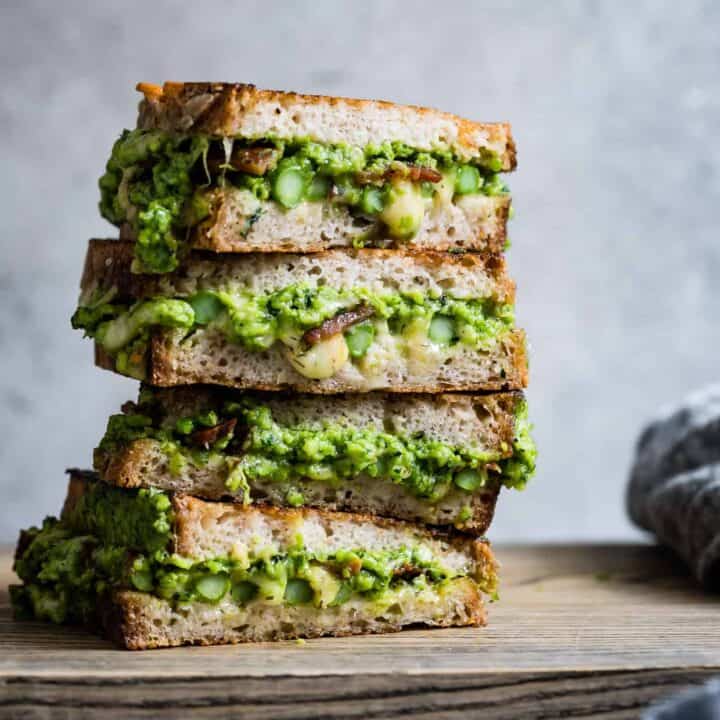 Pancetta & Spring Green Grilled Cheese
Ingredients
Grilled Cheese Fixings
½lb asparagus spears, trimmed
⅓lb thinly sliced pancetta
¼ cup unsalted butter, softened
Herbed Pea Spread
1½ cups fresh or frozen sweet peas
3 tablespoons extra virgin olive oil
1 tablespoon packed fresh basil
1 tablespoon packed fresh mint
1 teaspoon packed fresh dill
¼ teaspoon each, salt & pepper
Instructions
Bring a medium saucepan of water to boil over high heat. Once it is boiling, blanch the asparagus for 2-3 minutes, until bright green and just tender. Remove the asparagus with a fine mesh sieve or slotted spoon. Set aside.
Us a fine mesh sieve to blanch the sweet peas for 1-2 minutes, until bright green and tender. Remove the peas, shaking off excess water, and transfer to a food processor. Add olive oil, basil, mint, dill, salt & pepper. Pulse until well combined and spreadable, but a little chunky is fine.
Heat a cast-iron skillet over medium heat. Add the pancetta slices and cook, turning, until the fat is rendered and slices are well crisped on both sides, about 5-8 minutes. Transfer to a paper towel-lined plate to drain. Once cool, break the pancetta into 2 to 3-inch pieces. Drain the fat from the skillet and wipe the skillet with a paper towel.
Spread butter on one side of each slice of bread. Placing the butter-side down, top four slices in the following order: cheese, pea spread, pancetta, cheese, asparagus, cheese. Place the second piece of bread on top, butter-side up.
Heat the same cast-iron skillet over low heat. Either all at once or working in batches, add the grilled cheese to the skillet. Cook, covered, until the bottom is golden brown and the filling is beginning to melt. Flip and cook, covered, until the second side is golden brown and filling is completely melted. Transfer grilled cheese to a cutting board and let rest 2 minutes before slicing and serving!