Earthy whole grains mix into a pliable gluten-free pasta dough that cooks up smooth with a deep flavor profile that's simultaneously rich and balanced, while also soaking up the flavors of whatever sauce it's tossed in. Gluten-free pasta perfection.
With an independent organic market down my street and countless others within a 10 minute drive of my house, it's easy to forget how spoiled we are with groceries here in the Bay Area. Artisinal ingredients are standard fare and over the years, many of these have become pantry staples in my cooking. So when my market stops carrying one of those ingredients, I FEEL IRRATIONALLY LOST.
(And hungry).
The grocery buyer at the market down my street recently changed hands and with that shift, they stopped stocking three of my favorite ingredients (gasp). Possibly the most tragic of these was a fresh whole grain gluten-free pasta that was pure carb magic.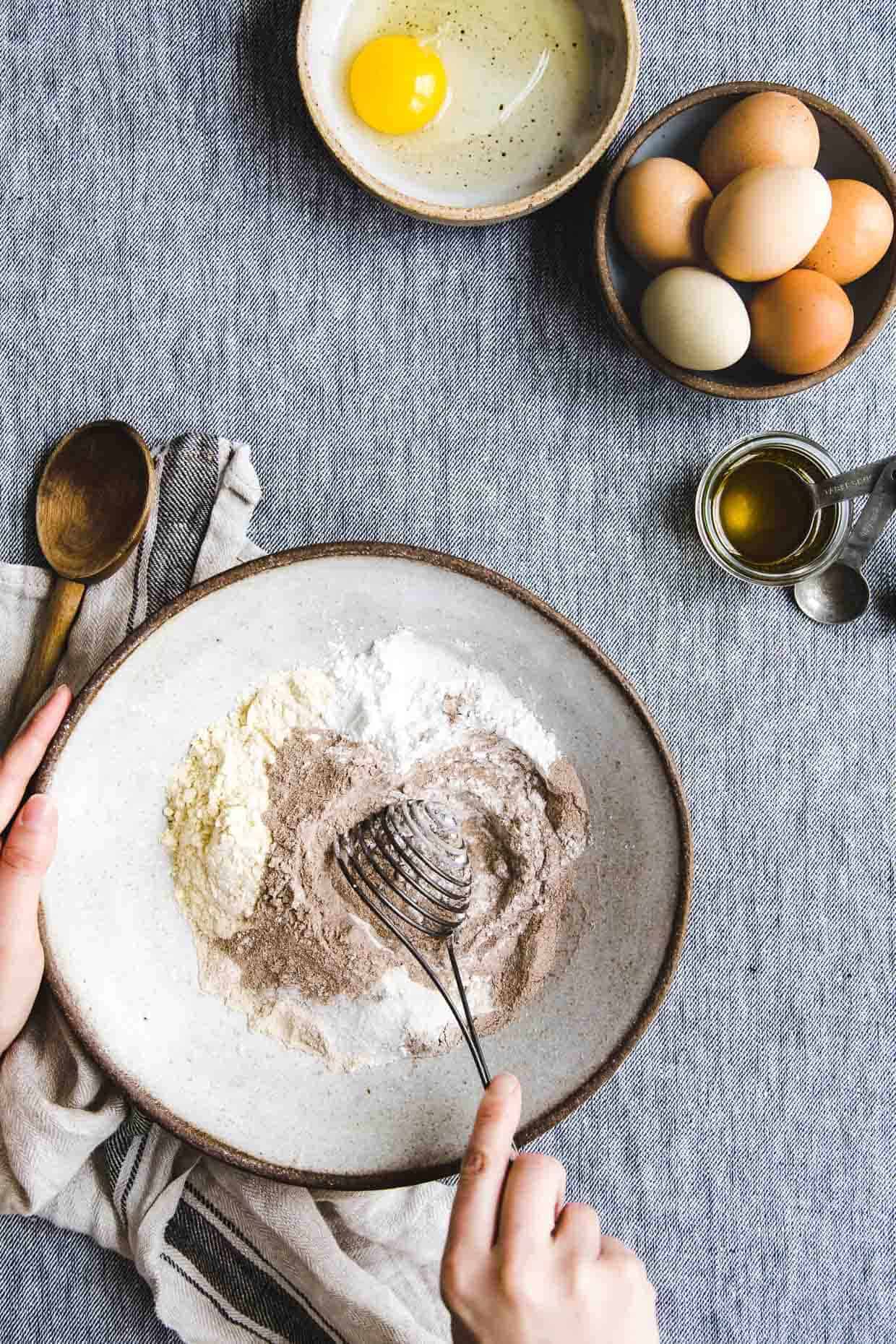 About two hours before I had friends coming for dinner, I went to the market to grab a pound of said pasta to go with the springtime almond milk alfredo I'd planned, only to discover they stopped stocking it. I spent way too long trying to choose a suitable dried gluten-free fettuccine substitute before deciding that there really wasn't one and if I wanted good pasta, I'd have to make it myself.
So that's what I did.
Now just an hour before friends were set to arrive, I dusted my whole kitchen with flour and cranked out fresh whole grain gluten-free pasta with an on-the-fly knead-by-feel recipe. That first batch was brittle, but we covered it in sauce and pretended things were all good.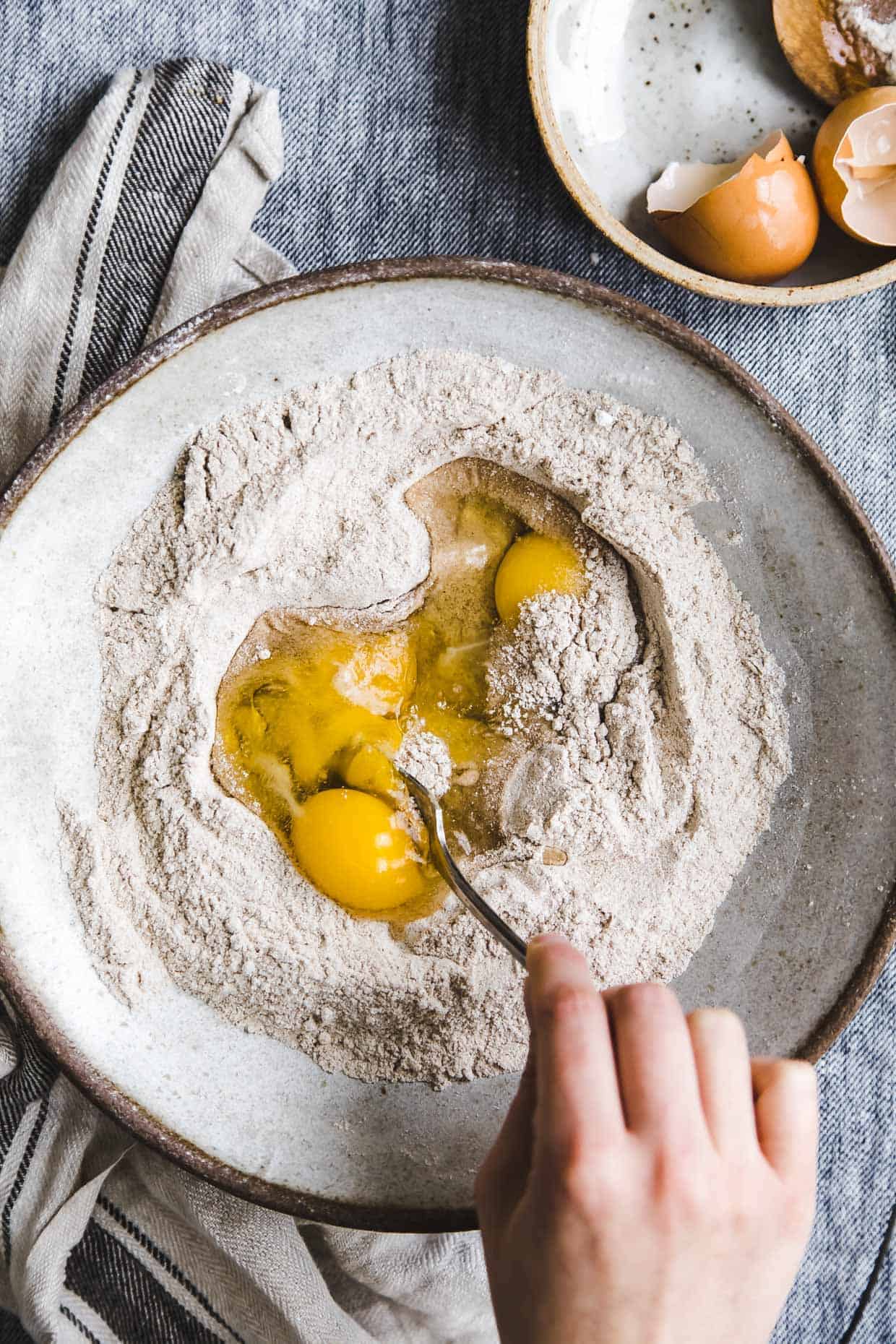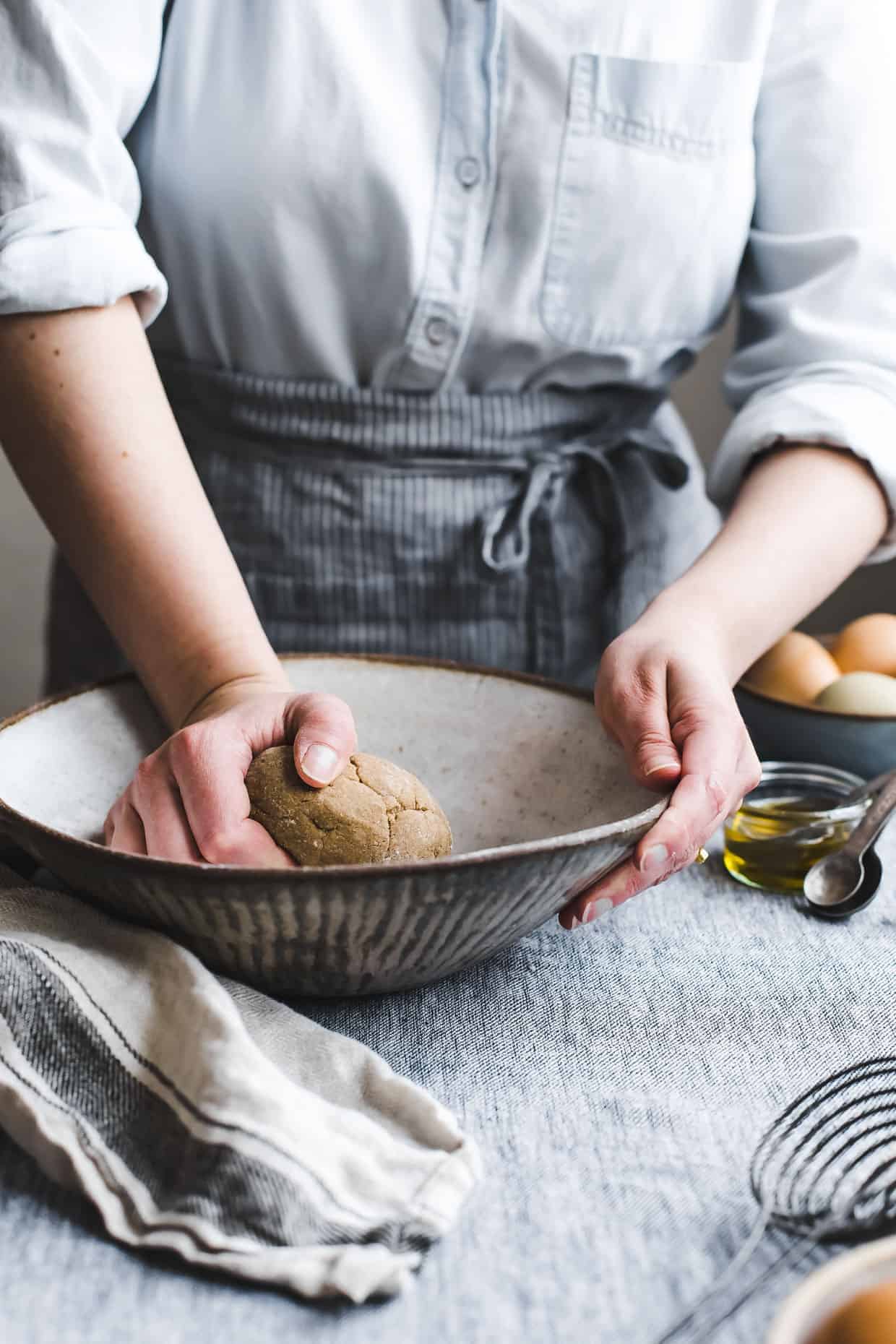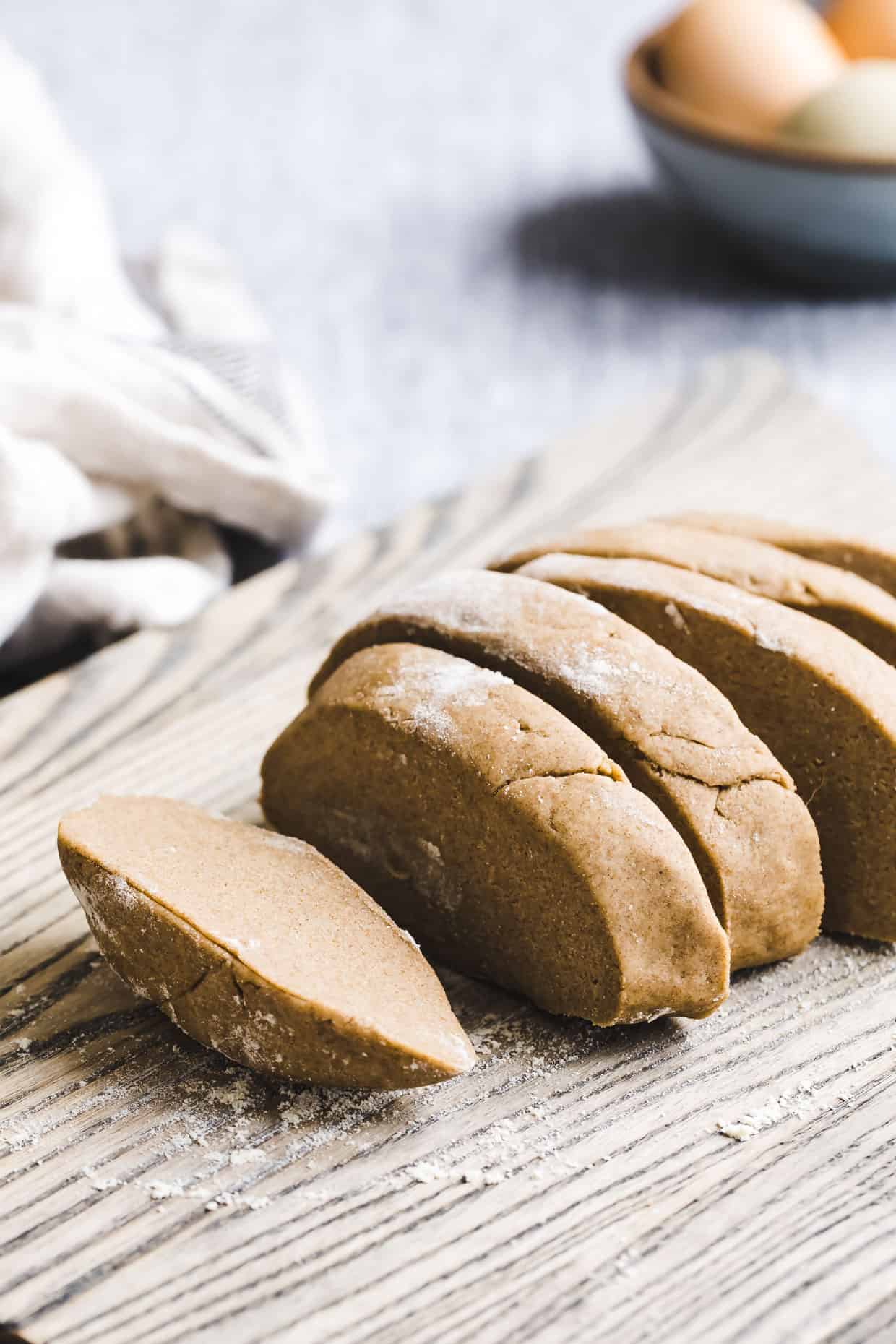 Before going gluten-free, I used to make homemade pasta 2-3 times a week. Cutting out gluten posed an interesting challenge for a fresh pasta-lover, one that was sadly met with much less homemade pasta. On occasion I've made gluten-free chickpea pasta and chestnut flour pasta, but until now, I hadn't yet found a great all-purpose neutral gluten-free homemade pasta. Most attempts have turned out brittle or with an overwhelming alternative flour flavor.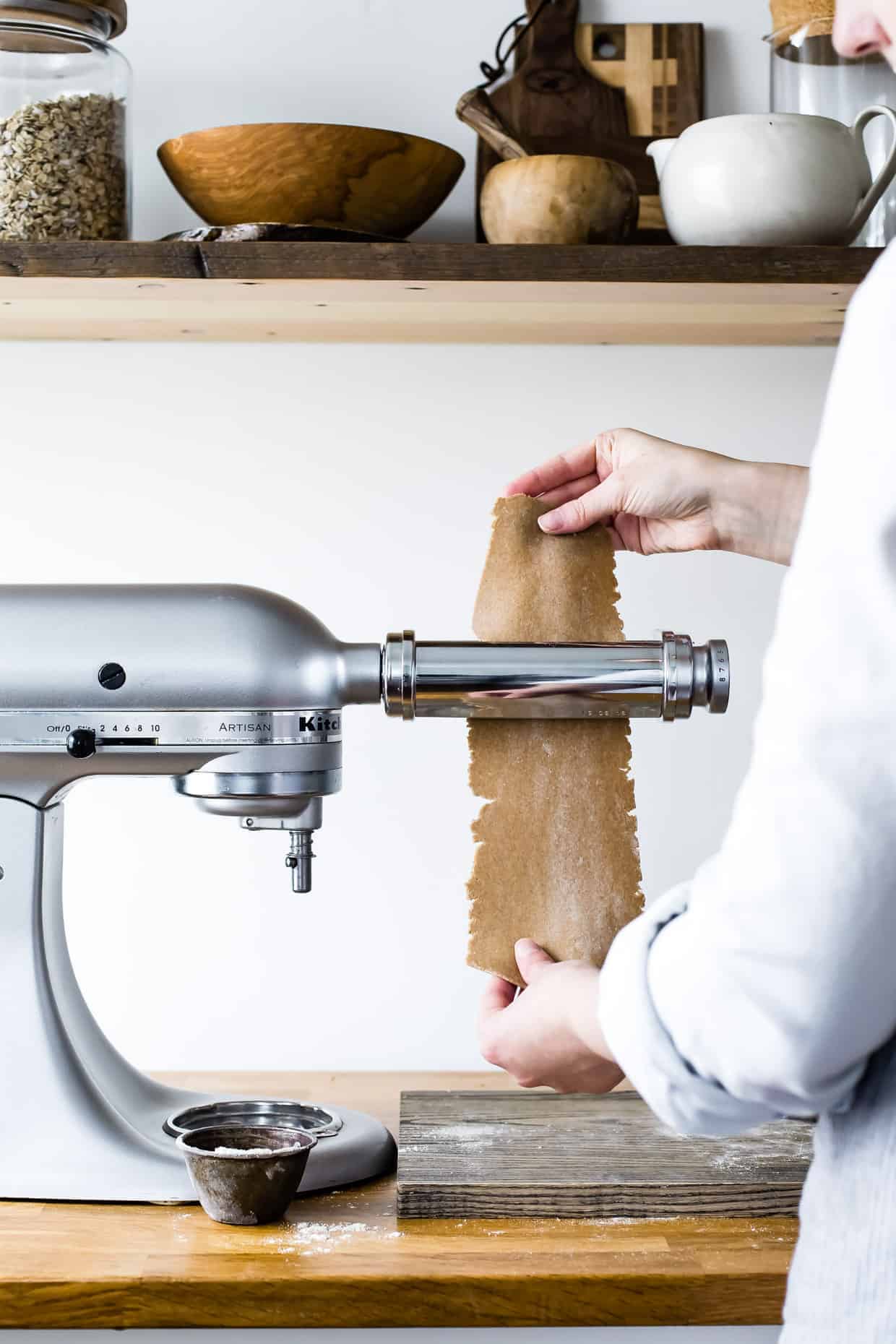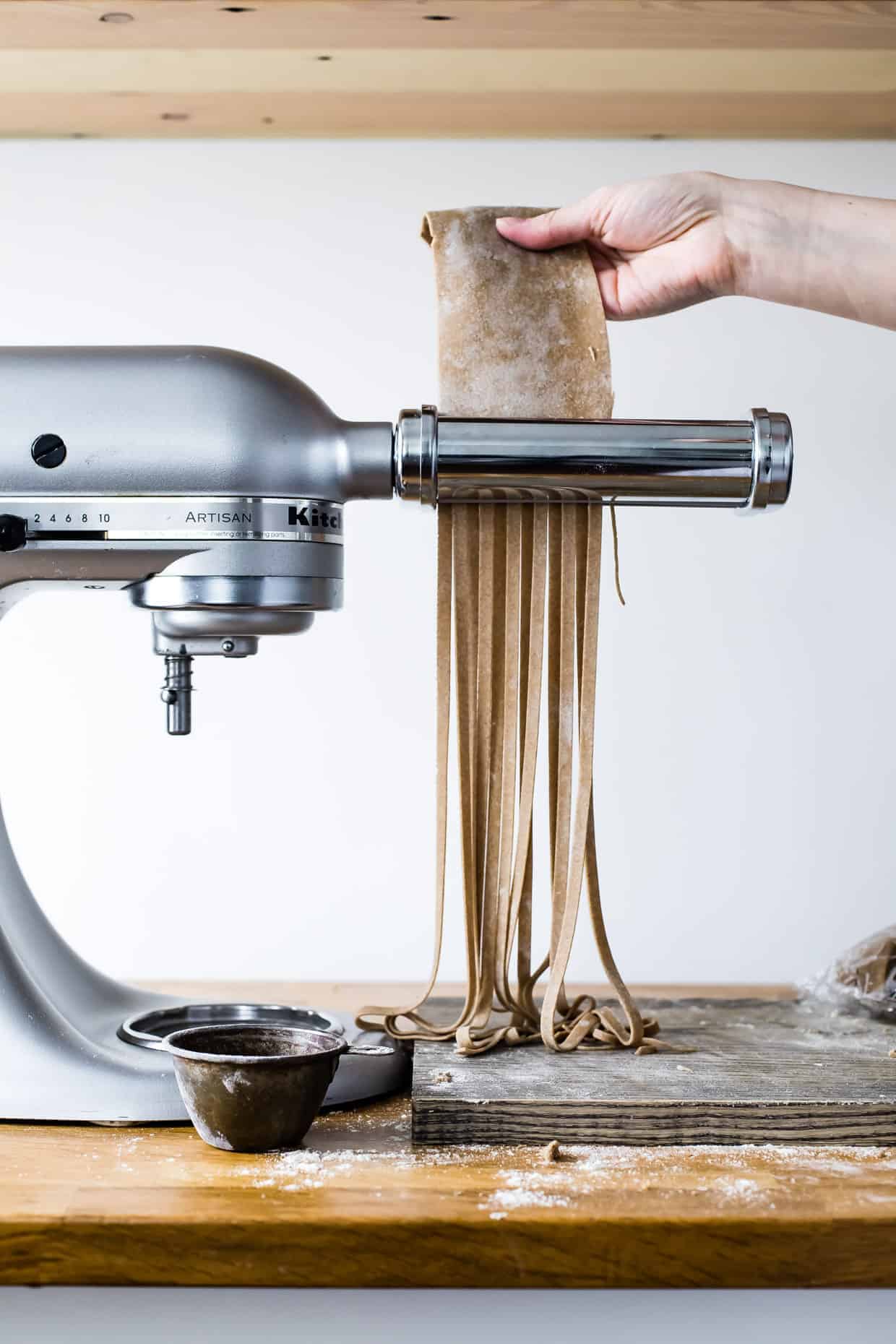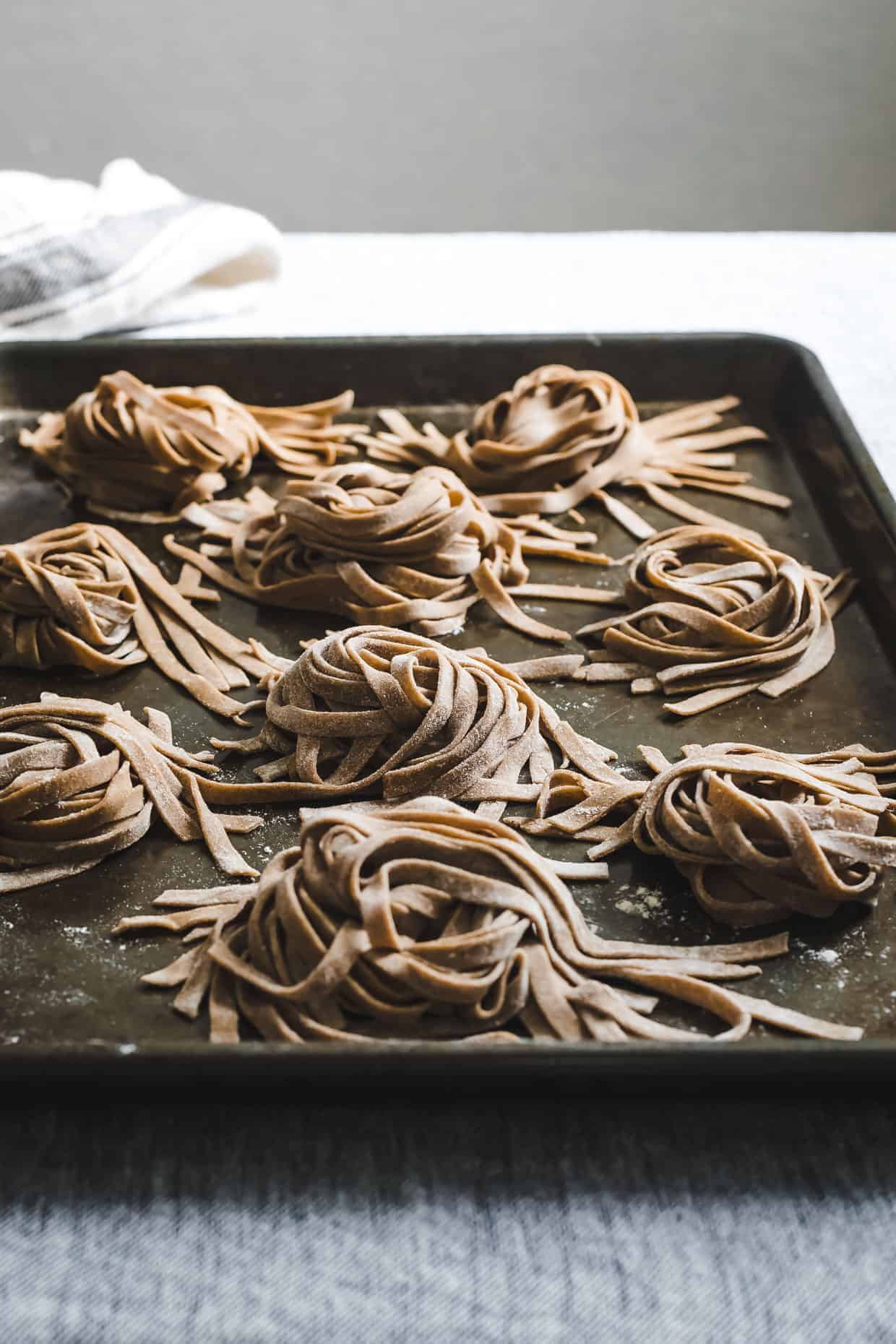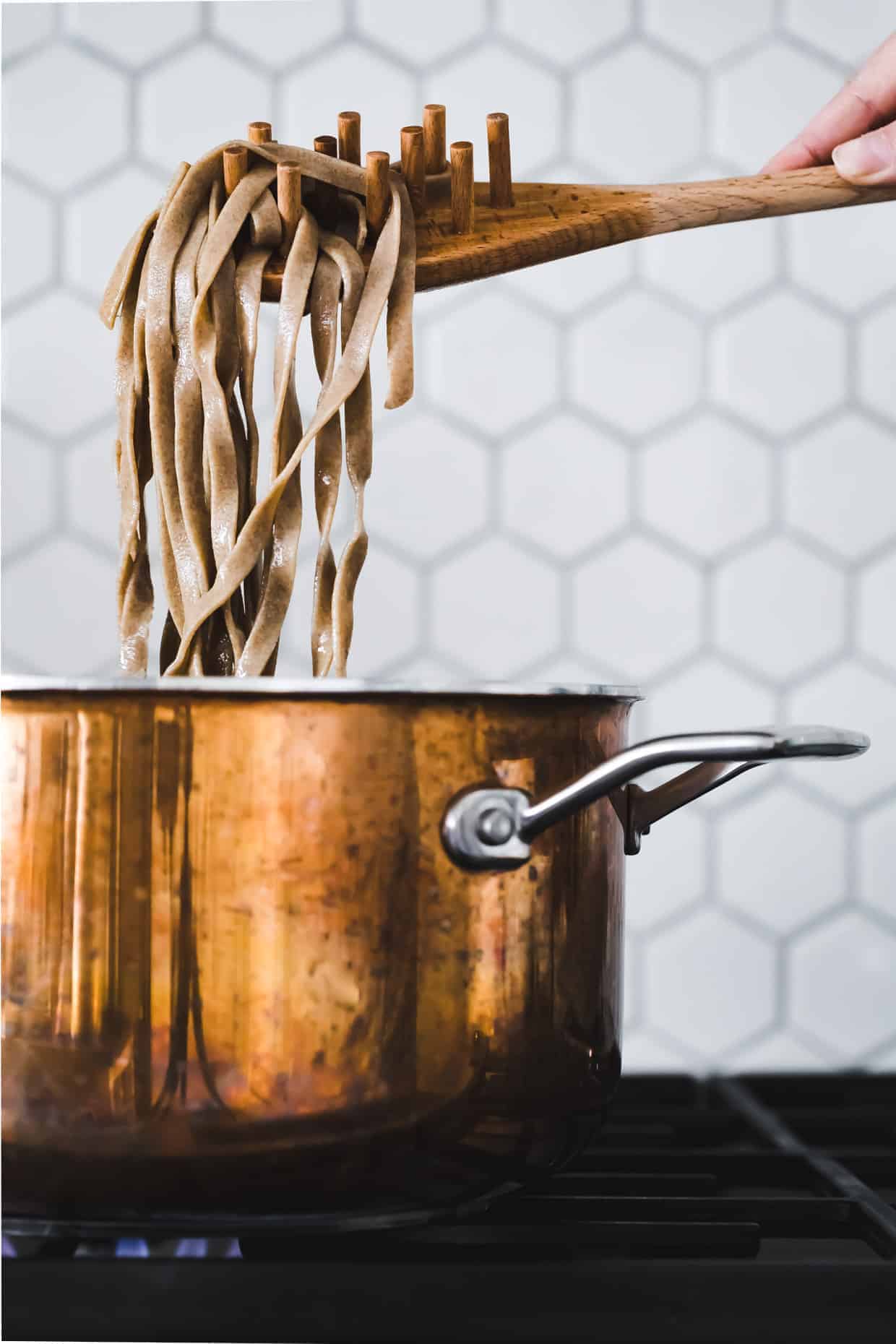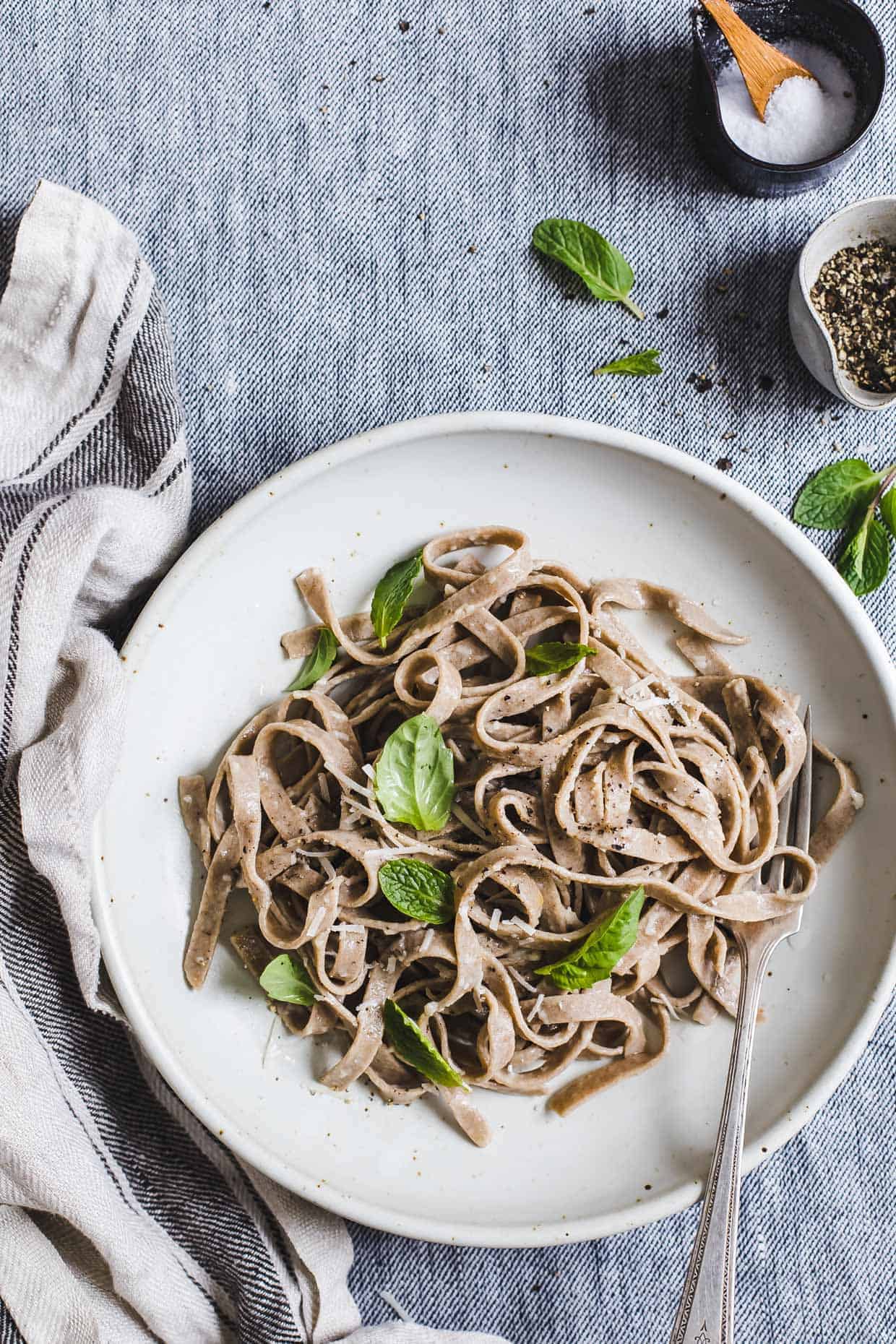 This billionth batch, however, achieved that same stretchy texture of gluten-filled homemade pasta thanks to the soft meltiness of teff flour. Earthy whole grains - teff, millet, and amaranth - meld into a pasta that is somehow simultaneously filled with deep flavor, while also soaking up the tastes of whatever sauce it's tossed in. Here I've served it in the most simple preparation: butter, olive oil, parmesan, salt & pepper, and fresh herbs.
See it in action with a lightened up almond milk fettuccine alfredo (+ wine pairing!) that uses this whole grain gluten-free pasta as the base.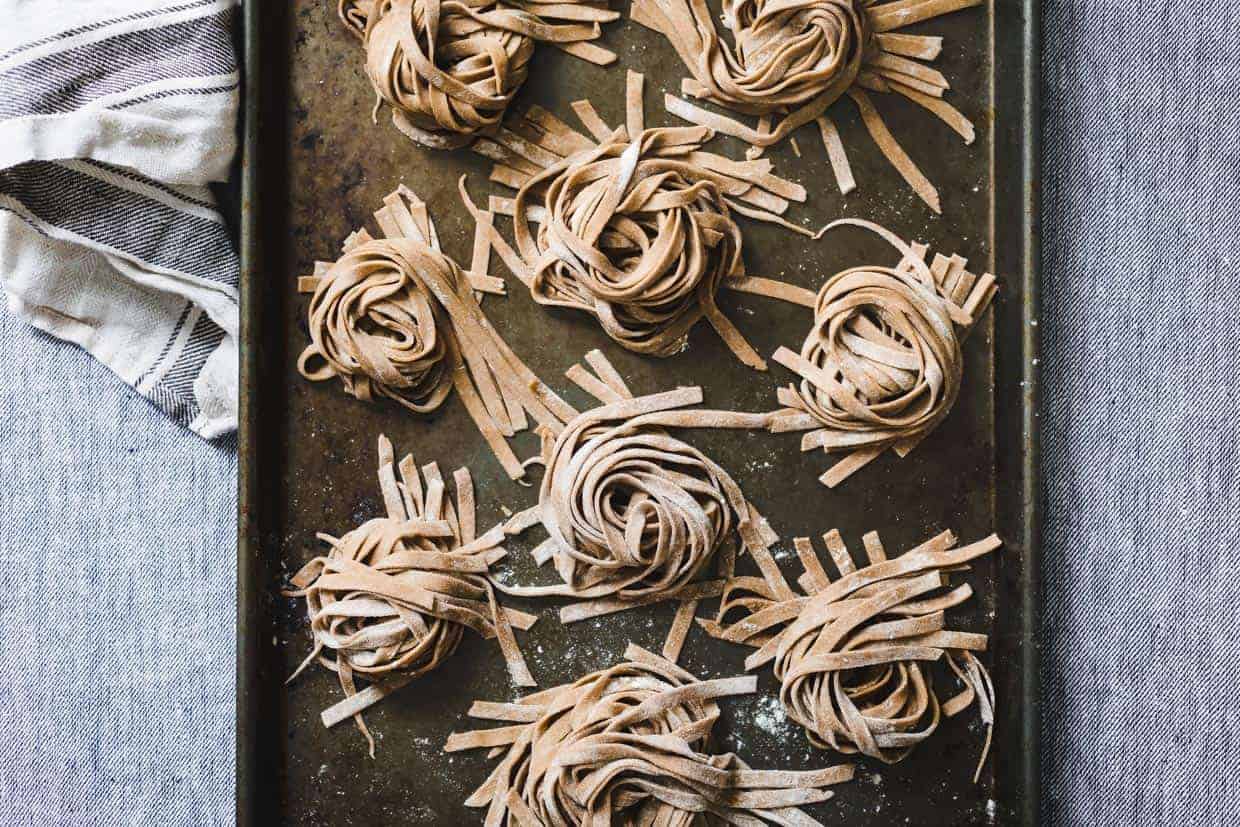 Thanks for reading Snixy Kitchen! To stay up on what's coming out of my kitchen, follow me on Facebook, Instagram, Twitter, Bloglovin', or Pinterest, or subscribe via e-mail to get new recipes right to your inbox.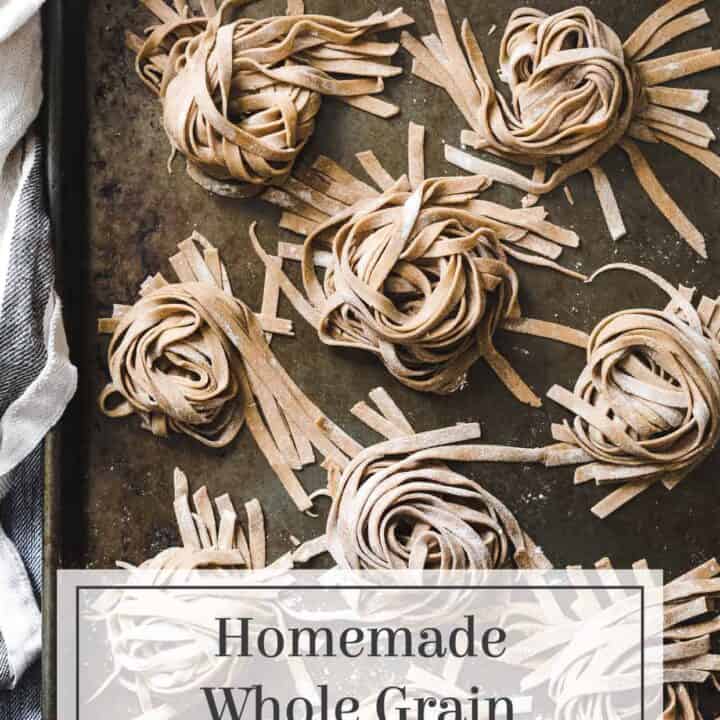 Homemade Whole Grain Gluten-Free Pasta
Instructions
In a large bowl or the bowl of stand mixer or a large mixing bowl, whisk together the teff flour, millet flour, tapioca flour, sweet rice flour, amaranth flour, xanthan gum, and salt.
Create a well in the middle of the flour and crack the eggs into the middle. Add the olive oil.
Use the dough hook of the stand mixer to gently mix the eggs together with the flour on low speed, or, if doing so by hand, use a fork to lightly whisk the eggs together in the middle of the well, then begin mixing it all together with the flour.
Once it's well mixed, use the dough hook or your hands to knead until it forms a dough. If the the mixture feels too dry, add ½ teaspoon of water at a time while kneading. Knead until dough is smooth and elastic, but not very sticky. If you find it too sticky, add another teaspoon of teff flour until it reaches the desired texture.
Roll the dough into a ball and lightly flatten into a disk. Cut into 6 pieces and wrap the dough in plastic to let it rest for 20 minutes or so.
Bring 3-quarts of water to boil in a large pot with a teaspoon of salt.
Use your hands to press one piece at a time on a lightly teff-floured surface until it is about ¼-inch thick, reserving the other pieces in plastic wrap under a towel.
With a pasta roller or rolling pin, roll out each piece into a thin sheet, lightly dusting both sides with teff flour as you go. If using the KitchenAid pasta roller attachment, send the dough through setting 1, fold it in half, then send it again. Repeat until it feeds through smooth, then reduce the thickness one stop and roll to a 2 or 3 thickness. Dust each side with teff flour before cutting.
Either by hand or using the fettuccine cutter attachment, cut each sheet into noodles. Place noodles in a nest on a teff-floured baking sheet while rolling out the rest.
Drop the noodles into the boiling water and cook for 4 minutes, stirring occasionally. Drain the pasta in a colander and gently toss it with a bit of olive oil to keep it from sticking together.
Serve with your favorite sauce! (Here I've just tossed it with some simple butter, olive oil, parmesan, salt, pepper, and fresh herbs!)