An ultra-creamy fettuccine alfredo lightened up with almond milk and topped with spring's finest veggies and herbs. Paired with a well-balanced Sauvignon Blanc in partnership with Kenwood Vineyards.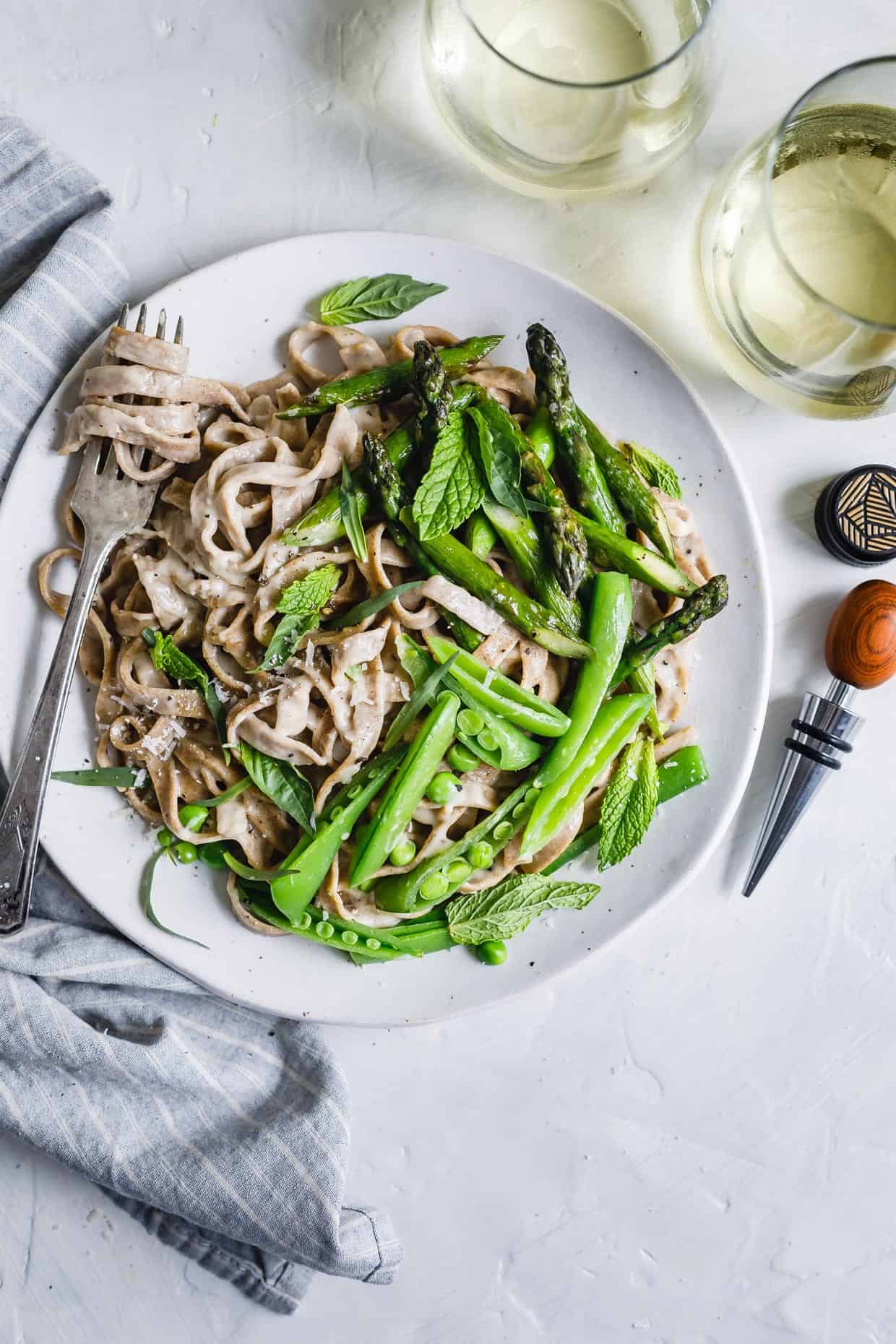 What is it about some recipes that make it into your regular rotation for specific occasions? Whenever someone has a baby, for example, I drop off pineapple tofu fried rice and whenever there's a party, I bring chocolate cupcakes. This almond milk fettuccine alfredo has gained similar status as the centerpiece whenever we have dinner guests.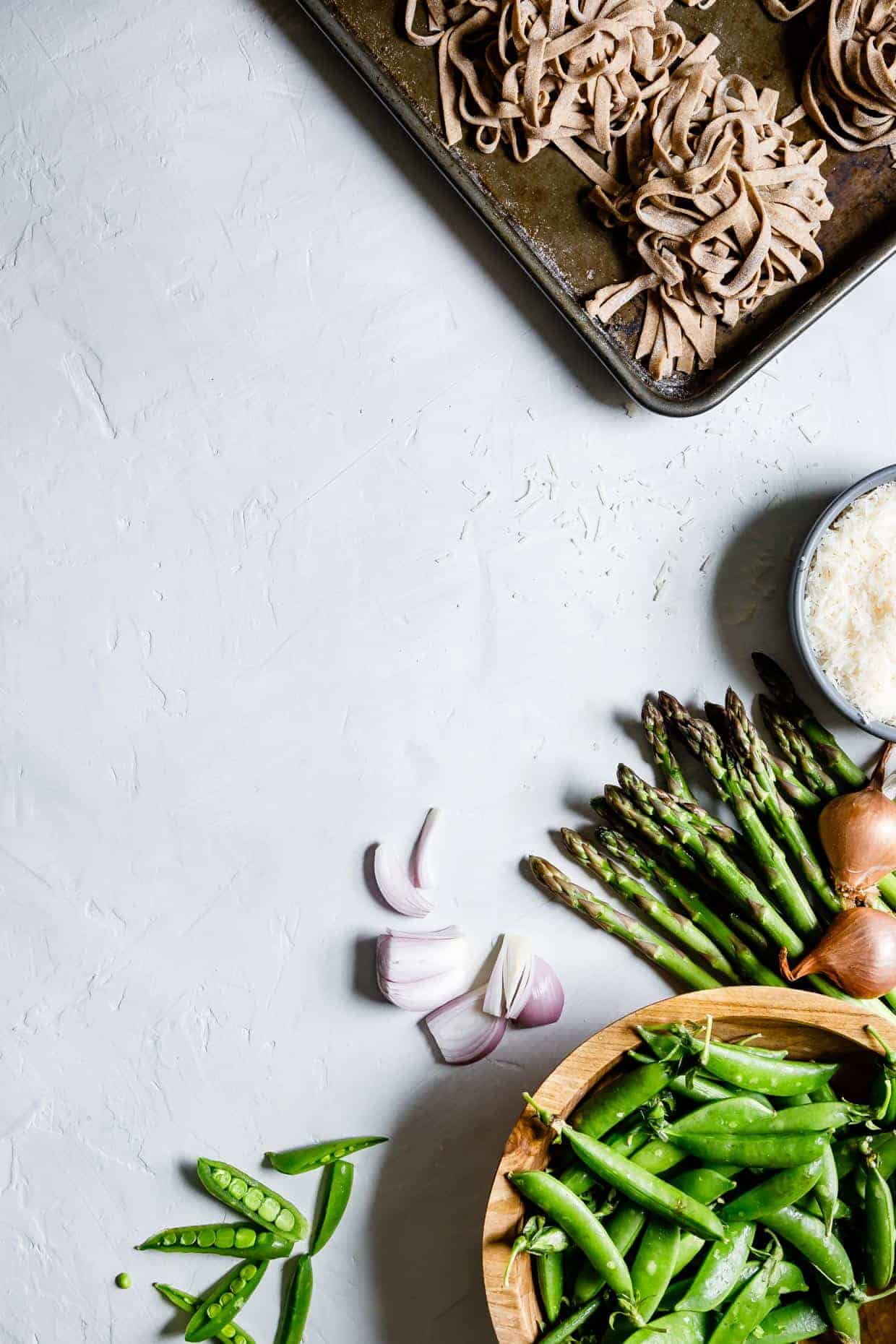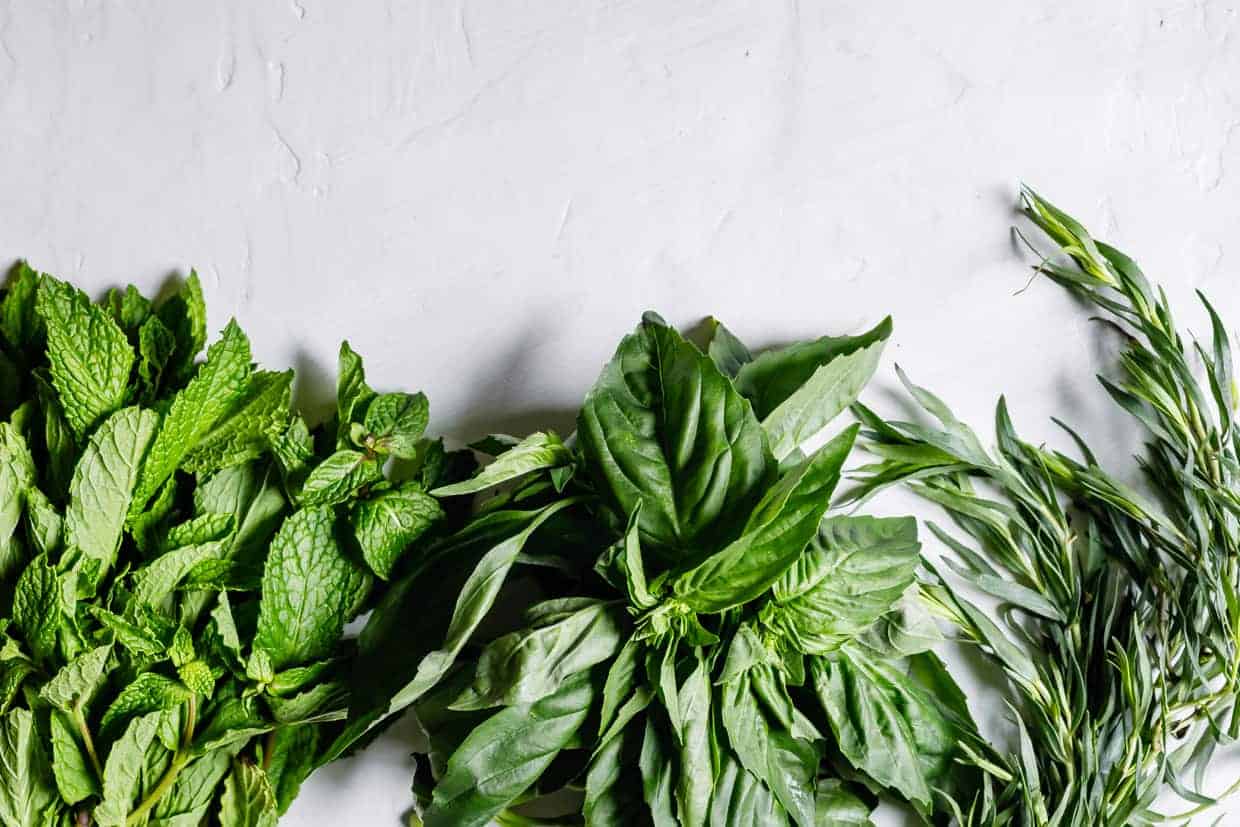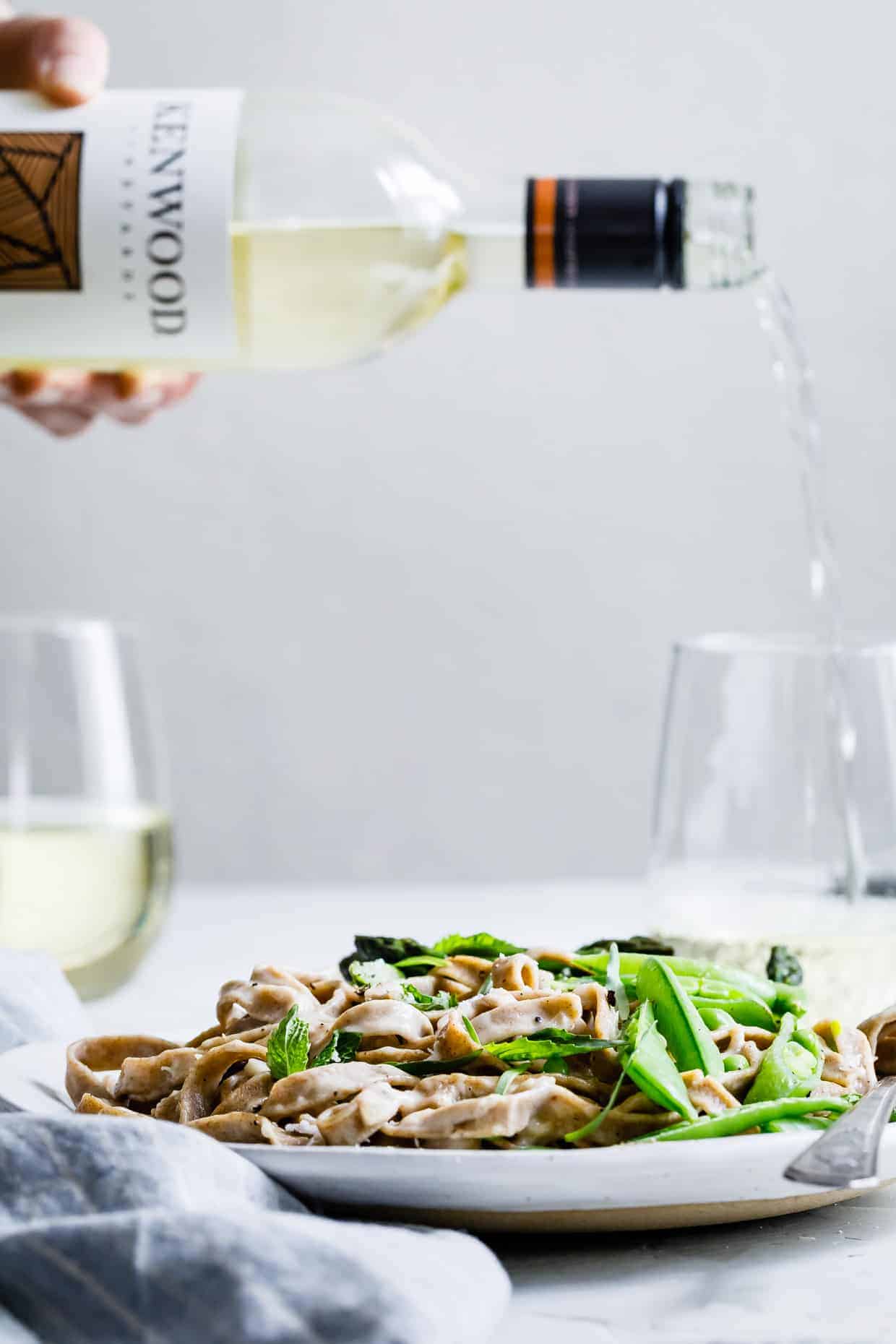 With about ⅕ of the fat of regular alfredo, but still just as rich and creamy tasting, this almond milk version feels indulgent without leaving you sluggish when the meal is over. It's creamy, yes, but light and refreshing at the same time (sorcery). I vote for using fresh pasta all the way - here I've used my gluten-free whole grain pasta, but you can use any other fresh or dry fettuccine as well.
The sauce is slightly sweet from the almond milk, with just the right amount of savory from shallots and garlic and a heavy handful of fresh parmesan. Just before serving, I fold in ground nutmeg to round out the flavors. For a light spring bowl of fettuccine alfredo, I've topped it with sautéed asparagus, sugar snap peas, and a bouquet of fresh spring herbs.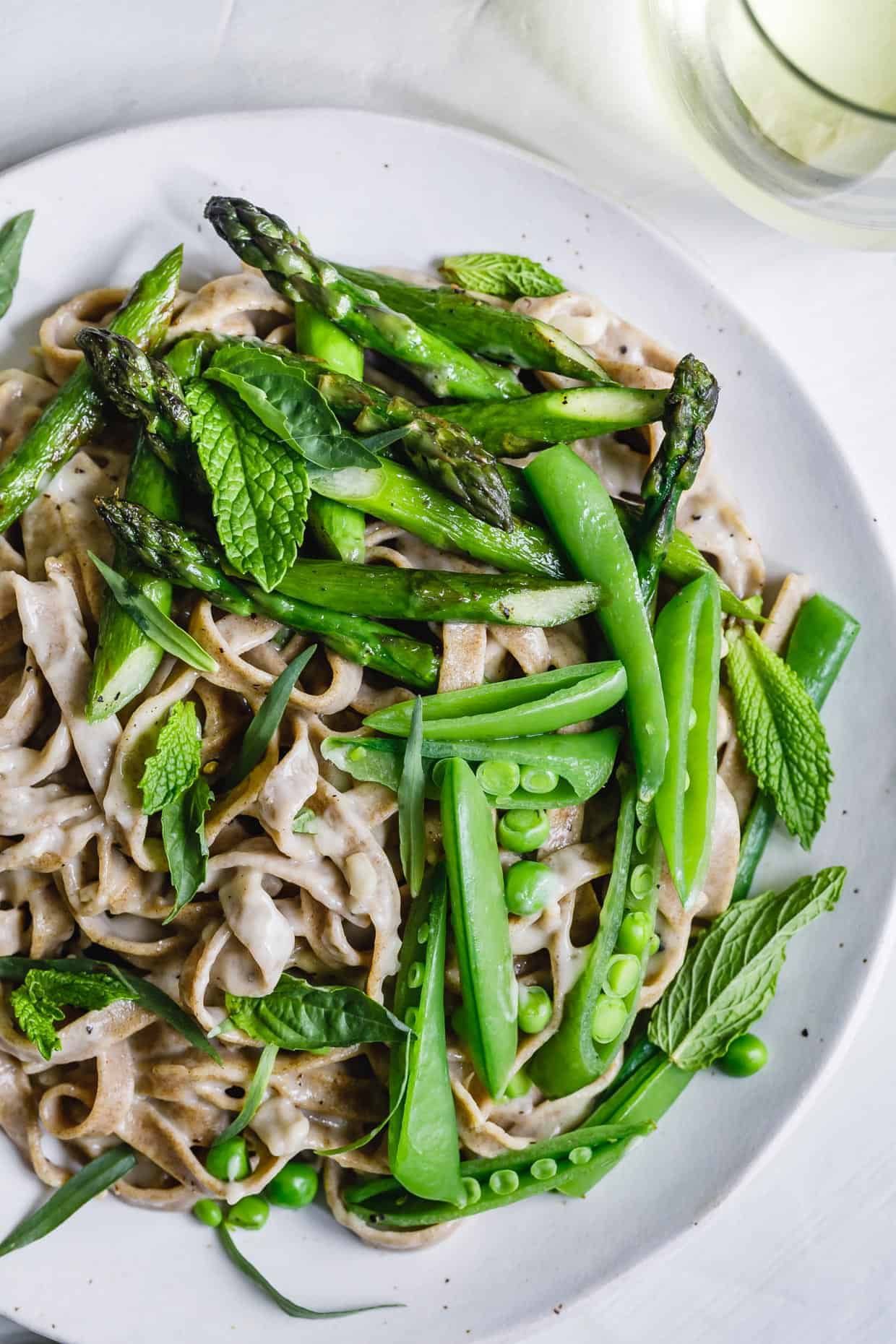 A chilled glass of Kenwood Vineyard's 2015 Sonoma County Sauvignon Blanc balances the creamy sauce, helping to lighten it up even more, and adds a refreshing quality to the dish that plays well with the spring toppings. The herbal and citrus notes of the wine pair nicely with the fresh mint, basil, and tarragon, while the grassy characteristics enhance the earthiness of the sugar snap peas and asparagus.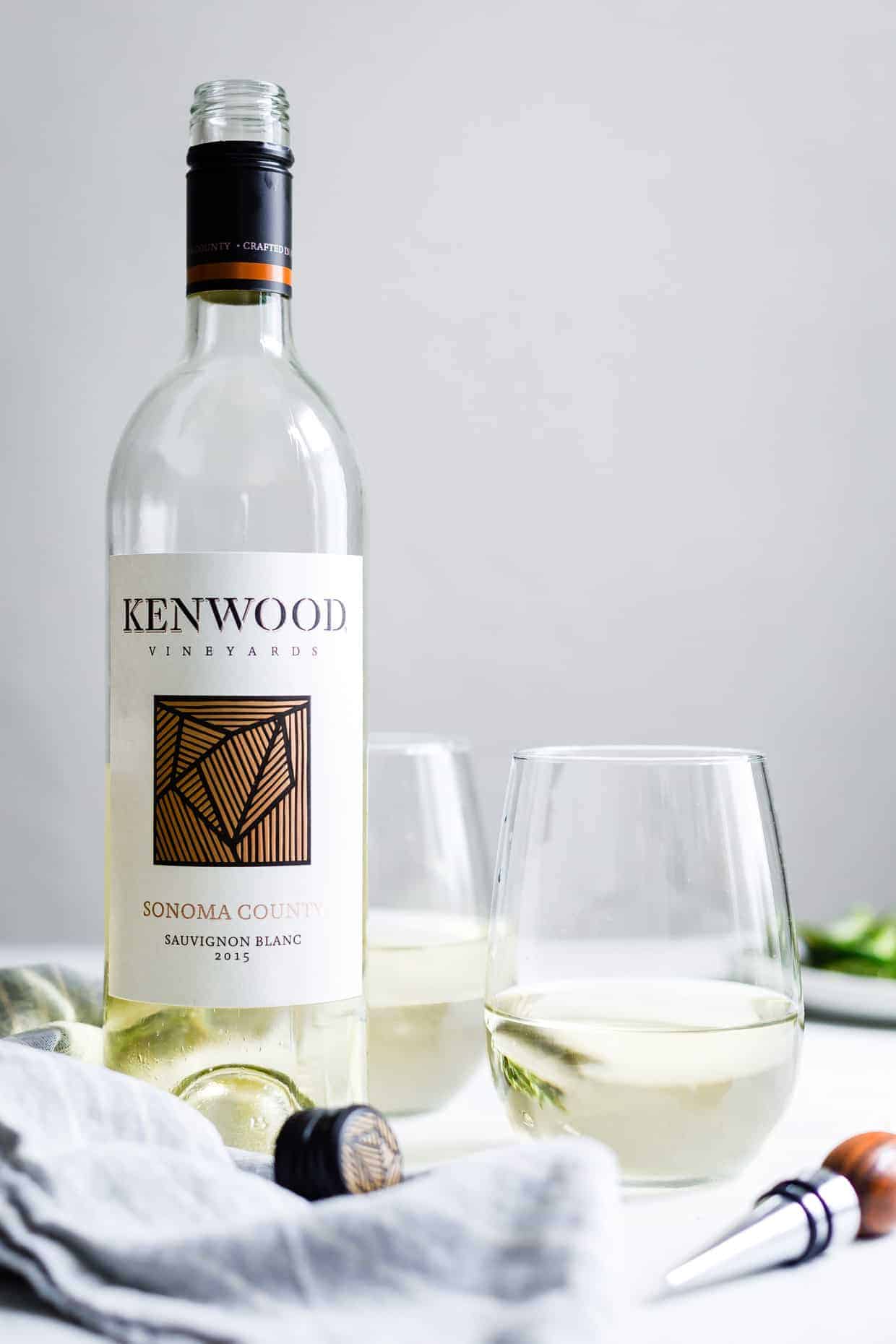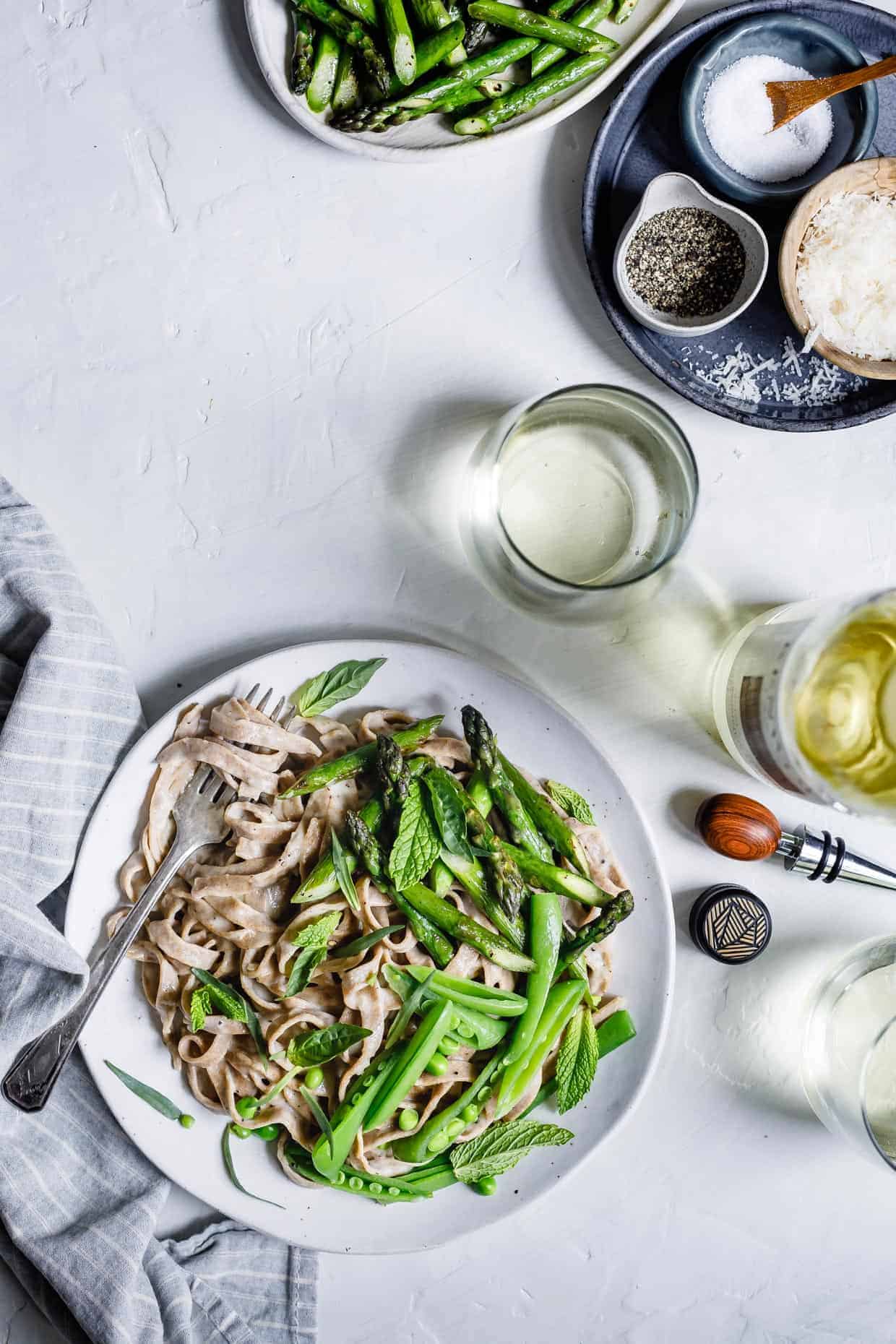 Learning about the specific flavor notes in wine and pairing them to food is new to me, but drinking wine and eating food is not. For the two years I lived in Philly, my favorite and (at least) weekly dinner spot was a little wine and cheese cafe in my neighborhood. It's an upscale joint, but they offered memberships that came with all kinds of rewards the more money you spent and the more wine you drank. For every $500 you spent, you'd earn a $50 gift card and for every 25 different wines, cheese, or beers you tried, you'd respectively get a wine, cheese, or beer gift.
I'd just graduated college and for the first time ever, I had any amount of disposable income, which, at the time, felt like a lot (it wasn't). So in keeping up my typical 20-something appearance, I turned it into wine and tapas. By the time my two year stint in Philly was up, I'd earned at least 6 $50 gift cards and multiple wine gifts. If it was a different kind of establishment, my picture might have been behind the bar with my own special wine glass.
What this tasting time taught me is that I prefer my wine crisp, dry, and lightly fruity. Kenwood Vineyard's Sauvignon Blanc fits the bill. The Sauvignon Blanc blends tropical fruit flavors from warmer climate grapes of Sonoma County and grassy notes from the cooler vineyards of Carneros and Russian River Valley. With this balance, it pairs nicely with this fettuccine alfredo, but also would go well with seafood dishes or even as picnic wine (screwcap anyone?).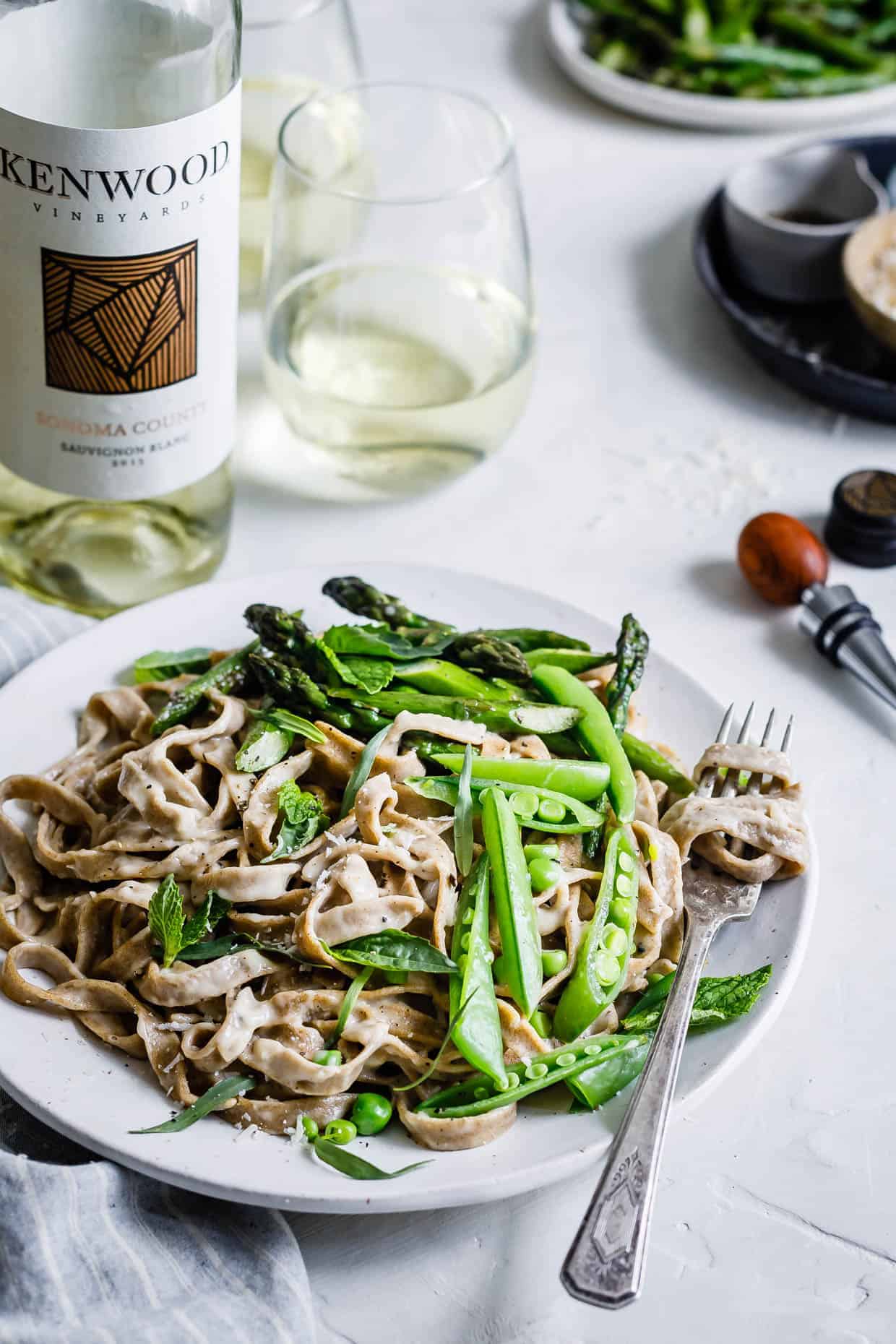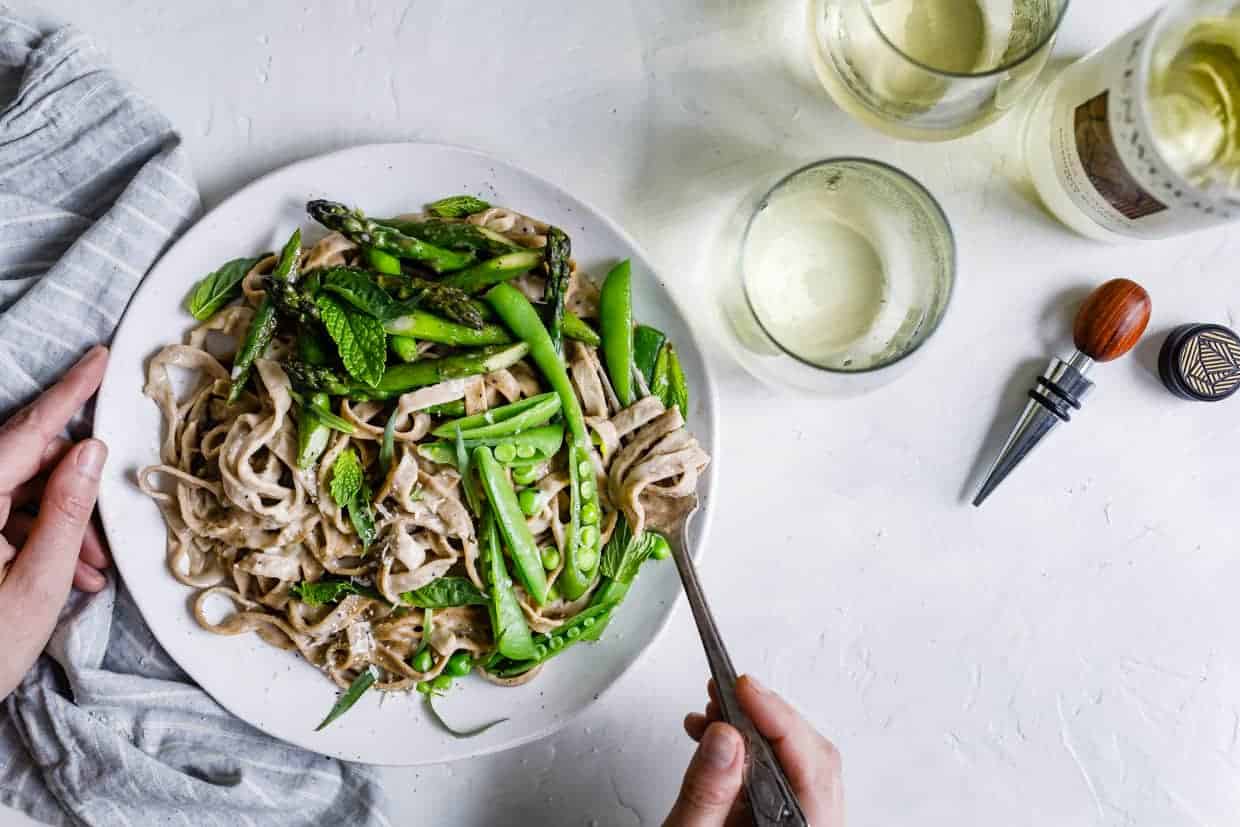 With this lightened up spring-time almond milk fettuccine alfredo and a glass of wine, I'm ready for Spring's warmer weather...and my next dinner party.
Disclosure: Special thanks to Kenwood Vineyards for sponsoring this post! And thanks to you for supporting the companies that keep Snixy Kitchen cooking!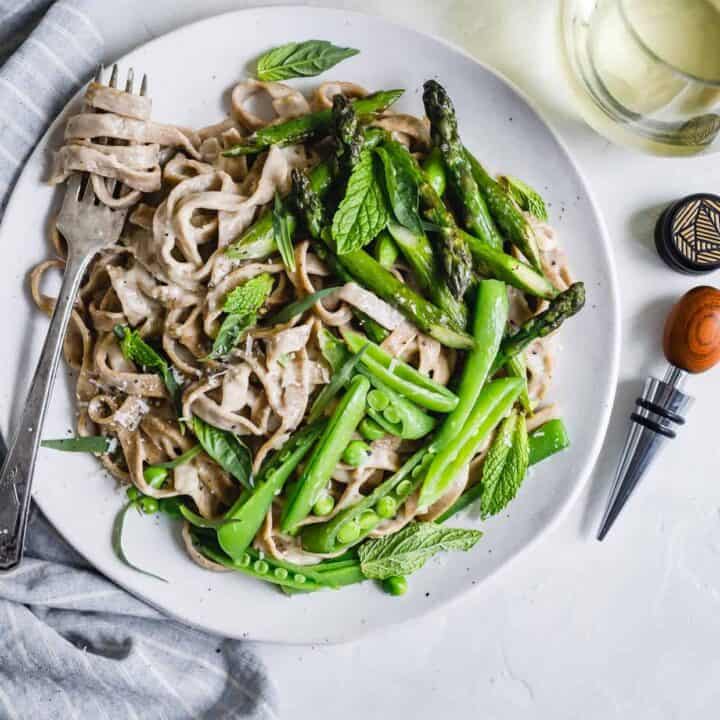 Almond Milk Fettuccine Alfredo with Spring Veggies & Herbs
Ingredients
Almond Milk Fettuccine Alfredo
5 tablespoons unsalted butter
¼ cup minced shallot (from 2 small shallots)
1 tablespoon minced garlic (from about 3-4 large cloves)
¼ cup sweet rice flour
3 cups unsweetened plain almond milk
1¼ cup freshly grated parmesan cheese (about 3 ounces), plus more for shaving
¼-½ teaspoon ground nutmeg
¼ teaspoon each salt & pepper
1½ lbs fresh whole grain gluten-free fettuccine (or 1lb dry fettuccine)
Spring Toppings
1½ tablespoons unsalted butter
1lb asparagus, ends snapped off and discarded, then cut into 3-4 inch pieces on the diagonal
Sugar snap peas, stems cut off and discarded, then cut diagonally in half
Fresh herbs for serving, whole or chiffonade (such as mint, basil, and tarragon)
Instructions
Prepare the fresh fettuccine, if using. Bring a large pot of heavily salted water to boil.
In a large deep skillet over medium heat, melt 1½ tablespoons butter for cooking the asparagus. Add the asparagus pieces and cook, stirring, for 3 minutes. Transfer to a bowl, cover, and set aside.
In the same skillet, melt the remaining 5 tablespoons butter over medium heat. Add the minced shallot and garlic and cook, stirring for 1-2 minutes until fragrant and the shallots begin to soften.
Whisk in the sweet rice flour and cook, whisking for 1 minute.
Gradually pour in almond milk in three parts, whisking until smooth after each addition. Reduce heat to medium-low and continue cooking until until hot and thick enough to lightly coat the back of a spoon, but not yet boiling, whisking occasionally.
Meanwhile, blanch the sugar snap peas in the boiling water for 1 minute. Use a slotted spoon or mesh strainer to transfer the snap peas to a bowl (it's okay if some of the peas come out of the pods). Cover and set aside.
In the same pot, cook the fettuccine until al dente. Reserve about ¼ cup of the cooking water and drain the pasta well.
Transfer the drained pasta to sauce and toss until well coated. Gently stir in the grated parmesan cheese until it completely melts, adding any reserved cooking water, if needed, to loosen up the sauce.
Season with nutmeg, salt, and pepper. Serve immediately topped with asparagus, sugar snap peas, fresh herbs, and, if desired, more parmesan.
Thanks for reading Snixy Kitchen! To stay up on what's coming out of my kitchen,  follow me on Facebook, Instagram, Twitter, Bloglovin', or Pinterest, or subscribe via e-mail to get new recipes right to your inbox.