Creamy zucchini pesto pasta is an easy way to pack in vegetables. Blend raw zucchini into pesto to make it extra creamy and sub in roasted almonds for a roasted nuttiness. This creamy pesto pasta recipe is a refreshingly healthy summer dish - top with crispy pancetta or your favorite protein to make it a complete meal!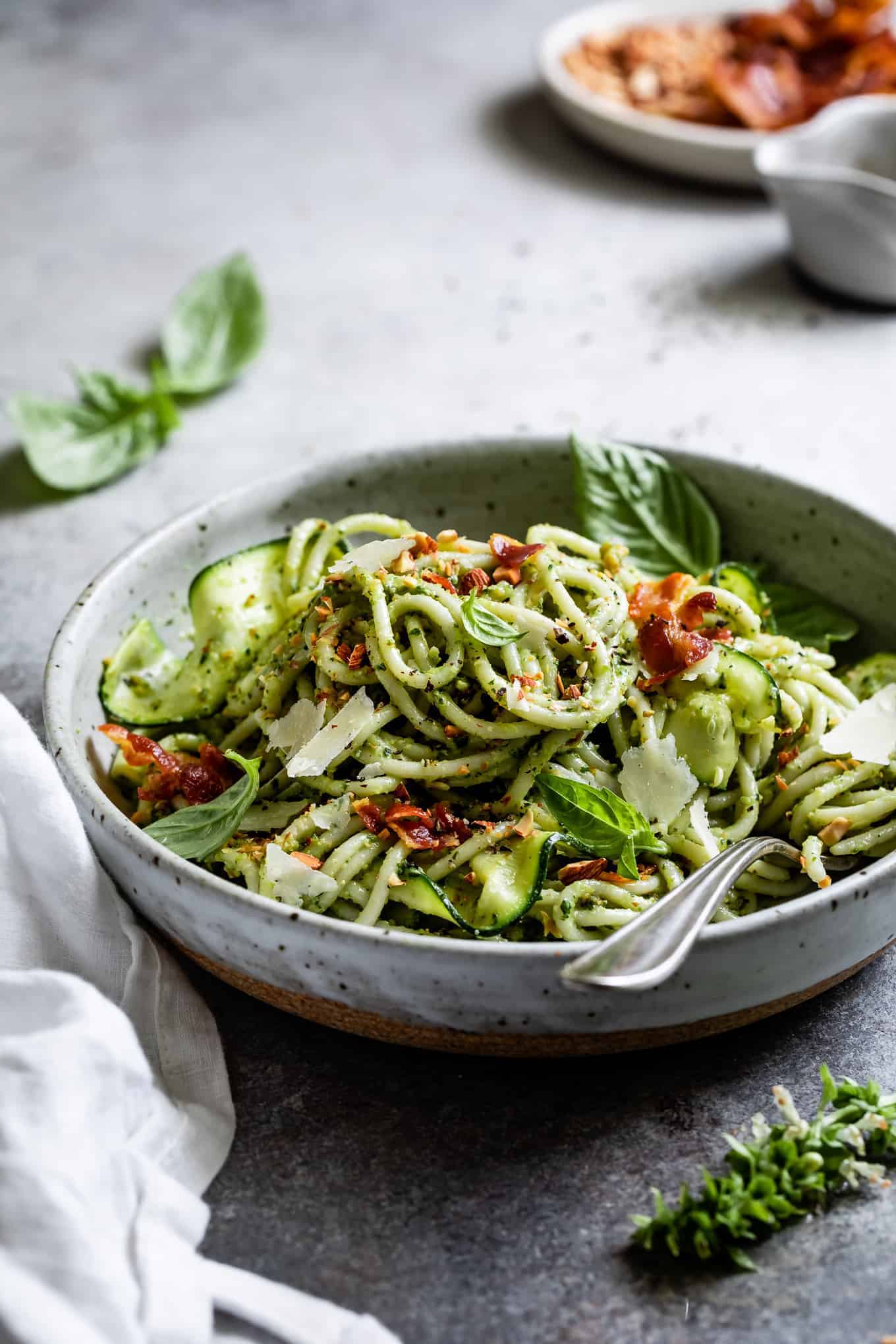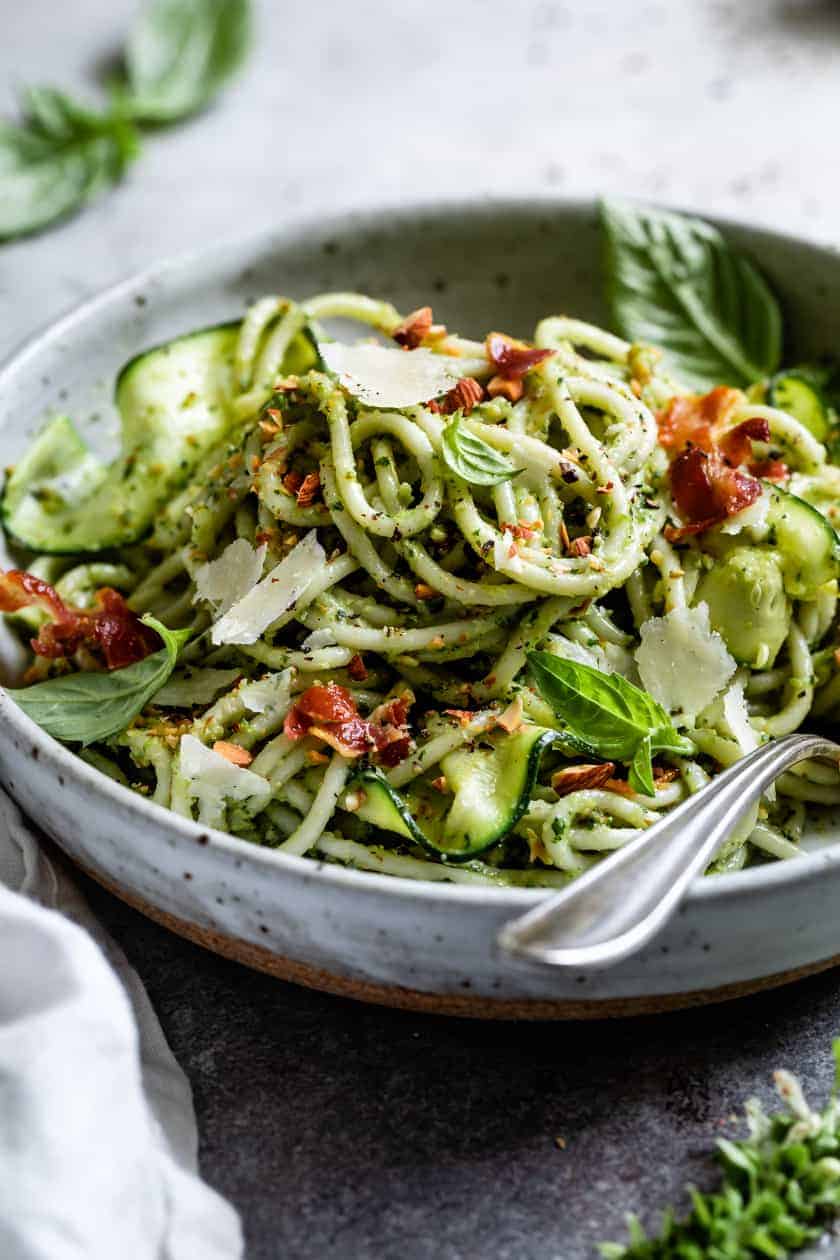 This recipe is sponsored by Diamond Nuts, a year-long partner of Snixy Kitchen.
Mark my words: This time next year, I'll have an herb garden. It'll be lush with mint and hopefully basil. I know nothing about growing herbs, but I know from walks around the neighborhood that mint loves our climate. I'll also grow zucchini, so between the garden and my freezer stash of Diamond Nuts, I'll have everything I need to make this zucchini pesto pasta all summer long.
When I told my next door neighbor of our plans, he all but bet $100 against my follow through, "You hate gardening and herbs are finicky!"
I don't hate gardening. In his defense, we share a chainlink fence and all he sees is the backyard weed jungle we've had since we bought the house three years ago, save for the one weekend a year we spend mowing it all back. Also known as: Last weekend and the story of the taller-than-me-weeds.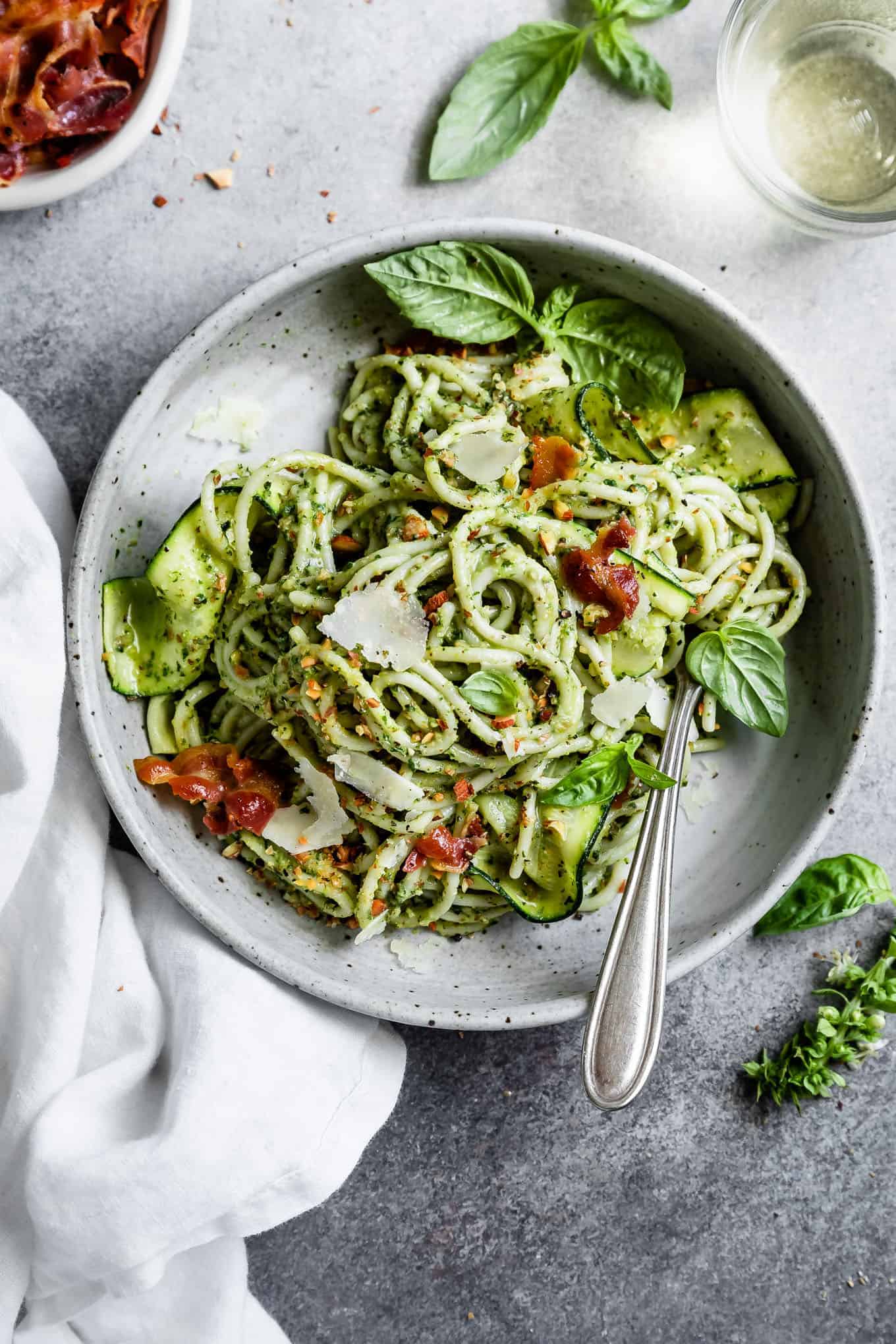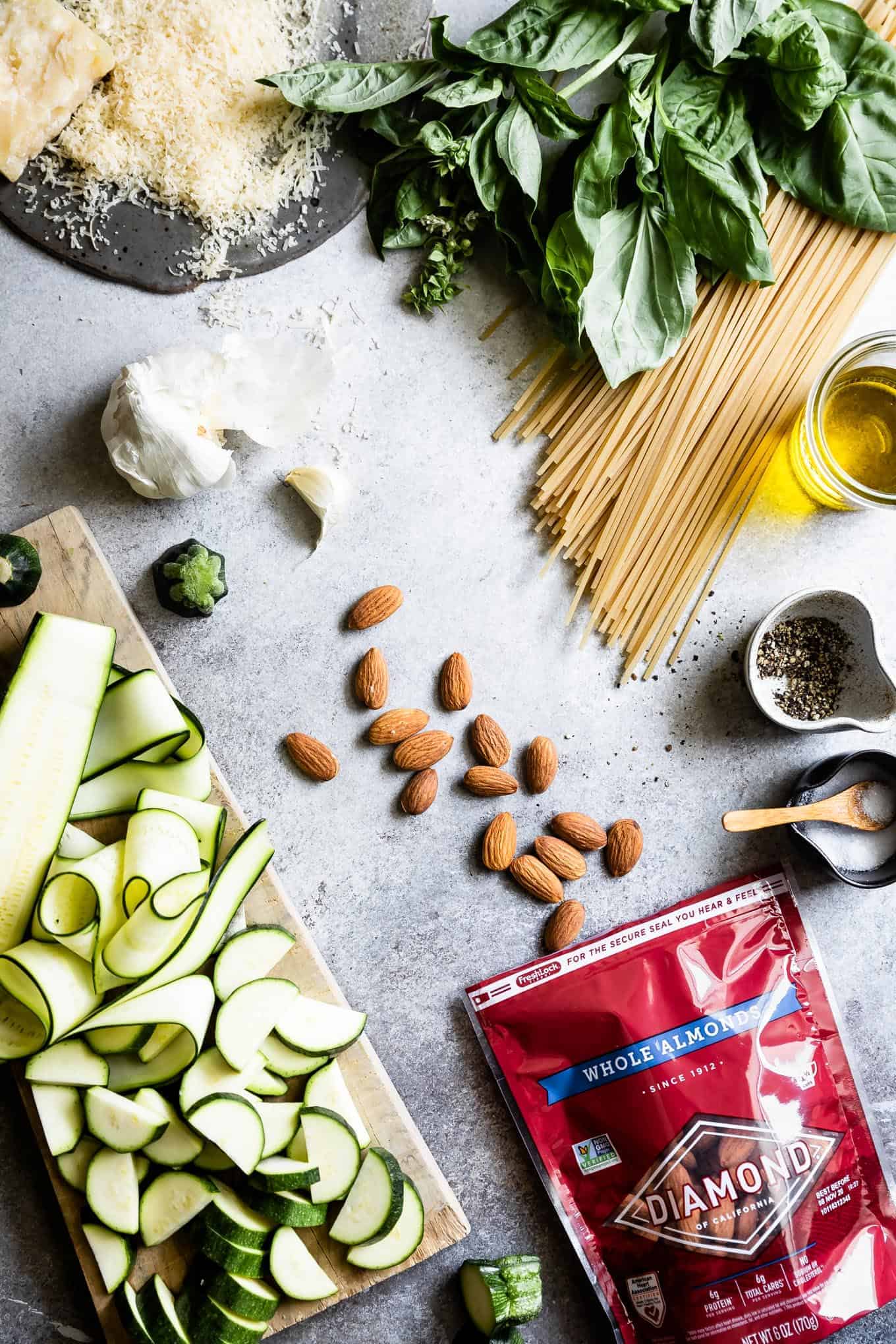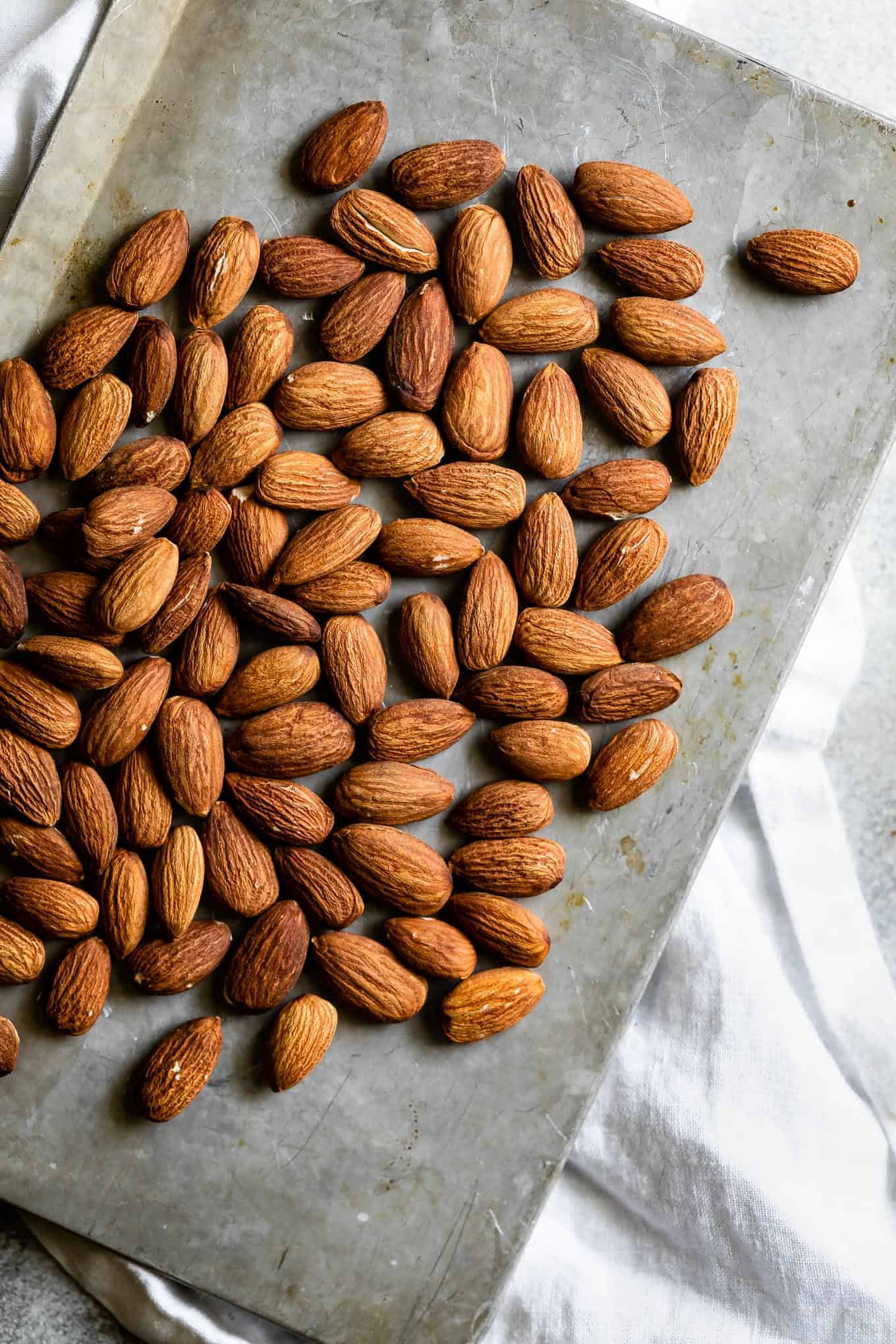 The truth is, I hate yardwork and managing a field of weeds that has absolutely no payoff. Our backyard is just a pile of uneven dirt with weeds covering it. Even when we mow back the weeds, it's still not a usable space yet.
YET! But it will be - next year!
BIG NEWS: We break ground in a little over two months on a major home addition. We're ripping open the back of our house, converting our bedroom to a master bath & walk-through closet, and adding on two bedrooms, plus easy access to the backyard, AND A DECK. We've been waiting to landscape our backyard until finishing the addition because it'd be a waste when we're going to lose half the yard anyway.
More on the addition to come, but for now, just know I've got big plans for gardening and lots of zucchini basil pesto next year.
Zucchini Pesto Pasta
This creamy zucchini pesto pasta recipe is the final dish in a year-long partnership with Diamond Nuts. Here's the round-up of all the post I've made this past year:
Now I'm making a summer-forward zucchini pesto pasta using their whole almonds. I've roasted and chopped them up into the pesto with a few sprinkled on top for extra crunch. Served warm or cold, this creamy pesto pasta is the perfect healthy summer dinner recipe!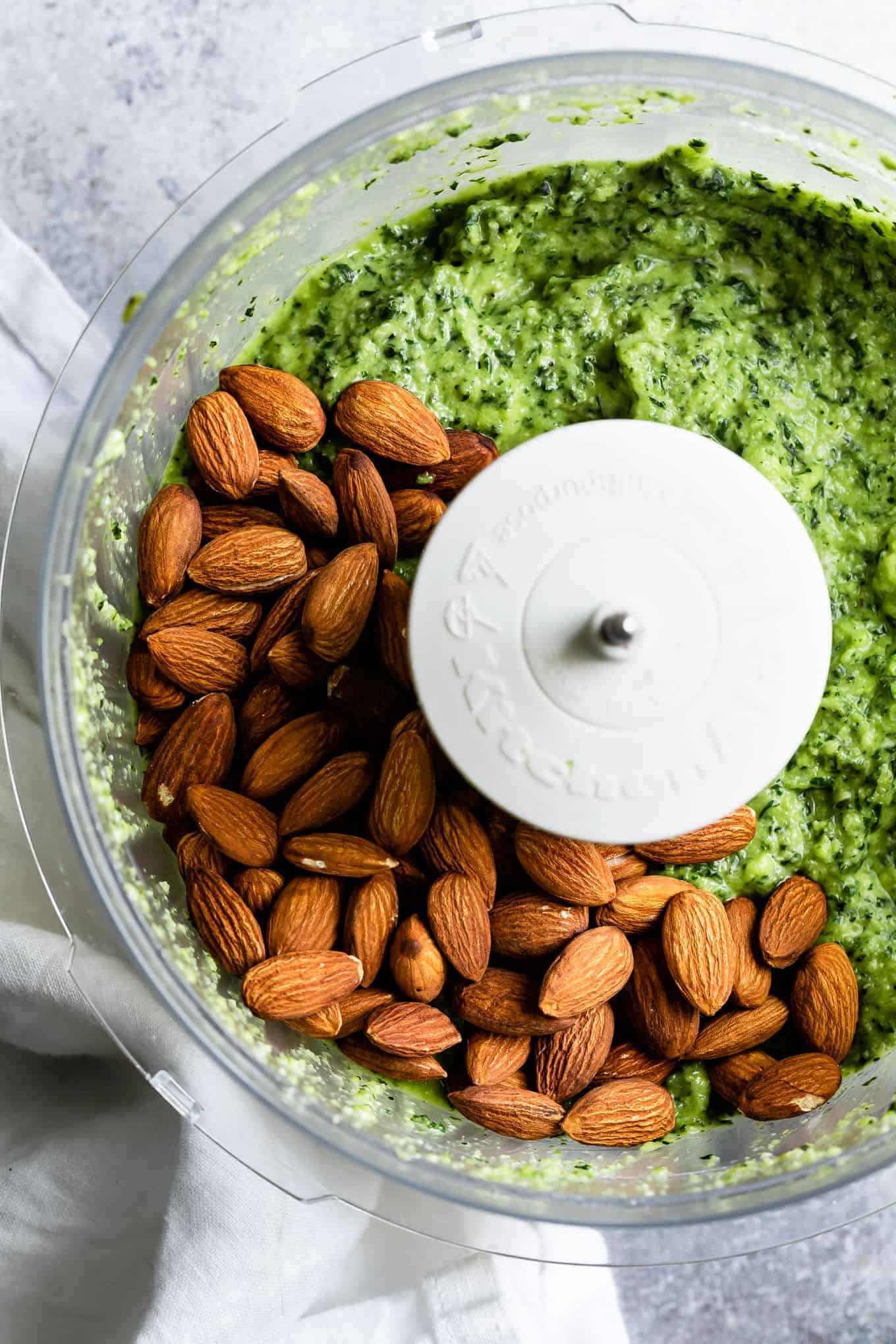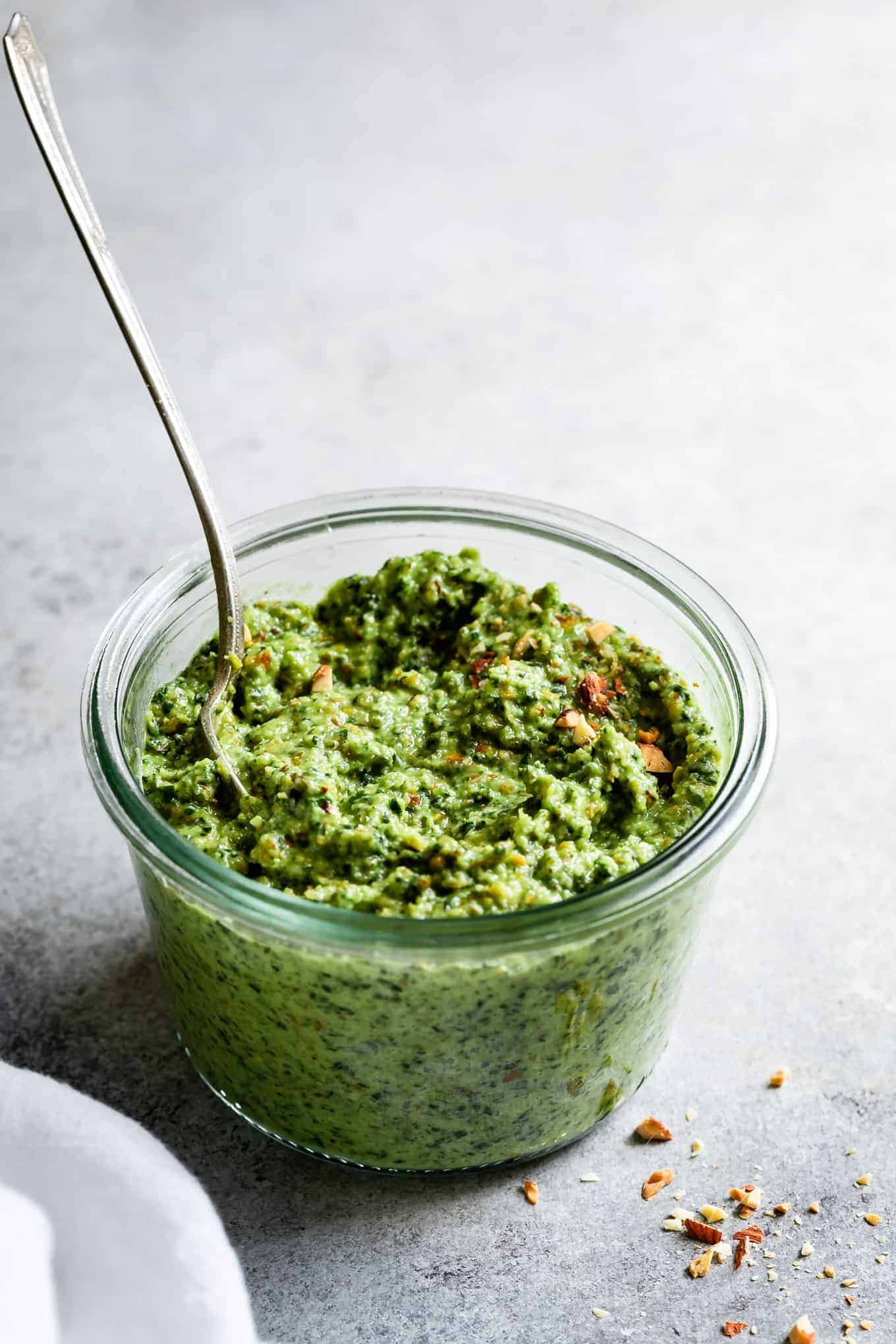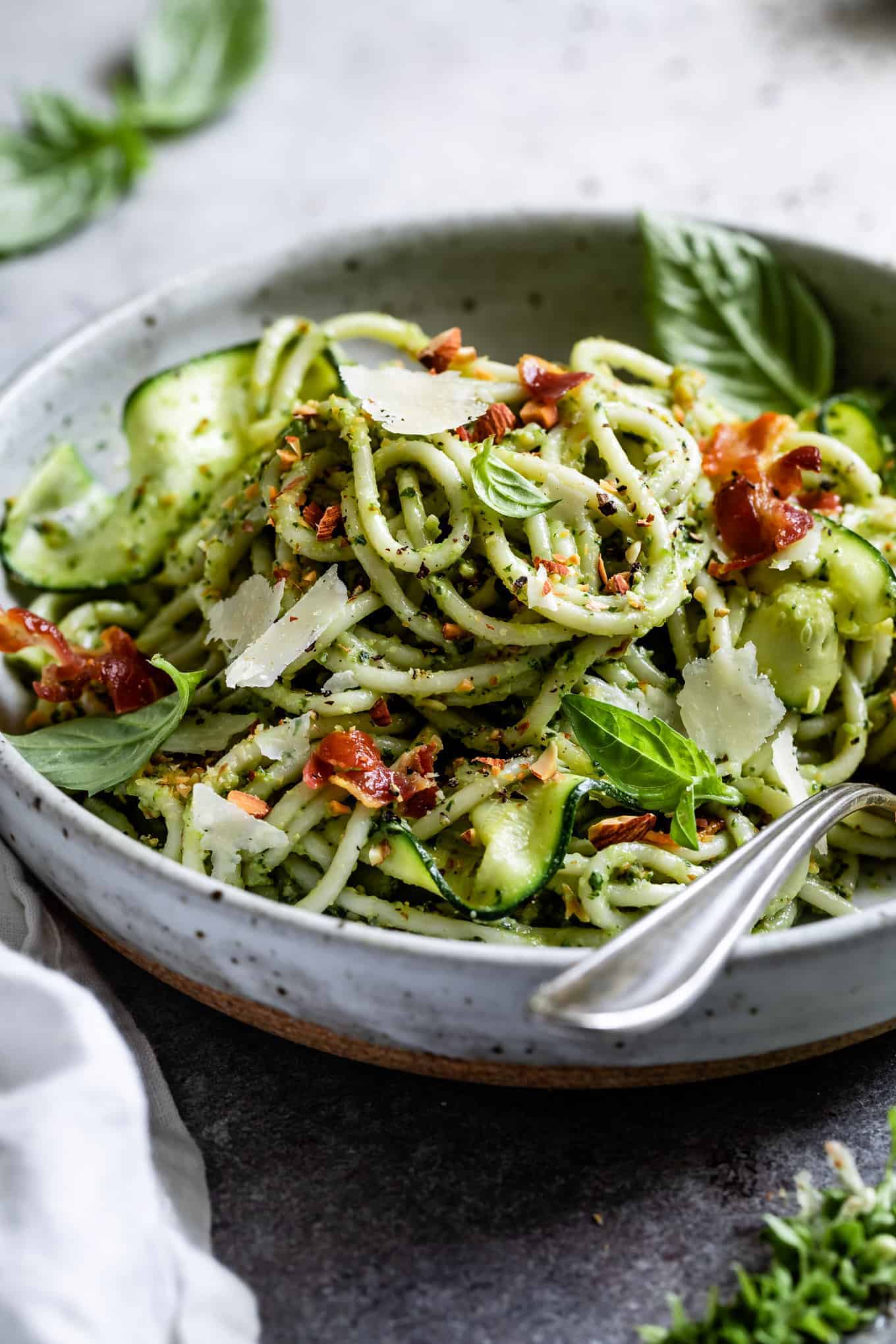 How to make Zucchini Pesto
Zucchini pesto is one of my favorite variations on classic pesto. Add a chopped up raw zucchini to the food processor or blender when making your pesto. Then continue as you usually do when making pesto!
Adding zucchini to the pesto makes it extra creamy and is the perfect way to add extra veggies to your dinner (and/or disguise them for toddlers). Raw zucchini has such a mild flavor that it takes a backseat to the more assertive basil, garlic, and almonds.
Make a double batch and store any extras in the freezer for up to 6 months.
Almond Pesto
You can easily sub almonds in for pine nuts in pesto. Before using almonds in pesto, be sure to roast them first. Roasting the whole almonds does two things. First, it adds depth of flavor, intensifying their nuttiness. It also improves the texture of the nuts for pesto, keeping them crisp when chopped up in the pesto.
Tip: When the summer day is too hot to turn on the oven to roast nuts, roast them in a toaster oven. That's exactly what I did when I made this pesto on a 95°F day.
As a native to almond country (ahem "ah-mund"), my mom always taught me to keep a stash of whole Diamond Nuts almonds in my freezer. So, more often than not, I make pesto with roasted almonds because it's what I've got on hand. In fact, I always roast more than I need for a recipe and store the rest already roasted to have some ready to go!
I also recommend reserving a handful of finely chopped roasted almonds to sprinkle on top for extra crunch almost like breadcrumbs.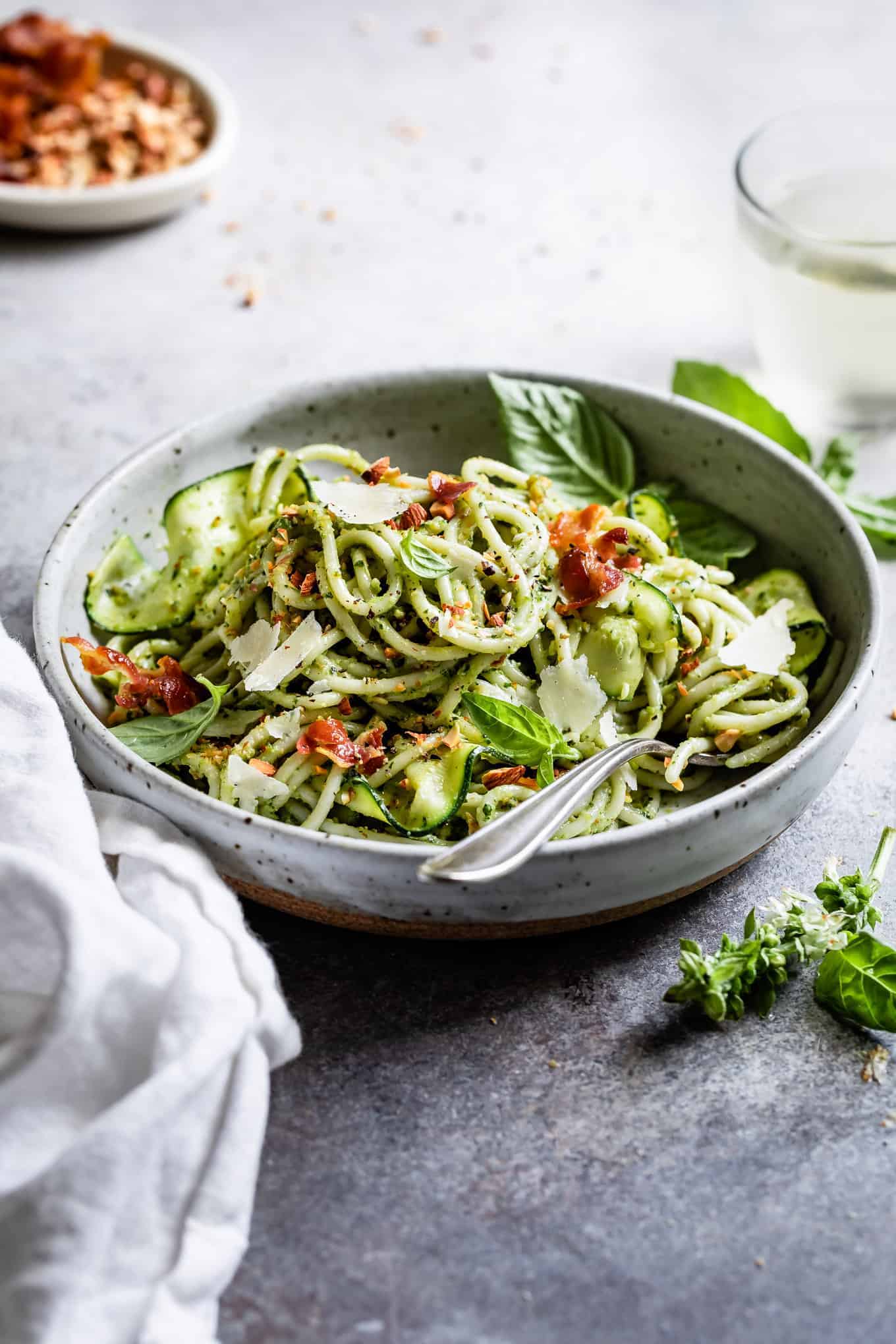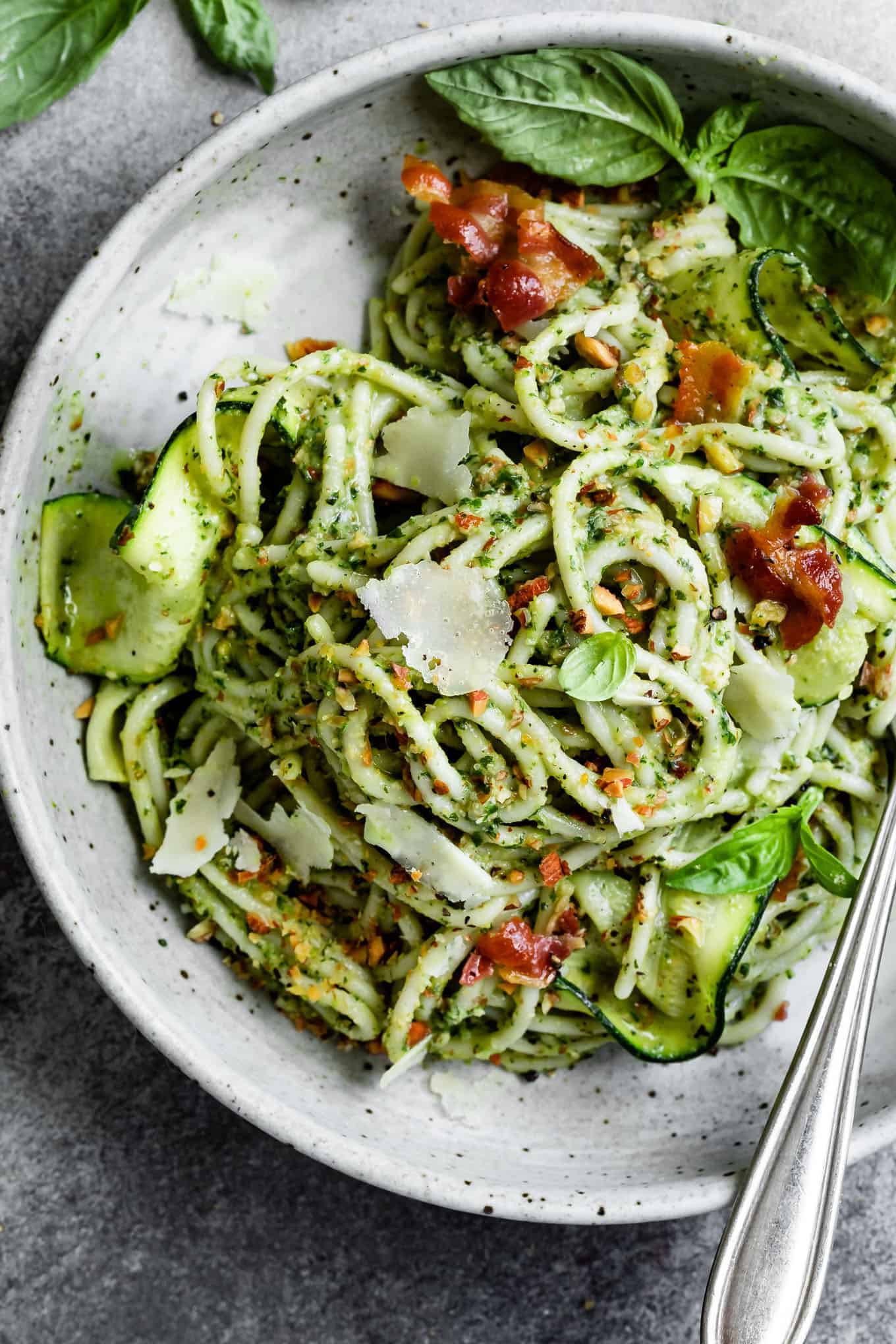 Creamy Pesto Pasta with Zucchini
To serve this zucchini pesto, toss it with more shaved zucchini and your favorite pasta, adding a splash or two of pasta water to loosen the sauce until creamy. You can serve this dish cold or warm - heat on low, tossing with the pasta just until warmed through.
Serve topped with shaved parm, chopped roasted almonds, and fresh basil. Add your favorite protein to make it a complete meal. In my case, crispy pancetta.
Head over to my Instagram tomorrow at 12pm PDT for a giveaway of a year's supply of Diamond of California Nuts!
More zucchini recipes
Disclosure: Special thanks to Diamond Nuts for providing the ingredients for this recipe and sponsoring this post! And thanks to you for supporting the companies that keep Snixy Kitchen cooking!
Zucchini Pesto Pasta with Roasted Almonds
Creamy zucchini pesto pasta is an easy way to pack in vegetables. Blend raw zucchini into pesto to make it extra creamy and sub in roasted almonds for a roasted nuttiness. This creamy pesto pasta recipe is a refreshingly healthy summer dish - top with crispy pancetta or your favorite protein to make it a complete meal! 
Ingredients
Zucchini Pesto
1 small zucchini, quartered and sliced into quarter-rounds (about 1½ cups)
¾ cup packed basil (*See note)
⅓ cup packed freshly grated parmesan cheese
1 garlic clove, coarsely chopped (add 1 more clove for a more garlicky pesto)
¼ teaspoon each kosher salt and pepper
½ cup + 1 tablespoon extra virgin olive oil
½ cup Diamond Nuts whole almonds, roasted
Pesto Pasta
1lb spaghetti, fettuccine, or other long pasta (gluten-free, if needed)
1 small zucchini, shaved into strips with a vegetable peeler
¼ Diamond Nuts whole almonds, roasted and finely chopped
Optional, for garnish: 3oz thinly sliced pancetta, fried until crispy
Instructions
Bring a large pot of salted water to boil over medium-high heat.
Prepare the zucchini pesto. Add zucchini, basil, parmesan, garlic, salt, and pepper to a food processor and pouring in olive oil as it runs, process until smooth. Add roasted almonds and pulse to desired texture. Tasted and adjust salt and pepper to desired taste.
Meanwhile, fry the pancetta in a skillet until crispy. Transfer to a paper-towel lined plate to cool, then coarsely chop.
Cook pasta according to the package, until al dente, reserving a cup of pasta water before draining. Rinse the pasta if using gluten-free pasta.
In the same pot over low heat, toss the pasta and shaved zucchini with pesto with a tablespoon of pasta water until warm and creamy, adding additional pasta water as needed. To serve cold, rinse the pasta with cold water and toss everything together without heat.
Serve garnished with shaved parmesan, fresh basil, chopped roasted almonds, and pancetta (if using).
Alternatively, top with your favorite meat or vegetarian protein such as grilled chicken or shrimp, or white beans.
Notes
*To keep your basil extra green and from oxidizing, blanch the basil in the pasta water for 5 seconds then quickly shock it by placing in a bowl of ice water. Squeeze the water out of it then add it to the food processor.