This sour cream gluten-free coffee cake recipe has a layer of jammy cranberries and a crispy crumb topping. Served with a cup of tea or coffee, this spiced cake makes the perfect cranberry Christmas cake.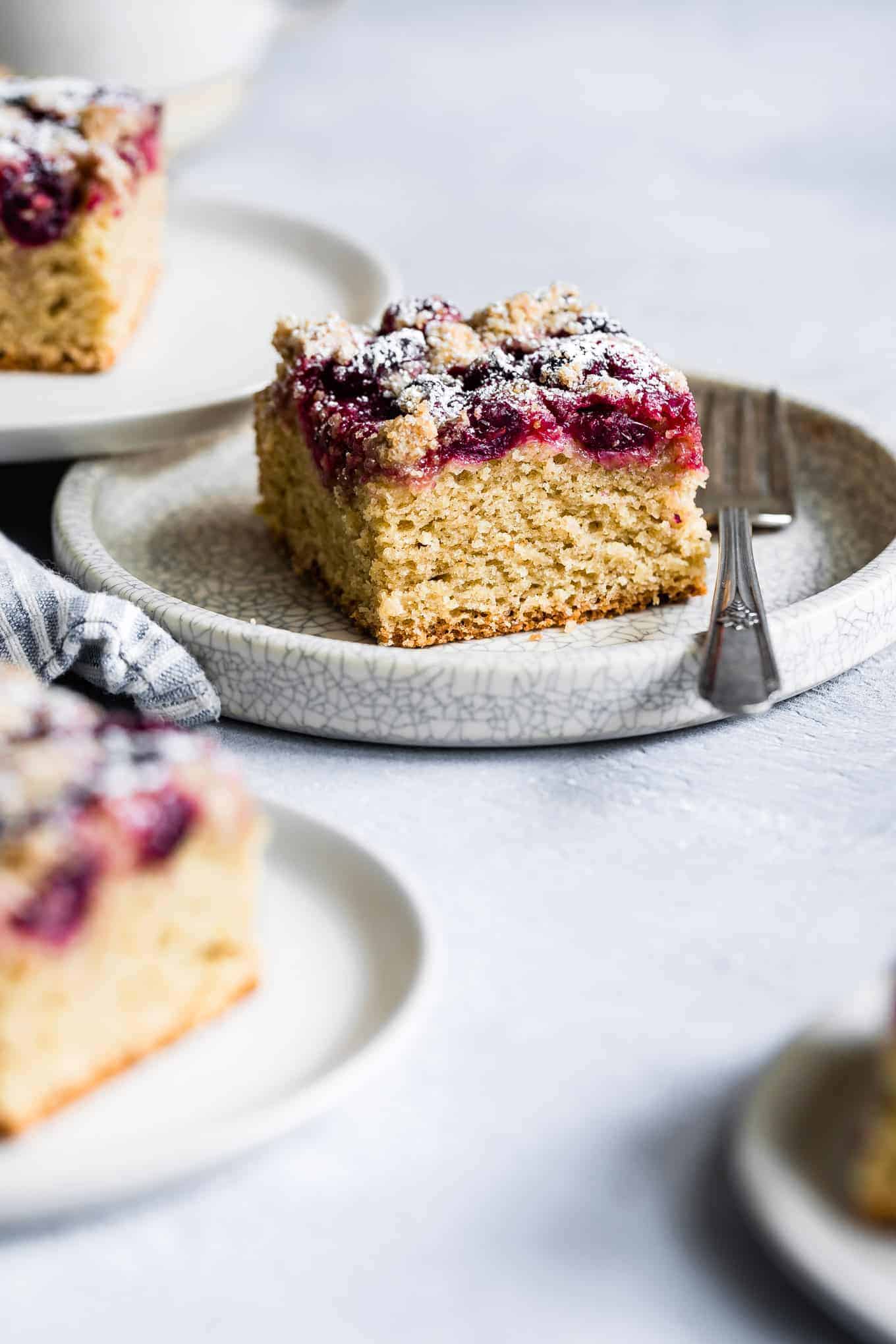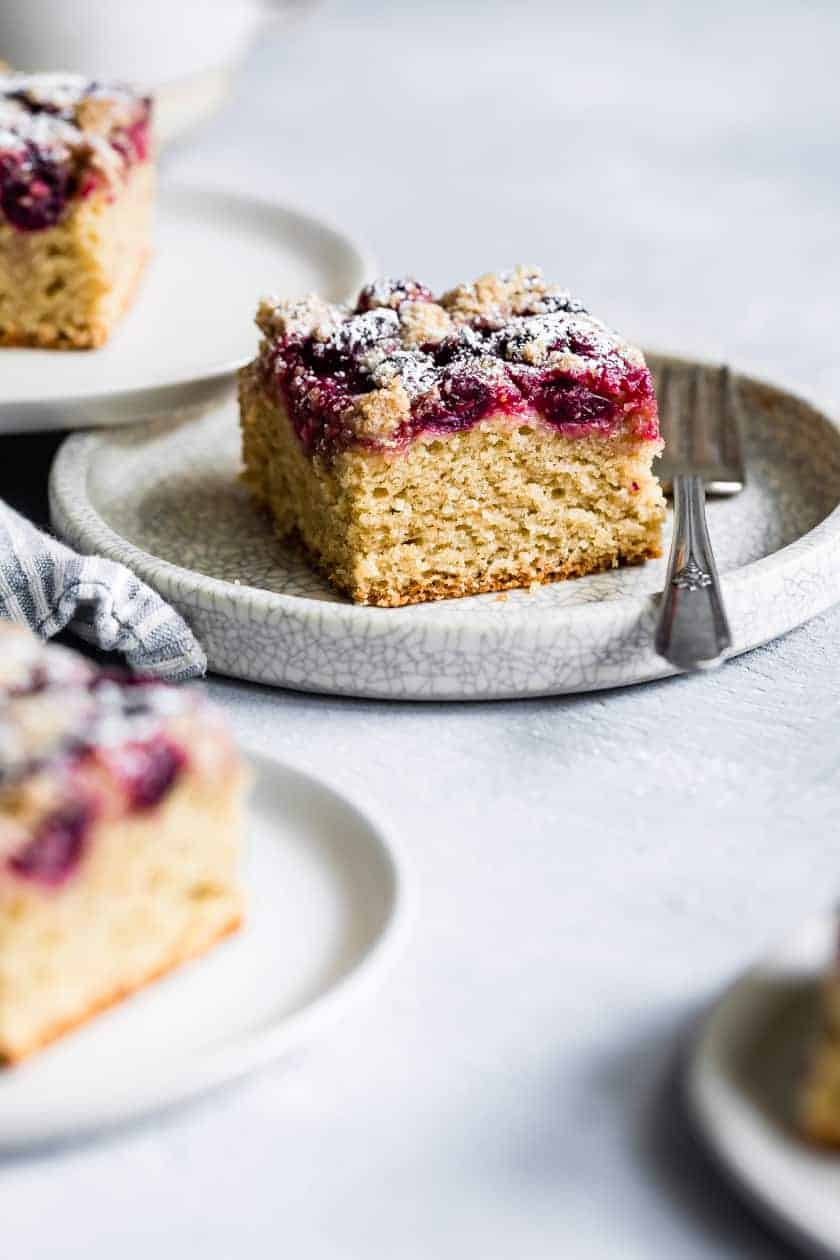 This is the first year Zoella has been really old enough to soak in all the magic of Christmas. Her face lights up with excitement with every new holiday adventure, and it brings the magic back for me now as an adult. So, I'm diving into the season, no holds barred. We've pulled out the Christmas books, painted homemade ornaments, decorated sugar cookies, and started a Christmas countdown calendar with tiny trinkets. I hear the ringing of bells in my ears even when there are none. Christmas joy is alive and well in our house.
Despite my best efforts to bring the holiday cheer, Zoella matter-of-factly informed us last week, "...But it's not Christmastime yet - because there's no snow."
We took her to a snow day in downtown Berkeley where they (the city? Santa?) had dumped a parking-lot full of snow. She made melty snowballs and left slightly more convinced that it was, in fact, Christmastime.
We may not ever see a white Christmas outside our house, but we do have a snowy dusting of powdered sugar on our holiday treats. The dusting of powdered sugar atop this cranberry cardamom gluten-free coffee cake is the pizzaz that dresses up the coffee cake into festive holiday territory. It's also my a small attempt to convince my toddler that it is, in fact, Christmastime.
Our snow is tastier and much less frigid - top that!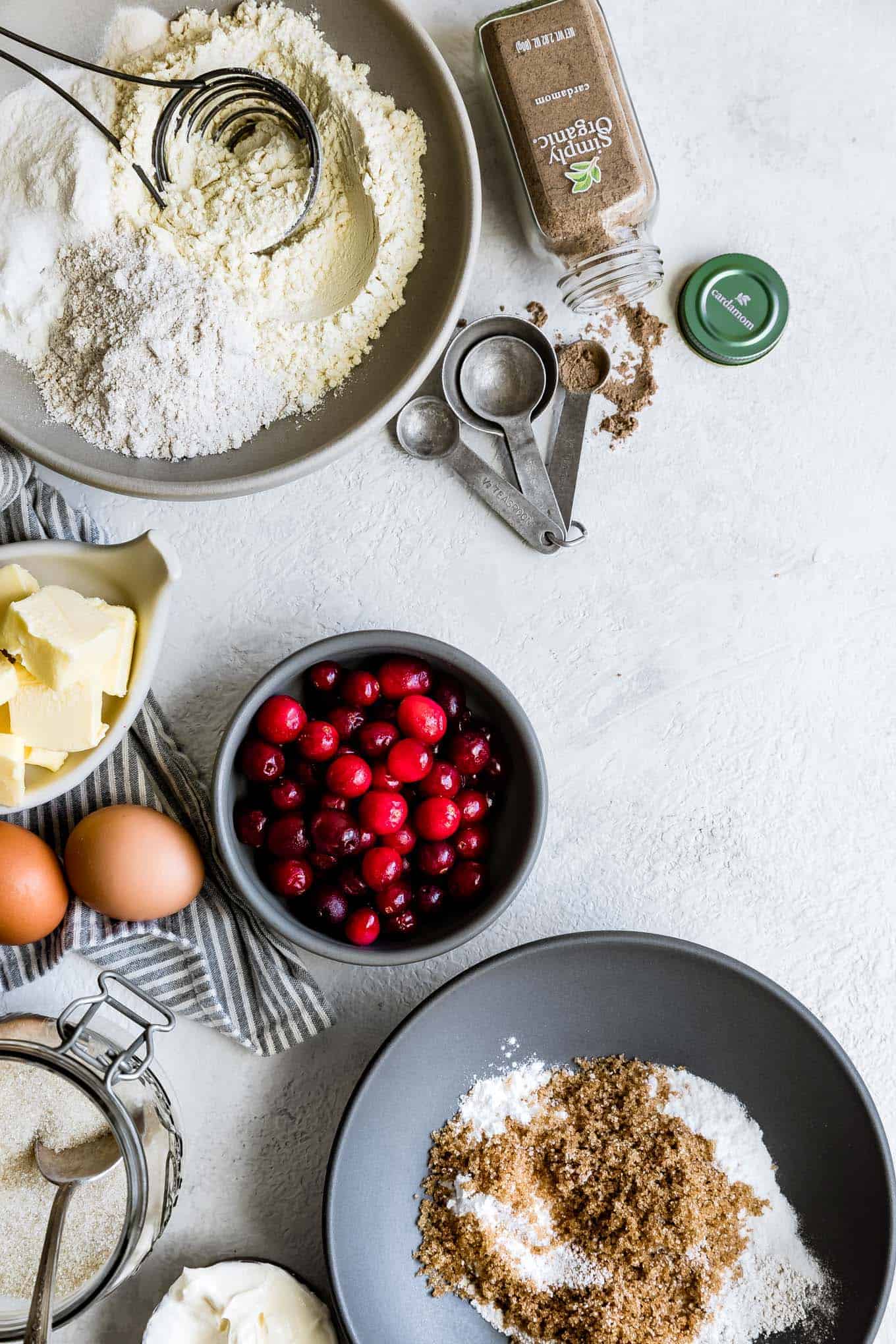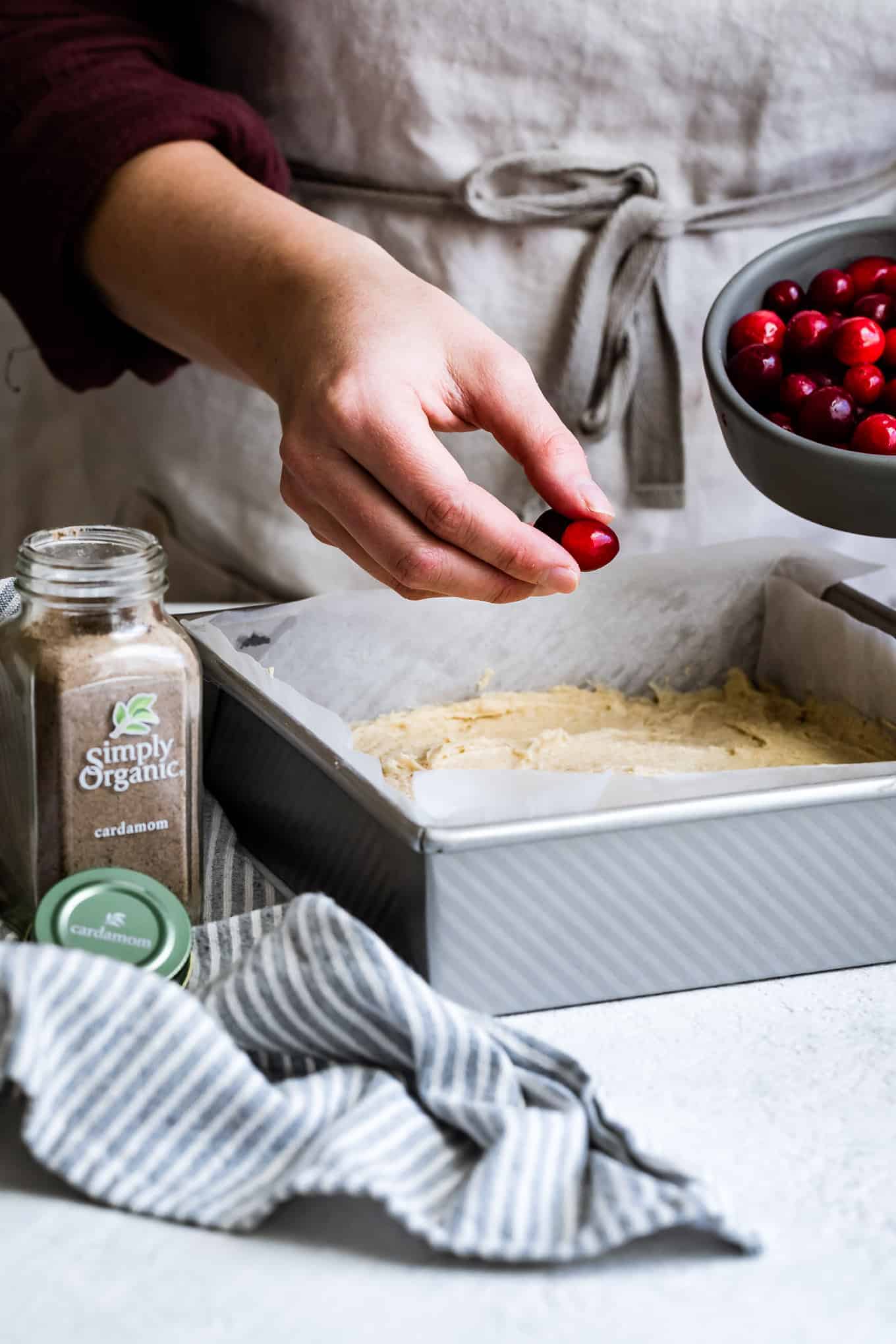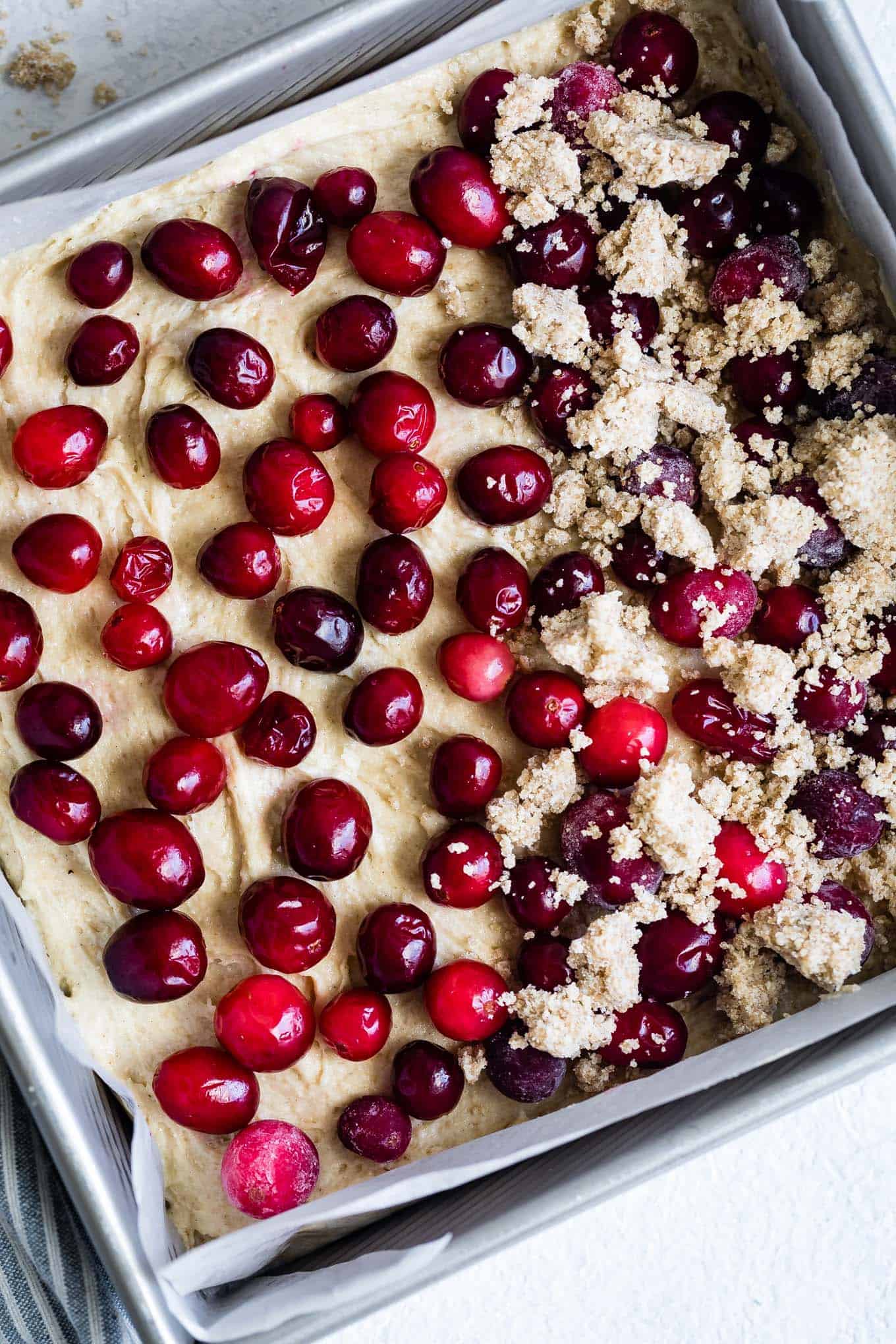 This snow-dusted cranberry cardamom gluten-free coffee cake recipe is a nod to the cranberry cake my mother-in-law made for her family every Christmas morning. Made in partnership with Simply Organic and The Feed Feed, it's is the second in a four-part series about the joy of cooking with organic herbs, spices, and extracts. First I made gluten-free pumpkin cinnamon rolls and today I'm sharing wintry cranberry crumb cake flavored with aromatic ground cardamom.
The cardamom-spiced cake base is tender and moist with a jammy tart cranberries busting on top and a crisp crumble layer. Best savored slowly with your favorite warm holiday drink.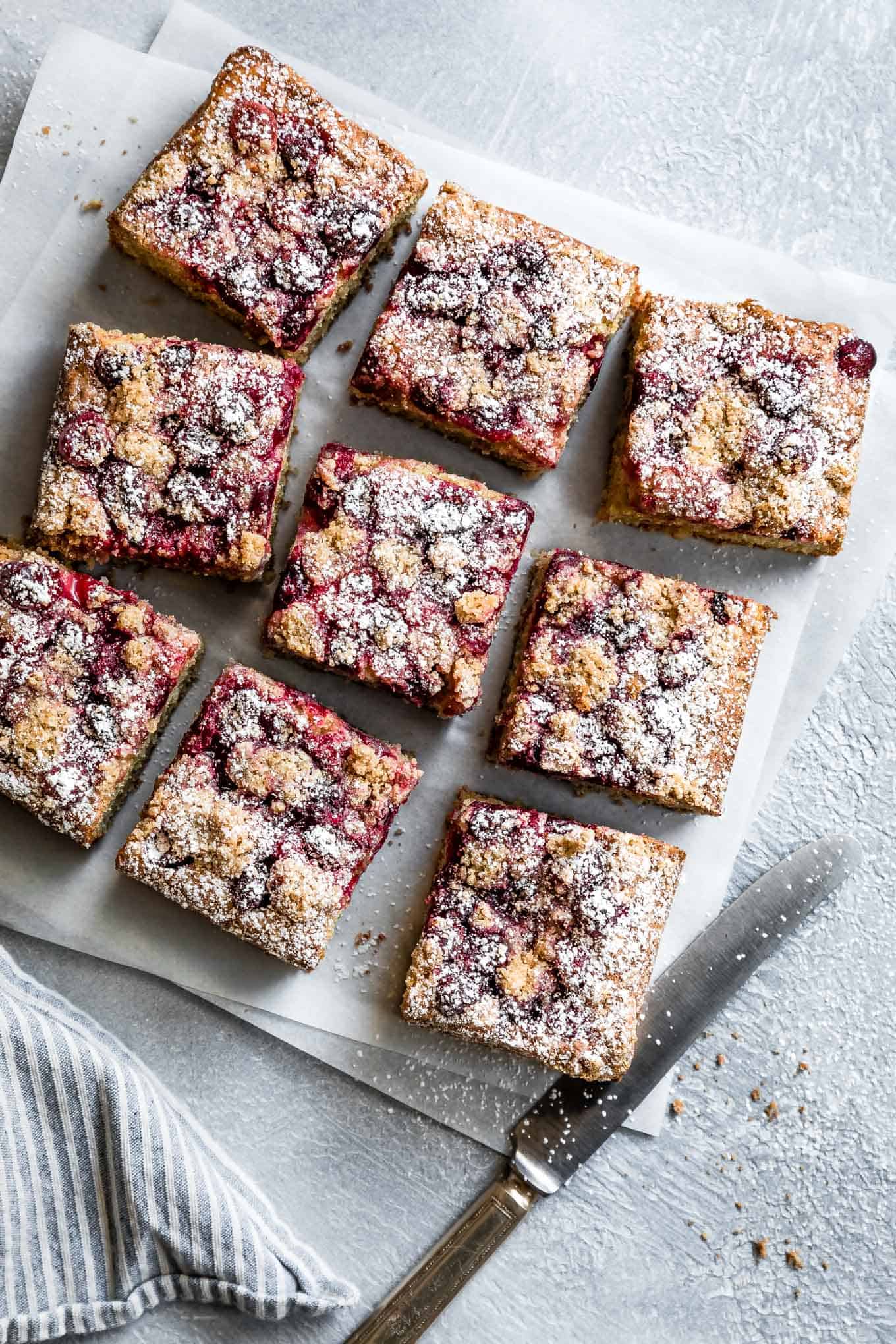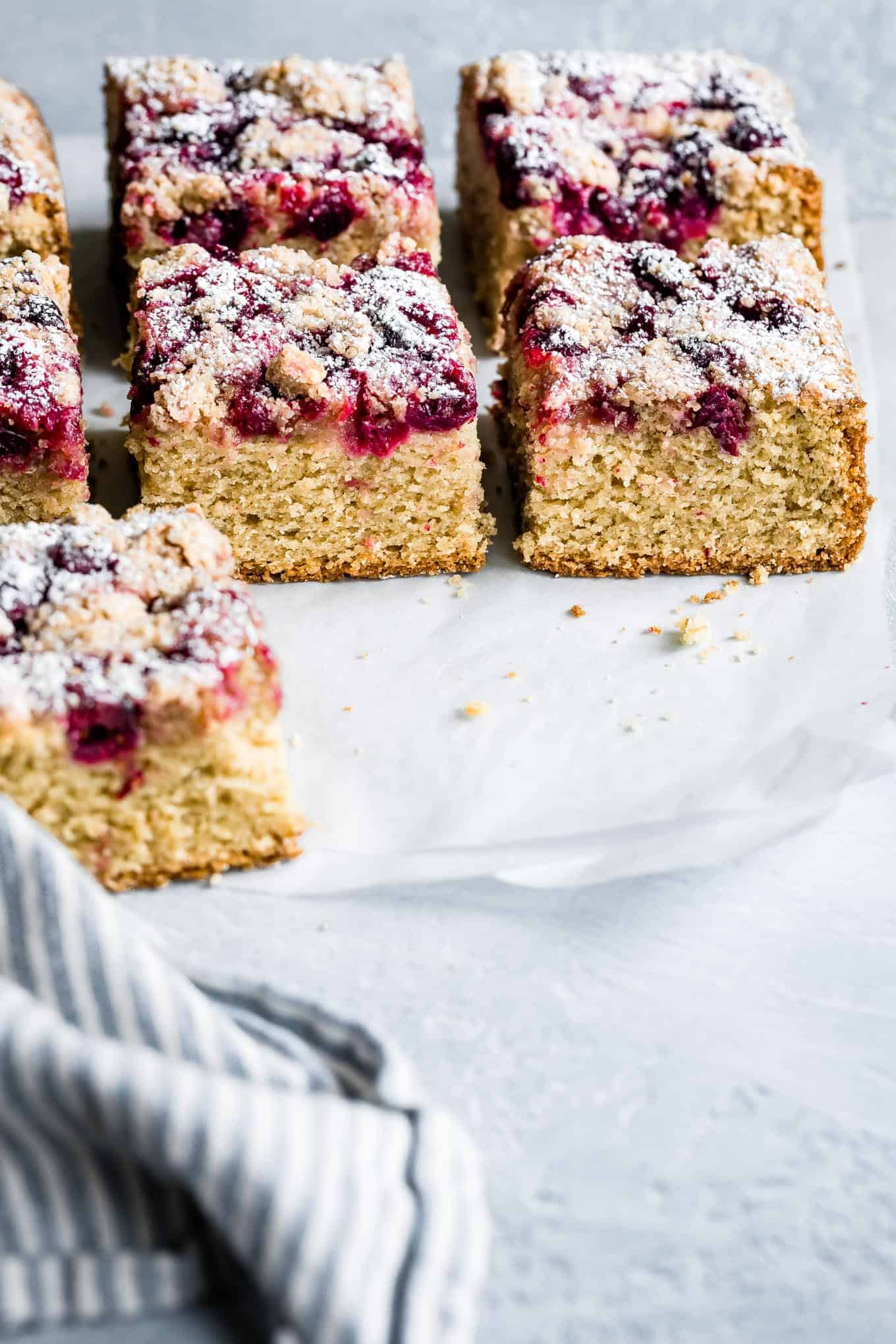 How to Bake a Moist and Chewy Gluten-Free Cake
This gluten-free coffee cake starts with my basic vanilla cake recipe (made as cupcakes here and as sheet cake here). Sweet rice flour binds the ingredients and gives it the chewy cake texture. Oat flour adds loftiness and a delicate whole grain cakey crumb. Millet flour balances those two characteristics out. As a trio, these three flours work to make sure the cake is moist - but not too moist - and cakey - but not too cakey.
I've swapped out the milk in my original gluten-free vanilla cake for sour cream to give it the classic coffee cake flavor. Sour cream creates a slightly richer and more dense cake. The fat in the sour cream makes a thicker batter that helps the cake bake up with just the right amount of moisture. This thicker batter is key because when the cranberries burst in the oven, they moisture to the batter.
Gluten-Free Cranberry Cardamom Cake Flavor
I love using dried spices to add interesting notes to my fall and winter cakes. Here I've added Simply Organic cardamom as a wintry fragrant spice that tastes warm and cozy against the earthy oat flour. You'll often find ground cardamom in traditional Swedish coffee cakes or desserts.
With ground cardamom, a little goes a long way. With both sweet and savory notes, cardamom pairs well with dessert. In this cake, its aromatics play in contrast the jammy sweet tart cranberries. Cardamom is all at once spicy, herbal, sweet, with notes of pine and citrus.
Cardamom goes nicely with a cup of coffee, a chai latte, or your favorite green tea, making it the perfect holiday morning coffee cake. Serve it with a scoop of vanilla ice cream or dollop of whipped cream for a festive holiday dessert.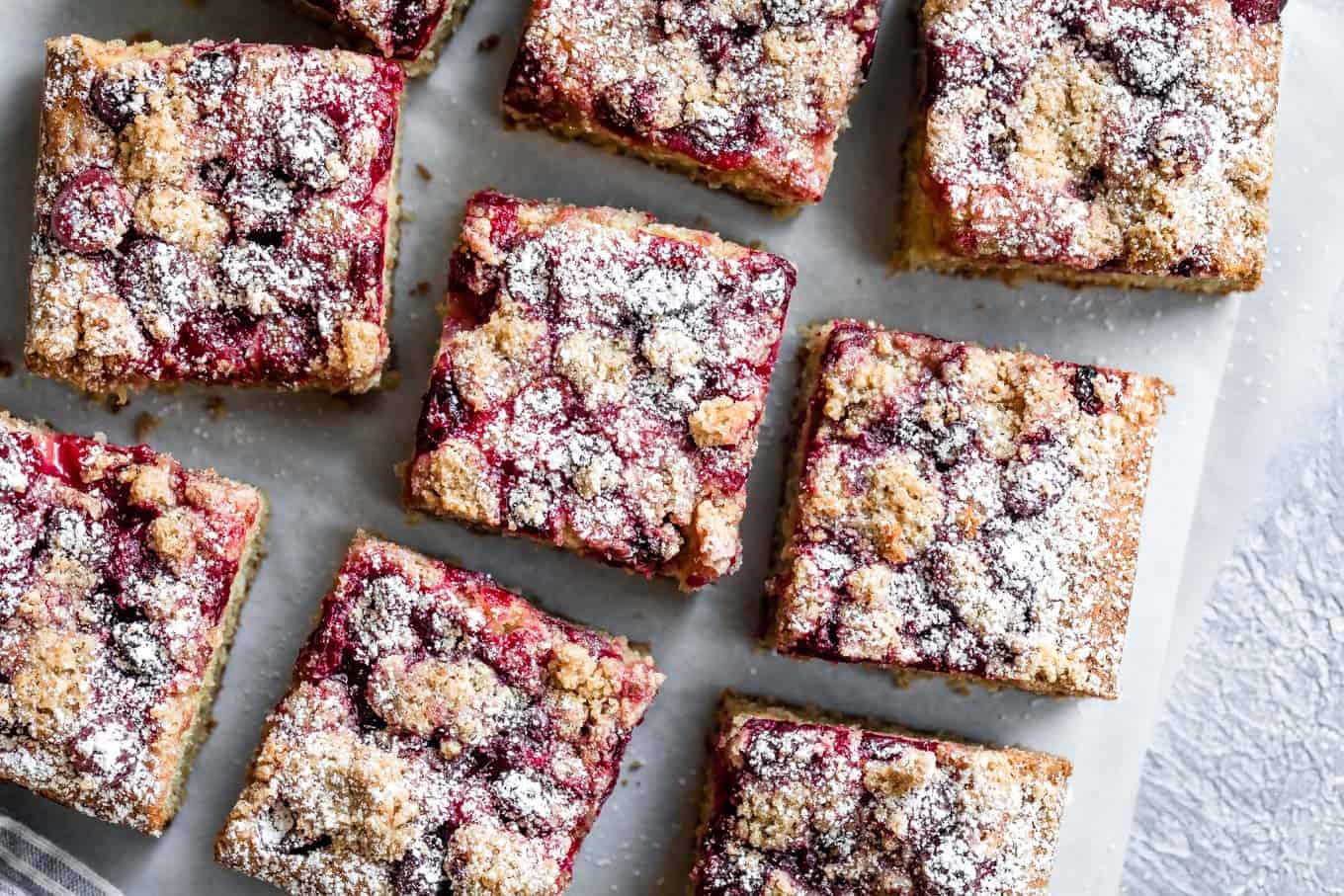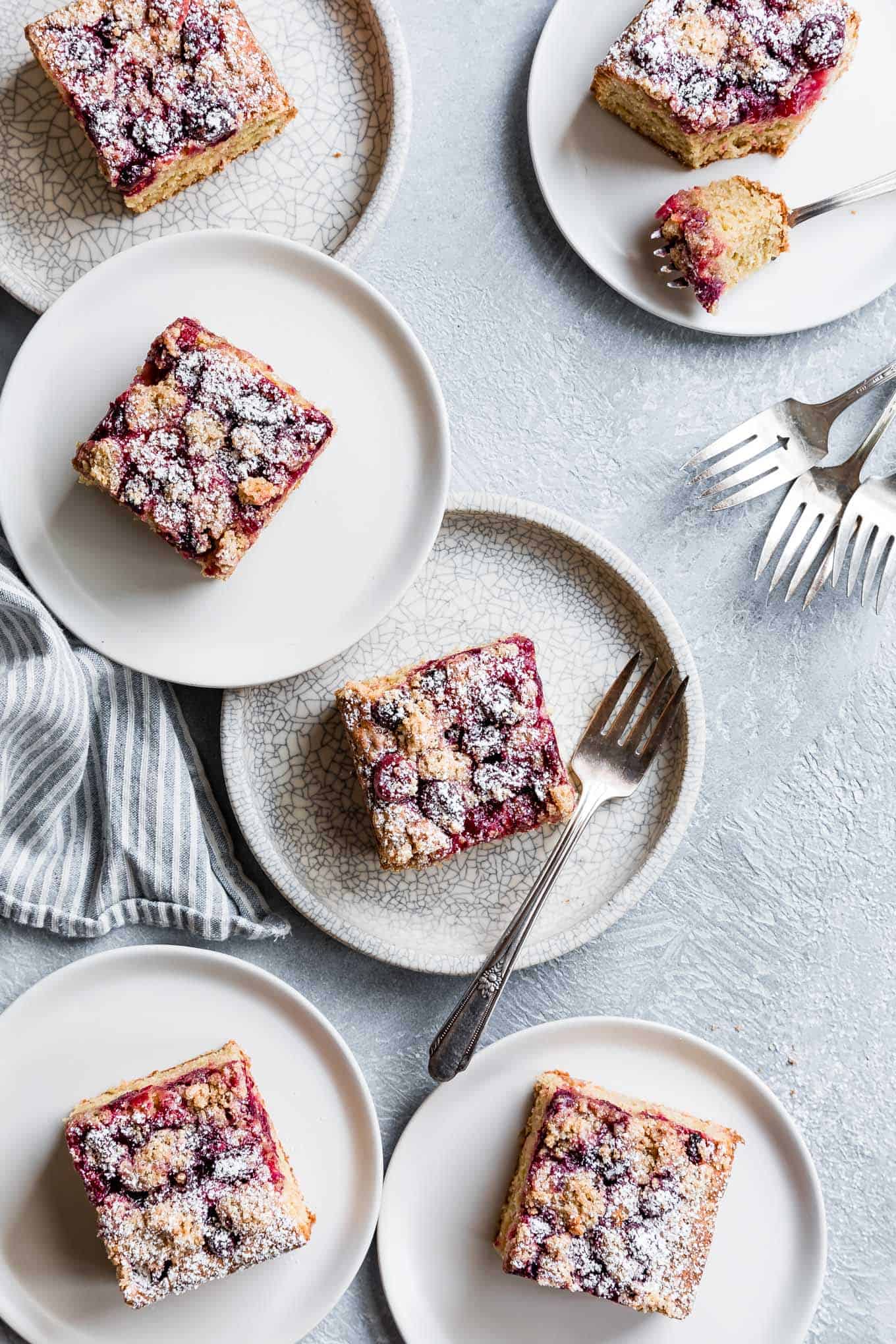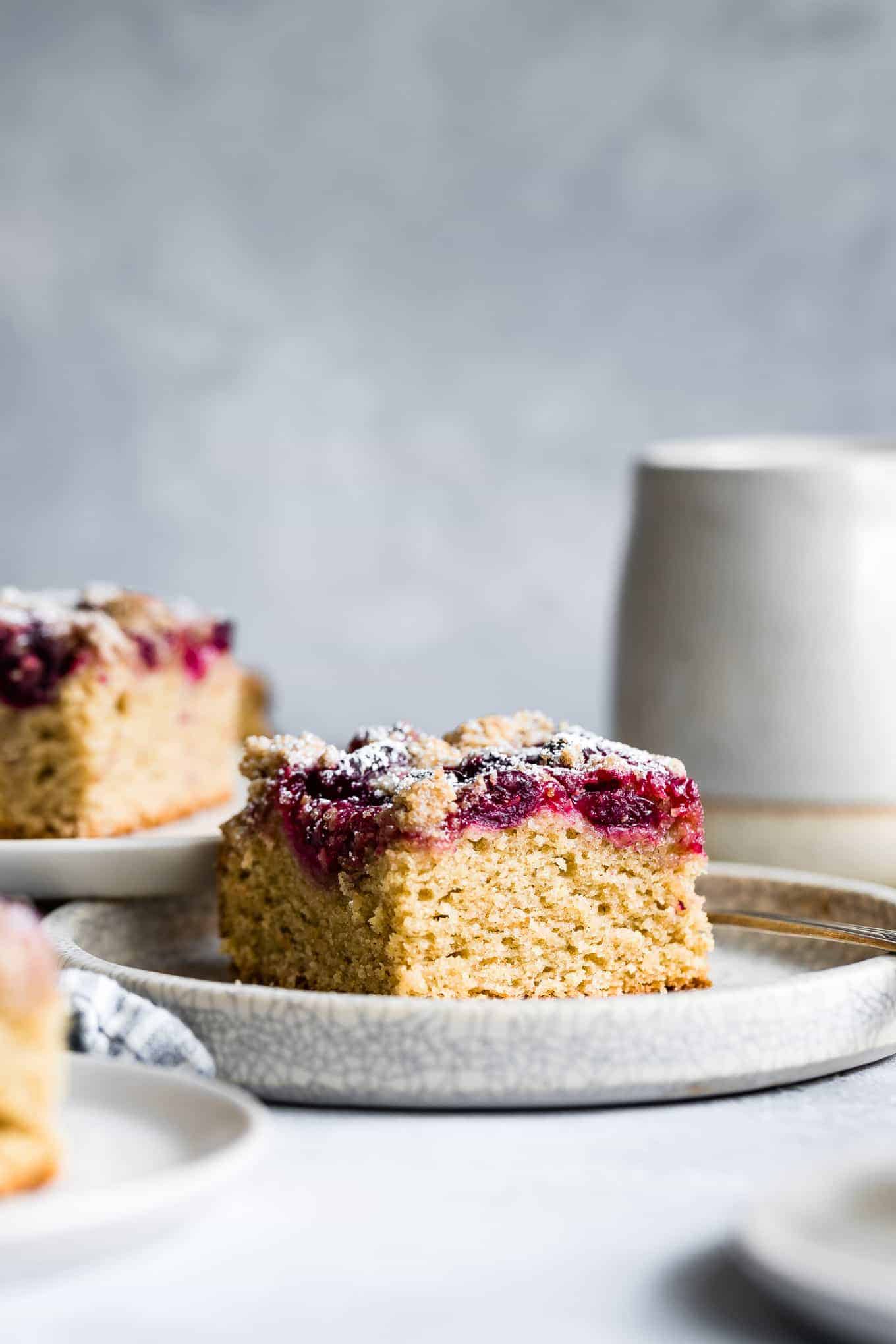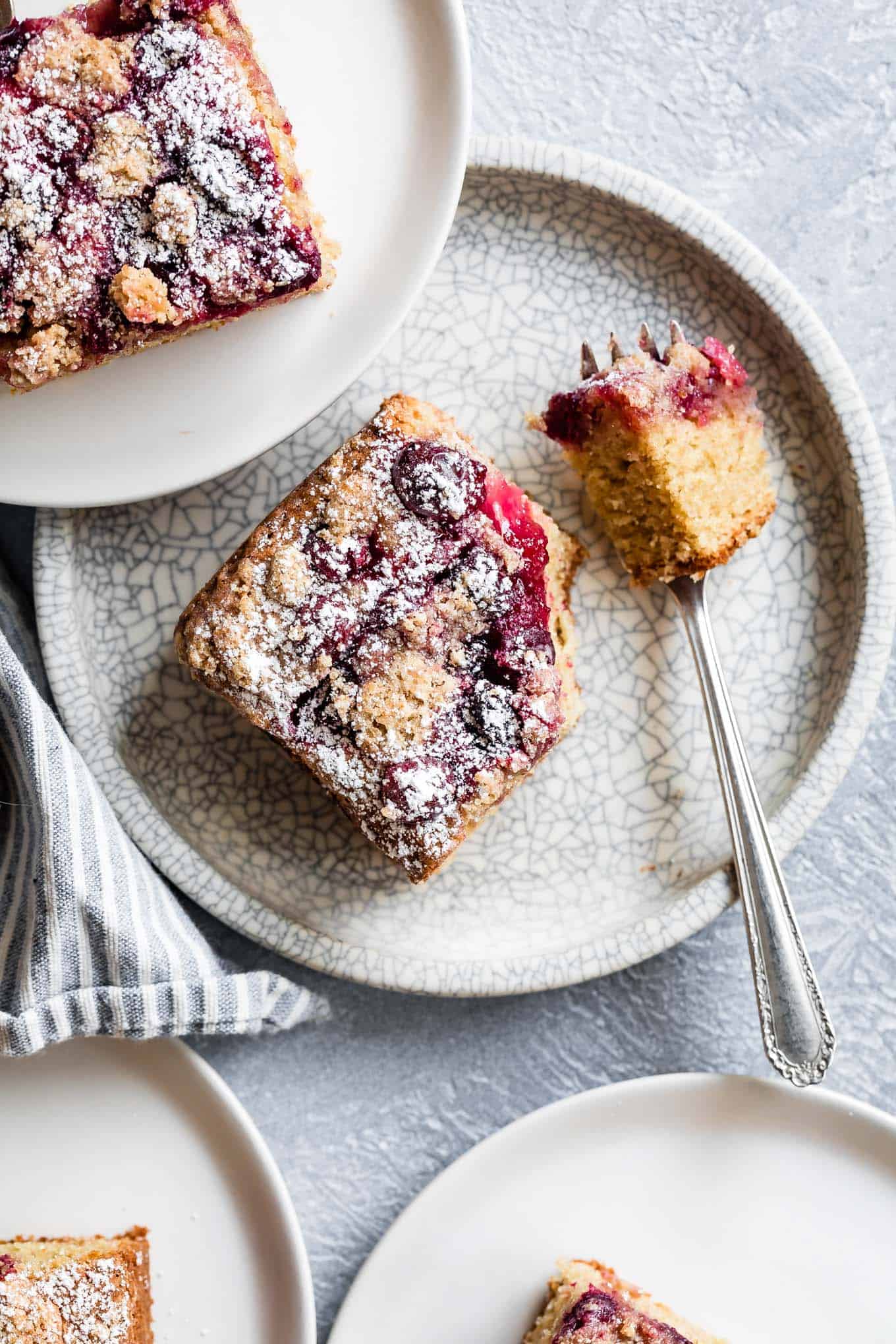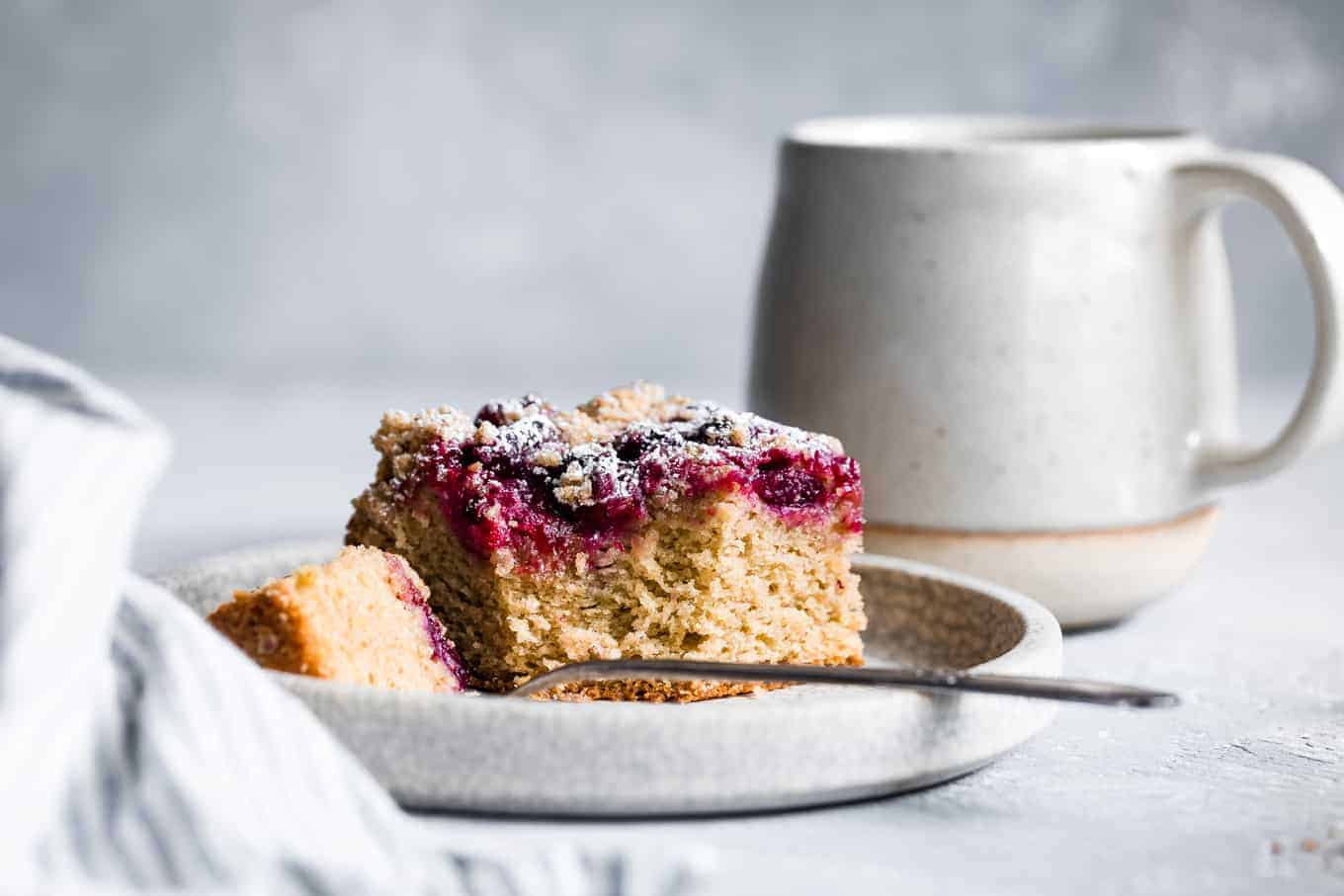 Cranberry Cardamom Cake Variations
You can use either fresh or frozen cranberries in this recipe, but you could also sub in another favorite fruit. Use fresh or frozen raspberries or blueberries (do not thaw them). Sauté chopped apples with spices. You can even leave the fruit off and go with a simple powder-sugar dusted cardamom coffee cake.
And if cardamom isn't your thing, that's okay too. Turn the cake into a traditional spice cake using Simply Organic cinnamon, ginger, nutmeg, and cloves. Better yet, you could even use their pumpkin spice blend for this! Alternatively, for a vanilla coffee cake add an extra teaspoon of vanilla extract and a bit of cinnamon to the crumble. Feel free to get creative and make this cranberry Christmas cake your own!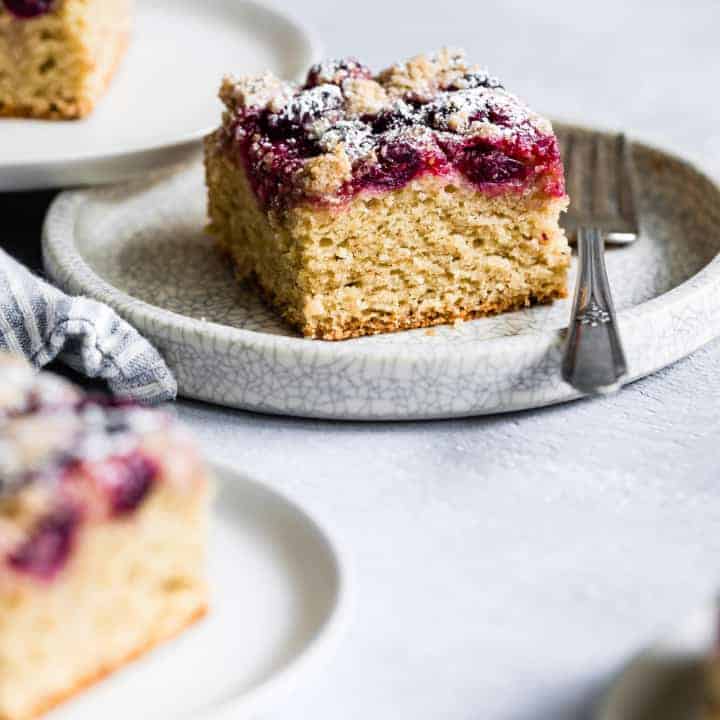 Cardamom Cranberry Gluten-Free Coffee Cake
Yield:
1 8x8 cake, 9-12 slices
Total Time:
1 hour
10 minutes
This sour cream gluten-free coffee cake recipe has a layer of jammy cranberries and a crispy crumb topping. Served with a cup of tea or coffee, this spiced cake makes the perfect cranberry Christmas cake. 
Ingredients
Gluten-Free Cardamom Cake
½ cup (81g) sweet rice flour or glutinous rice flour
½ cup + 1 tablespoon (68g) gluten-free oat flour
½ cup + 2½ tablespoons (95g) millet flour
1¼ teaspoon Simply Organic ground cardamom
½ teaspoon xanthan gum*
1½ teaspoon baking powder
½ teaspoon baking soda
½ teaspoon kosher salt
½ cup unsalted butter, room temperature
¾ cup (156g) granulated sugar
2 large eggs, room temperature
1 teaspoon vanilla extract
½ cup full-fat sour cream
Cranberry & Crumb Topping
1¼ cups (5.5oz) fresh or frozen cranberries (if frozen, thaw them then pat them dry as best you can with a paper towel)
2 tablespoons (15g) gluten-free oat flour
2 tablespoons (20g) sweet rice flour or glutinous rice flour
2 tablespoons (16g) tapioca flour
¼ cup (50g) packed light brown sugar
2 tablespoons unsalted butter, melted
1 tablespoon powdered sugar for dusting
Instructions
Preheat the oven to 350°F. Lightly grease and line an 8x8 baking pan with parchment paper. You can skip the greasing, but it just helps hold the parchment paper in place when spreading the thick batter.
In a medium bowl, sift together the sweet rice flour, oat flour, millet flour, ground cardamom, xanthan gum, baking soda, baking powder and salt. Set aside.
In the bowl of a stand mixer fitted with the paddle attachment or a bowl with a hand mixer, cream together the butter and sugar over medium speed until light and fluffy, about 3-5 minutes.
With the mixer on low-speed, add the eggs one at a time, mixing after each one.
Add the vanilla extract, mixing until just combined.
Keeping the speed on low, slowly add the dry ingredients in two batches, adding the sour cream in between, mixing until just combined. Your batter will be very thick.
Pour the batter into the prepared baking pan and use a rubber spatula to spread it into an even layer.
Sprinkle the cranberries evenly over the top.
In a separate medium bowl, make the crumb topping. Mix the oat flour, sweet rice flour, tapioca flour, light brown sugar, and ground cardamom together. Add the melted butter and mix until it comes together when pinched with your fingers.
Top the cranberries with the crumb topping, creating some small and some large crumbles by pinching the crumbs together.
Bake for 45-55 minutes until the edges of the cake springs back when pressed and a toothpick comes out dry or with a few moist crumbs.
Remove from oven and let cool for at least 10 minutes in the pan. Use the parchment paper to lift the cake out of the pan to a cooling rack to cool.
Once cool to the touch, use a sifter to sprinkle powdered sugar over the top, cut into 9 slices and serve.
Notes
*You can leave out the xanthan gum if needed, but the result is a slightly gummier more dense cupcake.