Easy gluten-free vanilla raspberry cake with raspberry cream cheese frosting and raspberry dust on top. Made in a 9x13 baking pan, this sheet cake is the perfect dessert to serve a crowd this summer!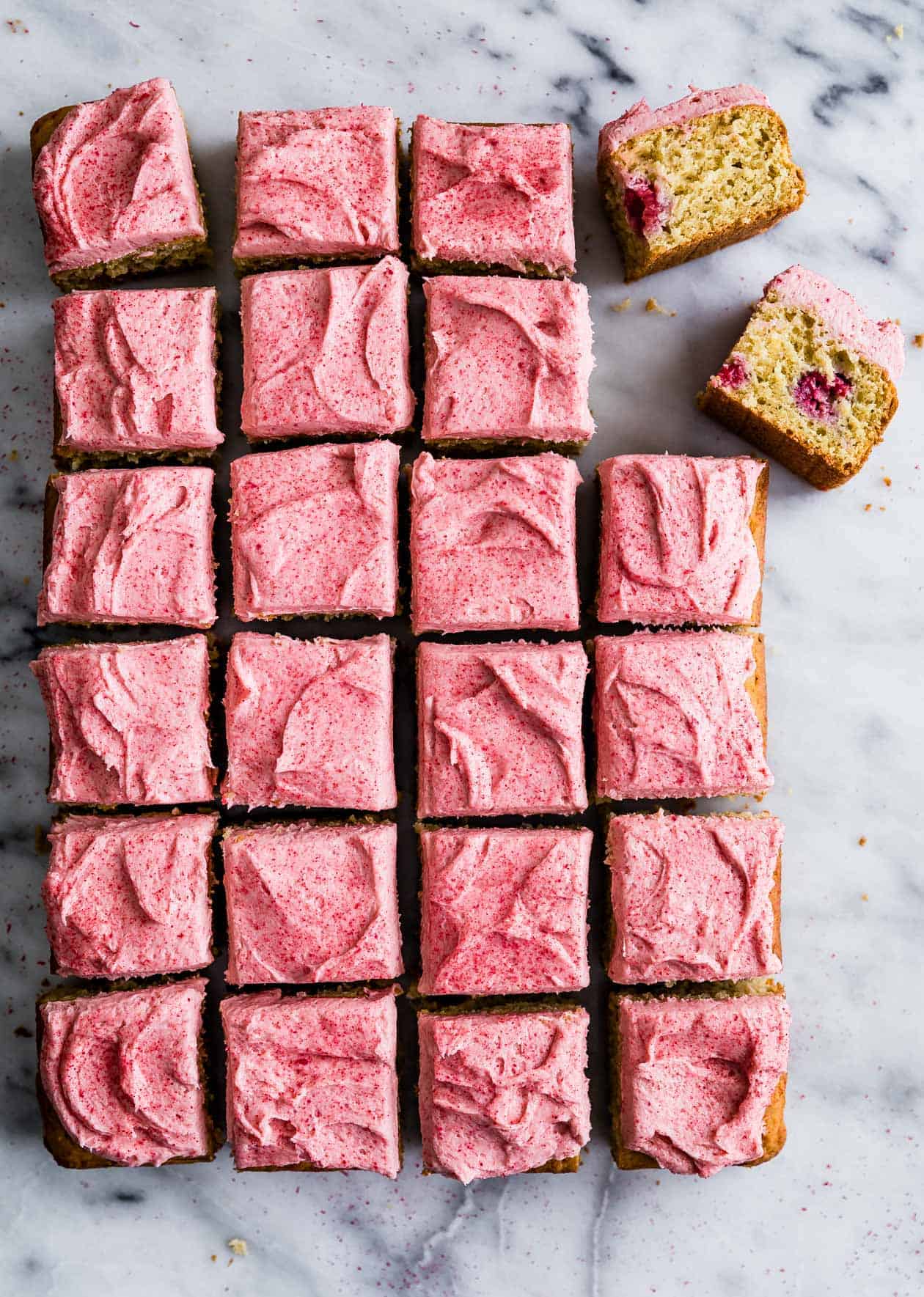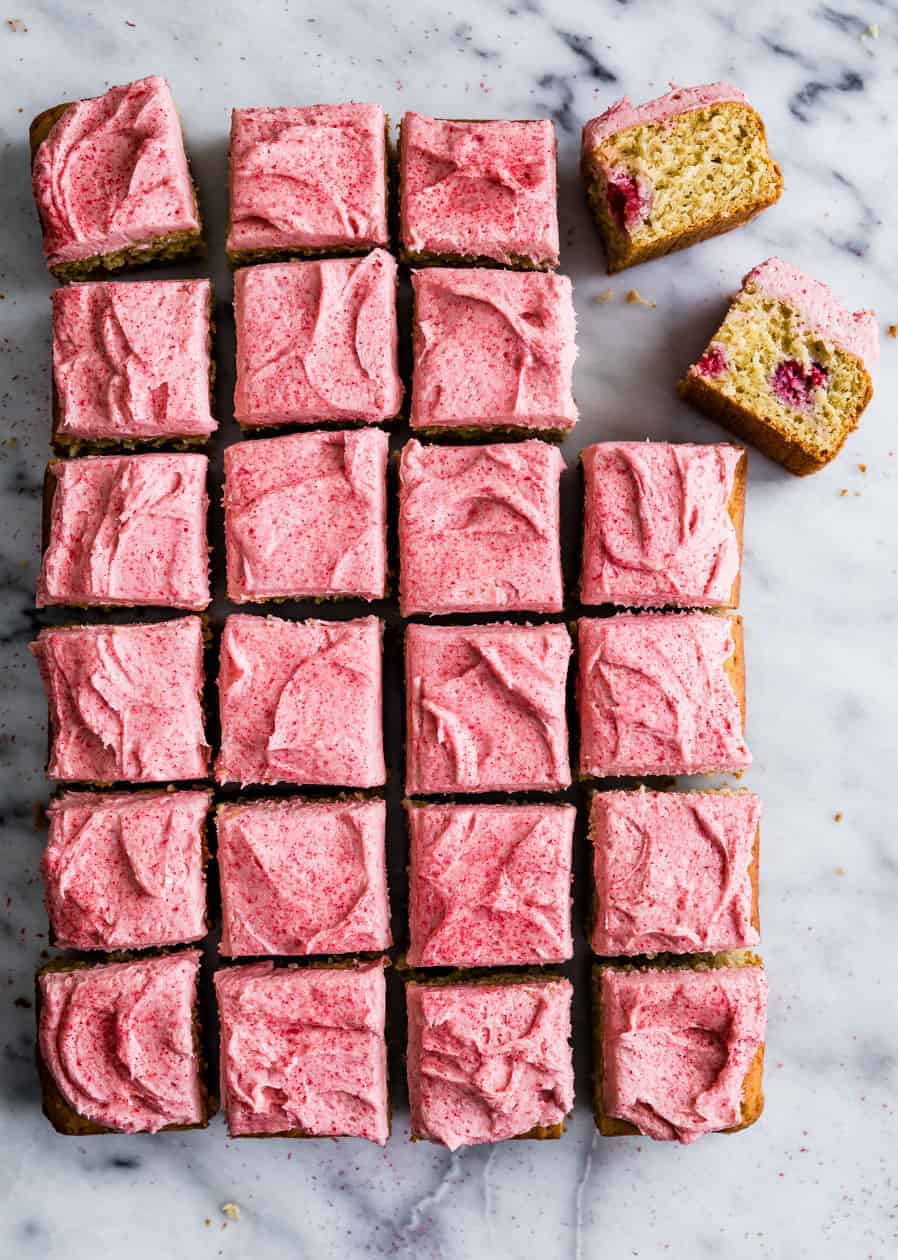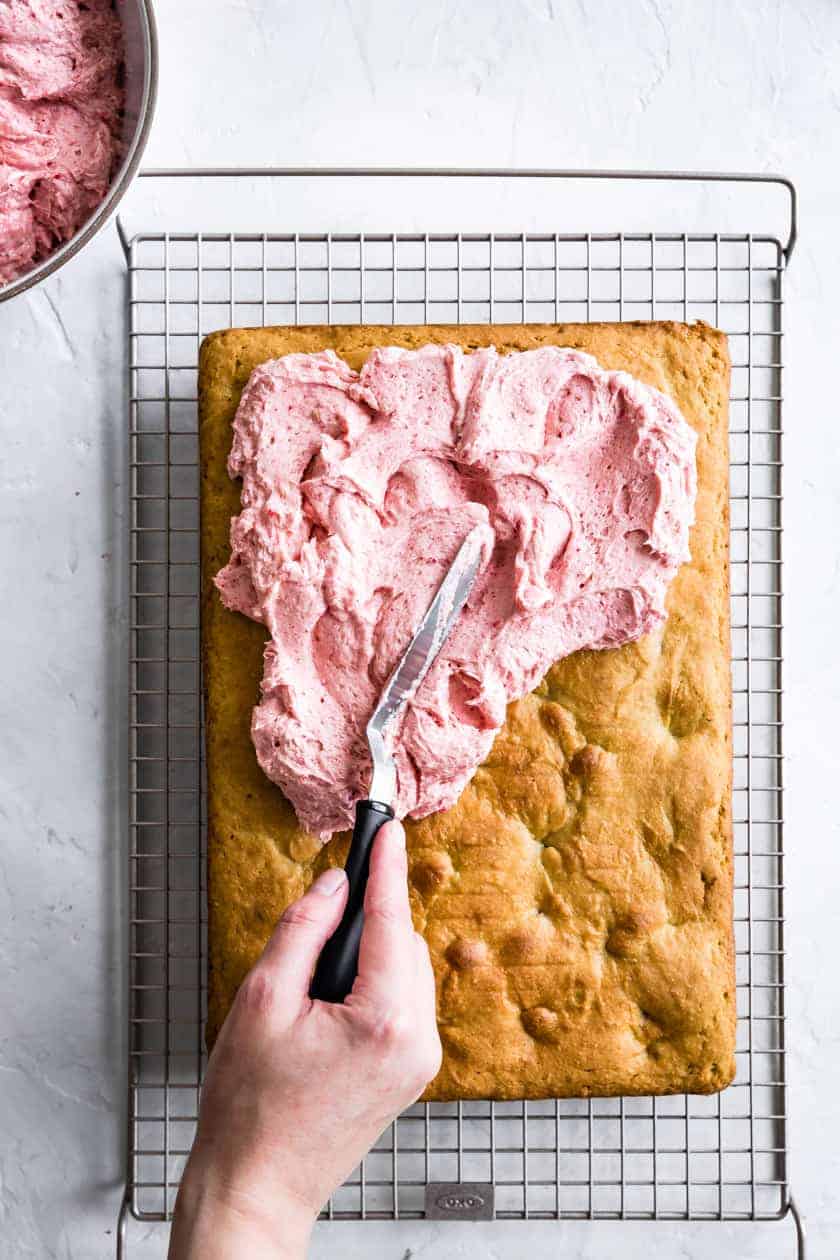 This crowd-pleasing gluten-free vanilla raspberry cake will be joining all my summer potlucks, gatherings, and cake-eating occasions. Relatedly: Is "Friday" a cake-eating occasion? Do my husband and I binge-eating cake in front of the TV with our cats count as a crowd? I think yes and yes.
I've swirled raspberry frosting over this vanilla raspberry sheet cake for my second recipe in a three-part series to show off how I use OXO's kitchen tools all the time. Last month, we had gluten-free strawberry balsamic & thyme galettes and now we're diving (literally) right into raspberry season and this gluten-free vanilla raspberry cake with raspberry frosting.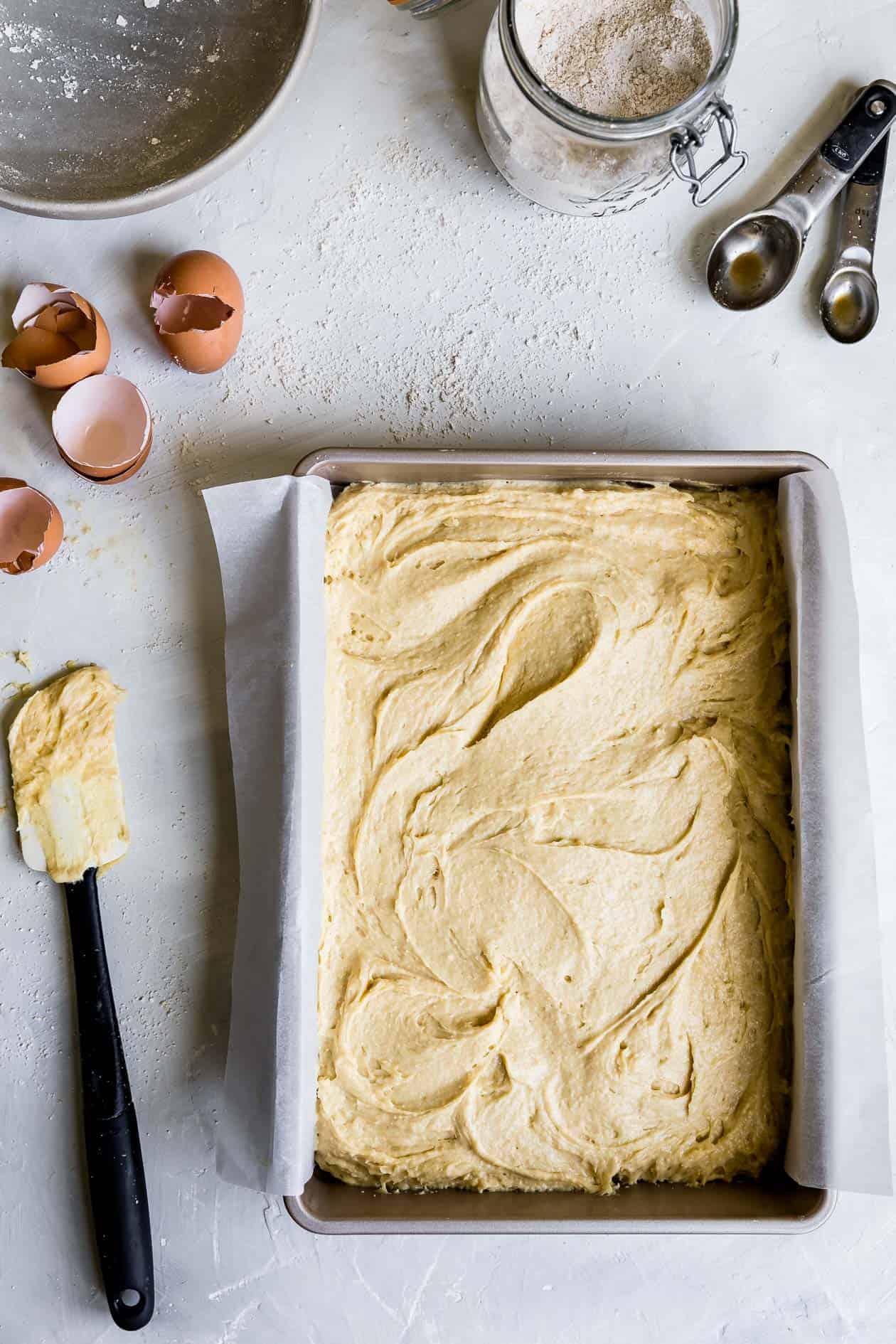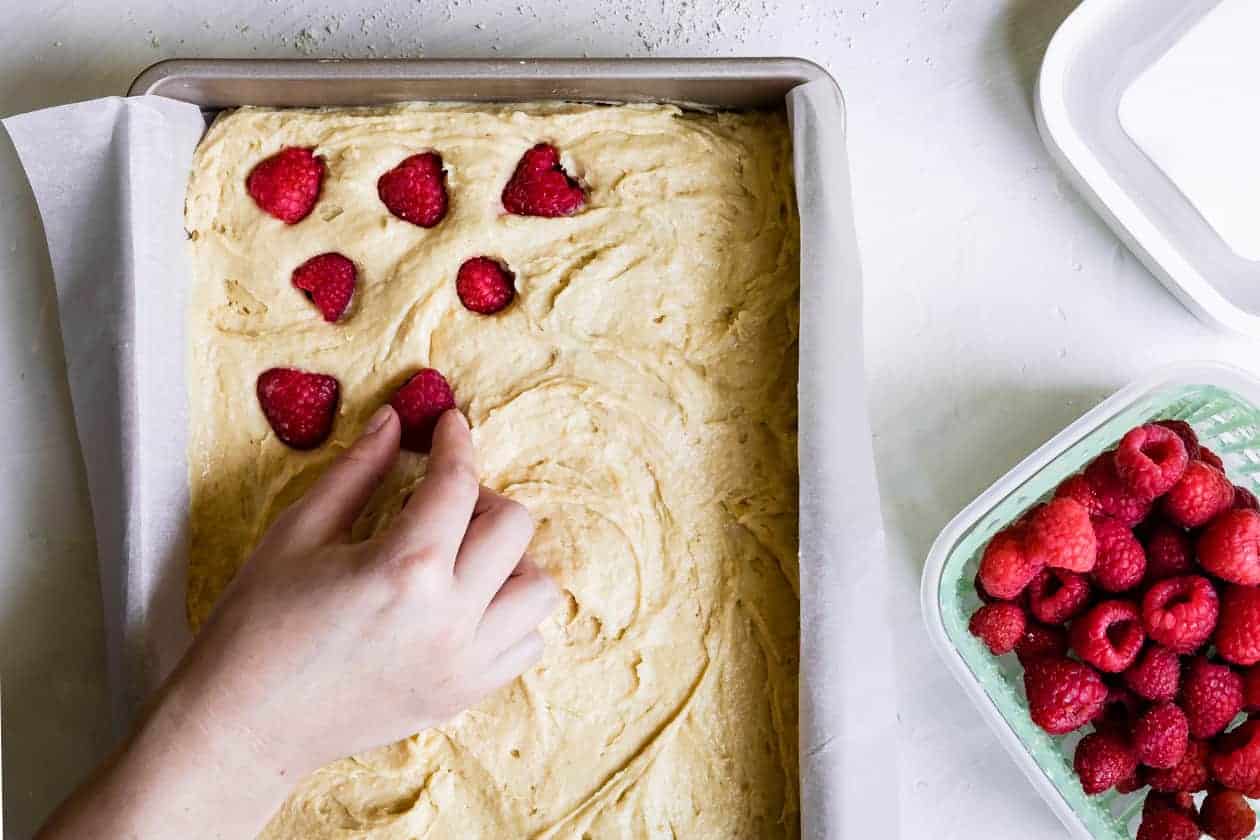 When I first made this raspberry cake a few weeks ago, I loaded up a plate of cake to deliver to my neighbor Nancy that night. I walked up her five porch steps, and, in the dark, caught my toe on her ever-so-slightly-askew doormat, taking an impressive dive that flipped the cake plate splat onto the mat. My knees took the brunt of the fall, followed by my hands and oversized baby bump.
This happened just hours after my OB told me that, now in the third trimester, my balance might be off, and, if I fall on my belly, I need to come in. Only now it was midnight and the office was closed, so I spent the next 4 hours in labor & delivery at the urging of the advice nurse while they monitored #cheesebabyboy just to be safe. My knee swelled up to the size of a softball, but the little dude is completely fine - I write as I watch him somersault his bum across my belly. The plate of cake, on the other hand, did not survive the crushing fall. Fortunately a sheet cake makes plenty enough for a new serving.
The next time I made the raspberry cake and offered to bring slices over, Nancy insisted she come get it. I can't be trusted on stairs anymore. Or with cake, for that matter.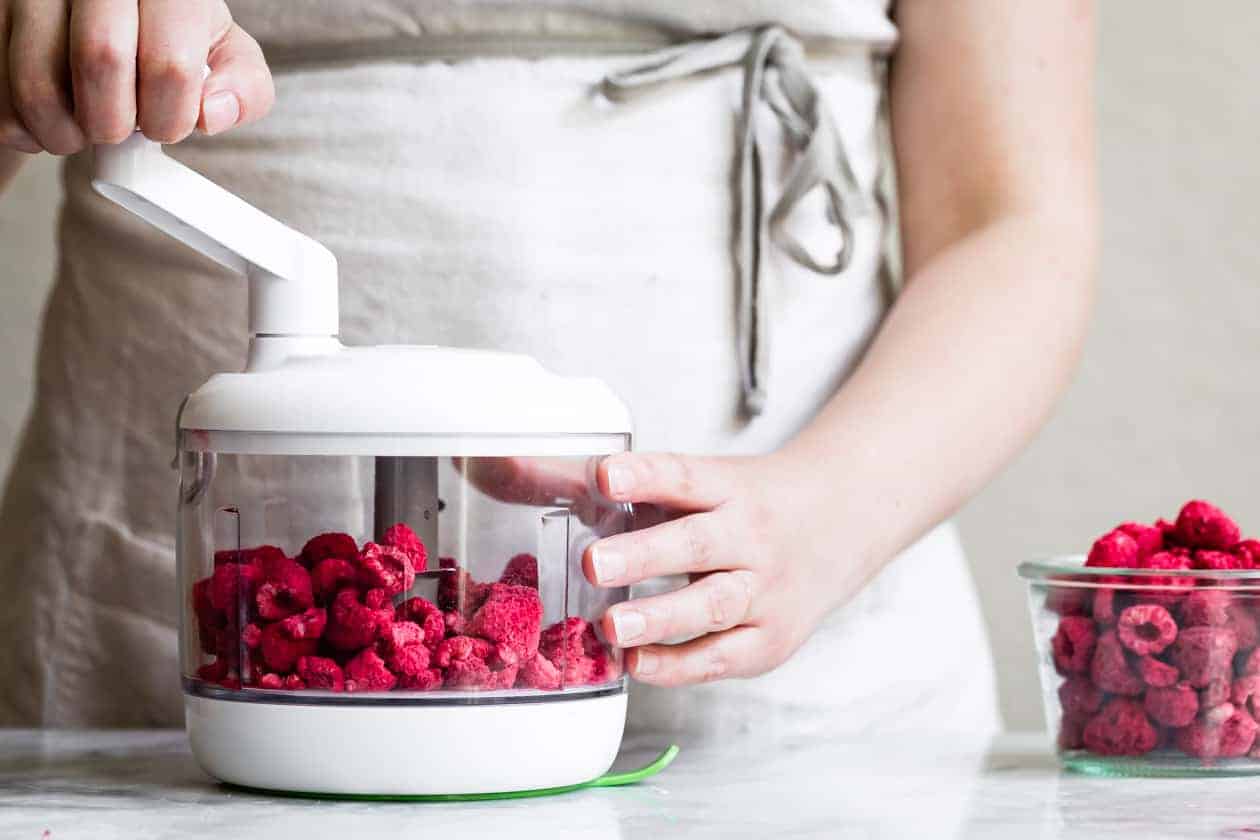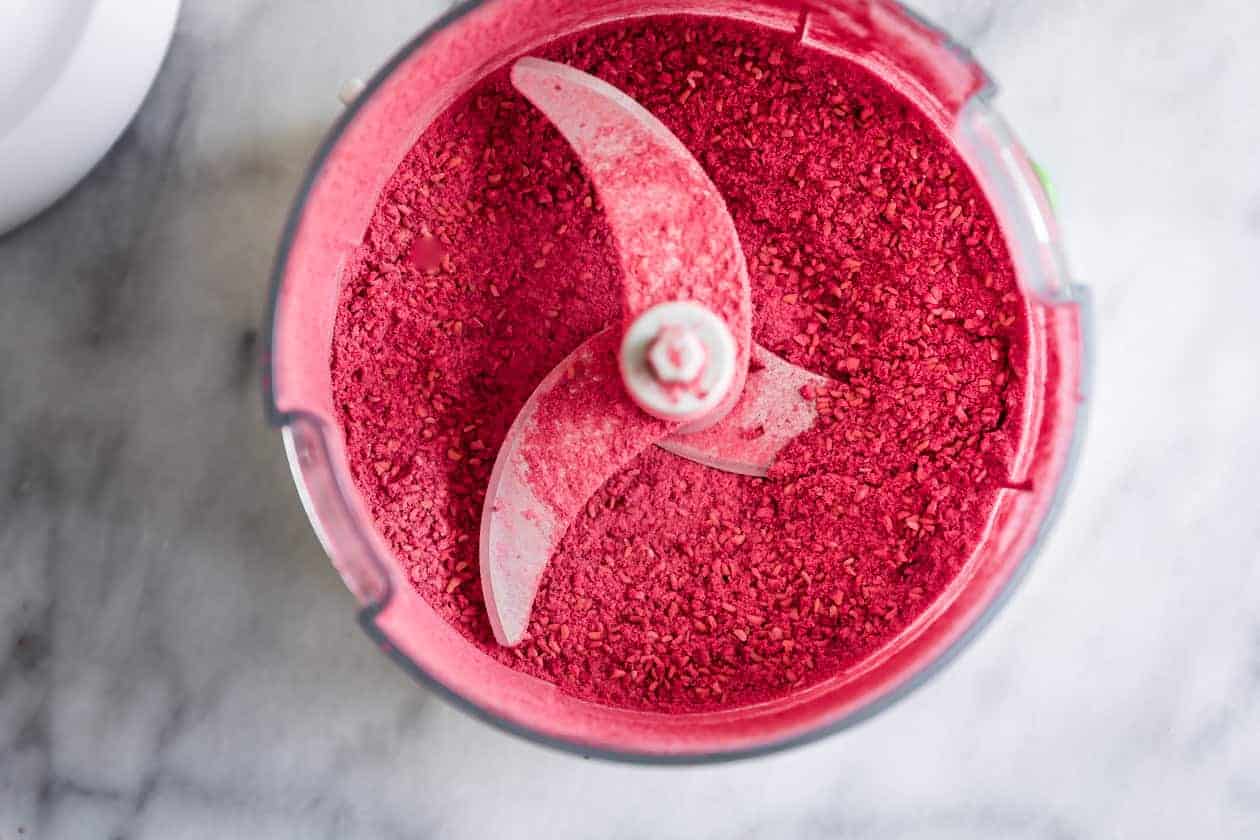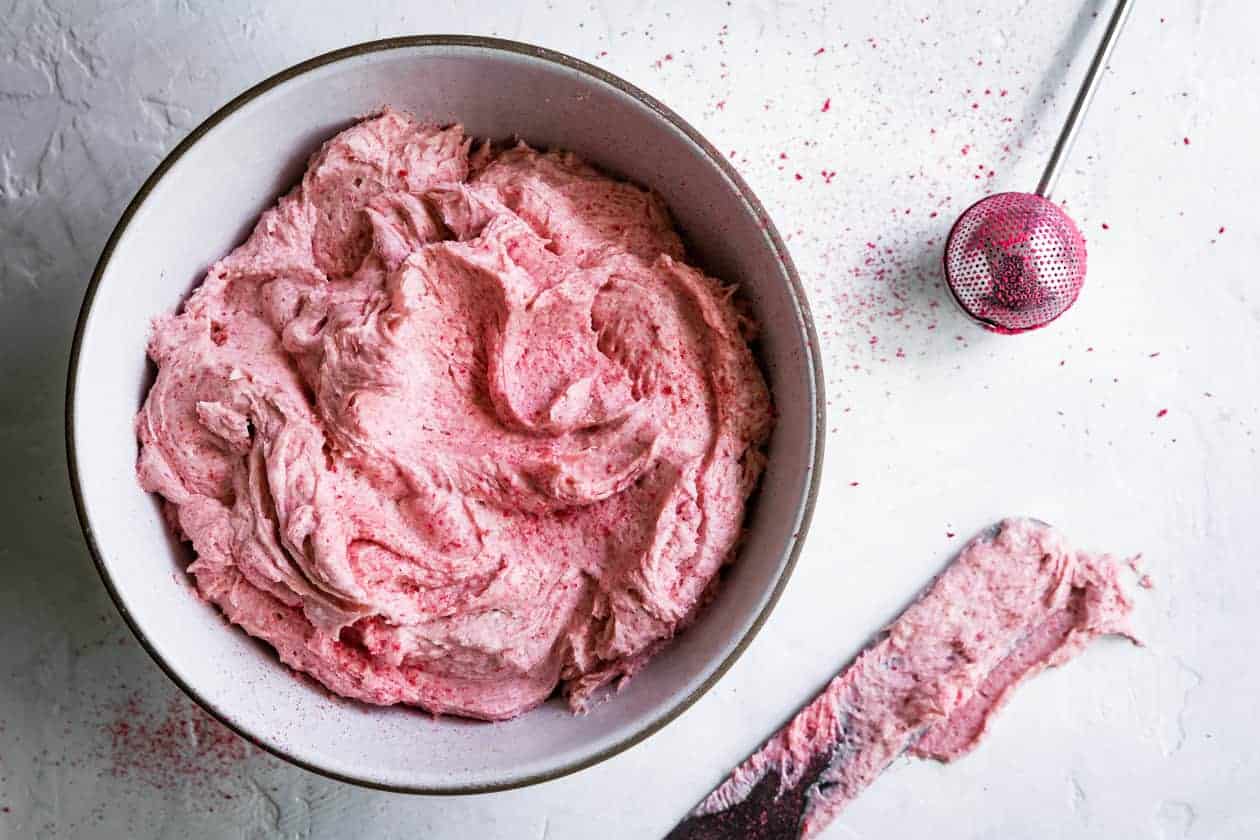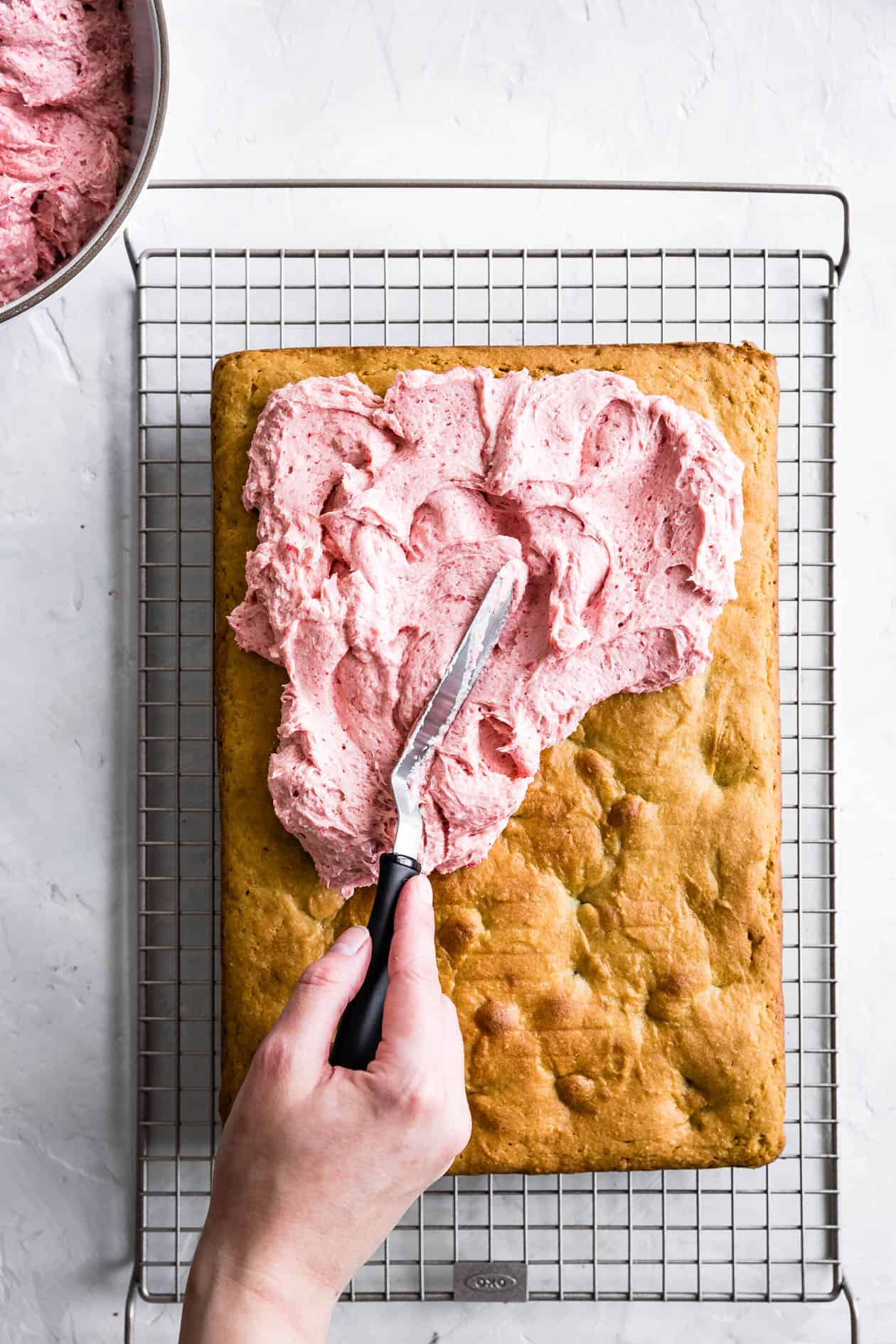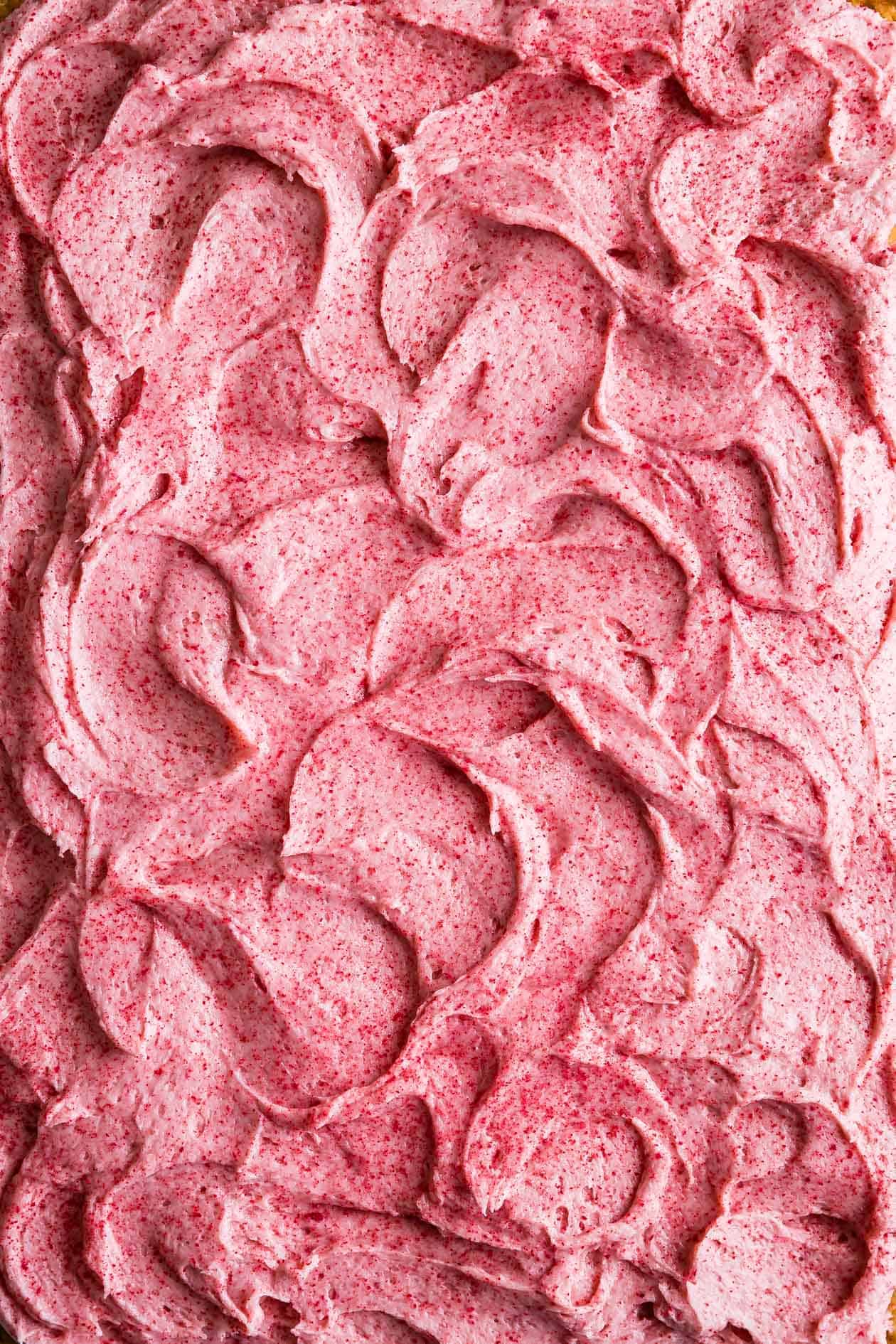 Normally, I turn to cupcakes when serving a crowd because, in my opinion, they're much quicker and easier than a layer cake, and something about them gives off a less formal impression. Until now, I've not given the sheet cake enough attention though. Baked in a 9x13 cake pan, it's a stunning showpiece cake with a similar carefree crowd-serving vibe that whips up even faster.
This no-fuss vanilla sheet cake has a moist delicate crumb studded with bright fresh raspberries and is swirled with a sweet tangy raspberry cream cheese frosting. It's my summer anthem cake for flavor and its pretty-in-pink cloak.
The secret to this raspberry frosting is folding powdered freeze-dried raspberries into the frosting for intense fresh flavor and color without using extracts or having to combat the liquid content of fresh raspberries. OXO's new one stop chop manual food processor is the perfect tool to powder the freeze-dried raspberries. In the past, I've used my beast of a food processor for this task, then endlessly complained about cleaning the whole thing for such a tiny job. The manual food processor is small, light, and super easy to clean (even dishwasher safe!), making it ideal for small tasks like chopping nuts, easy dressing or sauce, and raspberry dust.
For a little extra magic, I sprinkle the whole cake with a poof of raspberry dust using my most-used secret weapon for decorative desserts: my dusting wand. I use this little tool for everything from dusting powdered sugar to turmeric to matcha to powdered raspberries over cake.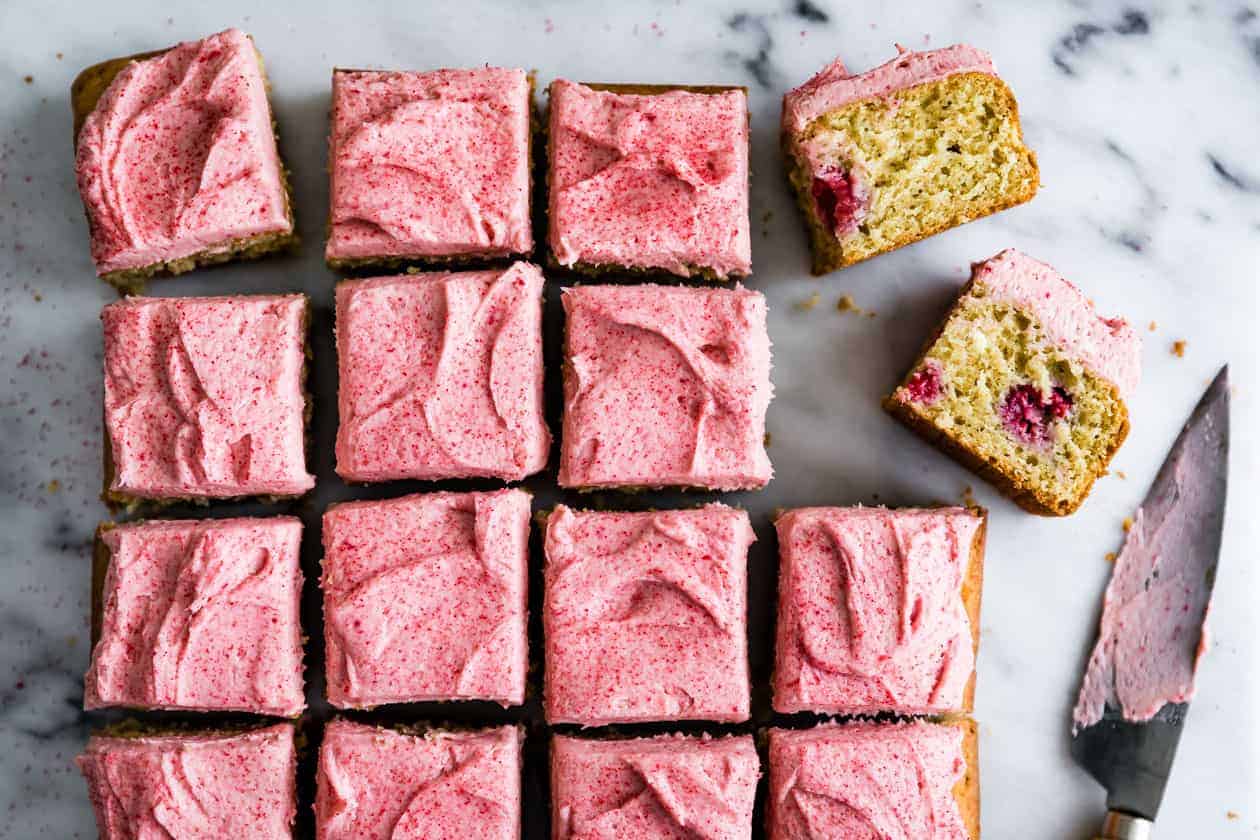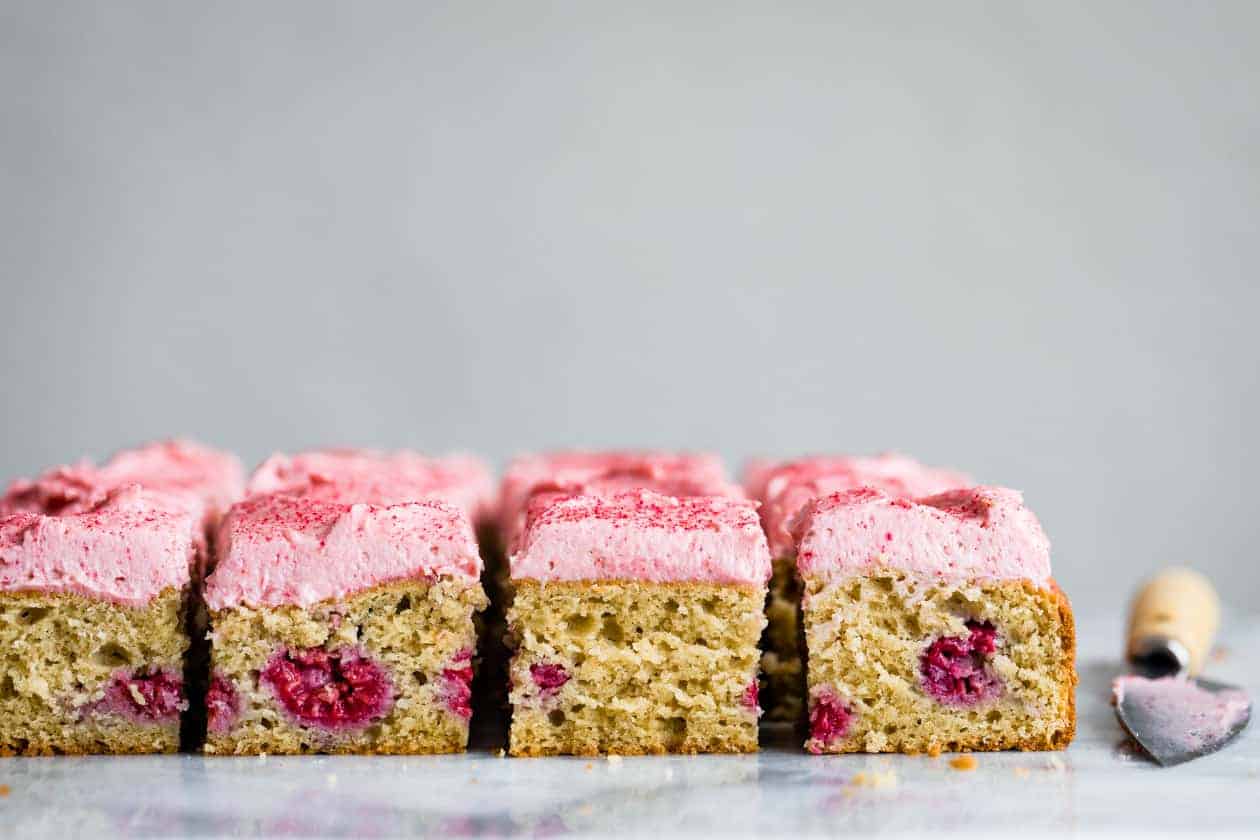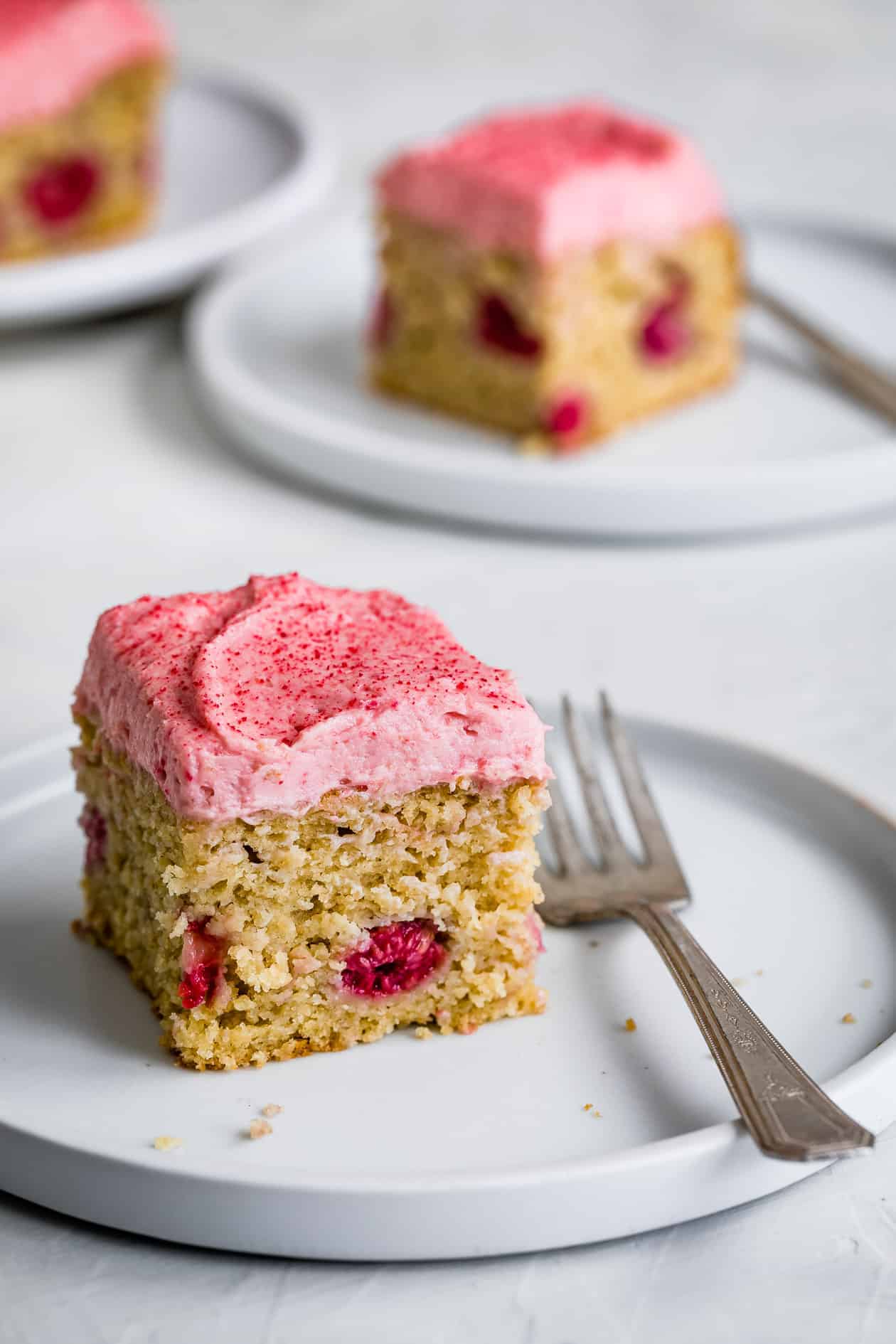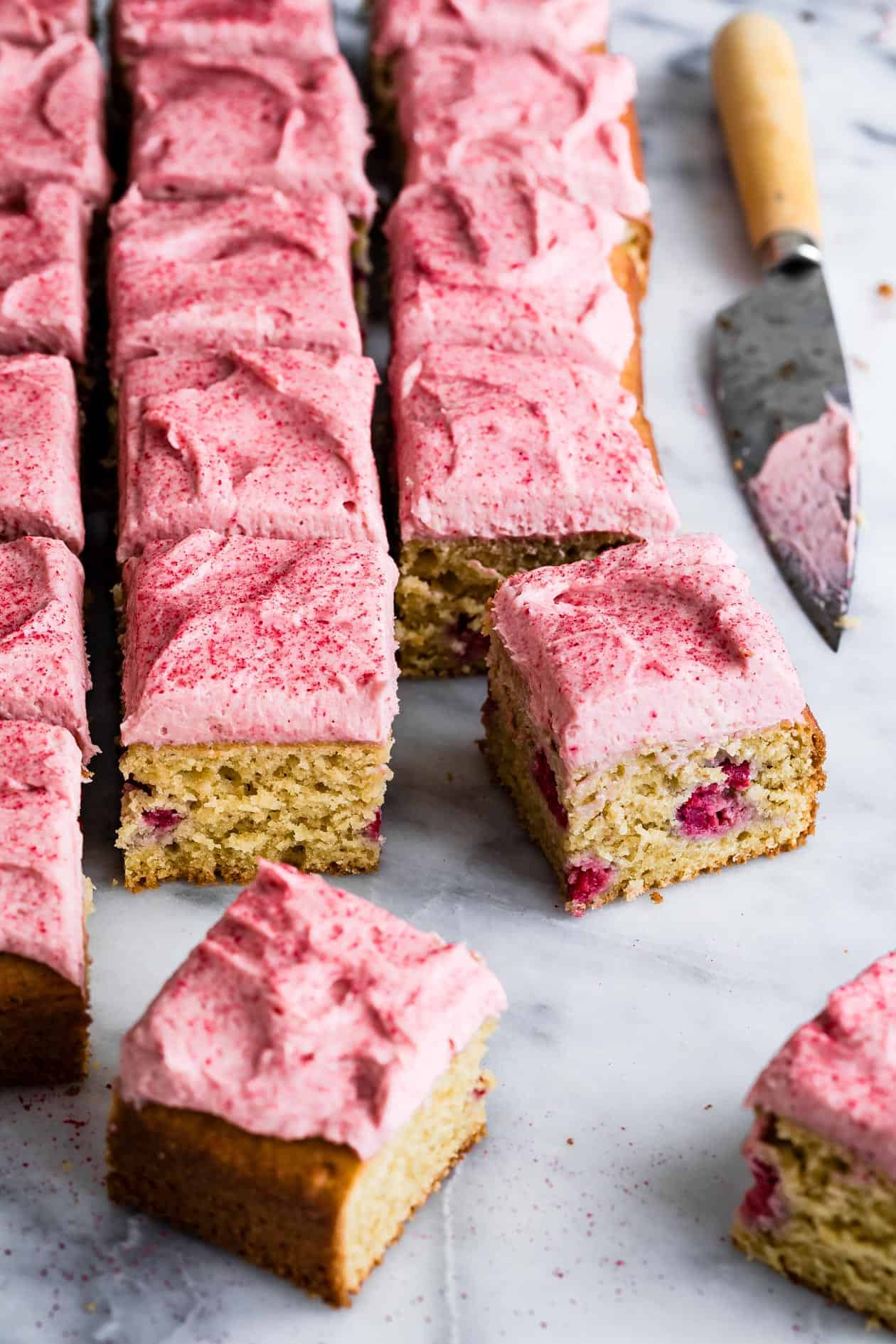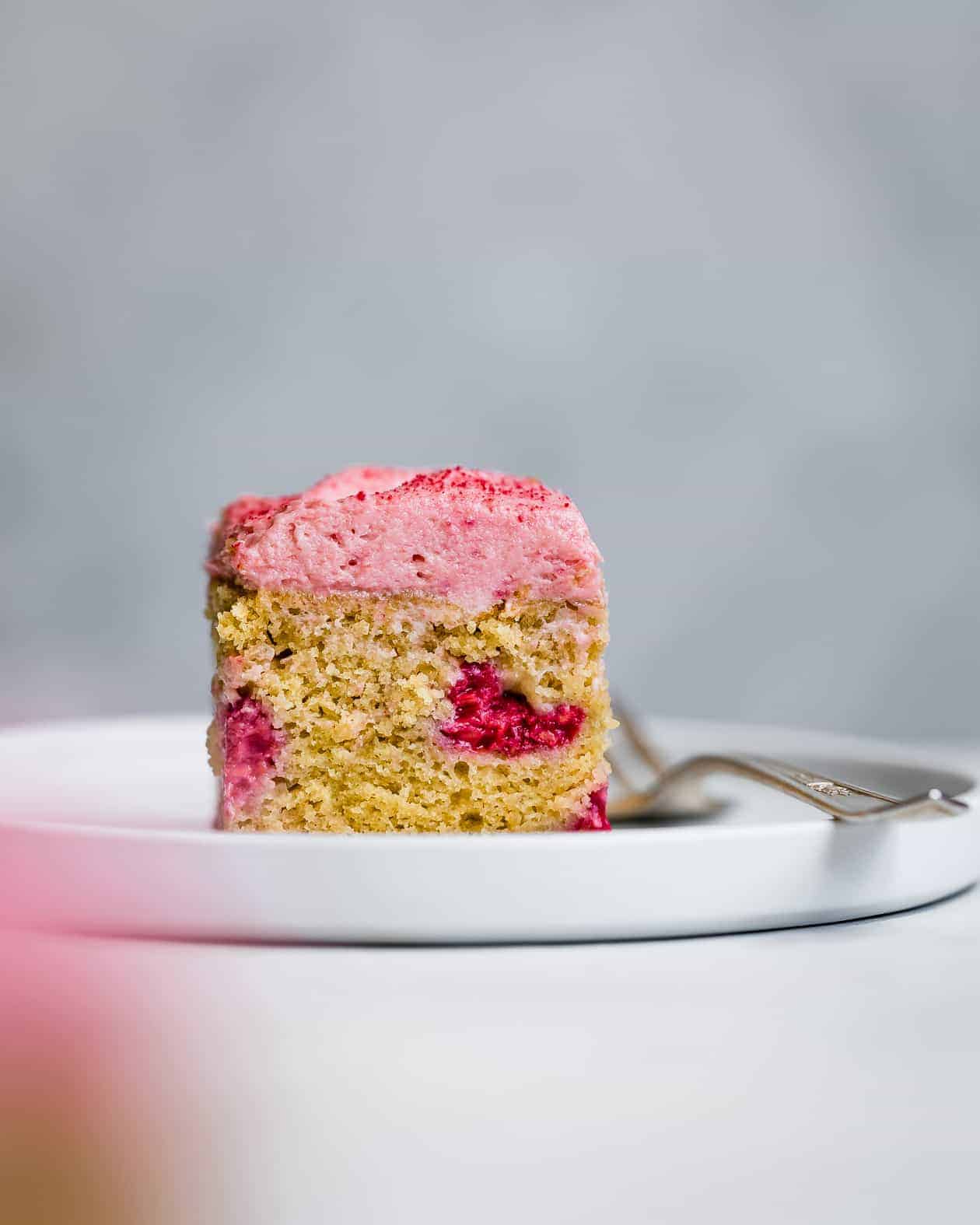 If you've got a few extra raspberries leftover in your clamshell, throw them in a GreenSaver to keep them fresh for longer. As someone who loves having raspberries on hand, but hates how quickly they get moldy and soft, this small produce keeper is a blessing. You could then even top the cake with more fresh raspberries when you serve it if it suits your fancy. And even if you can't get your hands on fresh raspberries, the vanilla cake is also delicious without, with the pink frosting still offering that classic raspberry flavor.
Now the only thing left is for you to figure out what your next cake-eating occasion is. Memorial Day? Graduation? Monday? Whatever it is, this gluten-free vanilla raspberry cake has your back.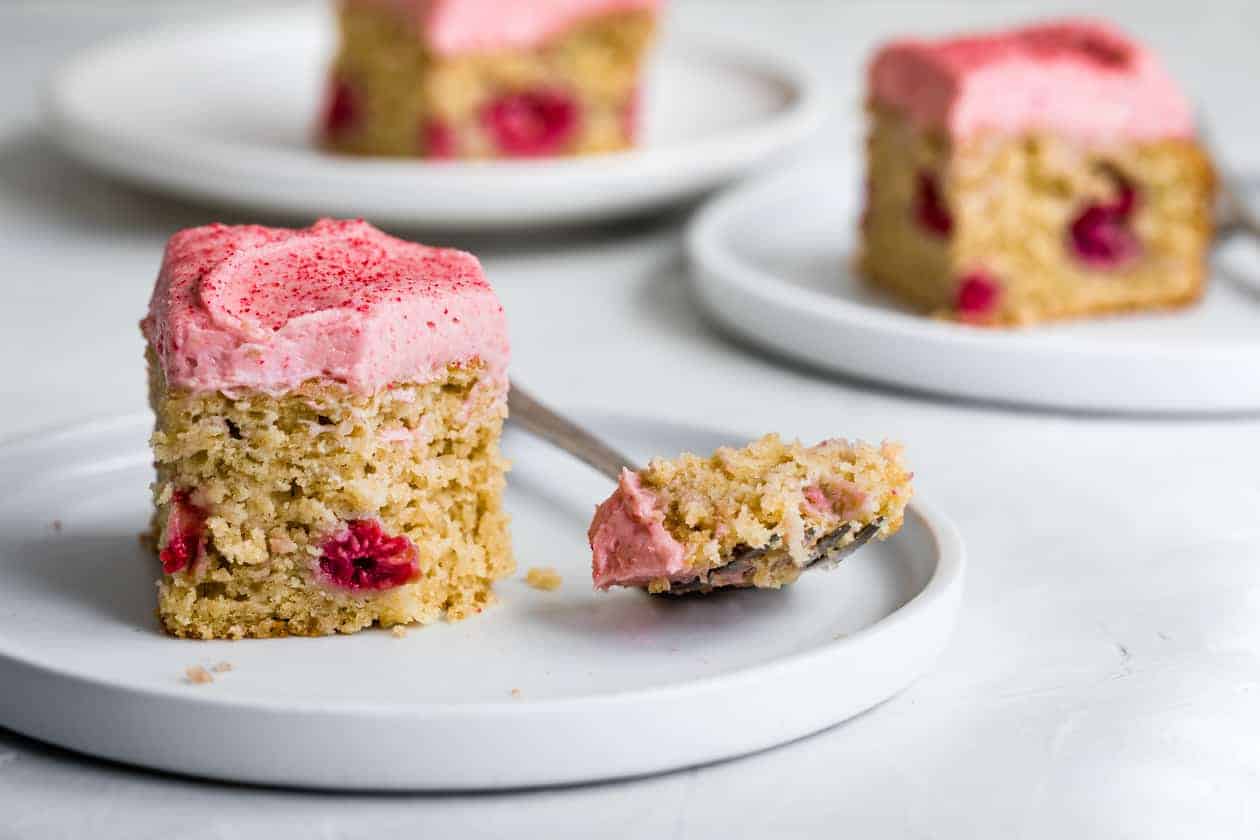 OXO tools & gadgets seen in this post: Stainless Steel Measuring Spoons | Silicone Spatula | Non-stick Pro Cake Pan | GreenSaver Produce Keeper | One Stop Chop Manual Food Processor | Non-Stick Cooling and Baking Rack | Icing Knife | Dusting Wand
Head over to OXO's blog to see more pictures of the tools in action!
Disclosure: Special thanks to OXO for providing the tools shown above and sponsoring this post! And thanks to you for supporting the companies that keep Snixy Kitchen cooking!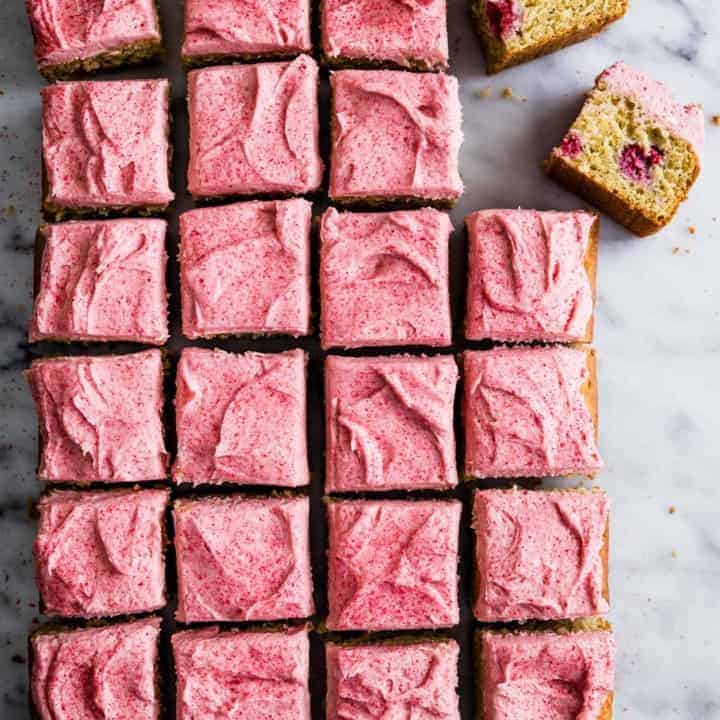 Gluten-Free Vanilla Raspberry Cake
Yield:
9x13 sheet cake, 24 slices
Easy gluten-free vanilla raspberry cake with raspberry cream cheese frosting and raspberry dust on top. Made in a 9x13 baking pan, this sheet cake is the perfect dessert to serve a crowd this summer!
Ingredients
Gluten-Free Vanilla Raspberry Cake
1 tablespoon baking powder
1 teaspoon baking soda
1 teaspoon kosher salt
1 cup unsalted butter, room temperature
1 ½ cups + 1 tablespoon (325g) cane sugar
4 large eggs, room temperature
4 teaspoons vanilla extract
1 cup whole milk
1½ clamshells (9 ounces) fresh raspberries, washed and dried
Raspberry Cream Cheese Frosting
16 ounces cream cheese, room temperature
1 cup unsalted butter, room temperature
2½ cups powdered sugar, sifted
2.4 ounces ground freeze dried raspberries, sifted (about ½ cup), divided**
1 teaspoon vanilla extract
Pinch of kosher salt
Instructions
Gluten-Free Vanilla Raspberry Cake
Preheat the oven to 350°F. Line a 9x13 baking pan with a sling of parchment paper with at least an inch overhang on two sides.
In a medium bowl, sift together the sweet rice flour, oat flour, millet flour, xanthan gum, baking soda, baking powder and salt. Set aside.
In the bowl of a stand mixer fitted with the paddle attachment or a bowl with a hand mixer, cream together the butter and sugar over medium speed until light and fluffy, about 3 minutes.
With the mixer on low-speed, add the eggs one at a time, mixing after each one.
Add the vanilla extract, mixing until just combined.
Keeping the speed on low, slowly add the dry ingredients in two batches, adding the milk in between, mixing until just combined.
Pour the batter into the prepared baking pan and use a rubber spatula to spread it into an even layer.
Press the raspberries evenly into the cake, then use a spatula to cover the raspberries with batter.
Bake for 40-50 minutes until the cake springs back when pressed in the middle and a toothpick comes out dry or with a few moist crumbs.
Remove from oven and let cool for at least 30 minutes in the pan. Use the parchment paper to lift the cake out of the pan to a cooling rack to cool completely.
Meanwhile prepare the frosting as written below.
Once the cake is completely cool, use an offset spatula to spread the frosting over the cake. Dust with reserved raspberry dust, if desired. Slice into 24 pieces (4 x 6) and serve. Keep any leftovers in an airtight container in the fridge for up to three days.
Raspberry Cream Cheese Frosting
Reserve 1 tablespoon of the ground freeze-dried raspberries.
In the bowl of a stand mixer fitted with the paddle attachment, beat the cream cheese until smooth over medium speed. Add the butter and cream together over medium speed, scraping the sides as you go.
With the mixer on low, slowly add the powdered sugar, remaining ground freeze-dried raspberries, vanilla extract, and salt. Beat until smooth.
Notes
*You can leave out the xanthan gum if needed, but the result is a slightly gummier more dense cupcake.
**I grind my freeze-dried raspberries into powder in a food processor. OXO's manual food processor is great for this!
Thanks for reading Snixy Kitchen! To stay up on what's coming out of my kitchen, follow me on Facebook, Instagram, Twitter, Bloglovin', or Pinterest, or subscribe via e-mail to get new recipes right to your inbox.