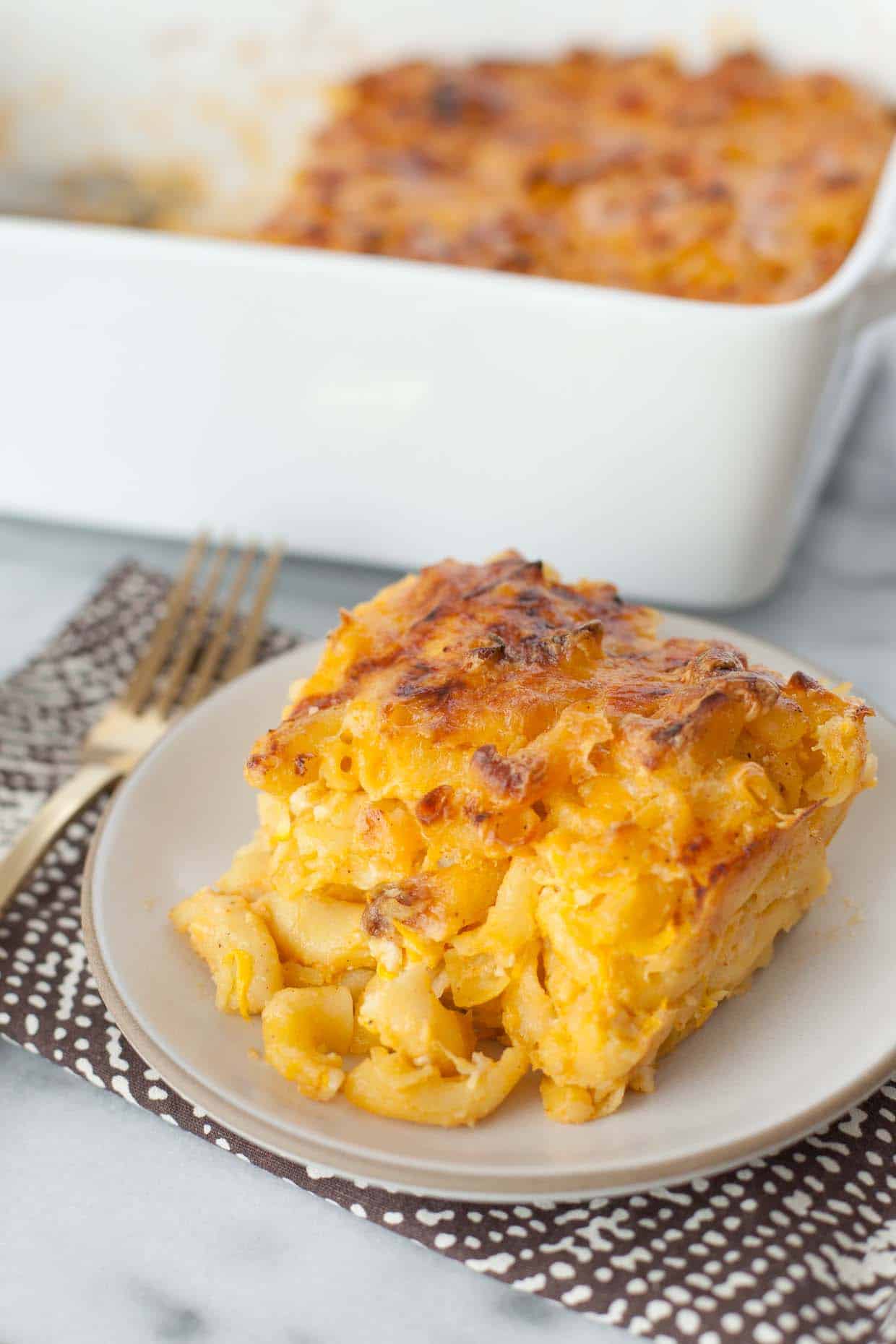 You all keeping cool for the 4th of July weekend? We ditched city life and the convenient cell phone service & wifi that comes with it to escape with my parents to their woodsy lake cabin for a long relaxing weekend. As nice as it feels to disconnect from the outside world for a few days, we weren't prepared, and after 36 hours, we find ourselves enjoying an iced tea and the free wifi at the Peninsula Market.
We definitely need more practice in leaving the hustle and bustle of city life behind. You know you've got a problem when you run your phone battery down while searching for one burst of service so you can load your Instagram feed. How else will I know what Tina's doing in Iceland or what The Kitchen McCabe baked for the 4th of July?!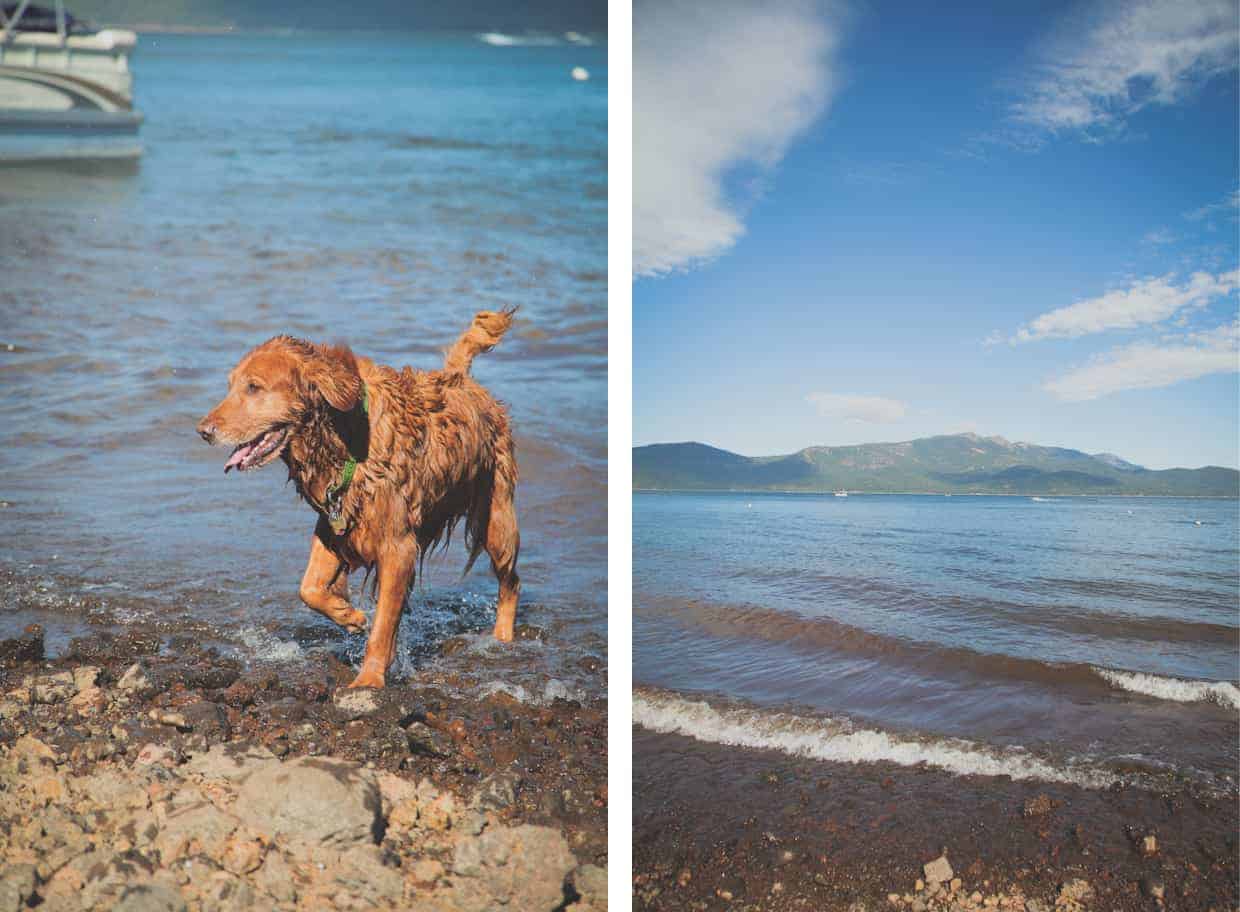 I'm trying my hardest to channel my inner country girl who grew up camping, fishing, and throwing muddy tea parties on the beach. That tow-headed blonde girl spent every daylight hour running around on the beach, and wore a dark tan without ever getting a sunburn despite swearing off sunscreen. She spent hours snorkeling stomach-down on an inner tube hunting for lost lures along the beach, gutted her own fish, and almost always had a scrape on her knee.
This grown-up city girl got a splotchy sunburn after 4 hours wearing SPF 50 under an umbrella. We spent the afternoon on the beach with the family, taking turns spinning circles on the WaveRunner between constant snack breaks, with a fishing line in the water just in case something bites. Tonight we'll grill up bass tacos with my aunt, uncle, and my cousin Alex – the one who taught me how to build rock forts in the woods, while I brought along my pink plastic tea set and showed his Ninja Turtle action figures a proper party.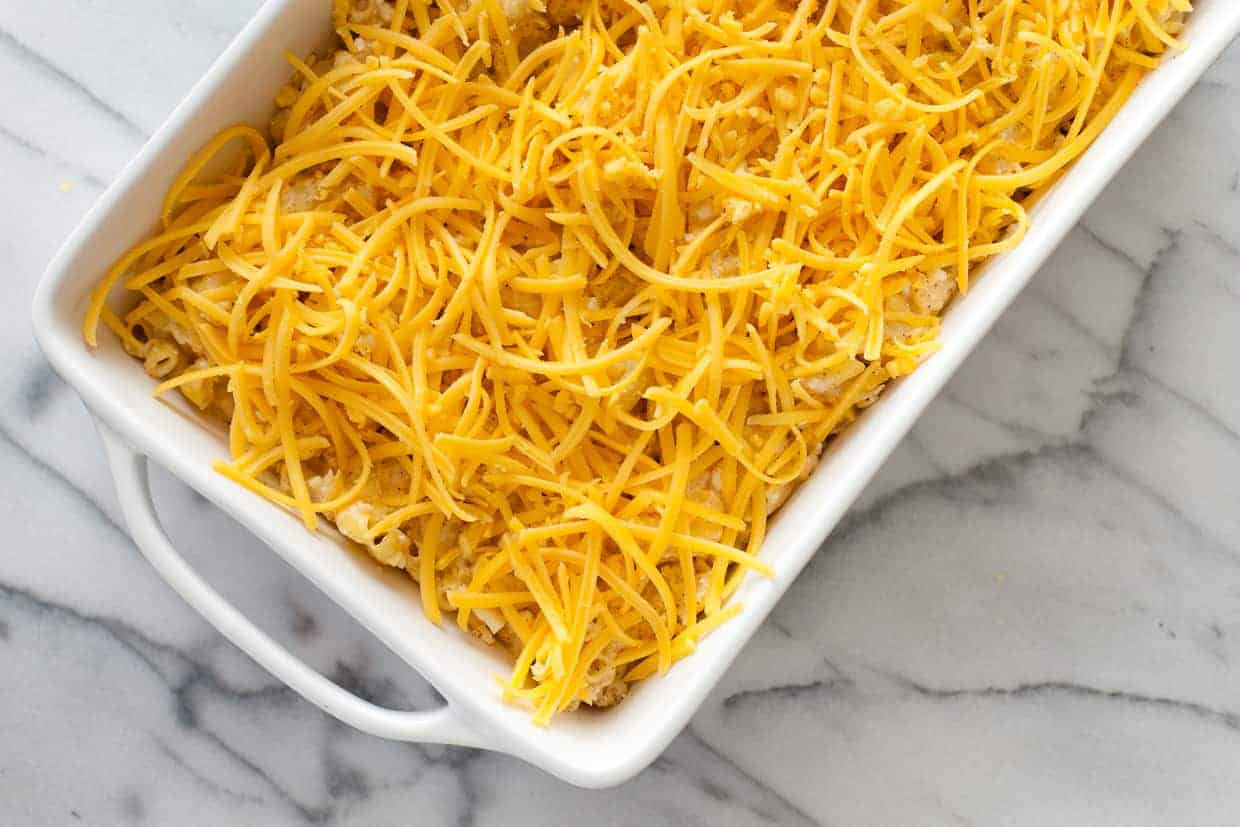 What's the best side dish for a 4th of July grill-out? This vegetable-filled cauliflower macaroni and cheese (and maybe this perfect potluck potato salad). On the back of our wedding RSVP cards, we asked our guests to "share a favorite family recipe." My gal Lana Shea sent us her recipe for "THE BEST EVER MAC AND CHEESE!!!" that she later made for my bachelorette slumber party with a dozen of my closest girlfriends. Lana doesn't lie; this mac and cheese is perfect in every way. I'd say a year later is about the right time to start sharing some of these tried-and-true recipes, right?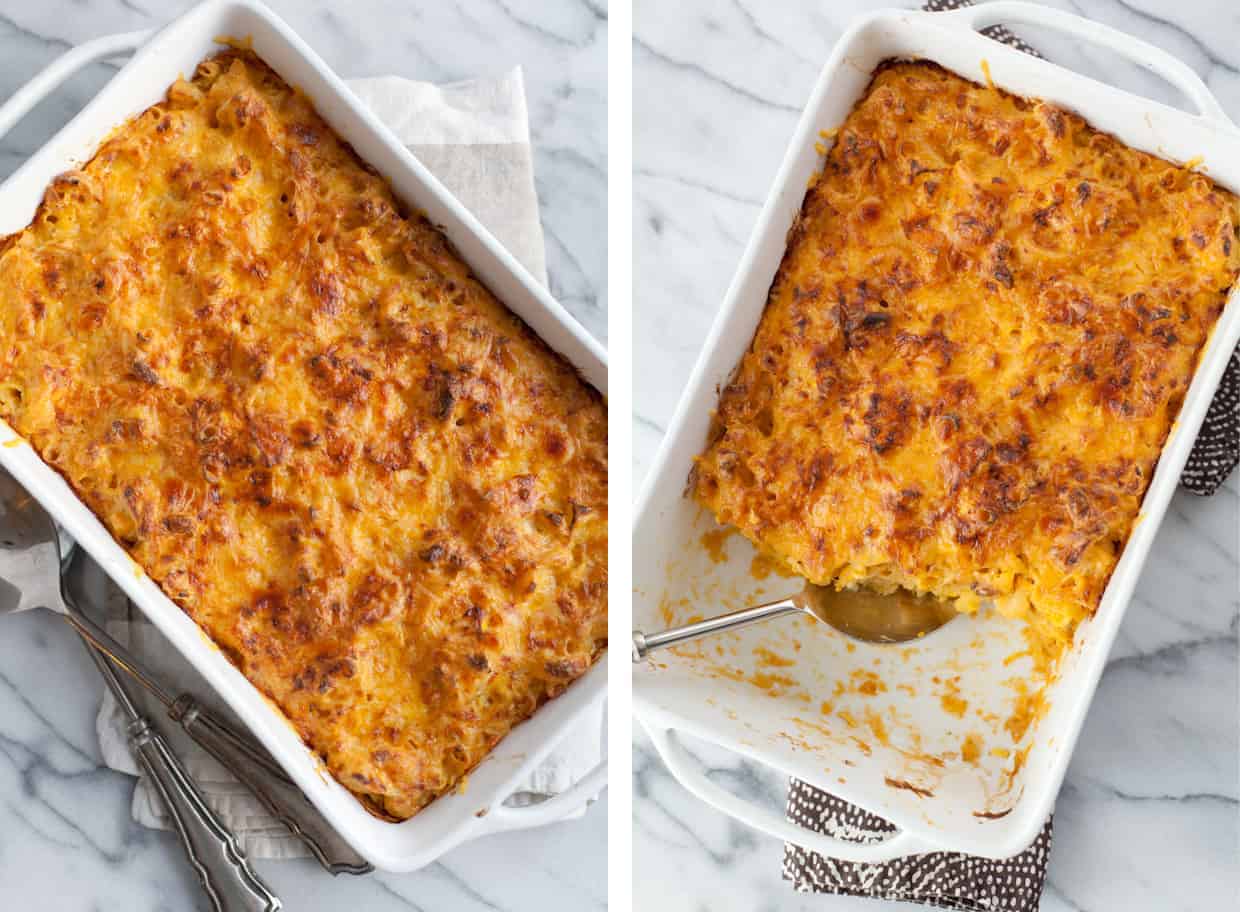 When our next door neighbors had a baby, I knew just the dish to bring over. Since I'm a sneaky sneaky cook, I hid some shredded squash and cauliflower in the dish to slip some veggies to their 3 year-old daughter. And she was none the wiser.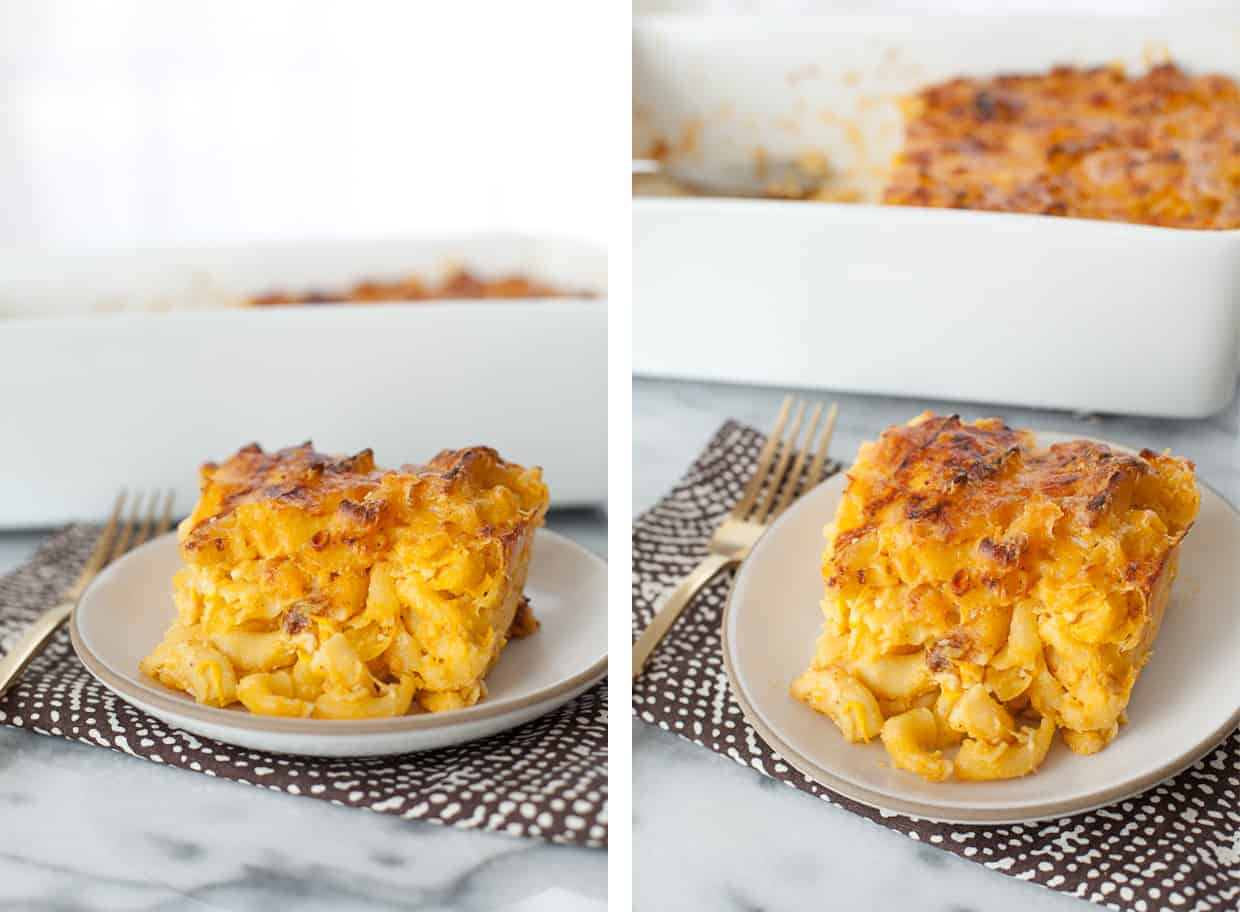 Sharp cheddar mixed with sour cream and cottage cheese give this casserole a hearty texture with bursts of cheese. The melted cheese on top add a crispy layer that give every bite substance. Hiding among the cheese, the yellow squash and cauliflower add only a slightly noticeable flavor boost, while bumping up the nutrition benefits tenfold. Prepare to field several recipe requests every time you make it. With this baked cauliflower macaroni and cheese, you'll never need another mac and cheese recipe again. Pinky promise.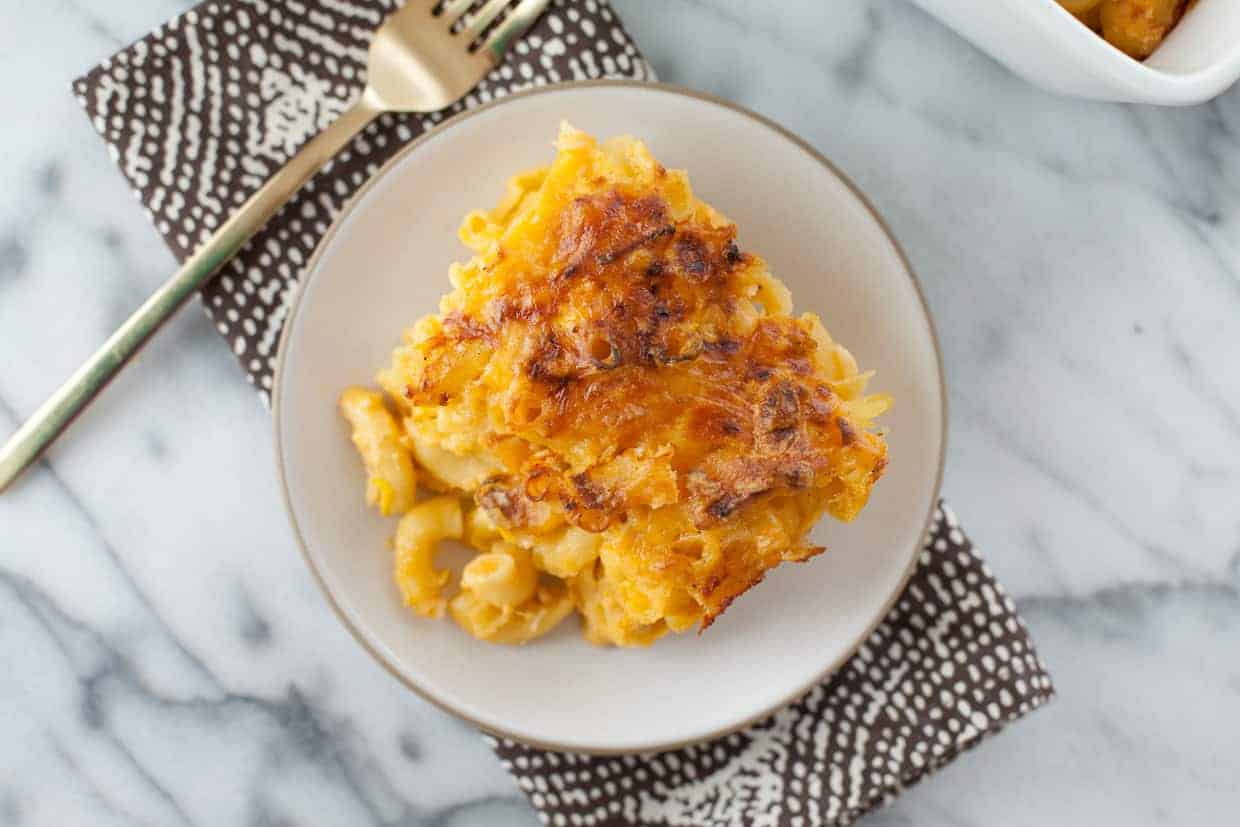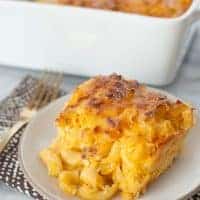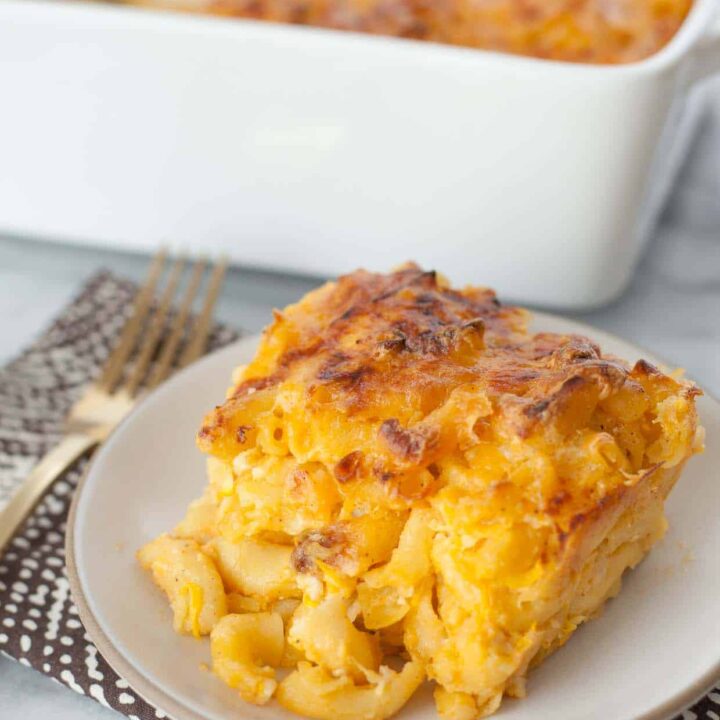 Baked cauliflower macaroni and cheese
Yield: One 9x12 casserole dish, about 6 servings
Ingredients
1-1/2lbs Tillamook sharp cheddar cheese, shredded & divided (I've made this with other brands, but Tillamook is always the best flavor)
8 ounces cottage cheese
8 ounces sour cream
1/2 head of cauliflower, finely chopped (I just send mine through the grater of the food processor)
3 yellow squash or 1-2 small zucchini, shredded
1 teaspoon paprika
1/4 teaspoon cayenne pepper
Salt & pepper, to taste
Instructions
Preheat the oven to 350°F
Cook the macaroni according to the directions, under cooking it just slightly. Gluten-free mac and cheese can over cook REALLY fast, so as soon as it is al-dente, drain it.
While the macaroni cooks, mix the rest of the ingredients together in a large bowl, reserving 1-1/2 cups of grated cheddar cheese.
Drain the macaroni and add it to the large cheese bowl. Mix until well-combined.
Pour the macaroni into a 9x12 glass baking dish.
Sprinkle the reserved grated cheddar cheese over the top.
Bake for 25-30 minutes. Turn on the broiler and broil for 6-9 more minutes until the top turns brown and crispy.