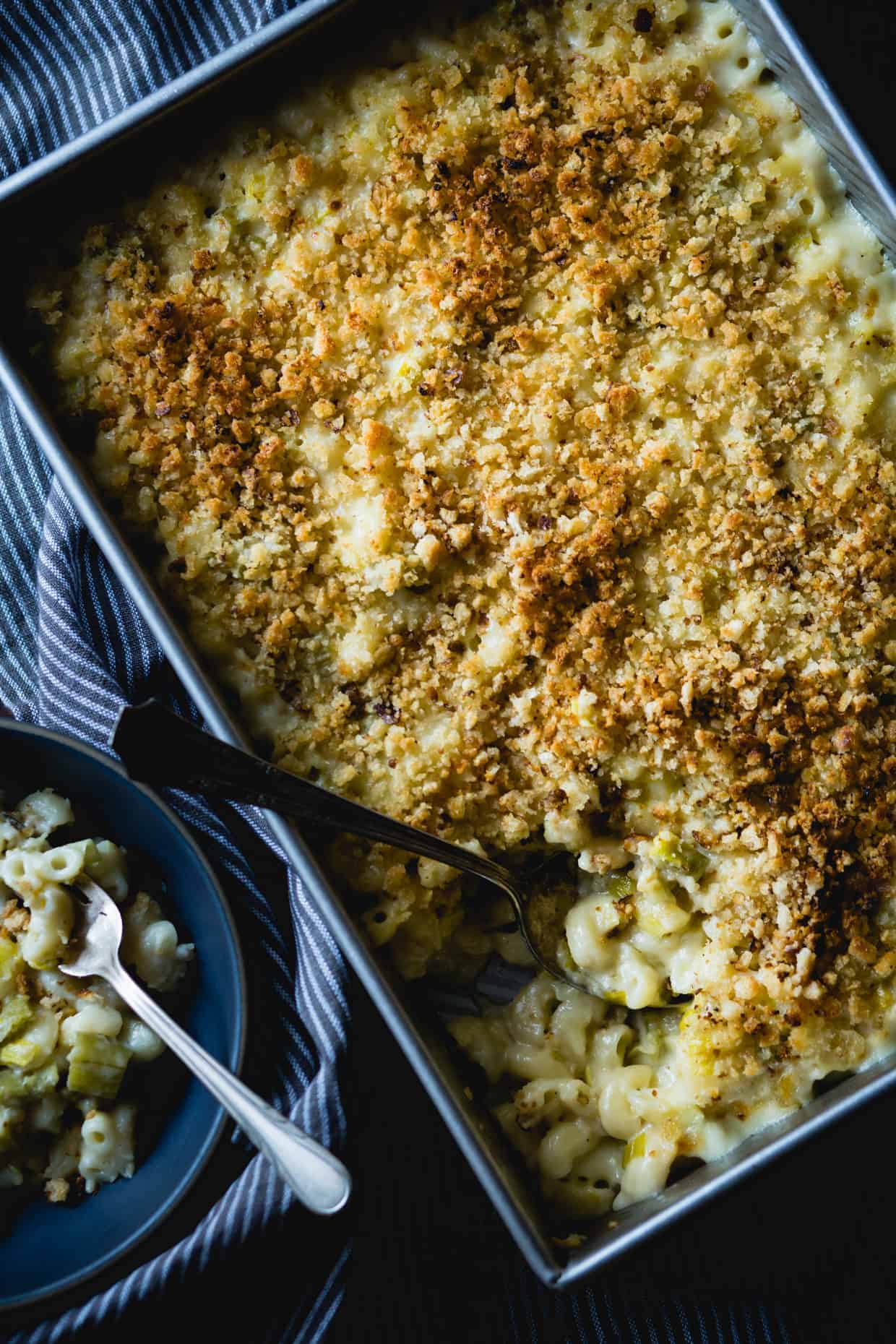 This creamy pan of cardoon mac and cheese comes to you from my good friend Alanna over at The Bojon Gourmet! We're 3.5 weeks in to this whole parenting thang and I'm still trying to figure out how to feed myself in the fleeting moments from one baby Zoella-feeding to the next (and she's currently eating 12x a day). One breastfeeding forum suggested pumping 10-12 times a day to increase my milk supply - doing that would def turn me into a human milk factory. I can't imagine people who do that have time to eat.
Fortunately for me, I've got rad friends like Alanna in my corner who show up with a boatload of vegan Mexican food and healthy brownies for the whole family right when we brought the babe home from the hospital, with promises to deliver homemade cardoon mac and cheese soon after. With my cheese cravings on high alert, I've been dreaming of this cardoon mac and cheese since she served it to me at a dinner party.
Let me assure you, one bite and this stuff will make regular appearances in your dreams too. 1. Cheese - um...HELLO! 2. Cardoons, which, when mixed with cheese, mimic artichokes - aka the tastiest vegetable on the planet (don't even argue - this is unequivocally true). 3. All of this made into creamy gluten-free mac and cheese? I can't stop. I won't stop.
Alanna is my go-to recipe consultant for most any dish, but she's a goddess with mac and cheese. Other notable things she's an expert at? Gluten-free cookies, tarts, and cakes (and photographing allofthefood). If you haven't already, you should probably go pre-order her Alternative Flours cookbook RIGHT NOW. Well, after drooling over this mac and cheese with me. Without further ado...Here's Alanna:
I'm SO excited to be guest posting on Snixy Kitchen today! Though I met Sarah less than two years ago, it feels like we've known each other for ages. Our friendship has evolved into a food styling, photography and videography partnership, and over the past year we've developed and styled countless recipes, made several videos, and we have some even more exciting projects in the pipeline. Sarah's got her hands full with Zoella Mae, a.k.a. #cheesebabygirl, so she's kindly allowing me to share a recipe on her site.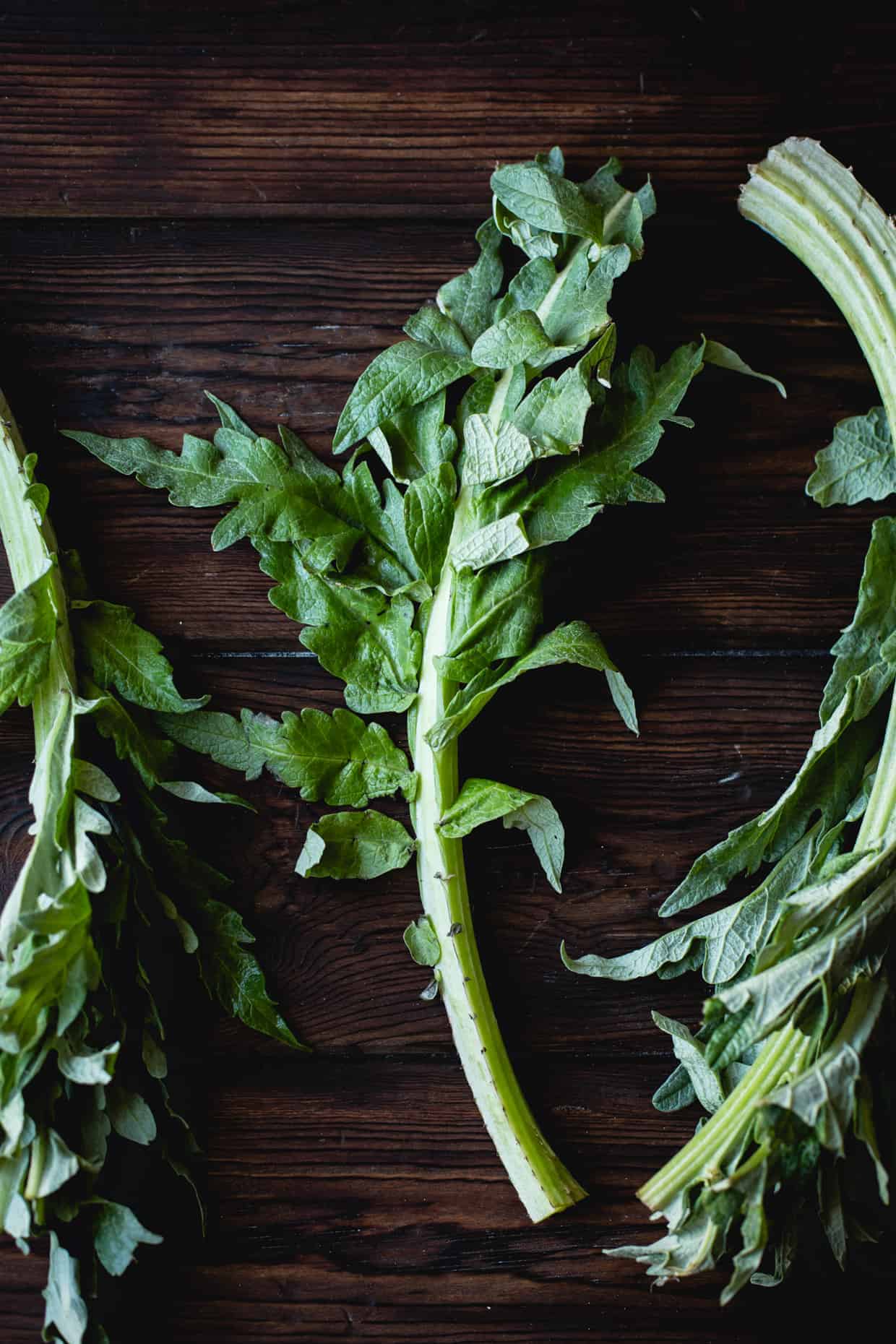 I can't think of a more fitting recipe to share than this Creamy Cardoon Mac and Cheese, nor would I have ever imagined that the cardoon, with its prehistoric looks, bitter taste, and name like something a pirate would eat, would play such a vital roll in my life. But I owe that funny vegetable a lot.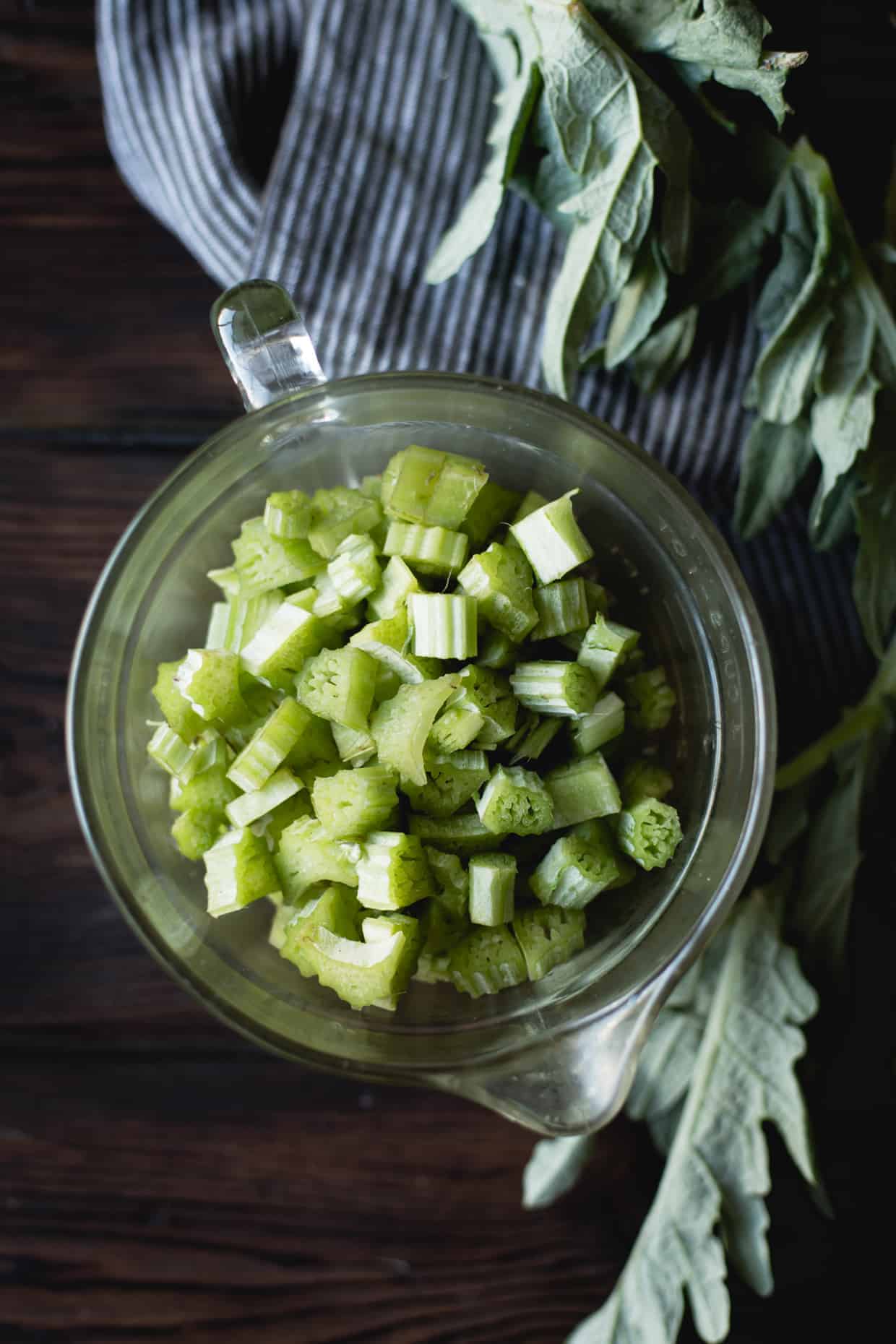 Last year about this time, my friend Craig Lee asked if I'd like to style a shoot for the New York Times. Mark Bittman was staying in Berkeley and concocting recipes with obscure produce and they needed a tester and stylist on the west coast. Though I was buried in a mountain of work between my book, blog, and other projects, and my sanity was rapidly slipping away with every sleep-deprived day, I said yes.
The recipe in question was a dish of sautéed cardoons with mushrooms and breadcrumbs. "Make it look bright and summery," the photo editor instructed. Cardoons may start out a springy green, but by the time they've had the crap cooked out of them enough to render them edible, they turn a rather dingy olive. Unsure of how to make a dish of drab foods look bright without the help of fresh herbs, which were verboten (I asked), I called Sarah in a panic. She calmly offered to lend me a host of suitable props, and to come by during the shoot for moral support. The cardoons were boiled, sautéed in butter, and smothered in bread crumbs, and we styled them with extra cardoons in the shot to showcase their unique appearance.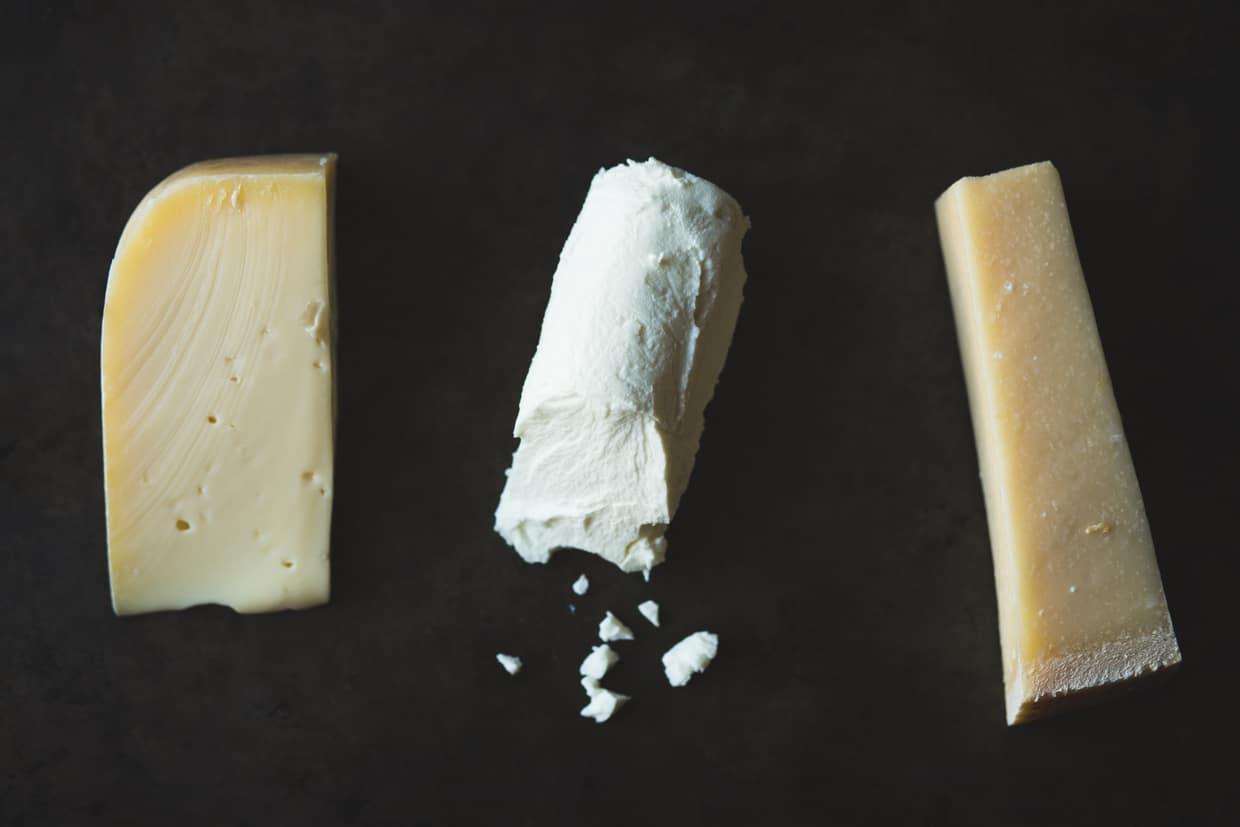 NYT must have loved our bright, summery props because they've continued to hire us for shoots throughout the year. Forget cooking school, being a food stylist is the best way to learn your way around any and every dish. We've made potstickers, pies, the world's best hummus. We've rolled meatballs, simmered cassoulet, and piped royal icing onto cookies. We've fluffed salads, stacked pancakes, and twirled noodles, noodles and more noodles. It's been tons of fun, and we owe it all to cardoons.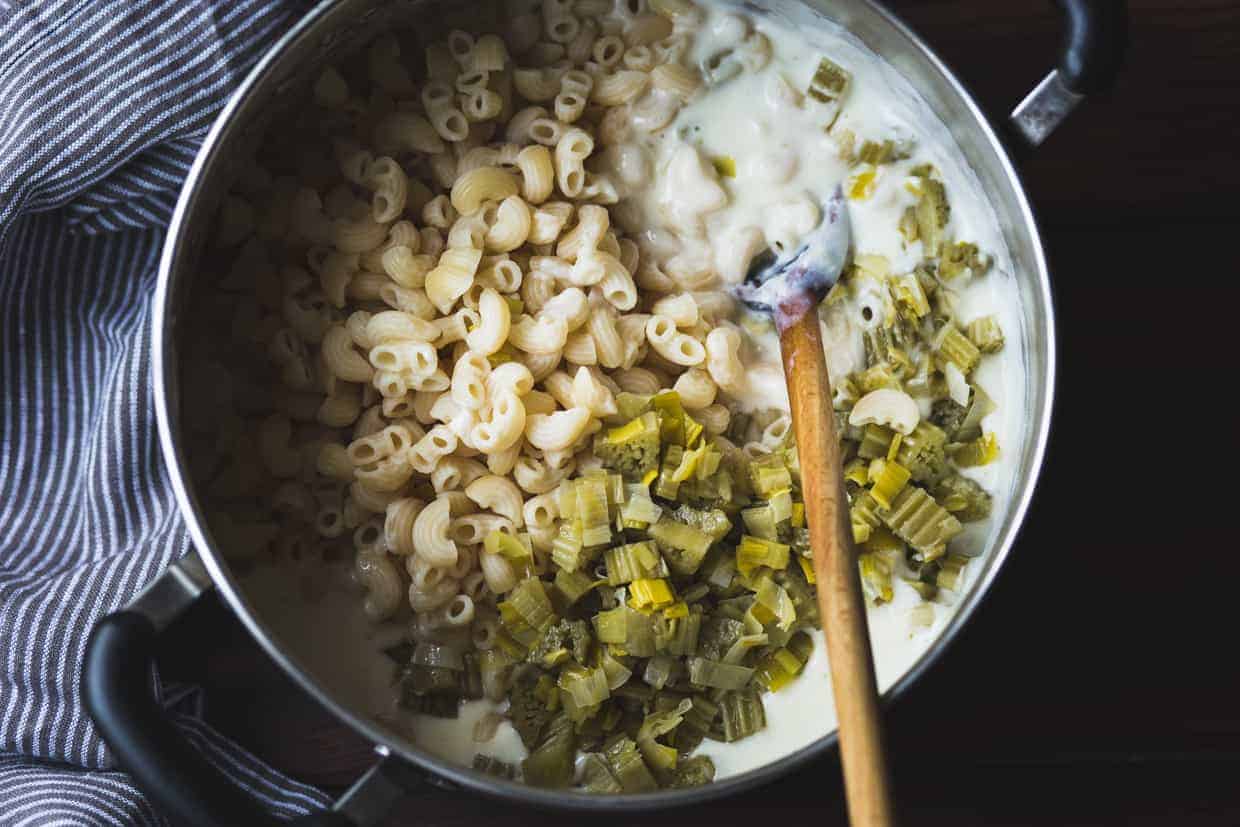 After the cardoon shoot, Jay, who hates wasting food even when said "food" is a freaky vegetable that needs much doctoring up to be palatable, eyed the remaining cardoons with dismay. We discussed the various forms of dairy that one could use to soften cardoons' assertive flavor, and I came up with this mac and cheese. I stacked the odds in my favor, starting with a Cook's Illustrated recipe, three kinds of cheese, leeks cooked until sweet and tender, and breadcrumbs infused with garlic butter. Luckily the mac and cheese was edible since Sarah and Lucas, Jessica and Mitch all joined us for dinner that night. Seconds were reached for. Food comas were had. Plates were licked (in the kitchen by me and Jay when nobody was looking).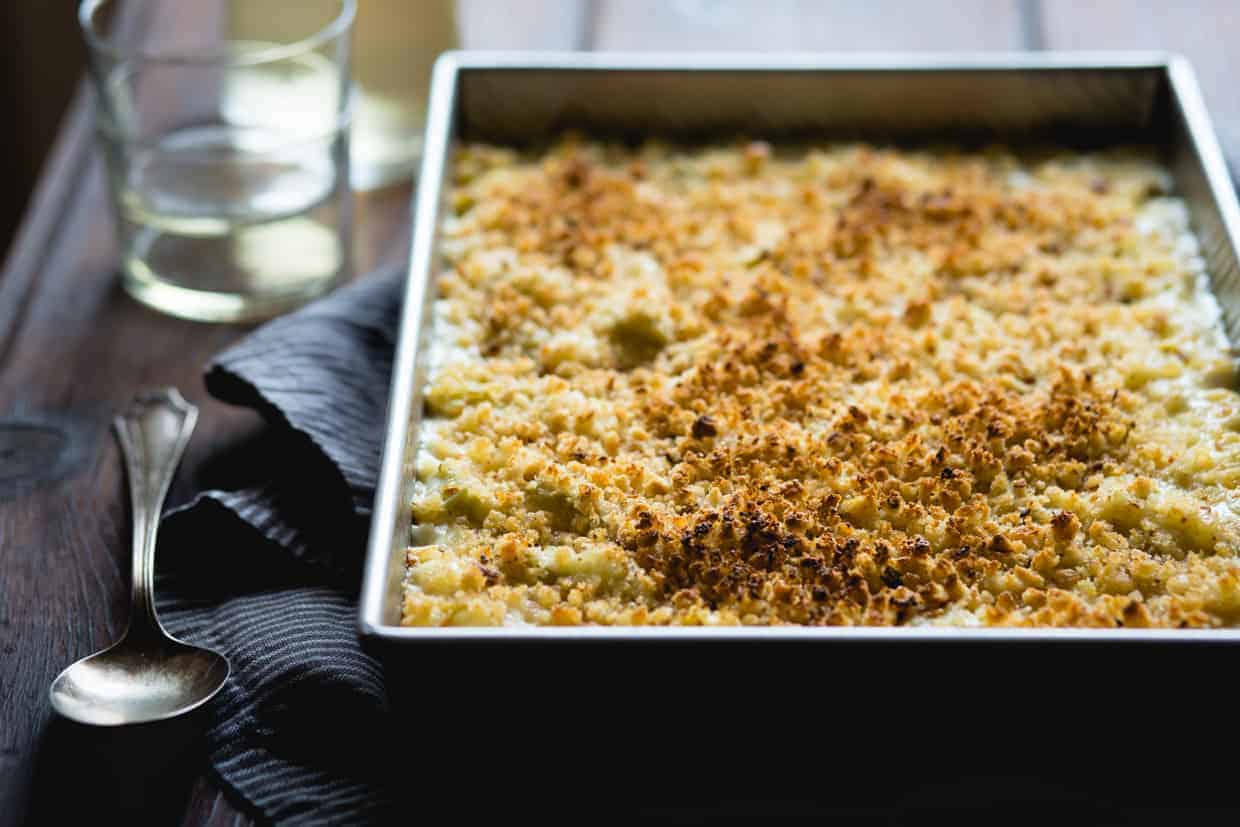 Before #cheesebabygirl made her appearance a few weeks ago, I went to Sarah's to sit on my bum while my pregnant friend made me waffles and crepes selflessly help Sarah work on some recipes, and Sarah mentioned that she'd been craving cardoon mac and cheese like nobody's business. An odd craving perhaps, but fitting as cardoons come into season in the late winter and early spring. Cardoons are in the same family as artichokes (which are both in the sunflower family) and their stalks look similar to artichoke stalks. They taste a bit like an artichoke stem – vegetal, a little earthy, with a pronounced bitterness and fibrous texture. (Another fitting reason to share this recipe on Sarah's blog: the artichoke is her favorite vegetable, her logo, and also her orange tabby.) Like artichokes, cardoons are often used in Italian cuisine, where they're blanched and deep-fried. Unlike most of America, Italian culture embraces bitter tastes such as those in radicchio, escarole, and many types of aperitivi and amari such as Campari, Aperol, and Cynar, which is an amaro made from the artichoke plant (and makes a killer negroni). I've been appreciating bitter flavors more lately for their ability to cut through richness, tame sweetness, and add dimension to dishes, and I even picked up a copy of this cookbook recently, which features cardoons on the cover, and have been paging through it in fascination.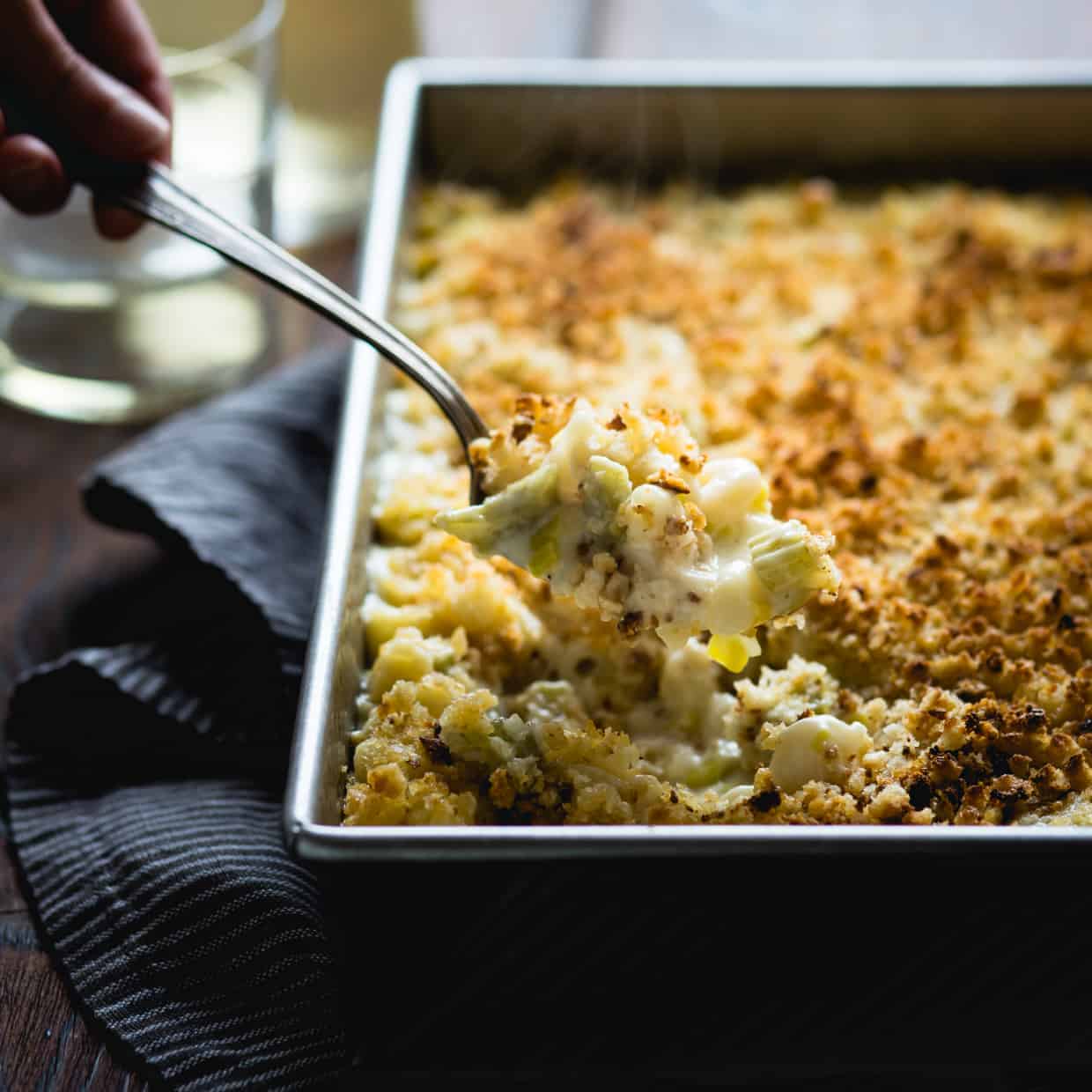 But rest assured that no matter how bitter your cardoons, a slow braise with white wine and leeks softens it into tender nubs, and puddles of creamy béchamel and tender pasta smother it into submission. The dish takes its proportions and cues from the folks at Cook's Illustrated, who know that the secret to creamy mac and cheese is to do the bulk of the cooking on the stove, finishing the pasta in the broiler to crisp up the top. I've tweaked the recipe to make it gluten-free, and I've added loads of vegetable matter to break up some of the richness. A trio of cheeses – parmesan, soft goat cheese, and Toma, a locally made mild melting cheese that tastes like jack crossed with gruyere, – delivers a wallop of flavor, and crispy garlic breadcrumbs up the umami factor big time. Between euphoric bites of creamy noodles, you nom nubs of cardoon, tasting of extra-concentrated artichoke that keep you going back for more against your better judgement.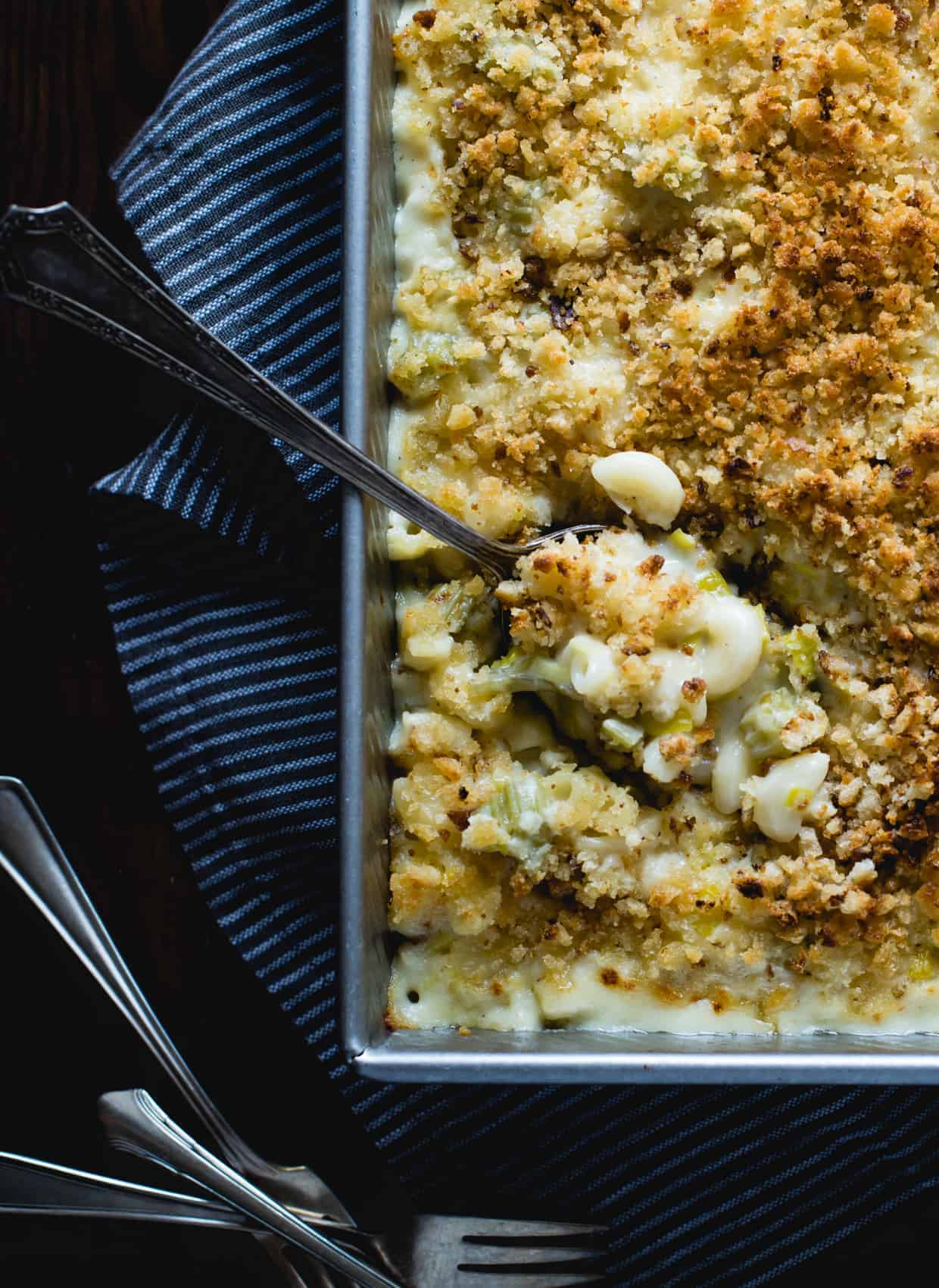 And if all this talk of bitter vegetables doesn't sound like your cup of tea, never fear: you can leave the cardoons out and still have the most divinely creamy vat of noodles you could ever hope for.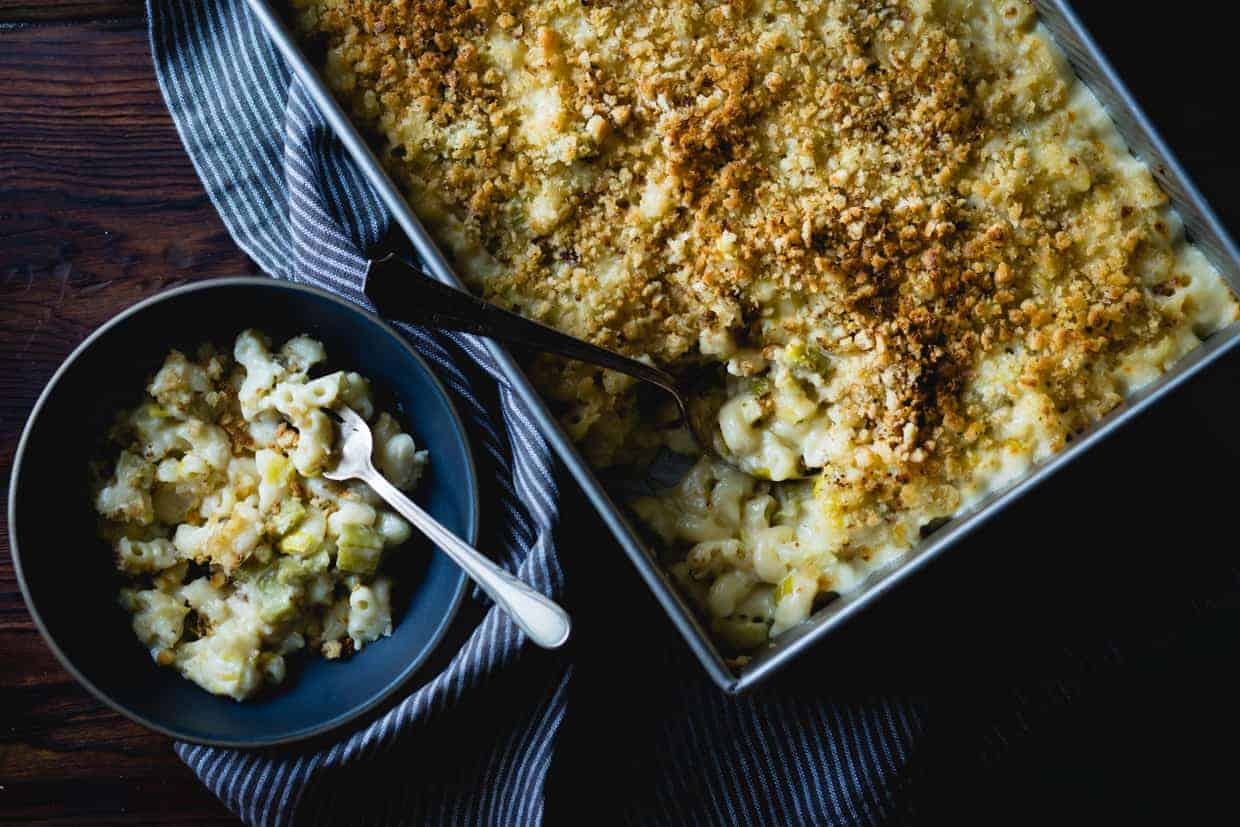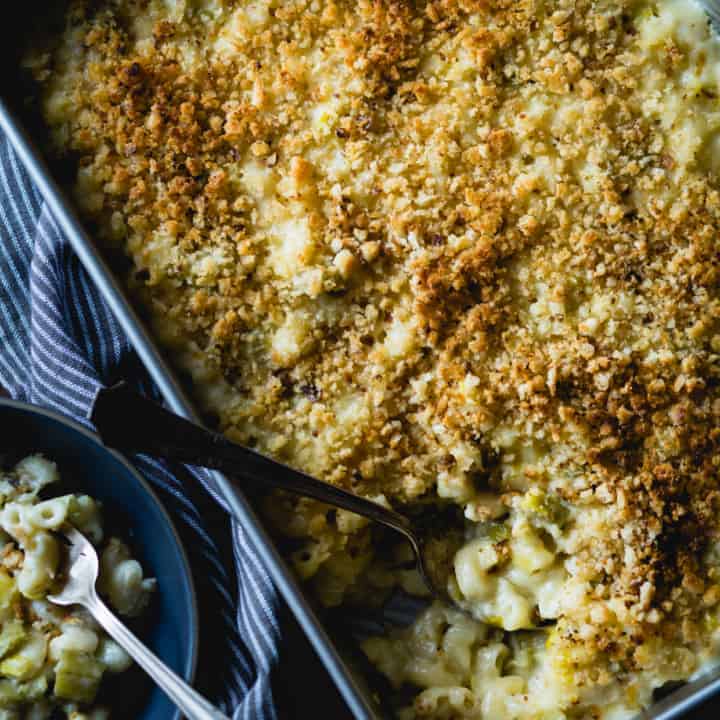 Gluten-Free Creamy Mac and Cheese with Cardoons
Cardoons and leeks braised in white wine create a vegetal twist on creamy, three-cheese baked pasta topped with garlic bread crumbs. Vegetarian and gluten-free. Loosely based on Classic Macaroni and Cheese from Cook's Illustrated.
Ingredients
Vegetables:
3 medium-large stalks cardoons (or 6 smaller stalks), enough for 3 cups prepared (see instructions)
2 medium leeks
2 tablespoons (30 ml) olive oil
¼ cup (60 ml) dry white wine
¼ cup (60 ml) water, plus more as needed
½ teaspoon salt
Breadcrumbs:
1 ½ cups (115 g) fresh, coarse breadcrumbs (see note)
2 tablespoons (28 g) unsalted butter, melted
1 large garlic clove, put through a press
big pinch salt
Pasta:
Béchamel:
4 tablespoons (56 g) unsalted butter
¼ cup (35 g) sweet white rice flour
4 cups (950 ml) whole milk
¼ teaspoon fine sea salt
a few turns freshly ground black pepper
8 ounces (226 g) Toma cheese (or a combination of gruyere and jack), grated (2 cups packed)
6 ounces (170 g) fresh goat cheese, crumbled (1 ¼ cups)
3 ounces (85 g) freshly grated parmesan (¾ cup)
Instructions
Use a sharp knife to slice the leaves off the cardoons and trim away any brown edges. If the cardoons are thick, cut in half lengthwise. Cut into ½-inch lengths; you should have about 3 cups. Trim the leeks and slice in half lengthwise, then in half again lengthwise, and cut crosswise into ½" pieces. Place the leeks and cardoons in a large bowl, fill with cool water, and let stand for several minutes, swishing once or twice, to get rid of any sandy dirt that may be hiding in their crevices; it will sink to the bottom.
Heat the olive oil in a wide, non-reactive skillet over medium heat. When it shimmers, lift the cardoons and leeks from their soaking water, shaking off extra moisture, and add to the pan. Cook, stirring occasionally, until the vegetables are bright green, 5 minutes. Add the wine, water, and salt to the pan, cover, and simmer gently over low heat until the pan is dry and the cardoons are tender, 25-30 minutes, stirring occasionally and adding more water as needed.
Meanwhile, place the breadcrumbs in a medium bowl and toss with the melted butter, pressed garlic, and salt. Set aside.
Fill a soup pot halfway with water and salt it well. Bring to a boil and add the pasta. Cook until al dente, drain, and toss with a drizzle of oil to prevent sticking.
Preheat the broiler.
In the now-empty soup pot, melt the 4 tablespoons butter over medium heat. Add the flour, stirring to combine and cooking for 1 minute. Add the milk all at once, and cook, stirring constantly, until the sauce comes to a simmer. Simmer, stirring and whisking constantly, until the sauce thickens to the consistency of heavy cream, 5-10 minutes. Whisk in the salt and pepper. Remove from the heat and stir in the cheeses until melted and smooth.
Add the cooked noodles and cardoon/leek mixture to the pot and return to low heat, stirring until the pasta is heated through. Scrape into a 9x13-inch pan and sprinkle the breadcrumbs over the top. Place under the broiler to crisp and brown the breadcrumbs, 3-5 minutes. Serve.
Store leftovers refrigerated airtight for up to 3 days.
Notes
To make breadcrumbs, cut several slices of gluten-free sandwich bread into chunks and toast lightly until dried out. Let cool, then process in a food processor to make coarse crumbs. I like Bread Srsly classic sourdough.
Toma, a melting cheese from Point Reyes, CA, tastes like a cross between a mild jack and a nutty gruyere. If you can't find it, make this with a mix of jack and gruyere, or another mild melting cheese of your choice.