Perfectly chewy gluten-free bagels made from scratch at home. Customize them with your favorite toppings! Store leftovers in the freezer for quick homemade bagels.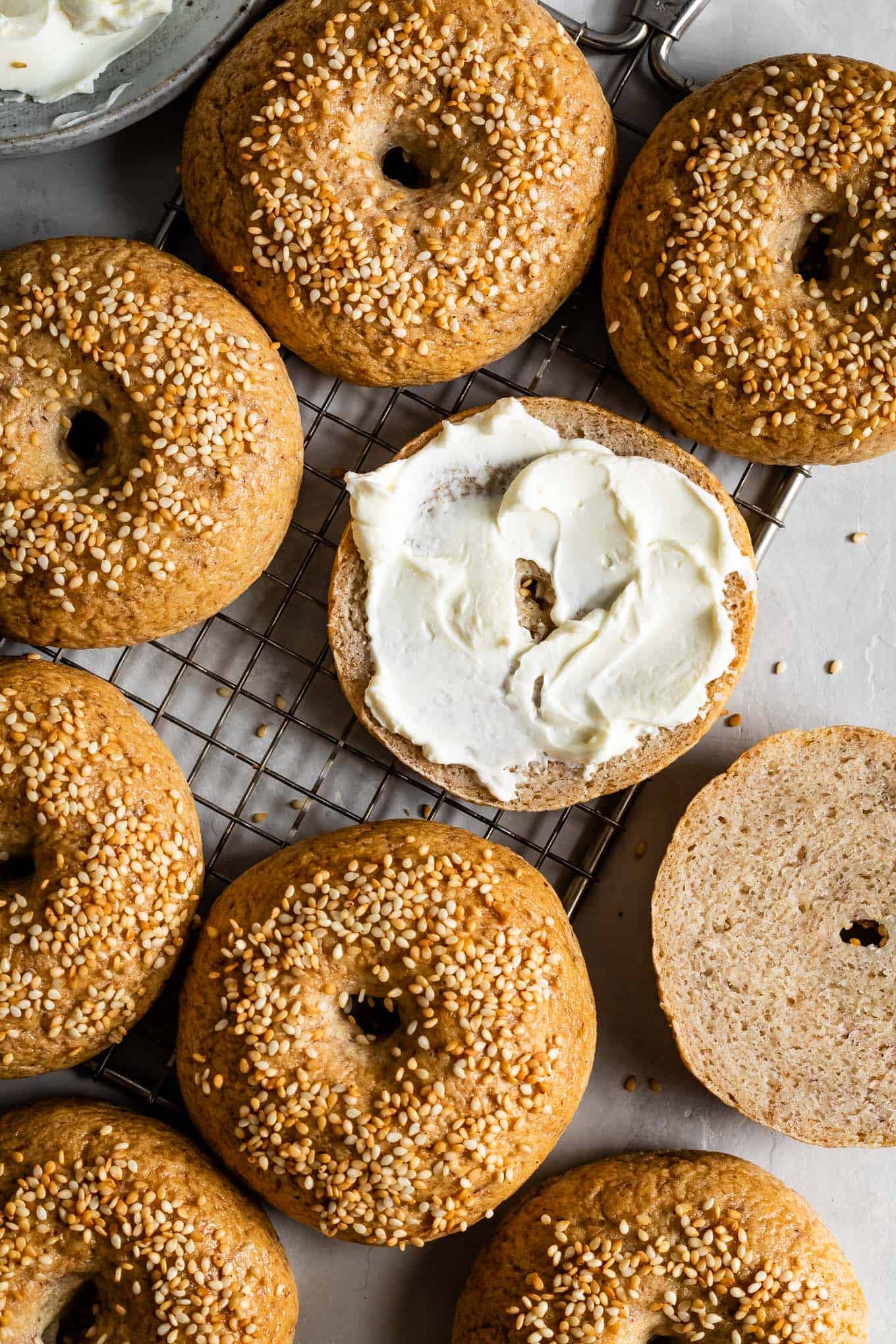 This post is sponsored by Bob's Red Mill, a long-term partner of Snixy Kitchen
We've been getting almost all of our groceries delivered these past several months. While I miss browsing the aisles at the supermarket, it certainly saves us time. As an added bonus, it's also a constant source of entertainment when we discover what substitutions were made to our order. As a food blogger, my orders are often long with very specific ingredients.
A few weeks ago, I ordered two blocks of cream cheese to make cheesecake. They substituted two tubs of whipped cream cheese spread. Cheesecake wasn't happening. Instead, I needed bagels.
Gluten-Free Bagel Recipe
Between my gluten-free soft pretzels, gluten-free pizza, and gluten-free sourdough exploits, I was confident I could turn my assortment of Bob's Red Mill flours into gluten-free bagels from scratch. At least edible enough bagels to get me through a pound of whipped cream cheese.
They turned out so incredible though that I made them 4x in a week and went to bed each night giddy about waking up to fresh homemade gf bagels the next morning.
With the recipe finally exactly right, these gluten-free bagles are the third recipe in a year-long partnership with Bob's Red Mill. Here's a list of all the recipes I've made in partnership with Bob's Red Mill over the years.
Are Bagels Gluten-Free?
It's difficult to find a gluten-free bakery bagel. While there are a few decent store-bought gluten-free bagels, nothing beats a bakery-fresh bagel. One that's hearty and chewy and baked up that morning.
These bagels use an assortment of gluten-free flours and starches for the dough and, like a true New York-style bagel, they get boiled before baking to give them a flavor and texture similar to their glutinous counterparts.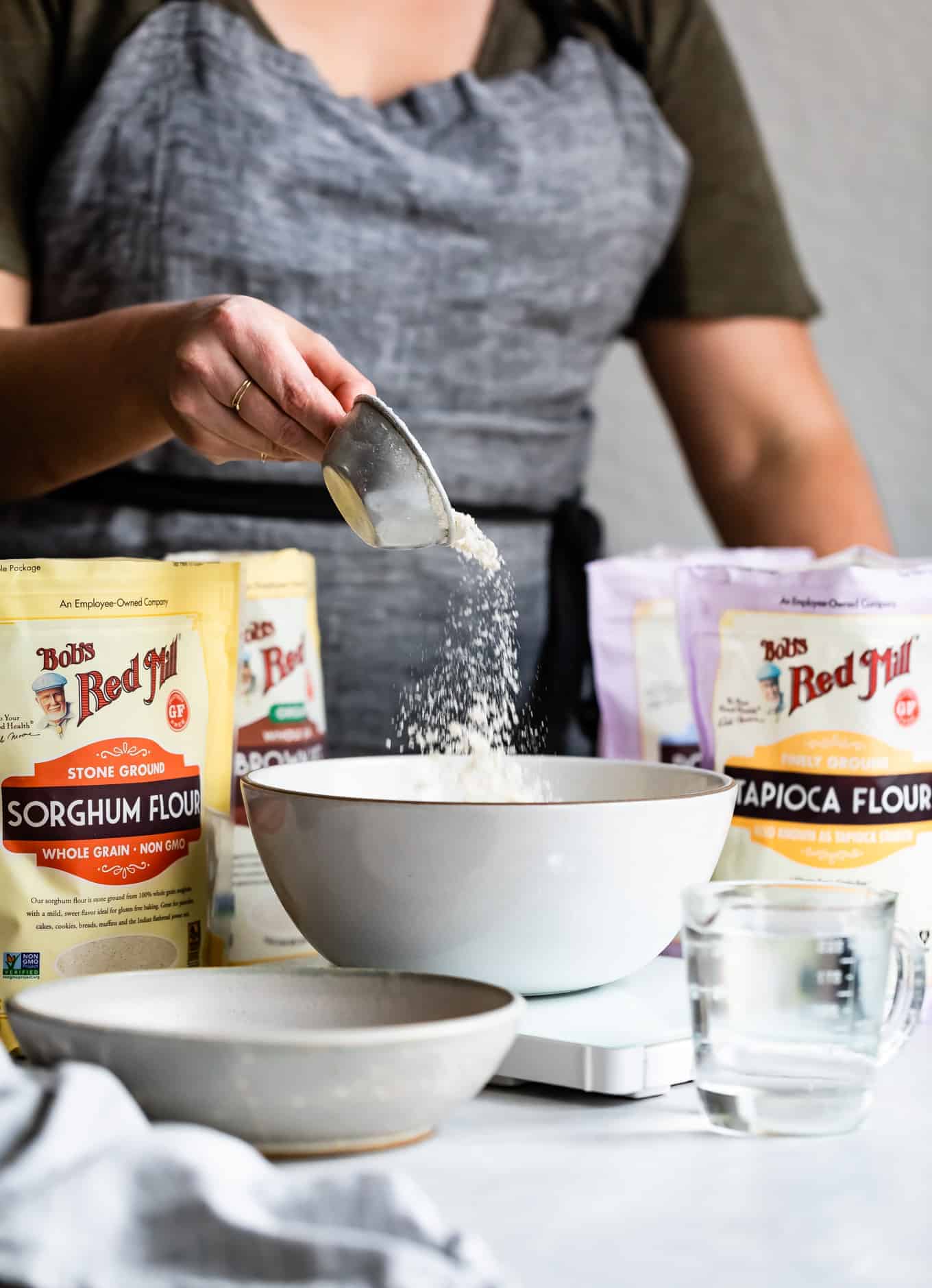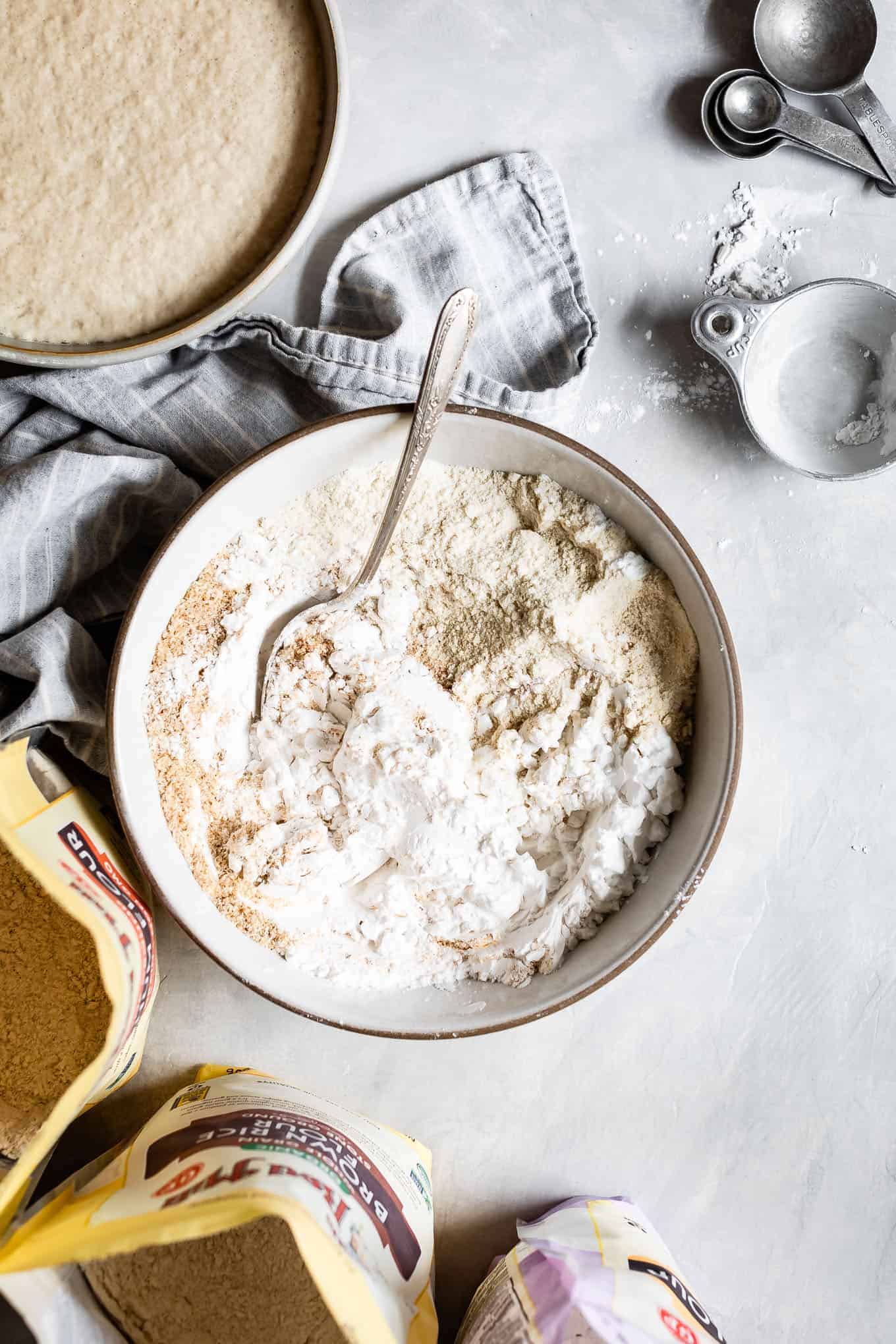 Best Gluten-Free Bagels
These homemade gluten-free bagels have a thick crust with a super chewy interior. When toasted, it crunches just a bit before giving way to a dense chewy center, the way a good bagel should.
Let's look at the ingredients that go into a gluten-free bagel, along with substitution recommendations. I use all Bob's Red Mill flours in this recipe which is consistent in quality. All measurements have been formulated accounting for the specific grind of their flours, so sticking with Bob's Red Mill flours will provide the best gluten-free bagels.
Brown Rice Flour
This recipe uses brown rice flour coupled with sorghum flour for the whole grain component. Brown rice flour is a great neutral whole grain flour for bread because it bakes up neither gummy nor gritty and it soaks up the moisture nicely. I've tried baking sourdough loaves without brown rice flour and none of them get the texture quite right, so when I turned to bagel-making, I pulled on that sourdough experience and started with brown rice flour.
Sorghum Flour
I've paired the brown rice flour with sorghum flour to add more nutrients and flavor. Sorghum is wholesome and whole grain that has slightly sweet notes that add flavor depth. I tested a version with oat flour in place of sorghum and the results were too fluffy. The bagels didn't have quite as nice a texture.
Tapioca Flour and Potato Starch
For starches, I've used a combination of tapioca flour and potato starch. If you've made a few of my recipes, you'll know tapioca flour is one of my most-used flours. It's a fluffy starch that adds chewiness to baked goods. Just like when baking sourdough, I found that combining the tapioca flour with potato starch produced a more flavorful bagel.
The texture of the all tapioca flour tests were very similar, however, so if you don't have potato starch, you can substitute tapioca flour in its place, but the results won't be quite as flavorful.
Psyllium Seed Husks
These bagels use psyllium seed husks instead of xanthan gum as the binder. I often get asked about substitutions for xanthan gum due to sensitivities, so for these gluten-free bagels, I started with what I know works for gluten-free sourdough bread: psyllium seed husks. The psyllium seed husks soak up moisture and, in doing so, bind the flours together, adding chewiness that mimics gluten. It's also the secret ingredient that binds this cinnamon raisin seed and nut bread together.
Apple Cider Vinegar
Just like in my gluten-free pizza dough recipe, the apple cider vinegar in the dough will help to strengthen it and slightly increases the acidity. This allows the yeast to grow easier, causing your bagels to rise a bit better.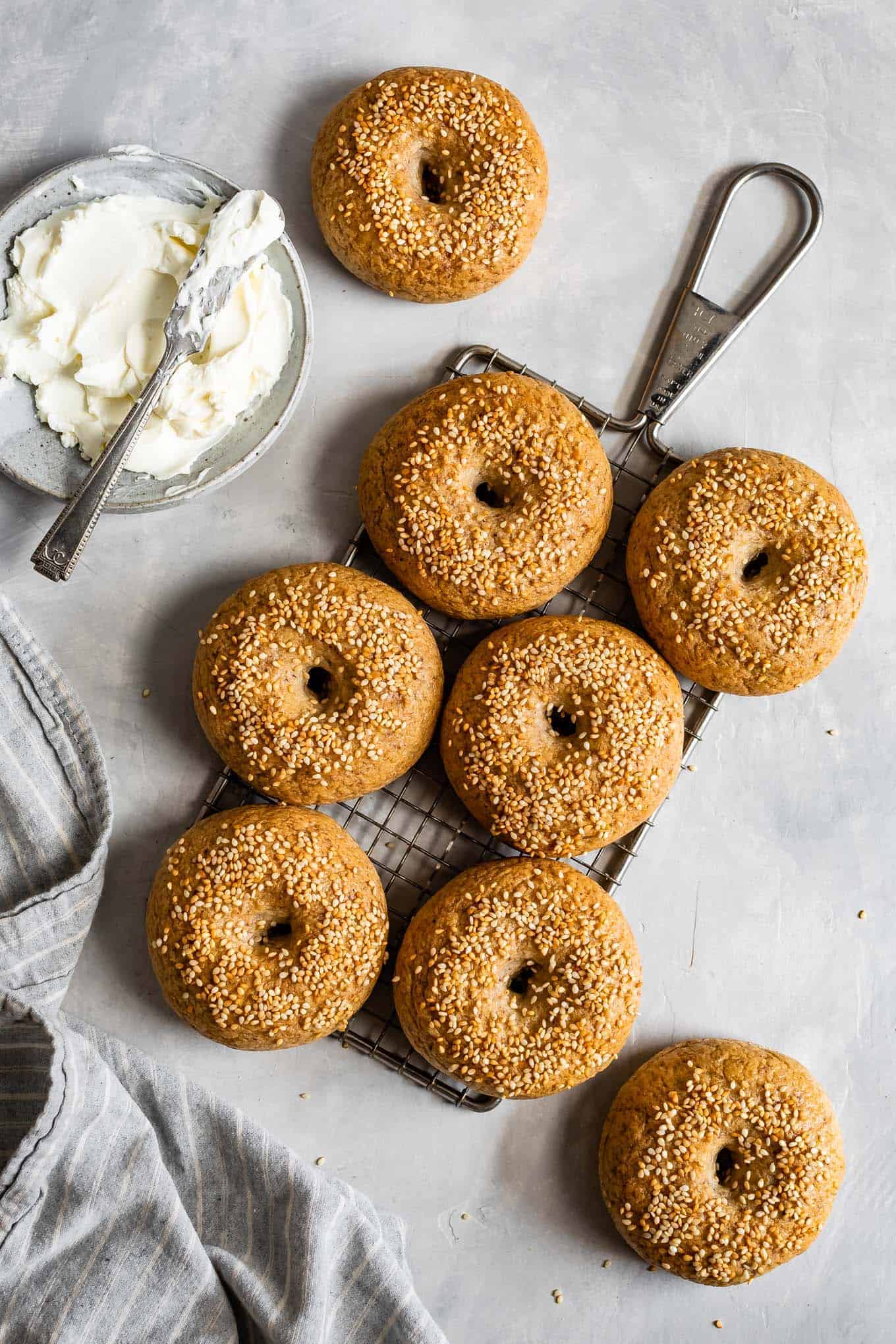 How to Make Gluten-Free Vegan Bagels
Mixing the dough
The first step to making gluten-free bagels is to mix all the flours together well in a stand mixer before adding the wet ingredients. Add the wet ingredients, kneading using a dough hook. Alternatively, you could mix it by hand with a rubber spatula, then knead it together by hand. At first, the dough will seem as though it's too moist, but as it sits for a few minutes, the psyllium seed husks will soak up the moisture, turning it into a thick dense dough. Knead this dough by hand for a few minutes before dividing it into 8 pieces.
How to Shape Gluten-Free Bagels
To shape the bagels, roll each piece into a smooth ball with the palm of your hand. If you notice the dough feels very dense or even a bit dry on the outside, wet your hands just a bit and knead the water into the dough ball with your hands. Once in a smooth ball, use your thumb and index finger to pinch a hole in the middle of the ball, expanding it to about ¾ to 1-inch large using your fingers.
I make my bagels on the smaller side because these hearty gluten-free bagels are very filling. If you prefer a bigger bagel, make just 6 and increase the baking time a few minutes.
Resting and rising
When making gluten-free yeasted dough, you want to encourage trapping as much air into the rise as possible. For that reason, we shape the bagels before the rise so we don't disturb that beautiful rise later. Let them rise, covered, for 60-90 minutes in a warm place (I use the proof setting on my oven).
Water Bath
Don't skip this step. Just before the bagels are done rising, prepare a boiling water bath with honey. This gives them that brown sheet and thickens the crust, giving it the classic bagel chewiness. While the oven preheats, boil the bagels in batches for just 1 minute per side. Transfer boiled bagels back to a parchment-lined baking sheet.
Egg White Brush & Toppings
Brushing the boiled bagels with egg whites does two things. First, it enhances the browning of the crust even further. It also helps the toppings stick to the bagels. Sesame bagels are my favorite, but you could do poppy seed, everything seasoning, onion granules, or whatever else your heart desires!
For a vegan version, you can skip the egg white brush and brush with melted plant butter instead.
Bake
Now they bake and you drink your matcha latte, waiting patiently. They'll brown up and if you tap on them they'll seem very hard, but they crust will soften almost immediately as they cool.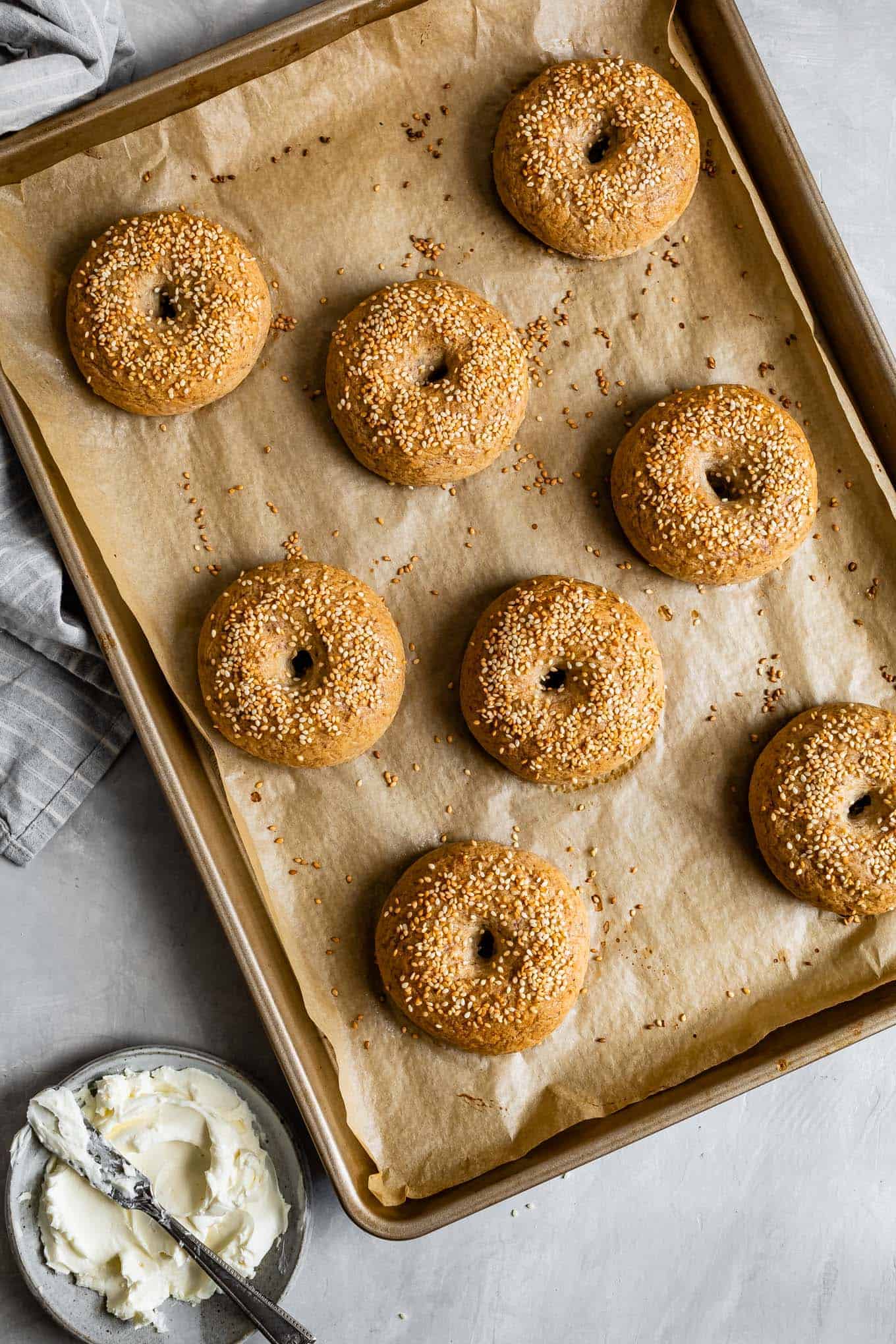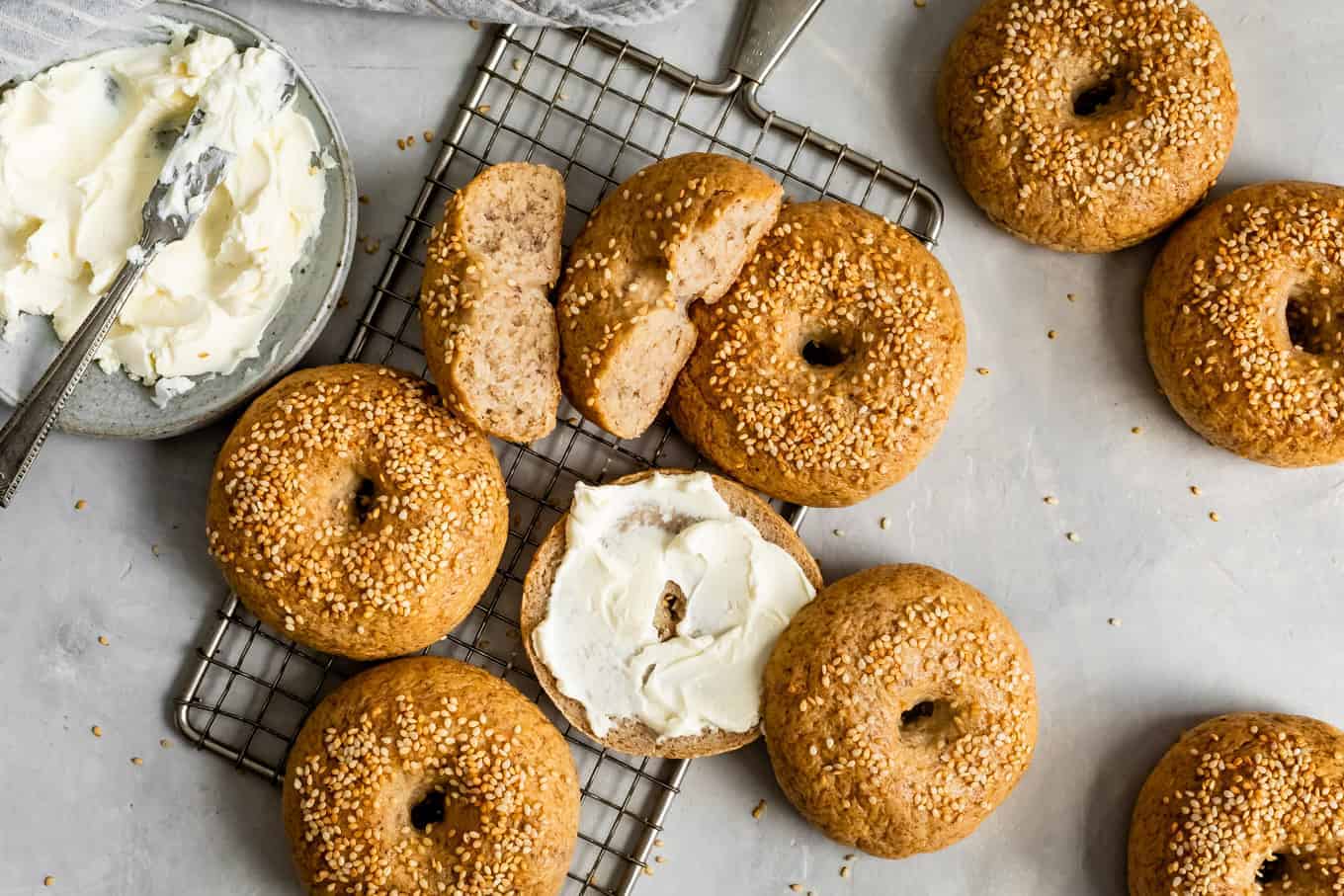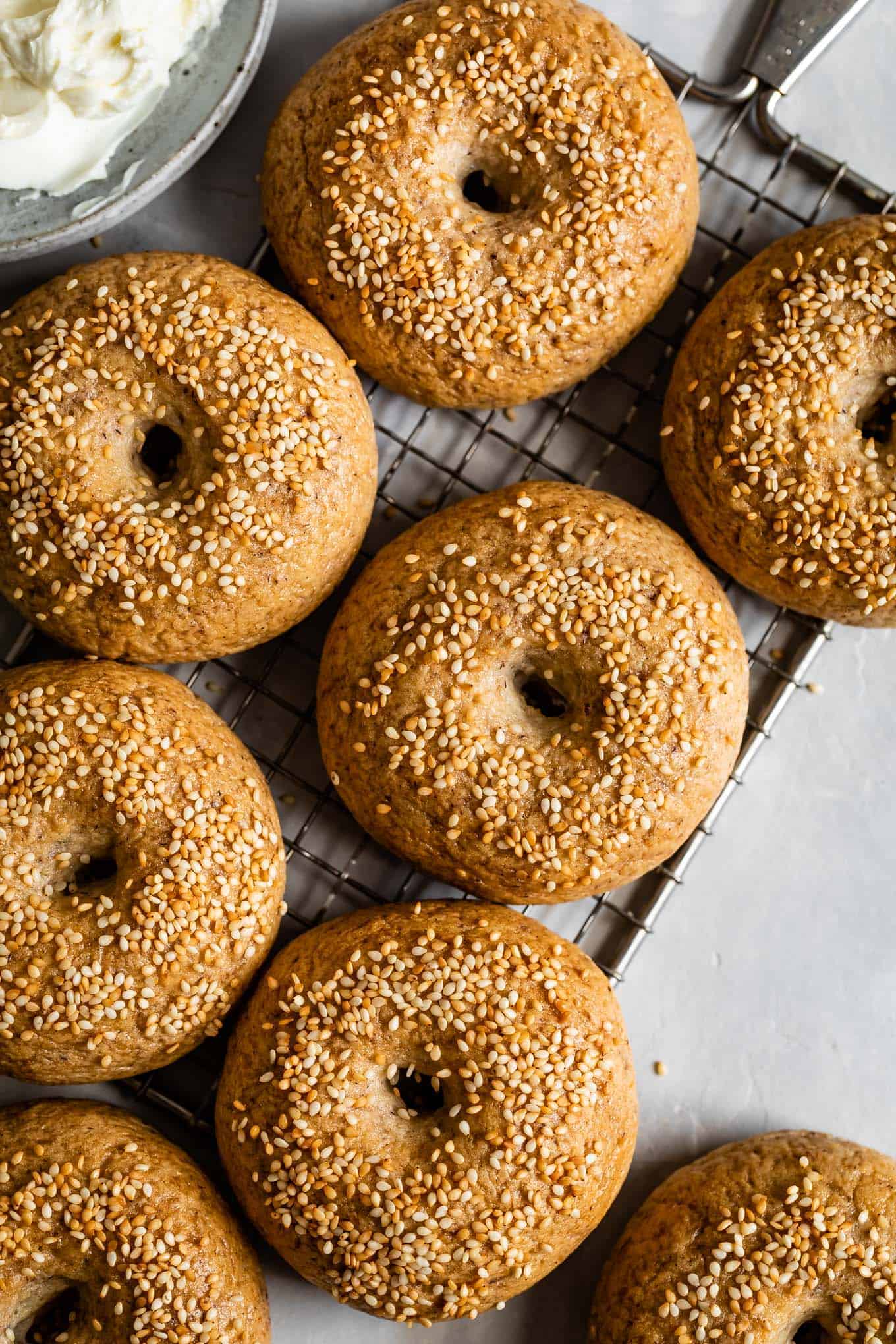 Storing Homemade Bagels
Just like bagels you'd get at a bakery, these gluten-free bagels are best eaten the day they're baked. Fresh bagels are great warm and untoasted after resting for about 20 minutes fresh from the oven.
If eating the gf bagels after they've cooled completely or the next day, they're best toasted before topping with your favorite spread.
Store bagels in an airtight container for up to two days. For any bagels that you won't eat within 2 days, slice and freeze them as soon as they cool. Pop frozen bagels in the toaster to defrost and refreshen the texture.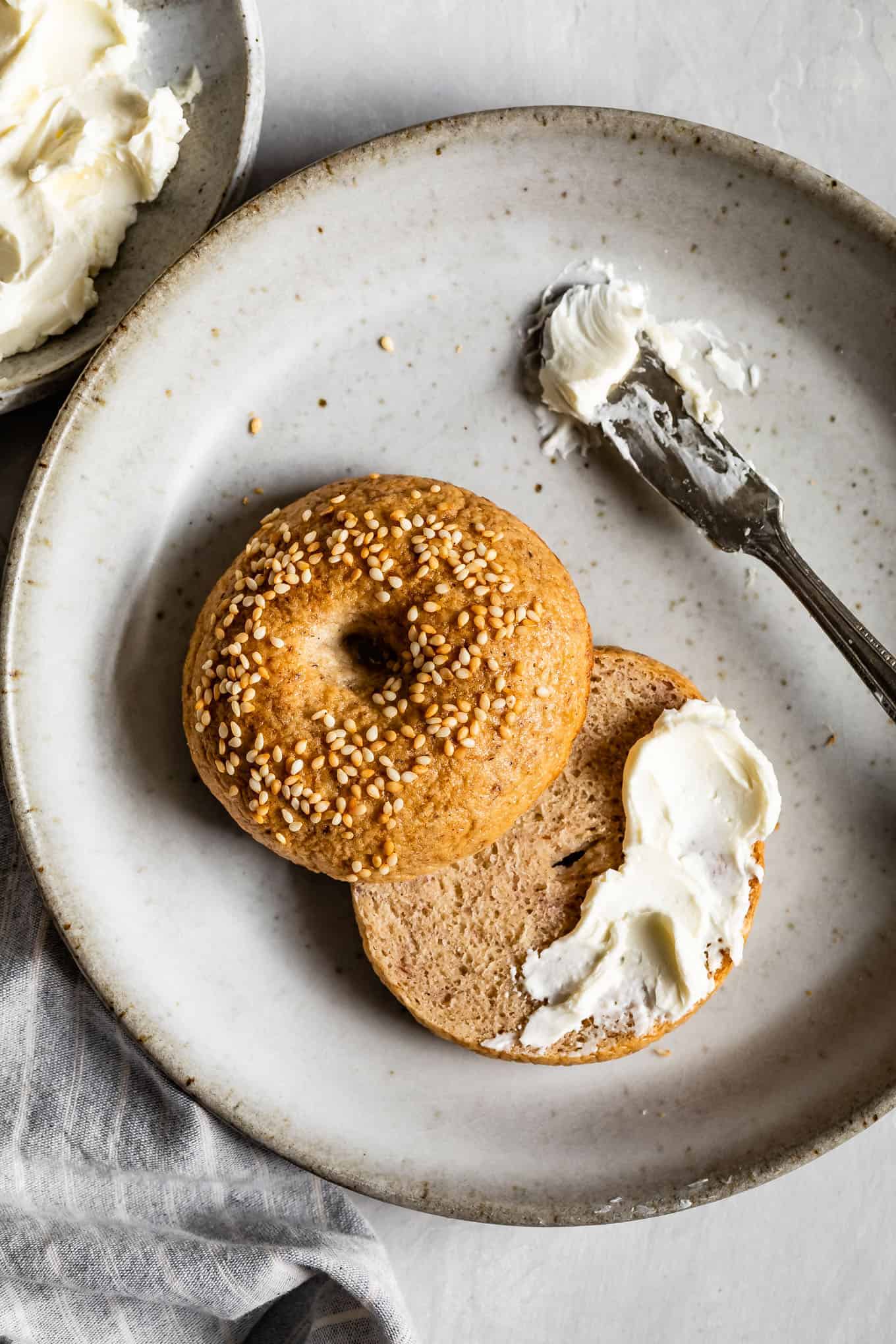 GLUTEN-FREE DOUGH RECIPES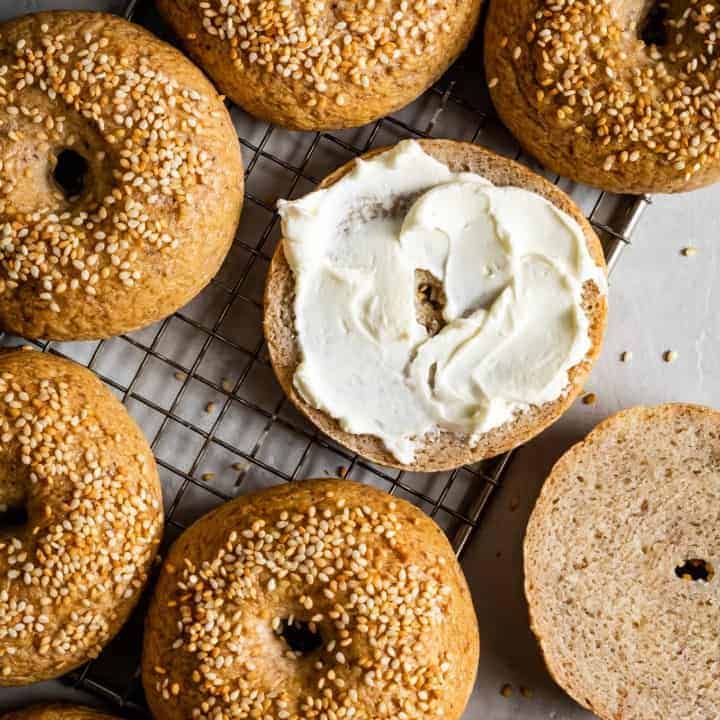 Gluten-Free Bagels
Rise Time:
1 hour
30 minutes
Total Time:
2 hours
20 minutes
Perfectly chewy gluten-free bagels made from scratch at home! These yeasted bagels are so good, you can't tell they're gluten-free. Top with sesame seeds, everything seasoning, or your other favorite toppings.
Ingredients
Gluten-Free Bagels
325g (1¼ cup + 2 tablespoons) warm water (105-110°F)
1 tablespoon granulated sugar
20g (¼ cup) psyllium seed husks (I use whole flakes)
2 teaspoons kosher salt
1 tablespoon apple cider vinegar
½ tablespoon extra virgin olive oil
For egg wash: 1 egg white beaten with 1 tablespoon water
Optional toppings: sesame seeds, dried minced onion, everything seasoning, poppy seeds, etc.
Poaching water
2 quarts water
2 tablespoons honey or maple syrup
Instructions
Warm the water on the stove or microwave between 105-115°F (if you go over, just let it cool until the temperature is in that range so you don't kill the yeast). Transfer to a wide medium bowl and mix in the sugar. Slowly sprinkle the yeast over the warm water. Let sit for 10 minutes while the yeast activates and foams. If the yeast hasn't gotten foamy by 10 minutes, the yeast may not be fresh, so try again with a new package.
Meanwhile, combine the brown rice flour, tapioca starch, potato starch, sorghum flour, psyllium seed husk, salt, and baking powder in the bowl of a stand mixer with the dough hook attachment or a large mixing bowl. When the yeast/water mixture is ready, add it to the flour along with the olive oil and vinegar and mix on low to combine. Increase speed to medium and knead for 4-5 minutes until the dough is super smooth and pulls away from the edges a bit. (If using a mixing bowl, mix with a wooden spoon until it's thick, then knead with your hands until it forms a smooth ball). At first, it will seem very moist, but the psyllium will soak up the water after a few minutes.
Divide the dough into 8 equal pieces. Knead and roll each piece into a ball and use your thumb and index finger to pinch a whole in the center. Place on a parchment-lined baking sheet and repeat with remaining dough, placing them at least 2 inches apart. If the dough feels too firm or starts to dry/crack as you roll, either knead in a tiny bit more water or dampen your hands as you knead and roll out a new bagel. When finished with all 8 bagels, cover the baking sheet with plastic wrap and let rise in a warm spot for 90 minutes.
When they're done rising, bring a large pot of 2 quarts of water plus honey to boil and preheat the oven to 425°F. Whisk together the egg white and water and set aside with a pastry brush and have your desired toppings in a separate bowl.
Working in batches of 2-3 bagels, use a slotted spoon or spatula to drop a bagel into the boiling water. Boil for 1 minute, flip each bagel and boil for another minute. Transfer bagels back to the parchment-lined baking sheet, tapping lightly on the edge of the pot to get rid of extra water. repeat until you've boiled all the bagels.
Brush each bagel with egg wash all over the exposed surfaces and sprinkle with your desired toppings. Bake on the middle rack for 30-35 minutes until the bagels are golden brown and firm to the touch (if they seem very hard, don't worry, they'll soften up almost instantly as they cool). Let cool completely before slicing and serving.
Store bagels in an airtight container for two days. Slice and freeze any bagels you won't eat within 2 days. Fresh bagels are great untoasted, but if eating them the next day or out of the freezer, they're best lightly toasted.
Notes
Potato Starch: Potato starch is different than potato flour (meanwhile, tapioca starch and tapioca flour are the same in the US). You can substitute the potato starch with more tapioca flour/starch if you'd like. The results are less flavorful than the version with potato starch, but similar in texture! You won't be disappointed.
Size: I make my bagels on the smaller side because these hearty gluten-free bagels are very filling. If you prefer a bigger bagel, make just 6 and increase the baking time a few minutes. 
Nutrition Information:
Yield:

8
Serving Size:

1
Amount Per Serving:
Calories:

168
Total Fat:

4g
Saturated Fat:

1g
Trans Fat:

0g
Unsaturated Fat:

3g
Cholesterol:

23mg
Sodium:

673mg
Carbohydrates:

31g
Fiber:

2g
Sugar:

9g
Protein:

4g