This bread is an ode to my dad and the cinnamon raisin bread bars he'd toast for his breakfast every morning when I was a kid (not for me - I turned my nose up at anything with mushy cooked raisins in it). Mornings are my dad's jam. For me, they're the absolute worst.
But having a loaf of this cinnamon raisin seed and nut bread on hand makes them significantly more bearable. Especially when your baby seems to have inherited some of her grandpa's AM enthusiasm (the happy part, thankfully - not the early part...yet.).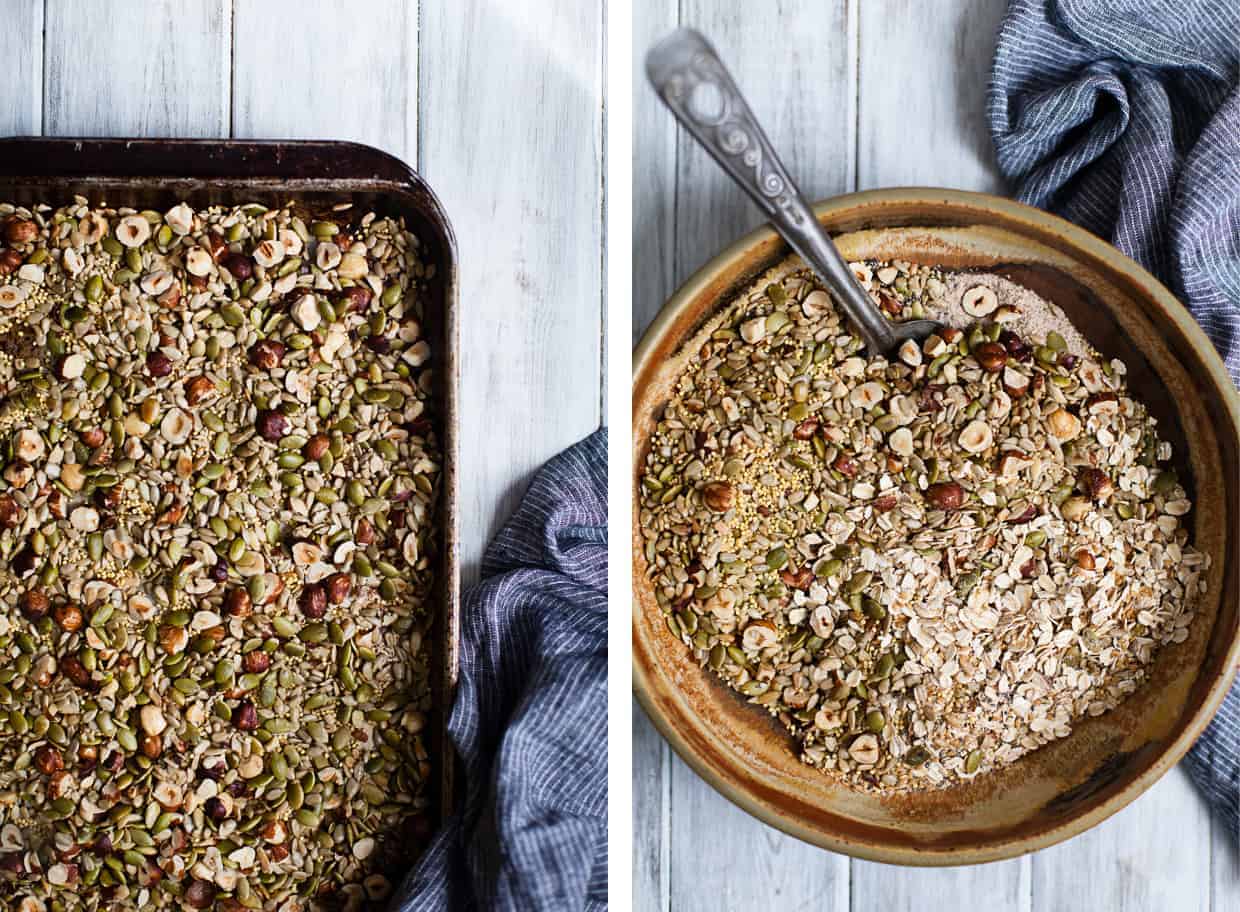 My dad's face should be pasted next to "morning person" in the encyclopedia. He's more than just a bright-eyed breakfast-lover though, he's also got an impressive internal alarm system. If he needs to wake up at 3:30am...or 5am...or 4:12am for something super important, he won't set an alarm - he'll just snap himself awake at whatever ungodly hour. (BUT HOW?? You're my hero, Dad.)
Meanwhile when three separate alarms wouldn't drag me out of bed in high school, he'd wake me by ripping my comforter off before sauntering downstairs to toast his cinnamon raisin bread bars. (I agree, Alanna, morning people are so annoying).
For the record: this is how you guarantee I wake up as a raging morning monster. My husband has learned the hard way, it's best to wake me gently, while stroking my hair and whispering sweet nothings in my ear. Things like, "your breath smells amazing, honey" or "I love your new wind-blown hair look."
Or "your cinnamon raisin seed and nut bread is in the toaster."
That last one will for sure work every time.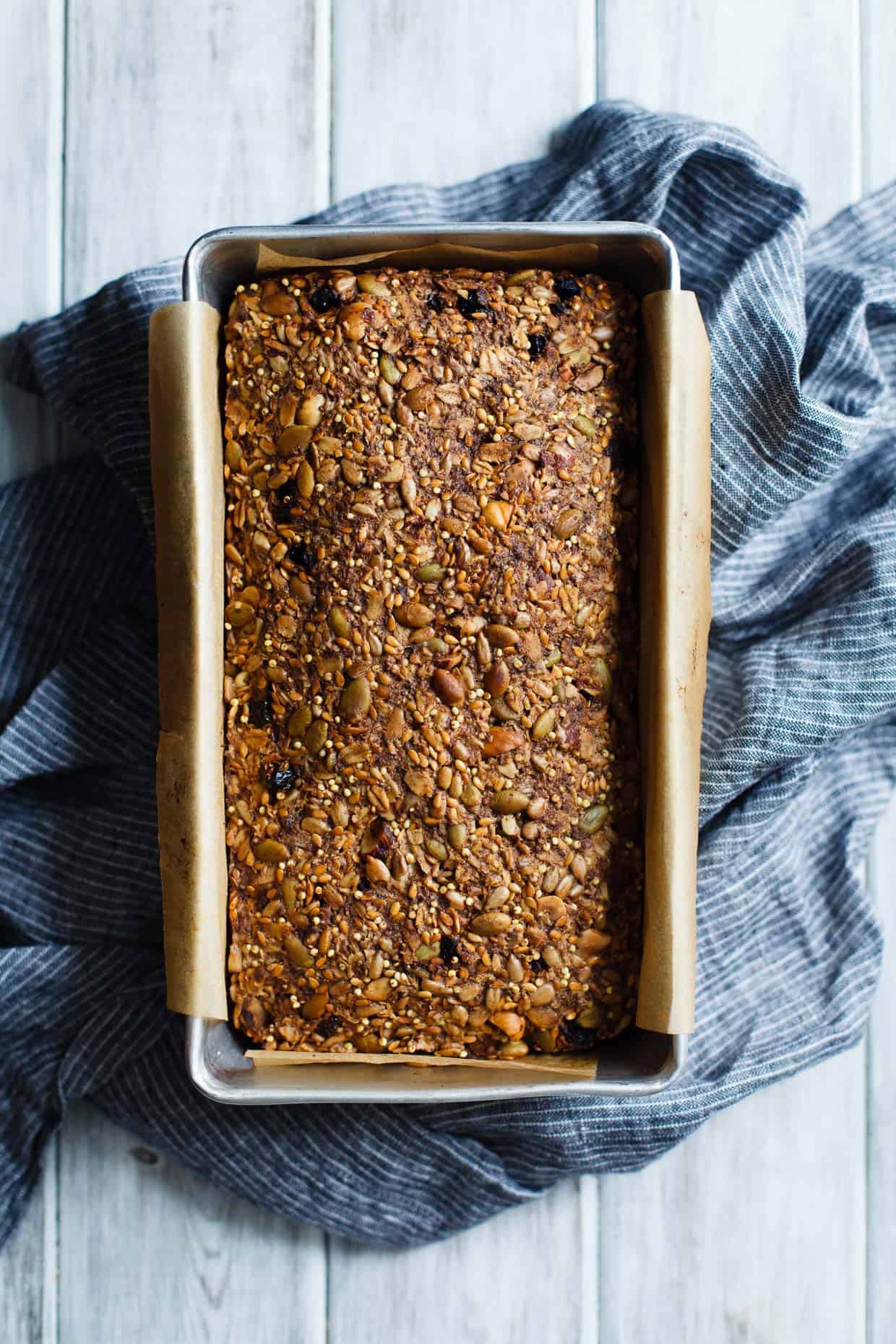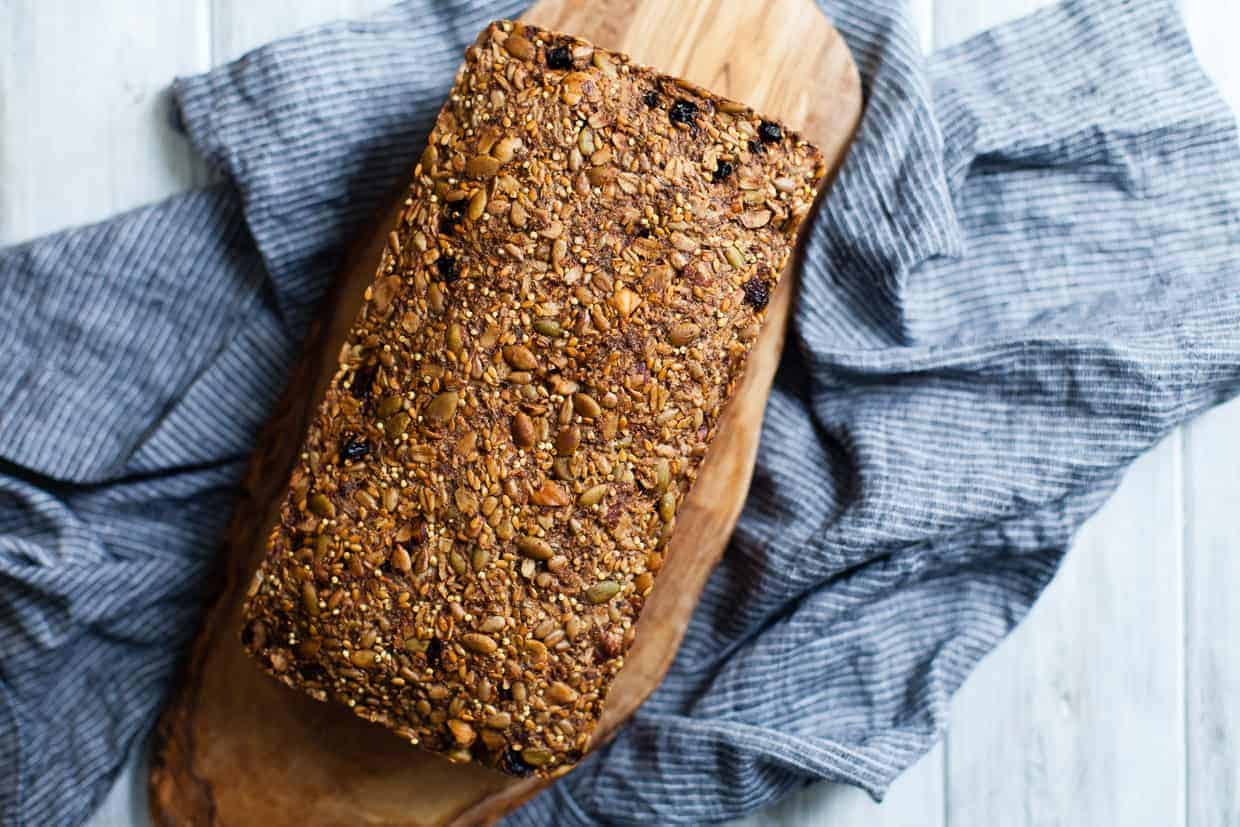 I've coined this loaf "new mom survival bread." I've been making variations ever since Alanna gave me half a loaf of her multi-grain seed & nut bread last year - both the one on her blog and a version from her upcoming book. I was hooked. This cinnamon raisin version - made just after Zoella was born - got me up from too-little sleep and kept me going.
It's got serious sticking power - an extra-toasted slice slathered with butter and some sea salt flakes will give you enough fuel to last the morning. Unlike most breads, it's got crunch and texture that requires you savor each mouthful with a few chomps. If ever there was a toast worth $4, this is it. (And it is - Josey Baker, the artisanal bread-maker behind SF's $4 toast, makes his own variant that he calls Adventure Bread).
I feel like they should give a loaf of this bread when you leave the hospital with your newborn: "goodluck, optimistic new parent, this bread will sustain you." That being said: this loaf makes an excellent gift. It most certainly lives up to the name Sarah Britton's given her version: The Life Changing Loaf. For a keto version, see my friend Sherrie's seed bread!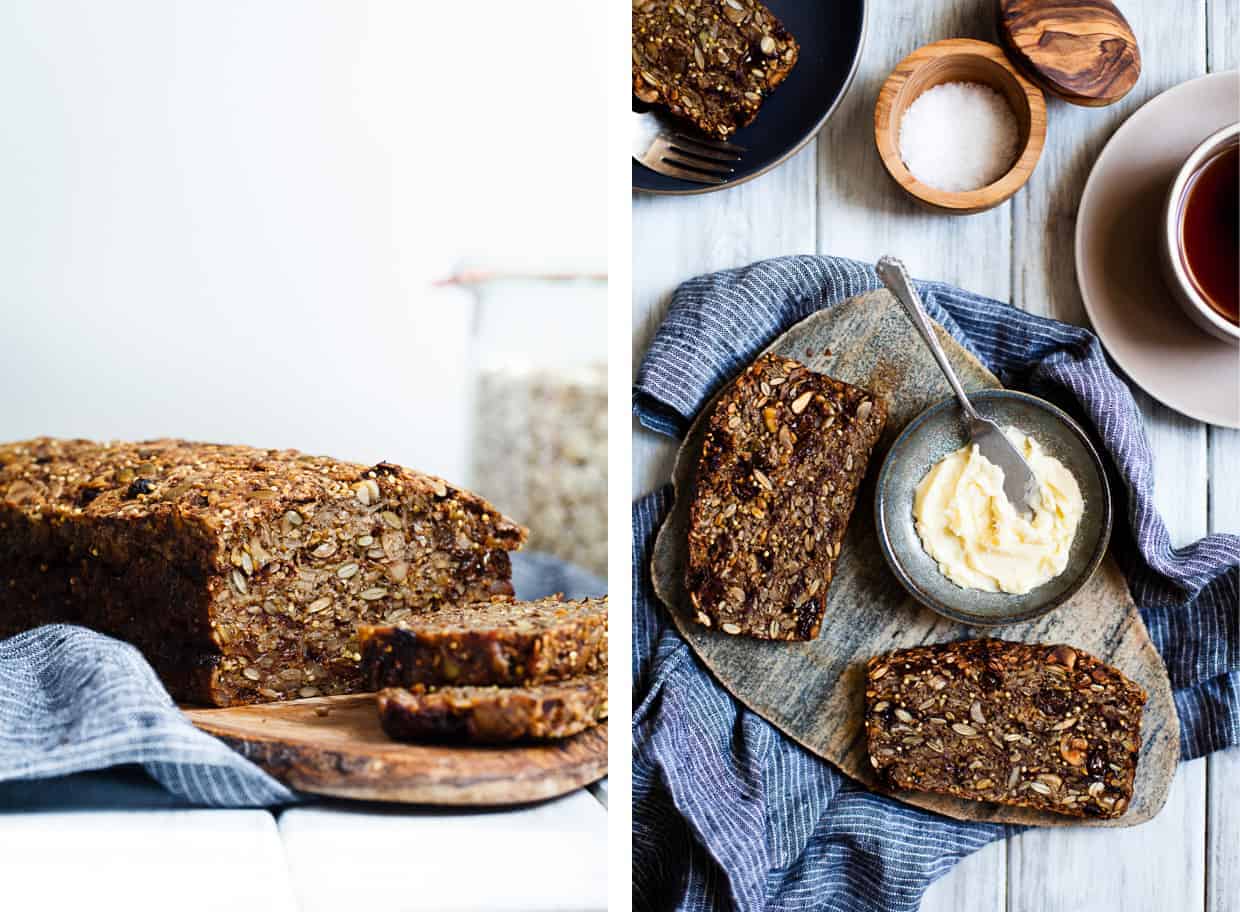 By absorbing up to 10x their own weight in water, psyllium seed husks are what give the bread its stick-togetherness, and as long as you've got that for a base, the loaf is flexible. Change up the nuts, seeds, & grains with others in the same amounts. Swap maple syrup for honey if that's your thing. I recently traded the hazelnuts and raisins to make a salted peanut chocolate chip version. I may have even served up a slice topped with a scoop of vanilla ice cream. (Find even more substitution suggestions on My New Roots.)
I'm currently obsessed with this cinnamon raisin variation. Dressed up as a nostalgic slice with toasty nuts, sweet raisins, and a spiral of warm cinnamon, I'm hoping it'll help to channel my dad's morning energy as I stumble out of bed.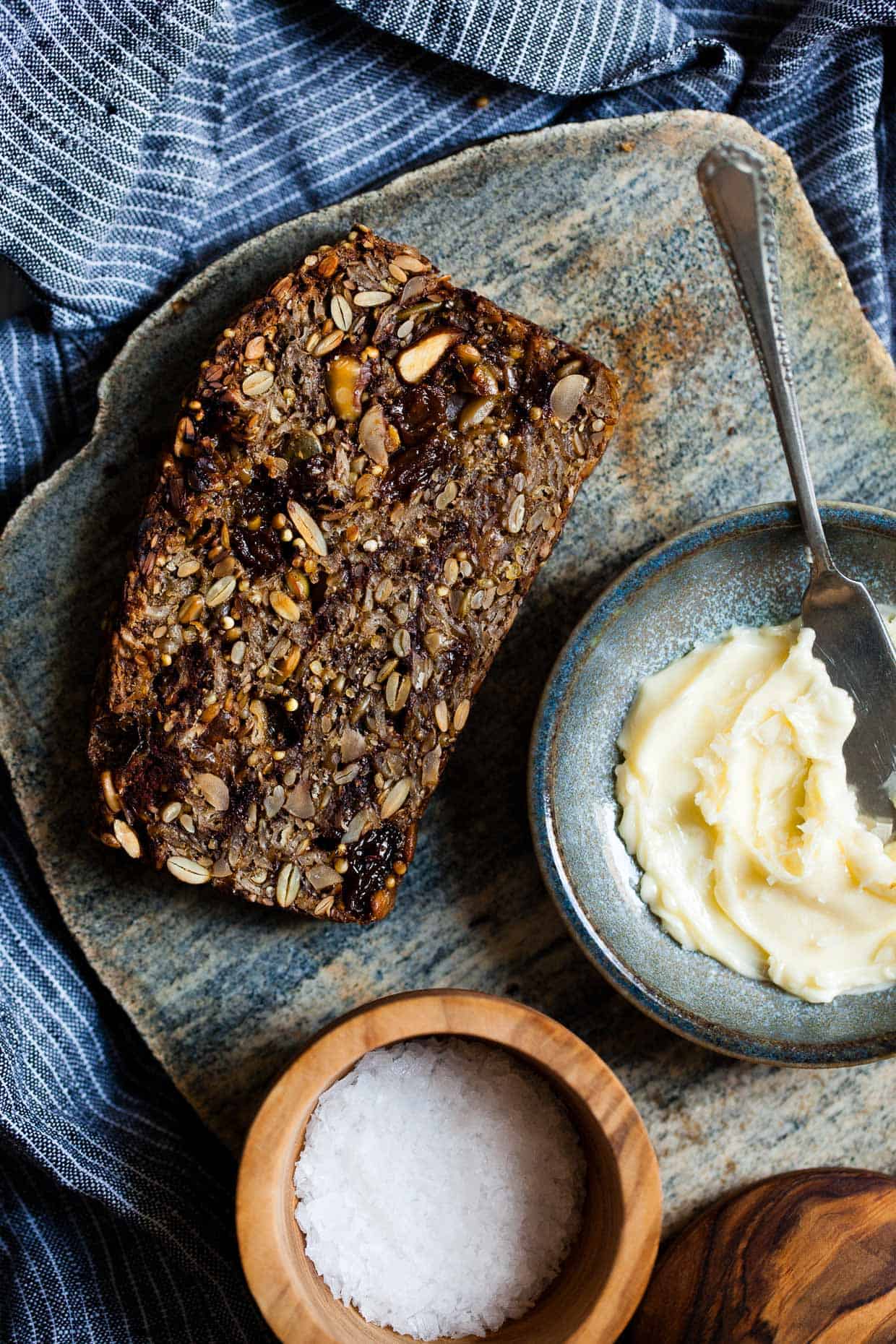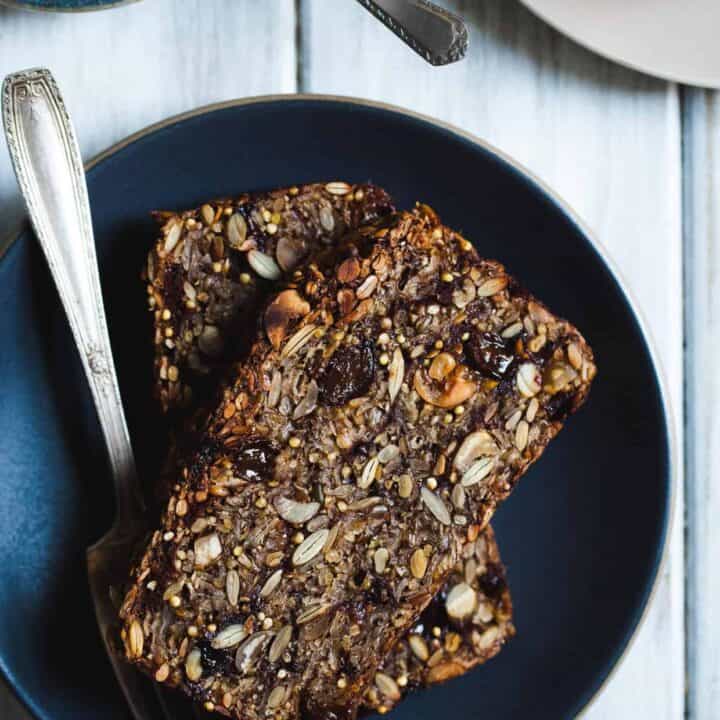 Cinnamon Raisin Seed and Nut Bread (Gluten-free & Vegan)
Ingredients
⅓ cup (2 ounces / 60 grams) millet seed
¾ cup (115g) sunflower seeds
½ cup (75g) pepitas (pumpkin seeds)
¾ cup (100g) hazelnuts, coarsely chopped
1 cup Thompson raisins (140g)
2¼ cups (203g) gluten-free rolled oats
½ cup (85g) flax seeds
3 tablespoons (35g) chia seeds
1½ teaspoons cinnamon
2 teaspoons sea salt
2½ cups (600g) water
¼ cup (55g) coconut oil
2 tablespoons (40g) maple syrup
Filling
1 tablespoon cinnamon
3½ tablespoons brown sugar
Instructions
Preheat the oven to 325°F.
Spread the millet, sunflower seeds, pepitas, and chopped hazelnuts out on a baking sheet and toast until lightly browned and fragrant, tossing occasionally, about 15-20 minutes.
Soak the raisins enough boiling water to cover while you toast the nuts & seeds. Drain well and set aside.
Toss together the toasted seeds, oats, flax seeds , psyllium seed husks, chia seeds, cinnamon, and sea salt in a large bowl.
Add the water, coconut oil, maple syrup, and raisins and toss to combine, using your hands to mix it together really well, until the "dough" is very moist.
In a small bowl, mix the cinnamon and brown sugar together.
Prepare a loaf pan (8.5x4.5 to 9x5) with a parchment paper sling and line the ends with parchment paper.
Scoop ⅓ of the dough into the loaf pan and spread it out evenly, sprinkle ½ of the cinnamon and brown sugar mix over the top. Repeat with another ⅓ of the dough and the rest of the cinnamon and brown sugar. Top with the remaining ⅓ of the dough, using your hands to create a slight dome form over the top.
Cover the pan with a cloth and let sit for at least 4 hours or overnight.
When ready to bake, preheat the oven to 400°F.
Bake the loaf, uncovered, for up to 1½ - 1¾ hours until deeply golden brown, checking every 15 minutes after 1 hour.
Let cool completely for at least 2 hours before removing from the pan.
Serve slices extra toasted with your favorite toppings (I'm partial to butter and flaky salt). Keep refrigerated for up to a week.