This vibrantly hot pink beet cashew hummus is the perfect make-ahead appetizer. Swirl in some garlic tahini yogurt and sprinkle with roasted almond za'atar and it's all dressed up and ready to party!
It's no secret that an invitation to dinner at our house comes with the expectation that food will be served an hour later than you arrive. I always intend on getting food on the table quickly, but between over ambitious cooking plans and a toddler rubbing sticky fingerprints on every surface of my kitchen, it just doesn't happen. This is why I always need to prepare appetizers in advance to have on hand for grazing. And I want those appetizers to taste and look just as impressive as the rest of the meal, especially over the holidays. This beet cashew hummus with garlic tahini yogurt swirl is just that.
This recipe is the second post in a partnership series with OXO - first we made roasted potato pizza. In addition to a few of the OXO kitchen gadgets I already use frequently in my kitchen, they sent me a set of their smart seal glass round containers which inspired this make-ahead appetizer.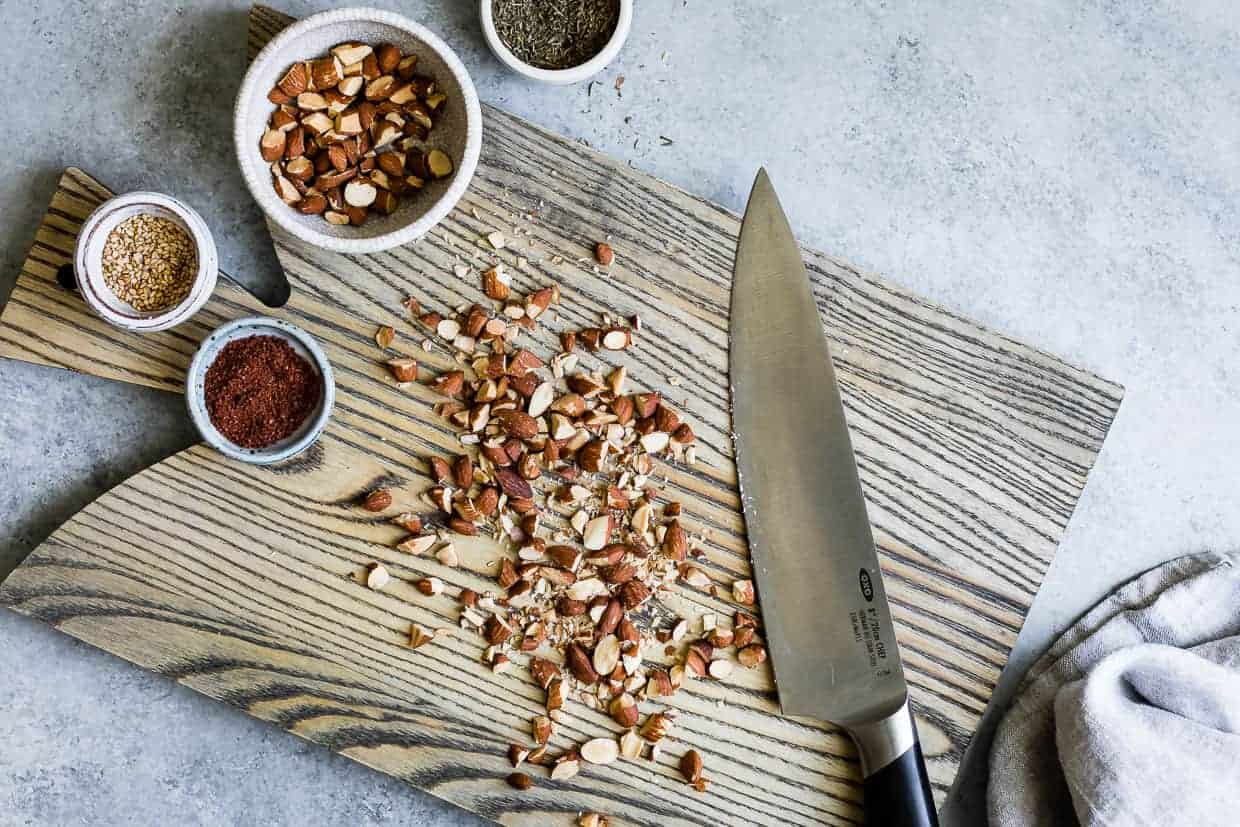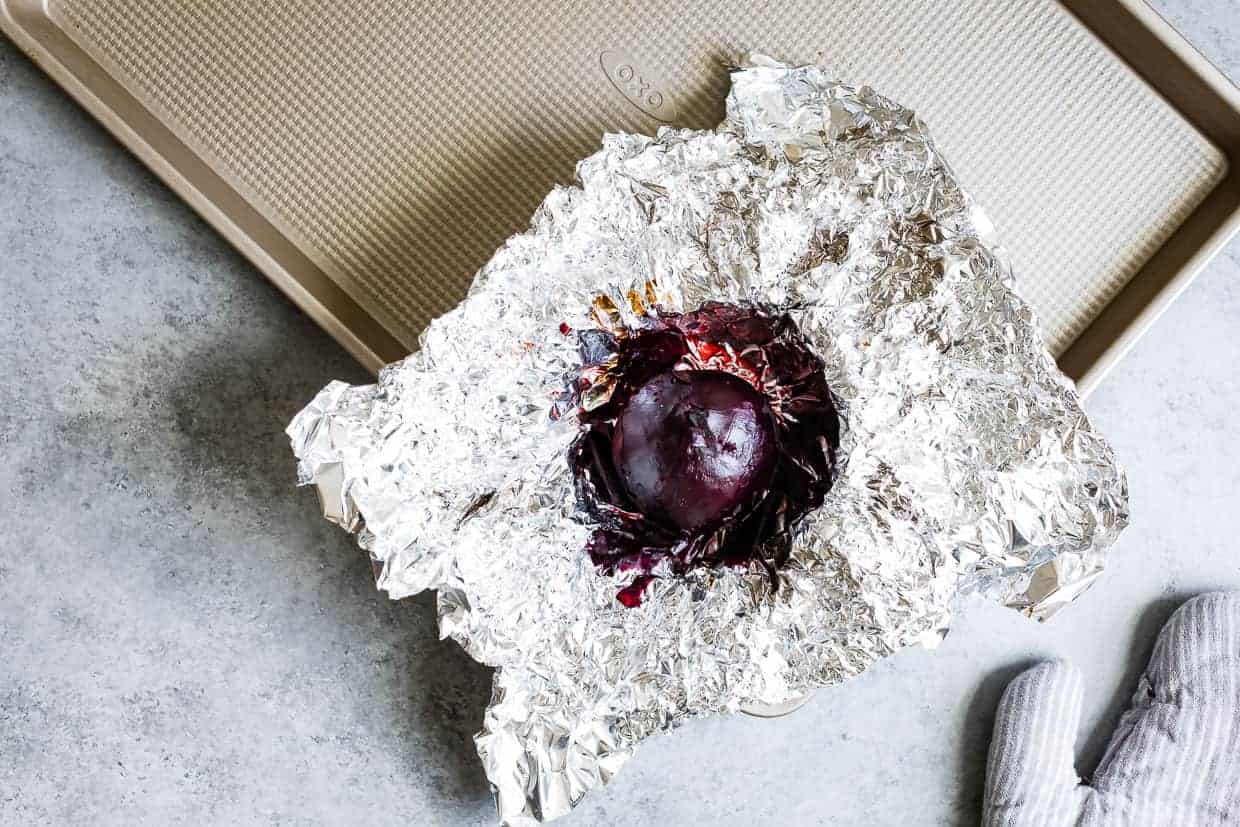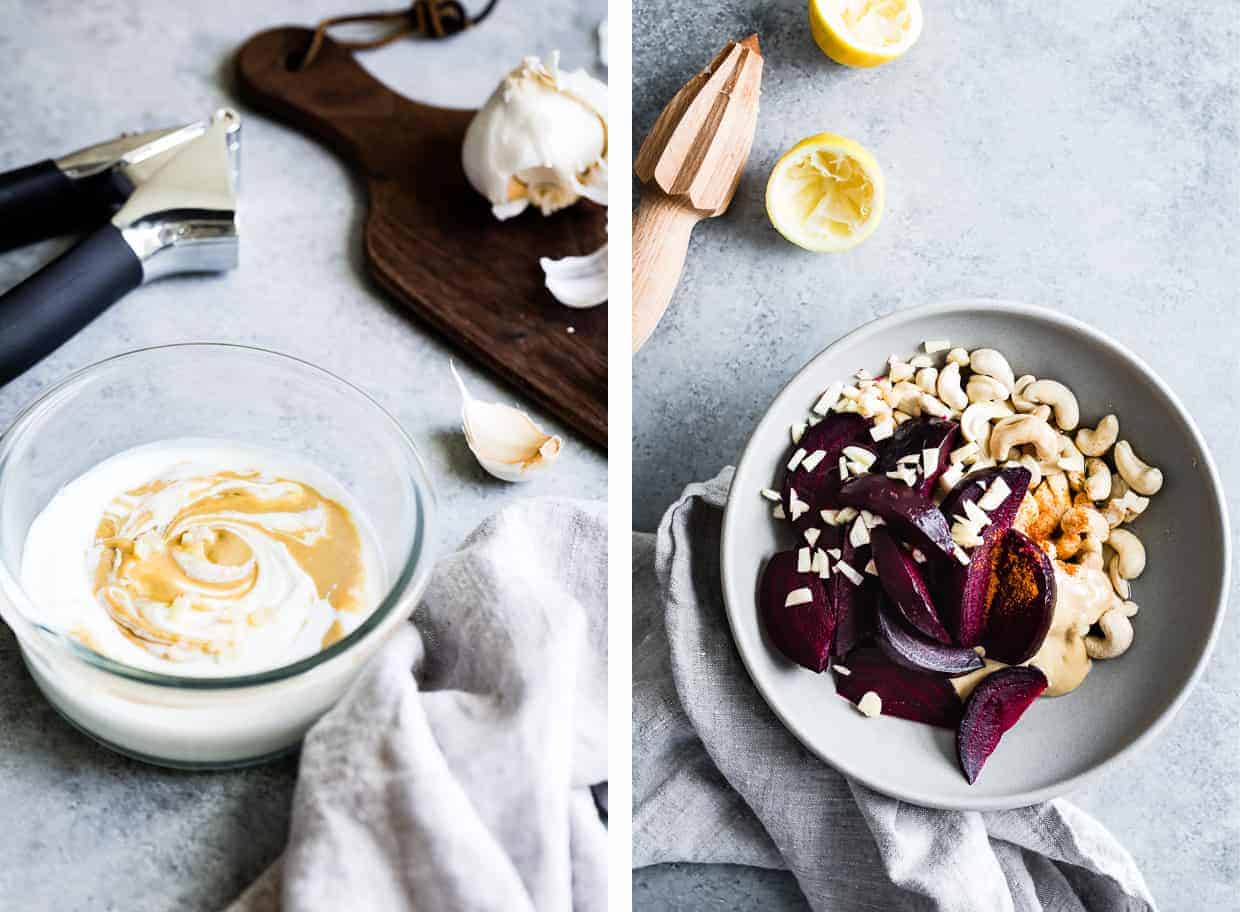 Do you have that one chore you're a pro at avoiding? For my husband it's emptying the recycling - he'll just let it keep growing into an unmanageably massive heap before taking it out. For me? It's putting away the dishes in the dish drainer. I'm a master at piling a precarious mountain of clean dishes. I'll wash dishes till the sun comes up, I'll even empty the dishwasher, maybe give you a foot rub, but the dish drainer? Pass.
I'll just keep stacking wet dishes on top of the dry ones. We even tried buying a super small dish rack to discourage this habit, but then I just lay towels down and extend the whole situation. I can't be stopped. Here's the truth: I hate things with nooks and crannies that never get dry on their own - I'm looking at you cheap plastic storage containers. Anyone with me on this one?
If you are, these glass round containers don't have nooks and crannies and they dry super fast. I'm 100% aware at how ridiculous I am to be excited about this. And if you can't relate, you should still get the storage containers to stack up all the components of this hummus in the fridge in anticipation of holiday dinner guests.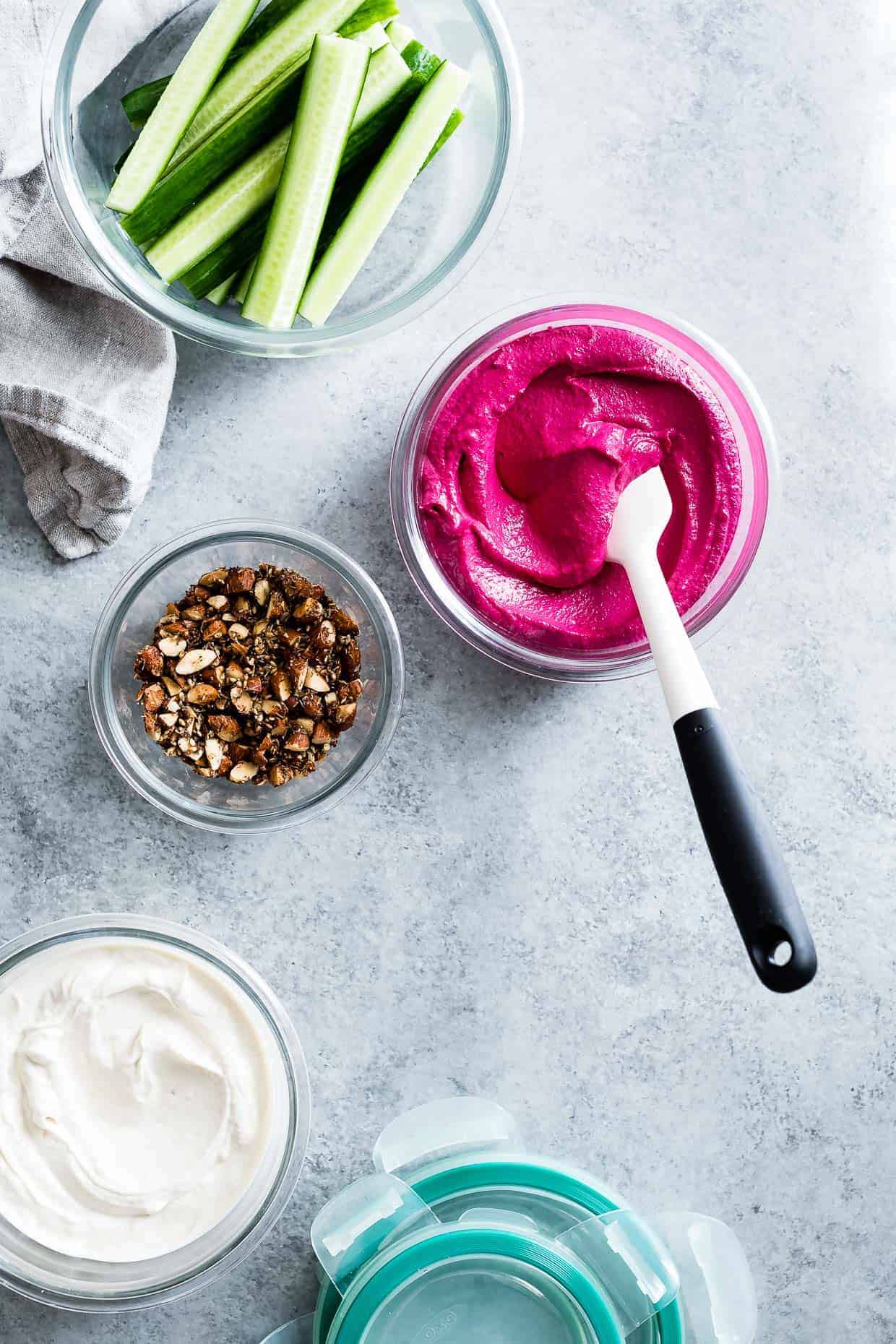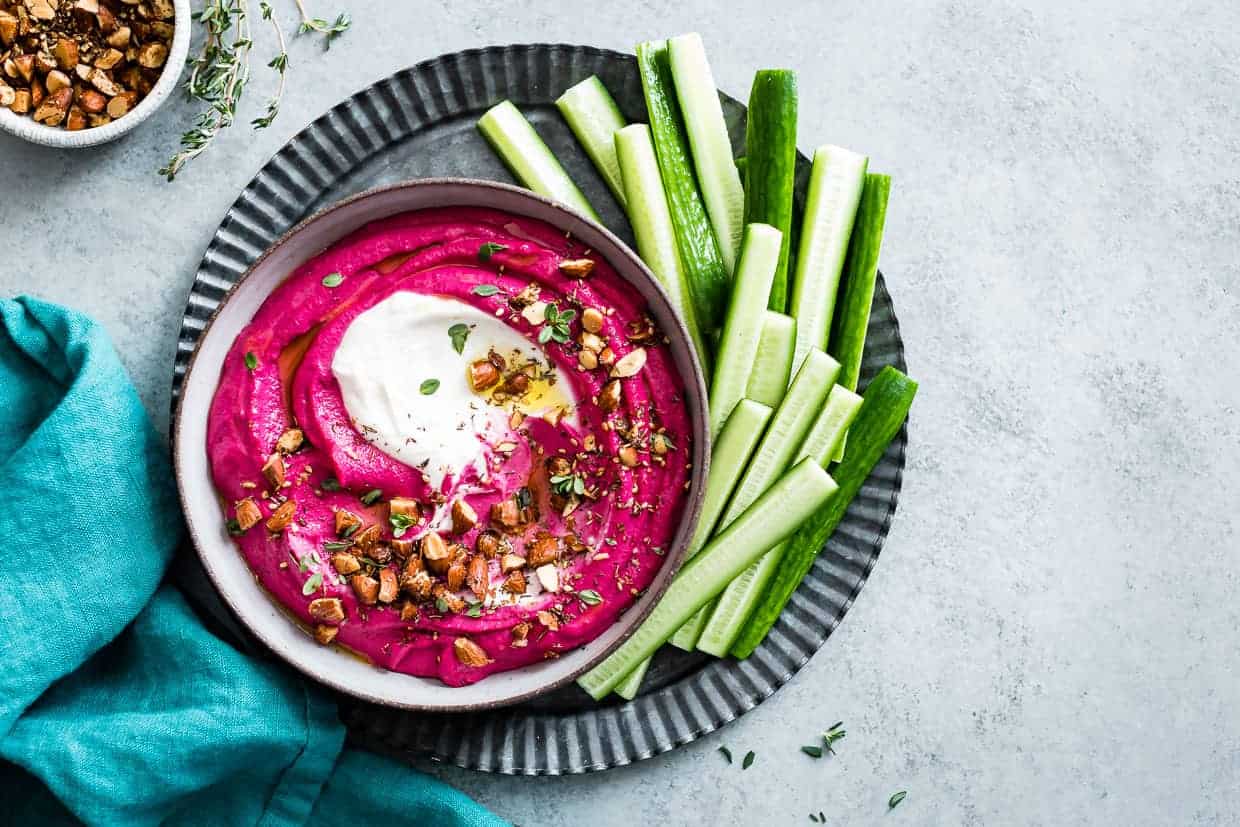 Rather than soaked chickpeas, this hummus uses soaked cashews. While you're at it, go ahead and soak double the cashews and make this golden milk cheesecake for the dessert table - two birds, one stone! Along with the soaked cashews, a whole roasted beet gets blended in, turning the hummus vibrantly pink with a rich earthy flavor that gets balanced out with some lemon and garlic.
A quick swirl of garlic yogurt tahini gives it a spicy tang and a sprinkle of roasted almond za'atar adds herbal notes and texture. Both double as jewelry for the pretty-in-pink hummus.
Each element - beet cashew hummus, garlic yogurt tahini, and roasted almond za'atar - can be made several days in advance and stored in the smart seal containers until ready to serve. You can even do what I did and make the yogurt tahini straight in the storage container, pressing the garlic right into the bowl. Do the same with the za'atar to save on dishes! Just before your guests arrive, scoop, swirl, sprinkle and serve!
No one will go hungry while they wait for your late dinner. Just make sure they don't spoil their appetite.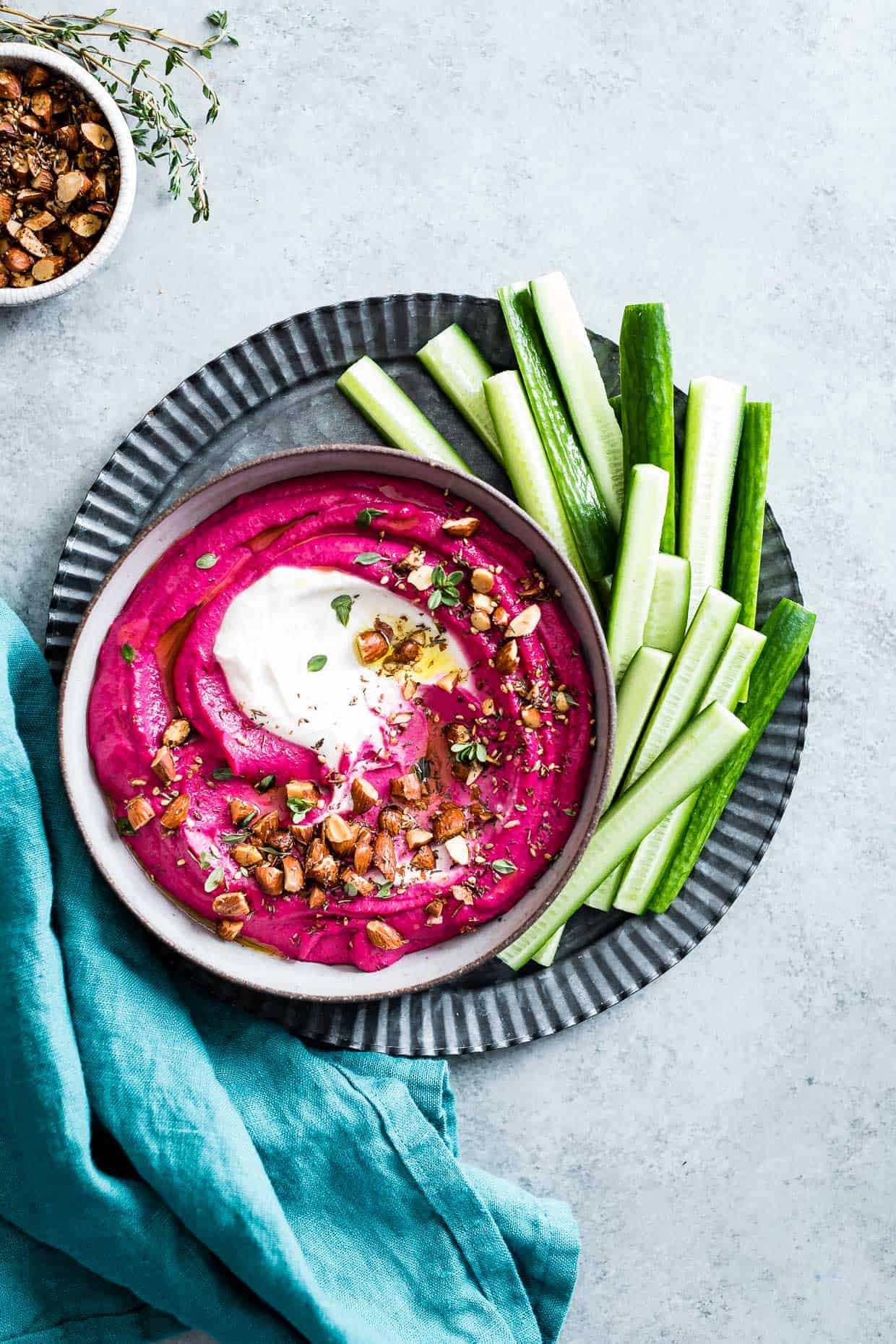 Head over to OXO to see more photos of this hummus in action!
OXO tools & gadgets seen in this post: Smart Seal Glass Round Containers | Non-Stick Pro Half Sheet Jelly Roll Pan | Garlic Press | Pro 8" Chef's Knife | Small Silicone Spatula | Wooden Reamer
Disclosure: Special thanks to OXO for providing the tools shown above and sponsoring this post! And thanks to you for supporting the companies that keep Snixy Kitchen cooking!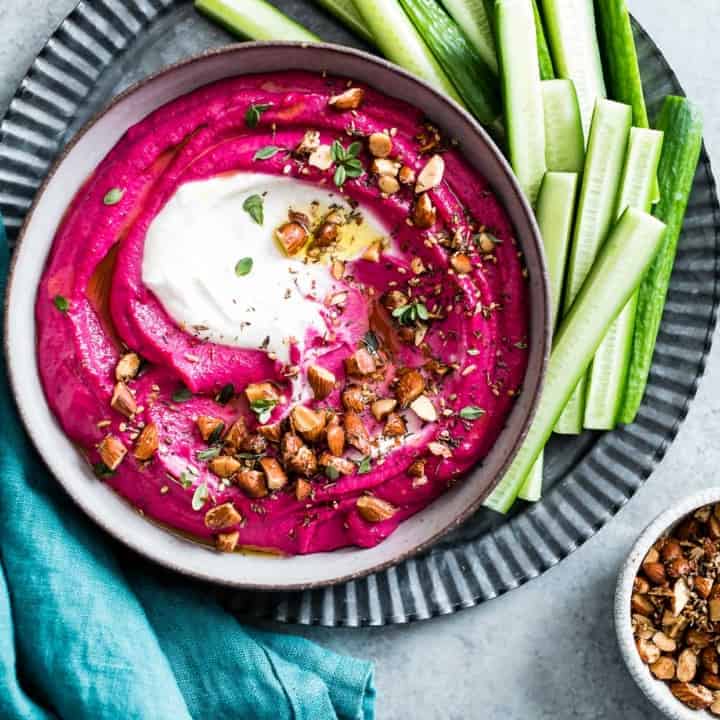 Beet Cashew Hummus with Garlic Tahini Yogurt Swirl and Almond Za'atar
Ingredients
Beet Cashew Hummus
1¼ cup raw cashews, soaked for at least 2 hours
1 medium beet, washed well
¼ cup fresh lemon juice (from 2-3 lemons)
3 tablespoons tahini
3 tablespoons extra virgin olive oil
1 tablespoon water
2 cloves garlic, chopped
½ teaspoon salt
Pinch cayenne
Garlic Tahini Yogurt Swirl
¼ cup yogurt
1 tablespoon tahini
1 large garlic clove, pressed
⅛ teaspoon salt
Almond Za'atar
⅓ cup dry roasted almonds
1 teaspoon toasted sesame seeds
1 teaspoon sumac
1 teaspoon dried thyme
¼ teaspoon salt
¼ teaspoon extra virgin olive oil
For Serving
Optional: fresh thyme, for garnish
Cucumber spears and/or crackers for dipping
Instructions
Preheat the oven to 450°F. Wrap the beet in a foil pouch and bake on a baking sheet for 40-50 minutes until soft and a knife slides right into the center. When finished baking, open the pouch and let it cool until cool enough to the touch (or rinse with cool water). Slip the beet out of the peel and slice it into a few chunks.
Meanwhile, prepare the tahini yogurt swirl. Whisk together all of the ingredients in a small bowl, adding ½ teaspoon of water to loosen it up if it's too thick. If making ahead, transfer to a small glass OXO Smart Seal Container and chill. Otherwise, chill until ready to serve
Meanwhile, prepare the almond za'atar. In a small bowl, combine the dry roasted almonds, toasted sesame seeds, sumac, dried thyme, salt, and olive oil. Toss to combine. If making ahead, transfer to a small glass OXO Smart Seal Container and set aside until ready to serve. Otherwise, set aside until ready to serve
Drain and rise the cashews well. Add soaked cashews to a high-powered blender or food processor Blend with with the sliced beet, lemon juice, tahini, olive oil, water, garlic, salt, and cayenne. Purée until completely smooth. If too thick, add another tablespoon of water or olive oil until desired creamy consistency.
If making ahead, use a rubber spatula to transfer to a medium OXO Smart Seal Container. Otherwise, transfer to a small serving bowl.
When ready to serve, swirl the beet cashew hummus into a bowl. Take a large spoonful of tahini yogurt sauce and swirl it on top with a spoon. Sprinkle with almond za'atar and, if desired, fresh thyme for garnish.
Serve with cucumber spears or crackers for dipping (or your favorite veggies and pita!)
Thanks for reading Snixy Kitchen! To stay up on what's coming out of my kitchen, follow me on Facebook, Instagram, Twitter, Bloglovin', or Pinterest, or subscribe via e-mail to get new recipes right to your inbox.