Vibrant red beet ravioli with pillows of herbed ricotta and goat cheese wrapped in a gluten-free high-protein chickpea beet pasta then topped with sage brown butter and fried beet chips. Pasta so tender, no one will ever believe that it's gluten-free!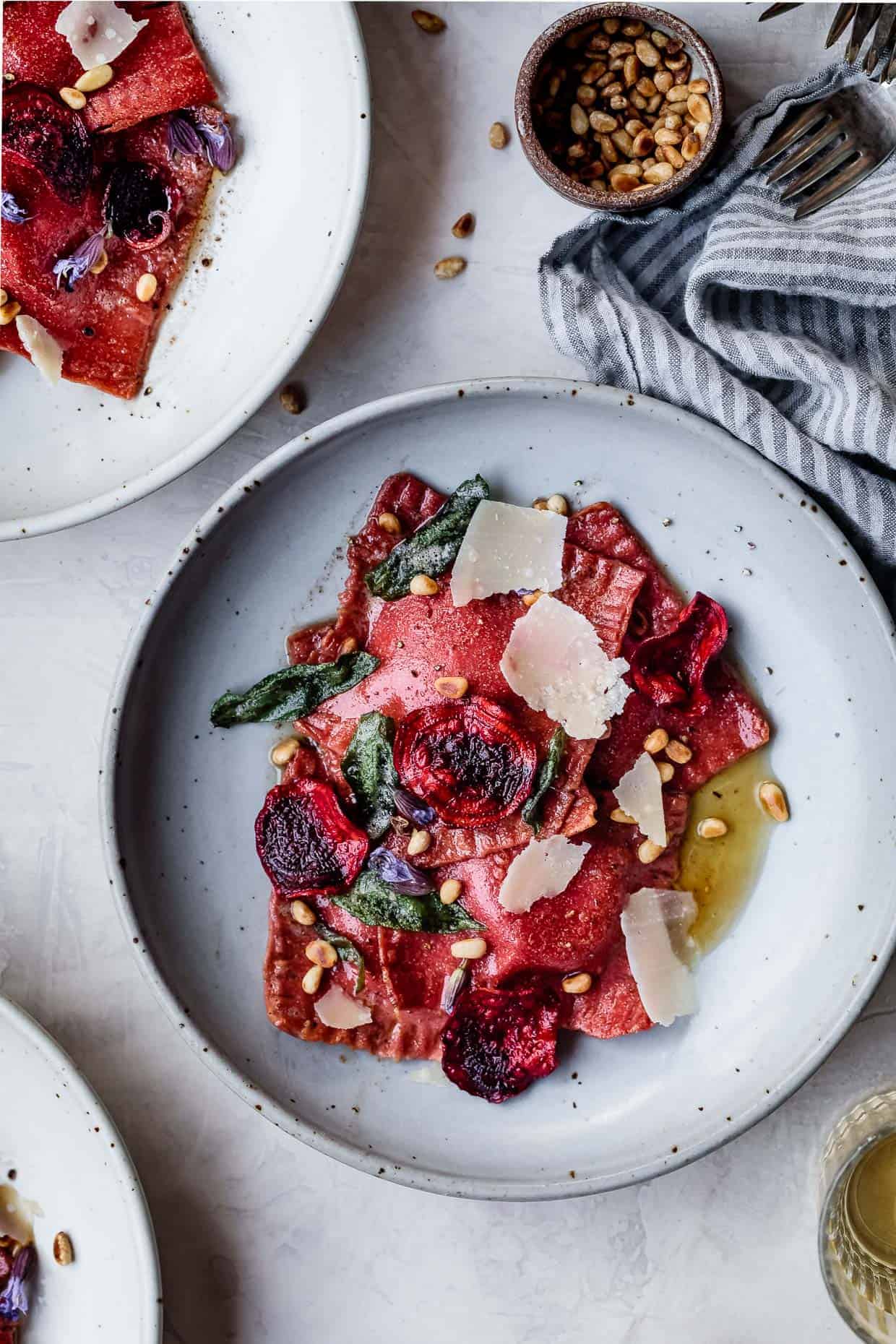 The first plating of this chickpea beet ravioli was the product of a ladies weekend in Nevada City with Alanna, Erin, & Emma. Going into the weekend, I needed to test a chickpea beet pasta for a guest post on KitchenAid's blog and Alanna was craving ravioli. The rest just sort of happened. I feel like there's a joke that starts, "four food bloggers walked into a kitchen..." where this dish is the punchline. Only no one is laughing because we're all too busy stuffing our faces with deliciously buttery pillows of ravioli.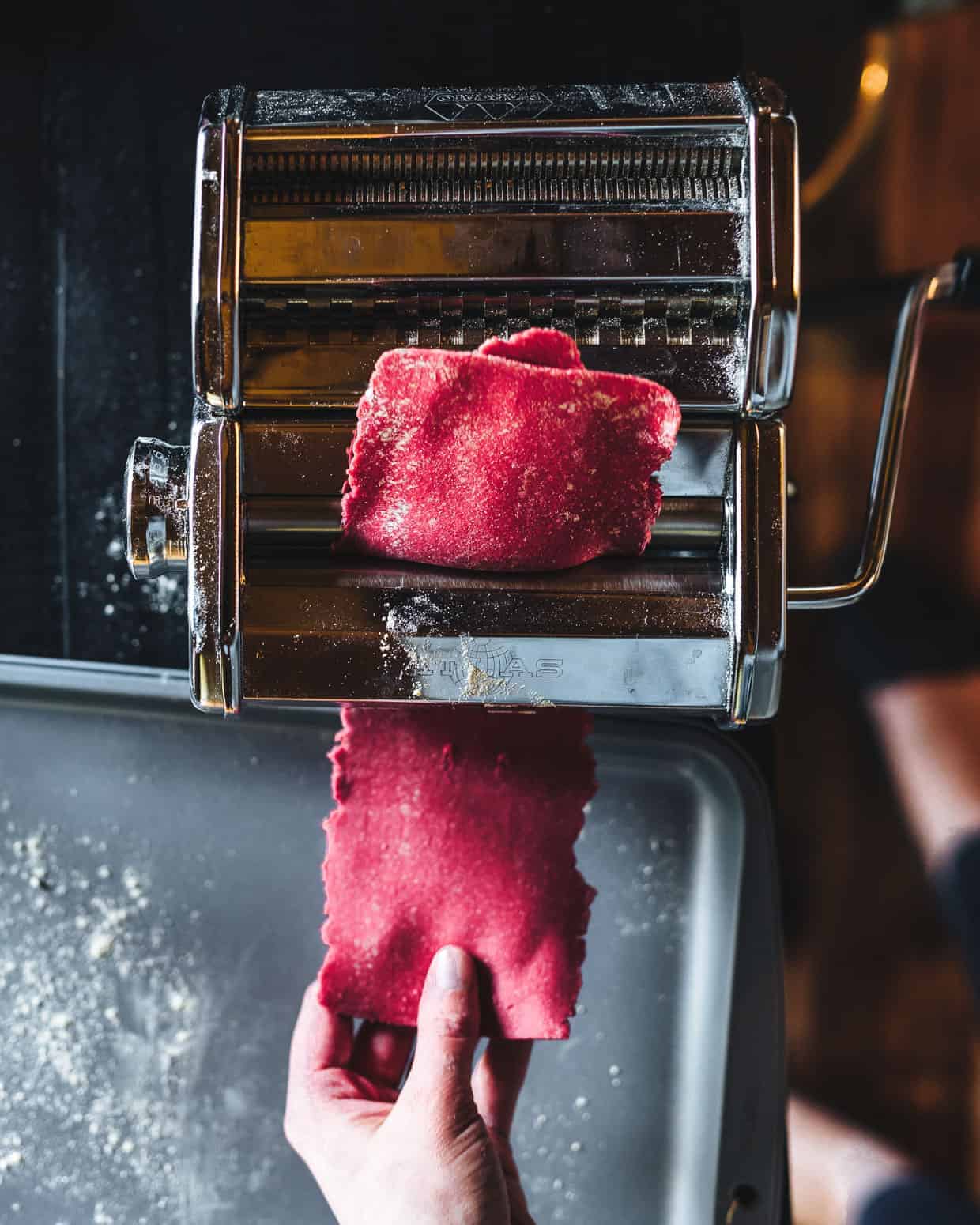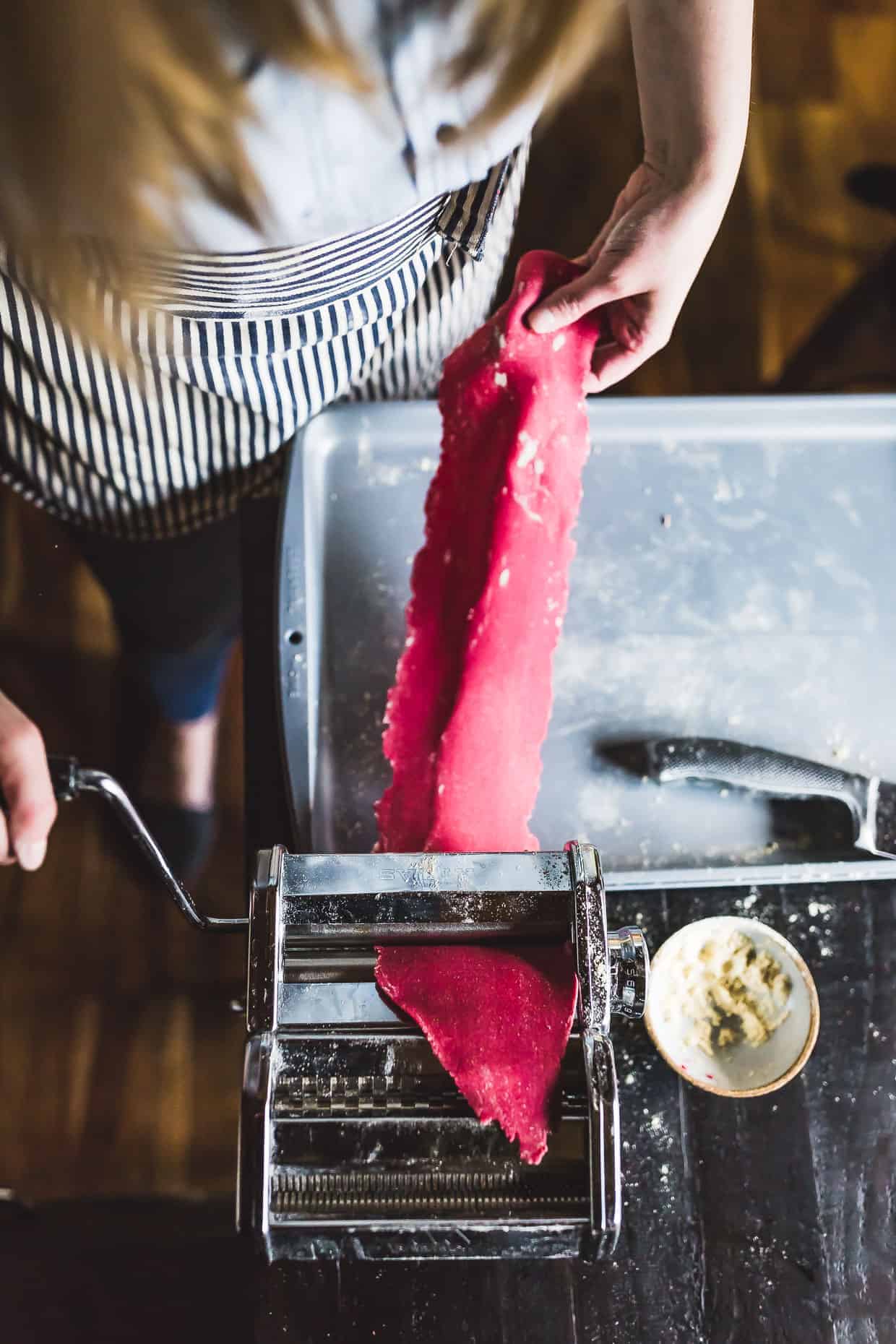 Here's the scene: At a cabin in the woods, we made the dough in a blender and I rolled it out using a hand-crank pasta roller, spreading flour across every surface of the dining table (as pictured). We filled the pasta sheets with pockets of herbed ricotta and goat cheese because I literally can't stop buying baskets of Bellwether Farm's fresh whole milk ricotta. Can't stop. Won't stop.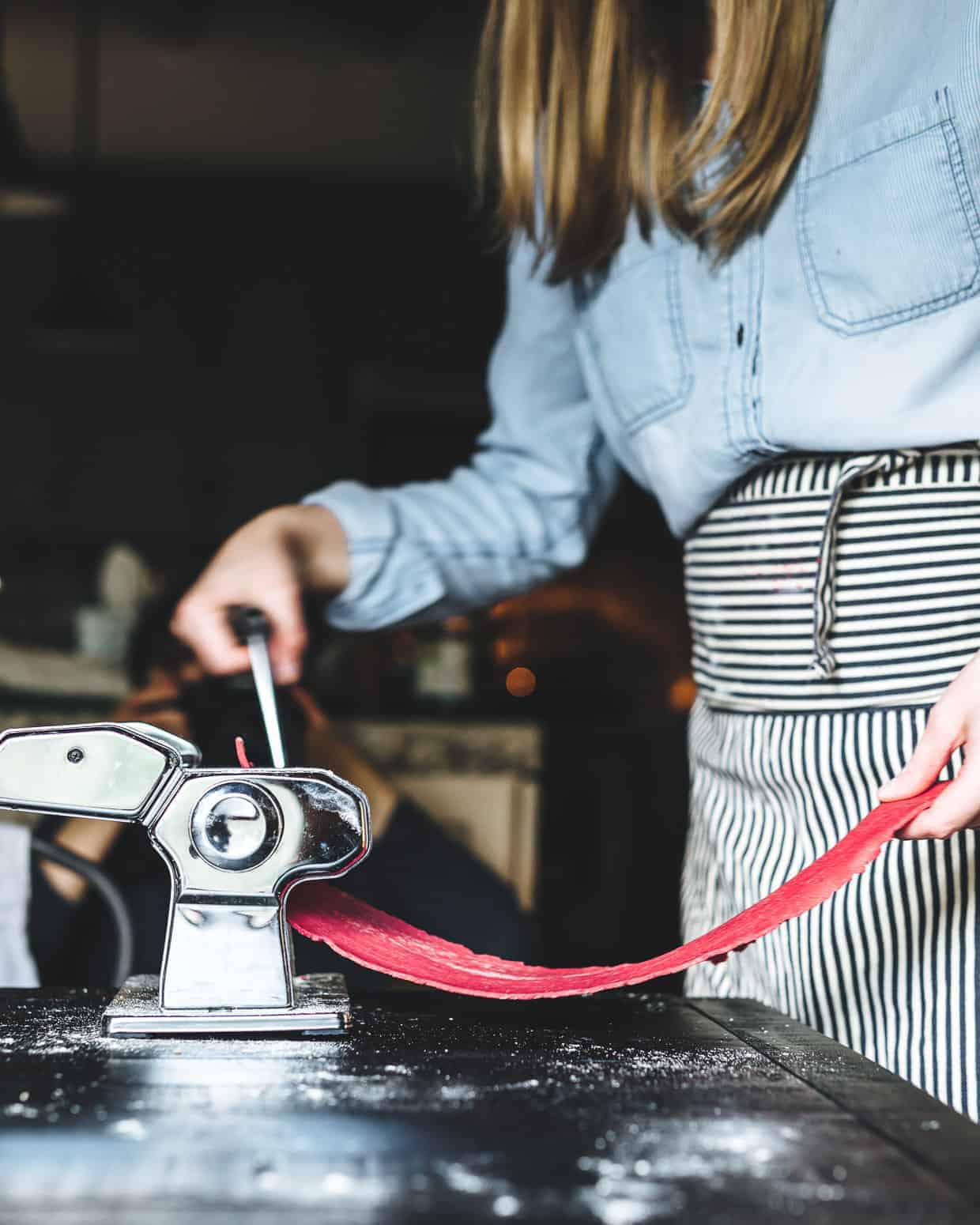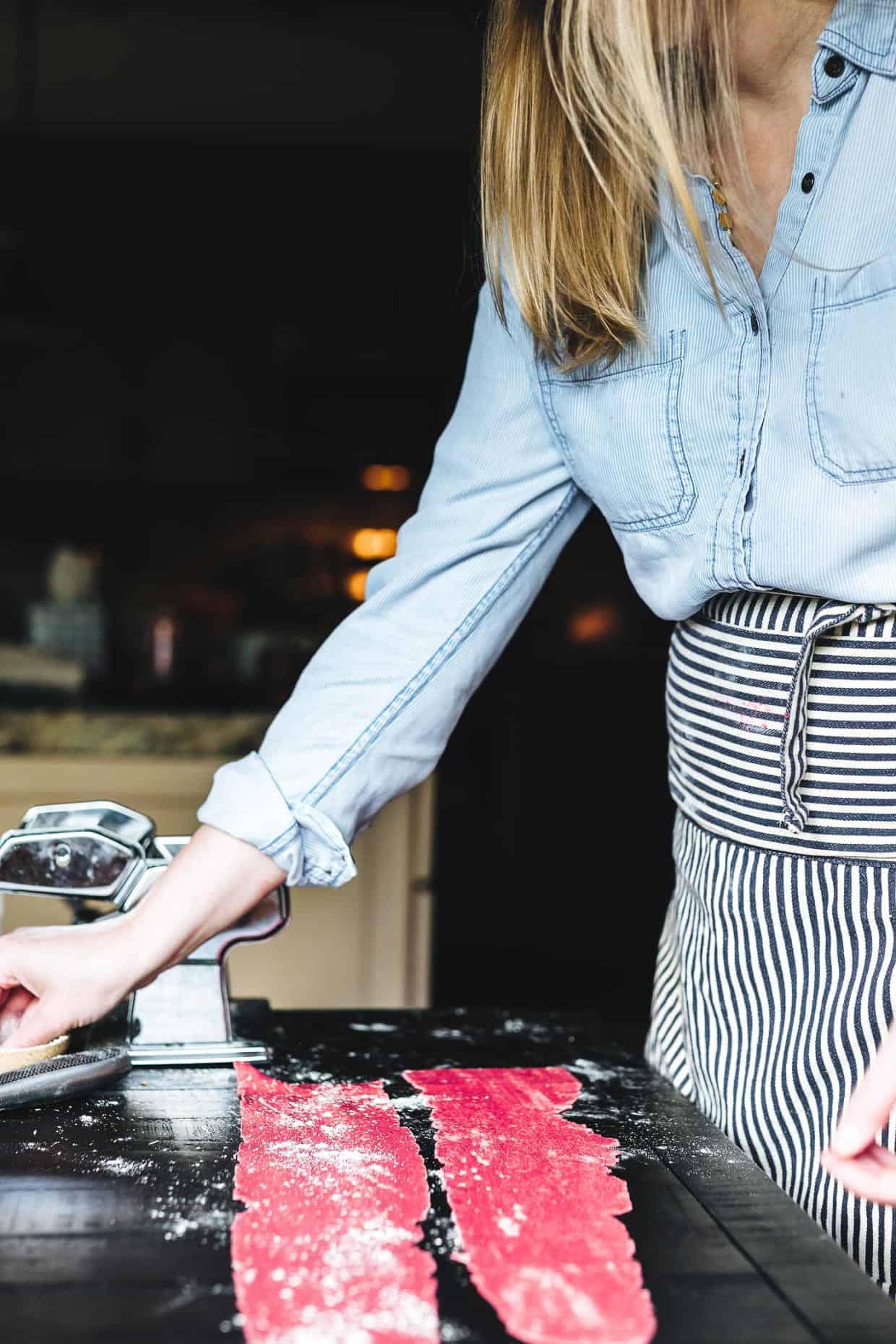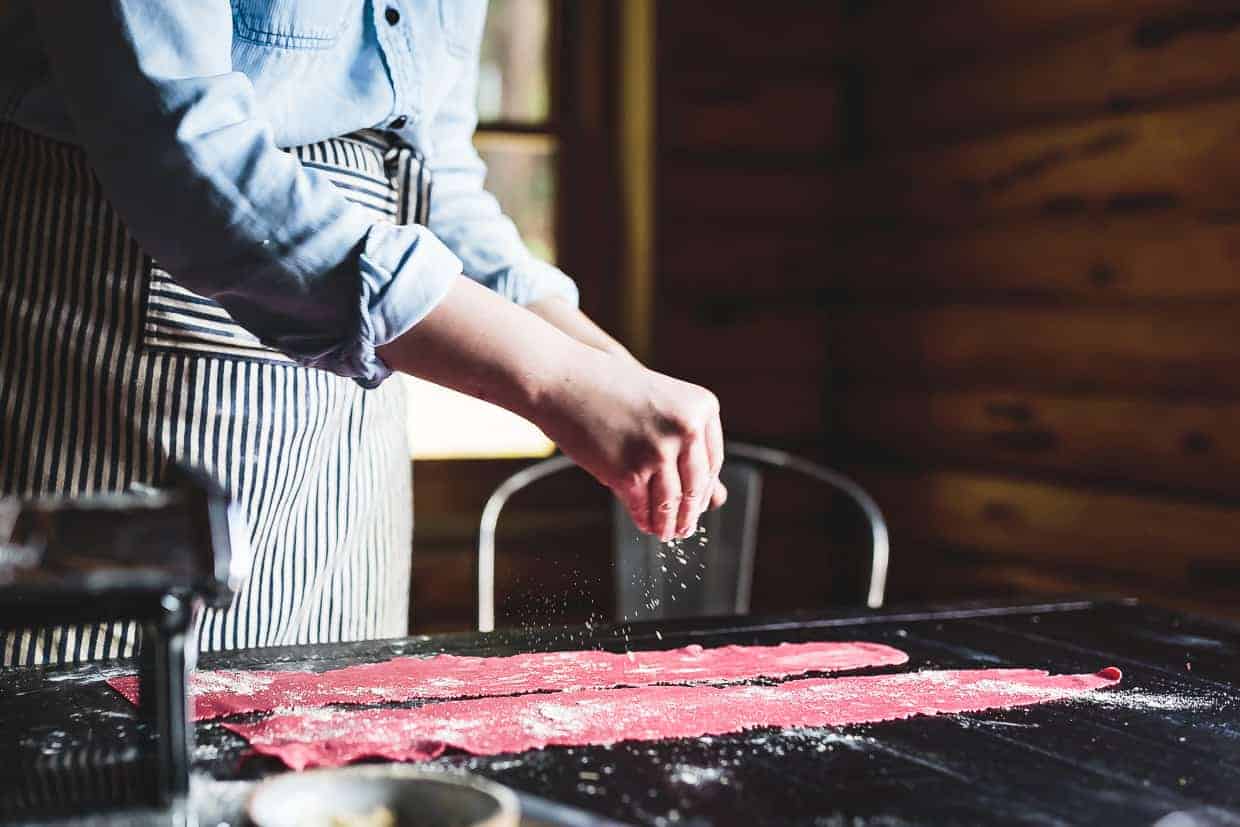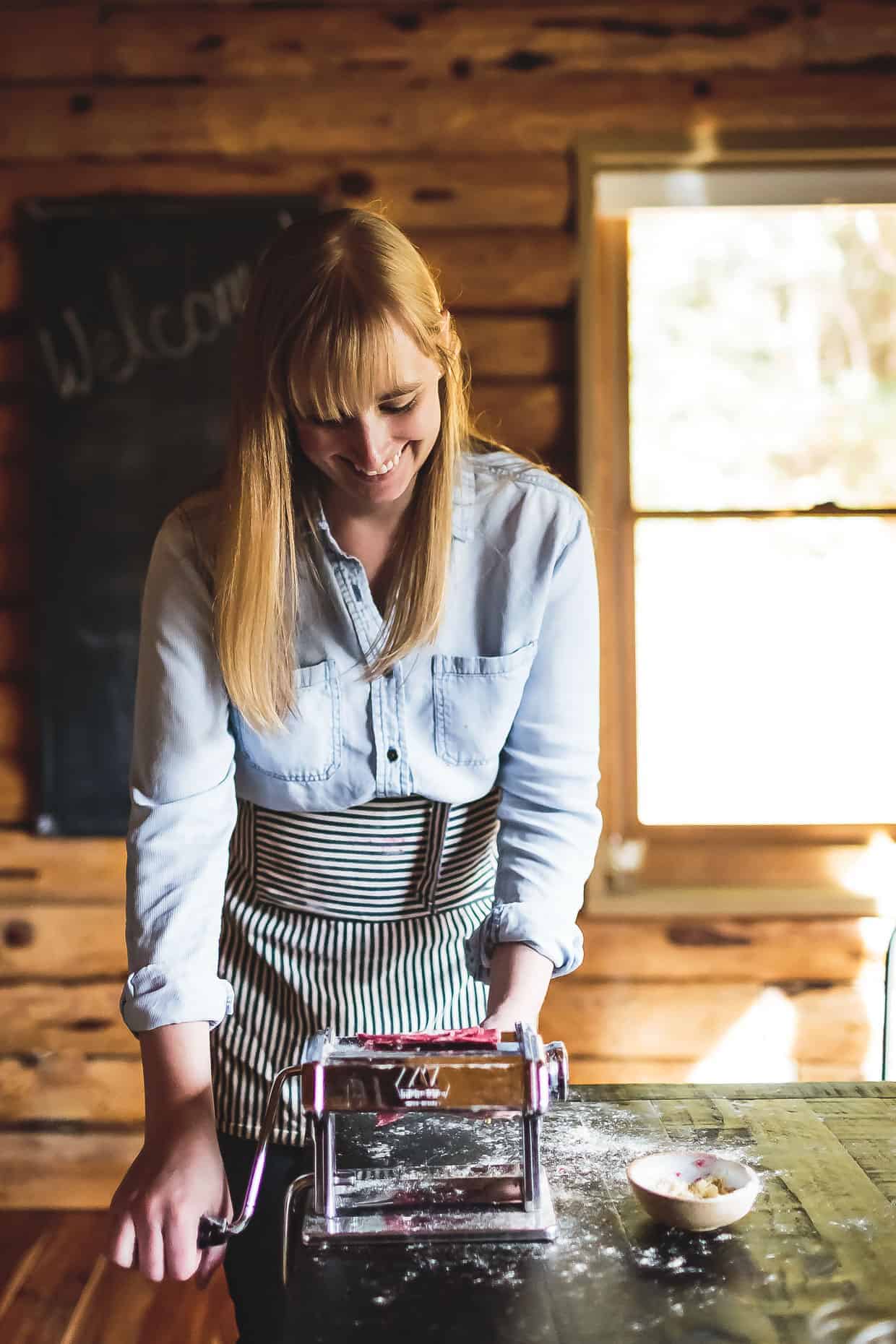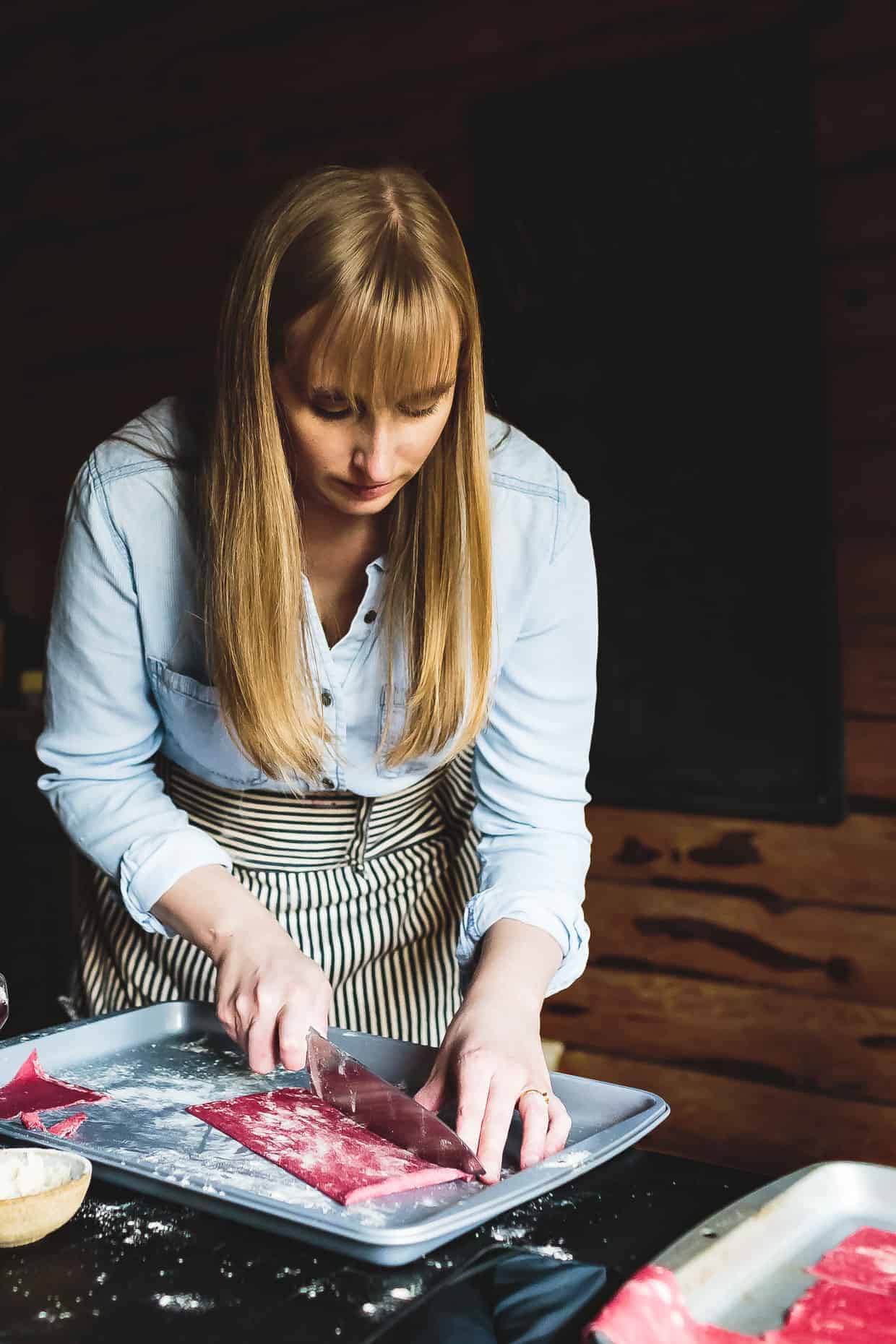 As our sauce, there was brown butter hinted with the prettiest bundle of sage with purple blossoms that Alanna snagged on her way up. In that butter, we pan-fried the ravioli - this really was the best idea ever. Our attempt to perk up the red hue in the pasta added a buttery crispy exterior that is everything I want to eat forever.
Then fried beet chips because...when in Rome the woods, right? Also it turns out Erin is a master paper-thin beet slicer and why pass up an opportunity to observe her knife skills?
What I'm trying to say is: guys, this recipe is epic. I recommend it for a retreat when you've got three people to assist (especially as a third arm for wine drinking) or a dinner party where you want to impress your guests and have all day to prepare.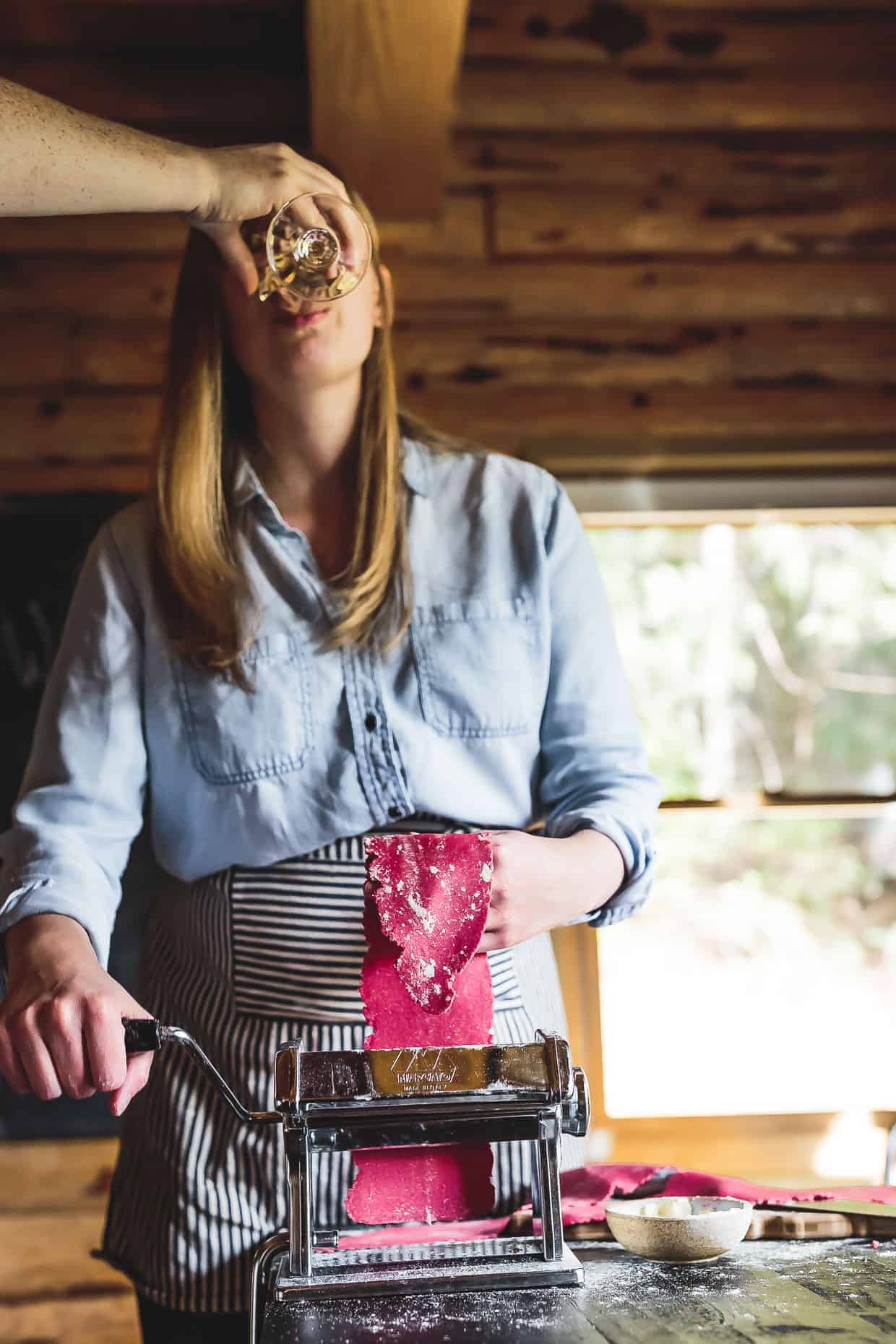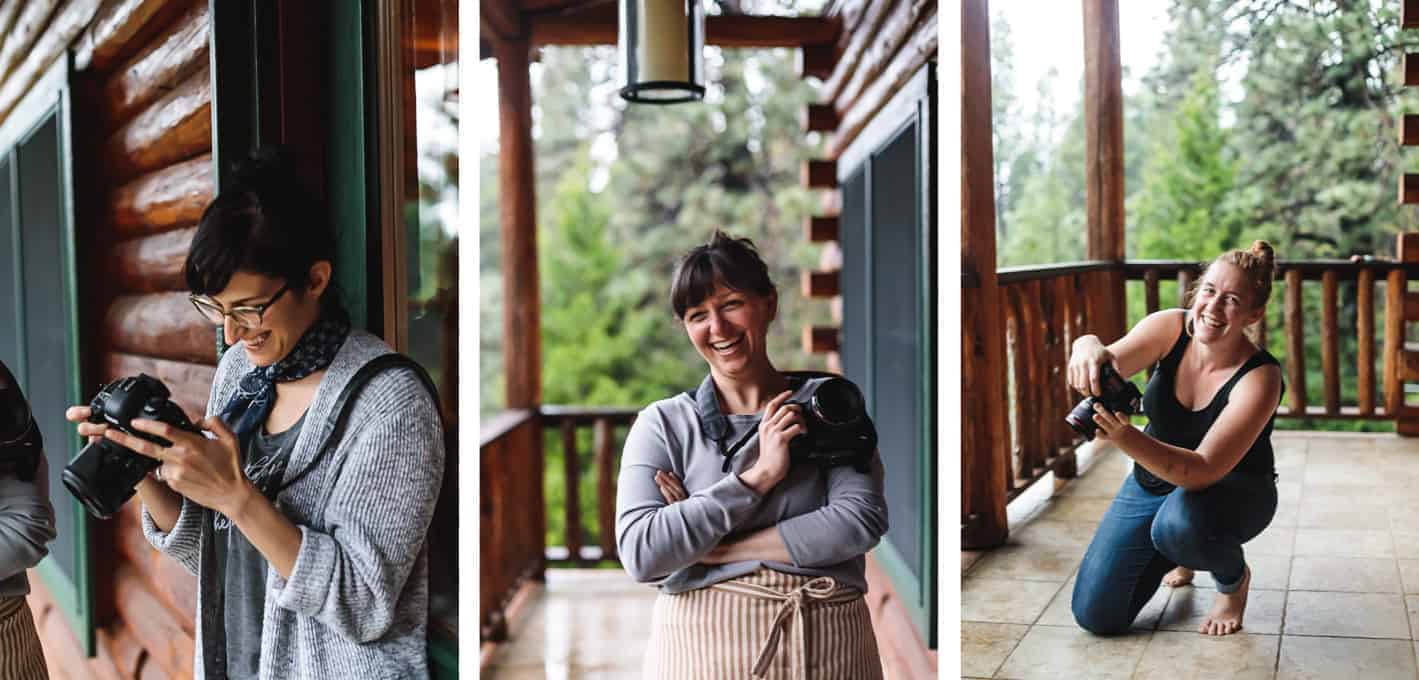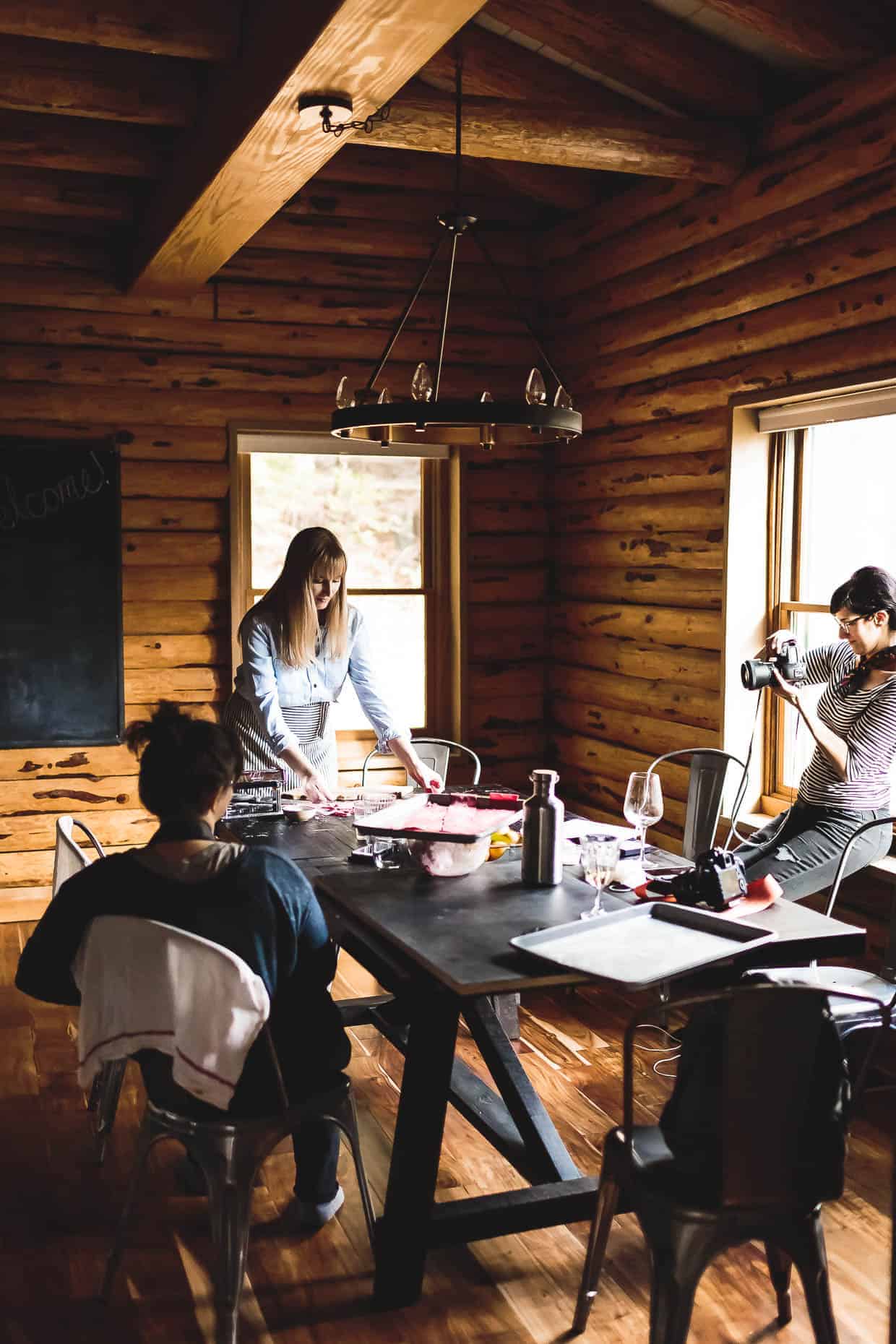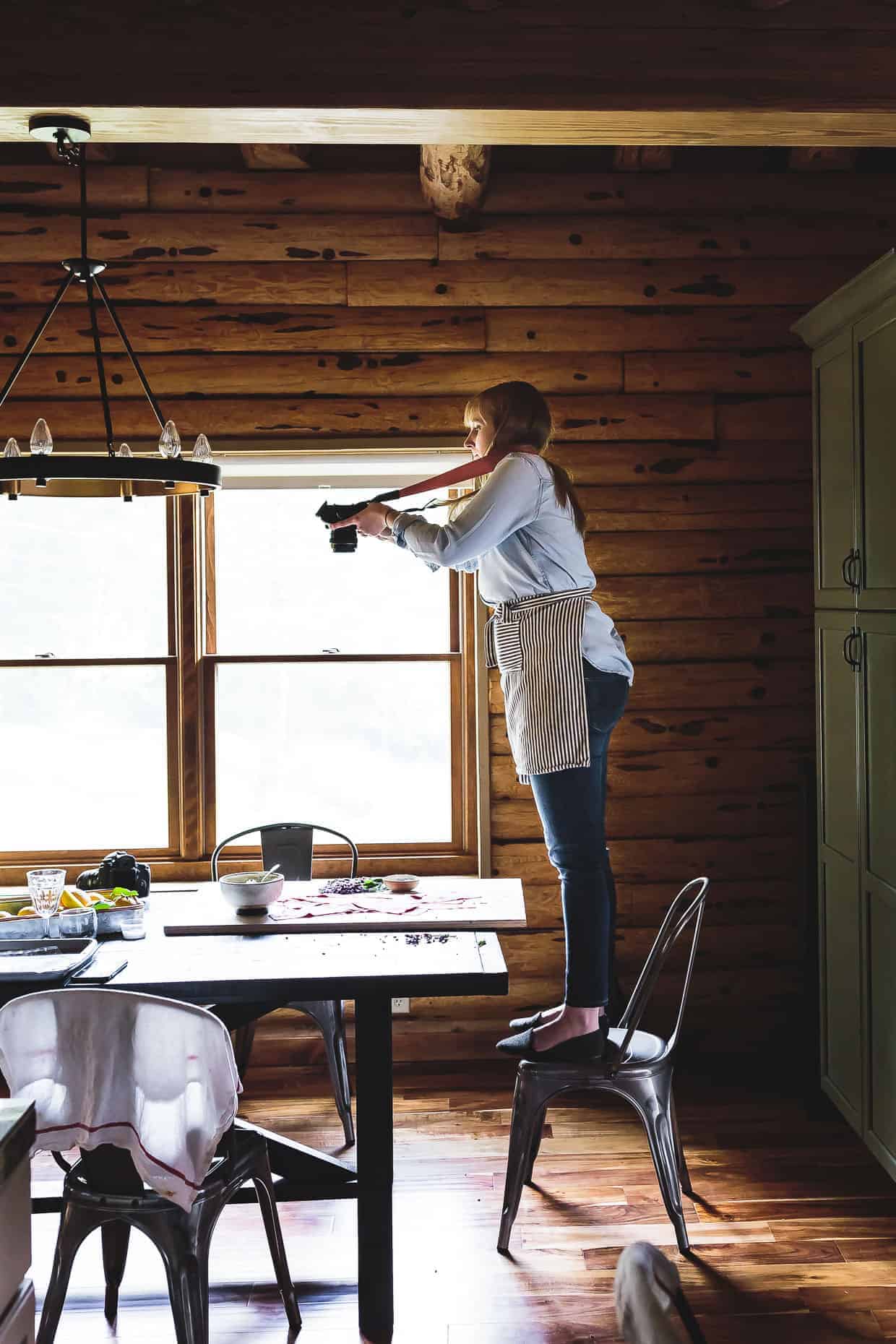 I also highly recommend having awesome friends around to document the pasta-making with gorgeous photos - even if in 95% of Erin's photos, I look like I'm trying to make love to the pasta maker (delete). I blame the wine. We just booked our next ladies weekend (this time with Amanda too!) - suggestions for what we should make this time?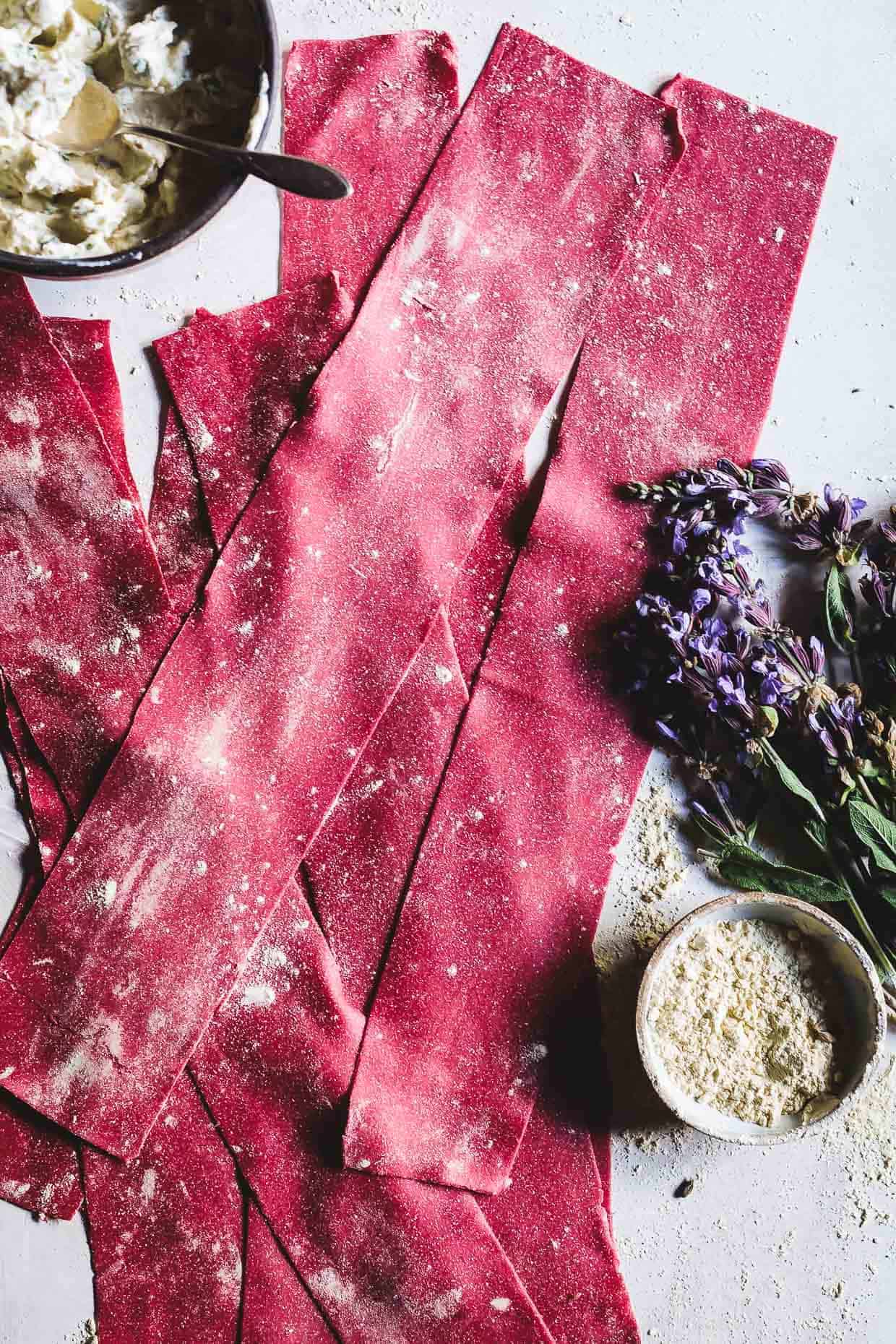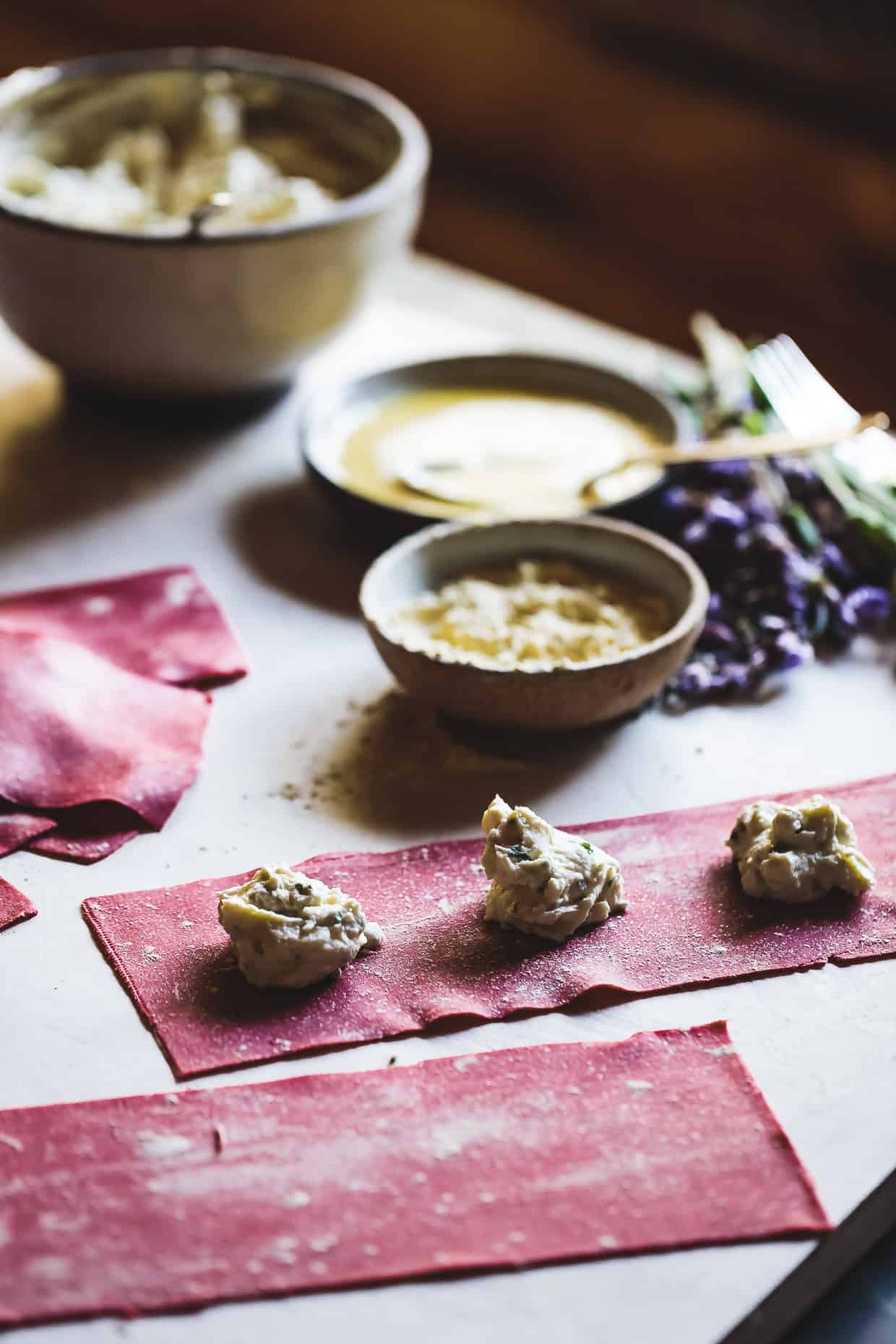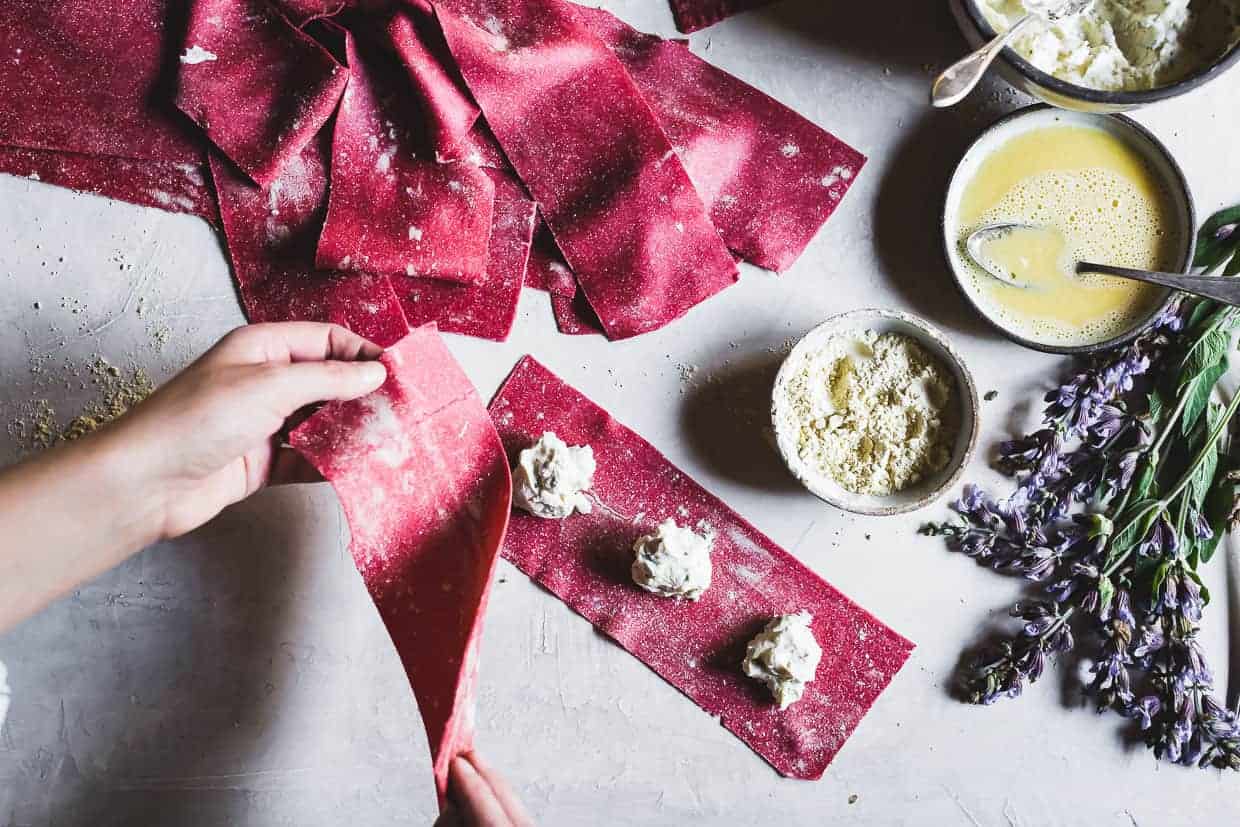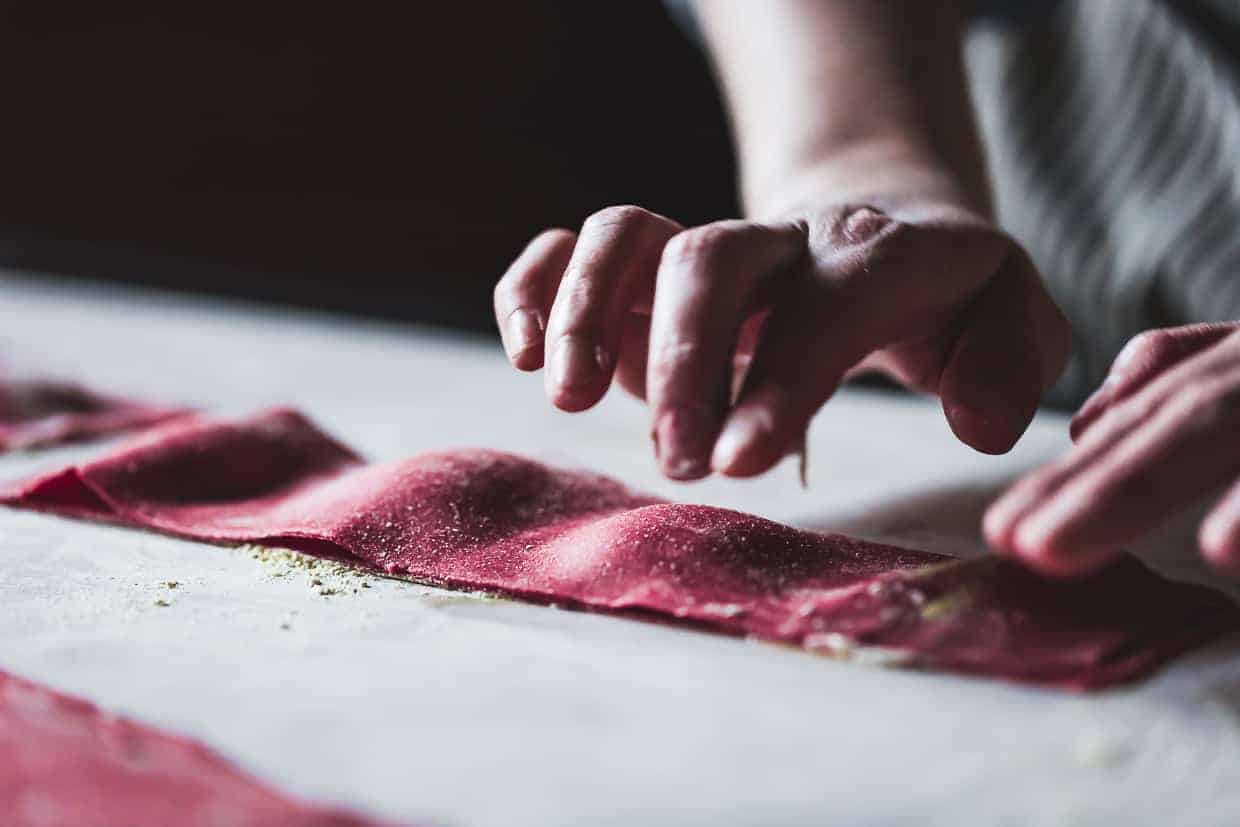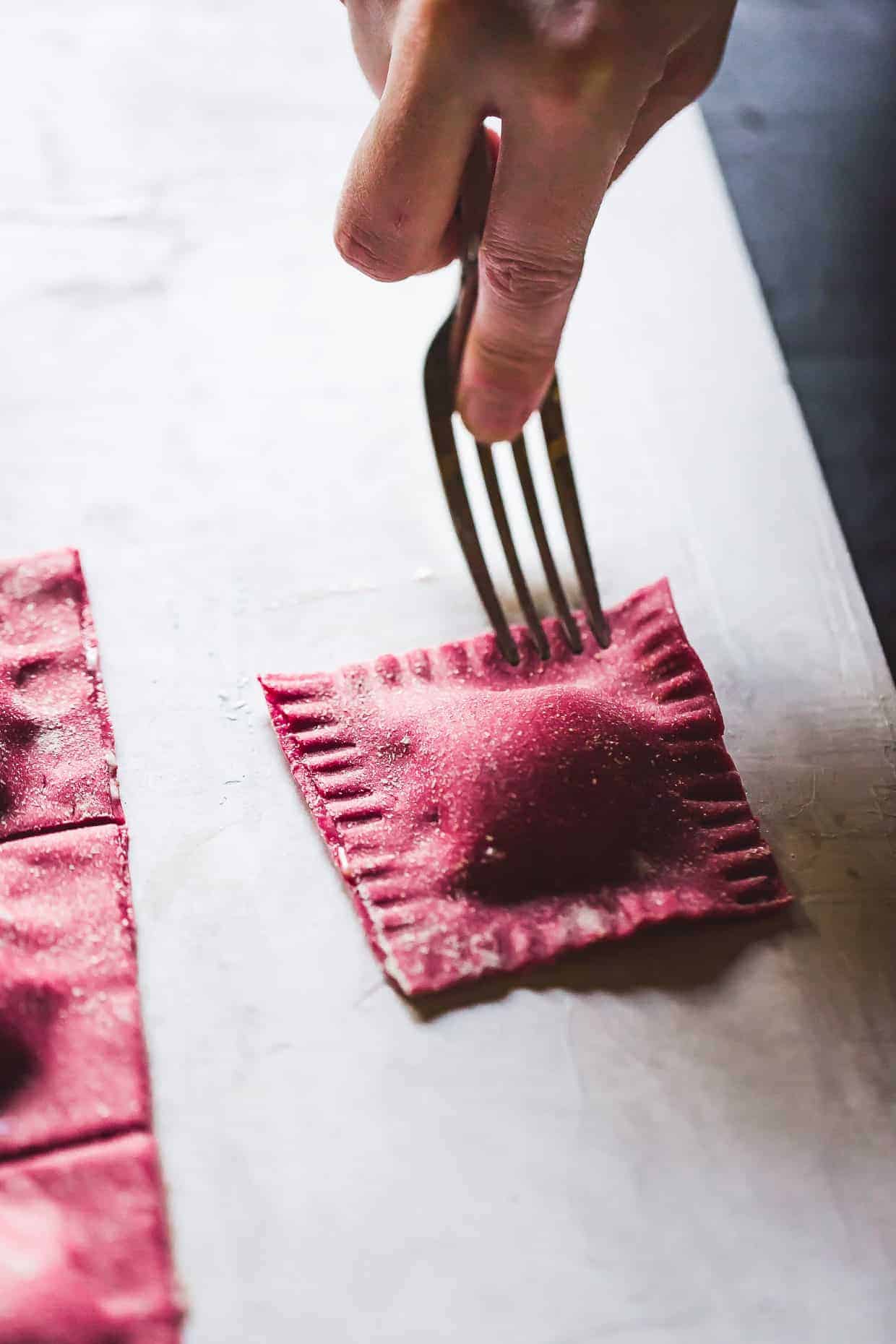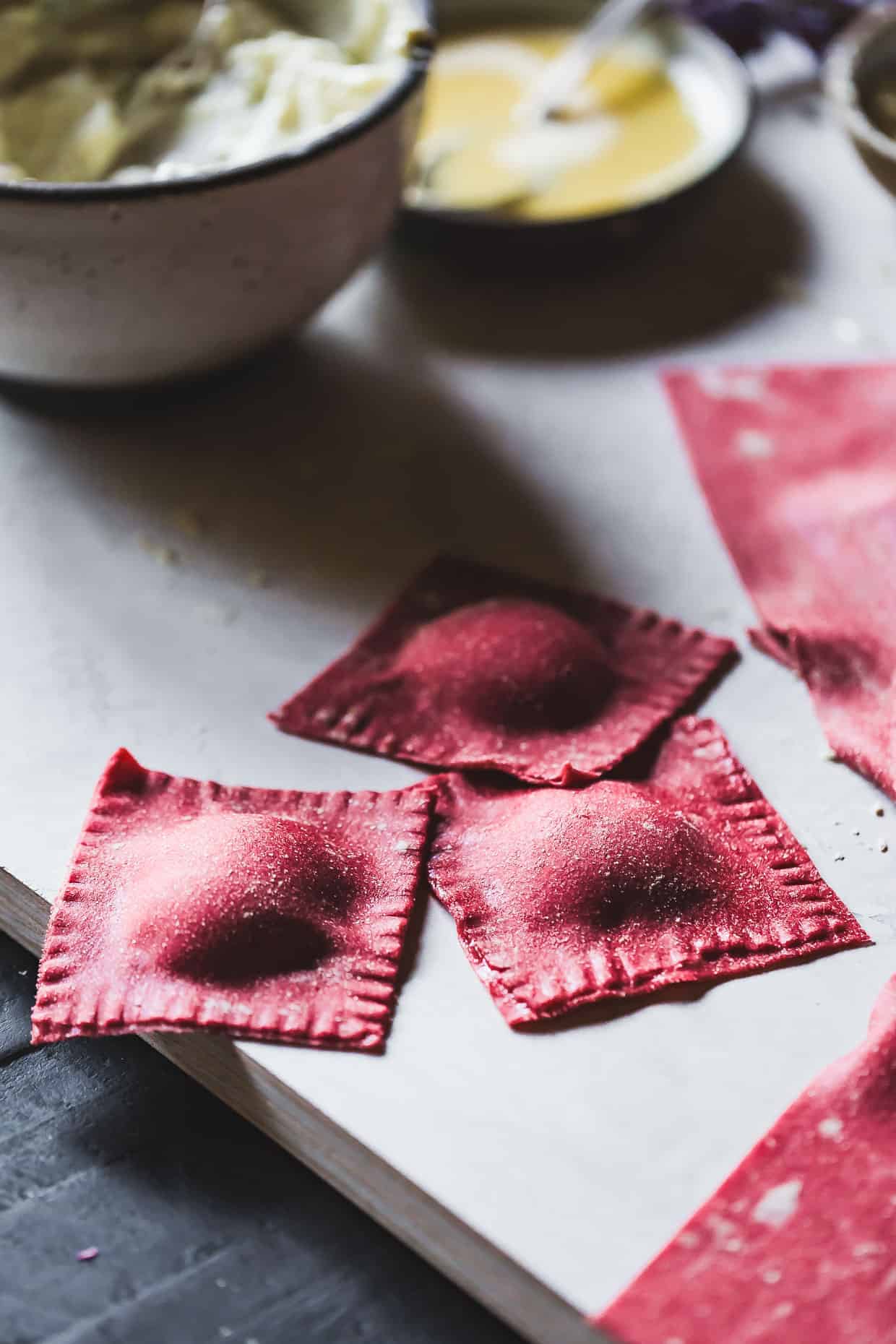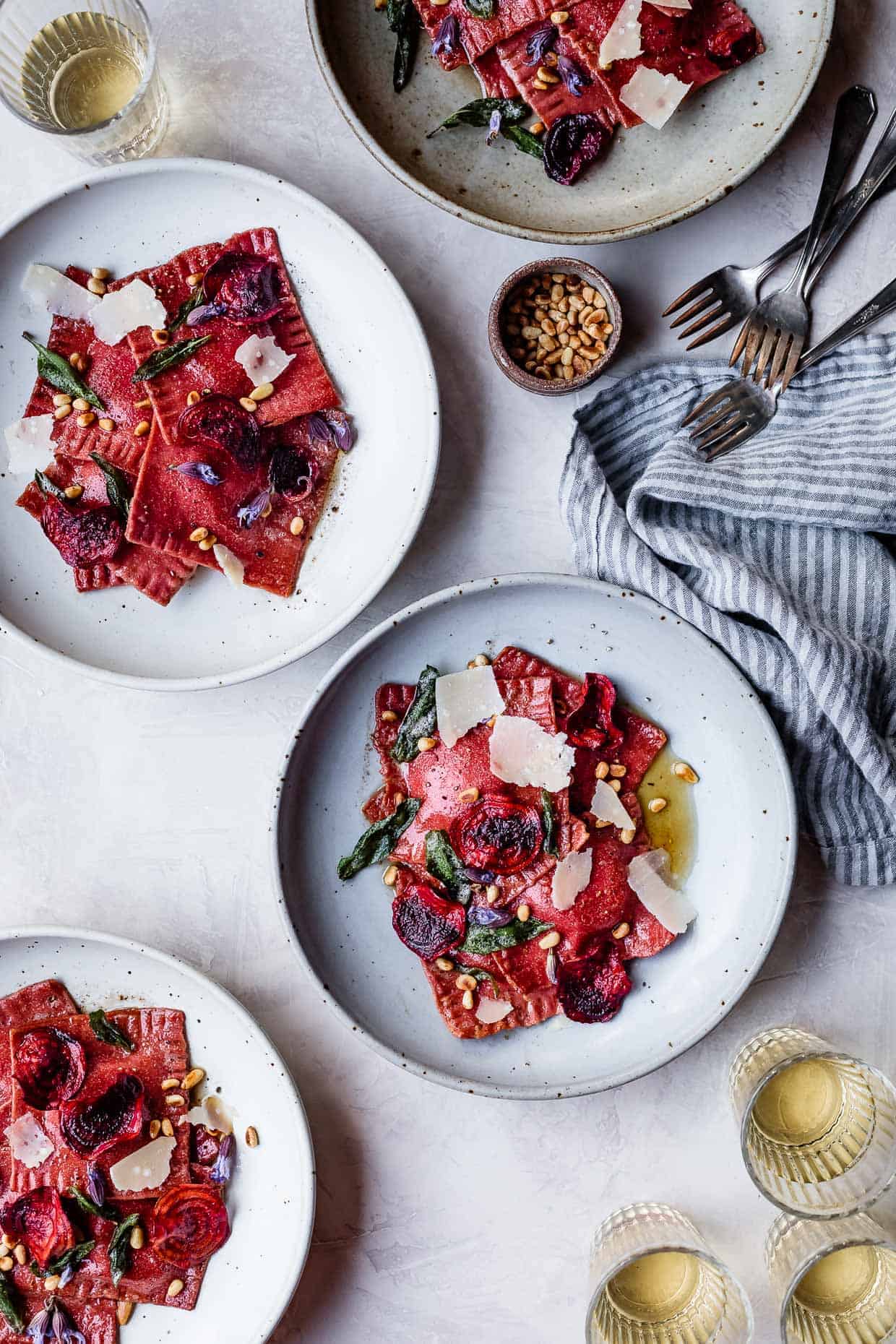 While visiting my friend Sherrie in St Louis a few months after the woodsy ravioli fest, she requested we break in her KitchenAid pasta roller attachments by making pasta together. Specifically this chickpea beet ravioli. With Christina + family joining us for dinner, we prepped our ravioli and I naively expected to be ready on time. Fortunately Christina's lil' gal likes beet chips as snack. In the end we were only about an hour late (even with all hands on deck stuffing the ravioli), but the stand mixer pasta roller saved us decades.
The result: 100% worth it. (...Right?...Guys?).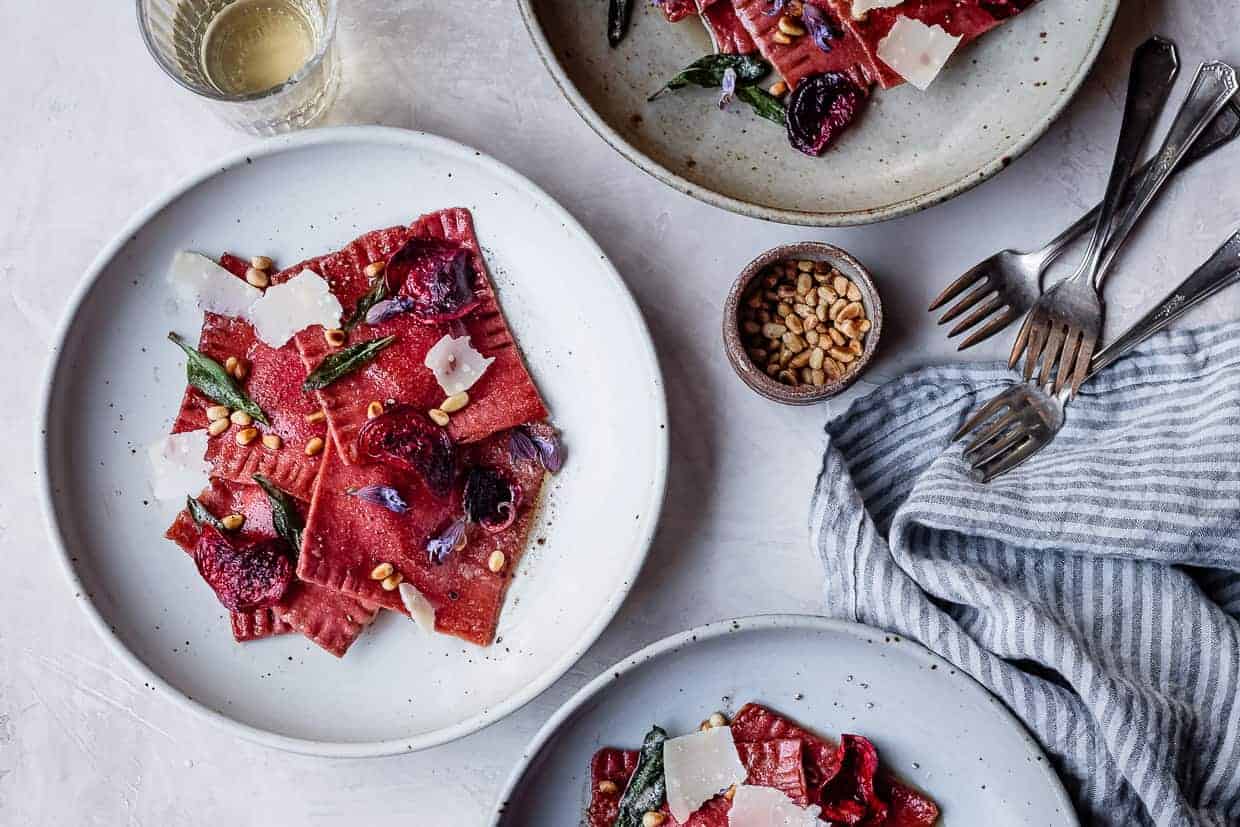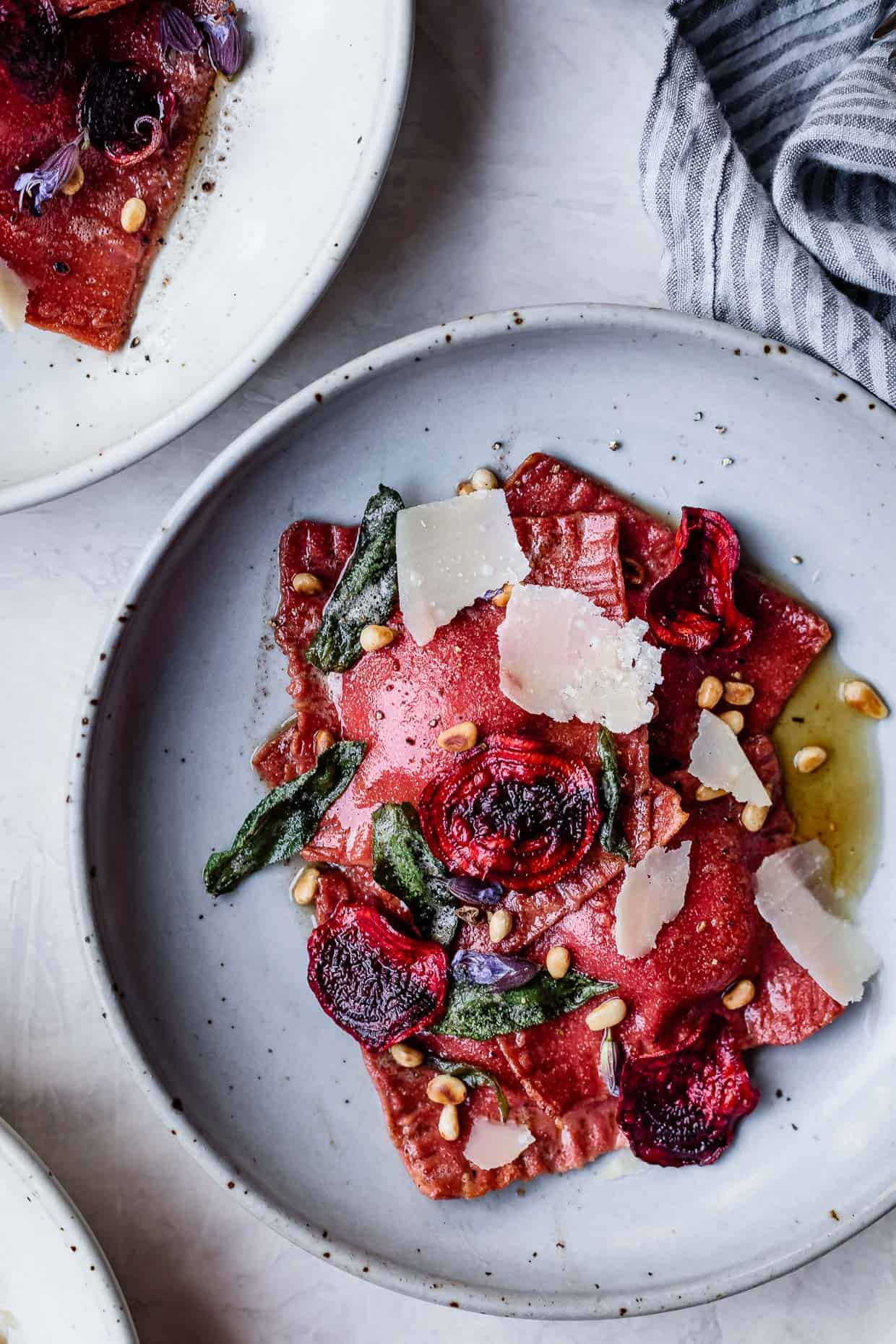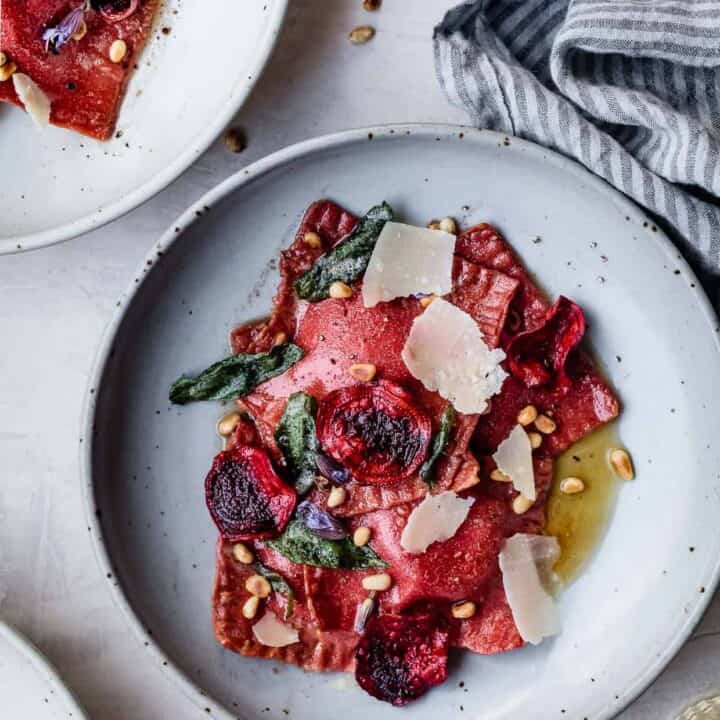 Gluten-free Chickpea Beet Ravioli with Thyme Ricotta
Ingredients
Chickpea Beet Pasta Ravioli
2 small beets, peeled and sliced into eighths
1 ½ teaspoons kosher salt, divided
3 large eggs, divided
1 tablespoon olive oil
Water, as needed
Ravioli Filling
12 ounces fresh whole milk ricotta (I use Bellwether Farms basket ricotta)
5-6 ounces goat cheese
1 tablespoon fresh thyme leaves
¼ teaspoon each, salt & pepper
Ravioli Toppings
2-3 small beets, peeled
3-4 cups vegetable oil (such as sunflower or safflower), for frying
½ cup unsalted butter
About 20 fresh sage leaves
2 tablespoons pine nuts, toasted
Fresh parmesan, for shaving
Instructions
Chickpea Beet Pasta Ravioli
Preheat oven 425° F. Wrap beets in foil pouches and place them on a baking sheet. Roast for 40-55 minutes, until tender when pierced with a fork. Remove the beets from the oven and foil and let cool.
Whisk the chickpea flour, tapioca starch, sweet rice flour, xanthan gum, and ½ teaspoon of salt in the bowl of a stand mixer fitted with the dough hook. Set aside.
Pulse 2 of the eggs, olive oil, and roasted beets in a a food processor or blender until completely smooth, scraping down the sides as needed.
Add the puréed beets to the bowl of the stand mixer and mix on low speed until it begins to bind together. Increase the speed slowly to medium-high to knead until it forms a dough. If you pinch the dough and the mixture feels too dry, add ½ teaspoon of water at a time while kneading. Knead until dough is smooth and elastic, but not very sticky. If you find that it's too sticky, add another teaspoon of tapioca starch until it reaches the texture of firm play dough.
Roll the dough into a ball and lightly flatten into a disk. Wrap the dough in plastic and let rest for 20 minutes.
Meanwhile prepare your filling and toppings (see below).
Bring 4-quarts of water to boil in a large pot with a teaspoon of salt.
After letting the dough rest, cut dough into 6 equal pieces.*
Use your hands to press one piece at a time on a chickpea-floured surface until it is about ¼-inch thick, reserving the other pieces in plastic wrap or under a towel.
With a pasta roller or rolling pin, roll out each piece into a thin sheet, lightly dusting both sides with chickpea flour as you go. If using the KitchenAid pasta roller attachment, send the dough through setting 1, fold it in half, then send it again. Repeat until it feeds through smooth, then reduce the thickness one stop at a time, dusting the pasta sheet lightly with chestnut flour, until you get to a 2.
Use a knife or the smooth edge of a pastry wheel to trim the edges of the pasta sheet so they are smooth and the sheet is an even width all the way down, 3-4 inches. Dust both sides lightly with chickpea flour and set aside, while you repeat with the remaining dough. Roll the trimmed edges up with the next piece of dough.
Cut the pasta sheet in half cross-wise so you have two wide sheets that are the same length.
Whisk the remaining egg with 1 tablespoon of water.
Lay two sheets of the same length down on your floured surface. Spoon 2 teaspoons of filling at a time onto one sheet, leaving 1-2 inches between each ball of filling. Lightly brush the edges of this pasta sheet and between each filling mound with egg wash.
Lay the second sheet of pasta over the top and gently press down to cover the filling. Press out all of the air and gently press the edges and around each mound to secure the sheets together. Use a ravioli stamp, a pastry wheel, or a knife to cut the strip into ravioli squares and press edges with a fork to crimp. Repeat with the remaining pasta sheets.
Drop the ravioli into the boiling water and cook for 5 minutes, stirring occasionally. Gently scoop out the ravioli with a slotted spoon and place on a baking sheet while you prepare the brown butter.
Ravioli Filling
In a medium bowl, mix together the ricotta, goat cheese, fresh thyme, salt & pepper. Taste and adjust seasoning to taste. Use as filling for ravioli, as described above.
Ravioli Toppings
Before cooking the ravioli: In a medium to large sauce pan, heat the vegetable oil over medium-high heat until it begins to sizzle when a beet slice hits the oil. Working in 4-5 batches, add the thinly sliced beets, using tongs to keep them separated. Fry for 2-3 minutes (or more depending on the thickness of your beets) until the edges curl and they look crispy all the way to the center. Transfer to a paper-towel lined baking sheet to crispy up as they cool. Repeat.
Once the ravioli has been cooked and drained, melt the butter in a large skillet (or two) over medium-low heat until it sizzles. Add the sage leaves and fry for 1-2 minutes until crispy. Transfer to a paper towel to crisp up.
Working in batches, fry each ravioli in the butter for 1 minute on each side and transfer to 4-6 serving plates. When all the ravioli is finished frying, continue cooking the butter, as necessary, until it turns lightly brown and smells nutty. Divide browned butter over the ravioli plates.
Divide crispy sage, beet chips, and toasted pine nuts over the ravioli plates. Garnish with a few shavings of fresh parmesan cheese and a bit of freshly ground pepper.
Notes
**I've tried to make this pasta without the xanthan gum and it does not work - it is too brittle and crumbly.