Summery sweet tart plums or pluots blanket a light tender chestnut flour crumb in this gluten-free chestnut plum upside-down cake. Chestnut flour's nutty earthy notes balance the sweetness of candy-like baked stone fruit.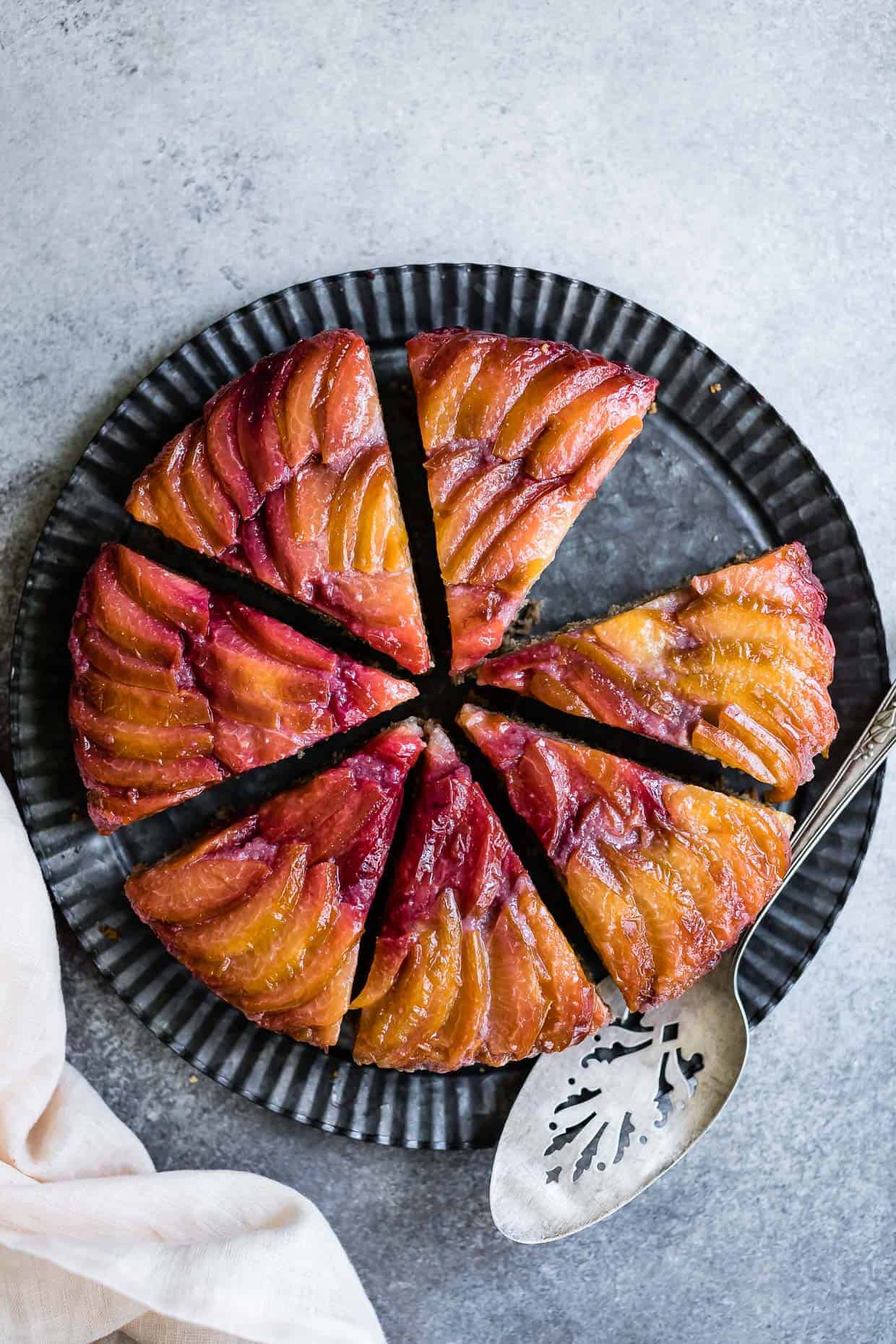 My summer meal plan consists of approximately 75% fruit - stone fruit, berries, grapes, you name it. And 30% cake, with a 5% overlap that is fruit in cake. Or on cake as in the case of this gluten-free chestnut-flour plum upside-down cake...or does that make it fruit under cake?  Whatever you call it, I just made this cake three times in one week because I "forgot" to write down the final recipe (yes, again), but now I'm questioning whether that mistake was subconsciously intentional because now I have MORE CAKE(!!). That summer eating ratio might not be as much of an exaggeration as you may think. There are two cakes sitting on my counter right now and Lucas and I plan to ration them out between breakfast, lunch dessert, snack, and dinner dessert for the next two days.
JK - I'm sending one to his office tomorrow because I can't be trusted around this chestnut plum upside-down cake.
I'll still devour the other one though.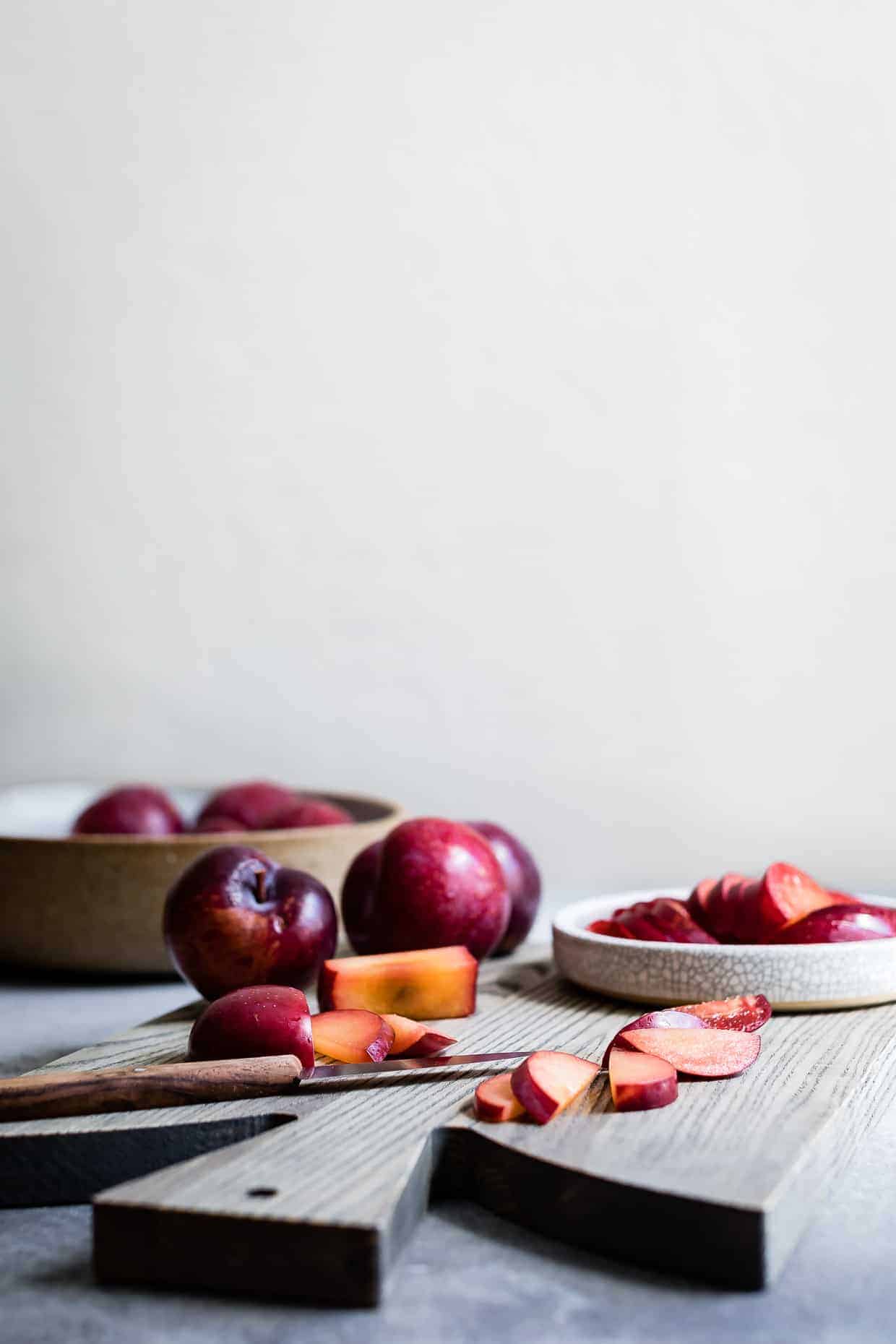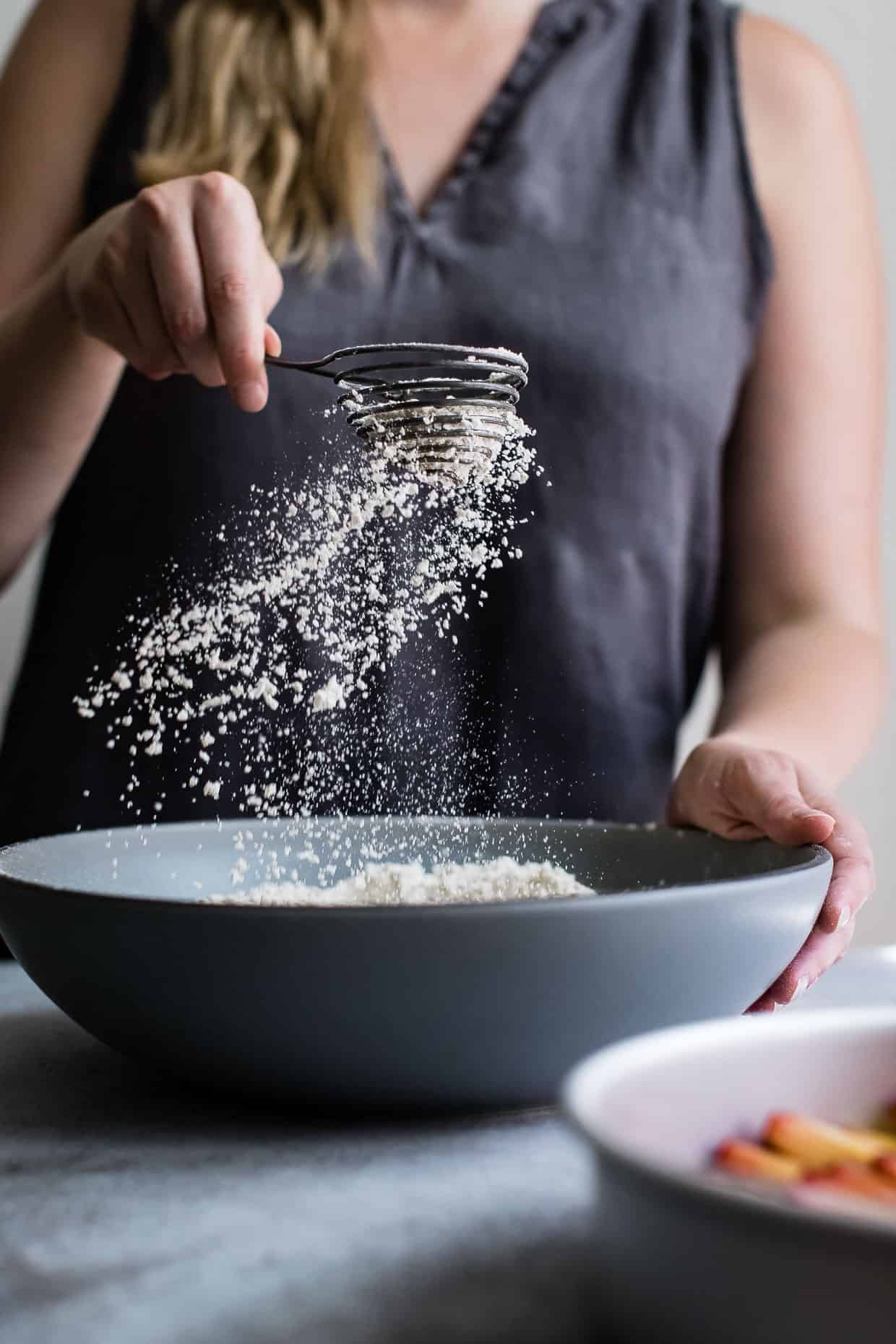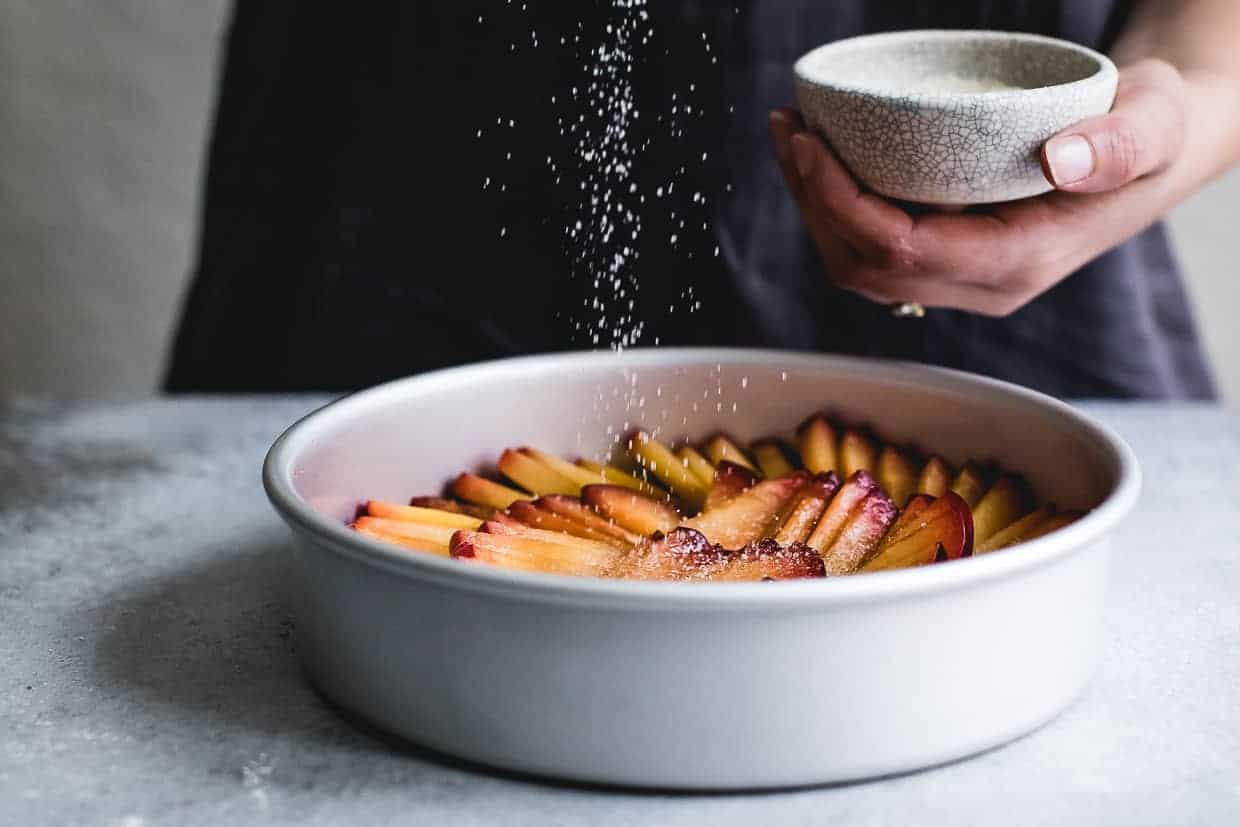 While I really really love them, up until recently, I would avoid buying plums or pluots because I just couldn't seem to consistently pick flavorful ones. If I did buy them, it'd be a crapshoot whether they tasted like anything more than textured water. Tell me you relate - I can't be the only one with bad plum-picking luck, right?
Fortunately, we live down the block from a small organic natural grocery with approximately 2-3 dozen stone fruit varieties. So last week, I came home with one of each plum or pluot cultivar for taste-testing purposes. But I also wanted to test this cake, so I went with my gut and also got a whole bag of the deepest darkest ruby plums.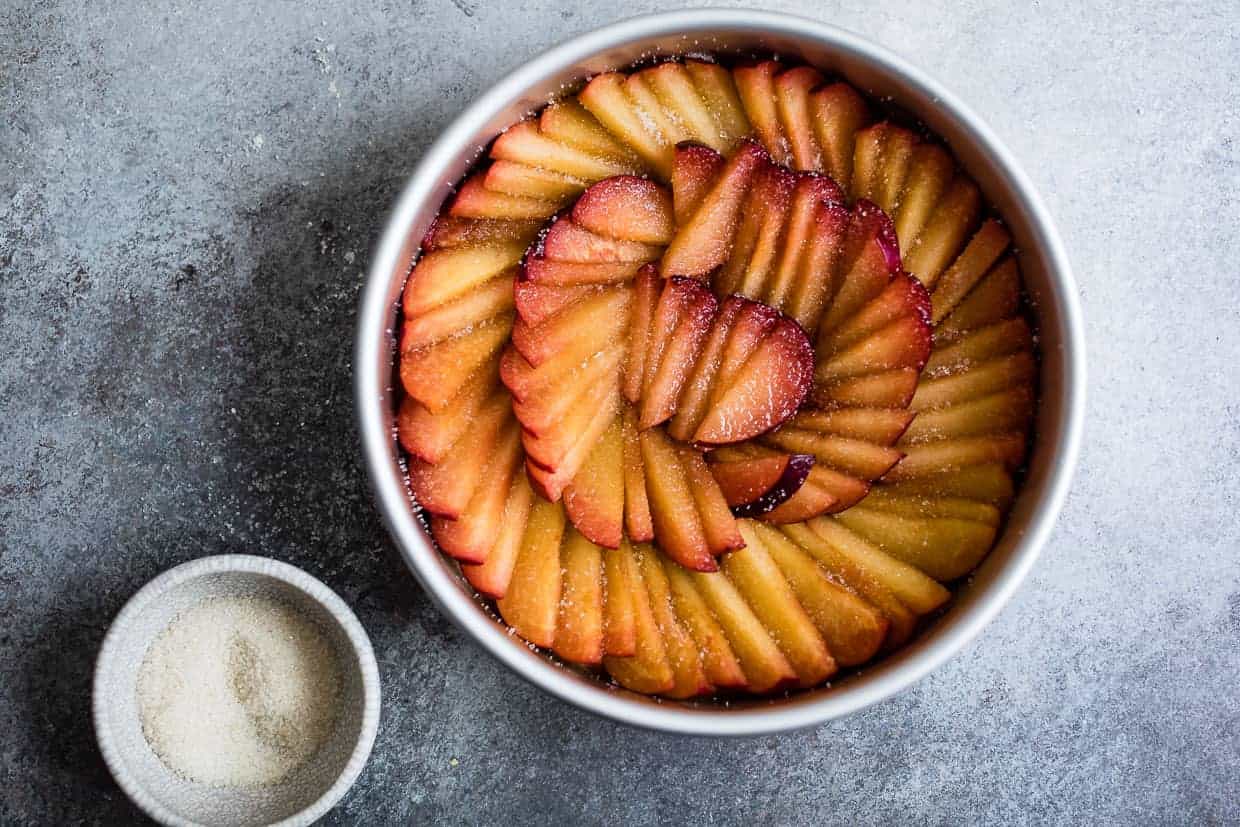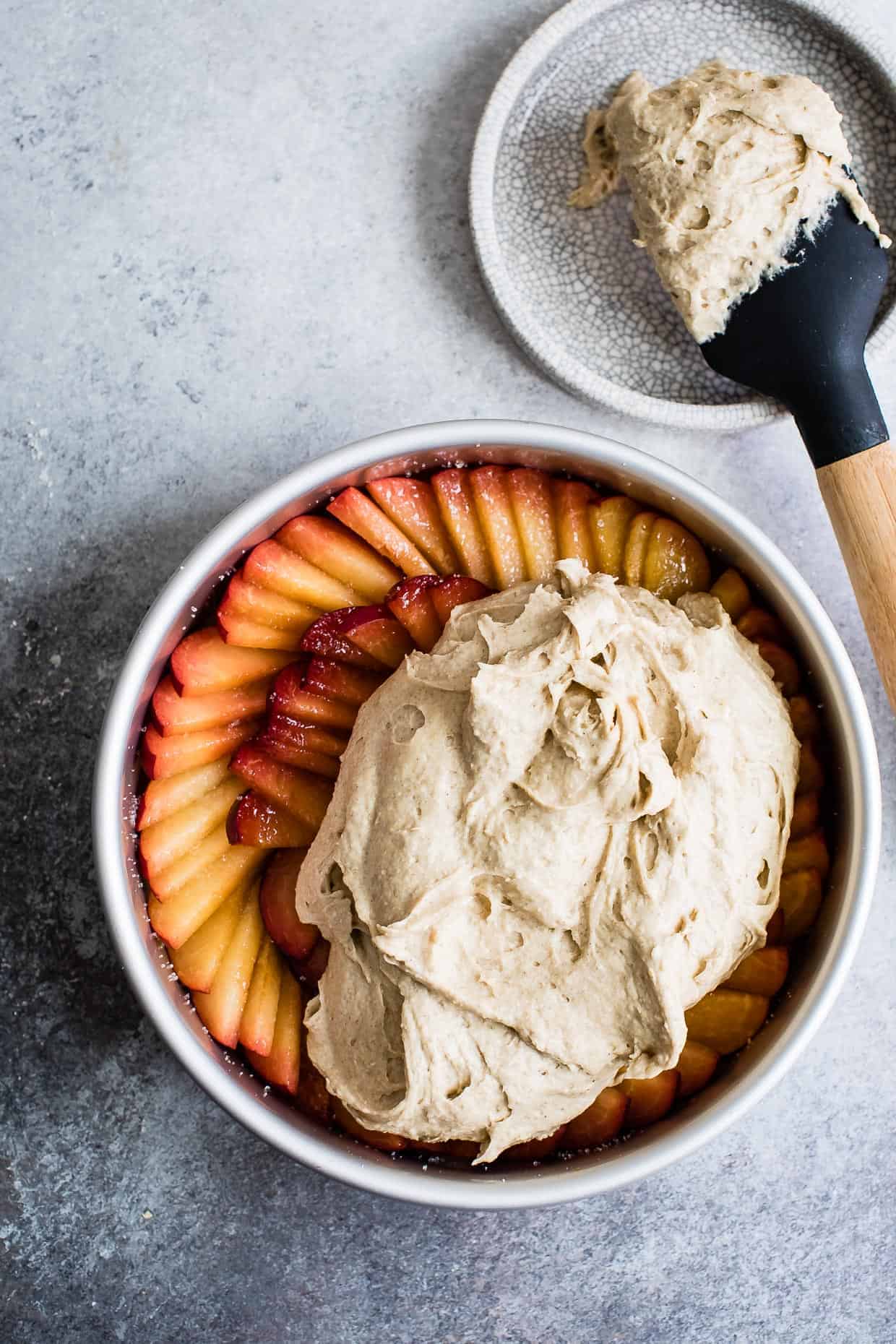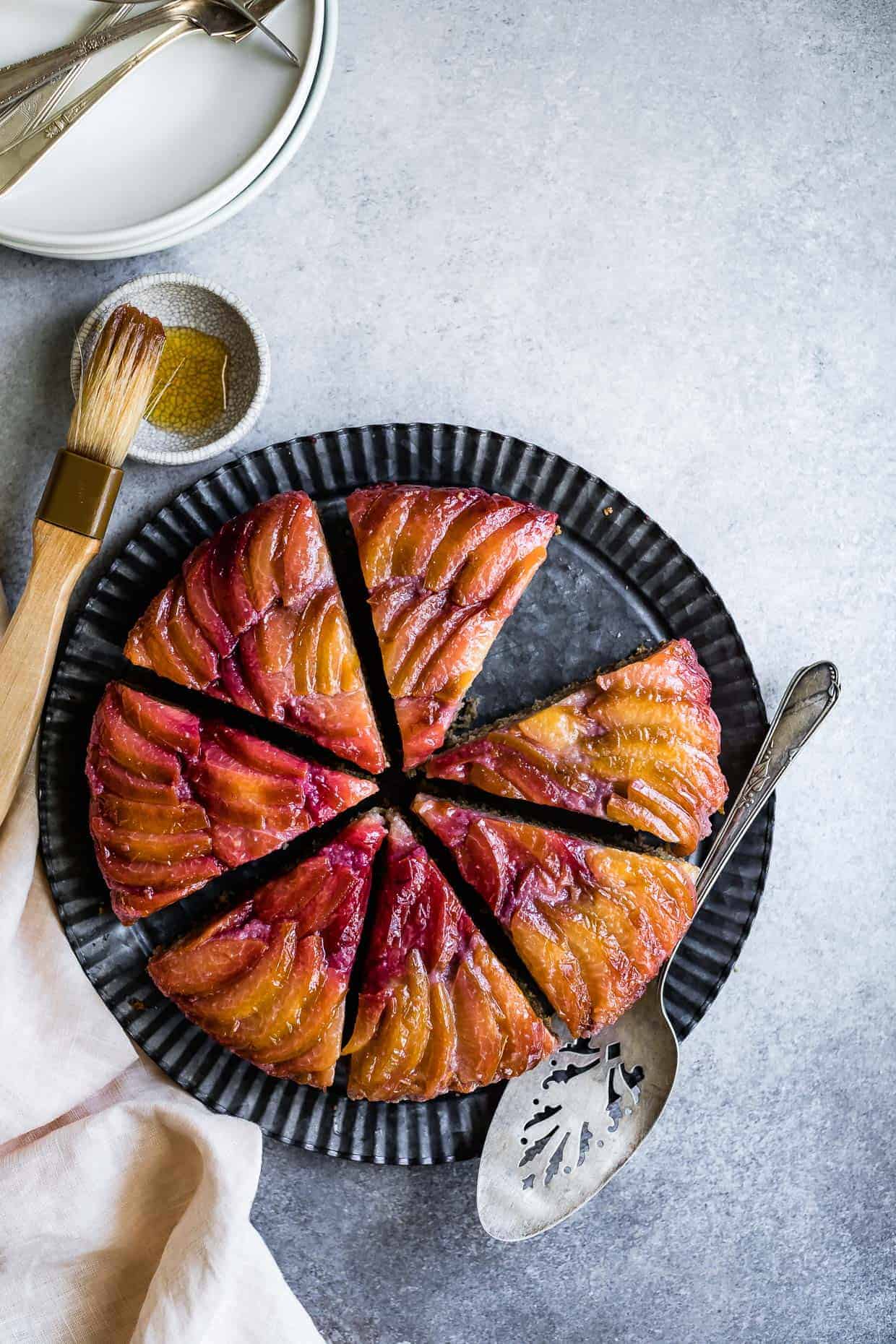 My gut was wrong. If I ranked the plums in order of flavor, the one I now had 3lbs of would come in dead last. In first place? A crisp showy pluot - of which I now had none left for cake. I should have known - it was called a Flavor King Pluot, after all - but I thought that was a ploy! Like the random friend who is like "I'm really really good at cutting hair. LET ME DO IT. TRUST ME." Definitely do not trust them. No one likes a braggart.
Unless we're talking about pluots. In which case, pick the one that straight up tells you it's boss. Flavor King - No B.S. Brag away, buddy - you taste like candy.
And just ten minutes after walking out, I was back at the market to turn in my sad tasteless plums for these vibrant pluots because cake deserves it. So this cake actually has pluots in it because they won the taste-test, but plums will work just the same!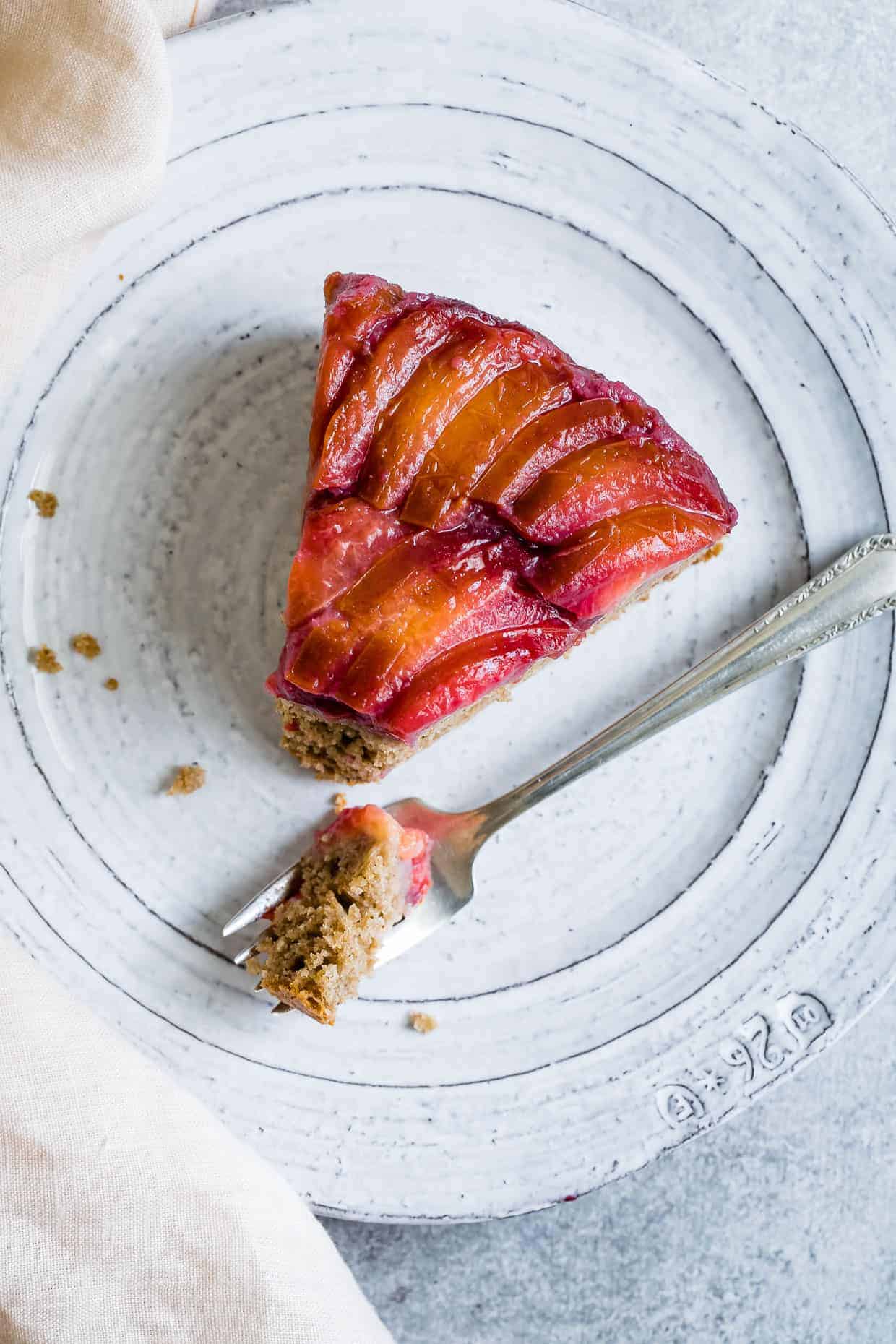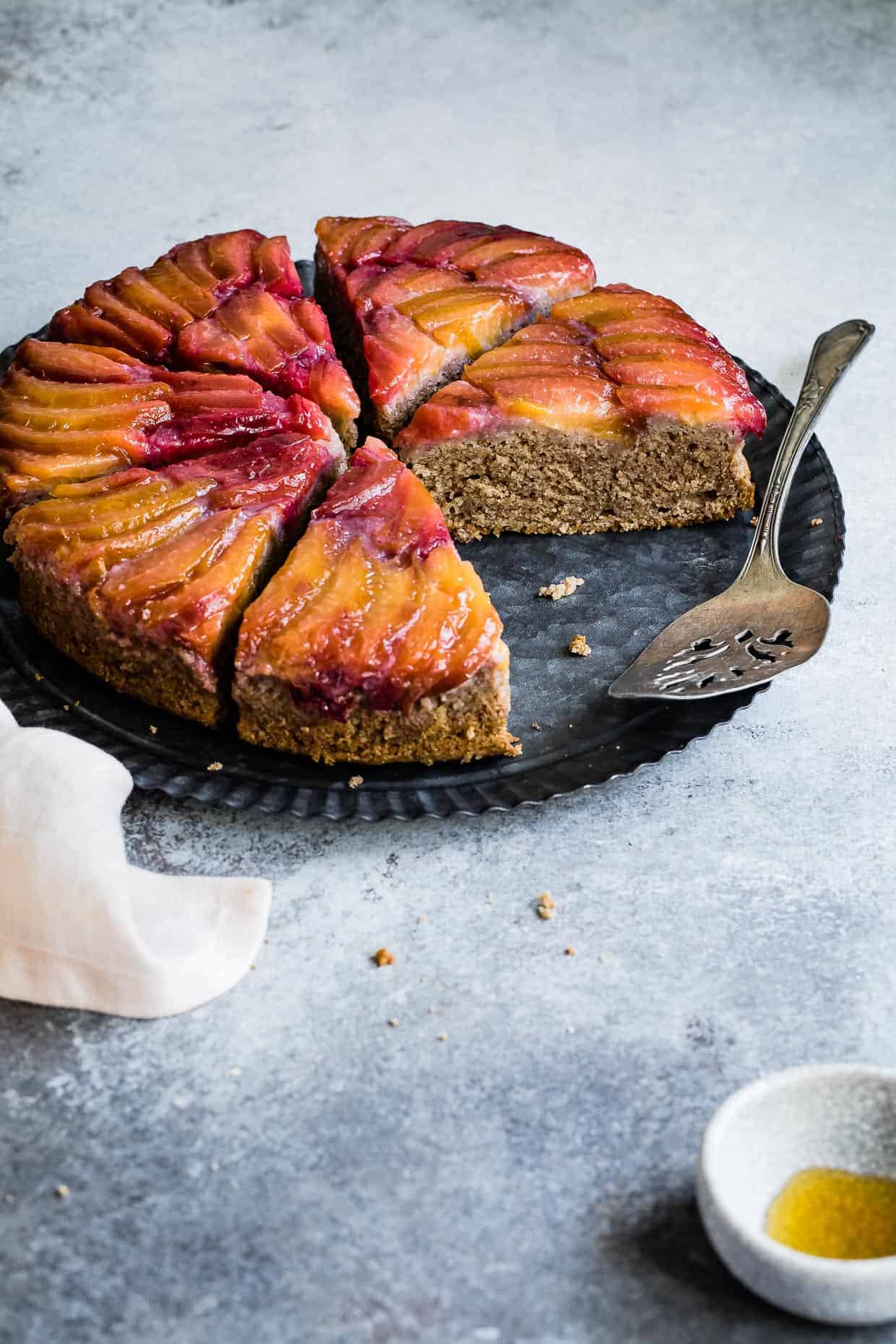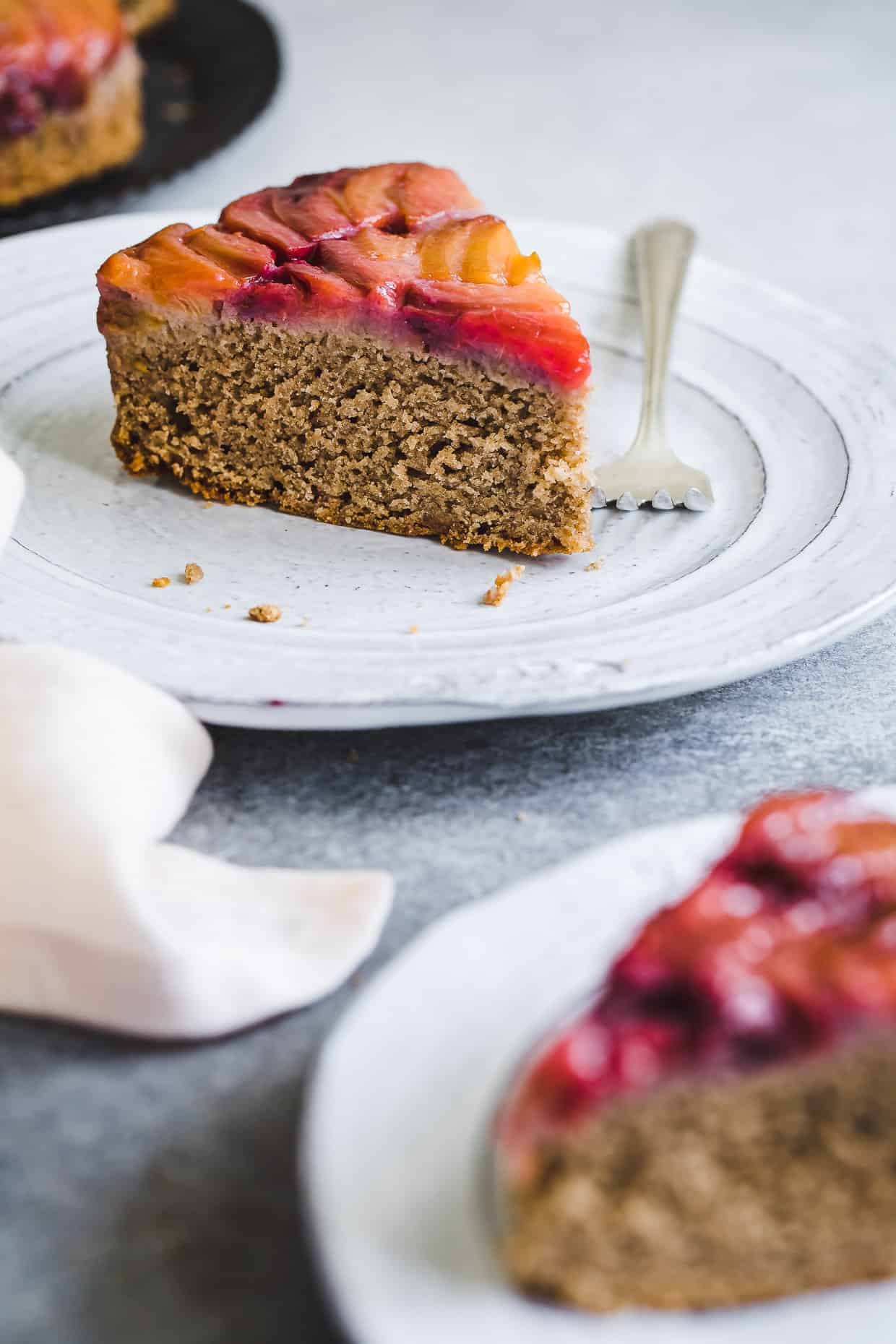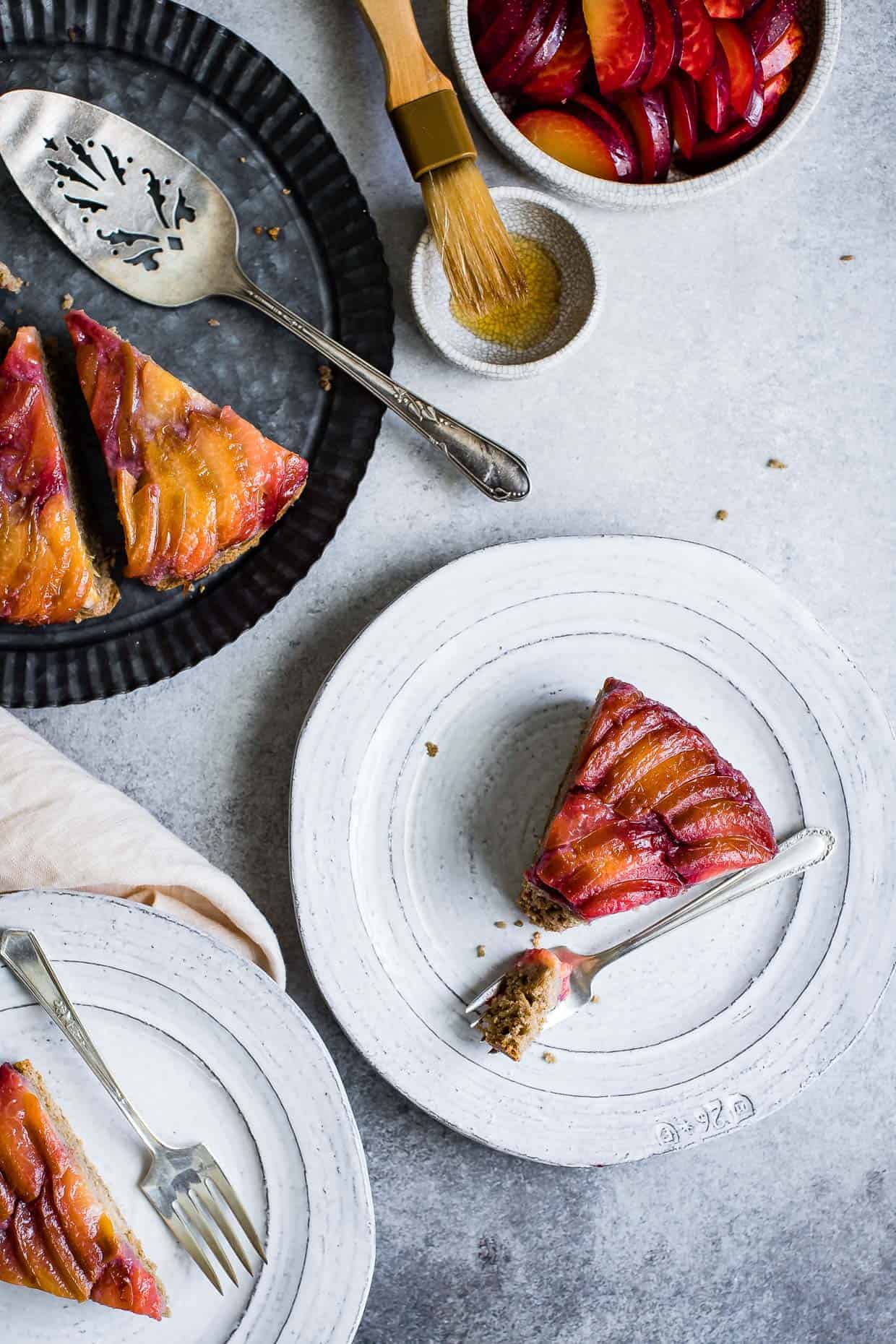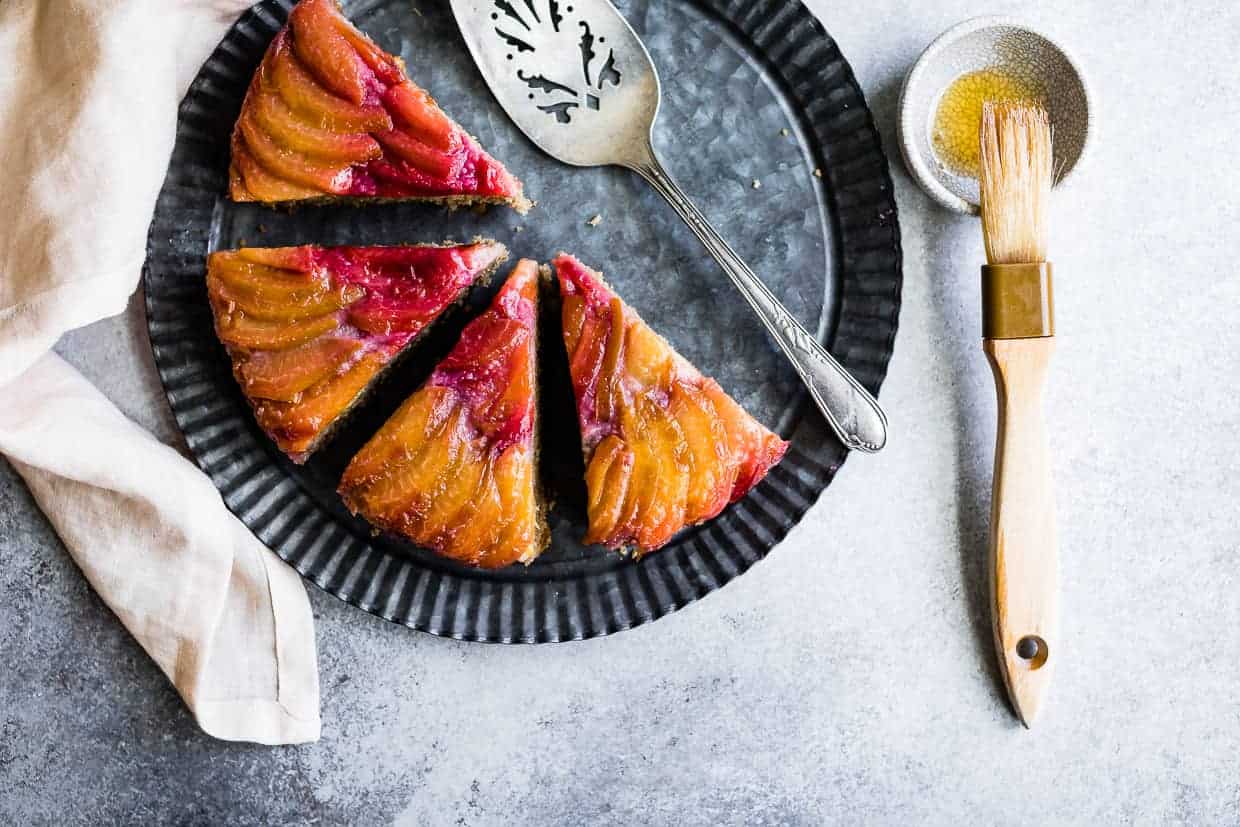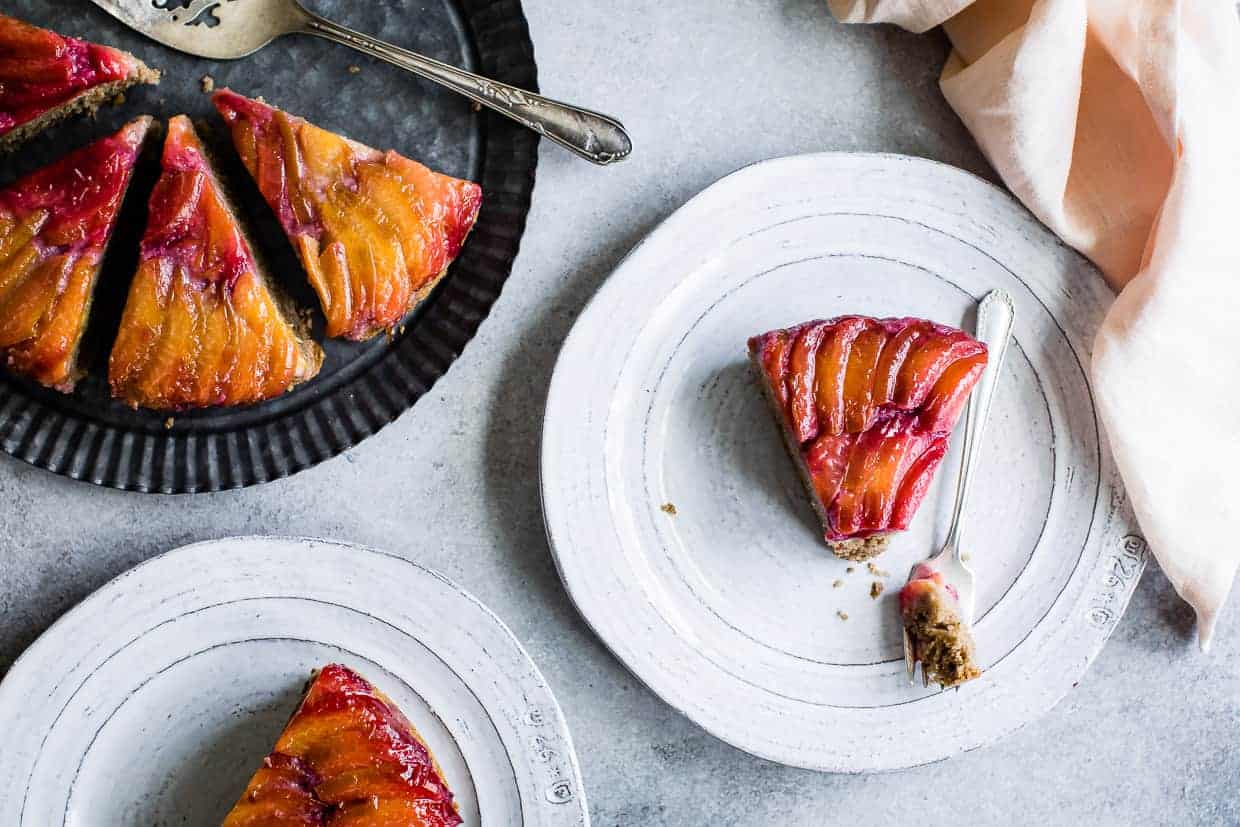 This gluten-free chestnut-flour cake started as a skillet cake with the plums fanned out over top, but they sank, leaving little pockets of gooey cake in their wake. So since they wanted to be on the bottom, that's where they went - taking a cue from the upside-down peach cake Alanna and I recently styled for NYT. Chestnut flour's sweet earthy notes pair beautifully with sweet tangy stone fruit, while creating a soft tender crumb that's both light and chewy.
When I lamented having to make this cake again to figure out which recipe was the right one, Lucas simply reminded me that we'd get to eat this cake again and the clouds parted while the sun shone brightly down.
And anyway, we really could use more cake: by the end of this shoot, guess how many pieces of cake Zoella had stuck her hand into from the edge of my suddenly-too-low-toddler-height-shooting-table? Three. Three pieces of cake.
Thanks for reading Snixy Kitchen! To stay up on what's coming out of my kitchen, follow me on Facebook, Instagram, Twitter, Bloglovin', Pinterest, or subscribe via e-mail to get new recipes right to your inbox.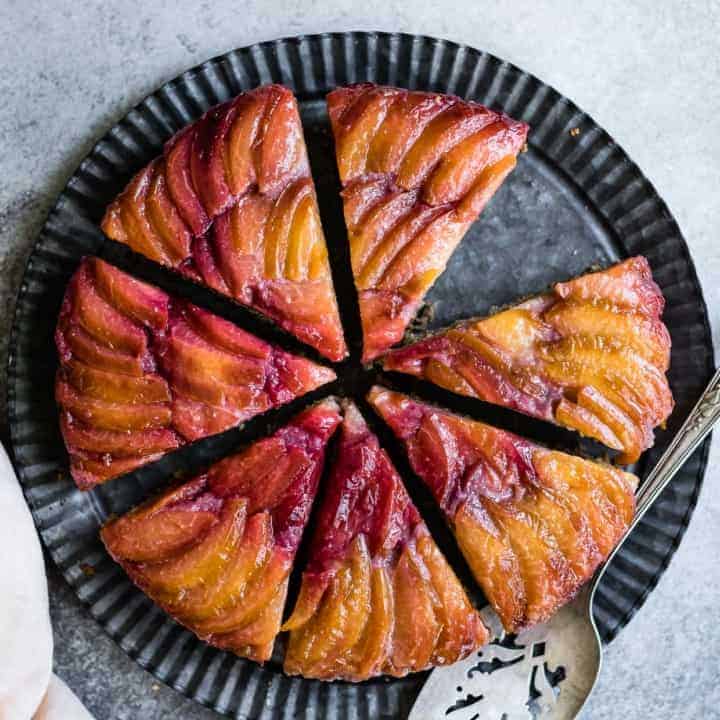 Chestnut Plum Upside-Down Cake (gluten-free)
Yield:
1 8-inch round cake or 8 slices
Instructions
Grease an 8" baking pan with oil and line the bottom with a round of parchment paper.
Arrange the plums in concentric overlapping circles on top of the parchment paper and sprinkle with 1 tablespoon of the sugar.
Preheat the oven to 350°F.
In a medium bowl, sift together the chestnut flour, sweet rice flour, oat flour, xanthan gum, baking soda, baking powder and salt. Set aside.
In the bowl of a stand mixer, cream together the butter and remaining ¾ cups sugar over medium speed until light and fluffy, 3-4 minutes.
With the mixer on low-speed, add the eggs one at a time, mixing after each one.
Add the vanilla extract, mixing until just combined.
Keeping the speed on low, slowly add the dry ingredients in two batches, adding the milk in between, mixing until just combined.
Pour the batter over the plums and use a spatula to smooth it out.
Bake for 50-60 minutes, or until the center bounces back when touched and a toothpick inserted in the center comes out clean or with just a few moist crumbs. Place pan on a wire rack to cool completely (I left mine overnight).
When completely cool, use a thin knife to loosen the edges of the cake. With a plate or second wire rack on top, invert the cake, giving it a few taps as needed to release it from the pan. Carefully peel off the parchment paper.
Just before serving, brush the top with a little bit of honey to glisten up the fruit. Slice and serve as is, or with a scoop of vanilla ice cream.
Notes
*I used Flavor King pluots because they had the most flavor.
**I've baked a version of this cake without the xanthan gum and, while it works, I think the texture of the xanthan gum cake is better - it's chewier and less crumbly, as a cake should be.