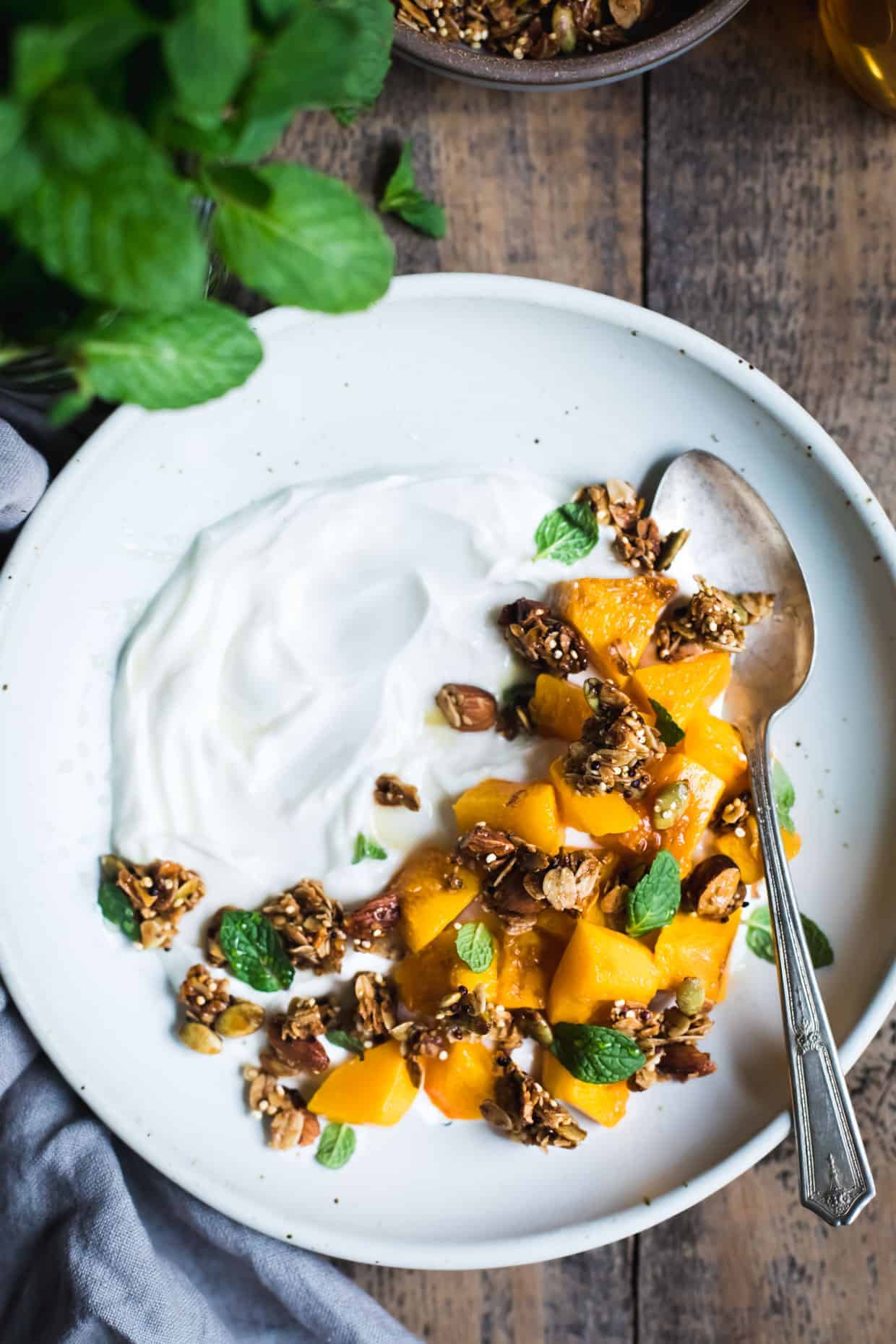 I hate mornings. I've always hated mornings. I'm cut from the night-owl cloth and, as someone who doesn't drink coffee, what could possibly drag me out of bed in the AM? In high school, my mom would start the shower then wake me by telling me I was wasting water by staying in bed (it worked...mostly) (sorry, California). Even now with my extra adorable 7:30am baby alarm clock, I am very not fond of mornings. BUT!! 2017 ushered in two major developments that are making mornings slightly more tolerable.
First: I've committed myself to weekly breakfast meal prep, starting with these roasted butternut squash and cardamom granola yogurt breakfast bowls topped with fresh mint. With all the pieces made in advance, I can toss this elegant morning bowl together in about 5 seconds. This is key because Zoella has yet to learn patience when it comes to meal time, which means if I don't have something ready to go, I'm having the uneaten half of her banana as my breakfast.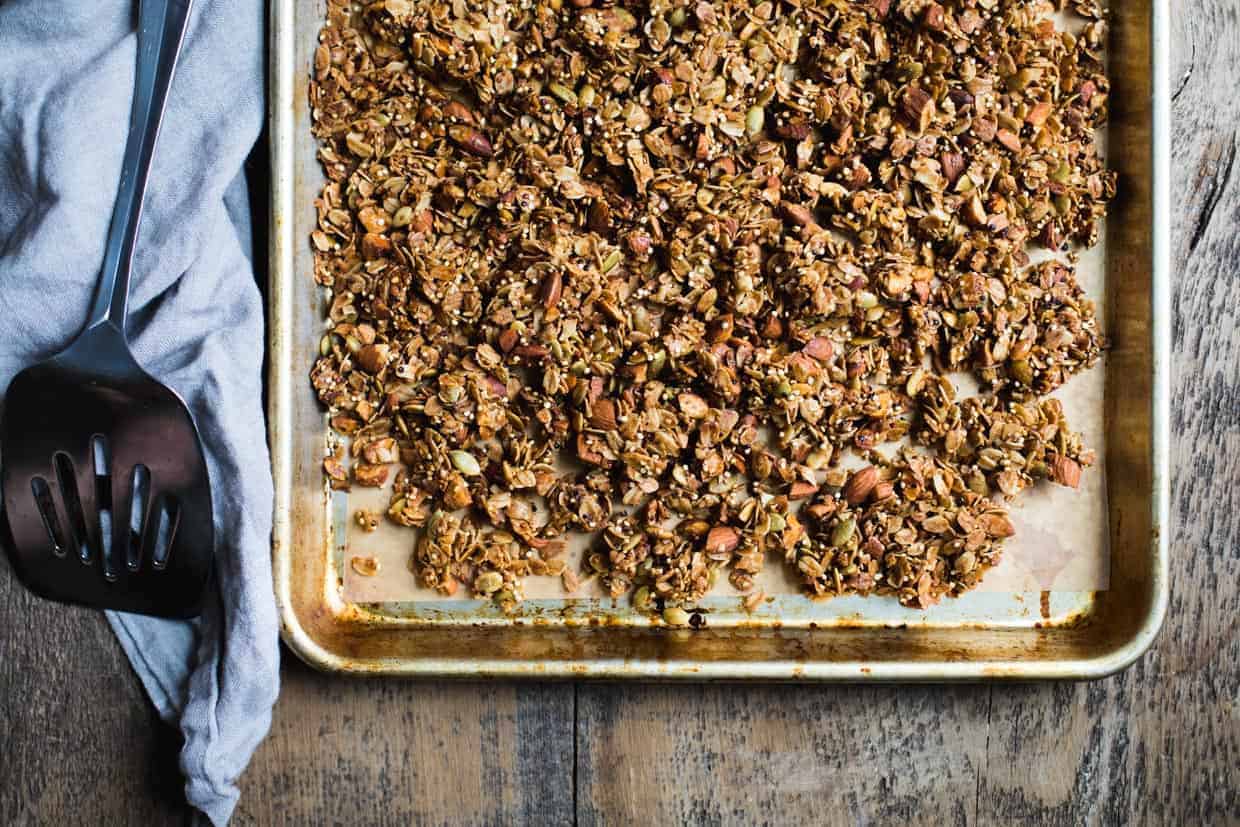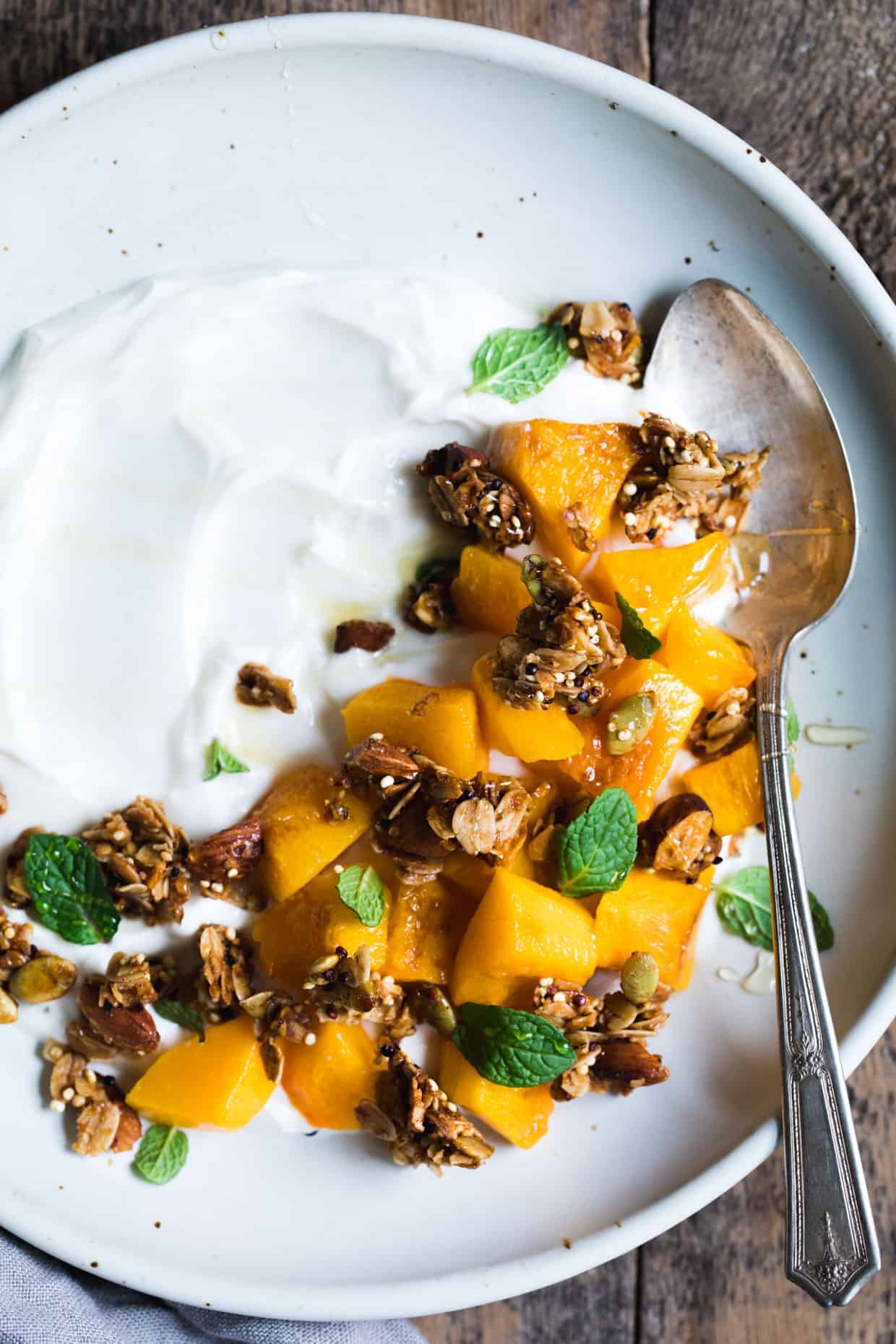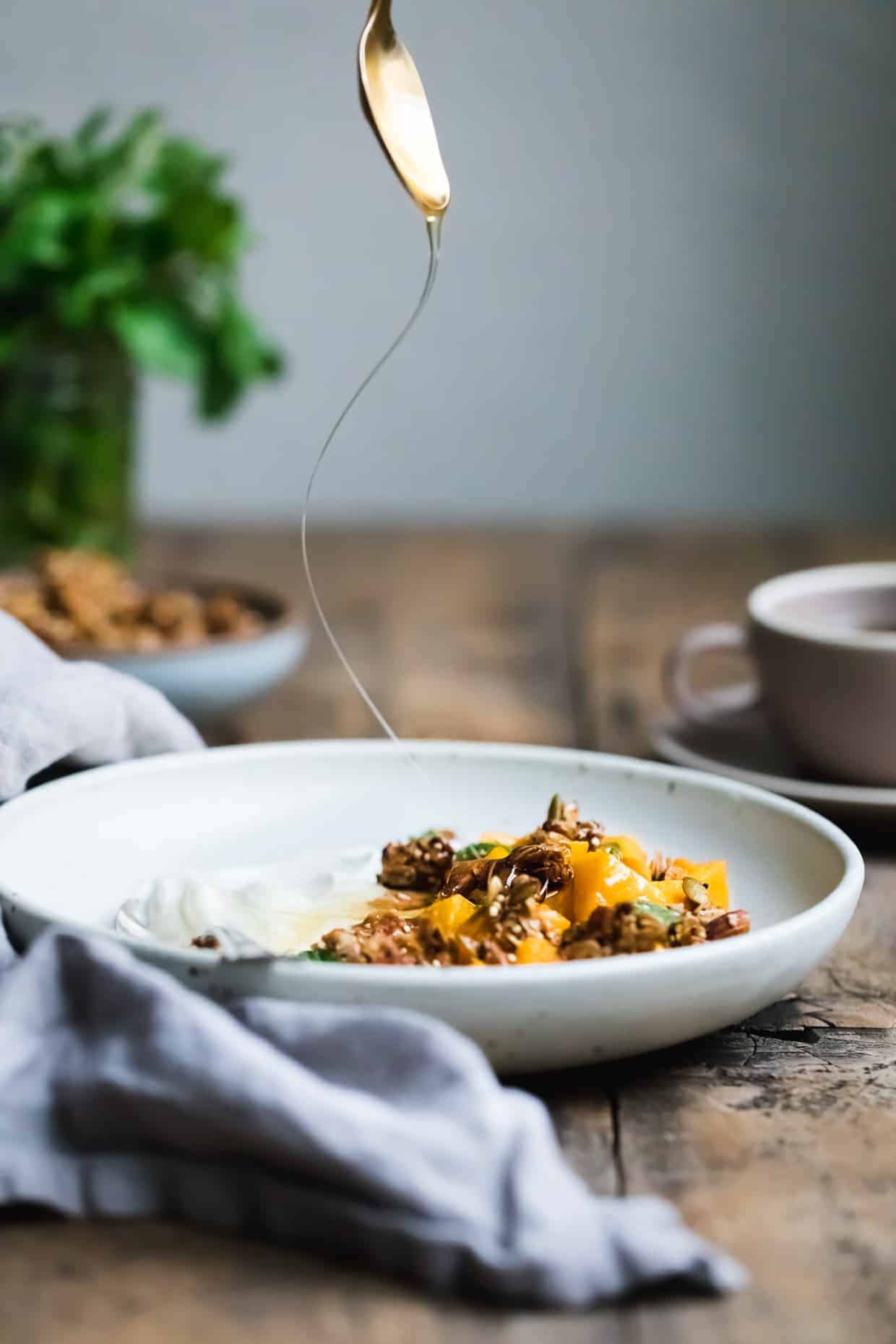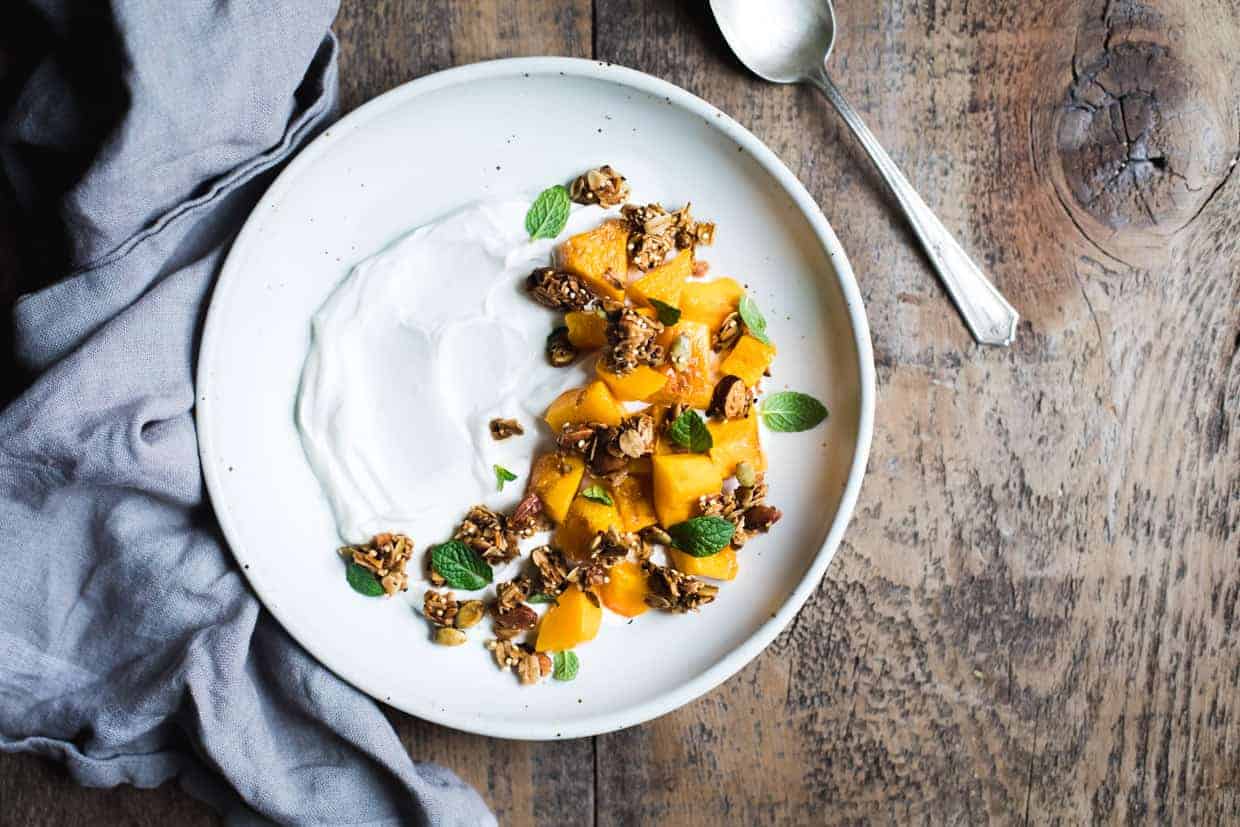 Second: Zoella started saying "cat" as her first intentional word this week, followed by "hi" and usually in succession.
(But what does this have to do with mornings?)
When she wakes up, I pull her into bed with me to try to convince her that 7:30am is too early. For the past few mornings, when she's done pretending to sleep longer, she sits ups, climbs over me toward the cat curled up at my feet and says, "cat! hiiiii." with a wave.
My work as a mother is done, I think.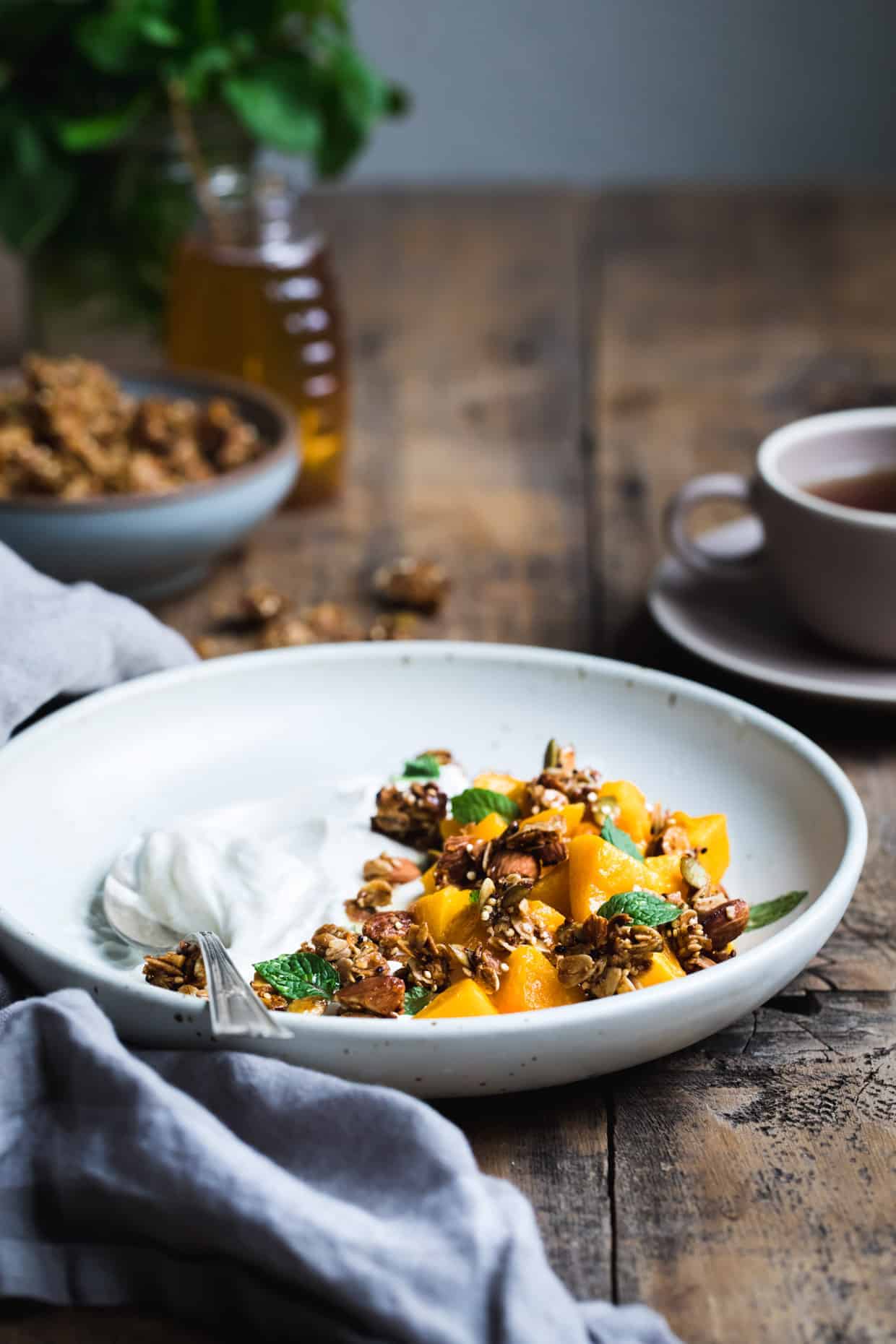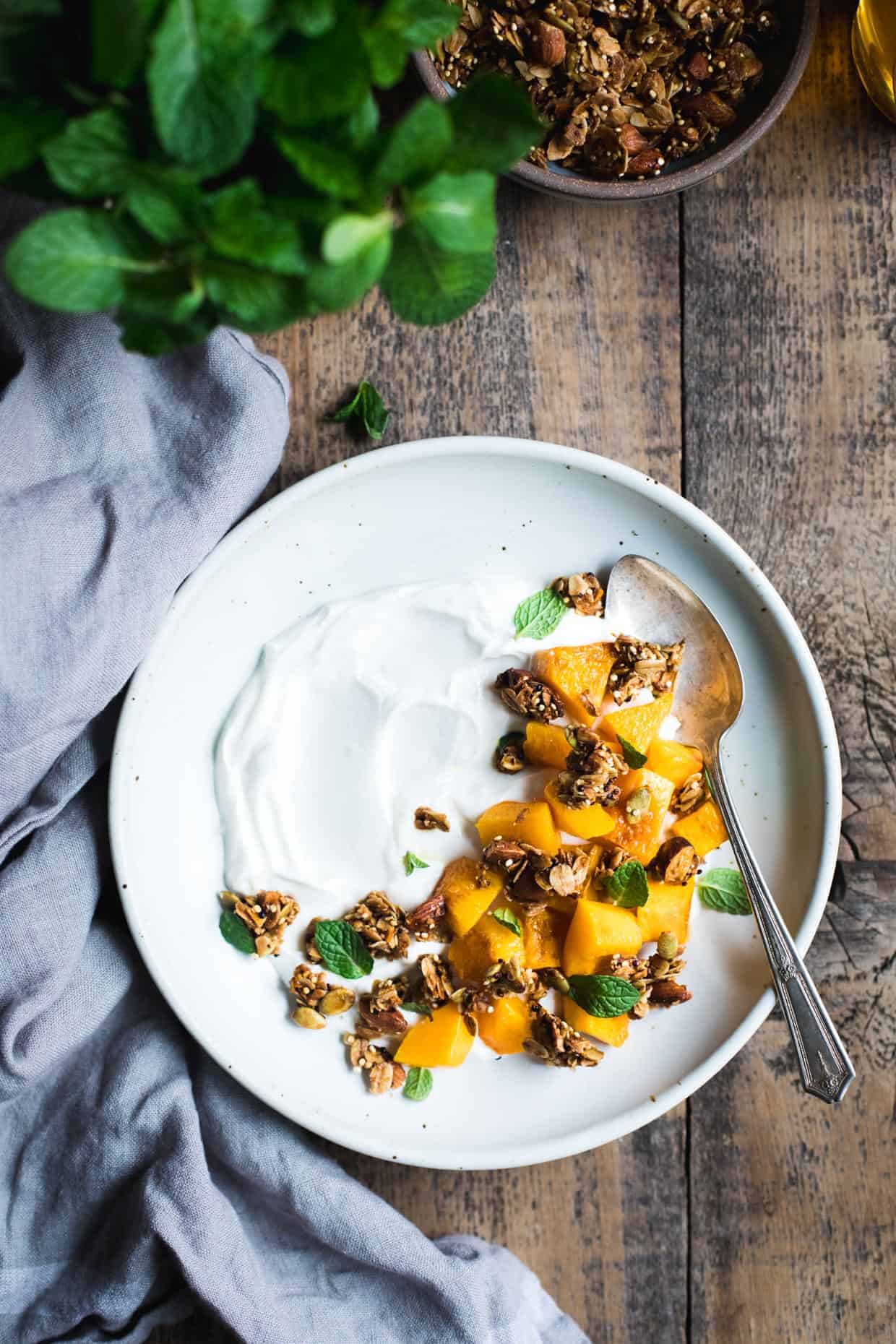 So I guess mornings aren't all that bad. I've also got a pot of the Samovar English breakfast tea Alanna gave me as icing on the cake.
The other polorizing thing about me is that I'm just not huge on breakfast food in the morning. I love waffles, but they're too sweet for the AM. I like bacon and eggs, but I'd prefer them for dinner. I'm almost strictly a lunch orderer off the brunch menu (unless it's egg tacos, gimme all the egg tacos).
This savory roasted butternut squash breakfast bowl walks the line between sweet and savory in a way that I want to eat every morning forever. Vanilla and honey scented tart greek yogurt topped with lightly salted roasted butternut squash, crunchy cardamom almond and quinoa granola, and a few fresh mint leaves.
We ate a similar combo of flavors at a tapas-style restaurant one night in Austin and I've been thinking about a breakfast bowl version ever since. Winter squash is sweet enough to pair with the honeyed vanilla yogurt, nutty granola adds a textural and toasty recess, and fresh mint gives a refreshing herbal surprise.
With promises of this yogurt breakfast bowl, I might be coming around to this whole morning thing.
Also - if you've gone ahead and roasted up a bunch of squash to keep on hand, I recommend trying Amanda's savory tomatoes and butternut squash with cardamom yogurt combo for dinner! Two birds, one stone.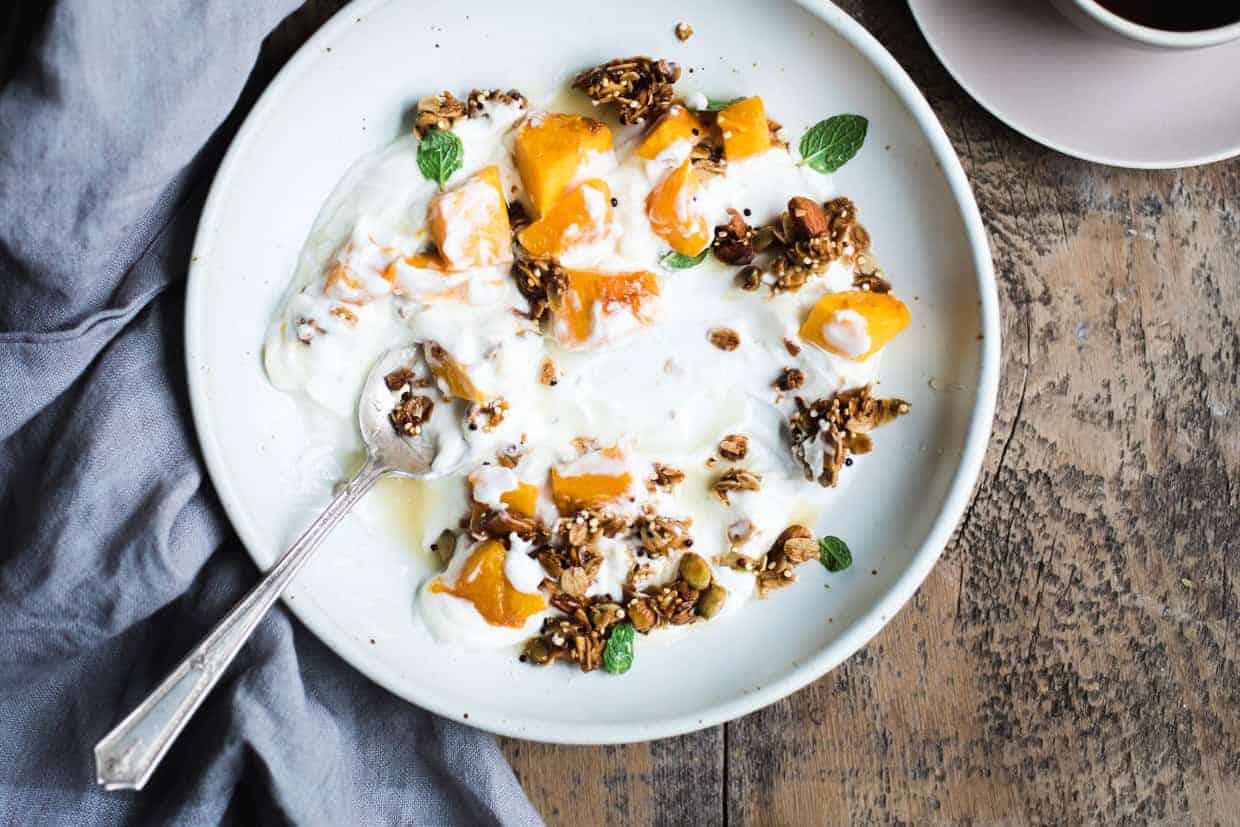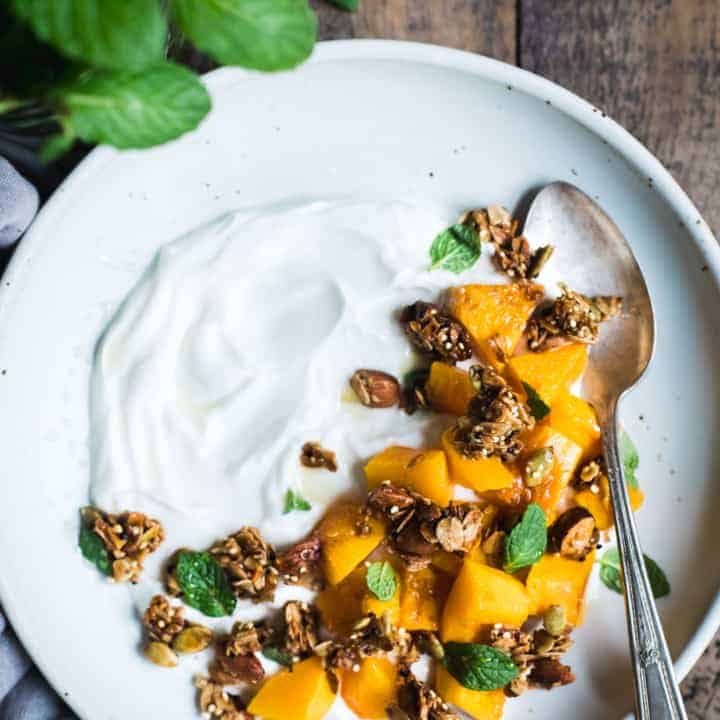 Roasted Butternut Squash and Cardamom Granola Yogurt Breakfast Bowls
Ingredients
Roasted Butternut Squash Breakfast Bowls
1 small 2lb butternut squash, peeled and cut into 1-inch cubes, discarding seeds
1½ teaspoons olive oil
½ teaspoon kosher salt
1 teaspoon pure vanilla extract
8 teaspoons honey, divided, plus more for serving
1 few leaves of fresh mint, torn into small pieces
(For single serving, use 1 cup plain greek yogurt, ¼ teaspoon vanilla, and 2 teaspoons honey)
Cardamom Quinoa Granola
1 cup raw almonds, coarsely chopped
¼ cup + 2 tablespoons raw pepitas (pumpkin seeds) (or replace with more chopped almonds)
¼ cup + 2 tablespoons uncooked quinoa
3 tablespoons light brown sugar
¼ cup + 2 tablespoons honey
⅓ cup melted coconut oil
1 teaspoon vanilla extract
½ teaspoon ground cardamom
¼ teaspoon maldon salt
Instructions
Preheat oven 425°F.
Line a baking sheet with parchment paper. Toss the squash with olive oil and kosher salt and spread on a parchment-lined baking sheet. Bake for 20-25 minutes on the bottom rack, tossing halfway through, until tender when poked with a knife. (If not using parchment paper or if you notice your squash browning quickly on the bottoms, bake on the middle rack). When finished, chill squash until serving. This step can be done a few days in advance and chilled.
Meanwhile, toss oats, chopped almonds, pepitas, quinoa, and brown sugar together in a large bowl. Pour in the honey, coconut oil, vanilla extract, cardamom, and maldon and toss until evenly coated (I like to use my hands to make sure the wet ingredients are evenly distributed).
Reduce oven temperature to 300°F.
Dump the granola mix on to large parchment-lined baking sheet and form it into a mound in the center of the pan. Bake on the top rack for 20 minutes. Stir and spread the granola mix into even layer. Bake for another 20-25 minutes until just golden brown. Let cool completely in the pan. Once cool, break into pieces and store in an air-tight jar, container, or bag until serving. This step can be done up to a week in advance.
Just before serving, combine yogurt, vanilla, and honey in a small bowl until smooth (for single serving. Divide yogurt among four bowls. Top with chilled roasted butternut squash, cardamom quinoa granola, and a few torn mint leaves. Drizzle with honey (optional) and serve.