This gluten-free gingerbread cake recipe is super moist and fragrant with warm wintry spices and dark rich molasses. Optionally dressed up with a swirl of eggnog buttercream frosting.

This post is sponsored by OXO, a long-term partner of Snixy Kitchen.
The thing about loaf cakes is: they call for patience. With the right kitchen tools, they're super quick and easy to whip up, BUT they require oven time. Boy, do they require oven time. And they demand cooling time - even more if you're slathering it with frosting. Still, all this waiting is worth it for just a single bite of this ultra-moist tender gingerbread loaf cake with eggnog frosting. This is coming from someone who always licks the spatula after sliding the cake in the oven because I have very little patience when it comes to cake.
So, while you wait, lick the spatula, finish your holiday cards, and take a deep breath because your house smells incredible.
I've made this gingerbread loaf cake in partnership with OXO as part of an ongoing collaboration to show off the tools I regularly use in my gluten-free baking and cooking. So far this year, I've made peach crumble slab pie, gluten-free blueberry muffins, and gluten-free butternut squash gnocchi. Head over to see all my posts featuring my favorite OXO kitchen tools from the past few years.



The Best Gluten-Free Gingerbread Cake
Gingerbread, I strongly believe, must have molasses. If you see a gingerbread recipe without, keep looking.
But, as it turns out, there's a threshold on the molasses front.
On my first test of this recipe, I'd folded in nearly triple the amount of molasses as in this final recipe. The result was a cake that tasted like the smell if you stick your nose directly into a bottle of dark molasses with a deep inhale. The sweet molasses burned as you ate it. Lesson learned.
Fresh Ginger in Gingerbread Cake
When balanced with fresh ginger and a heap of ground spices, just enough dark unsulphured molasses gives the cake a full-bodied richness that's all at once sweet yet sophisticated. Using freshly peeled and finely grated ginger in addition to dried ground ginger, cinnamon, cloves, and allspice, is the key for a flavorful gingerbread cake, giving the crumb spicy notes to contrast the molasses.
Even without frosting, this cake is delicious in its own right!


Super Moist Gluten-Free Gingerbread Loaf
Unlike many other cakes that dry out over time, this gluten-free gingerbread loaf cake has enough molasses to keep it moist for several days. Adding swirls of eggnog buttercream is optional but will also help retain moisture.
Over time, the gingerbread flavor also gets more pronounced as the spices nestle into the cake sponge, which makes this a great make-ahead loaf for the holidays or gift to deliver to your favorite neighbors.
Here I've used my OXO non-stick pro 1lb loaf pan for this cake, which measures 4.5x8.5 inches and produces a lofty domed cake. I still butter and parchment the bottom of the pan as an extra precaution, but no need to worry about greasing or lining the rest of the pan! The cake slides right out of the pan with ease.
Swirled with Eggnog Frosting
While totally optional, the swirl of soft eggnog buttercream frosting on top adds a sweet creaminess that contrasts the rich deep dark molasses cake with balance in flavor and texture.
Here's my secret fancy dessert weapon: dress up the cake by using a dusting wand to sprinkle the frosting with nutmeg, or if you're leaving the cake bare, dust it with powdered sugar!




Essential Kitchen Tools
I get lots of questions about stocking a kitchen with the right tools to bake and cook with ease. While normally I have a well-stocked kitchen, temporarily having access to only a tiny 26-square foot kitchen has taught me what the essentials are that I can't live without. Spoiler alert: most of them are OXO tools.
When I'm cooking or baking, I use at least a dozen different OXO tools for any given recipe - see the complete list for this recipe below. During the past few months of construction, many of these have lived in a bag that I carry back and forth every day between our house where I bake and work and the temporary apartment where I cook dinner. And some even make the 3-hour trip with me my up to my parents' house where I need them for making holiday meals. This is no exaggeration - that's how dedicated I am to having great tools.
My Favorite Baking Tools Used in this Cake
I'd argue a well-stocked kitchen has all of the below tools, but here are a few of my essentials:
Kitchen scale: When I'm developing a recipe, I always use a kitchen scale in addition to measuring cups. When you scoop and measure flour in a cup, the amount of flour you use can vary. When you're blending 3-4 different flours, this can cause a lot of variation! With weight measurements, you always know you've got the same amount of flour, no matter which way you scoop it.
Stainless steel measuring cups and spoons: I've talked about my love of these spoons before. They magnetize together so you can pull out just the one you need and easily put them back as a set. Fewer dishes and my drawers stay organized.
Y peeler: Before I started using a y-peeler, I almost always cut myself on my vegetable peeler (you too?). Especially when peeling something small like ginger, this y peeler is so much easier to use. I now own two so I don't have to move it between kitchens during construction.
Flat Whisk: While I have many whisks, I most routinely go for the flat whisk for a few reasons: 1. I find it easier to scrape up everything on the sides of a bowl or pan, 2. I like the way it feels in my hand when stirring, and 3. It's sooo much easier to clean!

More Gluten-Free Cakes for the Holidays
If you're into this gingerbread loaf cake, here's are a few more holiday-friendly gluten-free cakes.
Disclosure: Special thanks to OXO for providing the tools shown above and sponsoring this post! And thanks to you for supporting the companies that keep Snixy Kitchen cooking!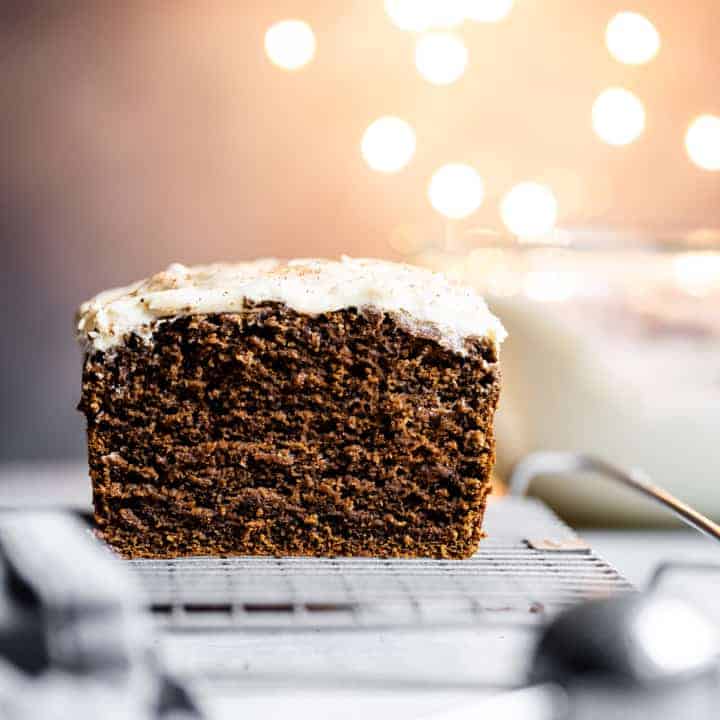 Gluten-Free Gingerbread Cake with Eggnog Frosting
Yield:
1 4.5x8.5-inch loaf cake
Cool Time:
1 hour
30 minutes
Total Time:
2 hours
55 minutes
A super moist gluten-free gingerbread cake that is fragrant with warm wintry spices and dark rich molasses. The cake is delicious even without frosting, but dress iIt up with a swirl of eggnog buttercream frosting!
Ingredients
Gluten-Free Gingerbread Cake
¼ cup + 3 tablespoons (70g) sweet rice flour (such as Mochiko - different from "white rice flour" or "brown rice flour")
1 teaspoon baking powder
¼ teaspoon baking soda
¾ teaspoon kosher salt
2 teaspoons ground ginger
1 teaspoon ground cinnamon
¼ teaspoon ground cloves
¼ teaspoon allspice
¼ cup + 1 tablespoon (100g) dark unsulphured molasses (not blackstrap)
¼ cup (60g) boiling water
¼ cup + 2 tablespoons unsalted butter, room temperature
⅓ cup (67g) granulated sugar
⅓ cup (67g) dark brown sugar
2 large eggs, room temperature
1 teaspoon pure vanilla extract
1 teaspoon freshly peeled and grated ginger (I use a zester)
½ cup whole milk
Eggnog Buttercream Frosting
¼ cup unsalted butter, slightly softened
¾ cup + 2 tablespoons powdered sugar, sifted
2 tablespoons eggnog
½ teaspoon pure vanilla extract
⅛ teaspoon ground nutmeg
⅛ teaspoon ground cinnamon
Pinch teaspoon kosher salt
Instructions
Preheat oven to 350°F. Brush the bottom of a 4.5x8.5 1lb loaf pan and an inch up the sides with butter. Line the bottom with parchment paper (I recommend a non-stick pan, but if not using a non-stick, brush the butter on all sides and line the pan with a sling of parchment paper).
In a medium mixing bowl, sift together the teff flour, sweet rice flour, oat flour, tapioca flour, baking powder, baking soda, kosher salt, and ground spices. Set aside.
In a liquid measuring cup, whisk together the molasses and boiling water until smooth. Set aside.
In the bowl of a stand mixer fitted with a paddle attachment or a large mixing bowl with a hand mixer, cream together the butter and sugars over medium high speed until light and fluffy, about 3-5 minutes.
Add the eggs, one at a time, mixing until just incorporated and scraping down the sides after each one. Add the vanilla extract and fresh ginger and mix until combined.
With the mixer on low speed, slowly add the flour mixture in three parts, alternating with the milk then molasses mixture, scraping down the sides as needed. Mix until smooth.
Pour into the prepared baking pan, smoothing out the top. Bake for 50-60 minutes, or until the center springs back when pressed lightly and a toothpick inserted into the middle comes out clean.
Let cool for 20 minutes in the pan before removing from the pan. Let cool completely (about 1 hour) on a wire rack before frosting.
When ready to frost, prepare the frosting. In the bowl of a stand mixer fitted with the paddle attachment or a large mixing bowl with a hand mixer, cream the butter over medium-high speed until smooth, 2-3 minutes. Scrape down the sides and, with the mixer on low speed, slowly add the powdered sugar in two parts alternating with the eggnog. Add the vanilla, salt, and spices and mix until smooth. Swirl the frosting over the cooled cake and dust with more nutmeg, if desired.