This deep dark gluten-free chocolate black sesame cake is so moist that it's almost gooey in texture - just on the very edge of lava cake - while still cake-like and tender. Nutty whipped matcha mascarpone cuts the inky black richness of the cake while pairing with the smoky notes of the ground black sesame seeds. A chocolate cake made for grown-ups adapted from A Common Table: 80 Recipes & Stories from My Shared Cultures.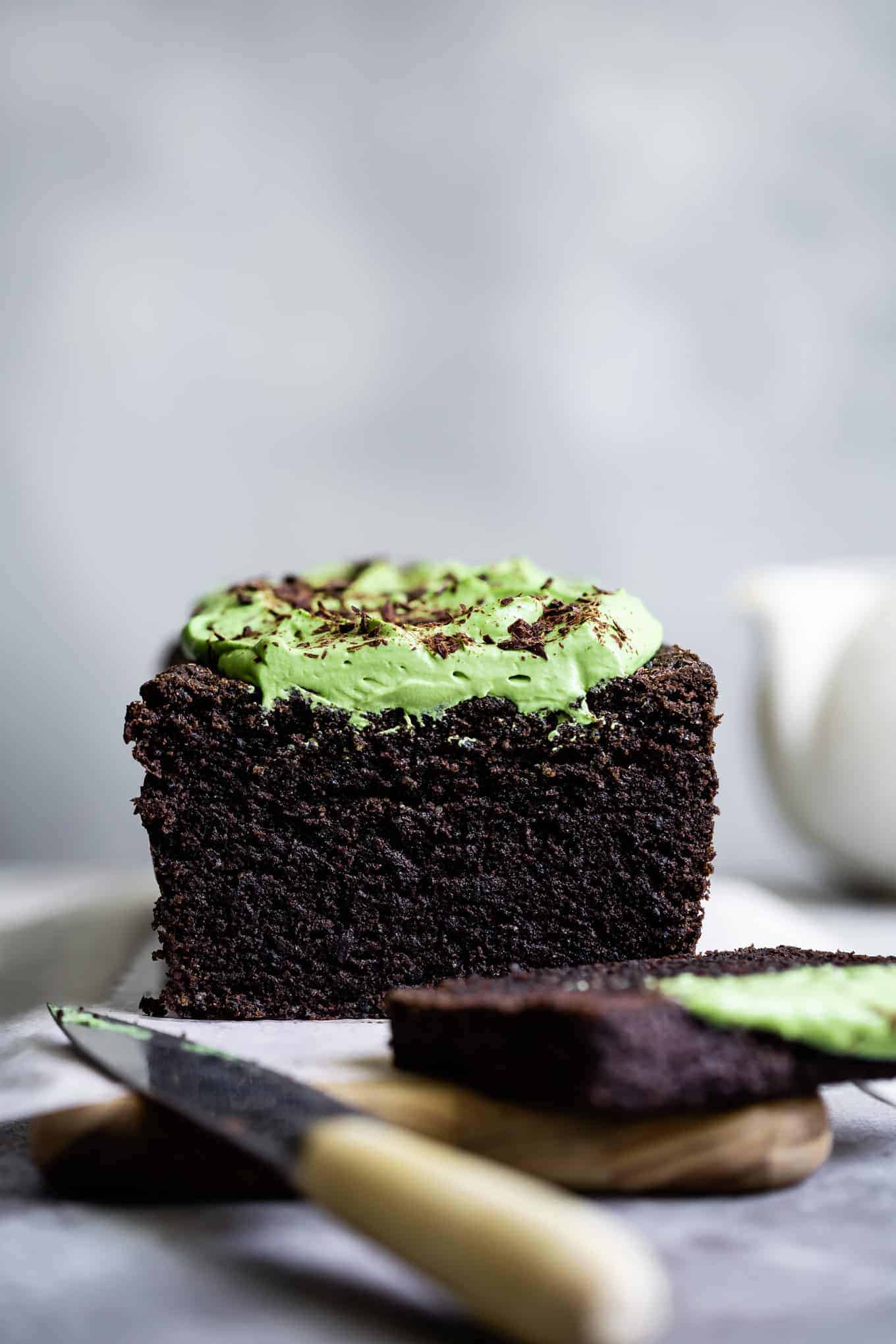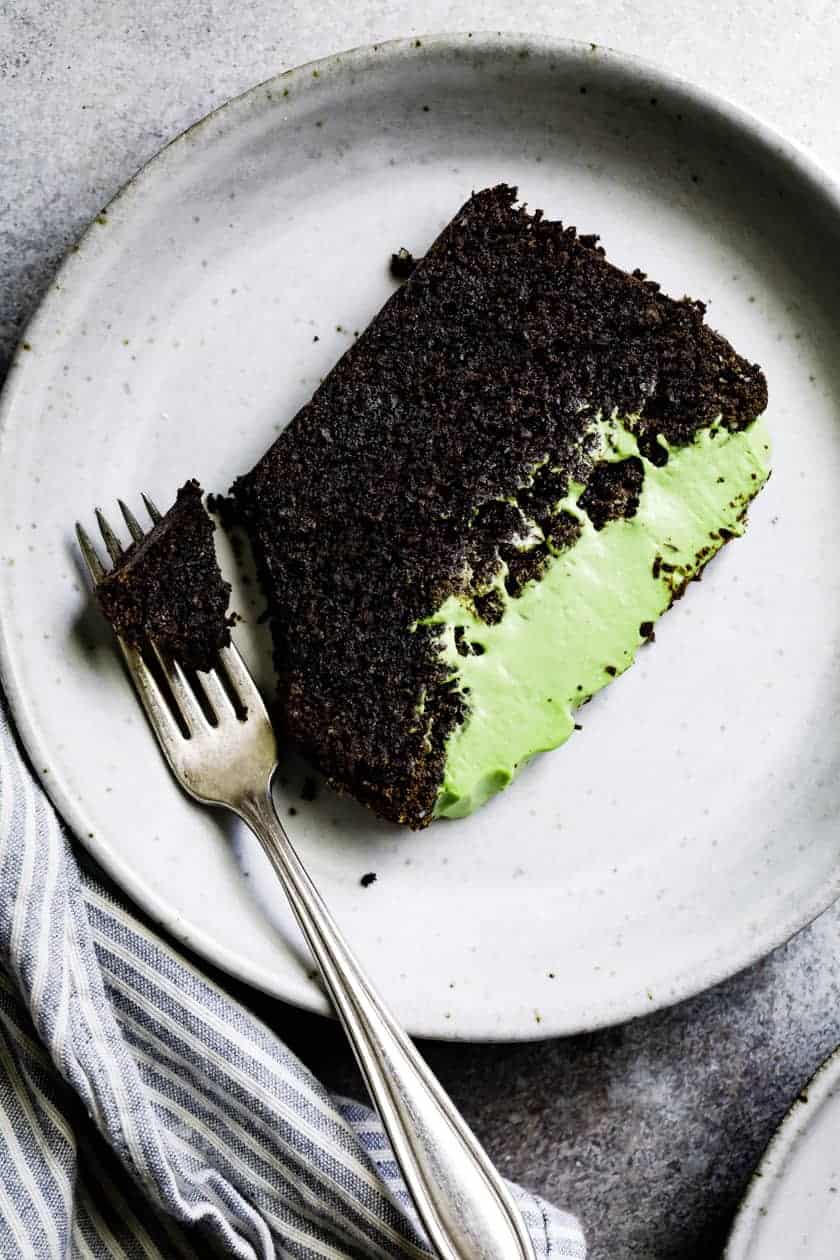 Since she started helping me in the kitchen more regularly, I've been joking that the first time Zoella bakes at a friend's house, she's going to wonder why they only measure one flour. Baking with at least three different gluten-free flours is the norm for her, though I'm not sure she knows why yet. She does, however, know that I can't eat gluten, whatever that means to her.
In the car yesterday, Zoella (3) said completely out of the blue, "you need to try gluten-free, mama." She repeated slowly, "glue-TEN free."
Impressed by her vocabulary and that she remembered that fact, I agreed, "Yes, you're right. I can't eat gluten."
"NO, Mama, you have to try gluten-free before you say you don't like it." Ha! Look at her throwing my philosophy on new foods (ahem vegetables) back in my face.
I have tried it. For years, and for years I had chronic migraines. So, I can't eat it. Like it? Sure, it's delicious! Like, you've eaten cake before, right? I've never met a cake didn't like (except for that one time my mom put shredded sweetened coconut "grass" all over my 5th birthday cake - I'm not going to let her forget).
When I saw this chocolate black sesame cake in my friend Cynthia's new book, I needed a slice. And I immediately got to work making a gluten-free version so I wouldn't miss out.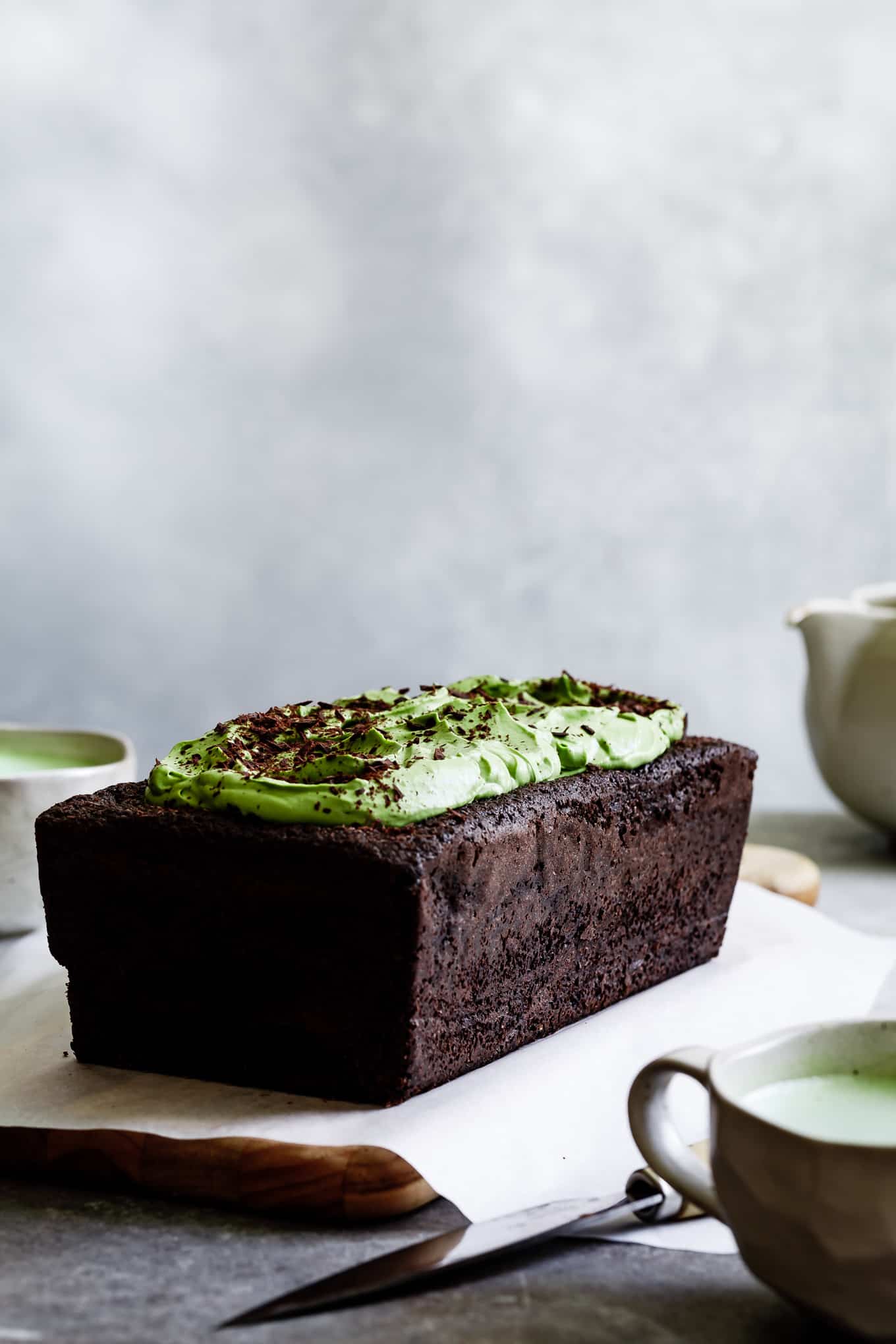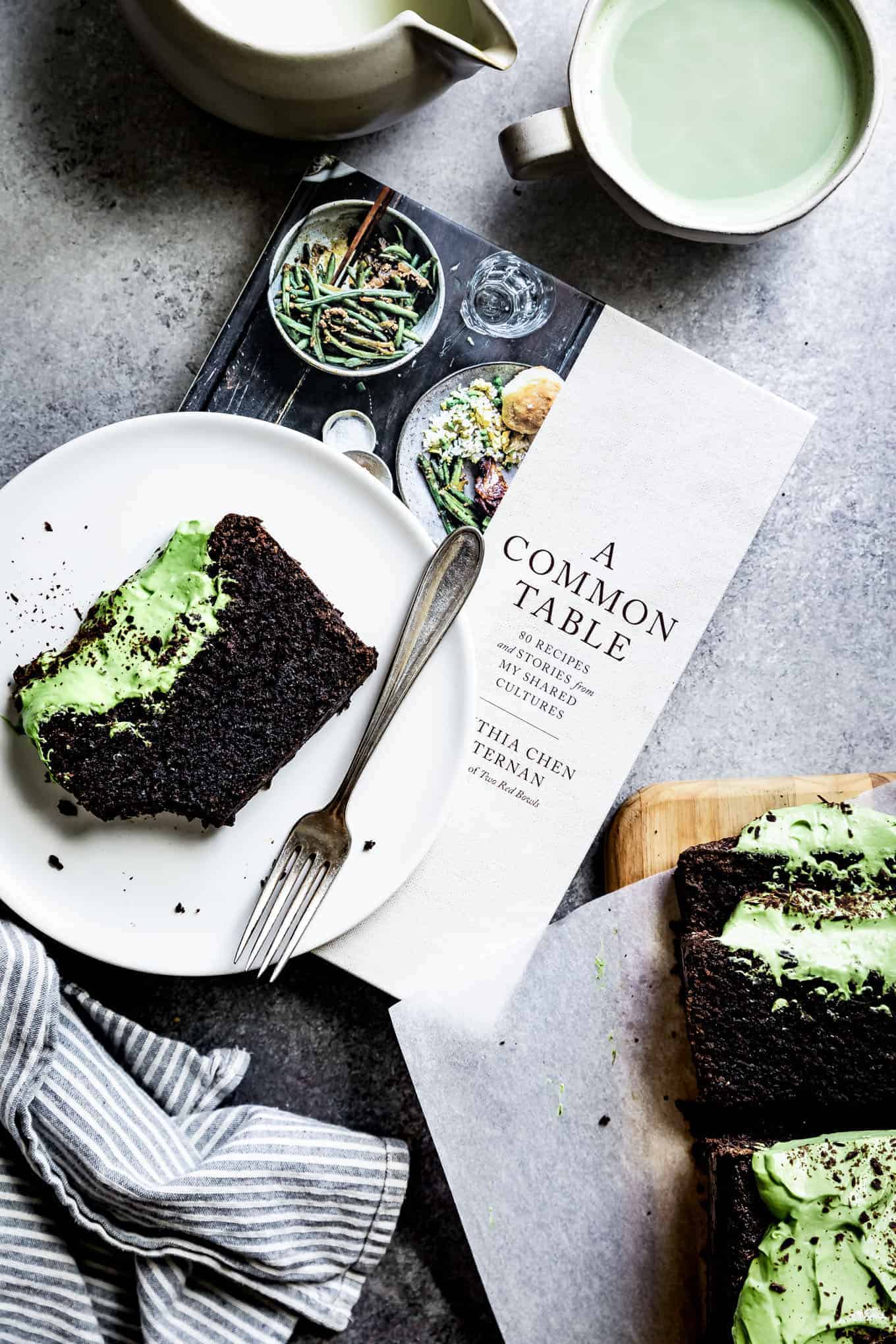 A Common Table Cookbook
I've been a long fan of Cynthia's work through her blog Two Red Bowls. The way she cooks, and weaves her stories and beautiful photographs through her cooking, moves me to want to make every single recipe she produces. Somehow, in my eyes, she does it all - a grown up lawyer, mother of two kids under 3(!!), award-winning food blogger, and now cookbook author. Goals.
When her cookbook A Common Table arrived on my doorstep, I leafed through it at least a dozen times, bookmarking all the recipes I couldn't wait to try. In her debut cookbook, Cynthia chronicles the varied cultures that have influenced her family - her, Chinese girl from South Carolina, and her husband, a Korean Irish boy who grew up in Hawaii. All of that family history tied together with the foods from places they've lived and traveled in getting to where they are now. The result is a collection of recipes that bridge these cultural distances in a mash-up of American and Asian flavors.
A few recipe that I've got my eye on next:
Black Sesame-Stuffed French Toast
Buttermilk Mochi Pancakes
Sesame-Miso Potato Salad
Sweet Sesame Skillet Cornbread
Asian Pear & Jasmine Crumble
Honeydew Bubble Tea
While the book has many naturally gluten-free friendly recipes (like a peanut butter mochi cake!!), I couldn't stop thinking about this chocolate loaf black sesame cake. I've taken her recipe and adapted it with gluten-free flours, a bit of salt to draw out the flavors of the gluten-free flours, and a matcha whipped mascarpone on top. This is my new favorite grown up chocolate cake.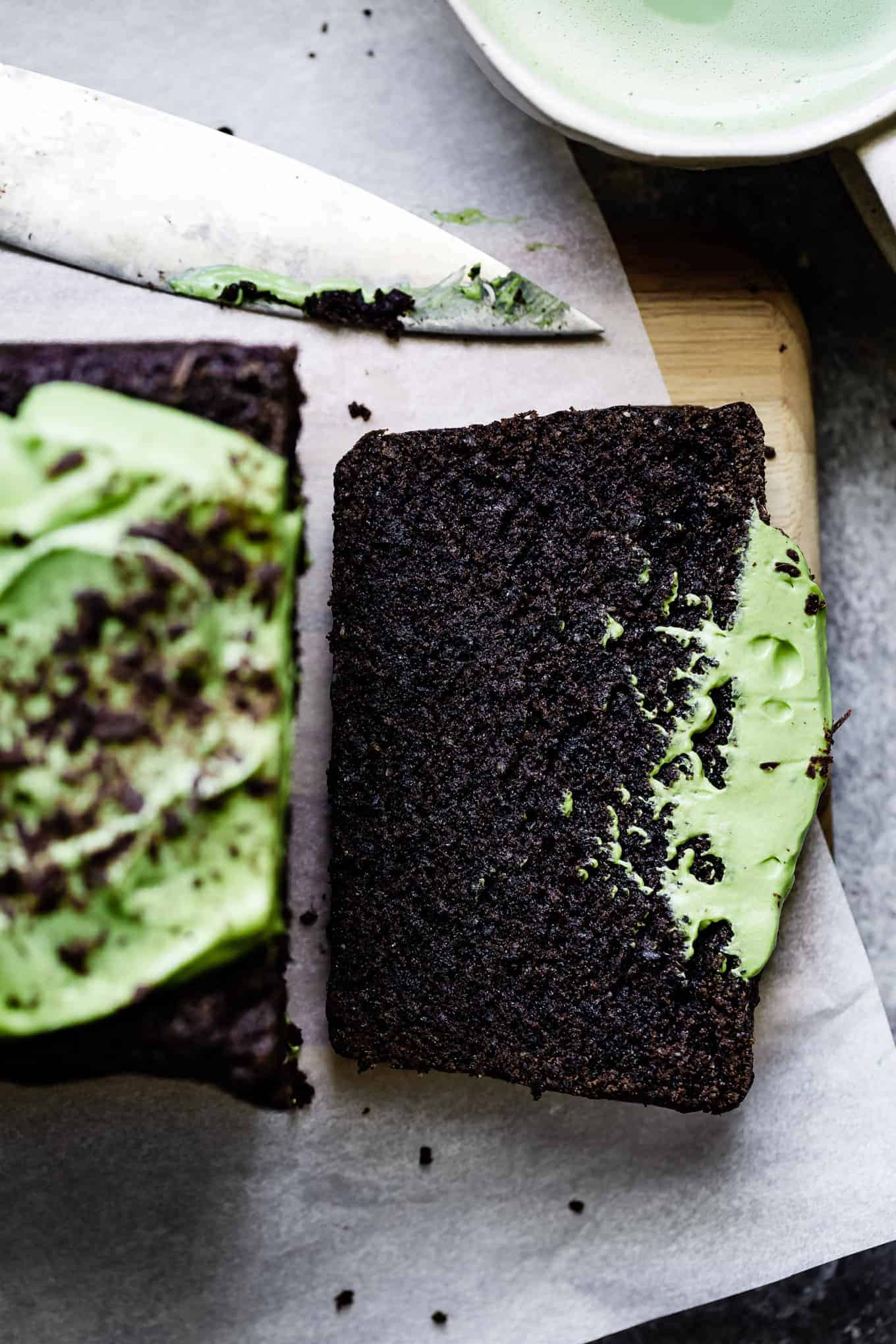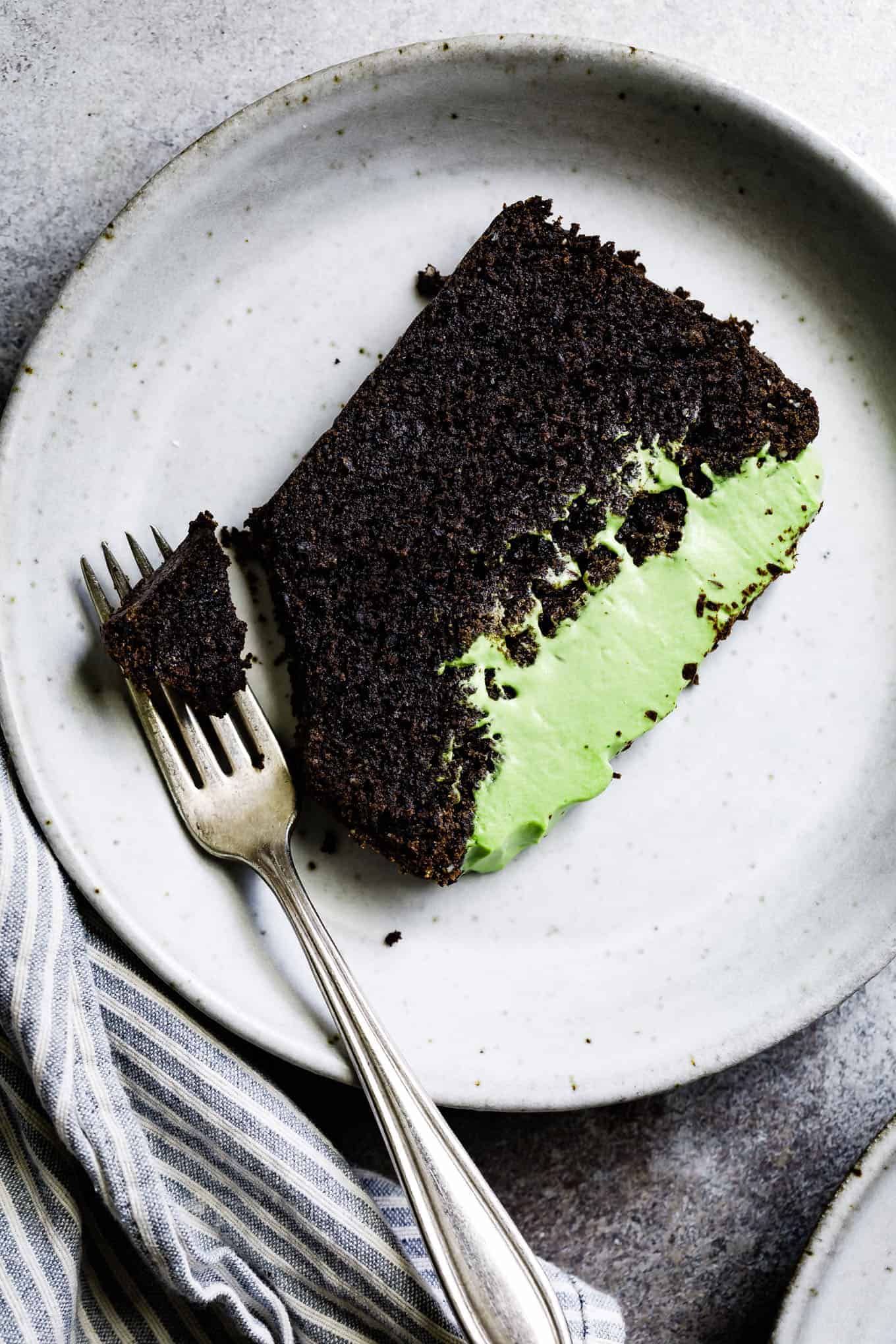 How to make black sesame powder
This black sesame cake uses ground up toasted black sesame powder to infuse the chocolate notes with smoky nutty black sesame flavor. To make black sesame powder, you first need toasted black sesame seeds. Either buy them pre-toasted like me, or toast them yourself on the stove top. Then grind the toasted black sesame seeds in a food processor until it becomes a fine powder. If you don't have a food processor, a coffee grinder will work too!
How to Make Chocolate Black Sesame Cake
Combining black sesame powder with melted bittersweet chocolate and molasses-laden brown sugar makes a cake that's all at once rich in deep chocolate notes with an underlying nutty smokiness that makes you wonder what it is. Black sesame and dark chocolate both offer a pleasant bitterness that make them a surprisingly natural duo. In the version made with ½ cup of black sesame seeds, the cake it undeniably rich in chocolate flavor with a hint of black sesame's savory super-nuttiness.
When you pour this black sesame cake batter into the pan, it's liquid and runny. Almost like coffee. You'll think you've done something wrong and wonder how it can possibly bake into a cake. Almost like magic, it does.
This chocolate black sesame cake is ultra-moist and, as Cynthia calls it, "squidgy" - on the verge gooey - with a dense jet black center. Yet still, it has cake-like structure and tender crumb. Almost like a brownie and a cake mash-up. Pillows of soft matcha whipped mascarpone offer a soft contrast to the chewy cake.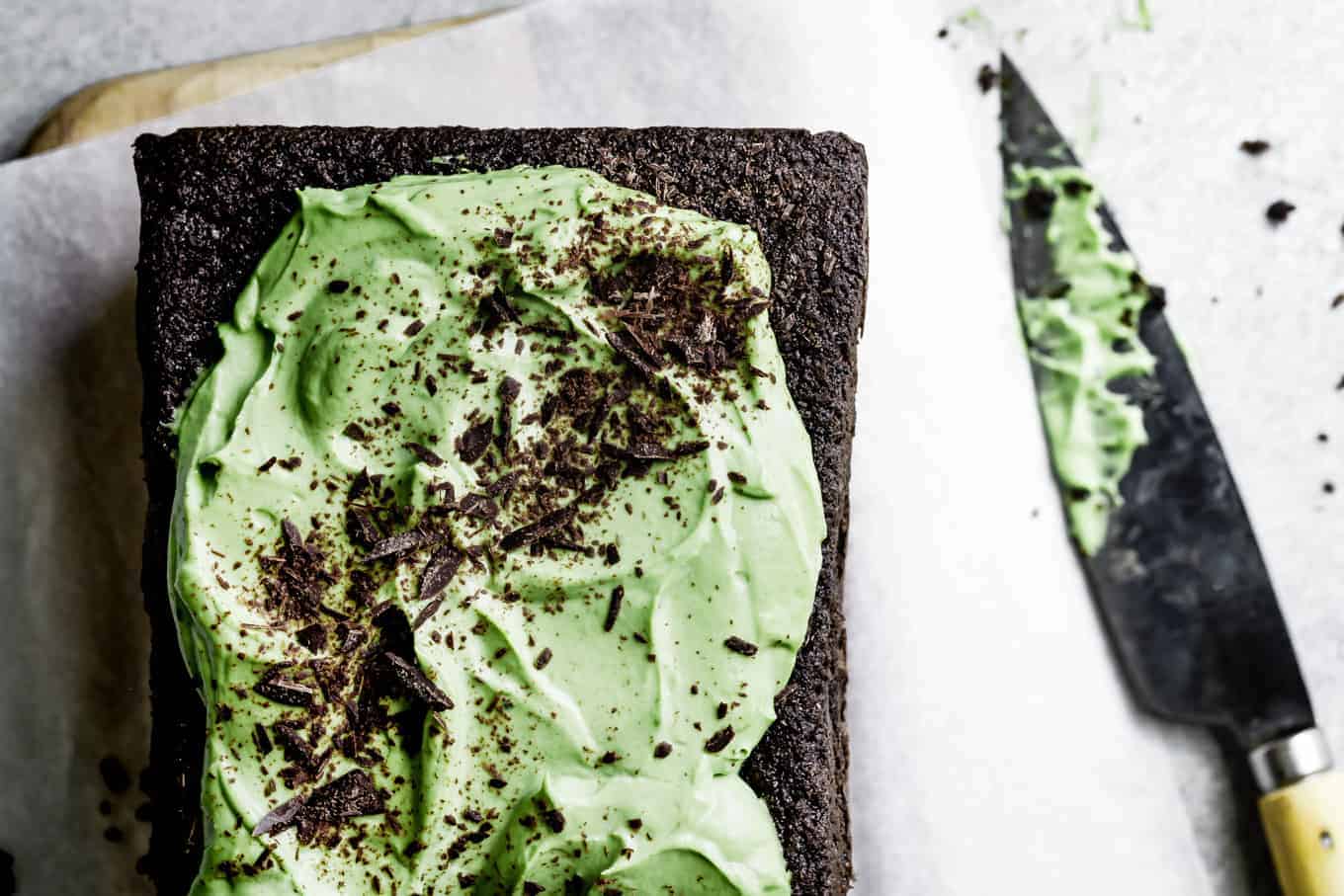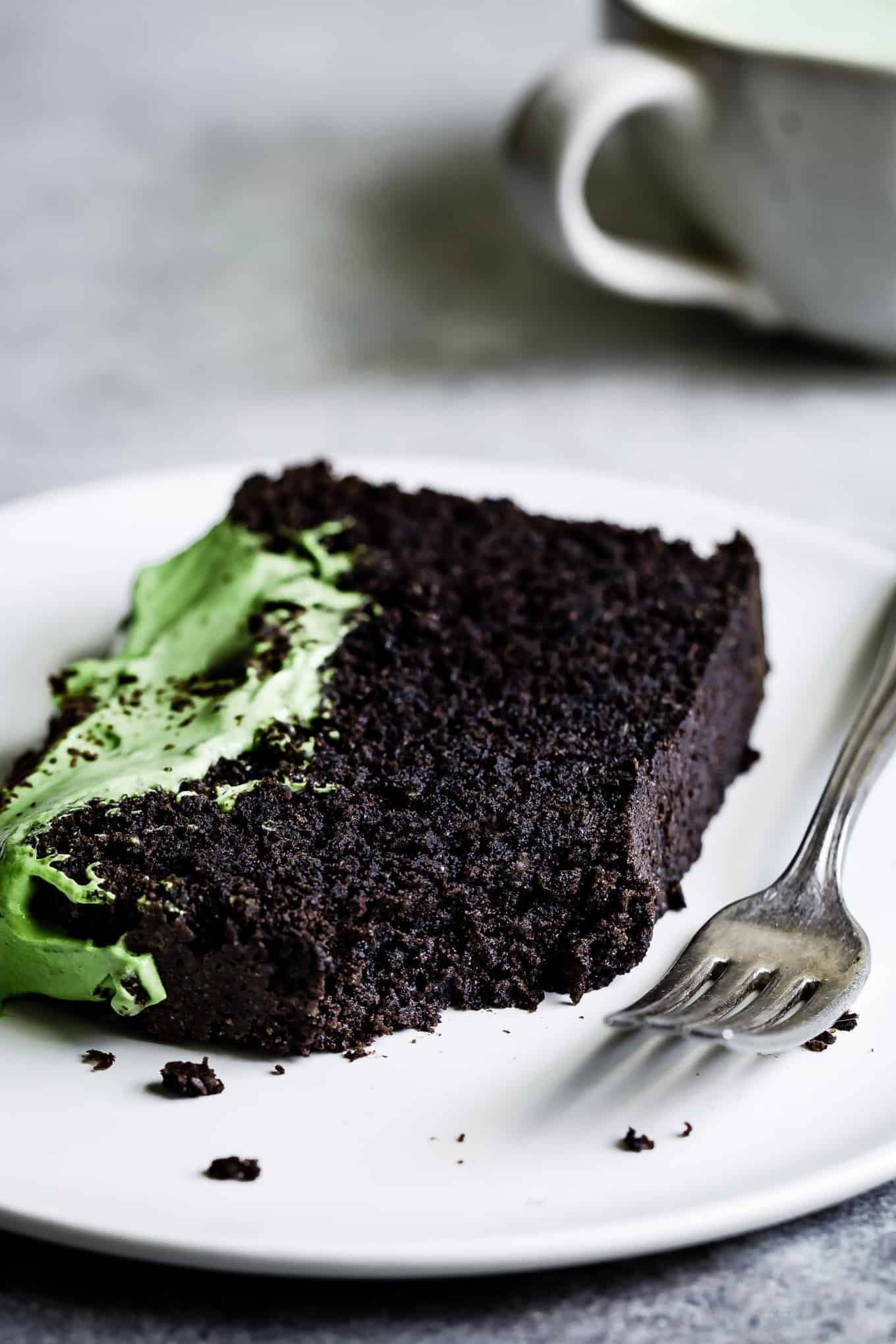 Gluten-Free Chocolate Cake Recipe
I have a classic chocolate cake recipe here on my blog - posted both as a layer cake and as cupcakes. It's my go-to back pocket recipe that I make again and again and again.
This black sesame infused gluten-free chocolate loaf cake recipe offers something very different. Something luscious. Both in texture and flavor, this isn't your like a birthday party chocolate sheet cake or a standard chocolate loaf. This is a grown up chocolate loaf cake with deep smoky chocolate flavor.
What if you don't love black sesame dessert?
Rest assured, with 4 ounces of melted bittersweet chocolate folded into the batter, at its core with just ½ cup black sesame seeds, this is a chocolate-forward cake with black sesame in the offering subtle flavor notes. My husband, who is not a fan of black sesame dessert, actually loves this rendition of the cake.
For those who love black sesame desserts (me), increasing the black sesame seeds to ¾ cup at Cynthia's recommendation, will bring the black sesame notes forward. This is how *I* prefer the cake.
Charge ahead with your preference in mind!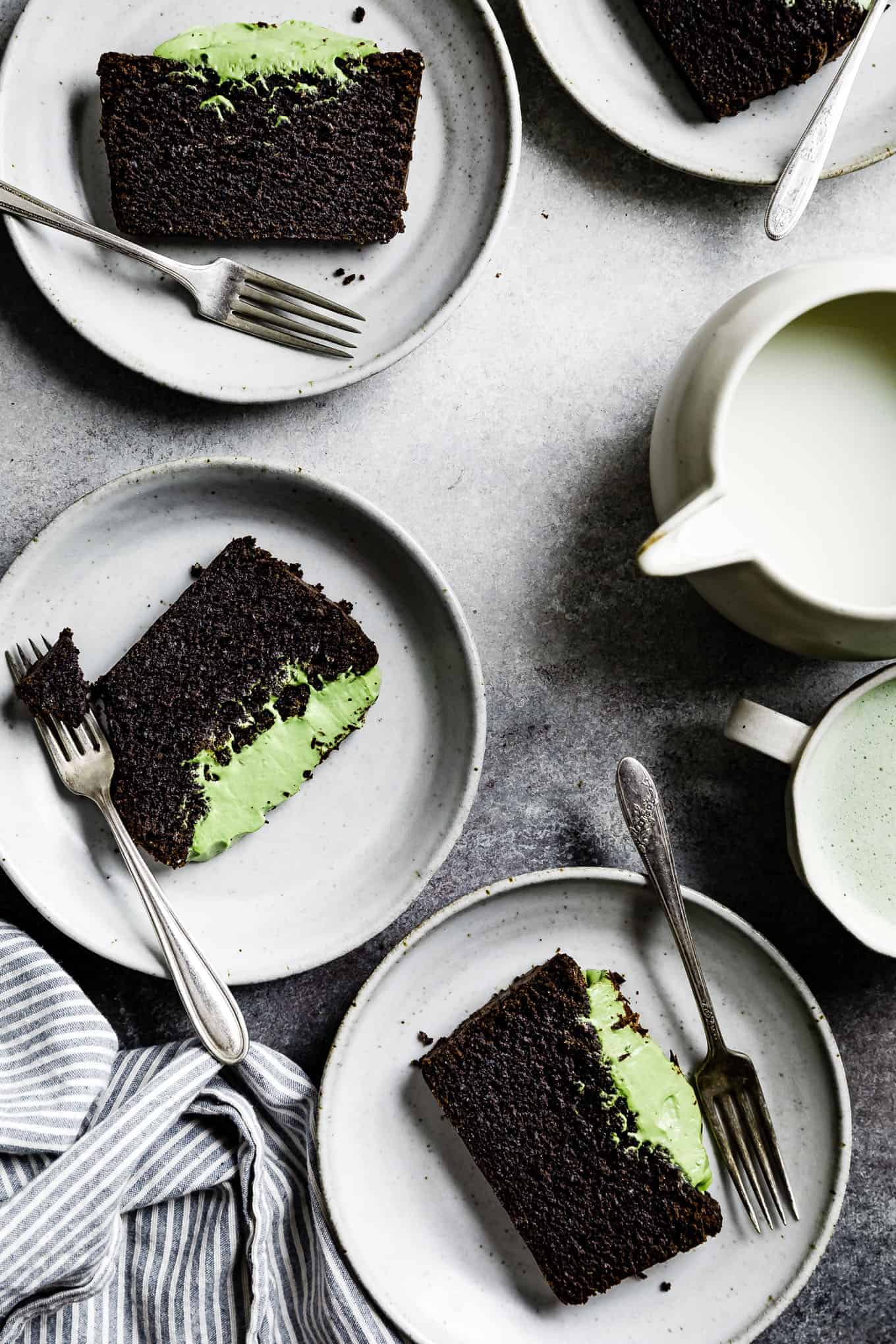 Matcha March: Matcha Whipped Mascarpone
Because it's still Matcha March, I've added matcha to the whipped mascarpone. Matcha's sweet nuttiness is a natural partner for both black sesame and chocolate. As a trio, their flavors are harmonious together.
More Matcha Black Sesame Recipes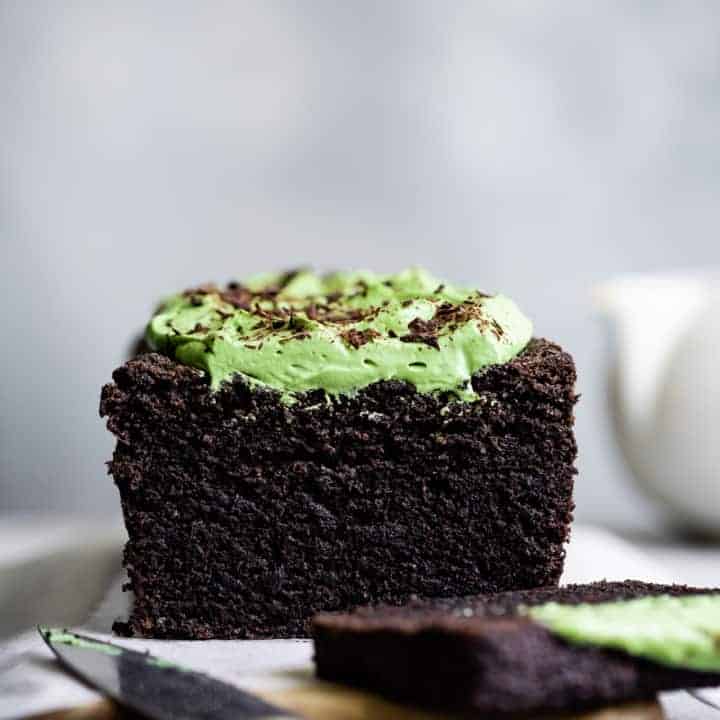 Gluten-Free Chocolate Black Sesame Loaf Cake with Matcha Mascarpone
Total Time:
1 hour
15 minutes
This deep dark gluten-free chocolate black sesame cake is so moist that it's almost gooey in texture - just on the very edge of lava cake - while still cake-like and tender. Nutty whipped matcha mascarpone cuts the inky black richness of the cake while pairing with the smoky notes of the ground black sesame seeds. A chocolate cake made for grown-ups.
Ingredients
½ teaspoon kosher salt
1 teaspoon baking soda
1½ cups packed light brown sugar
1 cup (2 sticks) unsalted butter, softened
2 large eggs, beaten
½ teaspoon vanilla extract
1 cup boiling water or hot coffee
Matcha Whipped Mascarpone
½ cup + 1 tablespoon cold, heavy cream
¼ cup powdered sugar, sifted
Pinch kosher salt
Instructions
Gluten-Free Chocolate Black Sesame Loaf Cake
Preheat the oven to 375°F. Grease and line a tall, 9 × 5-inch Pullman-style loaf pan with parchment paper. A regular height loaf pan may overflow—if this is all you have, take care to fill the pan less than 1 inch from the rim, and save the excess for muffins or mini cakes. Note: I used a regular 9x5 loaf pan here and was able to still use all the batter)
If using untoasted black sesame seeds, toast the black sesame seeds over medium heat in a small dry skillet until a few seeds jump in the pan and they start to smell toasty (but not burnt!), 2 to 3 minutes. Place the toasted black sesame seeds in a food processor and blend until a finely ground powder forms, 1 to 2 minutes. Set aside.
In a medium bowl, whisk together, the sweet rice flour, oat flour, millet flour, salt, and baking soda. Set aside.
Melt the chocolate, either in the microwave in 15 to 30 second increments, stirring between each interval, until fully melted and smooth, or over a double broiler for about 5 minutes, stirring frequently. Once the chocolate is melted, set aside and let cool slightly.
In a large bowl, cream together the sugar, butter, and black sesame seed powder until fluffy, 2 to 3 minutes with an electric mixer on medium speed or 3 to 4 minutes by hand. Add the eggs and vanilla, beating well. Fold in the melted chocolate until just incorporated.
Alternate folding in the flour mixture and the hot water (or coffee), ¼ of the flour/water at a time, until the batter becomes smooth and liquid.
Pour the batter into the lined loaf pan, taking care not to fill the pan higher than 1 inch from the rim.
Bake for 30 minutes, then reduce the heat to 325°F and continue to bake for about 30-40 minutes more minutes until it springs back when touched (Note: Cynthia's non gluten-free version bakes up in about 15-20 minutes less time on the second bake). The cake should still be relatively moist in the center, and a skewer or cake tester should not come out completely clean.
Remove from the oven and let cool completely before turning the cake out onto a plate. The cake may fall; this is normal, as it is so moist. Enjoy topped with matcha whipped mascarpone (below), whipped cream, or ice cream, if desired. The cake tastes even better on the second day.
Store any leftovers in an air-tight container in the fridge (though I left mine uncovered on the serving platter and it was still great!). Since this is a butter cake, leftover slices taste best when brought to room temperature for 20-30 minutes before serving.
Matcha Whipped Mascarpone
In the bowl of a stand mixer fitted with the paddle attachment or a medium mixing bowl with an electric mixer, combine the cream, mascarpone, salt. Whip on medium-high until the mixture begins to thicken.
Add the sifted sugar and matcha powder and continue whipping until soft thick peaks form.
Notes
*I used toasted black sesame seeds to skip the step of pan toasting them. For a stronger black sesame flavor, use ¾ cup black sesame seeds. I've made it both ways and love it equally as much. the ½ cup is great for a chocolate-forward cake with a hint of black sesame and perfect for folks who may not be big black sesame lovers. The ¾ cup version has a stronger black sesame forward flavor that's great if you're a black sesame lover like me!
Adapted, with permission, from A Common Table: 80 Recipes & Stories from My Shared Cultures.