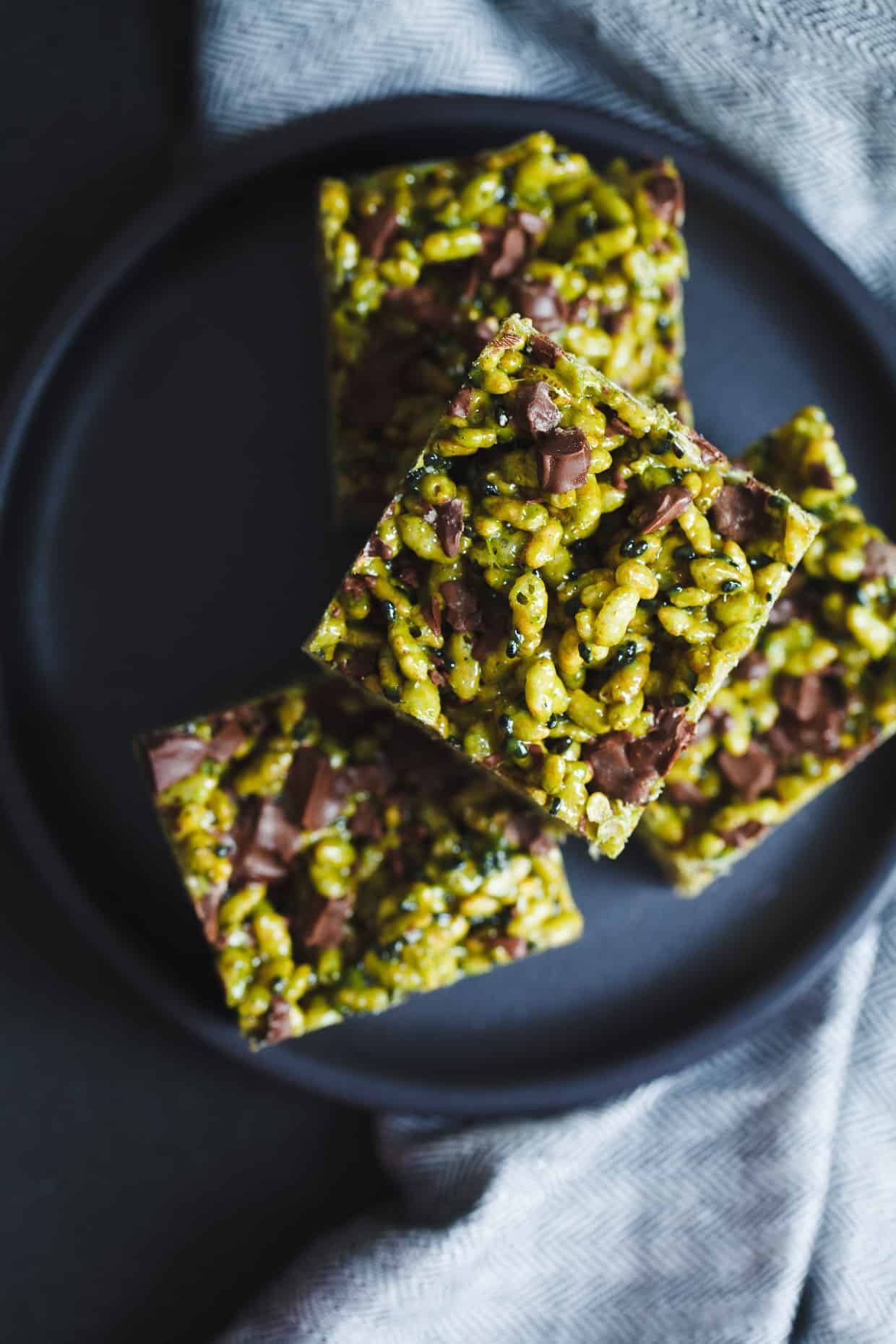 New reality with a baby: All cooking must take less than an hour start to finish or else you risk a baby waking up STARVING (OMG I'M SO HUNGRY MOM. RIGHT NOW.) just at the point where your dish needs the most attention. This makes matcha black sesame rice krispie treats the perfect new-mom St. Patty's day dessert. Forget about dieting to fit into your pre-baby pants, you're still in survival mode.
And you know what tastes even better at 2am while soothing a fussy baby? Rice krispie treats.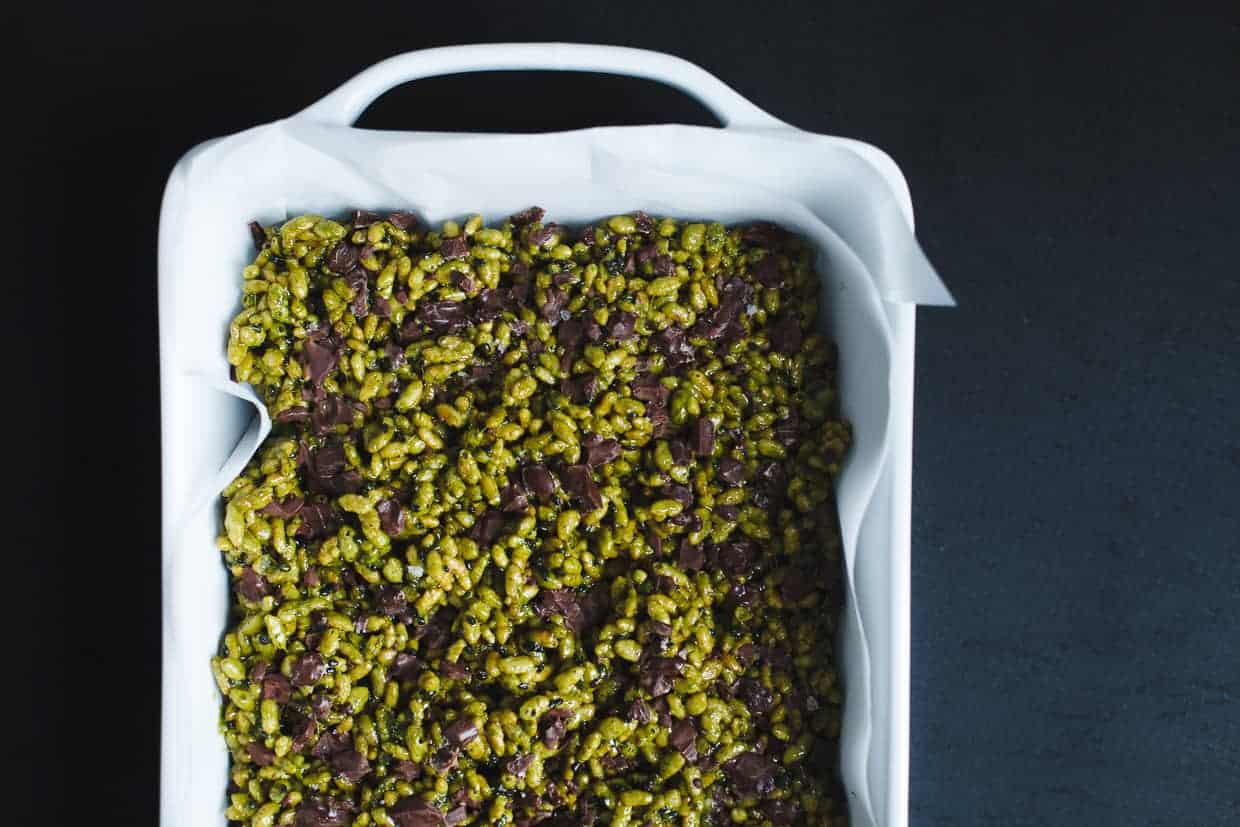 In our (3 week long) experience with parenting thus far, we've discovered that our baby is much like us: she's a champion eater (at her 2 week check-up, she was in the 95th percentile for weight and 99th percentile for length) and can take epic naps. The hardest part for us so far has not been the lack of sleep.
It's that she insists on being held. Constantly. And not just held, but held over the shoulder or against our chest while we continuously bounce on an exercise ball. A feat that requires two hands for a newborn who still needs neck support. Doing her part to make sure I fit into my pants. Also, I dare you to try to get anything done without hands.
(Note: We tried to let her "cry it out" one night when we knew she had all her needs met - setting a 10 minute timer. Guess who has the world's best lungs and refuses to be called a quitter? Zoella Mae.)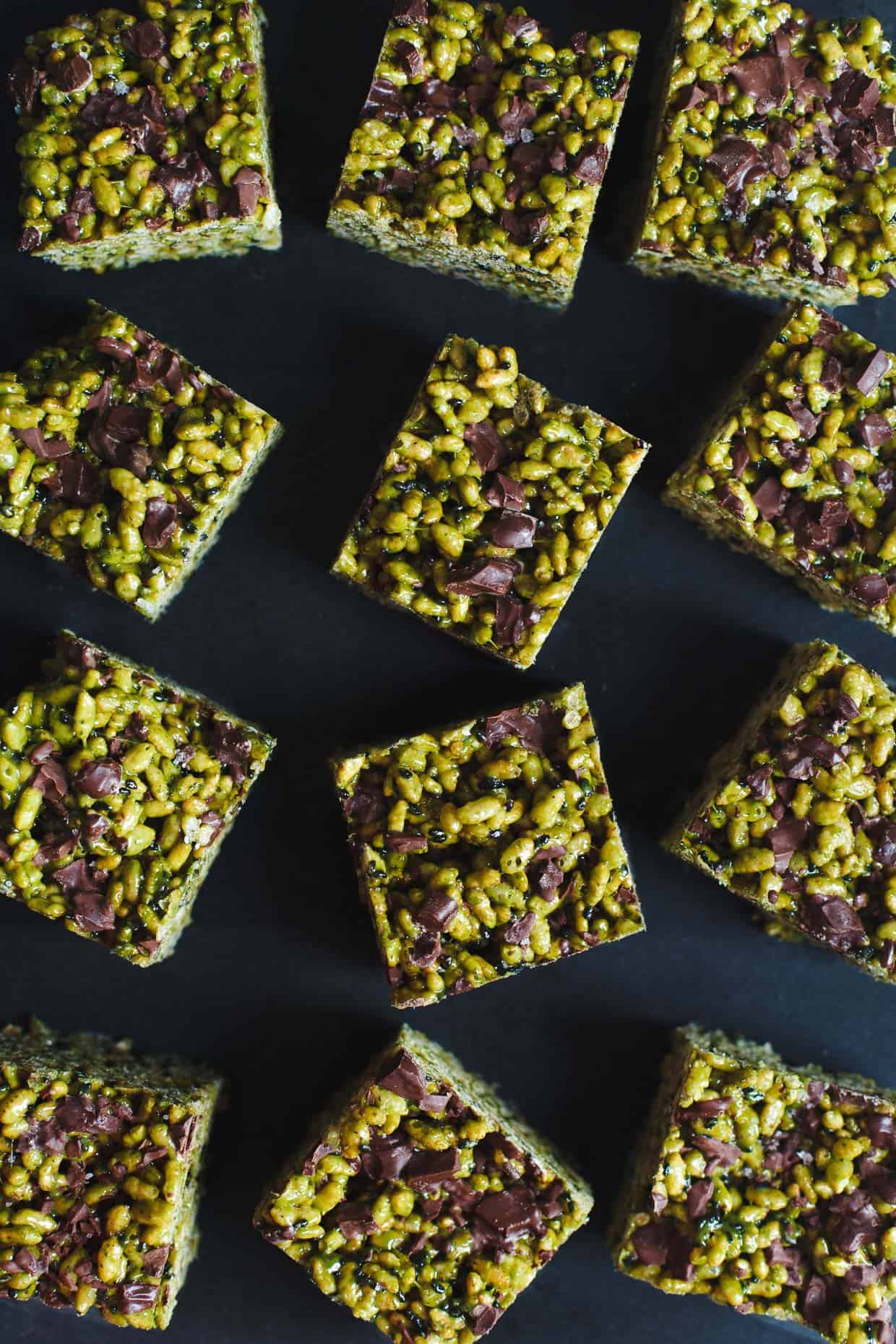 It didn't take long for us to figure out that if we wear the baby in the moby wrap, we're able to bounce bounce bounce bounce while still having our hands free to eat a matcha rice krispie treat or two. If I'm forced to exercise, I might as well enjoy it. The snuggly baby helps too;)
In related news, I found a chunk of green rice krispie treat in her hair the other day.
And I ate it. I think I'm assimilating to mom-hood just fine.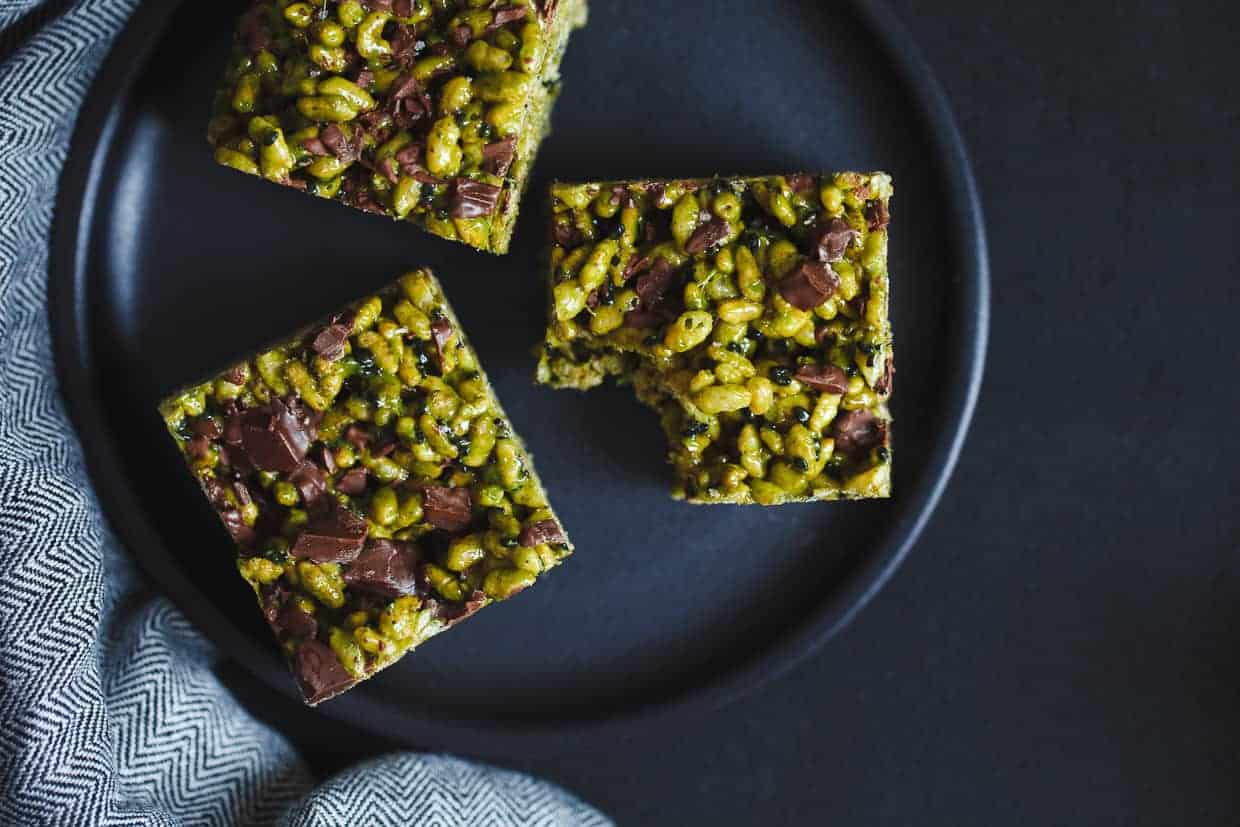 I made an extra half pan of these matcha rice krispie treats so I'd have enough to share because I knew I'd need at least a full batch all to myself. These treats are everything you love about your chewy childhood sweet, but spruced up for sophisticated taste buds. Gluten-free brown rice crisps are my favorite choice for rice krispie treats - they're only lightly sweetened with fruit juice and in this form, they highlight matcha's earthiness.
Matcha black sesame rice krispie treats are meant for the matcha aficionado - not for matcha newbies. Matcha adds an earthy layer that turns sweet as it lingers, black sesame seeds bring in nutty notes, and the dark chocolate chunks on top add extra sweetness while simultaneously playing off matcha's pleasant bitter undertones.
AND they're naturally green for St. Patrick's Day (but that's still a couple weeks away, so you should def make a test batch now;). It only took me two days to singlehandedly finish off a whole pan of these puppies. Don't judge.
More Matcha Black Sesame Recipes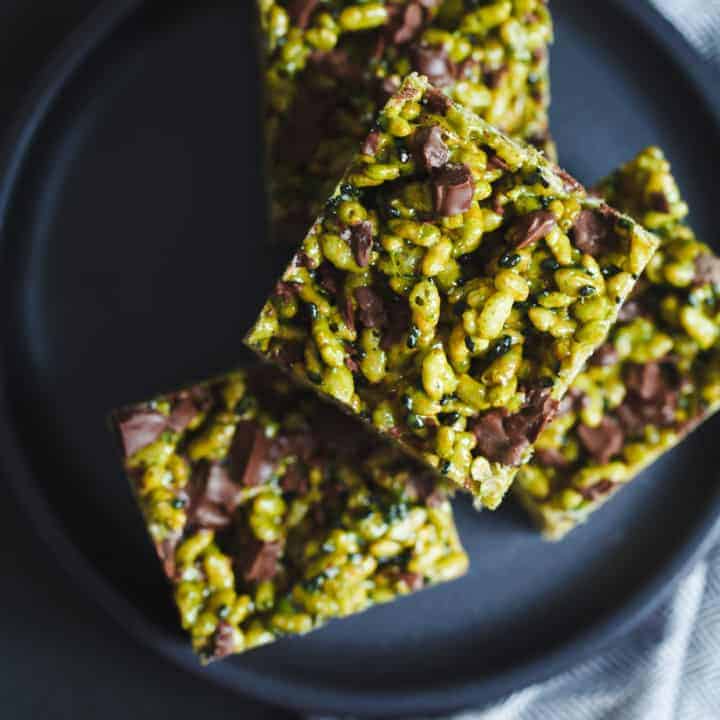 Matcha Black Sesame Rice Krispie Treats with Chocolate Chunks
Instructions
Line a 9 x 13" dish with parchment paper.
In a large pot, melt and brown the butter over medium-low heat. After it foams, it will begin to turn golden brown with a nutty aroma. Stir frequently, watching carefully until it just browns. Be careful not to burn the butter.
Lower the heat and add the marshmallows and matcha powder, stirring until all marshmallows are just melted. Remove from heat.
Add the brown rice crisps cereal and black sesame seeds, and stir to combine.
Spread evenly in the parchment-lined dish. Sprinkle chopped dark chocolate and salt over top and let rest until the chocolate sets.
Slice and serve.
More Matcha Recipes