Creamy vegan coconut matcha ice cream studded with black sesame brittle chips. Earthy green undertones with sweet roasted nutty notes that crunch with every bite. So creamy no one will know it's vegan!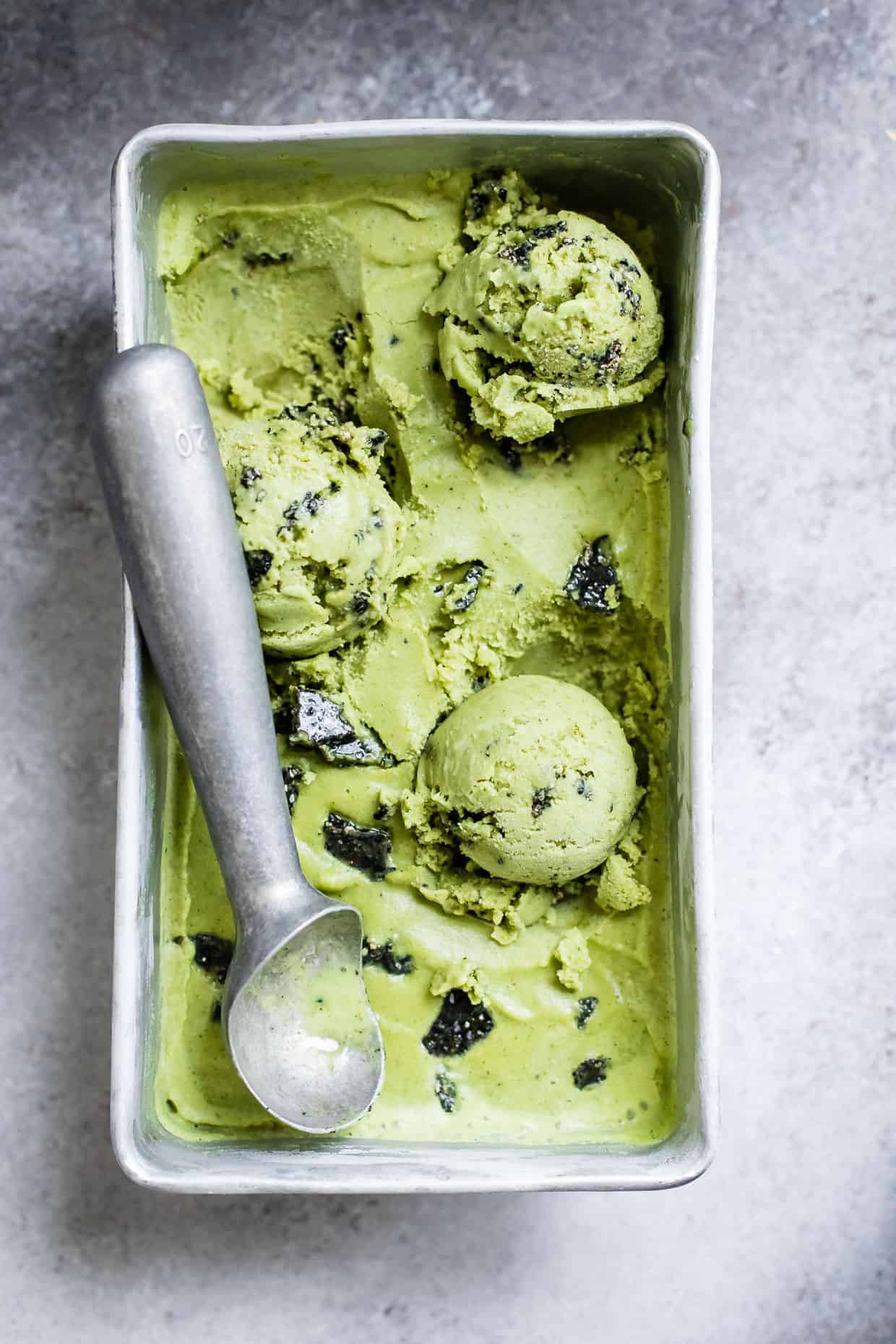 If someone ever asks me to dream up my ideal ice cream, I've got my answer. It's this. Coconut matcha ice cream with black sesame brittle chips. I'll be over here eating this whole loaf pan of ice cream for my birthday on Saturday (after hugging all the cats at the cat cafe adoption center). Don't worry, friends, I made a second batch for you all to share (also I've picked out cats for each of you to take home as party favors. Kidding...but am I?).
Before we talk about this birthday ice cream, I wanted to thank all of you for your thoughtful comments on my last post about motherhood. Even the past two days were monumentally better as I took the time for myself, but also let myself enjoy the carved out moments to just be with Zo. I even let her taste the smallest little bit of this ice cream, to which she replied "mmmmm" and I promptly hid the spoon before she developed 1/10th of the sweet tooth I have.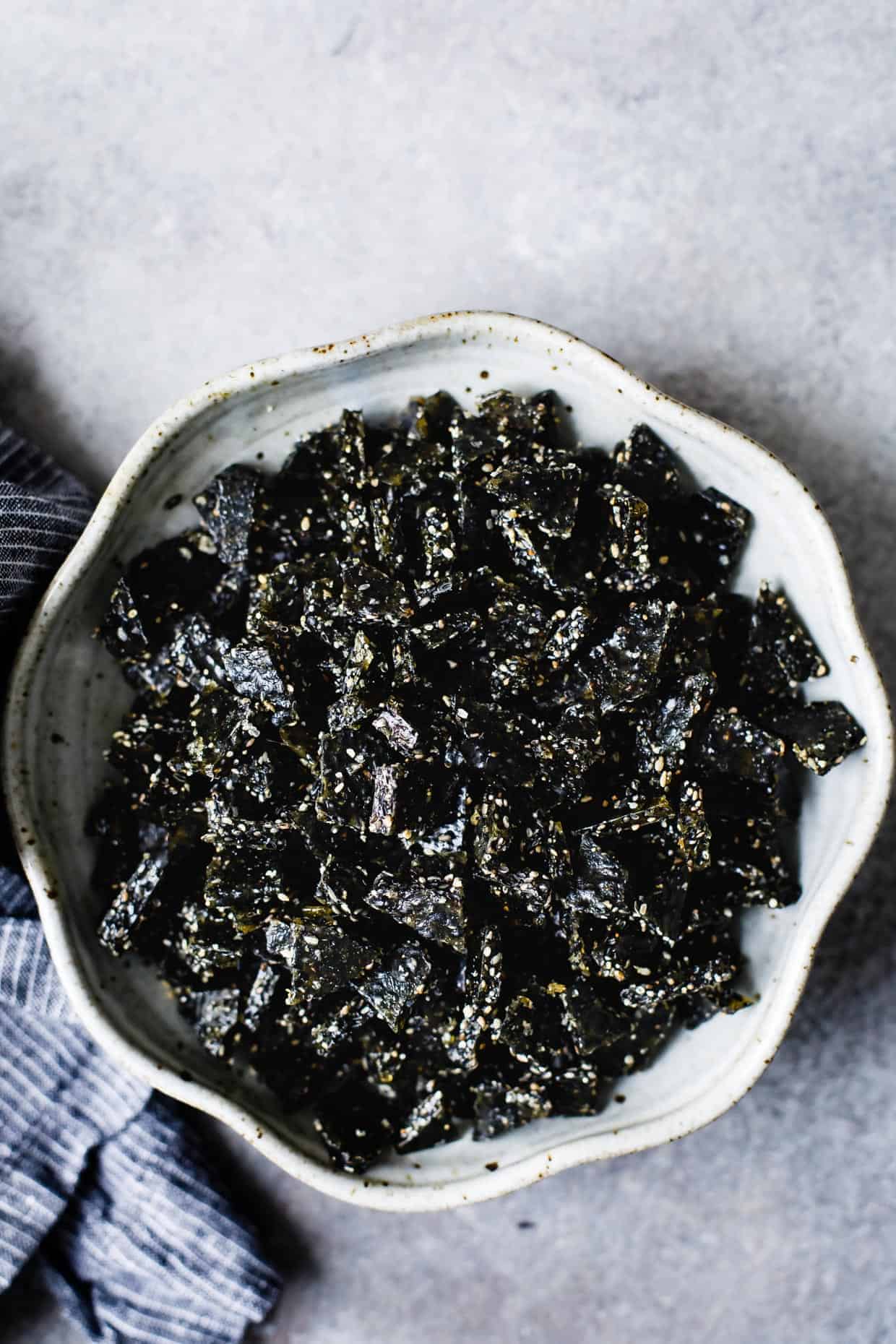 The idea to throw black sesame brittle into ice cream came from my favorite scoop at a local shoppe - mint toffee marshmallow. That, and the unbridled joy that overcomes me when I find giant chunk of toffee in my ice cream - anyone feel me on this? I'm the kid who stole all the Heath Bars out of the ice cream so my dad thought he was eating plain old vanilla (who am I kidding, I still do that). When you make your own ice cream, you get to control the toffee chunk size (big) and quantity (a lot).
Every single bite has roasted seedy sweet crunch bits packed into super creamy earthy matcha-infused coconut ice cream. It's just sweet enough, with earthy green undertones, and roasted nutty notes that linger on your palate. (I unintentionally just wrote "a creamy sweet nutty finish" but it sounded too dirty. But then wrote it again because IT'S TRUE).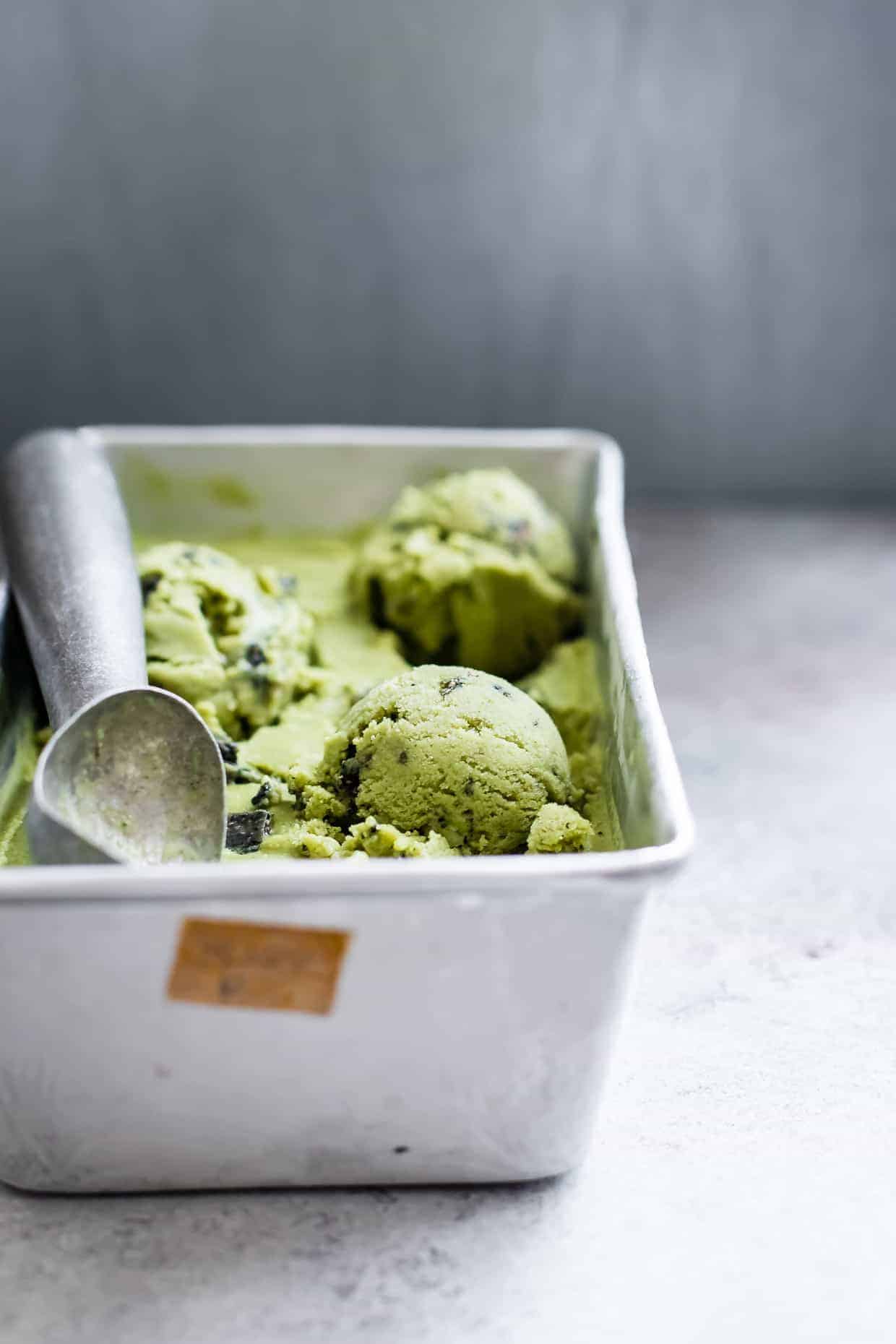 That little brown sticker says "Mary R" - my great grandma's name. She would probably recommend taking the contents of this loaf pan to a potluck. I would recommend eating it all yourself.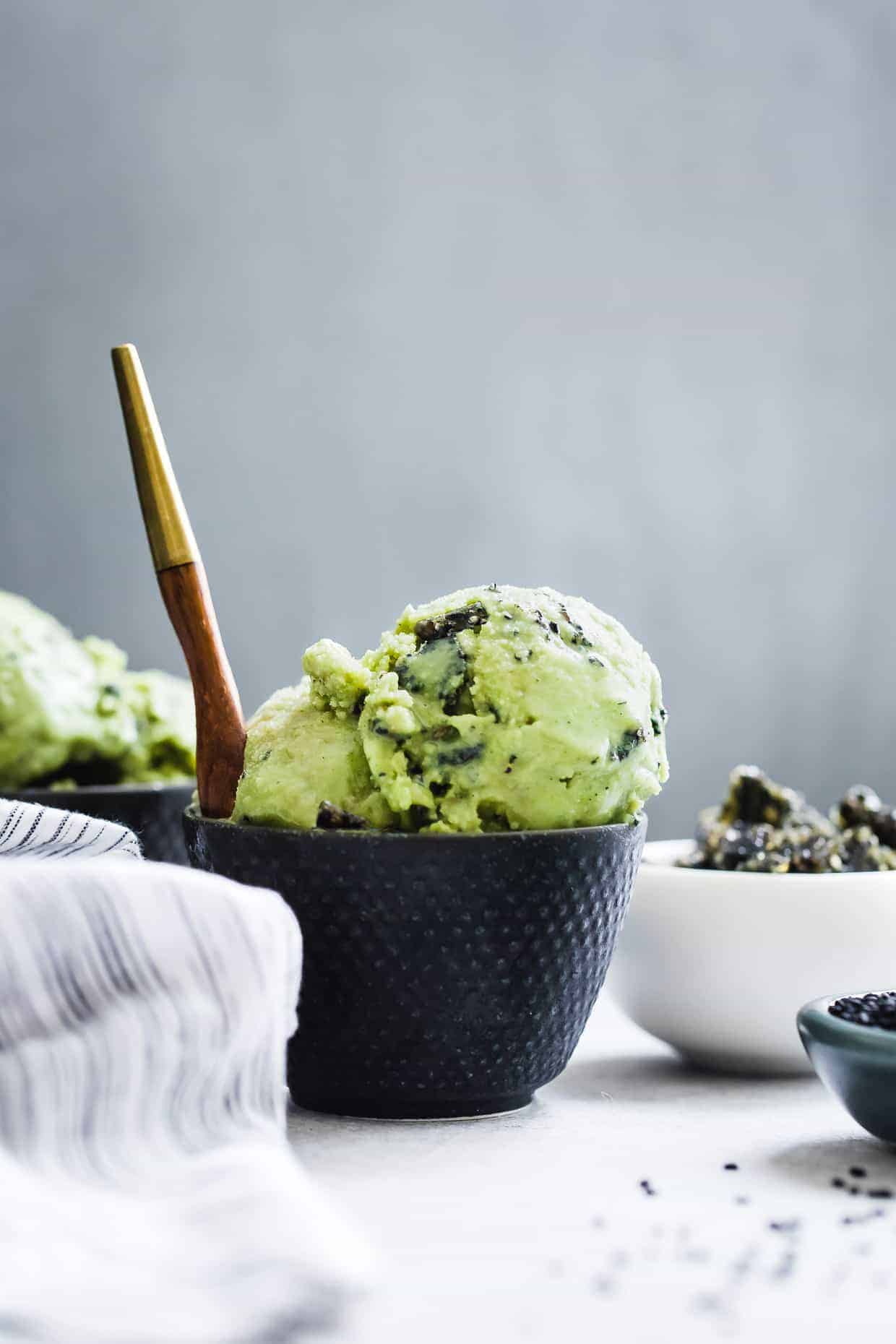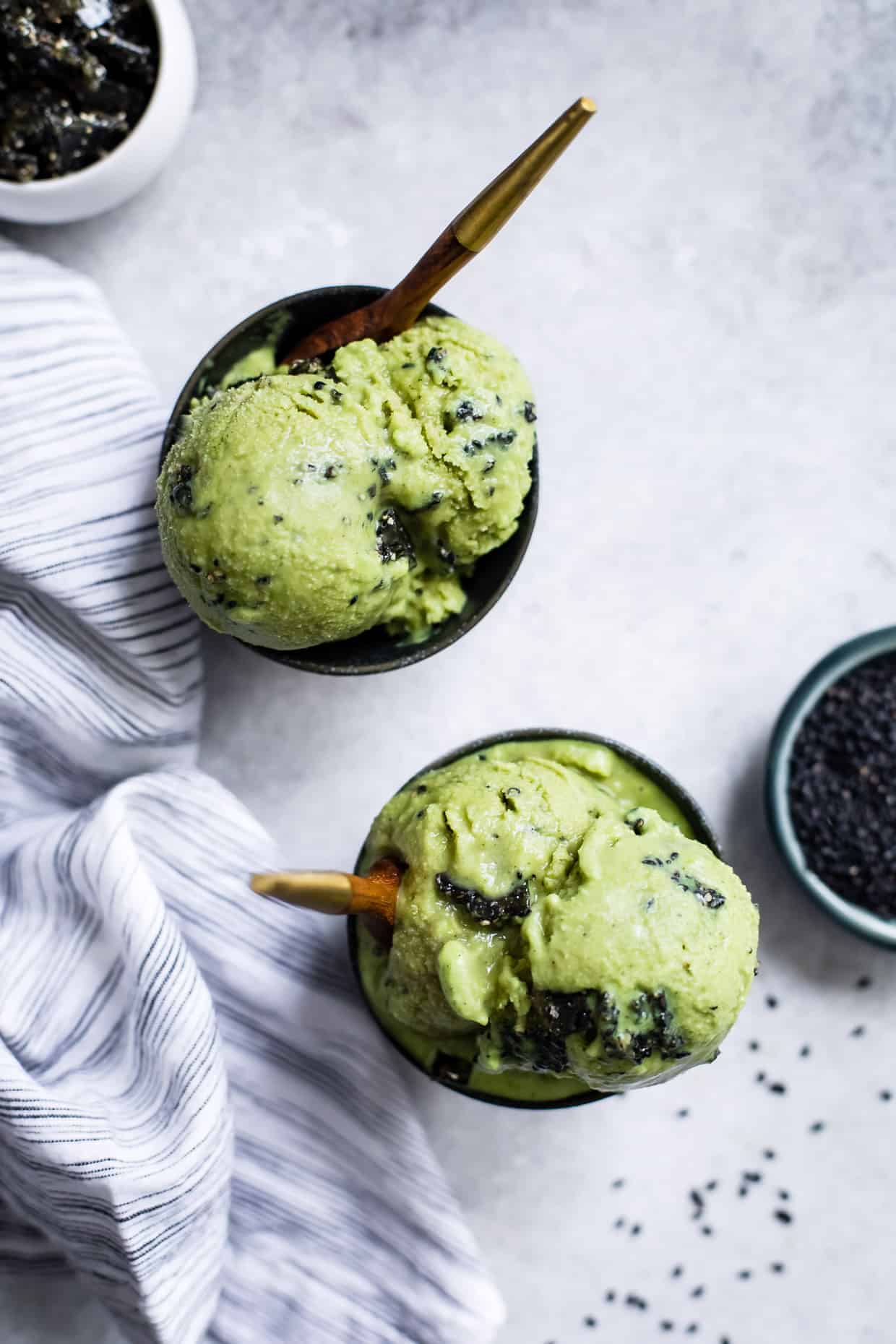 Matcha March is still in full swing. I've got one more matcha recipe coming next week - I'm not stopping just because St. Patty's Day is over (though, hey, Happy St. Patty's Day!). For even more green matcha inspiration today, Alanna's on the matcha + ice cream train too with a gorgeous matcha affogato that I wish I were eating right this very second. It probably has a creamy sweet nutty finish too.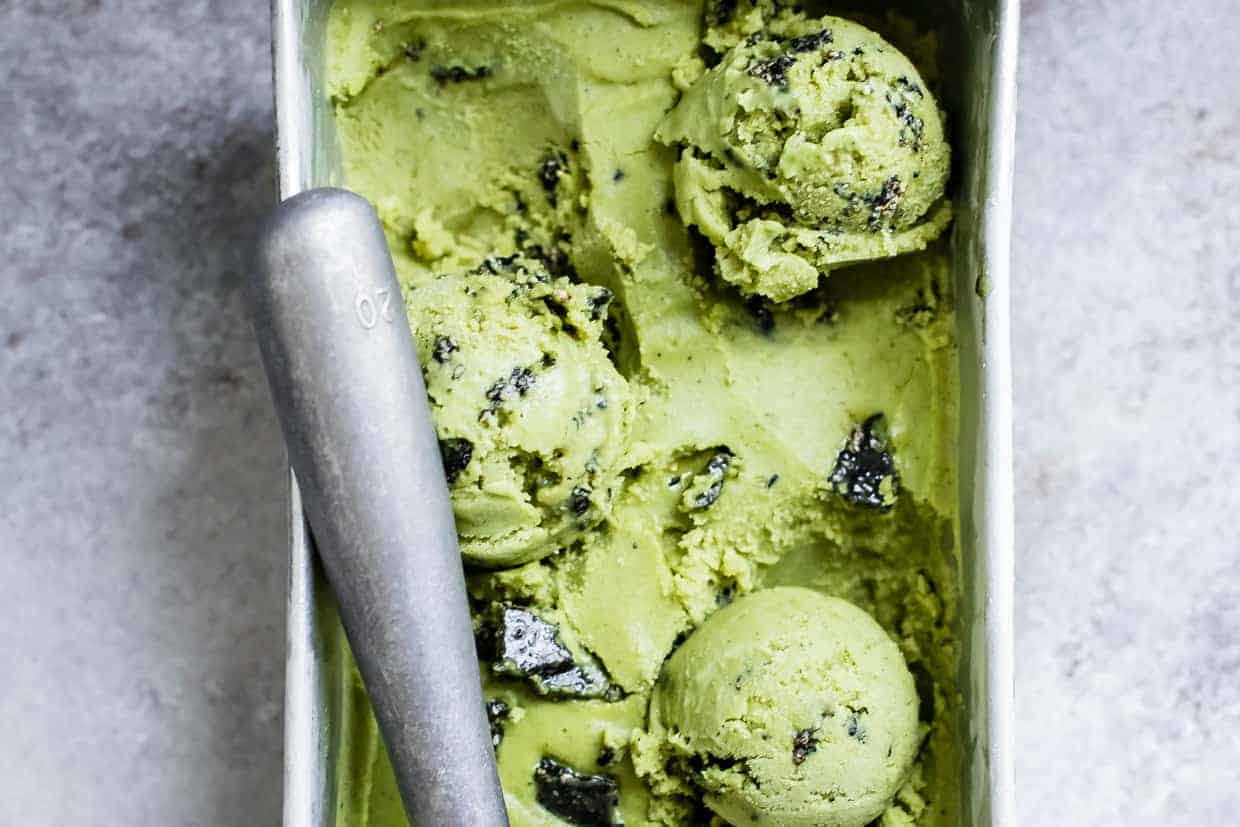 And on that note...I've got some news to share! You may have noticed the extra "workshop" menu tab up there or even saw a brief announcement on Instagram stories, but in case not, I've teamed up with Alanna from The Bojon Gourmet and Gerry from Foodness Gracious to teach a California Food Styling & Photography Workshop in June! Planning is well underway and we'll be announcing full the workshop details to our mailing list this coming Monday, March 20th along with pre-sale ticket information. We've only got 10 spots available; To sign up for this pre-sale list e-mail CAFoodPh[email protected] to be the first to find out all the details!
More Matcha Black Sesame Recipes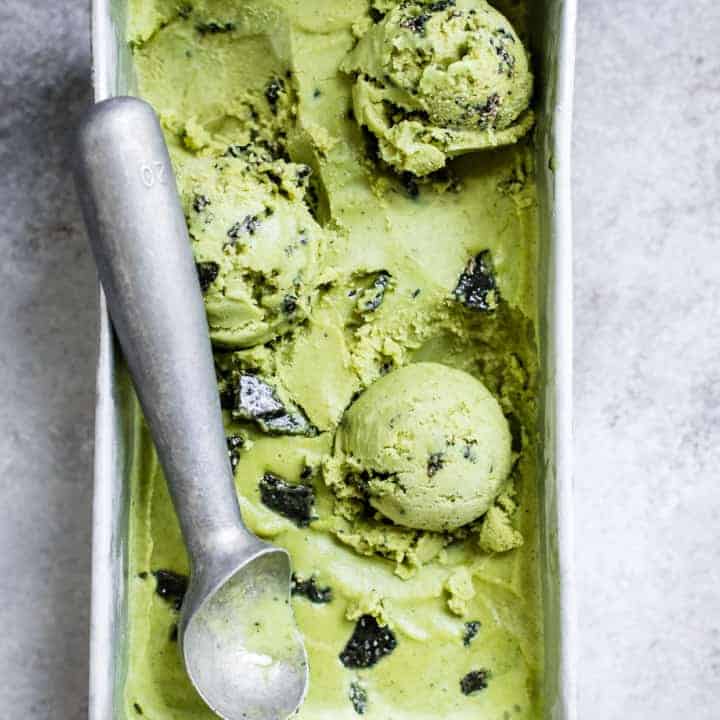 Coconut Matcha Ice Cream with Black Sesame Brittle Chips (Vegan)
Ingredients
1 (13.66-ounce) can full fat coconut milk
1 (13.66 to 16 ounces) canned coconut cream (I've tested with one 14-ounce can or three 5.4 ounce cans - I use Native Forest brand available at Whole Foods, some other major groceries, or online. See note.)
¼ cup + 2 tablespoons raw turbinado sugar
2 tablespoons maple syrup
1 tablespoon coconut oil
1 tablespoon vodka
1 vanilla bean, split lengthwise and scraped (or ½ teaspoon pure vanilla extract)
¼ teaspoon salt
Instructions
Make a paste with the matcha and 2 tablespoons of coconut milk in a small bowl, whisking until completely smooth.
Warm coconut cream, coconut milk, sugar, maple syrup, coconut oil, vodka, vanilla bean seed and pod, matcha paste, and salt in a medium pot over medium heat, stirring occasionally. When the cream begins to simmer, remove the pot from heat. Cover and let the mixture steep for 20 minutes. Remove the bean pod, scraping out the insides of the pod for all that vanilla goodness. Reserve the pod to make vanilla extract.
Meanwhile, prepare an ice bath by filling a large bowl with ice cubes and water.
Pour the base into a large 1-gallon Ziploc bag. Seal it and submerge the mixture in the ice bath until cold, about 30 minutes. (You can also skip this step by refrigerating until the mixture is cold, about 4 hours).
Pour the ice cream base into the bowl of your pre-frozen ice cream maker. Follow the directions on your ice cream maker to churn the base into ice cream, until it is the consistency of soft-serve, about 15-18 minutes. Fold in 1½ cups black sesame brittle.
Pack the ice cream into an air-tight storage container or a metal loaf pan, pressing a sheet of parchment paper directly against the ice cream or wrapping the whole thing in plastic wrap.
Freeze until firm, at least 4 hours, but preferably overnight.
Notes
I do not recommend using the coconut cream from Trader Joe's as they seem to have updated their supplier and the new consistency is a bit oily.