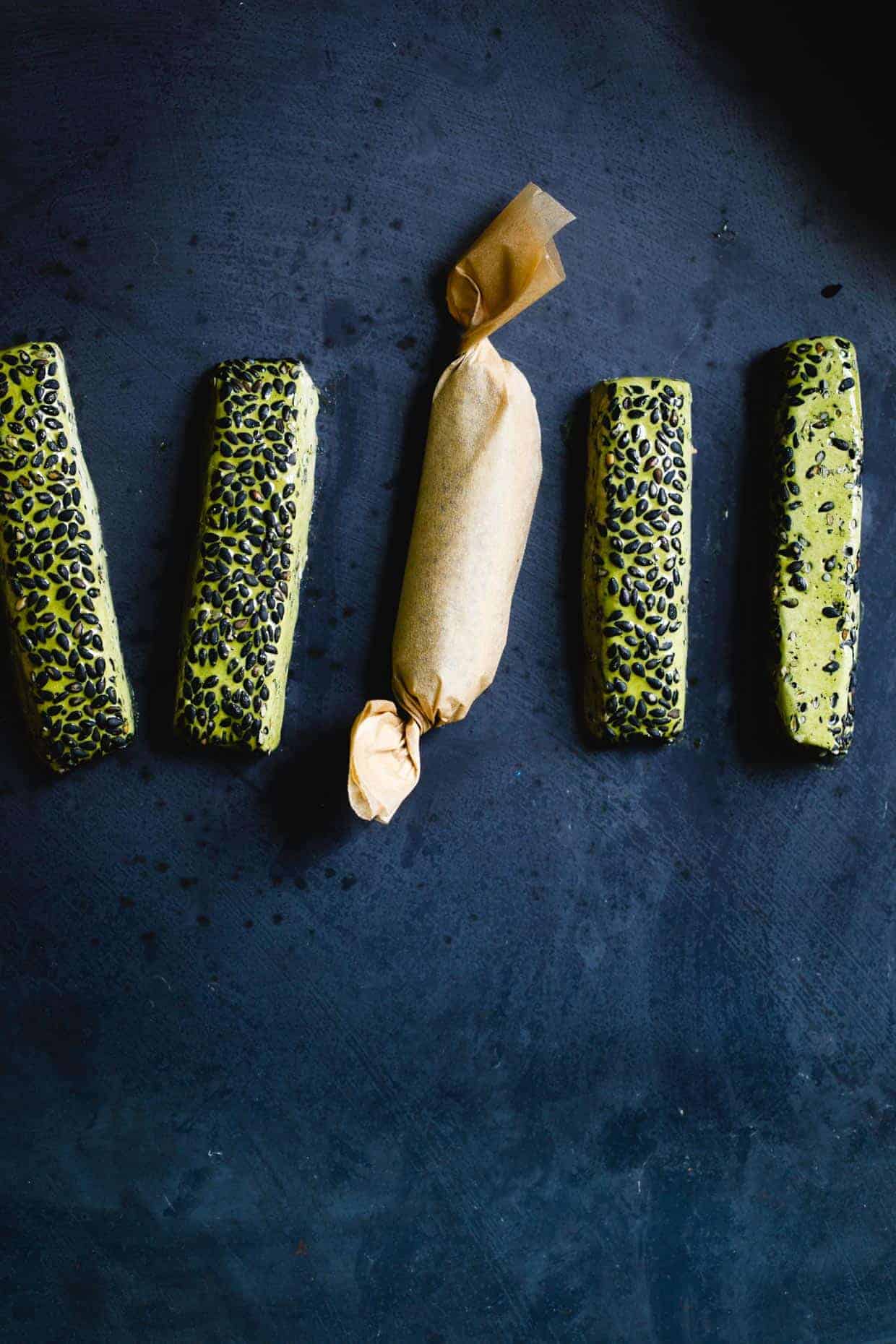 I wish I could spend an entire day making batch after batch of these matcha black sesame nougat chews so I could send you each a bag of them. What I really wish is that you all had food printers and could just print out a batch of these nougat chews and then pretend I made them for you.
I just really want you to have these in your life as a thank you for all of your support - your comments, your notes, your suggestions, and even just being here, reading. You are the reason I've been able to have a (super awesome) career while also spending this first precious year with my babe (Also, I'm suddenly aware that referring to her as "my daughter" makes me feel like she's a KID and not a baby anymore - what's that about?).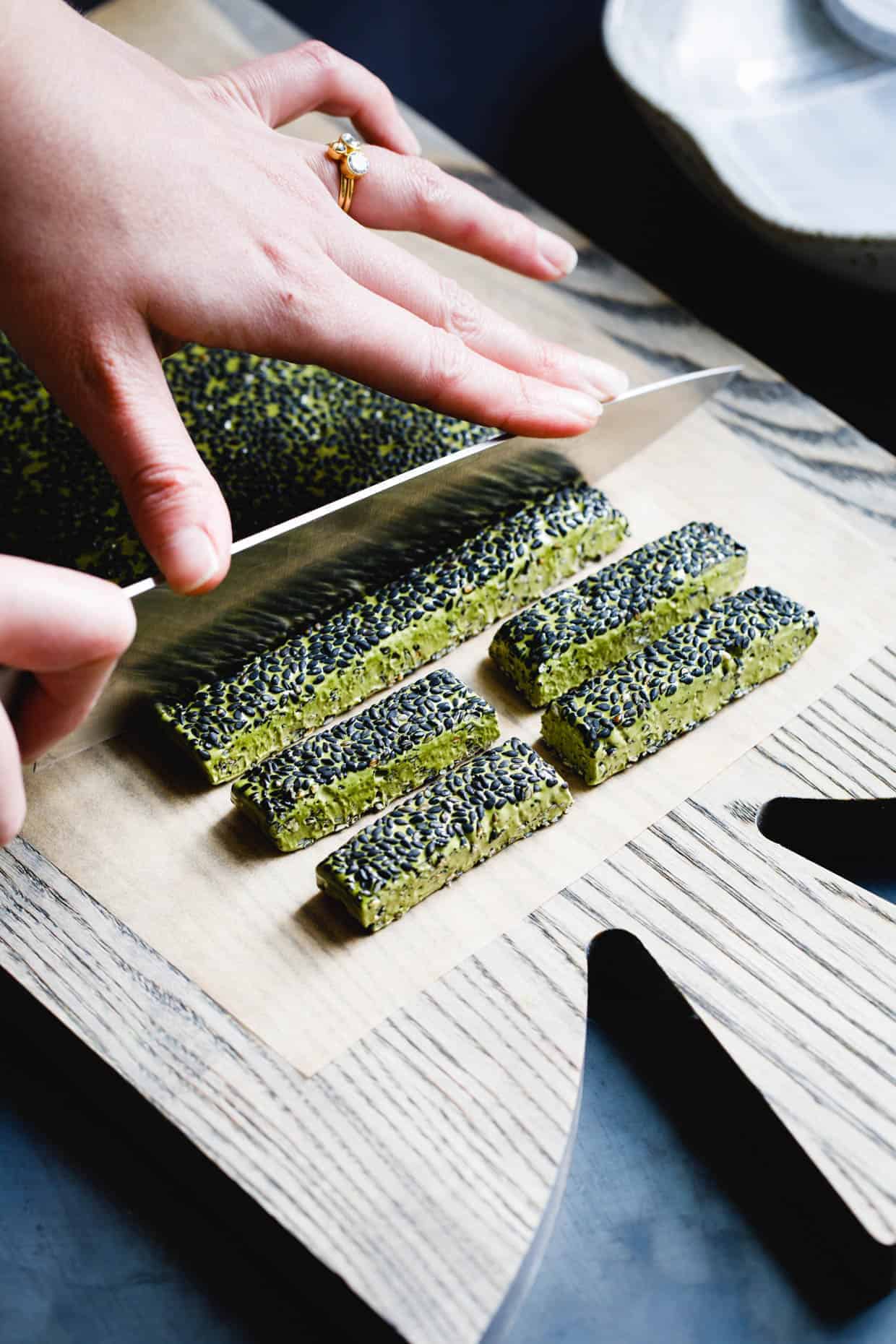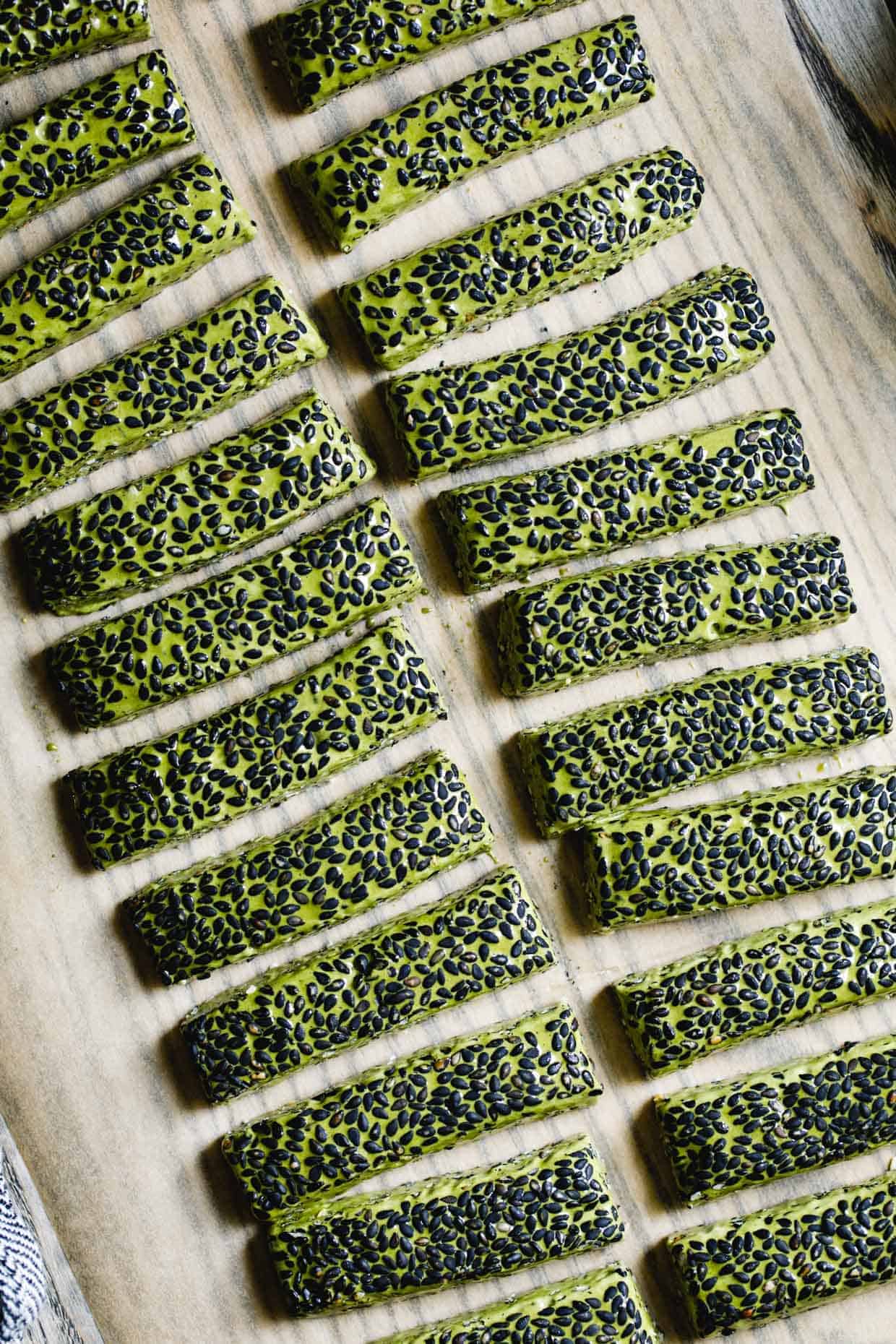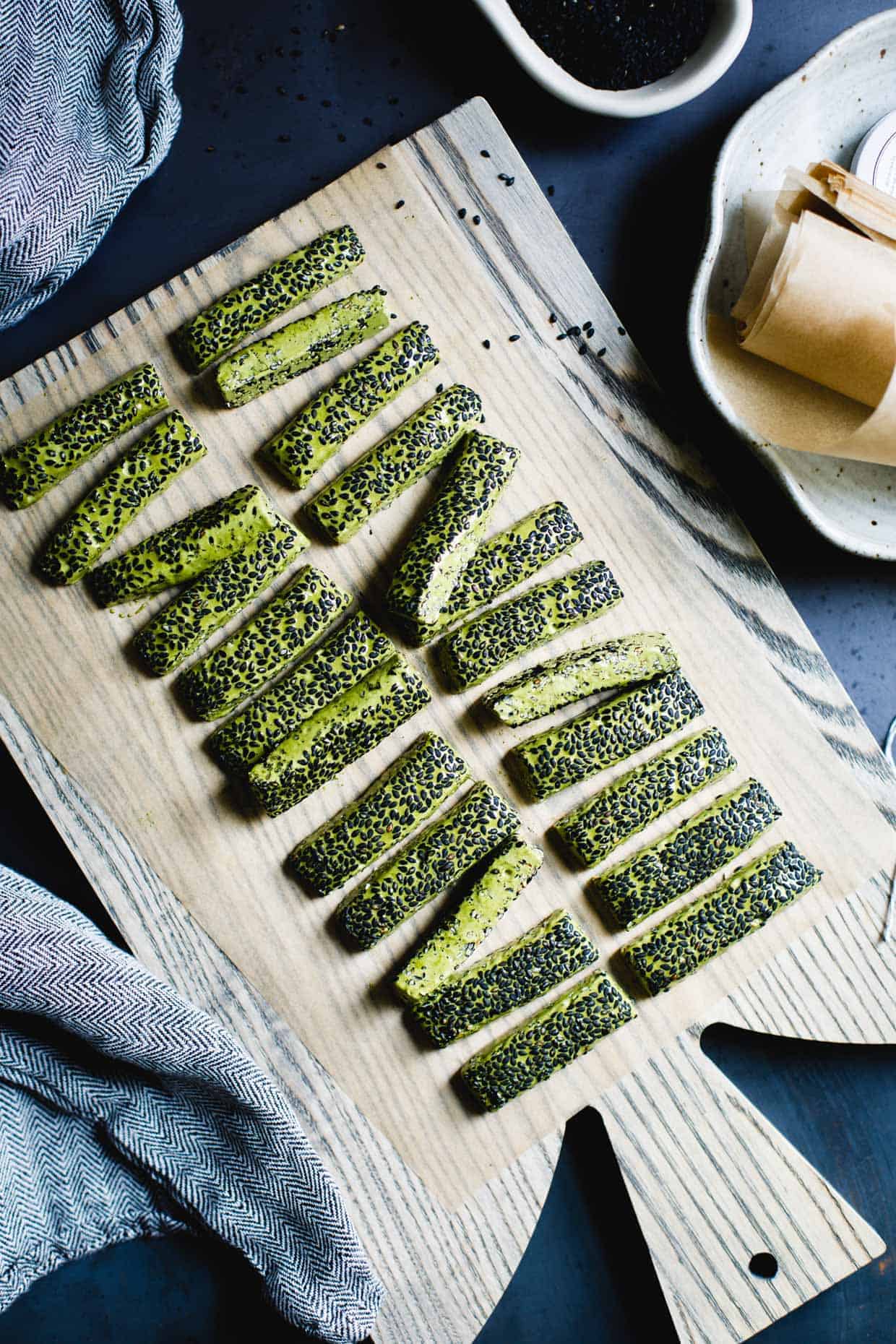 I meant to post these last week. When I first made them, I intended to make a firm traditional nougat - like pistachio torrone. For the past two years, I've been dreaming about a single bar of matcha nougat I picked up in a tiny market in Tokyo on our honeymoon. Inspired by that memory, I left out the nuts, added matcha, and adapted about 1 billion different recipes into a version that used neither glucose nor corn syrup. I instead put brown rice syrup to the test - a variation I haven't seen done.
The nougat came out soft and chewy, almost like a cross between caramel and taffy, which I blamed on the lack of nuts. Back at the drawing board, I sketched out plans to firm up my next batch. But then something happened.
I ate half a pan by myself in two days. Please don't calculate how much sugar that was, okay? Ignorance is bliss right now.
Pure bliss. I couldn't put them down. I'd snatch a nougat chew on every lap of the kitchen. The texture was cloud-like. Their flavor was sweet, but earthy and nutty with little bits of crunchy black sesame. And that's when I realized this was it - this was the recipe. I wanted to test it again before posting, but it rained all week and there were big neon signs all over the internet that said "don't make nougat when it's raining or humid!!"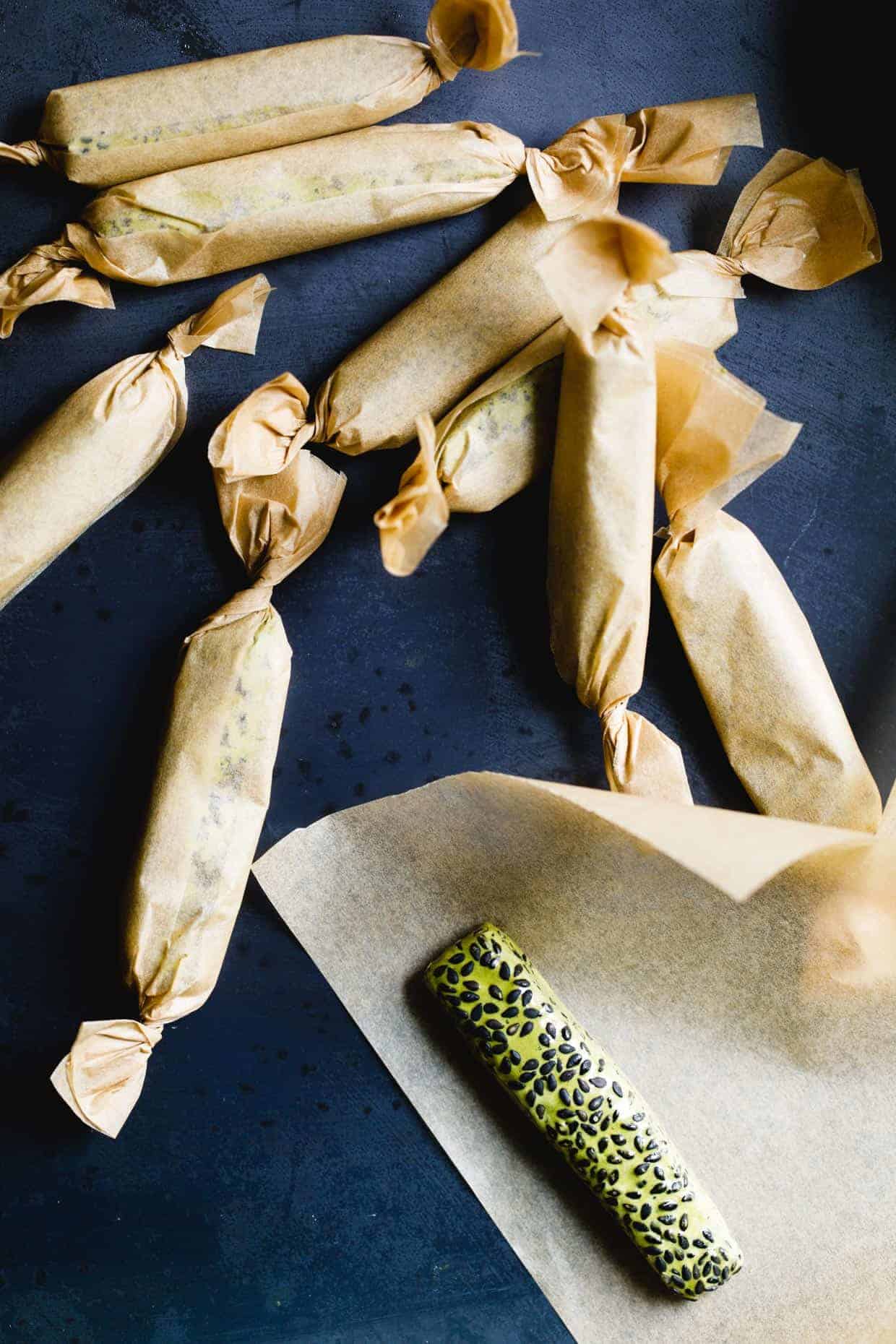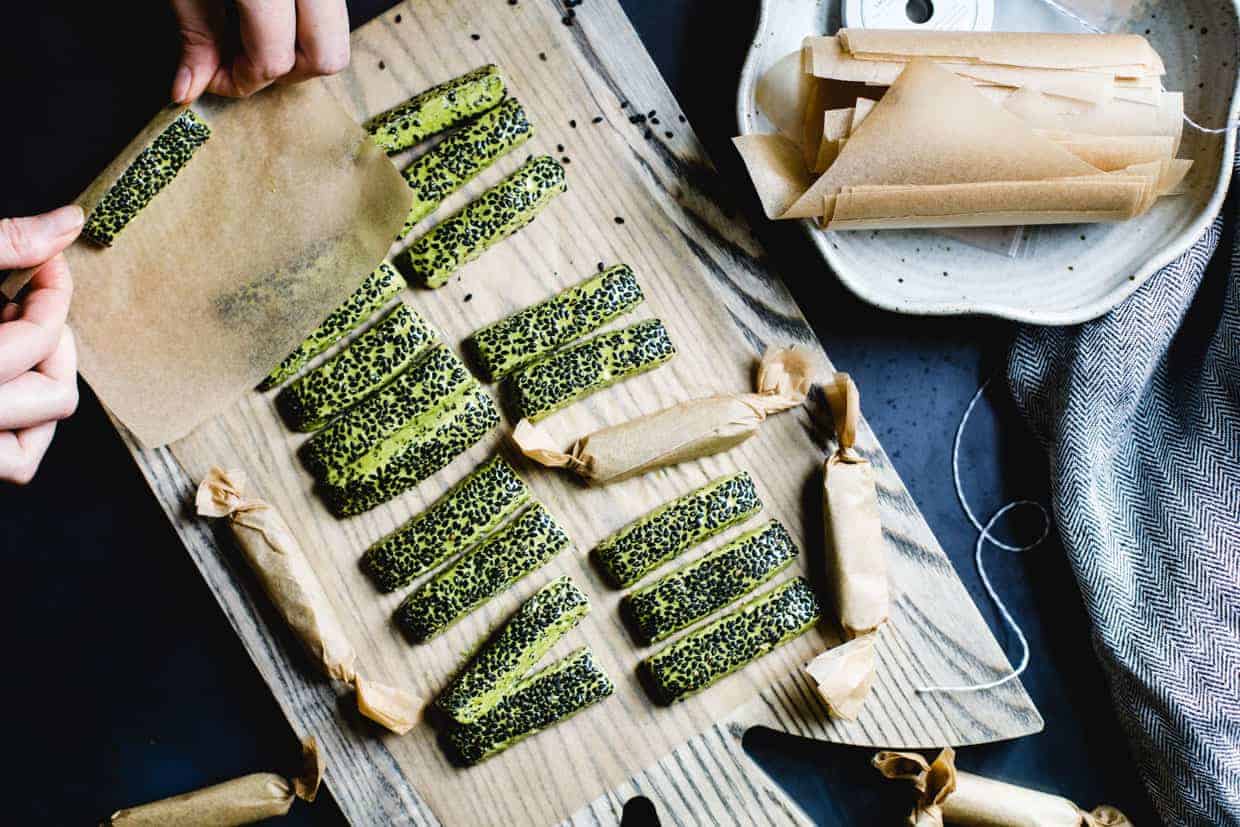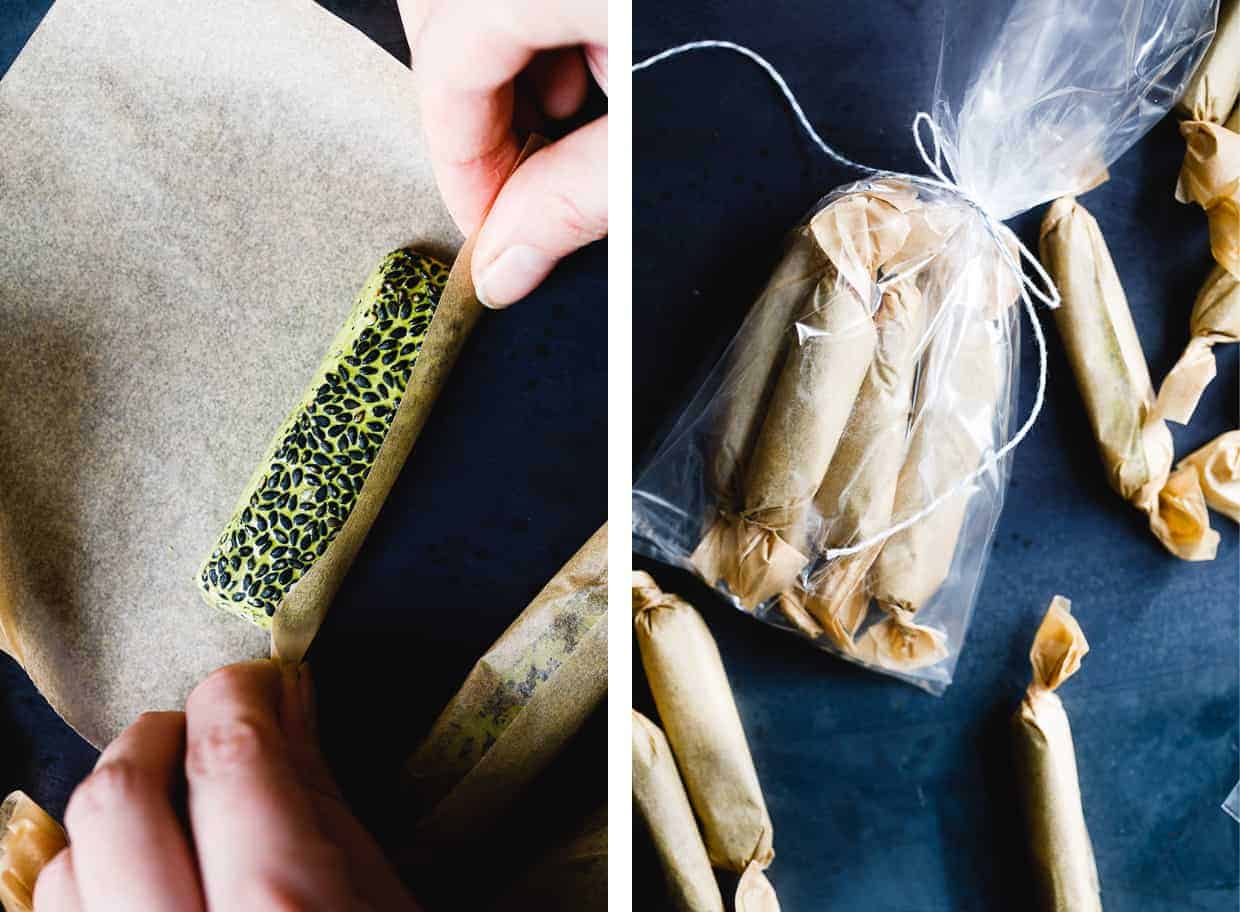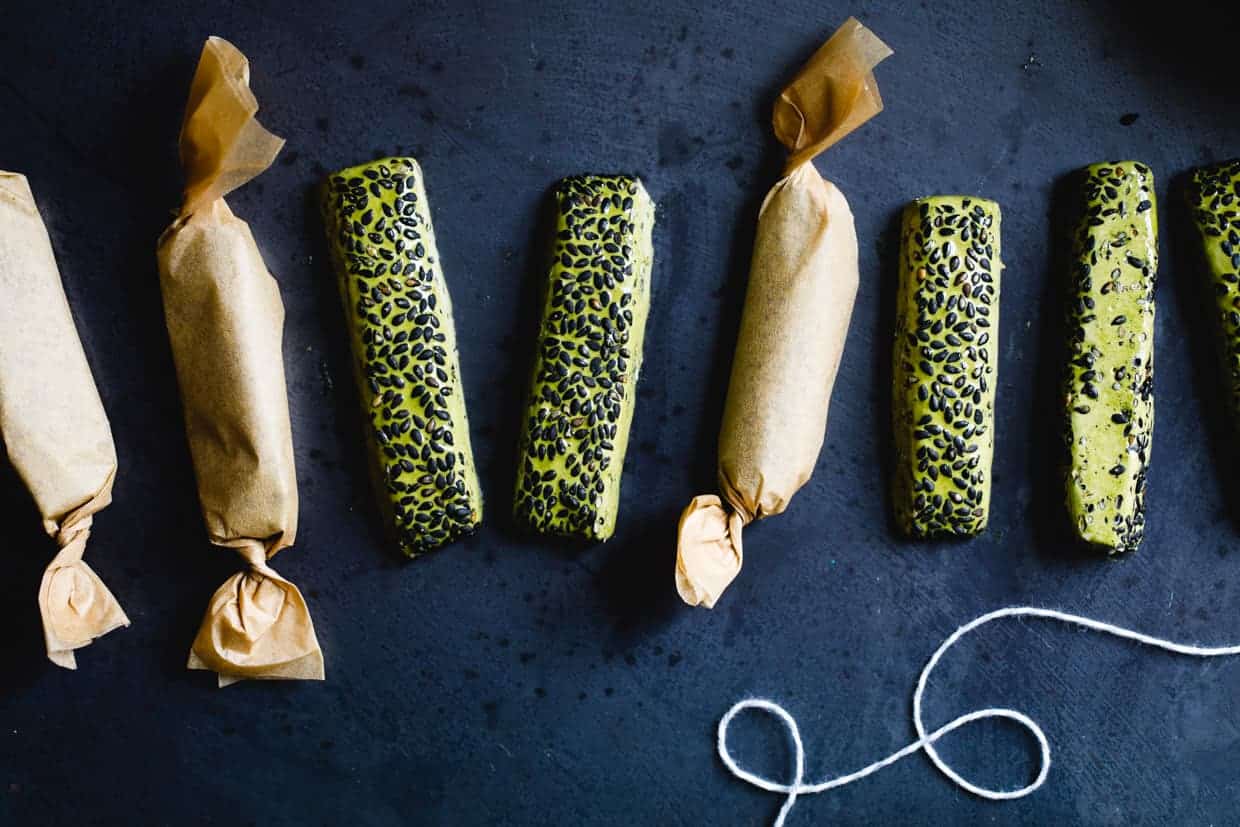 So of course, I ignored them. Jokes on me. That second batch turned out extra sticky. Don't get me wrong, they were deliciously chewy and I wanted to eat them all the time forever still, but the recipe needed one more test without rain. (Also, feel free to make it in the rain. Just know your nougat will be sticky).
So here we are - a unique last-minute DIY edible gift. This nougat is anything but traditional in texture - picture a (less sweet) matcha laffy taffy - but it's exactly that smooth chewy texture I'm obsessed with. Gooey, chewy, little cloud bites of matcha black sesame nougat.
Happy Holidays!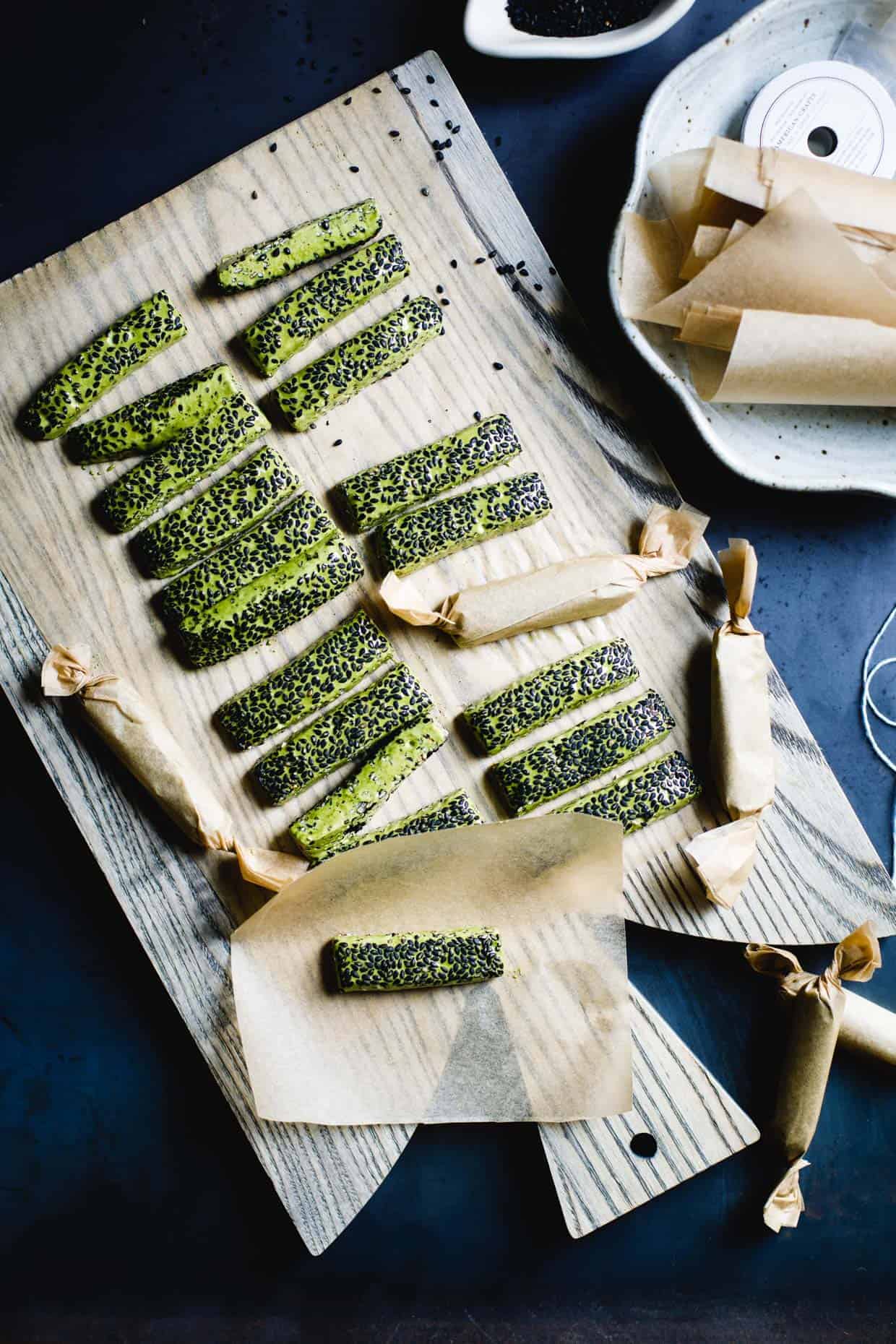 More Matcha Black Sesame Recipes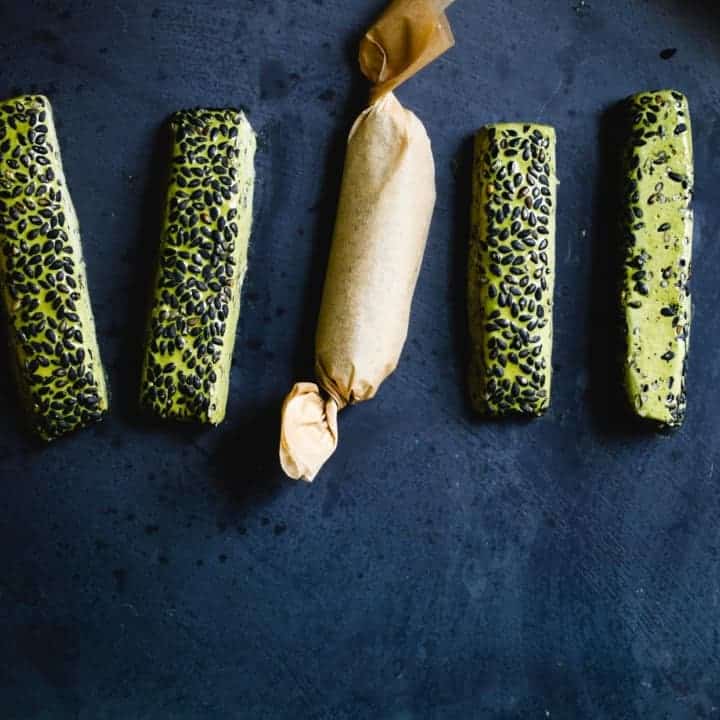 Matcha Black Sesame Nougat Chews
Yield:
30-60 candies, depending on size
Additional Time:
10 minutes
Total Time:
3 hours
10 minutes
Ingredients
Tools & Equipment
Candy Thermometer, properly callibrated
Stand Mixer
Loaf pan (9x5 or 8.5x4.5 will work)
Matcha Black Sesame Nougat Chews
2 egg whites
1 cup plus 2 teaspoons sugar (219g), divided (preferably organic cane sugar)
½ cup (160g) honey
½ cup water
3 tablespoons (73g) brown rice syrup (or light corn syrup)
¼ teaspoon salt
1 teaspoon vanilla extract
½ cup toasted black sesame seeds, divided
Instructions
Very lightly oil the bottom of a loaf pan and wipe it out. Line the pan with parchment or wax paper (on bottom and all sides) and very lightly oil the parchment paper, wiping it out with a paper towel.
Combine 1 cup sugar with honey, brown rice syrup, water and salt in a medium saucepan over medium heat. Cook, stirring occasionally, until mixture just begins to simmer and sugar has dissolved, about 4 minutes. Attach a candy thermometer to the side of the pan. Reduce heat to medium low and continue to cook, without stirring, until mixture reaches 300°F.
Meanwhile, put egg whites into the bowl of a stand mixer fitted with the whisk attachment. In order to time it correctly wait until the sugar on the stove reaches 275°F, then separately begin beating the egg whites in the mixer on medium speed until soft peaks form. Slowly add remaining 2 teaspoons sugar to the egg whites and beat until stiff (but not dry) glossy peaks form.
When sugar in the pan reaches 300°F, increase the speed on the mixer and pour in just a little bit of the sugar syrup aiming to pour down the side of the bowl so it doesn't hit the whisk and splash around.
In a steady stream, slowly pour the remaining syrup into the whipping egg whites, again aiming for the space between the whisk and the side of the bowl, letting some stream down the side of the bowl into the egg whites. Continue mixing until the nougat has thickened and the bowl is mostly cool to the touch (except for the bottom which will still be warm), 10-15 minutes.
Reduce speed to medium-low and beat in the vanilla extract. Reduce speed to low and slowly beat in matcha powder, 1 tablespoon at a time.
Mix in all but 3 tablespoons black sesame seeds.
Working quickly, scrape the mixture into the prepared pan with a flexible rubber spatula. If needed, press a second lightly oiled piece of parchment paper on top and press firmly to create an even surface. Sprinkle 1.5 tablespoons of black sesame seeds over the top and gently press them into the nougat. Let cool for 2 hours before removing from pan.
Remove from pan and flip it over so the black sesame seeds face down. Gently press remaining 1.5 tablespoons of black sesame seeds into the other side of the nougat.
Cut into bite-sized pieces, dipping the knife in hot water and wiping it off before each cut. Wrap each candy in parchment or wax paper and store for up to 2 weeks. Note: In these pictures, I cut them into larger pieces, but when I made a batch for gifts, I cut them into pieces almost half the size.
Notes
*Keep in mind that if you make these while it's raining or humid, your nougat will be extra sticky after it cools!
Thanks for reading Snixy Kitchen! To stay up on what's coming out of my kitchen, follow me on Facebook, Instagram, Twitter, Bloglovin', or Pinterest, or subscribe via e-mail to get new recipes right to your inbox.