This matcha cake has complexity of nutty and earthy flavors from olive oil and poppy seeds. Made with almond and oat flours in just ONE BOWL, this tender gluten-free cake recipe has a crisp exterior that cracks when sliced and a moist delicate crumb that gets even better as it sits.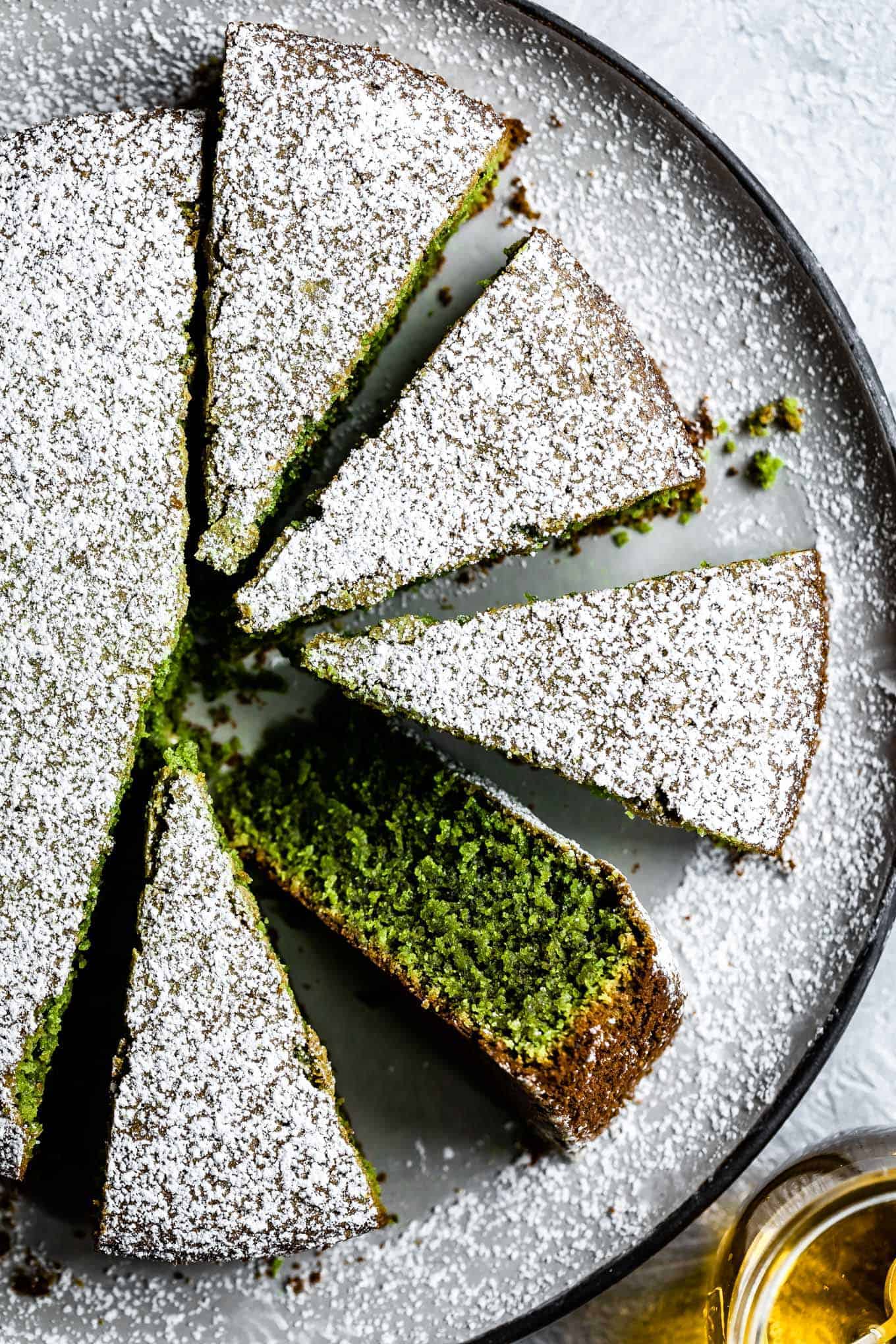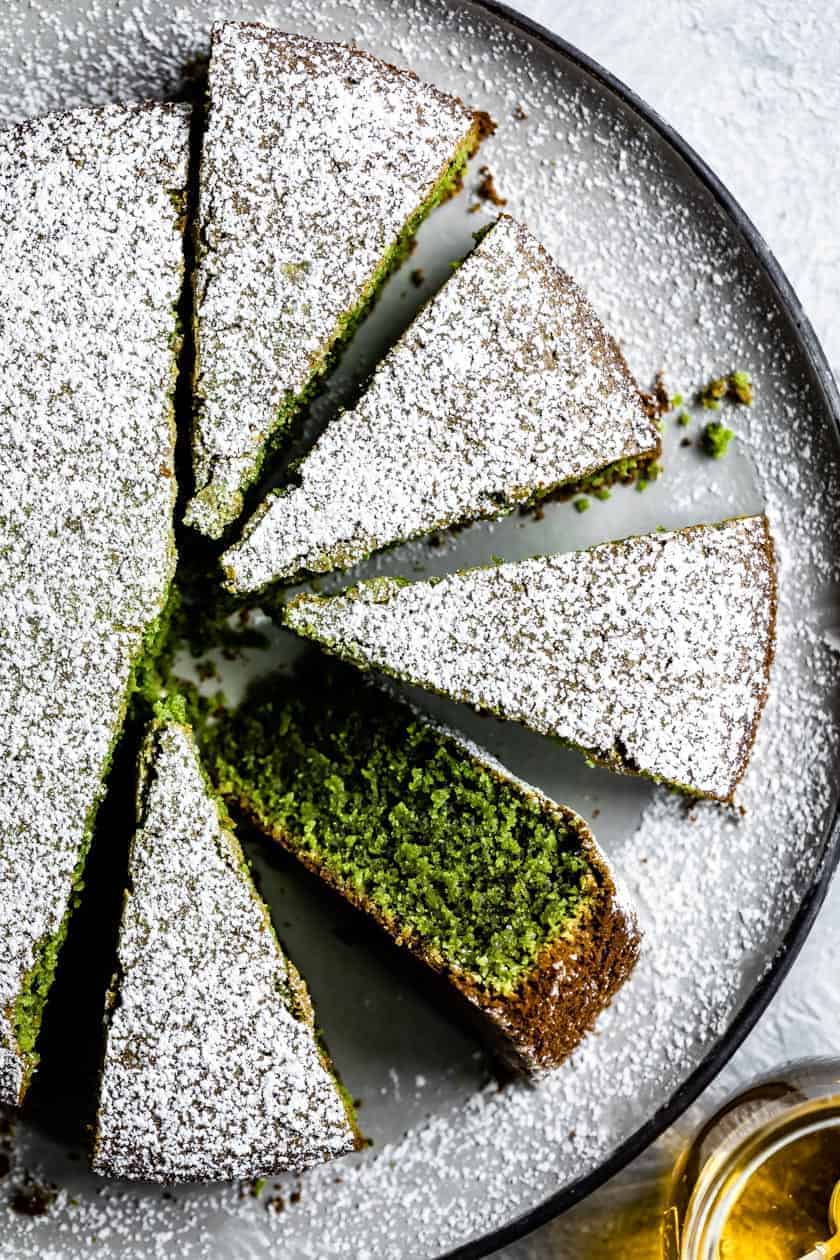 This post is sponsored by Lucini Italia, using their extra virgin olive oil.
At some point over the years of celebrating my birthday a day late on St. Patrick's Day, Matcha March became my tradition. I celebrate the dual occasion with recipes tinted naturally green by my favorite ingredient, matcha. With this gluten-free olive oil matcha cake, Matcha March 2019 is in full swing.
If you're new here, my Ultimate Guide to Matcha contains everything you need to know about buying, drinking, and cooking with matcha.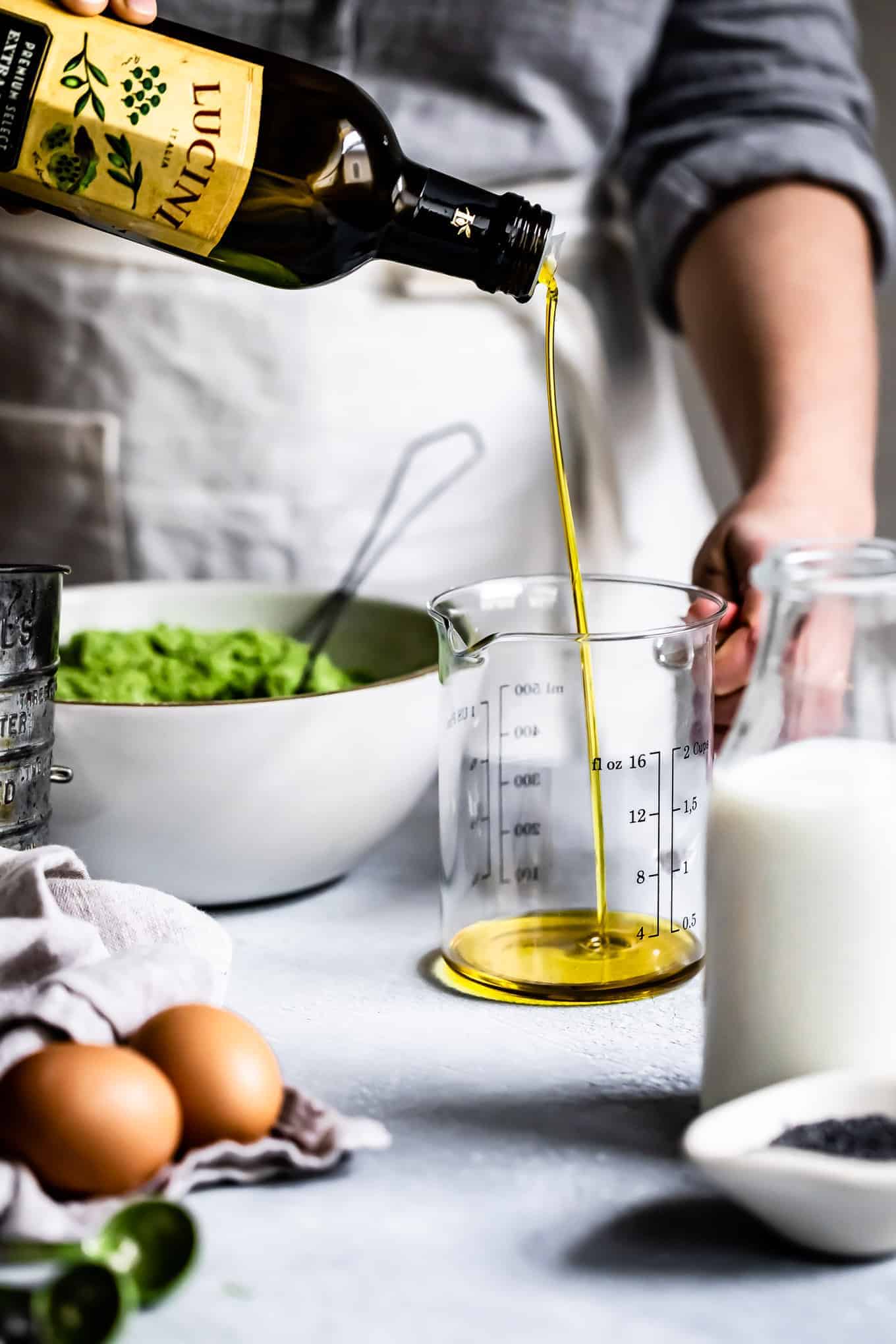 When my buddy Angi took a job in the South Bay that shifted her schedule to early am alarms and reasonable bedtimes, she stopped coming over for our weekly dinner. I don't blame her though. It would take her nearly 2 hours to get here in rush hour traffic, plus another 30 minutes home if she stays past bedtime to wait out the return traffic. I've promised a lot of things to get her to come visit on a work night - hugs, homemade lasagna, cat snuggles, a personalized interpretive dance. Nothing's worked.
Until I texted her about this cake.
She'd tasted a three-day old slice from a test batch and I promised to freeze some of the final version for her. All I had to say was "you have cake here" and she knocked on my door way past her bedtime on a weeknight. Say no more.
This cake has allure.
The more I cook with matcha, the more I've come to love and play up its savory sweet profile. (If you're not there yet with matcha, I understand. Though, I urge you to give it another go with this cake, equipped with my tips of finding a quality matcha).
Olive oil desserts similarly walk that line between savory and sweet. As you can guess, I'm a mega fan of olive oil with my dessert. Please drizzle some on my ice cream with flakey salt.
This matcha olive oil cake lives in that delicate savory sweet dessert place and celebrates it.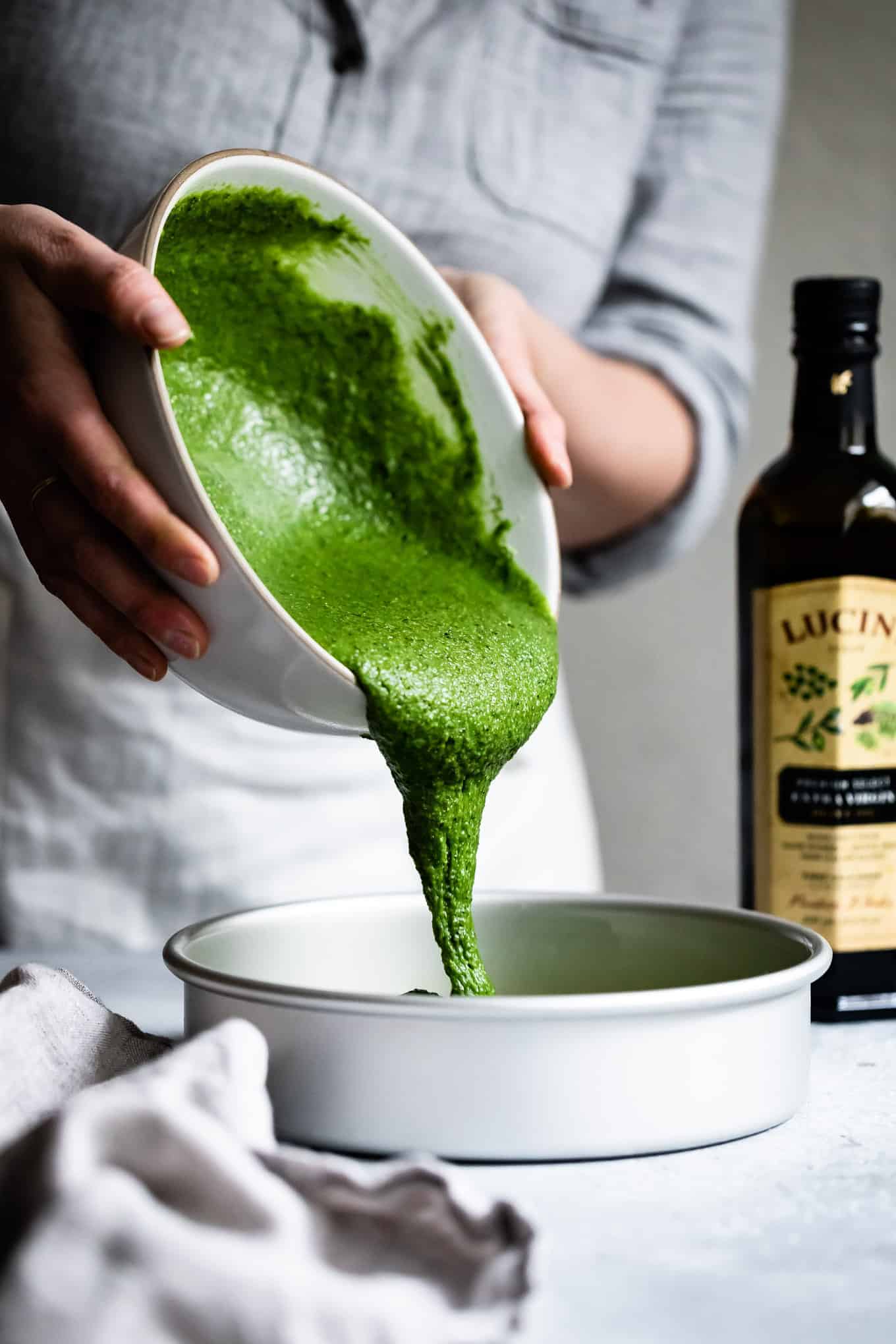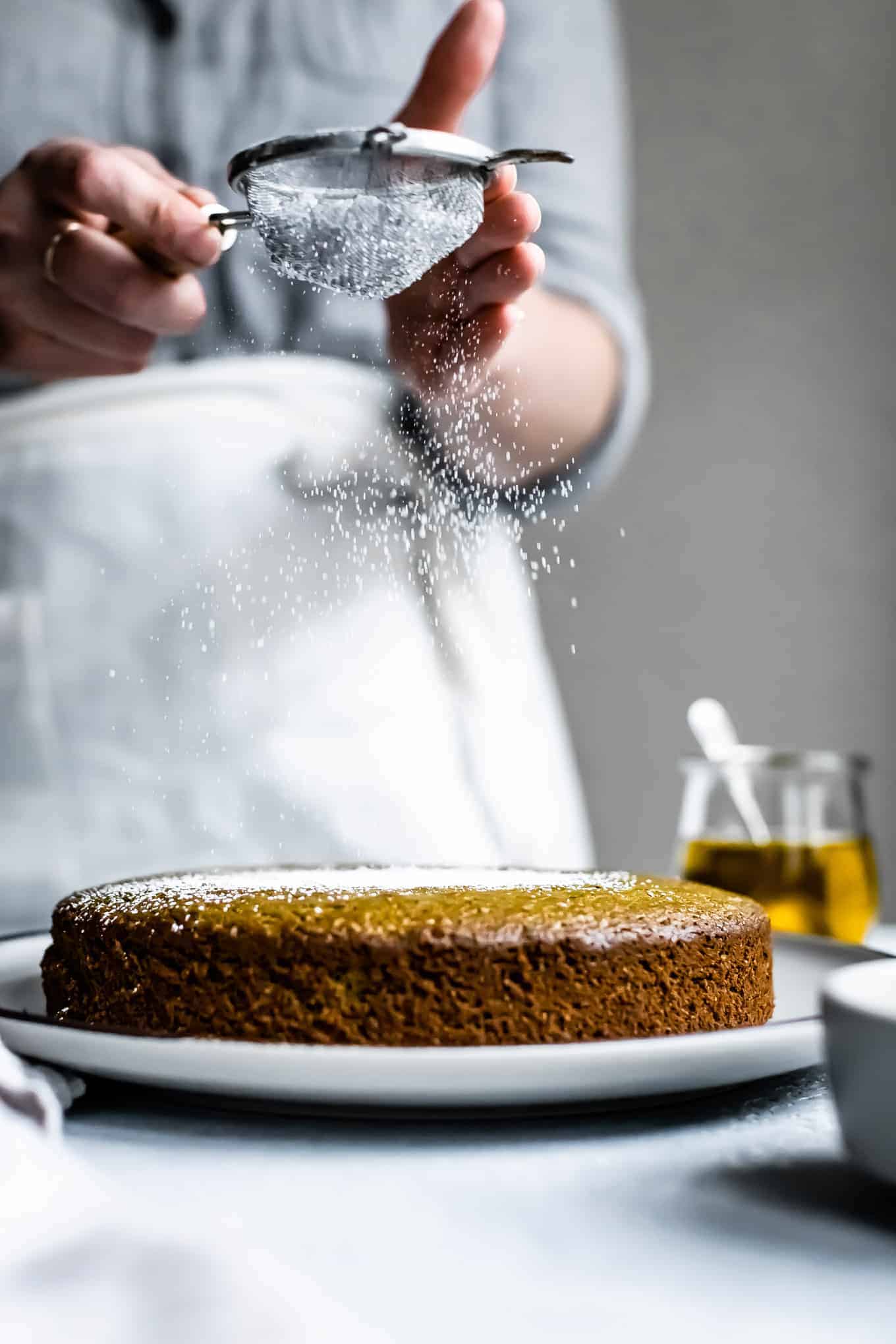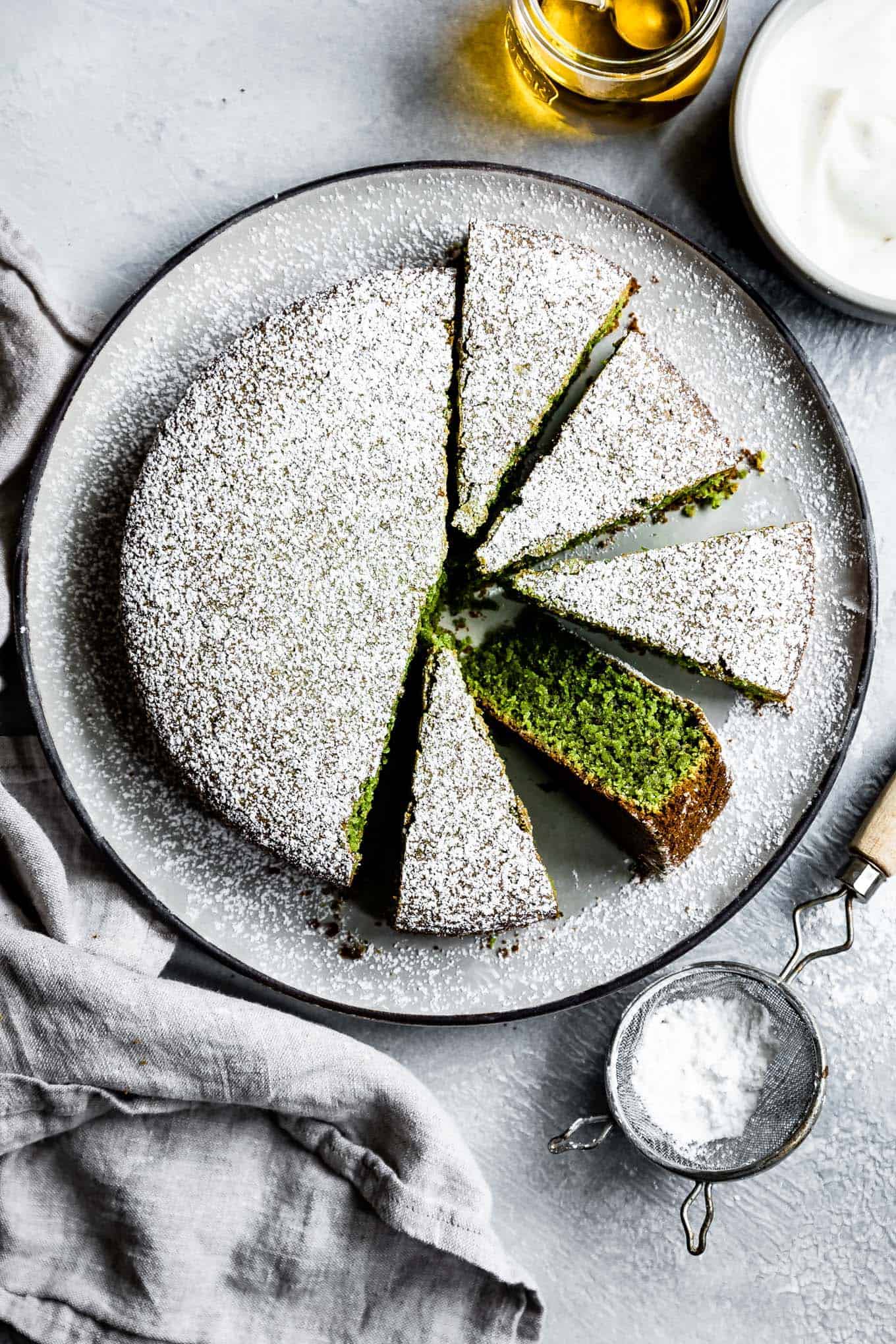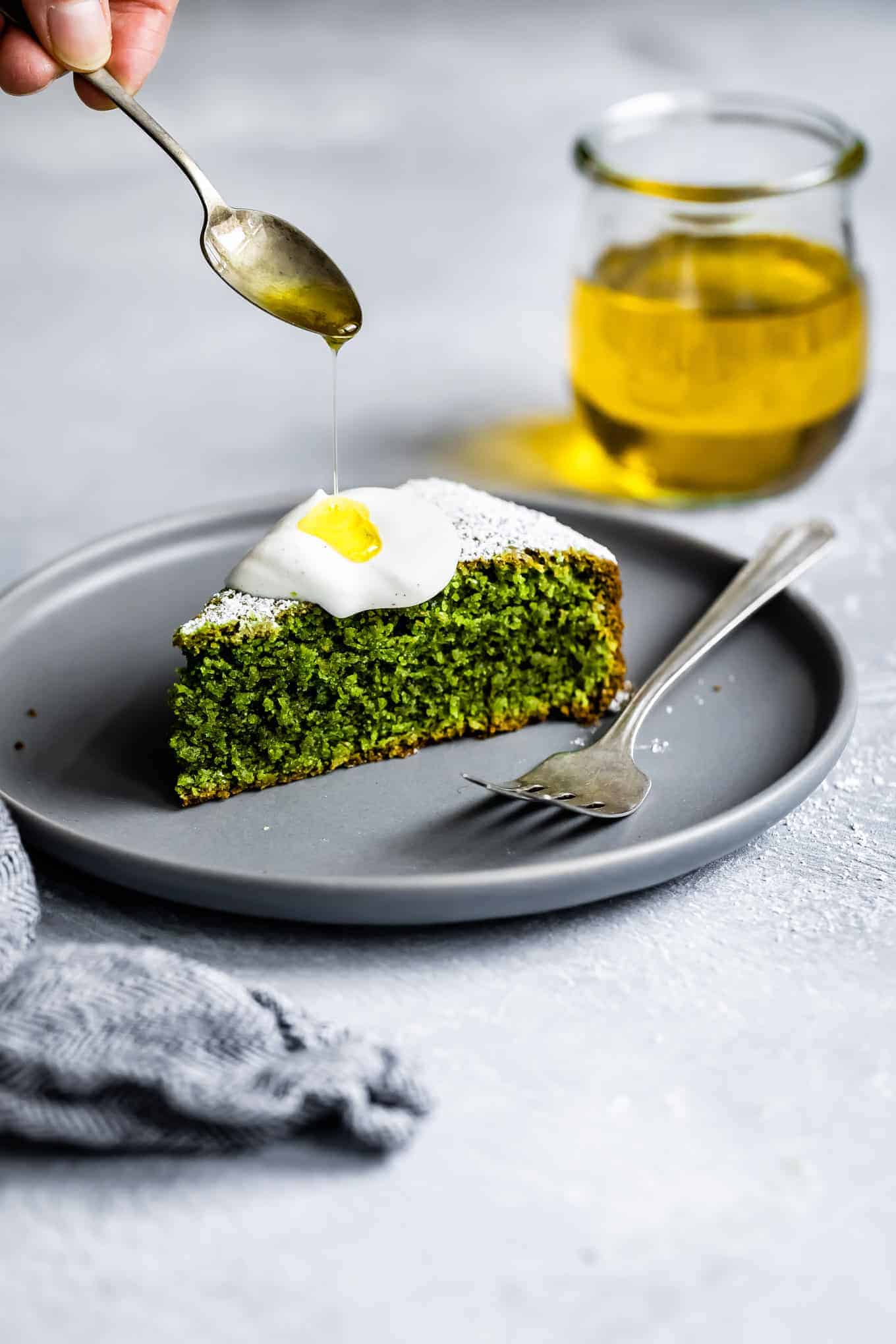 Taste and Texture: Almond Olive Oil Cake with Matcha and Poppy Seeds
This gluten-free olive oil cake has a characteristically crispy golden brown exterior that cracks when sliced, giving way to a super moist and delicate matcha-infused center. Poppy seeds add subtle crunch to the tender cake. With Lucini extra virgin olive oil as the fat, the moisture of the cake only improves the longer it sits. It even holds up well in the freezer.
Where traditional olive oil cakes boast the subtlety of the olive oil flavor, this matcha poppy seed version leans into that flavor profile. Each element chosen for the ways it augments the olive oil's notes. Almond flour. Matcha. Poppy Seeds.
For this cake, start with a flavorful quality olive oil like Lucini's premium select extra virgin olive oil. It's got slightly savory herbal notes with hints of almond. We're going to build on those notes.
Drawing from the classic flavors in an almond olive oil cake, this matcha poppy seed version has even more layers of complexity. Matcha adds a vegetal grassy pop with sweet nuttiness. Poppy seeds, too, add a subtle sweet nuttiness and woodsy herbal flavor - both enhance the olive oil's savory herbal notes. Sugar balances out the earthiness, with just enough to draw out the sweet side of the ingredients.
Taken together, the flavor is simultaneously potent and subtle. You'll taste all the layers and wonder which flavor you're actually tasting.
And if you're so inclined, a dollop of vanilla-scented whipped cream on top perfectly rounds out the flavors.
How to make Olive Oil Cake
Flavor aside, olive oil is a healthy fat choice for baking, adding monounsaturated fatty acids and antioxidants. Plus, it makes for a super easy cake mix.
This cake takes one bowl, a measuring cup, and a whisk, plus about 5-10 minutes to mix it all up and pour it in the pan. You don't need to fuss with aerating butter with sugar, bringing ingredients to room temperature, or whipping egg whites.
Need cake fast? (Me, always). I've got your back.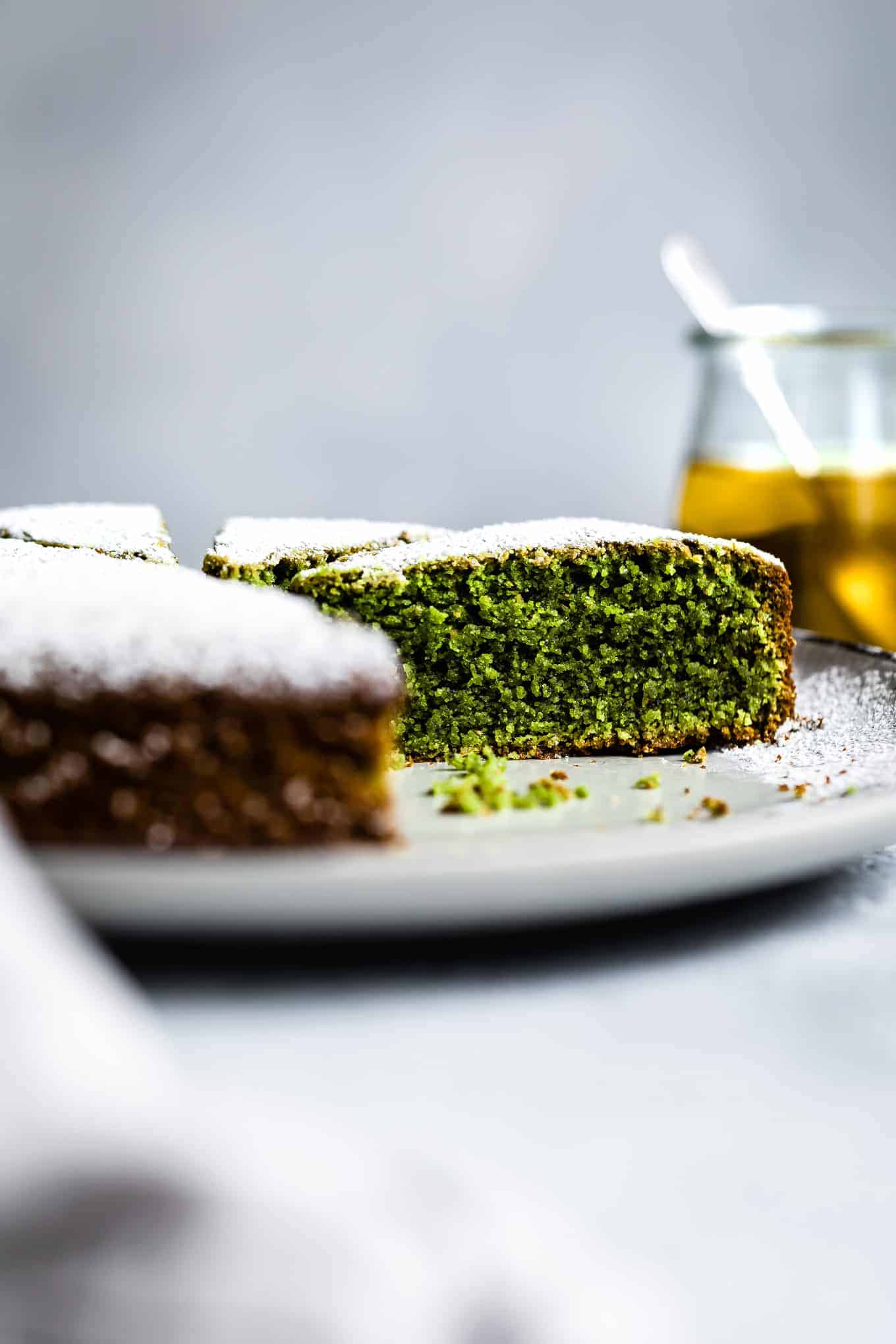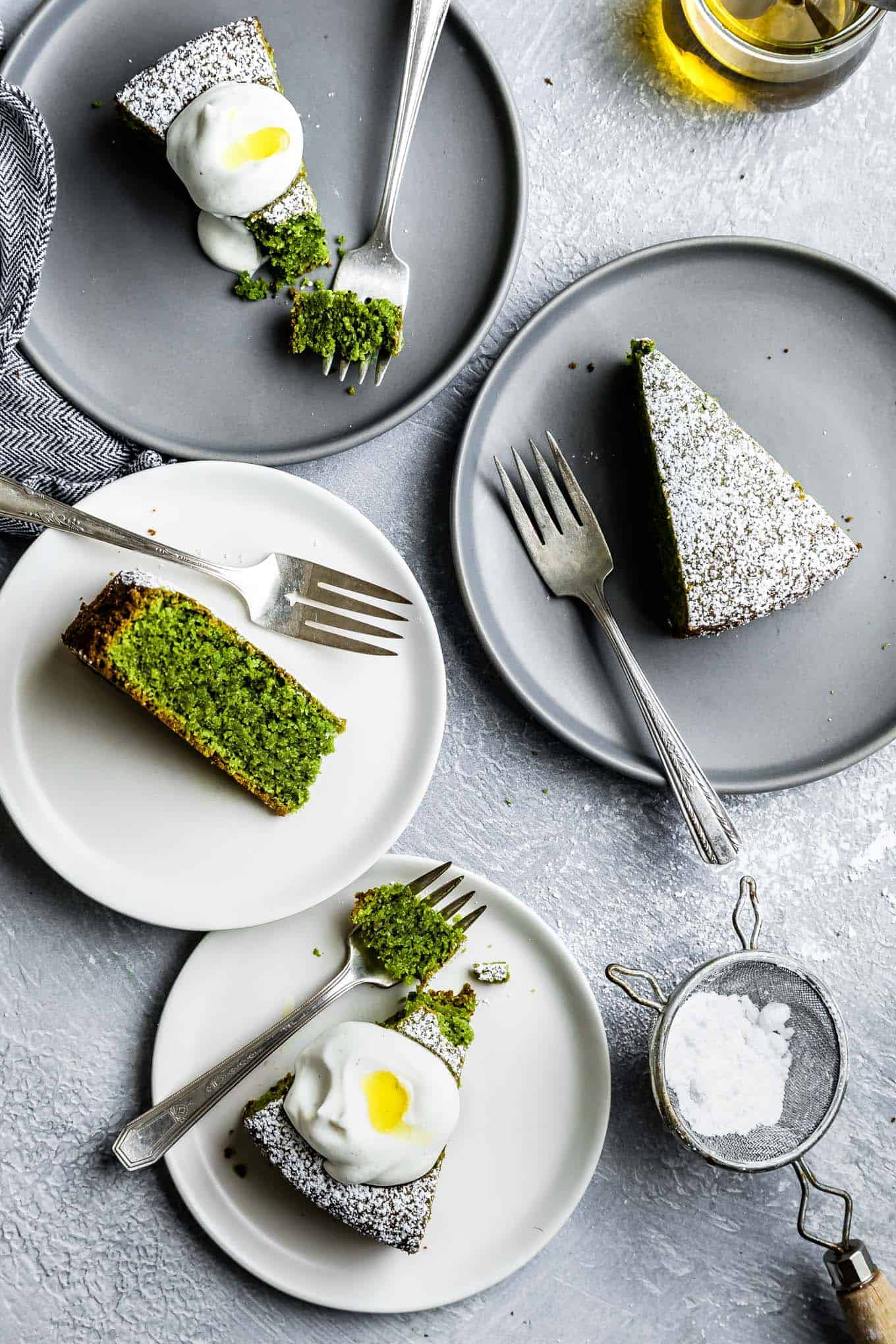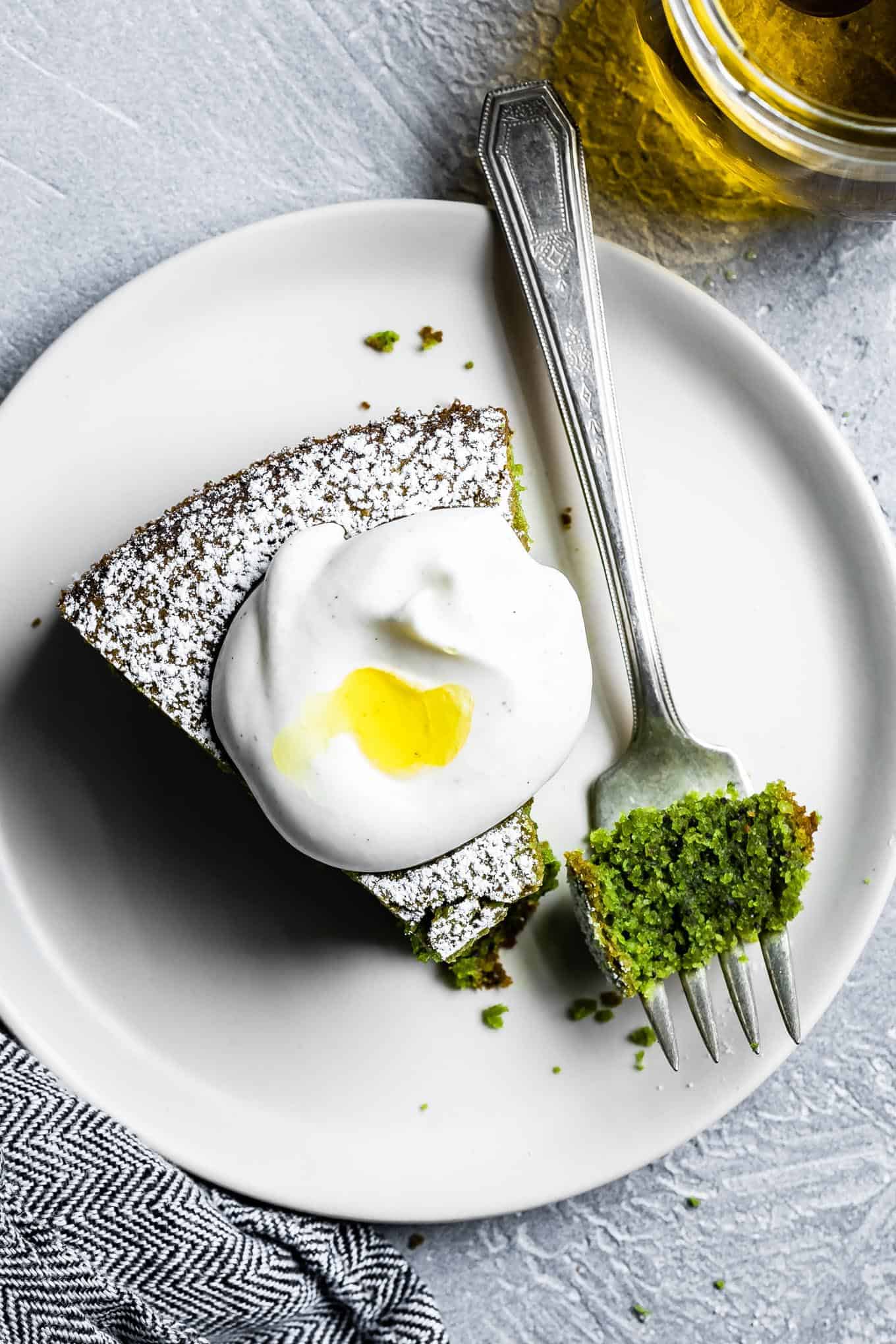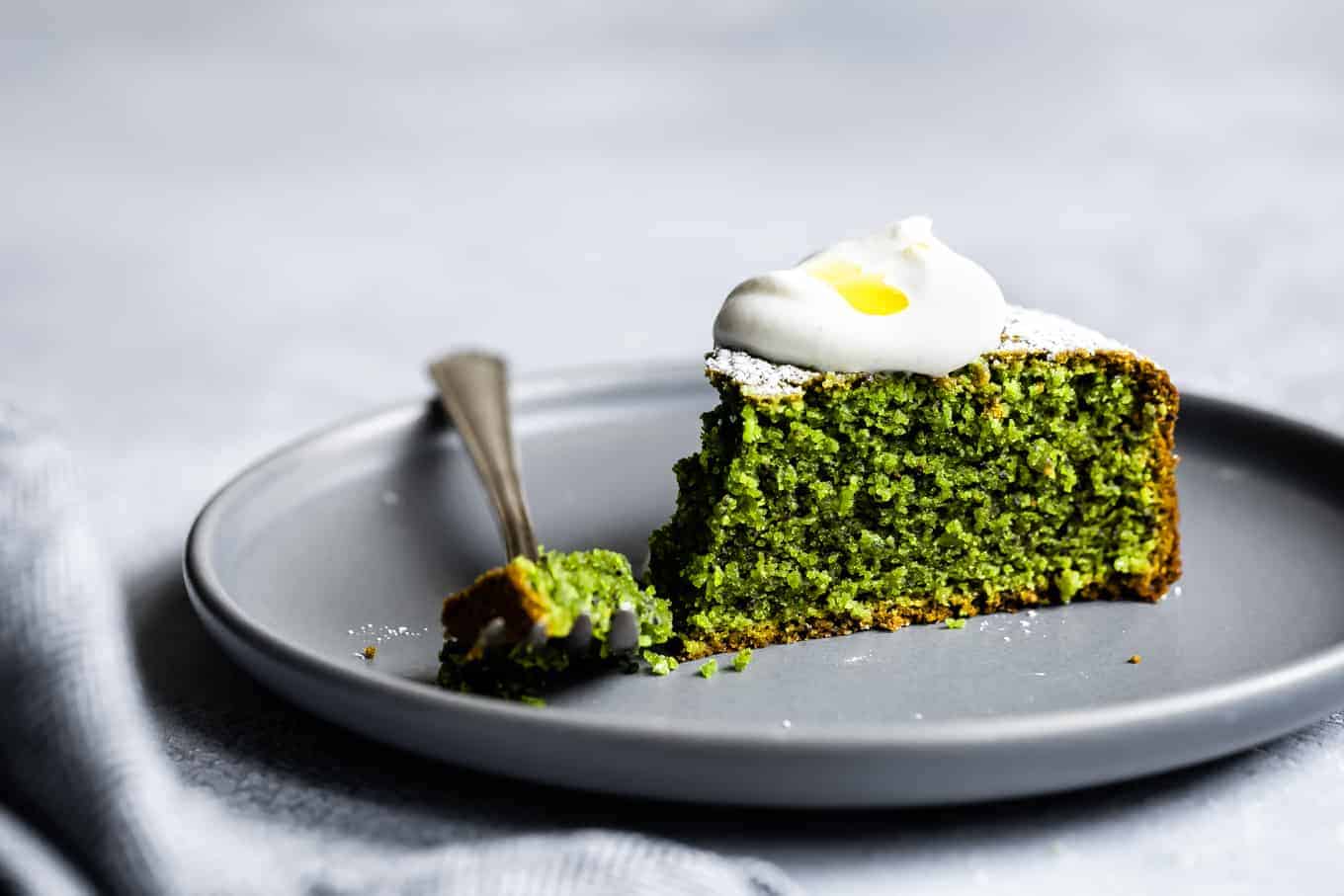 What kind of matcha for a green tea cake
When you make a matcha cake, you want that iconic green color to pop.
I've got a few tricks to keep the cake bright green, but most important is the quality of the matcha you use. Many culinary grade matcha brands that you'll find at the supermarket are oxidized and brown right out of the bag. If you don't start with a vibrant green matcha, your cake might bake up dull and muddy brown. While sugar may serve to mask much of the bitterness from a lower quality matcha in a baked cake, I recommend using a high quality culinary grade or "latte grade" matcha for baking if you want a naturally vibrant green cake.
My Ultimate Guide to Matcha will help navigate the various types and brands of matcha.
Once you've got a quality vibrant green matcha, my tip to keeping your matcha cake green is to use strictly baking powder leavening. Baking powder is made up of baking soda + a built-in acid that will keep your cake crumb from turning brown during the long bake. You need that acid to ward off a chemical reaction that would turn your matcha brown.
How to infuse the most flavor in a poppy seed cake
The texture of poppy seeds adds little flecks of crunch, but their real power lies in their subtle flavor. Flavor that requires a bit of coaxing. Let the poppy seeds soak in the liquid ingredients for just 5 minutes before adding them to the dry ingredients. This will unveil their sweet yet earthy nutty notes.
This cake takes one bowl to whip up while offering four subtle ingredients melded together into a super flavor that's greater than the sum of its parts. As a frosting-free cake, you can enjoy it for breakfast with a cup of tea or as an after dinner dessert!
Or...both.
Disclosure: Special thanks to Lucini Italia for providing the olive oil for this recipe and sponsoring this post! And thanks to you for supporting the companies that keep Snixy Kitchen cooking!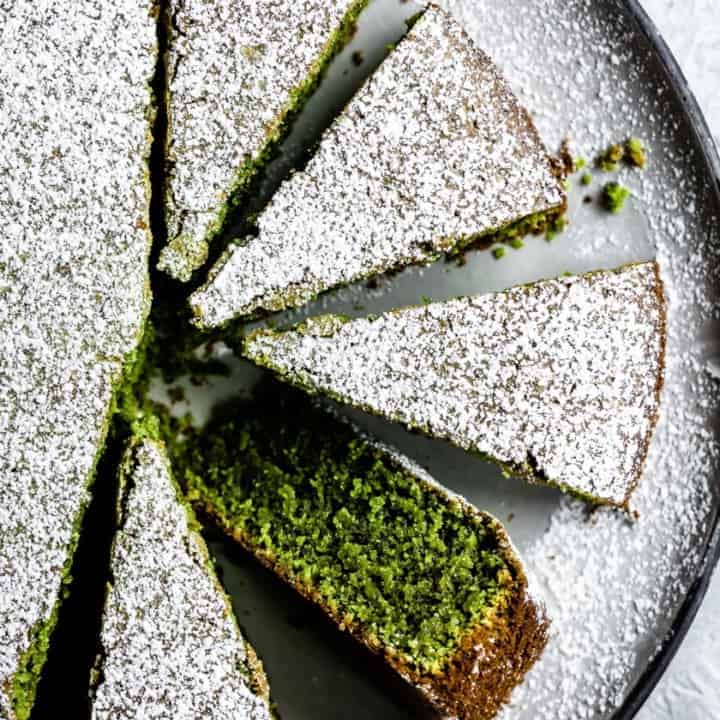 Gluten-Free Olive Oil Matcha Cake
Yield:
1 8-inch cake, 8-10 servings
Total Time:
1 hour
5 minutes
This matcha cake has complexity of nutty and earthy flavors from olive oil and poppy seeds. Made with almond and oat flours in just ONE BOWL, this tender gluten-free cake recipe has a crisp exterior that cracks when sliced and a moist delicate crumb that gets even better as it sits.
Ingredients
½ cup Extra Virgin Olive Oil, plus more for the pan
½ cup whole milk
2 tablespoons poppy seeds
2 large eggs
1½ teaspoons vanilla extract
1¼ cup + 2 tablespoons (166g) superfine blanched almond flour
½ cup + 3 tablespoons (83g) gluten-free oat flour
¾ cup + 1 tablespoon (168g) granulated sugar
1½ teaspoons baking powder
½ teaspoon kosher salt
For serving
1 cup heavy whipping cream
¼ cup powdered sugar, plus more for dusting
1 teaspoon vanilla extract (or vanilla bean paste)
Instructions
In a glass measuring cup, whisk together olive oil, milk, and poppy seeds and let sit for 5 minutes while you prepare the baking pan.
Preheat the oven to 350°F. Lightly grease an 8-inch cake pan with olive oil and line the bottom with a round of parchment paper.
Whisk the eggs and vanilla extract into the liquid ingredients.
In a large bowl, whisk together the almond flour, oat flour, sugar, matcha, baking powder, and salt. Pour the liquid ingredients into the dry ingredients and mix well until just combined. Pour the batter into the pan and use a spatula to smooth the top.
Bake for 45-55 minutes, or until the cake springs back when poked and a toothpick in the center comes out clean or with just a few crumbs. Let cool in the pan for 10 minutes, then invert the cake onto a wire baking rack then flip right side up to cool. I use two wire racks to invert the cake right side up.
Meanwhile, Prepare the whipped cream. In stand mixer fitted with the whisk attachment or a medium bowl with a hand mixer or metal whisk, whisk the together the whipped cream, powdered sugar, and vanilla until soft peaks form.
Use a fine mesh sieve to dust the cake with powdered sugar. Serve slices warm or at room temperature with a dollop of whipped cream and a drizzle of olive oil (optional). The cake can sit out in an airtight container for 3-5 days or freezer for up to a month.