These thick gluten-free pumpkin pancakes are soft and fluffy and loaded with holiday pumpkin spice! They're the perfect quick breakfast to make with kids on fall mornings or serve up for your holiday brunch with a drizzle of maple syrup.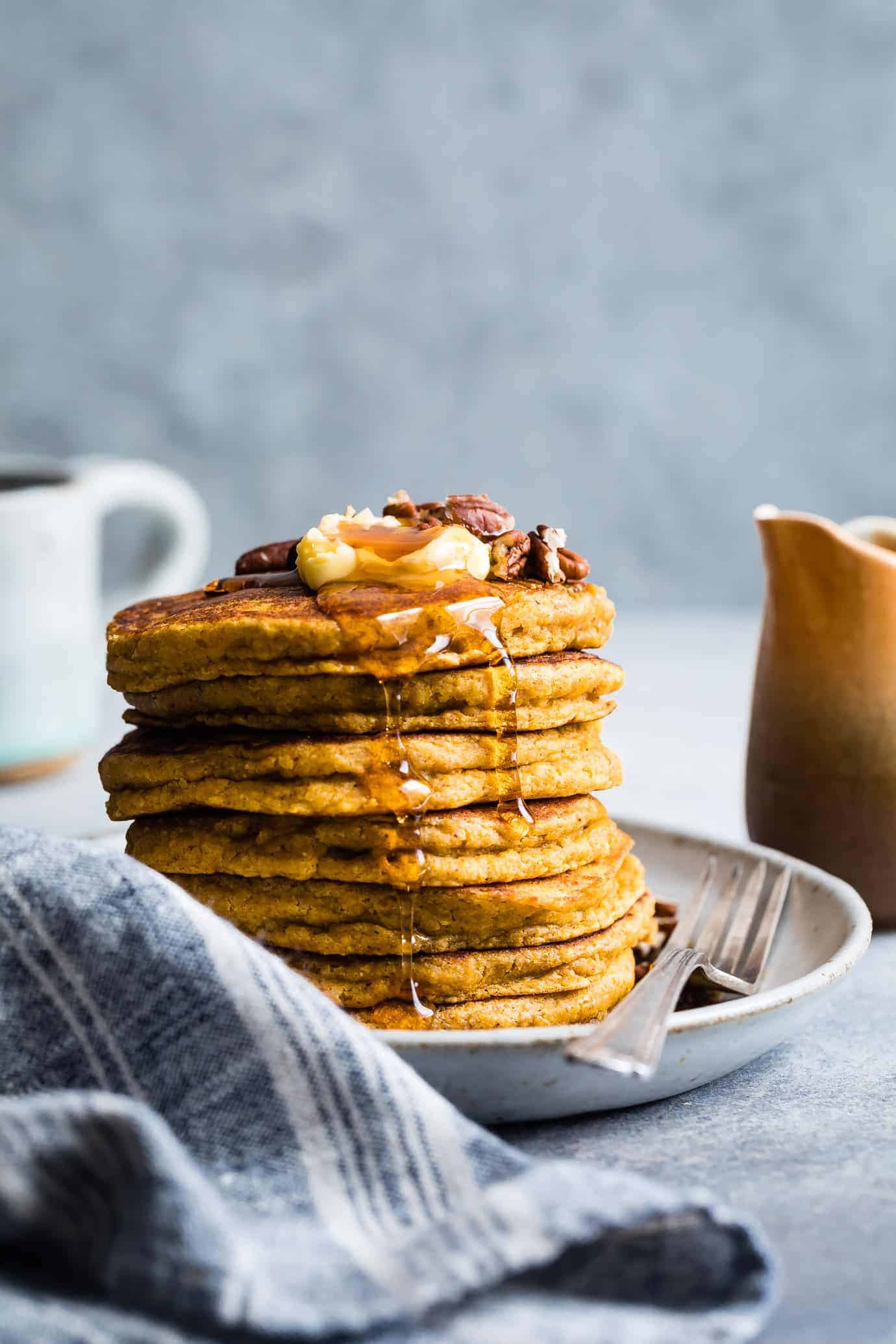 If you would have asked me 6 months ago for a gluten-free pancake recipe, I'd tell you to make waffles instead. But you're not a cheery 2.5 year old with a Curious George Makes Pancakes obsession who has me wrapped around her finger. When Zoella woke up one Sunday morning begging to make the pancake recipe printed in the back of her Curious George book, I couldn't say no. I could, however, suggest we make our own gluten-free recipe and that's just what we did. Together, we threw things into a mixing bowl (and on the floor) and hoped it'd cook up into golden brown flapjacks. She added sprinkles, of course.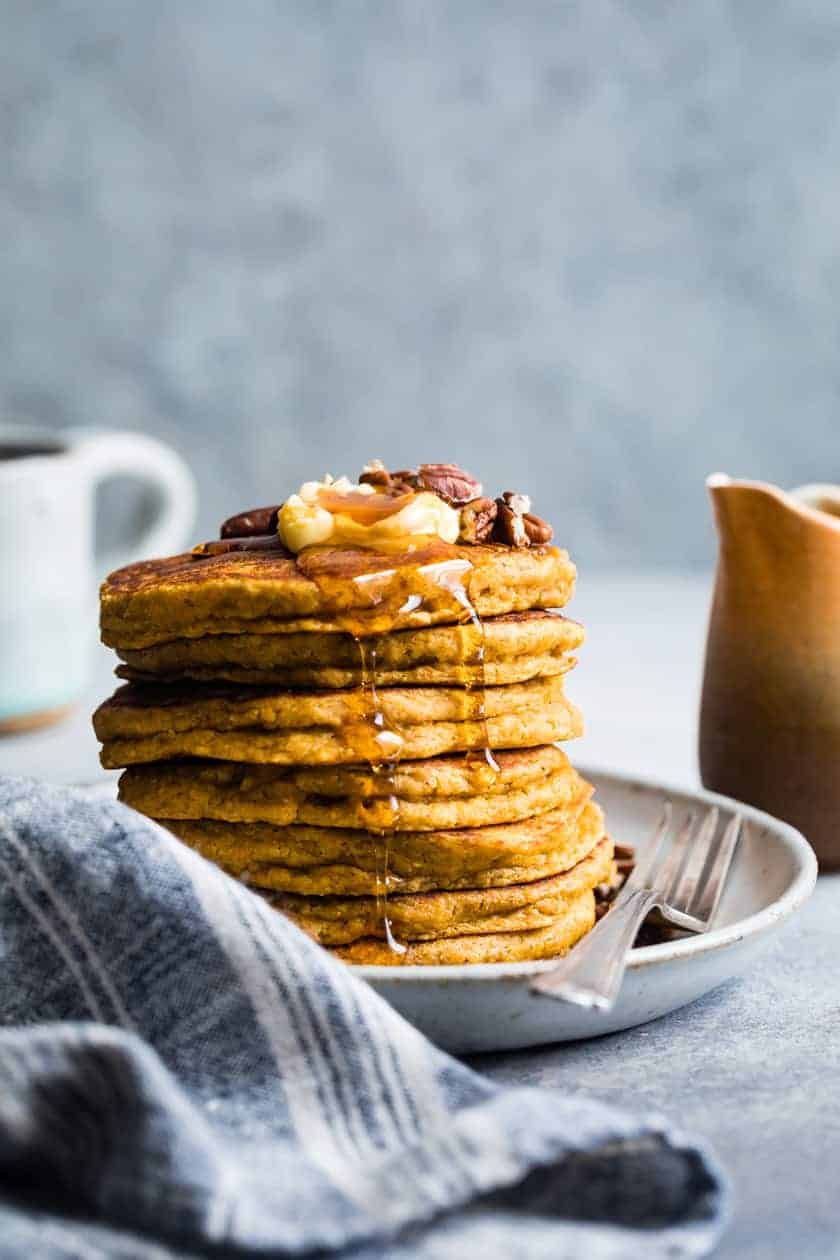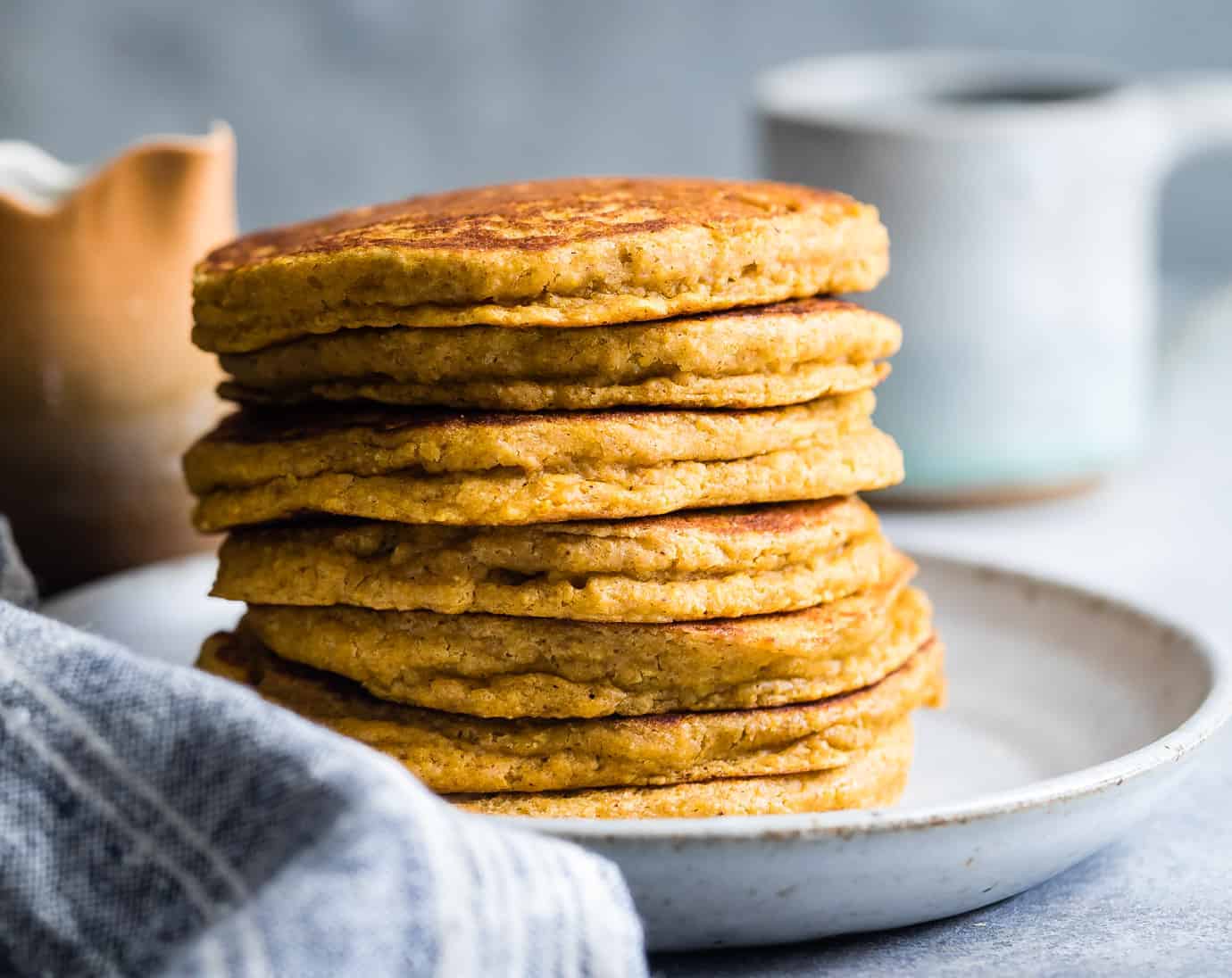 The Best Gluten-Free Pumpkin Pancake Recipe
To my groggy surprise, they turned out pretty dang delicious. That's the very moment I had a change of heart about pancakes. When made with flavorful whole grain flours and fried up with crispy edges and a soft fluffy center, they're on par with waffles. For months, I've tweaked and jotted down recipe notes every time she asks for pancakes, eventually writing a gluten-free pumpkin recipe variation to try next.
Then one Sunday morning last month, Lucas gave me a little extra sleep-in time by waking up early with the kids (my hero). Not wanting to disturb me, but needing guidance, he tip-toed in with "pancakes.docx" open on my laptop. "Is this the pancake recipe?" he whispered, pointing to the pumpkin version. Let's recap: my husband was awake with a toddler and a baby. MAKING PANCAKES. While I slept.
I confirmed and he went back to the kitchen. My notes listed ingredients but no steps, so sure enough, he came back a few minutes later. I advised him to mix the dry, then separate the egg -- and that's when he stopped me, wide-eyed, "We'll wait until you get up for that step." Ha!
Though honestly, if the whole family is up making pancakes, I definitely want in on that memory-making. So up I got.
And that's the origin of these gluten-free pumpkin pancakes, first tested by my toddler and husband.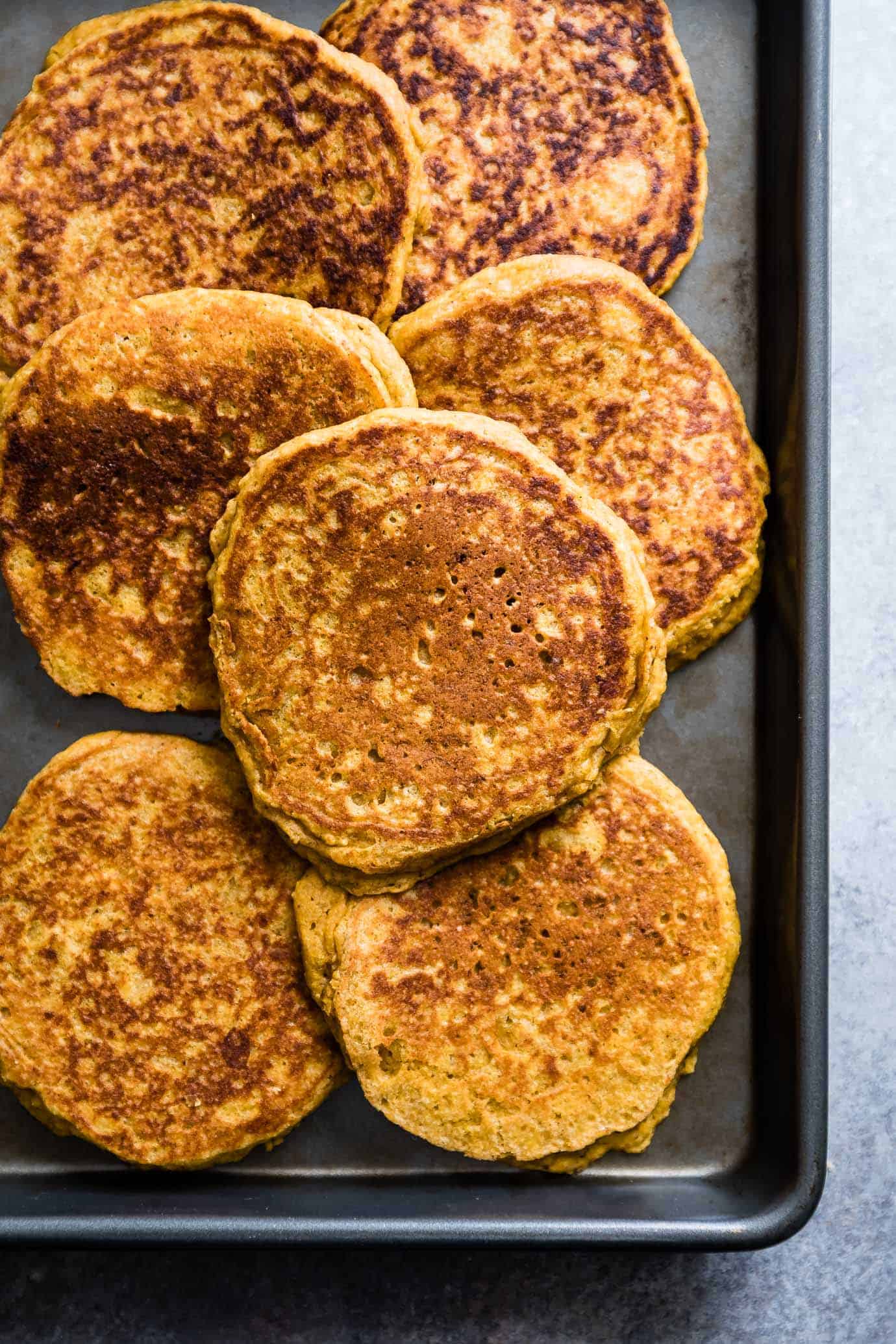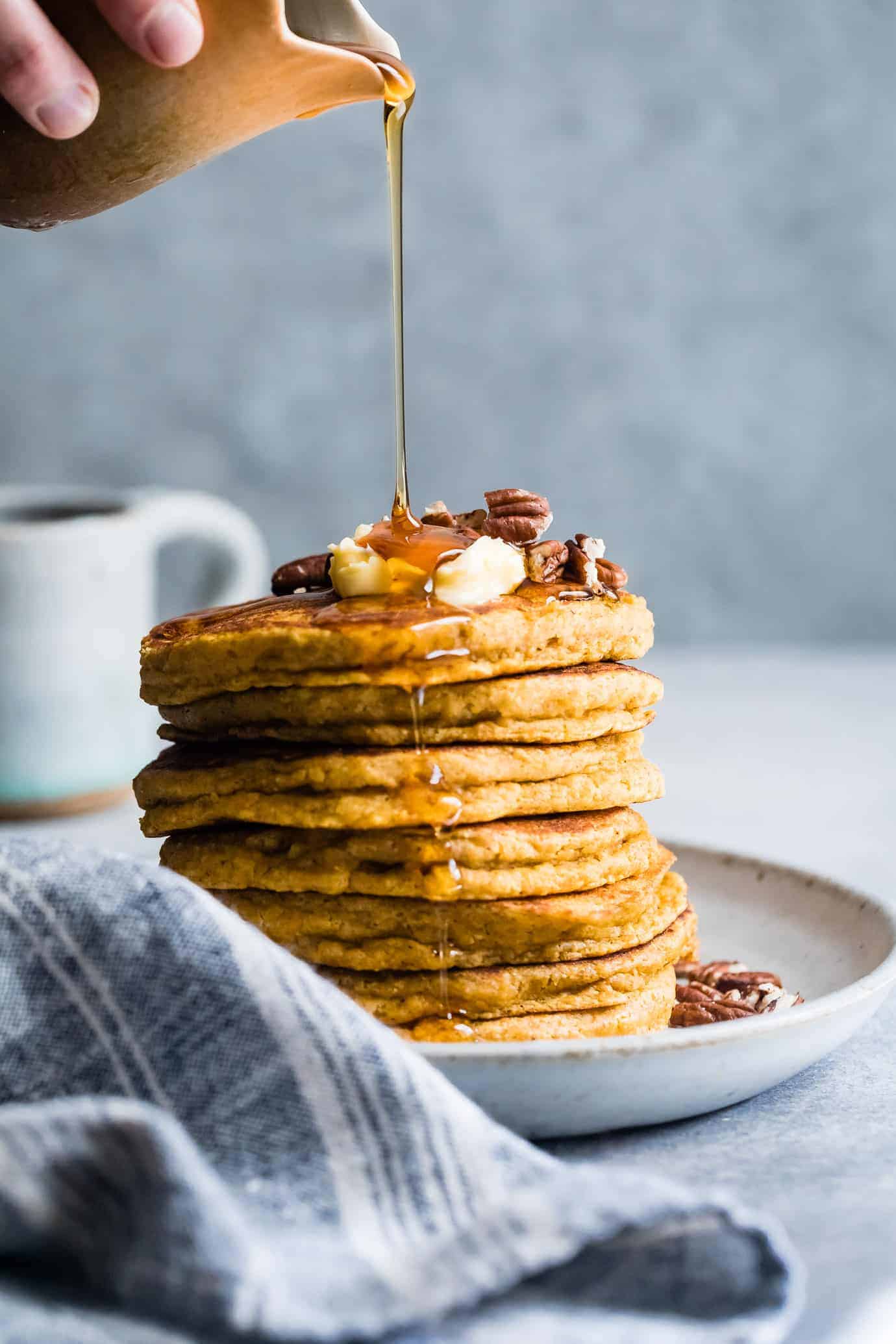 Ingredients for Gluten-Free Pumpkin Pancakes
As far as gluten-free flour-based recipes go, pancakes and waffles are probably the hardest to mess up. We're after the best gluten-free pancakes, though. The thick lofty kind that have golden crispy edges and moist, soft centers. The kind that are so flavorful that you hardly even need maple syrup (except what's a pancake without?). These oat flour pancakes are just that.
Oat flour works to soak up the pumpkin, creating a soft center and adding sweet whole grain notes.
Sweet rice flour acts as the binder to give the slight chewiness
Tapioca starch similarly binds while also helping the edges crisp up.
Sugar and salt: Just a tablespoon of sugar helps bring out the flavor of the spices, while a bit of salt enhances the sweetness. It's baking magic.
Leaveners: Both baking soda and baking powder
Buttermilk: Fat from real deal buttermilk and plenty of butter make for a rich and flavorful batter. Texturally, the buttermilk helps create lofty thick pancakes.
Egg: The key to a fluffy pancake is to keep the egg white separate and mix it in last.
Butter seeps out to help fry and crisp up the edges.
Pumpkin and plenty of spices turn these buttermilk pumpkin pancakes into the perfect fall or holiday brunch pancake
How to make gluten-free pumpkin spice pancakes
Whisk together dry ingredients and. Set aside.

In a small bowl whisk egg white and set aside.

In a small bowl, whisk together the egg yolk, buttermilk, canned pumpkin, melted and cooled butter. and vanilla extract.

Pour wet into dry ingredients and mix with a wooden spoon or rubber spatula until

just

combined

( a few dry spots are ok!).

Add the egg white and stir until just incorporated and the batter has formed. Let sit for 5 minutes while you preheat the griddle.

Scoop ¼ cup of batter onto a lightly greased nonstick pan over medium heat. Cook 2-3 minutes on each side. The center should bounce back when touched gently.

Serve warm with maple syrup.
Can you substitute buttermilk?
When I find myself with half a quart of buttermilk, I add pancakes to the weekend plans. But what if it's Sunday morning and you have a hankering for gluten-free pumpkin pancakes and no buttermilk? This is the more common scenario - I rarely keep buttermilk on hand. Don't fear - you can still have pancakes!
My solution is to make "homemade" buttermilk with pantry staples. Mix scant 1 cup whole milk with 1 tablespoon white vinegar and letting it sit for 5 minutes. That's it! While buttermilk gives a little more loft and richness, unless you're eating them side by side, it's hard to tell the difference compared to the faux buttermilk pancake.
How to make uniformly-sized pancakes
If you want perfectly round uniformly-sized pancakes, I recommend using trigger ice cream scoop. Most are exactly ¼ cup and the trigger will push out all the batter in perfectly round circles! If you've got a toddler, use a small cookie scoop to add Mikey Mouse ear-sized circles.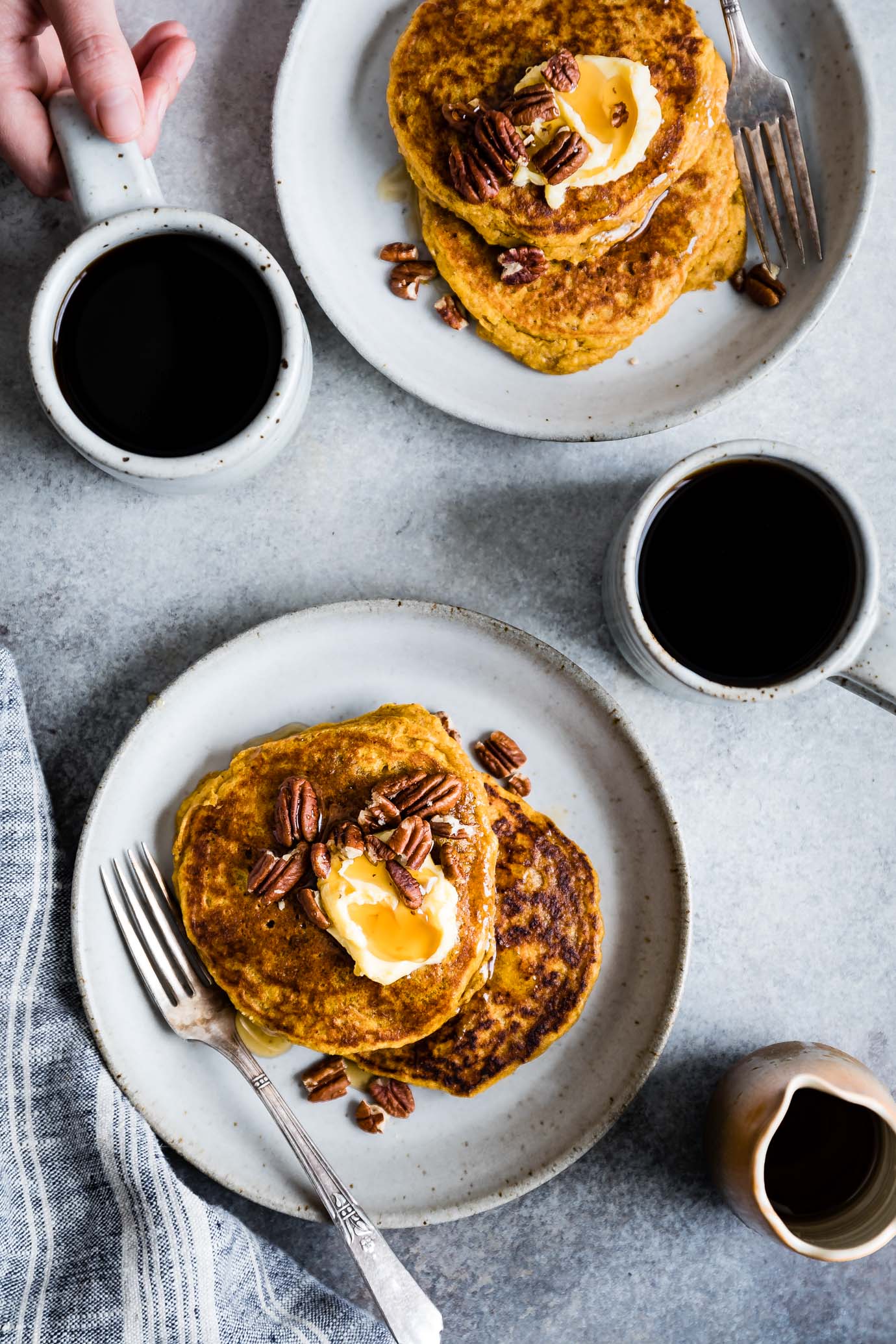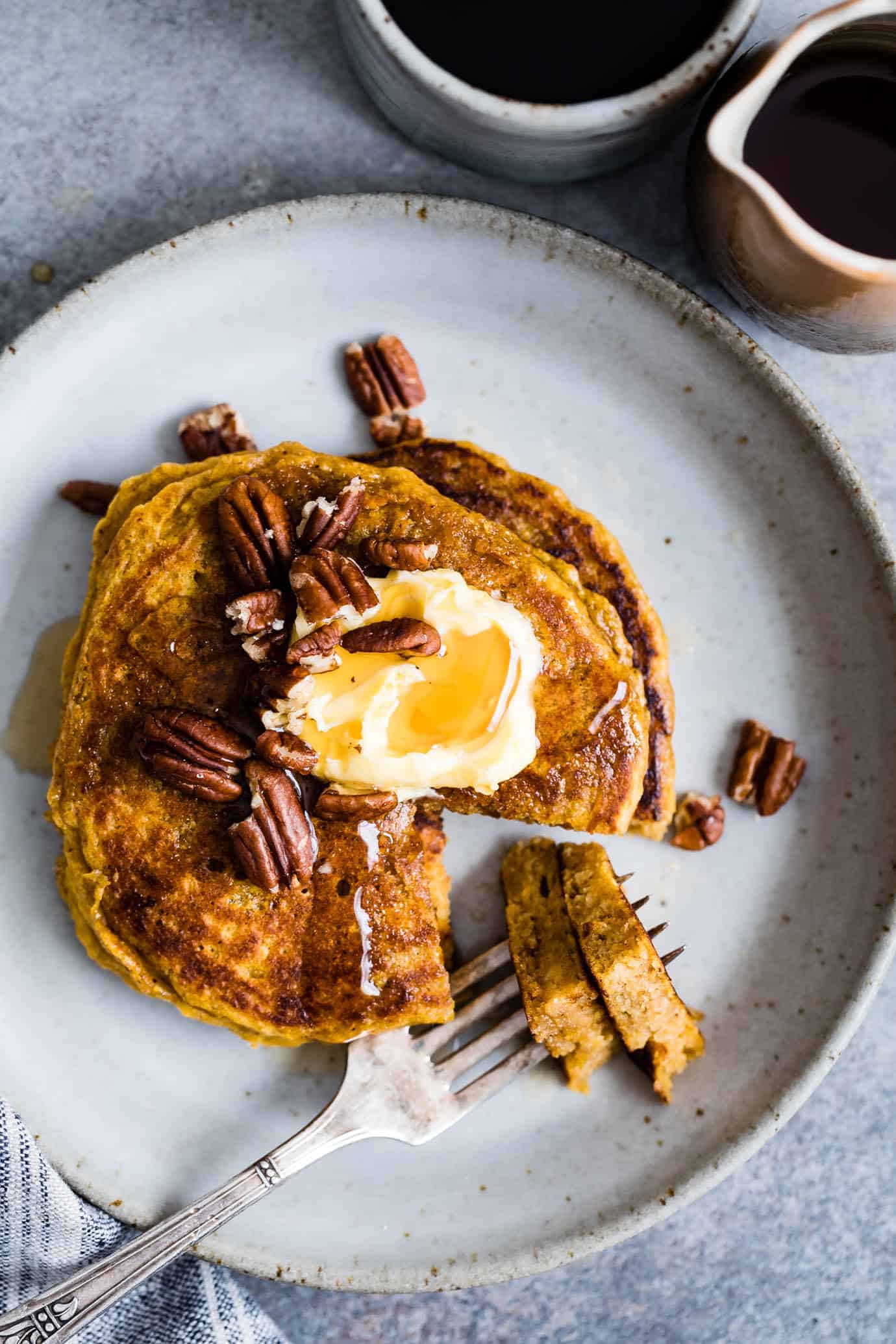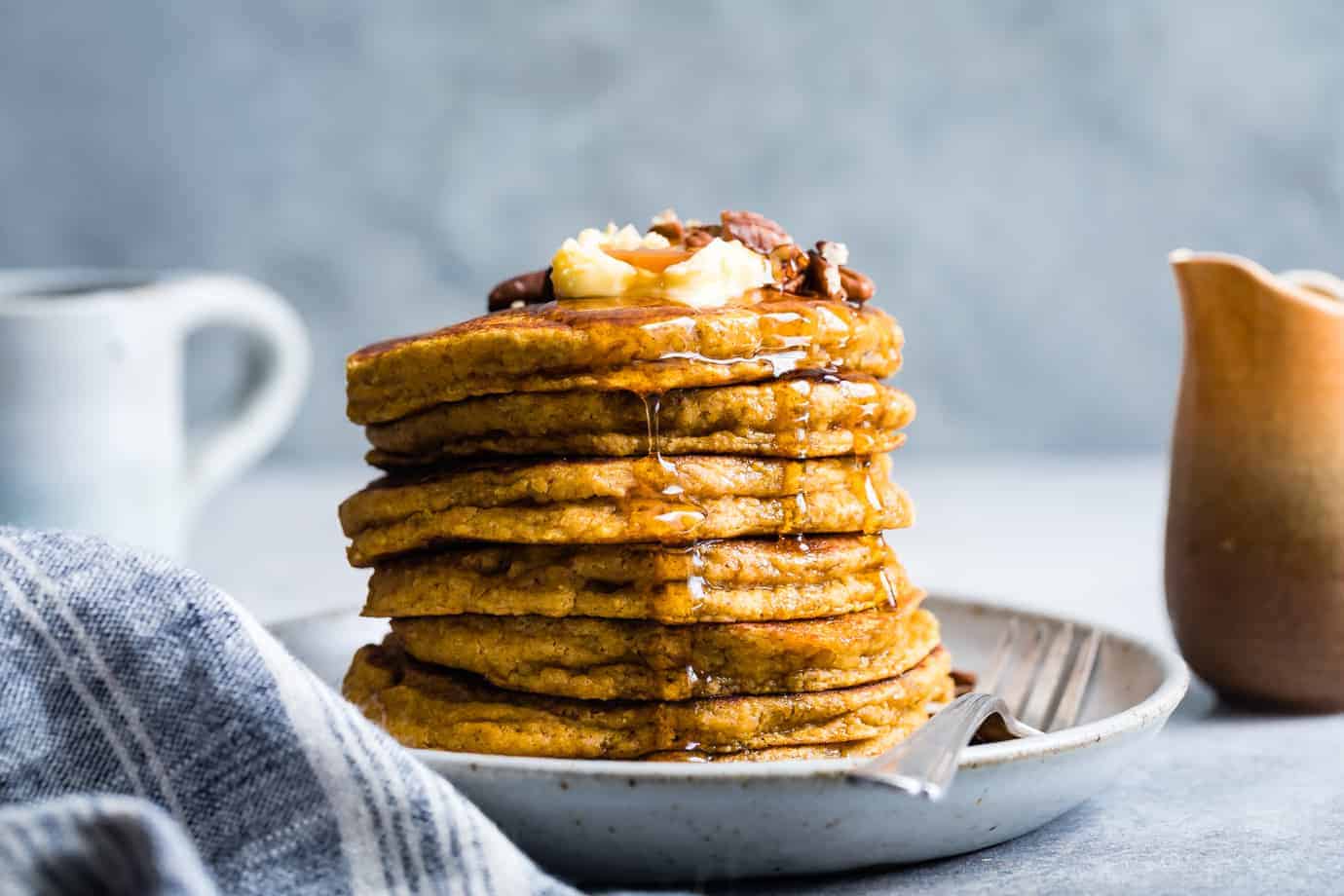 Use up extra oat flour, sweet rice flour, or tapioca starch
All three of these flours are used frequently in my gluten-free baking so I consider them pantry staples. If you're new to gluten-free flours, it can be intimidating to buy three different flours if you aren't sure you'll use them all! Here are a few recipes that use all three or you can view a visual grid of all the recipes on my site that use all three of these flours in my recipe filter.
Perfect gluten-free pumpkin pancakes
Filled with a familiar Fall blend of spices - cinnamon, nutmeg, ginger, and cloves (alternatively: pumpkin spice) - these pancakes are comforting and nostalgic. The pumpkin is subtle against its spice companion, but adds depth and moisture. They're lofty but soft and moist. Not too cakey. Equipped with a crisp buttery armor.
When pancakes are this rich and flavorful, a simple pat of butter and drizzle of maple syrup are all you need. Toss on some toasted pecans for garnish if you're feeling festive!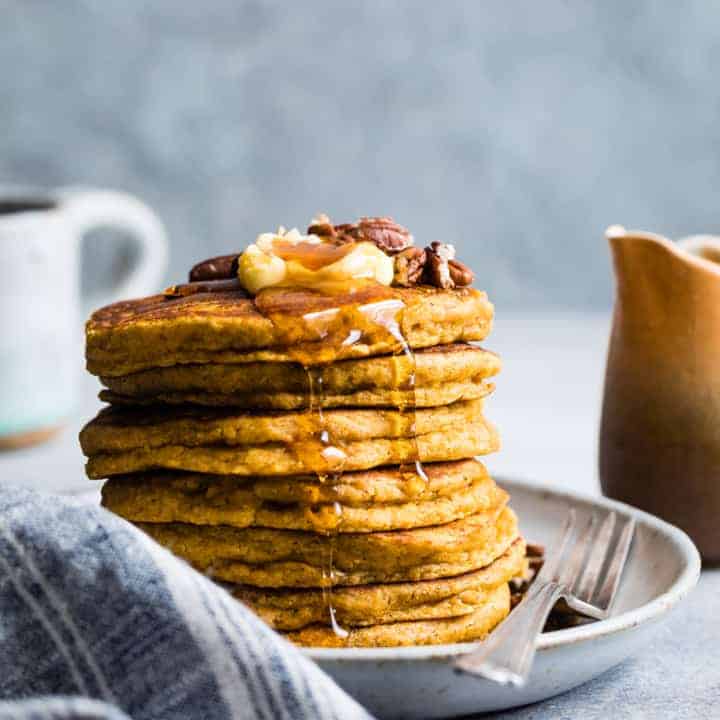 Gluten-Free Pumpkin Pancakes
Ingredients
1 tablespoons cane sugar
¾ teaspoon salt
½ teaspoon baking powder
½ teaspoon baking soda
½ teaspoon ground cinnamon
¼ teaspoon ground nutmeg
¼ teaspoon ground ginger
Pinch ground cloves
1 large egg, egg white and yolk separated
1 cup buttermilk
¼ cup canned pumpkin purée
5 tablespoons unsalted butter, melted and cooled
½ teaspoon vanilla extract
Instructions
Preheat the oven to 225°F to keep your pancakes warm as you make the rest. Place a baking rack on top of a baking sheet and set it inside the oven.
In a medium bowl, whisk together the oat flour, sweet rice flour, tapioca starch, sugar, salt, baking powder, baking soda, and spices. Set aside.
In a small bowl, give the egg white a brief 30 second whisk with a fork and set aside.
In a small bowl, whisk together the egg yolk, buttermilk, canned pumpkin, melted, cooled butter. and vanilla extract. Add this to the dry ingredients and mix with a wooden spoon or rubber spatula until just combined ( a few dry spots are ok!).
Add the egg white and stir until just incorporated and the batter has formed. Let sit for 5 minutes while you preheat the griddle.
Preheat a non-stick pan or griddle over medium-low heat. Spray with cooking spray. Once heated, add ¼ cup batter and gently spread out into 4-inch pancakes with the back of the spoon (I use an ice cream scoop for the batter!). Let cook for 2-3 minutes, until the bottom is nicely browned, but not burnt, then flip the pancake and cook for 2-3 minutes on the other side until the pancake is cooked all the way through. The center should bounce back when touched gently.
Transfer the cooked pancakes to the prepared baking rack to stay warm while you repeat with remaining batter.