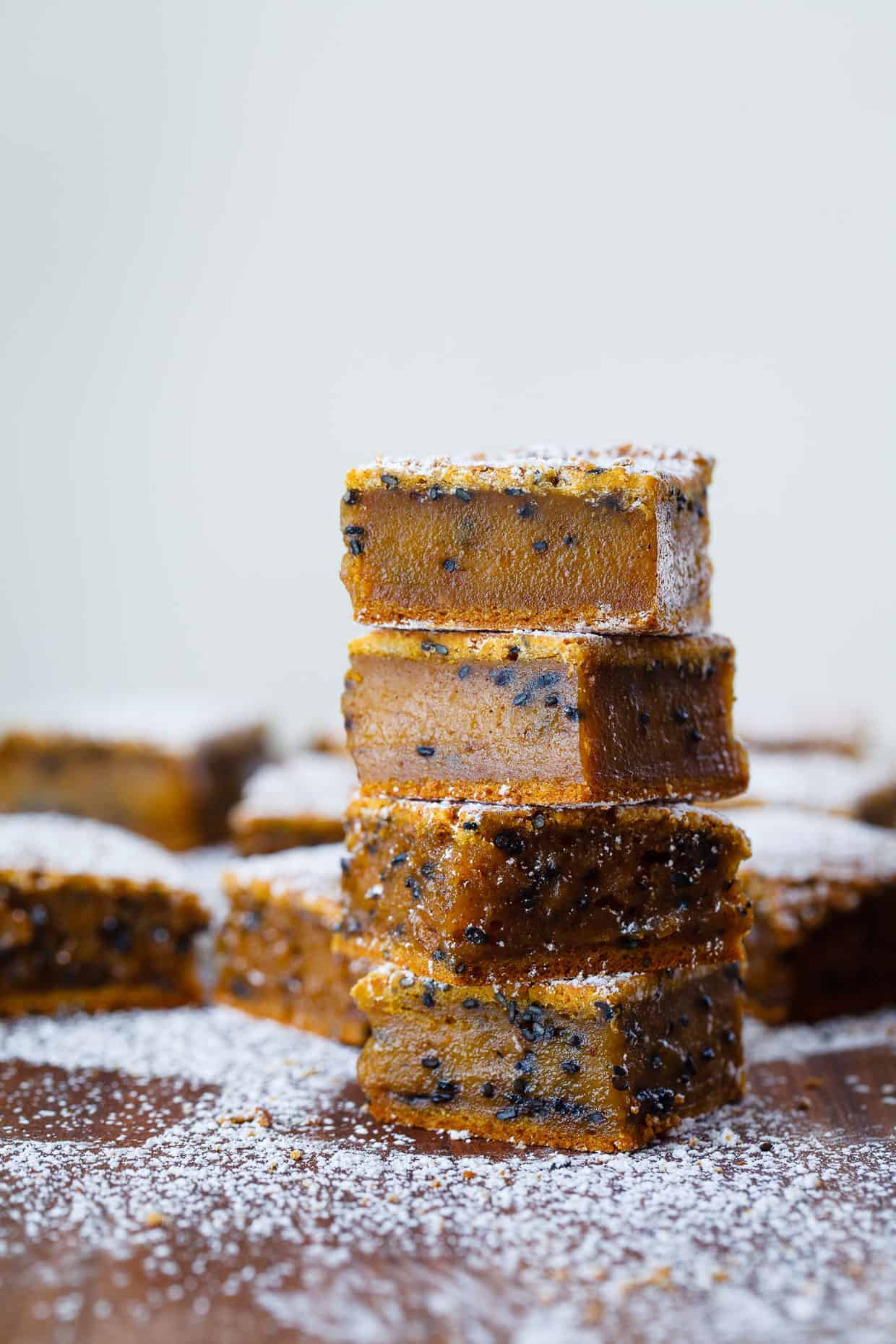 To celebrate Halloween (aka pumpkin month) and getting the keys to our new house, I baked up two trays of this black sesame pumpkin mochi cake. Last Wednesday, we chowed on take-out and this mochi cake on folding chairs in our new (empty) house with our good friends Dane & Angi. We'll have a new address just in time for the next batch of trick-or-treaters.
My aunt just posted this picture from Halloween 1995 to Facebook - that's me in the middle and my cooky partner-in-crime, Kira, on the left.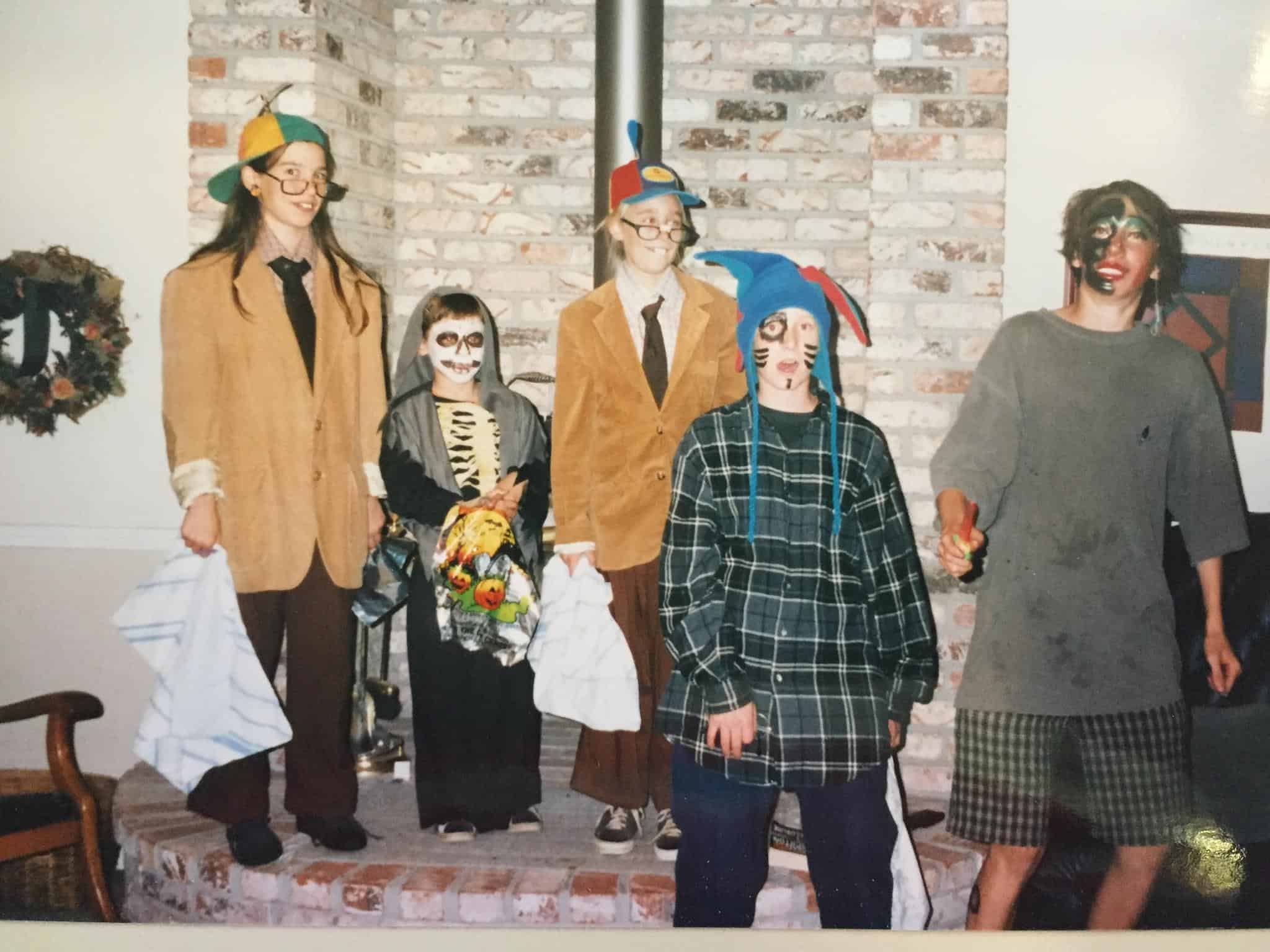 You'd think Kira and I were dressed as Tweedledee and Tweedledum, right? Nope! My mom recalls that we rode our bikes to Goodwill and put these masterpieces together ourselves (can you tell?)...
Twin Female Grandpa Nerds. OBVIOUSLY. And surely we corrected people when they misidentified our too-creative-for-your-average-joe costumes. This just barely beats the year I went as Fred Flintstone. (Just putting it out there that Tim Burton's Tweedles did wear brown trouser pants – eerily derivative of our costumes 20 years earlier…coincidence?).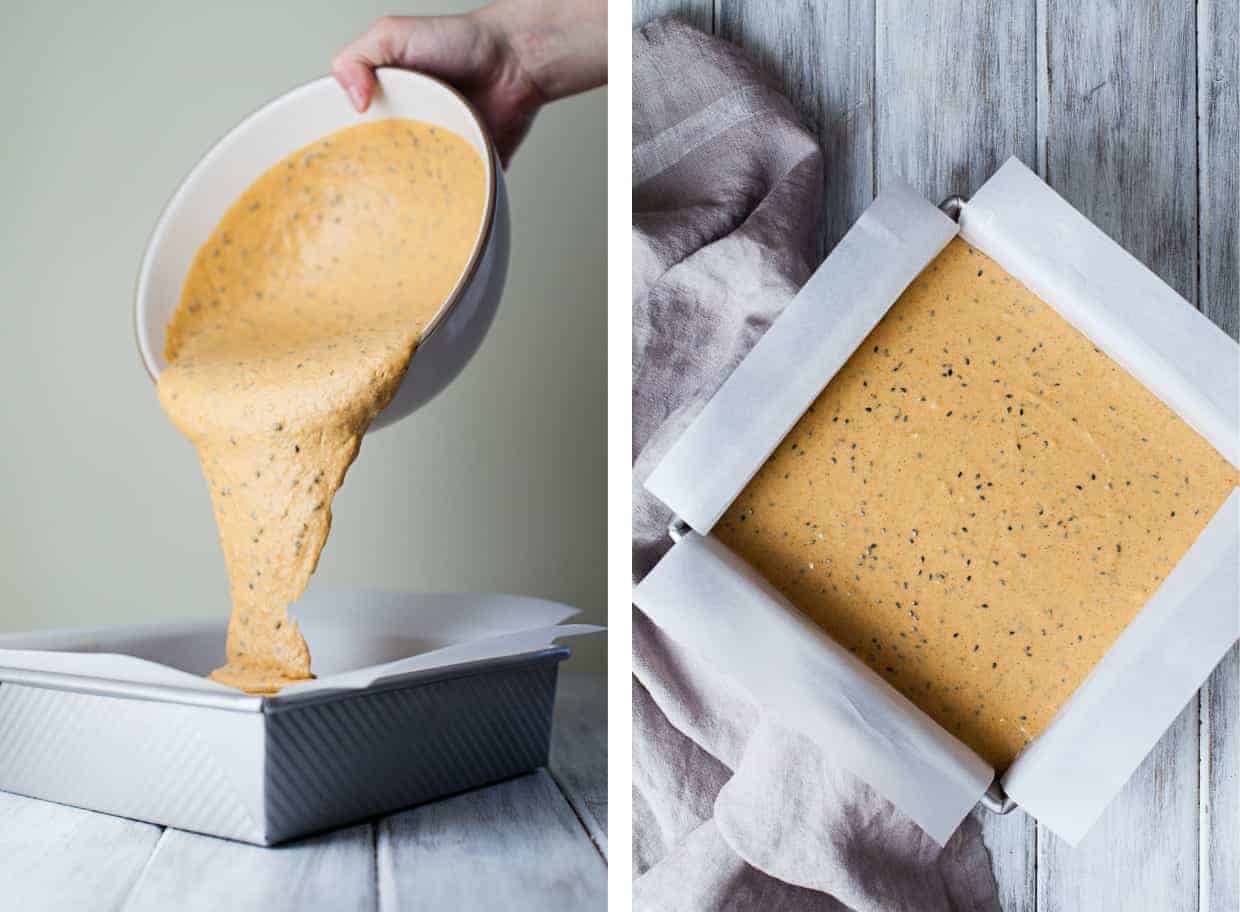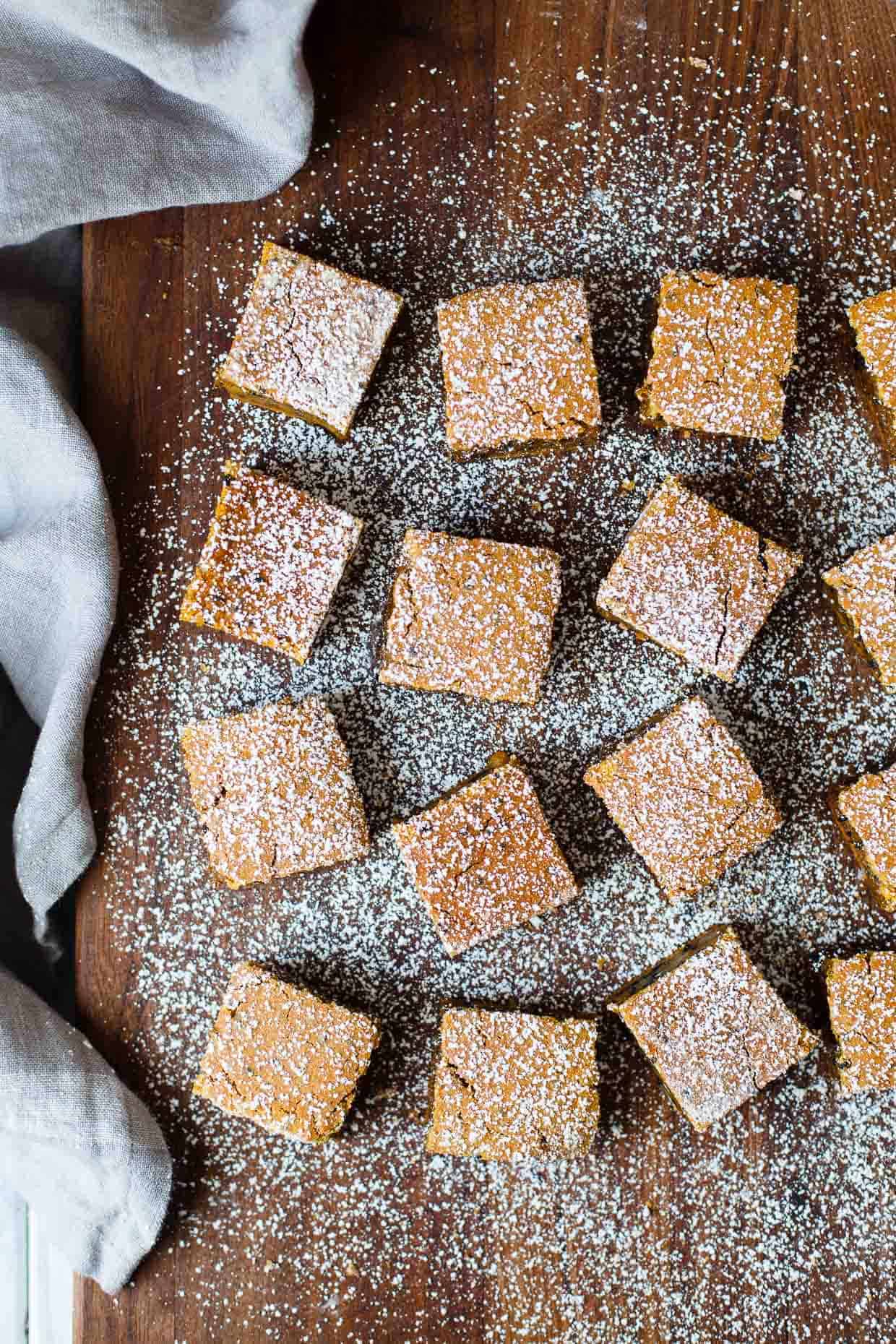 Ten days until Halloween and we still don't have clear costume plans this year. Lucas's company is throwing a Tim Burton Halloween party, so we're trying to fit within the theme – pregnant-belly style. Leading the list right now is James and the Giant Peach. My belly as the giant peach, embracing the rotundness of my waistline.
What are y'all dressing up as (or dressing your children up as?)?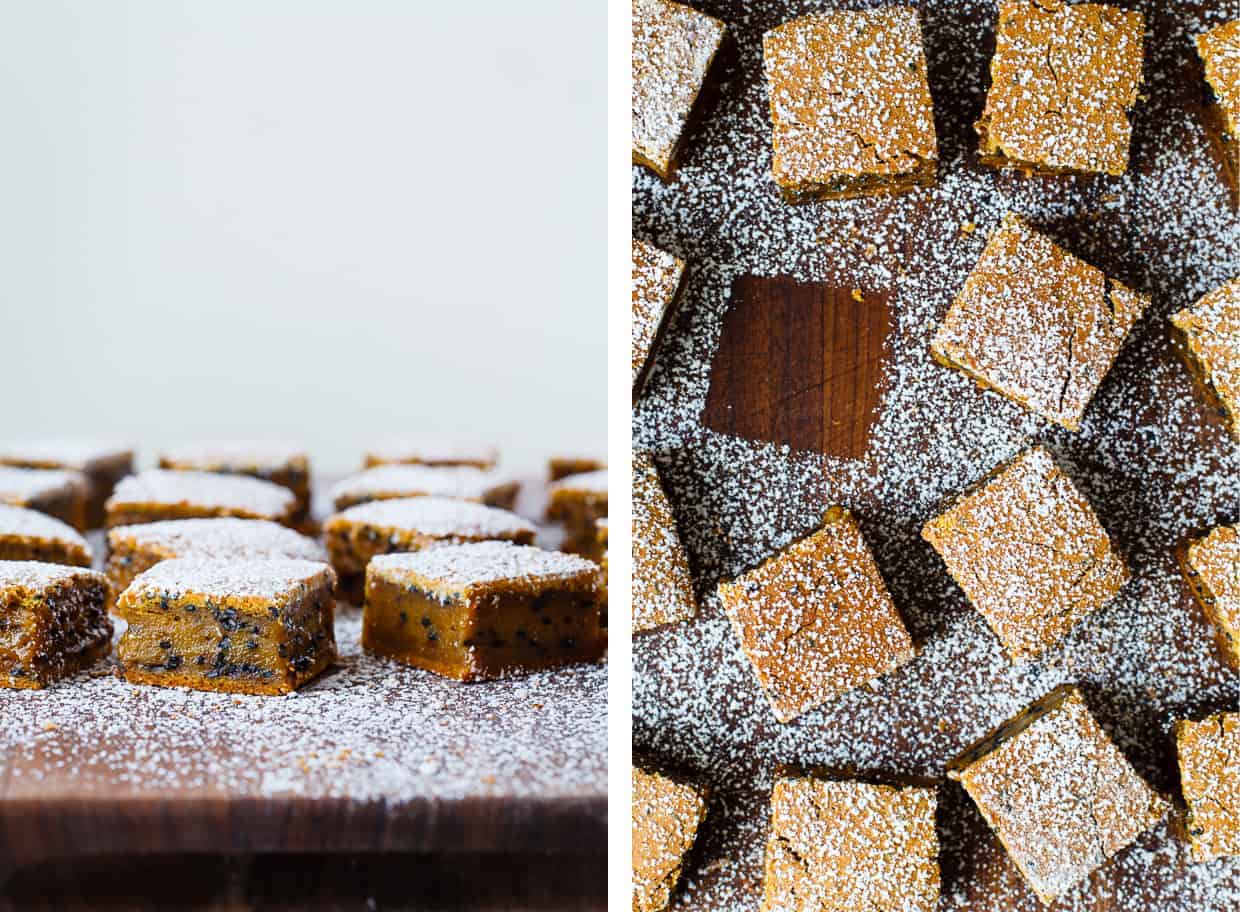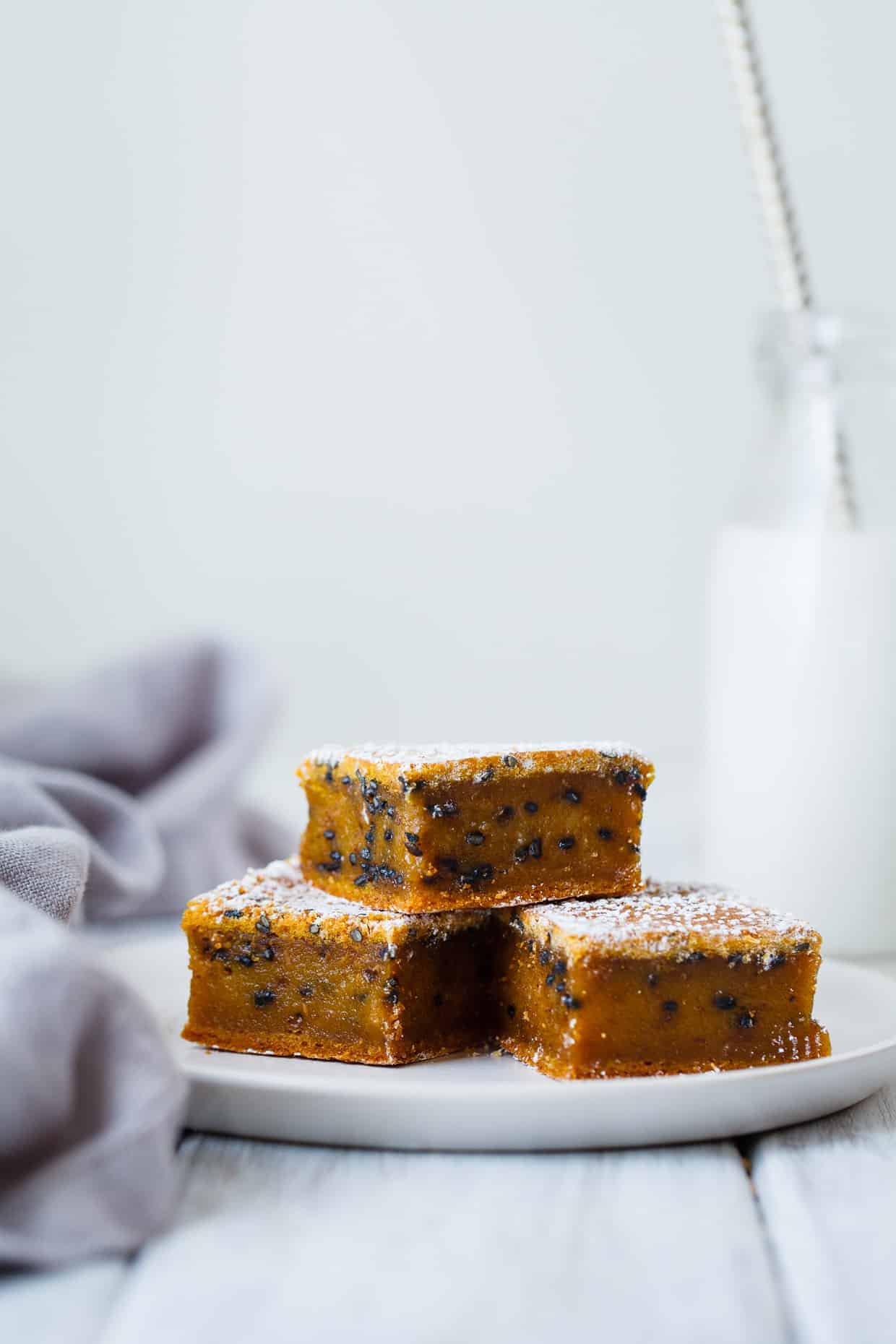 Just in time to create your own Halloween menu, I've joined forced with a ton of outrageously talented bloggers for a virtual pumpkin par-tay! An onslaught of pumpkin coming atchu. I'm bringing this pumpkin mochi cake to the fest.
Gooey chewy orange cake studded with black sesame dots – this cake is Halloween-ready. Pumpkin and black sesame make an unlikely but hard-to-resist pairing of slightly sweet and nutty. Not to mention the texture. I'm addicted to the incredibly chewy and moist mochi center with its cake-y crust on top. I easily hoarded an entire batch all to myself.
This pumpkin mochi cake is based on Hawaian butter mochi (see this classic version from Two Red Bowls). Baked up with butter, coconut milk, mochiko, and eggs, with pumpkin added in as part of the moisture and fall flavor.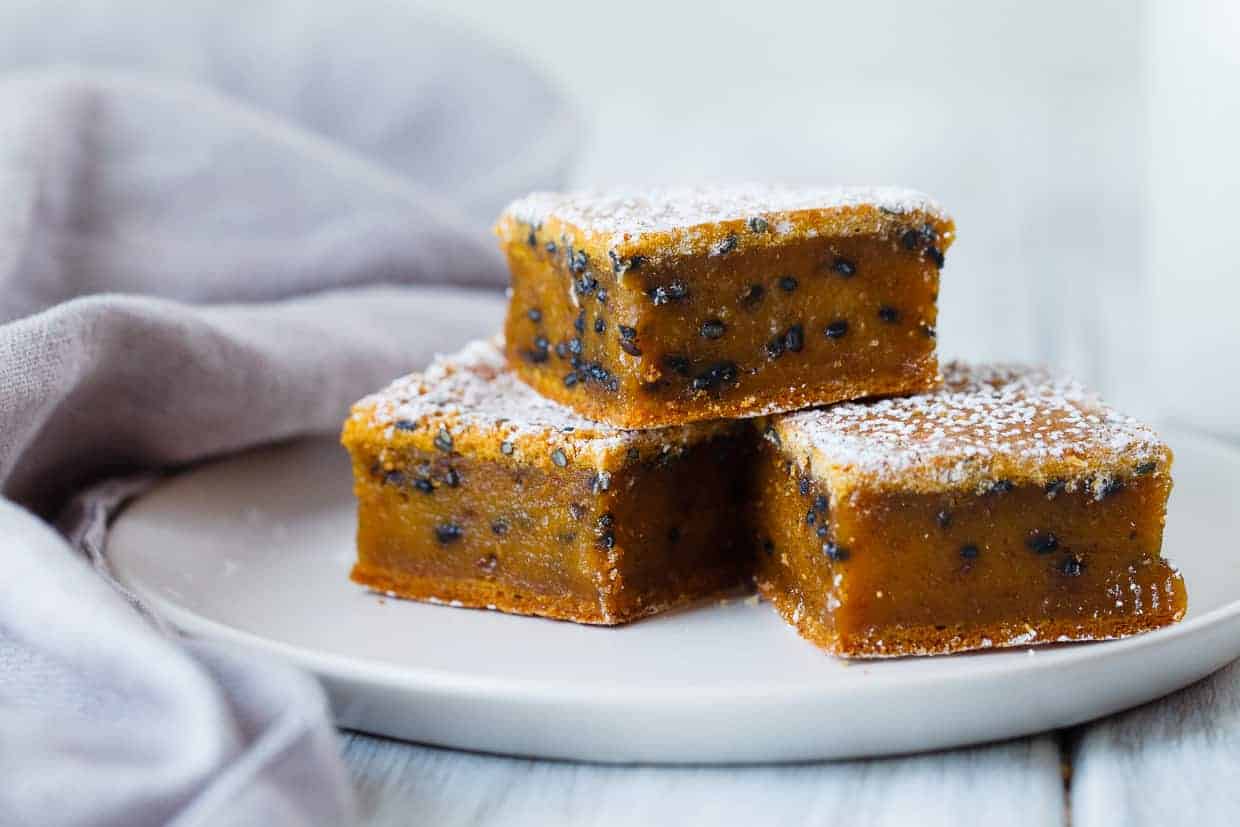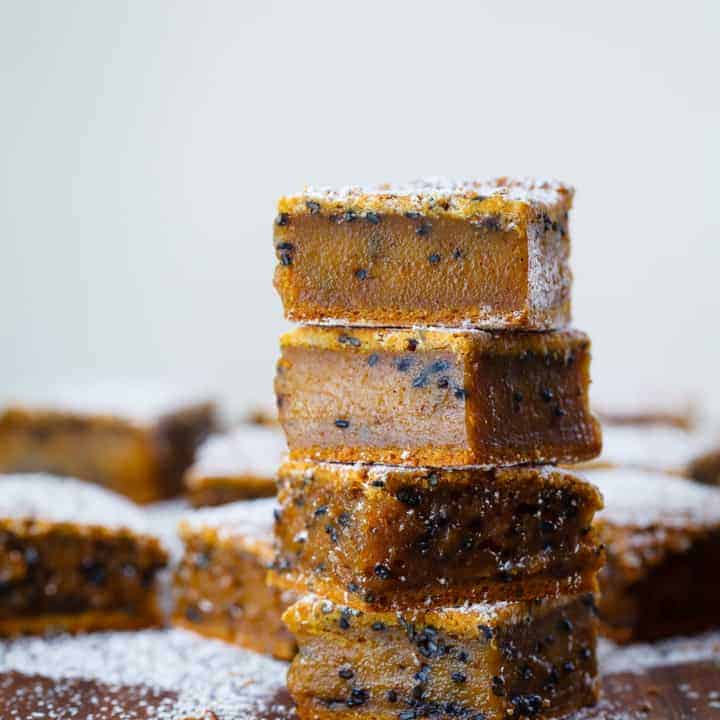 Black Sesame Pumpkin Mochi Cake
Ingredients
2 cups (256g) sifted sweet rice flour (also called mochiko - different from "white rice flour" or "brown rice flour")
½ cup brown sugar
½ cup granulated sugar
1 teaspoon baking powder
1 teaspoon ground cinnamon
¼ teaspoon freshly grated nutmeg
⅛ teaspoon ground ginger
⅛ teaspoon ground cloves
⅛ teaspoon salt
¾ cup + 2 tablespoons pumpkin purée
¾ cup full-fat canned coconut milk
3 large eggs
¼ cup unsalted butter, melted and slightly cooled
½ teaspoon pure vanilla extract (I use Rodelle Organics)
2½ - 3 tablespoons black sesame seeds
Optional: 1 tablespoon powdered sugar, for dusting
Instructions
Butter an 8x8 baking pan. Line the pan with parchment paper, folding the paper over the edges, and lightly butter the parchment paper.
Preheat the oven to 350°F.
In a medium bowl, whisk together the sweet rice flour, brown sugar, granulated sugar, baking powder, cinnamon, nutmeg, ginger, cloves, and salt.
In the bowl of a stand mixer fitted with a paddle attachment, or in a separate bowl with a hand mixer or hand whisk, mix together the pumpkin purée, coconut milk, eggs, butter, and vanilla until completely smooth.
Slowly mix the dry ingredients into the wet ingredients, and beat vigorously until completely smooth.
Fold in the black sesame seeds and pour the batter into the prepared pan.
Bake in on the middle rack of the oven for 75-80 minutes, until the top has developed a slight crust and the mochi is completely set and bounces back when touched.
Let cool in the pan for 10 minutes before using the parchment paper to transfer to a wire rack to cool completely, at least 25 minutes. Cut into 16 squares. (It's easiest to cut when cooled, using a knife buttered and dusted with sweet rice flour or potato starch).
Dust the top of the mochi squares with powdered sugar. Store for up to 3 days in an airtight container at room temperature (the longer they sit, the softer the top crust will get and the powdered sugar might need to be reapplied before serving).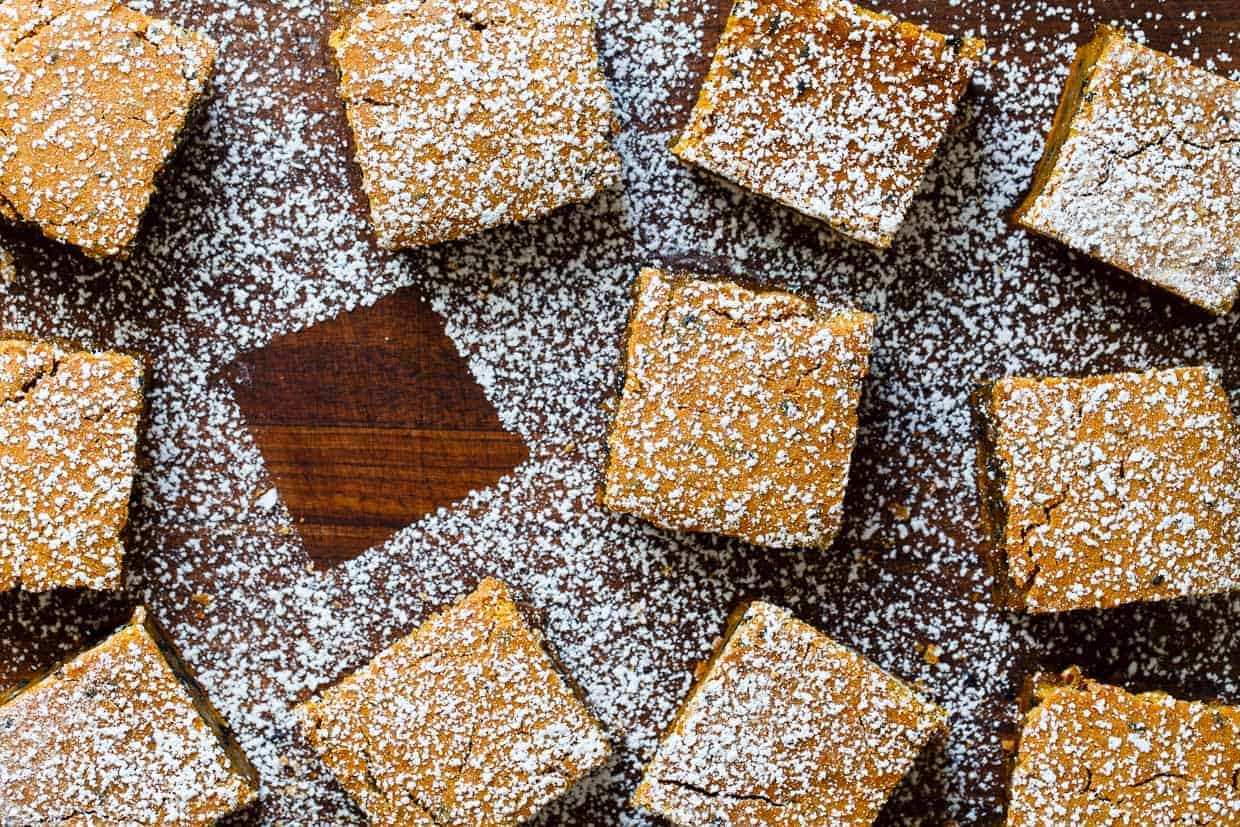 Pop on over to find a list of 70+ pumpkin recipes to spend the afternoon drooling over Fall's famed harvest.