This fall-inspired pumpkin bread pudding is vegan and gluten-free! With a pumpkin coconut pudding base, this vegan bread pudding can be made ahead so all you have to do is pop it in the oven before your holiday brunch! Serve topped with whipped coconut cream or ice cream.
This post is sponsored by Little Northern Bakehouse, a long-term partner of Snixy Kitchen
Now that it's October, I'm finally ready to embrace pumpkin in all it's cinnamon-spiced glory. We're in full fall mode over here with sweater weather (for now), halloween costume planning, and pumpkin everything.
We're still ironing out the homemade costume details, but Zoella's current costume ideas include: 1. A (pink) UPS "package truck" because she "loves packages and can give packages to people." 2. A pink seashell with a pearl, or 3. A mermaid princess, BUT Ira can't be a crab because "I don't want him to pinch me." I'm very eager to see how this plays out.
Pumpkin Bread Pudding
Almost as eager as I am to share this super easy gluten-free vegan pumpkin bread pudding. With creamy fall spiced pudding and crispy edged bread, this warm and cozy treat is like pumpkin pie filling meets french toast. Serve it as a make ahead brunch dish or dessert for holiday entertaining. A dusting of powdered sugar dresses it up for any occasion.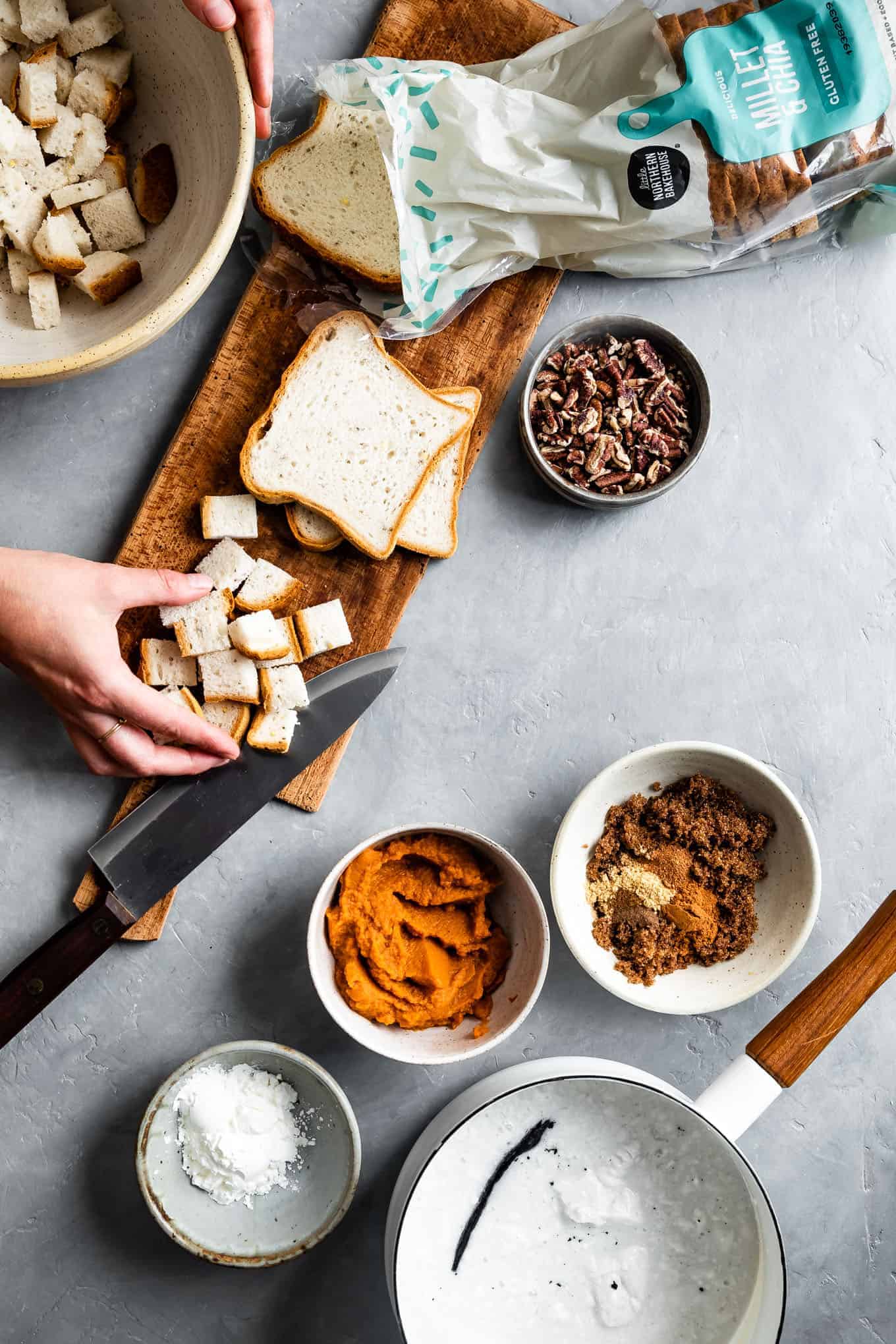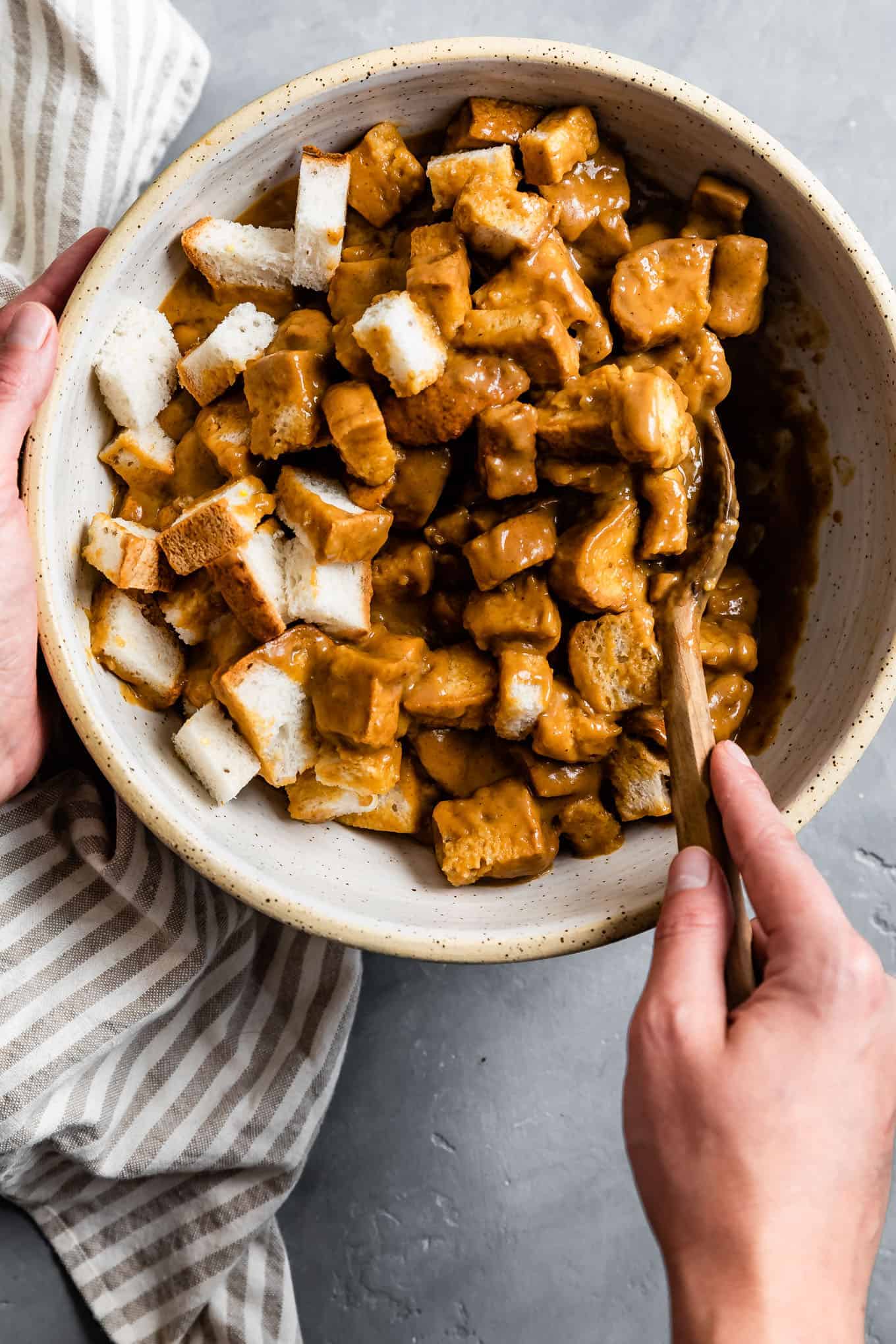 How to make gluten-free bread pudding?
With a full suite of delicious gluten-free loaves from Little Northern Bakehouse, gluten-free bread pudding couldn't be any easier to make.
Start with your favorite loaf of their gluten-free sliced bread - I recommend their millet & chia bread, which is plant-based and nutrient rich, with hearty enough texture to stand up to a thick pudding custard coat. This texture is important for bread pudding - if you use a flimsy bread without much structure, it will just disintegrate into the pudding.
HERE'S THE KEY: let the cubed bread sit in the pudding at room temperature for awhile before baking. This will give the bread time to thoroughly soak up the pudding. I recommend giving it at least a 45 minute rest, especially for a hearty gluten-free sliced bread, but you could also keep it overnight in the fridge if you want to make it ahead. By soaking up the pudding, you'll have a perfectly gooey bread pudding.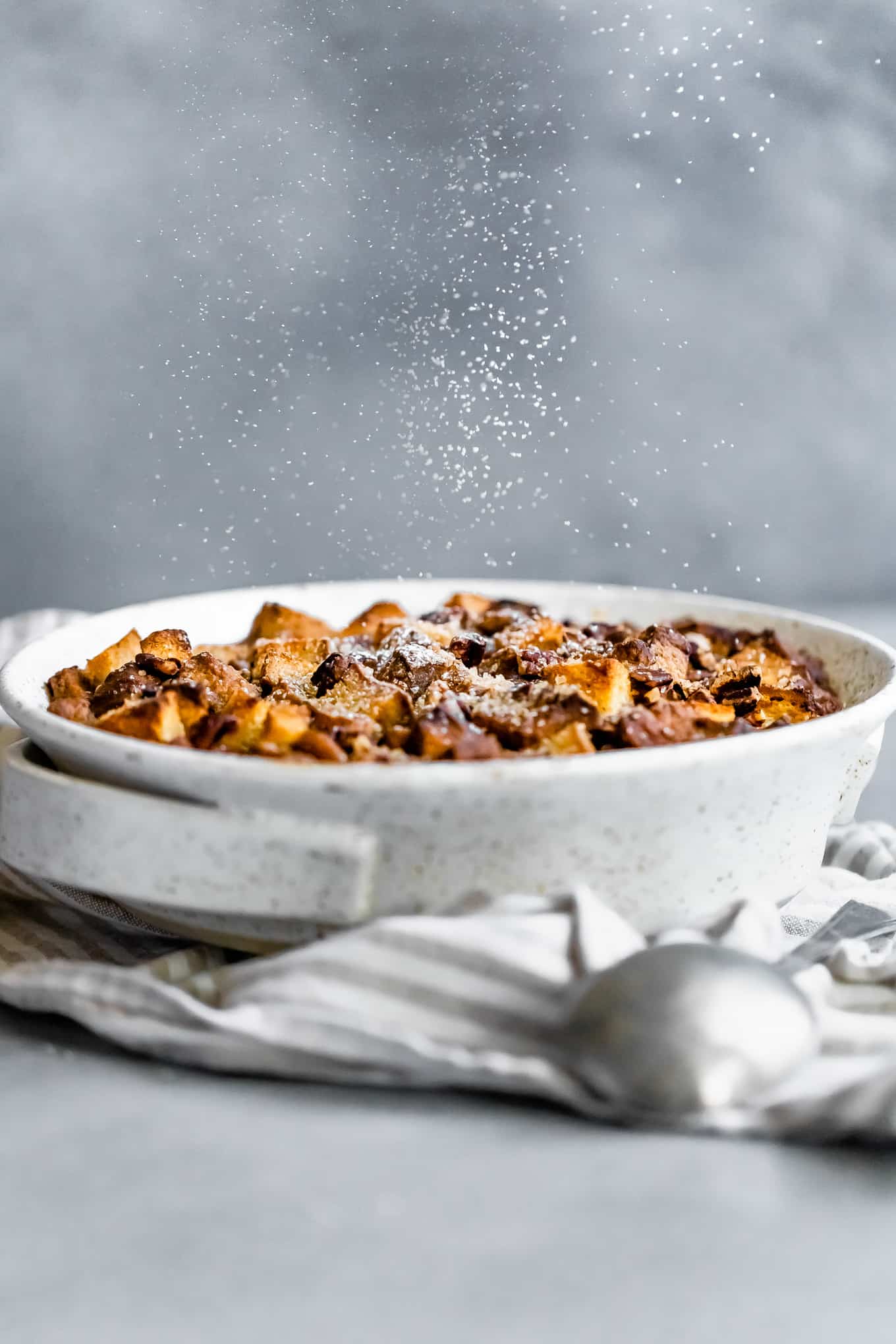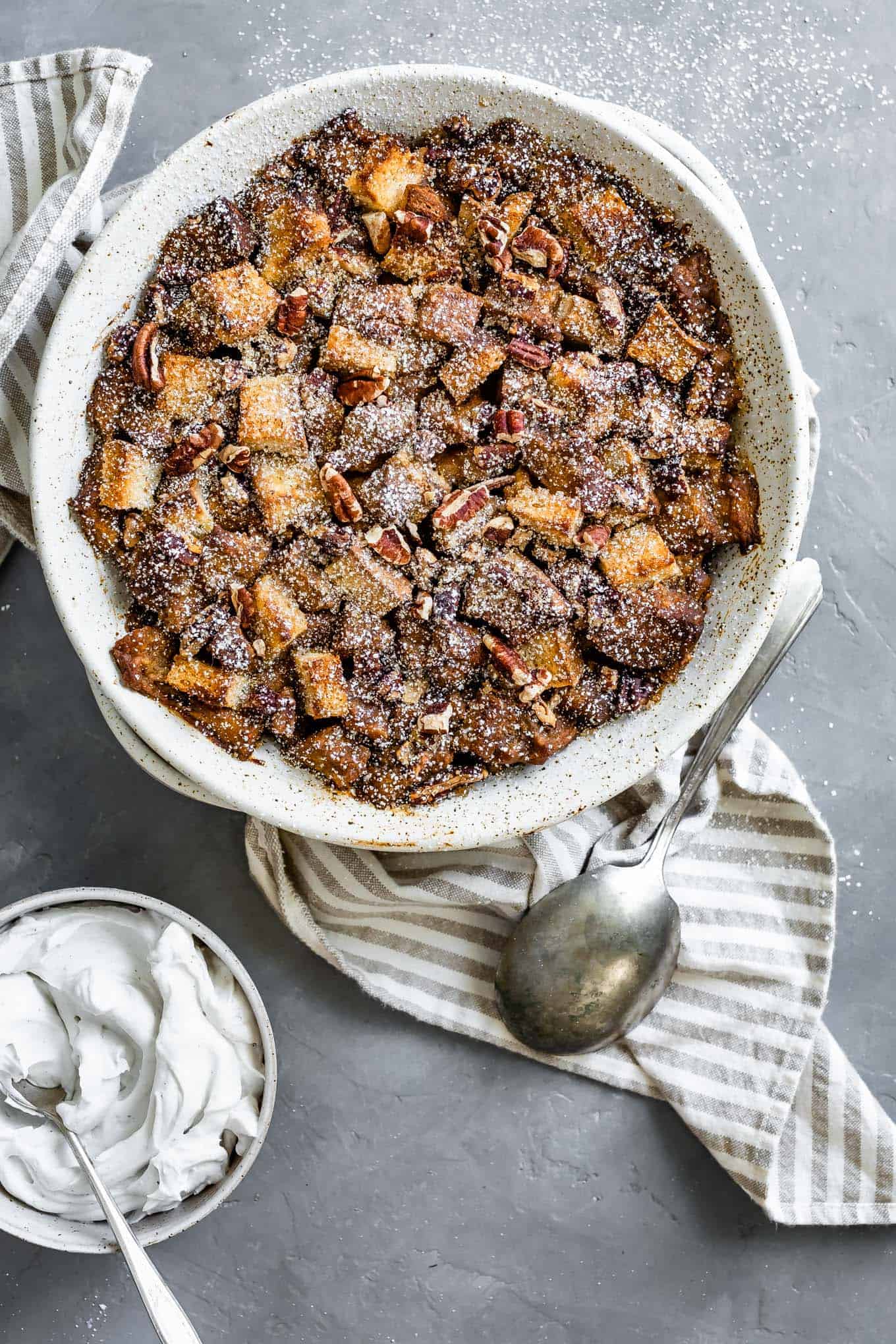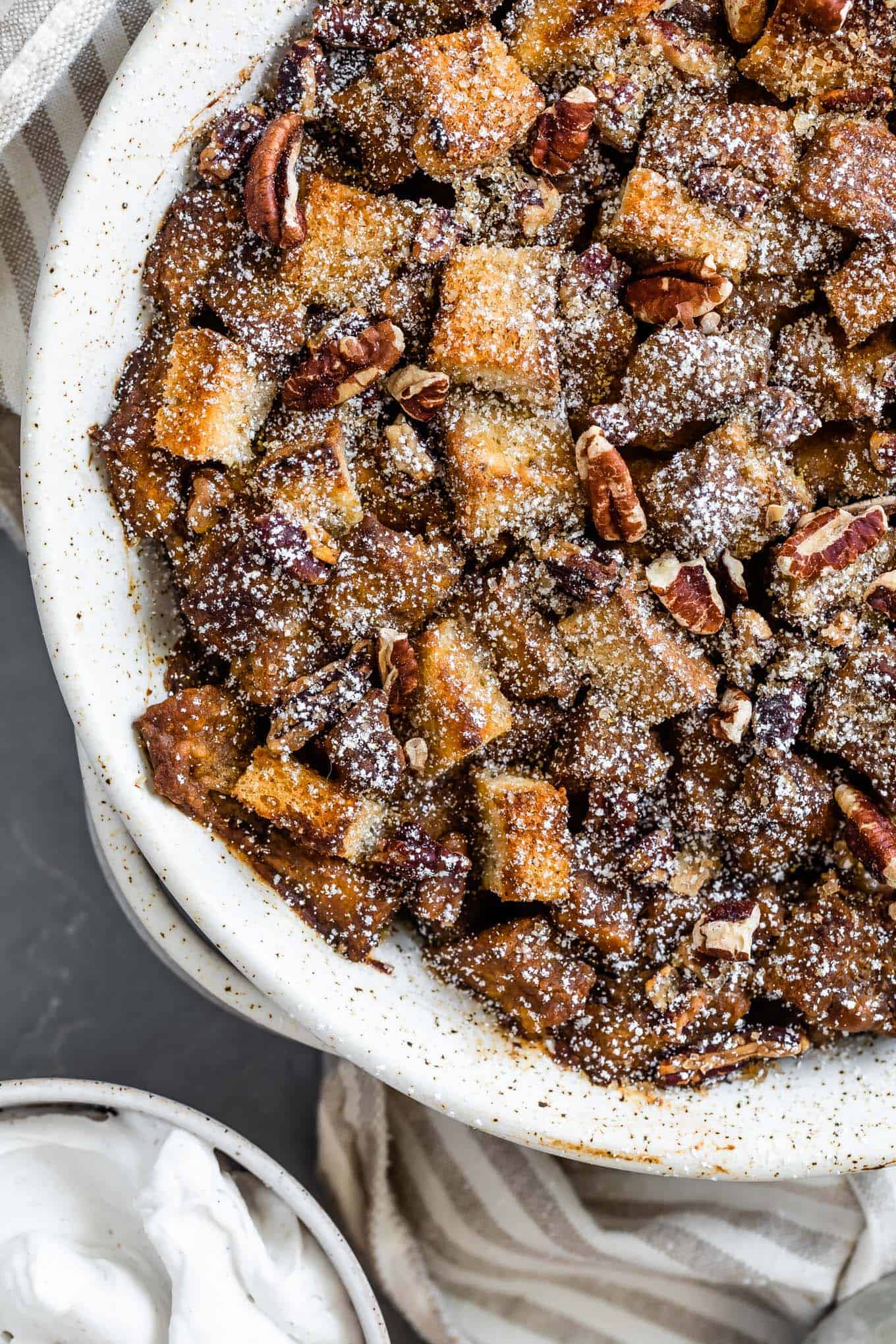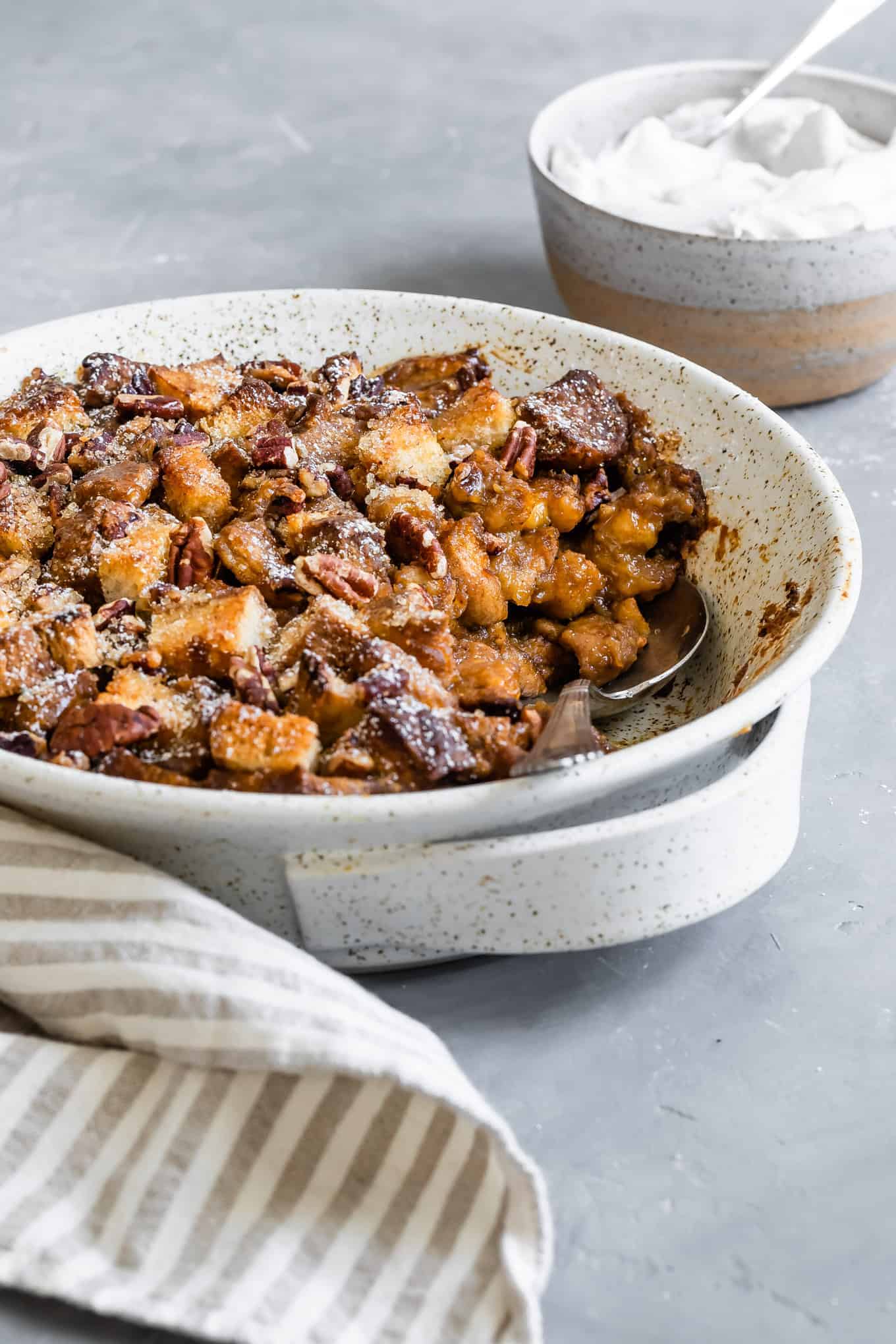 Vegan bread pudding recipe
This gluten-free bread pudding recipe is also vegan. Along with most of their breads, Little Northern Bakehouse's millet & chia gluten-free loaf is also uniquely vegan (not super common for gluten-free bread!).
To make a vegan bread pudding, I've swapped in a variation of my haupia pudding recipe that will bake up as gooey pudding that still sets up just like traditional bread pudding. This gluten-free dairy-free bread pudding recipe that satisfies a vast array of dietary restrictions. Also need it nut-free? No problem - just swap in toasted pumpkin seeds for the pecans.
How to set coconut bread pudding?
Haupia is a vegan coconut milk-based pudding that, when mixed with a corn starch thickens and sets into an ultra-creamy pudding. Normally you add a corn starch water slurry and let the pudding thicken on the stove. With that method, the pudding thickens too much to soak into the bread.
Instead, remove the pudding from the stove, quickly whisk in a small amount of corn starch slurry until just combined, and immediately toss the pudding into the bread before the pudding has a chance to thicken up. The heat from baking will set the bread pudding so it's equal parts creamy with structure.
Here I've added pumpkin and spices to the pudding. With these robust flavors, the pumpkin spices and bread flavors shine, while the coconut notes hide in the background. Shockingly this pumpkin coconut bread pudding doesn't taste overwhelmingly like coconut.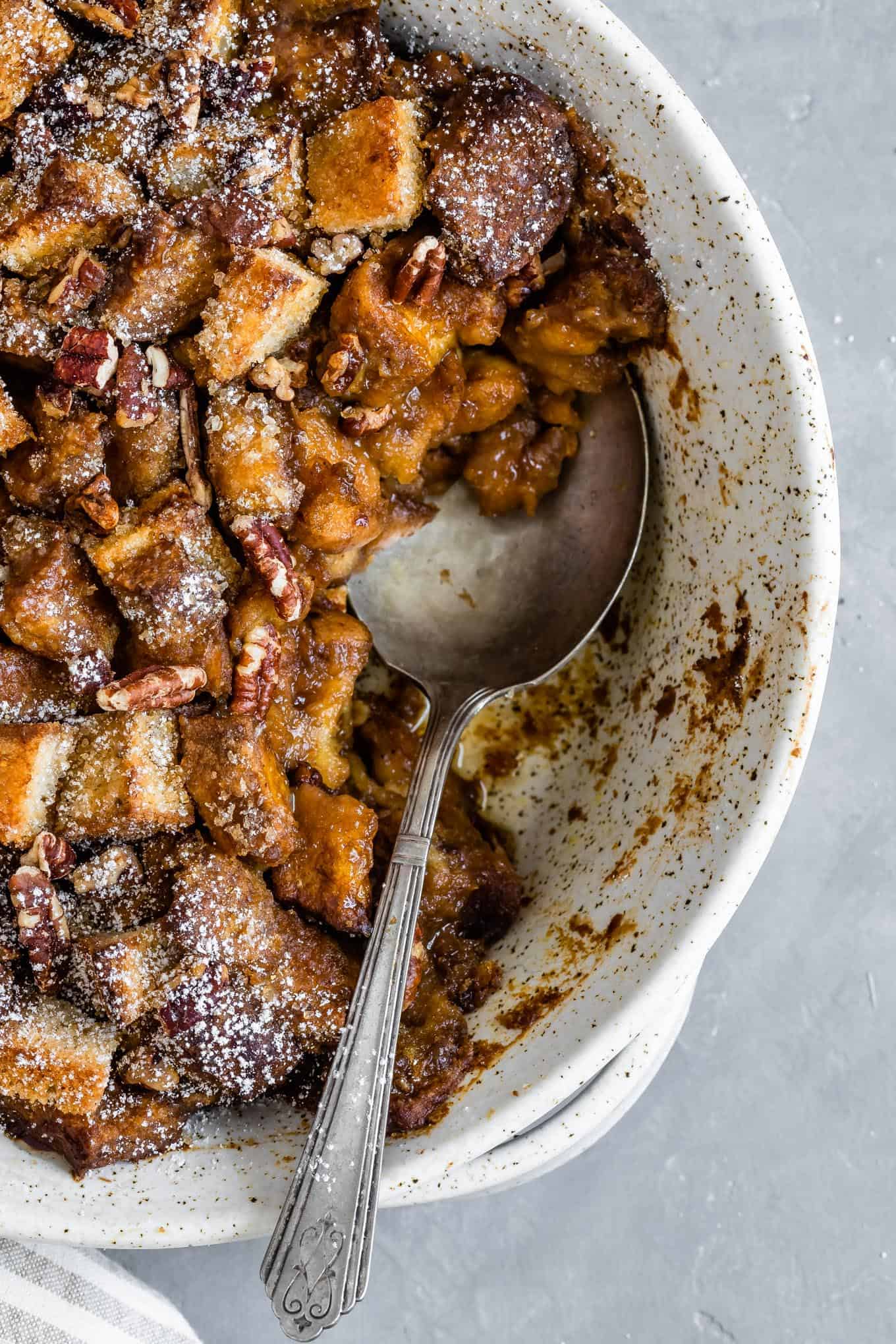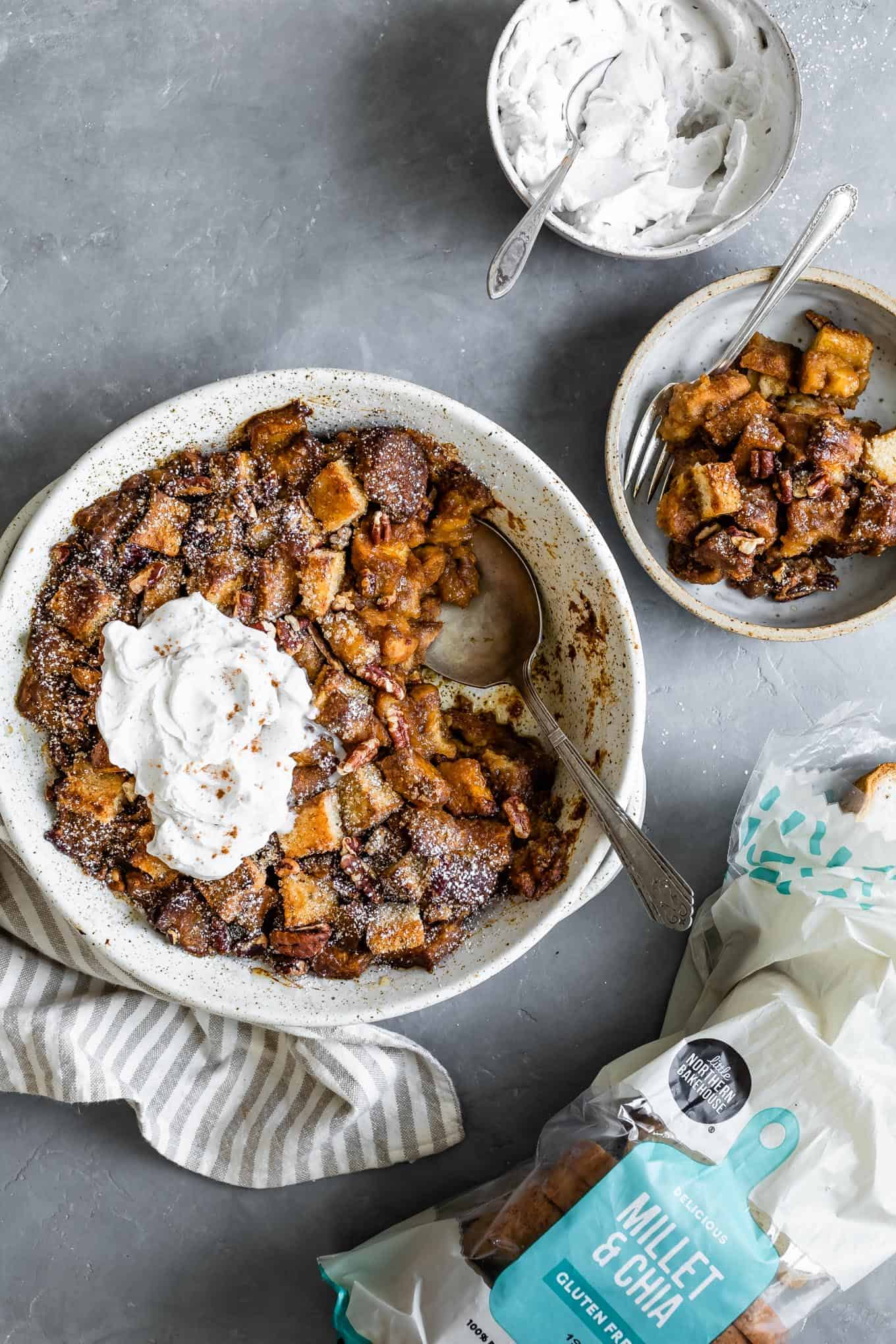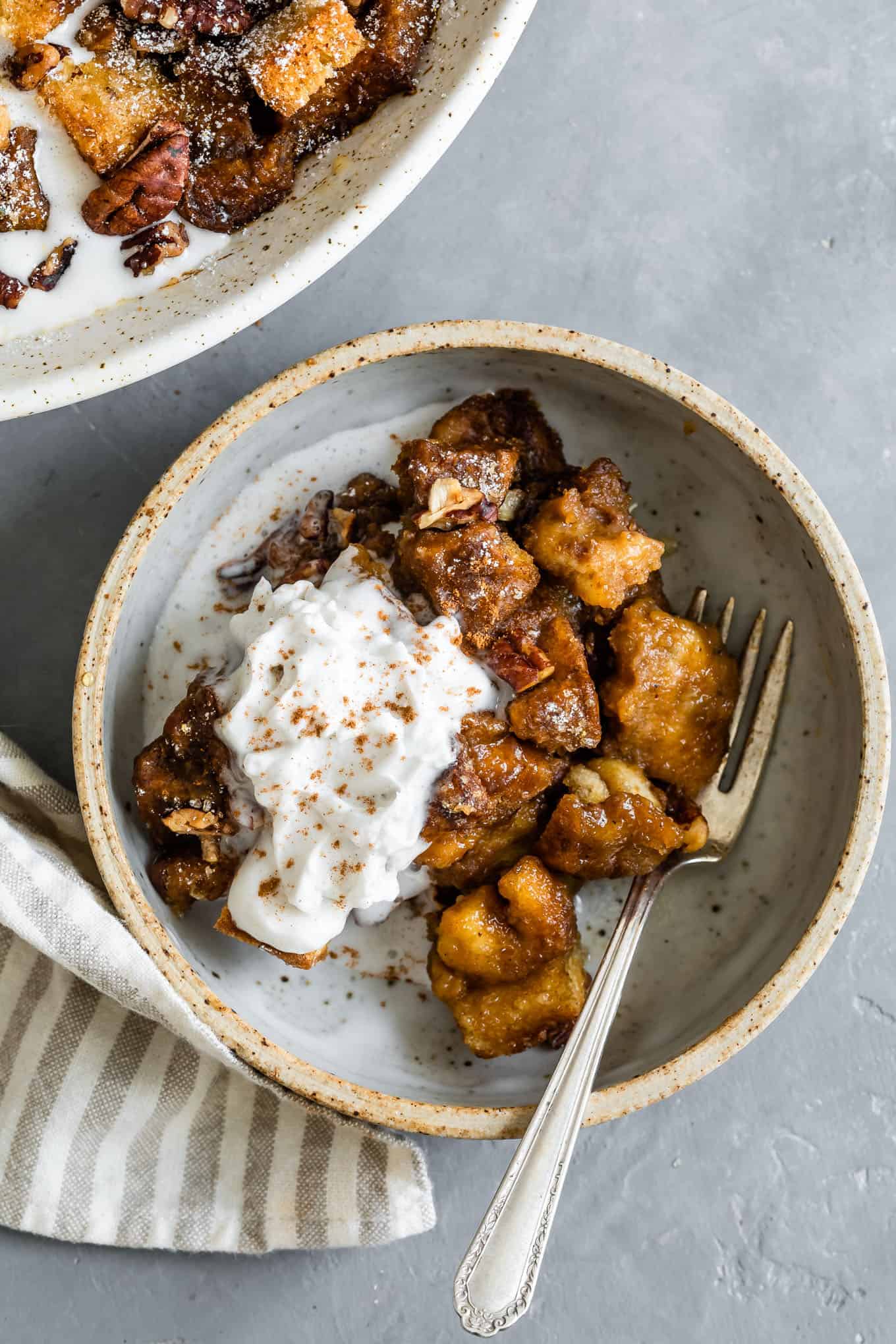 Make ahead Fall brunch: pumpkin bread pudding
One of the best parts about this cozy fall pumpkin bread pudding is that you can make it ahead. Because, really, who wants to wake up super early to start cooking before you're sufficiently caffeinated? Not me. If you're waking up early to make pumpkin bread pudding though, let me know. I'll be there.
If you're like me, assemble the entire thing the night before and bake it the next morning just in time to serve it up as the sweet treat on your holiday brunch table!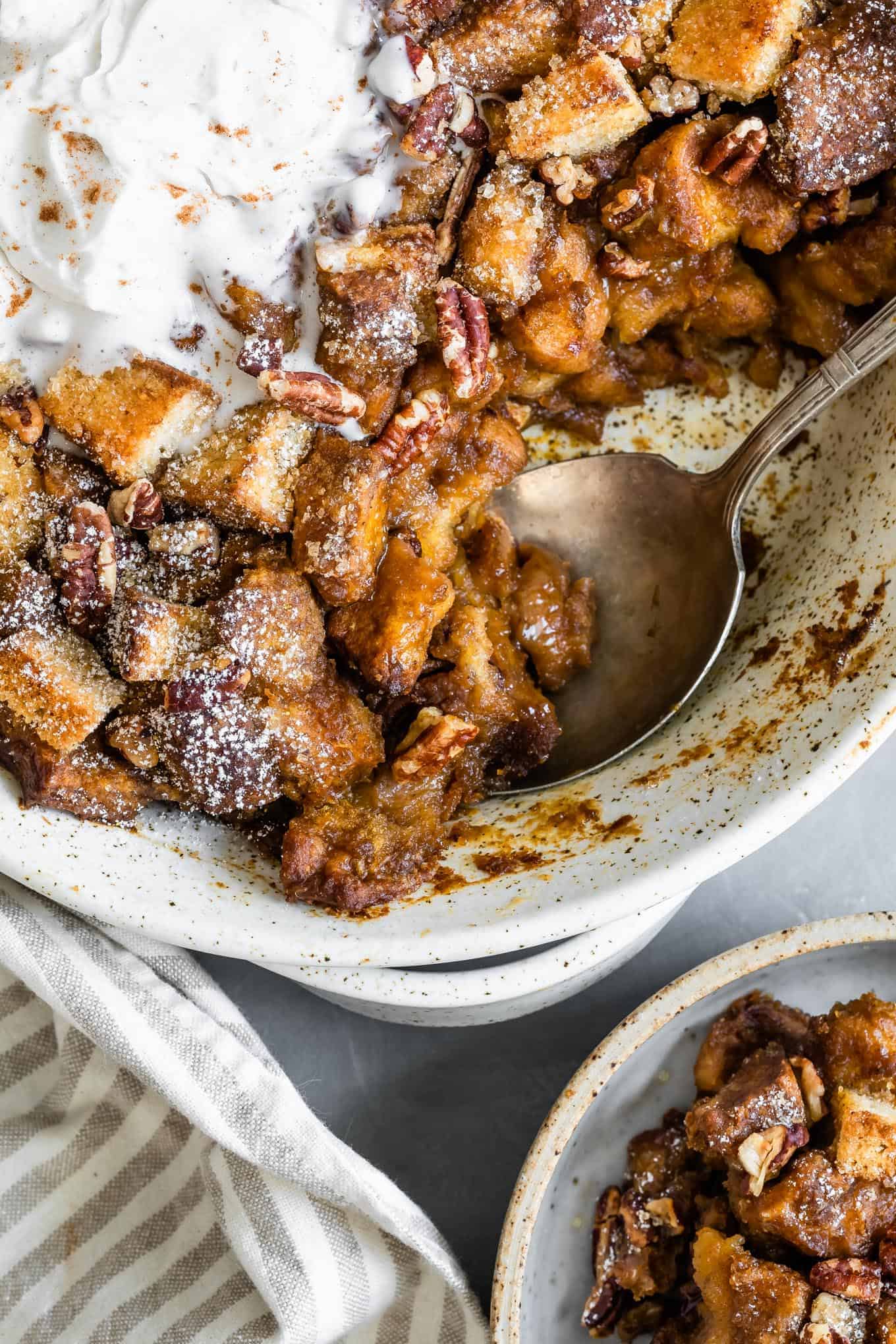 Best served warm with a scoop of whipped coconut cream (or even ice cream), this pecan-studded pumpkin bread pudding is decadently gooey with crunchy roasted nuts and a crisp golden brown shell. Fall flavored pumpkin bread pudding isn't a holiday tradition in our house...YET. But that's about to change.
Disclosure: Special thanks to Little Northern Bakehouse for sponsoring this post! Find more Little Northern Bakehouse inspiration on Facebook or Instagram. And thanks to you for supporting the brands that keep Snixy Kitchen cooking!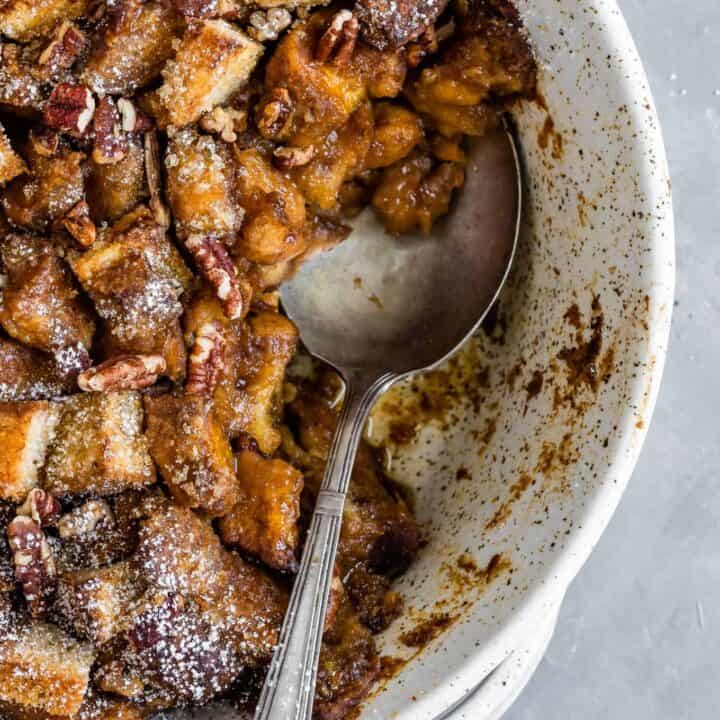 Pumpkin Vegan Bread Pudding
Rest/Cool Time:
40 minutes
Total Time:
1 hour
35 minutes
This fall-inspired pumpkin bread pudding is vegan and gluten-free! With a pumpkin coconut pudding base, this vegan bread pudding can be made ahead so all you have to do is pop it in the oven before your holiday brunch! Serve topped with whipped coconut cream or ice cream.
Ingredients
¾ teaspoon vanilla extract or paste or 1 vanilla bean pod & seeds, split
2½ cups full-fat coconut milk
¼ cup + 2 tablespoons cup dark brown sugar
¾ teaspoon ground cinnamon
½ teaspoon ground ginger
¼ teaspoon ground nutmeg
Pinch ground cloves
Pinch ground allspice
½ teaspoon kosher salt
¾ cup pumpkin puree
3 tablespoons water
2½ tablespoons cornstarch
¼ cup coarsely chopped toasted pecans (or toasted pepitas for nut-free version)
1 tablespoon coarse sugar, for topping
1 tablespoon coconut oil, for brushing
Whipped Coconut Cream, optional
1 13.66oz can coconut cream, chilled for at least 12 hours
¼ cup powdered sugar, sifted
½ teaspoon vanilla extract or paste
Instructions
Prepare a 2 to 2½-quart baking dish by brushing it with coconut oil.
Set aside a small handful of cubed bread (½ cup) - you'll use this for the crispy topping. Place the rest of the cubed bread in a large mixing bowl and set aside while you prepare the pudding.
In a small bowl, whisk together the water and cornstarch with a fork to make a smooth slurry and set aside.
If using a vanilla bean pod and seeds, add the coconut milk and vanilla bean seeds and pod to a medium saucepan. Bring to a simmer over medium heat. Remove from heat and cover for 15 minutes. Remove and scrape out the vanilla bean pod. In a small bowl, whisk together the dark brown sugar with cinnamon, ginger, nutmeg, cloves, allspice, and salt. Whisk this sugar and spices mix into the steeped coconut milk and continue to step 6.
If using vanilla extract or paste, whisk together the dark brown sugar with cinnamon, ginger, nutmeg, cloves, allspice, and salt in a medium saucepan. Whisk in the coconut milk and vanilla extract or paste.
Whisk the pumpkin into the coconut milk and cook over medium heat, whisking slowly, until the sugar dissolves and the milk begins to boil, about 3 minutes. Remove from heat.
Give the cornstarch and water another whisk to loosen it up. Whisking the pudding with one hand, slowly pour the cornstarch slurry into the saucepan and quickly whisk until completely combined for about 10-15 seconds. Pour the pudding over the bread cubes and toss well to evenly coat. Let sit for 10 minutes then toss again.
Scoop half of the bread pudding into the prepared pan. Sprinkle half of the pecans or pepitas over the the top, then top with the rest of the bread pudding (If I scraped any thick pudding out of the bottom of the mixing bowl, give the bread pudding a gentle toss in the baking pan so the custard settles into the bread and doesn't sit on top). Sprinkle the remaining pecans or pepitas over the top.
Nestle the uncoated bread cubes into the top and brush them with coconut oil. These will get crispy as it bakes. Sprinkle coarse sugar over the top, if desired.
For best results, let sit for at least 30 minutes at room temperature before baking so the bread can soak up the pudding. If planning ahead, after it rests, cover it in plastic wrap and chill over night. When you're ready to bake, preheat the oven to 375°F.
Bake 35-45 minutes, or until the bread is crisp and beginning to turn golden brown. A toothpick inserted into the middle should come out mostly clean or just a little moist. Let cool slightly for about 10 minutes before serving.
While the pudding cools a bit, make the whipped coconut cream, if using. Without tilting, open the can and spoon just the thick cream off the top into the bowl of a stand mixer fitted with the whisk attachment (or into a mixing bowl to whip with a hand mixer). Whip on medium speed for 1 minute. Add the sifted powdered sugar and vanilla and continue whisking on high speed until soft peaks form. Chill until ready to use.
Just before serving, dust bread pudding with powdered sugar, if you desire, and top with whipped coconut cream or ice cream.

Notes
I do not recommend using the coconut cream or milk from Trader Joe's as they seem to have updated their supplier and the new consistency is a bit oily.