Dress up your holiday dessert table with this raw vegan golden milk cheesecake made with cashews and flaked coconut with plenty of turmeric and ginger. Add a dollop of whipped coconut cream for a healthy but decadent dessert.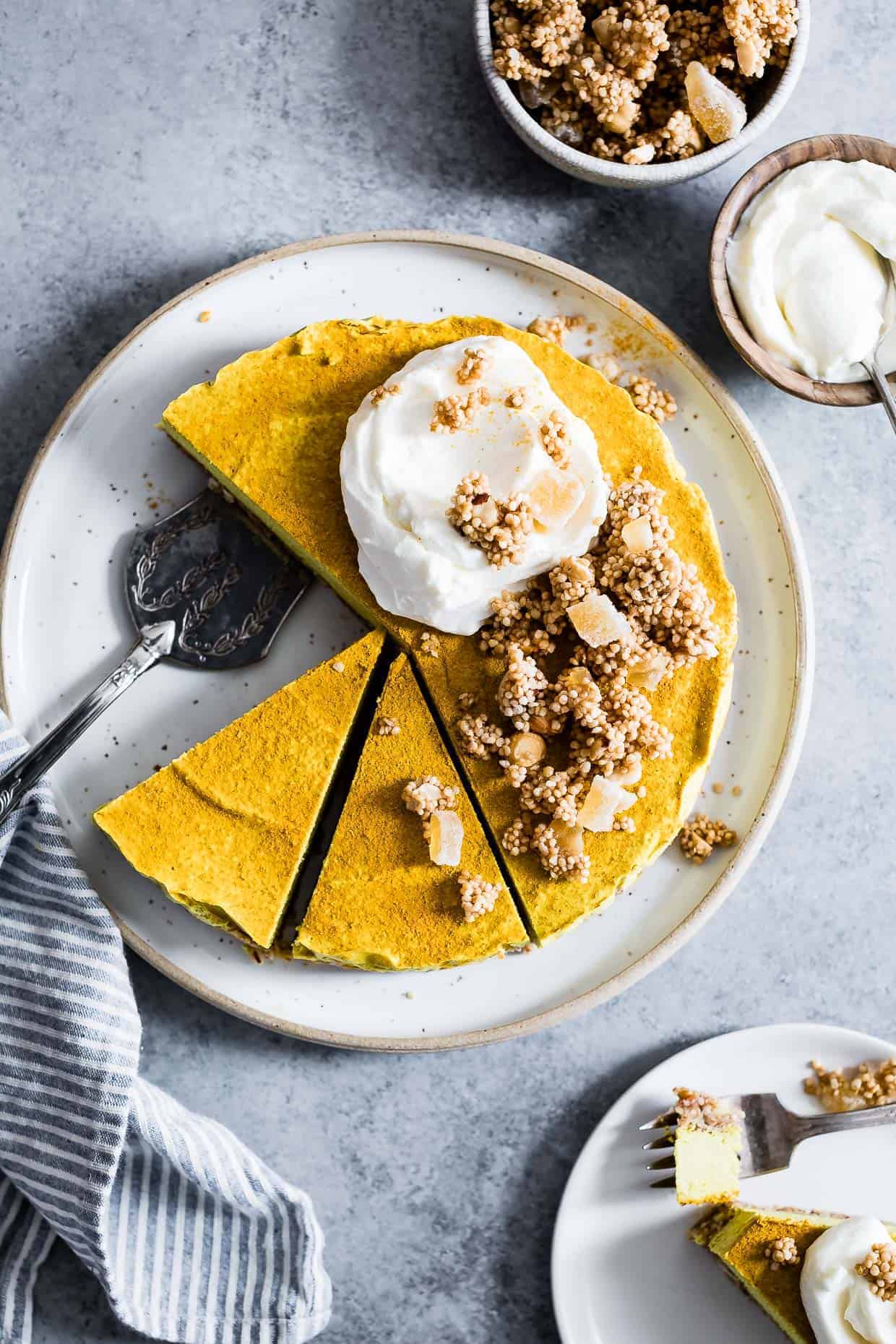 I've been holding onto this raw vegan golden milk cheesecake recipe since I tested a version on a flavor craving whim and then teased it on Instagram back in March. I didn't forget about it though - it's been on my calendar as a holiday dessert ever since and I've been dying to remake and shoot its golden cloak once again. It feels just right for fall - bright flavors that somehow still feel warm and cozy. Made primarily of cashews and coconut flakes with a bit of maple syrup and spices, it's basically health food. Breakfast cheesecake anyone?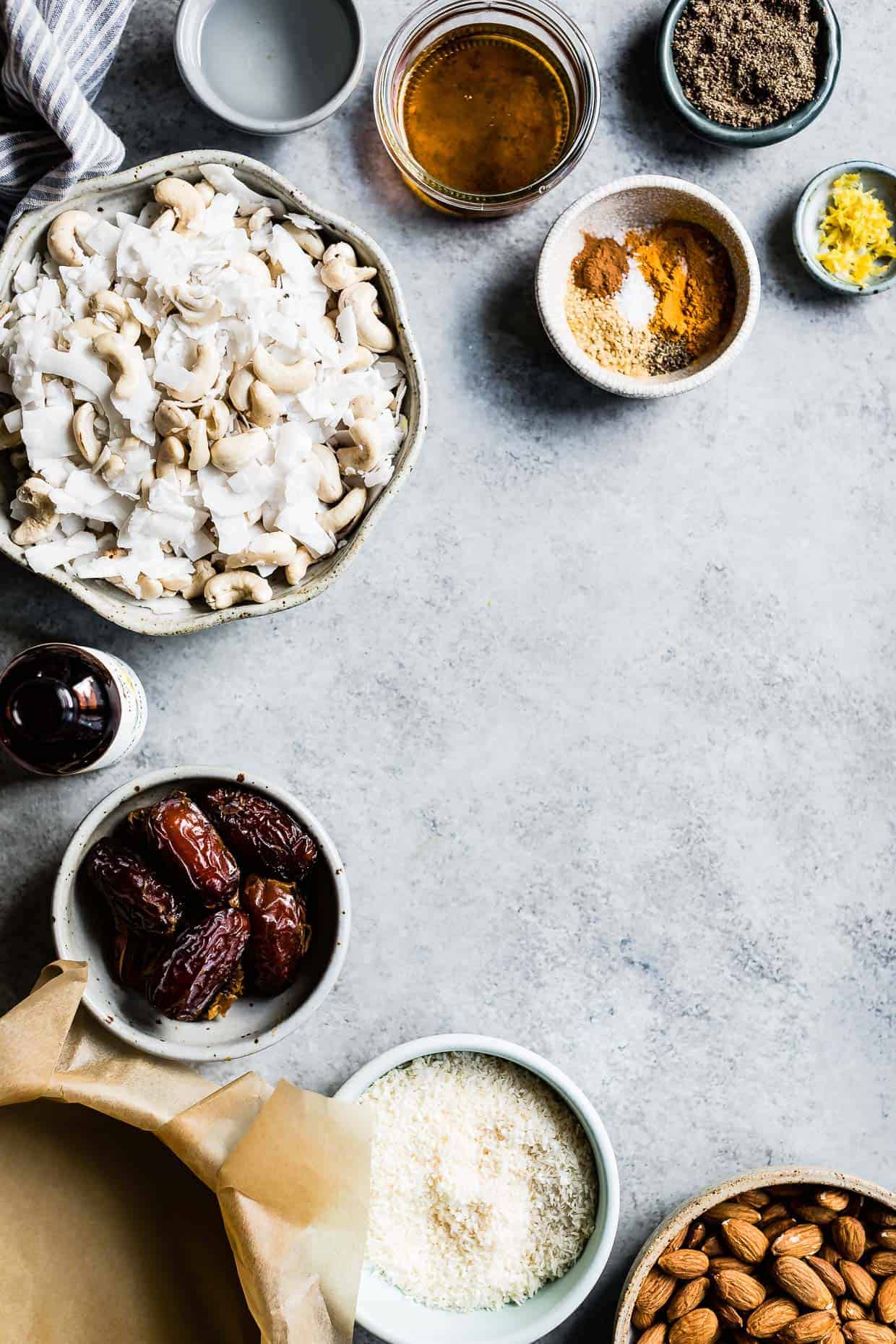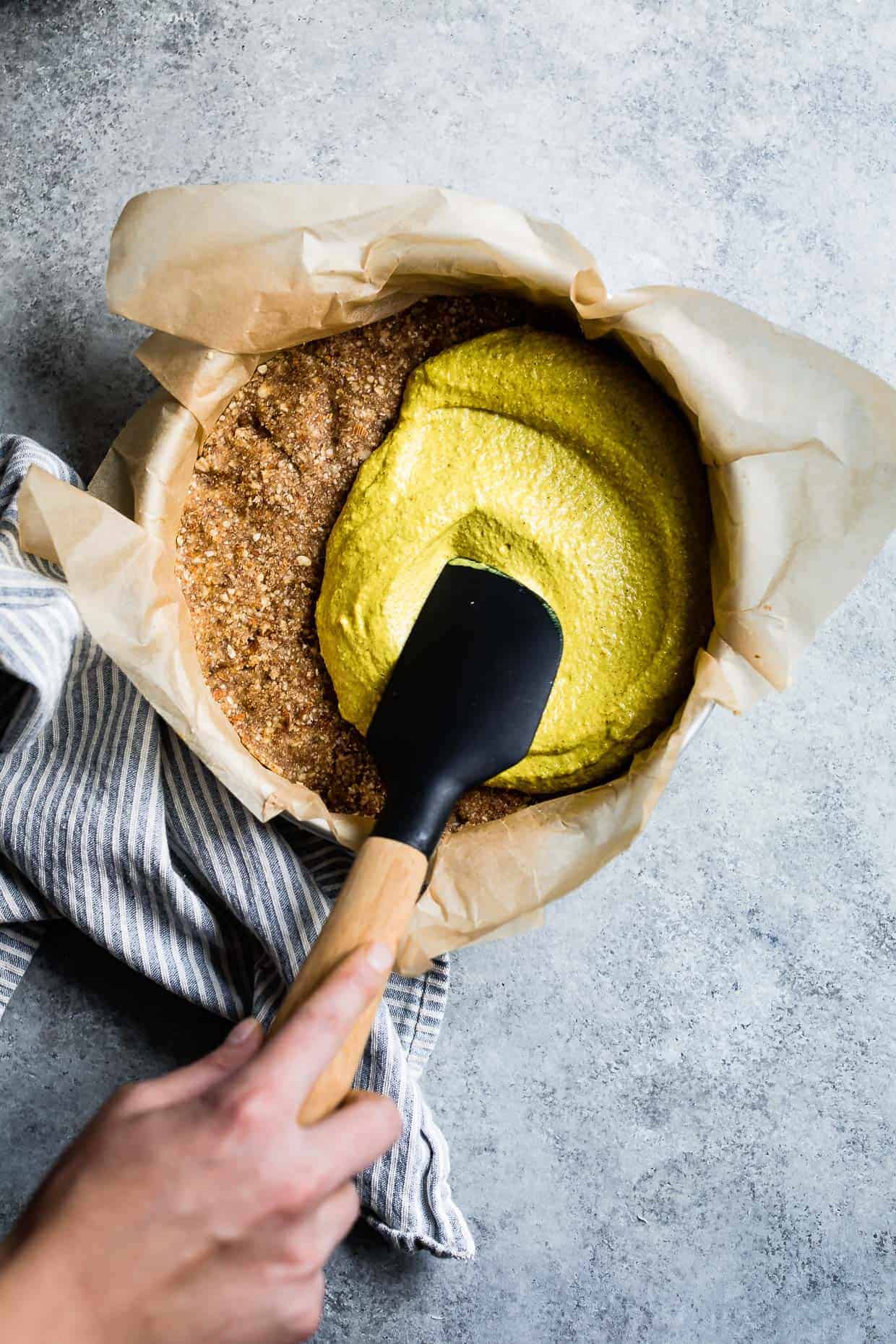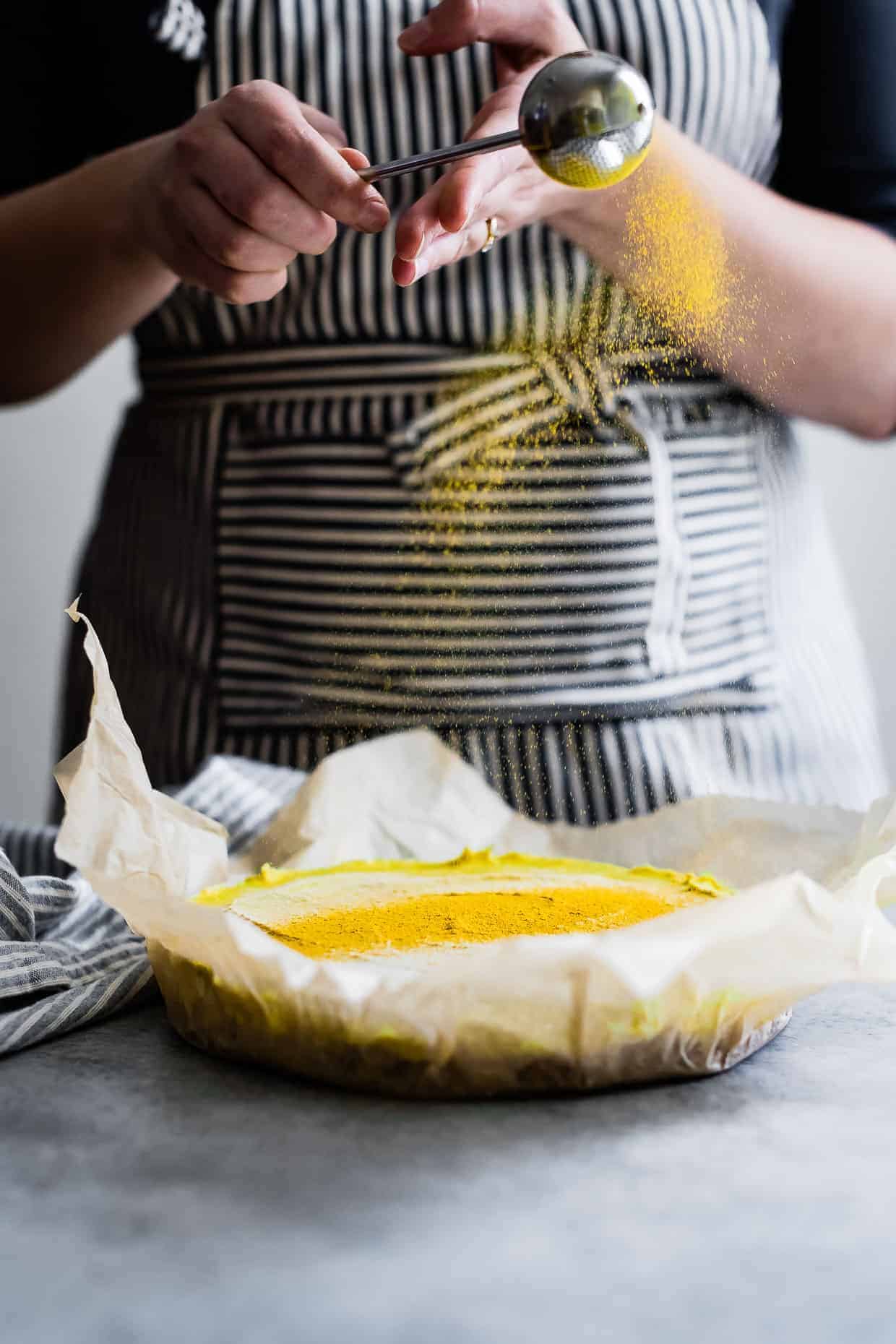 This golden milk "cheesecake" takes the turmeric spice mix from the ever-so-popular (Westernized version of) golden milk and blends it up with soaked cashews and flaked coconut. Poured into a raw nutty date crust, it chills into a firm custard that tastes much like a holiday drink. Soaked cashews are like magic (check back next week for a savory soaked cashew recipe!) and when given a little water and ground chia seeds, they turn into a velvety vegan custard - sorcery.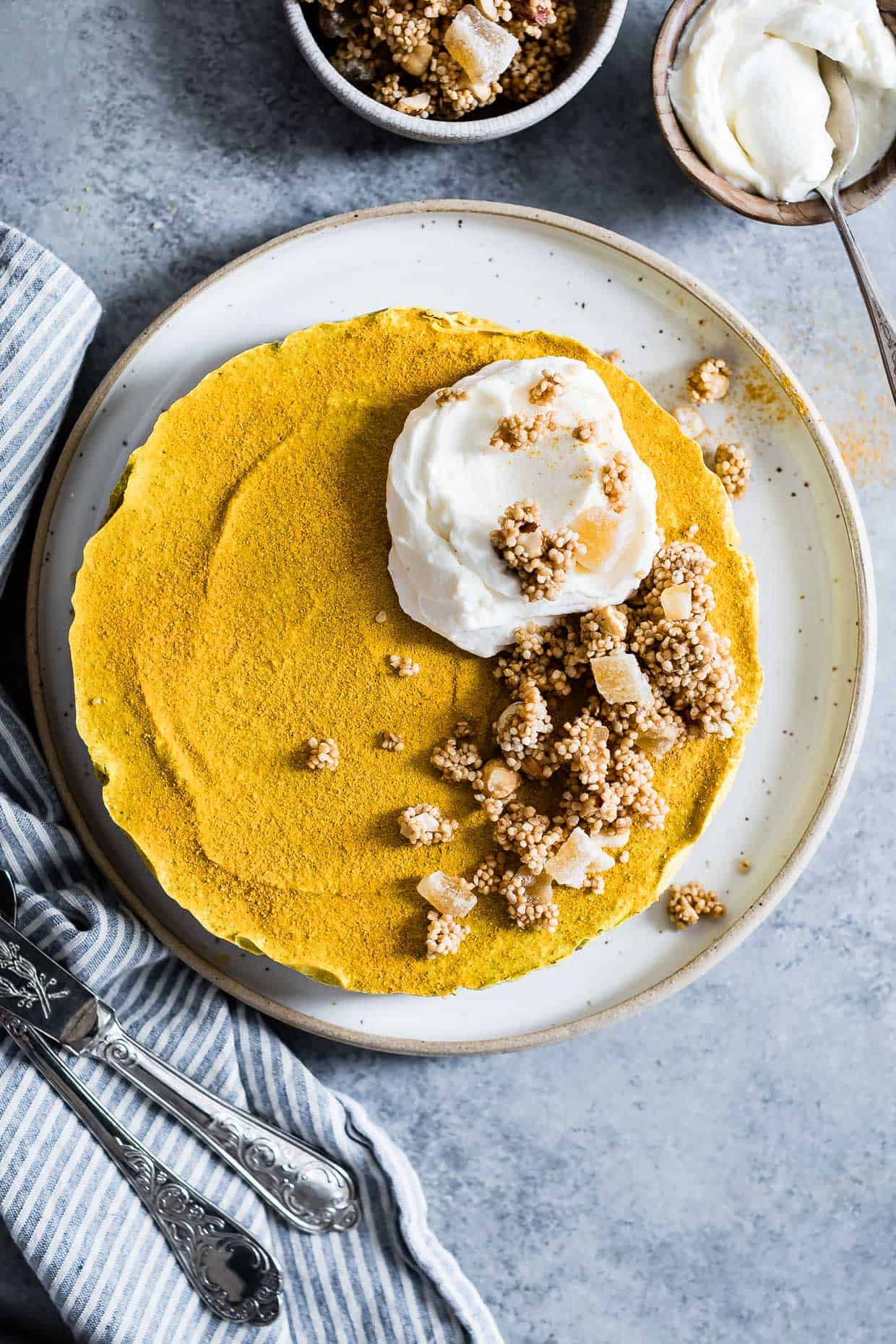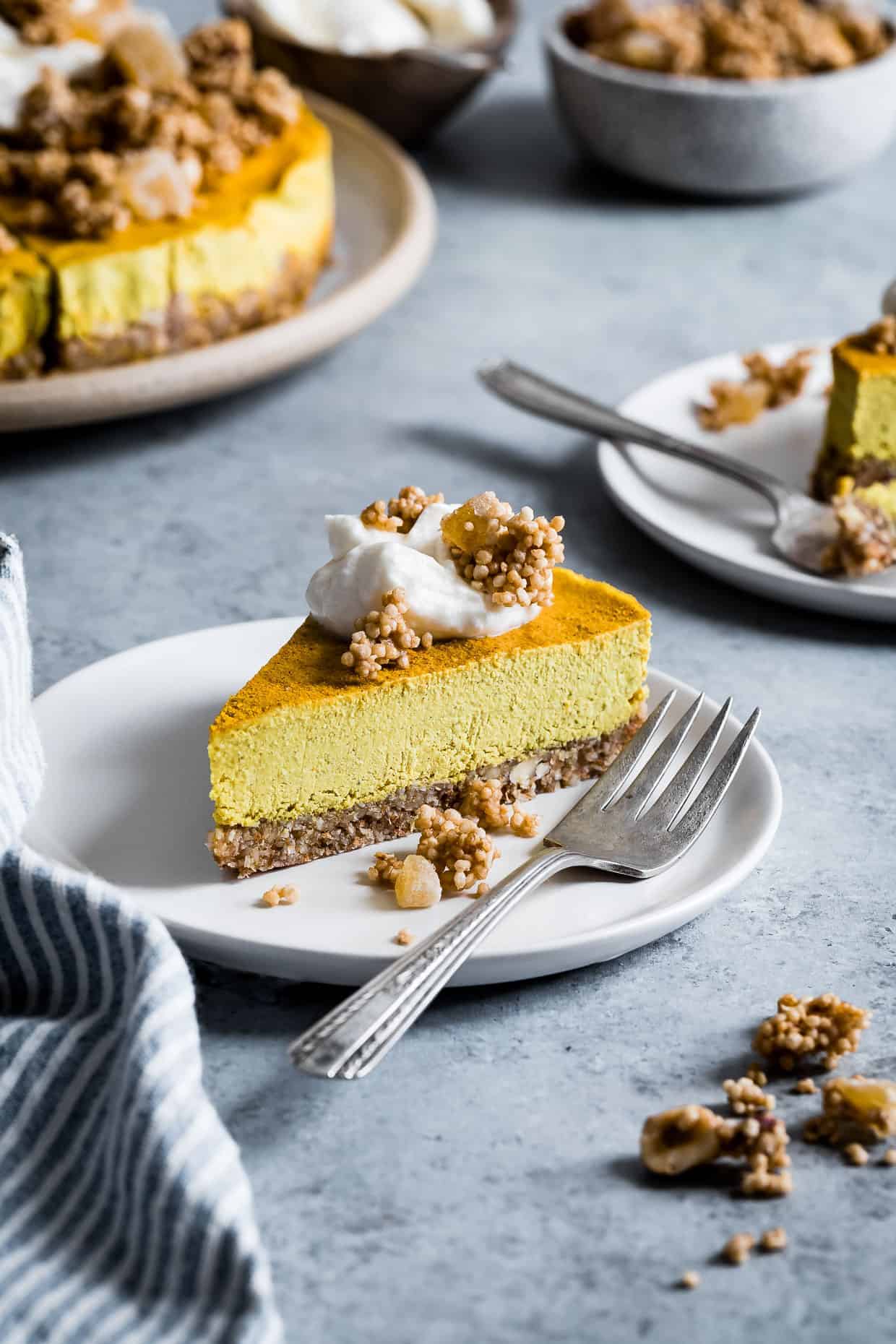 Let' be clear: This is hardly cheesecake, as it doesn't have any cream cheese in it, but at a loss for what else to call it, we're going with that. If you're looking for the crushed cookie caramel cheesecake of your fantasy, this is not that. Rather this golden milk cheesecake lives in a different category as an elegantly rich dessert, naturally sweetened, made of lots of healthy healing ingredients. With a dollop of whipped coconut cream on top, it feels extra indulgent.
Move over, pumpkin pie, there's a new Thanksgiving star in town.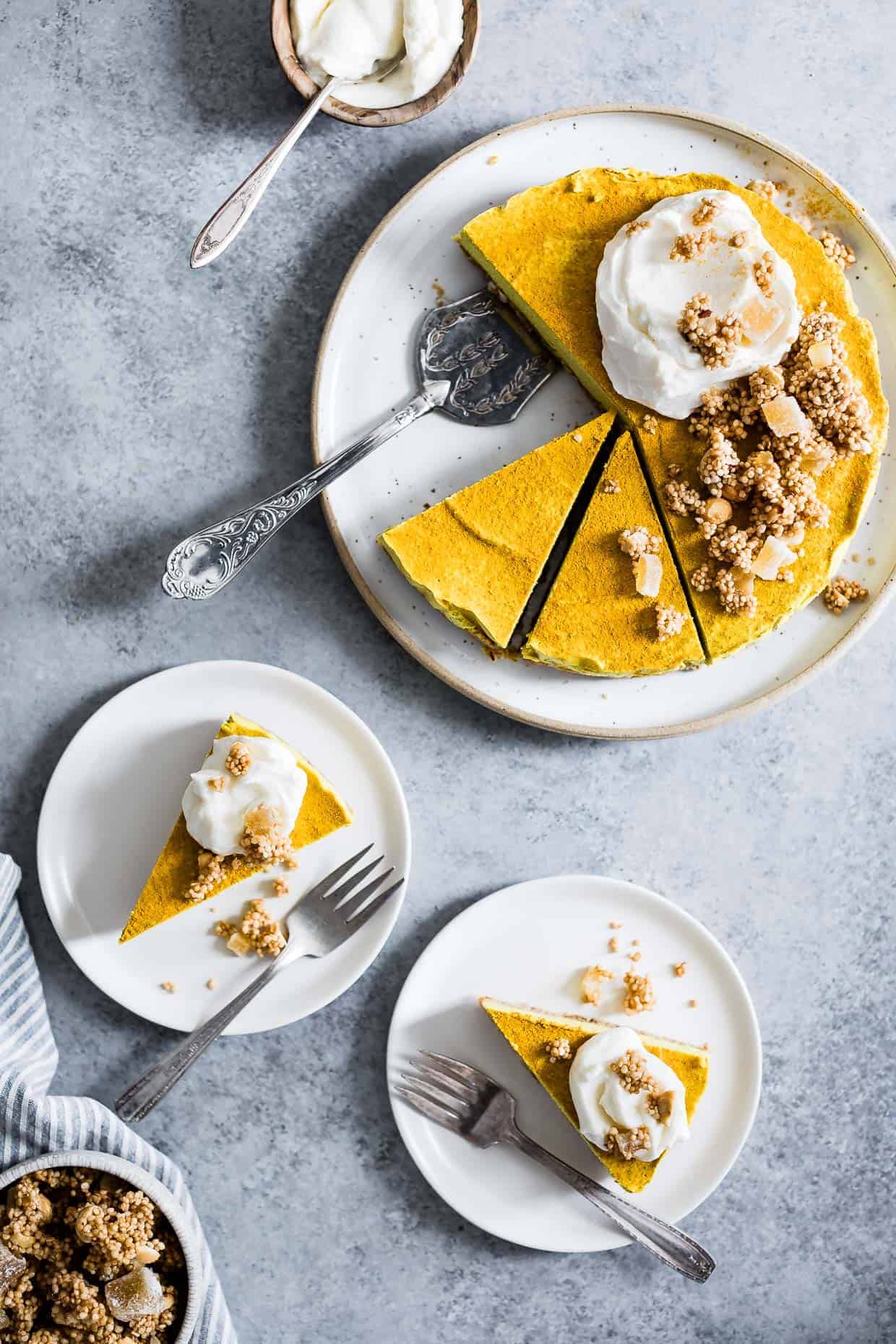 My toddler - possibly the pickiest eater alive - ate a whole (mini) slice of this cake for dessert (don't tell her mom...oh wait), proudly declaring "it's yummmm." So, it's toddler approved.
She later pretended to feed a slice to her stuffed cat while instructing: "What do you say? What do you say?...Thank you..."
You're welcome, Cat.
Now I'm off to finish packing up to head to Europe with a toddler tomorrow. Actually, in all honesty, we haven't started packing yet. Or really making much of a list - they've got stores, right? (No, I'm not stressed out - YOU'RE stressed out).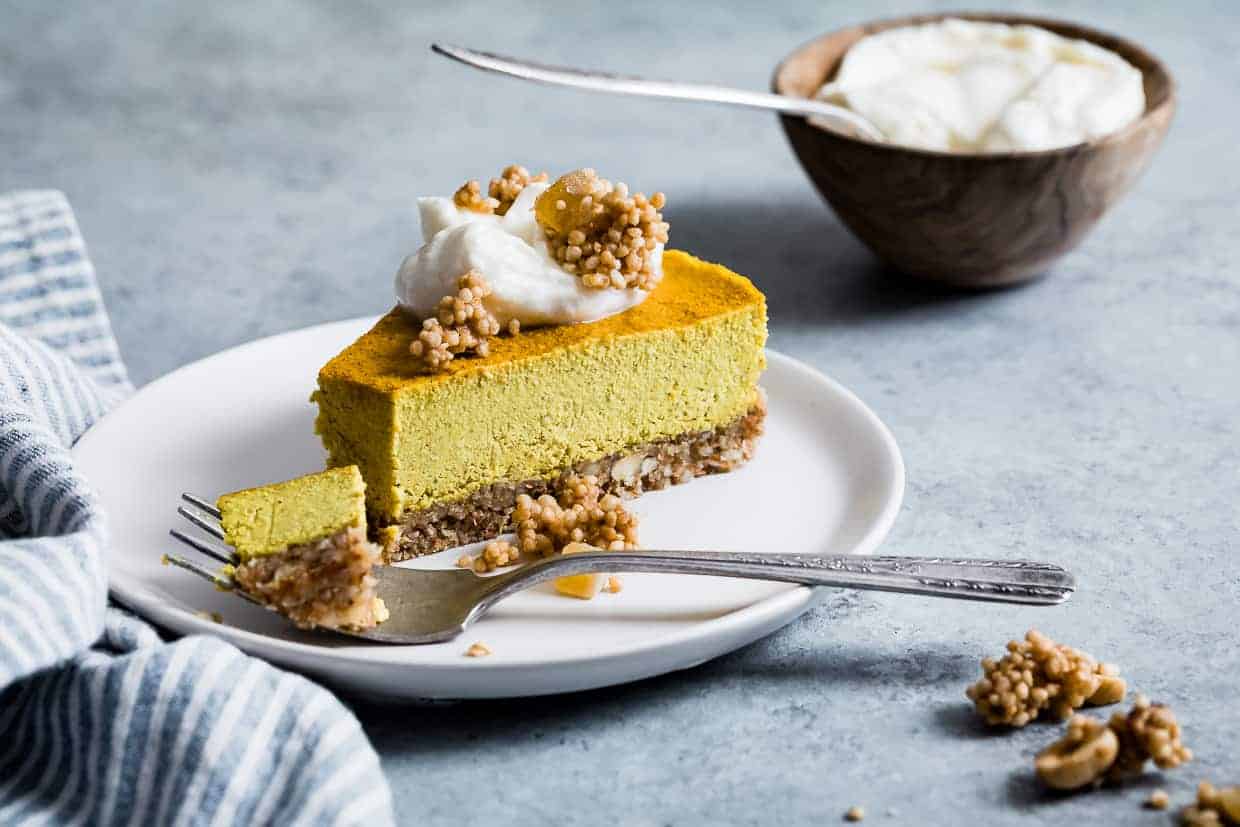 Thanks for reading Snixy Kitchen! To stay up on what's coming out of my kitchen, follow me on Facebook, Instagram, Twitter, Bloglovin', or Pinterest, or subscribe via e-mail to get new recipes right to your inbox.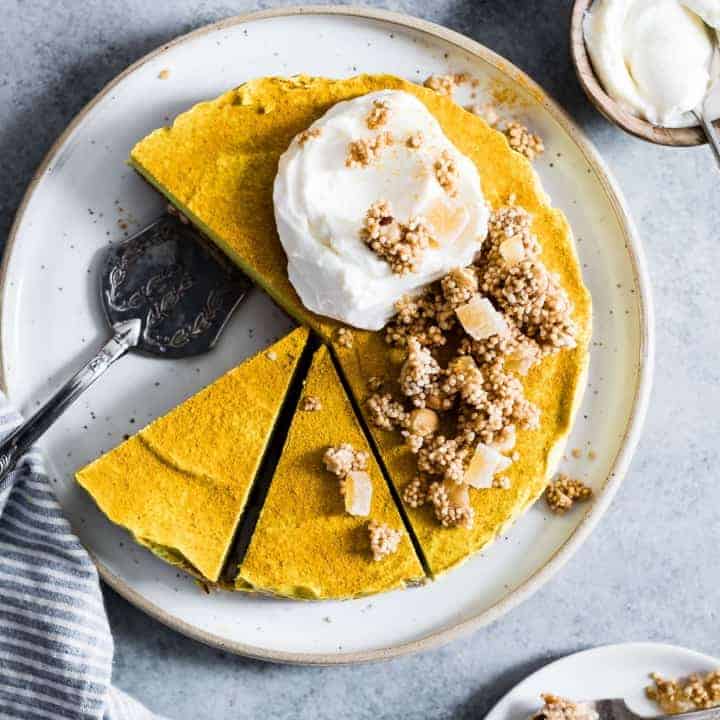 Raw Vegan Golden Milk Cheesecake
Yield:
1 8-inch cheesecake, 10-12 servings
Ingredients
Almond Date Crust
7 medjool dates, soaked in hot water for 10 minutes and drained
1½ cup raw almonds
¼ cup + 2 tablespoons unsweeted shredded coconut
1 tablespoon maple syrup
¼ teaspoon kosher salt
Golden Milk Cheesecake Filling
1 ⅓ cup coconut flakes, soaked overnight in a bowl with the cashews
1 cup + 3 tablespoons raw cashews, soaked overnight in a bowl with the coconut flakes
¼ cup + 2 tablespoons maple syrup
2 tablespoons ground chia seeds
1 tablespoon ground ginger
2½ teaspoons ground turmeric
½ teaspoon lemon zest
½ teaspoon ground cinnamon
¼ teaspoons kosher salt
⅛ teaspoon finely ground pepper
½ cup + 2 tablespoons cool water
½ cup coconut oil
Whipped Coconut Cream
1 13.66 ounce can coconut cream*, chilled upright in the fridge overnight for at least 24 hours
¼ cup powdered sugar, sifted
½ teaspoon vanilla extract
Instructions
Line an 8-inch round cake pan with parchment paper.
Prepare the crust. Add the dates, almonds, coconut, maple syrup, and salt to a high speed blender or food processor and pulse until it begins to clump. Pour the filling into the prepared baking pan and use your fingertips to press down the crust into an even layer. Use a small glass to roll it smooth, if desired. Chill crust while you prepare the filling.
Drain and rinse the soaked coconut flakes and cashews and add them to the blender with maple syrup, ground chia seeds, ginger, turmeric, vanilla, lemon zest, cinnamon, salt, and pepper.
With the blender on low, slowly add the cool water, increasing the speed as you pour. Blend on high for 2 minutes, scraping down the sides as needed, until the filling is velvety smooth.
Pour in the coconut oil and blend on low just to combine. Pour the filling over the chilled crust, smoothing out the top as needed.
Refrigerate for at least 4 hours, until firm.
Optional: dust top with a 50/50 mix of ginger and turmeric.
Once the cheesecake has chilled, slice it into 10-12 slices and serve topped with whipped coconut cream and puffed quinoa crumble, if desired.
Whipped Coconut Cream
Without tilting, open the can and spoon just the thick cream off the top into the bowl of a stand mixer fitted with the whisk attachment (or into a mixing bowl to whip with a hand mixer).
Whip on medium speed for 1 minute. Add the powdered sugar and vanilla and continue whisking on high speed until soft peaks form. Chill until ready to use.
Notes
If you can't find coconut cream (I use either Thai Kitchen Coconut Cream or Native Forest), you can use the thick cream off the top of a can of full-fat coconut milk. If you don't have time to chill the coconut cream, you can also substitute ¾ cup heavy whipping cream.