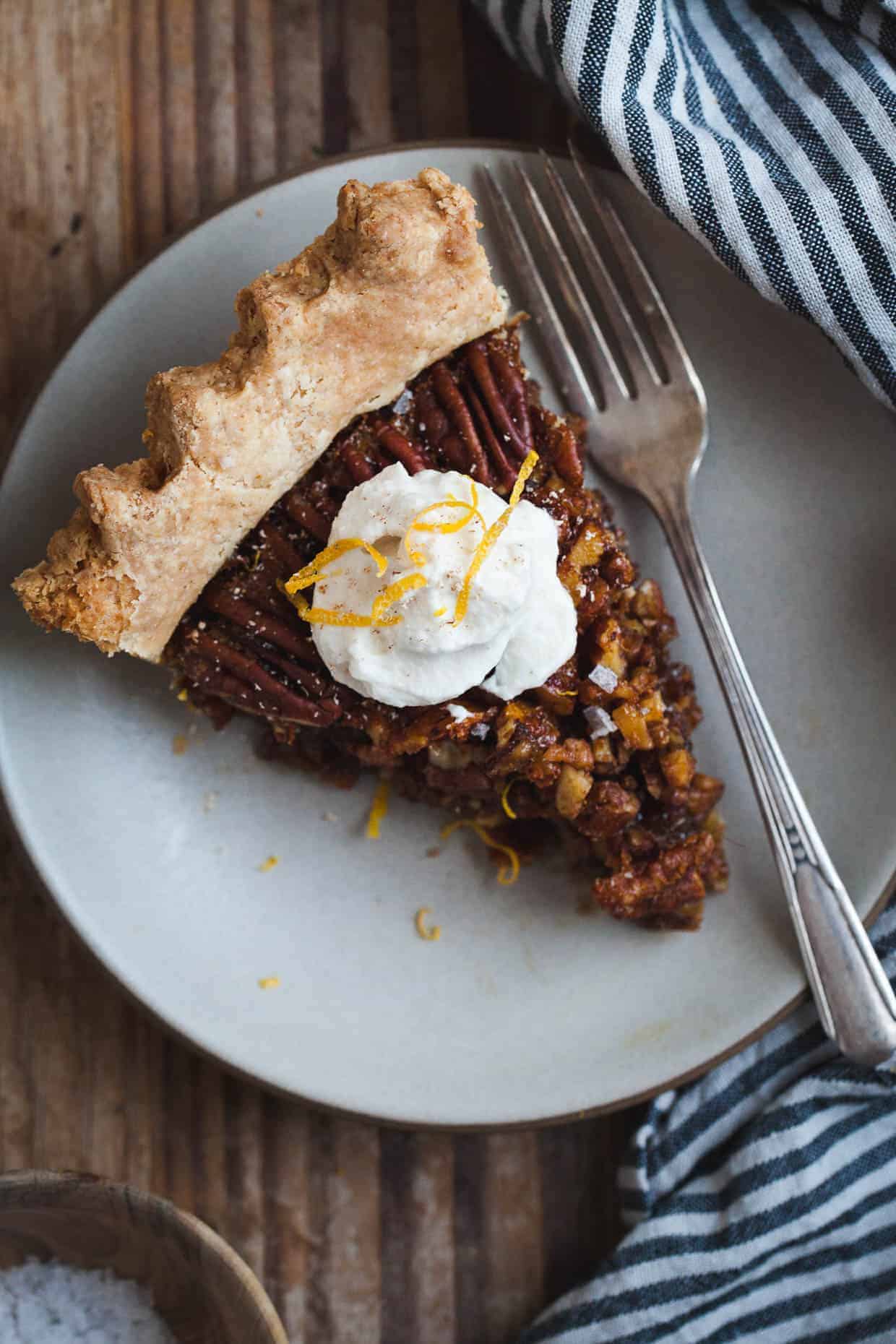 Though I've never hosted or even been to an official friendsgiving, Thanksgiving at my parents' house always brings together a mishmash of friends and family around one table. It's become expected that Lucas and I will bring friends home to Chico with us for the holidays, and, in my opinion, adding other people's traditions to the mix is what makes the day extra special. It's also become expected that I'll bring the pecan pie, a recipe tradition passed down to me by my namesake many years ago.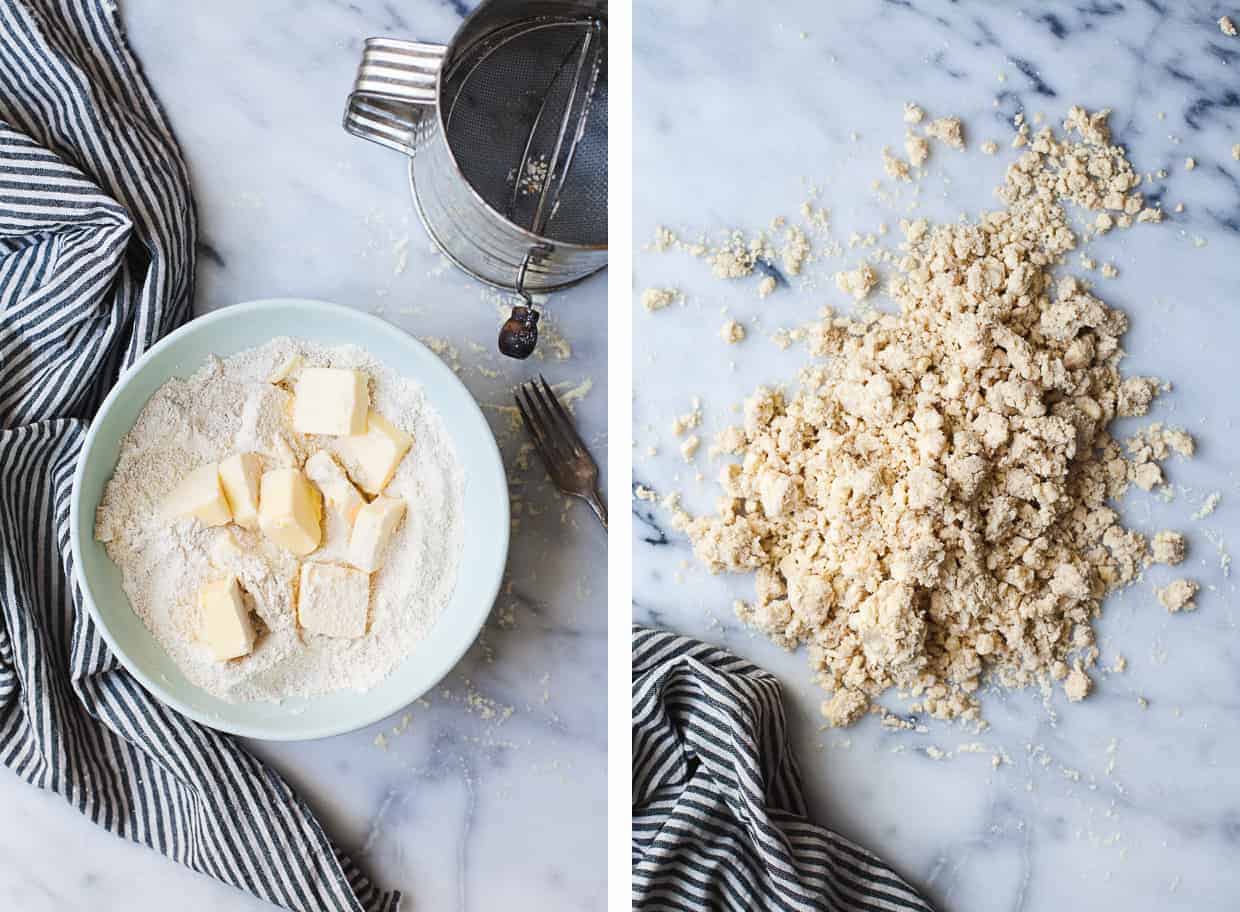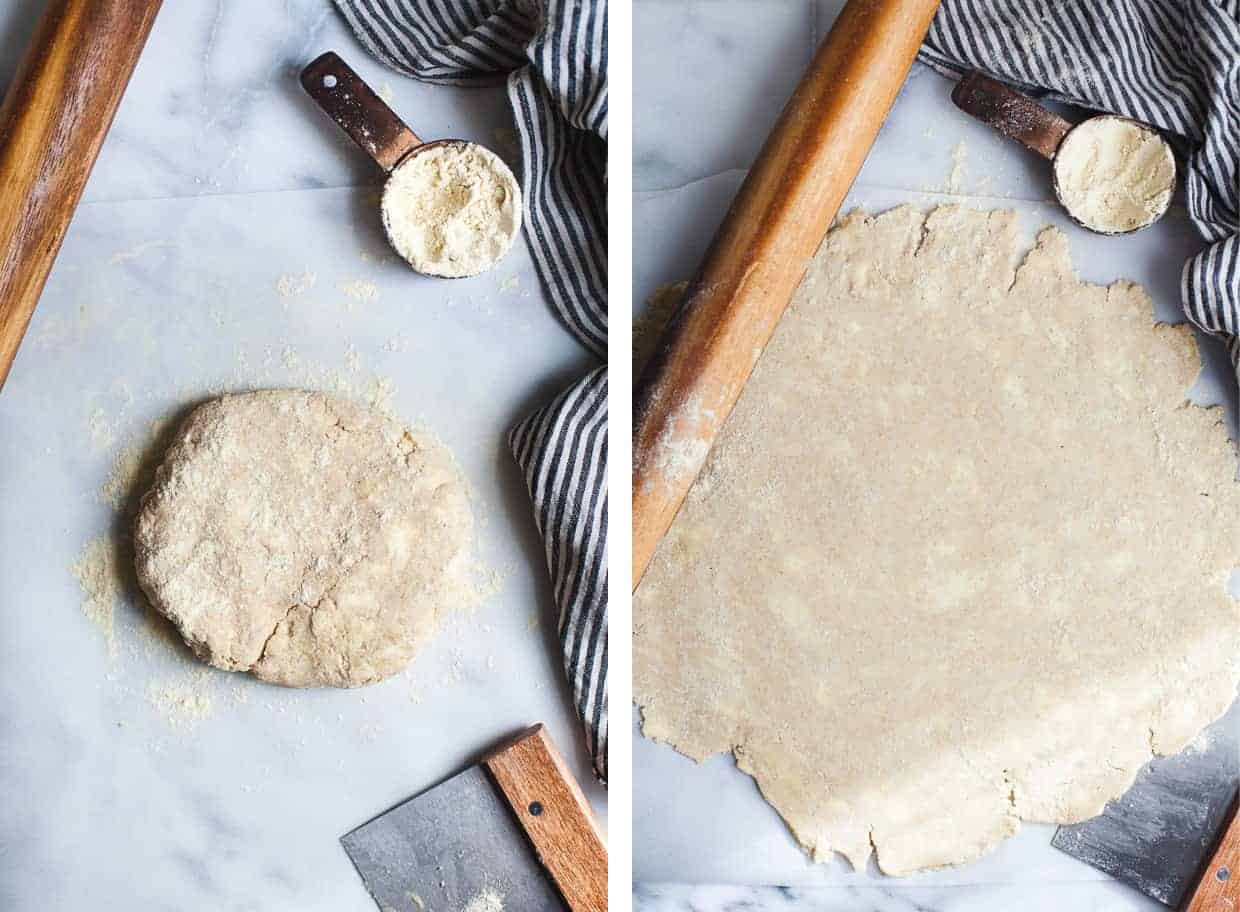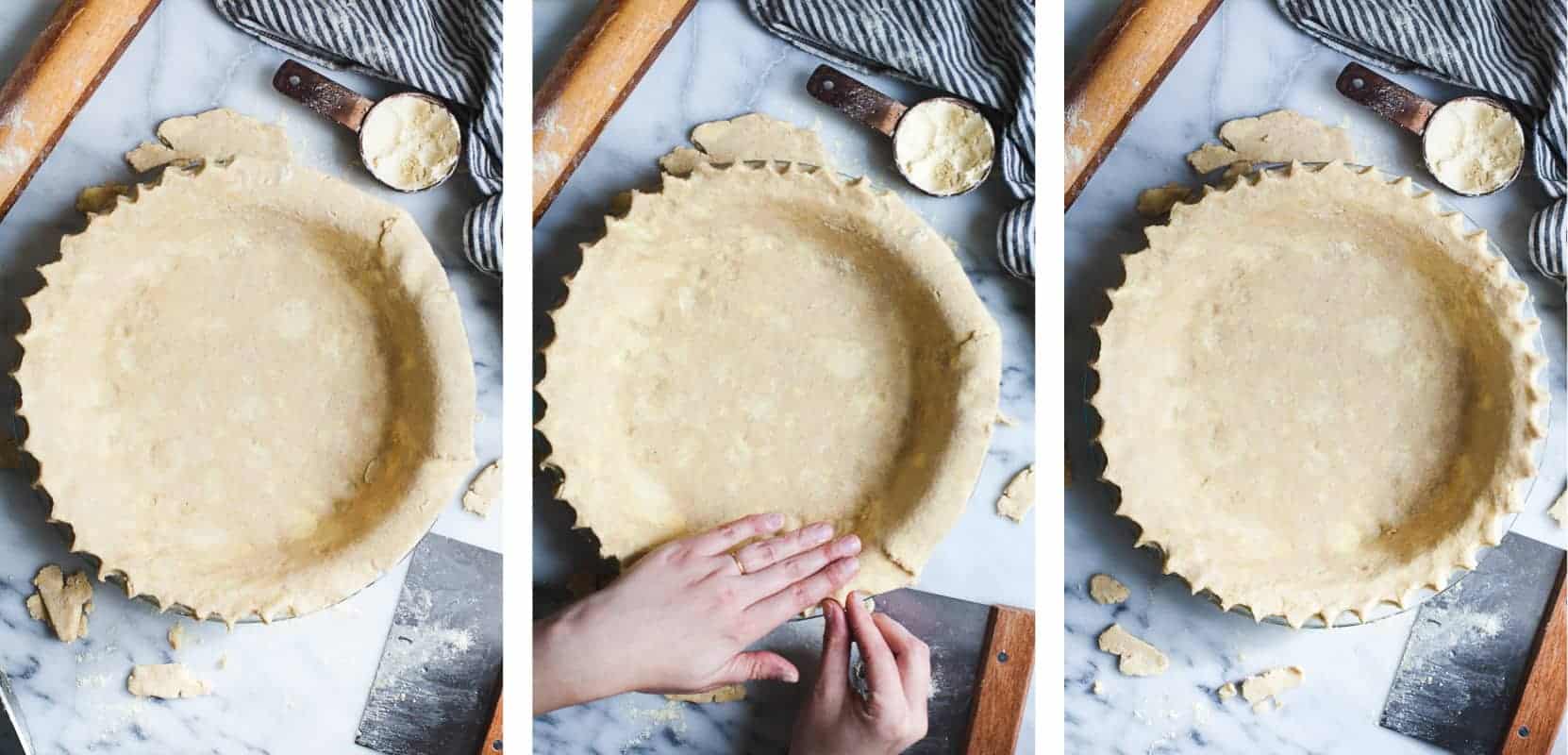 This year, we're mixing things up by hosting Thanksgiving at our (new!) house. We've begged to host Thanksgiving for years, and it isn't our foray into homeownership that finally won my family over. Nor was it the promise of extra pie. So just how did we persuade them, you ask?
CBS's 2015 promise to stream the Thanksgiving Day NFL game so those of us without cable can watch appease our brother's need for football on turkey day.
This is no joke. For years, my mom would reply to my request to host, "but you don't have cable so they can't watch the football game" and I'd respond with, "exactly." But now that CBS is solving all of our first world problems, I can finally extend our table to its max and pull out our folding chairs.
At our Thanksgiving, there will be something for everyone: football for my brother, a background playlist for me (to drown out the sounds of football), and a pecan pie for my dad.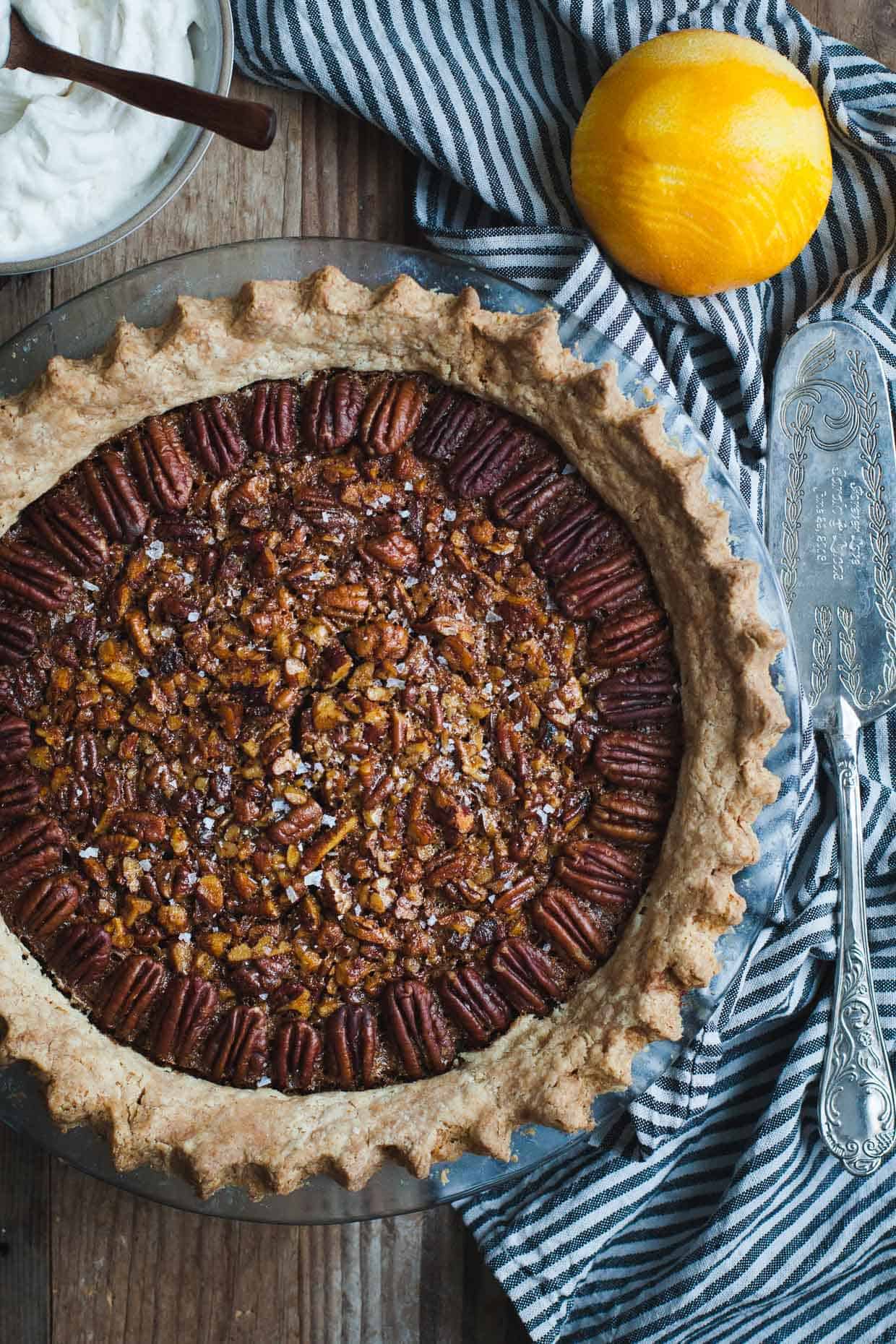 But not just any ol' pecan pie - a new house calls for a new pie. The base of this pecan pie is my namesake's acclaimed recipe, but this year I'm replacing the corn syrup with a combo of sorghum molasses and blackstrap molasses, adding in a hint of orange zest to give a bitter note to counteract the sweetness, and sprinkling the whole thing with flaky salt.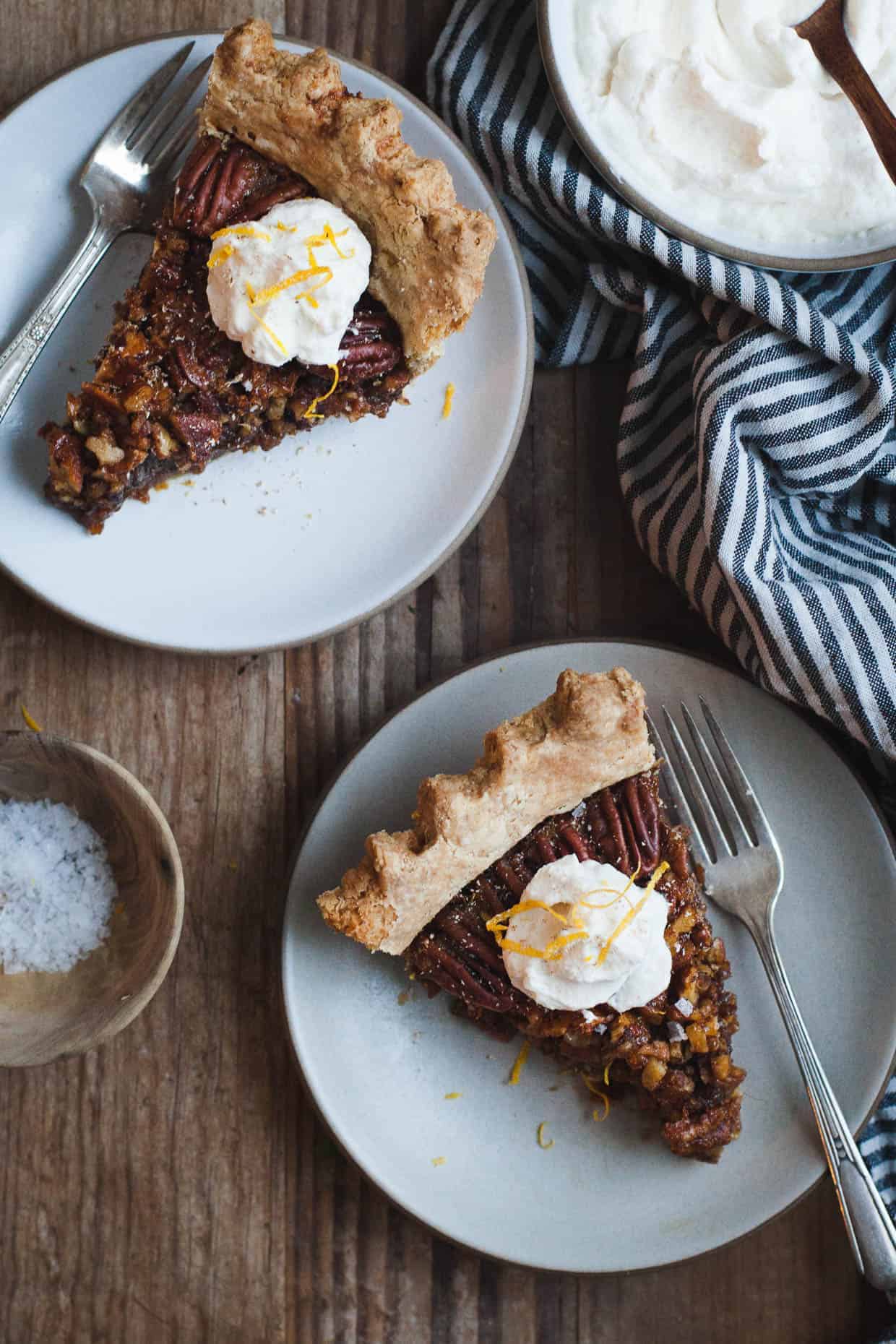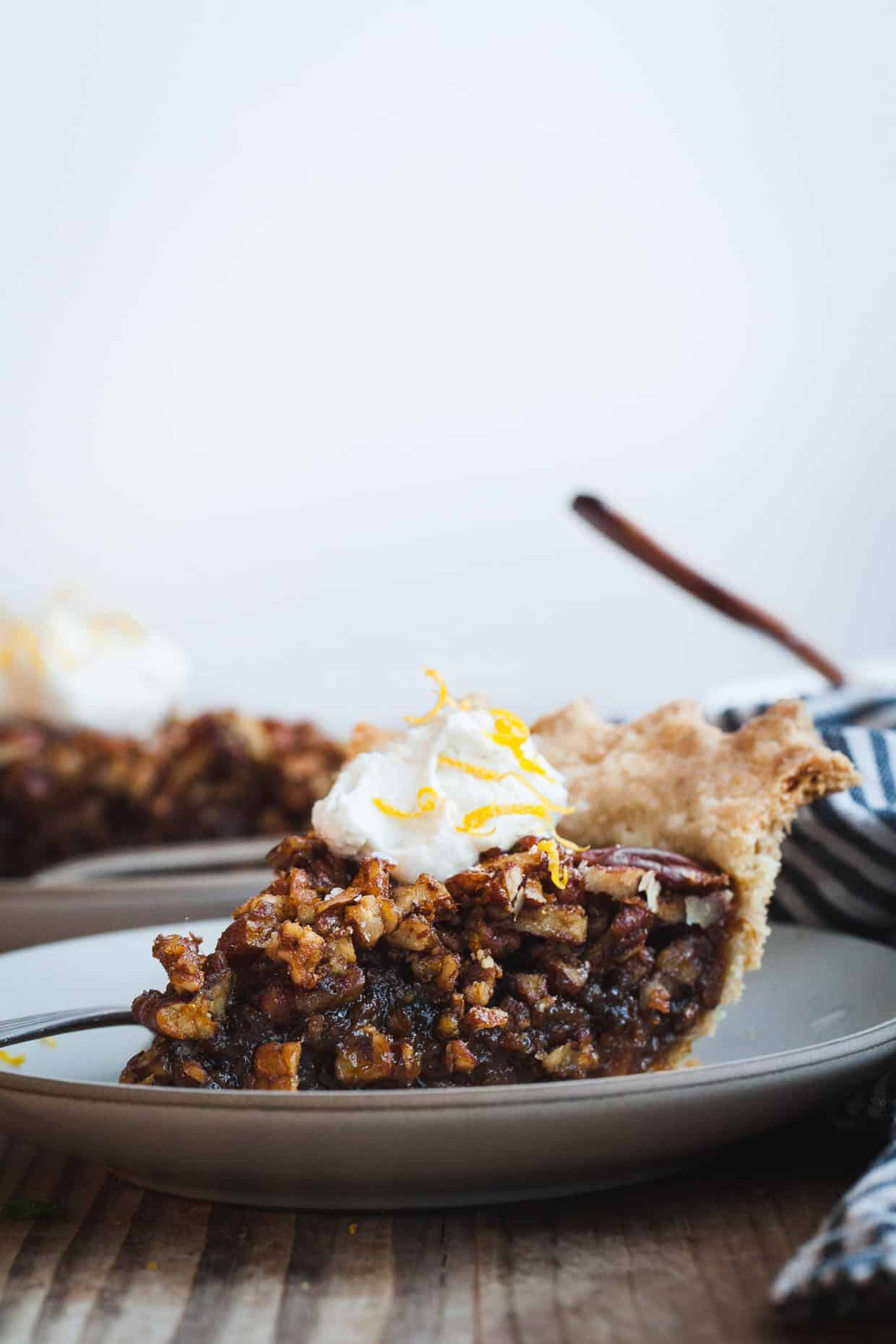 YOU GUYZZZZZ - this pie! It's less cloyingly sweet than traditional pecan pie, and the filling is nutty and robust without that sugary jelly-like center found in many pecan pies.
The sorghum molasses idea came when Alanna couldn't find dark corn syrup at her market for a pecan pie we were styling for the NYT and, as a fortunate substitute, swapped in sorghum molasses.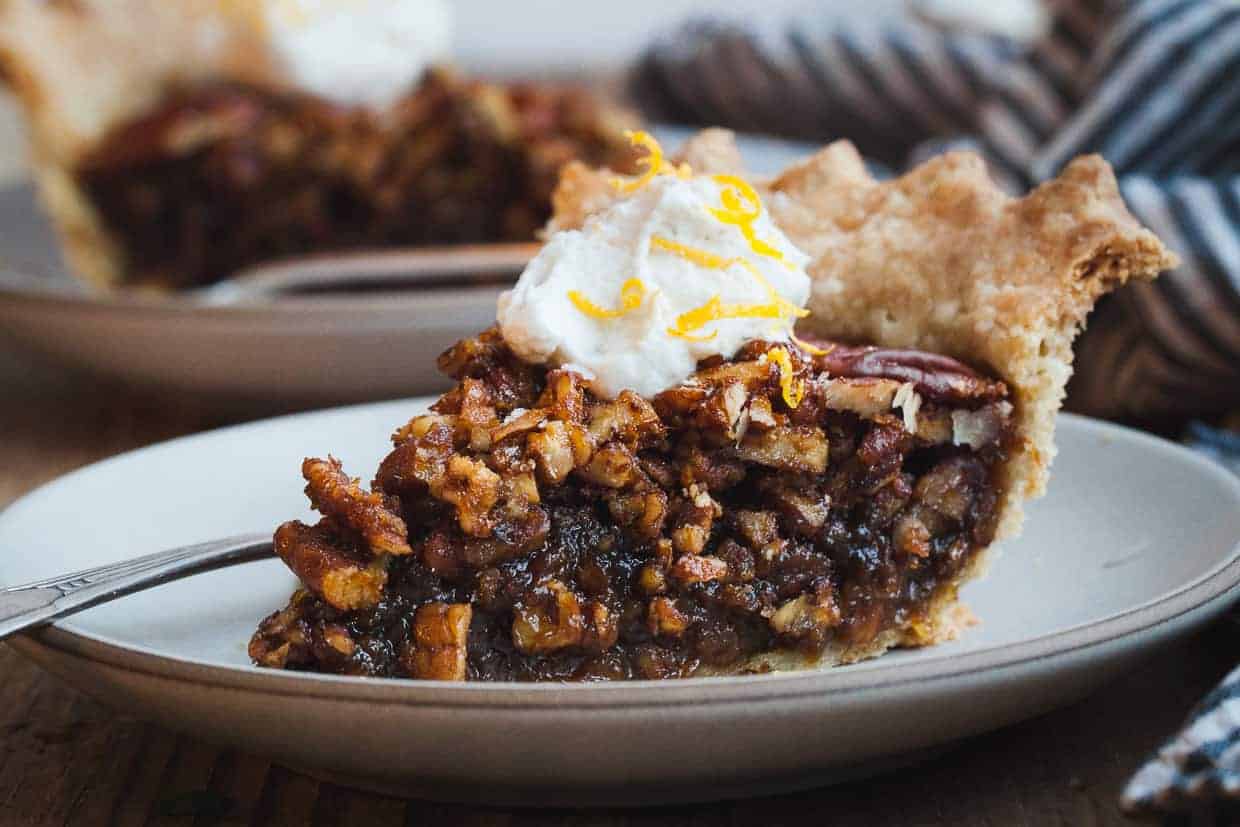 My pecan pie-hating friend Angi consumed this enormous slice, proclaiming that all pecan pie should taste like this. I left the pie with Lucas over the weekend while I headed up to Chico for my baby shower(!!), and when I noticed he hadn't touched it when I got home, he insisted "I don't like pecan pie." That is, until Angi convinced him to try a slice and his tune changed to, "why haven't I been eating this all weekend?!" Served up with a dollop of nutmeg-hinted whipped cream, this pie will turn heads at your friendsgiving table.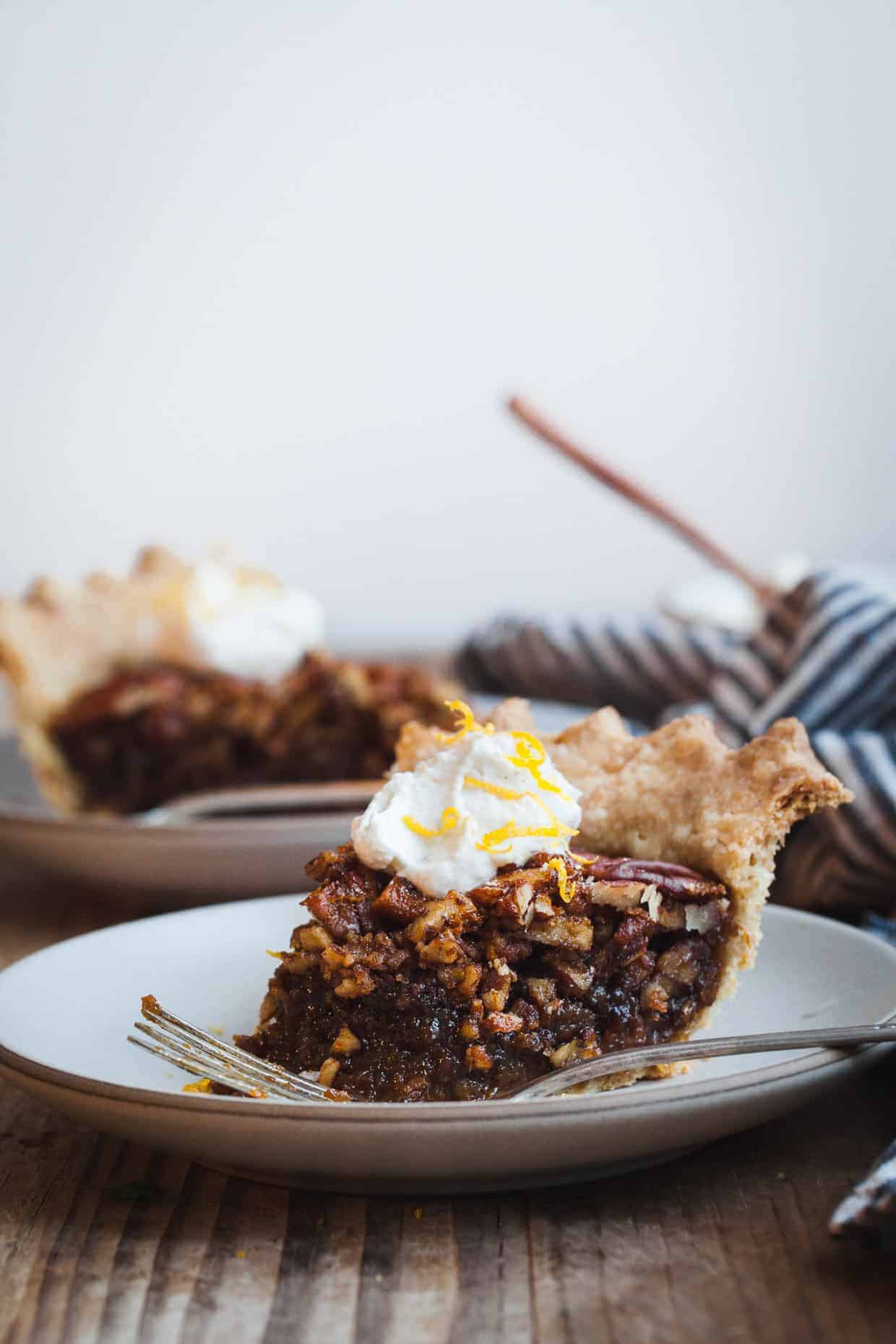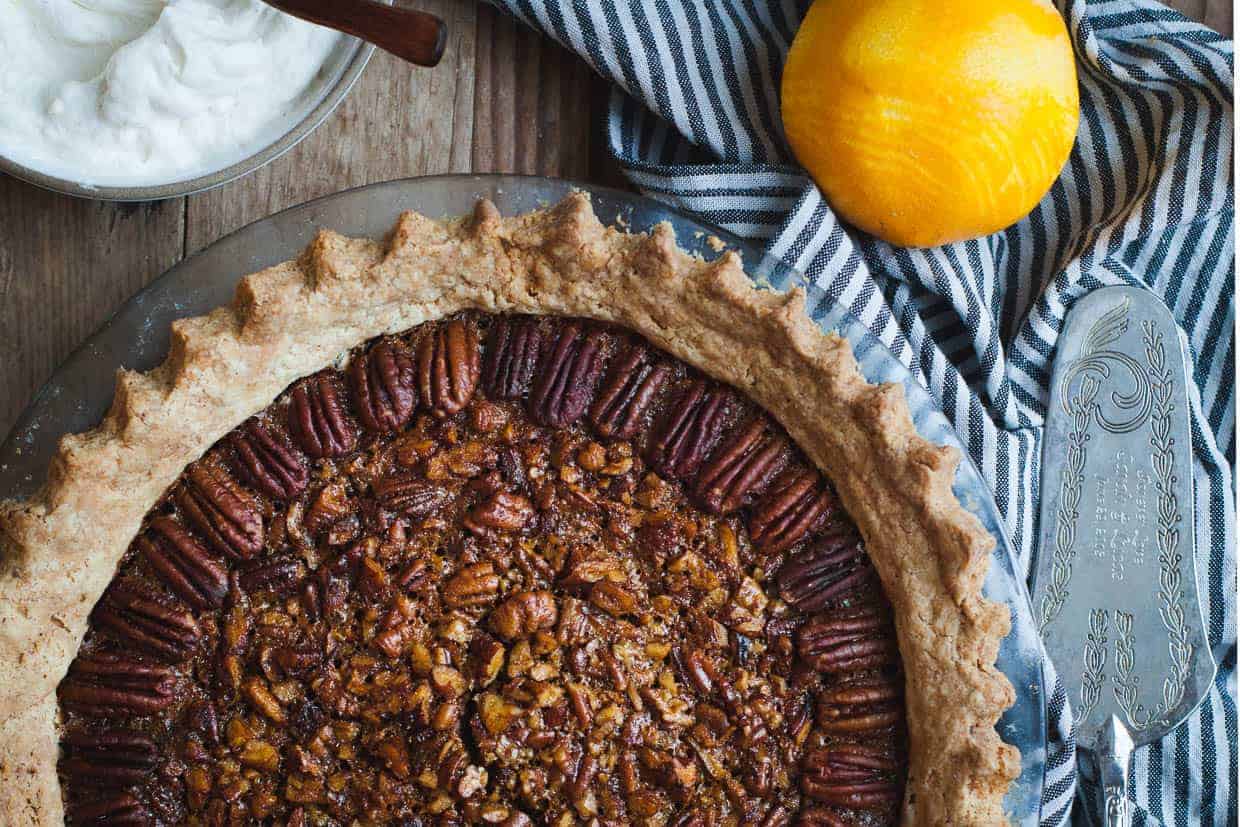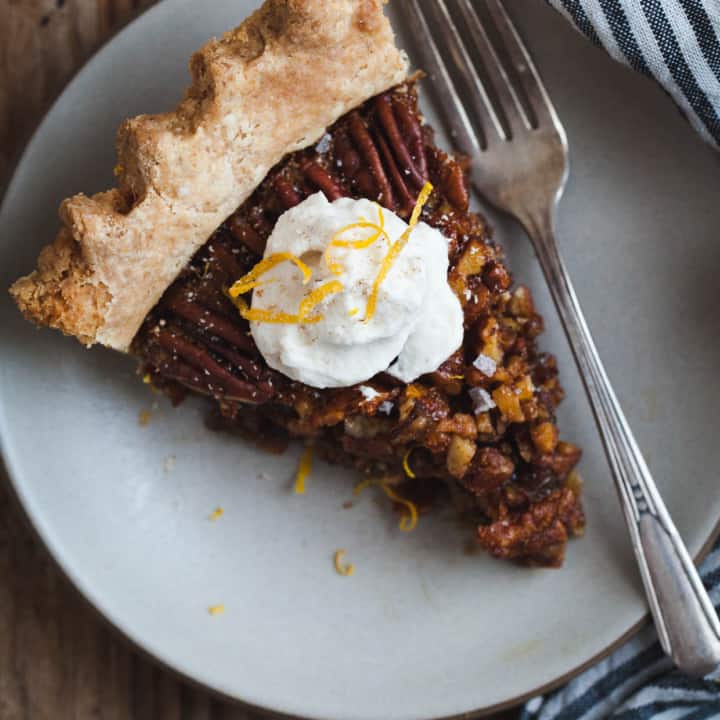 Salted Sorghum Molasses Pecan Pie with Orange Zest
Ingredients
Pecan Pie
4 eggs
1 cup light brown sugar
½ cup sorghum molasses (see below for substitutions)
¼ cup unsulfured blackstrap molasses (see below for substitution)
½ teaspoon kosher salt
¼ cup melted unsalted butter
1 teaspoon vanilla extract
1 teaspoon packed orange zest
2 cups shelled pecans, chopped
⅓ cup shelled pecan halves
½ teaspoon flaky salt
Gluten-free Pie Crust
¾ cup sifted oat flour*
½ cup millet flour (plus more for rolling)
¼ cup sweet rice flour (different from "white rice flour" or "brown rice flour")
2 tablespoons tapioca starch
1½ tablespoons sugar
¾ teaspoon xanthan gum
¼ teaspoon + a pinch of kosher salt
¾ cup cold unsalted butter, sliced into 12 tablespoons
4-6 tablespoons ice water
Instructions
Pecan Pie
Preheat oven to 400ºF.
In a medium bowl or in the bowl of a stand mixer, beat eggs until thoroughly mixed. Add brown sugar, sorghum molasses, molasses, salt, melted butter, vanilla, and orange zest, and mix thoroughly.
Sprinkle the chopped pecans over the pastry-lined dish. Pour the filling mixture over chopped pecans.
Arrange the pecan halves around edge of filling next to crust for decoration.
Set the pie on the middle rack of the oven and bake for 10 minutes.
Reduce heat to 325ºF, and bake for 30-35 minutes longer or until set.
Remove from oven and let cool to room temperature.
Sprinkle the pie with flaky salt and serve with a dollop of nutmeg-spiced whipped cream.
Gluten-free Pie Crust
Pulse together the oat flour, millet flour, sweet rice flour, tapioca starch, sugar, xanthan gum, and salt in the bowl of a food processor. (If you don't have a food processor, you can whisk by hand).
Add the cold butter, but don't pulse. One tablespoon at a time, dribble the ice water into the food processor, pulsing after each addition, until the dough holds together when pinched with your fingers. Add water until it just holds together, but is not sticky. If you need more water, add a teaspoon at a time. (If working by hand, mix the butter into the flour with your hands, breaking up the butter until the largest pieces are about the size of a pea. Mix in the water, one tablespoon at a time, until the dough just holds together).
Form the dough into a flat disc and cover in plastic wrap. Refrigerate for 30 minutes to an hour.
Roll out the dough into a 12-inch round between two pieces of parchment paper sprinkled with millet flour. Remove top piece of paper and place the dough in a 9-inch pie dish*, paper side-up. Peel the top piece of paper off. Press dough into the pie dish lightly, and cut off any excess dough. Crimp the edges of the crust with your fingertips.
Notes
My glass pie dish is 9.5-inches, so the filling didn't fill it all the way up (which I didn't realize until I went to make the pie - oops). This pie recipe is meant for a 9-inch pie dish (but tastes equally as delicious in a 9.5-inch dish;)
Substitutions: For a more classic pecan pie, sub either or both of the molasses in this recipe with dark corn syrup and it turns out great!