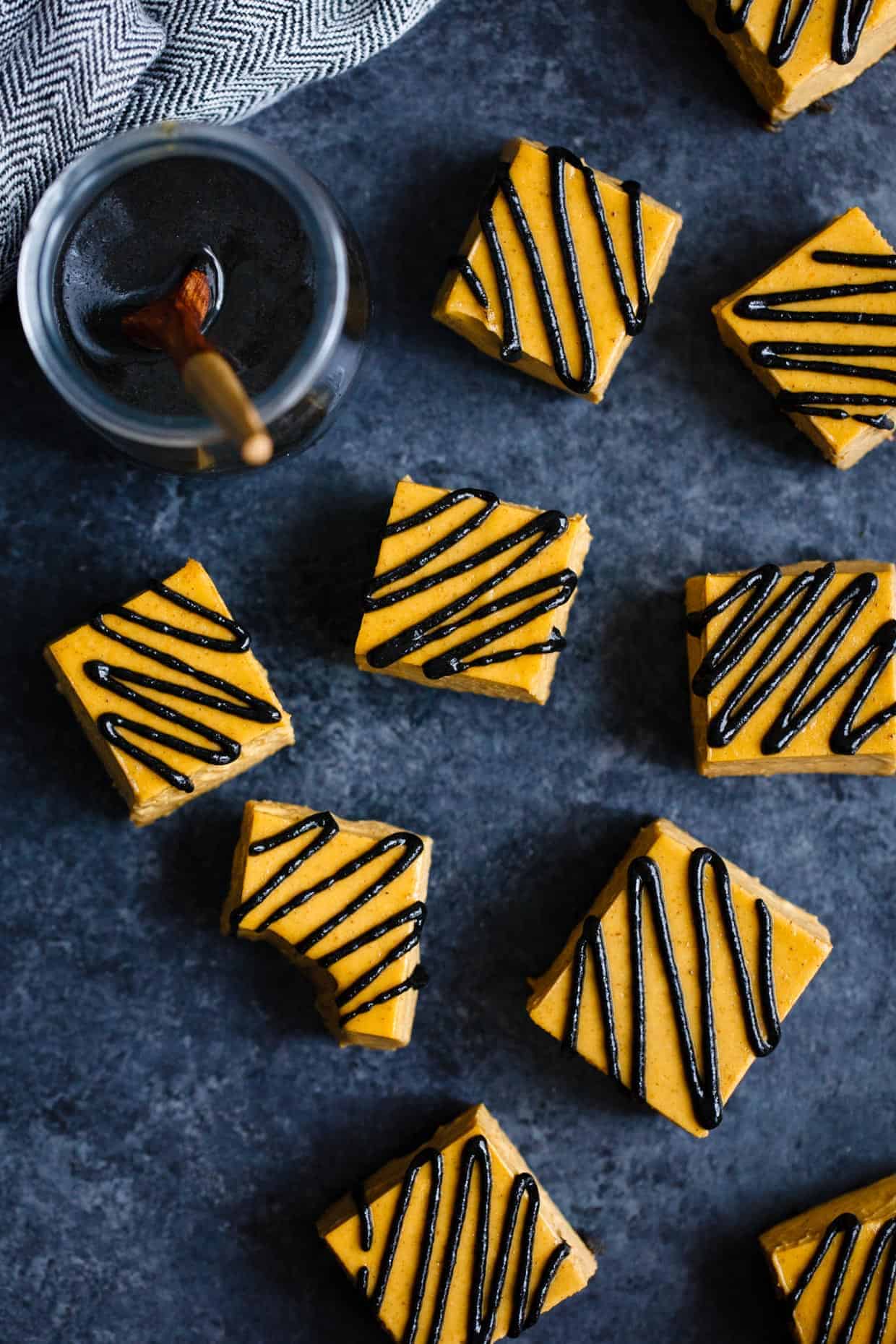 Happy *almost* Halloween! I primarily made these themed no-bake vegan pumpkin pie bites just because I wanted an orange vehicle to drizzle spooky black sesame tahini all over in honor of Halloween. This black sesame tahini should be the food mascot of October 31st - what other non-burnt food gets that black naturally? I'll be dining on a sweet potato black sesame tahini bowl on Monday just to be extra festive.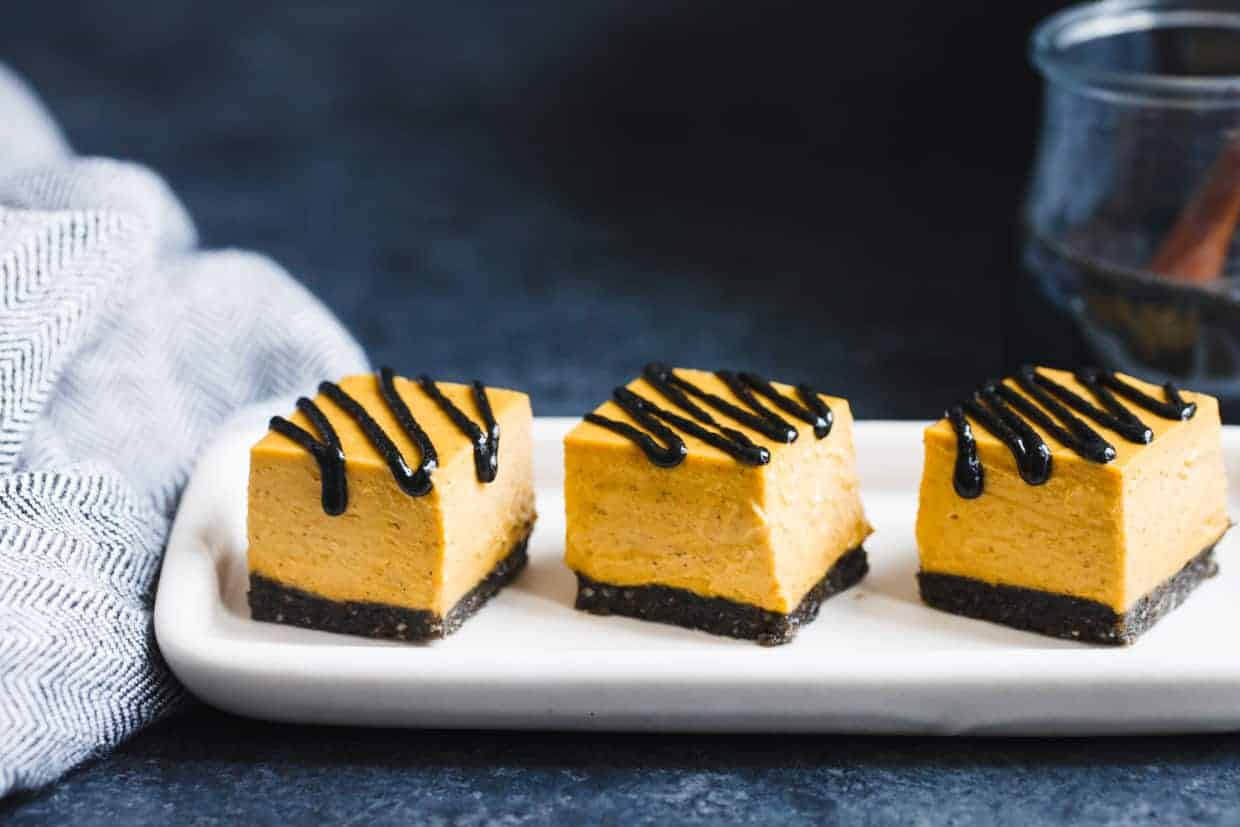 When Halloween is on a Monday, when do you all celebrate? Are you more of a "I take the kids through the neighborhood on Monday evening" or "Saturday night at the bars" or "I turn the lights off and pretend I'm not home" kind of person?
Tonight is our big dress-up affair for Lucas's company Halloween party. We'll be going as Owen & Claire from Jurassic World with Zoella as a chubby dinosaur - a Zoellasaur. We'll stuff her belly with pillows to make the borrowed homemade costume fit nice and snug.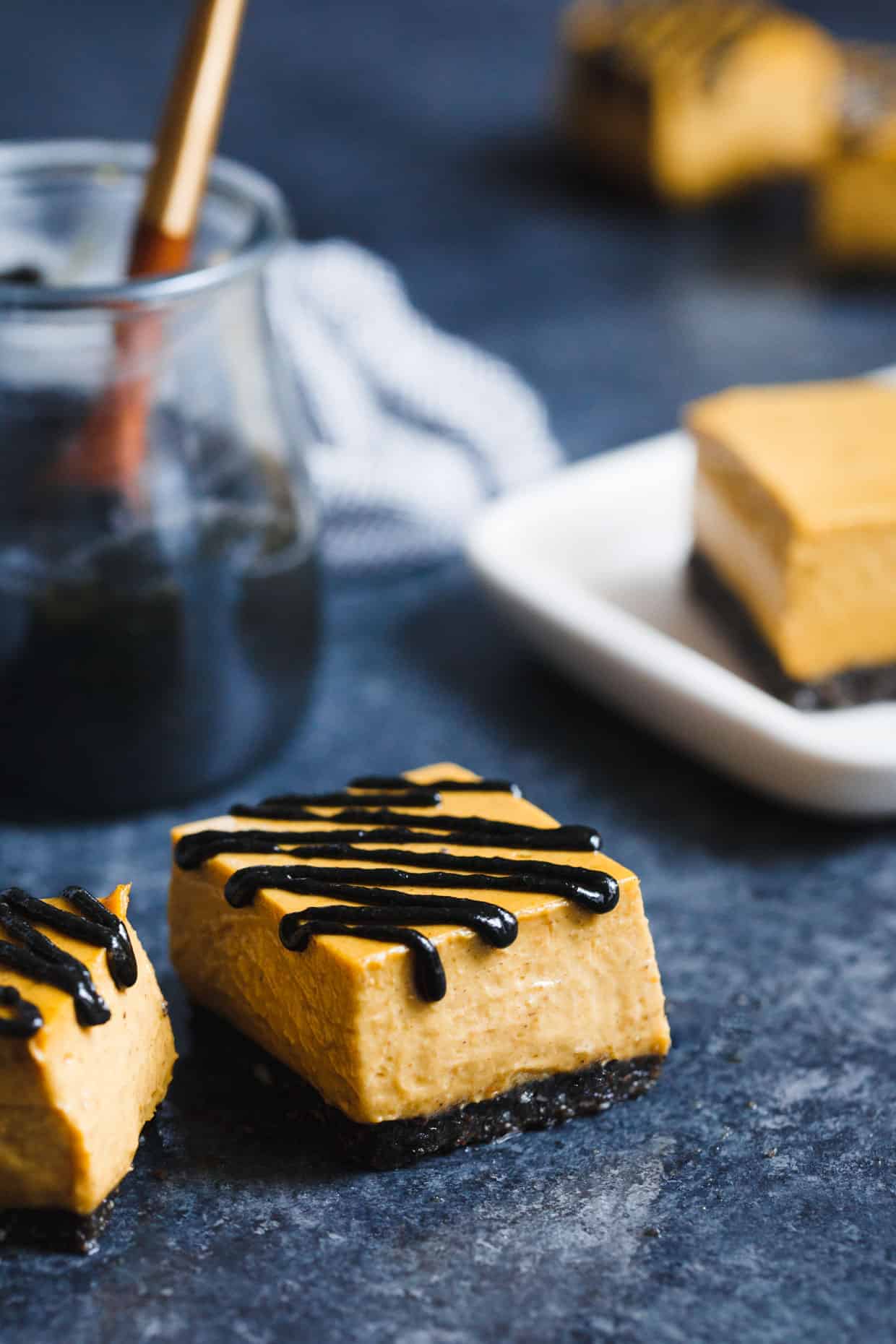 Now that we've got the family costume thing settled, how do you take a baby trick-or-treating to show off her awesome costume without actually asking for candy? Because that would be poor form right? Two adults using their baby to beg their neighbors for candy. Like in theory "don't bring a bucket" sounds like the obvious plan, but then imagine for a second how that transaction goes,
Me: Trick or treat!
Them: Aww - what a cute dinosaur!
Me: Thanks!
THEN WHAT? Options: 1. Make awkward eye contact and linger just a little too long because you don't know how to end the transaction without candy and thanks, 2. Turn and quickly walk away, or..... 3. Offer a hug?
Or is the answer you that you just don't take the baby trick-or-treating and instead overload Facebook with baby dinosaur pictures? <-- probably this, right? I'm too awkward for trick-or-treating.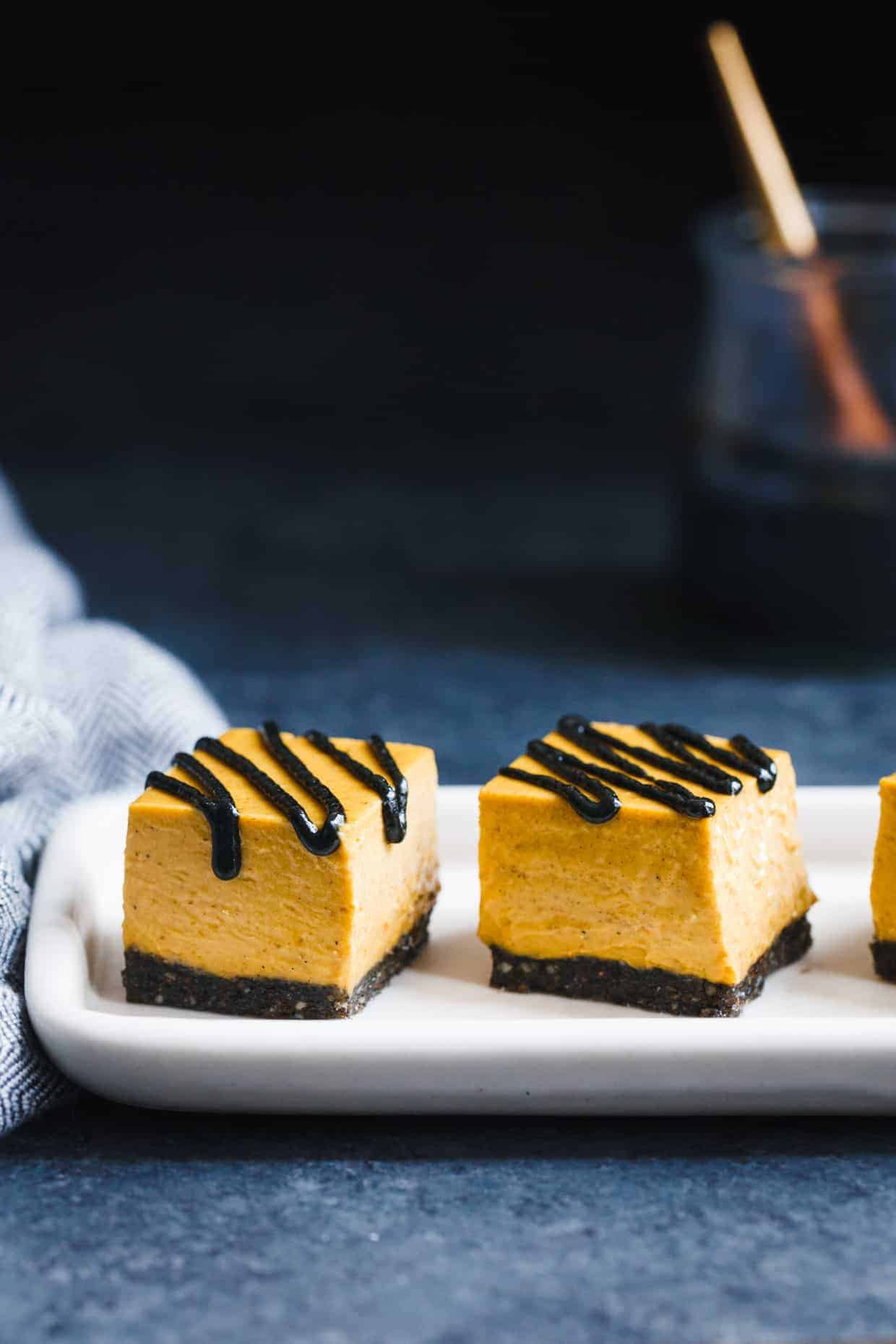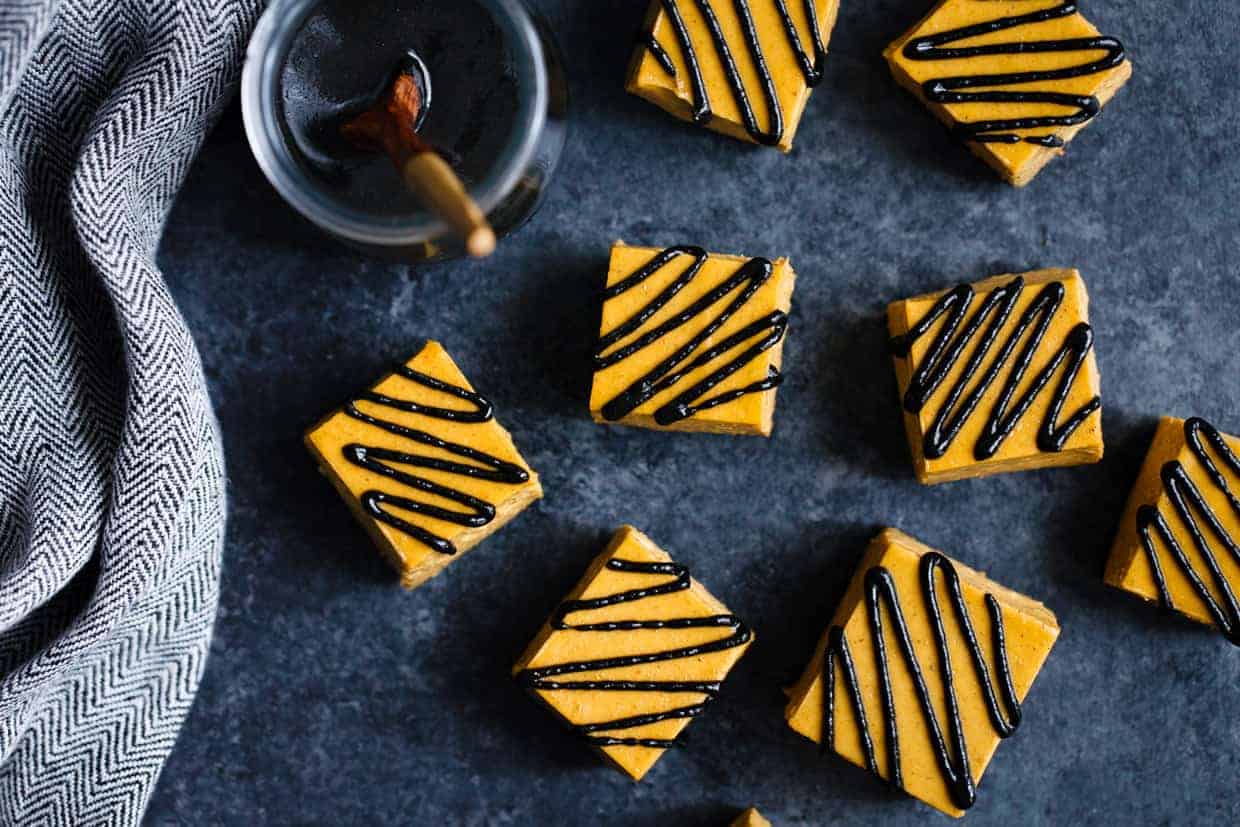 Back to these vegan pumpkin pie bites. They are way more than just a vehicle for tahini. Thanks to a soaked cashew cream filling adapted from Alanna's vegan coconut cream tart and Kayley's raw cheesecakes, these pumpkin bites are gluten-free, vegan, and refined sugar-free. Even still they're ultra creamy, spiced like fall, and packed with sweet pumpkin goodness.
Black sesame and pumpkin make a unique and addicting duo - slightly sweet and spiced pumpkin with sweet nutty sesame. I fell in love with this pair in my black sesame pumpkin mochi cake from last year. Their Halloween hue is just the icing on the cake...errr...pie bites? Check out Shelly's smoky pumpkin & black sesame seed hummus for another rendition.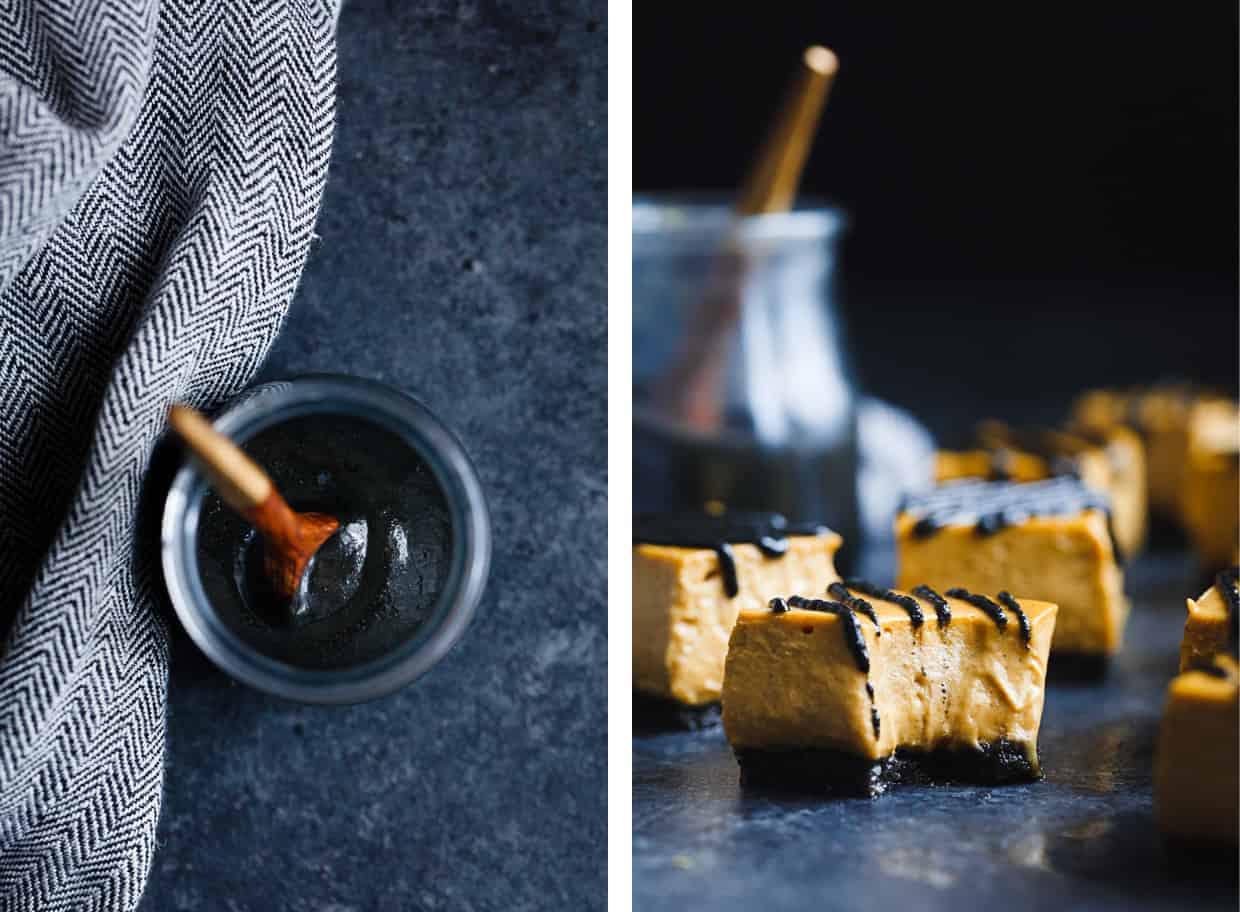 Thanks for reading Snixy Kitchen! To stay up on what's coming out of my kitchen,  follow me on Facebook, Instagram, Twitter, Bloglovin', Pinterest, or subscribe via e-mail to get new recipes right to your inbox.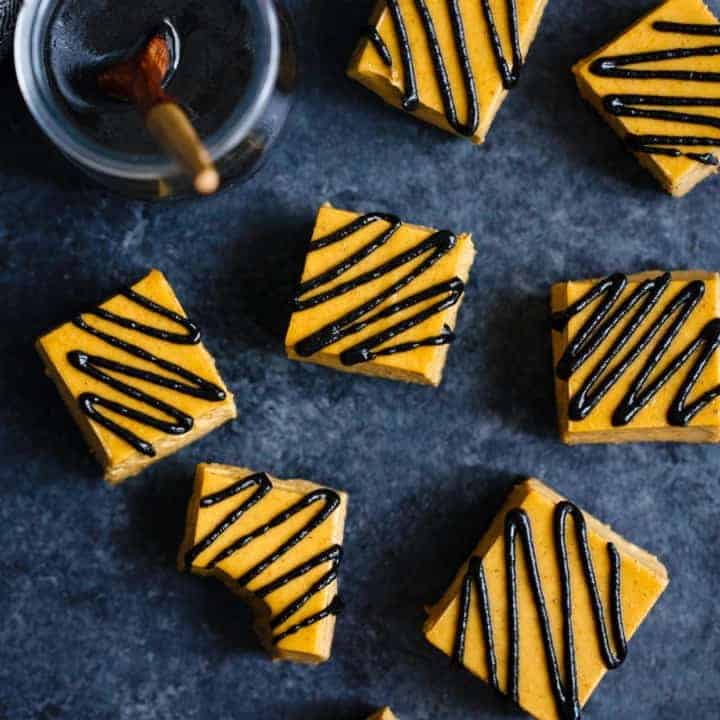 Vegan No-Bake Black Sesame Pumpkin Pie Bites
Ingredients
Black Sesame Almond Crust
6 pitted medjool dates
1 tablespoon maple syrup
1½ cups whole raw almonds
½ cup black sesame seeds
¼ teaspoon kosher salt
Pumpkin Pie Filling
1¾ cups raw cashews, soaked in boiling water for 1-2 hours
¾ cup pumpkin purée
½ cup + 2 tablespoons maple syrup
2 tablespoons ground chia seeds
1 vanilla bean, split and seeds scraped
1 teaspoon ground cinnamon
½ teaspoon ground nutmeg
¼ teaspoon ground ginger
¼ teaspoon ground cloves
pinch of sea salt
½ cup + 2 tablespoons cool water
½ cup coconut oil
Black Sesame Tahini
1 cup black sesame seeds, lightly toasted and cooled
1 teaspoon coconut oil
¼ teaspoon salt
¼ cup powdered sugar, sifted
Instructions
Line an 8x8 square baking pan with a sling of parchment paper.
Prepare the crust. Add the dates, maple syrup, almonds, sesame seeds, and salt to a high speed blender or food processor and pulse until it begins to clump. Pour the filling into the prepared baking pan and use your fingertips to press down the crust into an even layer. Use a small glass to roll it smooth, if desired. Chill crust while you prepare the filling.
Drain and rinse the soaked cashews and add them to the blender with pumpkin purée, maple syrup, ground chia seeds, vanilla bean seeds, and spices.
With the blender on low, slowly add the cool water, increasing the speed as you pour. Blend on high for 2 minutes, scraping down the sides as needed, until the filling is velvety smooth.
Pour in the coconut oil and blend on low just to combine. Pour the filling over the chilled crust, smoothing out the top as needed.
Refrigerate for at least 4 hours, until firm.
Meanwhile prepare the black sesame tahini. Pulse the black sesame seeds for 20 seconds in a high speed blender or food processor (you will need a small jar for the blender or else you'll need to double the recipe).
Add the coconut oil, and salt and process until completely smooth, about 1-2 minutes, scraping down the sides as needed.
Fold in the powdered sugar and transfer it to a piping bag fitted with a small round tip (or a ziploc bag with the tip cut off!). Chill for 20 minutes to firm up.
Once the pumpkin pie bites have chilled, slice them into 16-20 squares. To make slicing easier, just before you serve it, place them in the freezer for 20 minutes. Slice with a warm knife, wiping it down after each cut. Drizzle with black sesame tahini and serve chilled within 2 days (after 2 days, the crust starts to get soggy).