This vegan gluten-free apple pie recipe has caramel kissed apples tucked into a vegan gluten-free almond tart crust with cinnamon-spiced breadcrumb crisp topping. Add an extra drizzle of vegan caramel on top with a scoop of ice cream!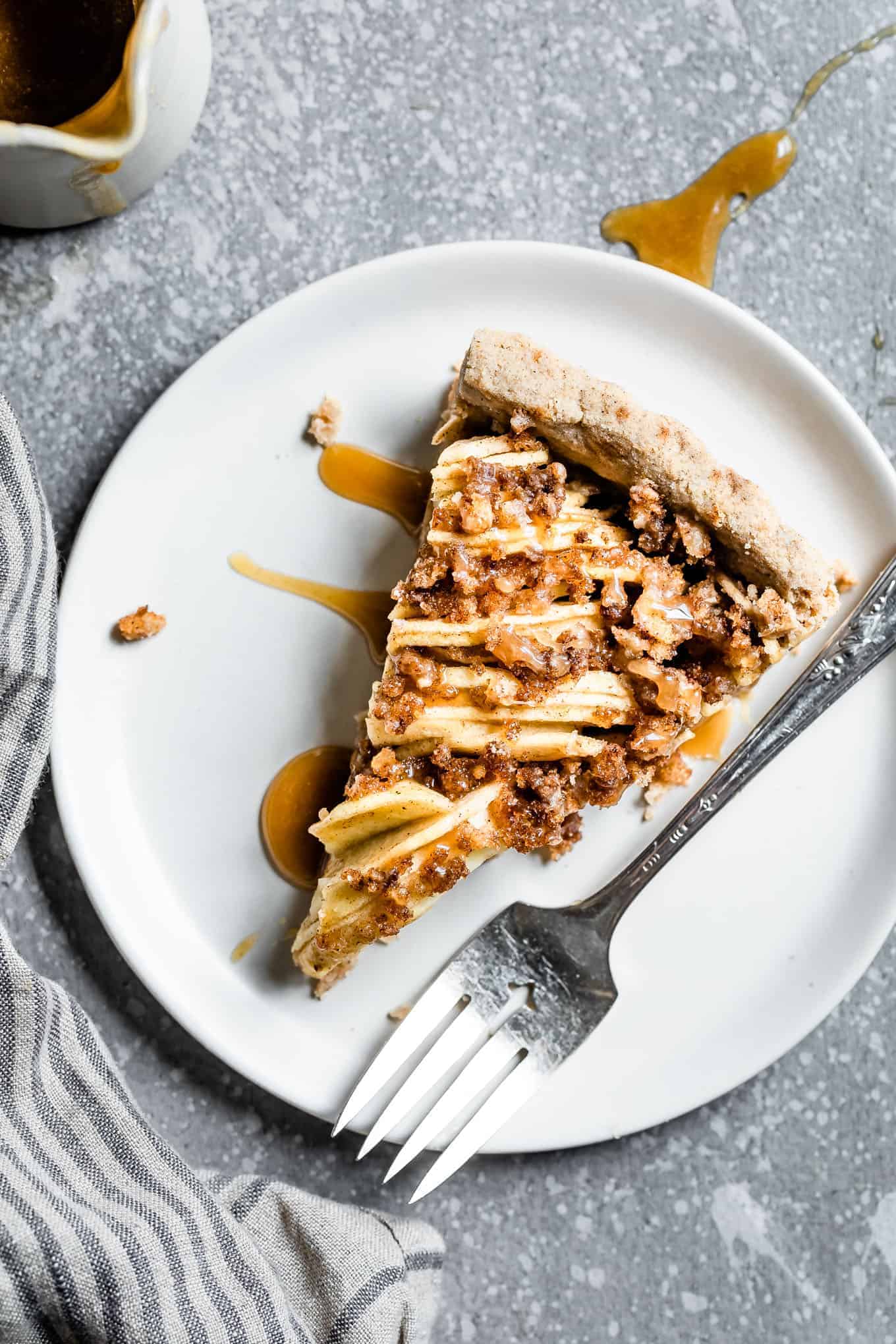 This post is sponsored by Little Northern Bakehouse, a long-term partner of Snixy Kitchen
For the holidays this year, I'll be bringing this vegan gluten-free apple crisp tart topped with cinnamon breadcrumbs and caramel for dessert. I'll also be bringing loads of mixed-media 3D preschooler art as gifts.
Dessert is a guaranteed home run. The gift part could go either way for you - you might get an instrument made of rocks taped between two jar lids or a homemade kite. You might also get the construction paper "chipmunk" I fished out of the curbside school recycling bin yesterday when a lip quiver threatened a full meltdown because she had to sleep with it last night. She did. And again tonight. She's all cozied up a piece of construction paper in bed right now.
Meanwhile, I'm cozied up with a slice of this vegan gluten-free caramel apple tart with cinnamon breadcrumbs. And a scoop of vanilla ice cream. My nightly mom reward.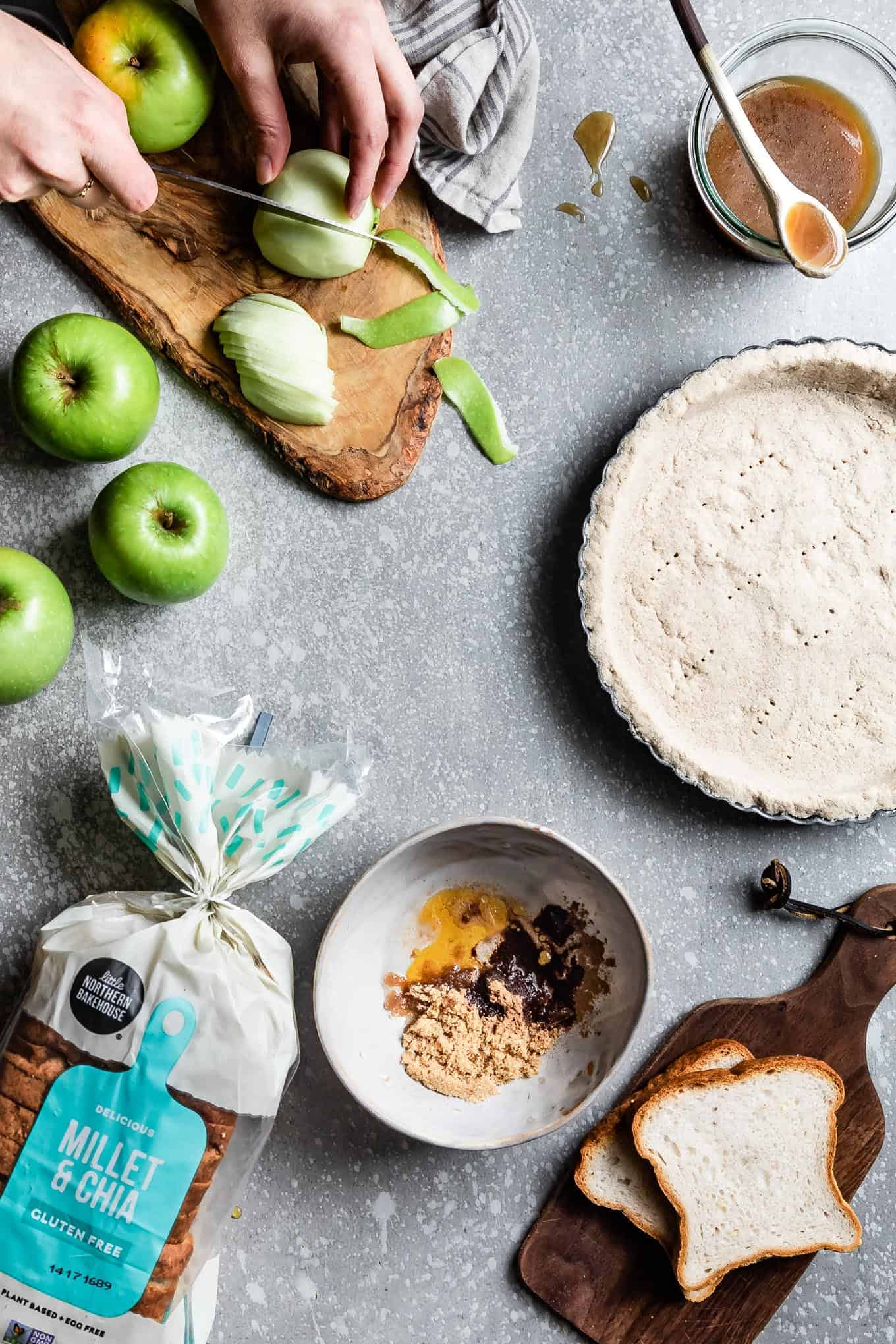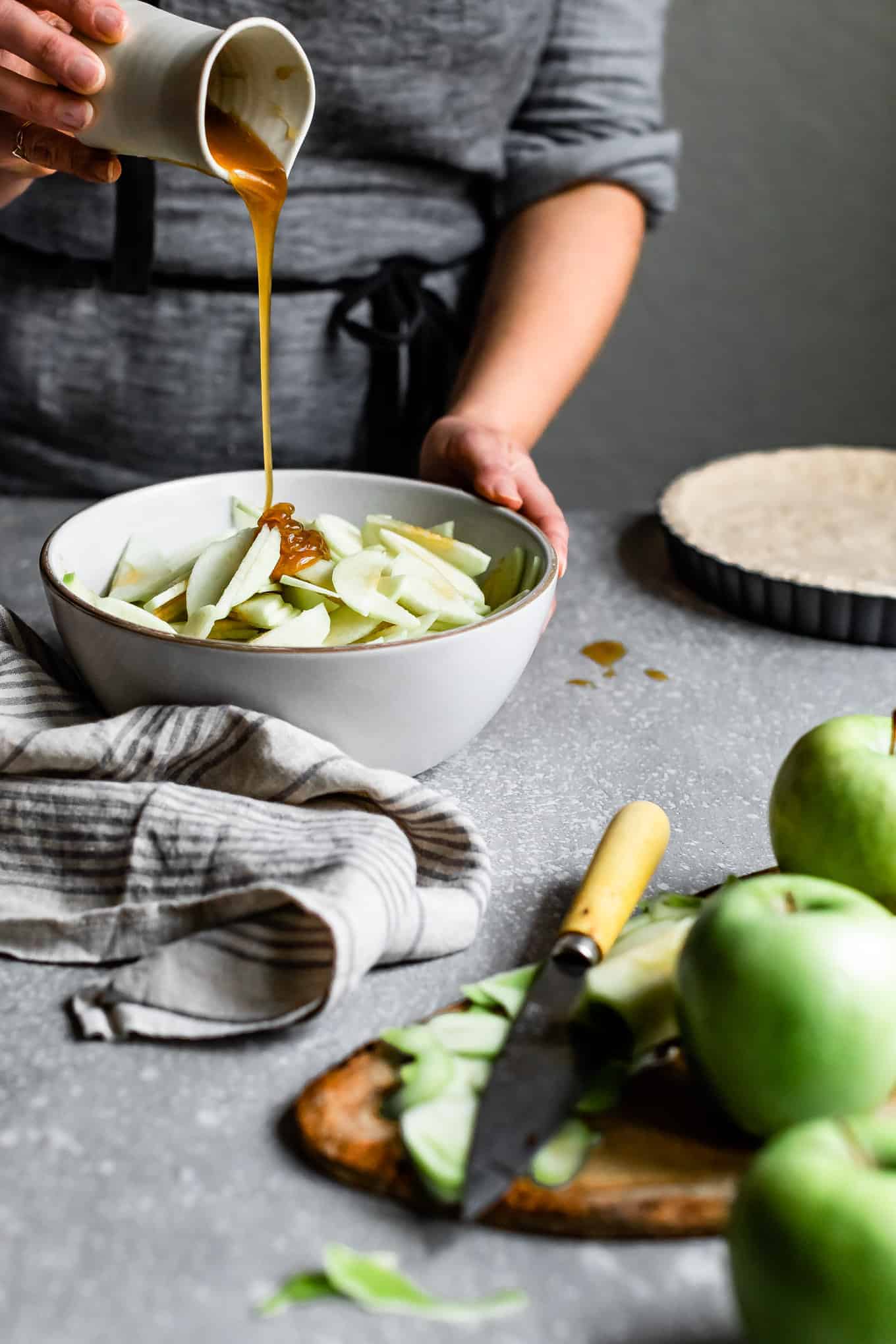 Vegan Gluten-Free Apple Pie with Breadcrumbs
There's four main components that take this vegan gluten-free apple tart from plain apple pie to spectacular gluten-free apple dessert:
Vegan Gluten-Free Tart Crust that's crumbly and nutty like a shortbread cookie.
Granny Smith Apples sliced paper thin so they'll bake up super soft without over-baking the crust.
Vegan Caramel Sauce that tastes rich and sweet as the buttery creamy counterpart. You'll want to put this on everything.
Cinnamon-Spiced Breadcrumbs that bake up crispy atop the warm cooked apples.
Gluten-Free Apple Pie in a Tart Crust
Melding these ingredients together, the result is a classic apple pie mashed up with an apple crisp - all nestled into a tart pan. A spiced caramel apple filling gets baked into a gluten-free vegan almond flour tart crust then topped with cinnamon-spiced breadcrumbs. Then an extra drizzle of caramel for good measure
This gluten-free apple tart gives classic apple pie a run for its money with new texture and flavor profiles that are the perfect pairing for a sweet warm apple pie filling.
Cinnamon-kissed maple breadcrumbs bake up extra crisp and the nutty tender tart crust crumbles like buttery shortbread.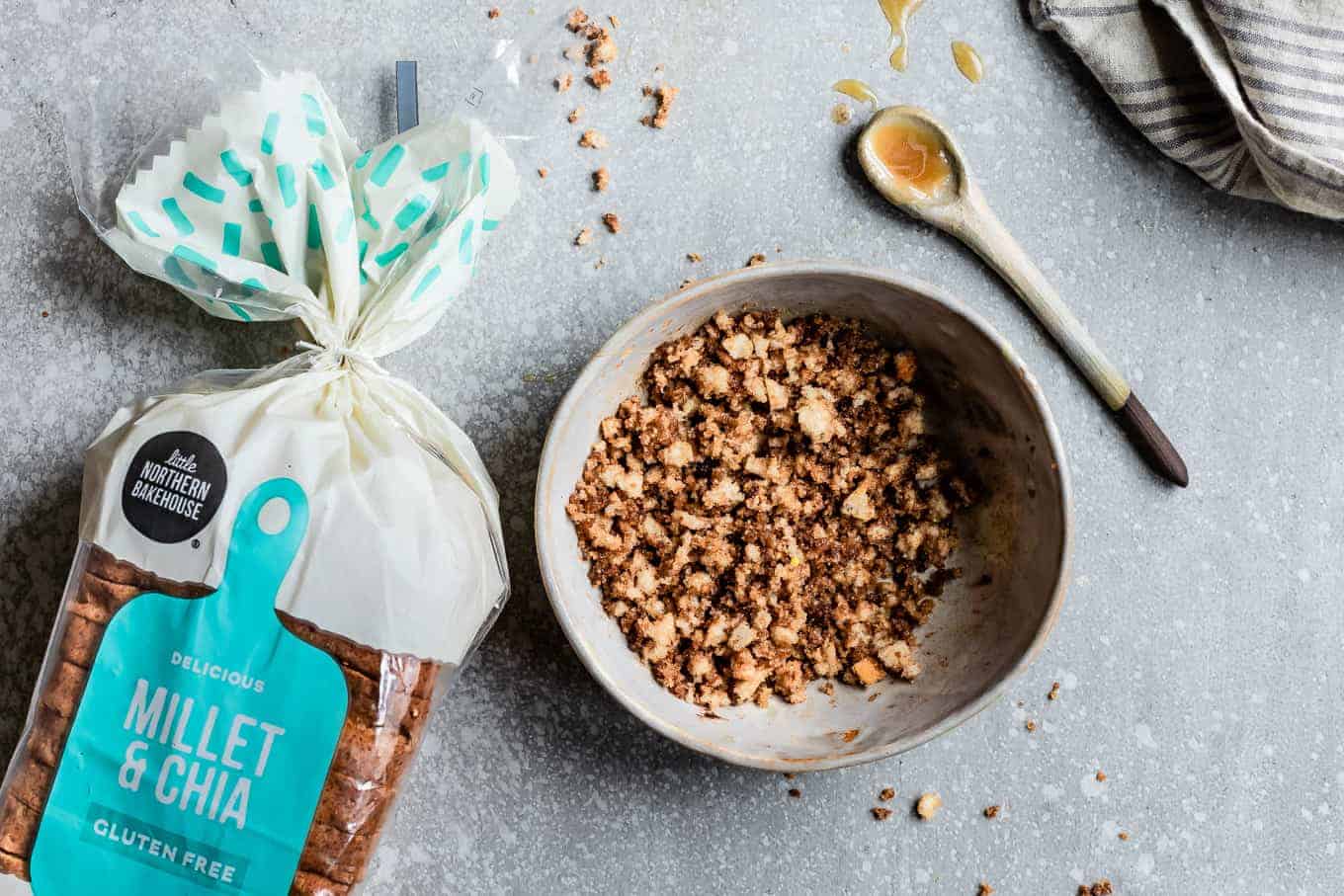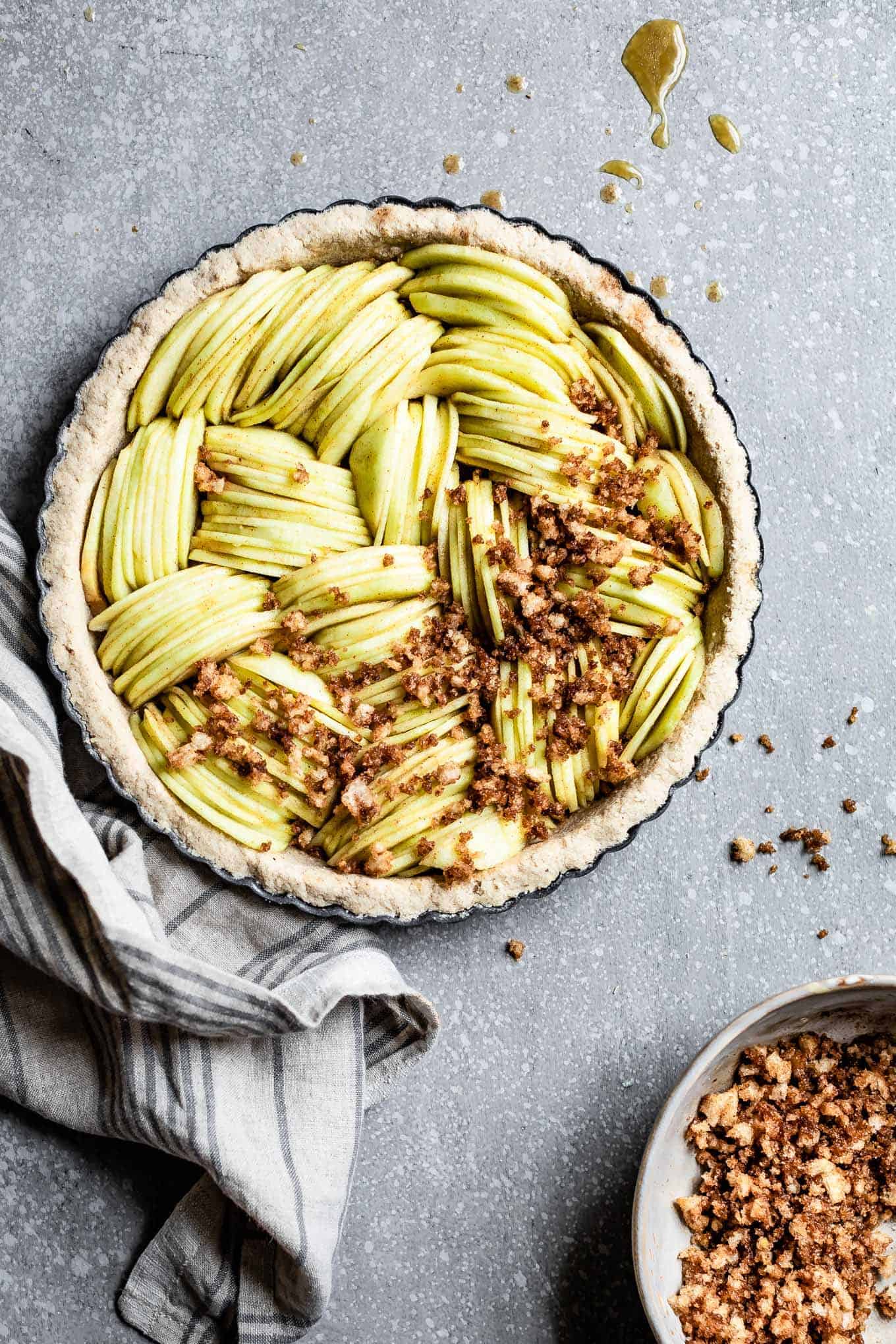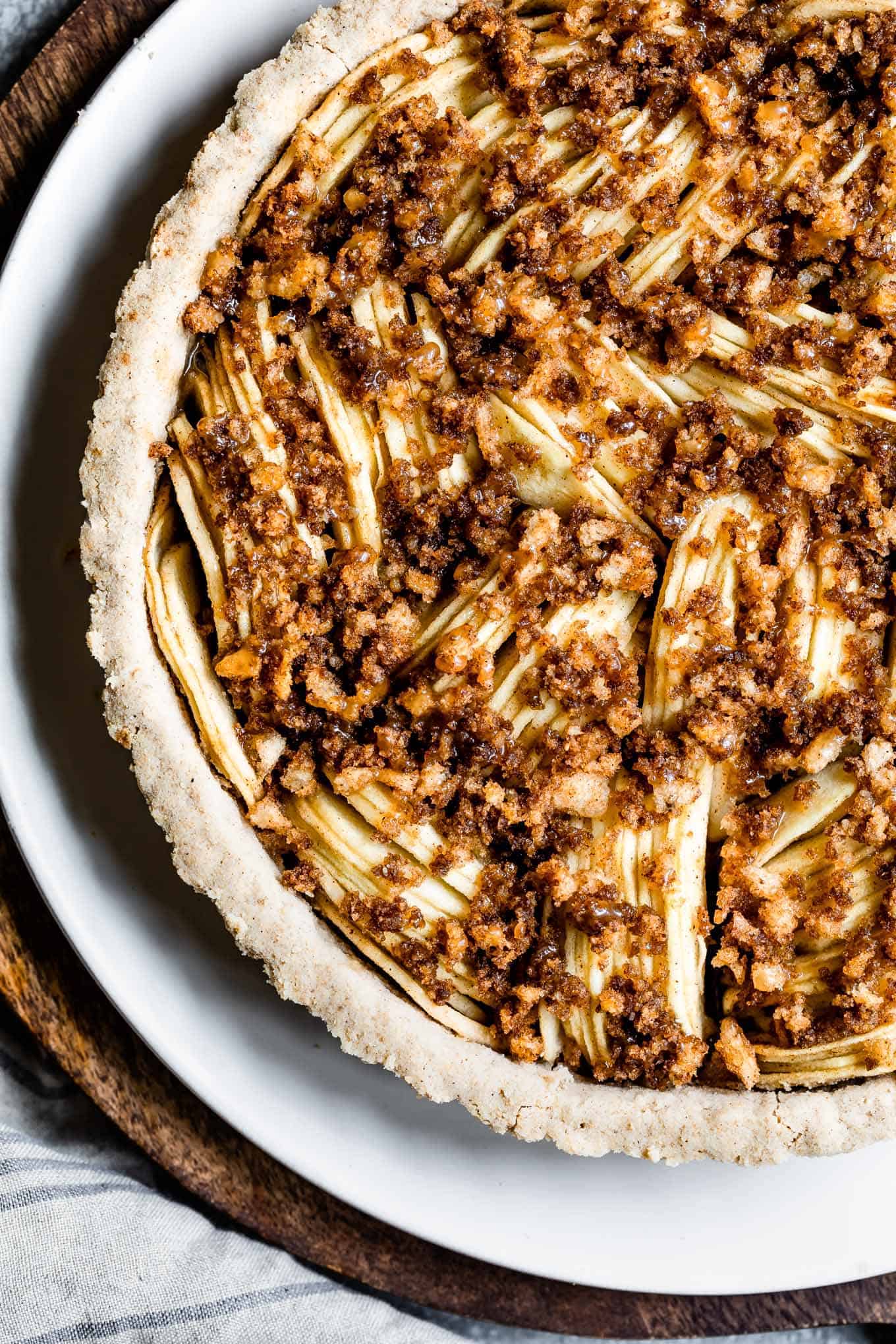 Breadcrumb Crisp - Gluten-Free Brown Betty Style
Using breadcrumbs for apple crisp is actually nothing new - the idea comes from the classic American dessert called Brown Betty, where spiced apples are topped with sweetened breadcrumbs and baked - similar to a cobbler or crisp. Only way easier! And way easier to make gluten-free and vegan too!
Just whirl fresh bread slices of Little Northern Bakehouse's gluten-free & vegan bread in a food processor (or roughly chop/tear them up), then toss with coconut oil, sugar, and spice. Sprinkle them on top of your tart and they'll crisp up as it bakes.
Not all gluten-free loaves are vegan, but many of Little Northern Bakehouse's are and they're perfect for turning into a breadcrumb crisp topping! Their loaves have enough chewy texture that they don't turn to cardboard crumbles when tossed in the food processor. They're also packed with nutrients and made with ingredients I can trust. For this crisp, I recommend their millet & chia loaf because of it's smooth texture and neutral flavor profile.
You'll need just two slices of Little Northern Bakehouse's gluten-free bread for the crisp on top of this tart, so plan ahead and use the rest of the loaf for pumpkin bread pudding, quick stovetop berry crisps, or vegan gluten-free stuffing.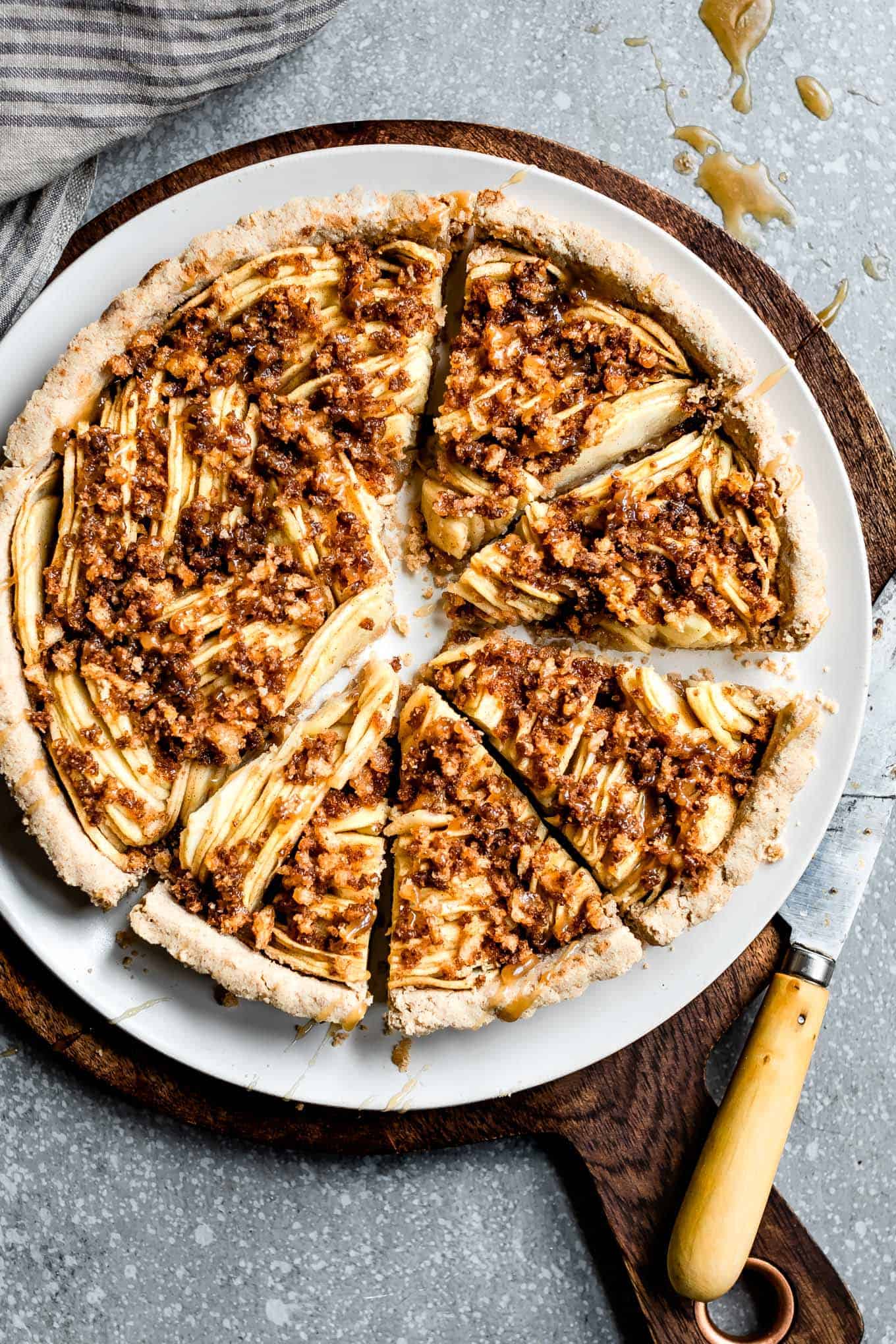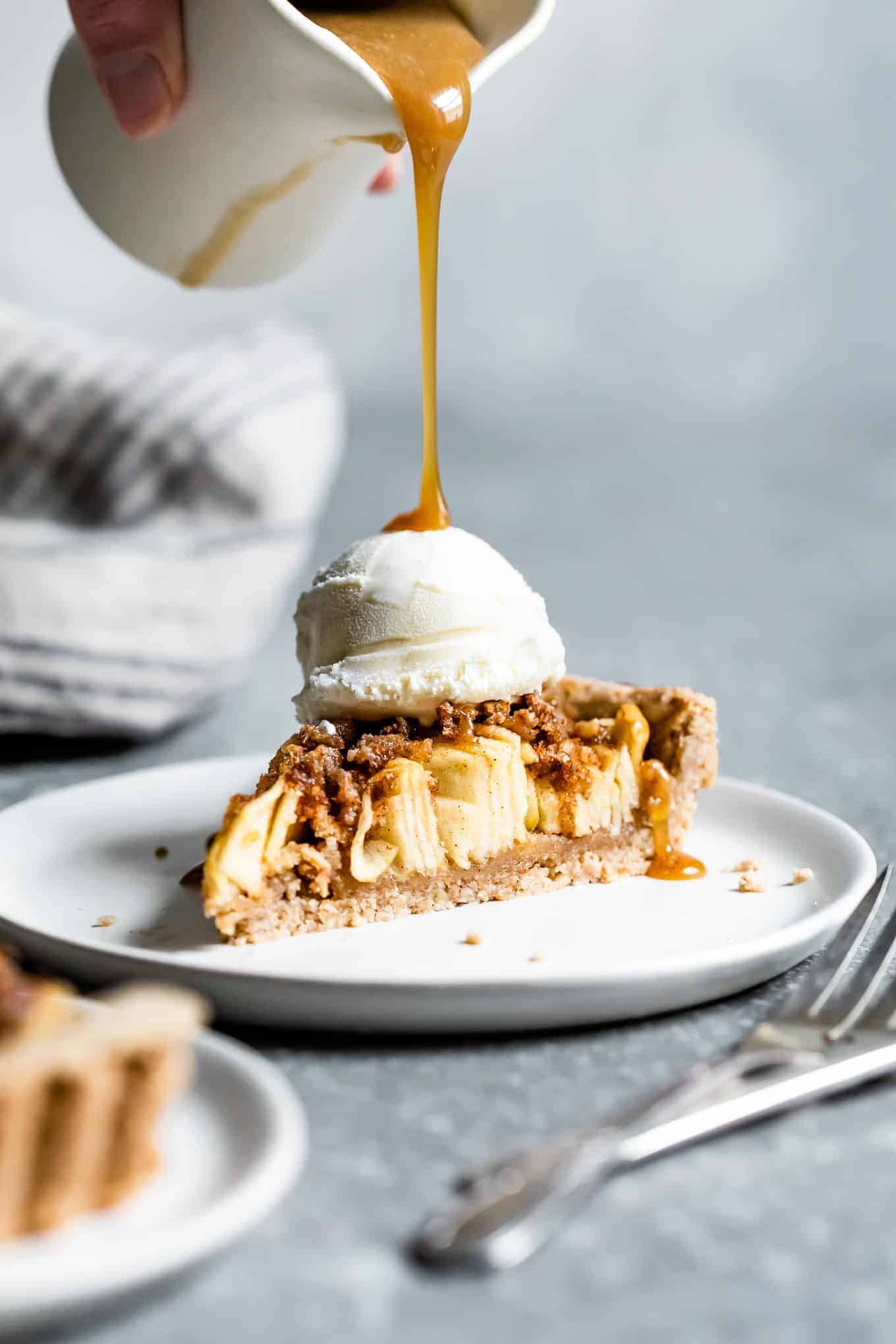 How to Make Vegan Fruit Tart Crust
Most tart crusts are traditionally made with cold butter, similar to shortbread. To make a vegan fruit tart crust, replace the butter with firm but room temperature coconut oil and add a bit of ice water to bring it all together (a tip from my girl Alanna of The Bojon Gourmet).
Using flavorful gluten-free flours like almond and sorghum keep the crust interesting in its own right and a hint of cinnamon makes it taste like a holiday cookie.
Vegan tart crusts are more prone to sticking to your pan, even a non-stick tart pan, because it doesn't have the butter to help lift it away from the pan. To prevent that, brush a THICK layer of coconut oil in the crevices and bottom of the tart pan - the coconut oil for brushing should be soft like mayonnaise, but not melted. Then pop the tart pan in the freezer to harden up the coconut oil while you prepare the crust. This will ensure there's a well-greased barrier between the crust and the pan!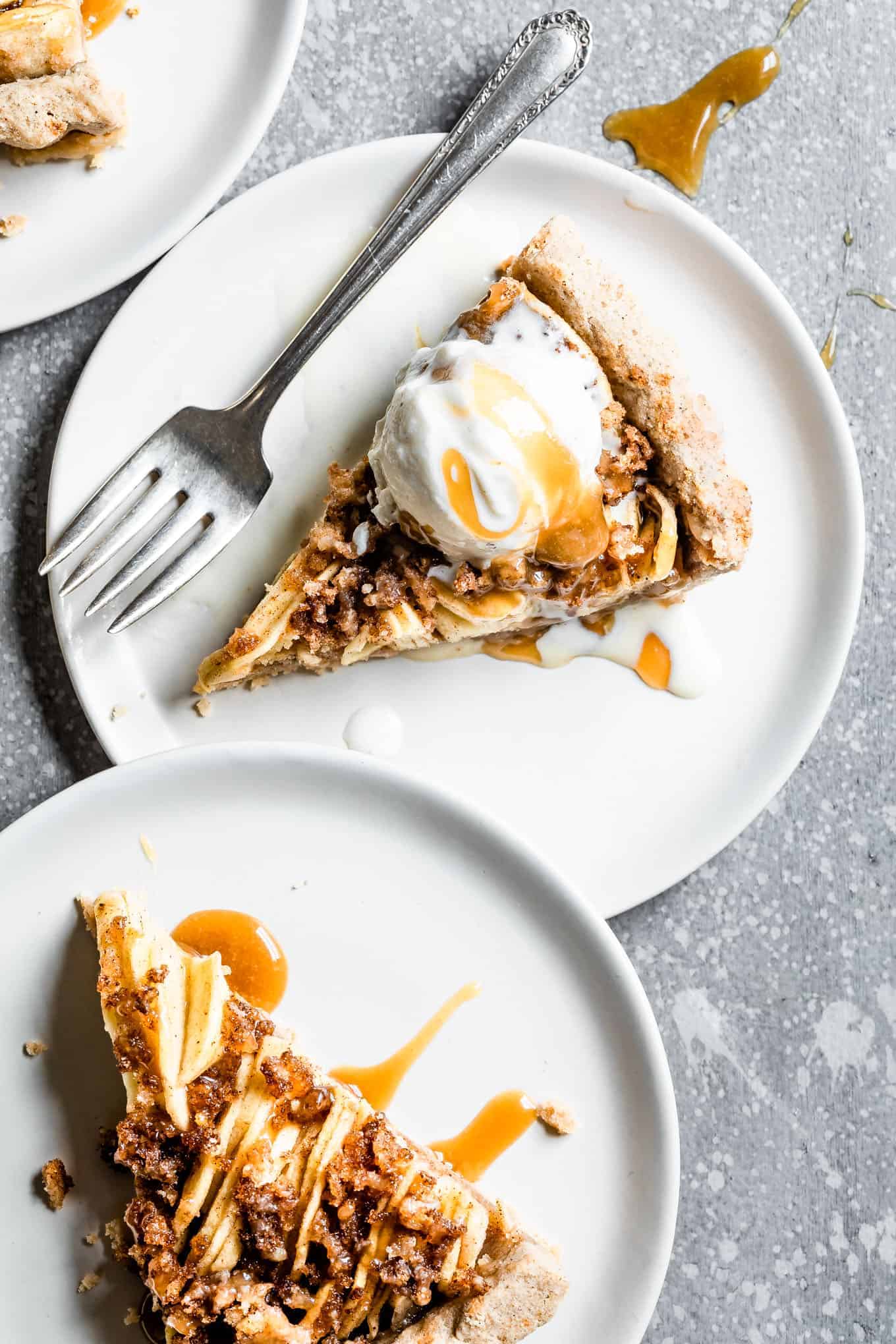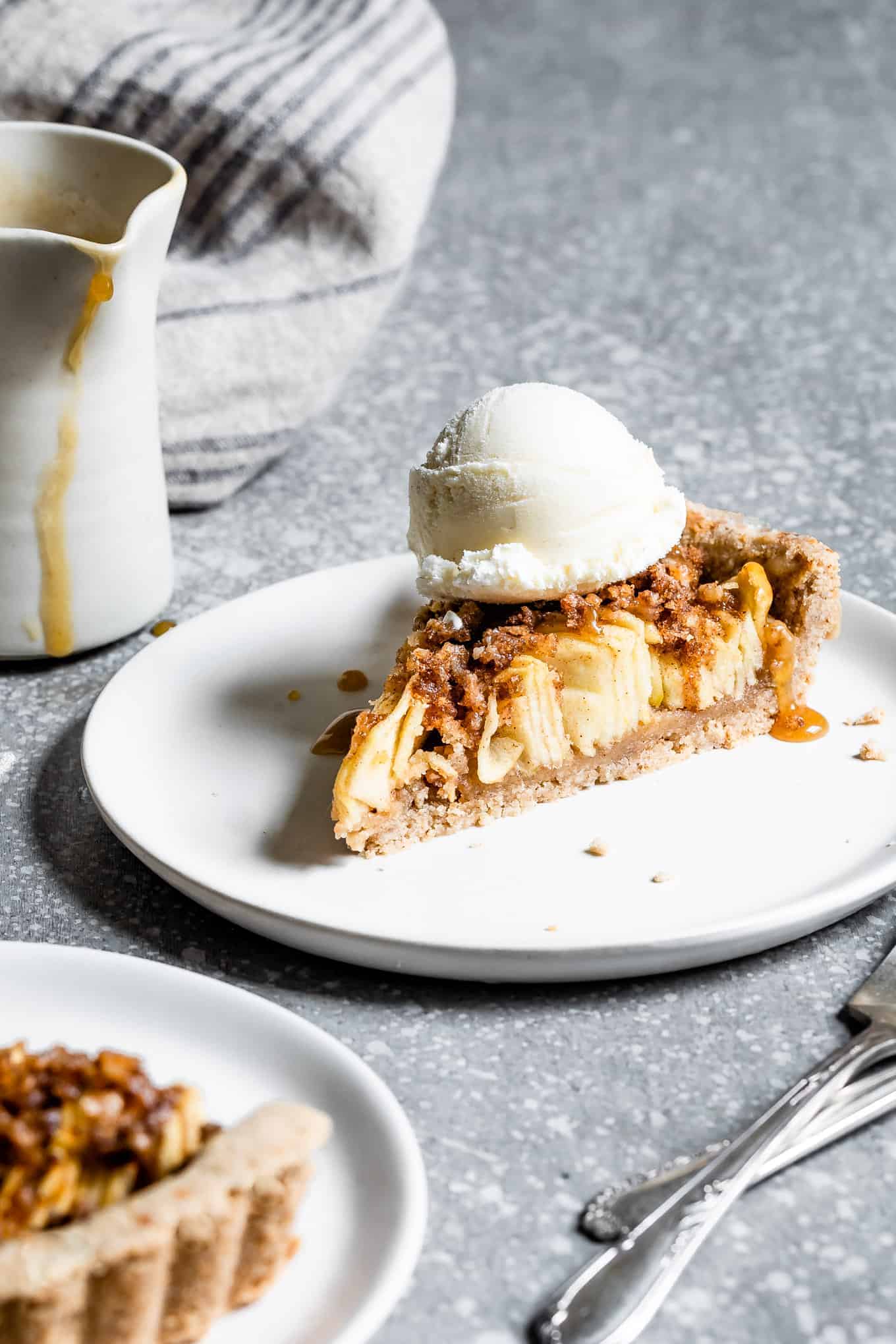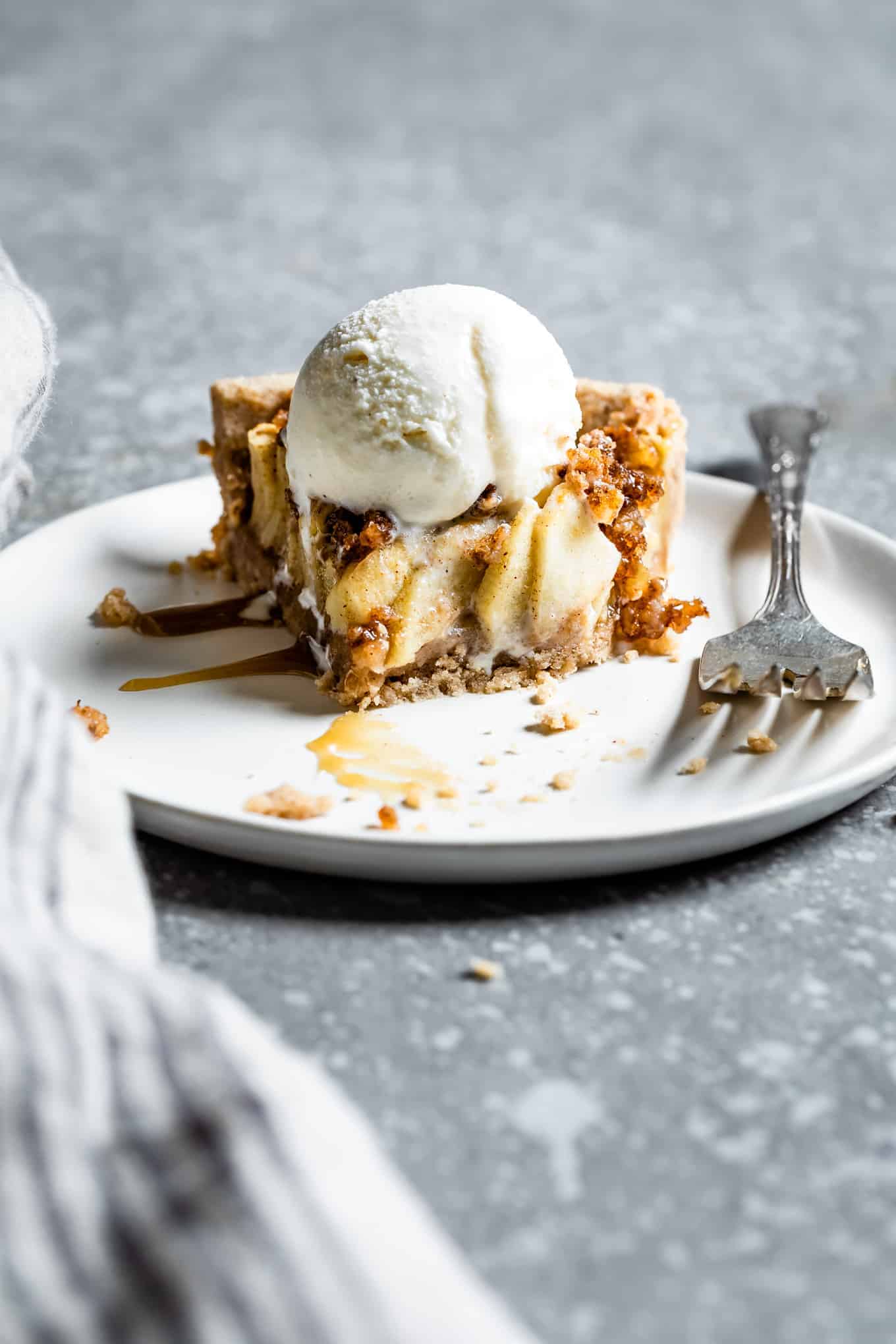 More Gluten-Free Apple Dessert Recipes
Disclosure: Special thanks to Little Northern Bakehouse for sponsoring this post! Find more Little Northern Bakehouse inspiration on Facebook or Instagram. And thanks to you for supporting the brands that keep Snixy Kitchen cooking!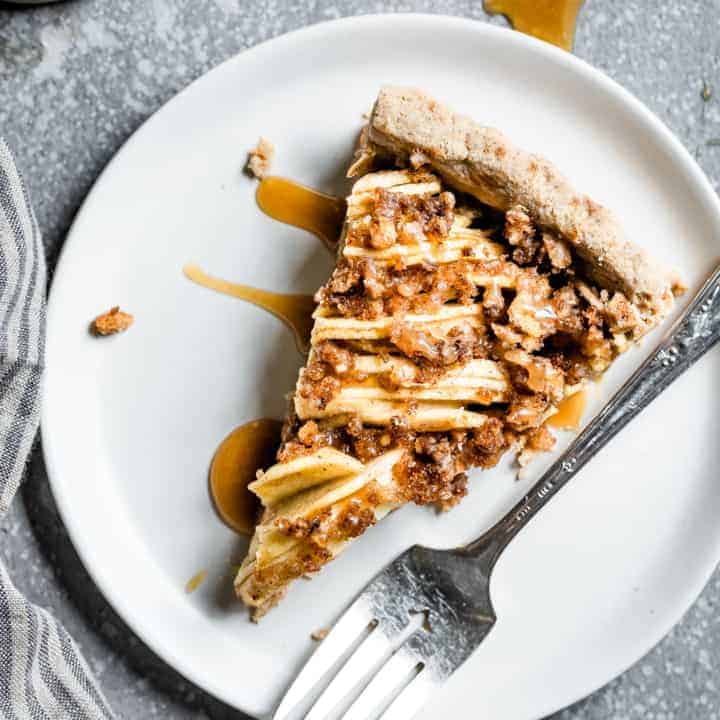 Vegan Gluten-Free Apple Crisp Tart with Caramel
Ingredients
Gluten-Free Dairy-Free Tart Crust
½ cup (62g) superfine blanched almond flour
1⁄2 cup (64g) sorghum flour
¼ cup + 3 tablespoons cup (70g) sweet rice flour (such as Mochiko)
3 tablespoons (22g) tapioca starch
1⁄4 cup (52g) granulated sugar
1 teaspoon ground cinnamon
1 teaspoon kosher salt
7 tablespoons (95g) coconut oil, firm but room temperature, plus 1 tablespoon more for the pan (see notes)
1 teaspoon vanilla extract
1½-2½ tablespoons ice water
Vegan Caramel Sauce
1⁄4 cup light brown sugar
1⁄4  cup+ 2 tablespoons granulated sugar
1⁄4 cup + 2 tablespoon full fat canned coconut milk (shaken or stirred to incorporate), divided
1 tablespoon coconut oil
½ teaspoon vanilla extract
1⁄4 teaspoon kosher salt
Spiced Breadcrumbs
2 slices Little Northern Bakehouse Millet & Chia Gluten-Free Loaf, crusts removed and discarded, then cut into coarse cubes
½ tablespoon melted coconut oil
1 tablespoon light brown sugar
½ teaspoon maple syrup
½ teaspoon ground cinnamon
Apples
4-5 small apples (such as granny smith or honeycrisp, equal-sized), peeled, cored, and sliced very thin
Juice of ½ a lemon
½ teaspoon ground cinnamon
Instructions
First, prepare the crust. Use a pastry brush or paper towel to rub a tablespoon of coconut oil (that is soft like mayonnaise but not melted) into a thick layer on all over the bottom and crevices of a tart pan with a removable bottom. Place tart pan in the freezer while you prepare the crust.
In the bowl of a stand mixer fitted with the paddle attachment, mix together the almond flour, sorghum flour, sweet rice flour, tapioca starch, sugar, cinnamon, and salt.
Add the remaining 7 tablespoons coconut oil and vanilla extract and beat on medium speed until well mixed - 3-4 minutes. Slowly drizzle in the ice water, starting with just 1½ tablespoons. Mix until the dough begins to clump together, 2-3 minutes, adding more water as needed.
Dump the crumbs into the chilled tart pan. Press the dough evenly into the pan, starting with the sides and then moving to the bottom. Your crust should be between ⅛ and ¼-inch thick with the top edges squared off. Prick the bottom all over with a fork, place on a baking sheet, and chill in the freezer or fridge until firm, 15-30 minutes.
While the tart chills, prepare the caramel sauce. In a small saucepan over, bring the sugar, light brown sugar, and ¼ cup coconut milk to boil over medium high heat, stirring once just to combine. As soon as it boils, reduce heat to low and simmer for 3 minutes. Remove from heat and stir in remaining 2 tablespoons coconut milk, coconut oil, vanilla, and salt. Pour into a heatproof bowl or jar to cool completely at room temperature (do not scrape the pan). Note: The caramel is prone to crystallization if cooked at medium to high temperature after the initial boil, so be sure to reduce the heat as soon as it bubbles.
Preheat the oven to 350°F. When the tart shell is firm, bake on the middle rack for 13 minutes, until the crust begins to look cooked and not moist, but not yet browning.
While the crust bakes, prepare the spiced breadcrumbs. Add the bread to a food processor and pulse until medium-coarse crumbs (alternatively finely tear the bread iInto bits) Toss the bread with coconut oil, brown sugar, maple syrup, and cinnamon to coat and set aside.
Remove from tart crust from oven and while the crust is still hot, use a cup bottom or the back of a spoon to gently press down on the sides and bottom to help hold it together as it cools. Let cool for at least 20 minutes before adding the filling.
While the crust cools, prepare the apples. Toss the apple slices in lemon juice, cinnamon, and 1⁄4 cup of the cooled caramel sauce (wait to do this until the crust is ready as the apples will start to release juices the longer they sit in sugar). Stack 10-12 apple slices together then place them flat side down into the tart pan, changing directions as you go (get creative - it doesn't have to be perfect!).
Sprinkle cinnamon breadcrumbs evenly over the top.
Bake for 45-50 minutes until the crust is just starting to turn light brown (but not burnt) and the apples are cooked through. Let cool for at least 30 minutes in the tart pan before removing it. Drizzle with remaining caramel sauce and serve with vegan vanilla ice cream.